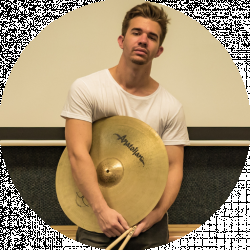 Latest posts by Brett Clur
(see all)
David Bowie was one of the most iconic people to come out of the 60s. His first album was released in the late 60s, but he gained prominent popularity in the 70s. He single-handedly influenced the music industry, pushing the boundaries of live performance and artistic expression.
He had a long and successful career in both music and acting and sadly passed away at the beginning of 2016. His legacy is a strong one, and many musicians have him to thank for shaping the music they play today.
If you're a Bowie fan, you may want to dress up like him for a party. While that's exciting and all, I'm a bit more reserved and think that wearing a shirt or hoodie inspired by him is a better way to go. That brings us to this list. Here are some of the best David Bowie hoodies to wear.
Bottom Line Up Front
My top pick is the I Don't Know Zip Hoodie. David Bowie was always switching up musical genres, keeping things interesting when he released new music. This hoodie has one of his most popular sayings quoted on the back. I love it because it perfectly represents Bowie's musical career.
All the hoodies I've mentioned can be found on Amazon and the official David Bowie merch store.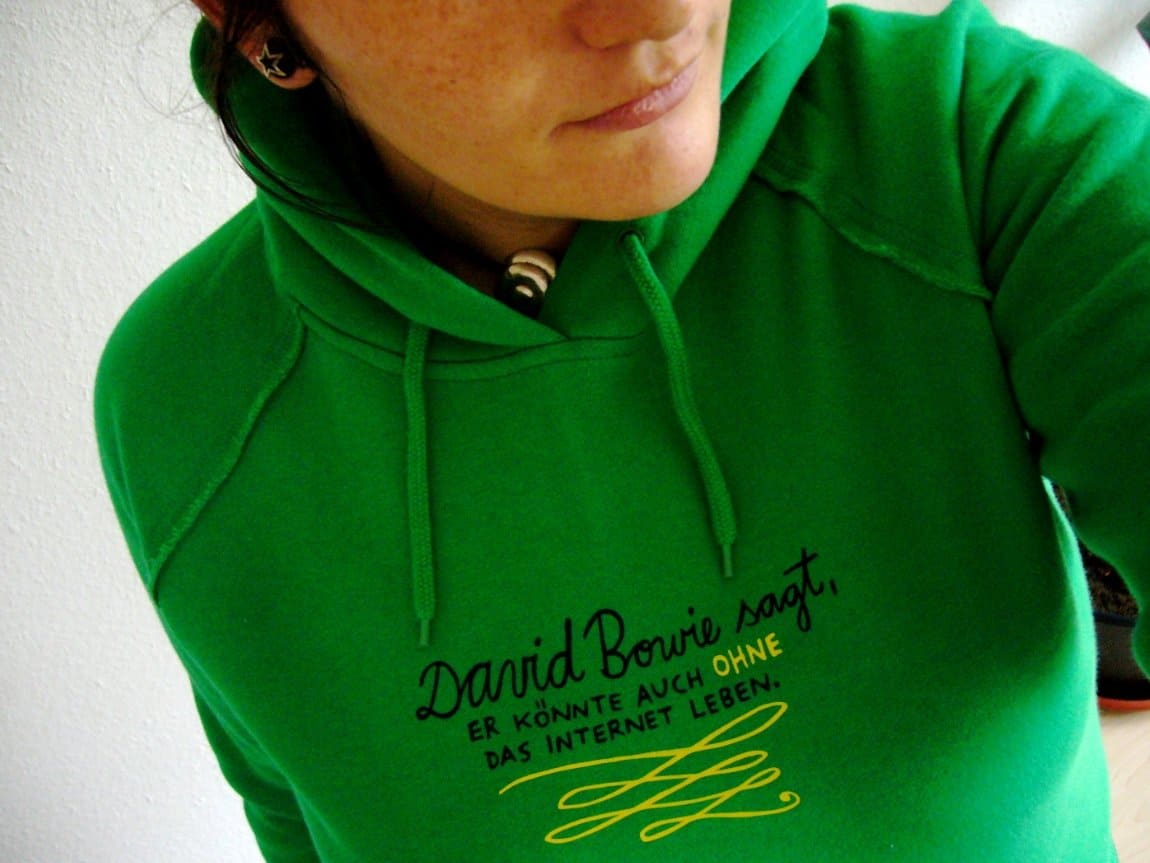 My Top Picks at a Glance
Selection Criteria
Every hoodie I've picked for this list has some sort of significance related to David Bowie. While t-shirts typically have busier graphics with vibrant colors, hoodies have more reserved designs to them. With that being said, I made sure to pick some exciting hoodies that are suitable for people who want something vibrant.
I also made sure to select hoodies with multiple size options. Some of them are form-fitting, while others have a looser fit. You have the option of getting an oversized hoodie with all of them.
Lastly, I've selected hoodies that vary in price. Some are very affordable, while others cost close to $100.
Best David Bowie Hoodies to Wear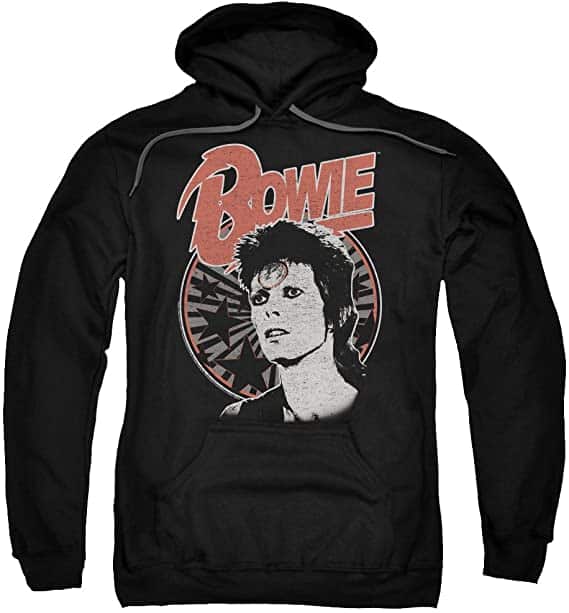 Space Oddity was one of David Bowie's first highly successful songs. It came from his second studio album, which was released in 1969. It was a self-titled album, but people often refer to it as the "Space Oddity" album, thanks to the success of the single.
This hoodie has artwork of David Bowie on the front, and he's drawn out to look exactly like he did when that album was released. I can vividly picture this version of Bowie singing "Ground control to Major Tom" over and over.
Behind the picture of Bowie is a circle with stars, which is an appropriate image related to Bowie that makes the whole graphic look quite cool. His name is written above it.
This hoodie is a black sweatshirt with grey strings at the hood. The material is fairly thin, making it a great exercise hoodie. If you wear this to the gym or run on the street with it, everyone will know you're a David Bowie fan.
Pros
References David Bowie's first majorly popular song
Great hoodie for exercising
Grey hood strings add a bit of flavor to how it looks
Cons
May not be warm enough for very cold weather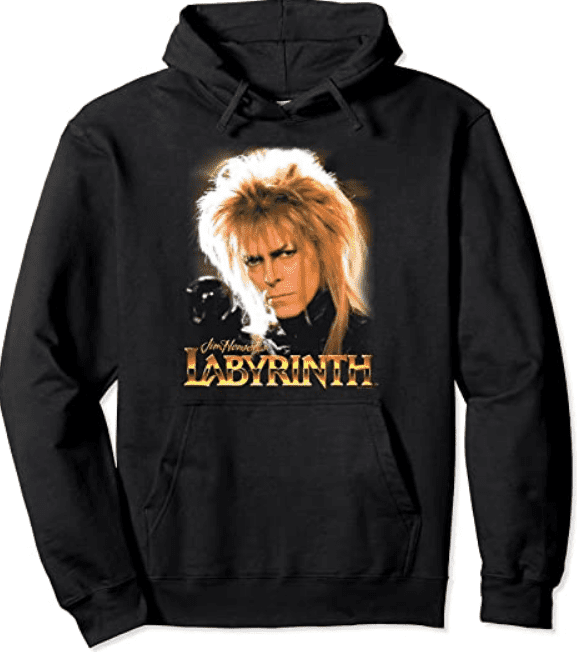 While David Bowie's main gig was singing and performing on stage, he did a fair bit of acting for films and theaters as well. One of his most popular roles was Jareth the Goblin King from the movie Labyrinth. It was released in 1986, and while it wasn't too popular at the time, the movie has become a cult classic.
The interesting thing about this character was that it reflected the weird and wonderful side of Bowie. This persona was what he was known for in the 70s, but he calmed down a bit in the 80s and 90s. The Jareth character brought it back into the fold, and it was many Bowie fans' first experience of him.
This hoodie pays tribute to that movie and the character that Bowie played. I don't think it's the best-looking hoodie around, but I love what it stands for. Bowie's influence and magic presence made it to far more than just the music scene, and this movie was one of the main examples of that.
If you love Bowie and fantasy films from the 80s, this is for you.
Pros
References Bowie's character from Labyrinth
Four color options
Very comfortable fit
Cons
Not the greatest option in terms of visual design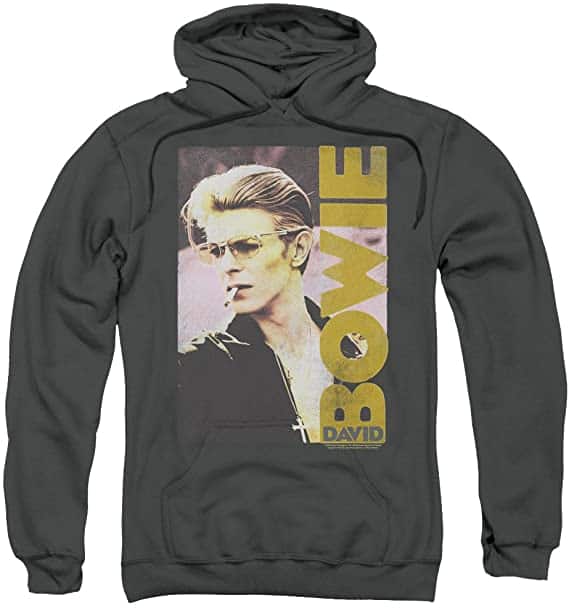 This hoodie has a classic picture of David Bowie from the 70s on it. It was used as the front cover of one of the Rolling Stone magazine issues that Bowie was featured in. David Bowie has to be one of the most repeatedly used artists on the front covers of the publication, and that's one of my favorite facts about him.
This hoodie gives bad boy from the 70s vibes, making it a good option to wear if you want to make a bit of a fashion statement. I also find it quite interesting that the way Bowie has styled his hair here is the same way many people do it today. We've come full circle.
The hoodie has a dark grey color, and the graphic puts heavy accents on yellow to make it pop out. I think this hoodie looks great, even for people who aren't massive Bowie fans.
Unfortunately, it only comes in small and medium sizes.
Pros
Appealing picture of David Bowie on the front
Great hoodie to make a fashion statement
The dark grey color is awesome
Cons
Only small and medium sizes available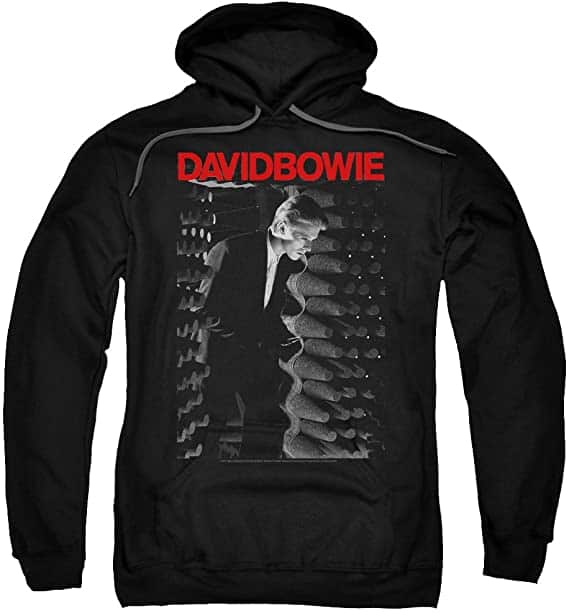 Station to Station was one of David Bowie's best albums. It was released in 1976, and it was the album where Bowie took on the persona of The Thin White Duke.
Over his career, David Bowie adopted a few personas. It was one of the most interesting things about him. He'd take characters and perform as them for a few years, reverting back to his normal self after a while.
This hoodie has the Station to Station album cover printed on the front, with The Thin White Duke standing ominously. It was an amazing album, giving tracks like Golden Years and Wild Is The Wind.
One of the best things about this hoodie is that it comes with a 3X-large size option. So, almost anyone can wear it according to their size.
Unfortunately, this album came from a time when David Bowie was heavily addicted to drugs. I love the fact that he still released a banger of a record in the middle of that, though.
Pros
References one of Bowie's best albums from the 70s
The album cover has Bowie's Thin White Duke persona
Very large sizes available
Cons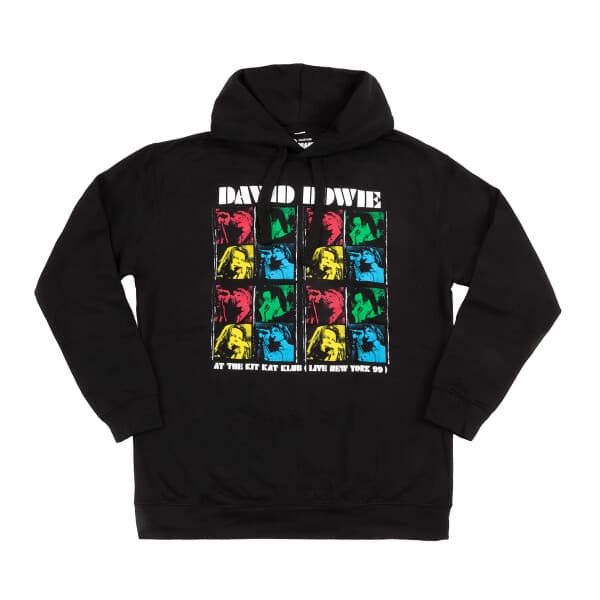 This hoodie references a small tour that David Bowie did in 1999. He was touring the songs from his album, Hours. The pictures and text on this hoodie are for the one gig he did at The Kit Kat Klub in New York City.
This performance was live recorded, and the official recording of it was only released in 2021. It was a fantastic way of giving something more to the Bowie fans.
Something interesting I read was that this gig was livestreamed at the time. Considering it was 1999, it was one of the first few livestream gigs. Apparently, it flopped because of technical constraints. I find that perfectly understandable.
I love this hoodie as it has a bit of color variety. There are sixteen pictures of David Bowie singing into a mic, with yellow, blue, red, and green being used for them. I'm also a sucker for live gig tees and hoodies, so this one appeals to me a lot.
Just note that this hoodie doesn't have any pockets.
Pros
References a live show that Bowie did in 1999
Colors add great variety
Interesting story behind the live show
Cons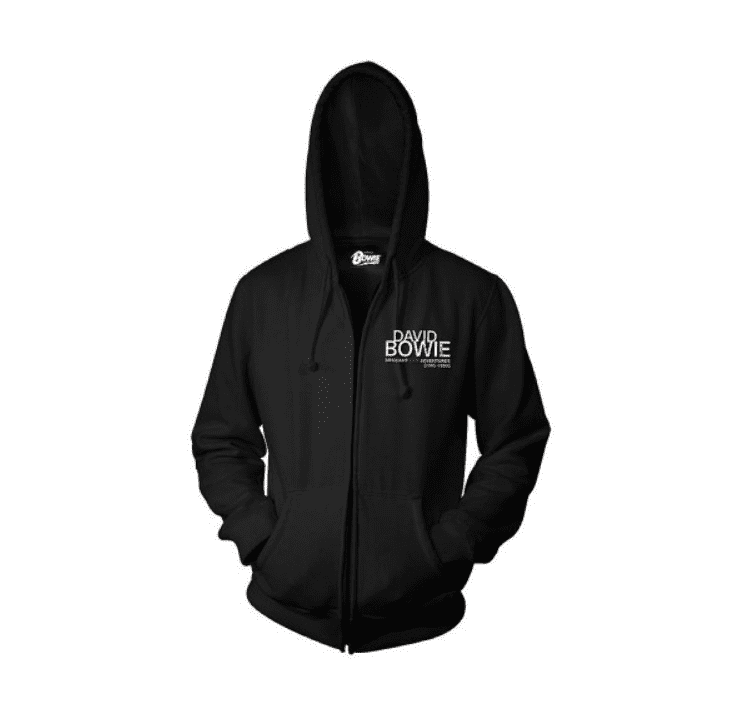 Here's another reference to live performances from Bowie that were recently released. Brilliant Live Adventures is a set of live albums recorded between 1995 and 1999. This hoodie was a bit of promotional merch that went along with the box set.
While there isn't anything too extravagant here, I think this hoodie is very practical. It's a zipper hoodie, allowing you to wear it open if you prefer that. The material feels amazing, and the quality makes it highly durable.
The mention of David Bowie on the chest of the hoodie is a nice touch, but anyone could wear this. It's the perfect hoodie to wear if you have a white Bowie t-shirt to display underneath it, but you need to keep warm.
The material and zip design make it a bit more expensive than the other hoodies on this list. You should always keep in mind that zipper hoodies are a bit pricier.
Pros
Fantastic material
Zip design
Durable
Cons
Zip designs are more expensive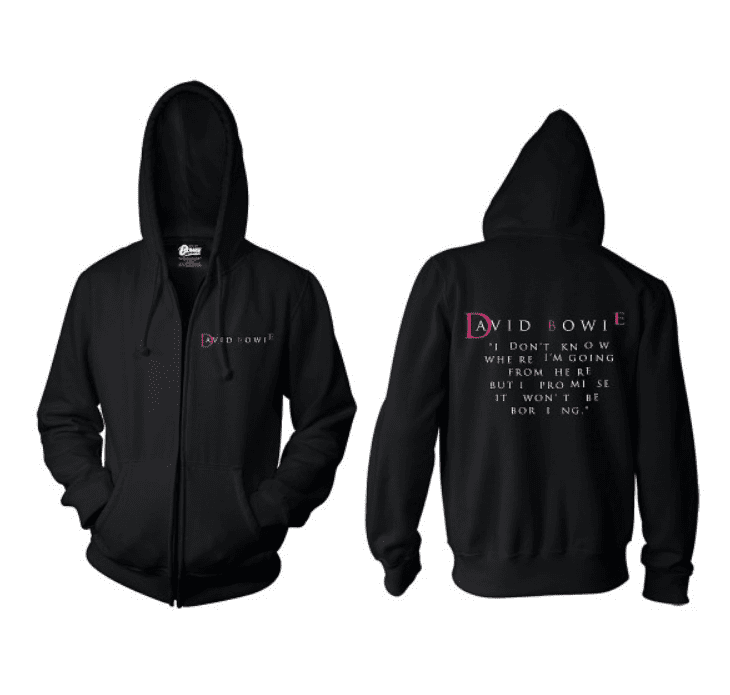 If you liked the idea of the previous hoodie but want something a bit more to do with Bowie, here's your perfect answer. "I don't know where I'm going from here, but I promise it won't be boring" is a massively popular David Bowie quote.
It's written on the back of this hoodie, and Bowie's name is written on the front. This is my top pick for this list as the quote is one of the best reflections of Bowie's career.
An interesting fact about it is that it's actually misquoted. He originally said, "I promise I won't bore you," but the commonly said quote roles a bit better off the tongue.
The quote gives the hoodie a good bit of history, considering that Bowie said it around his 50th birthday. He had been performing for 35 years at that point.
Pros
Very popular quote from David Bowie
Top-quality material
Zip design
Cons
The quote isn't true to the original thing Bowie said, but I can only see that bothering a few people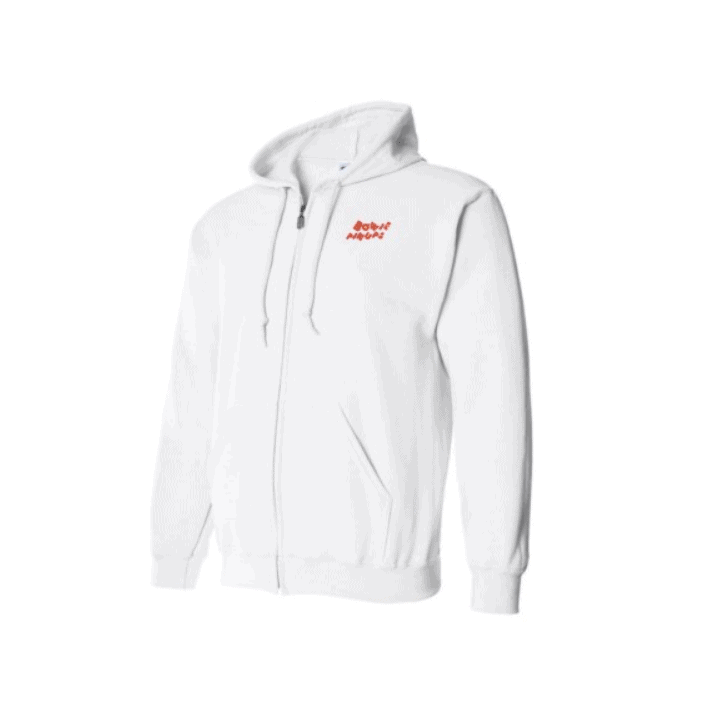 This hoodie references David Bowie's album, Pin Ups, which was a record full of covers of popular 60s songs.
I love it when established artists release covers. It gives you a new perspective on songs, and that perspective comes from an artist that you already love. So, a whole cover album is something I appreciate quite a bit.
The hoodie is white, which is a stark contrast to all the dark hoodies that I've suggested on this list. If you love white hoodies, here is your best bet.
The pictures on the back of the hoodie are polaroids of David Bowie at the time that this album was released. Polaroid pictures have a vintage aesthetic, which is perfect for the design of this hoodie.
It has a zip design, and you can get it up to 2X-large. Overall, it's an excellent option.
Pros
References David Bowie's album called Pin Ups
Only white hoodie on this list
Polaroid pictures on the back fit the vintage aesthetic very well
Zip design
Cons
White hoodies tend to get dirty a lot quicker than darker hoodies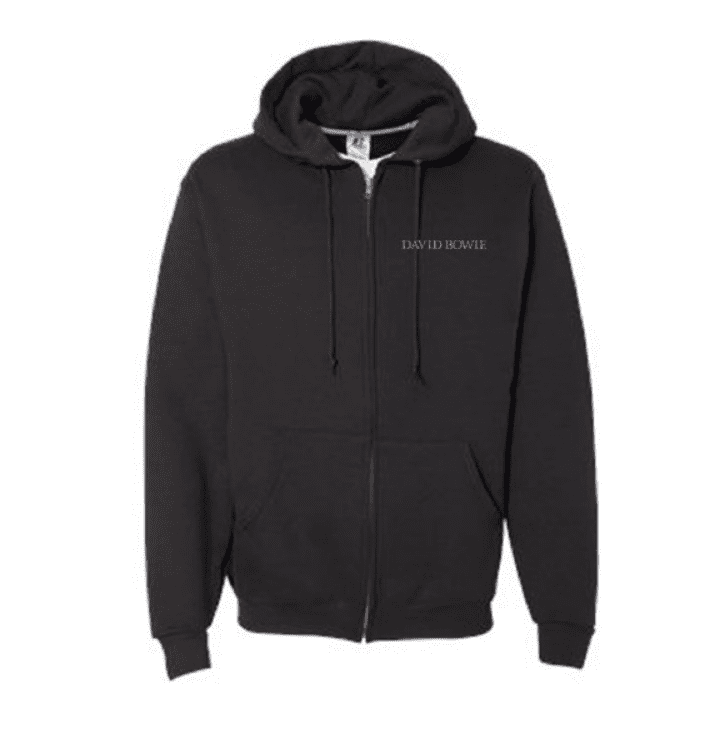 Aladdin Sane is yet another iconic David Bowie album. It was released in 1973, and the image of Bowie with a thunderbolt painted on his face is widely recognized. This hoodie takes inspiration from that design, having the thunderbolt printed on the back.
I love the art here. It has David Bowie's face printed within the thunderbolt. It's somewhat subtle, but it's bold enough to be worthy of any extravagant David Bowie fan.
The front of the hoodie is simplistic, only having Bowie's name written near the chest. It's another zip design, which is an added bonus.
I'd love if you got a white option here, as the album cover for Aladdin Sane was white. You only get black, though.
Pros
References Aladdin Sane, which is one of Bowie's top albums
Fantastically designed graphic on the back of the hoodie
Zip design
Cons
I wish there was a white hoodie option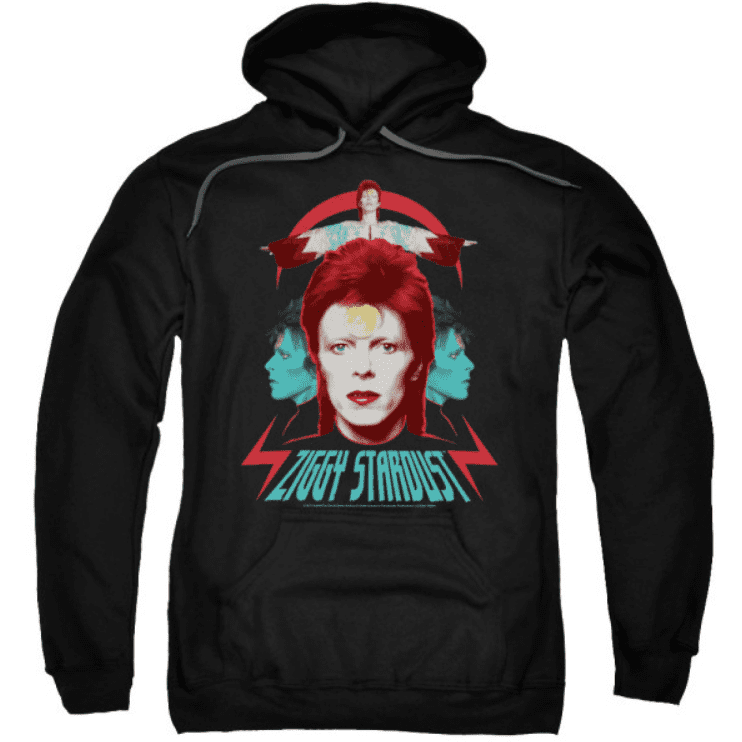 Ziggy Stardust was an androgynous alien rockstar character that Bowie performed as in the early 1970s. Many people will say that this character is what put him on the world map. The character was a bit creepy to look at but enthralling at the same time.
This hoodie is for the Bowie fans that loved that side of him. The graphic involves the Ziggy Stardust character positioned in four different ways to create a group pose. It looks very intriguing. It's also very 70s.
You have the option of getting a black or grey hoodie with this one. The black version makes the graphic pop out a bit more, whereas the grey version has a more casual and worn look. Both are great, and your personal preference should determine which one to get.
There's also a zip version available with the graphic at the back.
Pros
References Bowie's Ziggy Stardust persona
Grey and black version available
Zip and pullover designs available
Cons
The Ziggy Stardust character looks a bit intimidating on a hoodie
FAQs
Question: Why Was David Bowie So Popular?
Answer: David Bowie was a massive influence on the music industry as well as pop culture from the 70s until just a few years ago. His music was perhaps his most well-known aspect, but he also acted.

He's one of the few artists that made top-selling albums for several decades, and his works are still the favorites of many. He pushed the boundaries of live performance, dressing in questionable clothing to incite reactions at the time.

He influenced many styles of music, and he had a few personas over the years that delved into different musical areas. Overall, David Bowie was a pop culture icon.
Question: What Style of Music Did David Bowie Make?
Answer: David Bowie was one of the first musicians to introduce the world of glam rock. He was heavily influenced by the rock bands of the 50s and 60s, so that style came out in his music, but he blurred genres to create a unique style.

He went on to release 26 albums that covered as many genres as you can think of. But to put a label on his career, I'd say that he was one of the first world-famous pop music superstars.

He performed a lot of rock music later on in his career, especially in the early 2000s.
Question: How Did David Bowie Die?
Answer: David Bowie died from liver cancer. He was diagnosed with it in 2014 but kept it a secret from everyone he worked with. When his death was announced in early 2016, many people were shocked to hear that he was sick.

Something interesting to note is that he released his final studio album, Blackstar, a few days before he passed. It was as if the album was his parting gift to the world, making it incredibly special.

Bowie had such an impact that thousands of people around the world paid tribute to his life. Artists such as Mick Jagger, Elton John, and Bruce Springsteen expressed their admiration for him, and fans around the world hosted memorials.
Question: What are David Bowie's Most Popular Songs?
Answer: The first song that comes to mind is Heroes. It's the song I always mention when someone asks who David Bowie is. When I give them that name or sing a bit of the tune, I always get an "ooooh, I know that one."

A few other popular Bowie tunes are Life on Mars, Space Oddity, Ziggy Stardust, Ashes to Ashes, Young Americans, Starman, and Rebel Rebel.

One of Bowie's most popular songs that he made with another artist was Under Pressure. It was a song that he did with Queen, one of the powerhouse British rock bands of the time.
Question: What Was Up With David Bowie's Eyes?
Answer: One of David Bowie's most notable physical features was his eyes. They appeared to be colored differently, making people question whether he was wearing something to change them.

He had a condition called anisocoria, which made one pupil bigger than the other. The size difference meant that light refracted differently, giving the illusion that they were different colors. David Bowie was punched in the eye as a child, causing the condition.

Although it was an accident, his eye condition is one of his defining features. It boosted his appearance, and that boosted his career. David Bowie was always a bit of a mysterious character, making him intimidating to look at. His unmatched eyes added to that.
Question: Which Popular Musicians Performed with David Bowie?
Answer: David Bowie had such a long and successful career that he ended up performing with dozens of highly popular artists. I already mentioned his collaboration with Queen, so a few other names would be Tony Visconti, Iggy Pop, John Lennon, Mick Jagger, The Pat Metheny Group, and Arcade Fire.

Bowie also had dozens of incredibly talented musicians back him over the years. One of my favorite drummers, Mark Guiliana, recorded all the drum parts for Blackstar, which was Bowie's final studio album.
Conclusion
To wrap things up, all these hoodies look fantastic. While the I Don't Know Zip Hoodie is my favorite, you may find yourself favoring any of the others. Some of them are a bit more extravagant and resemblant to Bowie's younger years. Others are tame, resembling his more recent performing days.
David Bowie left a massive legacy in the world, and getting some merch is a fantastic way of celebrating him.
Continue reading related David Bowie Merch Guides: