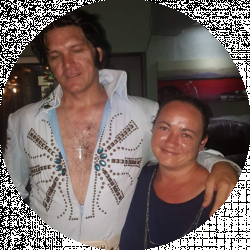 Latest posts by Caroline Lambert
(see all)
Maybe I'm a little conventional, but the Yellow Submarine was my favorite song from The Beatles. I collect rock-era merchandise because I was born into a world that loved the era. Writing The Beatles Merchandise guide helped me determine how many types of merch I can collect and how to use each one.
I'm not that old, so don't worry. When I say I was born into it, my dad was over 80. My mom followed close behind, and my siblings were old enough to be my parents. Our home's foundations rocked to the music of The Beatles, among other rock legends, every weekend. My brothers and I still love the music.
I know every word to every song by a rock-era icon. I love the classic merch potential of a much-loved era that rocked the collectible world. The Beatles birthed a possibility for collectibility larger than most bands. So, let me share my love for the band and their incredible merch opportunities, from types to top recommendations.
A Brief Overview of The Beatles Background
The Beatles were the most iconic band of the rock era. My dad loved The Beatles, and his passion rubbed off on my ears and heart. Paul McCartney, George Harrison, and John Lennon are household names, even among younger generations. However, the band is old enough to have been one of my 80-year-old father's favorites.
My dad wasn't the only fan because the band made over $170 million over their careers. The Beatles are a legend of legends among the rock-era bands. George, Paul, and John were born with rock in their blood. They formed many bands over their early years, but they became icons when Brian Epstein became their agent.
The Beatles recorded their first hit called "Love Me Do" at Abbey Road Studios in London in 1962. Epstein recommended the band fire Best, and Ringo Starr became one of their legends. The band became an instant hit, and the songs soon flowed into "Let It Be," "Yellow Submarine," and "I've Got a Feeling."
The Beatles moved from the Ed Sullivan Show to their first World Tour in 1964. The Beatles welcomed hippie lifestyles and feel-good rock music to the world. The band members backed diversity movements, showing how love and peace can rock any divide. They brought changes through their music fandom.
Women were falling over their feet by the late 1960s, and men wished they were The Beatles. The band shook the foundations of the rock era, and they're known as one of the most iconic rock bands in history. Popularity leads to memorabilia because fans have to own a piece of their memorable legends.
All Hail The Beatles Merch
I collect memorabilia and merchandise that means something to me. Trending fandoms don't easily sway me, especially modern ones. The Beatles were never a trending, passing moment. They live in my heart for the rest of my life. Their songs, quotes, and images spring to mind more often than I'd admit.
My point is that merchandise allows me to express my passion for The Beatles. First, I can have posters in my office to remind me why I'm writing for the Rock Era Insider. Second, I can collect Funko Pop because I'm a collector. Finally, I can enjoy The Beatles Apparel to connect with other fans when I go to modern rock concerts.
The link between merchandise and The Beatles is that I can express the overflowing passion I have for the legends. The Beatles are so famous that the merchandise opportunities are endless to make it better. Anyone can remember their icons, in the office, at home, and on the move.
Examples of Merchandise for The Beatles
The Beatles have a line of merchandise unlike other fandoms because the rock era and the band were and still are iconic enough to have every fan want merch. I'd dedicate a room to The Beatles if I had the space. Here are some examples of the fantastic merchandise categories available for The Beatles.
1. The Beatles Apparel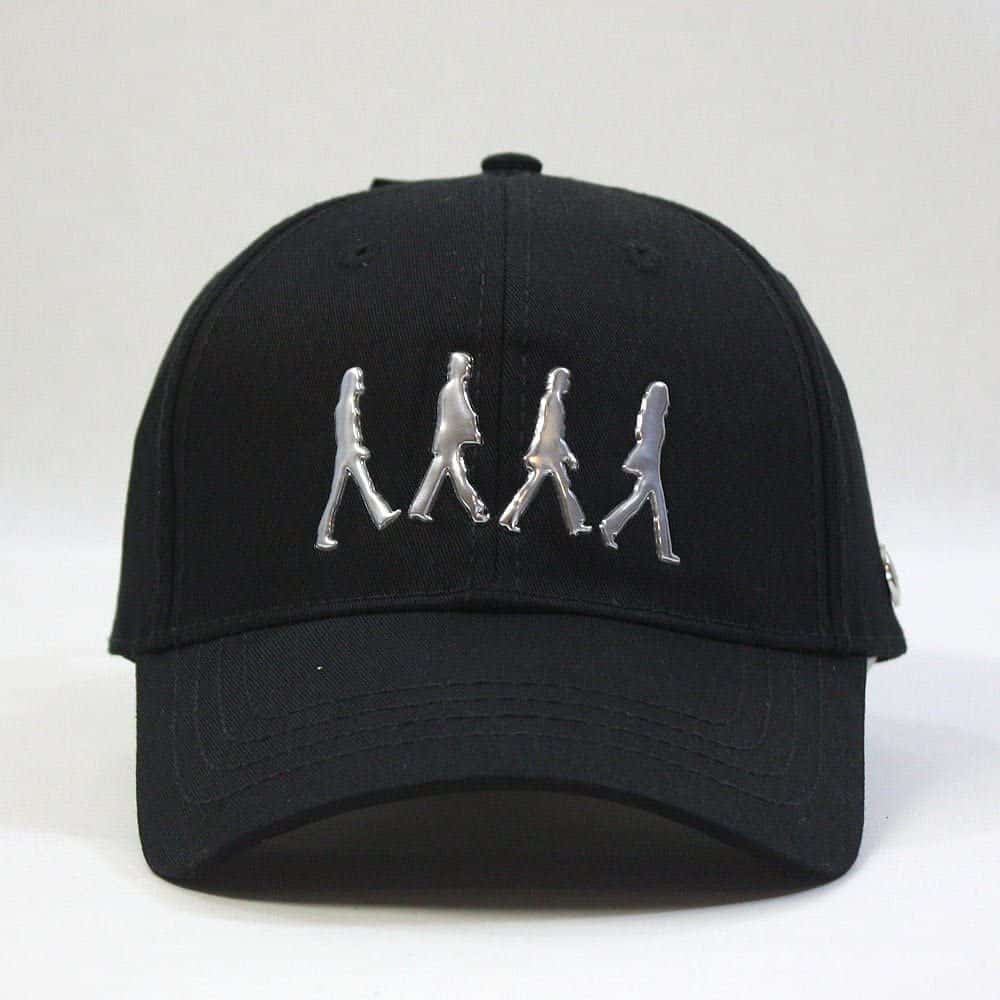 The Beatles wearable merch category is another popular one I could swim through. I can wear a John Lennon shirt with a band hoodie over it. My partner could flaunt The Beatles' socks while wearing cufflinks and sunglasses. Here are a few wearable merch examples for the band:
2. The Beatles Collectible Merch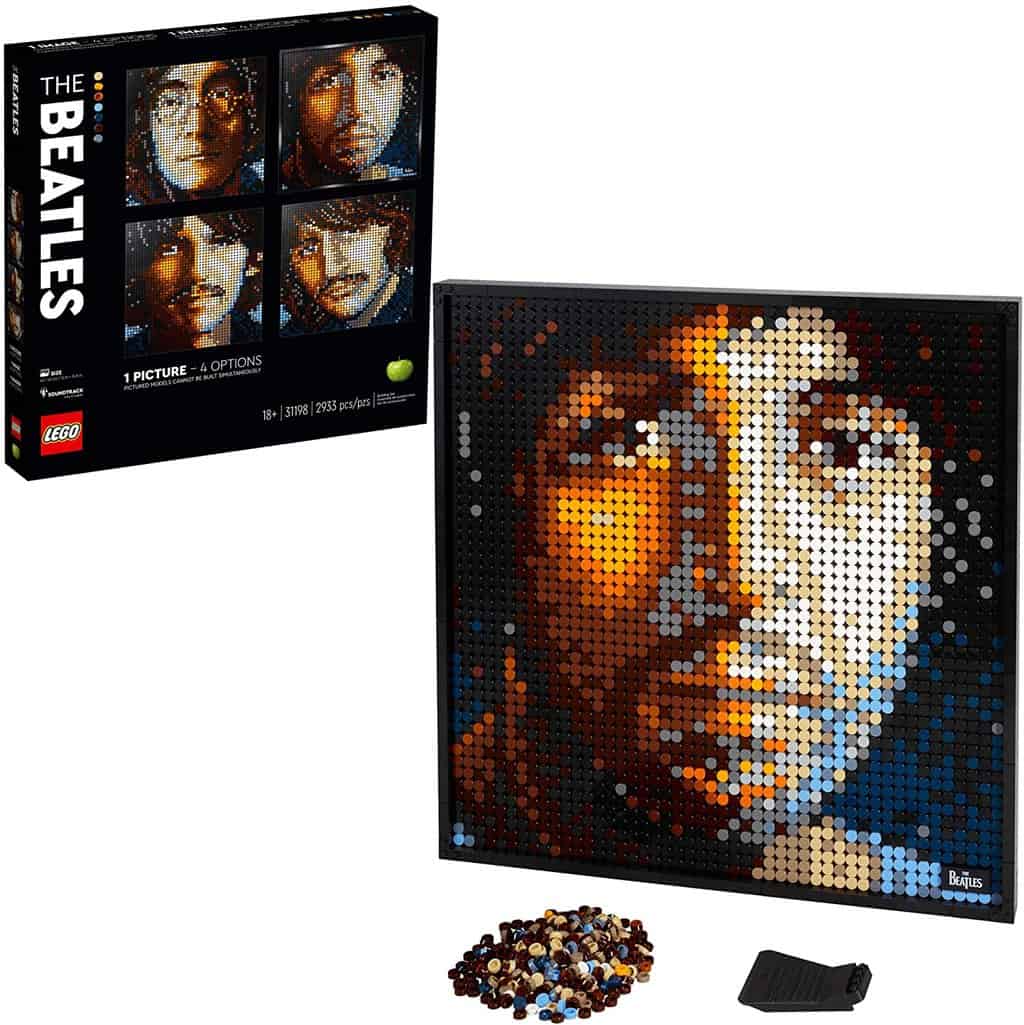 One of my top picks is collectible merch because I've been in the collectible business for over a decade. Replicas, toy figures, and Funko Pop vinyl are highly collectible and don't take too much space. You'll be rocking the collectible world with John Lennon and his band buddies from Funko Pop. Some examples include:
3. The Beatles Dedication Merch
Band tattoos are technically in the memorabilia category, but I consider them permanent merch opportunities. I could ink Paul McCartney or the entire band on my body. It's a permanent method of memorializing the icons that brought the world so much joy. Some examples include:
4. The Beatles Homeware Merch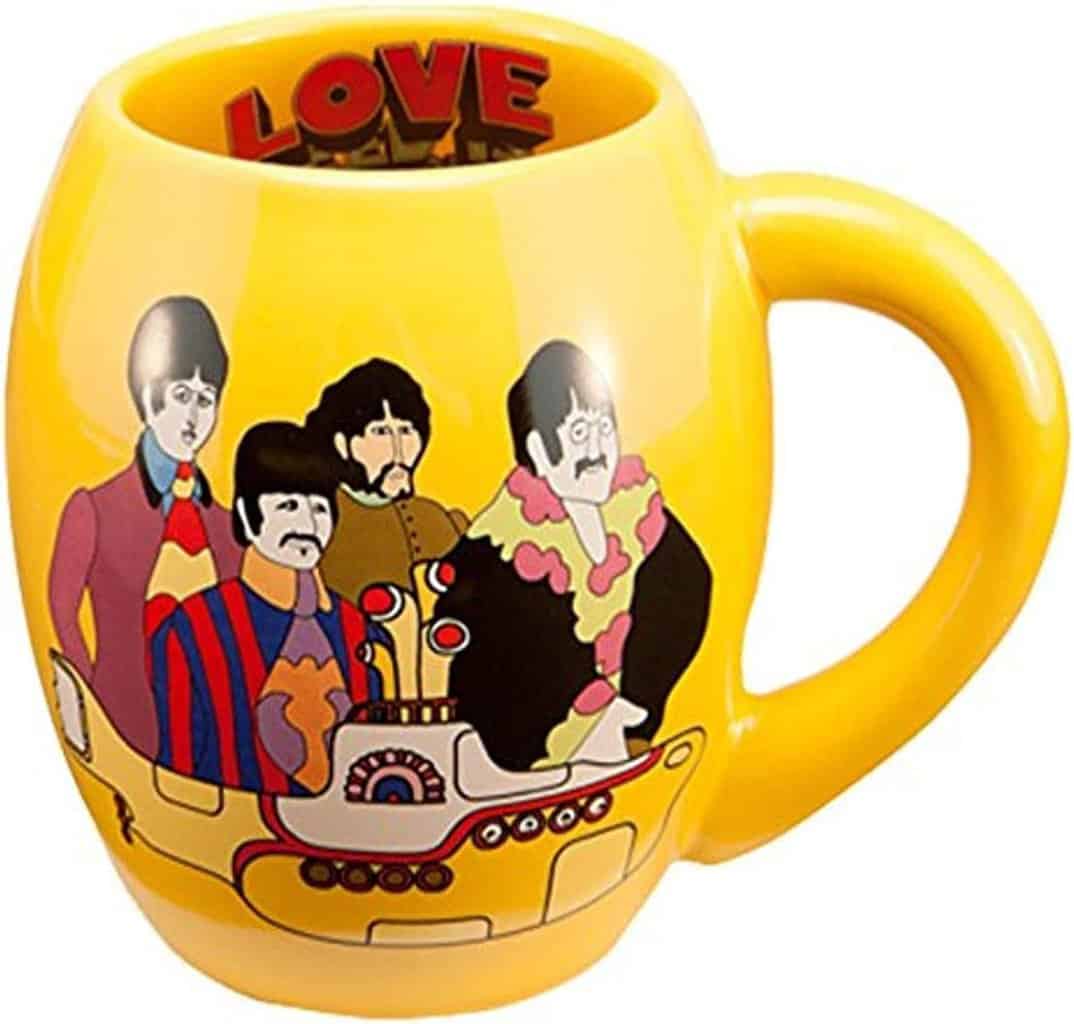 Homeware merch might seem dull, but there's some potential for affordable collectibles from my favorite band. Who doesn't love a Paul McCartney Coffee Mug and The Beatles coasters? It often gets my visitors talking about their favorite songs. Some homeware examples include:
5. The Beatles Musical Merch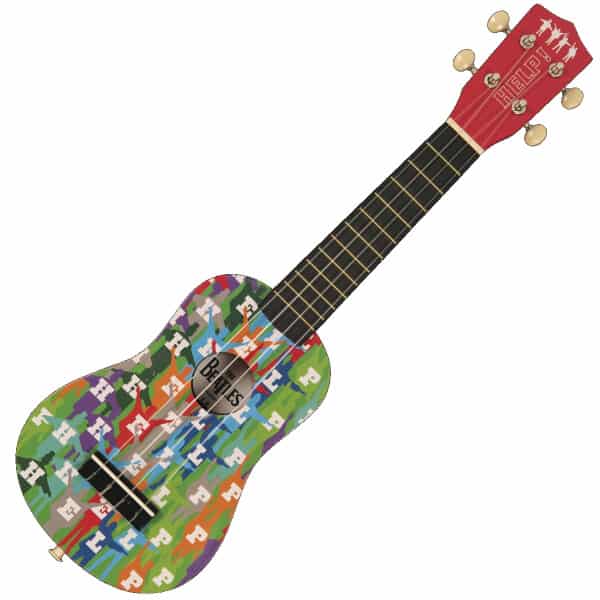 Musical merch is one of the top categories because the rock-era legends rocked our worlds. Musical merch can include album covers, vinyl records, and guitar picks. Some of the musical merch by The Beatles includes:
6. The Beatles Office Merch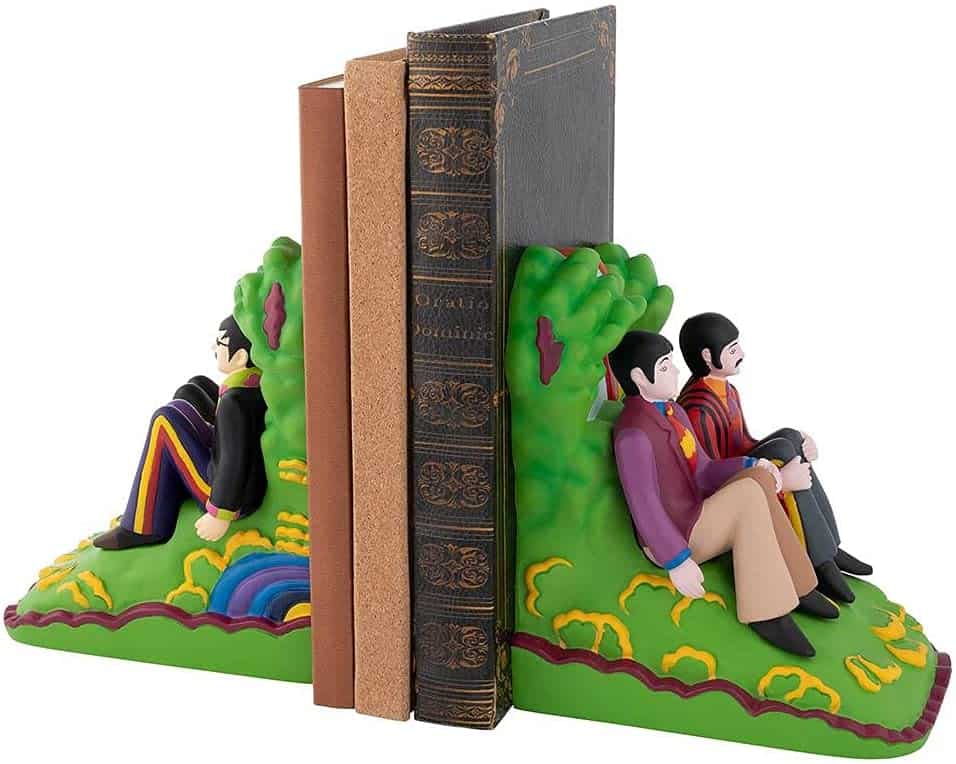 I don't know what you feel, but my office is the only place I don't feel like I'm rocking through life. Sure, I sometimes drive my neighbors insane by turning up the volume while writing, but they complain when Yellow Submarine plays on full volume for the tenth time. Anyway, here are some office examples to kill the dullness:
7. The Beatles Random Merch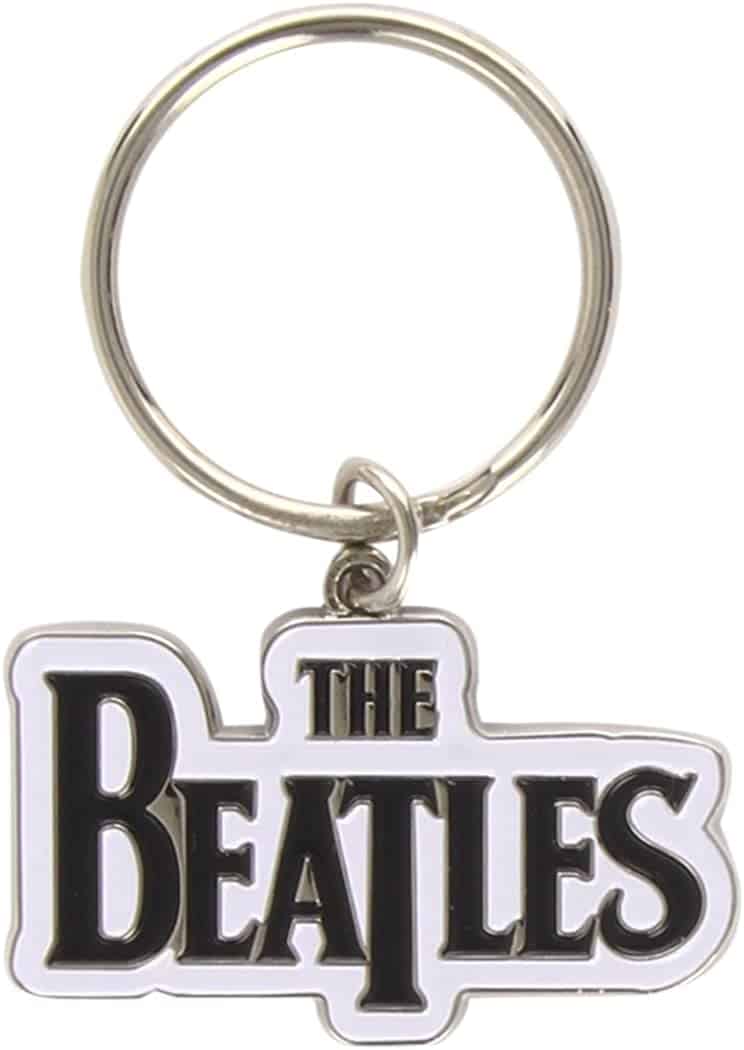 The Beatles have merch for everything, including keychains and luggage sets. I'd rock a Beatles luggage set through an airport. The random merch category also includes truly random things like novelty bills. It's pretty cool that The Beatles have fake money with their pictures. Some random examples include:
8. The Beatles Replica Merch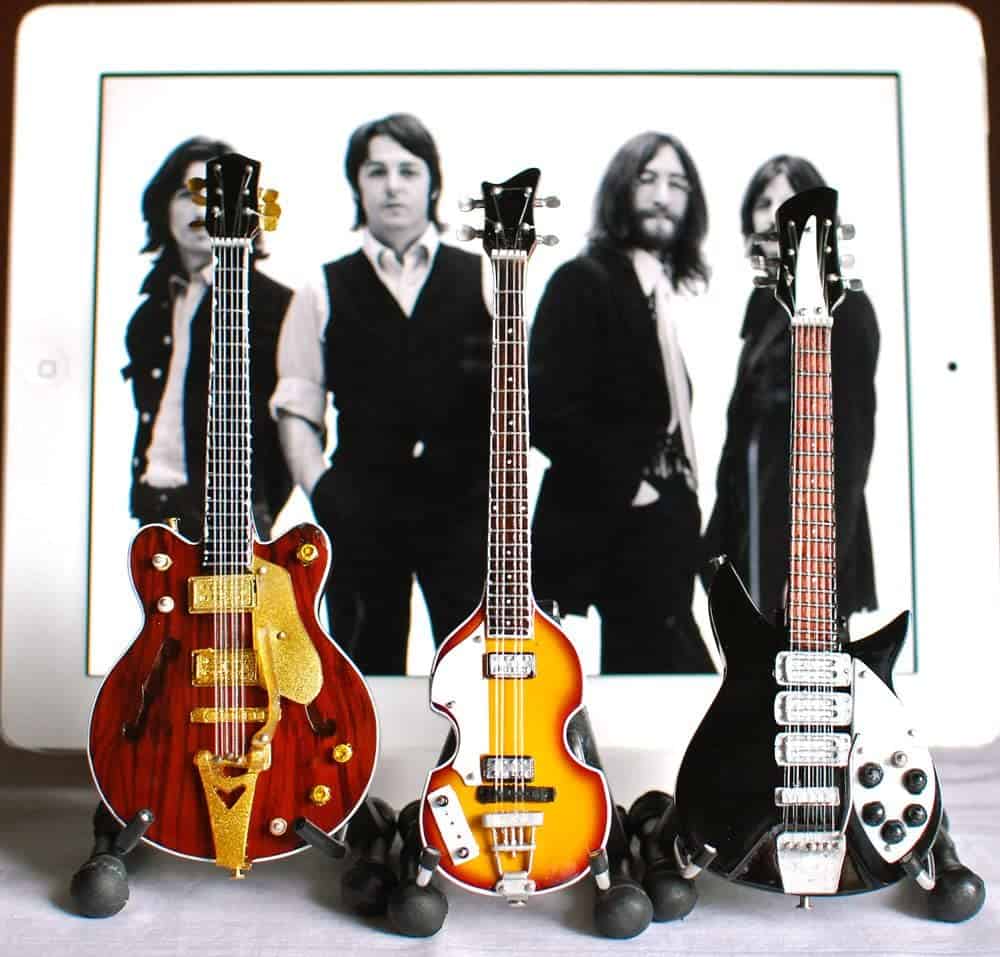 Replica merchandise is one of the most collectible opportunities. Some replicas can cost a fortune, especially finding life-sized models of the band's guitars. I'd love to own a John Lennon life-sized replica, but they're not easy to find. Here are some replica merch examples:
9. The Beatles Traveling Merch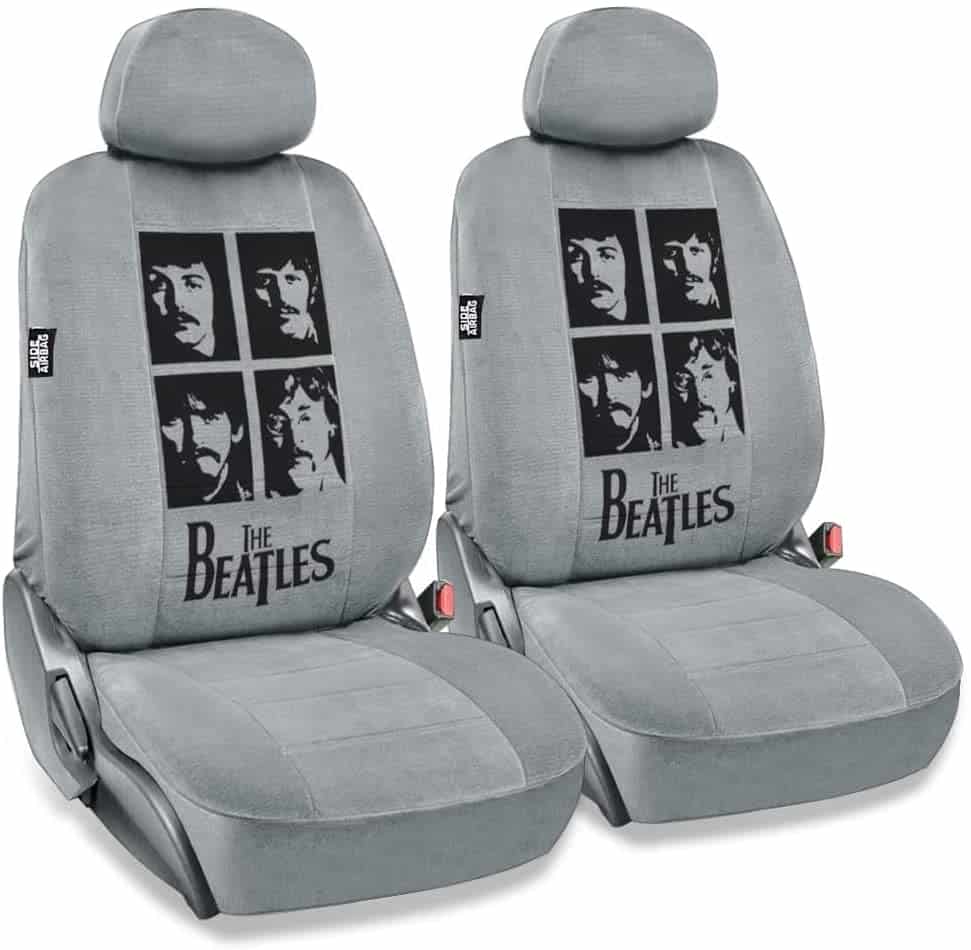 I'm not referring to luggage sets when I say traveling merch. For example, The Beatles have a range of traveling merch for rock-era fans who spend many hours in their cars. Imagine rocking to the Yellow Submarine with The Beatles decal stickers on the back window. Every driver will envy you in traffic.
Maybe you'll inspire someone to enjoy their commute more than they typically do when they see you rocking on like a 1960s legend. Here are a few traveling merch examples:
10. The Beatles Vintage-Style Merch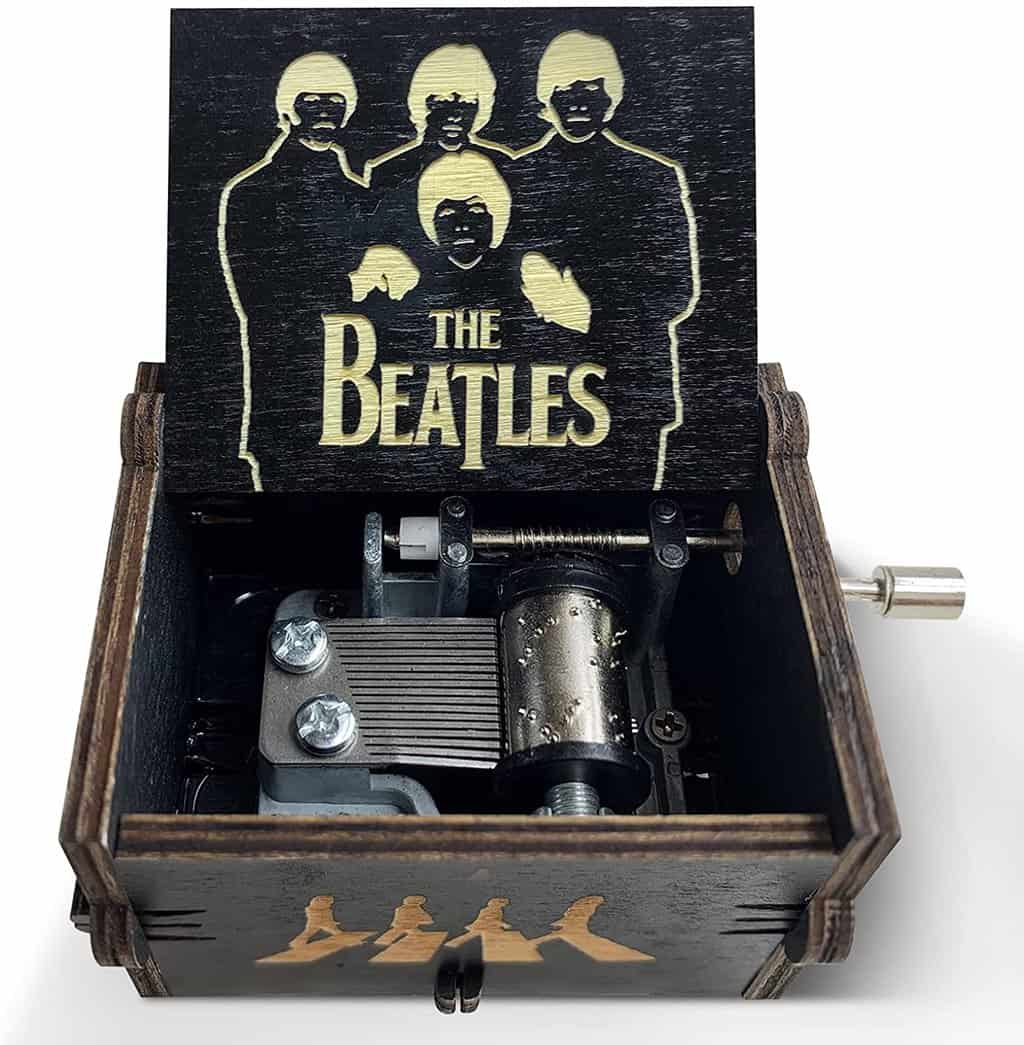 Vintage-style merch isn't necessarily 50 years old or older. The merch is stylized to look vintage, and the more popular types include music boxes and wall posters. I love retro wall posters, and the music boxes are rocking-fabulous because they play my favorite songs. Some vintage-style merch examples include:
11. The Beatles Wall Memorabilia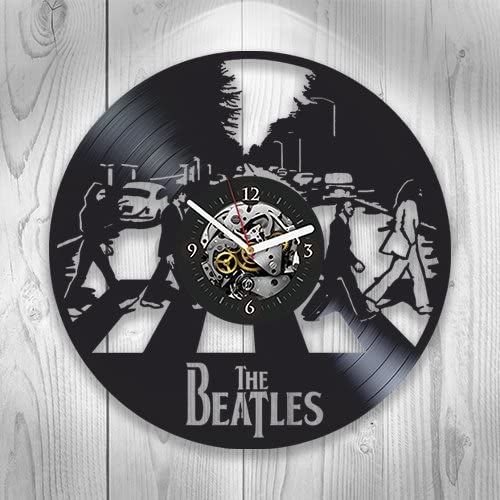 Wall memorabilia or merch is one of the most accessible types that allow for a massive variety. I could stick 100 Beatles posters up in one room. I could turn my partner's man-cave into a Beatles' dream house. Wall merch includes posters, but it also has metal signs, clocks, plaques, and signatures.
It includes anything I can stick on my walls to remember the icons. I could have some lyrics surrounded by the Beatles band posters and a clock next to a calendar. Wall merch has endless potential, and here are some examples:
Best Tips for Collecting The Beatles Merch
Collecting The Beatles merchandise is highly recommended if you love the band. Ringo, Paul, George, and John bring an era back to life with any merch you collect. However, my number one tip is that you buy their merch from credible stores or online stores with good reviews. There's an official Beatles Merch Store.
There isn't a better place to buy quality merchandise than the official store that sends royalties to John and George's families. The store also sends royalties to Paul and Ringo, who remain alive and musically active. If you buy merch from an Amazon store, check the reviews to ensure you aren't getting poor-quality merchandise.
For example, buying a sweatshirt for The Beatles is fantastic, but it's horrible when it arrives and has no shape. Some sellers don't stick to the US sizes, either. Double-check your sizes, the fabrics, and the reviews to make sure you're happy with your merch. It resolves plenty of frustration before getting the items.
My second tip is that you try (and I mean try) your best to limit which categories of merch you love. There are subcategories for a reason. Another subcategory would be for each Beatle legend. Originality and self-control are the best ways to collect The Beatles merch.
Buying Guide for the Best Beatles Merch
Again, I'll help you keep the urge to buy every Beatles merch item in check by recommending my absolute best pick from each category. I'll choose one from each type by considering the aesthetic and quality value and whether it includes images or depictions of one of the band members or a popular song that hit the charts.
Top Beatles Merchandise Recommendations
The Beatles merchandise recommendations offer a variety of types you can collect. I'll share the reasons for picking them and how each collectible features the pros and cons of the purchase. So, let's rock the recommendations and help you find a fabulous piece of memorabilia.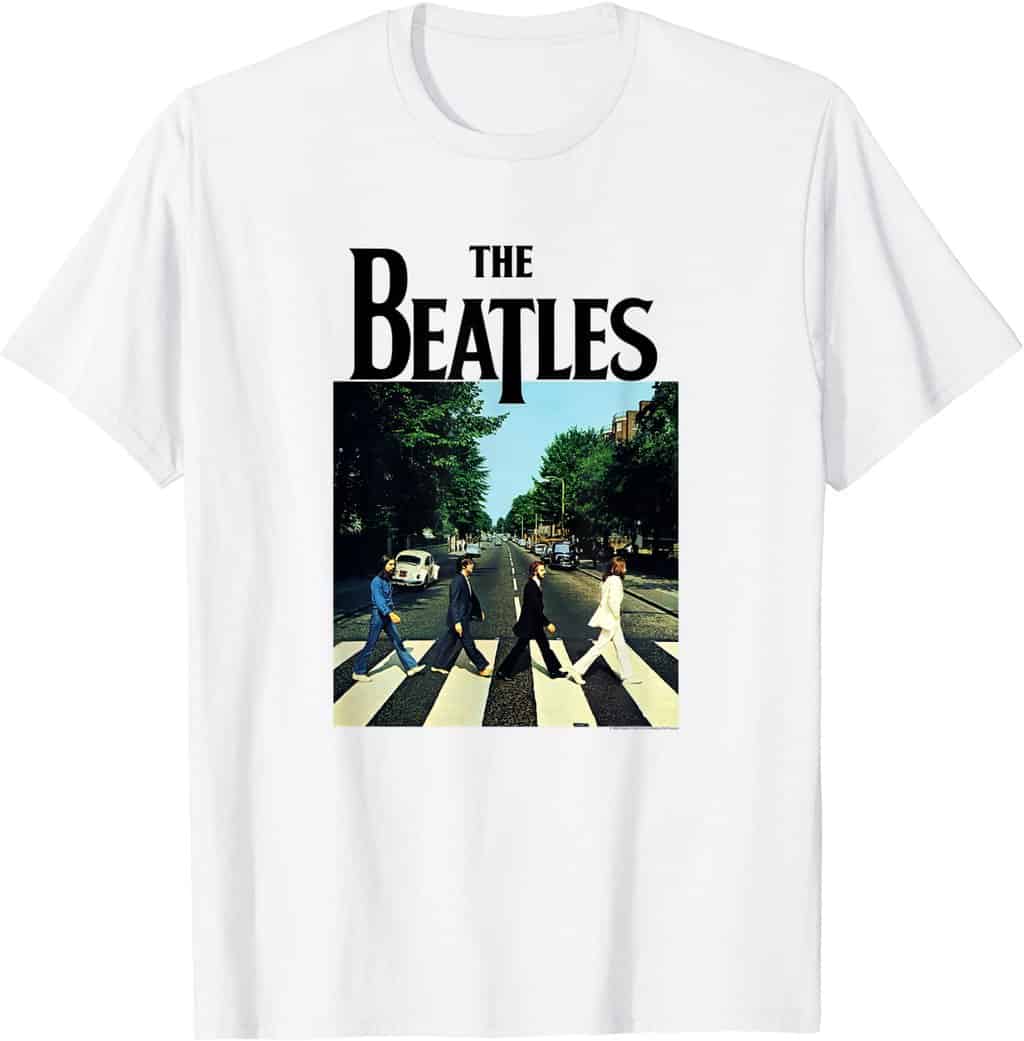 Let's face it, the most common apparel for The Beatles is t-shirts. Everyone can wear them; even women can wear men's shirts. I chose this t-shirt above others because it's a unisex option with various colors and sizes. Additionally, it has the iconic Beatles walking across the Abbey Road crossing. It's a famous band image.
Here's our complete list of the best The Beatles t-shirts.
Merch Facts:
Type: The Beatles Abbey Road T-Shirt
Character/Song: Paul, John, George, and Ringo
Brand: The Official Beatles Store
Details: It fits men (sizes S-XXXL), women (sizes S-XXXL), and children (sizes XS-L)
Pros:
The Beatles Abbey Road T-Shirt is a treat for fans of all ages, and it comes in lemon yellow, heather gray, pink, baby blue, and white
The Beatles shirt has a cross-gender design and is a cotton-polyester combination that lasts forever
It's an officially-branded shirt from the Beatles online store, and it shows the most famous image of the band members on Abbey Road, London
Cons:
The gray, white, and blue colors work for men and boys, but some guys love black backgrounds.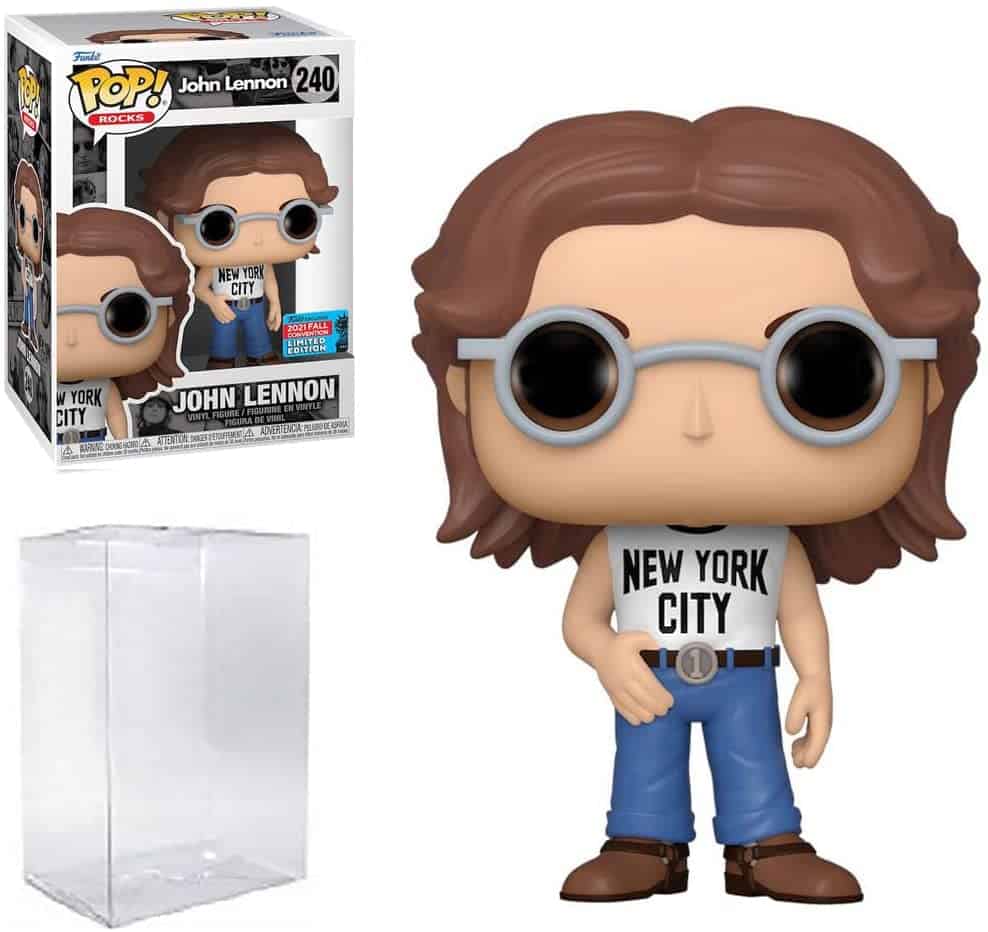 I love Funko Pop nearly as much as The Beatles. Maybe I shouldn't compare them because they're apples and oranges. Nevertheless, The Beatles Funko Pop combines two highly collectible fandoms. The vinyl figures look incredible, and John Lennon doesn't disappoint. He's one of the four famous band members.
Merch Facts:
Type: John Lennon NYCC 2021 Fall Convention Funko Pop
Character/Song: John Lennon
Brand: Funko Pop
Details: John Lennon 3.75″ collectible vinyl figure
Pros:
The John Lennon Funko Pop is an exclusive from the 2021 Fall Convention in New York, making it more collectible than other vinyl figures
I love that John Lennon wears a New York shirt on this vinyl figure because the figure is a unique design for the convention alone
Lenon looks relaxed, emphasizing his love for peace, rock, and roll
Cons:
I wish there were Funko Pop figures for George, Ringo, and Paul, but I couldn't find any
Paul McCartney still makes beautiful music, even in his old age. This Paul McCartney tattoo idea is a salute to his younger years when he first met his band friends from The Beatles. The details are on another level, and the face looks more real than most artists can achieve. I'd add some color, but I'm stunned by this dedication idea.
Merch Facts:
Type: Paul McCartney Tattoo
Character/Song: Paul McCartney
Brand: Nick Dancy Tattoos
Details: It's a tattoo template to use for inspiration
Pros:
The details of the Paul McCartney tattoo are insane, and I'd get this inked on my skin if the artist had this skill
Paul McCartney's face looks more human than a photo, and his name underneath is ideal
The flower is another perfection because the band encouraged peace and love
Cons:
You'll have to find a great and expensive artist to get this beauty done properly
I'm not crazy about homeware merchandise. Still, I promised a variety of Beatles recommendations. The most impressive homeware merch I find is a cooler box. The cooler box has Beatles pictures right around the top, including the name, band, songs, and my favorite, the Yellow Submarine. It works for homeware merch.
Merch Facts:
Type: The Beatles Igloo Cooler Box
Character/Song: Paul, Ringo, George, and John
Brand: The Beatles Store
Details: You'll keep food and drinks fresh in the Igloo cooler box
Pros:
The Igloo cooler box comes with gorgeous artwork around the top, depicting a few songs and a couple of band member images
This cooler box focuses on the song "Let It Be," which is another massive hit for the band
Cons:
I wouldn't invest too much in homeware merch as a general rule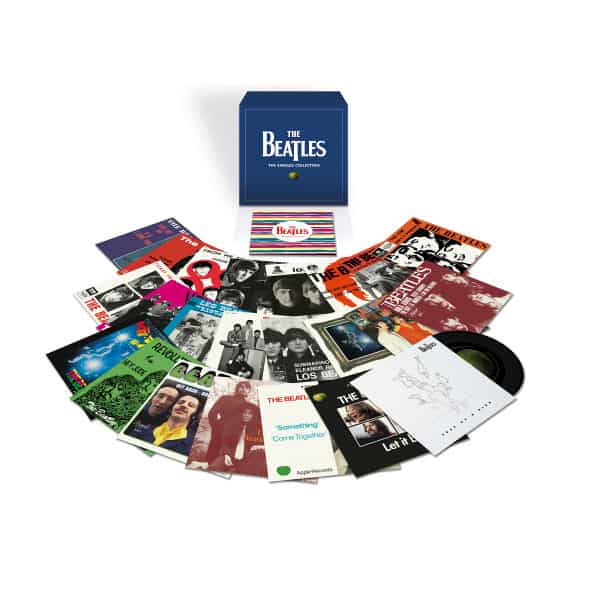 I'd buy many musical merch items at the drop of a hat. Finally, I found one that shocked me into "buy mode." Every fan would love the Beatles Singles Collection Box Set as a limited edition collectible LP set. It includes 22 UK singles from 1962 to 1970, which are the best Beatles years, in my opinion.
Merch Facts:
Type: The Beatles Singles Collection Box Set
Character/Song: All artists and 22 hit singles
Brand: The Beatles Store
Details: You'll be torn between playing and preserving them
Pros:
The Beatles LP box set includes singles like "Free As a Bird," Real Love," and Strawberry Fields Forever," among numerous others
The LPs are seven-inch beauties with double-sided play, and the set comes in a gorgeous collectible box
The collection includes a 40-page booklet with essays written by Kevin Howlett and photos
Cons:
You'll struggle to keep these beauties preserved without wanting to play them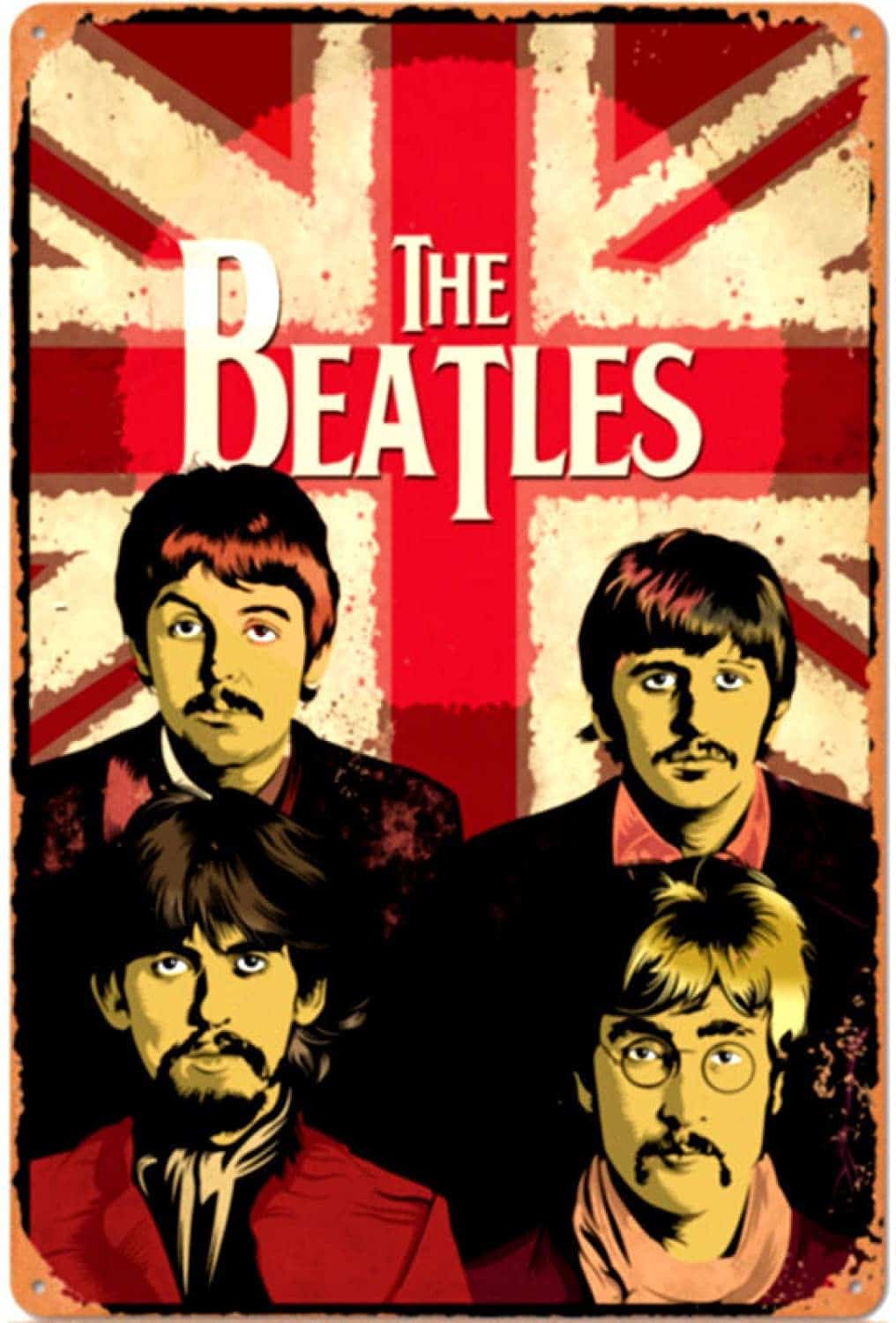 I know there are pens and mousepads available, but I love looking at my rock band when I enter the office. I want their picture hanging on my wall, allowing every office visitor to discuss the band. Everyone knows The Beatles, and chatting about our favorite bands in the office is a break from the day.
Merch Facts:
Type: The Beatles Retro Metal Sign
Character/Song: Ringo, Paul, John, and George
Brand: Fengyin Art
Details: It's a vintage-style 8 x 12 inches poster
Pros:
The Beatles were British, and it makes sense to have a gorgeous wall hanging with their flag behind them
The retro metal sign showcases Ringo, Paul, John, and George in the prime of their rock careers
Cons:
It's not technically an office merch idea, but it works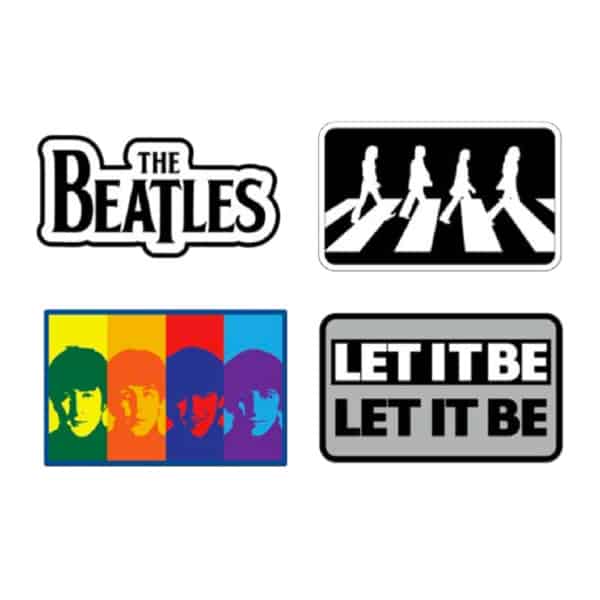 Do you know why I chose the iron-on patches as my top random merch pick? My partner's a biker, and I imagine him having these patches embroidered onto his leather jacket. He's as much of a Beatles fan as me, and the idea is already stewing in his mind after I found this random biker merch.
Merch Facts:
Type: The Beatles Iron-On Patch
Character/Song: Let It Be (song) and the four Beatles members
Brand: The Beatles Store
Details: Turn these patches into bikers' wear
Pros:
I'm already seeing my partner adding these gorgeous patches to his leather jacket
The set includes four patches with a favorite song, the band name, and Abbey Road with the band members
Cons:
It might be better to buy a t-shirt if you're not a biker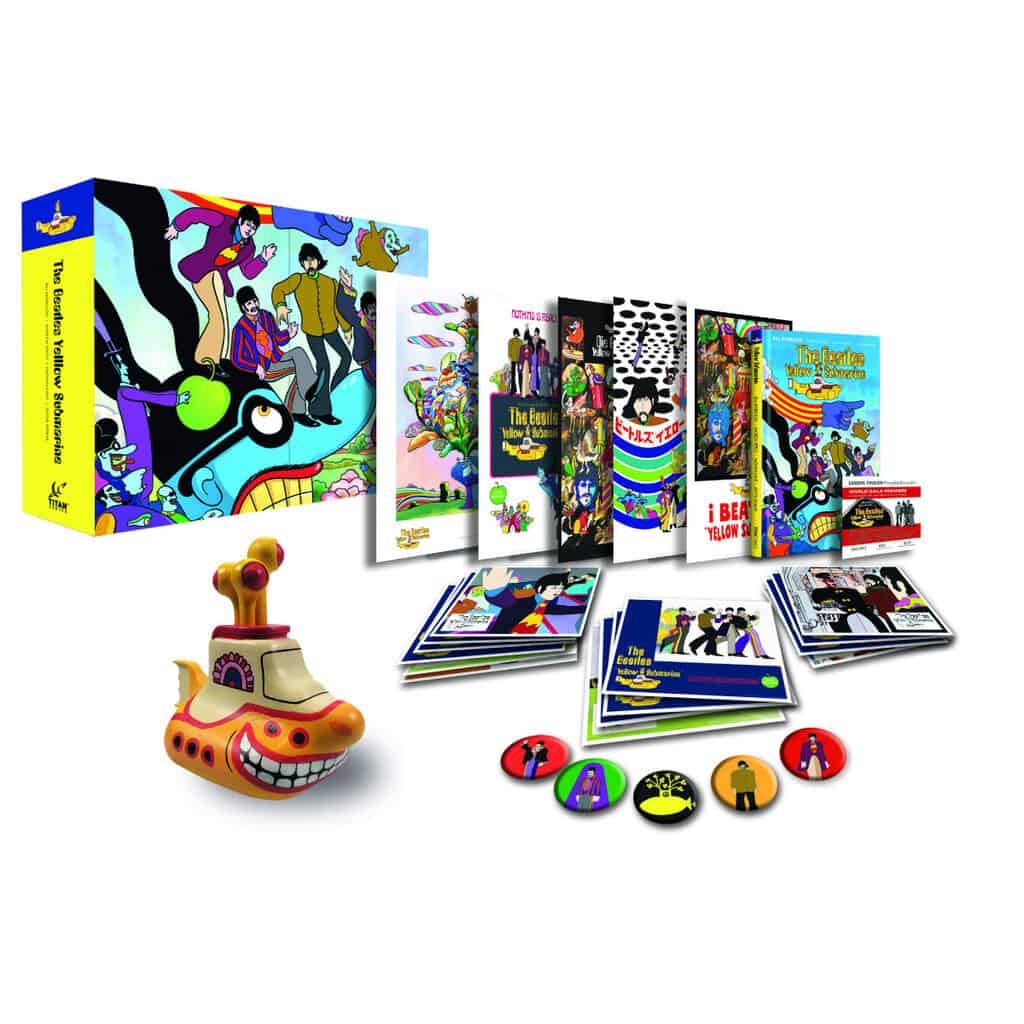 The Beatles Replica Merch Box Sets are incredible because they include duplicate posters, tickets, etc. This box set is my favorite because it revolves around the Yellow Submarine and The Beatles. It's a two-for-one collector's piece. I'd keep everything in the box, but you can stick the posters up and display the pieces.
Merch Facts:
Type: The Beatles Replica Box Set
Character/Song: All four band members and the Yellow Submarine
Brand: The Beatles Store
Details: It includes various band merchandise
Pros:
You're spoiled for choice with a booklet, graphic novel, yellow submarine figure, five badges, art cards, lobby cards, four movie posters, and a movie premiere ticket
It's the ideal collector's merch set for people who love the band and the song, and the ticket and poster replicas have excellent details
It celebrates the 50th anniversary of the song, making it more collectible
Cons:
You might want to display the pieces, which could deteriorate the quality over time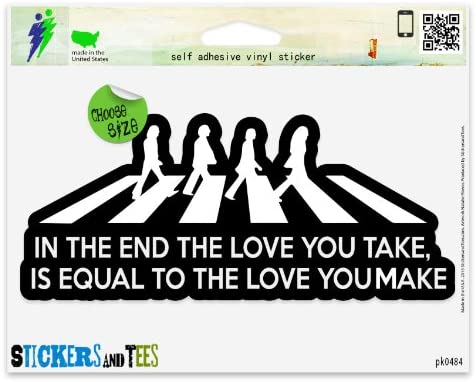 The window stickers are the best traveling merch for The Beatles. I've already ordered one of these because I want to rock the song in my car while flaunting the window sticker. I'd love to see how many people honk at me. I'll bet countless honkers are waiting to rock with me.
Merch Facts:
Type: The Beatles Window Sticker
Character/Song: All four members
Brand: Stickers & Tees
Details: It's a 12 x 5-inch window sticker
Pros:
The picture represents all four band members walking across the famous Abbey Road again
It would work well on cars rocking to the tunes of the Beatles (much like I'm going to do)
Cons:
Window stickers don't come off quickly if you stick them wrong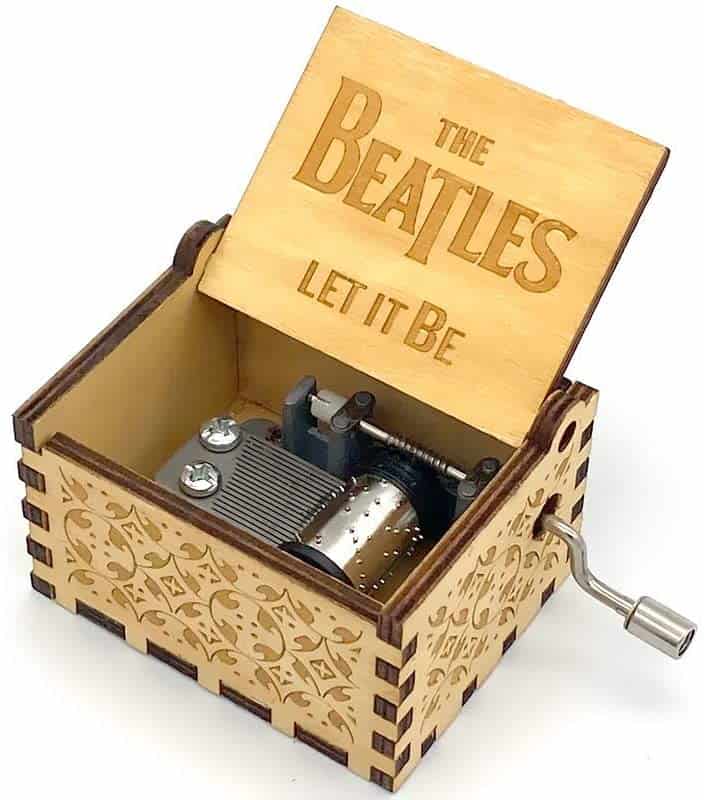 I love the music boxes because they look vintage, even if they're not. The Let It Be Beatles Music Box is a crank version that plays the song while you turn the crank handle. It's also a simple design that suits the period with dovetail joints. Finally, it packs plenty of detail for a vintage-style merch idea.
Merch Facts:
Type: The Beatles Let It Be Crank Music Box
Character/Song: Let It Be
Brand: Easy Ko
Details: Crank up the volume with a music box, pun intended
Pros:
It plays one of the most famous songs from The Beatles, and it looks accurate for the period
The inner mechanism works perfectly, and it takes you down memory lane when you crank it
Cons:
I don't know the brand, but the store has excellent reviews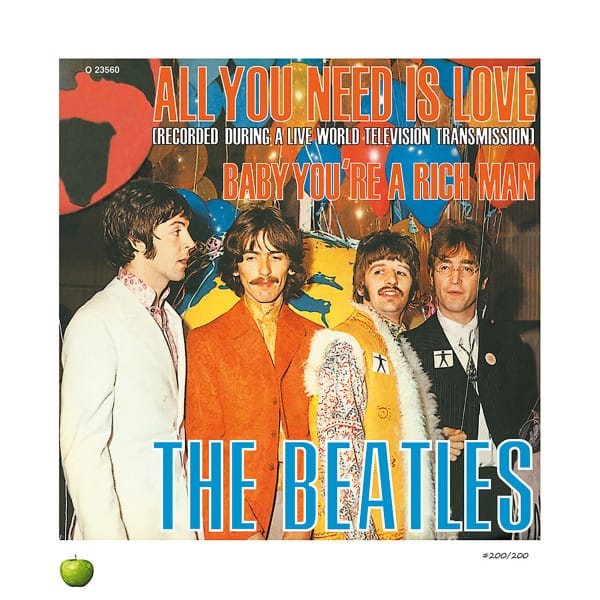 The Beatle's "All You Need is Love" Lithograph poster is a beauty representing the televised recording in 1967. It has beautifully detailed photos of the band members, and it's a lithograph, meaning it's an original replica instead of a printed version. The colors pop, and the background lights up your memories.
Merch Facts:
Type: The Beatles Lithograph Poster
Character/Song: All four members
Brand: The Beatles Store
Details: It's a gorgeous 20 x 20-inch poster
Pros:
It's massive, in-your-face, bright, colorful, and highly memorable for Beatles fans
The artwork on this lithograph poster for The Beatles is excellent compared to most posters
Cons:
It's a later version, and you might prefer posters from their early career
FAQs
Question: Which Merchandise Is Popular for The Beatles?
Answer: The Beatles come with a range of memorable collector's items and wearable apparel. Fans love the t-shirts because they're so flexible across genders and ages. Another favorite merch item is posters. The Beatles have beautiful wall posters, some lithographs, and others regular printed versions.
Question: What is the Most Expensive Beatles Collectible Ever Sold?
Answer: The Beatles collectibles are soaring through vintage rock memorabilia circles. The genuine items from the band members sell for the most. John Lennon's Phantom V Limousine Rolls Royce sold for $2.29 million to a Canadian mogul collector in 2008. Lennon's Gibson J-160E Guitar sold for $2.4 million in 2015 in Beverly Hills.
The Beatles Merch Guide: Conclusion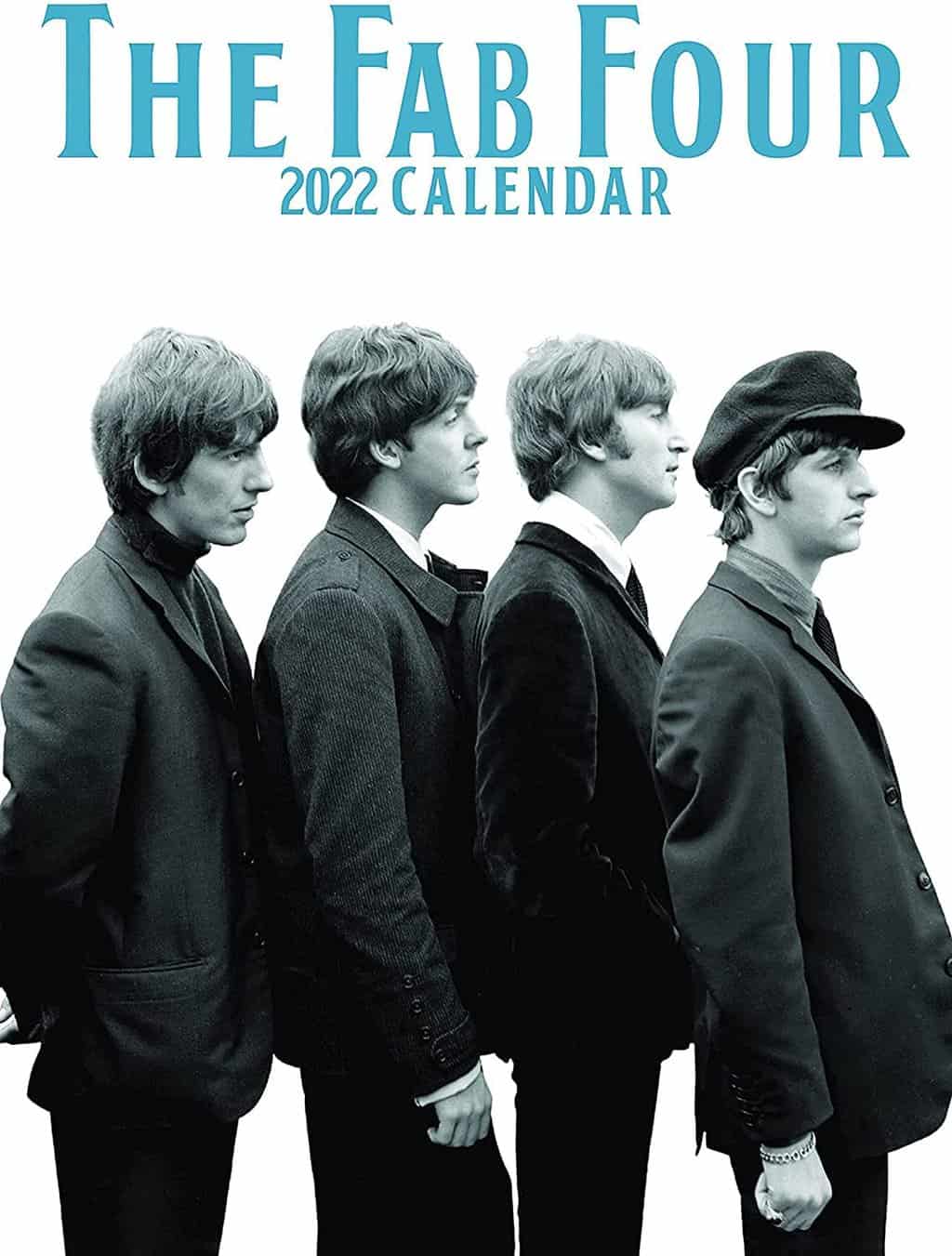 The Beatles offer a world of rock-era memorabilia and merchandise available for collectors, rocking fans, and band enthusiasts. Decide which types of merch you want to collect, and get started before the best pickings are gone. I recommended a few gorgeous collectibles and fanned merchandise of each kind available.
Suppose you love apparel. In that case, The Beatles Abbey Road T-Shirt is an excellent choice. Maybe you want an awesome wall poster. Then, The Top Beatles Lithograph Poster will rock your world. Perhaps you want to have fellow travelers rocking with you. In that case, The Beatles Window Sticker will do the job.
Consider the Paul McCartney Tattoo as a dedication merchandise item if you love him more than the other band members. The John Lennon Kuno Pop will carry you through if you love collectible figures. There are 11 types of merchandise for The Beatles. You'll have to pick which one floats your rocking boat and start buying.
For more merch guides: