Rock music has one of the richest histories around. Its been the source of many controversies, and for a time, society actively resisted allowing it to become part of the music world. But rock music has become a sensation that isn't leaving anytime soon.
From Rock n Roll greats like Pink Floyd, AC/DC, The Beatles, and The Rolling Stones, to newer acts that are making their name known within the genre, we want to showcase everything Rock N Roll has brought; to the music world! 
Our Rock n Roll enthusiasts are here to make sure you have a front-row seat into the lives, triumphs, and scandals of some of rock musics' biggest names. They love deep diving into the nitty gritty of different bands and musicians. They strive to bring you an in-depth look into everything your favorites have accomplished, both individually and as members of some of the most iconic rock bands in history. They also know their way around a good merch table and can make sure you always have the best products to showcase your love for Rock Music and the legends that created it.
Our Mission For Rock and Roll Fans
Our mission is to create a place where Rock fans can find information on all of their favorite bands. Essentially a database for Rock N Roll, whether you want to find a comprehensive guide on your favorite band or artist or deep dive into the likes of David Bowie, we have you covered. We strive to offer a wide variety of content, from Bios about your favorite artists to in-depth guides on the history of the Rock n Roll legends of the world. 
If you are a super fan like us, then you know finding merch can be difficult. Our second mission is to help you track down authentic, high-quality merch to showcase your love for your favorites and the genre as a whole. Check out our merch guides for Led Zepplin, Pink Floyd, and The Beatles to get a taste of what we offer.
We aim to keep our information up to date-and constantly evolving. We want to showcase Rock legends and those that are just making their name within the genre. We also want to make sure that bios and merch round-ups are updated with every new tour and album that a band we cover comes out with. Don't forget to bookmark your favorite artist to stay up to date on what they are up to! 
Our Rock N Roll Content Process
Our team of writers are experts in the Rock industry; they know all of the ins and outs and secrets of the industry. Many have spent time interviewing bands and working as rock journalists. While others are passionate musicians themselves or simply hardcore fans, who grew up listening to Rock music with their parents and consider it their lifeblood. They are also talented writers with a passion for telling exciting stories! 
Our team of editors is the next step in the content wheelhouse. They ensure that every article sounds good, has accurate content, and looks its best before it shows up on the site! They also do periodic quality checks and make sure that content gets updated appropriately! 
Lastly, you, our readers, provide us with the most valuable feedback possible. You help us grow and improve our platform so we can offer you the best content. We value your feedback and look forward to hearing what you have to say! 
Our Core Values
Meet Our Team
From music journalists to lifelong rock fans, we have a large team with a lot of talent. Meet some of our featured writers who bring an amazing array of talent and expertise to Rock Era Insider!
Stephanie Jensen – Music Journalist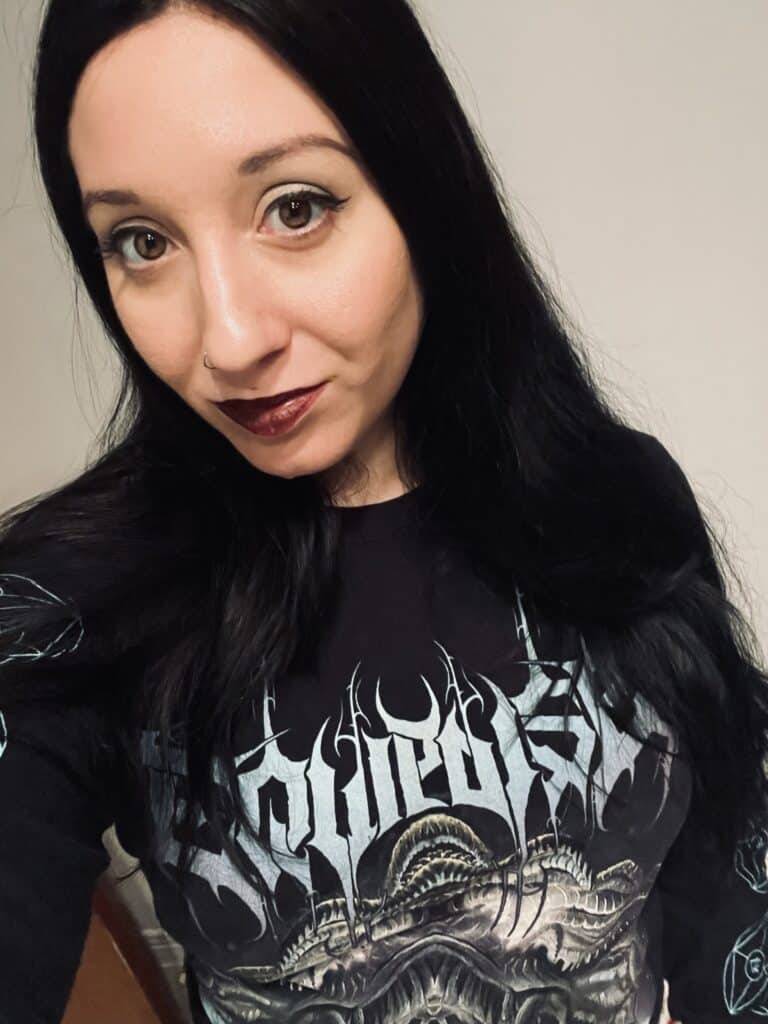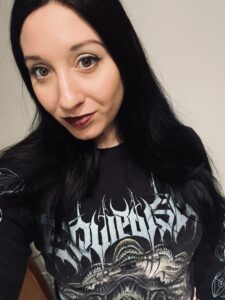 Stephanie has been interviewing her rock and metal bands for over a decade; she became inspired after meeting another music journalist at a concert. She started writing for a local magazine and expanded her skills. She's covered smaller bands to entire festivals. Now she writes for Outburn Magazine and shares her knowledge with our readers at RockEraInsider. 
What inspired your interest in rock music?
My dad! He was a massive fan of Led Zeppelin, Cream, The Beatles, Janis Joplin, Jefferson Airplane, and so many other great rock bands. He introduced me to all of his favorite bands. I also inherited his vinyl collection — he has some pretty rare ones!
Do you have a favorite rock musician or band?
Oh man, this is difficult to answer. I love a lot of my dad's favorite bands, such as Led Zeppelin and The Beatles. The Scorpions, Kiss, Pink Floyd, and WASP are also two of my favorite bands.
What is your favorite concert memory?
I saw The Scorpions and Kiss headline Rock Fest Barcelona. Kiss played an incredible and energetic set. The Scorpions played so many of my favorite songs from my favorite album, In Trance. Their singer, Klaus, still sounds amazing!
Do you play any instruments? If so, what's your fav song to play?
I used to play guitar and bass but haven't played in years. I focus on writing about music and instruments now!
Favorite rock album?
Definitely a tie between Led Zeppelin IV, The Scorpions – In Trance, and Creature of the Night and Dynasty by Kiss!
Calum Vaughn – Lifelong Musician and Music Producer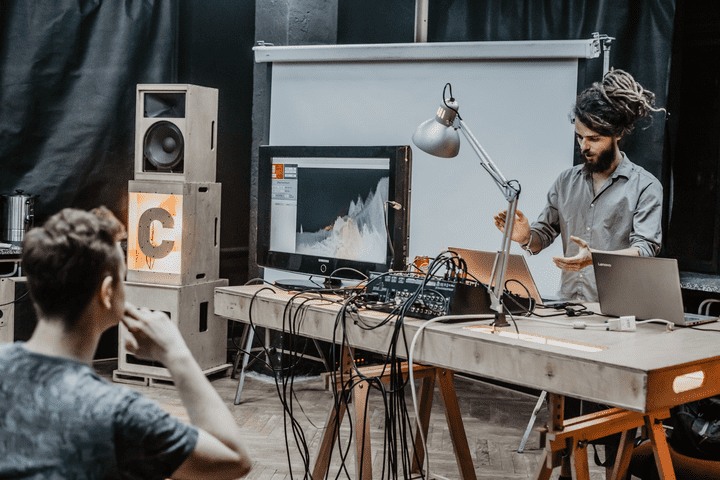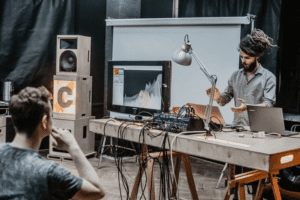 Calum has been listening to rock music since he was born. He grew up with parents who were constantly playing rock music, and he quickly grew to love the sound of his youth. When he started playing guitar, his love for the genre only deepened. Now he plays a variety of instruments and produces music himself. The influences of his childhood created a lifelong musical passion that Calum is excited to share with you on Rock Era Insider.
What Inspired your Interest in Rock Music?
From the day I was born, my parents were always playing rock music around me. Foo Fighters, Led Zeppelin, Muse, and Green Day were just some of the bands I was listening to regularly, and this started my passion for the genre. I later took up playing the guitar, and this gradually increased my exposure to all the rock music out there!
Do you have a favorite rock musician or band?
This is such a hard question because there are just so many great rock bands out there, but some of my favorites would have to be Frank Zappa, The Strokes, Bad Brains, and Radiohead. I always look for something unique in every band I listen to, and these four tick that box perfectly.
What is your favorite concert memory?
My favorite concert memory would have to be the first concert I ever saw, My Chemical Romance, in London. I had worked really hard on my studies in school, and after receiving some great results, I came home from school one day to my dad, presenting me with two tickets. This was on the Black Parade tour, so it was a huge deal, and I will never forget the wall of sound that I heard when the band started playing. Truly a magical first concert!
Do you play any instruments? If so, what's your fav song to play?
I do indeed play musical instruments – I began learning the guitar at around age 8 and picked up other instruments, such as the bass, piano, and drums, on the way. These days I tend to produce music using computers, but when I pick up my guitar, my favorite song to play would have to be Everlong by The Foo Fighters. It's just so simple yet so beautiful to play in the key of Drop D.
Favorite rock album?
Another really tough question – there are just so many to choose from. However, if I really had to choose, then I would probably go for "Is This It" by The Strokes. I grew up with this album playing a lot, and there's just something incredibly nostalgic and organic about it; it brings me back to my childhood every time I listen to it.
Why are you writing for Rock Era Insider?
I'm writing for Rock Era Insider because I have a passion for sharing my obsession with rock music with other people. There's so much to learn out there, from the stories behind famous musicians to the awesome merchandise that they create, and I wish I had cool content as a child to enjoy and inform me of how I supported my favorite bands. I'm here to create content about my favorite music and inspire you, hopefully teaching you something along the way!
Altin Gjoni – Session Guitarist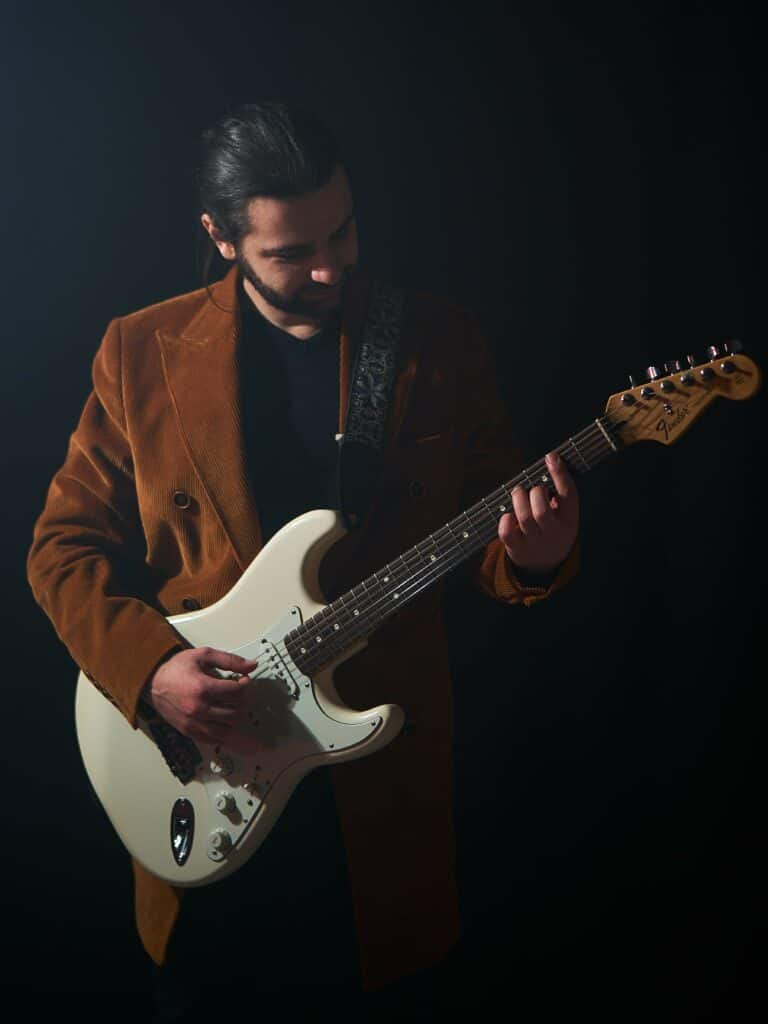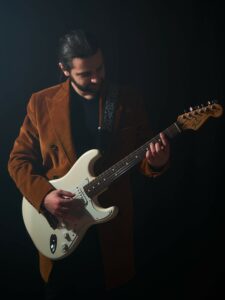 Altin is a session guitarist and has worked in the music industry for years. He knows the up, downs, and weird parts of the industry and what makes it ticks. When it comes to rock music, he's been listening to it since he was a child. Like many guitarists, it's both the lifeblood and learning point of the guitar. His earliest memories often come with a soundtrack that plays Elvis or The Beatles loud and clear. When he isn't playing music, Altin is often found writing about guitars, musicians, and other music-centered topics.
What inspired your interest in rock music?
My first memories were of my parents always playing 50s and 60s music. From Elvis Presley to the shadows and the Beatles, all my first memories come with a rock soundtrack.
Do you have a favorite rock musician or band?
My favorite band is Pink Floyd. I'll forever cherish the first time I heard the Dark Side of The Moon.
What is your favorite concert memory?
My favorite memory is Roger Waters winking at me when I saw him live during the " Us & Them" Tour.
Do you play any instruments? If so, what's your fav song to play?
I'm a session guitarist, and I credit my rock-influenced childhood for getting me into music. My favorite song to play is probably "Shine On You Crazy Diamond."
Favorite rock album?
The Dark Side Of The Moon tops them all for me. I'll forever cherish the first time I heard it back to back.
Brett Clur – Resident Drummer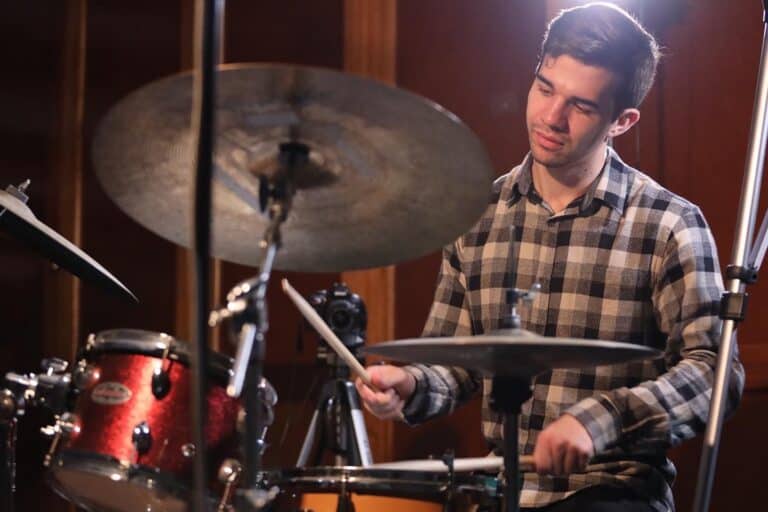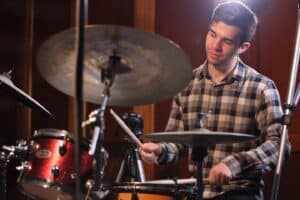 Brett is a drummer by trade and a music lover at heart. When he first started playing the drum kit, rock music was naturally what he learned how to play with. You can say that rock music and the legends that help create have also been around to inspire Brett in some way. Now he spends time teaching others how they can rock out like their favorites and making sure they have a good dose back story as well.
What inspired your interest in rock music?
I'm a drummer, so naturally, rock was the first style I learned to play on the kit.
Do you have a favorite rock musician or band?
I'm a big fan of modern rock bands like Missio and Grandson, but I also love listening to classics like Led Zeppelin and Lenny Kravitz.
What is your favorite concert memory?
Every time I watch my dad play a gig with his band. While I'm the professional musician in the family, my dad's the best performer. He rips it on the guitar.
Do you play any instruments? If so, what's your fav song to play?
I'm a drummer. I love playing any song that has busy drum parts.
Favorite rock album?
The End Is Where We Begin by Thousand Foot Krutch has always had a special place in my heart.
Pietro Venza – Resident Guitarist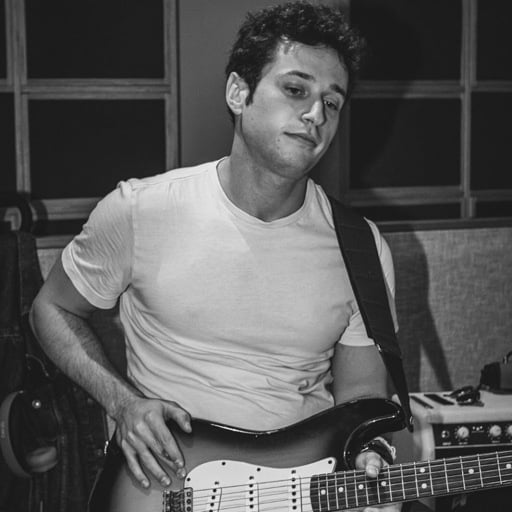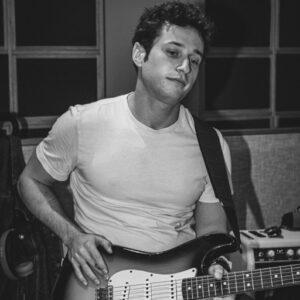 Pietro has been playing the guitar since he was 14 and currently makes his living as a professional musician and writer. He knows the industry inside and out and has performed in small pubs to live TV. His dad kept a constant supply of British rock around him as a kid, and that led to a natural love of the genre. He writes for Rock Era Insider as a way to showcase both his knowledge and love for the genre. 
What inspired your interest in rock music?
My dad is a huge Rock fan, and I've been listening to British rock bands since I was a kid because it was around the house!
Do you have a favorite rock musician or band?
Yes, my favorite rock band is Queen.
What is your favorite concert memory?
Probably seeing Robben Ford live. Or, I might say, one of my concerts, haha.
Do you play any instruments? If so, what's your fav song to play?
Yes, I play guitar, and I'm a professional musician for a living. I don't really have a favorite song to play, but I always enjoy playing something bluesy.
Favorite rock album?
Appetite for Destruction by GNR
Mark Mumm – Musician of Many Instruments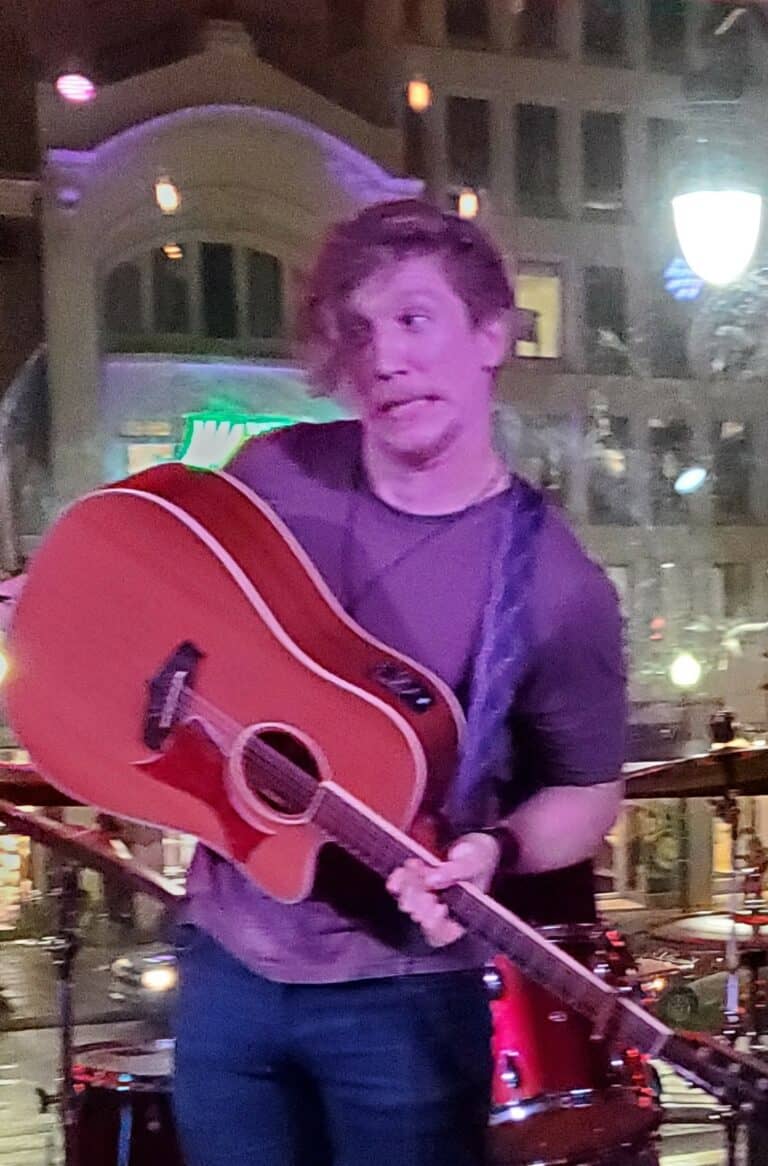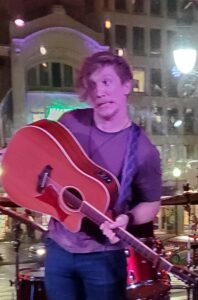 Mark grew up listening to classic rock, as it was his dad's choice of music and its a source of nostalgia and comfort. As an adult, rock music is still a major source of love and inspiration. Mark plays various instruments and is always attempting to learn some of his favorite songs.
What inspired your interest in rock music?
The "classic rock" stations were my dad's choice of stations growing up. It is the sound of my childhood
Do you have a favorite rock musician or band?
David Bowie, The Beatles, Anberlin, The Airborne Toxic Event, Noah Gundersen
What is your favorite concert memory?
I was lucky enough to play some saxophone with Arkells in 2019
Do you play any instruments? If so, what's your fav song to play?
I mostly play guitar and sax and sing. I'm trying my damndest to learn "Never Going Back Again" by Fleetwood Mac. It's a doozy
Favorite rock album?
Born to Run (Springsteen), Rumours (Fleetwood Mac), Dark Is The Way; Light Is A Place (Anberlin), WHITE NOISE (Noah Gundersen)