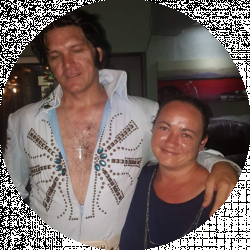 Latest posts by Caroline Lambert
(see all)
I asked a doctor if I could see you, but the doctor told me to stop being a "Jokerman." Admittedly, I'm someone who hides behind song lyrics when I'm anxious. However, nothing breaks the ice like a joke, especially with lyric puns involved. So, I'm here to share a Bob Dylan merch guide with the ins and outs of the folk-rock icon.
Excuse the puns along the way, but you must admit it grabs your attention. Bob Dylan is a man known for grabbing people's attention with his evolution of folk-rock music with touches of country and storytelling. The legend took inspiration from the greatest rock bands, earning his right to an iconic biography.
However, I'm here to share the lighter side of this legend's musical legacy with the best merchandise available for a rocking icon. I'll share tips on what makes Bob Dylan's merch worthwhile, how to find licensed products, and where to buy the best merch. Furthermore, I'll share the many types of merch you'll find for the legend.
You'll be "Blowing In the Wind" if you think t-shirts and vinyl records are the only merch available. So, let me share my passion for Bob Dylan and the fantastic range of merchandise available to support the enduring icon.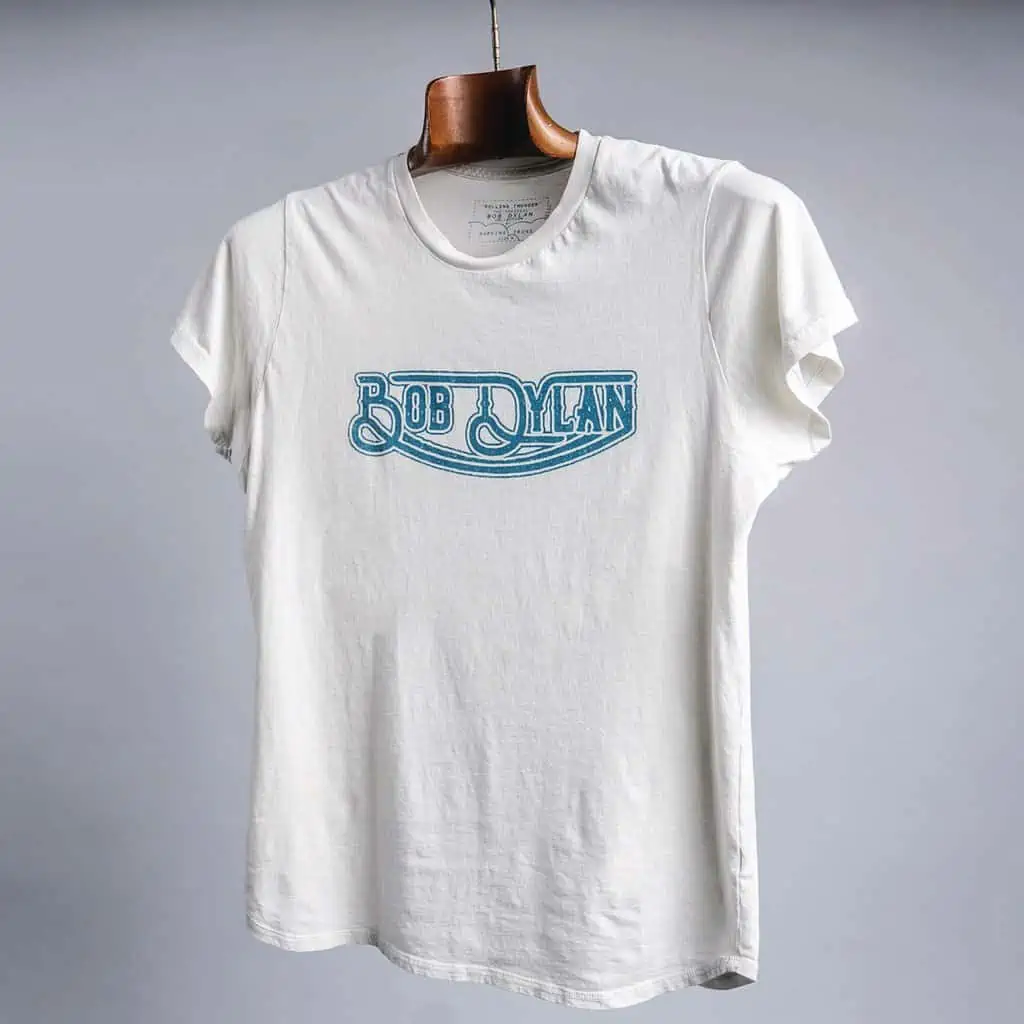 Bob Dylan's Folk Rock Background
Bob Dylan is a unique legend in the Rock n Roll Hall of Fame because the man sounded more like a folk singer. However, he still sounds like a folk/country singer, especially when you listen to earlier songs like Mr. Tamborine Man and Like a Rolling Stone. In fact, the second song reminds me of two critical factors about Bob Dylan.
Firstly, Bob Dylan idolized rock legends like Elvis and the Rolling Stones. Secondly, the young man loved the stories these legends told in their music more than the actual music genre. As a result, Bob Dylan's music continued to carry the folk/country element when he began his rock n roll career.
Bob Dylan became an icon, not for his voice but for his ability to move emotions and unravel stories in every word he wrote. Indeed, Bob wrote many original songs and used them to tell stories. His voice wasn't the greatest among the era's legends in the 1960s and 1970s, but the songs stood for themselves.
Bob Dylan was a young Jewish Minnesota man who became obsessed with rock music, even though his voice leaned toward folk and country. His music style also dug roots in a folk foundation. Hence, Bob Dylan is one of the few icons who married folk to rock, creating what I know Dylan's music as today: Folk rock.
However, Bob Dylan set his sights on telling emotionally-pivotal stories with his music. I'll be damned if he failed. For example, my ultimate Bob Dylan song is Knockin' on Heaven's Door. The song's beginning has intense folk and country vibes before a chill runs up your spine.
Bob Dylan's voice becomes a coaxing device that drives your soul through the song, allowing a new chill to rise with every note. The rock aspects fall into place as Dylan reaches the chorus. Admittedly, Knockin' on Heaven's Door is profoundly emotional and meaningful for me because someone dedicated it to me before passing.
So, I also have a connection to Bob Dylan that I find hard to explain to everyone. The song's words crawl into my skin and devour my soul, which you might think is terrible. But, in contrast, it proves how much Bob Dylan's music managed to grip the very soul with a few carefully curated words.
On a more positive note (before I cry), my second favorite song is Shelter From the Storm, which is another gorgeous soft rock salute.
Legends and Nostalgic Merch: The Reasons
Why is merchandise important? Why does it matter so much? The answer has two parts: the legend and the nostalgia. Firstly, licensed merchandise is a means to continue supporting our legendary artists. You wouldn't think it's as essential as it is. However, artists now need some love with all the streaming and pirate channels.
Licensed products allow me to support the iconic artists whom I enjoy. I'm also creative and would appreciate any support from my readers and followers. If creativity isn't worth anything, what is? The second part of why merchandise matters is all about you. Band and pop culture merchandise connects you.
It connects you to the world you love, giving you something more to remember your emotional attachments. Moreover, it goes beyond life-changing, awe-inspiring, mind-bending music. Bob Dylan is another artist to whom I can connect emotionally, remembering the moments his music moved me, touching my soul.
Bob Dylan's merchandise welcomes you to enjoy his world beyond the music, whether you wear a t-shirt or stick posters on your walls. I'm also an avid collector, and Bob Dylan is an icon worth collecting regarding vinyl figures and other collectible treasures. So, merch and legends carefully intertwine for die-hard fans.
Various Bob Dylan Merch Types
Bob Dylan t-shirts, vinyl records, and posters are merely a touch of "Every Grain of Sand" in a world of creatives designing new ways to collect nostalgic memorabilia. Indeed, the lyric puns continue. So, I'll break every Bob Dylan merch item into categories for which you can find various options, and I'll recommend a few examples.
Bob Dylan Accessory Merch
Bob Dylan's fans can accessorize. However, it's not the same as wearing apparel merchandise. Accessories can include wearable items and electronics, like watches. A bandana is a wearable accessory you can easily confuse with apparel. However, here's a glance at some Bob Dylan accessory merch examples:
My Recommendation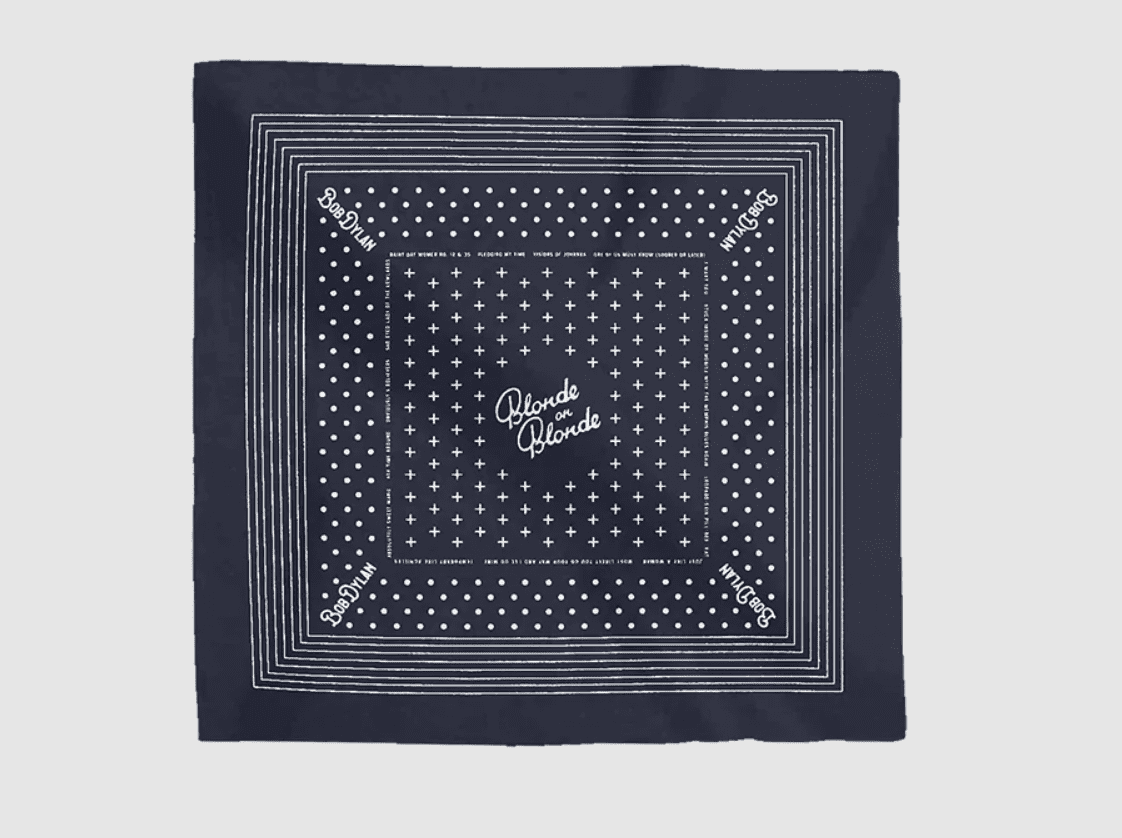 I didn't find brilliant merch options from the accessories category. Still, I'll pick a favorite. Bob Dylan's bandana is my top pick because it's a collection series you can wear or keep in your man cave. It's a versatile option. However, accessory-style merch from Bob Dylan has pros and cons.
Pros
Hats and baseball caps are popular merch items
Many accessory items come from specific collections
You'll find some unusual options in accessories
Cons
The accessory range is limited
Not everything fits into a collection
Bob Dylan Apparel Merch
Of course, t-shirts are a long-time favorite merch option for rock fans. Nothing shows your passion for a rocking legend more than wearing his face on a t-shirt. However, the apparel category includes much more than mere t-shirts. Here's a glance at a few examples of Bob Dylan apparel merchandise:
Meanwhile, Bob Dylan fans with children can consider apparel merch for their little ones. I dress my kids in legendary merch when we go out. My friends are surprised to see my kids wearing Elvis shirts and more, but my kids know the music well because I'm always rocking it. So, here's a glance at kiddies' apparel merch:
My Recommendation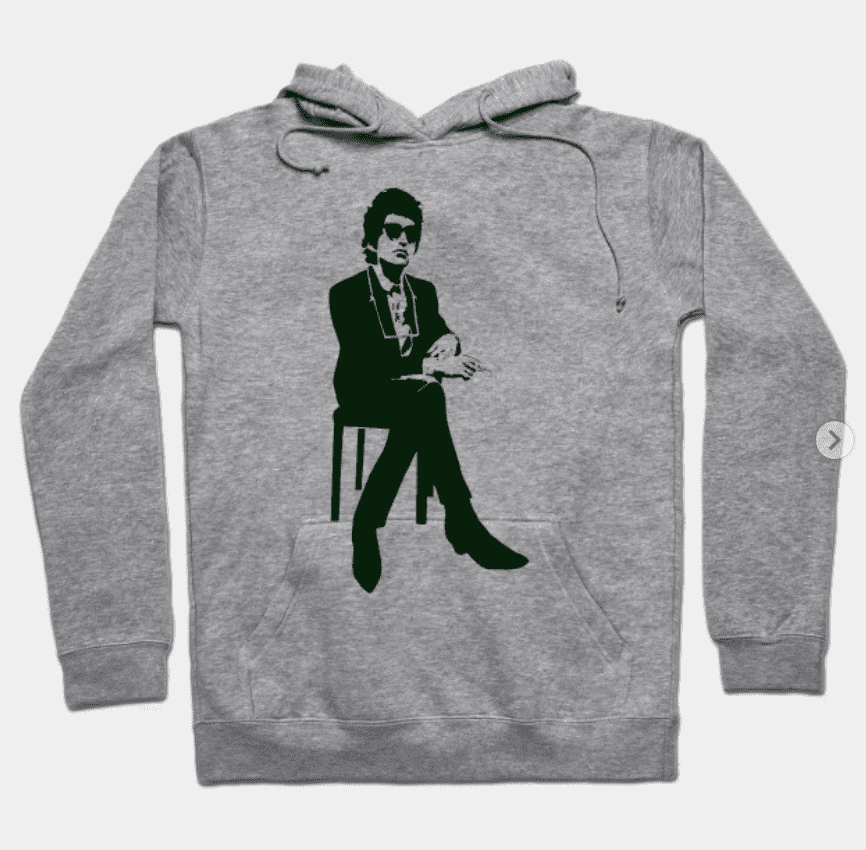 The Bob Dylan apparel merch category has the Jester On His Throne Hoodie, which I love because the collection series is a favorite. In addition, I recommend the Forever Young Onesie because a baby would look adorable in it.
Pros
You'll find one of the most excellent selections of merch
You'll get every available Bob Dylan collection
You can choose sizes, colors, and genders
Cons
You have to find the correct gender and size
Not all parents think babies in rock onesies look adorable
Bob Dylan Gas Monkey Merch
Gas monkeys can also enjoy their favorite folk-rock legend by adding merchandise to their vehicles and motorcycles. For example, I would add a bumper sticker with Bob Dylan's Knockin' on Heaven's Door to the back of my car. However, I'd add a Blowing In the Wind patch to my motorcycle waistcoat. Some examples are:
My Recommendation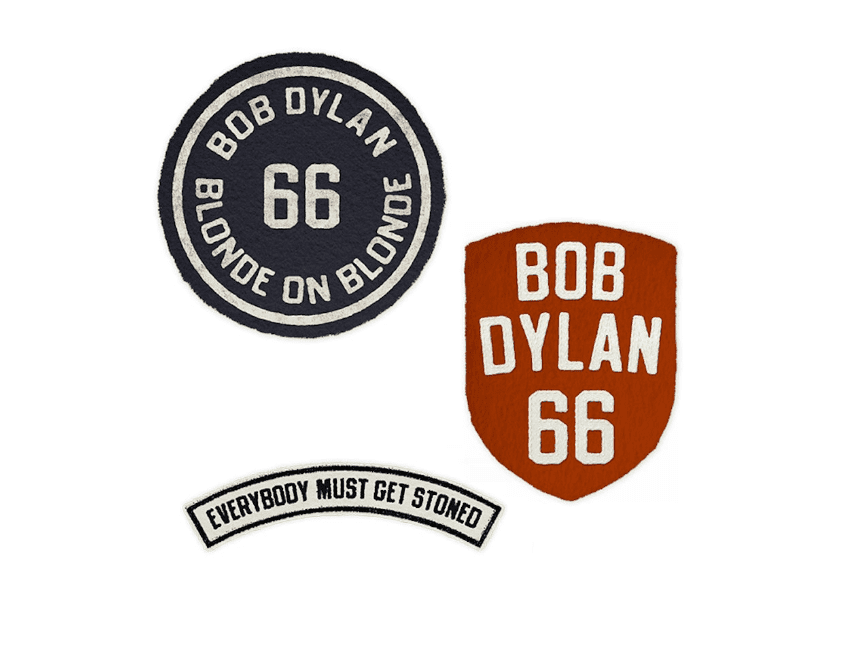 I recommend Bob Dylan's Blonde On Blonde Patch Set because I'm a biker. I already have some patches I'm busy attaching to my waistcoat, including my favorite rockers and bands. So, it's a no-brainer for me to pick the ultimate patch from a Bob Dylan collection. But first, let's see the ups and downs of gas monkey merch.
Pros
The patches can go on anything, not just motorcycle waistcoats
The stickers can also work anywhere
Many of these items are licensed and come from collections
Cons
These merch items appeal more to gas monkeys
There aren't enough patch options for bikers
Bob Dylan Musical Merch
Musical merchandise is everything you imagine for Bob Dylan. It includes his CDs, DVDs, long-play records, and anything with his music. Collecting Bob Dylan's original albums is like supporting the songwriter's epicenter of production. Some of Bob Dylan's musical merchandise examples include:
My Recommendation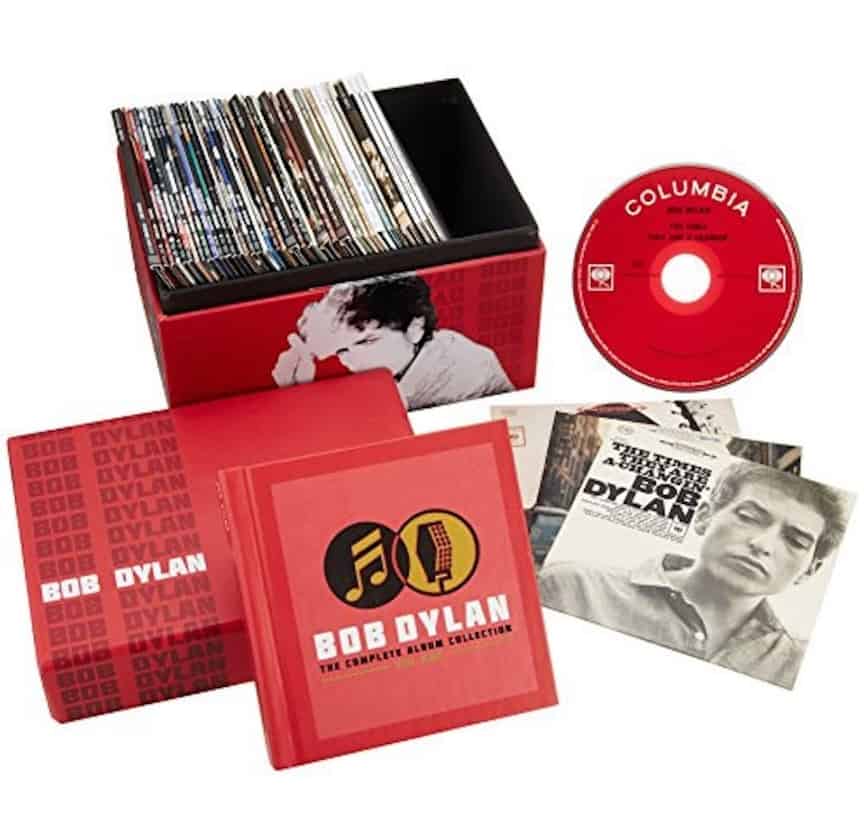 I must recommend the Complete Album Collection for die-hard Bob Dylan fans. It has everything you need, and it likely has your favorite songs. In addition, musical merchandise is the core of everything for rockers. However, every type of merch has advantages and disadvantages.
Pros
Musical merch connects you with the music
There's endless potential with CDs, DVDs, and LPs
You'll get every song and album needed
Cons
Musical merch doesn't feel like merch to some fans
I don't like the Greatest Hits collections
Bob Dylan Office Merch
Bob Dylan's music can traverse any place in your life, including the office. I currently have a minimal office, but I once had a home office with every pop culture collectible I enjoyed. Unfortunately, it became an obsession that had to stop. However, it doesn't mean you need to remove your Bob Dylan office reminders. Some include:
My Recommendation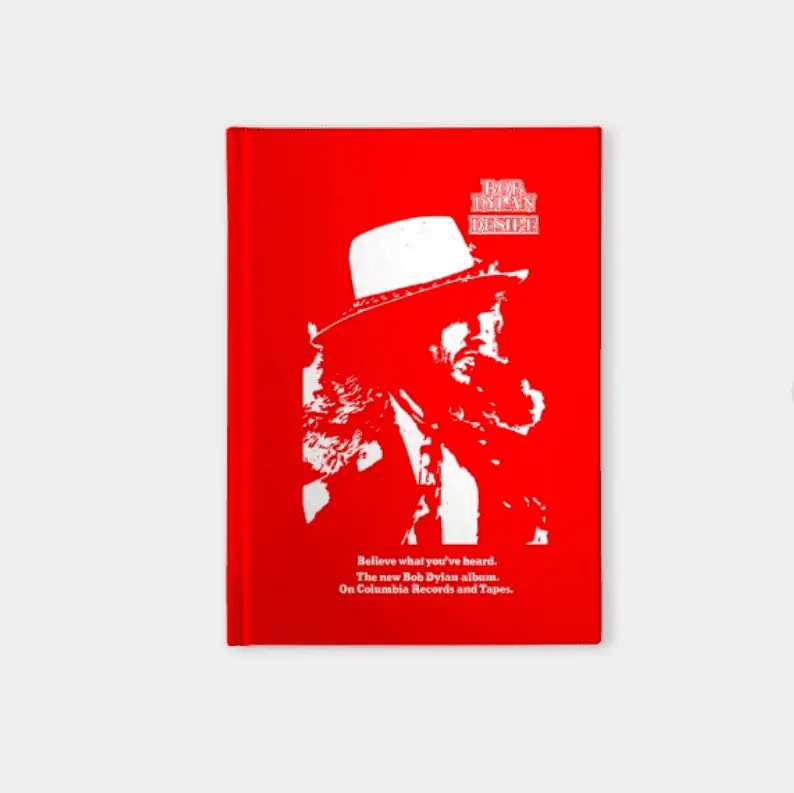 Bob Dylan has various notebooks, and I use them as a writer. So, my recommended pick in this category would be the Desire Notebook. It would work for me daily. Besides, I don't drink tea or coffee. So, the mugs would gather dust on my desk. However, let's see what's good and bad about these merch items.
Pros
You'll find countless Bob Dylan mugs
Many Bob Dylan notebooks exist and are handy
These merch items often fit into collections
Cons
There isn't a variety of merch types for an office
Coffee mugs break, which would break a Dylan fan's heart
Bob Dylan Photo Album Merch
For Bob Dylan's photo album merch category, you must imagine anything you can shove in a collector's album. Indeed, photos make good collector's pieces in rock legend albums. However, you can also find postcards and other flat merchandise to put inside albums. Some examples of Bob Dylan photo album merch include:
My Recommendation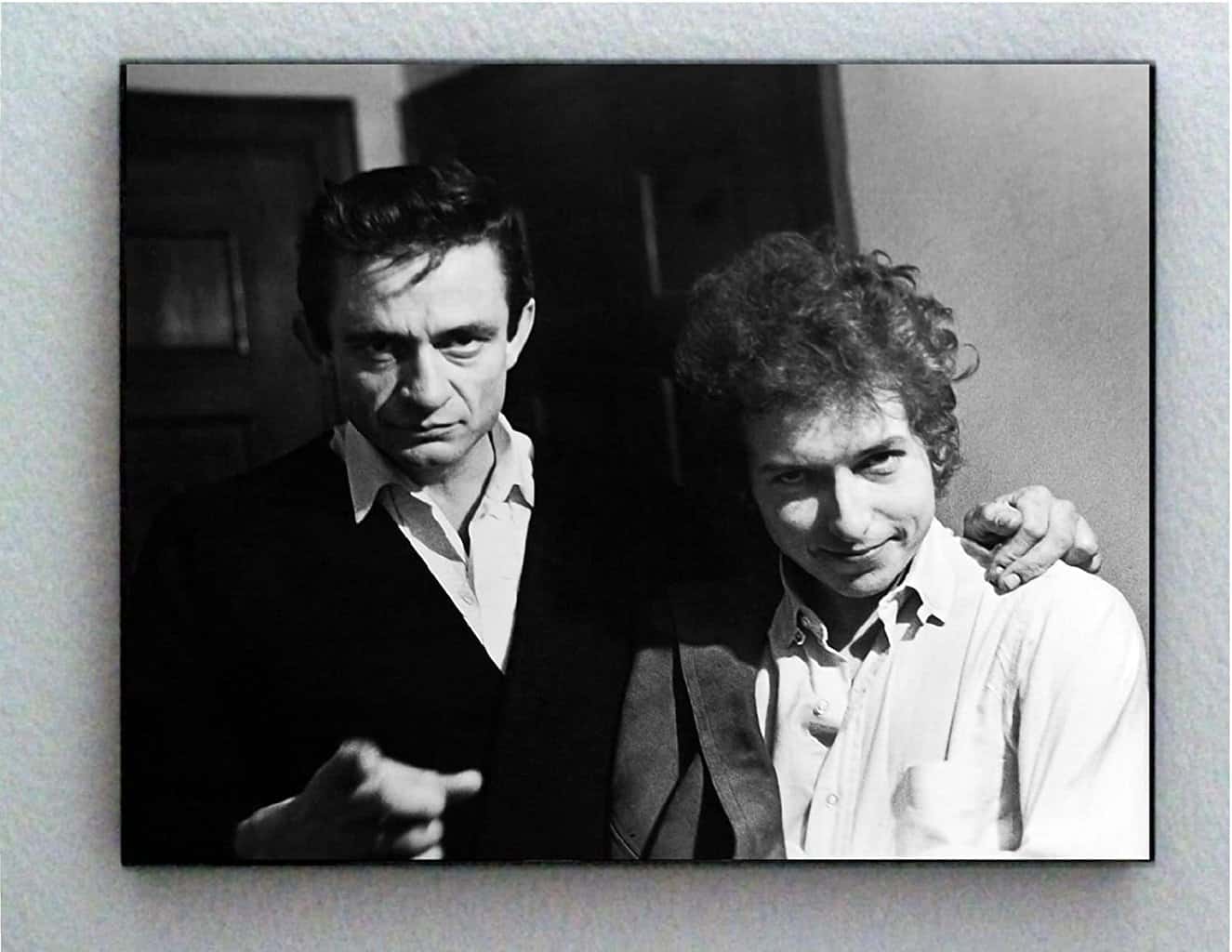 I'm not just a Bob Dylan fan. Instead, I also love collecting rare and valuable merchandise. So, I recommend buying the Johnny Cash & Bob Dylan photo before it's gone. It's not a licensed merch item, but it's rare enough to grab.
Pros
Photos and postcards have a lot of potential for collectors
These items are small enough to fit into albums
You can keep your merchandise safe for years
Cons
The articles aren't necessarily licensed
The details might be wrong, or the quality bad
Bob Dylan's Other Merch
Some of Bob Dylan's merchandise can't fit into a single category. So instead, I'll call these merch items an "other" category. Some merch items are silly, but they make sense when you see my advice about Bob Dylan collections soon.
My Recommendation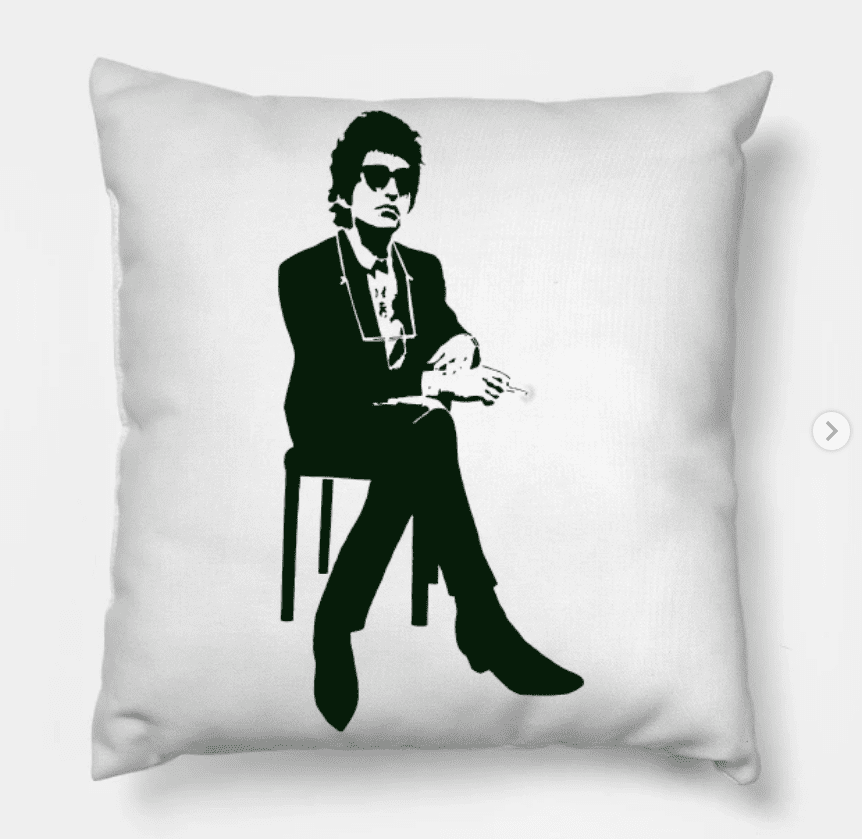 Bob Dylan's other merchandise doesn't offer a wide variety. So, I would recommend the pillow because it would rock a man cave. In addition, it's part of a famous Bob Dylan merch collection for which you'll find many other items.
Pros
You'll find unusual pieces
Some "other" merch items fit more categories
You can find home decor, phone cases, and fridge magnets
Cons
Some "other" merch won't fit collections
The merch won't always be original or licensed
Bob Dylans Wall Merch
Bob Dylan has an insane amount of wall art available. It's also one of the largest categories of merchandise for numerous rock legends because you get many types of wall art. Rockstars often have lithographs, prints, paintings, concert posters, lyric posters, and more. Some examples of this category's sub-types include:
Bob Dylan Concert Posters – My Fave!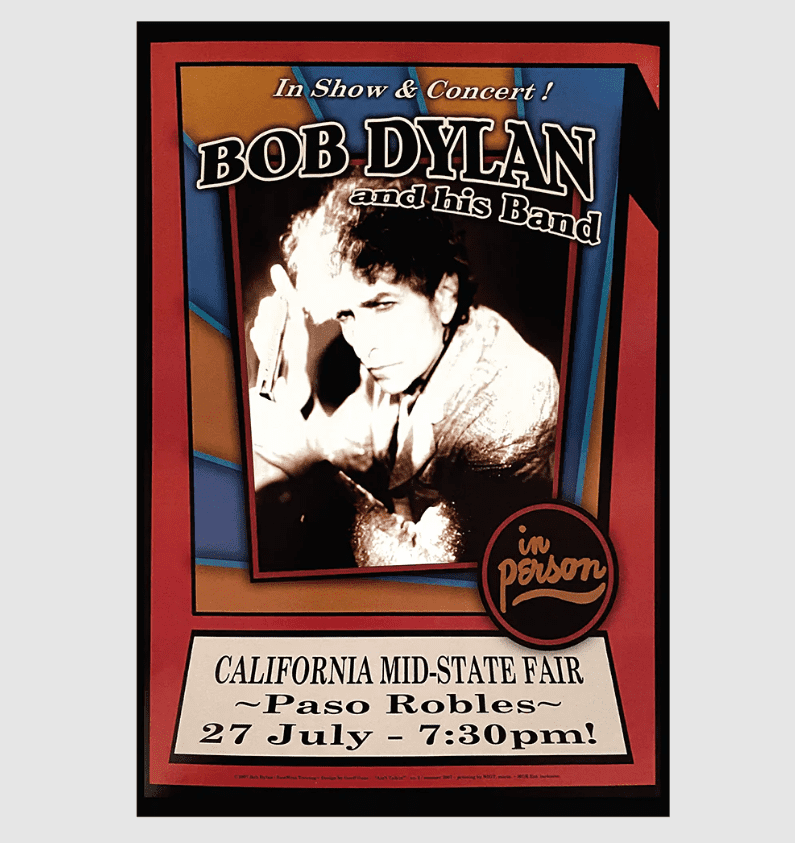 Concert posters are super nostalgic, especially if you were fortunate enough to attend his epic shows. These posters come in various types, but they focus on an event or concert Bob Dylan had in his career. These posters are for die-hard fans and people who attended the events. Some examples of the signs include:
Bob Dylan Framed Photos & Prints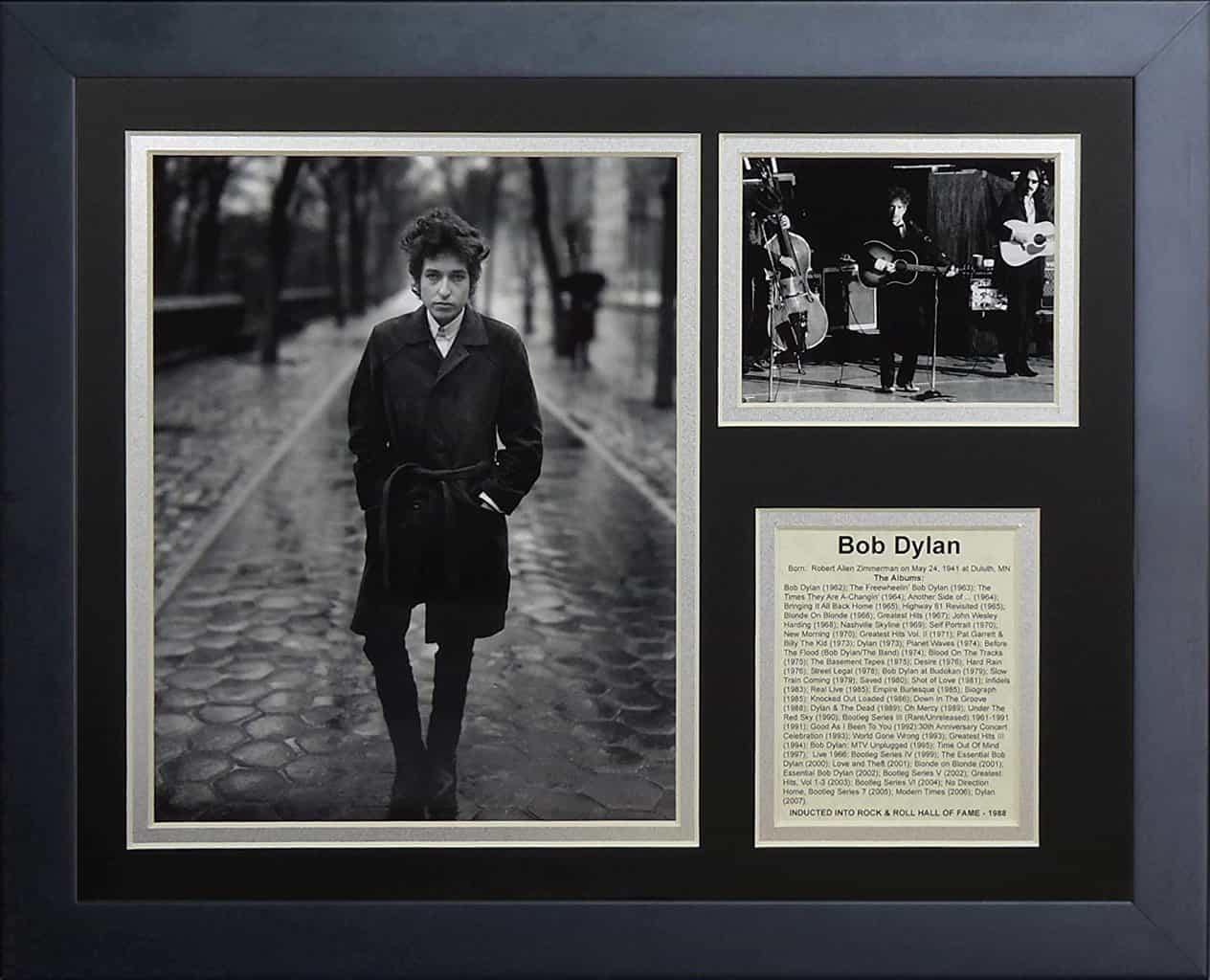 Bob Dylan took a few fabulous photos over his career, which have become collectible memorabilia. Some framed prints and pictures include other artwork and musical notes. They make brilliant man-cave merchandise items. Some examples of this merch include:
Bob Dylan's Inspirational Posters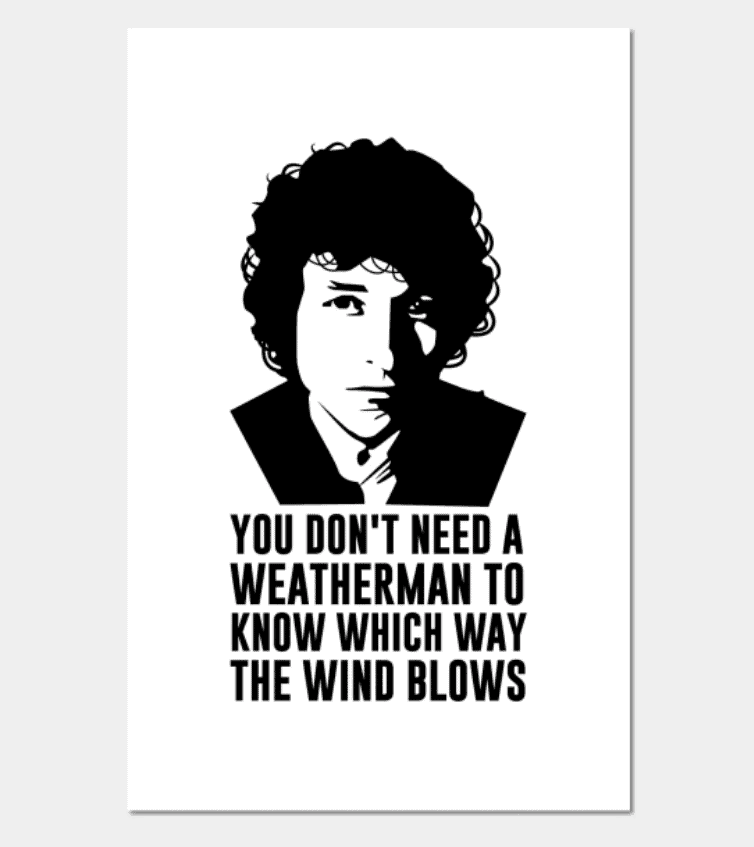 Bob Dylan sang many incredible songs, leaving great quotes for us to hand in our homes. Bob Dylan's inspirational posters include anything with his quotes, lyrics, or famous lines. These posters are easy to fake from unlicensed sellers. However, some examples include the following:
Bob Dylan Litho Posters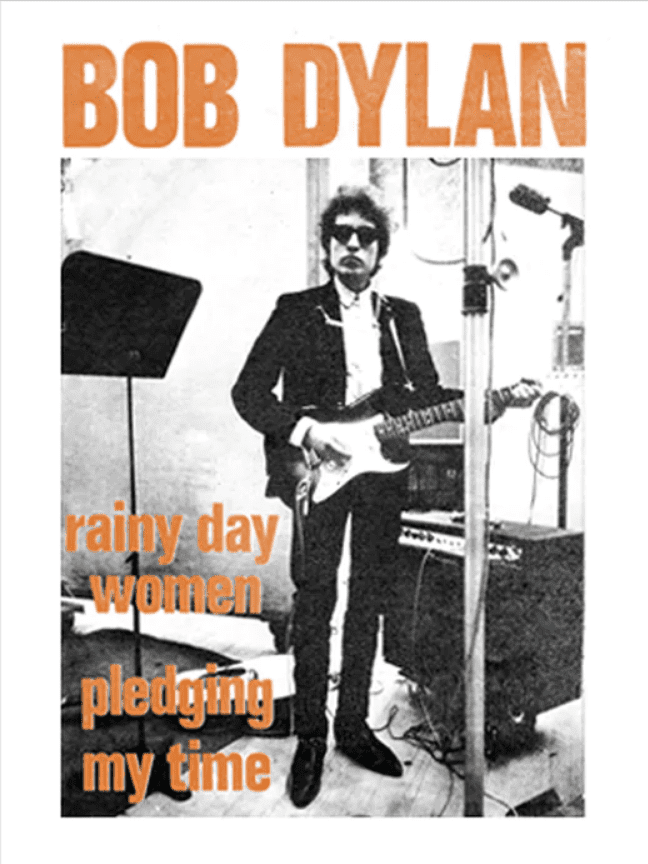 Lithograph posters are a modern way for fans to enjoy the merchandise longer because the embossed images go directly onto metallic sheets. These durable posters will outlive your passion for Bob Dylan if possible. Some excellent examples include:
Bob Dylan Soft Wall Art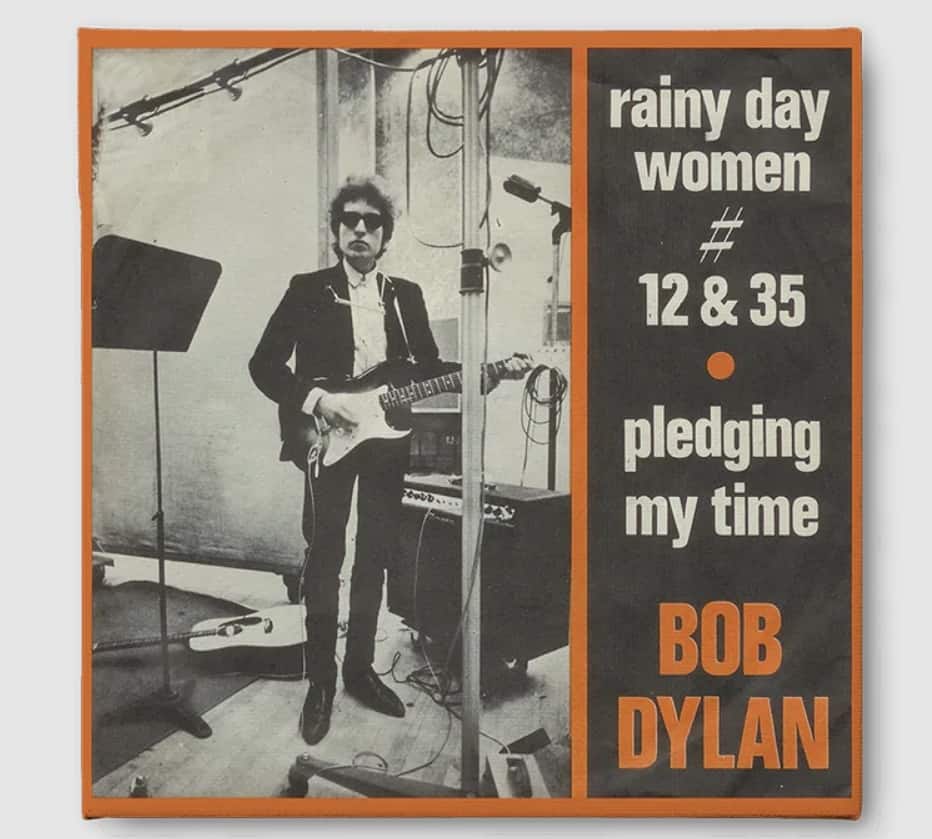 Soft wall art includes Bob Dylan wall hangings with more delicate fabrics and printed logos, pictures, and words. They're ideal for artwork anywhere in the home or office of Bob Dylan fans. Some soft wall art merch includes:
Bob Dylan's Traditional Wall Posters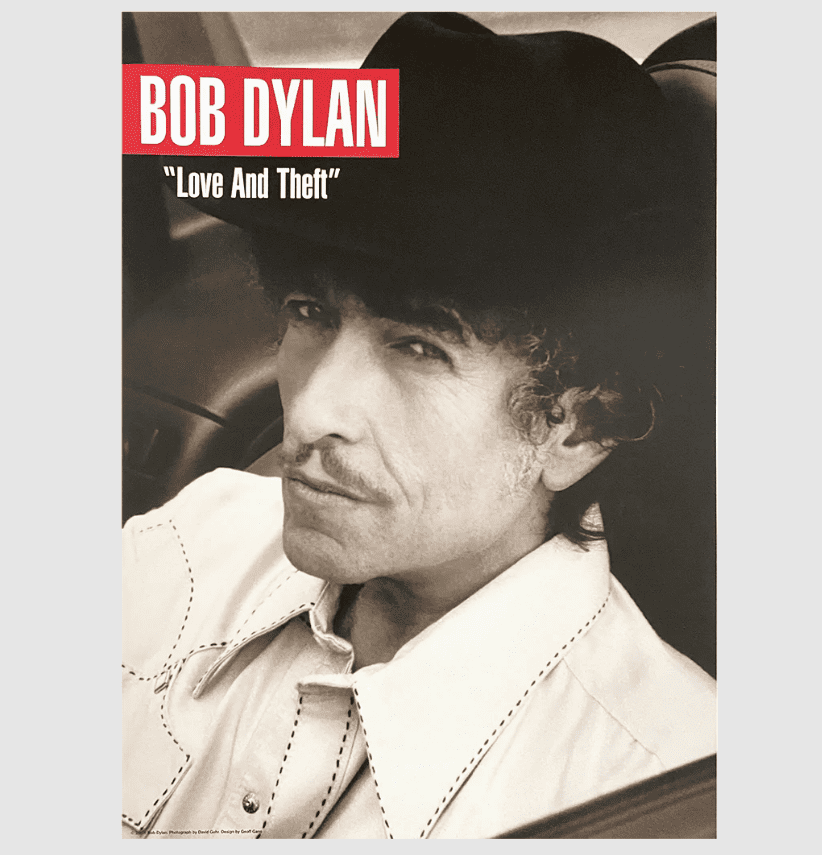 Posters are a fabulous way for fans to decorate their man caves, collector's displays, and rocking homes. Posters are versatile and come in various styles. Here are some examples of traditional-styled Bob Dylan wall posters:
My Bob Dylan Wall Merch Recommendation
Bob Dylan has a wide selection of wall merchandise, and it's hard to pick one. So instead, I'll recommend a sub-category of wall merch. The Bob Dylan concert posters are my favorite because they're more nostalgic than others. In addition, attendees would genuinely cherish them.
Pros
You'll undoubtedly find Bob Dylan collections in wall merch
Wall merch and posters are iconic collectibles
Cons
You need tons of wall space
The choices might overwhelm you
Avoiding Unoriginal Merch for Avid Collectors
Avoiding unlicensed merchandise is a goal for avid fans and Bob Dylan enthusiasts who wish to continue supporting the icon. Unfortunately, Amazon isn't a reliable source for licensed Bob Dylan merch. I used some examples to show you the various kinds of merch available. However, I don't shop on Amazon.
Instead, I have a few rock legend merch stores that sell licensed products in mind. So, here's a look at which stores sell licensed Bob Dylan merchandise for collectors and fans who want to support the legend: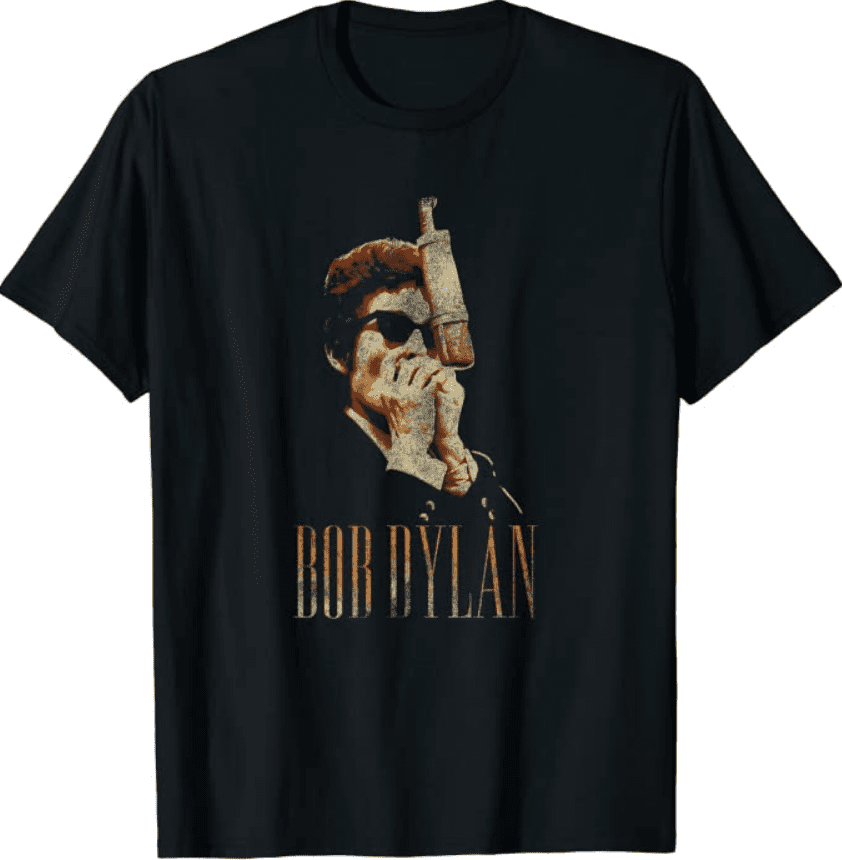 These stores are local and trusted and only sell licensed Bob Dylan merchandise. Check the seller's details if you still need something from Amazon you can't find in the licensed stores. For example, Amazon has an official Bob Dylan store you can trust with licensed products. Alternatively, read the information in the ad.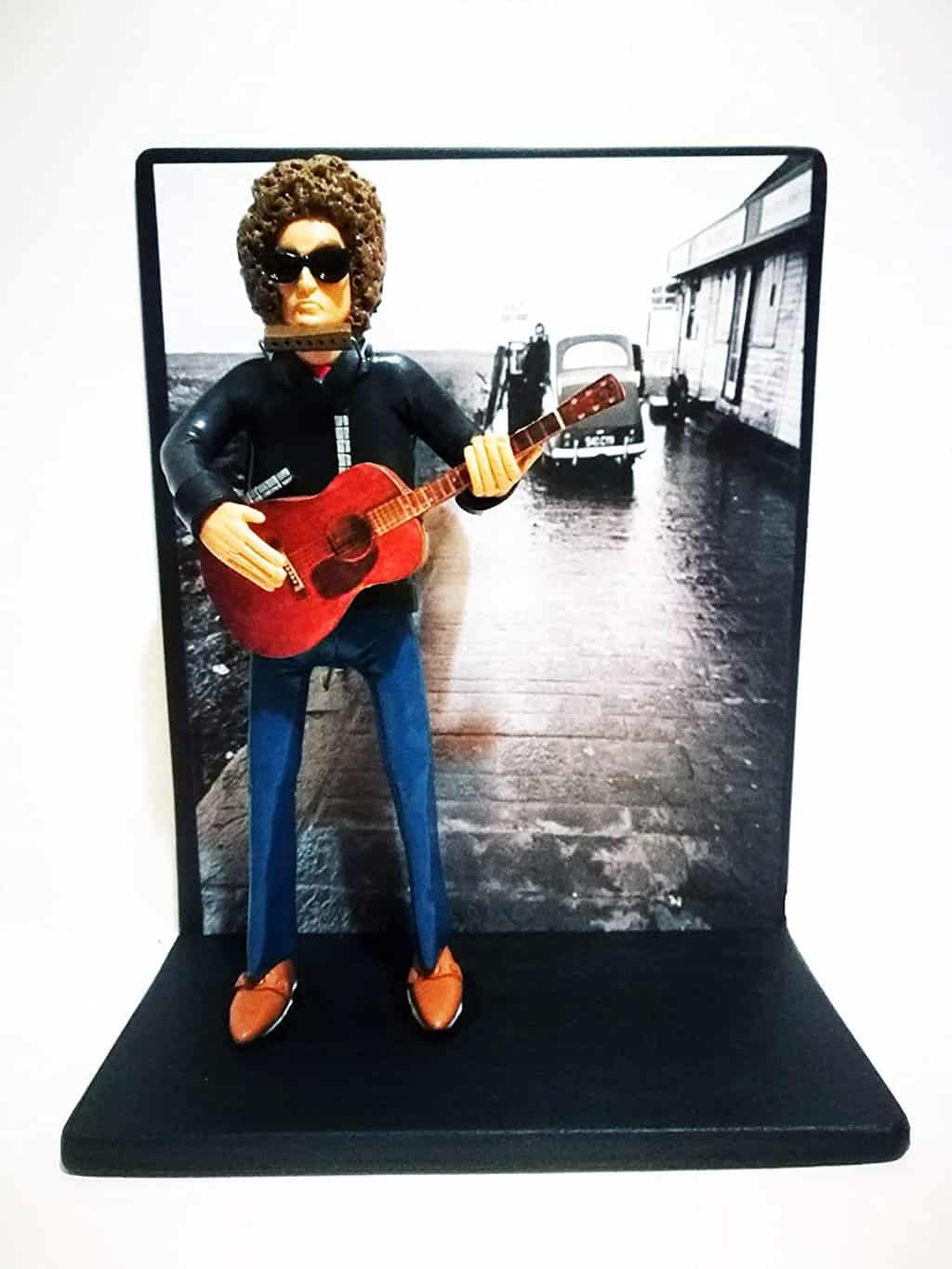 Bob Dylan's autobiographies would be licensed because the writers have to obtain their rights. Unfortunately, a generic brand's gorgeously hand-crafted Bob Dylan figure doesn't promise any license or rights for selling the icon's likeness. It's not a collectible merch idea, but it's great for enthusiasts who like figures.
Tips to Refine a Bob Dylan Merch Collection
You can refine your Bob Dylan merch collection in two ways. Firstly, you can collect a specific category or sub-category of merch if you want 50 t-shirts with his face on them. Unfortunately, that's the problem with collecting sub-categories of merchandise. You end up with many of the same stuff, merely with different logos.
Collecting a specific category might not be as tricky. For example, you can collect various kinds of wall art, depending on how much space you have on the walls. Photo album merch is likely the easiest to collect if you target a specific category. Alternatively, you can stick to collectible merch like figures.
However, the second method of collecting Bob Dylan merchandise is to know about the merch collections. For example, the Eye Icon Collection includes a few merchandise items with a logo of an eye. Here are a few picks from the Eye Icon Collection: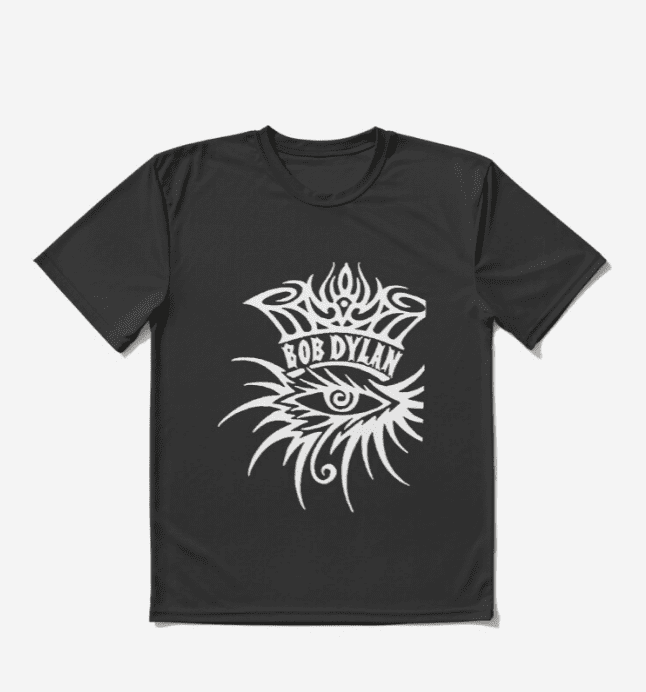 Collecting with my second method is far more accessible and more satisfying. In addition, you won't sit with piles of the same merchandise or an overflow of Bob Dylan in your man-rock cave. There are more collections of merch from Bob Dylan. For example, songs will have their collections.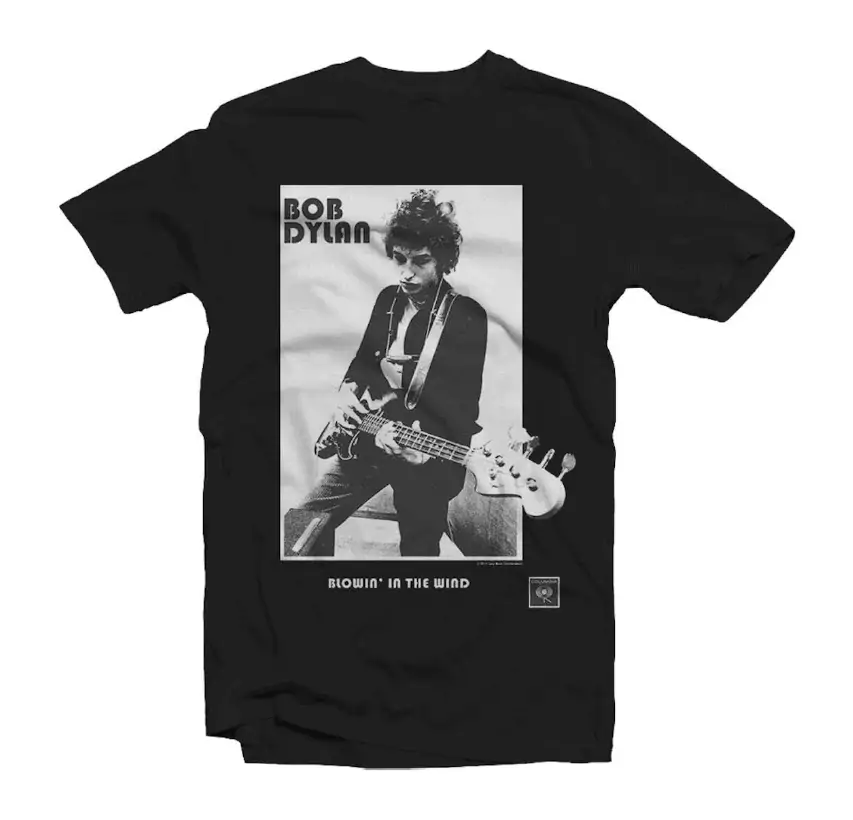 Bob Dylan's "Blowing In the Wind" has a selection of t-shirts, posters, and more. Furthermore, you'll find collections for specific albums and periods in Bob Dylan's life and career. Narrow your selection process by refining which collection suits your fandom. The newest collection on Bob Dylan's site is "Blood on the Tracks."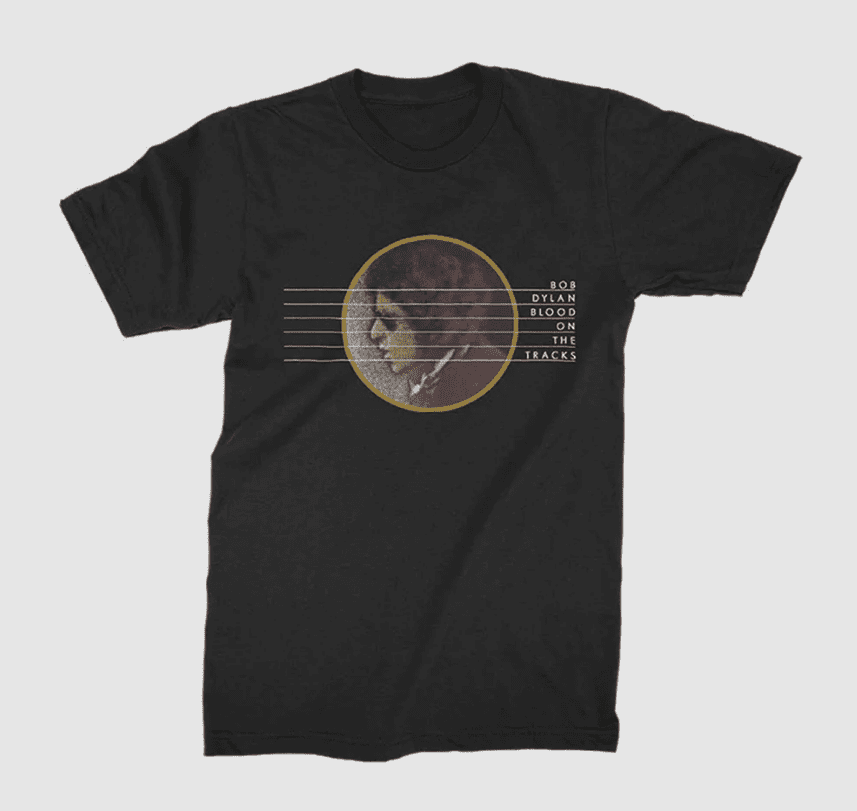 Buying Guidelines for Bob Dylan Merch
Don't worry; everything will finally make more sense if you read the other advice. Indeed, my first buying tip is to ensure you purchase official and licensed Bob Dylan merchandise. However, how will you know for sure that you're buying licensed merchandise when you possibly find another trusted merch store?
It's as simple as remembering how I narrow my Bob Dylan merch to collections. Official and licensed Bob Dylan merchandise often comes from a collection. For example, the Forever Young Collection includes t-shirts, mugs, laptop covers, and posters. Check the images on other merch from the collection to see if yours is accurate.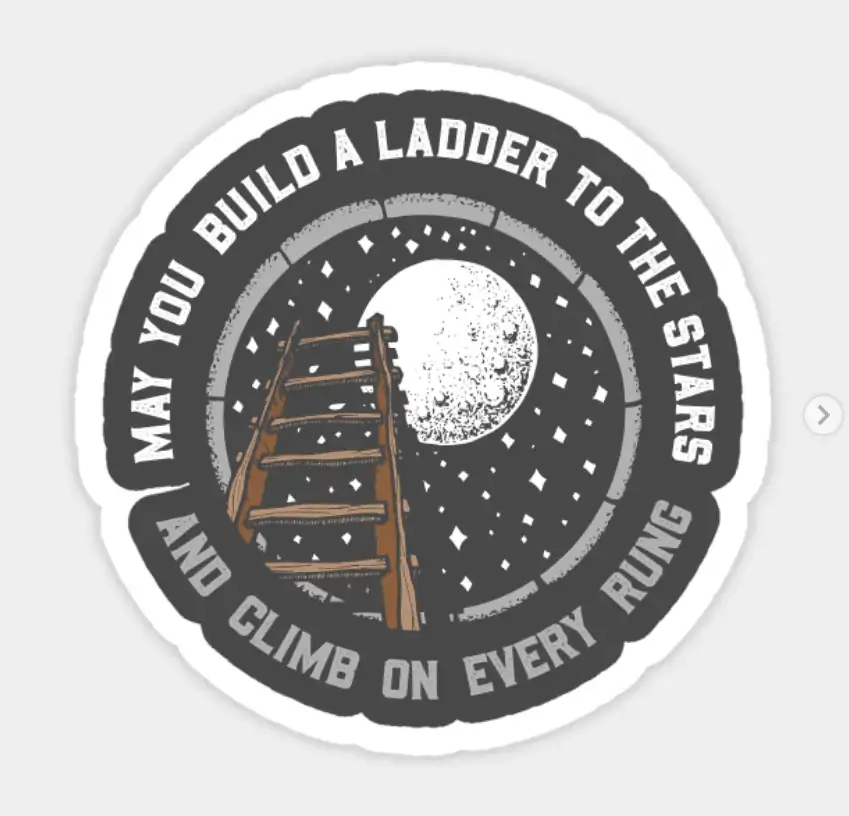 There will always be a theme across collections. The ideal example of a theme in images and logos is from the Jester On His Throne Collection. The collection centers around Bob Dylan wearing sunglasses while sitting cross-legged on a stool. It looks like the rock icon is sitting on his stage throne.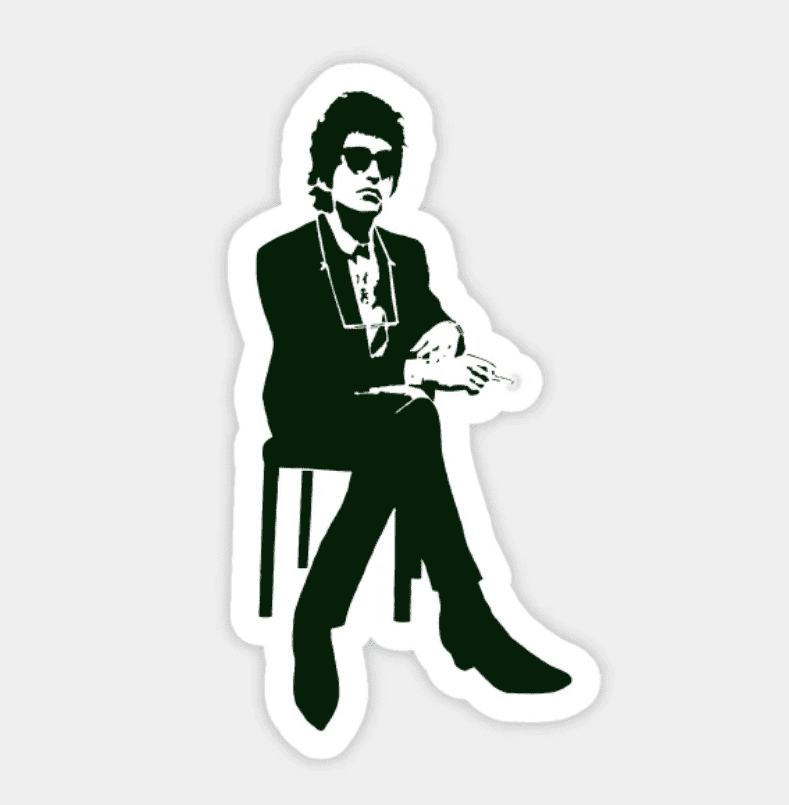 Pictures, logos, and similarities can help you find original merch from lesser-known stores. So, in summary, my two major buying guidelines are to buy from trusted and licensed sellers or stick to collections to ensure you're getting original items. The second tip is harder with posters and non-collection merch.
However, I urge you to revert to the first buyer's tip if you aren't targeting a collection.
FAQs
Question: Which Bob Dylan T-Shirts Are Vintage?
Answer: Vintage Bob Dylan t-shirts aren't necessarily from his earlier years. Instead, they're stylized as retro and vintage designs. For example, the Dylan Retro Essential T-Shirt has a stylized picture of Dylan on the front. Meanwhile, the Band Retro Concert Vintage T-Shirt shows an old-school image of Bob Dylan and his band.
Question: What Are Bob Dylan Merch Collections?
Answer: Bob Dylan has an ocean of merch collections. The various merch types go together if you want to narrow your collections. Each group typically represents an album, song, or tour. For example, the Like A Rolling Stone Collection includes a matching coffee mug, t-shirt, tote bag, wall tapestry, hoodie, and more.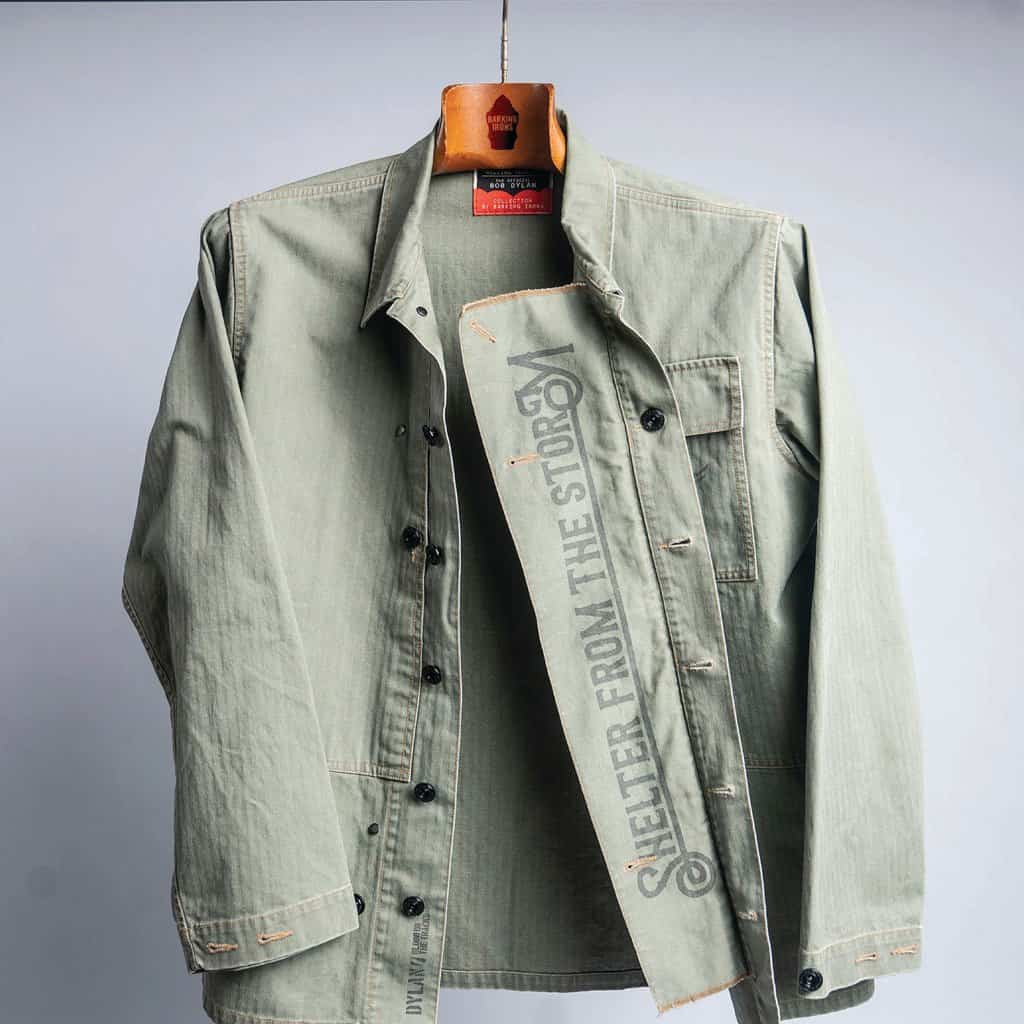 Bob Dylan Merch Guide: Conclusion
Bob Dylan is an incredible artist, and you'll find an ocean of merch for him. It's beautiful to support artists who affect our lives as profoundly as Bob Dylan did mine. Knockin' on Heaven's Door is the most profound song in my life because I could never have known it would lead to what it did.
However, let me not get into sad details. I'm merely showing you how much Bob Dylan affected my life. I'm an avid supporter who believes in buying licensed merchandise from a man who profoundly influenced my soul. So, remember to use my buying guidelines before narrowing your ultimate Bob Dylan merch picks.
Then, I recommend you start buying your merch because the collections will change. But, on the other hand, that's another excellent piece of news because I'm waiting for my ultimate song's merch collection to arrive.
For more incredible merch