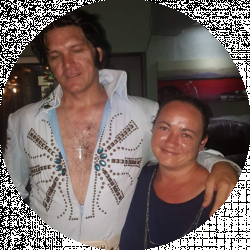 Latest posts by Caroline Lambert
(see all)
Elvis Presley is the epicenter of the rock era, and The King rocked his way into the souls and hearts of every music fan. I became so obsessed with Elvis that I spent two years following his impersonator along the shores while enjoying a professional sabbatical. Rock music, Elvis in particular, has a way of moving my soul.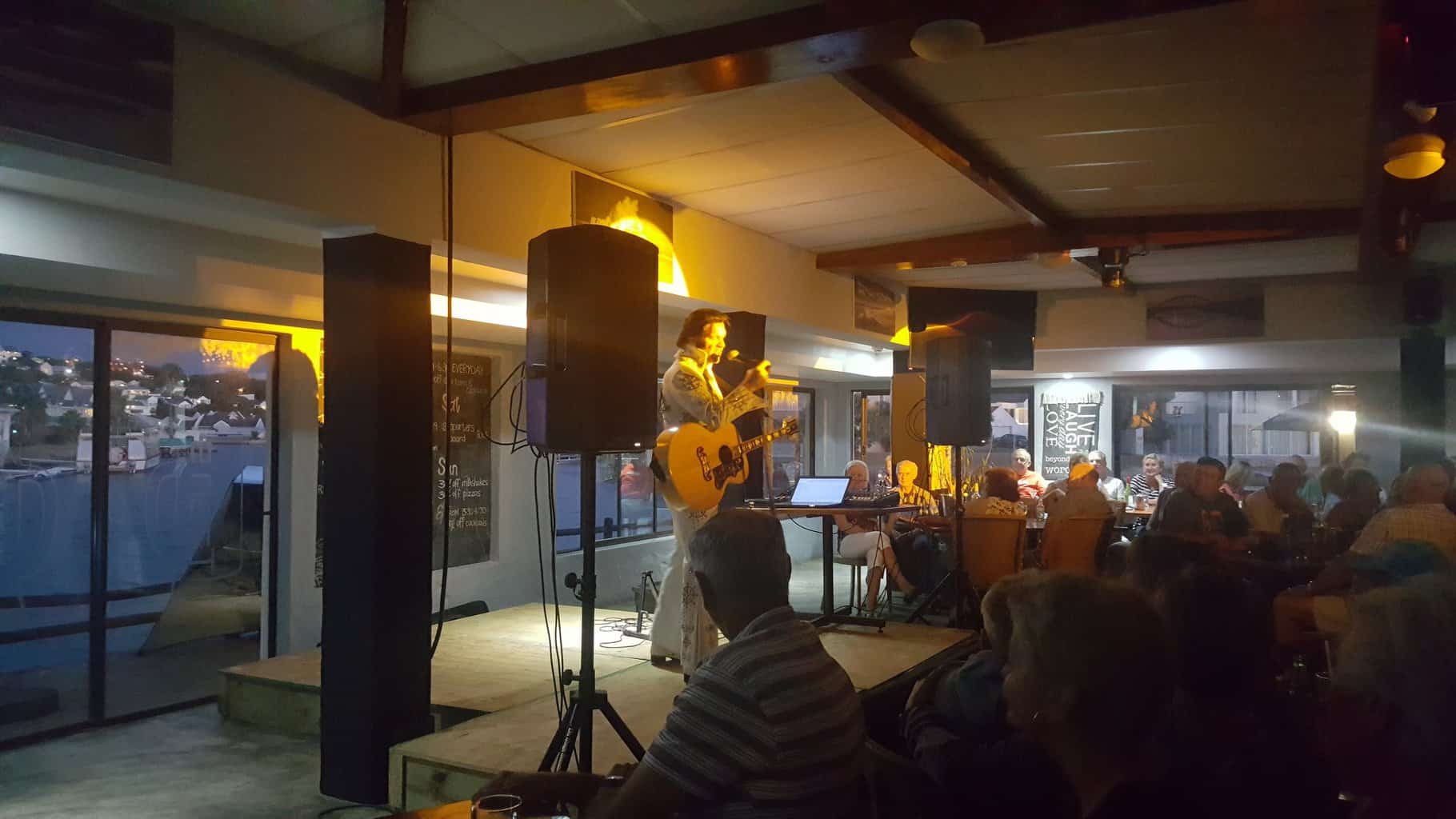 I became the impersonator's groupie, and how I wished I were alive during the days, The King graced the rock world. My parents introduced me to Elvis' music from as early as toddlerhood. Maybe that's why I found such solace in my shoreline retreat. So, I'm honored to write this Elvis Presley bio, more than you'll ever imagine.
The most impressive fact about Elvis is that the man engraved his legacy worldwide. You can visit any country and mention his name, and the chances are excellent that someone will sing one of his famous songs. It's a way for diverse cultures to connect, and the memories I own from The King are priceless.
It's easy to remember the glamor and rocking times the legend brought. Still, Elvis has a story more profound than most rockstars. Sure, he became an unmatched icon in the music industry, but his story has many layers.
Elvis Presley Quick Facts
Full Name: Elvis Aaron Presley
Birth Date: January 8, 1935
Birth Place: Tupelo, Mississippi, US.
Nick Name: King of Rock n' Roll, The King, Elvis
Nationality: American
Zodiac Sign: Capricorn
Siblings: Jessie Garon Presley
Children: Lisa-Marie Presley
Partner / Spouse: Priscilla Presley
Most Successful Songs / Albums

Songs: Don't Be Cruel
Album: Elvis' Christmas Album – It's Christmas Time

Earnings: $100 million – $1 billion
Net Worth: $23 million
Website:
Awards:

1958 NME Award for Favorite US Male Singer
1958 NME Award for World's Outstanding Popular Singer
1968/1973/1975 Grammy Award for Best Inspirational Performance
1970/1971/1972 NME Award for World Male Singer
1970/1971/1972 NME Award for World Musical Personality
1971 Grammy Lifetime Achievement Award
1987 American Music Award of Merit
1999/2002/2007 Grammy Hall of Fame
2018 Presidential Medal of Freedom

Last Updated: June 2022
Early Life
Vernon and Gladys Presley welcomed the future rock legend Elvis to Tupelo, Mississippi, on January 8, 1935. Few people know that Elvis had an identical twin brother, Jessie Garon Presley, who was stillborn. As a result, Elvis was the only surviving child who spent his first 13 years in a two-bedroom home.
Gladys was the dominant family member, while Vernon Presley jumped career boats more often than needed. Elvis was close to his mother, even though the Presleys often relied on government food assistance. Gladys had to move in with relatives while Vernon went to jail for a fraudulent check.
Elvis' first music performance was in 1945 when he entered a school contest at the Alabama Fair and Dairy Show, dressed as a cowboy. The up-and-coming music mogul received his first guitar months later. He received lessons from an uncle and the family's pastor at the Assembly of God Church.
As Elvis became a rowdy teenager, the Presleys moved to Memphis, Tennesse, in 1948, where Elvis graduated from high school in 1953. Elvis had strong musical influences around him throughout his teenage years. The Presleys were avid church-goers, and gospel music played a role in his growing passion.
Elvis was also surrounded by country and pop music of the time, while he also loved the R&B music that brought the historic Beale Street to life. Elvis was a young man who welcomed diversity, music, and otherwise. The Presley family remained in public housing for years, while Elvis began his rise with no formal training.
Elvis couldn't read sheet music, and he relied on playing by ear. He spent hours in music stores with jukeboxes, where he could listen to his favorite country singers like Jimmie Rodgers and Jimmie Davis. Elvis leaned toward the ballad-style singing because he loved gospel singer Jake Hess. Elvis loved African-American gospel music.
Elvis finally walked into Sun Records in 1953 to record a single for his mother. Samuel Phillips heard the young man's incredible voice and asked the receptionist to take his name. Elvis recorded a second acetate in 1954, but nothing came of it. However, Phillips wanted Elvis' African-American-sounding voice to hit the right ears.
Elvis struggled to shine in the recording studio until Phillips invited Scotty Moore and Bill Black to join the young man. The King had a nervous edge, and he still didn't perform well. Finally, after many wasted hours, Elvis grabbed his guitar, began shaking his legs, and performed "That's All Right" as Bill and Scotty jumped in.
The trio looked insane as Elvis was all over the place, shaking his legs in what would become his signature swagger move called "Rubber Legs." His voice echoed in a distinctively rigged fashion, and Phillips got chills. The trio looked like fools, but the music flowed, and the moves turned the young man into a confident star.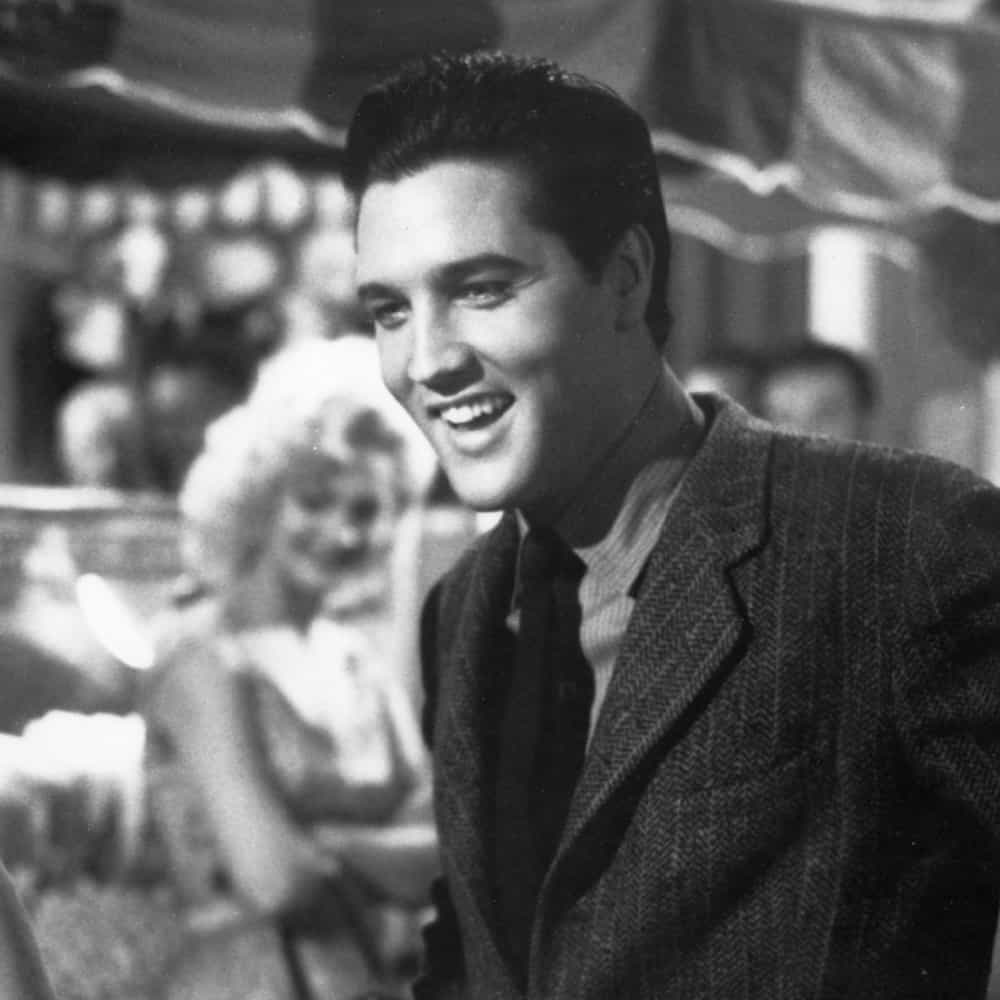 Professional Career
Elvis Presley performed his first live show with Bill and Scotty before going live at the Overton Park Shell, where Slim Whitman headlined the show. The Overton show is where Elvis first publicly used his rubber leg swagger move, melting hearts and sending women over their feet. Young ladies began screaming in the crowd.
Scotty and Bill left their band to continue the rise with Elvis, a young man shaking hearts and tails. The trio frequented the Eagle's Nest Club in Memphis while recording more music at Sun Studios. By the end of 1954, Elvis aired in commercials, including one for Southern Made Doughnuts, which Johnny Cash also endorsed.
Elvis was a regular performer across Tennesse and Texas, a regional star. His first televised performance was for the Louisiana Hayride, broadcast by the KSLA Network. By early 1955, Elvis signed a contract with Bob Neal, putting him on tour with other musical legends like Roy Orbison and Hank Snow.
Roy couldn't believe the young man's electric rhythm and distinctive vocals. However, radio stations gave Elvis a hard time because he sounded like a rockabilly, a combination of hillbilly, blues, and rhythm. By the end of 1955, RCA Records scooped up Elvis Presley for a staggering $40,000! At least they saw the raw talent.
RCA Records turned Elvis into an international sensation by 1956. Then, it all went North for the 21-year-old rock & roll star.
First RCA Recording Goes Mad: Heartbreak Hotel
RCA Records owned five of the young man's Sun Studios singles and some unreleased songs. However, Elvis was a worldwide star, and RCA Records wasted no time recording his first original single with them in January 1956. The piece broke, mended, and broke some hearts repeatedly in a vicious cycle of knee-bending music.
The song went to vinyl, selling 300,000 copies in only three weeks and spending eight weeks on the pop Billboard's number one spot. It landed at number five on the R&B Chart and number one on the Country Charts. The record sold over a million copies, earning Elvis his first gold record award.
A Rekindled Song Soars on the Charts: I Forgot to Remember to Forget & Mystery Train
The first recording from Sun Studios remastered by RCA Records hit the number one spot on the national Country Billboard Charts in February 1956. After that, the rock n' roll king rolled his way to fame faster than the world could ever expect.
By March 1956, the first album in The King's discography hit the charts for ten weeks. The album was called Elvis Presley and contained all his early recordings. The King shook his boots and vibrated souls with his voice. The album earned over $1 million in sales. Elvis was on the road to rockabilly legends.
Televised Songs & Early Movies: Blue Suede Shoes to The Rainmaker
Hollywood welcomed Elvis to Paramount Pictures in March 1956 to begin a two-part screen test. He sang Blue Suede Shoes and performed a scene for the movie called The Rainmaker. Blue Suede Shoes is my song. The song makes me crumble into myself when I hear the vocal vibrations, imagining his rubber legs.
In April, Elvis appeared on the Milton Berle Show and signed up for six movies with Paramount Pictures. Naturally, everyone wanted a piece of The King. At the same time, Elvis continued touring the country, and the shows grew wilder with each performance. He even left shows early because of the fans storming the stage.
More Televised Sessions: Hound Dog
Elvis appeared on the Milton Berle Show again in June 1956, but he performed Hound Dog this time. In July, Elvis also appeared on the Steve Allen Show, wearing a black and white tuxedo to look like a basset hound while performing the famed song. The Ed Sullivan Show wanted in on the action, welcoming Elvis in September.
Elvis' first major movie production launched in November 1956. Love Me Tender was a Paramount Pictures production renamed to fit the best song from the soundtrack. It was a melodrama set in the Civil War Era, and the film did well with several of Elvis' much-loved songs. The year 1956 was a pivot for Elvis, paving new paths.
1957: Another Pivotal Year
Elvis continued turning heads and bending minds with his blow-away rockabilly music. Elvis performed his first shows outside of the United States. He rocked the Canadians in Toronto and Ottawa in April. He also began filming the famous Jailhouse Rock movie. It led to another favorite song of mine.
Jailhouse Rock became one of his greatest songs from the movie soundtrack. Then, in July, the movie Loving You aired and stood steady as number seven at the National Box Office for four weeks. By August, Elvis performed his last out-of-country show in Vancouver, Canada, and Jailhouse Rock launched in October.
Elvis' acting performance in Jailhouse Rock was his second-greatest, only surpassed by the 1958 movie called King Creole. Elvis became an appendix to rock fans everywhere, and, sadly, he never performed out-of-country again. However, the young man entered the army in 1957 and would return with a soulful voice.
Elvis only recorded one more album while stationed at Fort Hood, and sadly, his mom passed away at Graceland. As a result, the young man's singing career took a backseat until 1960.
The Much-Anticipated Return to Rock & Roll (and Movies)
After two years of active duty in Germany, Elvis returned to the spotlight. The young man matured in the army, but he was ready to take to the stage again. The King recorded the album Elvis is Back, which hit the Billboard Pop Chart. He also appeared on a variety show for an unprecedented $125,000.
Elvis began filming GI Blues as his fifth major motion picture by April and Flaming Star by September 1960. The man was on fire. The soundtrack for GI Blues hit the Pop Billboard Chart and stayed for 111 weeks. The album is well-known as Elvis Presley's most successful hit.
In February 1961, Elvis performed live to benefit 38 Memphis charities, and Tennessee declared Elvis Presley Day on the 25th. In March, he performed another show at Pearl Harbor, raising $62,000 for the USS Arizona Memorial, while the album Blue Hawaii hit the Billboard Pop Chart and stayed for 20 weeks.
Elvis soared the charts more frequently and for longer than most musicians at the time. Good Luck Charm was another single that hit the hearts of fans everywhere in 1961, but the next major pop single only came in 1969. Suspicious Minds soared through billboard charts and warmed every rock & roll fan's desire for The King.
Elvis spent most of the early to mid-1960s recording films, of which many soundtracks introduced iconic songs. Some movies Elvis recorded during this time include:
Elvis wasn't only The King of all things Rock n' Roll. He also became a legendary actor in his career, making 21 movies by the end of 1965. He continued filming for MGM throughout 1966, but he tried to focus on his music career. Elvis got to sing with his gospel music mentor, Jake Hess, and The Imperials in May 1966.
The Music World Welcomes Elvis Back
Elvis spent most of the 1960s filming movies and recording soundtracks, of which Elvis acted in more than 30 by the end of 1968. His return to television in December 1968 brought his music career back to the frontlines. The show's name was Elvis, and it was a massive hit, stealing 40% of the national viewers.
The 1968 television special welcomed The King back to the world that misses him so much. The show was often called the 68 Special or 68 Comeback. Greil Marcus called the show Elvis' finest music of his life. Elvis prepared to return to music full-time by the end of 1968.
By January 1969, Elvis began recording music in Memphis with American Sound Studio. This period began with more iconic steps through Elvis' musical career. The sessions yielded chart-toppers like Suspicious Minds, In the Ghetto, and Kentucky Rain. In addition, the King matured a lot through the army and his family life.
He used his experiences in Germany and the tricky balance of family life with fame to inspire his music and performances. In July 1969, Elvis booked a four-week, 57-show concert at the International Hotel in Las Vegas. He became a regular in Vegas, setting the trend for the flashy lifestyle and glitzy shows.
The show included male and female gospel singers, an orchestra, and the best of the best rock n' roll musicians of the period. Elvis sang a few of his original singles, some new material, and a few cover songs from other artists. The show broke all Las Vegas attendance records at the time. Elvis was breaking the music world.
He was shaking Vegas like The King we know today. The Vegas show was known as Elvis in Person at the International Hotel, and it would be the first of many for the legend. Elvis wore his two-piece suits that came before the famous one-piece jumpsuits. He had women falling over the stage and screaming for more.
Elvis Breaks the 1970s Music World
The legacy that is Elvis Presley blew the world away during the 1970s. Elvis returned to the International Hotel for another month-long special. The tours poured in now, allowing Elvis to break his attendance records with every show in Vegas and other states. Elvis also pioneered the one-piece jumpsuit in January 1970.
Elvis performed another record-breaking concert at the Astrodome in Houston, Texas, in February 1970. Nothing stopped his ever-progressing fame as a jubilee singer, no longer a rockabilly performer. Elvis collected a few awards by this time, and the concerts showed how much he deserved them with every broken record.
The Wonder of You single and the Love Letters From Elvis album launched in early 1970, hitting the charts upside down. Then, in July, The King returned to Vegas for a unique concert called the Elvis Presley Summer Festival, again breaking his attendance records. Elvis was unstoppable as the Rock n' Roll King.
Elvis started a nine-city tour in September 1970. The King also met President Nixon in December because even politicians were massive fans of the legend by the end of 1970. It was a pivotal moment for Elvis because he finally received acceptance after politicians called his music controversial terms over the years.
Again, Elvis broke attendance records when he returned to Lake Tahoe to play at the Sahara Hotel in July 1971. The man had no limits, and his fan base grew by the day. The International Hotel in Vegas changed to the Hilton Hotel in August 1971, and Elvis continued smash-hit shows for his stage-storming fans.
Elvis was 36 when he finally received his Lifetime Achievement Award, following numerous other awards over the iconic moments of his music career. The King wrapped the year up with another 12-city tour in November 1971. He played alongside The Imperials again, and the famous stage jumpsuits gained glamorous capes.
March 1972 saw Elvis do another 15-city tour across America while MGM recorded the concerts for a show called Elvis on Tour. The tour included four sold-out shows in Madison Square Gardens in New York, where The King set new records for his audience attendance. David Bowie and John Lennon also performed at the show.
Elvis returned to Vegas for another month-long show at the Hilton Hotel in August 1972, and word of a Hawaii special began circulating in September. Elvis was burning stages wherever he performed, which is ironic because his single Burning Love hit the second spot on the Pop Charts.
January 1973 saw Elvis open with the Elvis: Aloha From Hawaii Satellite television special. This time, the whole world watched, and Elvis broke attendance records for a televised edition across the globe. The sensation went as far as Australia, Japan, and Korea. Elvis had fans in every corner of the world.
The show saw more than 90% of viewers in the Philipines and 70% of Hong Kong watching Elvis live. Tears flowed as Elvis sang I'm So Lonesome I Could Cry. Elvis returned to Vegas and continued his record-breaking concerts. Walls of Fire won a Golden Globe Award in 1973, and Elvis got to meet Muhammed Ali.
Elvis completed another eight-city tour in April 1973 before returning to Lake Tahoe for another record-smashing show in May. The Hawaiian special hits the charts like never before in May, but it would be Elvis' last album in the number one spot on the Pop Charts.
Elvis recorded Raised on Rock in July 1973 before heading back to Vegas for another special. Elvis continued recording singles and selling out shows throughout the mid-1970s. He returned to Houston, Texas, to meet the demand of Astrodome fans before winning his third Grammy in July 1974.
Elvis recorded one of his most passionate songs in March 1975, How Great Thou Art. Elvis won all three Grammys for gospel music, and maybe he wanted to return to his roots during this time. Instead, the King continued touring the country and breaking records at every concert throughout 1975.
The tours continued throughout 1976, and Elvis recorded his final single, Way Down, in October 1976. The King didn't look good anymore. His health was taking a turn, but he continued showing his fans how much joy he could spread, touring and performing his heart out, which will become ironic upon his death.
Elvis went to Indianapolis to perform his final concert at the Market Square Arena in June 1977. However, Elvis returned to Graceland one late night in August 1977, and the rock n' roll world received terrible news the next day. Elvis died on August 17, 1977.
The world only found out by midday, and nothing prepared the rock n' roll fans for the news. The Elvis in Concert album launched in October 1977, selling over 1.5 million copies. Elvis left a legacy, and his professional career stamped itself in history.
Graceland opened to the public in 1982, and the sales of all Elvis records, cassettes, etc., sold over a billion copies by 1984. Elvis was inducted into the Gospel, Rock n' Roll, and Country Halls of Fame between 1986 and 2001, entering the UK Music Hall of Fame in 2004.
Elvis Presley Death
Elvis Presley died on August 17, 1977, and The King was buried with his mother at Graceland. There's a lot of controversy around the rock n' roll legend's death. Elvis used to overmedicate himself with prescription barbiturates. From constipation medicine to pain medication, the world believed that Elvis was addicted.
Elvis Presley's autopsy report was sealed for 50 years after The King sadly died in his bathroom that morning. The official report was that he died of heart failure, and the world automatically believed it was due to his addiction. New evidence shows that the prescription medication addiction only aggravated his condition.
Once Elvis Presley's official records became public, the hunt for true answers began. Evidence shows how Elvis'entire family had heart problems, glaucoma, and liver disease. His mother died of similar causes in 1958. His father would succumb to heart failure in 1979, and Elvis's uncles died of similar conditions.
The prescription medication merely aggravated the diseases, but they were there from birth. Elvis Presley had genetic predispositions to the nine diseased organs from which he suffered. Sadly, the King became addicted to the medications, but he was taking them for a good reason. He was in and out of hospital for many issues.
Elvis Presley's death was terribly sad, and it's easy to think he overdosed on medication that caused his heart to fail, but we need to see the bigger picture. He self-medicated to appease the underlying conditions before sadly succumbing to an addiction that also helped him cope with his lifestyle.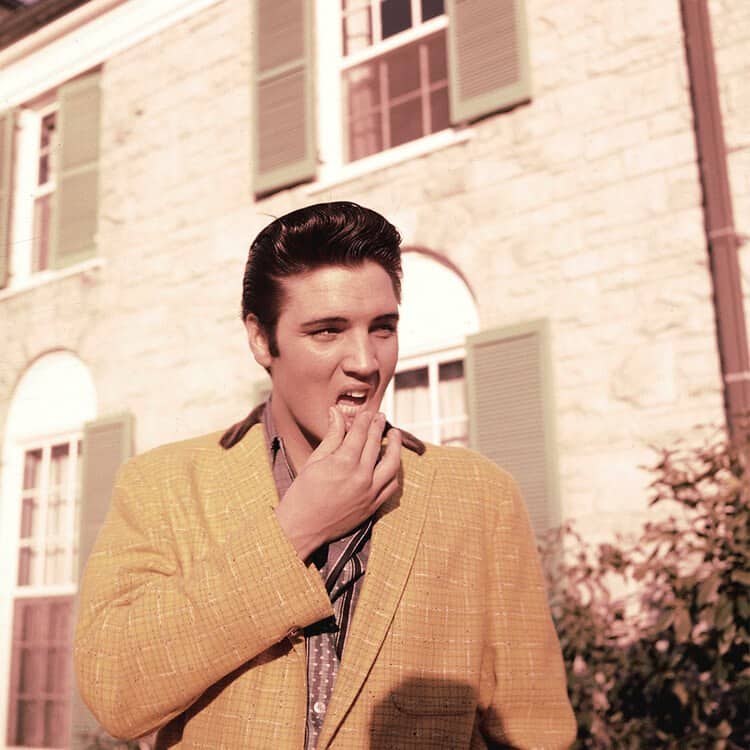 Family
Elvis was close to his mother, and it was a tremendous setback when she passed away in 1958, a year after he bought the Graceland Mansion. Gladys Presley was a massive part of The King's life. Vernon Presley outlived Elvis and his mother, dying in 1979. Elvis Presley was only married once and had one daughter.
After meeting Priscilla Presley in Germany during the war, he fell in love with the 14-year-old girl. The couple married in 1967, once Priscilla was of legal age. However, there's some controversy around the relationship. 
Elvis claimed that Priscilla threatened him to marry her by saying she'd go to press with details of their earlier relationship. Elvis loved Priscilla, but he didn't initially want to marry her. 
Nonetheless, Priscilla and Elvis welcomed a beautiful baby girl in February 1968. Lisa Marie Presley came before her parents separated in late 1971. Elvis and Priscilla officially divorced in 1973. However, Elvis was already in a new relationship because the couple had separated long before the divorce.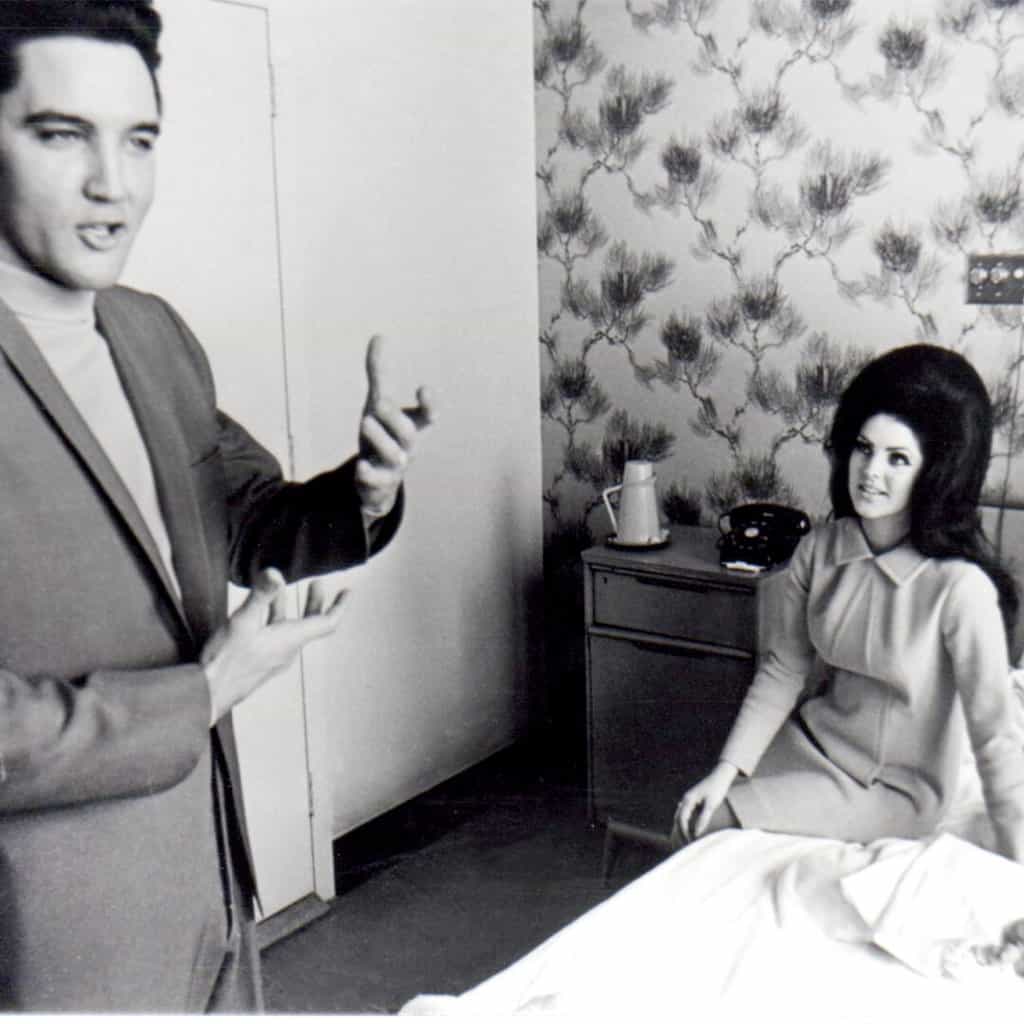 Dating and Relationship History
Elvis had two relationships after Priscilla. First, he spent four years with Linda Thompson, who wasn't a fan of his lifestyle. It was a crutch that often destroyed The King's relationships. None of his women loved the tours, concerts, or his sensual dance moves on stage. Elvis then met Ginger Aldren, who stayed until his death.
Controversies or Scandals
Elvis first became a controversy in 1956 when municipal politicians denied his permits, calling his style of music obscene. However, teenagers ignored the controversial singing and dance performances, piling into cars to see Presley shows in other cities and states. 
People called Elvis a "sexhibitionist" because of his alluring appeal during dance performances and how he rattled his voice to combine R&B, gospel, blues, and pop music into a new song style. In addition, politicians and parents said that his dance moves corrupted the American youth. 
The King's performance of Hound Dog on the Milton Berle Show was considered the most sexually controversial performance of his career. After Elvis' bump and grind moves, the media went mad, calling him Elvis the Pelvis. The Ed Sullivan performance got censored after the media outcry. 
There's nothing controversial about The King's performances today, but he stirred a few pots in the 1950s. His style and dance moves drove women insane, but the period didn't condone this behavior on television.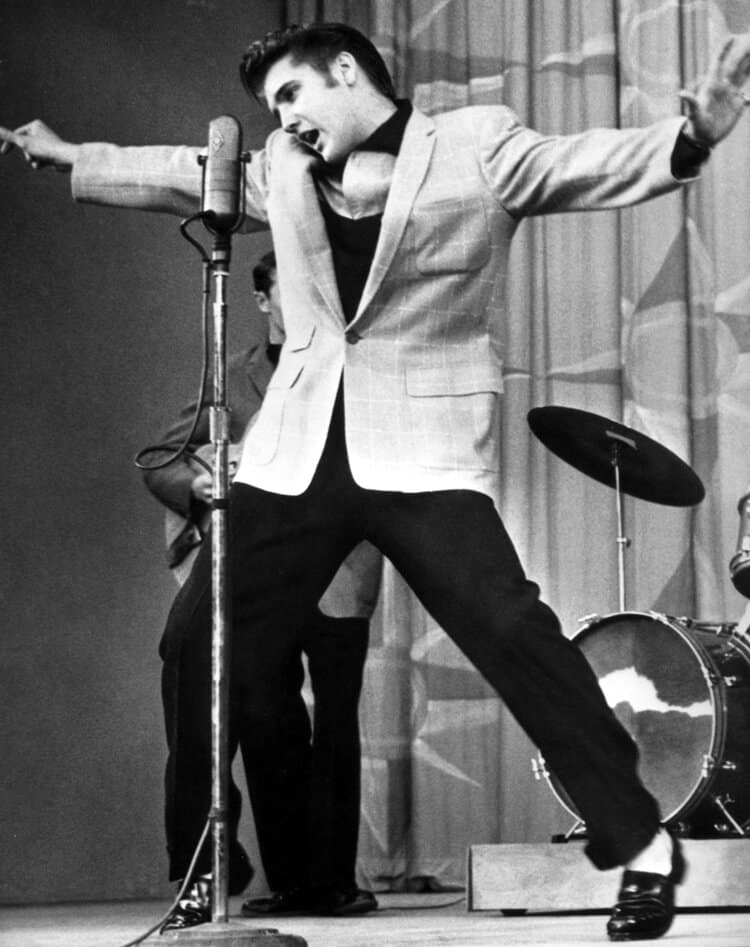 Net Worth and Career Earnings
Today, Elvis Presley's net worth is $23 million, with more charting albums and singles than other artists. He sold over a billion copies worldwide, but debt damaged his worth. During his divorce, Elvis lost much of his money, and he loved spending money. 
He died with $5 million to his name, even though the estimate for his life earnings stands at more than $100 million. He also bought many real estate properties and flashy cars.
Real Estate and Residence History
The first and most notable real estate owned by Elvis Presley is the Graceland Mansion bought in 1957. Elvis leased a Palm Springs house in 1966, but he also purchased a 163-acre ranch in Mississippi in 1967 because he loved horses. He bought Priscilla's first horse for Christmas that year. 
Elvis and Priscilla bought their first Hollywood home for $400,000 in Hillcrest, Beverly Hills, in November 1969. After that, Elvis stayed in many hotels and homes during his tours, even spending two months in a Las Vegas hotel, which explains why his relationships were so complicated.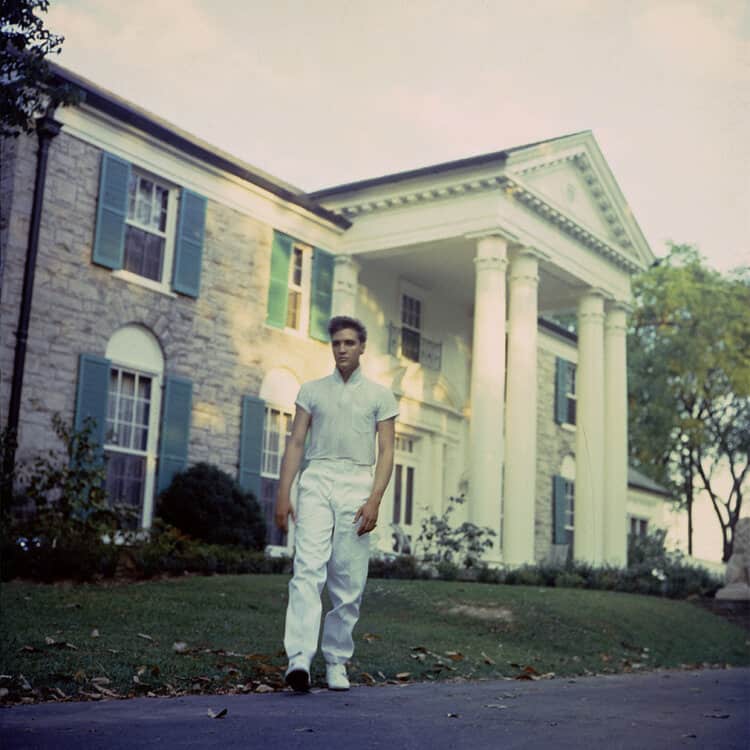 Famous Quotes
Elvis shared many quotes during his tours, the most profound one being, "Til we meet again. May God bless you. Adios." It was the final quote The King ever shared as he greeted fans at his last concert.
Elvis Presley Album Discography
Elvis recorded many albums over his career. Here's a look at the original recordings and soundtracks in his discography while he was alive:

FAQs
Question: What Was Elvis Presley's Net Worth When He Died?
Answer: Elvis Presley died with $5 million in his name, which would be equivalent to $25 million today if you account for the inflation rate. The King made a fortune (estimated at over $100 million) during his lifetime career, but he spent much of his money on real estate, and Priscilla Presley took a chunk during the divorce.
Question: Who Inherited Elvis Presley's Money?
Answer: Elvis Presley left his sizable estate to father Vernon Presley and daughter Lisa Marie Presley. Priscilla Presley assumed executorship after Vernon's death in 1979, and she grew the estate to a staggering $100 million by the time Lisa turned 25. Impressively, Lisa Marie got a lot more than her father wished.
Question: What Was Elvis Presley's Greatest Performance?
Answer: Elvis Presley performed one of the greatest international concerts on satellite television in 1973 called Elvis: Aloha From Hawaii. It became his most iconic performance because it aired in countries as far as Australia, and it gained record numbers of televised viewers in every country, even Korea and Hong Kong.
Elvis Presley Bio: Conclusion
Elvis Presley was a trendsetting icon who took the music world by storm. His story has many layers, which you'll see if you watch the 2022 movie by Baz Luhrmann. He was so different from the other musicians in the rock era, and he left impressions so deep that we'll never forget The King. I'm not a fan. I'm utterly obsessed!
Sources: