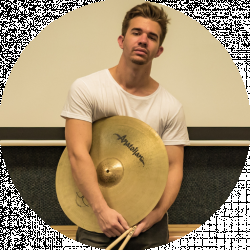 Latest posts by Brett Clur
(see all)
John Lennon is one of the most prominent musicians to have ever lived. Apart from being a key member of The Beatles, he was a major icon of peace and harmony in a time when the world needed it.
The Beatles were incredibly famous, and a lot of that fame was thanks to John Lennon's songwriting abilities alongside Paul McCartney. When The Beatles disbanded, Lennon continued to write iconic songs that were sung throughout the world.
The Beatles and Lennon tracks were always playing in my house growing up. While I prefer the combined music that Lennon made with the band, I can't deny the impact that his solo career had on the world. It even led to his premature death.
If you're a fan of John Lennon, I've compiled a list of some of the best Lennon-inspired T-Shirts to wear. They celebrate a few of his best songs and represent what he stood for.
Bottom Line Up Front
The John Lennon Never Sleeps T-Shirt is my top overall pick. It has an incredibly designed graphic that is layered on a plain white shirt. I think it's timeless, and it will work brilliantly as part of an outfit for almost any occasion. It's the kind of shirt to wear to a concert as well as a birthday party.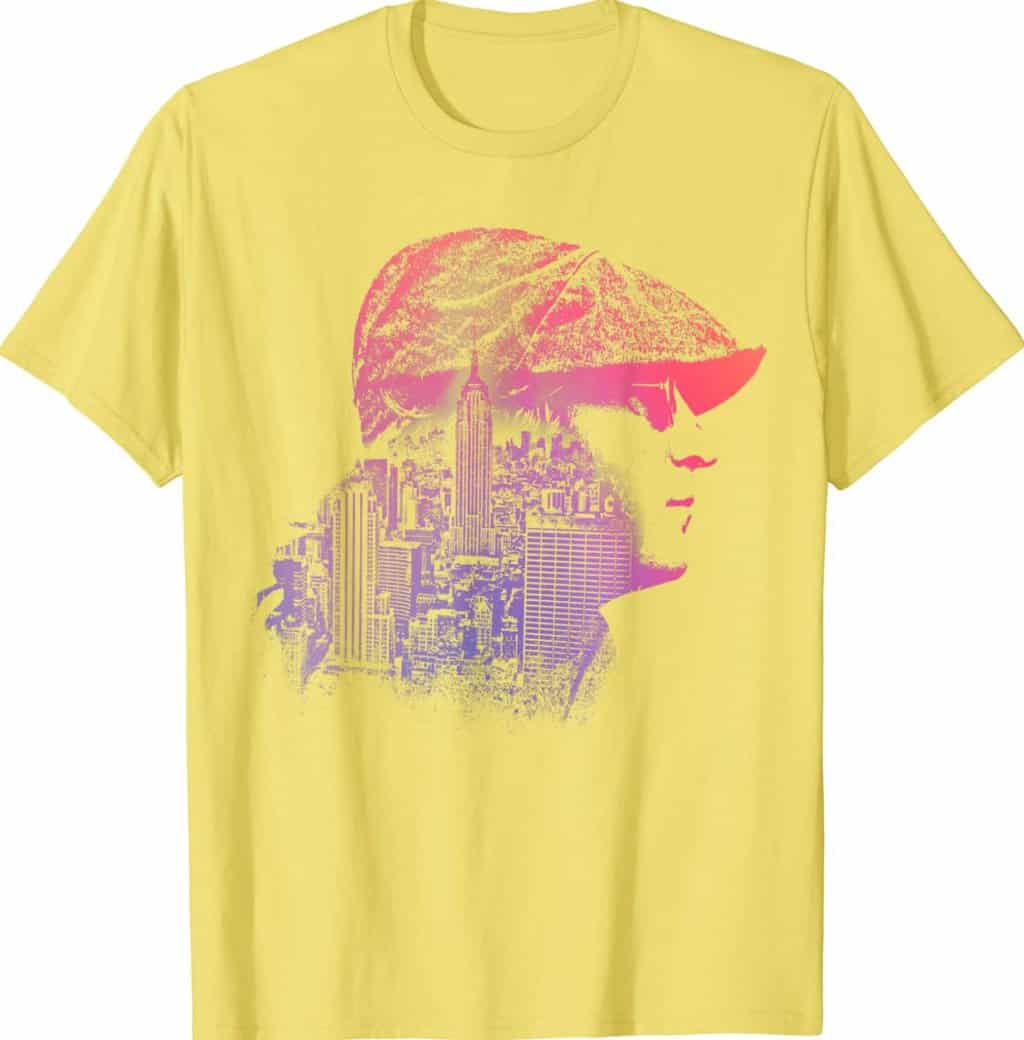 Most of the shirts that I've put on this list come in fits for men, women, and children. You can find them all on Amazon, but you can buy them directly from the official John Lennon store as well.
My Top Picks at a Glance
Selection Criteria
All the shirts I've selected below have some sort of significance relating to John Lennon. I've chosen a few different categories of shirts, from headshots to song lyrics to artistic designs. If you're a fan of Lennon, you'll love most of them.
They also have a wide range of size options, and each of them is made with high-quality materials that will ensure that they last long.
Most of them are from the official John Lennon store, and those shirts are well-known for being worth their price.
Best John Lennon T-Shirts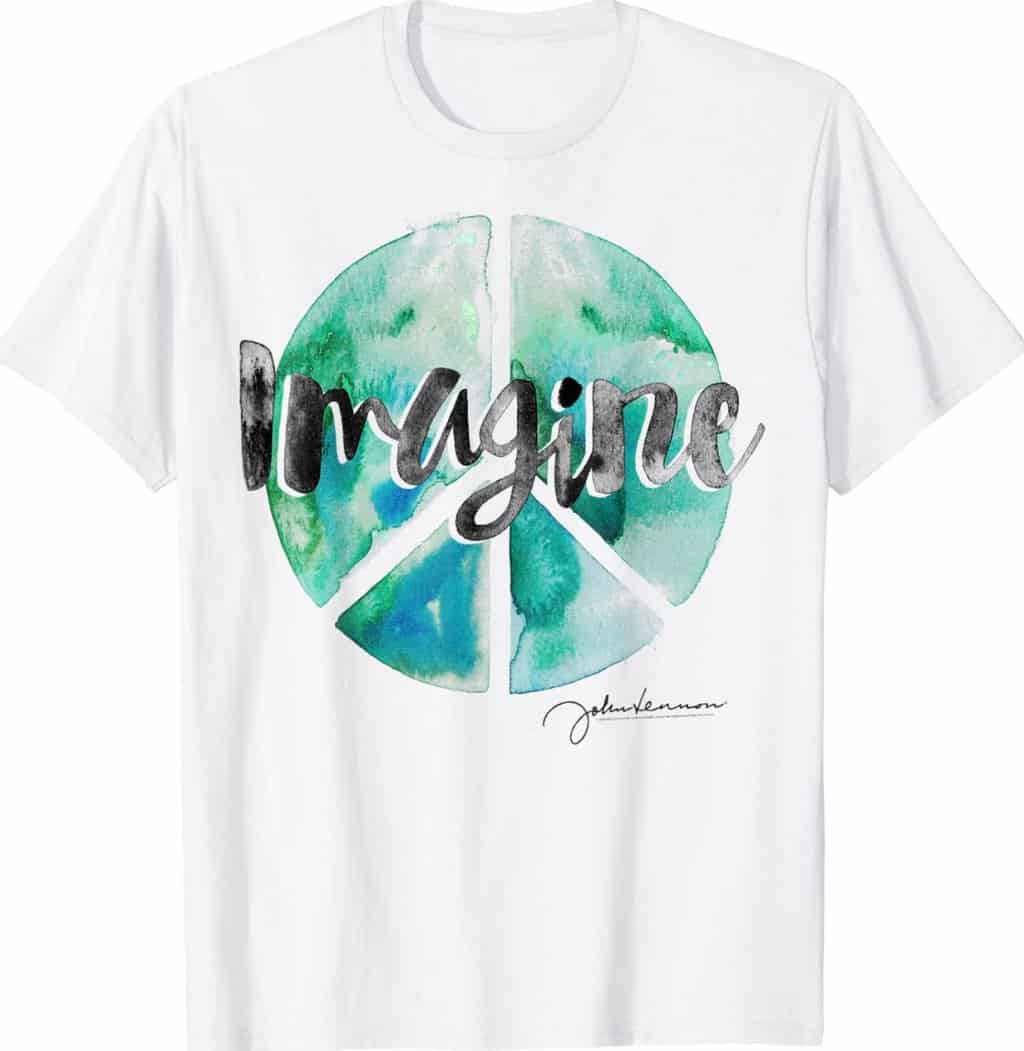 The John Lennon Peace Sign T-Shirt is my first suggestion for this list. I love the look of this tee as the watercolor peace sign immediately stands out. It has Imagine printed over it, which is John Lennon's most popular song.
You have the option of getting this shirt in white, baby blue, lemon, or pink. The white option is my favorite, as it fits well with almost anything.
The material of the shirt is quite thin, so keep that in mind if you're planning to wear it in certain weather conditions. It may not be your best option for a cold day. It's perfect for warm summer days, though. The energy of the shirt will take you back to the 1970s.
Pros
Interesting watercolor design
Great thin option for hot days
Four color options
Cons
Thin material isn't ideal for cold weather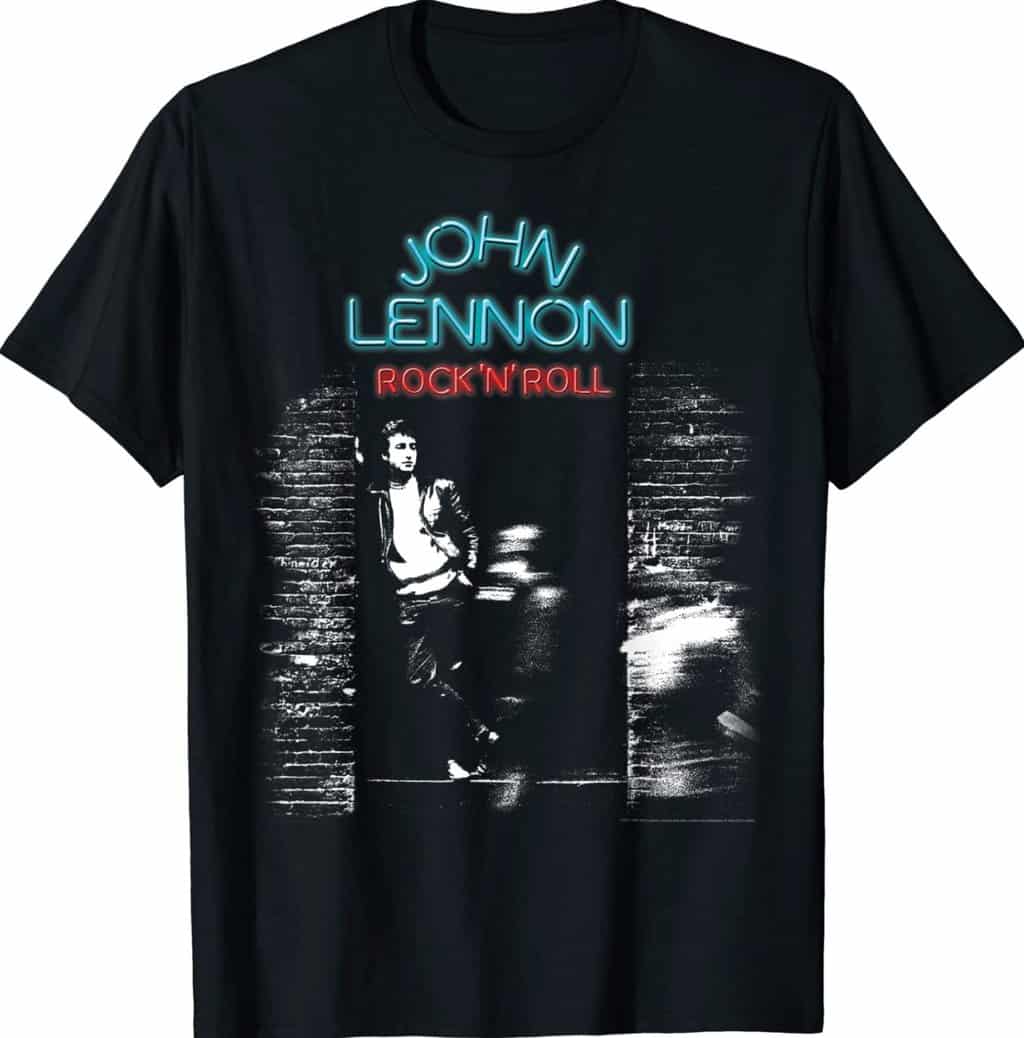 While rock 'n' roll as a musical style formed before The Beatles were big, the band certainly did a fantastic job of bringing it even more into the spotlight. This next shirt has a photographed picture of John Lennon looking very "rock 'n' roll" in his pose.
This shirt looks more along the lines of what most band shirts look like. It's dark and thick, and it puts emphasis on an artist. It's something to wear to a concert.
You can get the shirt in either black, navy, asphalt, or dark heather. The women's fit is a standout aspect of it, making it incredibly comfortable for women to wear. You can get the shirt up to a 3X-large, which makes it a great option for people with larger body types.
Pros
Women's fit is particularly good
Very large size available
Four color options
Cons
Some people may find the design a bit dull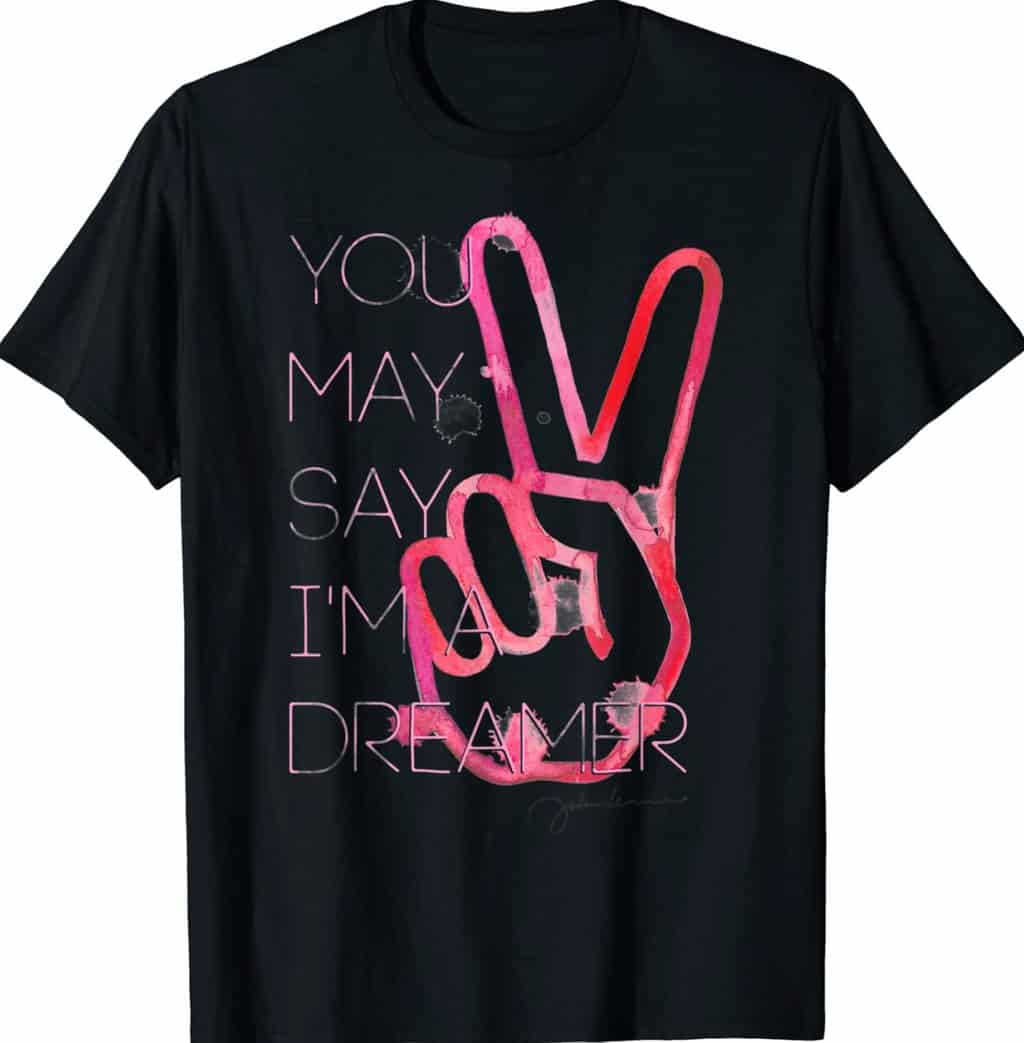 This next shirt is another one inspired by Imagine. It's one of the lyric lines from the song where Lennon expresses his dreams for the world to be united.
I love lyric shirts as people often read them and recognize them, but they can't think of where they're from. When you give them an explanation, it's always so rewarding to see the lightbulb turn on in their minds.
The color options you have here are quite vibrant. Because of this, I think this tee would be better suited for women. However, a confident man could pull happily pull these colors off as well.
The options are black, slate, white, and lemon. Every shirt color has the same bright pink graphic on the front.
Pros
Lyric shirts often spark interesting conversations
Vibrant color options
Four color choices
Cons
Colors may be too vibrant for most men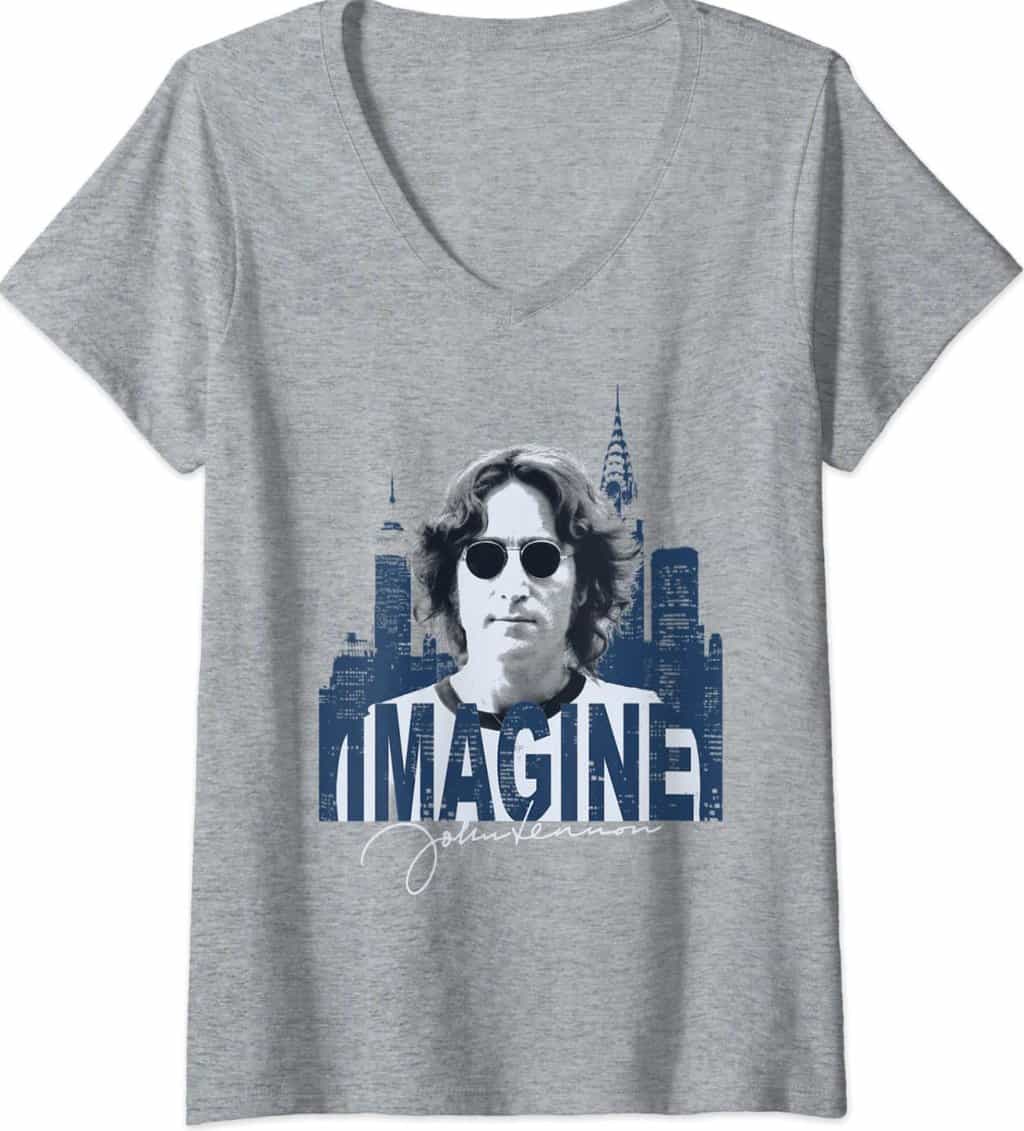 The Women's John Lennon Sky V-Neck is the only shirt that I'm suggesting on this list that is purely designed for women. It's form-fitting and has a V-neck design, making it a great option for women who love these kinds of tees.
Yet again, it has Imagine printed on it, but this famous song name is backed by an epic picture of John Lennon in front of New York City.
Your two color options are baby blue and heather grey. Both look incredible, so I can't give you a definite answer as to which one I prefer. I'd probably end up getting both if I were a woman.
Form-fitting shirts like this typically feel quite small if you get them in your standard size. If you want it to feel a bit looser, then you should get a size larger.
Pros
Specifically made for women
Two color options
V-neck design
Cons
You need to get a larger size for the shirt to feel loose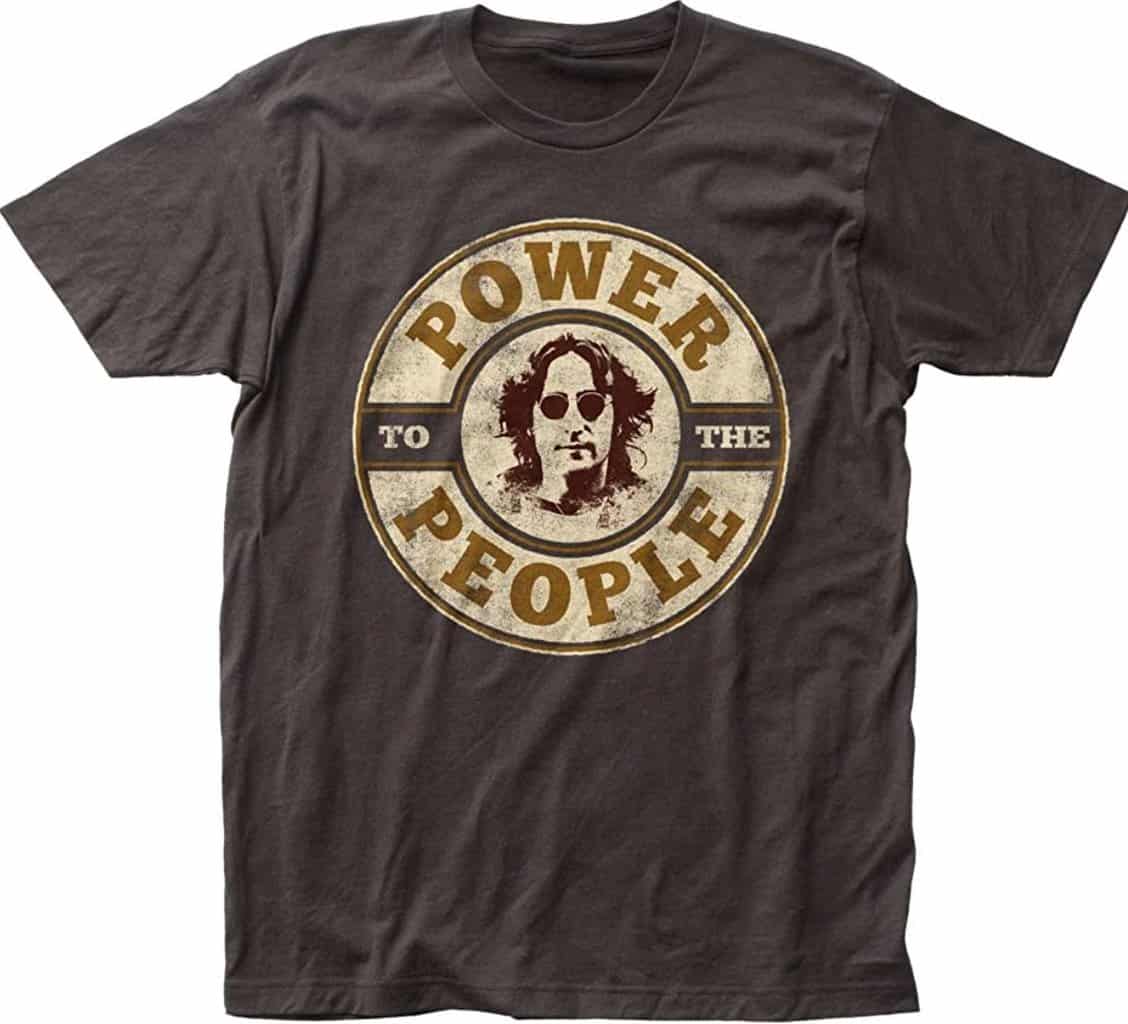 I've suggested this next shirt, not because of its front design but because of the material it's made from. While most of these shirts are made from cotton, this one just feels so comfortable and soft. I'd categorize it as a casual shirt that would be ideal for wearing at home and running errands.
Power to the People was one of Lennon's solo songs that he performed with the Plastic Ono Band. It was an anthem song about a revolution, sparking excitement when people heard it.
Coal is the shirt's only color option. The graphic on the front of the tee has an image of Lennon wearing his signature shades, and it's circled by the name of the song in gold text.
Pros
Very comfortable material
Ideal shirt for casual wear
Inspired by one of Lennon's best songs
Cons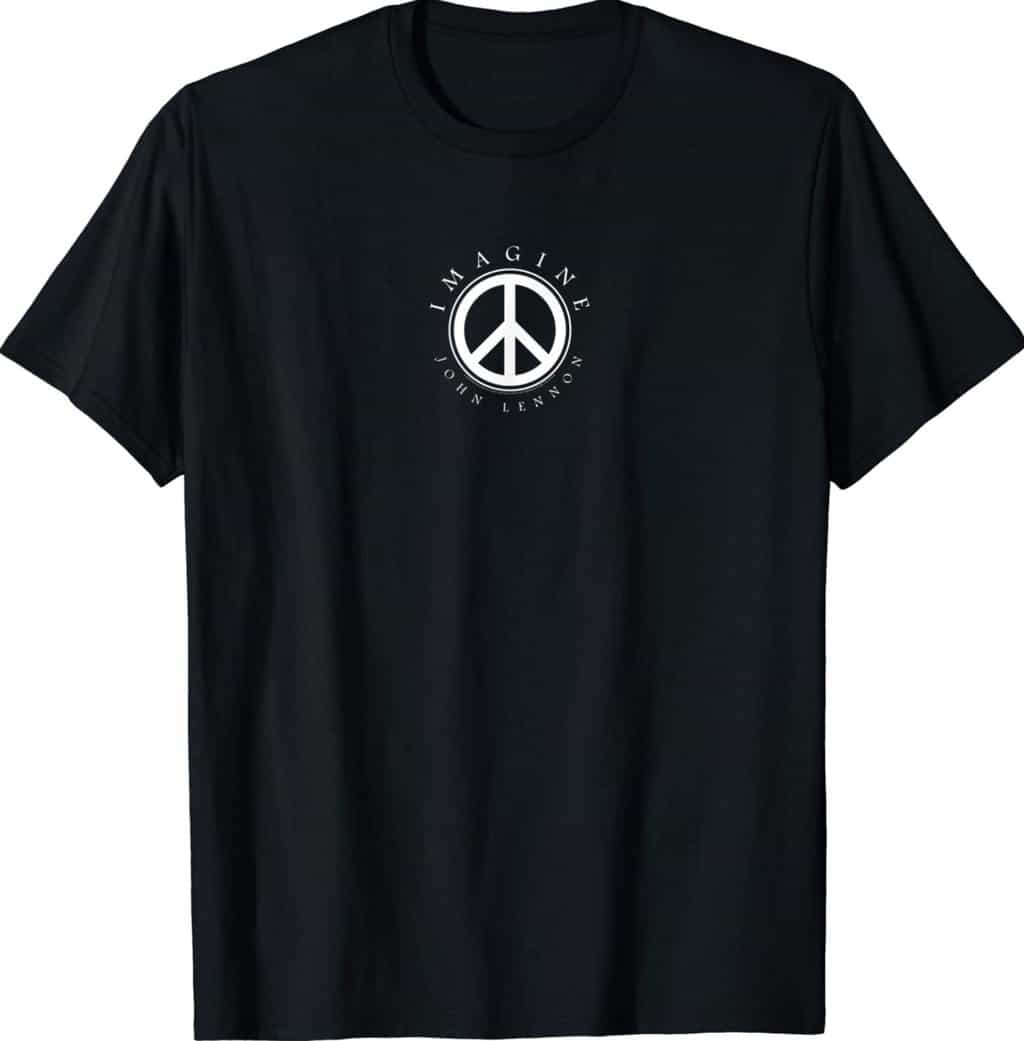 This next shirt is a lot subtler than many of the others here. From far away, it looks to only have a peace sign on the front. However, it has Imagine and John Lennon written around the sign in thin text.
I'd suggest this tee to anyone who wants a general shirt that would work well for many purposes. It's just a bit of icing on the cake that it's inspired by Lennon. I could see people who don't know who Lennon is buying this tee purely due to how it looks.
The graphic on the front is quite small, so it doesn't get too in the way when you're trying to match the shirt with other items of clothing. The color options for this one are black, navy, dark heather, heather grey, and heather blue.
Pros
Five color options
Good option for people who like small graphics on their shirts
Works well with most other clothing
Cons
Hard to tell that it's a John Lennon T-shirt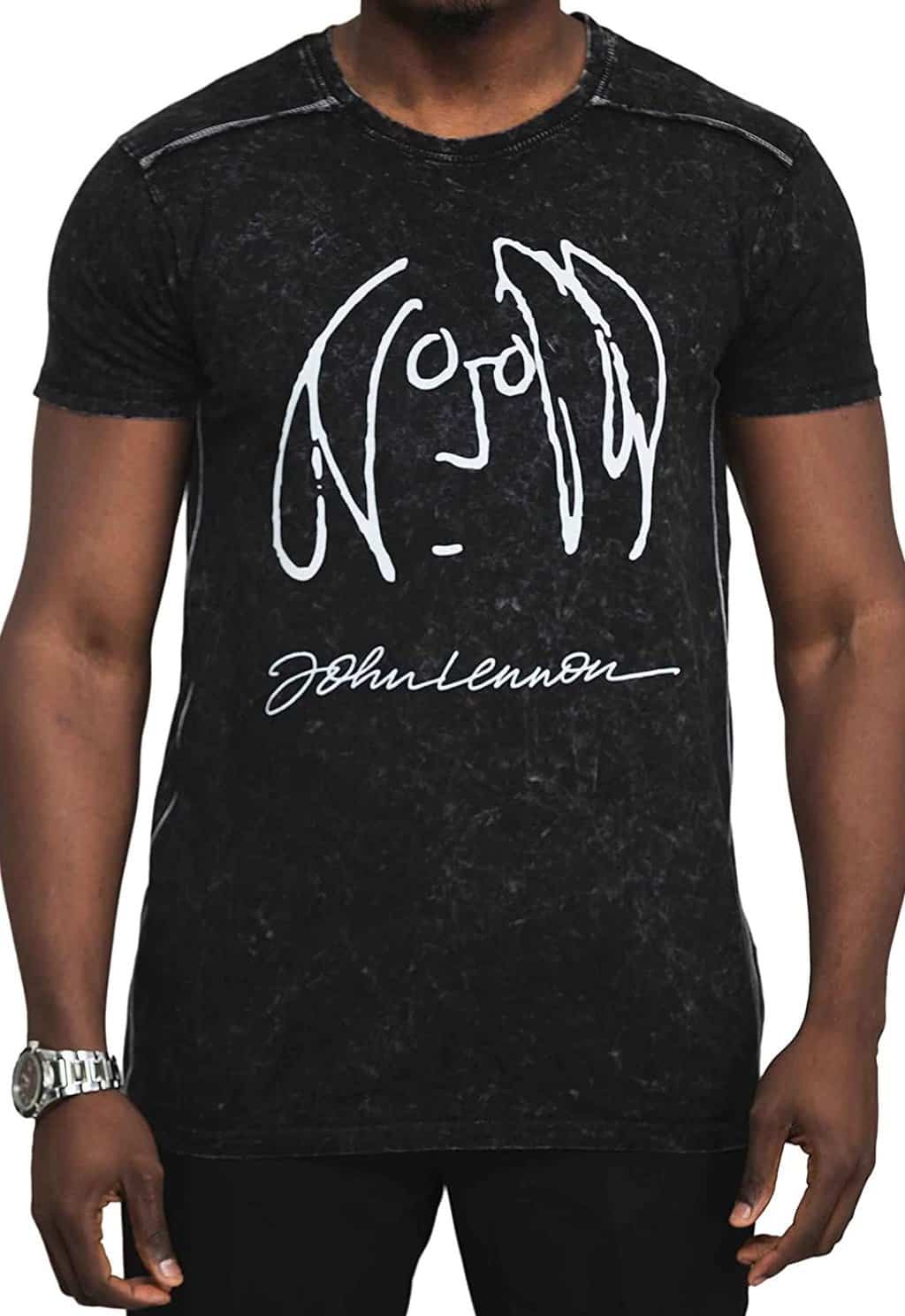 The John Lennon Men's Self Portrait Snow Wash Tee is a lot more out there than my other suggestions on this list. I find this shirt to be quirkier, and it's something that a certain type of person would wear, such as an artist or designer.
The front graphic is a famous drawing that Lennon drew of himself. It's a quick pencil sketch that perfectly encapsulates Lennon's long hair of the time and the glasses he used to wear.
There are two versions of this tee you can get. The one is black with a few white stripes around the shoulders and sides. The other is navy with stronger gold stripes to outline your figure. Both shirts have Lennon's signature underneath the self-portrait.
Pros
Quirky design
Two color options that are vastly different from each other
Famous Lennon drawing on the front
Cons
Not everyone will like the hand sketch design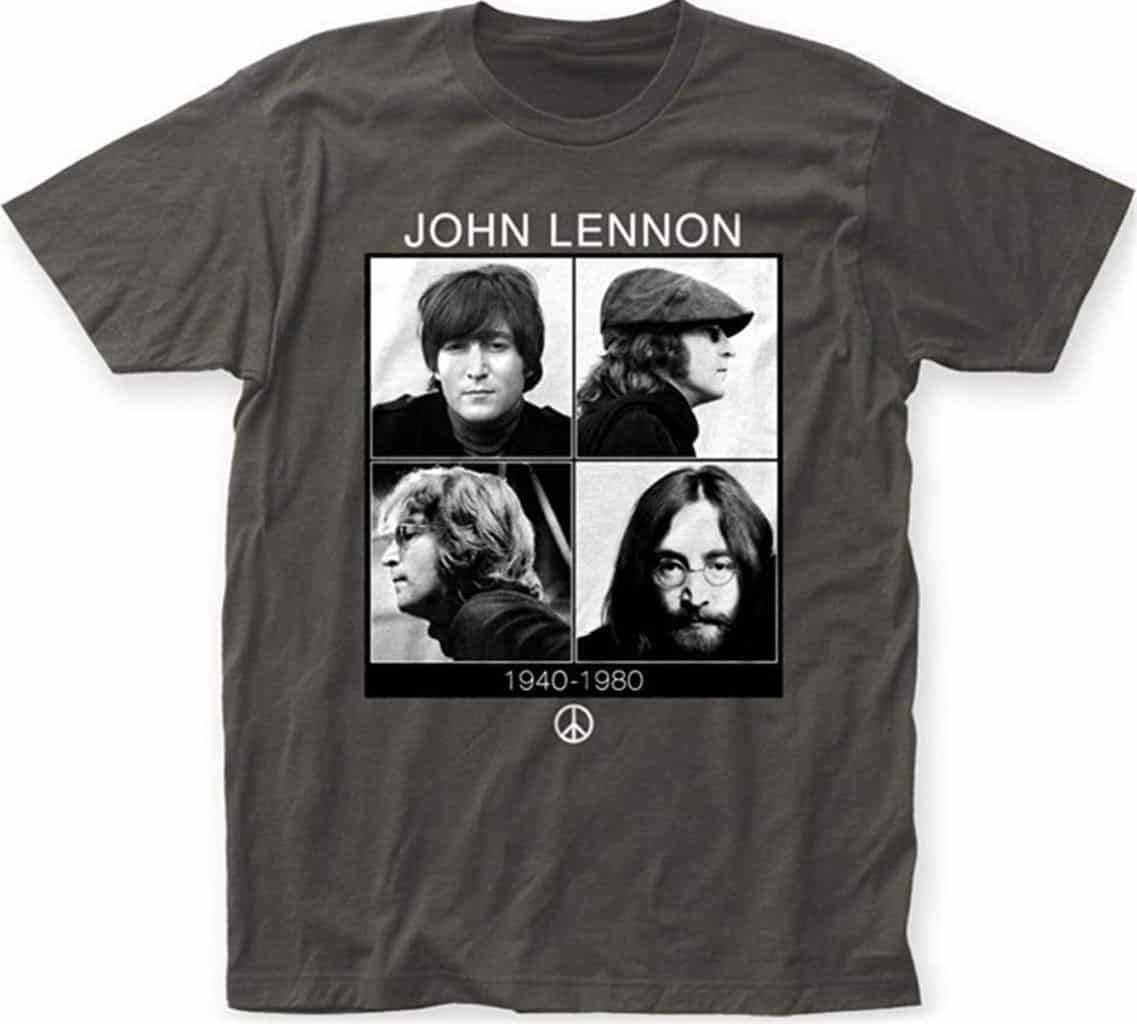 John Lennon had a spectacular music career, and this T-shirt celebrates his life and all his looks over that time. He had a few phases where his hair changed, and he wore varying accessories.
The first frame shows how Lennon looked when he was part of The Beatles. The following three frames show how his appearance evolved as he got older and grew into his solo career.
This is the perfect shirt to get someone who loves John Lennon. While having his name and song titles on a shirt is cool, not much can beat having his faces from different timespans.
The shirt has a charcoal color, and there aren't any other color options aside from that. There also aren't dedicated fits for women or children.
Pros
Celebrates the life of John Lennon
Comfortable fit
Large number of sizes available
Cons
Only one color options
No women or youth fit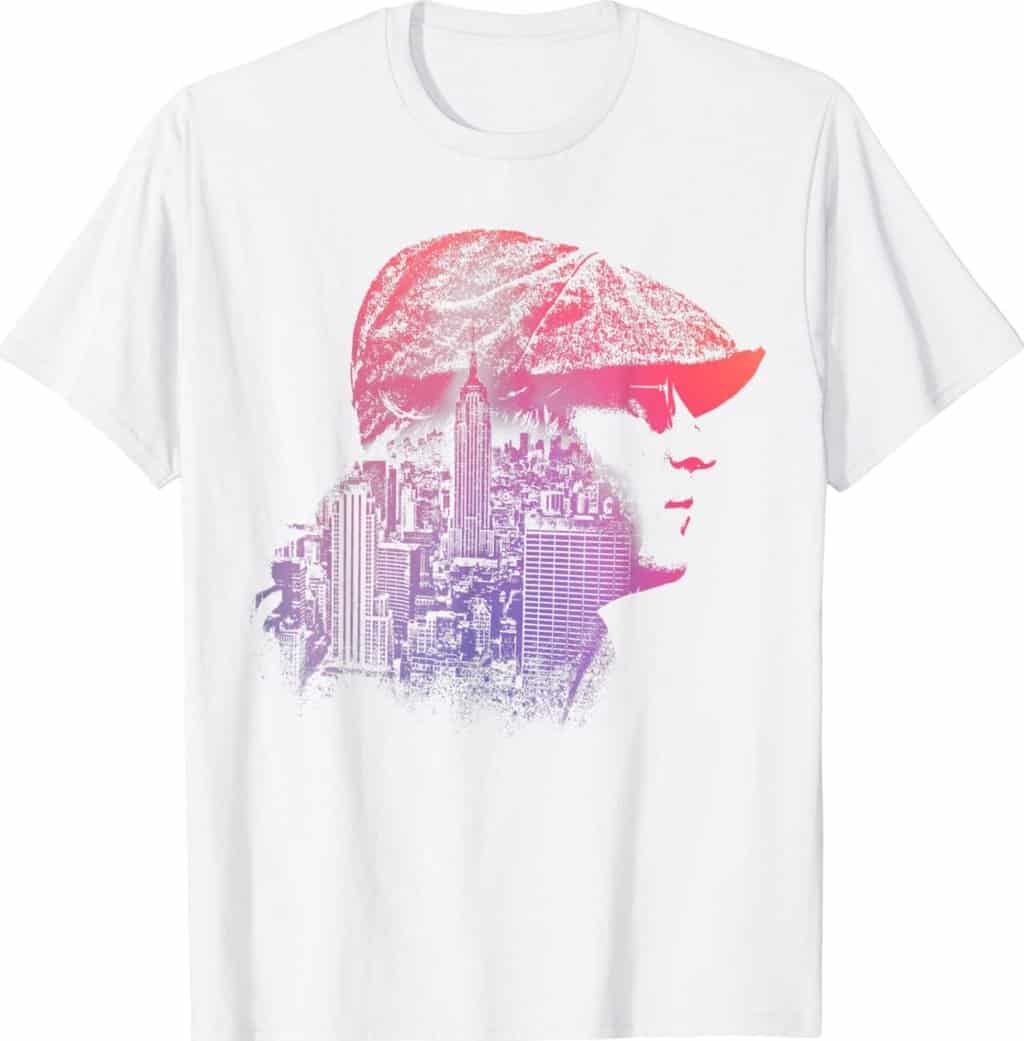 The John Lennon Never Sleeps T-Shirt is my favorite option on this whole list. I'm a sucker for plain white tees with beautiful pictures on the front, and this one takes the cake. It's a multi-colored picture of John Lennon's side profile fading into the city of New York.
I find this T-shirt so visually appealing that I would probably end up wearing it every day. While I think the white version looks the best, you can also get it in lemon, silver, and heather grey. The multi-colored graphic stays the same color across all those options.
The shirt is lightweight and it has a classic fit, making it a versatile option for all occasions. You can get it in a women's fit as well, but just make sure to order a size up to be comfortable.
Pros
Amazing artistic graphic on the front
Lightweight
Four color options
Cons
Women's fit is very small, so you should order a size up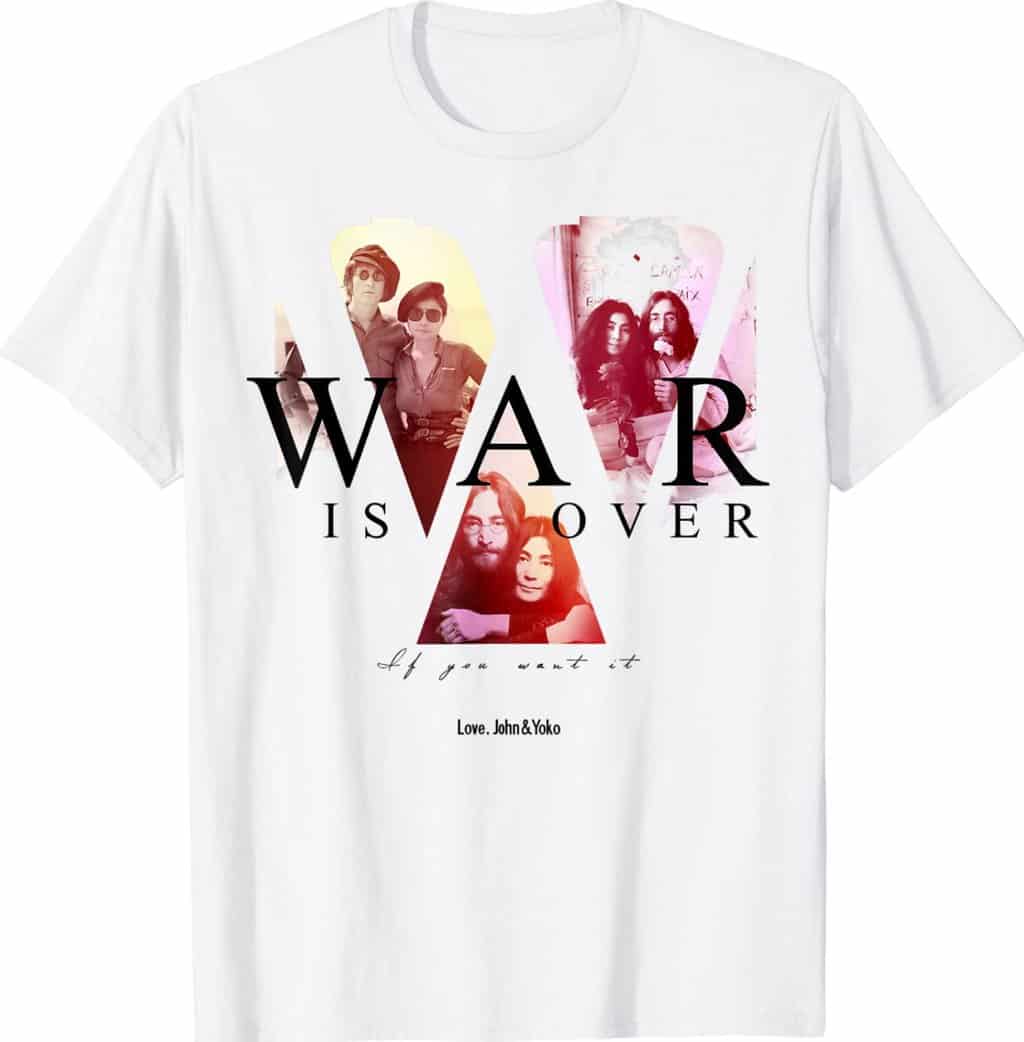 Not everyone was a fan of John Lennon's relationship with Yoko Ono. To this day, she's still blamed by many for breaking up The Beatles. However, there was more to it than that, and Lennon ended up making some good music with Yoko.
If you're someone who supports the relationship they had and the music they made, this tee is for you. It has three images of the couple that have been layered in triangular shapes. I think it looks very artistic, which some people will love.
The title of the shirt is a reference to a song called Happy Xmas (War is Over). It was a protest song released in 1971 against the Vietnam War.
Pros
Great protest shirt
Celebrates the relationship between John Lennon and Yoko Ono
Four color options
Cons
Not a good shirt to get if you don't like Yoko Ono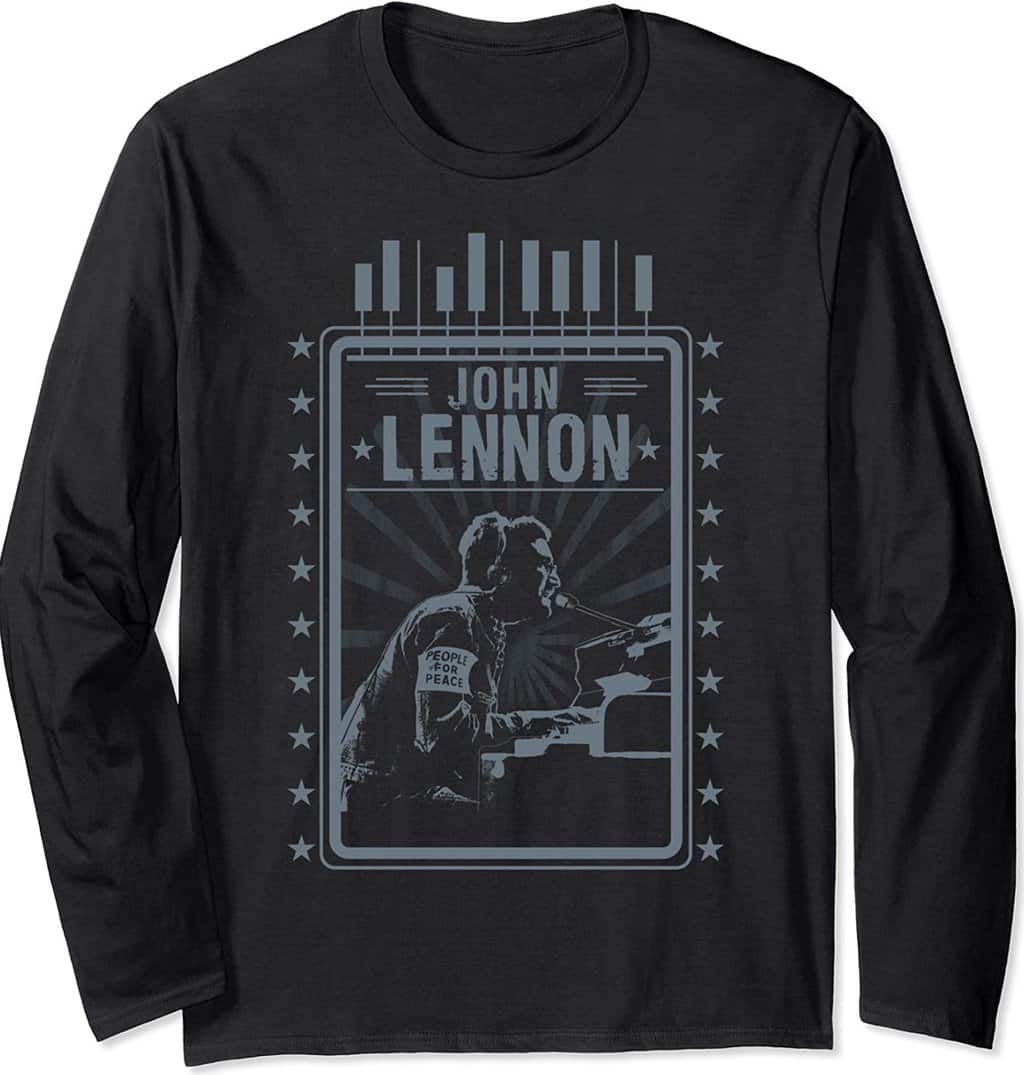 If you're looking for a tee that will get you through colder weather, the John Lennon Piano Long Sleeve T-Shirt is a great pick. The material on this one feels very cozy, and the picture on the front is quite unique.
Lennon was a prolific piano player, so it's cool to have a shirt that shows that. While other shirt graphics have still shots, this is more of an action shot that shows Lennon doing what he loves and making music.
It's a unisex shirt, and you can get it in black, navy, or dark heather. It's quite expensive compared to the other shirts on this list, but I'd say it's well worth the price.
Pros
Warm
Action shot of Lennon playing piano
Unisex design
Cons
More expensive than the other tees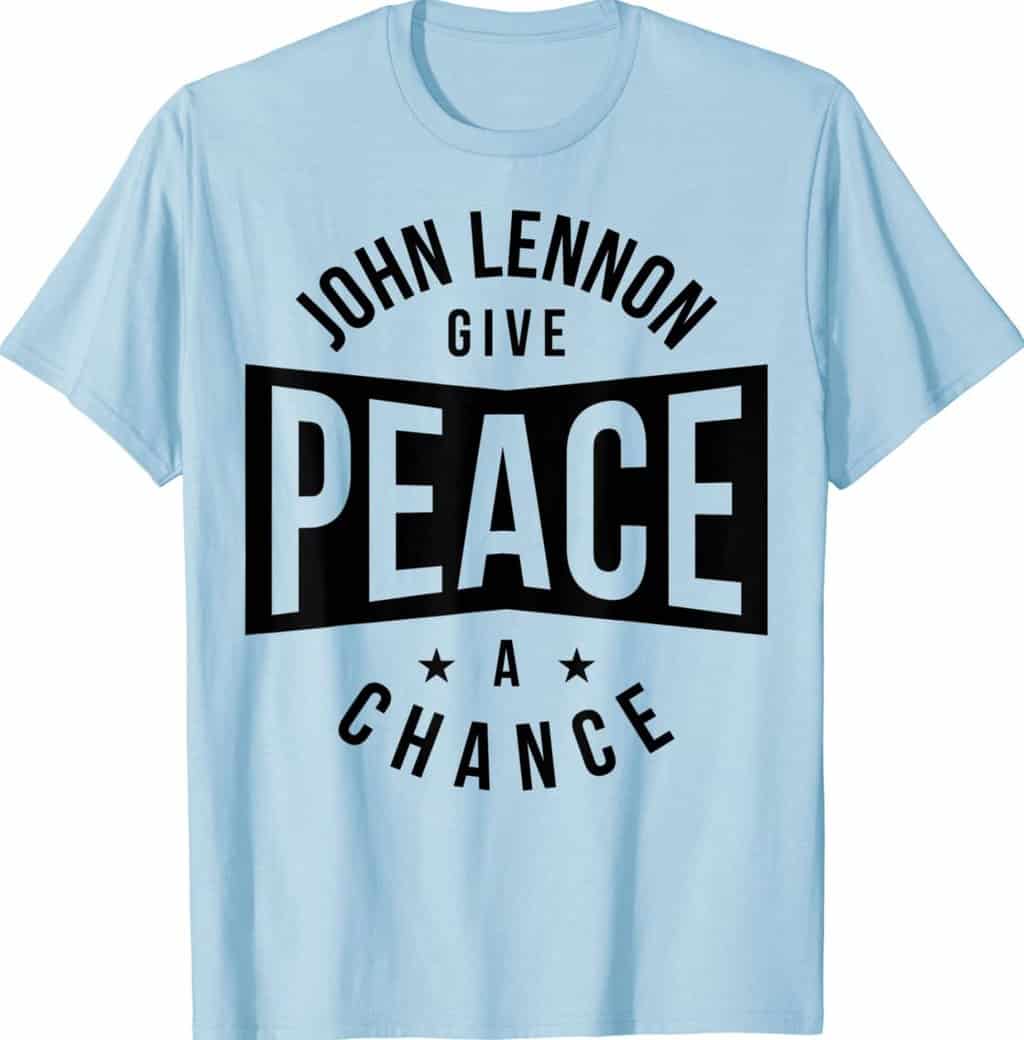 This shirt has incredibly bright coloring with a simple text graphic that references one of Lennon's most popular songs. The song was very suitable for the time it was released, but it has continued to be an anthem in the world when things are tense.
It's a cool shirt to wear to either a concert or a protest. The bright colors will make you stand out. Your options here are baby blue, cranberry, lemon, heather grey, and pink. All of them pop, and you can get the shirt for women or children as well.
Pros
Very bright colors
Five color options
Amazing protest shirt to wear
Cons
Some people may find the design to be a bit simplistic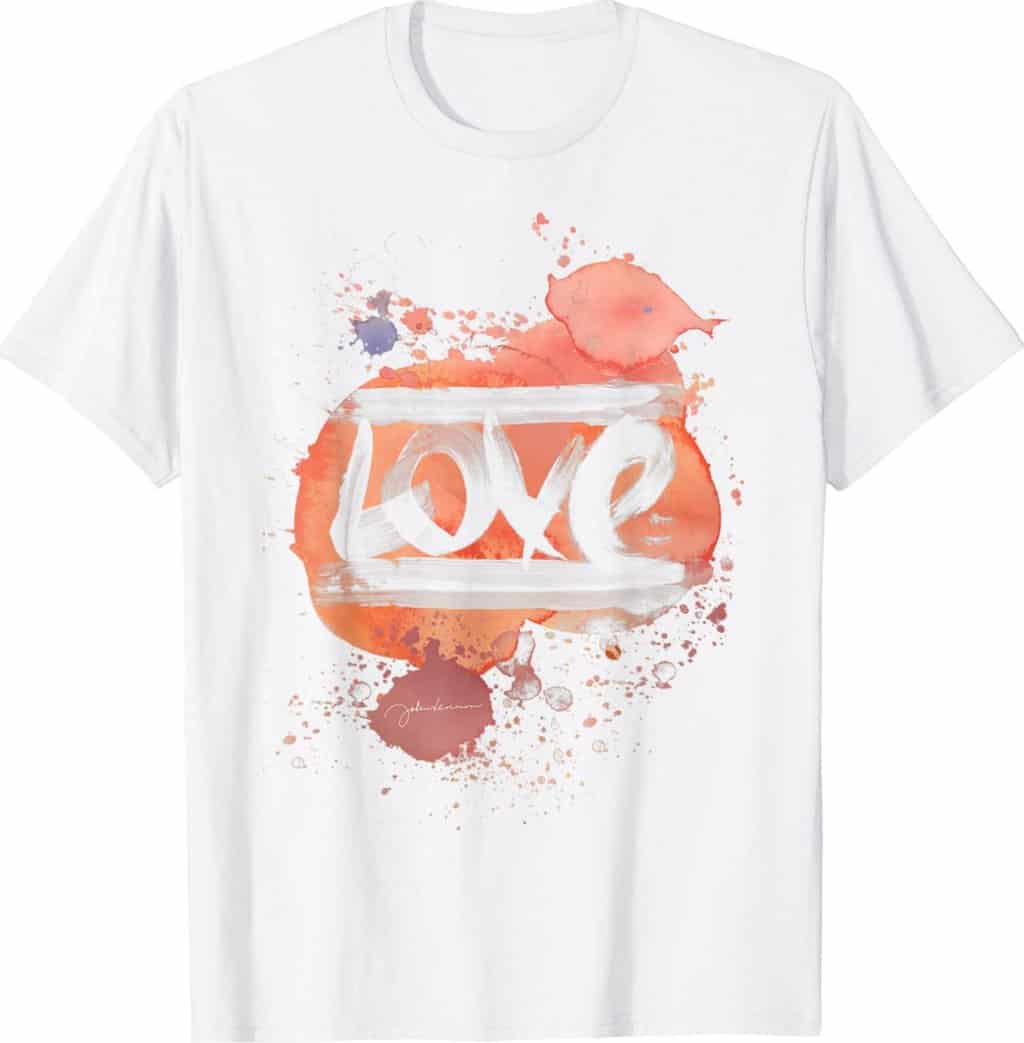 Here's another shirt that represents the values that Lennon was known for promoting. It's a watercolor shirt with the word "love" painted across the front. While there aren't any Lennon lyrics or pictures here, the shirt comes from the John Lennon merch store, and it's most likely referring to the song, LOVE, that Lennon released with the Plastic Ono Band.
The tee doesn't have any alternate color options, so it just has the white accented with the orange watercolor logo.
Pros
Cool watercolor design
References one of Lennon's songs
Comfortable fit
Cons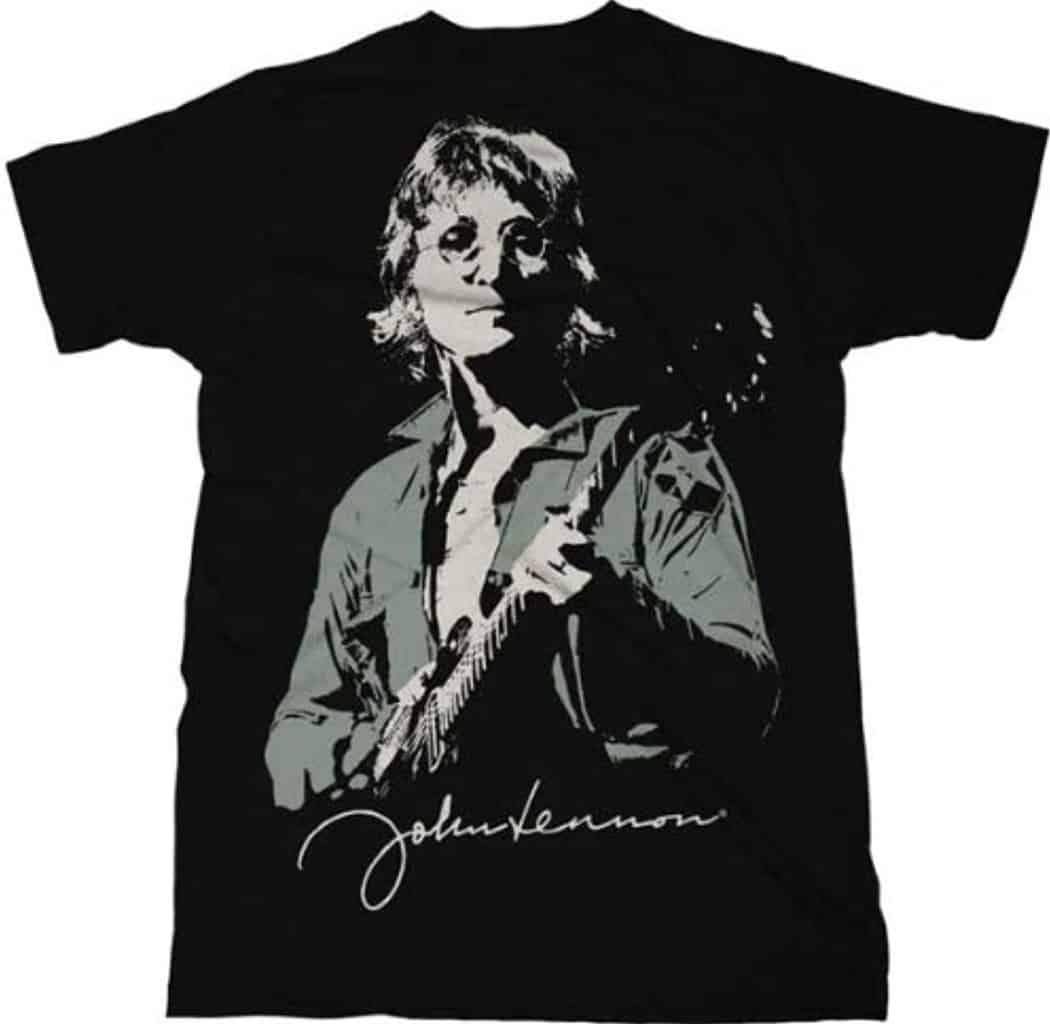 I'm suggesting this shirt for all the Lennon fans who like to wear shirts of their favorite musicians. The picture of Lennon on this tee is large, so it will only work if you love wearing that kind of thing.
It's a classic, inexpensive band shirt, having a picture of Lennon playing guitar. What I love about this shirt is that people will see it and think of how great a musician John Lennon was. A lot of politics surround him, so it's great to forget about that for a change.
The size options are limited here, so you just need to make sure you can get the shirt in your appropriate size. Otherwise, you may just have to get it as a gift for someone else.
Pros
Large picture of Lennon on the front
Inexpensive
No political references
Cons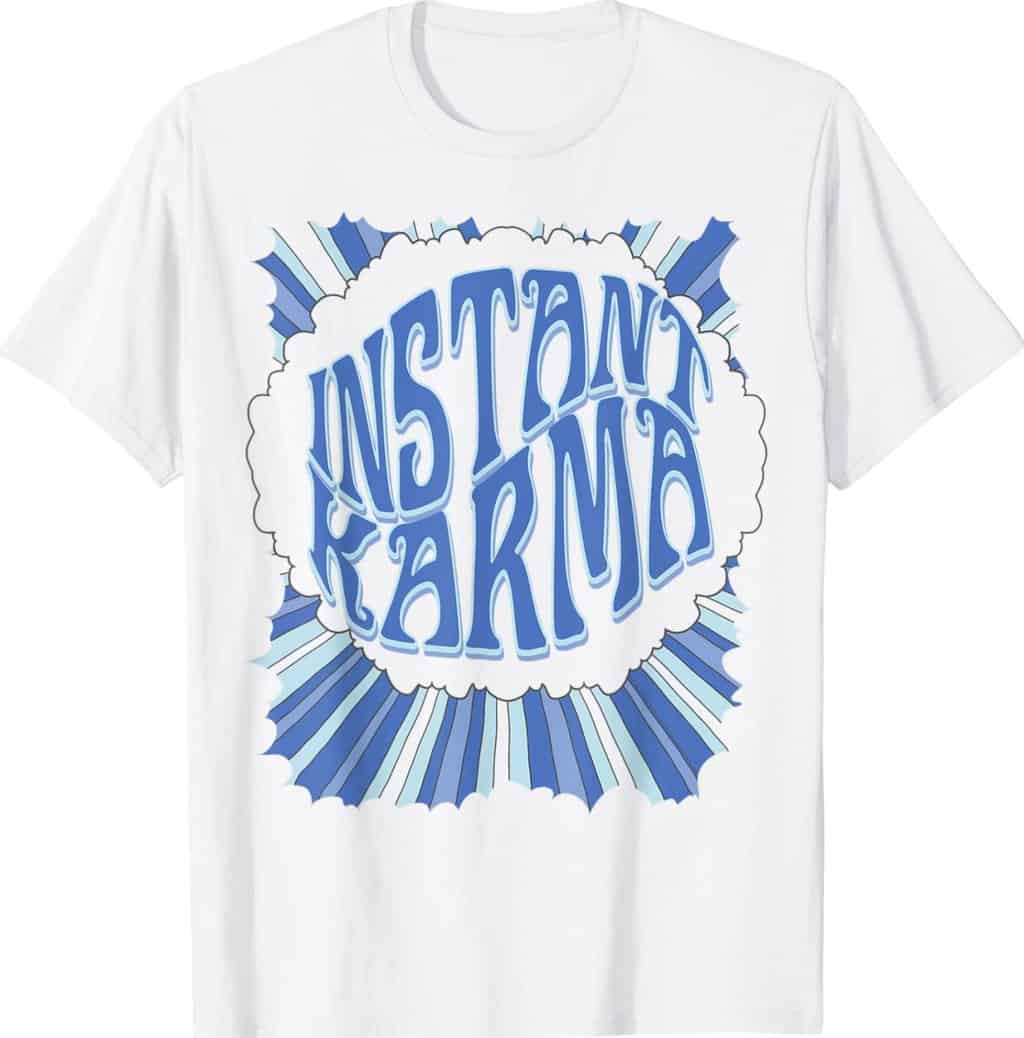 My last suggestion is another shirt that has the name of one of Lennon's songs on it. Instant Karma! was a popular song when it got released, and it was another one of Lennon's collaborations with Yoko Ono.
The graphic on this tee is quite vivid. I think it encapsulates the chaotic energy of Lennon and Yoko Ono's relationship quite well. You have the option of getting it in heather grey, lemon, silver, or white.
Pros
Vivid design
Four color options
Inexpensive
Cons
Apart from the white design, the rest look a bit cheap
FAQs
Question: How Many Children Does John Lennon Have?
Answer: John Lennon has two sons. Julian Lennon was his first born, and he's the son of John Lennon's first wife, Cynthia.
Julian Lennon and his father never had the best relationship, especially after John Lennon had an affair with Yoko Ono and left Cynthia. Julian used to resent the fact that his father was so famous for talking about peace but never felt too much love given to him by his father. He was also left out of John Lennon's will, which was a big controversy.
Julian has since come out and made peace with his feelings about his father. He's forgiven him and decided to celebrate his life and career with The Beatles.
John Lennon's second son is Sean Lennon, and Yoko Ono is his mother. John Lennon had a closer relationship with him, considering that he slowed his career down to spend time with family at a point.
Interestingly, both Julian and Sean Lennon are professional musicians.
Question: Why Did John Lennon Leave The Beatles?
Answer: Many people believe that it was John Lennon's relationship with Yoko Ono that caused the breakup of The Beatles. However, it was a lot more complicated than just that. There were multiple factors in play before the band disbanded, and Lennon wasn't the only one who was willing to stop.
The band members became tired and unhappy with the process, and it seemed like Paul McCartney was the only one who fully believed in what they were doing. They were frustrated with Lennon because of his inclusion of Yoko Ono along with his heroin addiction.
Lennon eventually decided to leave to pursue his own solo career. He wanted to write his own music and have creative freedom.
Question: What are John Lennon's Most Popular Songs?
Answer: Lennon's most popular solo song is undoubtedly Imagine. It's his most iconic tune, and its effect on the world has lasted decades after it was released. A few other popular solo tracks he released are Instant Karma, Watching the Wheels, and Give Peace a Chance.
Some of the most popular songs that he wrote and co-wrote for The Beatles are All You Need Is Love, Come Together, Strawberry Fields Forever, Tomorrow Never Knows, and Happiness is a Warm Gun.
Question: What Was John Lennon Known For?
Answer: John Lennon was the frontman of a band called The Quarrymen, which turned into The Beatles shortly after Paul McCartney joined the group. The band would go on to become one of the most famous bands to ever exist in the world.
Lennon was known for being a huge pusher of peace and anti-war ideas. He eventually left The Beatles to pursue a solo career and collaborate with Yoko Ono, his second wife.
He's well-known as the one member of The Beatles who was assassinated.
Question: How Did John Lennon Die?
Answer: John Lennon was shot and killed by Mark David Chapman, an overly obsessed fan who was a massive lover of The Beatles. The assassination was done outside of Lennon's residence in New York.
There are a few wild conspiracy theories regarding John Lennon's death. Some people think it was a hit, while others think he's still alive and well but wanted to escape his fame.
Whatever the truth is, his death sent shockwaves through the music industry and the world. It was a big deal that Lennon was such a peace activist, and his death was so violent.
Question: What Was the Feud Between John Lennon and Paul McCartney About?
Answer: John Lennon and Paul McCartney were the two frontmen of The Beatles. They co-wrote many of the band's songs, and they were known as one of the best songwriting duos in the world. There was always a bit of tension between them, though, and it got worse as the years went by.
Many people say that Lennon was jealous of McCartney. Lennon technically started the band, but McCartney naturally took over the leadership role toward the end. There were a few songs where Lennon took jabs at McCartney, showing his resentment toward him.
They butted heads many times when it came to song direction. However, the two were on good terms before Lennon died in 1980.
Conclusion
The John Lennon merch store has dozens of top-quality T-shirts that you can get. While the John Lennon Never Sleeps T-Shirt is my favorite, there are plenty more where that came from that will suit different kinds of tastes.
Lennon had an incredible career. His legacy has lasted decades, and so many of his songs are still being played. If you love John Lennon, you most probably love The Beatles as well. So, you should look for shirts that celebrate the whole band too!