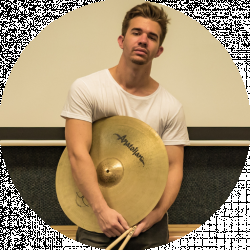 Latest posts by Brett Clur
(see all)
Jimi Hendrix is one of the most legendary guitarists to ever play the instrument. He pioneered so many ideas on the guitar, and he left a long-lasting legacy after his death. He's an inspiration to many, and there's no better way to constantly get inspired than by having a Jimi Hendrix poster on your wall.
I first heard of Jimi Hendrix when my dad showed me clips of all the classic rock legends when I was young. He explained to me how Eric Clapton was his favorite guitarist, but not much compared to how Jimi Hendrix played.
Jimi Hendrix will always be a notable figure in the history of guitar playing and rock. If you want to stick a poster of him up on your wall to remind you of that, I've picked out some great choices for you.
Bottom Line Up Front
My top recommendation is the Rolling Stone Greatest Guitarists of All Time Cover Poster. This is an enlarged poster of the issue of Rolling Stone Magazine where Jimi Hendrix was named the best guitarist of all time. If you want rock-era merchandise and something on your wall to show how cool Jimi Hendrix is, this is it.
The rest of the posters I've suggested are action shots, artistic shots, and general graphics that reflect Hendrix somehow. They're all amazing options to choose from. They can all be purchased on Amazon.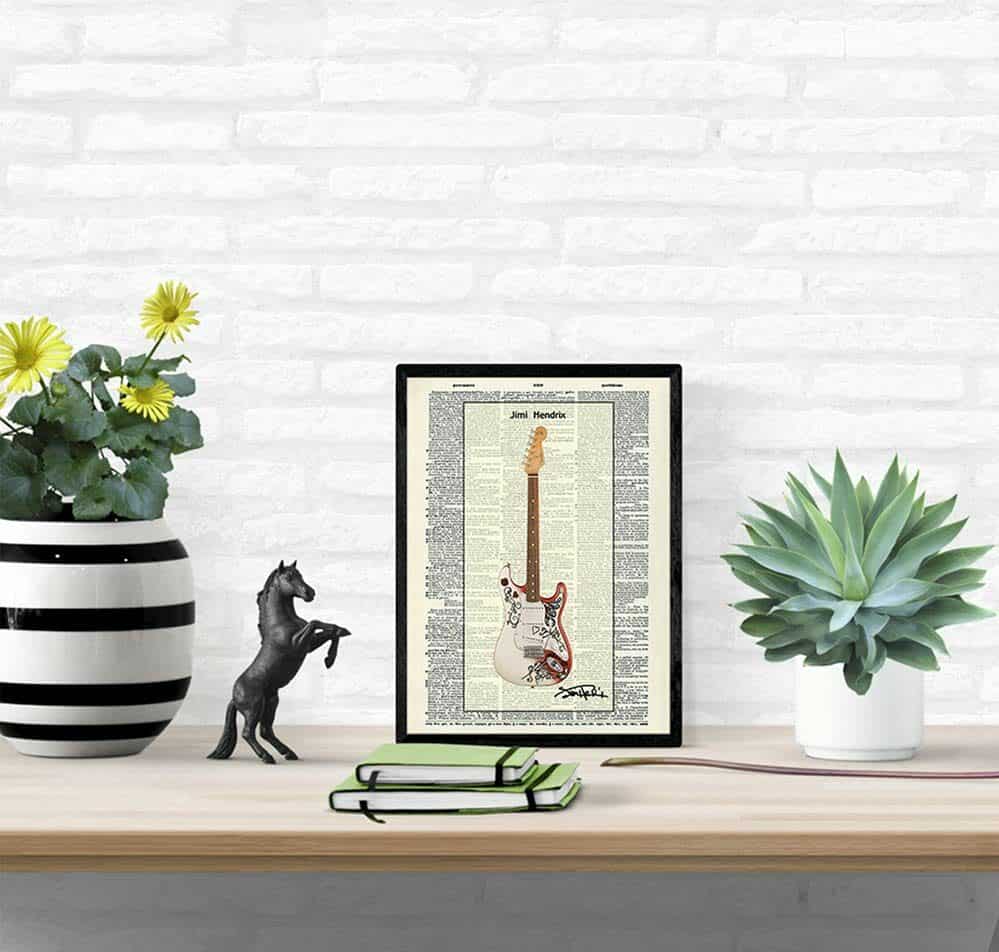 My Top Picks at a Glance
Selection Criteria
When looking to buy a poster, it's vital to get a high-quality or at least an appealing one, considering that it's going to be staring at you from a wall for months or years. People will see it, and conversation will be sparked. The better your poster, the better it will make your wall look.
Size is one of the biggest things to look out for. You'll find that many posters are smaller than you think, and you can put them in a small picture frame if you want to. If you want a giant poster, you'll need to get one that is 20-inches long or more.
I've selected a few large posters for this list, but I've also chosen a few small ones as they have significant meaning. Each poster reflects a different aspect of Jimi Hendrix's life and career. Some of them show off his guitar-playing presence, while others demonstrate his emotional presence.
Best Jimi Hendrix Posters to Hang on Your Wall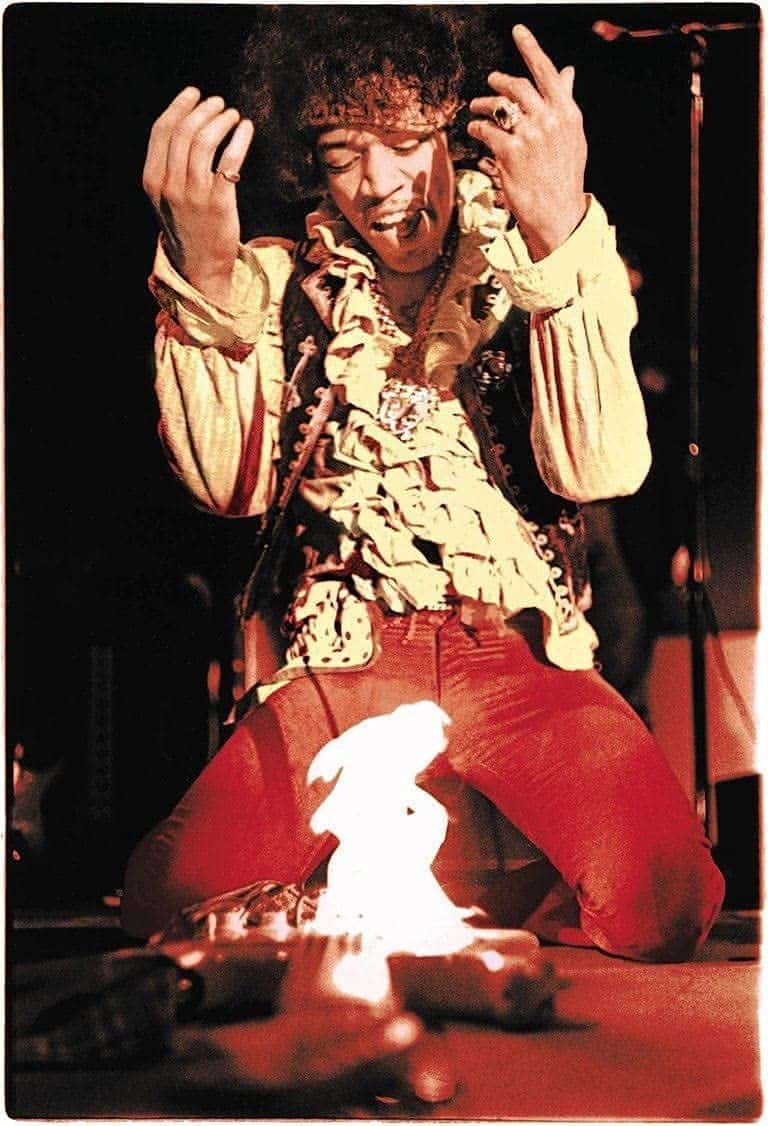 The Monterey Pop Festival of 1967 was one of the most pivotal events in Jimi Hendrix's career. It was at this gig that his fame got boosted significantly. Many people in the crowd hadn't heard of him before, but they all left it thinking that Jimi Hendrix was one of the craziest musicians ever, in a good way.
The Jimi Hendrix Experience came on stage and put on a top-tier show full of excitement and danger. Jimi's guitar-playing antics were the highlight, but his band was just as good in their performance of the music.
One of the most iconic points of that show was when Jimi Hendrix set fire to his guitar. It was a risky move, but it pleased the crowd. The story of this moment has lived on for decades, and it's signified here in this poster.
I love this poster as I feel it perfectly represents Hendrix's career. It was exciting, yet a bit dangerous. I also love how the picture is structured with the neck of his guitar feeling closer to you than his body.
The cool thing about a poster like this is that you can explain the story when people see it. The poster is quite small, so keep that in mind when getting it.
Pros
Epic picture of Jimi Hendrix burning his guitar
Allows you to tell an amazing story of the event when people see it
Vibrant coloring
Cons
The Rolling Stone Magazine is one of the most widely recognized music publications globally. The publication heavily emphasizes the rock scene, so many of their articles are centered around rock bands and musicians.
Every now and then, they'll do a poll where people vote for what they think are the best musicians of all time. One of their most popular magazine publications was when they released a list of the top 100 guitarists of all time.
With no surprise, Jimi Hendrix came in at number one. A picture of him jamming on his guitar was on the front cover of the magazine, and you can get this front cover as an enlarged poster to hang on a wall.
Even though this magazine issue was published a long time ago, I'd argue that Jimi Hendrix will still come out on top. This poster is my top pick on this list. I think it best signifies how much of a reputation Jimi Hendrix had.
I also love how it has a vintage appeal, considering how the layout, image quality, and text on the poster all look quite old.
Pros
Shows Jimi Hendrix's guitar playing ability on a poster
It's cool to have a magazine front cover as a poster
It's a very large poster
Cons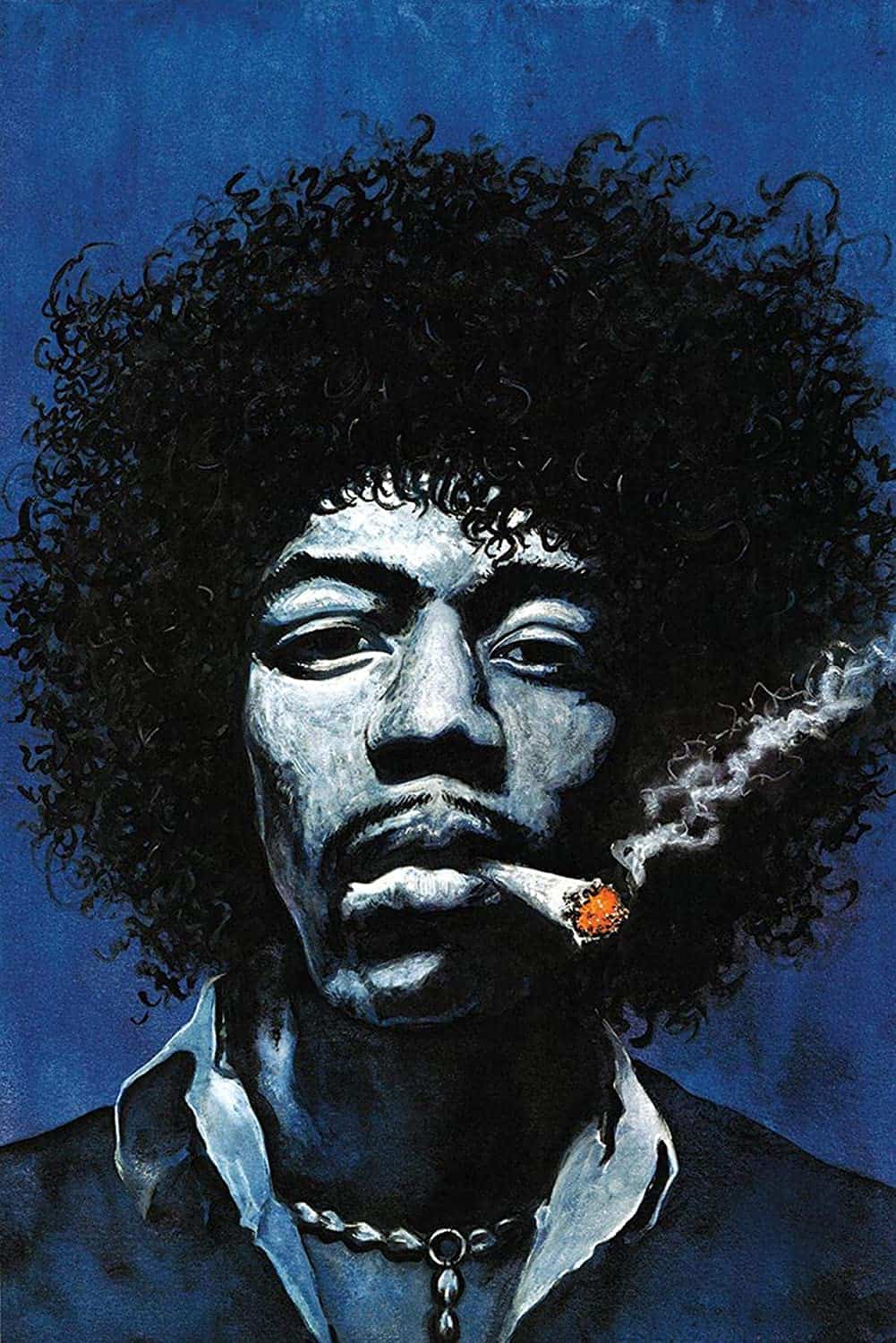 This next poster is a bit more of an artistic one. I'd consider it as an art piece to hang up on a wall that would give the room an interesting talking point.
I used to perform at a venue that had this exact poster on the wall. It had similar posters of Elvis Presley, John Lennon, and Michael Jackson. They were all headshots, not showing the instruments these musicians used.
Like this one, I thought they were very appealing as people tend to recognize these musicians without their instruments.
I think this particular poster of Jimi Hendrix is quite edgy, which perfectly represents the kind of person he was. His guitar playing was as edgy as it comes.
The image here is a black and white painting of Hendrix in front of a blue background. It tends to stand out, but its lack of vibrant colors lets you place this poster almost anywhere. It's quite large, which is another bonus.
Pros
Great art piece to use somewhere
Cool colors work in almost every environment
Large size
Cons
Not everyone will want a poster of someone smoking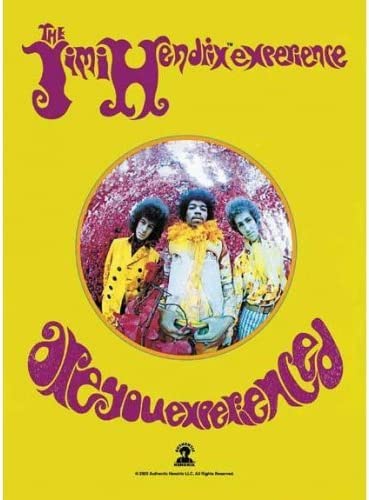 The coloring on this poster is the opposite of the previous one. It's about as vibrant as you get, with very bright yellows and pinks.
While Jimi Hendrix was always the center of attention, I don't think he would have gotten as much of a spotlight if he didn't have incredible musicians backing him. One of the most well-known groups he played with was The Jimi Hendrix Experience.
This poster is a vibrant picture of the group with Hendrix having Mitch Mitchell and Noel Redding to his left and right. I know Mitch Mitchell quite well as I studied his drumming a few years ago. He was a fantastic player. Noel Redding was also an excellent bass player.
The great thing about this poster is that it's a textile one. It's made of silk, so it feels very smooth to touch. It's a vintage poster, as it's been around since The Jimi Hendrix Experience was live.
If you love the colorful vibe, it's a good one to get. It's also the biggest poster that I've mentioned so far.
Pros
Silky smooth material
Very large
Celebrates one of Jimi Hendrix's bands
Cons
Colors may be too vibrant for some people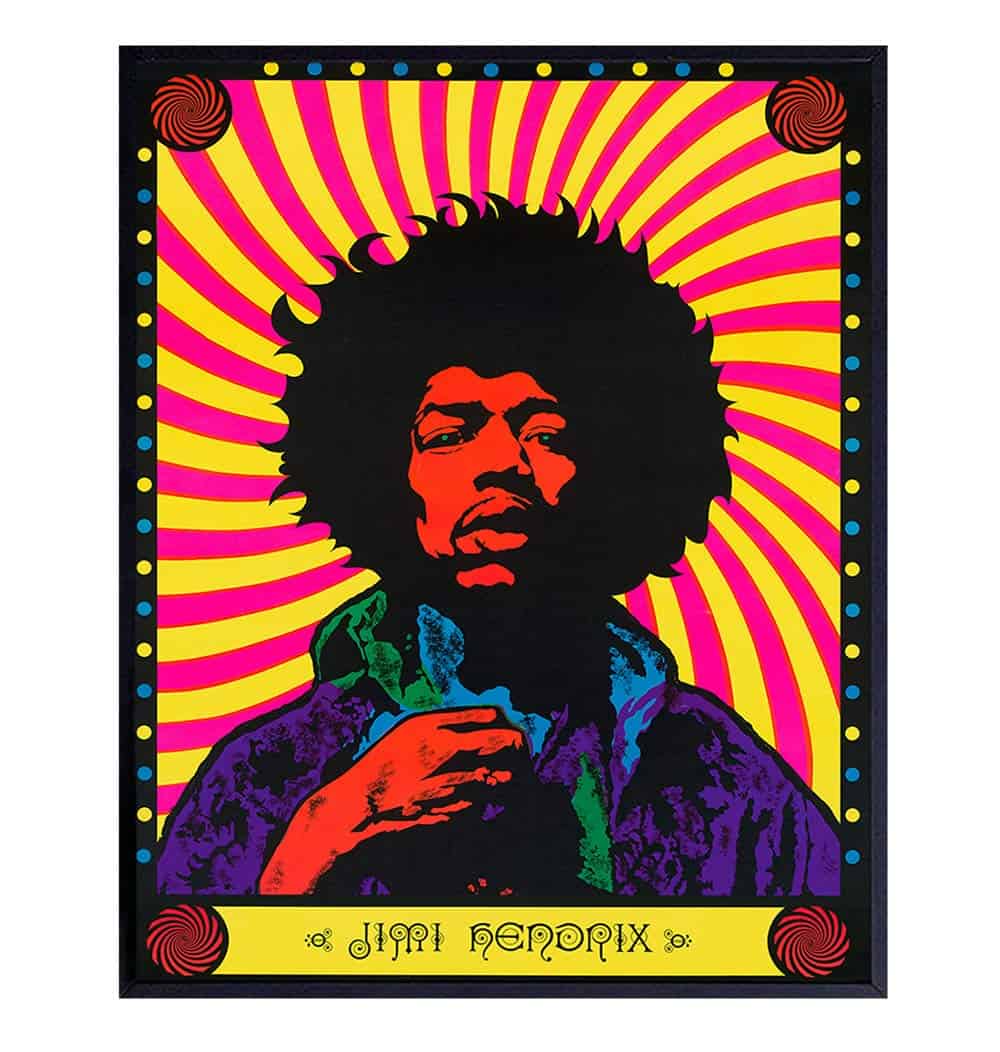 Going from very big to very small, I'm suggesting this poster as one to put in a frame and place next to your bed or on your office desk. It has the same vibrant style as the previous poster, but it isn't as intense.
It's an artwork of Jimi Hendrix, with vibrant colors surrounding him to represent the era that he came from.
I'd suggest this as a good gift for someone who loves Jimi Hendrix. It's very affordable, and it's easier to place somewhere than a giant poster.
Pros
Small and easy to place
Very affordable
Cons
Some people may prefer to have a larger poster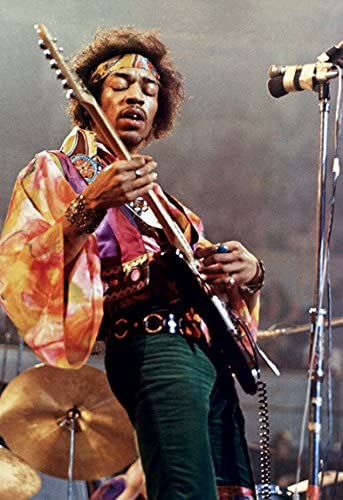 Here's an incredible action shot of Jimi Hendrix doing what he loved to do. None of the posters so far have been action shots, so this one is for the people that want a poster of Jimi playing. He has his eyes closed here, perfectly showing how he constantly felt the music he played.
The poster has live coloring, making the picture look incredibly authentic. I love this as it almost makes you feel like you're in the crowd watching Jimi play when looking at the poster. I certainly wish I was able to experience that. A poster will do for now, though!
It's a large poster so that you can hang it up on a wall, and it will look quite prevalent. If you want an exciting picture of Jimi Hendrix playing, this is one of your best options.
Pros
Action shot of Jimi Hendrix playing guitar
Realistic colors
Moderately large size
Cons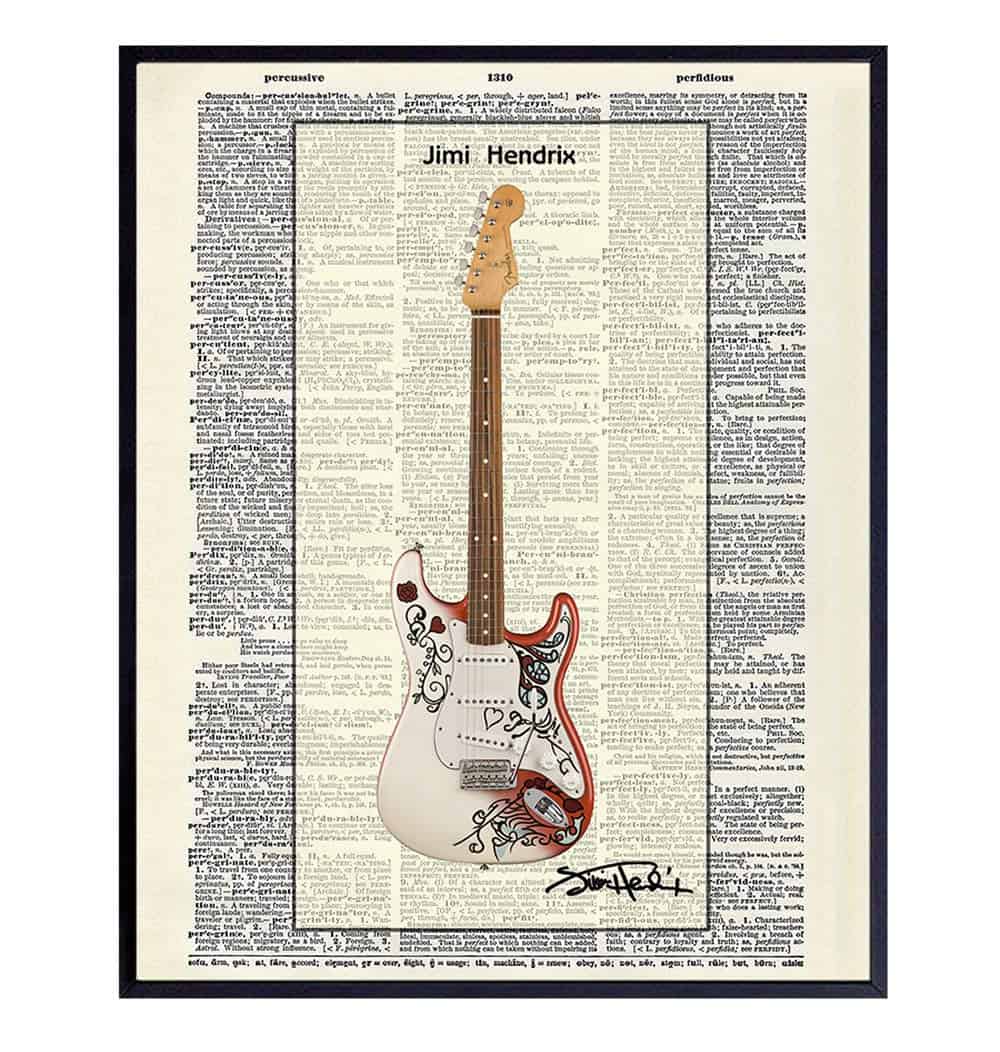 Here's another poster option for people who don't want something massive. It's a picture of Jimi Hendrix's guitar covering a page of text to look very artistic.
Did you know that Jimi Hendrix was left-handed, but he played on a right-handed guitar that he flipped upside-down and restrung to suit his playing? This poster is the perfect piece to allow you to explain that story to people.
Jimi Hendrix was unconventional, right down to how he held his guitar. This poster is a perfect reminder of that. It would look fantastic as a decorative piece on a table somewhere.
I think it's even a good option for people who aren't big fans of Jimi Hendrix. A white guitar in front of old text will always look cool.
I love this poster so much that I wish there was a larger version. So, that may be a bit of a frustration for some people.
Pros
Incredible artwork
Highlights the fact that Jimi Hendrix played a restrung right-handed guitar
Good option even for people who aren't Jimi Hendrix fans
Cons
Some people may find it too small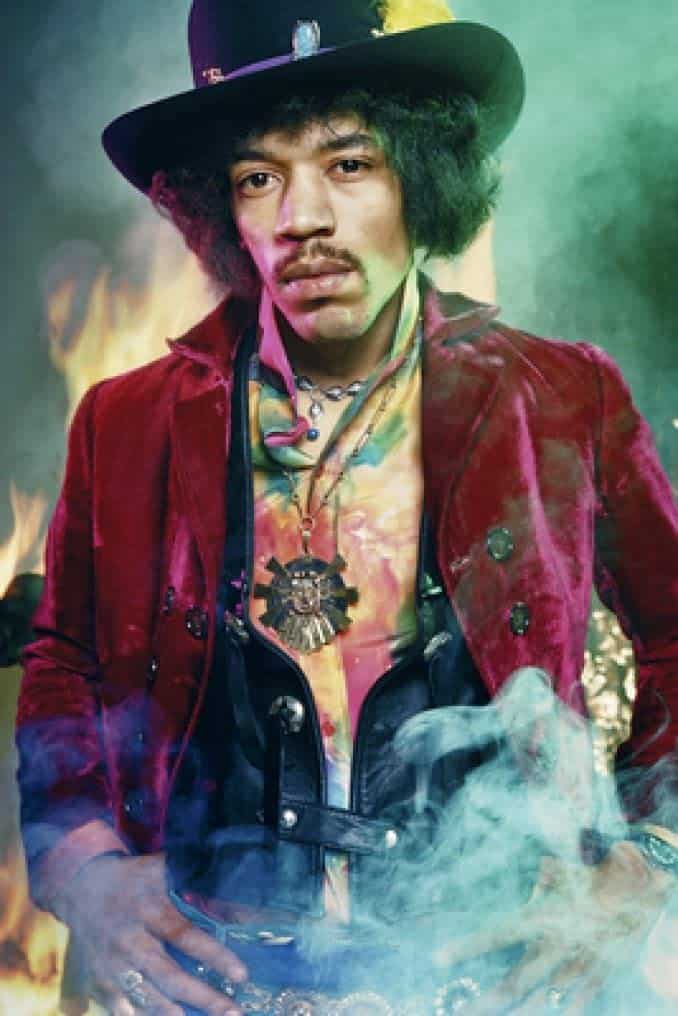 I've suggested this poster of Jimi Hendrix as a bit of a wild card. The image has been digitally created, and it's a classic example of the digital prints that people make using Photoshop to use as wallpapers on phones or computers. However, this has been blown up as a poster that can be hung on a wall.
Many people love this, but I can also see people not liking it as it seems a bit artificial. It doesn't call back to the era that Jimi Hendrix was from.
I think it's a great poster, though. The high-quality image is something that would look fantastic when hung up on a wall. The poster size is quite large as well.
It's a hit or miss here, so you'll just need to decide whether you like it or not.
Pros
Amazing image quality
Desktop wallpaper brought to life
Large poster
Cons
Some people may find this poster to be overproduced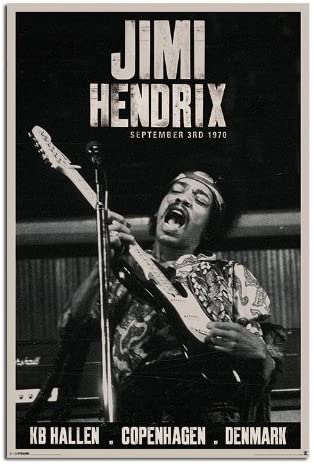 Concert posters are always some of the best ones to own. These are posters that were used for advertising gigs that musicians were playing. I love their authenticity, and they're a great type of poster to collect.
This poster was used for advertising a gig that Jimi Hendrix was playing in Copenhagen, Denmark. It's a live-action shot of him that looks incredible.
The most significant thing about this poster is the date – September 3rd, 1970. Jimi Hendrix died about two weeks after this, meaning this was one of the last gigs that he played. That makes this poster incredibly special, and it's a good one for any Jimi Hendrix fan to get.
Pros
Great live shot of Jimi Hendrix
Gig posters are fun to collect
This was one of Jimi Hendrix's last gigs before he died
Very large size
Cons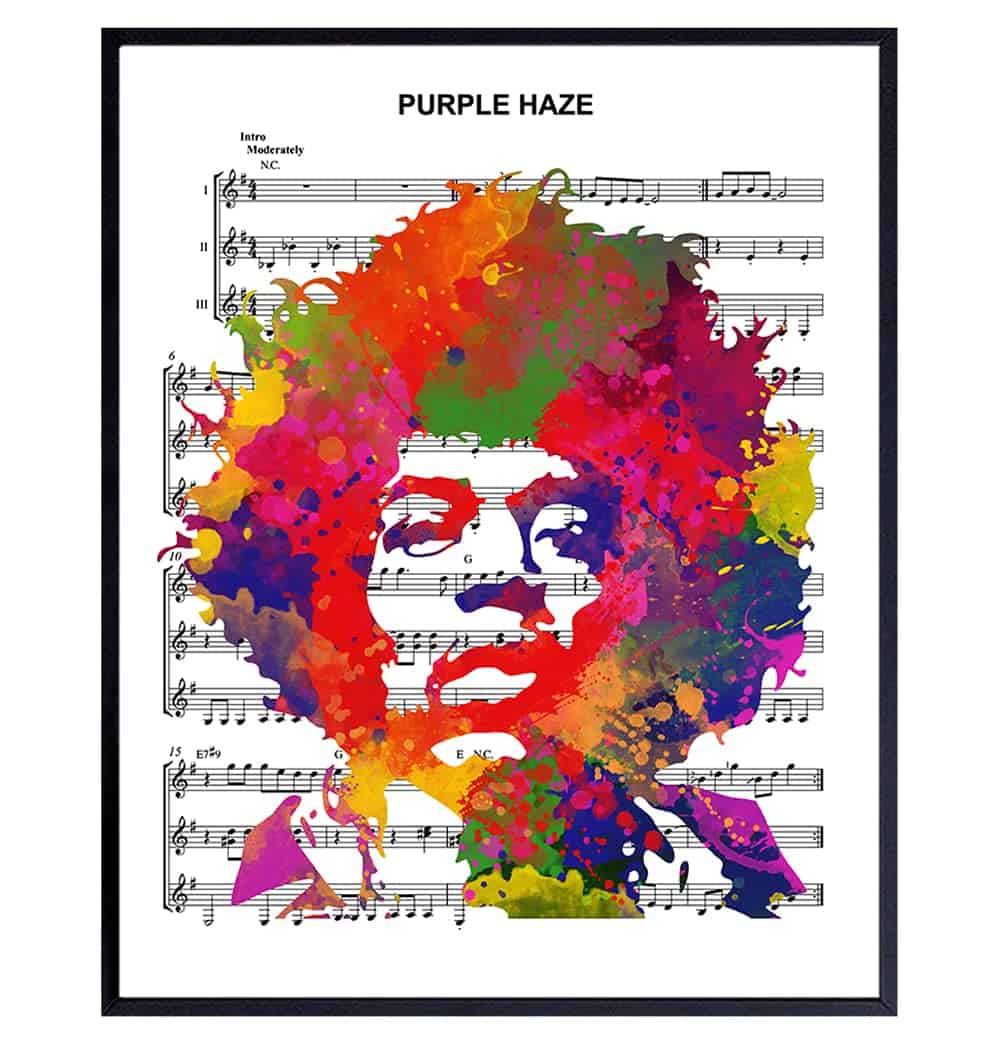 Purple Haze was the first Jimi Hendrix song I ever heard, and it's still my favorite. This small poster has a colorful artwork of Jimi's face on the front of the music sheet for the song. It's an exciting piece, and it's another one that would look fantastic when framed and placed on a desk.
Something interesting to note is that Jimi Hendrix never had any music theory training, so the chances are high that he wouldn't be able to read the music here if he were alive today. However, I still find it interesting to see what his songs look like when formally written out in notation.
Pros
Interesting artwork
References one of Jimi Hendrix's most popular songs
Cons
May be too small for some people
FAQs
Question: What are Jimi Hendrix's Most Popular Songs?
Answer: The first Jimi Hendrix song I ever heard was Purple Haze. That tune falls under Jimi Hendrix's top ten. Other popular tracks are All Along the Watchtower, Voodoo Child (Slight Return), Little Wing, Hey Joe, The Wind Cries Mary, and Foxey Lady.
All these songs demonstrate both Jimi Hendrix's ability to sing and his tremendous amount of skill behind a guitar. Many of Jimi's most popular songs come from his time playing with The Jimi Hendrix Experience. However, he played with a few groups in his time, so it's good to listen to all of them.
Question: Why is Jimi Hendrix So Famous?
Answer: Jimi Hendrix is known to be one of the best guitar players to ever live. He had such a tremendous impact on the music industry that he single-handedly caused guitarists to start playing with new techniques and sounds.

Jimi Hendrix was always pushing boundaries on the instrument. He'd play things that people thought sounded unattractive, but they became appealing after he did some crazy things with them. A good example of this is when he used feedback from an amp in a musical way.

He also pioneered the use of a wah-wah pedal. His showmanship skills were out of this world, with one of his best feats being when he played his guitar with his teeth.
Question: How Did Jimi Hendrix Die?
Answer: Jimi Hendrix died of asphyxiation from overboard drug use. Unfortunately, most of the famous rock musicians of the time had varying drug-related issues. It was what people did back then, and the consequences came through with the death of many musicians throughout the classic rock era.

Jimi Hendrix's death made him part of the 27 Club, a group of famous people who have all suddenly died at 27-years-old. It's a bit of an urban legend, but around 50 artists, actors, and musicians have died at this age. Many of them were due to drug use.
Question: What Was Jimi Hendrix's Most Impressive Career Moment?
Answer: There were so many iconic moments in Jimi Hendrix's career that it's hard to focus on a single one. However, it's widely agreed that his performance at Woodstock was one of his most notable.

His band was meant to close off the festival by playing last on Sunday night. There were delays, so they played on the Monday morning after most of the crowd had already left. Jimi preferred this as he didn't like playing for big crowds.

In that performance, Jimi Hendrix played a version of The Star Bangled Banner on his guitar. It left many of the crowd speechless, and it's gone on to become one of the best versions of the song for many.
Woodstock is the most well-known music festival that has ever happened, and Jimi Hendrix was the closing act.
Question: How Did Jimi Hendrix Impact the Music Industry?
Answer: He revolutionized the way the guitar could be played. He was the first guitar player to popularize the use of distortion, essentially changing the history of rock music.

Many guitar players are alive today who only started playing the instrument after seeing Jimi Hendrix do it. He was also one of the first people to play lead guitar and sing simultaneously.

The way Jimi Hendrix pushed the rock 'n' roll genre led to other genres being created. Without him, metal probably wouldn't exist today.

His personal life has had a massive impact on the music industry. He was a superstar, but his stardom ended quickly as his abuse of drugs took his life. It's a lesson to people who get to that point where everything is so readily available in the music industry. You must be careful because it can kill you in the end.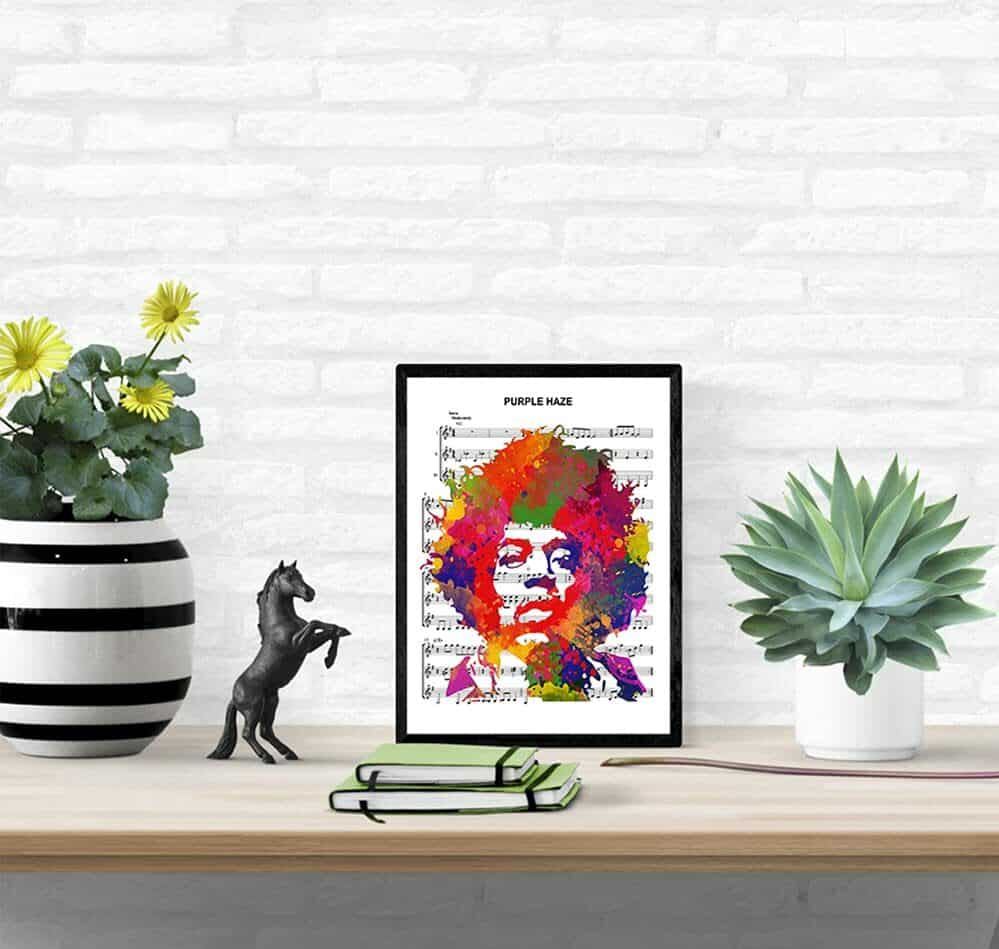 Conclusion
Jimi Hendrix was an incredible musician, and getting a poster of him to place in your house, practice room, or recording studio is an excellent way of celebrating the impact he had on music as we know it.
To recap from the list above, I suggest Rolling Stone Greatest Guitarists of All Time Cover Poster as the best poster to get. It perfectly signifies how great of a musician Jimi Hendrix was. It's also large, and it has a vintage appeal.
Continue reading related Jimi Hendrix merch guides: