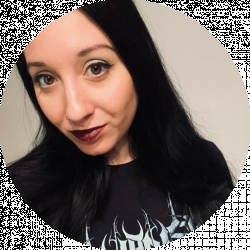 Latest posts by Stephanie Jensen
(see all)
Led Zeppelin is one of the best-selling bands of all time. Ever since they emerged in the 60s, they received icon status and inspired a generation of rock bands. Some of their albums, such as IV, contain songs that anyone would recognize.
Is Led Zeppelin your favorite band? If so, you may want to express your love and devotion to the group. A great way to do that is by hanging up the best Led Zeppelin posters in your home, especially if you have company over.
I have a Led Zeppelin poster, specifically the "Stairway to Heaven" one. It has the hermit and Zoso logos with the song lyrics. My dad gave me that poster; Led Zeppelin was his favorite band and he passed on his love for the band to me. Whenever I look at that poster, I think of my dad and the wonderful memories I have of listening to Led Zeppelin.
Are you looking for a new Led Zeppelin poster? I tried to include as much variety here as I could. Most Led Zeppelin posters are the same and want to give the reader plenty of options. I did include the classics, such as paper posters in popular artwork such as The Hermit and Icarus. However, I also included posters of different materials, unique and rare artwork, and even a true vintage poster! Here are some of my favorite Led Zeppelin posters.
Bottom line up front
I recommend the "Stairway to Heaven" poster the most. It's one of their best songs and such a classic. That and the Hermit artwork looks cool, too. While Stairway to Heaven paper posters are a classic, I love the fabric poster option. But I do suggest looking through all of these options and choosing the best one for you.
My Top Picks Up Front
Tips When Choosing a Led Zeppelin Poster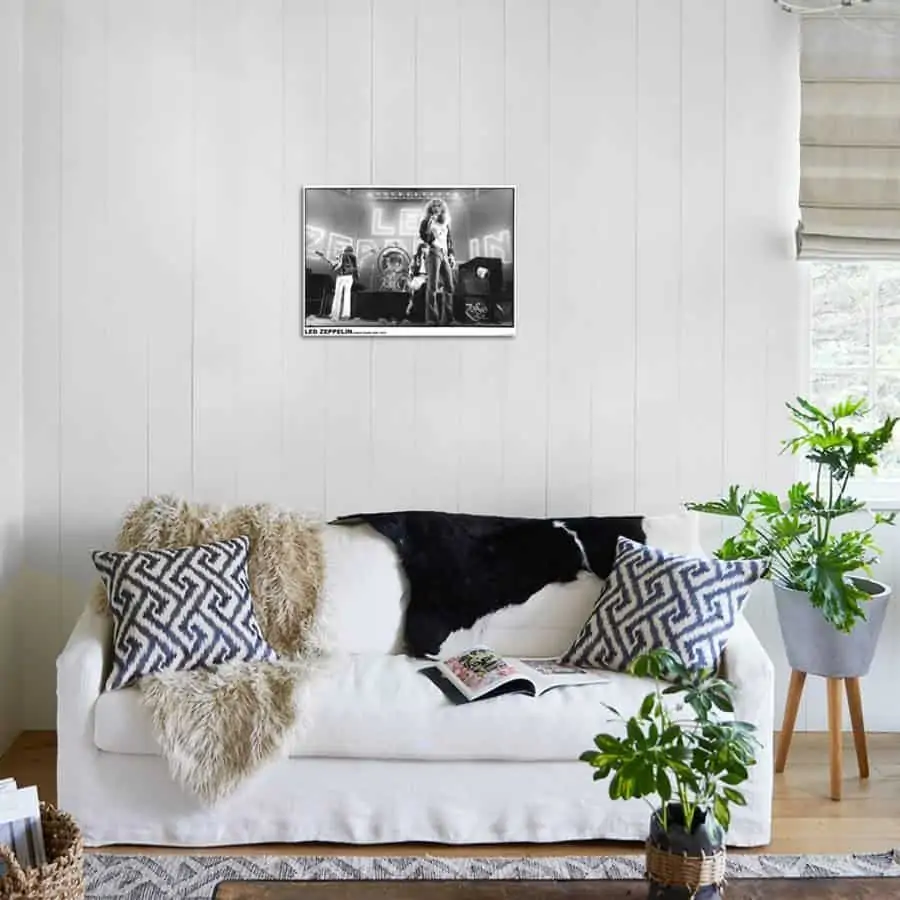 Consider the color scheme in your room and match your Led Zeppelin poster to the rest of your decor
Know if you want the Led Zeppelin poster to be a focal point in your room
Consider the size poster you want — I found Led Zeppelin posters in nearly every size
Look at every Led Zeppelin poster available, know if you want classic band artwork, an album cover, or other memorabilia.
How I Chose the Best Led Zeppelin Posters
The main factor I looked for was variety. I tend to see the same Led Zeppelin posters and want to include some lesser-known ones. I did include the classics, like album covers and popular band artwork, but I wanted to include some concert photos and rare band pictures. I also looked for different types of posters, as opposed to just paper posters. Examples include fabric and metal posters.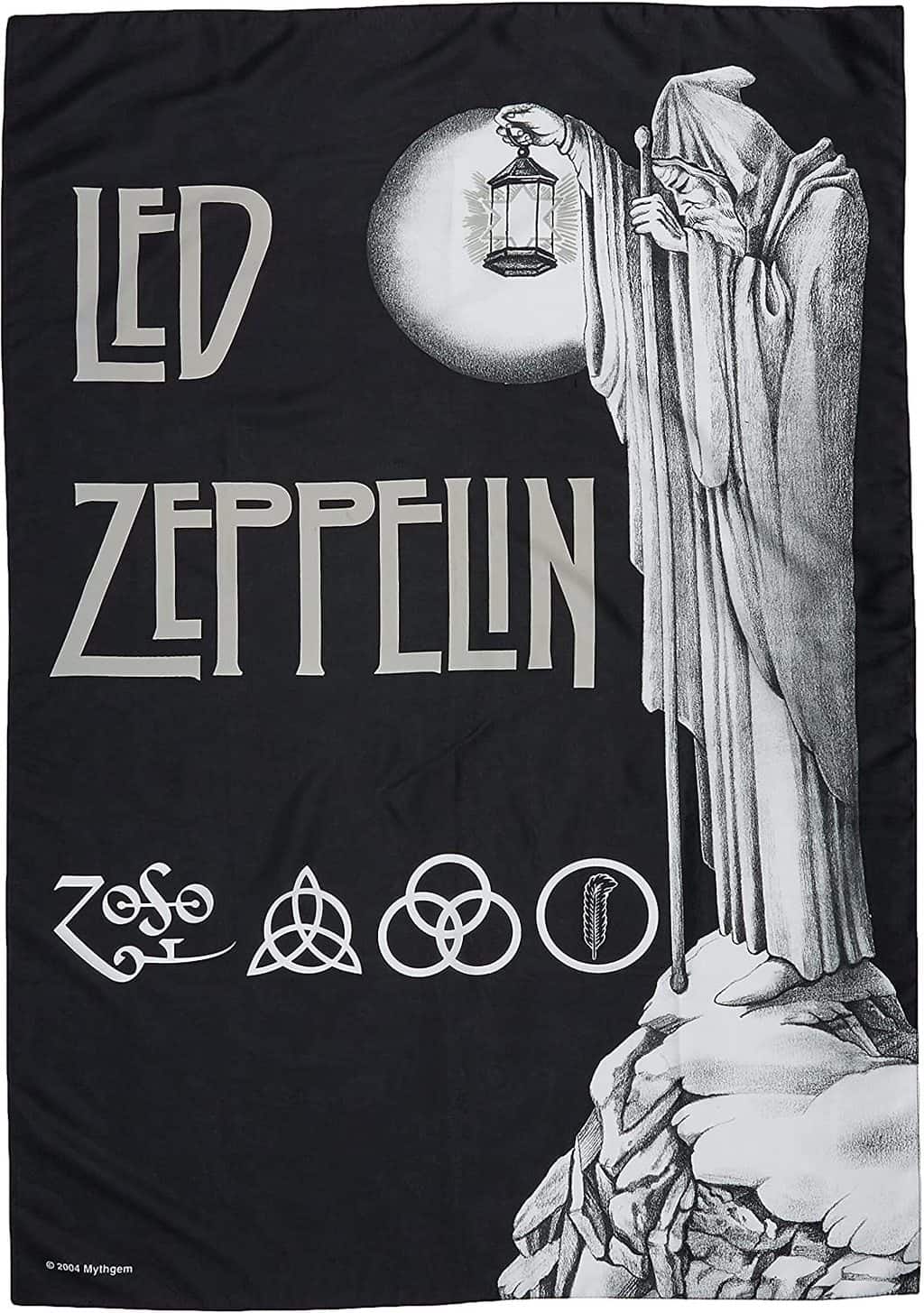 I absolutely love fabric posters (also called flags). Instead of traditional paper posters, these flag posters are made of a soft fabric. You can hang them up on the wall or even cover up a small window (not going to lie, this is what I use band flags for — I'm too lazy to hang up blinds). Plus, they're totally washable!
It's no surprise that Led Zeppelin also offers fabric posters, such as this one. This poster features Stairway to Heaven artwork, which is the Hermit and Zoso logos. At this point, every Led Zeppelin fan needs this poster hanging up in their home. It's licensed so you can rest assured that your money went to the band. As an alternative, you can get this poster in paper form (that's the one I have).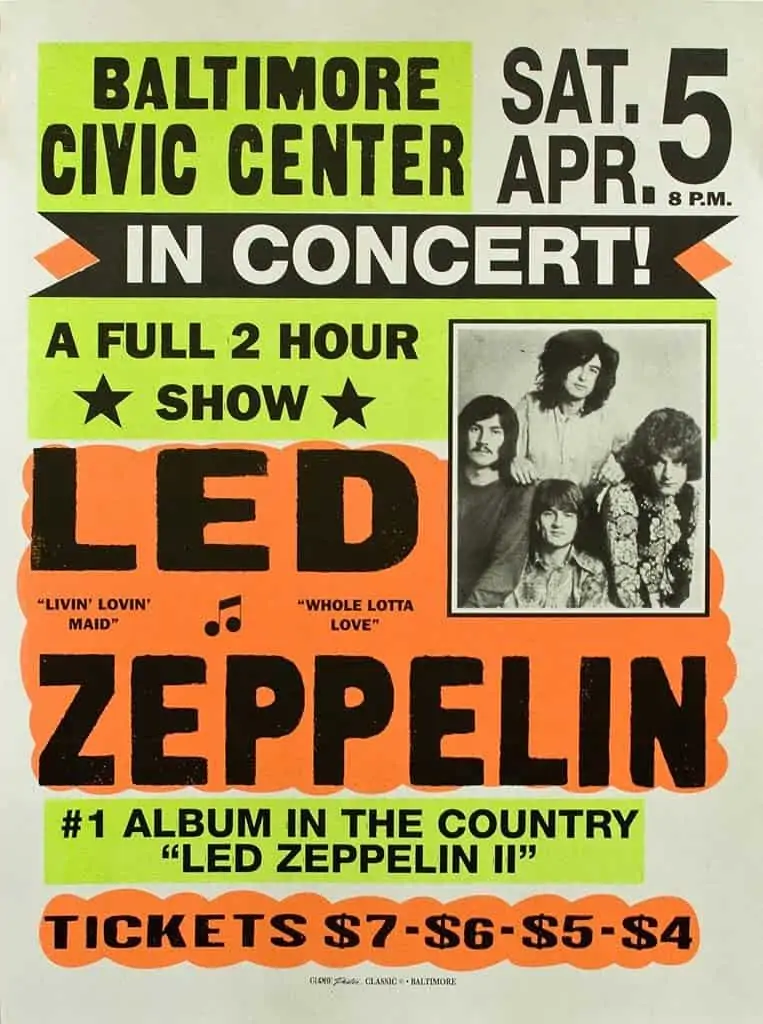 I'm telling you right now, this isn't an authentic vintage poster. It's only $22 — authentic Led Zeppelin tour posters will cost a couple of hundred dollars, at the very least.
However, this one is still cool. You don't have to tell your guests that this is a replica!
I think it's cool how this is a metal poster. Metal posters have that cool retro look and I think they look fancier than a paper poster. This metal is of professional quality, so it's not prone to rust. At 8″ x 12″, it's relatively small and can fit on any wall. The sign has pre-drilled holes, making it easy to hang up. You can also hang it up outdoors.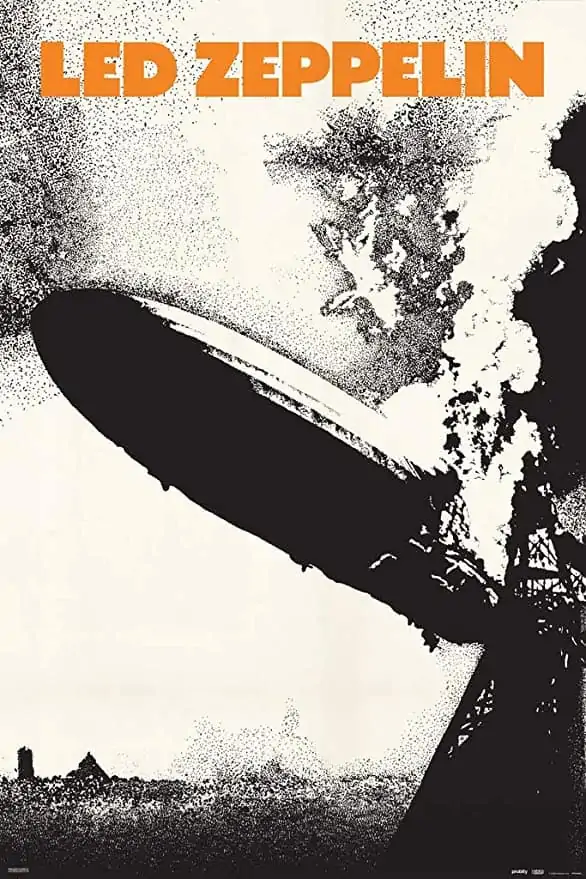 If the first Led Zeppelin album is your favorite from the band, express that with this poster. Led Zeppelin I is such a classic album that features some of my favorite songs, such as "Communication Breakdown." This is by far one of my favorite albums by the band and the album artwork is timeless.
The poster features the album artwork with the Led Zeppelin logo in orange. This poster also makes a great gift, especially for a loved one who can't get enough of this classic album. At only $10, it's affordable. This poster is paper, so you can use thumbtacks to hang it up. Keep in mind, at 24″ x 36″, it's a fairly large poster. I would be selective of the poster's placement and I wouldn't try to frame it. This poster is officially licensed and made in the USA.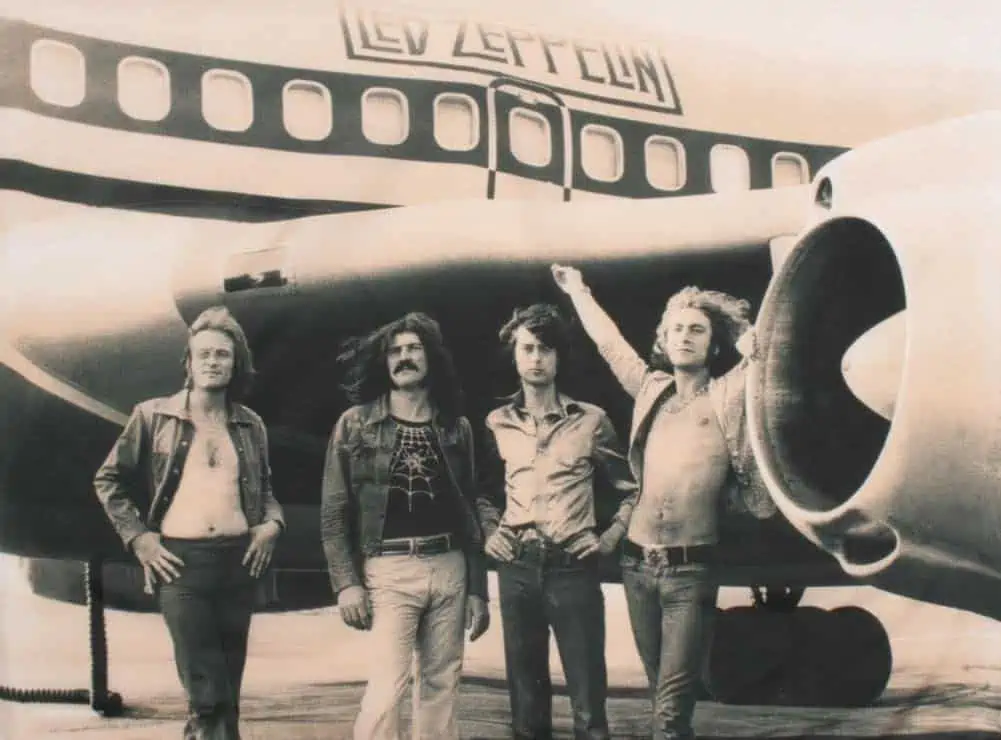 Do you love the picture of the Led Zeppelin band members in front of the airplane? If so, you'll love this poster!
This is another fabric poster and the image was printed on soft fabric. It's 40″ x 30″, so it's pretty large — perfect for covering a large section of the wall. My friends have band fabric flags hanging up in their living room behind their couch — that's where I would recommend hanging this up.
Reviewers have been saying it's light and see-through, so I wouldn't use this to cover a window (bummer). Some reviewers don't recommend hanging this up with thumbtacks — instead, use double-stick tape that doesn't leave a residue. You can also find this poster in classic paper form.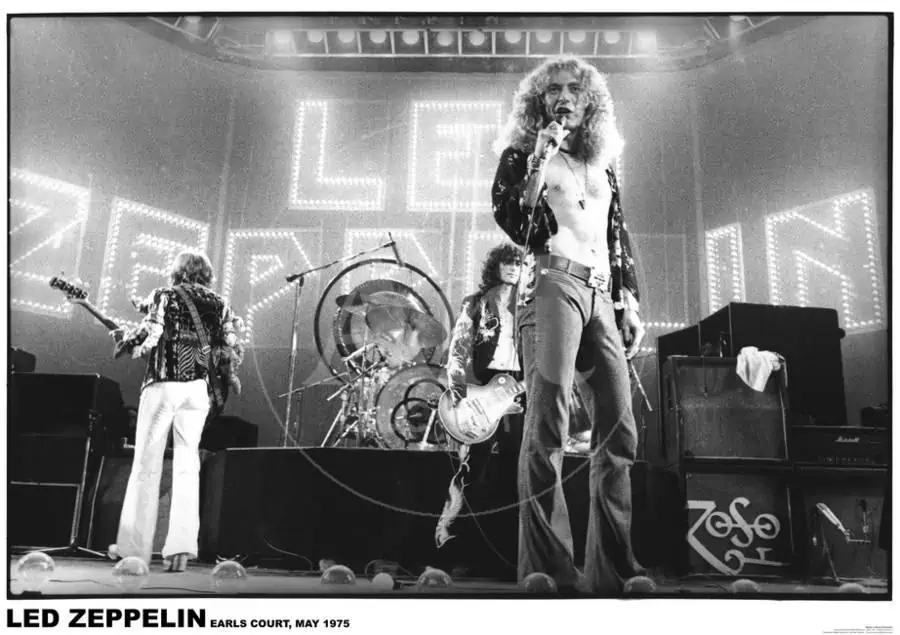 If you want a unique and artistic picture of Led Zeppelin, this is one I recommend choosing! The poster is a photo of the band performing in Earls Court, a zone in London. The picture was taken in 1975. It's clean and sharp, in black and white. The poster is made with a coating that protects the ink.
I love this poster not only because it's unique but because I love concert photographer. I'm also a concert photographer and there's a magical quality to band performance photos.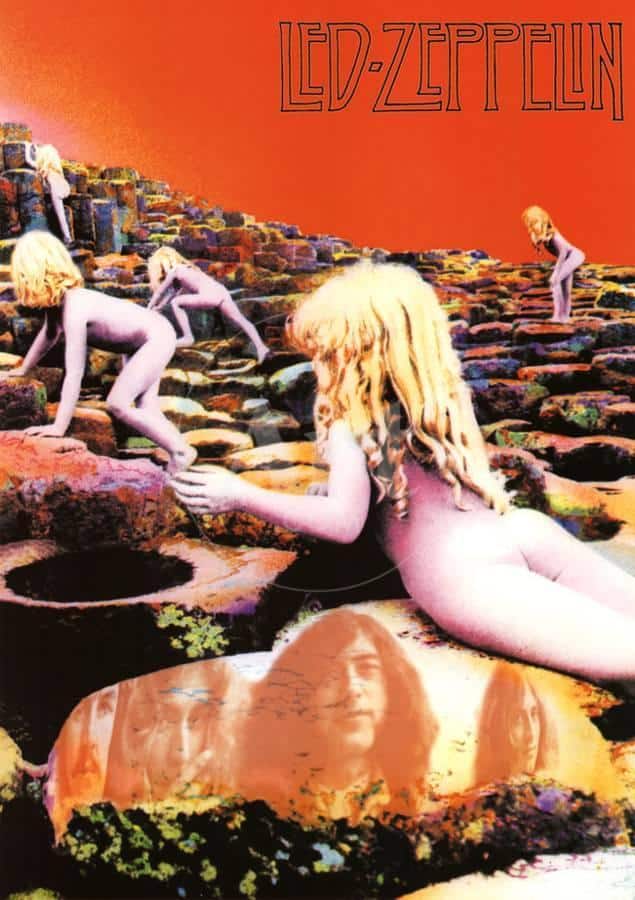 If you don't mind a more controversial poster, choose the album artwork from the Houses of the Holy album. As you can see, the poster features a variety of naked women. The album cover has been banned in many places — even Facebook temporarily banned the album artwork. Because of this, I wouldn't hang this one up in my house, even though I love this album.
But if this is one of your favorite Led Zeppelin albums and you don't mind your guests seeing the controversial cover, then feel free to choose this one!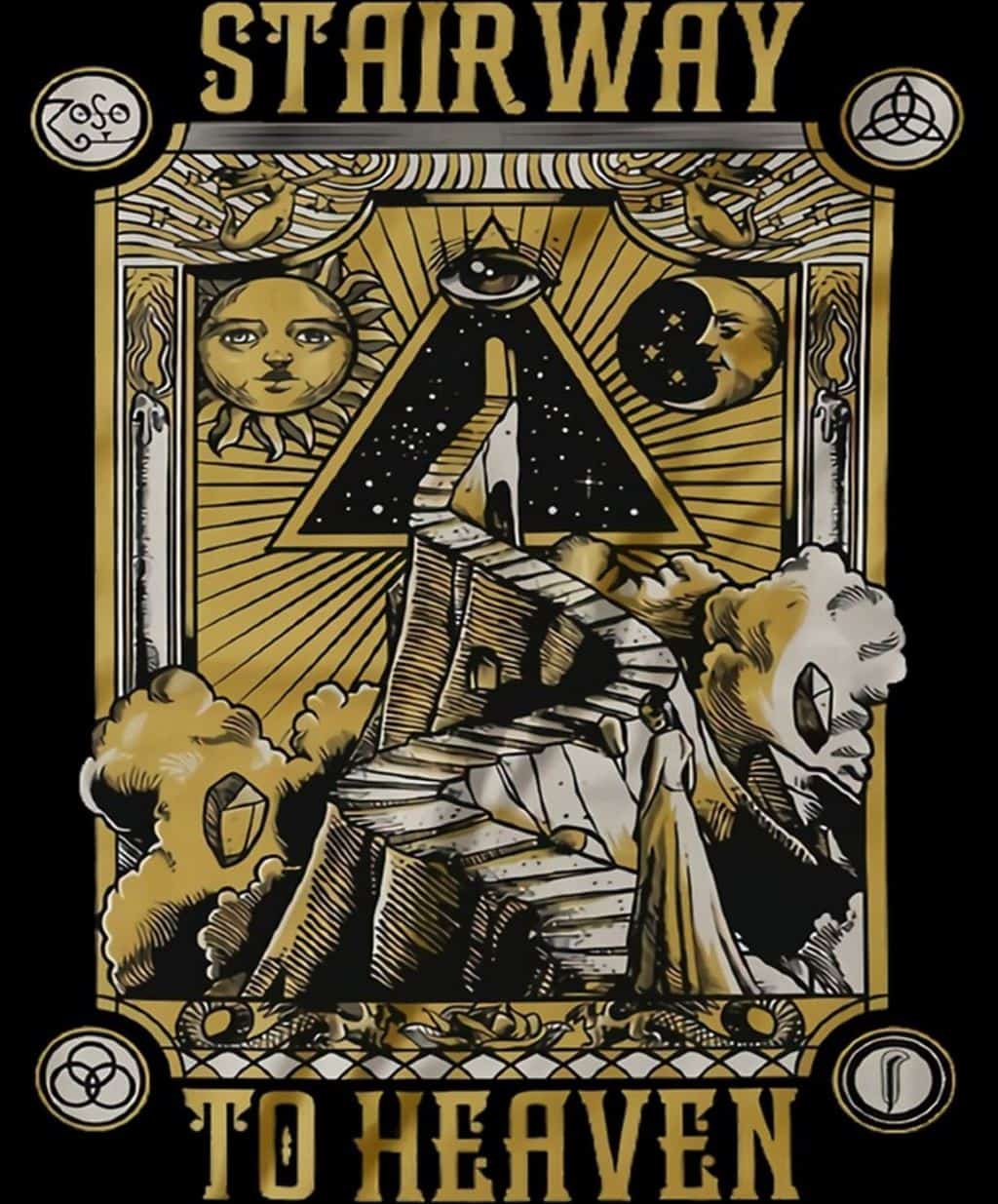 If you want a Led Zeppelin "Stairway to Heaven" post but want something different than The Hermit design, I suggest choosing a design like this one. It's a black poster with gold detailing, showing a stairway leading up to a prism. The artwork features the same Tarot card designs, yet is trippier. The poster is semi-glossy and includes a 3/16 inch white border if you want to frame it.
I don't think this poster is licensed. The poster is sold on Red Bubble, which is a platform where independent artists can sell their products. If you don't mind getting a non-official poster, then I suggest this one or another one on Red Bubble. I personally prefer buying licensed merch so I can support the band.
Thre are a couple of cool qualities about ordering a Led Zeppelin poster from an independent artist. You'll get artwork that you have never seen anywhere else. This artist also sells your poster in a custom size, so be sure to let them know which size you want.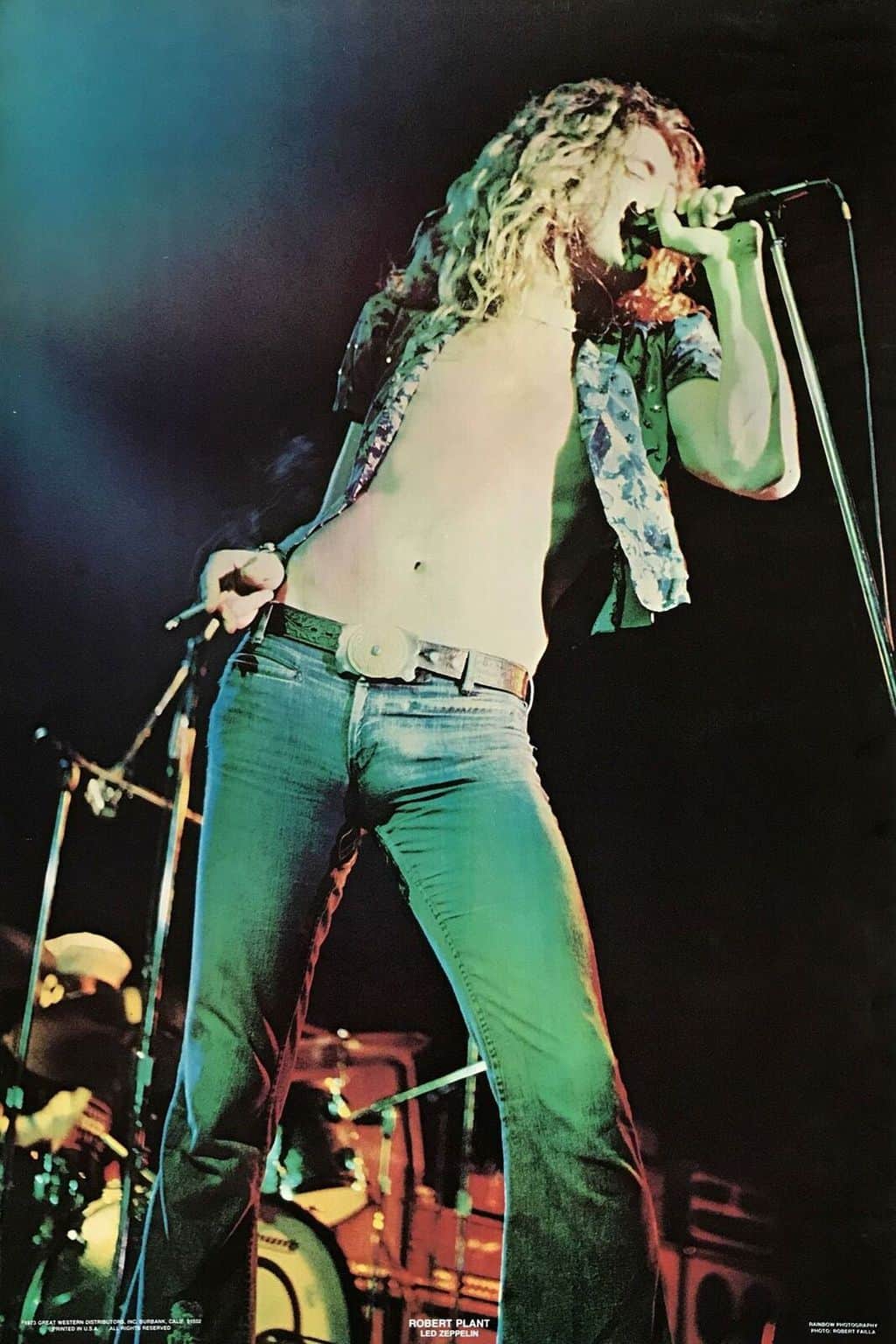 Is Robert Plant your favorite Led Zeppelin member? If so, get this poster! The poster features a picture of Robert Plant by photographer Robert Failla. I love everything about this photo: his stance, his outfit, how he's singing in the microphone. I have to admit — Robert Plant really was handsome back in the day!
This is one of the rare posters that is truly vintage. It costs nearly $100, so I wouldn't recommend this unless you're a serious collector. I suggest you only buy this poster after verifying it's truly vintage.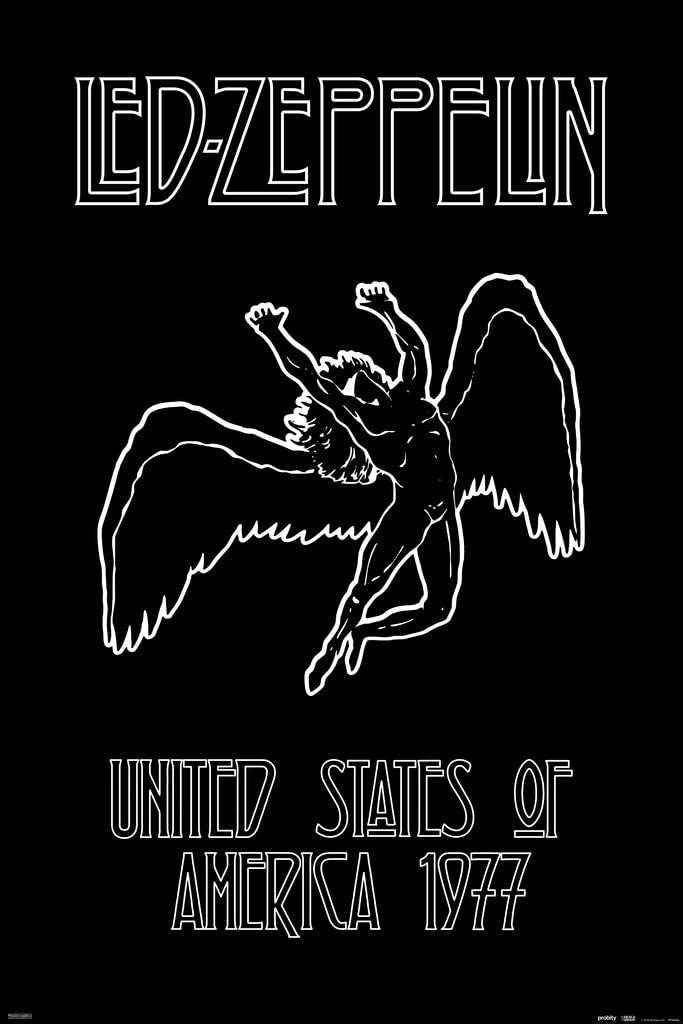 The Icarus is another piece of artwork associated with the band Led Zeppelin and their label, Swan Song Records. That's why the Icarus is also a classic choice. The poster is the recognizable artwork — the Icarus with the band logo and "United States of America 1977"  printed. This poster features the black and white design, which I prefer over the colored option. I like how you can choose between a small or large poster.
This classic poster makes a great gift, especially since it's so affordable ($7). It's a paper poster, so it's easy to hang with thumbtacks. It's officially licensed and made in the USA.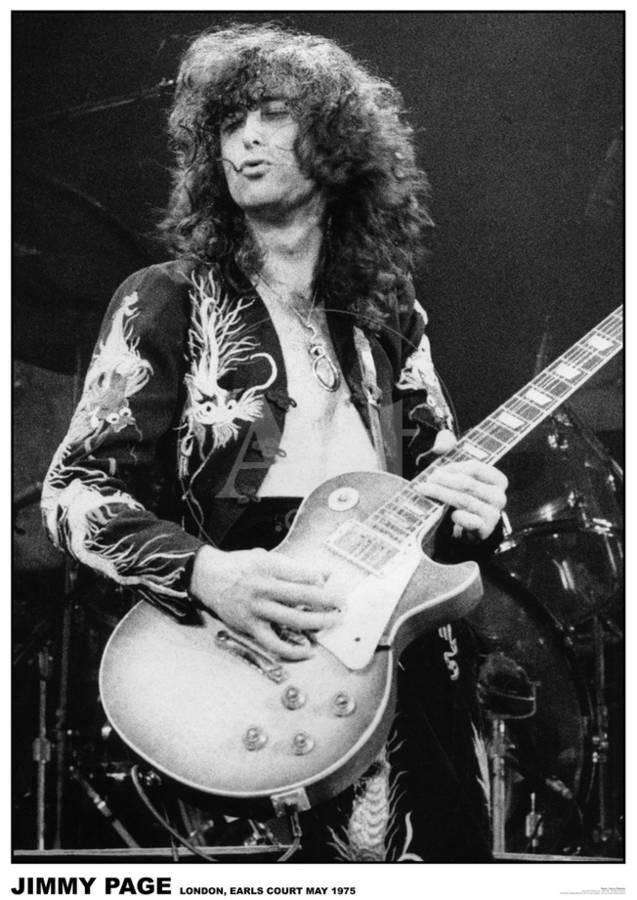 I listed a Robert Plant poster so I think it's only fair to include a Jimmy Page poster! This poster features the iconic guitar player performing in Earls Count. As with the Robert Plant poster, I love concert photography. I wish Page was doing a cool stage move, but this is still a great shot of him! That and this picture was taken in 1975, so you have to love the vintage quality of it.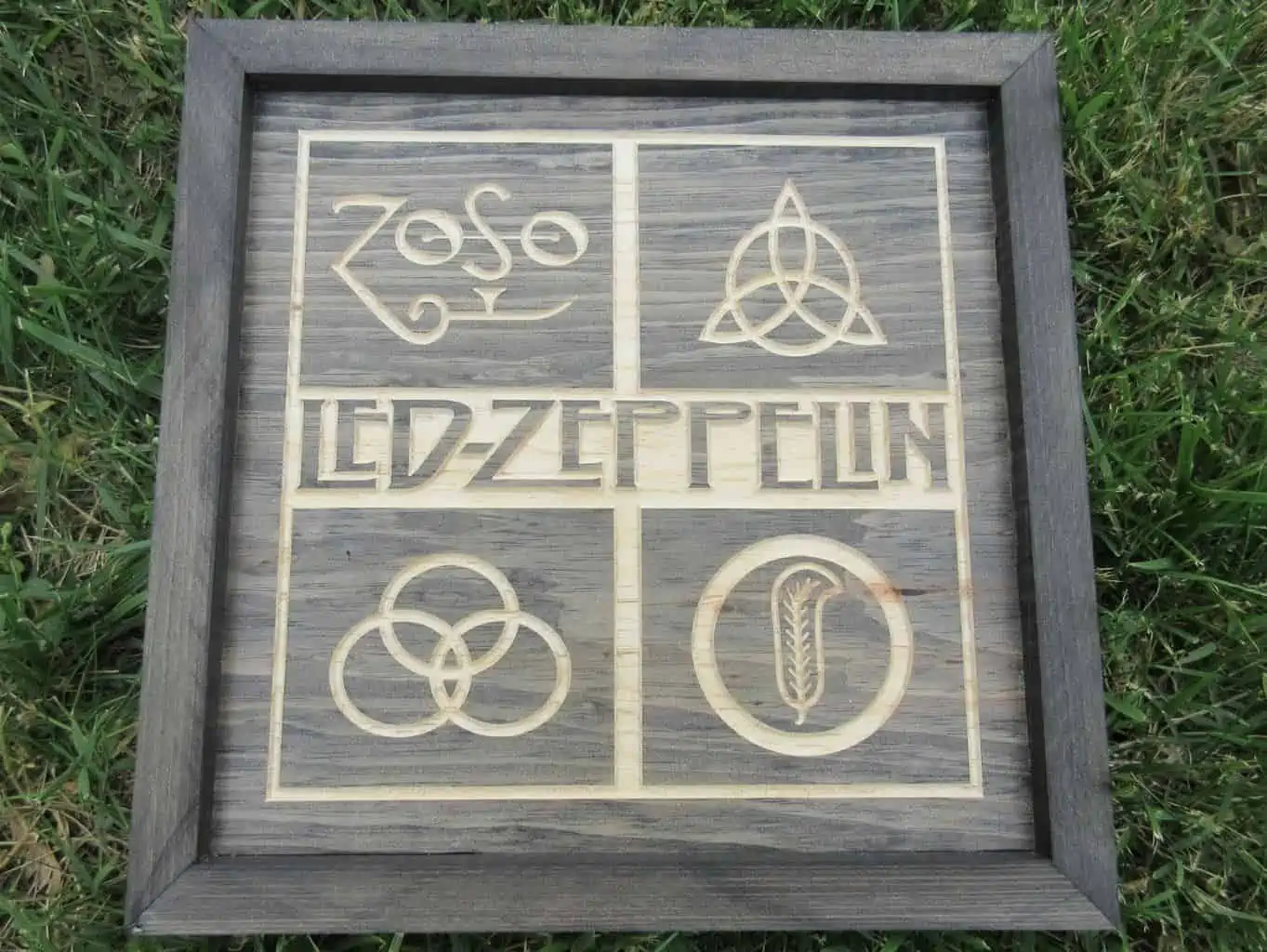 Even though I'm sure most of the stuff on Etsy isn't licensed, it's still really cool! I especially love this handmade wooden plaque. The placement of the band logo and Zoso symbols is very clever. I also like how it doesn't look like your typical "Live Laugh Love" plaque.
The artist uses a darker stain on the wood so it still looks rock n' roll. This plaque is perfect to hang in your kitchen. I also love how the artist offers three different size options and the option to frame the plaque. It is expensive, but I think the handmade quality and your range of options makes this price worth it.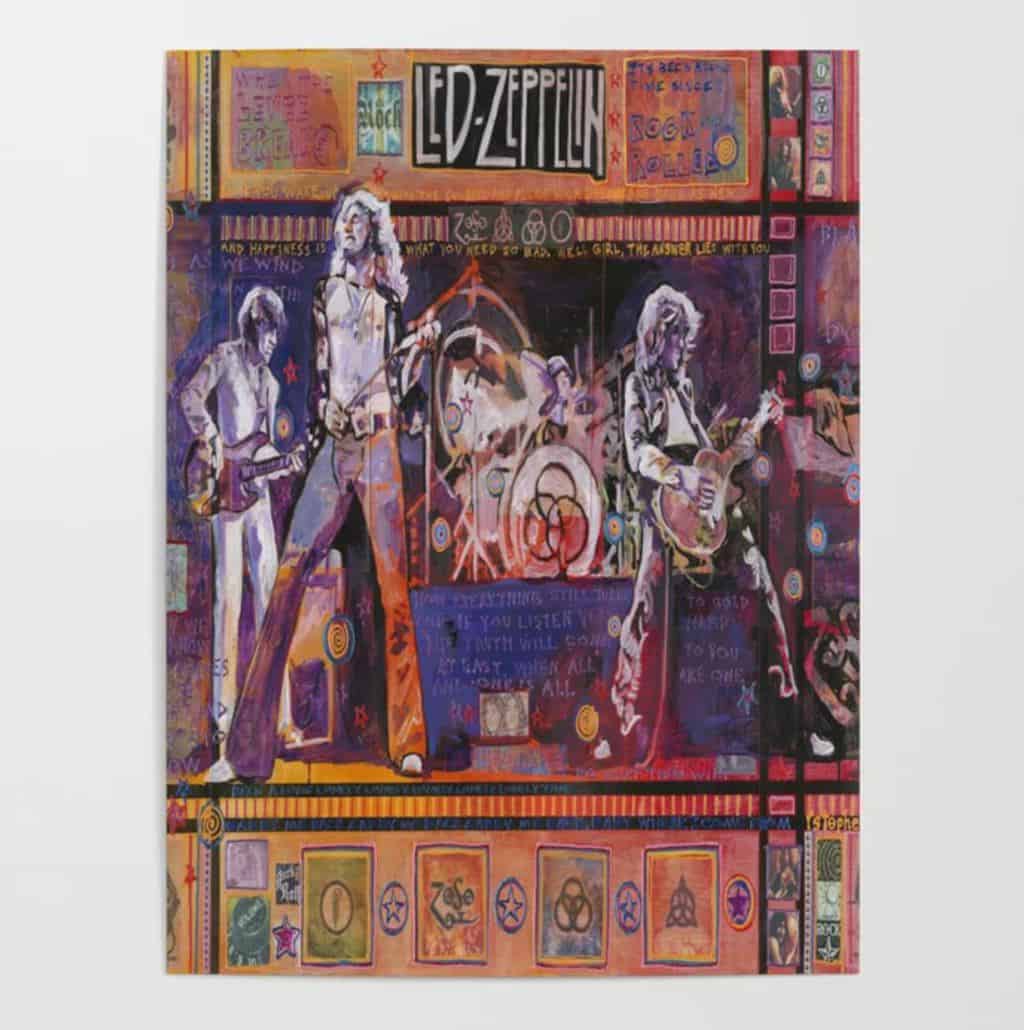 I've never heard of the shop Society6 before but I still want to recommend this poster! Reading the reviews, it seems like buyers were pleased and the poster shipped well. I'll trust the reviewers here and will say this is a legitimate store.
This poster looks like a mixed media painting with the band performing on stage. I love the painting aspect of that but also how realistic each band member looks. This poster is also colorful but is still not too loud. I hate bright colors so I appreciate this palette! I also love how this website offers different size options and this poster is affordable for the artistry — it's even on sale!
FAQs
Question: Why is Led Zeppelin Such an Iconic Band?
Answer: Led Zeppelin challenged the ideals of rock n' roll and pushed the boundaries of the genre. Even though they were inspired by blues, they were heavier and harder than any other band during that period. They set the bar for the future of rock n' roll, which is why they're such an influential band.
Question: Why Does Led Zeppelin Use a Zeppelin in Their Artwork?
Answer: Led Zeppelin really only uses an image of the zeppelin on their first album cover. Guitarist Jimmy Page chose a black and white photo of the Hindenburg disaster, an airship attack that occurred in New Jersey. George Hardie designed the image. I can't find much about the significance of the Hindenburg disaster and the band, though you can find where they got their band name.

During some of the Page's earliest recordings, he was with The Who members, specifically drummer Keith Moon and bassist John Entwistle. One of The Who members (find different accounts on who said this) joked that he will go over like a "lead balloon." Two years later, Jimmy Page forms Led Zeppelin. He remembered the joke but re-stylized the name as Led Zeppelin.
Question: Why Does Led Zeppelin Use an Icarus in Their Logo?
Answer: First, the Icarus is technically not a Led Zeppelin logo. It was actually the artwork for the band's label, Swan Song Records. However, the Icarus become synonymous with Led Zeppelin over the years. But Led Zeppelin used this logo as a reminder to never let fame get to your head.
Question: What Are the Four Led Zeppelin Symbols?
Answer: For IV, Led Zeppelin didn't want to include any memorabilia that symbolized the band. However, their label required something. Instead of sticking to their logo, Led Zeppelin members created a logo that represented themselves. These symbols have many names, but they're often called the "Four Symbols" and "Zoso logos" after Page's logo, which just says "Zoso" (it's the alchemic symbol for Saturn, the ruler of the Capricorn sign).

The other symbols are really cool. Robert Plant's symbol is the feature of Ma'at inside of a circle. Ma'at was the Egyptian goddess of fairness and justice. He took inspiration from the ancient civilization of Mu. John Paul Jones' symbol is a circle interlocking three ovals. This symbol represents the holy trinity and is used to exorcise evil spirits. The Celts also used this symbol for protection. John Bonham's symbol is three interlocking circles which also represent the holy trinity.
Question: Do Led Zeppelin Fans Have Special Nicknames?
Answer: Led Zeppelin fans are often nicknamed "led heads."
Question: What Happens if I Purchased an Unlicensed Poster?
Answer: I tend to only suggest officially licensed merch. All of these posters here are, but I really don't think that Red Bubble poster I included is licensed. In the industry, we call unlicensed merch "bootlegs." Fortunately, you won't get in trouble for purchasing a bootleg. Making bootlegs are illegal, so the seller can get in trouble.
Question: Is Led Zeppelin Still Together?
Answer: Led Zeppelin broke up when drummer John Bonham died in 1980. The other three Led Zeppelin members are still alive. Ever since then, the other members have had successful solo careers.
Best Led Zeppelin Posters: Bottom Line
Led Zeppelin is one of the most legendary bands and they have a variety of merch to buy. Fans love Led Zeppelin posters so they can display the love of the band in their home.
The poster I recommend the most is the "Stairway to Heaven" poster, but the fabric one. I tend to see the same Led Zeppelin posters everywhere; while the "Stairway to Heaven" poster is common, the fabric material breathes new life into this design. That and the Hermit and Zoso symbols are so iconic to the band's image.
Does the "Stairway to Heaven" poster not appeal to you? I suggest knowing what you want and ensuring the poster will match your decor. You'll also want to decide if you want a traditional paper poster or if you want to choose a fabric or metal poster.
If you're not sure where to start, take a look at our Led Zeppelin poster recommendations!