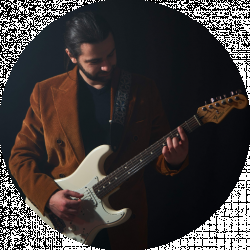 Latest posts by Altin Gjoni
(see all)
Few music lovers have never heard of Eric Clapton and his guitar legacy. The first 'guitar god' of the 60s was part of some of the biggest rock bands ever and had a solo career few musicians had.
As a massive fan of his music and having studied his playing since a teenager, I will give you a detailed Eric Clapton Bio and gear list from the British invasion era to today.
If, like me, you are interested in both his story and guitar tone, the article will cover some of his signature instruments.
Eric Clapton Quick Facts
Full Name: Eric Patrick Clapton
Birth Date: 30 March 1945
Birth Place: Ripley, Surrey, England
Nick Name: 'Slowhand'; 'God'
Nationality: English
Zodiac Sign: Aries
Siblings: 2 half-brothers and 4 half-sisters
Children: 5
Partner / Spouse: Melia McEnery
Most Successful Songs / Albums: 'Wonderful Tonight" is the best selling single while the best selling album is 'Unplugged' released in 1992
Earnings: He is the 18th richest rock star in the worlds
Net Worth: $300 million
Awards:

18 Grammy Awards,
Brit Award for Outstanding Contribution to Music
Inducted in the hall of fame three times.

Last Updated: April 2022
Eric Clapton's Early Life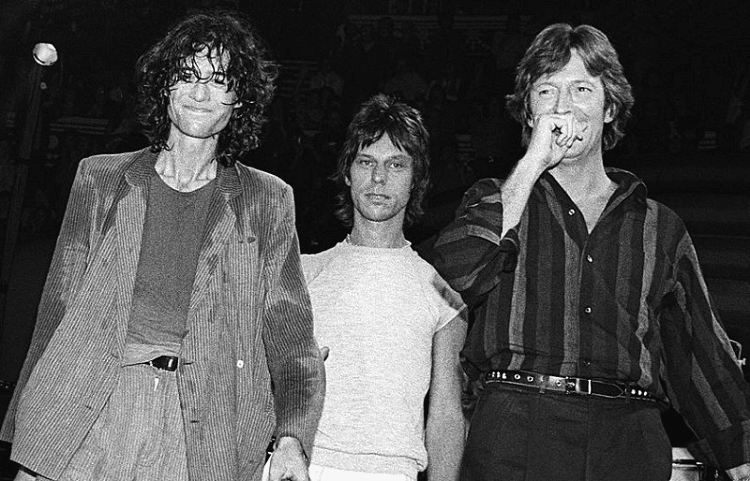 Eric Clapton was born in the village of Ripley in Surrey, England, to Patricia Molly Clapton (7 January 1929 – March 1999) and Edward Walter Fryer 21 March 1920 – 1985). His mother was only 16 years old, while his father was a 24 years old Canadian soldier stationed in England during World War II.

With his father returning home to his wife in Canada, the task of raising a child alone was too much for her teenage mother. Eric's grandparents took the role of surrogate parents, and he grew up believing his mother was actually his Sister.
Her mother married another soldier, Frank Macdonald, and had two girls and a boy who was tragically killed in a road accident in 1974.
Finding out the truth about his parents when he was only 9 years old scared him and turned an above-average student into a distanced child who ultimately failed his exams. After being sent to St. Bede's Secondary Modern School, he enrolled in the art branch of Holyfield Road School.

His connections to musicians can be traced to his legacy from his father and grandmother, who both played piano. On the other end, Big bands' music was always playing in their household.
Clapton's first guitar (a cheap German-made Hoyer) was gifted to him for his 13th birthday. After that, his life focused on guitar and the blues so much as to have him expelled for not delivering enough work in school.

Being inspired by B.B King, Freddie King, Buddy Guy, and the other blues greats, he finally purchased his first electric guitar, a £100  Gibson ES-335 clone. Belding American blues into his playing while adding an extra touch was his signature since the early days.
After playing local shows in Richmond, Kingson, and London, he joined his first bands, The Roosters and 'Casey Jones and The Engineers, while working as a laborer in building sites along with his grandfather.
Eric Clapton's Professional Career
Eric started to become notorious for his playing and it was not long before he became a part of 'The Yardbirds,' who were looking for a guitar player.
This was when he truly emerged into music as a professional and earned the nickname "Slowhand" for the unique bluesy style that merged traditional blues with a slower melodic rock feel to soloing. 
His passion for the blues and finding his style led him to leave the Yardbirds after 18 months, 2 recorded albums, and one single.
The commercial sound the Yardbirds were after did not fit him, so he joined John Mayall's Bluesbreakers band, where he earned the nickname 'God' made popular from graffiti on the wall of London's Islington Station; that wrote, "Clapton is God.'
After leaving the band once to tour Greece, he returned to record the legendary 'Blues Breakers with Eric Clapton' album and a studio session "The Powerhouse" with some of London's best session musicians.
After The Yardbirds and John Mayall's Bluesbreaker, it was time for him to form his own band 'Cream' in 1966 with Jack Bruce and Ginger Baker. This three-piece band was formed by innovative virtuoso musicians who blended blues, rock, and psychedelic music like no other before.
See Also: The Yardbirds Band History
This was when Eric started to set his roots as a rock guitarist that went beyond traditional blues. After three successful albums and extensive tours, 'Cream' disbanded on 12 November 1968 after a period of arguing. 
Next was the turn of the rock's first 'supergroup' 'Blind Faith; with Steve Winwood, Ginger Baker, and Rick Grech.
The band had only a short run, and after a period of distancing from his fame while touring as a sideman whit Delaney & Bonnie & Friends, he was encouraged to sing and write more music himself. His first self-titled album was released in 1970.

If the list is not yet impressive, he continued to form 'Derek and The Dominos' with Carl Radle, Bobby Whitlock, and Jim Gordon. The most successful song from that Era, "Layla," came from the band's only album  "Layla and Other Assorted Love Songs.'
After a few years of distancing from music, he released his second solo album, "461 Ocean Boulevard,"  and continued his solo with successful albums. His best-selling album was the 1992 Album "Unplugged' 
Eric never betrayed the blues. Even though he swung from style to style, he always returned to his roots. His later albums combined souls, rock, and a famous collaboration with B.B King on 'Riding With The King.'
The early 2000s saw his collaboration with other big artists and touring extensively on old and new materials. His 2016 album "I Still Do" is a testament to his consistency over the years.
Even in his 70s, he keeps touring worldwide and just released his new single, "Heart of a Child.' Among with awards, the one to keep in mind is that he is the only musician ever to be inducted into the Rock n' Roll Hall Of Fame 3 times! Once with the Yardbirds, once with Cream, and the 3rd for his solo career.
Eric Clapton's Family
Eric Clapton has been married twice, first with Pattie Boyd and currently with Melia McEnery, and is the father of 5 children.  Eric suffered the tragedy of losing his son Conor in 1993 the grief of which inspired the song "Tears in Heaven."
Eric Clapton's Controversies or Scandals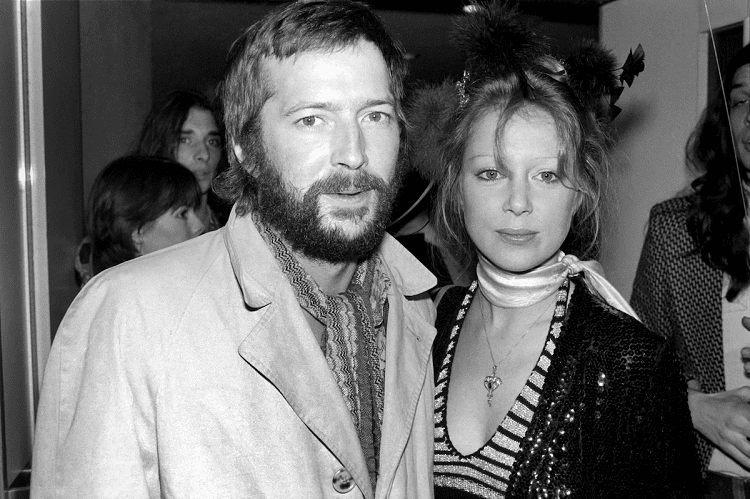 As with many Rock Stars, Clapton had his problems with Drugs and especially Heroin addiction in the 70s. In his autobiography, he details a 20-years drug and alcohol audion where he spent over 16.000 a week on drugs.
Much has been talked about his relationship with George Harrison's wife Pattie Boyd, for whom he wrote the song 'Layla' and was inspired for  'Wonderful Tonight'. Being close friends with the Beatles guitarist made Eric's marriage with Pattie very mediatic.
Eric Clapton's Guitar Style
If you, like me, are a fan of Eric Clapton style, then you know where the name "Slowhand" comes from. His signature blend of traditional blues but with a rock guitar feel makes his playing unique
Among his playing style, the elements that most stand out are his bending, phrasing, rounded vibrato, and masterful use of the Pentatonic scale. He is not inclined toward fast pentatonic runs, yet sometimes bursts are short, high-energy licks that mostly resemble rock than blues. 
The two solos that encapsulate Eric Clapton's style perfectly are the ones from "Sunshine of Your Love" and "Cocaine." 
His guitar composition style has evolved much in time and always was characterized by a more complex chord structure than contemporary blues songs of that era. His acoustic songs also share the more sophisticated chords, with "Tears in Heaven" being a perfect example of his writing and taste for soft melodies.
If you are a beginner guitarist, I would suggest you start with his easier songs like the "Wonderful Tonight' and then go back to his mostly rock-infused blues era solos.
Eric Clapton's Guitars
As you probably already know, Clapton is famous for using various Stratocasters during his career. This was not always the case, though, as he became famous first by Playing Gibson guitars up to the release of his solo album in 1970.
His most famous Stratocasters is the 'Blackie', also called by Eric a "mongrel' Guitar. The guitar is a moded '56 Strat which he merged with two other similar models to assemble his ultimate guitar. After becoming legendary, the guitar was auctioned in 1994 to help him set up the drug and alcohol treatment center Clapton.

Other guitars include a 1950s Les Paul Gold Top, 1957 Gibson Les Paul "Lucy", Danelectro 3021, 1939 Martin 000-42, and other instruments. 
Some of the best Clapton Signature guitars you can purchase today are the following
1964 ES-335 Reissue – Sixties Cherry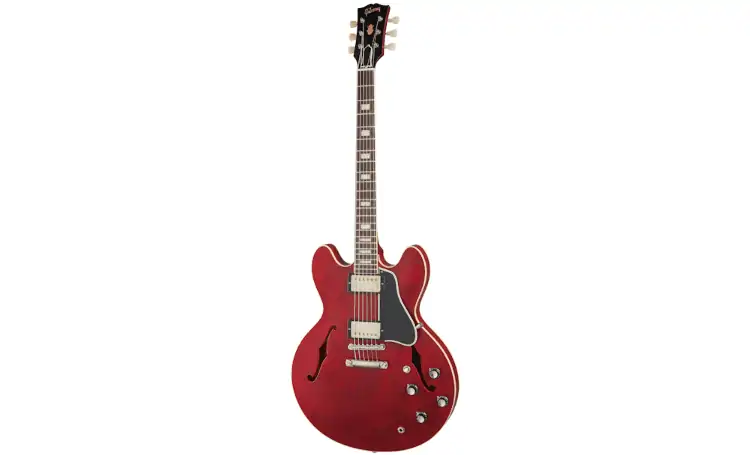 This guitar is the reissue of Eric's original first ES-355 guitar he used during the 'Cream' Era. It'ss a true Gem of the 60s and the best way to recreate Eric's and other Rock, Blues, Soul, and even Jazz guitar legends.

There's not much to add about this model, considering it's one of the best guitars ever made. The finish, built quality, and all the hardware are premium from Gibsons Custom Shop.
It features one of the most playable neck designs of all time and true vintage Custombucker Alnico III pickups that deliver the warm mid-range and tight high-end for which the 60s and 70s are famous.  This is the ultimate guitar if you are after that classic PAF tone.
If you can afford this model, you won't need any other guitars for most of your live shows and recording sessions. I recommend it only for advanced players that can bring the best out of it.
Eric Clapton Stratocaster

This guitar is the replica of Eric's instrument he uses today and is a modern guitar with a vintage sound and look. This is one of the most versatile Strats of all time.
As with all US-made Strats, you can result assured you are buying the best parts and craftsmanship. The tone is snappy with the typical glassy Stratocaster bridge pickup and 'woody' neck position. If you are after crispy cleans and snarly crunchy tones, this Stratocaster will do justice in any live show or recording studio.

What's special about this signature model is its soft v-neck shape, making it more comfortable and rounded than vintage Strat. The neck is especially comfortable for blues players who extensively use the 'thumb over' technique.
The electronics are very advanced and feature alongside the typical 2 tones and 1 volume controls, a TBX tone control, and an active mid-boost.
The first one serves to add presence or remove it from the guitar, while the second does the same thing but for the mids and bass. F you play with few effects like Eric, the guitar knobs become very important.
The best thing about this guitar it's that is not an extremely expensive instrument. It retails for around 2000$ making it much more affordable than other signature Stratocasters and half of what the Gibson ES-335 costs. 
Eric Clapton's Amps and Pedals
As with all guitarists of the 60s, Eric used Marshall amplifiers to get his first rock tone. The company's first combo amp "The Bluesbreaker" was famously named after Eric's period as part of John Mayall's band.

He also used different amps from Fender, Soldano, Music Man, etc. Some of the most iconic models are the following.
Marshall 1962 Bluesbreaker 30-watt 2×12″ Tube Combo Amp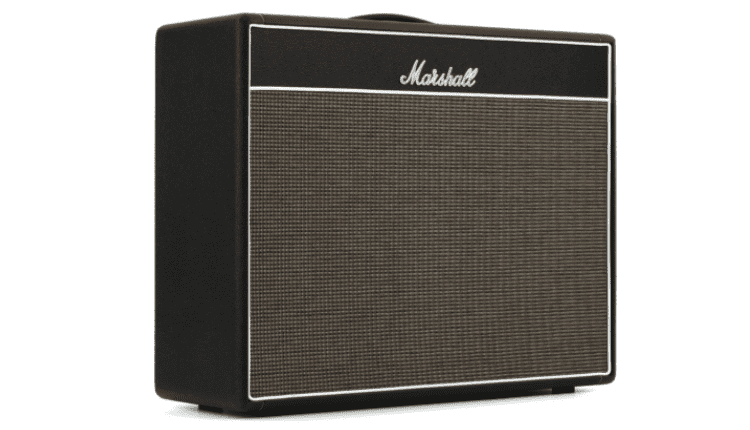 This amp is a reissue of the legendary Bluebreaker amp most blues guitarists aspire to one day own. It's one of the best classic rock and blues amplifiers you can own that stays true to the vintage tone.
The amp also has a tube-driven tremolo that sounds exactly like records of the era. You won't ever need another amp for clean and crunch if you can afford it.
Fender '57 Custom Twin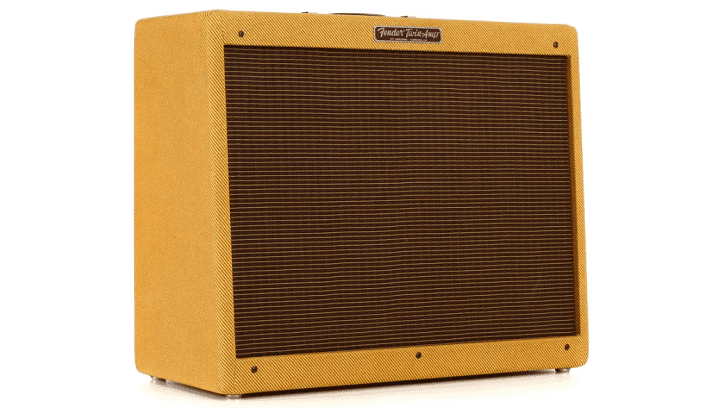 This amp is one of Fender's finest. A vintage classic tube amp that perfectly recreates the tone of 60s guitar legends.  This is a very expensive amp but one that will serve you well in every blues, classic rock, and jazz situation.
The 2 Special Design 12″ Eminence alnico speakers and Low-headroom 40 watts are perfect for live and studio work.
Clapton's playing focuses on using the maximum from his guitar and amplifier with few effects. He doesn't generally use a drive pedal and relies on the edge-of-breakup tube amp tone, which he controls with the guitar's volume knob.
Wah-Wah, Tremolo, Chorus, and some Boost pedals are what Eric mostly uses. There are some iconic ones whose reissues you can also order now. 
Dunlop Crybaby GCB-95 Classic Wah Pedal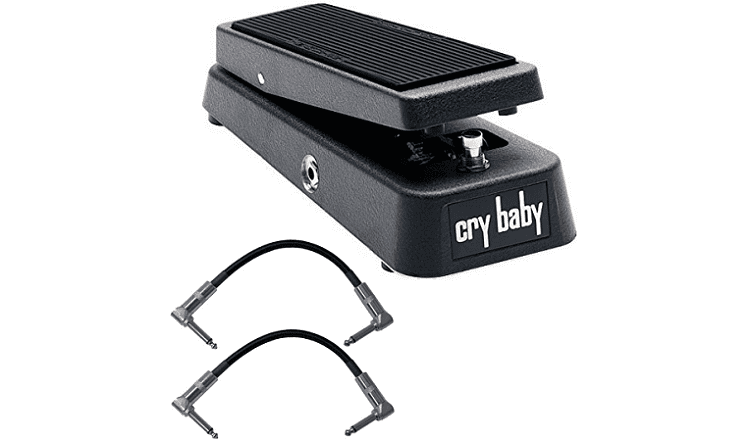 The Crybaby is a particular type of Wah Pedal that has left a legacy in many rock genres. Jimi Hendrix is among those that made it famous alongside Eric Clapton.
Boss TR-2 Tremolo Pedal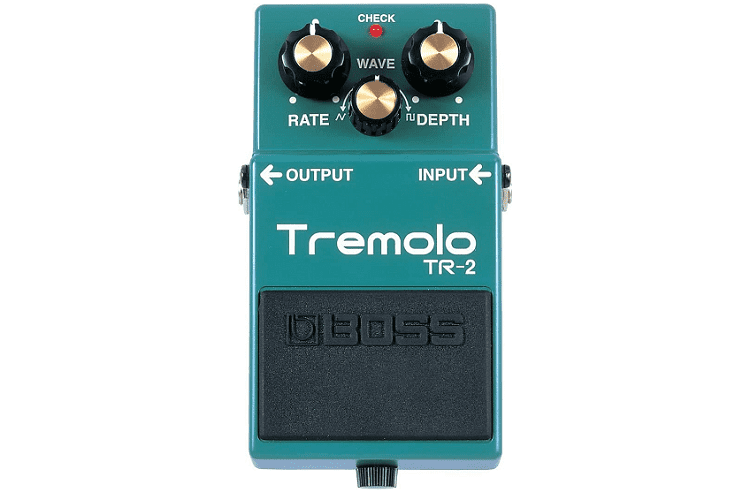 This simple and effective classic Tremolo effect fits any music genre. You can recreate the classic vintage sound of 60s tremolo running it with a good tube amp.
BOSS Stereo Chorus Ensemble Guitar Pedal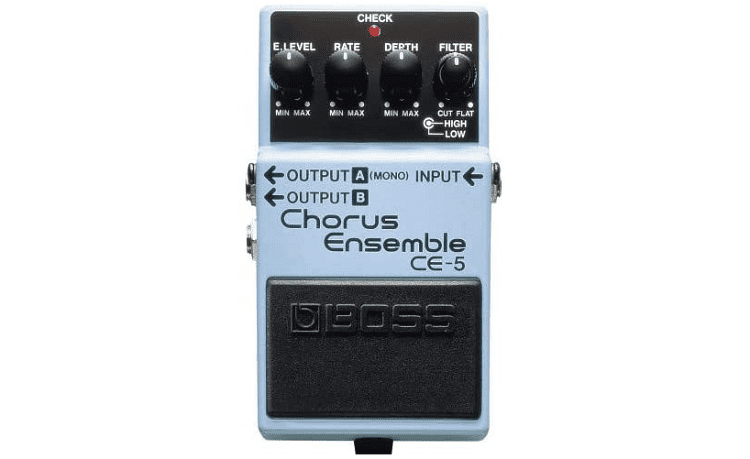 This is a versatile and detailed pedal that you can use for multiple genres and styles. It has a full sound and a very useful filter knob.
Eric Clapton's Discography & Full Credits
In more than half a century, he has released over 24 studio albums, 26 singles, 21 compilations, and 16 live albums.
Beyond his personal work, he appears as a guest guitarist in major acts such as "The Beatles" with the legendary 'While my guitar gently weeps' solo and names such as Roger Waters, Carlos Santana, Elton John, John Lennon, George Harrison, Sting Etc. 
The list is very extensive and spans hundreds of songs. You can view the full of his solo work, bands, and collaborations on his official AllMusic profile.
FAQs
Question: How did Eric Clapton Deal with the Death of his Son?
Answer: He said in an interview that he coped by ' throwing himself into his work.'
Question: Is Eric Clapton still performing?
Answer: Eric Clapton is currently touring. You can check out the latest tour dates on his website. 
Question: Is Eric Clapton the best blues guitarist?
Answer: Clapton ranked second in Rolling Stone's list of the "100 Greatest Guitarists of All Time" and fourth in Gibson's "Top 50 Guitarists of All Time"
====
Web Sources: