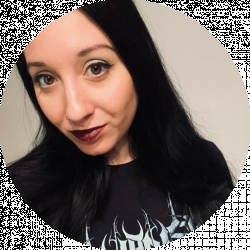 Latest posts by Stephanie Jensen
(see all)
Motley Crue reigned in the 80s. With songs like "Kickstart My Heart" and "Girls, Girls, Girls," this band embodied sex, drugs, and rock n' roll during the era. Even though times have changed in the rock world, you can still live up the glory days by rocking some Motley Crue merch! This guide offers you everything: background about Motley Crue, the merch they offer, some tips when buying Motley Crue merch, and my favorite recommendations. Continue reading to get the best Motley Crue merch!
Bottom Line Up Front
Want to live up the glory days of the 80s? Buy some band merch from your favorite bands of that era. And what better 80s band is there than Motley Crue? I mainly see apparel from the band, specifically t-shirts. The Dr. Feelgood t-shirt is my favorite, but there are so many other Motley Crue items and designs that you can choose from.
Brief Motley Crue Bio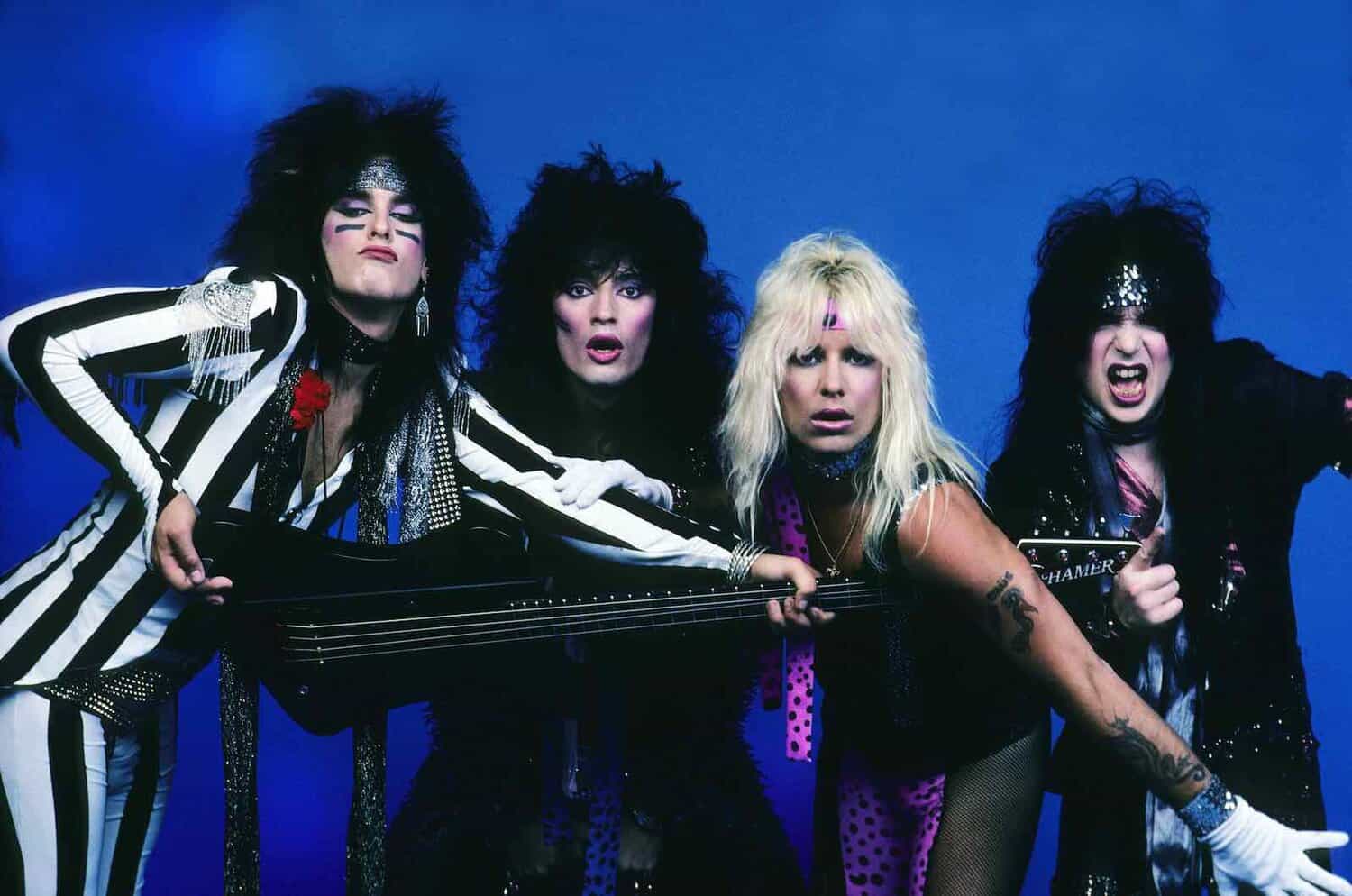 Motley Crue is a glam metal band formed in 1981. They're known for pioneering the glam metal movement in the 80s and inspiring countless bands. Ever since its inception, the band sold over 100 million albums. The founding members of the band are drummer Tommy Lee, bassist Nikki Sixx, lead singer Vince Neil, and guitarist Mick Mars.
Motley Crue was most recognizable for their androgynous look that was popular in the 80s at the time; the members would wear makeup and dressed in flamboyant costumes. They also lived a crazy party lifestyle. A few years ago, I read Nikki Sixx's diary and couldn't even believe the amount of partying these guys did (and how they're still alive).
Motley Crue is still active today. While they no longer write music, they do tour regularly. Guitarist Mick Mars did retire in 2022, replaced by Rob Zombie guitar player John 5.
Background on Band Merchandise
Band merchandise has been around for decades. Elvis Presley is the artist credited for having the first rock merchandise; merchandisers received the rights to print Presley's face on collectibles in order to promote albums.
Rock merchandise expanded even more with the invention of the multi-colored screen-printing machine in the early 60s, The Beatles being one of the first groups to capitalize on this new technology.
From here, more merch companies were created to design, create, and distribute merchandise. In the mid-80s, hip-hop artists such as Run DMC started to capitalize on merchandise, as well as New Kids on the Block and other pop acts in the early 90s. Band merchandise stores were also formed around the U.S. and U.K.
No band has used merchandise to their advantage more than Kiss. Kiss has licensed over 3,000 different merch products, with some crazy merchandise including cookie jars and Mr. Potato Head figurines.
Rock promoters and managers from the mid-1960s encouraged artists to sell merchandise with anti-Vietnam War slogans. Because of this, band merch has been a staple for rebellion and youth. Sex Pistols' "God Save the Queen" shirt is another example; the image features an image of Queen Elizabeth II with her eyes and mouth blocked out. The song rebels against the queen and her regime.
Motley Crue is another example of a band that took its iconic image and capitalized on it. Their band merch is controversial yet eye-catching, featuring scantily-clad women, Satanic symbols, and various images of the band members.
Different Types of Motley Crue Merch
There are countless types of merch out there. While Motley Crue may sell different types of merch than this, these are the most common options you'll find.
Clothing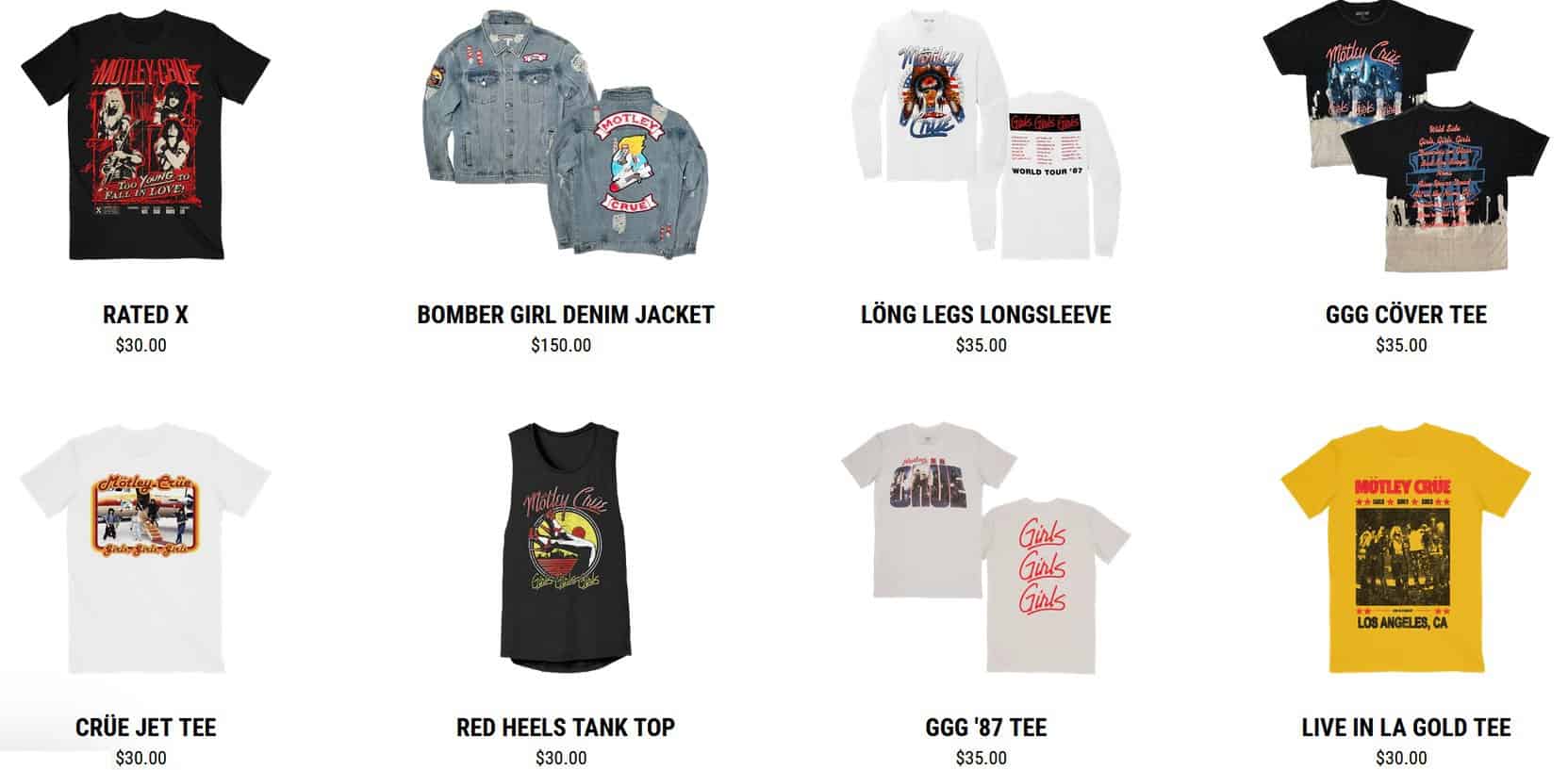 Clothing is the most popular type of band merch around. One look at the Motley Crue website and I can see they sell t-shirts, hoodies, long-sleeves, and more. Motley Crue has unisex sizes on its website in addition to clothing for women. I don't see youth sizes on their website (but I do on Amazon).
Music
Even though most music is now digital, collectors still enjoy purchasing physical music. You can find Motley Crue CDs and vinyl at local music stores, Amazon, eBay, Walmart, and more. Believe it or not, I can't find physical music for sale on the Motley Crue website.
Collectibles
Collectibles are items that you don't use or wear. Rather, they're pieces of memorabilia meant for decoration and collecting (as the name suggests). The most common examples include action figures, bobbleheads, posters, and specialty items like Funko Pops. I've even seen Christmas ornaments, books, and collector's coins.
Accessories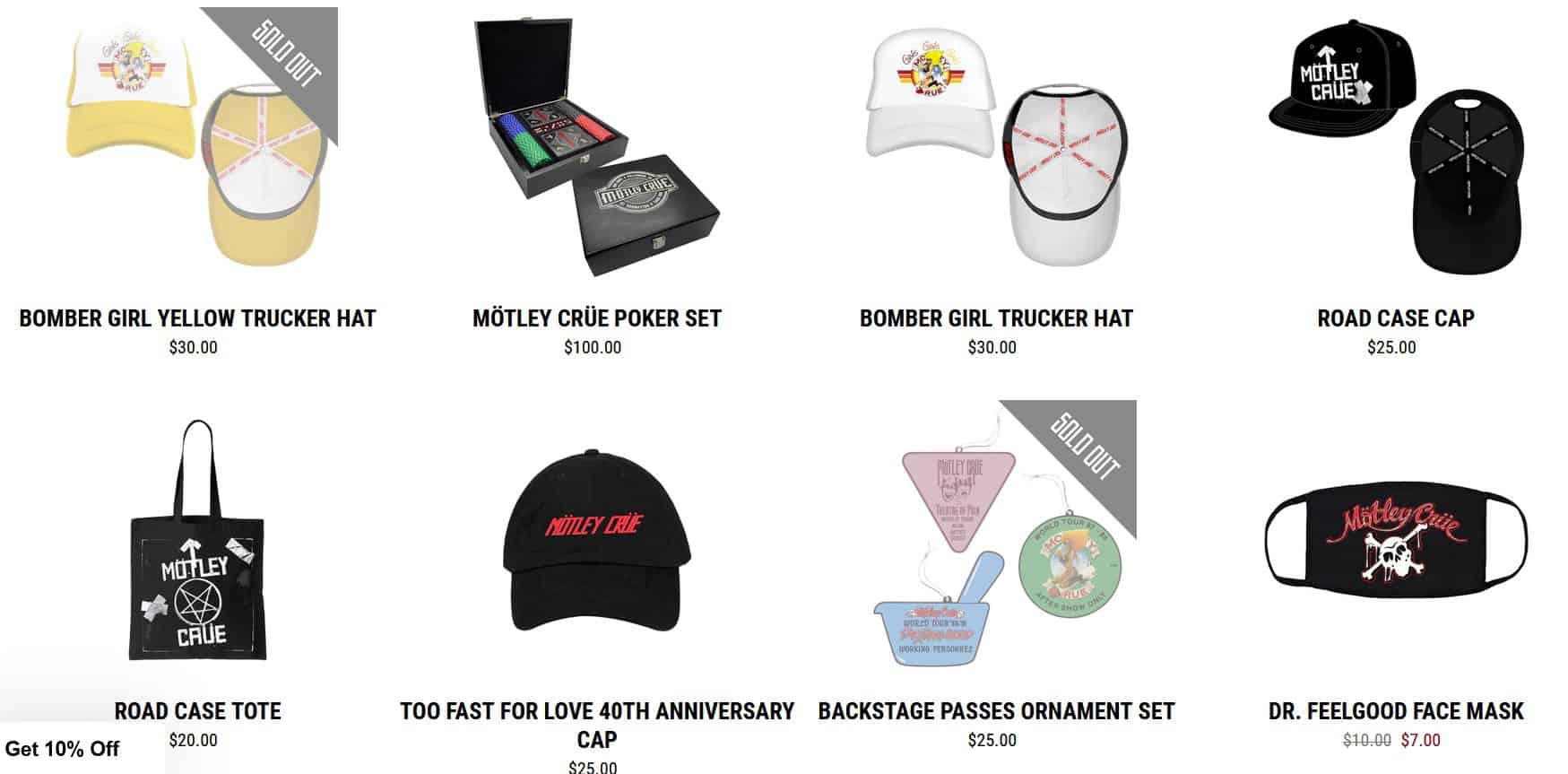 Accessories are items you wear but aren't considered clothing. Some common accessories on the Motley Crue website include hats, bags, face masks, shoes, stickers, and patches. You may even find other accessories, such as jewelry and sunglasses. Some of these accessories have a purpose, such as hats that protect you from the sun. But most accessories are for fashion. For example, you can have a battle vest with various band patches.
Tips When Buying Motley Crue Merch

Before you run off and buy some Motley Crue merch, I want to offer you a few tips. I've been buying band merch since I was a teenager, and I learned a thing or two.
Price
Band merch can get expensive, but no piece of merchandise should cost you an arm and leg. If you're buying merch online, compare a few different websites. If you're buying merch from the band, the costs may be more expensive since the bands will need that revenue to get them through the tour. Most venues also take a cut of the merch sales, especially if the bands use vendors hired by the venue. The merch should still not be significantly more expensive than their items online.
Online or at a Show?
With that being said, there are pros and cons to buying merch online and at a show. When you buy band shirts online, your items are delivered right to you. Unfortunately, you have to wait for your merch and pay for shipping.
As stated previously, Motley Crue still tours. There's a chance you'll go to a Motley Crue show and want to buy some merch. Buying shirts at a show is great because you get the shirt immediately, and your money goes directly to the band. Unfortunately, the merch at the show may be more expensive. I also don't like walking around the show with a shirt (though I have seen some bands selling tote bags).
Source
If you buy a Motley Crue shirt online, you'll want to research the store. While you can buy from the official band merch store, there may be a design or product only offered on a third-party website. Make sure the merchandise is 100% licensed. If not, you risk buying a bootleg. I will cover that more in another section.
Problems When Finding Motley Crue Merch
In my 10+ years of buying band merch, I've definitely ran into some problems. The same can be said about buying Motley Crue merch. Here are a few problems you may experience and some possible solutions.
Bootlegs
I mentioned this word a couple of times already. What does it mean? A "bootleg" is a term describing a piece of merchandise not licensed by the band. In other words, if you buy a bootlegged merch item, the money doesn't go toward the band. Bootlegging merch is actually common if the band is no longer together or the band stopped making merchandise. But in the case of Motley Crue, which is a major and active band that sells merchandise, bootlegging is a big problem.
You may not always know an item you bought is a bootlegged one. I suggest researching any online websites that only sell 100% licensed merch. If you prefer buying merch in person, only buy merch from Motley Crue's booths.
Never Received Order
This has happened to me before; never with a big band like Motley Crue, but with smaller bands who sold their merch DIY or with a low-quality merchandising company. If you still never received your order when you bought Motley Crue merch online, look at the store's customer service section and see who you can contact.
Limited Edition Merch
Buying limited edition merch is great because you'll get an item that's rare and unique. But don't fall in love with limited edition merch — they usually sell out quickly. Plus, I think limited edition merch is more expensive. If there's a limited edition Motley Crue item that you love, see if you can buy it. But if you're not crazy over their limited edition merch selection, I suggest passing those items up.
Long Wait at Merch Table
I've been at both sides of the table — buying merch myself and even selling merchandise for bands. I know firsthand there can be some long lines. When I go to a show, I prefer watching the band play. Even between sets, I like to get a couple of drinks and chat with friends. Waiting in line for merch isn't ideal and is never fun.
County Restrictions
There are some countries where bands won't ship their merch. This could be for various reasons, but likely because the band's freight partners don't operate in those regions. Most people in these countries wait for the band to tour their region. Again, this may not always be a guarantee. Tour markets are smaller in specific regions, notably African and Asian countries.
From my experience in the music industry, you should have no problem buying merch online or in-person in North America, Europe, the U.K., and Australia. Some of my colleagues operate in certain countries, such as Japan, where the rock and metal scene is bigger than in other Asian countries.
Payment Restrictions
Payment restrictions are most common when you buy merch at a concert and not online. Most online vendors will accept all major credit cards and other payment processing options such as PayPal. Because Motley Crue is a big band, you will likely be able to pay with a credit card when you buy merch at a concert. But I'm unsure how many bands accept PayPal and other payment processing systems.
Returns and Exchanges
I've never seen a scenario where you were able to return or exchange merch at a concert. The exception is if the merch you purchased is defective, damaged, or you received the wrong merchandise. But if you purchased a shirt and decide you want something else instead, I've never seen a band accommodate that exchange.
The exception is if you order something on Motley Crue's merch store and later decide you want another merch or don't like the item you received. You can request a return or exchange if you purchased your item within 30 days. However, there are still some exceptions. You can read the full returns and exchanges policy on Motley Crue's website.
High Prices
Because bands weren't able to tour during the pandemic, most artists raised their prices on concert tickets and merchandise. When I started going to shows, a t-shirt was about $20. Now, a t-shirt is $30 on the Motley Crue website. The prices usually increase more when you buy merch at a concert. That's because the band uses merch sales to fund the tour, and the venue takes a percentage of the merch sales.
My Favorite Motley Crue Merch
Are you interested in buying some new Motley Crue merch? I have a few suggestions for you! Before I start this list, I will only be recommending merch from Amazon. Amazon is a solution for many of the problems I addressed in the previous section; they have some of the best prices and lenient return policies. But I always made sure the companies are all legitimate, and the merch is 100% licensed.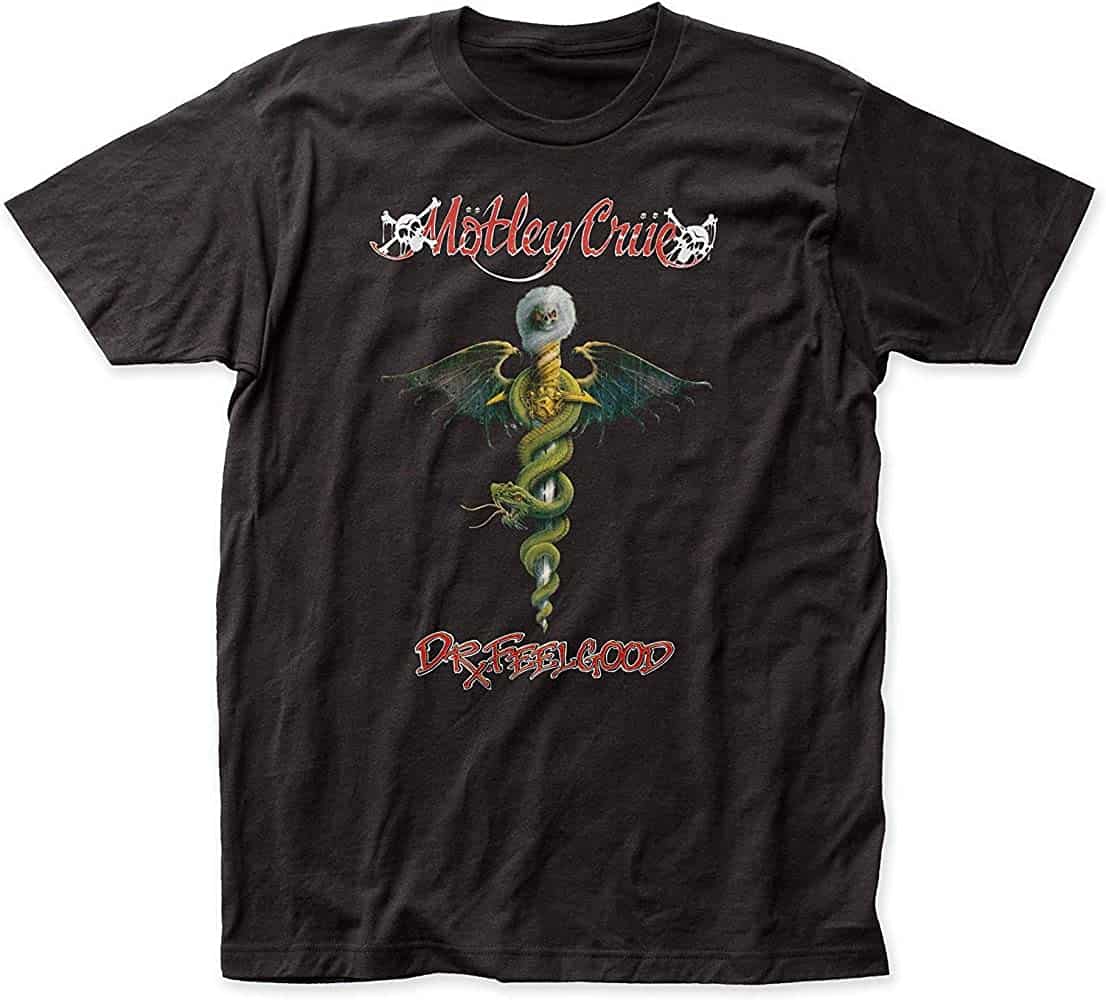 This is one of Motley Crue's most famous shirt designs, based on the Dr. Feelgood album cover (and is also one of the band's most famous singles). If you didn't know the history of the album artwork, the artwork is a distorted version of the caduceus, the United States medicine logo. The artwork was designed by the band's tattoo artist Kevin Brady.
Just note that the t-shirt runs large. This shirt is in men's sizes; if you're a female like me and aren't sure your size in men's fashion, the seller includes a size chart in the pictures. It's also on the short side, so I don't recommend tall people get this shirt. The shirt is 100% cotton and is prone to shrinking.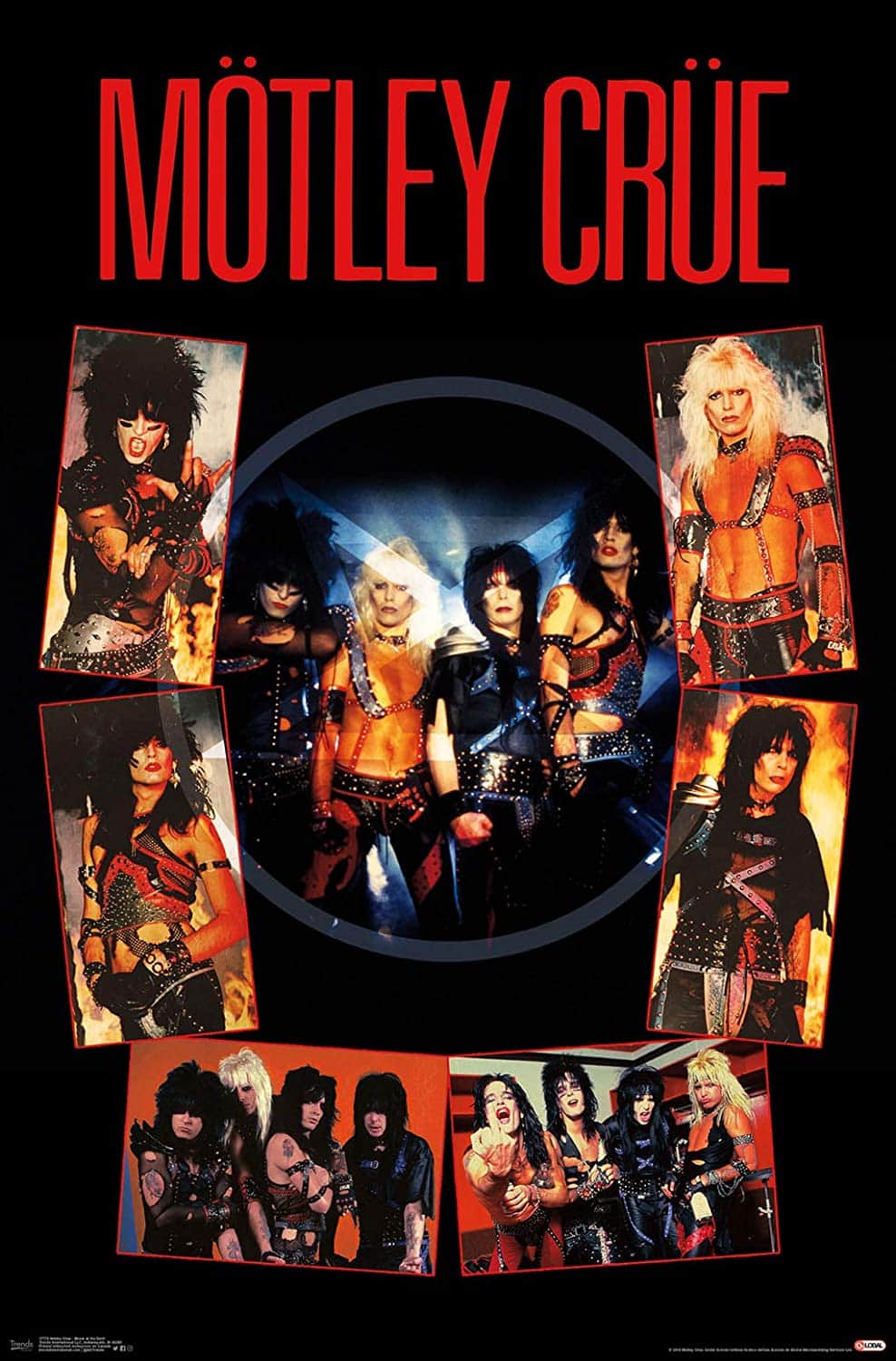 Posters are such great items to have. They look great displayed in your home or room and make perfect gifts. Out of all of the Motley Crue posters that I've seen, this one is the best. It features various images of the band from the 80s and a pentagram in the background. This poster comes framed and unframed. I used to only buy unframed posters, but now I prefer the way that framed posters look.
The only problem with buying posters and frames from Amazon is that delivery drivers tend to be irresponsible, throwing the package on your door or damaging it while driving. I'm reading reviews that say the frame and poster were damaged. I'm also reading that the frame was constructed poorly, i.e., the hook was crooked. I suggest buying the poster itself and buying a separate frame.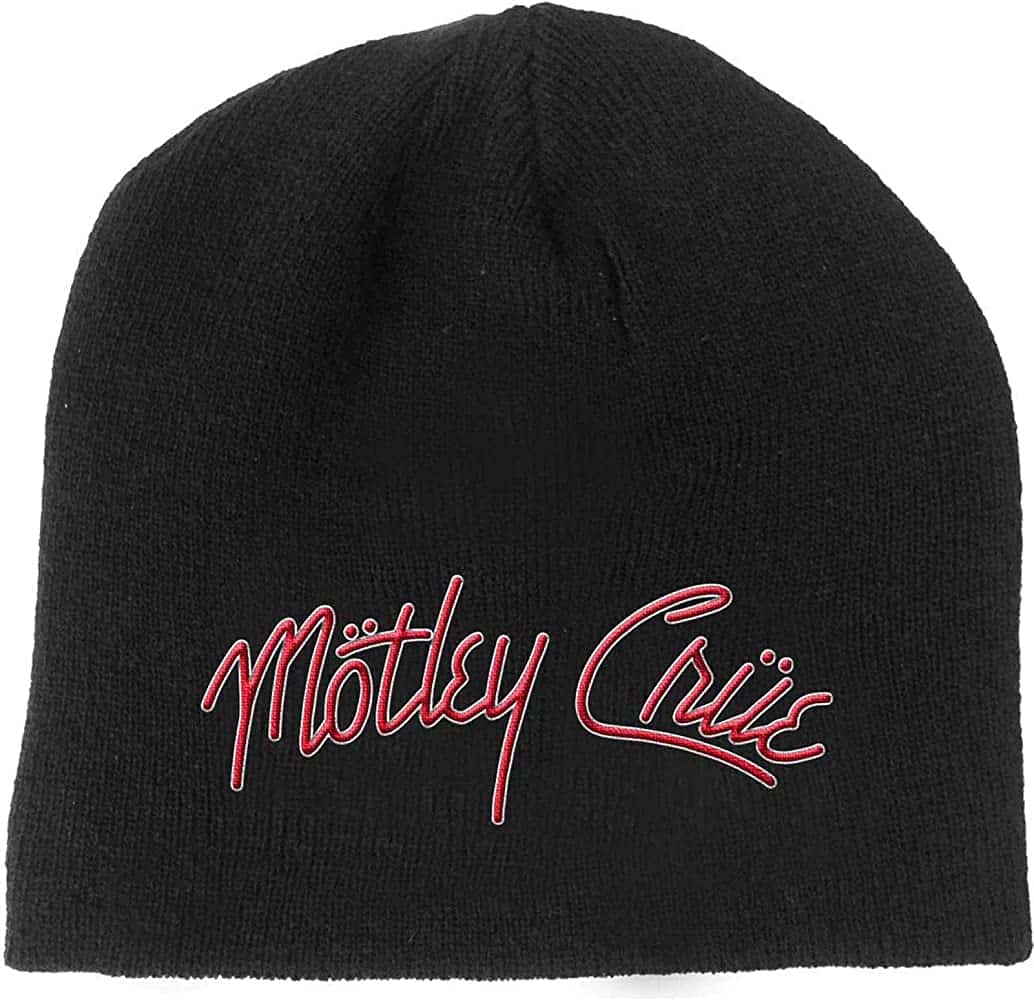 We're heading into the cold winter months, and you may be due for a new beanie. Beanies are a big trend now, and why buy a normal beanie when you can buy one from your favorite band? There are a few Motley Crue beanies, but I like the simplicity of this one. It's a black beanie with the logo in red, very simple but enough to express your musical tastes. This is a great beanie to buy yourself and makes a great gift.
There are some things about this beanie that I should note. The description says the logo is embroidered, but many customers complained that it actually isn't. At $20, the beanie is pretty expensive, though it's made cheaply and may not keep your head warm during the winter.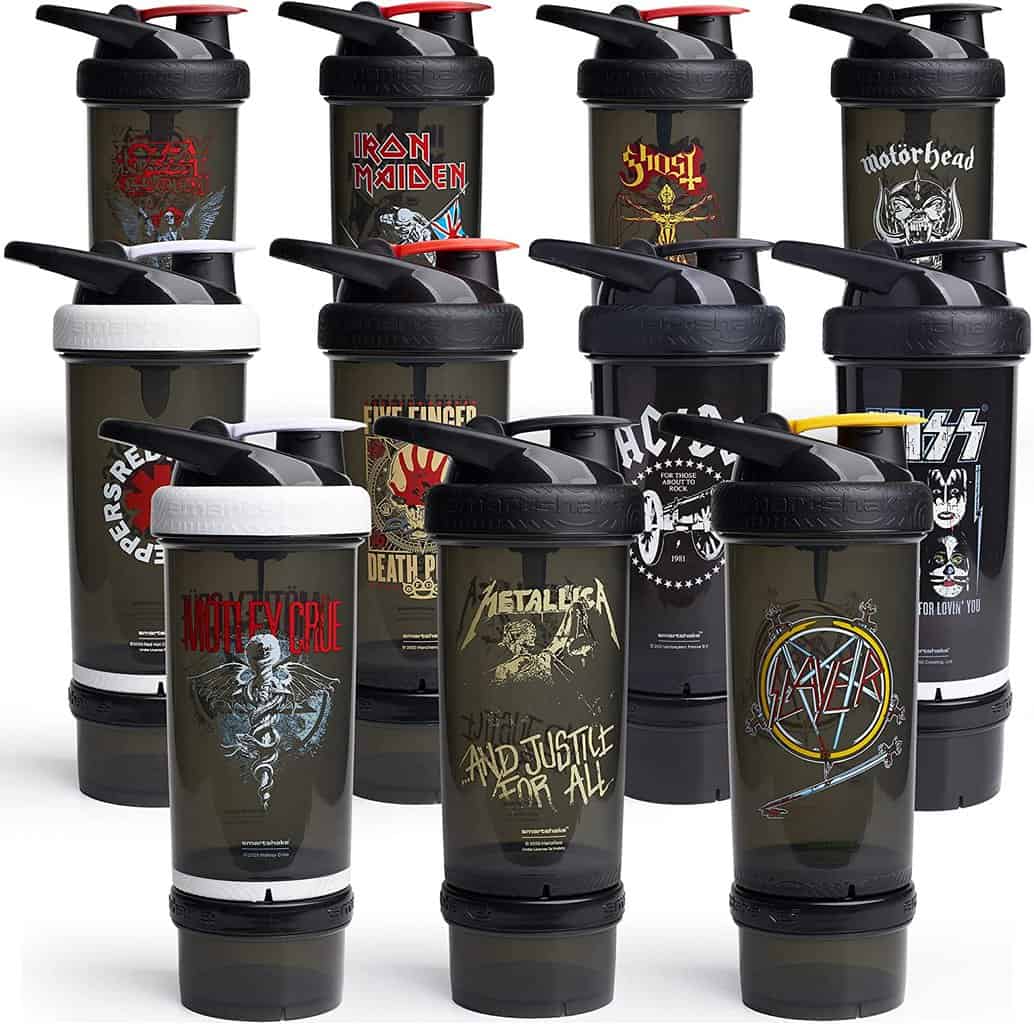 I have to admit, I have so many band shirts. I can't buy any more band shirts, but I still love supporting bands. That's why I'm always on the hunt for unique merch items.
When I found these bottles, I had to include them in this review. If you drink protein shakes or any type of nutrition drink, these cups mix the drink well.
I love exercising, but I don't drink protein shakes (I consume all of my nutrients in food form). I'm also reading that this is a good cup since it's leak-proof and easy to drink. But this cup is popular among those who do love mixing drinks since you can store protein powder in the bottom of the cup and mix it when you're ready. This cup is also dishwasher-friendly, so it's easy to clean. At $17, they're also not terribly expensive.
I just suggest mixing your drink at home. I'm reading complaints where customers got a faulty product. They tried mixing their drink at the gym, and the cup broke. If you mix the drink at home over your sink, you don't have to worry about making a big mess.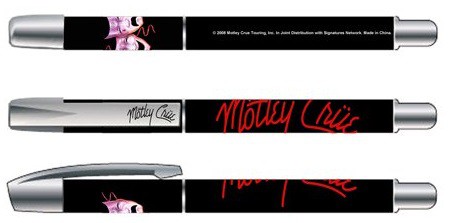 Even in the age of the internet, I always write things on paper. I always need pens, so I would get something like this. This pen is pretty expensive, $7. But the pen does feature the Motley Crue logo and the artwork for the Theatre of Pain album.
The ink is black, and it's a gel pen. Because it's a gel material, I'm reading the pen does leak a little bit, and it isn't the best for writing. I would only get this pen for the novelty. The ad also makes it look like you'll get three pens. Scroll down when reading the quantity, it just says one pen.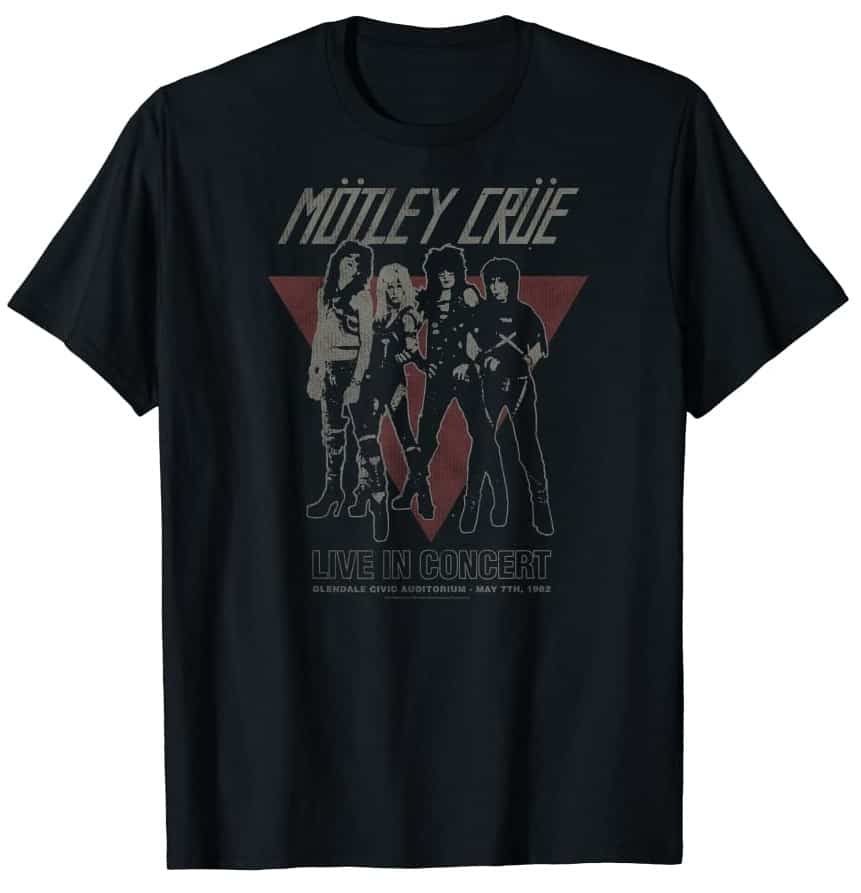 For this shirt, I'm saying it's vintage-style because it's not an actual vintage shirt from the concert, just a newer shirt that's designed to look vintage. Because it has that vintage look, the design fades easily. What I like about this shirt is the store gives you different size options; you can order this in men's, women's, youth, and plus sizes. This shirt does run a little small; in the pictures, you can find a size chart, so refer to that when choosing your size.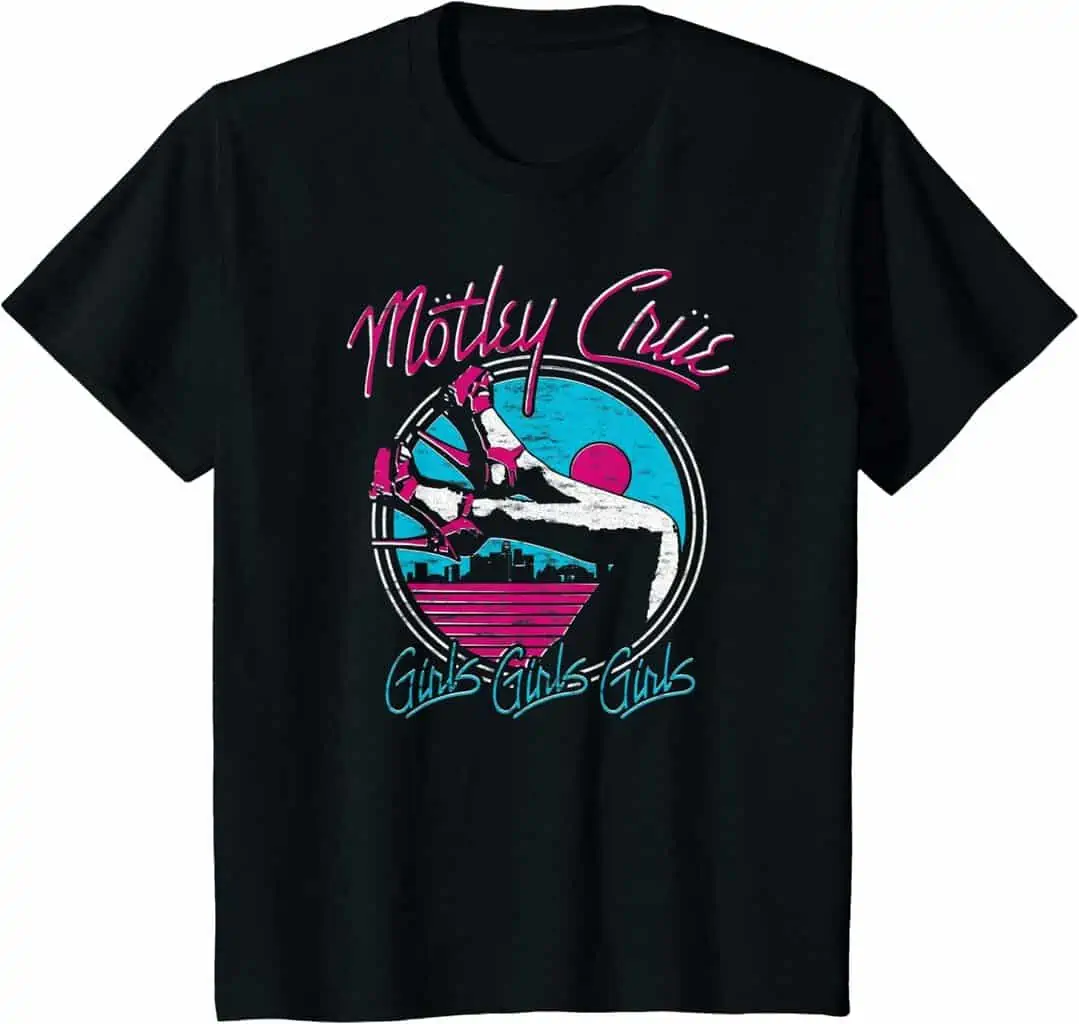 If the single "Girls, Girls, Girls" is your favorite Motley Crue song, I suggest getting this shirt. It's a black shirt with a retro image of a woman's high-heeled shoes. This is a great shirt for yourself or to give as a gift.
Like the other shirt, this one gives you the option to purchase the shirt in men's, women's, youth, and plus sizes. Unlike the other shirt, this one is sized large.
It's 100% cotton, with good-quality, durable, and thick cotton used for the shirt. I hate thin shirts, so this works for me. Because of the better quality material, you will pay a little more for this shirt ($25). But it's still cheaper than a shirt you will get at a Motley Crue show. The logo is a lot less bright than it looks in the picture; that works for me because I don't like bright shirts, but I know others may be dissatisfied with this.
FAQs
Question: Where did Motley Crue get its band name?
Answer: The term "motley crue" describes a group of mixed people with one common goal. But that's not what inspired the band to choose this name. The inspiration came from guitarist Mick Mars, who heard the term "a motley-looking crew" from an older band. The name stuck out, and he chose this band name when Motley Crue formed.
Question: Where did Motley Crue buy their stage clothes?
Answer: All of Motley Crue's stage clothes are custom-made, designed by Houston-based fashion designer Tod Waters.
Question: Does Motley Crue have a fan club?
Answer: Most bands have a fan club where they post the latest news and give members exclusive access to concert tickets, merch, and more. I can't find one for Motley Crue. However, they do have a mailing list. You can sign up for that on their website.
Bottom Line
Formed in 1981, Motley Crue released iconic songs such as "Girls, Girls, Girls," "Kickstart My Heart," and "Home Sweet Home." The band has attracted lots of controversies, mainly for the partying they did when they were younger. But they will always go down as legends in rock music.
As one of the biggest bands to emerge from the 80s, Motley Crue had a distinguishable image and artwork. Today, 80s metal and rock fans cherish the glory days by wearing merch for their favorite bands, including Motley Crue. You can mostly find Motley Crue shirts, my favorite being the Dr. Feelgood logo shirt. But you can also find different memorabilia, from beanies all the way to pens.
Looking for more interesting readings? Check out: