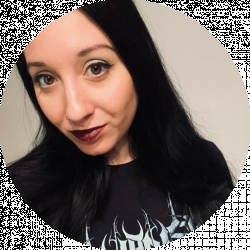 Latest posts by Stephanie Jensen
(see all)
As I write this, I'm only a few days away from the best holiday ever. Halloween! I already have my costume picked out and even dressed up already. But we all have busy lives and other priorities, so you may not even know what to dress up as.
Here's an idea you may never have thought of — dressing up as your favorite rockstar! The costume is easier than you think, and you may already have some items you can use. I particularly love Motley Crue costumes, especially since that band had some crazy stage clothes.
Are you looking for some Motley Crue costume inspiration? Here are my favorite picks and some essential items you'll need for your costume.
Bottom Line Up Front
I like the couple's Motley Crue costume the best. I like the idea of a couple's Motley Crue costume, but these two went above expectations to look exactly like the band members. She was a good Vince Neil, and he pulled off Mick Mars, even carrying around a guitar. From the leather pants to the bandanas, their outfits were accurate to the band's stage outfits.
Items You Need for a Motley Crue Costume
Before rushing to Instagram and Pinterest to find the best Motley Crue costume ideas, I will mention some integral items you'll need for your costume. You may already have some of these items in your closet!
Costume Shirt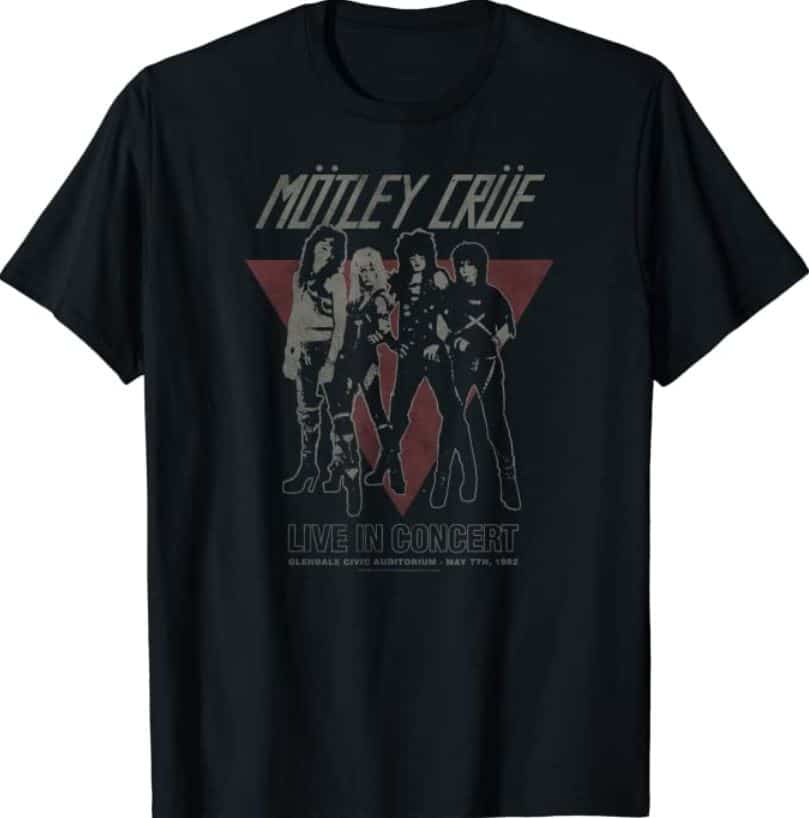 You have a couple of shirt options for your costume. I see some people wearing Motley Crue shirts to show others who they are for Halloween. But if your costume looks accurate to the band, you'll want to wear a costume shirt. Denim vests, leather shirts, and anything black will work.
Platform Boots
If you want an accurate Motley Crue costume, get ready to take out those platform boots. The members of Motley Crue often wore platform and heeled boots with studs and spikes on them. The boots were mainly black, though I saw some pictures where they were wearing white boots. You can get away with flat or combat boots if you don't want heel or platform boots. Even black sneakers could work if you want a casual Motley Crue costume.
Leather Pants
Like many rockstars, Motley Crue wore leather pants. If not real leather, faux leather alternatives will work for your costume. You can even choose black jeans or slacks. I also saw some members rocking red leather pants. But your pants have to be long — Motley Crue rarely wore shorts.
Fake Instrument
If you're dressing up as a specific member, find a fake instrument that complements what they played. For example, find a fake bass guitar if you're dressing up as Nikki Sixx. If you're dressing up as Tommy Lee, walk around with a pair of drumsticks. This will make your costume more realistic.
How I Chose These Looks
More goes into a Motley Crue Halloween costume than the items I mentioned earlier. Some people may want to dress up exactly like the members, while others just want a casual and fun costume representing their favorite band. I included ideas for both of them and paid particular attention to creative details.
Authenticity
Your Motley Crue Halloween costume doesn't have to be completely authentic, but I did prioritize the costumes that took it a step further. Some got the hair right, nailed the costumes, and added realistic details are the ones that I prioritized. Again, don't fret if your costume doesn't look exactly like the Motley Crue members. You can always use those costumes as inspiration.
Casual
I understand that authentic Halloween costumes are difficult to achieve, especially if you're short on time. I wanted to find some good casual costumes that you can whip up at the last minute. Even a generic 80s costume with a wig and a Motley Crue shirt will work. I also saw some interesting Motley Crue couple costumes on Instagram!
Creativity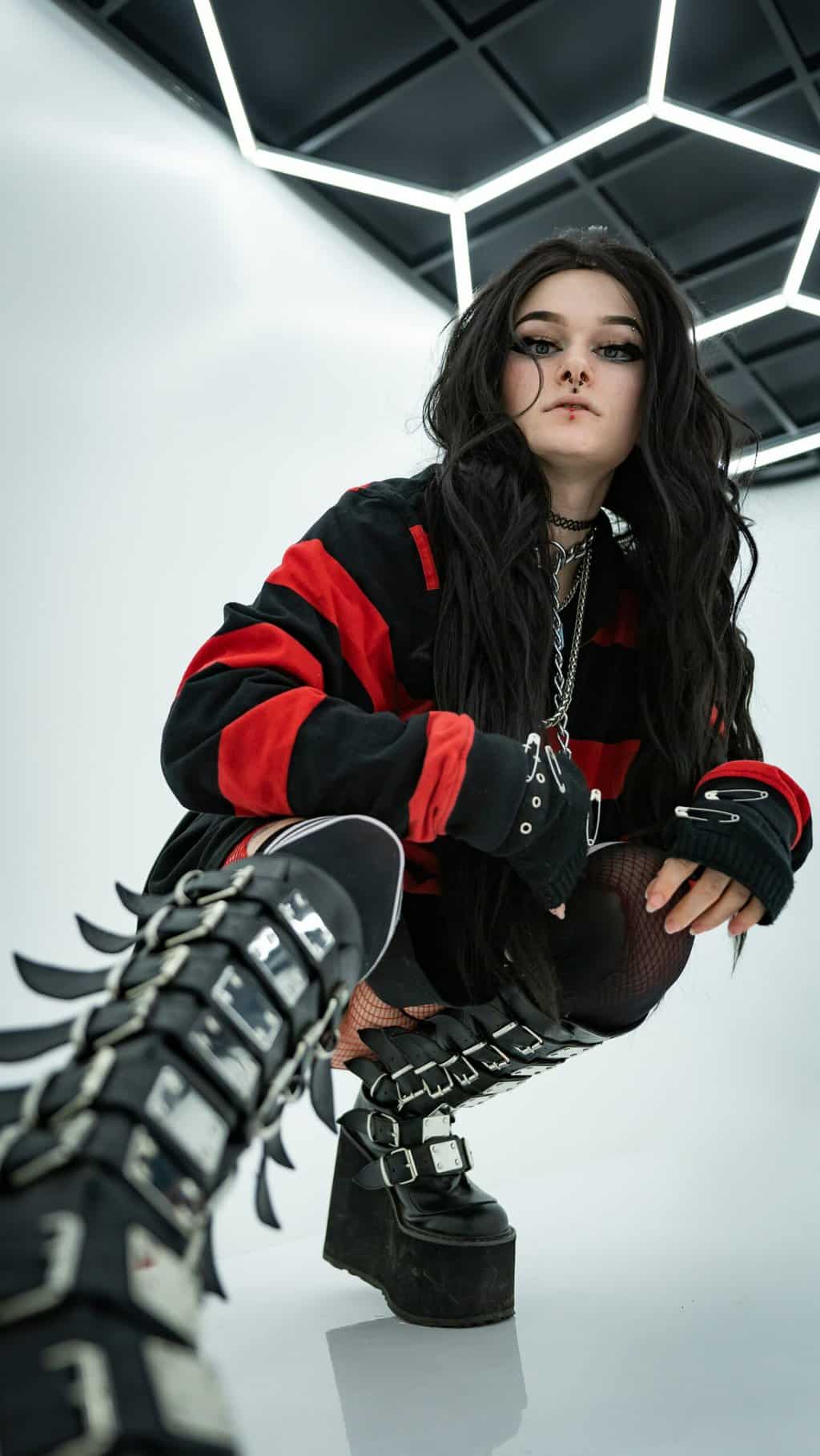 In my search, I saw a lot of creative details that I loved. A studded guitar strap, bananas, spikes all over the costume, and lots and lots of leather. I also considered some costumes portraying the Motley Crue members now, not just from back in the 80s. For example, I love modern Nikki Sixx costumes more than those representing him from the 80s.
Other Details
There's so much you can do with a Motley Crue costume. You can carry around Motley Crue picks, find the exact make and model of the instruments they use, draw their exact tattoos on your arms, and even grow out or cut your hair to look exactly like the band members (instead of wearing a wig). I love when people think outside the box with their Halloween costumes, so I favored those that did that with their Motley Crue costumes.
Best Motley Crue Costume Ideas
Are you ready to Shout at the Devil? If so, check out these awesome Motley Crue costume ideas!
I will recommend a few couples' and friends' costumes, but I like this one the best. I like how she's dressed up as Vince Neil, and he's dressed up as Mick Mars — he's even holding a guitar. Their outfits are pretty accurate, with the leather, bandanas, and pentagrams. Credit: @ksommers27.
When we see Motley Crue, we think of their crazy antics and wild stage show. But what about when the band was, well, drinking? This guy is dressed up as Vince Neil, even rocking leather pants and a bandana. He's just relaxing with a bottle of Jack in his hand. Why represent the band playing live shows when you can dress up like the backstage party? He even tagged the famous Whiskey A-Go-Go in his post. Credit: @mcgrathconnor94.
Do you want to dress up with a group of friends? With four members of Motley Crue, you and at least three other friends can represent the iconic band. That's what this group of friends did. There's one Vince Neil, Mick Mars, and Nikki Sixx. As they prove, all you need is some leather, studs, wigs, and crazy makeup to pull off this Motley Crue look. Credit: @hiho_chicken.
Here's a group of four friends dressed up as the entire band. I appreciate how they're even holding guitars and bass guitars here. The best part about dressing like Motley Crue is they looked androgynous, so women can pull off the Motley Crue look — as we can see with the woman dressed up as Vince Neil. Credit: @realitysuite.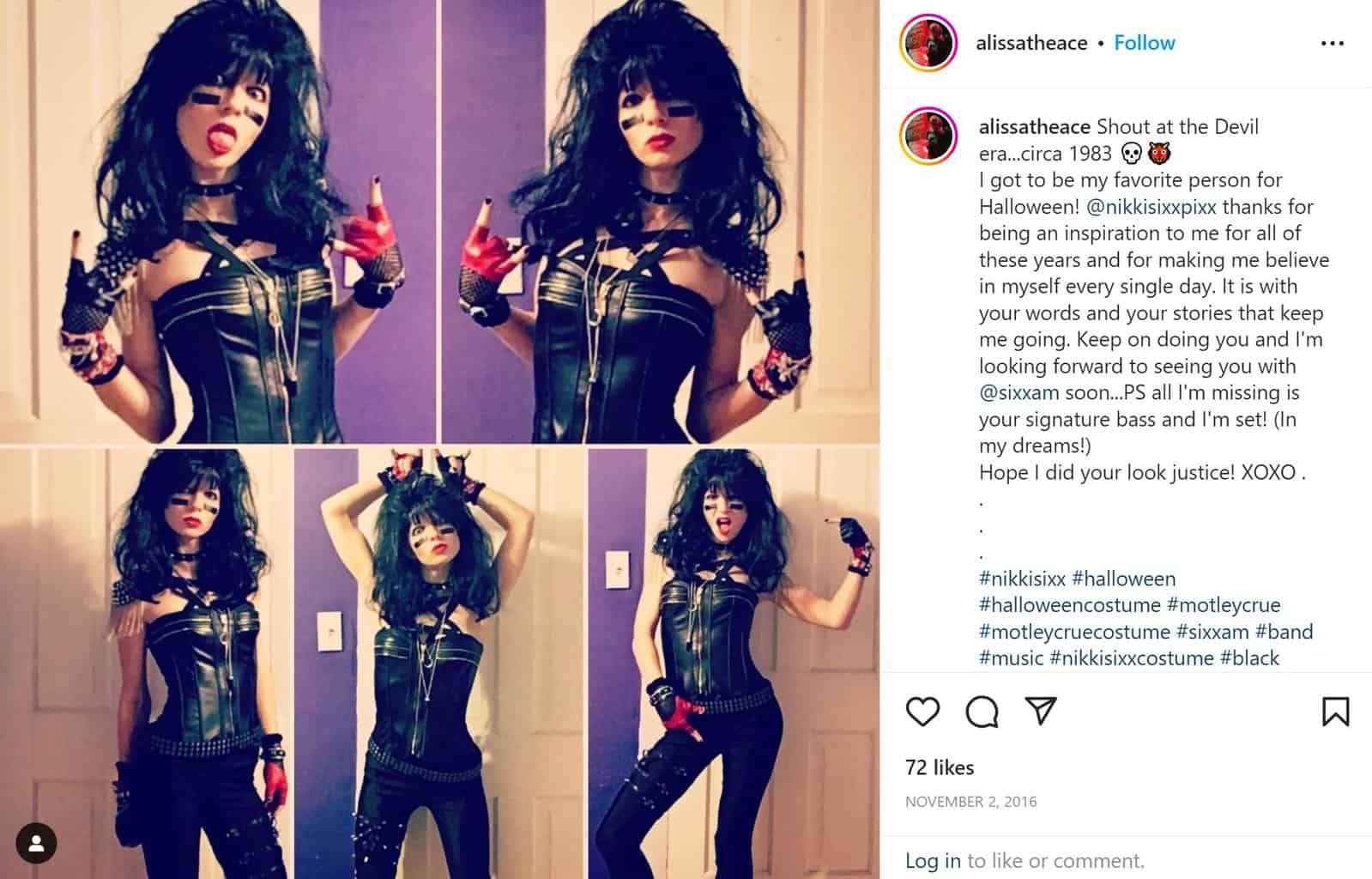 As stated previously, those of all genders can pull off a Motley Crue costume. I especially love how she looks great in her corset and leather pants. She even has the makeup and hair on point. In the description, she says she's a big Nikki Sixx fan, and he was the inspiration for her costume. Credit: @alissatheace.
You don't have to dress up like the 80s version of the band. You can dress up like 90s-era Tommy Lee (I will cover that more later) and the modern version of the guys. I think Nikki Sixx has the best look, and this costume conveys him perfectly. The short, spikey hair with the bandana, the leopard print coat, and the facial hair (it looks like she drew it on) look like modern Nikki Sixx. Credit: @drakabaneisin.
Of course, you can't help but love 80s-era Nikki Sixx. This is a classic costume; she has the outfit, wig, accessories, boots, and a whole bunch of studs all over her outfit. With a costume as accurate as this one, it looks like she can cosplay as the Motley Crue bassist at any con. Credit: @briannapaintsonthings.
He says he's dressed up as Nikki Sixx, but it looks like he's holding a guitar, so he may technically be Mick Mars (I honestly can't tell). Either way, he said in the description that he had to work on Halloween, so this proves that you can throw an outfit like this at the last minute, grab an instrument, and say you're a member of Motley Crue for Halloween. Credit: @calebb23.
You can easily dress up as Vince Neil if you have long blonde hair. As this woman did, all you need is a bandana, gloves, and a black shirt. I also love how she put on some temporary tattoos. Bonus points if you find some tattoos that look like those of Vince Neil! Credit: @jazzercisesandy.
This is actually a picture of Machine Gun Kelly and Megan Fox dressing up as the iconic couple. This is a pretty simple costume to pull off. For Tommy Lee, the guy just needs short, dark hair, a wife beater, and some jeans. Bonus points if you stick on temporary tattoos or get a sleeve (assuming you don't already have tattoos). For Pamela Anderson, you just need a blonde wig, a nice dress, and…well, I won't say what else you need. Credit: @clevelanddotcom.
This is an alternative to the Tommy Lee and Pamela Anderson costumes. Tommy Lee looks the same, but I like how she made Pamela Anderson more of a rocker babe with the leather tank top and black pants. I also like this idea if you don't want it to be too obvious who you're dressing up as because the costume is controversial. Credit: @_alexissanfilippo.
Want to avoid the controversy of a Pam and Tommy costume? Choose classic 80s, Tommy Lee. She pulls off the perfect costume with leather pants, her pentagram shirt (I can't figure out the writing), platform boots, and many studs. I also love how she's holding a drumstick. Credit: @rosephoenixx.
Who said you and your friends only have to dress up as members of Motley Crue? Why not bring some other notable musicians from the 80s? The boy on the right is obviously Tommy Lee, but the boy on the left is no other than Dee Snider from Twisted Sister! Dee Snider would also be a good costume, with her curly blonde hair and crazy makeup. Credit: @billbruford.
Last but not least, here's one more Nikki Sixx costume. The model's name is Micki, and she calls herself Micki Sixx. I think that's precious! The only problem is her costume isn't totally accurate. I never saw Nikki Sixx wear plaid, and that's not a bass she's holding. Credit: @ms_micki_style.
FAQs
Question: I don't want to dress up like Motley Crue. What are some other similar ideas?
Answer: Motley Crue wasn't the only popular metal band. I suggested a Dee Snider costume in another section. Other suggestions include members of Poison, Whitesnake, Guns n' Roses, Kiss, Black Sabbath, Queen, and W.A.S.P. You can also dress as members of other metal bands, such as Slayer, Metallica, Megadeth, Slipknot, Rob Zombie, Ghost, Abbath, King Diamond, and so many more.
If you want to keep the 80s vibe but don't want to dress up as a musician, consider other icons from the era, such as Rambo, Richard Simmons, Back to the Future, Breakfast Club, and Ghostbusters. Don't forget about classic horror films! Friday the 13th, Halloween, Carrie, Ghostface, Freddie Krueger, Hellraiser, The Shining, Alien, Predator, It, Jigsaw, The Addams Family, Beetlejuice, Elvira, Chucky, the list goes on.
Question: I want to dress up like Motley Crue, but the Halloween party is hosted by my school/work. How can I make my Motley Crue costume appropriate?
Answer: Good question! You can still pull off the leather, most accessories, and the wig. Avoid wearing clothing and accessories with pentagrams, sexually suggestive items, or anything else that would go against your school or work dress code.
Question: I want to dress like a rockstar every day, not just during Halloween. How do I pull off the look?
Answer: The rock/metal/goth look is my favorite! First, keep black and dark colors in your closet at all times. Some prints, such as plaid, also work with the goth style. You should also keep your jeans dark and have at least one pair of black jeans on you.
Bottom Line
I love the first couple's Motley Crue costume. Since there are four band members, you can get more than one person in the costume. Since the Pam and Tommy costume is controversial, I recommend dressing as band members.
She made a great Vince Neil, and he pulled off Mick Mars well. Their outfit is a little more accurate to the band's live performance, so you may have to purchase new clothes and boots for the costume. To make it obvious who you're dressing as, do what he did and carry a guitar, bass, or drumstick. If you don't want to bring a real instrument, you can always bring a fake one.
Looking for more interesting readings? Check out: