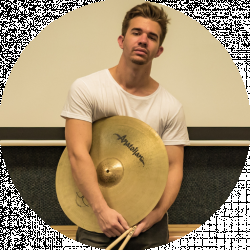 Latest posts by Brett Clur
(see all)
Mötley Crüe was one of the most chaotic bands to come out of the 80s. They were the kind of band my parents told me not to listen to or watch when I was a kid, but my dad started showing me their music and style as I got older and was ready to hear it.
Like most bands of the time, each member of the group was just as loved as the other. Their musicianship and crazy antics made them loved by many, and glam metal was a style that brought pop elements to rock music.
If you love Mötley Crüe, you may want to wear some band merch. I've picked out 15 T-shirts for this list, and all of them are fantastic.
Bottom Line Up Front
Out of all my picks for this list, the 40 Years Vintage Portrait Tee is my favorite. Mötley Crüe is one of the few bands in the world that still has all the members that started the group in the 1980s. This shirt celebrates each band member and shows off the fact that the band has been going for four decades.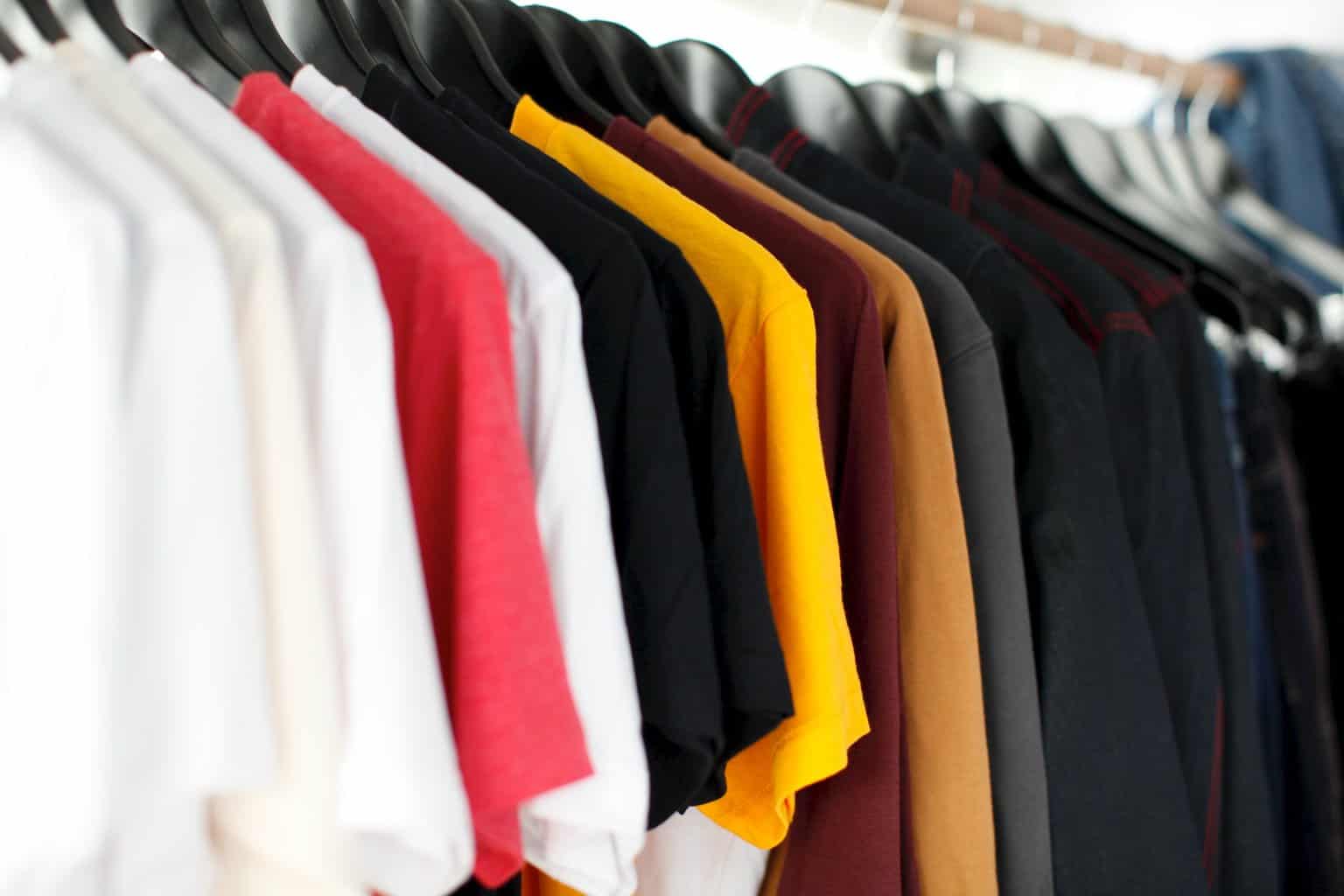 All the shirts I've mentioned on this list can be purchased from Mötley Crüe's official merch store. All the materials used are high-quality, and every shirt has varying size options.
My Top Picks at a Glance
Selection Criteria
I've selected all the shirts below to offer a wide variety of design options. Some of the tees are tributes to live shows that the band played, while others have album cover art printed on the front.
Most of them are unisex, but some are purely designed for women. They're all made from high-quality materials that ensure the tees last long and survive hundreds of washes.
I've also selected shirts at varying prices. The long sleeve tees are more expensive, while the standard tees have prices that depend on their design and style.
The Best Mötley Crüe Shirts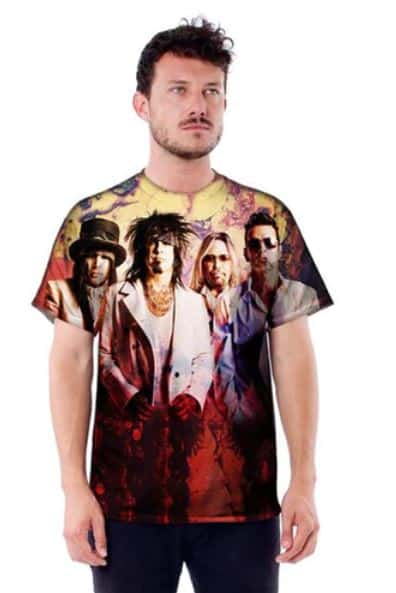 2015 was a massive year for Mötley Crüe. They went on their final tour as a band, officially ending their stint of being a full-time group. This shirt was designed to celebrate that, and it has high-quality live photos of each band member.
It was made using dye sublimation, which causes the colors to be incredibly striking and bright. If you've been a fan of Mötley Crüe since they started, this tee will be very special to you.
I can't see everyone loving it, though, as I know many would prefer to wear a tee that has pictures of the band in their younger days.
There's also talk that the band will do another tour in the coming years, but I don't think that discounts the epicness of this tee.
Pros
Dye sublimation process makes the shirt look very striking
Celebrates the band's final tour
Good option for lifelong fans of Mötley Crüe
Cons
Many people may prefer shirts with younger pictures of the band members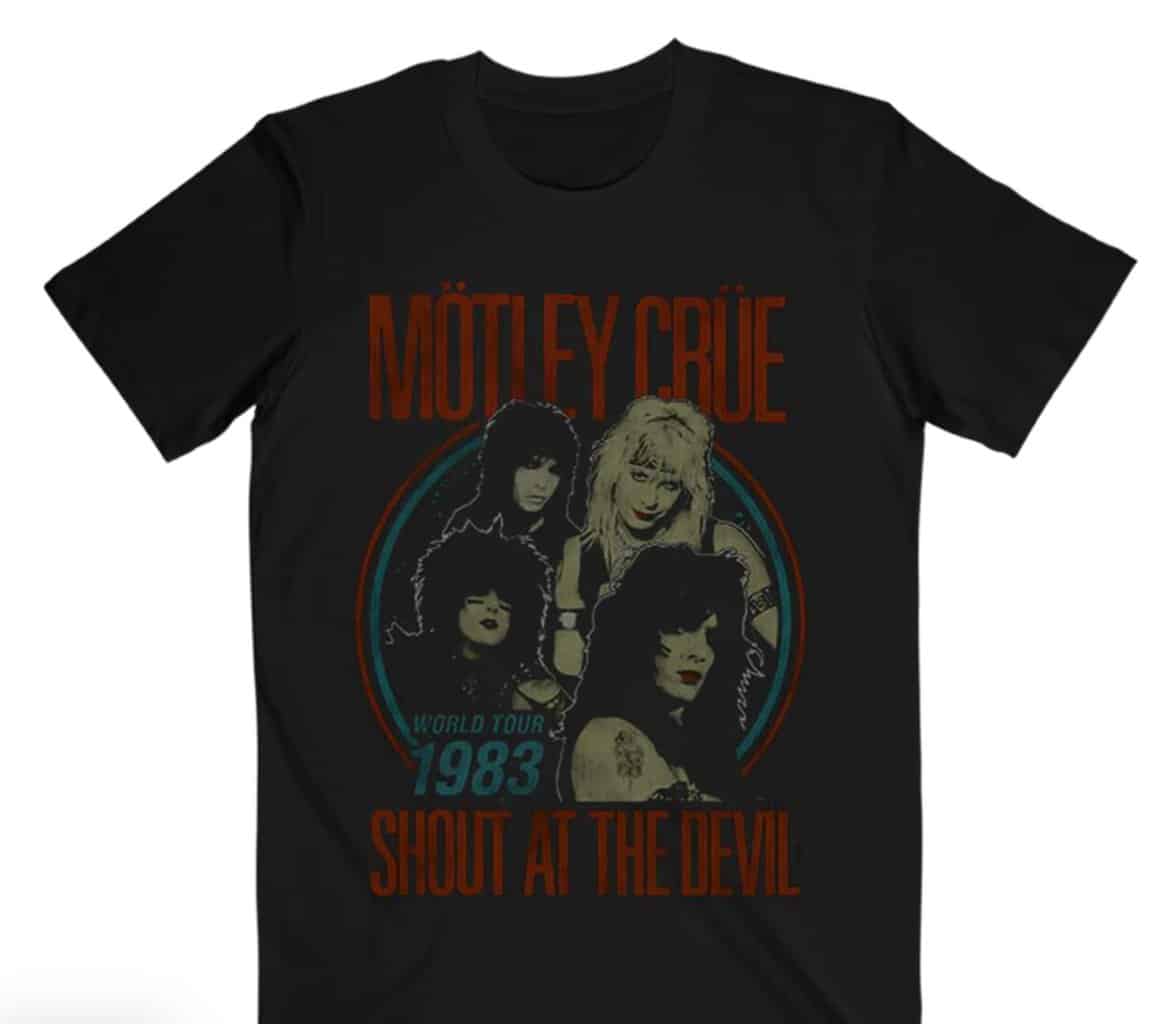 Shout at the Devil was the album that boosted Mötley Crüe's popularity around the world. It was the record that established them as one of the top metal bands of their time. They toured the songs from the album around the world and gained new fans everywhere they went.
It was on this tour that their unruly antics were brought to the spotlight. The 1983 tour was when famous musicians like Malcolm Young and Eddie Van Halen decided they wanted nothing to do with Mötley Crüe.
You can almost see by the images on this shirt how mischievous they all were. It's a great tee for fans who love that side of them.
The shirt has an incredibly comfortable fit, and it tends to look good on both men and women.
Pros
Unisex fit
Tribute to the famous 1983 world tour
Made with preshrunk cotton
Cons
No different color options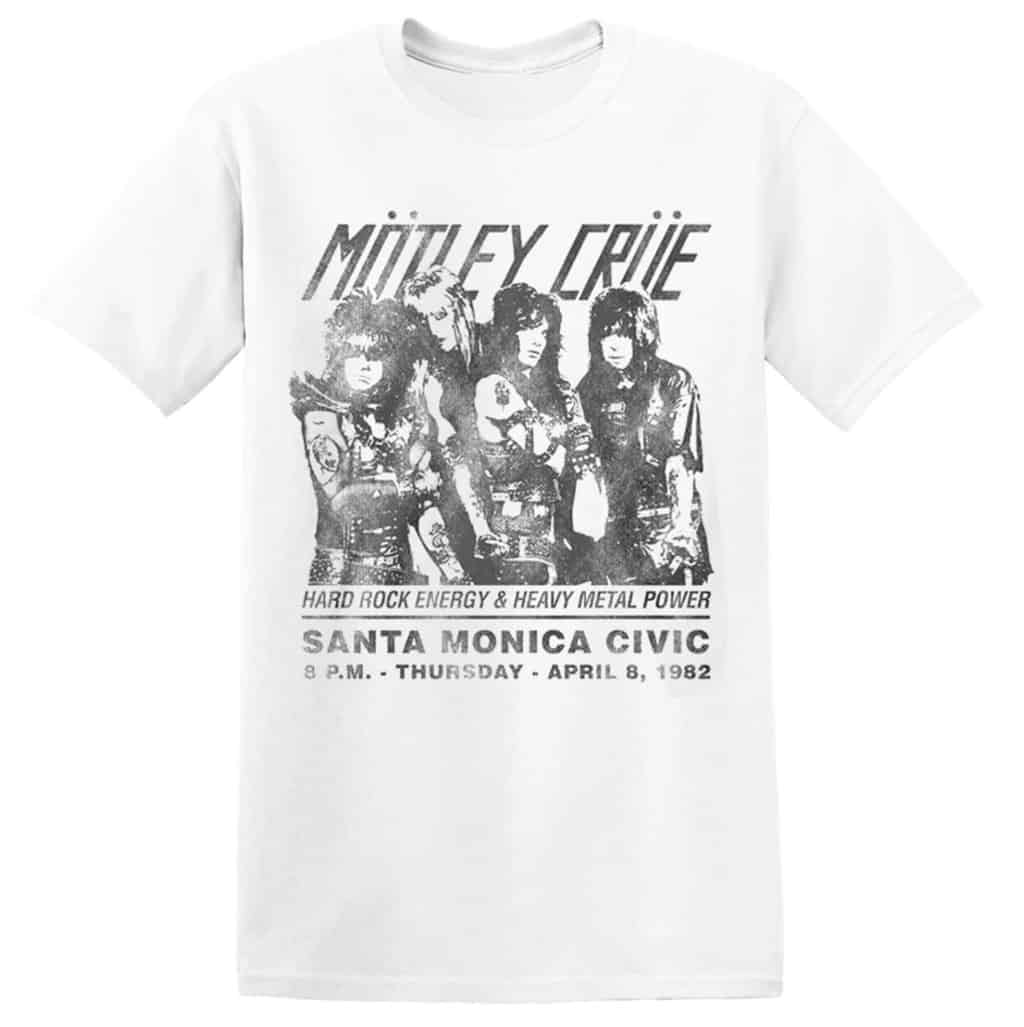 My favorite band shirts are the ones that highlight a specific gig that a band played. Even if you weren't at that gig, they make you feel part of the fanbase when wearing them.
This particular shirt is a callback to a gig that Mötley Crüe played at the Santa Monica Civic Center in 1982. All the band members are dressed up in their rockstar outfits, giving the tee a good bit of excitement.
The graphic is in black and white, and it's put onto a plain white tee. It's a bit plain, but it's perfect for people who don't want any bright colors when wearing a band shirt.
Pros
References a certain gig, which I think is awesome
Comfortable unisex fit
Has a great picture of the band in their classic performing outfits
Cons
May be a bit plain for some people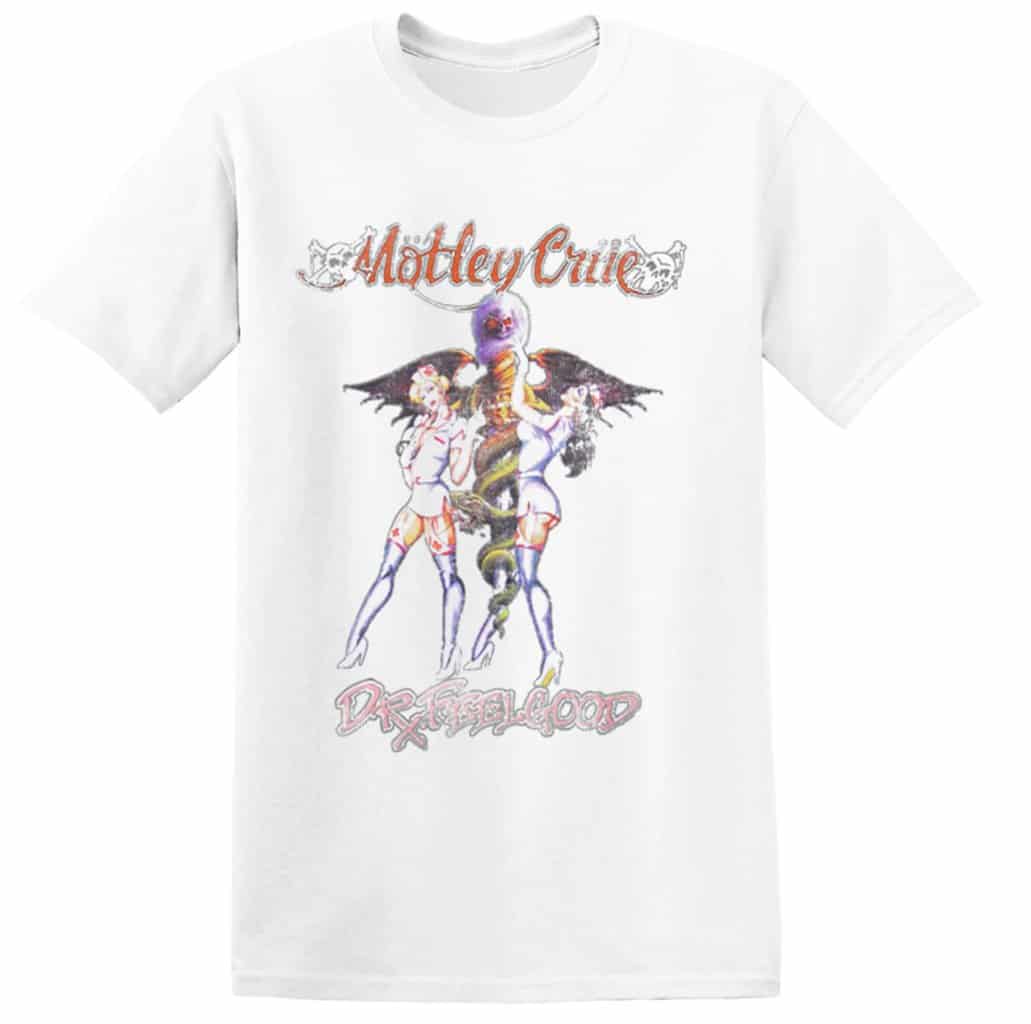 Dr. Feelgood was Mötley Crüe's top-selling album. It was the only time that the band topped a few charts, making it their biggest success. So, the album art is very special in the Mötley Crüe fandom, making this a must-have T-shirt.
The tee is plain white, and it has the Dr. Feelgood logo printed on the front. There's a bit of artistic license here, with the graphic being sketched and having two women added on either side of the logo.
There's an impressive number of size options with this tee, and the standard fit is suitable for most people. It's a solid option if you're looking for a classic Mötley shirt.
Pros
Inspired by Mötley Crüe's most successful album
Large variety of size options
Comfortable fit
Cons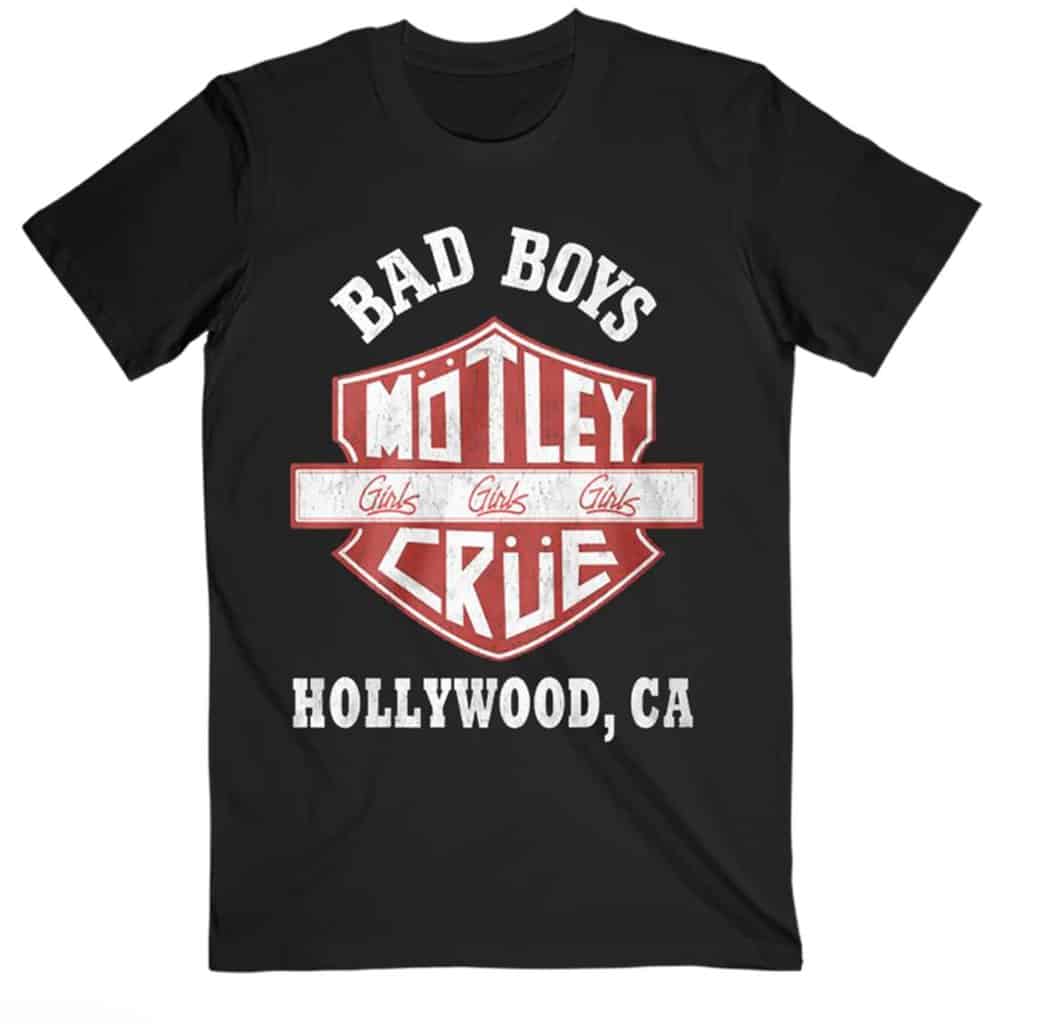 The Mötley Crüe members were the embodiment of the term "bad boys" in the 80s. This shirt is a minor representation of that. The gang were commonly known as "the bad boys of Hollywood," hence the location being written on the tee as well.
This T-shirt is a lot more subtle than the others, making it something that you can wear on many occasions. Its versatility makes it more attractive for people not wanting shirts with vivid graphics.
However, its plain design doesn't make it the most exciting option to wear to a rock gig. Keep that in mind when choosing your reasons for buying it.
Pros
Comfortable fit
Versatile T-shirt option
Several size options
Cons
Not too exciting to wear to a rock gig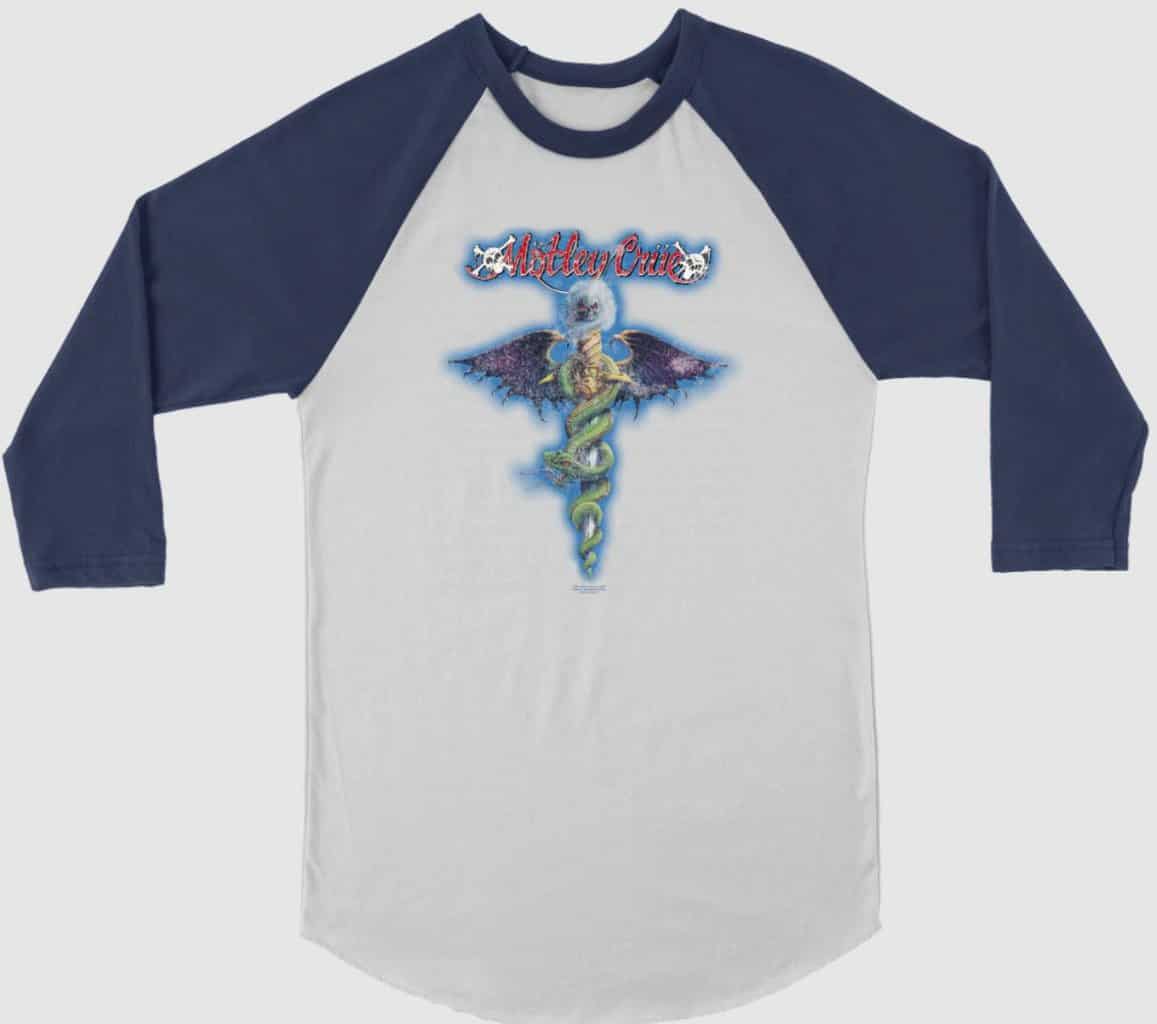 Here's another shirt that has the album artwork of Dr. Feelgood printed on the front. The drawcard here is that this shirt has a raglan design with long sleeves. You have the option of getting black or navy sleeves, which I think is really cool.
This is an ideal tee to wear in slightly colder locations. The sleeves are thick enough to keep you warm, but they're not going to make you feel like melting when getting energetic at a concert.
I love typical white and black raglan shirts, so having this one be Mötley Crüe themed makes it an enticing buy. Just note that it's a fair bit more expensive than most of the other shirts on this list.
Pros
Raglan design
Good option for colder weather
You can choose between black or navy sleeves
Cons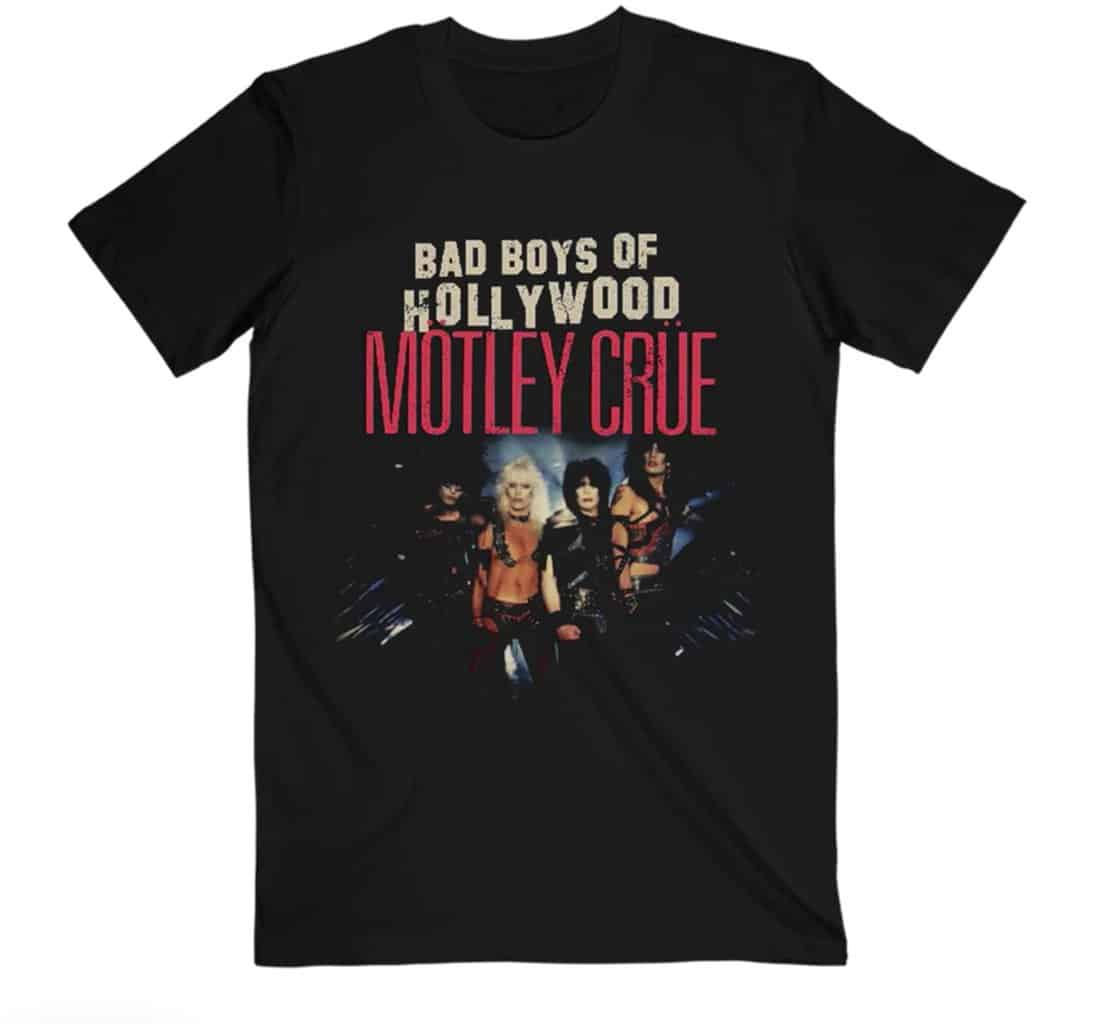 Here's another shirt reflecting the nature of Mötley Crüe's band members. This one is a lot more vivid and exciting than the last one. That could be a good or bad thing, depending on who's wearing it.
I never get tired of seeing live photos of the Crüe members from the 80s. They had such a chaotic appearance, and most people associate 80s rock bands with it.
This is the perfect shirt to spark a conversation with people. When someone asks you why they have that name, you can tell them how they were prone to biting members of other famous rock bands.
Pros
More affordable than most other options on this list
Live photo of the band
Large list of size options
Cons
I wish the graphic was slightly larger on the tee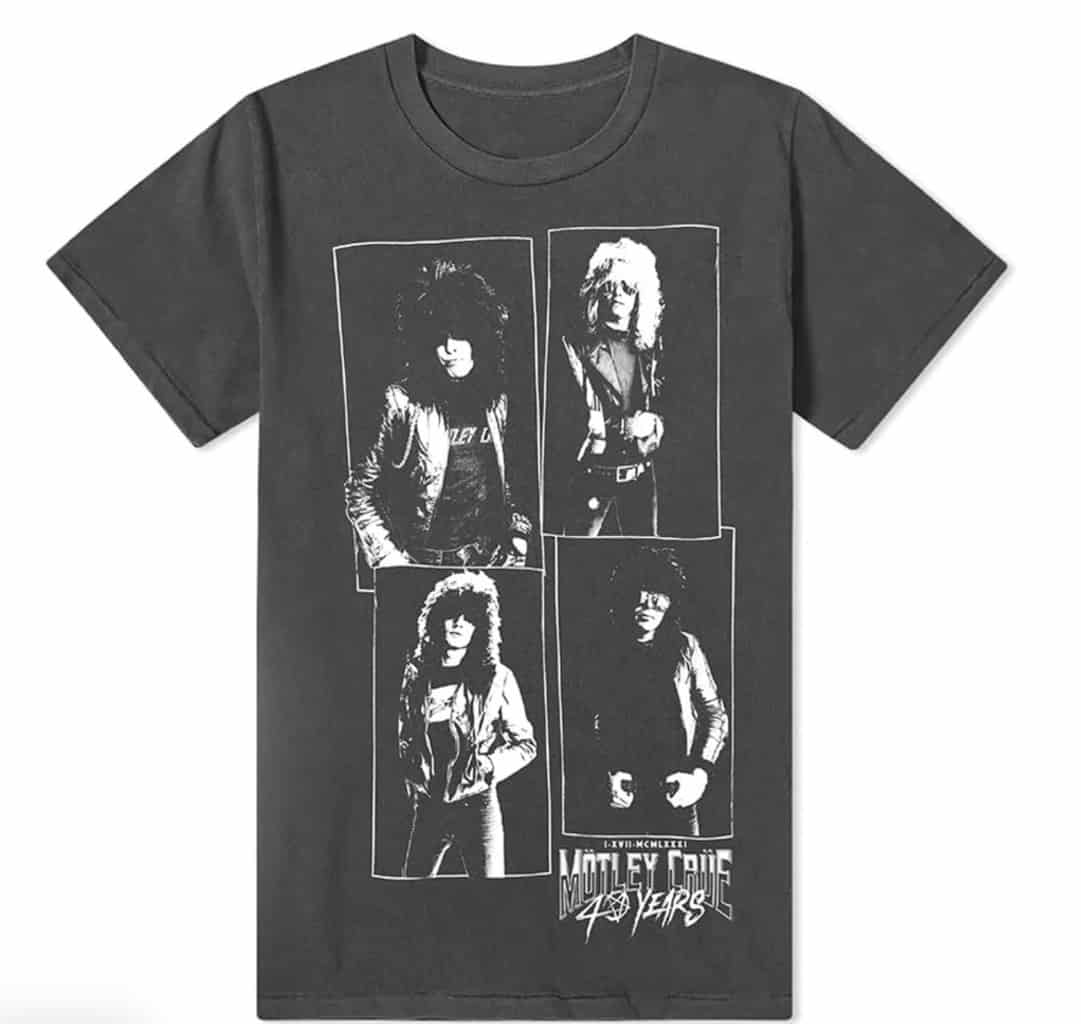 This shirt is my top pick for this list. I'd suggest getting this tee over any of the others if you're struggling to choose one. Mötley Crüe is one of the few bands in the world that have been going for 40 years, and they still have all the original band members ready to take the stage.
The shirt celebrates that fact and has funky portrait pictures of Tommy Lee, Mick Mars, Vince Neil, and Nikki Sixx on the front.
I love this shirt for the nostalgia it carries, but I also love that it's made from American-grown ring-spun cotton. This makes it feel higher-quality than all the other tees I've mentioned so far.
Pros
Celebration of the band's long history
Made from high-quality ring-spun cotton
Limited edition
Cons
Expensive
Some size options aren't available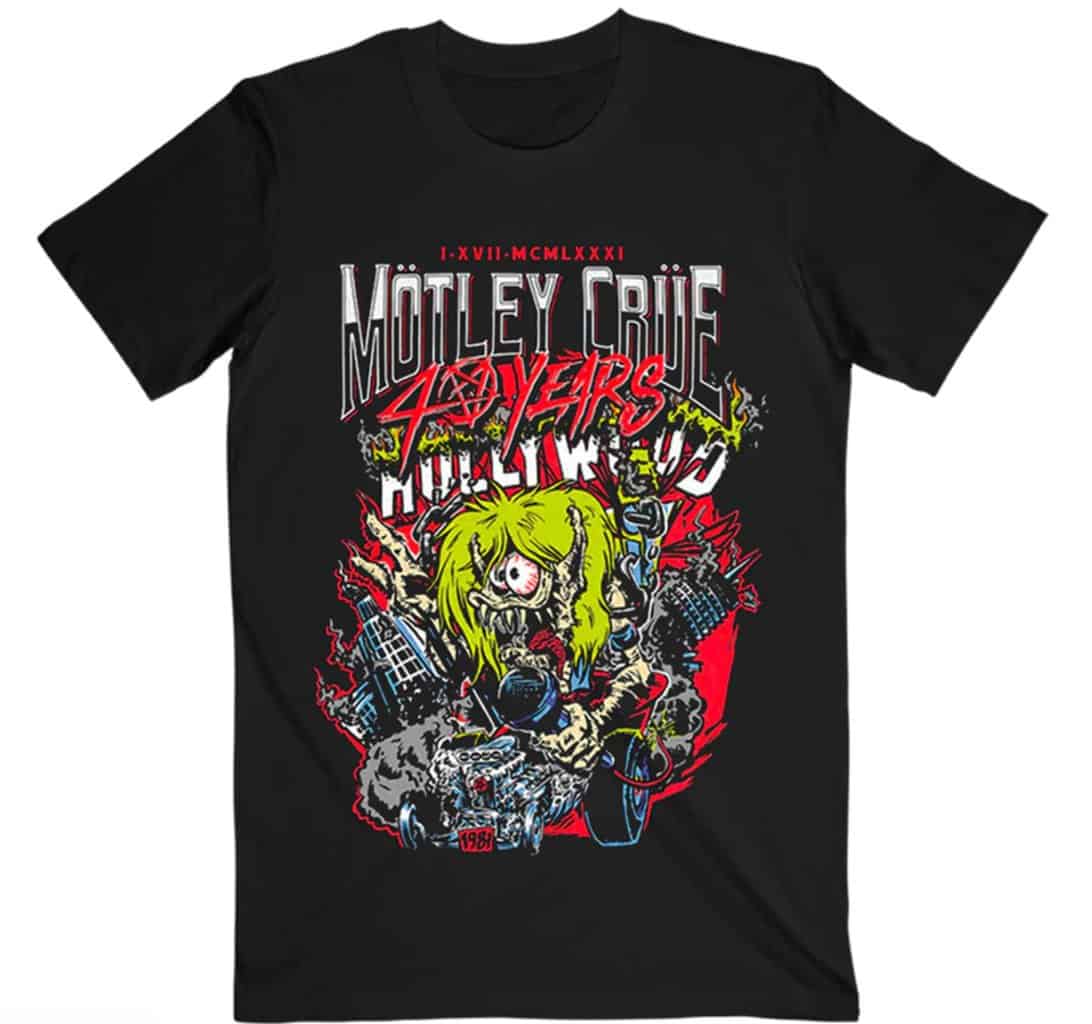 Here's another slightly unconventional t-shirt option. It has a graphic of a creature that strongly resembles Vince Neil. It's all in the hair, as he's the only blonde member of the band. The creature is holding a microphone and looks to be on its way to cause some havoc. Classic Vince.
The shirt also has the band's name on it, and it has the 40-year text that many new band shirts have been given. If you want something a bit different, this is a good shirt to consider. I've played a few gigs with people who adore weird and artistic tees like this one.
Pros
The graphic puts focus on Vince Neil
Has the same chaotic energy that the band has
Cons
You can't get the shirt in an XL size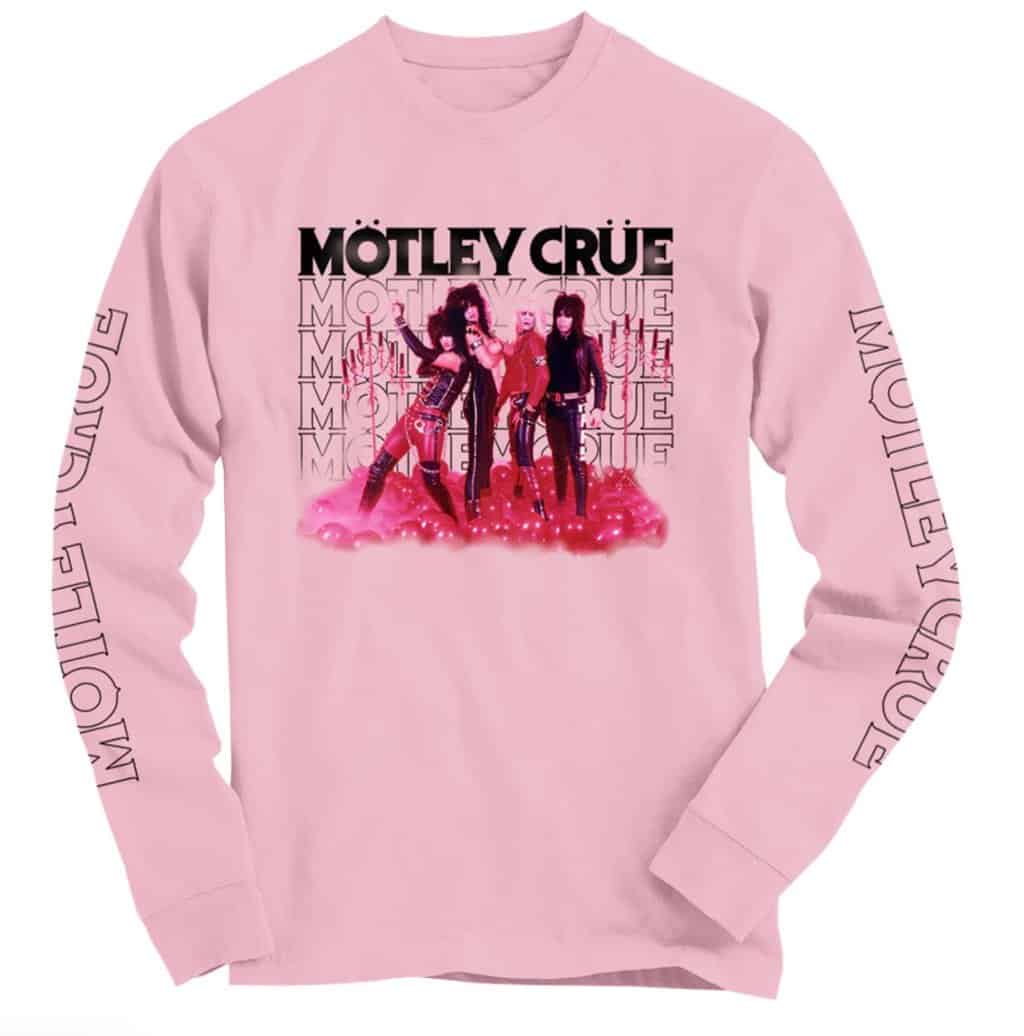 While this next tee has a unisex design, I'd say it's a better option for women. It has a bright pink color, and the graphic includes a picture of Mötley Crüe standing amongst dozens of pink balloons.
It's also a long sleeve, but this one is a lot warmer than the raglan one from earlier. So, it's fit to take on very cold weather.
I love the design of the band name being written multiple times on the front and on the arms. There's something very aesthetically pleasing about it.
Pros
Great option for women
Good choice for cold weather
Incredible design
Cons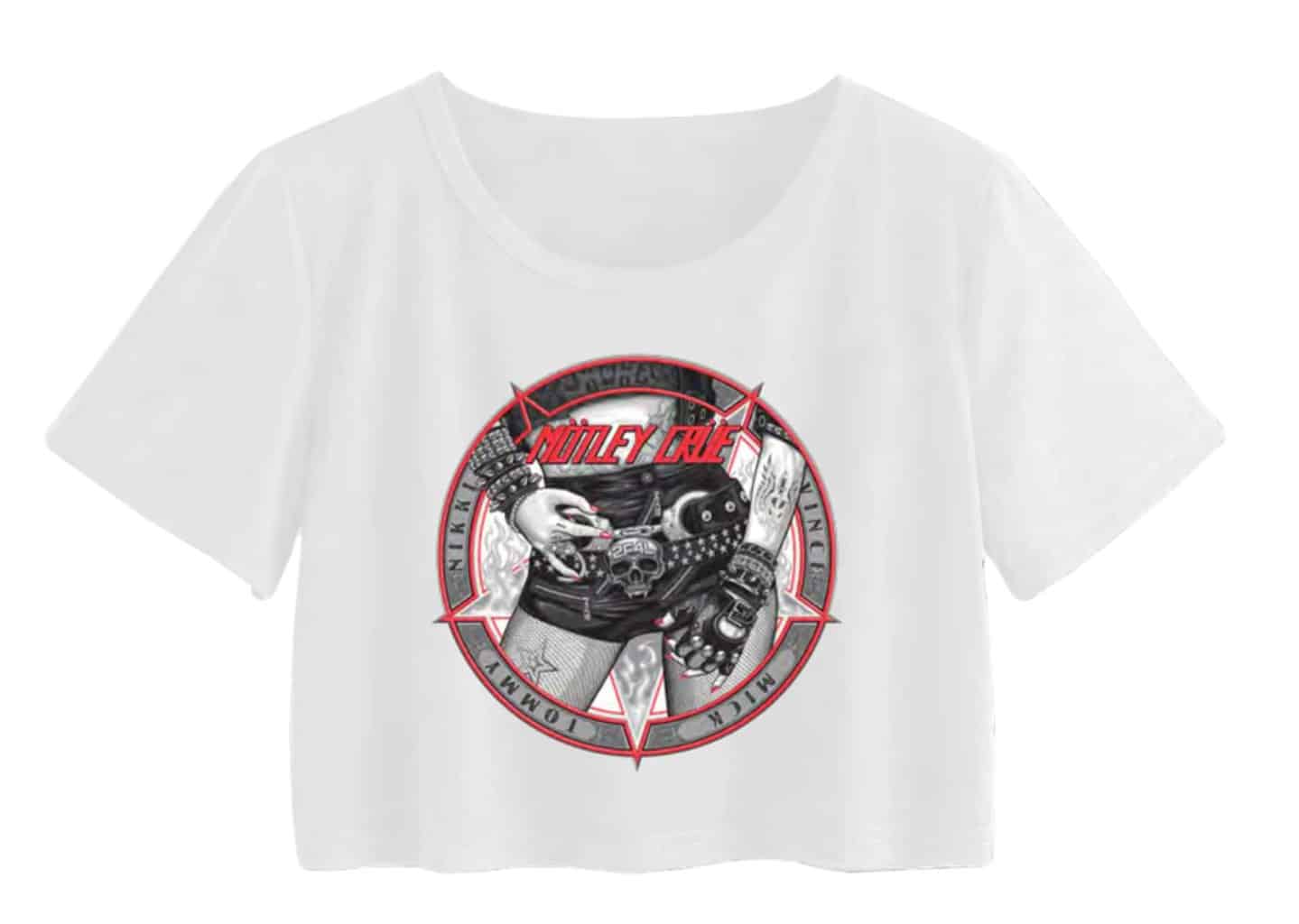 Too Fast For Love was Mötley Crüe's very first album. While their second official one brought them to stardom, this is the one that started it all for the group. This crop top has the album cover printed on the front.
This is another tee that I highly suggest women get. You can craft a great "rock 'n' roll" outfit with it. Since it's a crop top, it works well in hot weather. However, I'd expect it to be a bit more affordable than the other tees here, considering that it's made from fewer materials. Just know that it's about the same price!
Pros
Celebrates Mötley Crüe's first album
Great option for women
Good pick for warm weather
Cons
Costs the same as most full-sized tees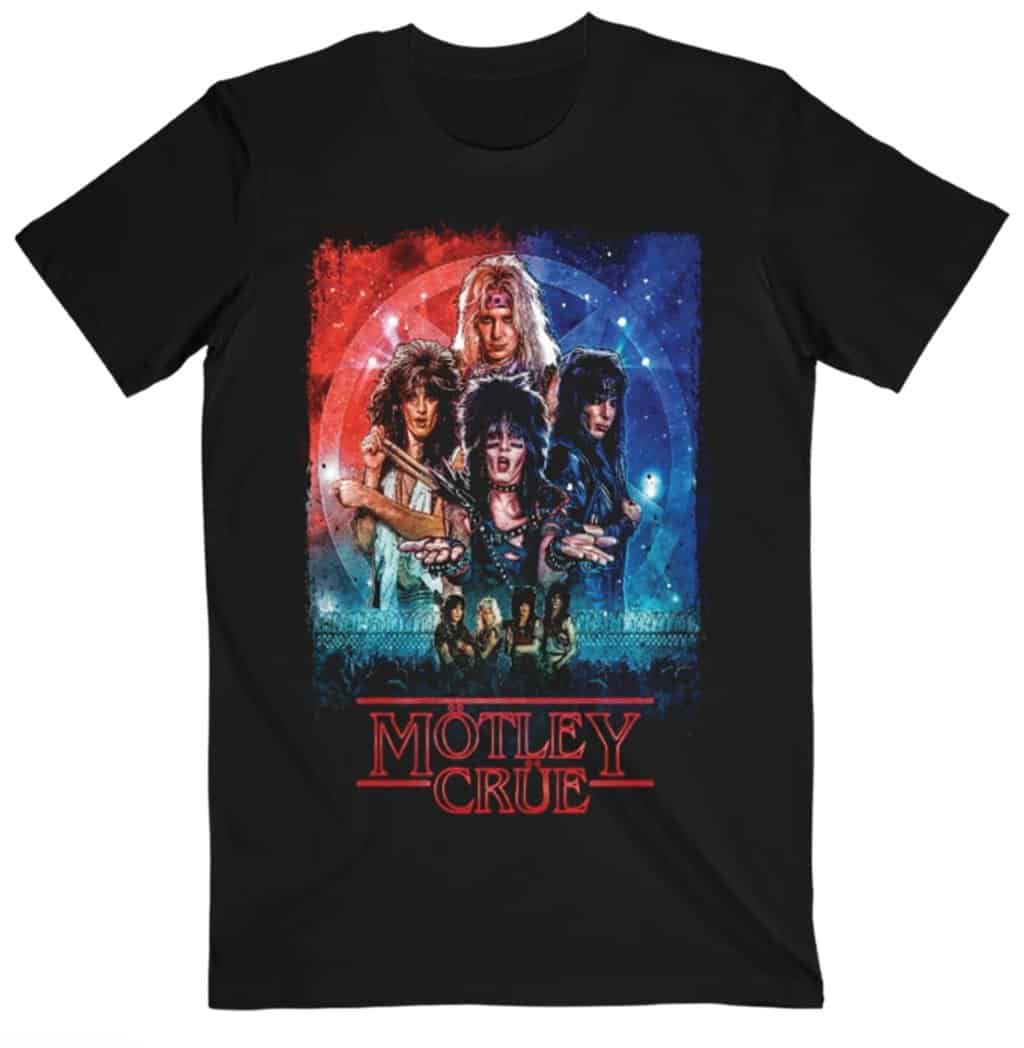 This tee is a bit of a wildcard option. I remember watching an interview where Mötley Crüe said they would never sell out and put their name with common merchandise. At first, I thought they broke that rule here. However, a few of the band's songs actually play in the series.
If you look closely, you can spot a few Mötley Crüe posters hanging up in one of the character's bedrooms. So, the band is a firm part of the series, and this makes me think that they've stuck to their rule.
The graphic on the tee is a recreation of the band members in the Stranger Things theme.
Pros
Inspired by Stranger Things
Great graphic on the tee
Large number of sizes available
Cons
Shipping only begins in July 2022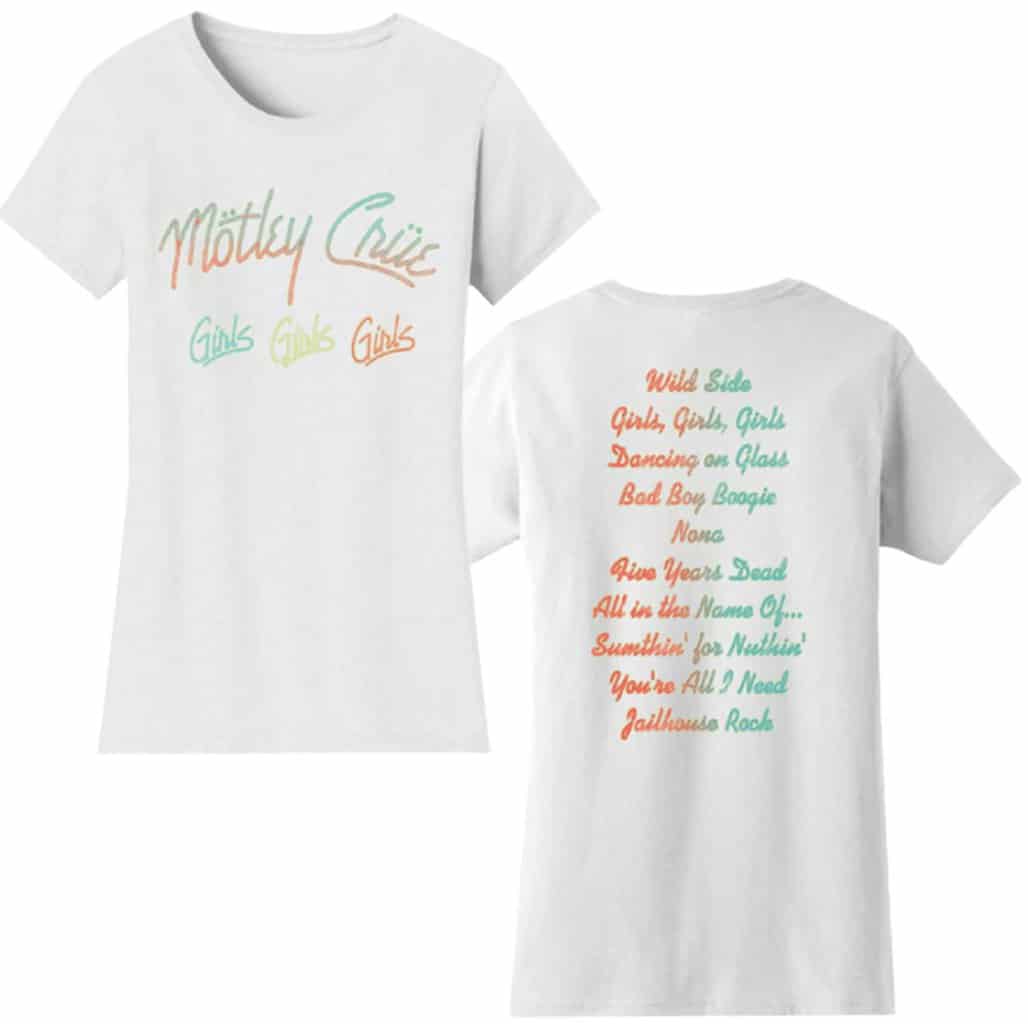 This is one of the few tees on the Mötley Crüe merch website that is purely designed for women to wear. It's a simple shirt that has the track list of Girls Girls Girls, which was one of the band's studio albums. The name of the band and album are on the front, while the song list is on the back.
I love the coloring of the text. It's very vibrant, making it stand out easily. Apart from that, the tee is very simple. It's form-fitting, so I'd suggest getting a larger size than usual if you want it to feel like it flows nicely. Just make sure not to get this if you're a guy!
Pros
Specifically designed for women
Form-fitting design
Text has vibrant colors
Cons
There's no shirt with the same design for men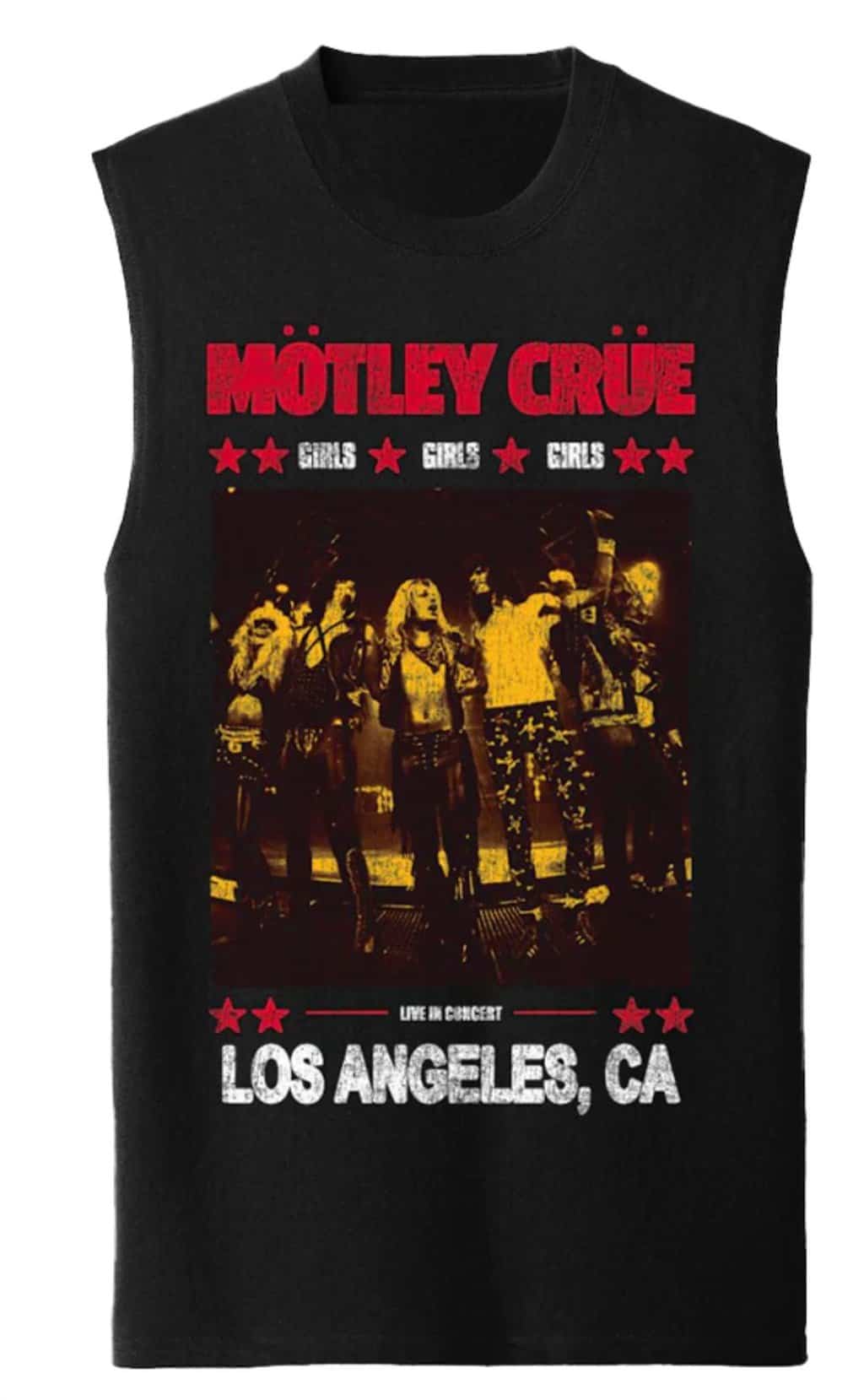 My final suggestion for this list is a tank top. Nothing says "metal" more than having no sleeves on your shirt. It's a good option to wear both to concerts and the gym.
The shirt has a fantastic live photo of the band printed on the front. It appears to be a picture that would have been taken after the band's performance. It makes me feel like I just watched the band perform.
The tee has a unisex fit, which is always a bonus when it comes to tank tops. The colors of the graphic also provide a great contrast to the black base of the tee.
Pros
One of the few Mötley Crüe tank tops available
Excellent live photo on the front of the band at the end of a gig
Cons
FAQs
Question: Is Mötley Crüe Still Together?
Answer: Yes, the original four members of Mötley Crüe are still in touch, and they make music for particular occasions.
Their final tour was in 2015, and the band made a point of it being the last time they ever performed as a group in front of a crowd. They even went as far as getting lawyers involved so that they couldn't perform again.

They collectively decided that they didn't want to be like the "dinosaur" bands who continued to tour and perform at retirement age, but their musical careers seem to be far from over. However, they have a scheduled tour with Def Leppard coming up that has been postponed a few years. The band found a loophole in their retirement contract that will allow them to perform.
The last musical contribution they made was a soundtrack for the movie, The Dirt.
Question: What are Mötley Crüe's Most Famous Songs?
Answer: Mötley Crue's glam metal style had people singing their songs over and over. The riffs and vocal lines were incredibly catchy, meaning the band had a few tracks that ranked high on the charts.

Some of their most popular tunes were Kickstart My Heart, Primal Scream, Looks That Kill, Dr. Feelgood, Wild Side, Too Young to Fall in Love, and Live Wire.
Question: Who are the Members of Mötley Crüe?
Answer: Vince Neil is the frontman of the band. He occasionally plays guitar, but you'll find him singing and strutting around the stage mostly.

Nikki Sixx is the bass player and main songwriter. He's arguably the most popular member of the band, thanks to his iconic stage name and wild antics over the years.

Mick Mars is the lead guitar player, and he's the main contributor to all the shredding solos you hear in Mötley Crüe tunes.
Tommy Lee is the drummer, but he provides other musical backing where he can at times. He's incredibly popular in the drumming world, as his live stage presence when playing was something many drummers aspired to be like.
Question: What Were Mötley Crüe Most Known For?
Answer: They were a rowdy group of miscreants. That was their brand on stage and throughout the music world. People loved them for it, as the era of rock 'n' roll was full of rebellion and anarchy.

While they were a mischievous group, their music was incredibly good. Every member of the band is an incredibly talented musician, so it's no wonder that their songs are still regularly being listened to.

Something that I've realized about bands as successful as them is that they must all be wise businessmen as well. It takes strategy and planning to get to the level of fame that they have, and it's a point I need to mention.
Question: Have There Been Members of Mötley Crüe Other Than the Original Four?
Answer: Yes. A few of the original four members have come on gone at various stages of the band's career. The first to leave the band was Vince Neil. He was fired from the group in 1992 for not taking things as seriously as the others and drinking excessively, and John Corabi replaced him.

The band wasn't as successful with Corabi as the frontman, and they were led into hiring Vince Neil again. There's still a lot of resentment between John Corabi and the band after that whole ordeal.

Tommy Lee left the band in 1999 to start a solo career with a group that performed rap metal. He was replaced by Randy Castillo, who was a regular drummer for Ozzy Osbourne. He was replaced by Samantha Maloney after having some serious health issues.
Tommy Lee eventually returned to the band in 2004
Conclusion
The band members of Mötley Crüe have calmed down drastically over the years, and it's amazing to think that they're all alive and kicking. That's not something that many rock bands from the 80s can say, unfortunately.
To wrap this list up, the 40 Years Vintage Portrait Tee is my top choice. However, all the tees here are incredible. So, look through them and choose one that sparks your interest the most.