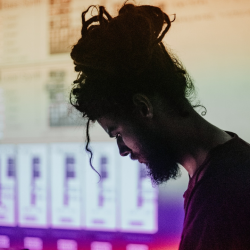 Latest posts by Calum Vaughan
(see all)
Music is a fantastic way to express yourself – whether you're writing riffs on the guitar, lyrics in your notepad, or burning some energy on the drums, there is all manner of ways to do this. I'm a musician myself, so spend a lot of my time doing exactly that, and you could even say I've become obsessed with expressing myself musically. However, instruments aren't always available for me to play, so I like to wear musical artist shirts to keep my favorite music close to me at all times.
I've got a huge musical shirt collection in my wardrobe, ranging from Napalm Death and Slipknot to Pink Floyd and The Beatles. However, I'm particularly fond of my Jimi Hendrix shirts – he is one of the greatest guitarists that ever lived and passed away far too young, so I think it's all the more important to keep his music alive. If you feel the same, you're in luck, because there are countless Jimi Hendrix shirts available to purchase online. However, how are you supposed to know which are the best?
Don't worry – that's exactly why I'm here. I've decided to pay tribute to my favorite ever guitarist by creating this guide to the best Jimi Hendrix shirts of all time. Whether you already own one and want to add more to your collection, or you're looking to find your first Hendrix shirt, I've got you covered. Read on to find out more!
Bottom Line Up Front
There are many varieties of Jimi Hendrix shirts on the market, so you must be careful to ensure that shirts you buy are in your size, can be shipped to you quickly and inexpensively, are of high quality, and have a design that you like. A great place to start is with the officially licensed Jimi Hendrix shirts of companies such as Liquid Blue and American Classics.
What to Look For in the Best Jimi Hendrix Shirts
If you're going to follow in my footsteps and embark on the journey that is purchasing Jimi Hendrix shirts for your merch collection, you should not do this blindly. Trust me when I say that there are a ton of options out there – you could even say that it's a bit of a minefield.
It can be easy to be swayed by advertisements and sponsored product listings, but this could result in massive disappointment. So, before we take a look at some shirts, let's run through everything that you should look for in the best Jimi Hendrix shirts.
Sizing
When it comes to buying clothing, whether it's Jimi Hendrix-related or otherwise, the first thing you should check out is sizing. Whether it's an item being sold online or in a retail store, before you do anything, you should double-check to ensure that the shirt, or whatever else it may be, is available in your size.
This all comes down to avoiding disappointment. You would not believe the number of times that I have stupidly got my hopes up after discovering an amazing shirt from my favorite band, only to discover that they don't sell it in my size.
Sometimes the company simply does not print the shirt in that size, and other times they may just be out of stock. Regardless of the situation, I would always recommend that you check this first before getting your hopes up.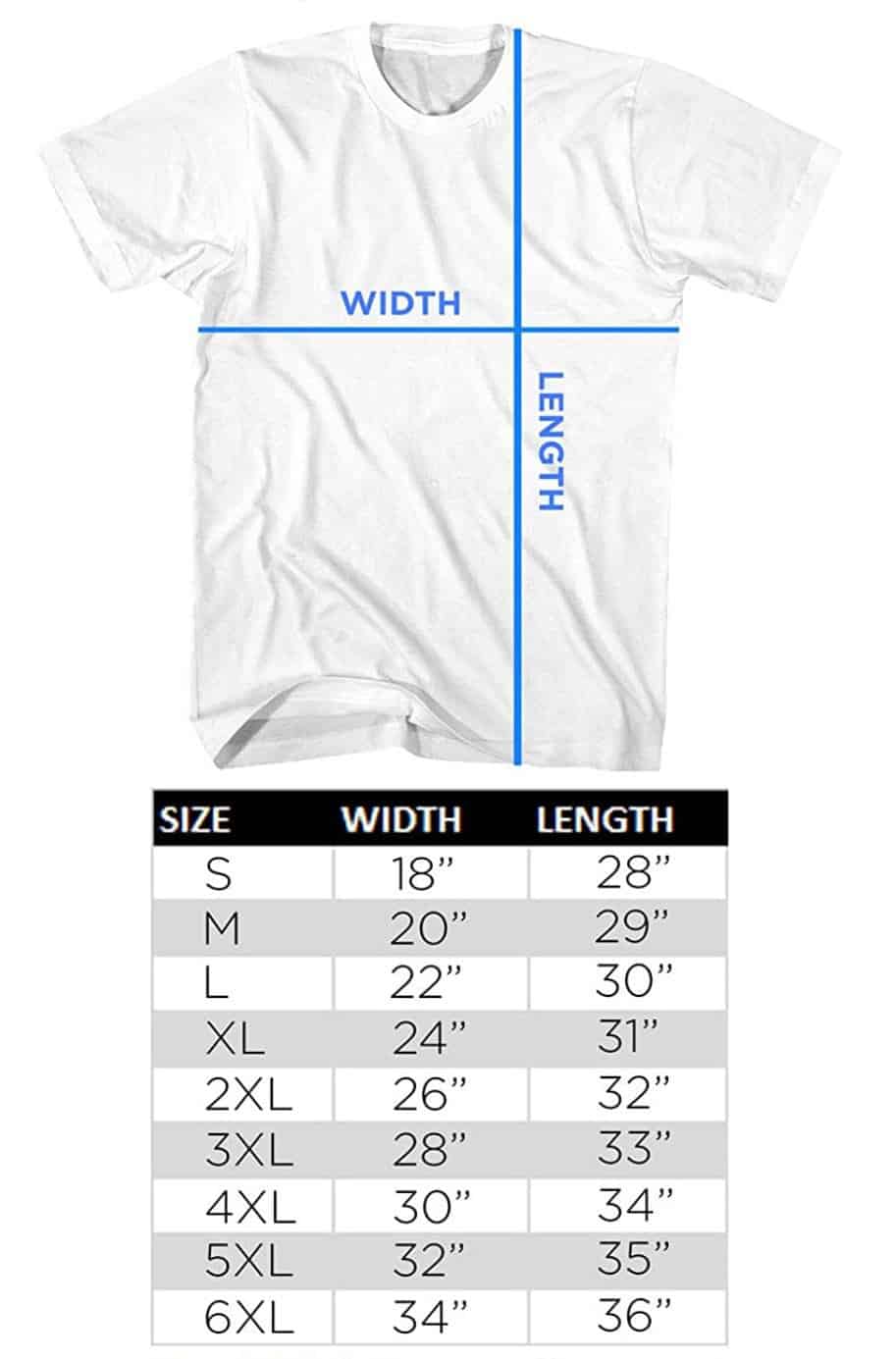 It isn't that simple though – there are more things that you should investigate, even if the website does claim to have the Jimi Hendrix shirt you like in your size. Firstly, check which country the item is being shipped from, and see if the sizing dimensions of the brand are provided on the website.
Different countries have different dimensions for clothing sizes, and it can be incredibly confusing to navigate. You could buy a shirt in your standard size, only to discover that despite being the correct size supposedly, it doesn't fit you!
There's also the matter of whether a shirt is unisex or not – this could be another obstacle. It can be particularly frustrating for women who want to buy t-shirts when for some reason lots of music shirts are by default sold in men's sizes. Always read the small print to figure out the exact dimensions of a Jimi Hendrix shirt, whether it is fitted for your gender and body type, and whether the size is available. Then, you can finally get excited about copping this shirt for yourself!
Quality
The next thing that you should look out for when searching for the best Jimi Hendrix shirts may sound incredibly obvious, but it's the biggest obstacle of all – quality. Everybody knows that quality is important when purchasing a product, especially clothes, as low-quality fabrics can rip, shrink, and degrade rapidly.
On top of this, there's also the problem of vinyl transfers on cheap shirts peeling off after being washed a couple of times, leaving the shirt to be bare, or the presence of the cool Jimi Hendrix design you bought it for in the first place.
It's an unfortunate situation that with legends such as Jimi Hendrix, there are just as many low-quality shirts and other products as there are good quality alternatives. Many clothing companies will identify a gap in the market (such as Jimi Hendrix shirts), buy the cheapest shirts they can find, and use the cheapest design printing service they can find, simply to make a huge profit and cash in on the trend. You should always look out for this stuff.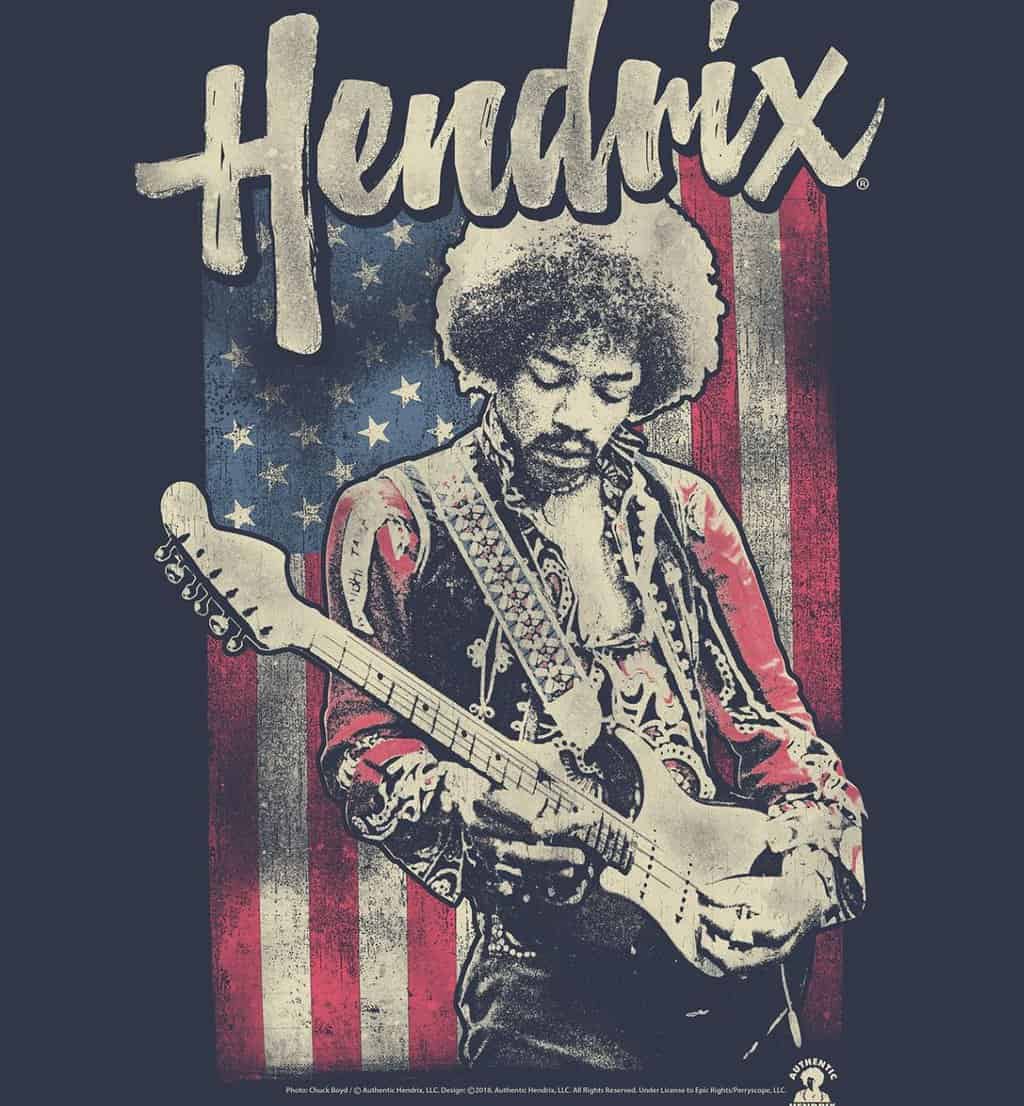 So, how are you supposed to know if a shirt is going to be good quality? The answer is simple – you should read the reviews for every shirt that you investigate. Almost every item that has been sold online has a review in one place or another, and these reviews shed a lot of light on the true quality of a product. If you find an excellent-looking Jimi Hendrix shirt for twenty bucks that has an overall rating of 9 out of 10, you're probably on to a winner.
Find an eight-dollar shirt with no reviews (or worse, bad reviews), and this would seem a bit sketchy to me. Ultimately, you get what you pay for, so if a deal seems too good to be true and there are no reviews that suggest otherwise, it's best to avoid it!
Shipping
So, you've vetted a bunch of shirts for correct sizing options and high-quality materials, and you're confident that you're on to a winner. In a moment, I'm going to be moving on to something a bit more fun which is picking designs that you enjoy the most, but there's one more boring thing to consider first, and that is shipping.
We live in a world where next-day delivery is commonplace, so we don't consider the hassle that ordering a product might cause. However, I have found that bizarrely, shirts can be incredibly frustrating to order for that exact reason. You would not believe the number of times that I have found a shirt that I like, in my size, with great reviews, only to discover that shipping it to my country is going to double the price of the product!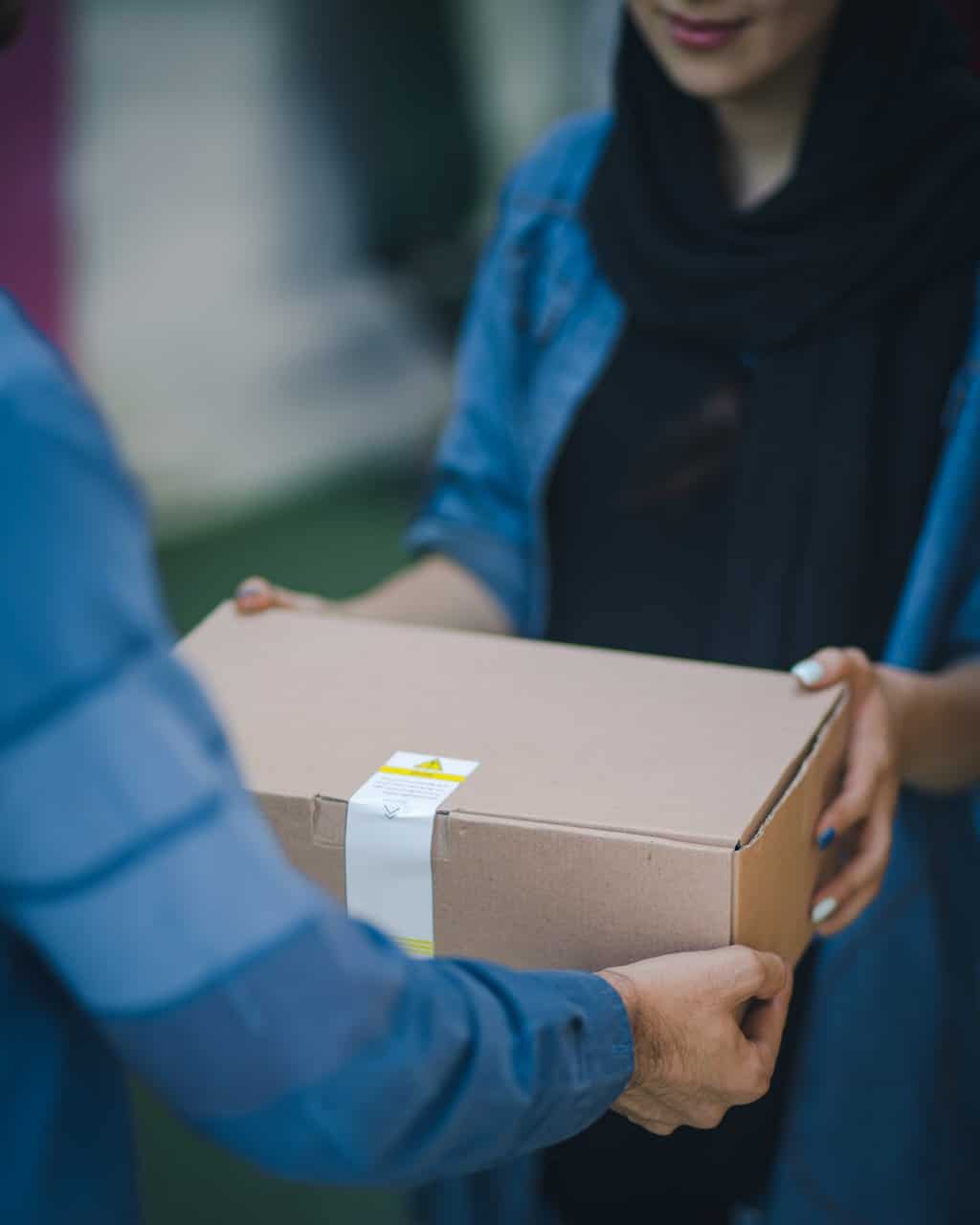 This is a lot more common than you might expect. Some of the most common locations that Jimi Hendrix shirts are shipped from are the USA, UK, Australia, and China – all of those countries are very far away from each other.
If you live in the UK and try to buy a Jimi Hendrix shirt from the USA, you could encounter all sorts of problems. Sure, the transaction could run smoothly, and this is getting more and more common these days. However, there is every other chance that the company will not ship to your country and decline your order, or even worse, charge you a fortune to receive it.
Once again, there's a simple solution to all this – just do your research. Investigate the website that you are looking to purchase the shirt from, and identify its shipping terms and conditions. Ensure that products can be shipped to your country, and search for any small print about additional shipping costs or taxes. Theoretically, you should be alright these days with international shipping, but trust me – from experience, it can also be a nightmare!
Design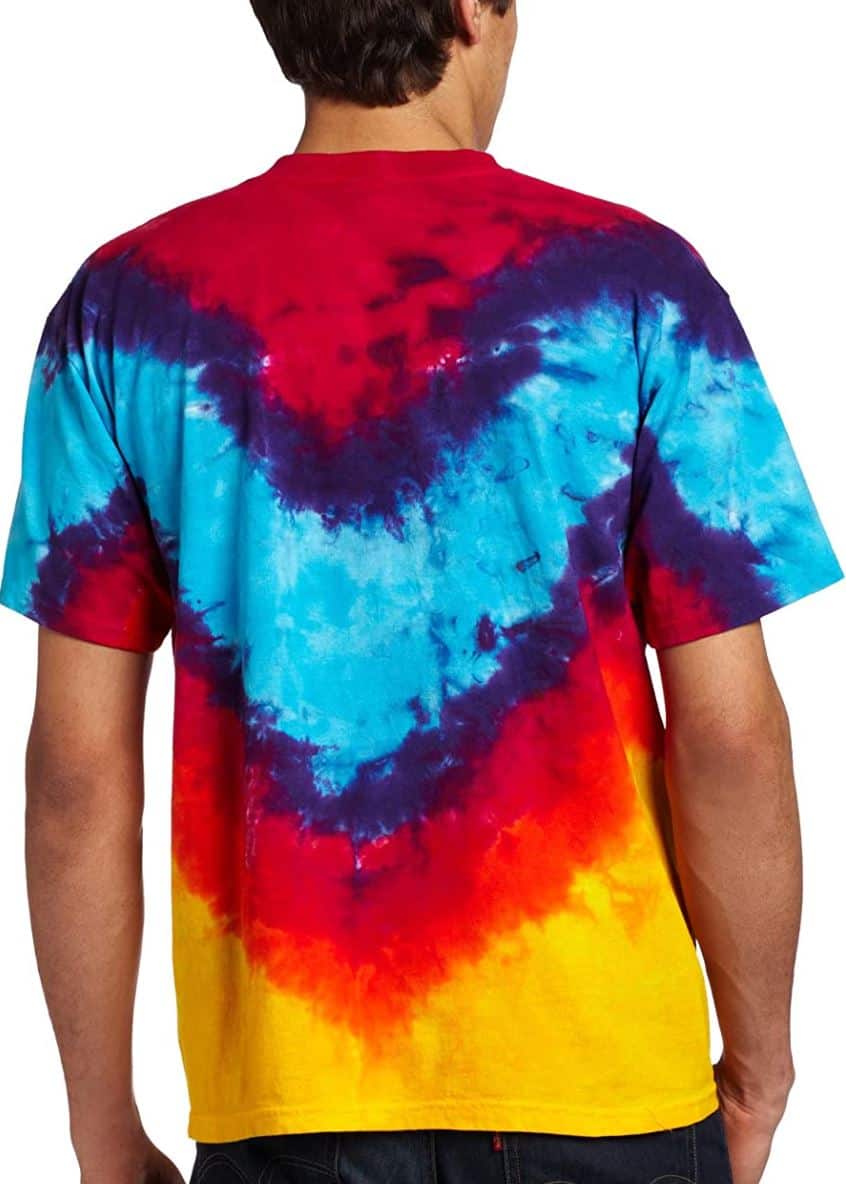 Right – now that all of that boring stuff is out of the way, we can finally get into the more juicy details. Sifting through low-quality shirts can be a pain in the butt, but searching for Jimi Hendrix shirts with cool designs can be very fun. It's my favorite part of the process other than hearing that doorbell ringing and knowing that the shirt has finally arrived!
Different people like different things, so I can't exactly advise you on designs that you will like. Some people like Jimi Hendrix shirts that display album artwork. Some people like shirts that have Jimi Hendrix's face on them.
Some people prefer something more creative, such as a shirt that lists the lyrics to "All Along The Watchtower". These preferences aren't exhaustive – there are tons of different shirt design types out there, so you must know what you are looking for.
My wardrobe is quite eclectic, so my approach is to keep my Jimi Hendrix shirt collection as varied as possible. I have a lyric shirt, a shirt with Jimi Hendrix's face on it, and an "Are You Experienced?" shirt…
I've essentially got all bases covered. I would suggest that you do the same unless you have a more specific taste. If that is the case, then make sure you search for keywords effectively to ensure that you can narrow down your results!
My Top Jimi Hendrix Shirt Recommendations
OK – now that we've taken a look at exactly what you should be looking out for when purchasing Jimi Hendrix shirts, I think it's time to get down to the nitty-gritty. To aid you on your journey, I've decided to create the following list of my own personal Jimi Hendrix shirt recommendations.
I've ensured that every item on this list is available in several sizes, is of high quality, and has flexible shipping options. I've also ensured to be broad in my choosing to provide a shirt for every taste in designs. I'm sure there'll be something here for you!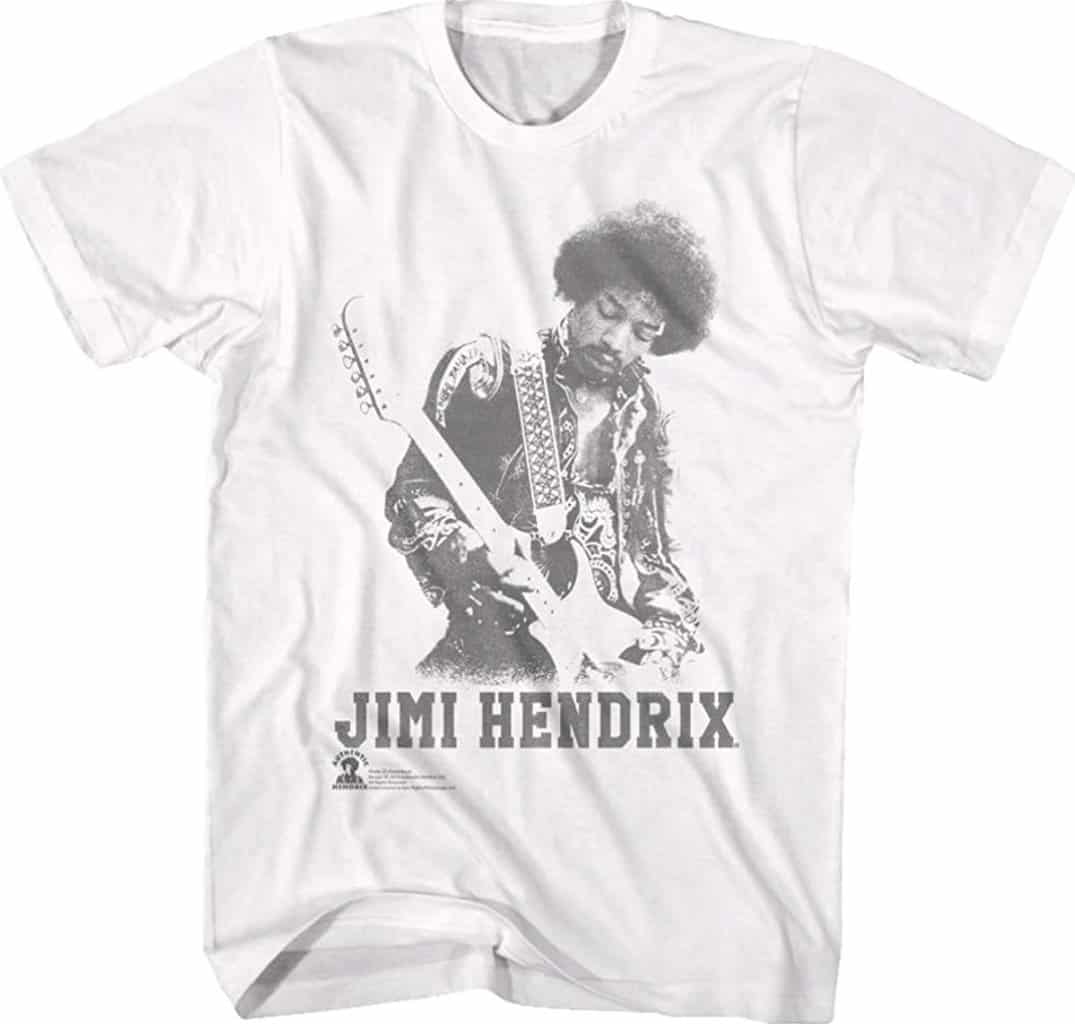 To start things off on my list of recommendations for the best Jimi Hendrix shirts, I've decided to begin with this subtle t-shirt designed by American Classics. Sometimes artist merch can be a little too in your face, and that's why I like this shirt – it's a plain white tee with a faded image of Jimi Hendrix playing the guitar, with some simple text below reading "Jimi Hendrix" in block capitals.
Not only is this t-shirt subtle, but it's available in a ton of sizes, ranging from small to 6X-Large. It also has excellent reviews, and I suspect this is because the t-shirt is officially licensed and therefore of high quality. If you're looking for something subtle, this is a solid option!
Pros
Subtle design that isn't too "in your face"
Officially licensed
Excellent reviews
Available in all sizes from small to 6X-Large
Cons
Some people would find the plain white design boring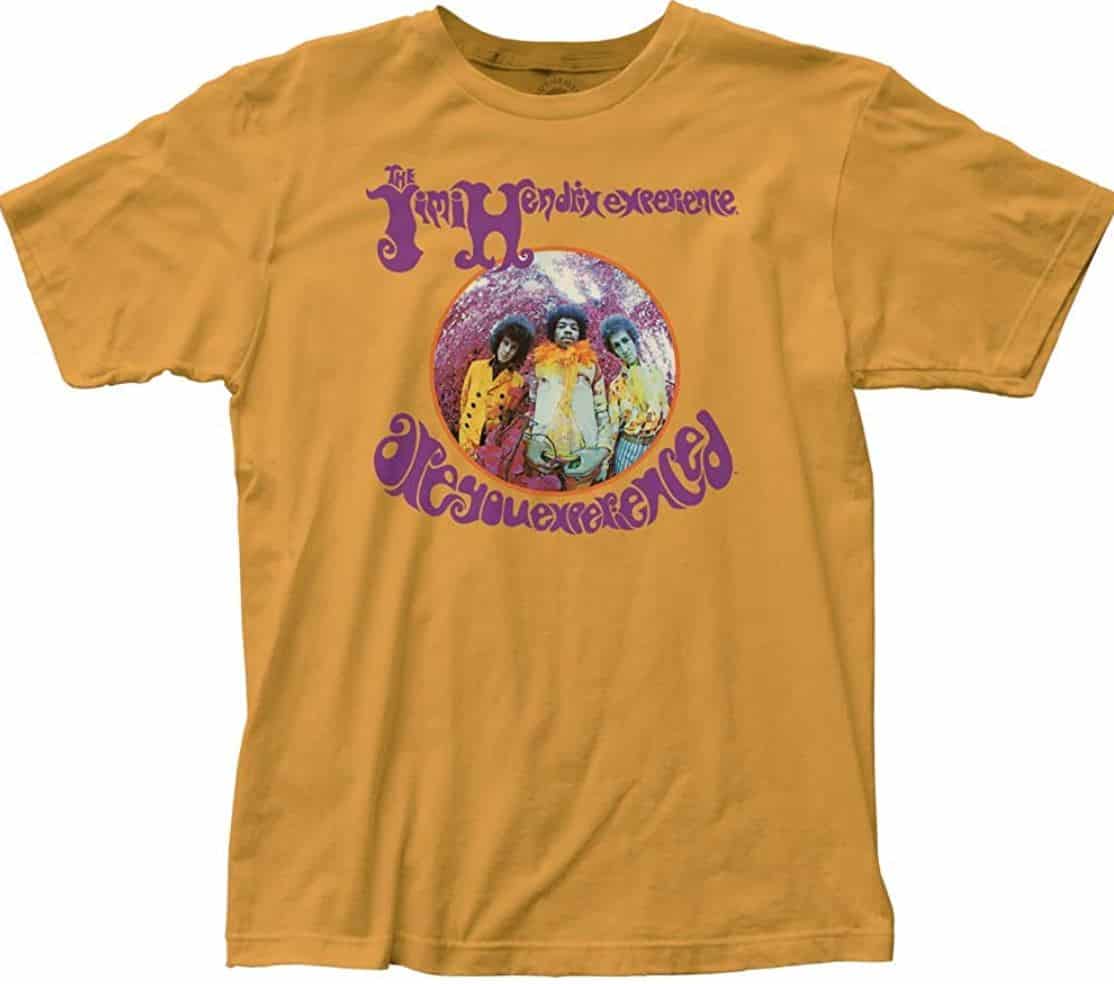 I mentioned that I appreciated subtly when it comes to buying Jimi Hendrix shirts, and this next recommendation is another prime example. Instead of being white, this t-shirt is a yellow-orange color, with a design based on the album "Are You Experienced?".
The center of the t-shirt shows Jimi Hendrix photographed with some musician friends, surrounded by purple leaves and trippy typography that reads "The Jimi Hendrix Experience – Are You Experienced?"
I'm very fond of this shirt, as it maintains the subtly of the last shirt but with a bit more color and psychedelic charm. It's also available in sizes from Small to XX-Large, it's officially licensed, and the reviews are impeccable. It's another solid choice!
Pros
Excellent reviews
Officially licensed
A subtle yet psychedelic design
A color scheme that suits Jimi Hendrix's style
Available in sizes from Small to XX-Large
Cons
Not available in sizes larger than XX-Large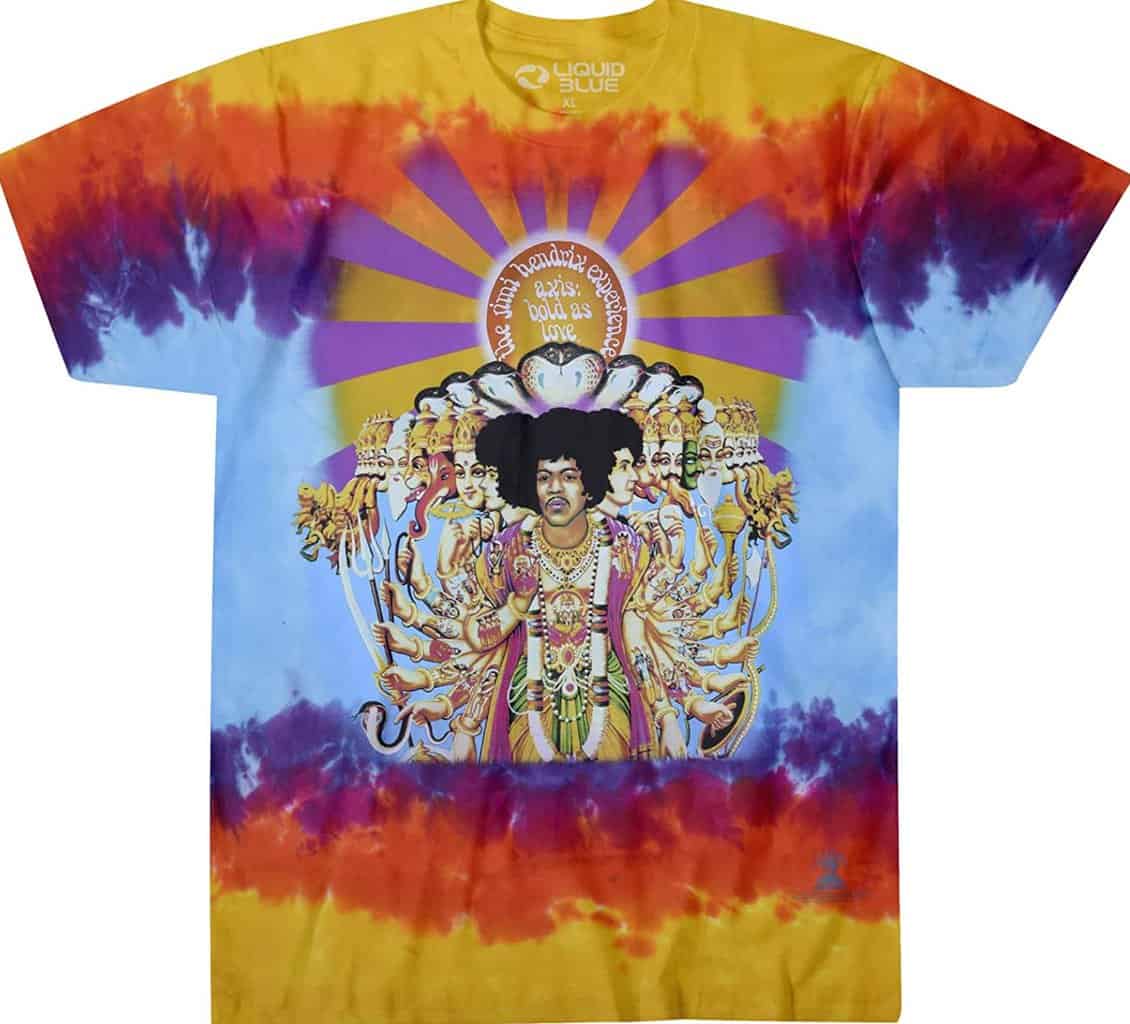 If you thought the last two Jimi Hendrix shirt options were a bit boring and were looking for something a bit more representative of Jimi Hendrix's extravagant psychedelic style, this Liquid Blue shirt might be more suitable.
Trust me, you're going to stand out wearing this bad boy – the majority of the shirt is covered in a beautiful orange, yellow, and blue tye-dye design, with the center showing Jimi Hendrix in Indian clothing surrounded by Hindu entities.
If you're a fan of Hendrix, you'll probably recognize this artwork – it's from the album "Axis: Bold as Love". In addition to its epic design, the shirt is officially licensed and has near-perfect reviews, as well as being available in sizes from medium to 6X-Large. Bit of a bummer if your size is small though!
Pros
Fantastic tye-dye design
Perfect merch to go alongside the fantastic album "Axis: Bold as Love"
Available in sizes from Medium to 6X-Large
Officially licensed with excellent reviews
Cons
The tye-dye design can be a bit too extravagant for some people
Not available in small sizes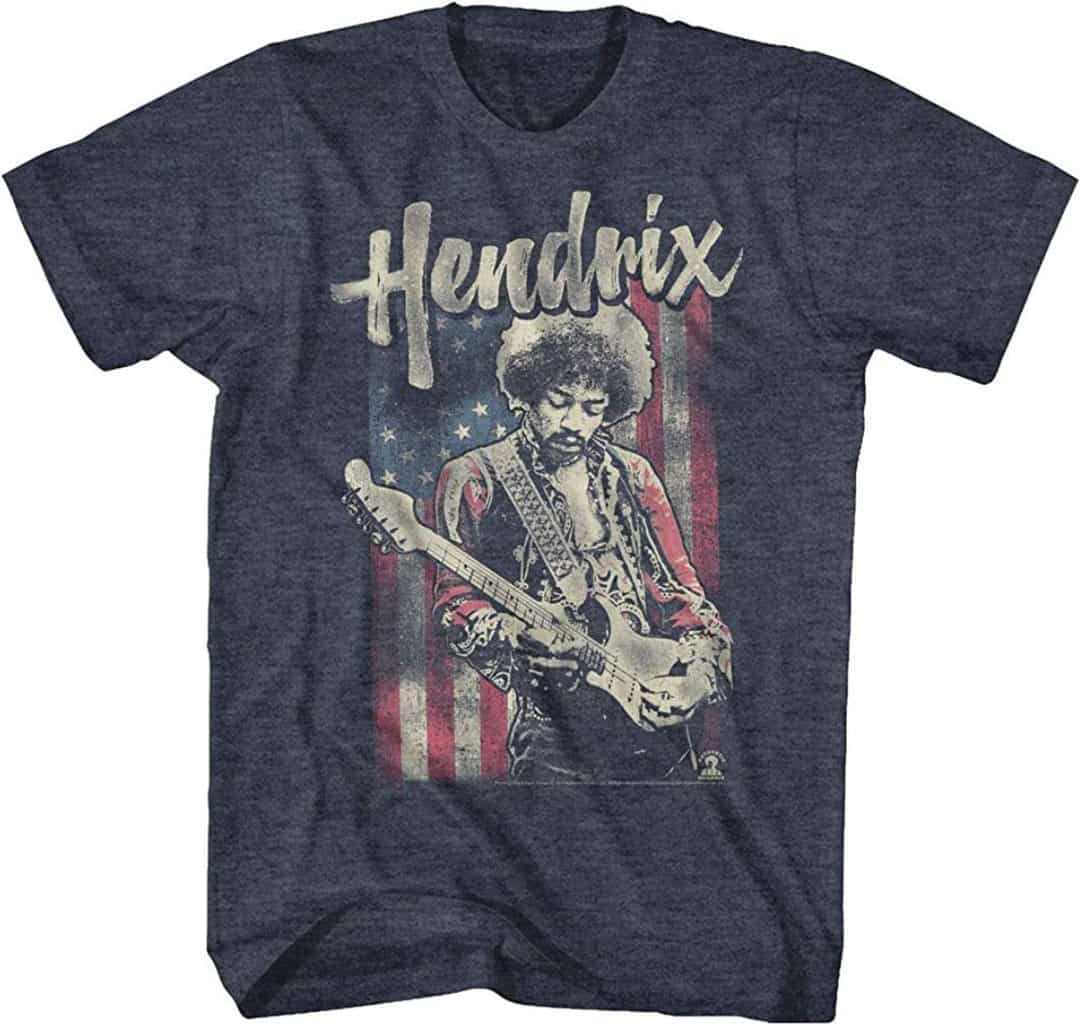 If your eyes were watering looking at that last shirt, consider this next one a palate cleanser. It's another officially licensed shirt from American Classics in navy grey, featuring an illustration of Jimi Hendrix shredding his guitar next to the USA flag. Anyone who listens to Hendrix will know this is about his classic Star Spangled Banner song.
This shirt is available in all sizes from small to 5X-Large and has a pretty unbelievable rating on Amazon of 5/5 based on nearly 2,000 reviews! With statistics like that, you just know that you're in the market for a high-quality product.
Pros
References Jimi Hendrix's classic Star-Spangled Banner performance
Features a USA flag, which is a great way to show your patriotism!
Subtle color scheme
Comes in sizes from small to 5X-Large
Flawless reviews
Cons
Some people may not like the faded effect of the illustration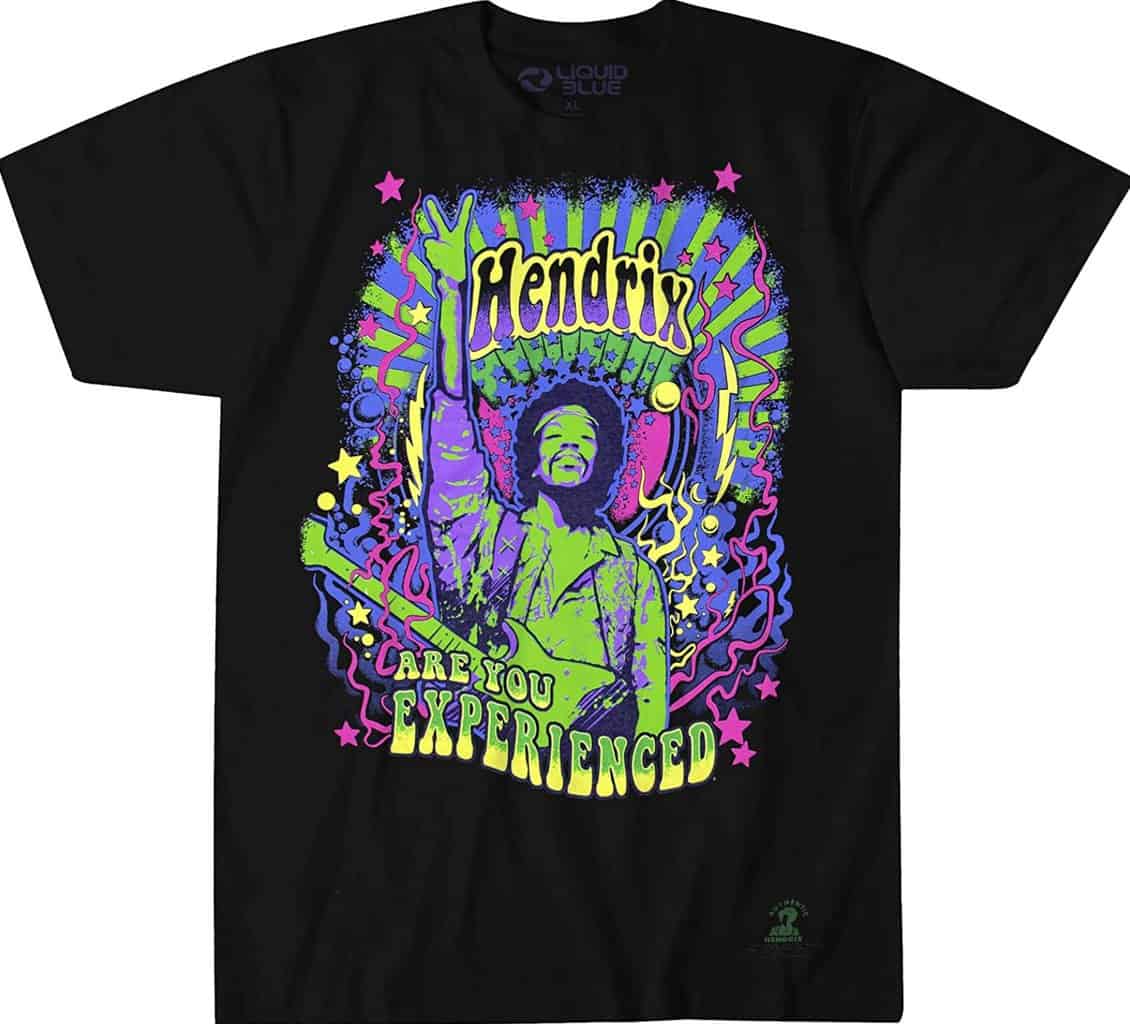 This final Jimi Hendrix shirt is my personal favorite, and it's another banger by Liquid Blue. Hearing that this is one of my favorites might surprise you, as I mentioned earlier that I appreciate subtlety in a shirt, and this example is filled with neon pink, green, and blue colors. However, I think that Liquid Blue has pulled this off in a uniquely subtle yet vibrant way, contrasting the neon colors with the plain black tee.
Amongst the neon psychedelic squiggles, a green Jimi Hendrix illustration shows the guitarist doing the peace sign with his right hand, surrounded by the words "Hendrix: Are You Experienced". It's also available in sizes from small to 6X-Large and has a perfect overall review score on Amazon. I have purchased this shirt and am eagerly anticipating its arrival as I am writing this!
Pros
Vibrant neon colors contrast perfectly with the plain black tee
Available in sizes from small to 6X-Large
Officially licensed
Reviews suggest stellar quality
Cons
The neon colors might be too much for some fans
FAQ
Well, that just about brings me to the end of knowledge about how to find the best Jimi Hendrix shirts of all time! Some people think buying artist merch is an easy process, but as you should have learned throughout this guide, it can be a bit of a minefield!
Now, I don't want you to walk away from this guide with any unanswered questions, so let's take a quick look at some of the answers to the most frequently asked questions I receive on this topic.
Question: What Should You Look For in the Best Jimi Hendrix Shirts?
Answer: When searching for the best Jimi Hendrix shirts, you should look for products that are available in your size, can ship to your country at a cheap cost, and most important have high-quality shirt designs that suit your style!
Question: How Do You Know if a Jimi Hendrix Shirt is High Quality?
Answer: It can be difficult to tell whether a Jimi Hendrix shirt found online is high quality, but the easiest way is to check the reviews and see if people have had any major complaints.
Question: What Are the Best Jimi Hendrix Shirt Designs?
Answer: The answer to this is subjective, but some of the most popular Jimi Hendrix shirt designs relate to his album "Are You Experienced?", the USA flag, and psychedelic themes such as tye-dye and neon colors.
Question: Are All Jimi Hendrix Shirts Officially Licensed?
Answer: Not all Jimi Hendrix shirts are officially licensed, and whilst this does not necessarily mean the quality will be low, it is worth taking extra care to read through the reviews of unlicensed products.
Final Thoughts
I hope that you have enjoyed reading this guide to the best Jimi Hendrix shirts as much as I enjoyed writing it! Buying shirts that express your love for your favorite artists is overall a very exciting process, and as long as you are aware of problems to look out for (such as low-quality products and international shipping costs), it should be a relatively painless process.
My favorite shirt on this list would have to be the Liquid Blue Men's Jimi Hendrix are You Experienced SS Tee due to its subtle yet vibrant design and excellent quality, but it might not be for you. Investigating things such as shipping costs, quality and sizing are important, but the most important thing is to find a shirt that you fall in love with, just like I did!
Whether you've gone for a subtle option, an explicit tye-dye psychedelic shirt, or simply stuck with Jimi Hendrix and his USA flag, I bet you cannot wait for your first Jimi Hendrix shirt to arrive. If you're anything like me, buying your first one could be the beginning of a brand new shirt collection. Good luck!
Continue reading related Jimi Hendrix Merch Guides: