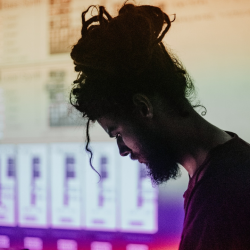 Latest posts by Calum Vaughan
(see all)
Since David Bowie's unforeseen death in 2016, the market of collectibles and memorabilia connected to the artist has grown tremendously. From t-shirts and mugs to posters and signed records, fans have been growing their collections of unique David Bowie items in honor and memory of inarguably one of the greatest musicians of all time.
In this guide, I'll focus on one particular type of David Bowie-related collectible, Funko Pops. Or at least, I'll focus on Funko Pops that depict the legendary artist in one way or another. The subject of David Bowie Funko Pops is not as straightforward as one would imagine, but I'll cover all the basics below.
Bottom Line Up Front: While there are unfortunately no official David Bowie Funko Pops, you'll be happy to know that there are a few options for Bowie-related Funkos, such as the fantastic Jareth Funko Pop based on Bowie's appearance in the movie "Labyrinth." There are also loads of custom-made Bowie Funko Pops available on sites such as Etsy, but make sure you look for a high-quality product with minimal flaws!
My favorite David Bowie Funko Pop is the Jareth from Labyrinth with a Crystal Orb Funko. It perfectly depicts one of the most pivotal scenes in the movie!
What are Funko Pops?
Funko Pops are collectible vinyl figurines manufactured by the Funko company. They are widely recognizable by their square, oversized heads and black circular eyes. Since Funko was founded in 1998, thousands of unique Funko Pops have been released, depicting all sorts of fictional characters from media and pop culture like cartoons, TV series, movies, video games, and books, as well as real-life celebrities and artists.
With that being said, it's no surprise that a lot of legendary rock musicians have been memorized as Funko Pops – Freddie Mercury, Ozzy Osbourne, Prince, Slash, and Jimi Hendrix, just to name a few… Let's take a look at what Funko has to offer for the fans of the one and only true pioneer of art and glam rock, David Bowie. We'll explore what David Bowie Funko Pops are available on the market, what to look for in one, and find the best pieces that will bring joy and satisfaction to any Ziggy Stardust fans.
Are There Official David Bowie Funko Pops?
Unfortunately, the answer to this question is an unexpected no. As of September 2022, Funko has not put out an official David Bowie Funko Pop. It doesn't seem like it's coming anytime soon either, as it's not included in an upcoming batch of new releases that can be viewed on Funko's official website. Whether it will see the light of the day in the future remains a mystery, but we keep our fingers crossed!
Does it mean that Bowie fans have to give up on their dreams of owning one for the time being? Absolutely not! With some online digging and additional knowledge of David Bowie's artistic output, one will find very attractive-looking alternatives that pay great homage to the artist and will be a wonderful addition to any collection of Thin White Duke's memorabilia. As the man himself once said: "I always had a repulsive need to be something more than human." No clue if he ever envisioned himself being a Funko Pop collectible – most likely not, but it will not stop us from looking at the best ones that are out there to obtain.
What to Look For in the Best David Bowie Funko Pops?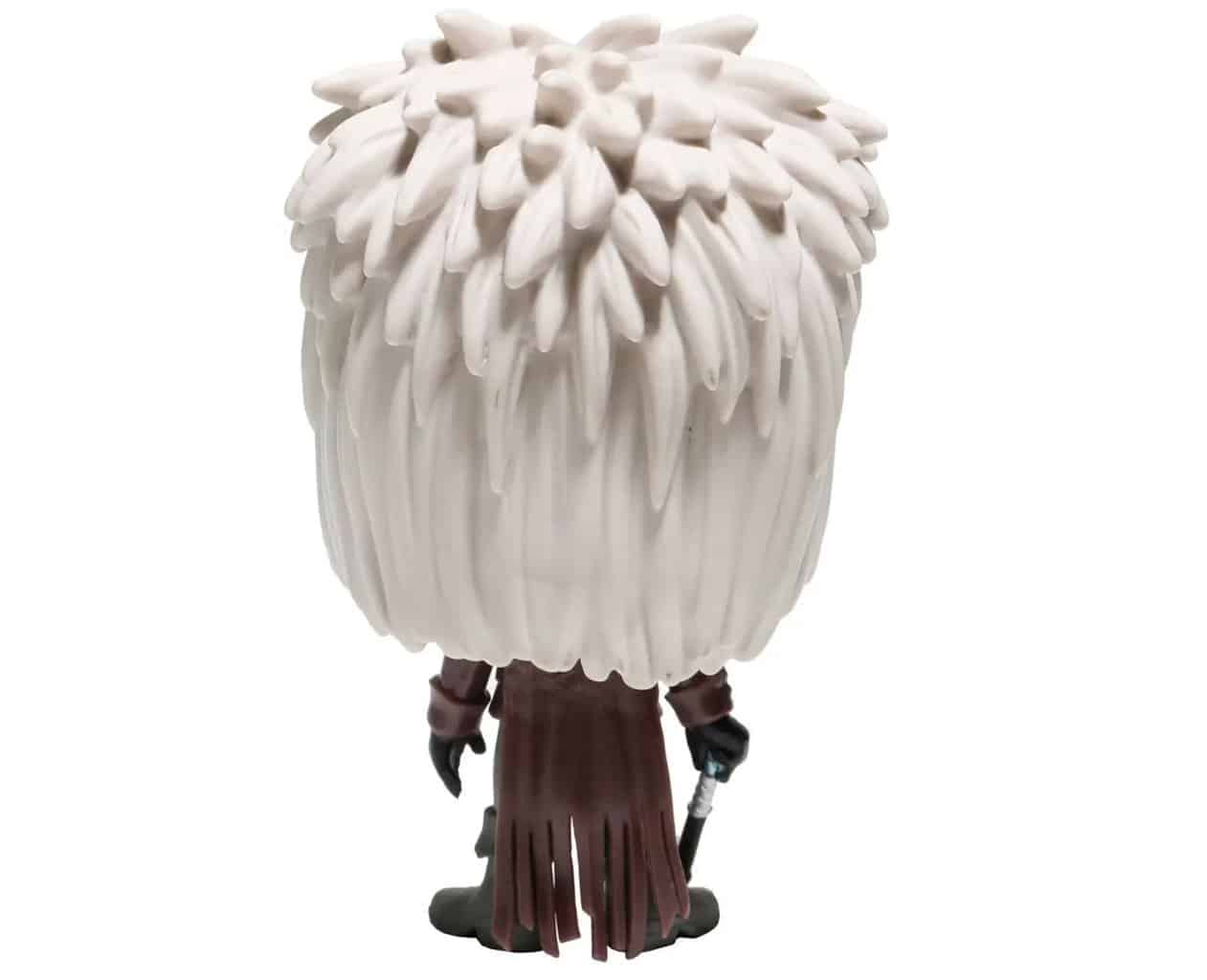 While there's a limited variety of available Funko Pops that depict David Bowie in a somewhat unexpected way (more on that later), some stand out more than others. Let's look into what will be the main factors to consider when making a choice on which one to get
Quality
The main thing to look at, especially when purchasing a custom-made figurine, is the quality of the product. While Funko has proven itself to deliver top-notch quality products over the years and use high-quality PVC plastic to make them, that might not be the case amongst the small, independent manufacturers that sell custom-made Funko Pops on their own.
Before purchasing, make sure to inspect the photos closely, read the description, and most importantly, check the most recent reviews of the seller to make sure that you will not be getting ripped off for a subpar quality or a fake product. If you have any doubts, contact the seller directly – lack of response is an obvious red flag, but if you're met with transparency and responsiveness, it's a great indication of an honest seller.
Lack of Flaws
It's quite common that Funko Pops will have some minor flaws to them – how much it actually matters is an entirely personal thing. Seasoned Funko Pop collectors claim that while some flaws add to the unique personality of the figurine (like a paint defect that gives it more character), some might take away from the overall look of the Pop (for example, a much visible dent in the plastic or a missing element.)
For an artist like David Bowie, whose neatly put-together costumes and outfits were his trademark, it's worth spending a while comparing photos of the same model offered by different sellers. If the price is lower than usual, look extra hard – while any flaws should be stated in the item's description, some hidden defects might be the actual reason for the competitive price.
Originality
One of the main reasons for Funko Pops' popularity is that unless you have a disdain for anything pop culture (or just culture in general), you will for sure find at least one product that's representing your personal interests or passions.
Don't miss out on the opportunity to manifest your musical and artistic taste by getting a unique Funko Pop depicting your favorite David Bowie persona. Once you put it on your work desk or shelf at home, you'll make it known to everyone that you have that old-school soul and refined taste.
Price
How much you'll end up spending on a David Bowie Funko Pop may vary greatly. Naturally, original Funko pieces cost more than custom-made ones as they have a collectible value to them. However, don't let that fool you into thinking that the difference in quality is always worth paying $50-$100 more, especially when you're not necessarily interested in expanding your Funko Pop collection in the future.
Another factor here is the shipping price – keep in mind that since it's not a big or heavy item, the cost of shipping it to your home shouldn't be extravagant. International shipping will, of course, drive up the price, so check out different sellers and their locations to find the best deal on shipping.
David Bowie Funko Pops – Are They Out There?
Now that we know exactly what to look for let's browse through what's available for a David Bowie fan in a Funko Pop world. It may not be much, but what I've found is the cream of the crop.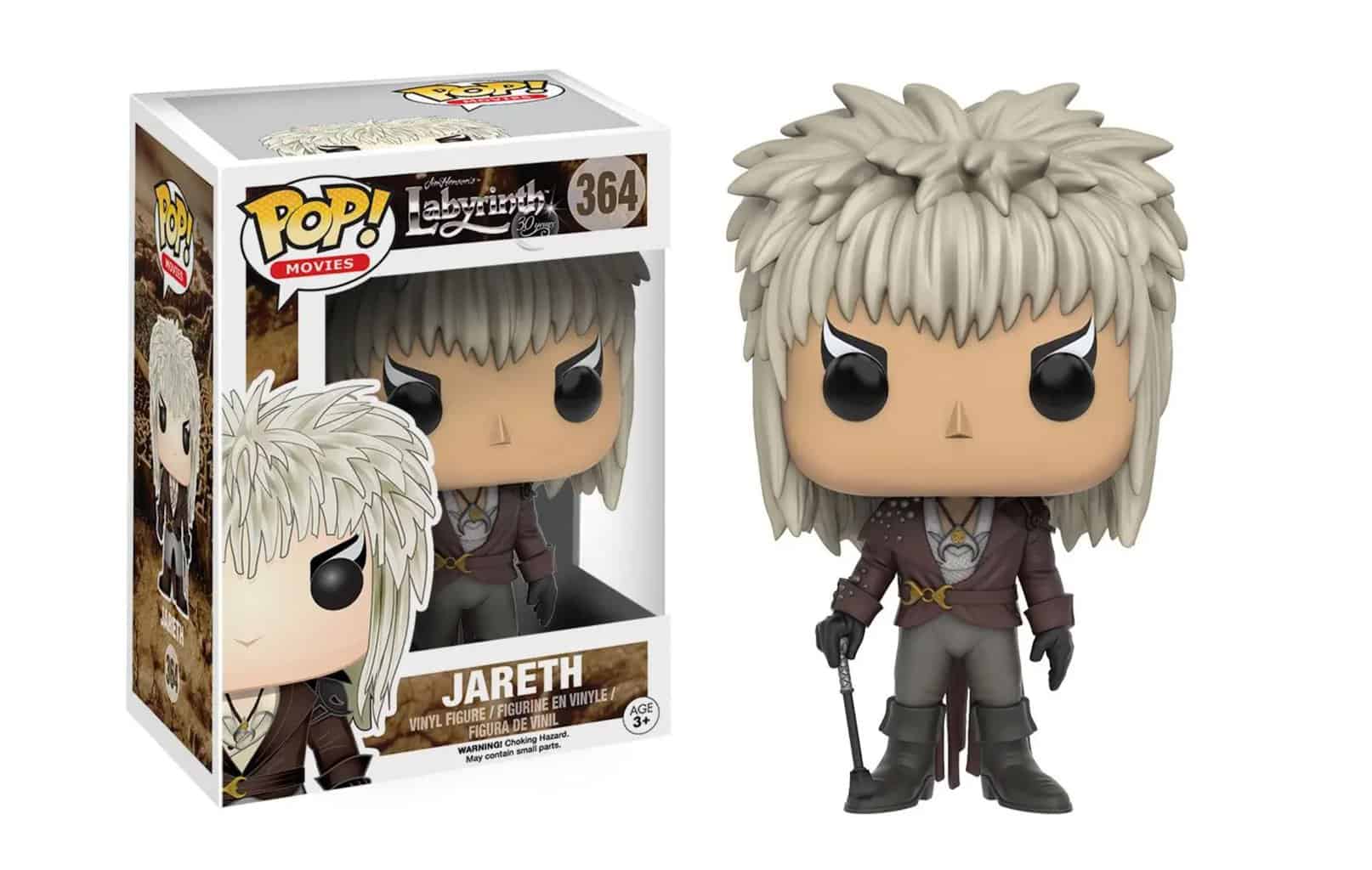 As I've already established, there's no official David Bowie Funko Pop on the market. However, there are a couple of Funko Pops depicting the main antagonist from the 1986 fantasy musical "Labyrinth," named Jareth the Goblin King. Why does it matter here? It just so happens that Jareth was played by David Bowie himself, which makes it an extraordinarily unique way of obtaining a Bowie-related Funko Pop that will also test the knowledge of any fellow Bowie fan.
This most standard version of Jareth Funko Pop depicts the character wearing a brown studded jacket, fashionable (even by today's standards) leather boots, and holding a fancy cane. It's the outdoor outfit that we see the Goblin King wear most often in the movie. Eye makeup is a great finishing touch that leaves no doubt about who the character is. If you're on a limited budget but at the same time want an original, authentic David Bowie Funko Pop, this one is easily your best pick.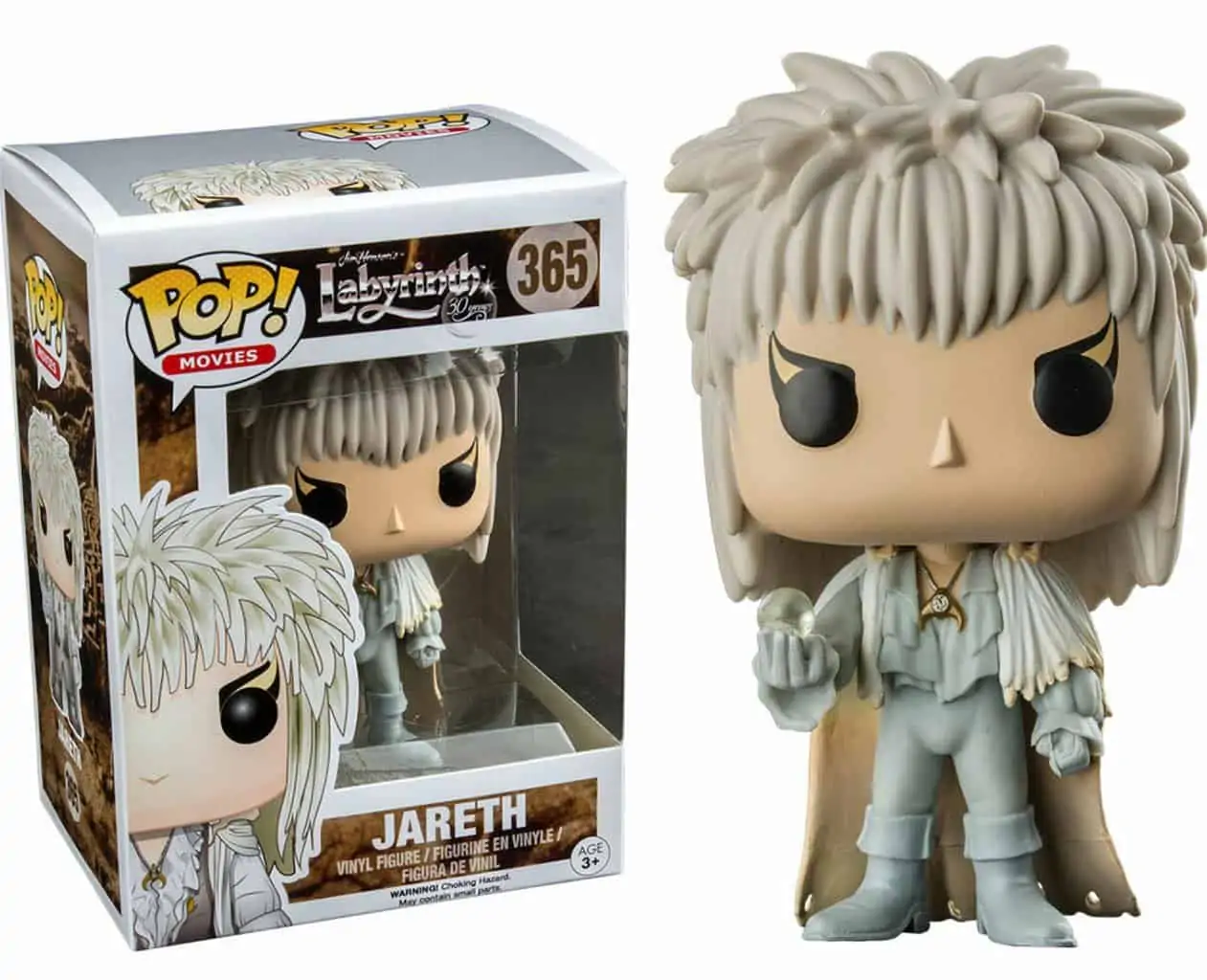 Here's another authentic, limited edition Funko Pop depicting Jareth from "Labyrinth," but with a great twist that's a reference to the character's special abilities in the movie. The Goblin King has a lot of magical and supernatural powers like moving through objects, shape-shifting, or time traveling that make him such a captivating antagonist. However, his most unique power is creating crystal orbs in his hands.
Crystal orbs serve a variety of purposes throughout the movie, like showing dreams or creating illusions. This Funko Pop portrays Jareth in one of the most important scenes in the movie, where the crystal orb is offered to the main character Sarah. Jareth wants to trade the orb as a symbol of Sarah's dreams in exchange for her little brother. To find out if the deal went through, check out the movie – it's a one-of-a-kind experience even if you're not a Bowie fan!
Apart from the orb in its hand, what sets this figurine apart from the others are the clothes, which are wonderfully accurate in representation of what Jareth wore in the movie. The cape, the flowy shirt, and the gold medallion are just spot on! For that alone, it's worth spending a couple of extra bucks on this unique, limited-edition David Bowie Funko Pop.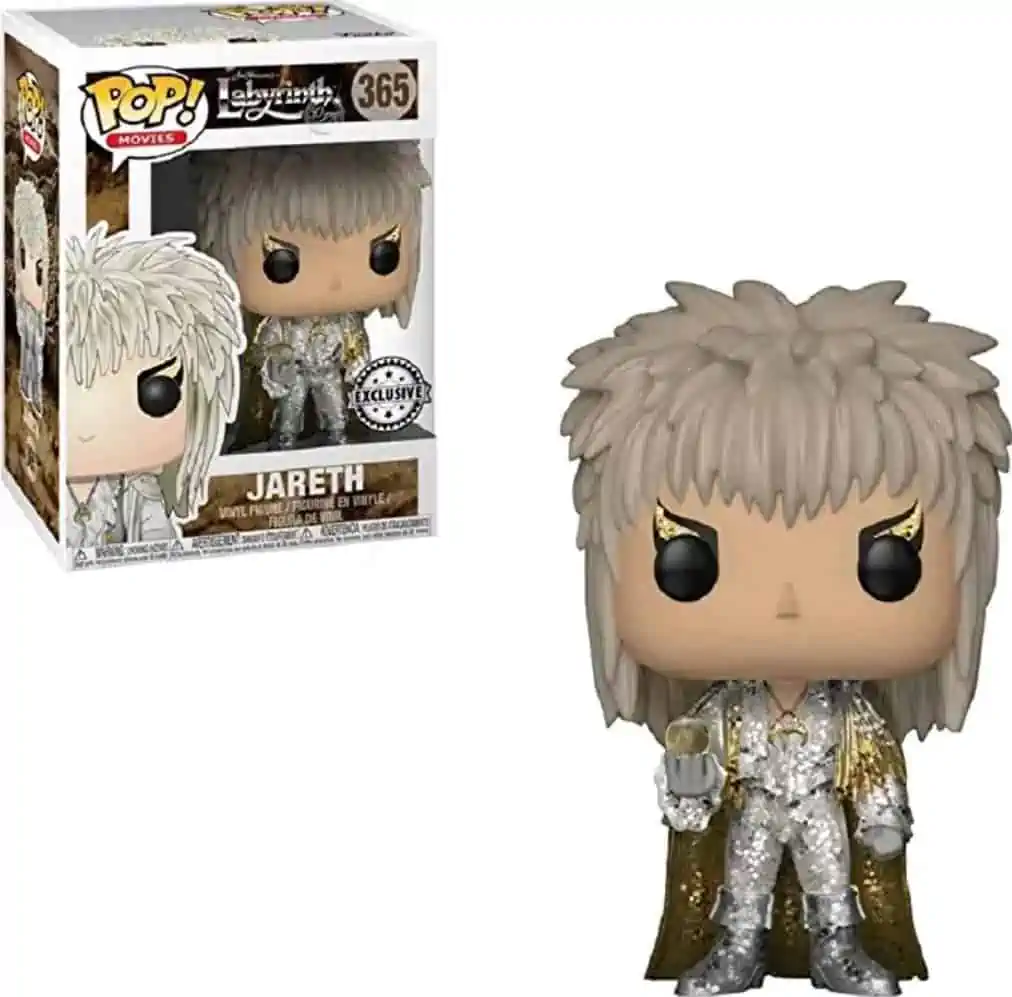 Last but not least is the most sought-after, exclusive David Bowie Funko Pop that depicts Jareth from "Labyrinth" wearing a stunningly shiny glitter suit and holding the crystal orb as well. This piece will cost you the most out of everything that I've listed so far, but I have a pretty good assumption as to why that is.
Apart from it having a sticker on the packaging that indicates its exclusivity (an important factor for the dedicated collectors), the main selling point driving up the price is that this outfit is actually not depicted in the movie, but it's an original creation designed for the Funko Pop. A bold choice, but it has definitely paid off to the point where we would actually love to see Bowie wearing it on the big screen.
This David Bowie Funko Pop is a true rarity with just a few available out there, so if you decide to get it, make sure to ask for a real photo of the piece as well as the packaging to make sure that it's an authentic product and the quality is satisfactory for the price. If you find a solid offer, you will for sure not be disappointed – those who bought it praise the unique design and the glittery elements—a perfect collectible for both David Bowie and "Labyrinth" fans.
Custom-made David Bowie Funko Pop Ideas
The Jareth Funko Pops are fantastic, but I'd be remiss not to talk about the possibilities for creating your own David Bowie Funko Pop that depicts the artist in his non-fictional identity.
The easiest way to make one is to buy a Funko Pop Male D.I.Y. figurine and let your creativity fly! If you're confident in your painting and decorative skills, you'll end up with a totally unique David Bowie Funko Pop, representing your own favorite Bowie persona.
If you have access to a 3D printing machine, that option is also very much worth exploring – the material won't be as solid as the original Funko Pop. Still, you'll be able to experiment more with different poses and attributes of the figurine.
If you're not artistically gifted, you'll be happy to learn that there are a lot of talented manufacturers online that can create one for you! Check out pages like Etsy to find sellers that specialize in creating custom-made Funko Pops – you can discuss the design and pricing before committing to a purchase.
Whatever route you end up taking, below, I've gathered some of the best custom-made David Bowie Funko Pops to spark the inspiration in you!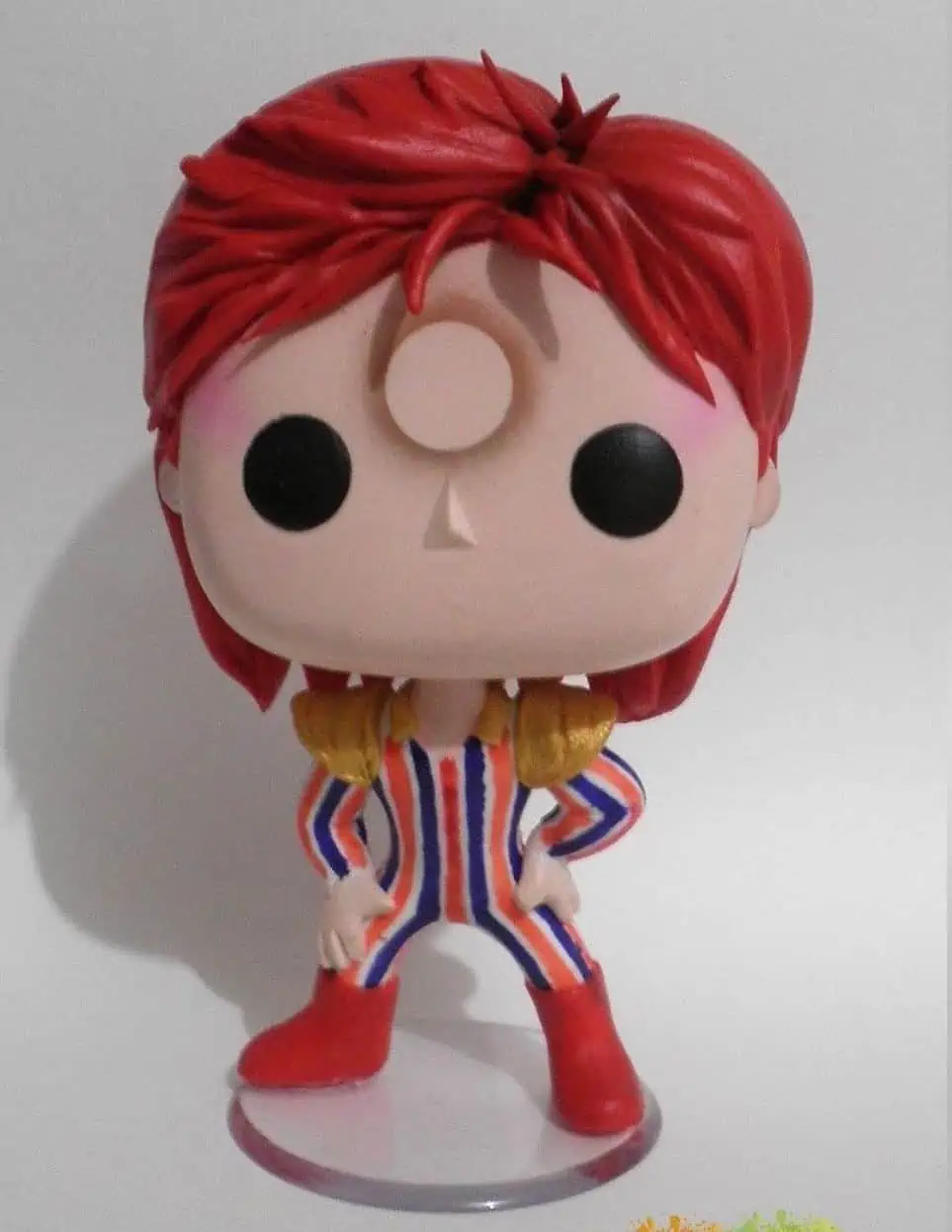 One of the many things David Bowie was famous for was a huge number of absolutely stunning and eccentric outfits that you wouldn't expect anyone else but him to wear (and pull off successfully). The striped, red-green candy suit with high, red leather boots is an absolutely legendary stylistic choice that was captured by Masayoshi Sukita in 1973. To this day, it's one of the artist's most well-known looks.
This custom-made Funko Pop pays homage to this iconic image of David Bowie. The suit is recreated accurately with the colored stripes, golden collar, and extravagantly big shoulder pads.
I love that the hair of this custom-made figurine is as fiercely red as in the original photo and the paint job on the suit is nicely detailed. If I were to nitpick just a little, the stripes' colors could be a tad more accurate, but it doesn't take away from the fact that it's a fantastic idea for a one-of-a-kind David Bowie collectible.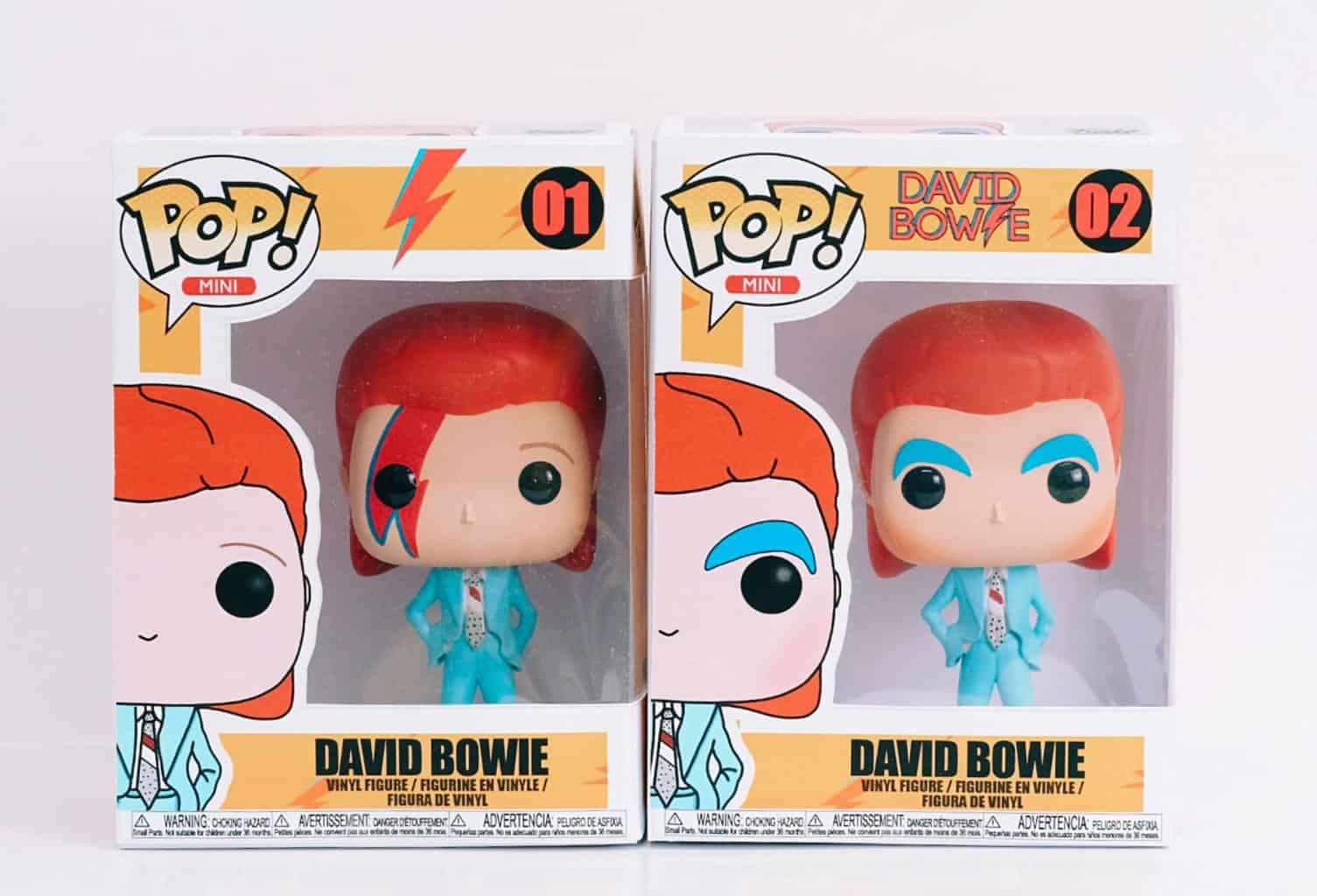 Next up are these wonderful, custom-made Funko Pops depicting David Bowie wearing an iconic, ice-blue suit designed by Freddie Burretti, most commonly known from the music video for "Life on Mars" off of the "Heroes" album. The creator took artistic liberty with one of them to give Bowie a signature red lightning bolt on his face from the "Aladdin Sane" album cover that came out the same year. That's the beauty of making your own Funko Pop – there are no boundaries!
The color of the suit is matched perfectly with the original photo, and the painstakingly recreated detail on the tie is a cherry on top. Even the slick-back, orange hair is spot on. I'm truly in awe of these.
Not only does the figurine look high-quality, but there's also even a beautifully designed, custom-made box to go with it – that's an extra level of dedication. You can find various Funko Pop box templates online if you want to replicate it as well.
FAQs
Question: Are there fake David Bowie Funko Pops out there?
Answer: To answer this question, first, we need to differentiate between Funko Pops that intentionally try to pass as original (in this case, the Jareth ones) and custom-made figurines that may look like the originals to an untrained eye, but it's no secret that they were made by a Funko enthusiast.
If it's an original Funko Pop that you're after, be careful – fakes are very commonly found! While it might not be a big deal for those who just want a representation of their favorite musician, if you're thinking about expanding your Funko Pop collection in the future and care about the brand, make sure to do your research on how to spot the inauthentic product.
As always, if the deal is too good to be true, it's most likely inauthentic – stick to the authorized resellers and refer to online guides that identify the signs of a fake Funko Pop based on the signs on the box and the Pop itself.
Question: Are Funko Pops environmentally friendly?
Answer: Since Funko Pops are made out of PVC, which is highly poisonous to the environment type of plastic, one could assume that it automatically makes them harmful to mother nature. However, since Pops are primarily bought by collectors, they don't end up in the trash after a year or so as many regular plastic toys do. When no longer desired, they either get resold or stashed away in a collection that will only grow in value over time, hence not contributing to plastic waste pollution. However, I still hope that in the future, Funko will commit to finding good alternative materials to use instead of plastic.
Question: Can I buy a second-hand David Bowie Funko Pop?
Answer: Just like in any other community centered around collecting something, the Funko Pop resellers' market is huge. If you can't quite afford a brand new, unopened figurine but don't mind getting one without an original box or slightly scratched on the back, then hop online and search through dozens of pages to find one that won't ruin your budget for the upcoming month. And no, there's no shame in doing so – what matters at the end of the day is your personal satisfaction with the Funko Pop you bought.
Summing Up…
While I wish that there was a Funko Pop figurine out there for every single amazing persona that David Bowie adopted throughout his life, it would surely make putting this guide together much more difficult. Hopefully, any shred of doubt about what to get has been dispersed by now, and maybe you've even learned something new about David Bowie, as we definitely have.
My favorite pick from the above-mentioned Funko Pops has to be the original Jareth Funko Pop holding the crystal orb. It depicts him in a white-grey outfit from the scene where he's attempting to trade the orb for Sarah's little brother. The clear reference to one of the most important moments in the movie, great depiction of the character, and quite an affordable price for a high-quality product make it a clear winner in my book.
Whatever you end up choosing for yourself, either an original or a custom-made figurine that you create yourself, I hope that with the help of this guide, you'll be confident in your choice and will display your David Bowie Funko Pop proudly for everyone to see!
Looking for more interesting readings? Check out: