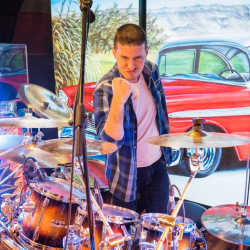 Latest posts by Denis Loncaric
(see all)
I remember being so hyped when I saw "Dancing In The Street" for the first time. Even though I was still a kid, there was something about Bowie that made me think the whole world could be mine. Then, there was Mick Jagger. When those two were on the scene together, it was pure magic. I listen to David's songs even today and can't imagine going through the day without playing Blue Jean at least once.
Now, I prepared something special for all of you die-hard Bowie fans today. I compiled a list of Best David Bowie Sweatshirts that will make you feel better when hanging out with your friends or even when you hit some concerts again.
I need to tell you the selection was very tough, but because I am a huge fan and a keen lover of Bowie's, I managed to create an ultimate list that will cover the needs of all of you out there. Check out my list of the Best David Bowie sweatshirts!
Bottom Line Up Front
From the list below, my favorite David Bowie Sweatshirt is David Bowie Lightweight Sweatshirt. This is because of the story behind it. Bowie said to Brian Duffy that he wanted a flash of lightning across his face, and Duffy and Pierre La Roche(a make-up artist) copied the bolt from a Panasonic rice cooker that was in the studio at the time.
My Top Picks Up Front:
Tips/ Advice: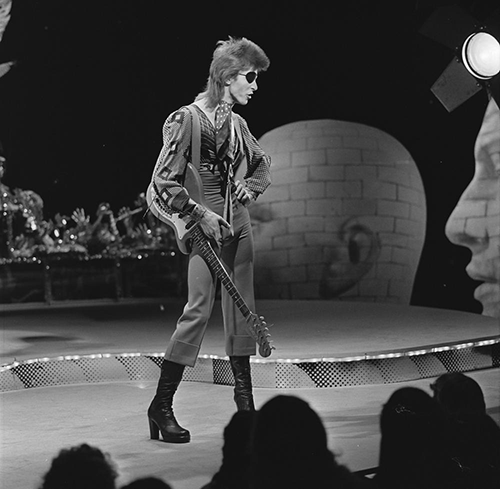 Buying a sweatshirt for yourself is easy because you know what you are looking for in the first place. But, trouble comes if you need to buy a gift for someone and are unsure which of the following designs would be the best.  If you buy this as a gift for someone, you can't go wrong with David Bowie Inspired Oh no, Love, You're Not Alone Unisex Sweatshirt because it is universal.
I am sure everyone will enjoy its design, and the theme of love itself suits everyone (except for haters.) Jokes aside, these shirts were inspired by Bowie's songs, movies, albums, and personal life, and I believe everything is covered in this top 10 list.
Selection Criteria
I was following some general guidelines when selecting the sweatshirts, and those are:
Uniqueness
Easy to recognize
Most popular moments/events/creations from the artist's life
Below, I will go in-depth about why I choose these sweatshirts, the history behind them, and of course, the quality of the shirt itself.
Keep reading to choose the best sweatshirt for you!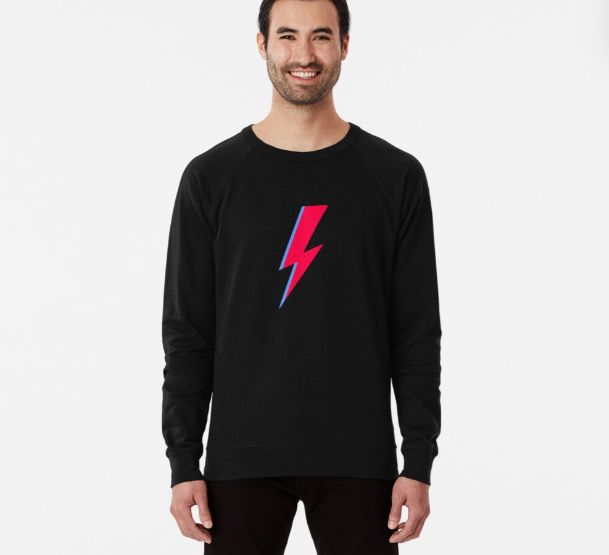 If you read everything above, you already know this is my number one pick from this list, and that is because of the unique history behind it. Everybody knows, at least I hope so, how special of a character Bowie was. It isn't a coincidence he came up with such a crazy idea as this one.
So how did the lightning become David's signature? When Bowie was preparing for a performance as "Aladdin Sane" in 1973, he imagined his character to be something close to an "electric boy." Pierre La Roche was his make-up artist at the time. 
When these two worked together to prepare for the movie, David asked La Roche to paint a flash of lightning on his face. Duffy, a photographer working with them at a time, spoke to La Roche about it, and they decided to make it happen. The rest is history.
The sweatshirt is built from a mix of cotton and polyester and is very soft, making it very comfortable to wear. The only thing I would say is missing is Bowie's face because not all people will know this is his sign.
Specifications:
Color: black, red, blue
Song/Quote/Album/Symbol: Symbol
Pros:
Iconic moment
Comfortable to wear
Simple but unique design
Cons:
Bowie's face is not featured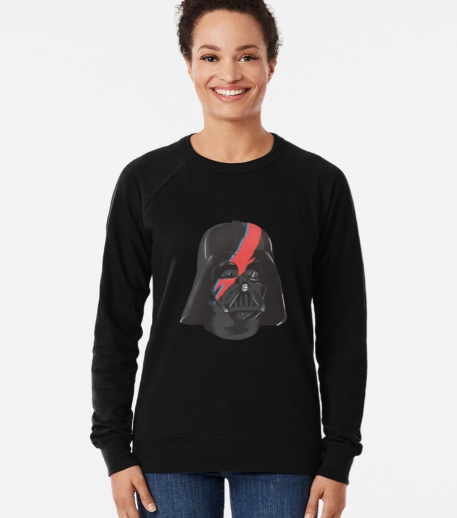 "Bowie, come to the Dark Side." Maybe you think I am joking, but there are so many commonalities between these two characters, and I am sure if you watched Star Wars, you would see them. I like this shirt because of the unique design it has, and by that, I mean how the designer succeeded in combining Darth Vader's head with Bowie's lightning bolt signature.
It tells us they might be one person, and I am not surprised by that. They're both such powerful figures! The shirt is black, and Bowie's lightning bolt and the Dark Lord's head are in the middle of the shirt. Overall, I like the design, except I would say some quote is missing below. Just an image in the middle makes it feel somewhat empty, and I would prefer to see something like a text that points out why these two are the same.
For example, wouldn't it be nice if there was a text below: "Dark Lord approves of a Blackstar (name of a Bowie's last album)."
Specifications:
Color: black, red, blue
Song/Quote/Album/Symbol: Symbol
Pros:
Creative combining of characters and symbols
Hidden message conveyed
The color matches the theme
Cons:
There is no text to point out the commonality between David and The Dark Lord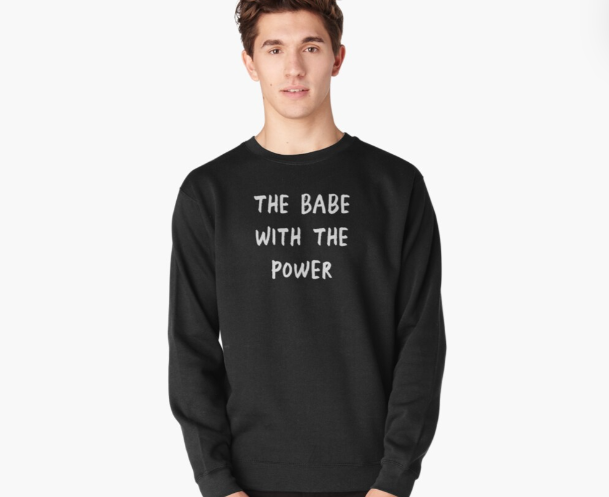 You remind me of a babe. What babe? The babe with the power. I mean, 1986s Labyrinth was a classic, and if you didn't watch it, you seriously need to consider if you are Bowie's fan or not. Now, as far as the shirt goes, I like that the design is very simple. There is a quote in the middle, and it looks very clean.
The good thing about this shirt is anyone from women to men and kids can wear it. I believe if you are a man, this one can be a good gift to your girlfriend/wife or somebody you like.
It is made from cotton and polyester.  Now, I need to note something, and that is to all of the hoodie fans. If you like baggy hoodies, you need to go two sizes up with this sweatshirt. Otherwise, it won't have the same baggy feeling.
There is only one thing I don't like about this shirt: it is missing an image to fill the empty area around the quote.
Specifications:
Color: black and white
Song/Quote/Album/Symbol: Quote
Pros:
Unique quote from the movie
Clean design
Unisex
Cons:
Too much emptiness in between and around the quote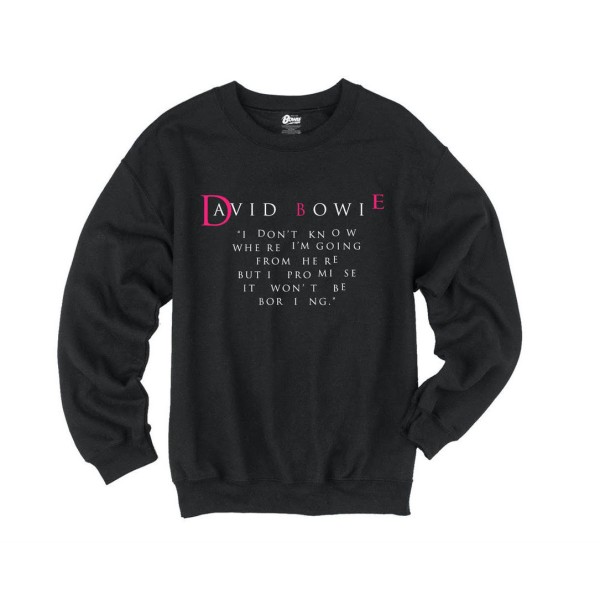 This one has such a cool story behind it. Everything happened at Madison Square Garden when David had a concert. It was 8 January 1997, and it was his fiftieth birthday. The atmosphere was something special, and everyone was ecstatic.
Bowie received his cake on the stage and gave a speech about his gratification, and shared some of his views. At the end of the monologue, he thanks everybody for coming and says, "I don't know where I'm going from here, but I promise it won't be boring."
Now, as far as the shirt goes, it contains only three colors, black, white, and pink. However, the text is visible, easily read, and fits perfectly in the shirt's middle. The sleeves look a little bit baggy, so if you like slim-fit clothes, you might consider not buying this one.
Specifications:
Color: black, white, pink
Song/Quote/Album/Symbol: Quote
Pros:
Good mix of colors
Special quote from his birthday
Text is visible and easily read
Cons: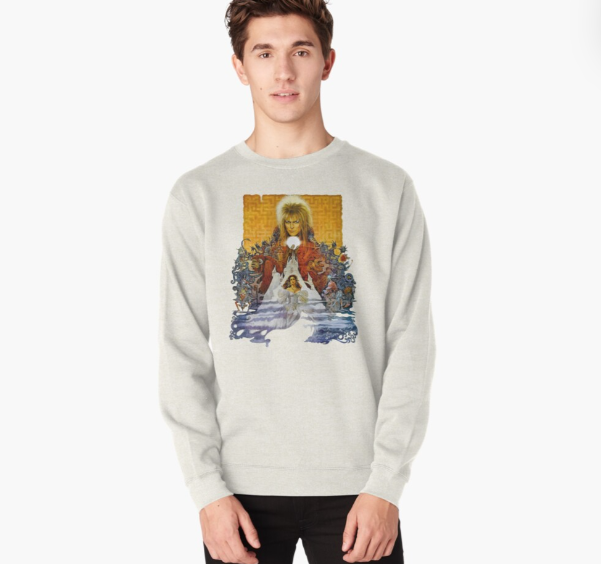 One more from the movie Labyrinth where David Bowie plays Jareth, who would become a Goblin King and a ruler of the Labyrinth. We can see all kinds of images on the shirt. On the top is a Goblin King, and below is his beloved Sarah.
The shirt is to be separated from other picks for its unique, not-so-clean, and not-so-simple design. It looks more artistic in the sense the whole application consists of numerous different themes from the movie.  I would also add that it reminds me of old church pictures of the saints, where the yellow background behind Bowie would represent the rising Sun.
The combination of colors is very complex, and four colors mix perfectly to represent different themes from the movie. I would say the only downside of this shirt is that everyone can't wear it. That is because its more artistic design would make it look weird to people who are less creative and open to new experiences.
Specifications:
Color: yellow, red, blue, white
Song/Quote/Album/Symbol: None
Pros:
Beautiful artistic design
A good representation of the movie by numerous different themes
The perfect combination of colors
Cons: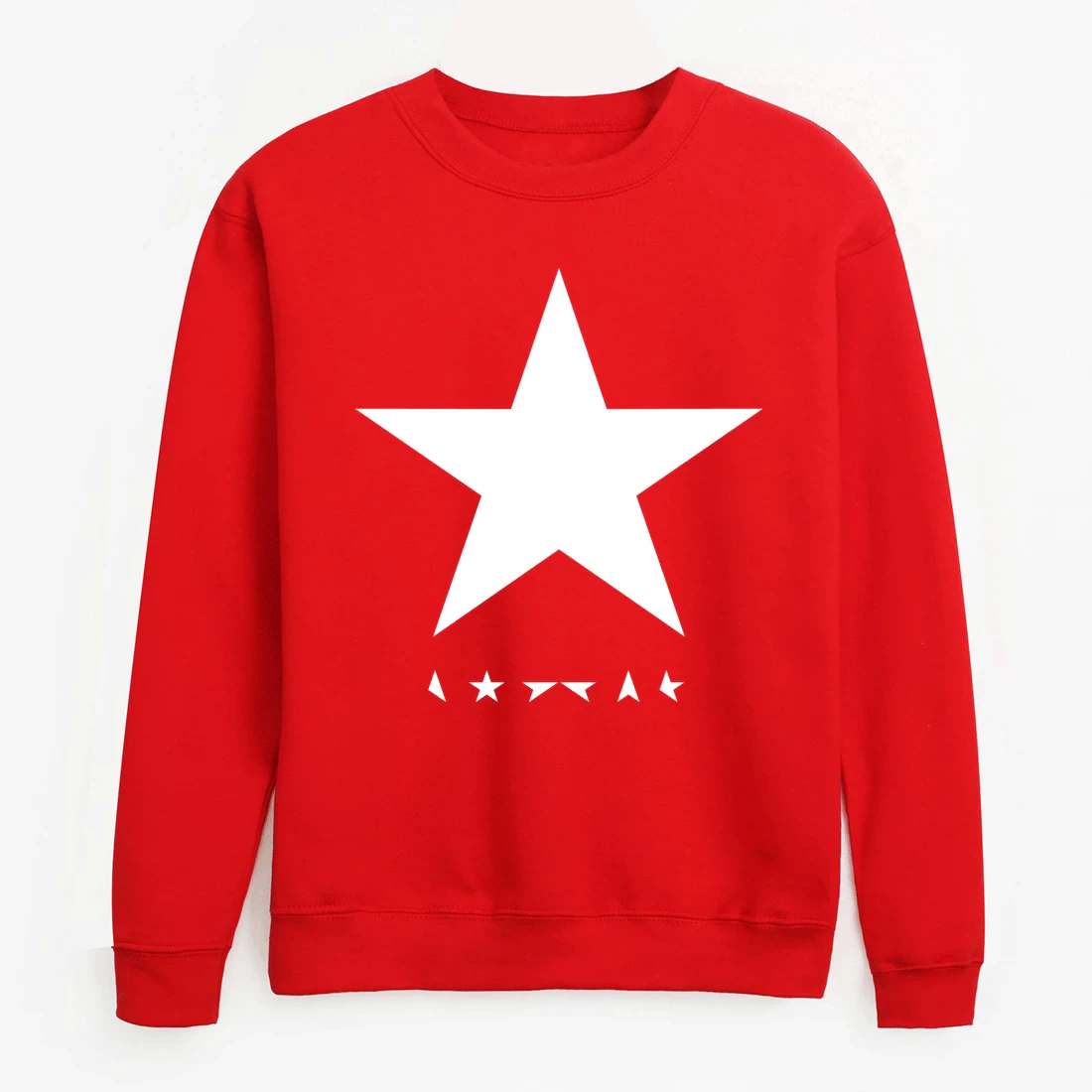 This one needed to make the list to honor the legend's life and his last album, Blackstar, where Bowie left us to cry and worship him two days after its release. The shirt's design is simple and contains two colors of your choice. There isn't much to say except that I would personally only choose the shirt where the color of the star is black because that would represent the album the best.
Also, I think that it's missing a quote, or at least the album's name. The star sign could be misinterpreted as Captain American's sign or some other similar image. Overall you need this one in your collection to honor the legend he was.
Specifications:
Color: two of your choice
Song/Quote/Album/Symbol: Album
Pros:
Simple design
Compatible colors
About his last piece of work before he died
Cons:
Any other color for the star sign except black doesn't represent the album correctly
Missing some quote, or at least the name of the album to clarify the star sign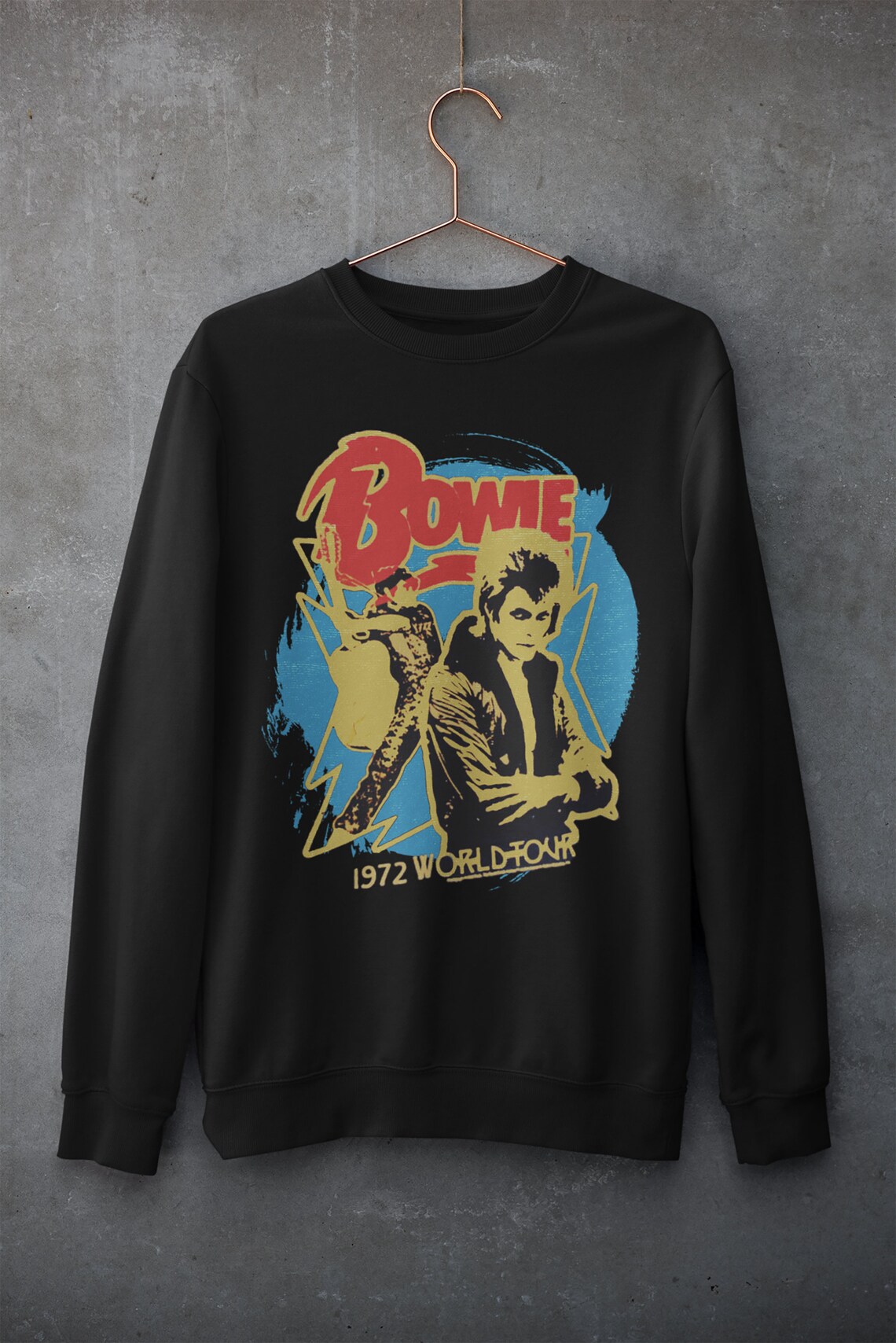 Now, we have one more shirt with a more creative design. It represents the World Tour in 1972. The themes are very interesting, and the shirt looks very vintage. It contains an image and some text, representing a very nice combination.
I like to see both text and image because it often conveys the application's message better than if they were separate. The design also reminds me of a strip-like image, and it looks very funny and serious simultaneously. The shirt is designed in four colors, yellow, red, black, and blue.
I would say that the design looks a bit edgy, which can be both good and bad. It depends on your personality, so the downside would be that this shirt wouldn't feel the same to everyone.
Specifications:
Color: yellow, red, black, blue
Song/Quote/Album/Symbol: None
 

Pros:
Creative design
Vintage looking
Multiple combinations of colors
Cons:
Only for specific personality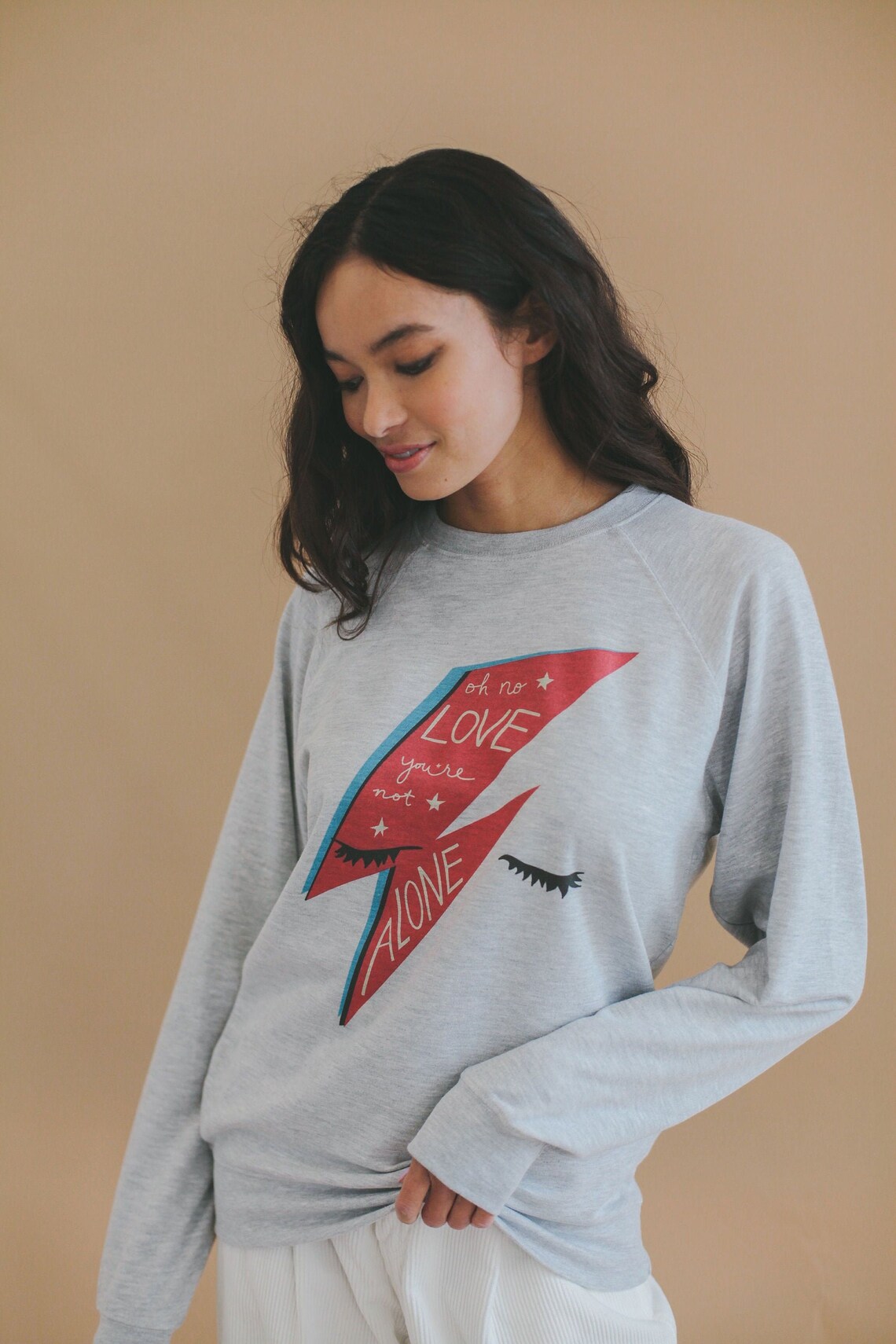 I like this design because it combines his lightning bolt signature and his love for a woman. The theme of love and the eyes embedded in the bolt itself give a very romantic feel to this shirt. Also, the shirt radiates a sad feeling since the eyes of the woman are closed, and that is beautifully synced with the lyrics of the song "Oh no, Love, You're Not Alone."
The quote comes from Bowie's song Rock n Roll Suicide, released in 1974. So far, this design has the best combination of themes, colors, and story behind it. The only downside is it is only for women.
Specifications:
Color: grey, red, black, white, blue
Song/Quote/Album/Symbol: Song
Pros:
The perfect combination of image, text, and story behind it
Good mix of colors
Theme of love
Cons: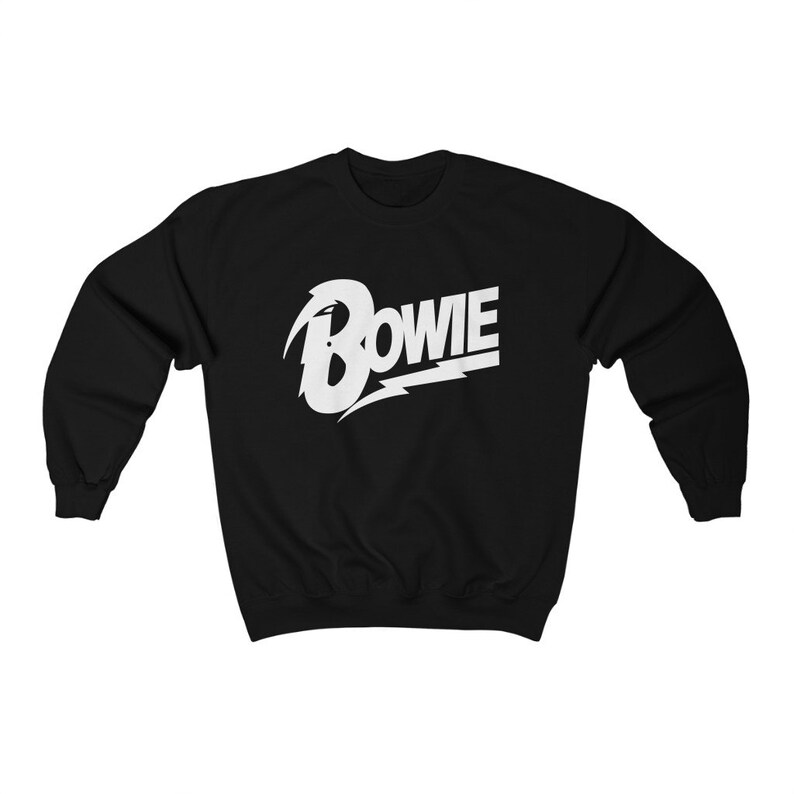 There have been many creative designs on this list, and we need a classic one now.  I believe this David Bowie White Logo sweatshirt is a great option for casual outfits since it is simple, clean, and can be combined with almost anything.
This shirt is easily combined with almost anything because it comes in only two colors, the colors you choose. The application consists of Bowie's name and his lightning bolt signature below it.There isn't much to say about it, except that both men and women can wear it. Customers also reported washing it on and on, but the design was still unaffected.
I guess the only downside would be that it is too simplistic, but that is up to the customer's preference.
Specifications:
Color: two colors of your choice
Song/Quote/Album/Symbol: Symbol
Pros:
Classic design
Good combination of two colors of your choice
Durable, well-built
Cons: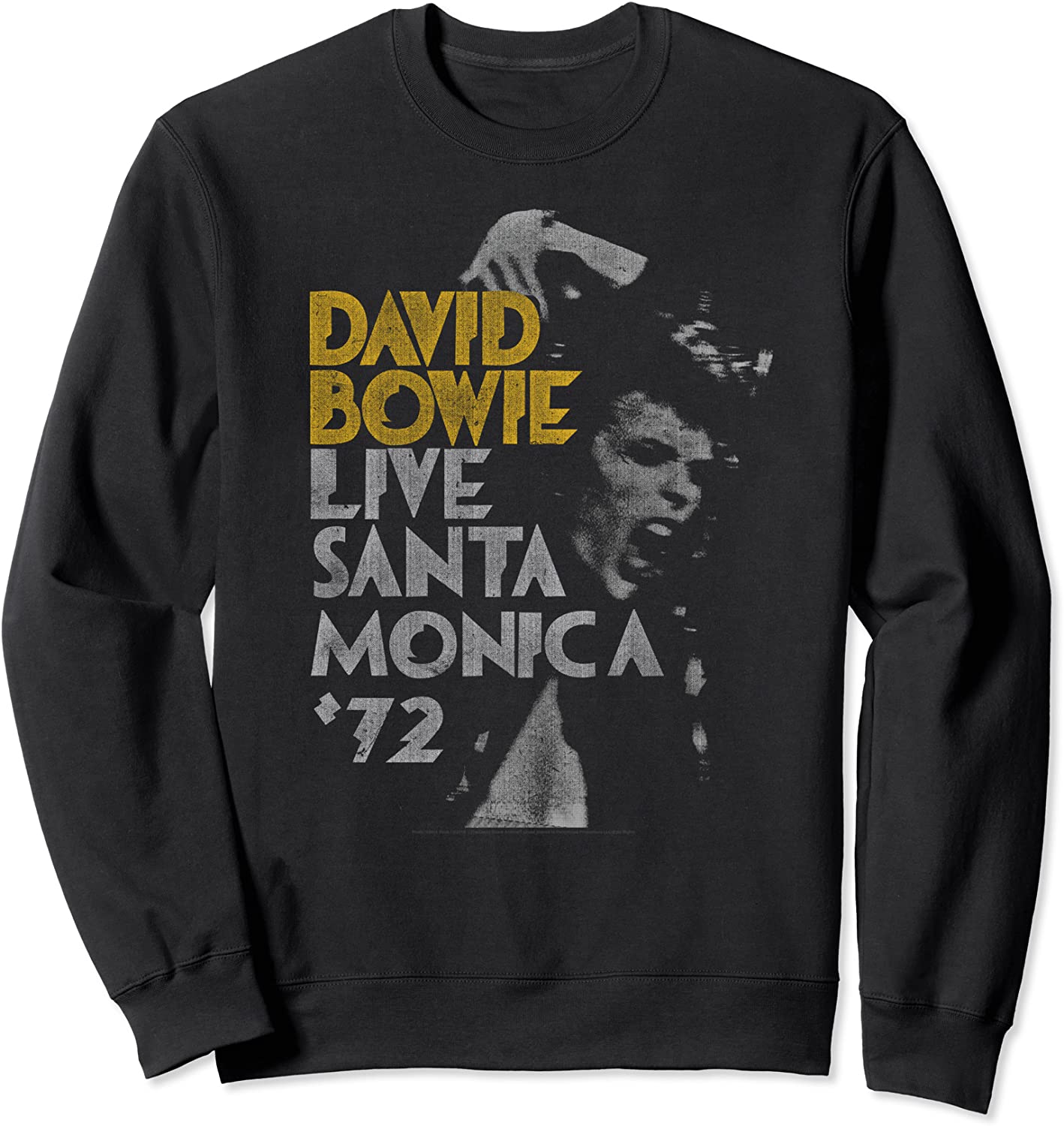 The last pick on my list is the shirt that covers a Santa Monica '72 live album by David Bowie. It represents a great mix of text and image, resulting in a beautifully looking design and application. There are three shirt colors, but you can always change the background color. It comes in black, navy, dark heather, and royal blue.
It is made from a combination of cotton and polyester, and customers reported it was very comfortable. The only bad thing is some customers also reported that colors washed off after some time.
Specifications:
Color: black, navy, dark heather, royal blue
Song/Quote/Album/Symbol: Album
Pros:
A great mix of themes
Specific background colors
Comfortable to wear
Cons:
Colors wash off after some time
FAQs
Question: Where is the David Bowie store?
Answer: The address of the David Bowie store is 14 Heddon Street, London.
Question: Who designed David Bowie's clothes?
Answer: The mastermind behind David Bowie's clothes is Kansai Yamamoto, a Japanese fashion designer.
Question: Did David Bowie wear a dress?
Answer: Bowie was seen wearing a velvet dress on the record cover of "The Man Who Sold the World."
Best David Bowie Sweatshirts: Conclusion
It is not easy to choose the perfect sweatshirt for yourself, but I hope I helped you at least a bit in the process.  All the shirts have their unique design and are created to match a certain wearer's personality. If you don't know which one is the best, you can always go with the classic David Bowie White Logo Sweatshirt because it mixes well with every other clothing piece and is very casual.
Regarding the quality, almost all of the shirts are well-built except for the few where the color gets washed after a certain amount of time. And if you are not buying this for yourself and you are to get the sweatshirt as a gift, you can never go wrong with the David Bowie Inspired Oh no, Love, You're Not Alone Unisex Sweatshirt.
Whatever you decide to buy, every single shirt will convey a Bowie vibe, and other people will feel your presence more.