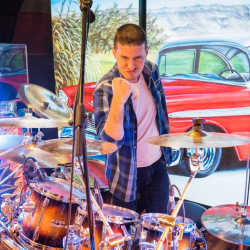 Latest posts by Denis Loncaric
(see all)
David Robert Jones, better known as David Bowie, was an English singer-songwriter, actor, and one of the most influential musicians of all time.
The real pioneer of gender-bending. He amazed audiences and challenged society by wearing Japanese Kimonos, feminine make-up, animal print tops, silk scarves, and of course — performing.
Even though this might sound pretty odd, especially for that period, Bowie skyrocketed his career by being different. And who cannot appreciate that?
Besides being "out of this world," he created music for generations. For over four decades, David Bowie entertained the world with his unforgettable live shows and a catalog of songs that shaped the music industry around the globe. 
Thus, I wanted to pay tribute to this legend, so I pulled together the best David Bowie T-Shirts of all time!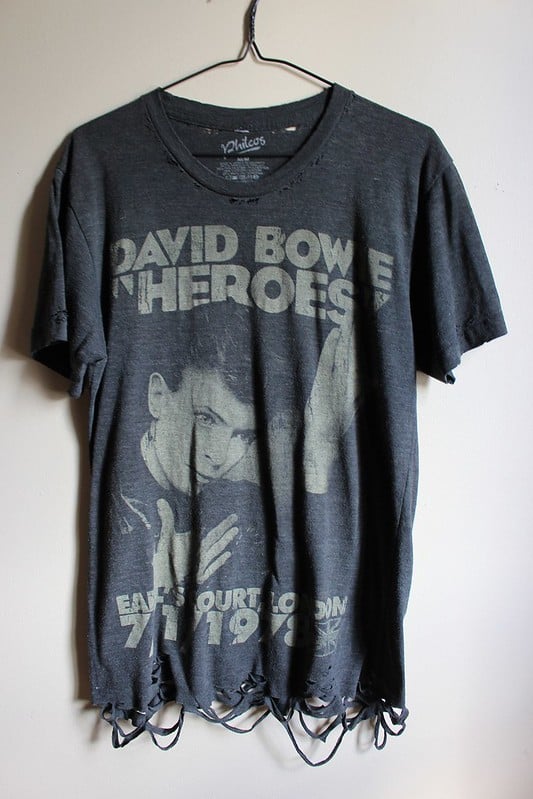 My Bottom Line Up Front:
Even though the styles are different, I had to pick my favorite, which is the David Bowie Diamond Dogs Vintage T-Shirt. It is so minimalistic yet very powerful. It is 100% cotton which I always prefer, and a great design that matches any style!
My Top Picks:
David Bowie Diamond Dogs Vintage T-Shirt

David Bowie Aladdin Sane T-shirt

David Bowie Smoking T-Shirt
Buying Guide
Before we move on to the list, here is some advice that you should consider before buying the T-shirt. 
Material Type and Fabric
For me, as for the majority of people, natural fabric is the best. Therefore, the aim is to look for a t-shirt that consists of 100% cotton. This type of material is durable, easy to care for, and allows your skin to breathe.
As for polyester, it is best to avoid it. In such cases, polyester will retain its shape when the fabric shrinks, stretches, or thins (which is to be expected), so your shirt will end up too loose in some areas and tight in others.
Size and Measurements
Choosing the right size shirt should be based on comfort. Even quality shirts will stretch over time, so choose a size that is not on the large side. After several washes, the fit should be good.
Avoid buying shirts that are too big or too small based on your size. This is easy if you are shopping in the actual store but not so convenient if you are shopping online.
Luckily, most online stores provide size charts, which is great since we can take our measurements and find a good fit.  
Check the Fit
T-shirt 'Fit' and 'Size' are different. In order to ensure that the shirt style and design fit your body type, you should always be aware of your body proportions. 
For instance, some people have a long waist and want to wear shirts that have longer hems.
Different brands may use different terminology or names for their types of fits. However, a basic guideline is:
Slim Fit (this fit is tailored to fit people with a slim waist and is popular among women)

Regular Fit (a basic design that fits almost everyone)

Big/Tall (for people taller than six feet)
Overall Design
Besides great quality and good fit, the shirts must be fashionable, right?
It doesn't have to be on-trend, but the design has to be appealing to the buyer. Hence, when shopping for a t-shirt, aim for the one that suits your style. However, there is more than meets the eye.
The design is important, but the quality of the design is more important. Even though the style of the shirt might be the greatest thing you have ever seen, what if the picture falls off after the first wash?
This means that you should look for a design with a good print quality or, even better, one sewn into the shirt.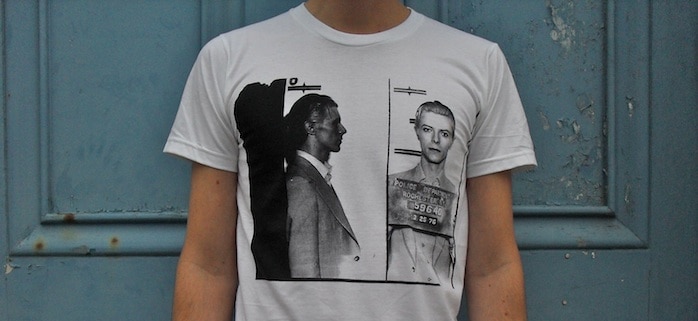 Best David Bowie T Shirts of All-Time
The criteria that I used for crafting this list are the quality of the shirt and the design, my fashion preference, budget, and of course, reviews from other satisfied consumers!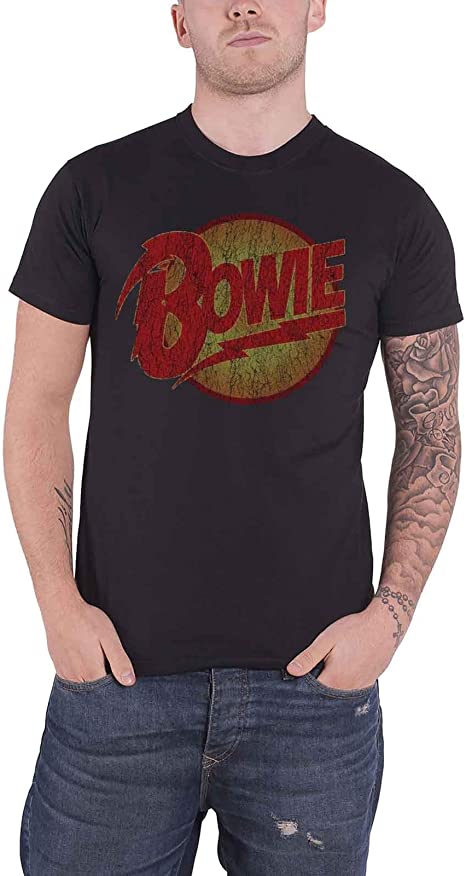 This is probably one of my favorite David Bowie t-shirts. It has a black colorway with Bowie's 1974 album logo on the front. 
The shirt's name, Diamond Dogs, is the eighth studio album released on 24 May 1974 through RCA Records. Even though this album might not be among the "best ones" he ever made, the t-shirt was great!
The t-shirt is 100% cotton which matches my buying guide! I always prefer cotton over any other material, and if it's entirely cotton, then I know that there's nothing better! When it comes to the design, the t-shirt is all black, with a blank back and a design on the front. 
There is a yellowish circle where the name Bowie is written all over it, as the 'Diamond Dogs Vintage' design motif. I really like the design's colors, since it is not too colorful or overpowering, which I always prefer. 
The t-shirt comes in all sizes and is suitable for machine washing! Since there are different people and thus different tastes, the design may not appeal to you. As for me, it is one of my favorite David Bowie t-shirts of all time! 
Pros
:
Vintage look

Very classy

100% Cotton
Cons:
The design might not be appealing to everyone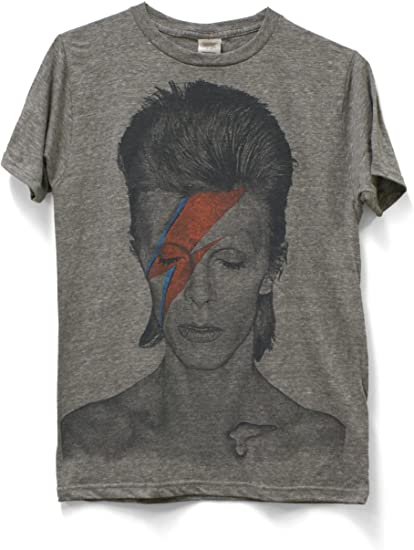 This is the most recognizable image of David Bowie to wear on your shirt! It is also said to have been the most costly cover art in the world in 1973.
This shirt gives the "Aladdin Sane" album cover a trendy twist by imitating the grey shine of his skin. The glam lightning bolt makeup stands out in stark contrast, portraying David Bowie's shattered emotions. It seemed like this t-shirt wanted to challenge our emotions, and for me, it kind of did.
David formed his new character, Aladdin Sane, while on tour in the United States in 1972. A little bit later, the world-famous singer admitted that the inspiration for that persona was his half-brother, Terry, who was diagnosed with schizophrenia.
The t-shirt is very simple. It has a vintage grey color, with a blank back and the face of Bowie on the front. The design of his face is not a simple picture glued to the shirt but rather gives the feeling that his face was drawn on the shirt. 
The picture design is all black/grey, with a red and bluish flash across his face. It represents a character named Aladdin Sane. It is also the name and cover for his sixth studio album.
The takeover of the Broadway-Lafayette subway station in New York in 2018 served as the idea for this shirt design. For me, this t-shirt is a must-have for any real rock star! It's also 100% cotton, which of course, is always preferred, and it has a killer design with an incredible story behind it. 
Pros:
Iconic song and iconic t-shirt

100% cotton

Great picture as a design
Cons: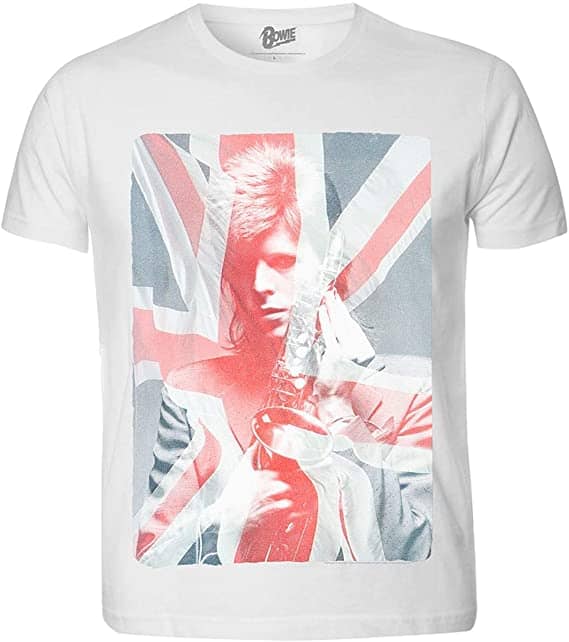 Ziggy Stardust was another fictional character that Bowie created. It was an alter ego that changed the music industry and skyrocketed his career forever.
The image used for this shirt is from the photoshoot for the cover of the album "Pin Ups" from 1973. A legendary music photographer, Mick Rock, took this snapshot to capture David Bowie's "electromagnetism."
As for the color of the shirt, it is totally different from the previous two since it's all white. There is a picture from the Pin-Ups cover, aka the picture of Ziggy Stardust, covered by the British flag in gradient style.
The union flag is overlaid over this shirt's part glam, part punk design to pay respect to the U.K. origins of Glam Rock. Additionally, this shirt is a statement about David Bowie's musical breakthroughs and his British heritage.
It is, again, 100% cotton with short sleeves and a round neckline. I dig this shirt because it's simple, it presents a legendary Bowie song, and it is all cotton, which I can never resist!
Pros:
100% cotton

British flag on the design

Great quality
Cons: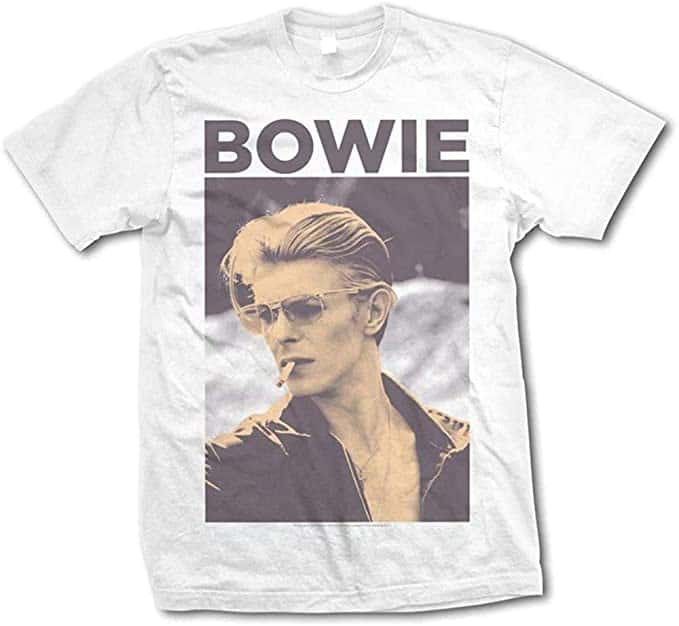 This relaxed shirt exudes the kind of laid-back style that every off-duty outfit needs. The item depicts the Space Oddity singer looking oh-so rock 'n roll with a cigarette on his lips. 
The shot on this shirt was taken while Bowie was filming "The Man Who Fell To Earth" in 1976. It depicts an effortlessly stylish rebel.
However, the whole filming process was a turbulent time for Bowie. He stated that he poured his authentic self into the character. He felt alienated as much as the character was. Thus it was such a natural performance. 
This shirt represents the exact same thing, the rebellion of a man. The shirt has a real story behind which I really love. Plus, I dig the design and the overall Bowie style. He looks like a rock star and a rebel at the same time.
The shirt has a printed picture of David smoking a cigar and "Bowie" written above the design. The tee is also all-cotton and machine washable, plus it's suitable for both men and women. It is one of my favorite Bowie t-shirts, though I have to admit, it has good competition!  
Pros:
Suitable for both genders

Pure cotton

Beautiful design

Vintage style
Cons:
Not everyone will dig the vintage style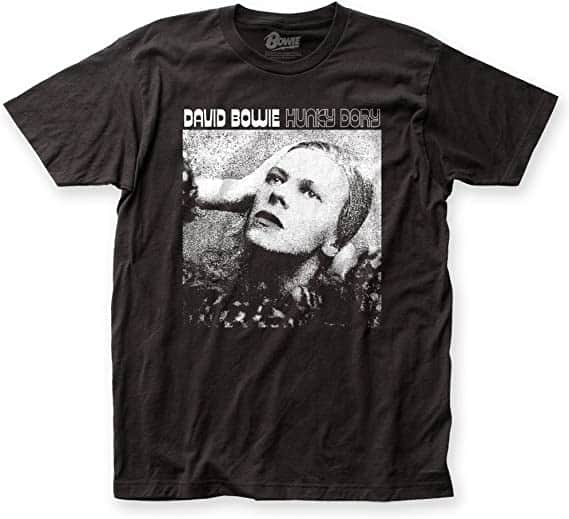 This tee was inspired by pictures of legendary silver film icons Lauren Bacall and Greta Garbo.
On this shirt, David Bowie pulls back his long blonde hair to change his look, abandoning his former folk image to transform it into something new.
David Bowie's journey to New York, where he hung out at Andy Warhol's Factory, playing mime for the crowd, making contacts, and soaking up inspiration, was the inspiration for the Hunky Dory record.
The shirt is dark, which is not so great for me. The picture on the front is the picture of Bowie taken from his fourth studio album, "Hunky Dory." His name and the name of the album are written above the picture. 
To be honest, I am not such a fan of pictures glued to the t-shirt, because for me it looks cheap, but I like this one. It is definitely not in my top three picks, but I would still wear it. 
As with all his merchandise t-shirts, this one is also 100% cotton and machine-washable. It is very simple, very modest, and that's more than enough for me to be hyped about it!
Overall, fans love this shirt, but how can we not since this album is also one of Bowie's best works!
Pros:
Dark style t-shirt

Cover design from one of Bowie's best albums

Very comfy
Cons:
FAQ Section
Question: Where Is the David Bowie Store?
Answer: To commemorate David Bowie's 75th birthday, a pop-up shop has emerged only yards from the location where he posed as Ziggy Stardust. The store offers limited-edition albums and displays never-before-seen Starman behind-the-scenes video. 

The store, which is located at 14 Heddon Street in downtown London, also has a photographic exhibition and exhibits that will provide insight into Bowie's career. His estate runs the store, which is part of a year-long tribute to the performer.
Question: How Long Is the David Bowie Pop Up Shop Open for?
Answer: Another store was opened at 150 Wooster Street in Bowie's chosen city of New York. Close to where he lived in his last years of life and recorded his final album Blackstar. Two venues opened on October 25, 75 days before the singer would have turned 75, and closed in late January 2022.
Question: How Many Albums Has David Bowie Made?
Answer: He made 26 studio albums. David Bowie, from the start of his career in 1947 until 2016, released 26 studio albums, 46 compilation albums, 21 live albums, ten extended plays, 128 singles, three soundtracks, and 12 box sets during his career. Besides that, Bowie also released 72 music videos and 28 video albums.
Conclusion
There is no doubt that David Bowie was a legend and one of the most influential musicians of the 20th century. He was the first to cross that line between gender norms, and even those who do not support that can give him an honor for having such courage!
He was definitively something that was not seen before in the music industry, especially in his innovative work during the 1970s. I love that he stood out from the crowd with his unique look and songs! His art was incredible; thus, his merchandise could not be different!
My top pick has to be David Bowie Diamond Dogs Vintage T-Shirt! It's very soft, 100% cotton, and I love the design and colors! The other four are some of my favorite Bowie t-shirts as well, and I am pretty sure you will also find your match!
Continue reading related David Bow merch guides: