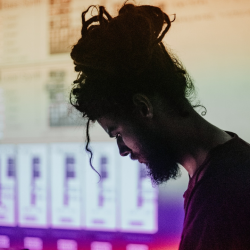 Latest posts by Calum Vaughan
(see all)
Ahhh, David Bowie… ever since he passed away, I've been thinking that the world has never seen a musician quite like him. From his incredible songwriting ability and creativity to his mesmerizing stage presence and fashion sense, this dude had it all. I've been listening to his music on repeat for years, often returning to some of his old and less notable releases, uncovering every remaining stone in his discography. It truly has been a beautiful journey.
However, it's not enough – I love listening to his music, but I've been seeking alternative ways to express my joy for Bowie's music, and I have ended up doing exactly this by purchasing David Bowie posters. There are tons of them available online and I have slowly been filling my music studio with different designs. It feels like no matter what happens, Bowie is watching over me and the music I create, I love it!
However, buying these posters hasn't been an easy process – there are so many low-quality products out there. If you're in the same boat, you might be wondering how you are supposed to ensure you find the best David Bowie posters and filter out the duds? It's a great question, and I've prepared the following guide to help you with exactly that. Read on to find out more!
Bottom Line Up Front: The best David Bowie posters should always have excellent reviews, have at least one large-size format, and most importantly should have a design that suits your style. Something such as the Studio B David Bowie poster matches this criterion perfectly, especially if you love the glitz and glamour of Bowie's career – and it's got the bonus of being glow-in-the-dark!
What to Look For in Posters
Later in this guide, I'm going to be providing you with a list of my top recommendations for David Bowie posters, hopefully giving you the inspiration you need to find something you like. However, that's not going to be useful if you don't know how I came to my product conclusions.
So, I've decided to begin by providing you with some criteria to work through when searching for David Bowie posters. Follow these pointers, and you'll be finding the best posters for your bedroom wall in no time!

Quality
This first pointer might seem a bit ridiculous – after all, of course you're going to be looking for high-quality David Bowie posters. However, it's a lot more important than you initially may think. Due to the popularity of David Bowie as a musician, thousands upon thousands of companies have tried to cash in on his music by producing merchandise for his fans to buy. This can be a good thing if they're passionate about delivering high-quality products, but trust me – many are not.
I have come across all sorts – from posters that have designs that have been scaled up thus resulting in pixelation, to posters that have faded colors or straight up do not match the product description, there are a lot of duds out there. Most of these are a lot cheaper than high-quality products which is why it's so easy to get caught by low-quality posters, but there are several things you can do to prevent this.
Firstly, always consider the expression "if it sounds too good to be true, then it probably is". If you find a poster that is only five dollars, question why it is that cheap. When officially licensed David Bowie posters cost around twenty dollars, a poster that is a quarter of the price is more than likely going to have a compromise in terms of quality. You shouldn't have to spend a ton of money to find a high-quality poster, but I'd recommend at least spending ten bucks.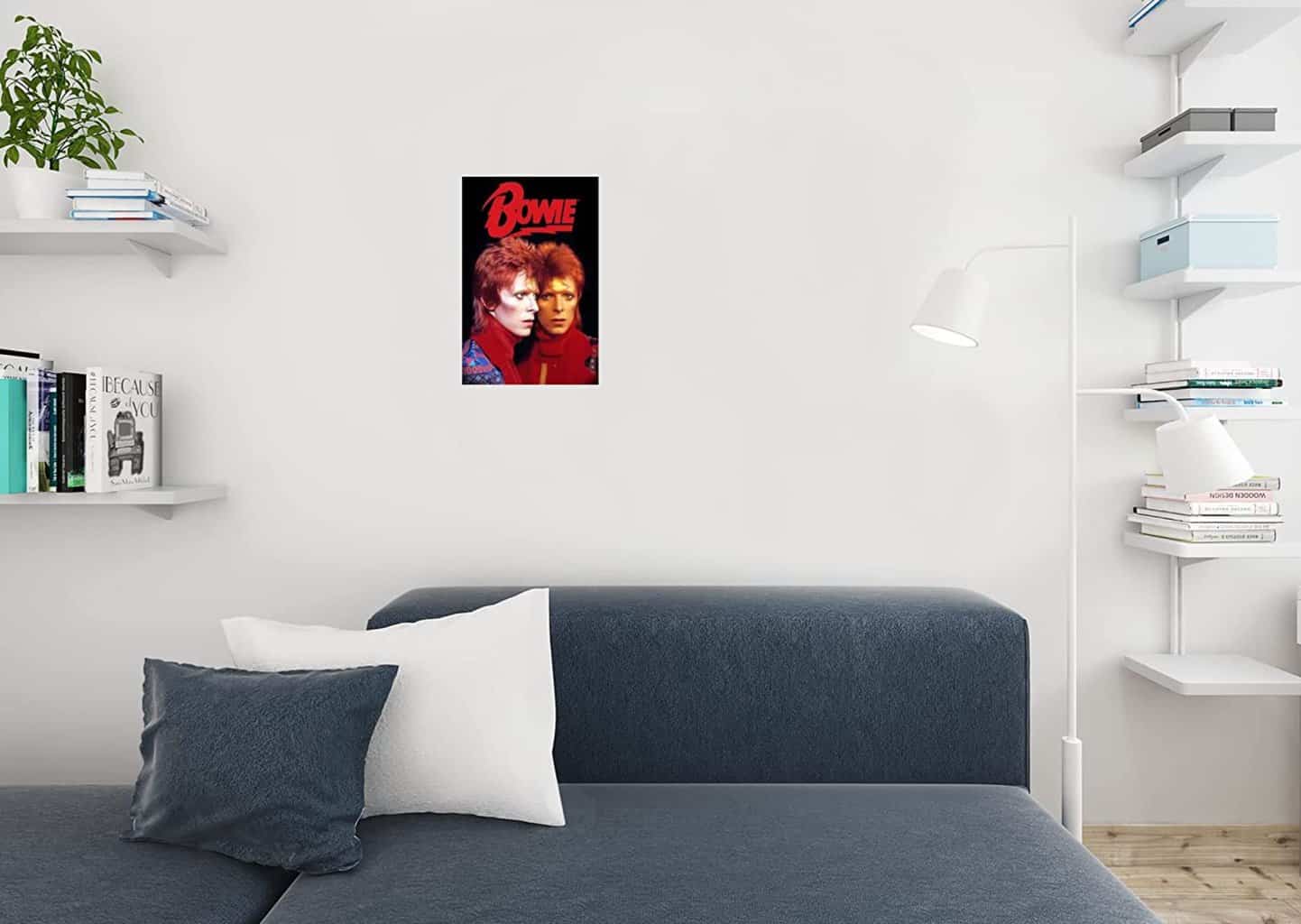 The second thing you can do is obvious yet so commonly ignored – read the reviews! Just about every David Bowie poster available online will have been reviewed, and reading these reviews is a sure-fire way to get to the bottom of whether a product is of decent quality or not.
If it's had a lot of bad reviews, avoid the product, even if it has good ones to counteract it, as they could be fake reviews. However, if a product receives consistently high ratings, you're on to a winner.
Sizing
Once you've read the reviews of a David Bowie poster and are confident that it's going to be of high quality, the next thing you should investigate is the sizing of the poster. Posters come in many shapes and sizes, from small A5 posters to enormous A1s that cover half your bedroom wall. It's important to remember this, as people often assume that posters are going to be huge when in reality they could be much smaller.
This can be particularly confusing as the images websites use to preview their posters are not representative of their actual size. It's difficult to tell how big it will be when it arrives, and that's why it is important to investigate the dimensions.
Every poster listing should provide its exact dimensions – note these down and measure out the space on the wall where you envision yourself placing the poster. This will give you a good idea of how it will look on your wall.
Many posters will be available in a variety of sizes, so you should also consider how large you want them. Bigger is not always better, so you might want to think twice about getting a huge A1 mural of David Bowie's face to paste on your living room wall! Subtly is key in my opinion, but whether you agree or not, at least ensure that you check the dimensions and know exactly how big the poster will be when it arrives.
Shipping Costs
Posters are almost always made out of paper, and this makes them pretty cheap – you can easily find a high-quality and large David Bowie poster for between ten and twenty bucks. However, the poster should come rolled up in a tube, and these tubes can be pesky to ship, with some couriers charging a fortune to ship them internationally.
If you're ordering a poster domestically, you shouldn't have too much trouble here. However, I've come across a ton of amazing David Bowie posters that I have been excited to order, only to discover that they would have to be shipped from Australia.
Sometimes international shipping costs can be worth it, but there is a high chance that you will be stung with hefty delivery costs that could even reach costs higher than the product itself. Don't forget about taxes too, it can be a right nightmare!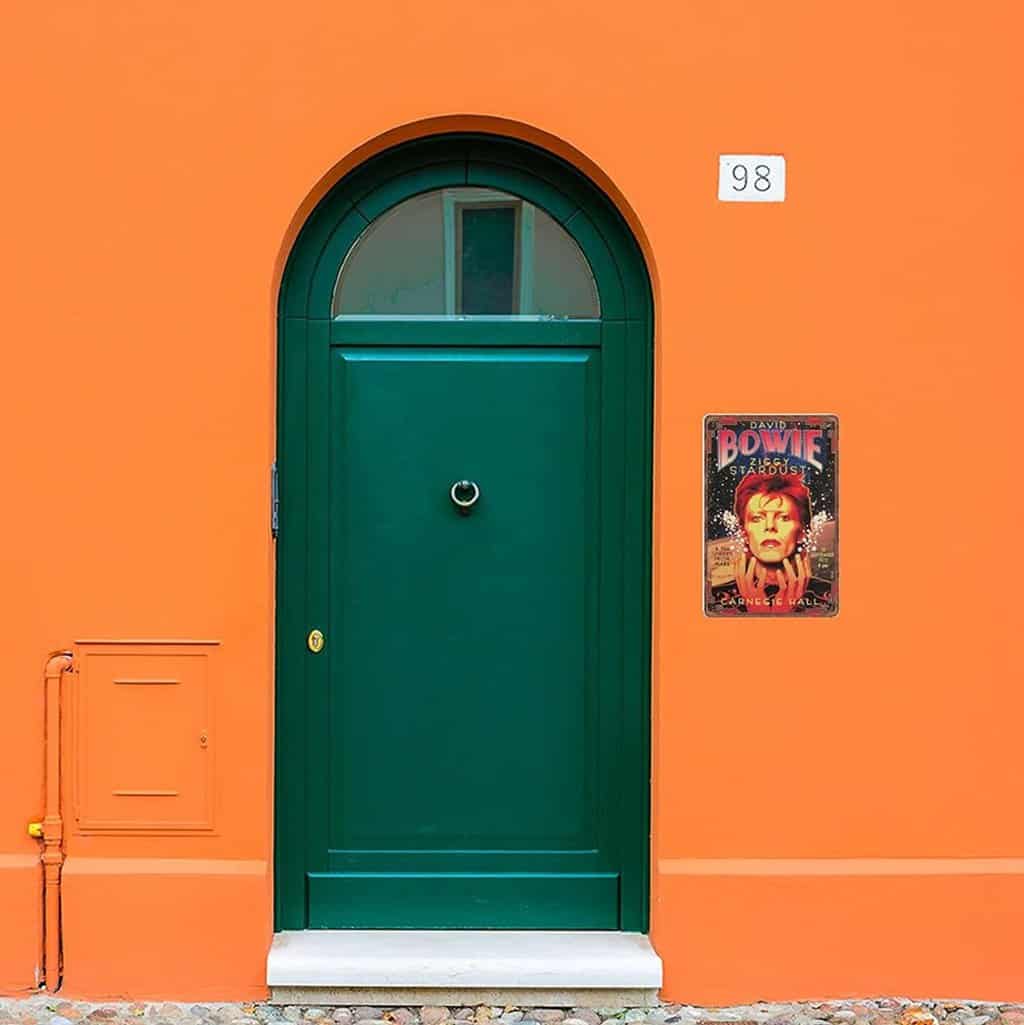 The best way to navigate this problem is to simply order domestically, and if you find something that you like that requires international shipping, do your research. Who knows, you could find a bargain, but the last thing you want is to receive a $50 shipping bill for a poster that was only supposed to cost $20. You'd have to consider the long waiting time on top of this fee too!
Design
Those last three pointers were a bit boring, let's be honest. Do you think that David Bowie would have been interested in analyzing shipping costs? I doubt it! However, something that the musician was highly passionate about design, and that brings me to my final pointer for finding the best David Bowie posters.
You are probably planning to paste your David Bowie poster on your bedroom wall, in a music studio, or your school locker. Wherever you choose to display it, you're going to want to ensure that the poster suits your style, that's the whole point! Some people prefer subtle tributes to their favorite musicians that simply include some album artwork or the musician's face. Other people prefer more extravagant designs that use many different colors and pay homage to the musician's creativity.
Ultimately, only you can make decisions about which designs suit you the most. In my opinion, it's always a good idea to choose more subtle designs over explicit ones, as complex and brightly colored posters can be a bit overwhelming. However, that may not match your opinion. However, something that I would consider to be universally appreciated is to have a vast variety of designs.
If you're planning to buy a few David Bowie posters, it would be a shame to just have lots of pictures of his face – you should expand your horizons and experiment with some more arty designs too.
Regardless of what your preferences are, I think you will find that there are a ton of different David Bowie poster designs online, and it's only a matter of time until you find one that you like.
The Best David Bowie Posters In My Opinion
Now that we've taken a look at the kind of qualities that you should look out for when searching for David Bowie posters to buy, I think it's time that I provide you with some of my top recommendations.
These are all posters that adhere to the quality, sizing, design, and shipping standards that I previously mentioned, and I've tried my best to provide a variety of designs. That way, there should be something for you, regardless of your personal preferences!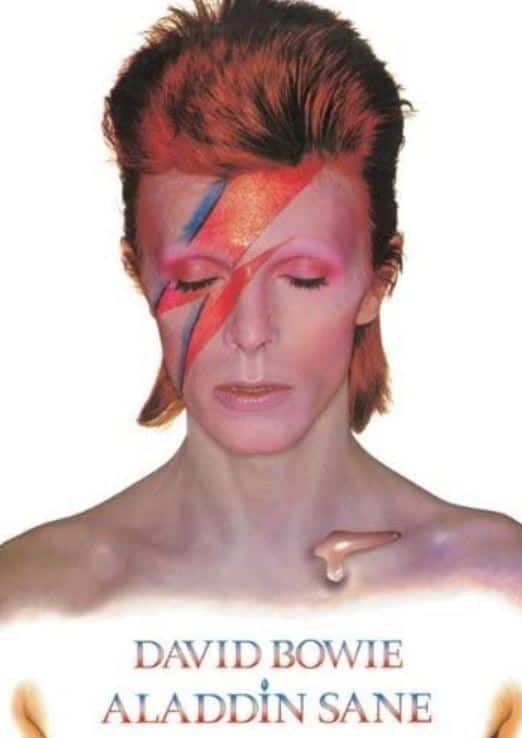 Let's start things off with an absolute classic David Bowie snap that any fan will recognize – the official Alladin Sane poster from Amazon's David Bowie store. Aladdin Sane has always been one of my favorite Bowie albums, and I think a big reason for this is the fact that it was his first album written in a position of fame and fortune.
I feel like this gave him the ultimate momentum for creativity, and the album's artwork represented this perfectly. As the artwork depicts, this poster shows a portrait of Bowie with closed eyes and a blue and red bolt painted across his face. His hair is looking amazing too! It's a pretty big poster at 24 x 36 inches, so if you're looking for the holy grail of Bowie portrait posters, this is one to check out!
Pros
Officially licensed by the David Bowie merch store
A whopping 24 x 36 inches in size, making it ideal for large wall fillers
Absolutely classic artwork that any Bowie fan will instantly recognize
Cons
Not everyone loves Bowie enough to have his face covering such a huge space on their wall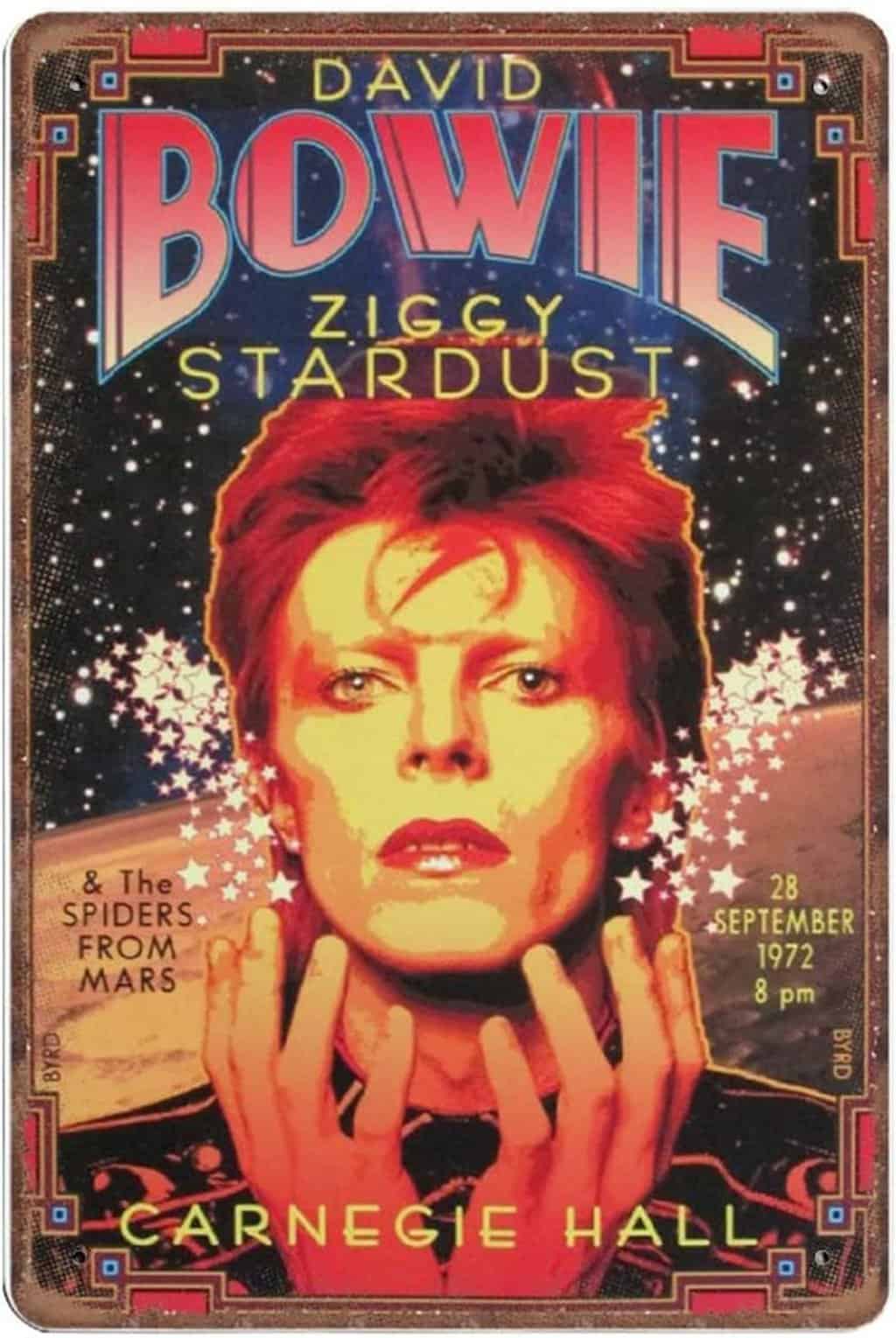 Now, I chose this 'poster' because I think it's super unique and would be a fantastic addition to any David Bowie merch collection, but it's not technically a poster – it's a small 12 x 16 inches sign made out of tin. However, I think it has a similar effect – whilst it's not going to cover much wall space, it's an excellent decorative art piece that could fit nicely on a desk, mantlepiece, or fill a small gap in your Bowie shrine.
The artwork is very unique too, showing the original concert poster for Bowie's famous gig with The Spiders From Mars at New York's Carnegie Hall, all the way back on the 28th of September in 1972! It may not be for everyone due to its sizing and material, but it's a unique piece of Bowie art that I think shouldn't be missed in anyone's collection!
Pros
A print of the famous 1972 Carnegie Hall Bowie gig poster
Made from tin, providing a unique change to standard posters
Available in two sizes – 8 x 12 inches and 12 x 16 inches
Great value for money
Cons
It's essentially a poster made out of tin, and that's not going to be for everyone
The largest size is 12 x 16 inches, which still isn't very big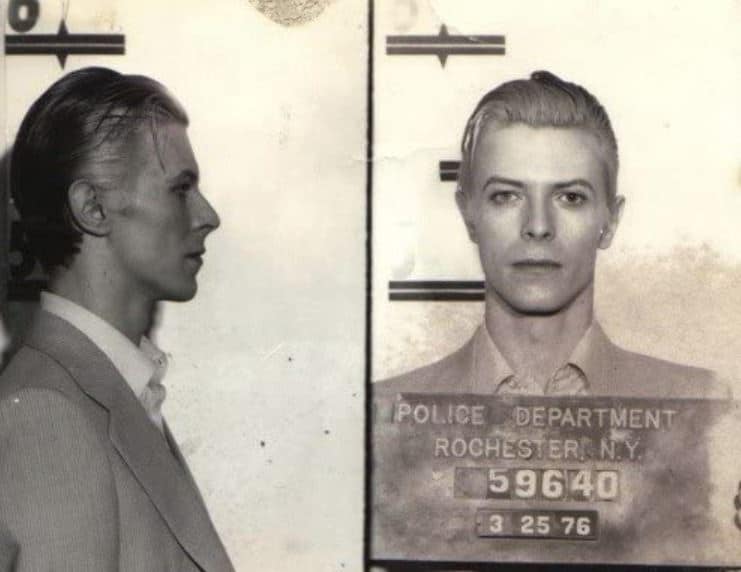 This next poster gave me a chuckle when I first discovered it – as wholesome as he was, David Bowie was no stranger to antics, and believe it or not, this led to his arrest in New York in 1976! The arrest was for possession of a small amount of a certain herb, which makes this mugshot poster all the more amusing!
It's available in a ton of different sizes from 4 x 6 inches up to 40 x 60 inches, showing a rather suave-looking Bowie in black and white getting his photograph taken at the Rochester Police Department in New York.
I think it's a great contrast to the usual Bowie posters that paint him in a traditionally glamourous light, instead focussing on a more gritty and mischievous side of the musician.
The only bad thing about this poster is that it doesn't explicitly read "David Bowie" anywhere, so anyone unfamiliar with the musician might be a bit confused as to why you have someone's mugshot on your wall!
Pros
A nice change from the usual positive depictions of David Bowie
Subtle black and white design
Available in many sizes ranging from 4 x 6 inches up to 40 x 60 inches
It has a ton of excellent reviews
Cons
For some people, the poster might seem a bit depressing or sad
The poster doesn't read "David Bowie" anywhere, so people unfamiliar with the artist might be a bit confused!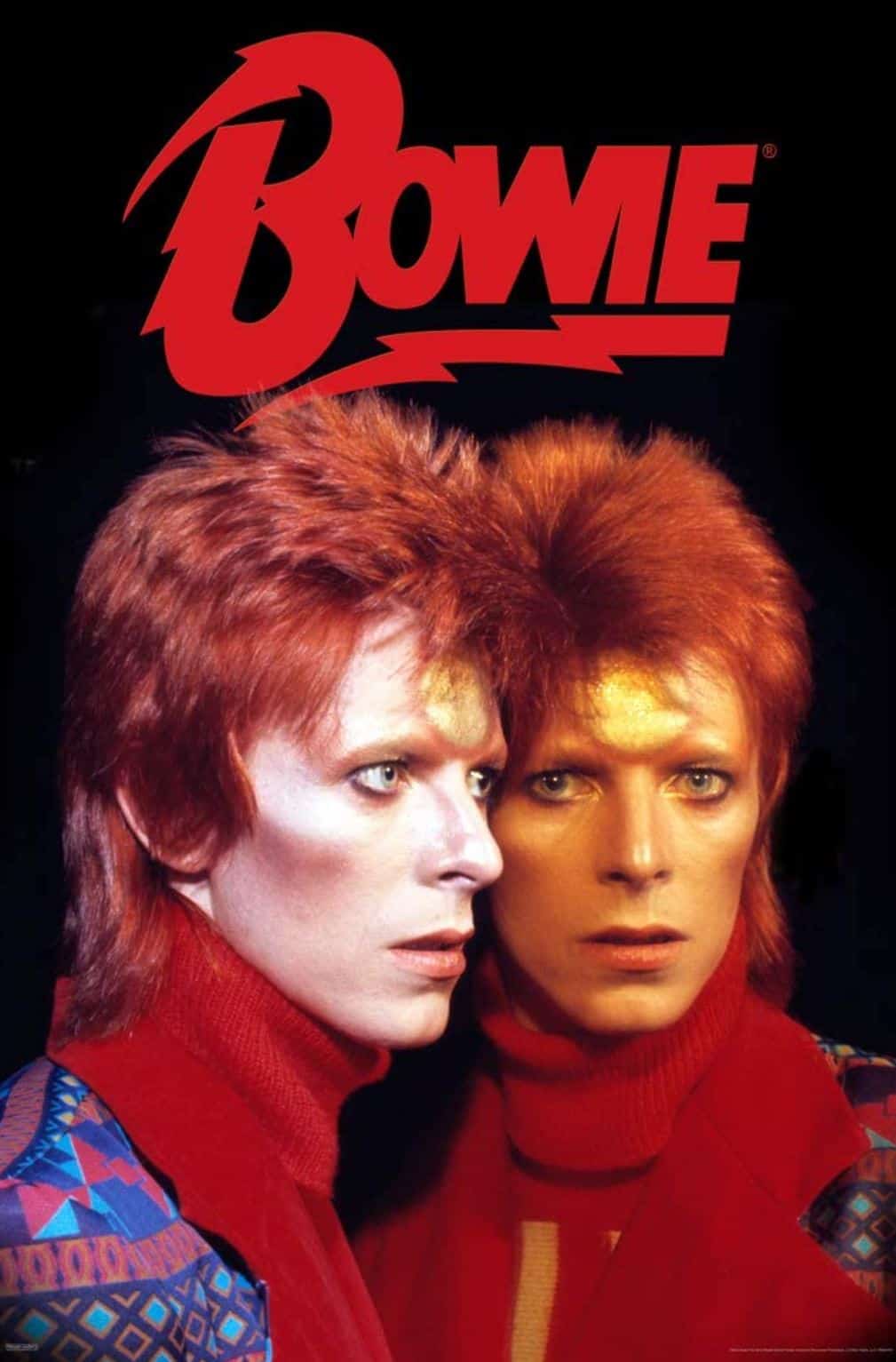 Much like the first poster on this list, this next poster depicts David Bowie appearing as his persona of Ziggy Stardust, shot in a classic mirror-style portrait. It's a super clean-looking poster featuring "Bowie" in bold font in the form of bolts, with two glamorous Bowies appearing directly below.
It's a classic shot that any old-timers will remember, and whilst the shot would be easily reproducible in today's days of CGI and Photoshop, it was quite the spectacle at the time! The poster is available in many sizes from 8 x 12 inches to 36 x 54 inches. Pyramid America even sells a laminated 24 x 36 inches version, but unfortunately, it always seems to be sold out when I try to purchase it!
Pros
A classic mirror shot of Ziggy Stardust himself!
Available in loads of different sizes, including a large laminated edition
Quintessential design – it doesn't get more Bowie than this!
Let's be honest, Bowie's hair is looking incredible in this one, although when isn't it!?
Cons
It's a popular poster made by a small business, so the sizes are frequently out of stock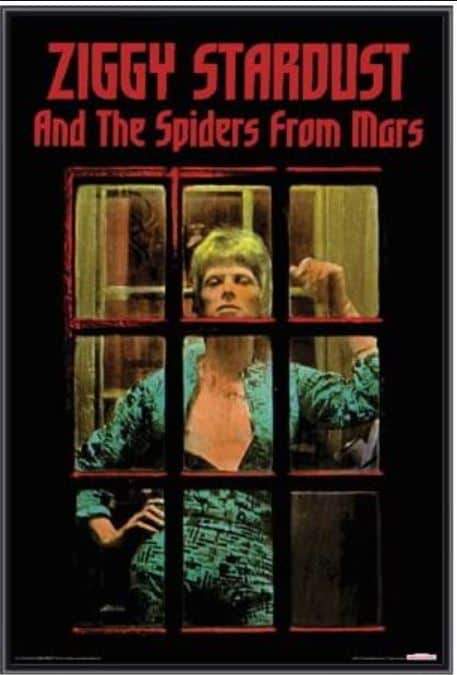 The penultimate poster on my list of the best David Bowie posters simply has to this "The Rise and Fall of Ziggy Stardust and the Spiders from Mars" poster from Frame USA.   There was a heck of a lot of amazing promo art associated with this album, but in my opinion, nothing quite beats the original album artwork.
Whilst many people believe that this art was purely an illustration, that's not the case – it was a photograph taken in monochrome which was then recolored, taken in the famous Covent Garden of London. Bowie is pictured as Ziggy, dressed in a glitzy blue outfit, with his left leg propped up, holding none other than a Gibson Les Paul guitar.
Can you get any more cool than that!? It's a fantastic poster with many excellent reviews, available in a single size of 24 x 36 inches.
Pros
Absolutely classic album artwork
Features David Bowie in a glitzy blue suit holding a Les Paul guitar – what more could you want!?
The recolored monochrome style and typography give this poster a real vintage feel
Large size at 24 x 36 inches
Cons
It's only available in a single size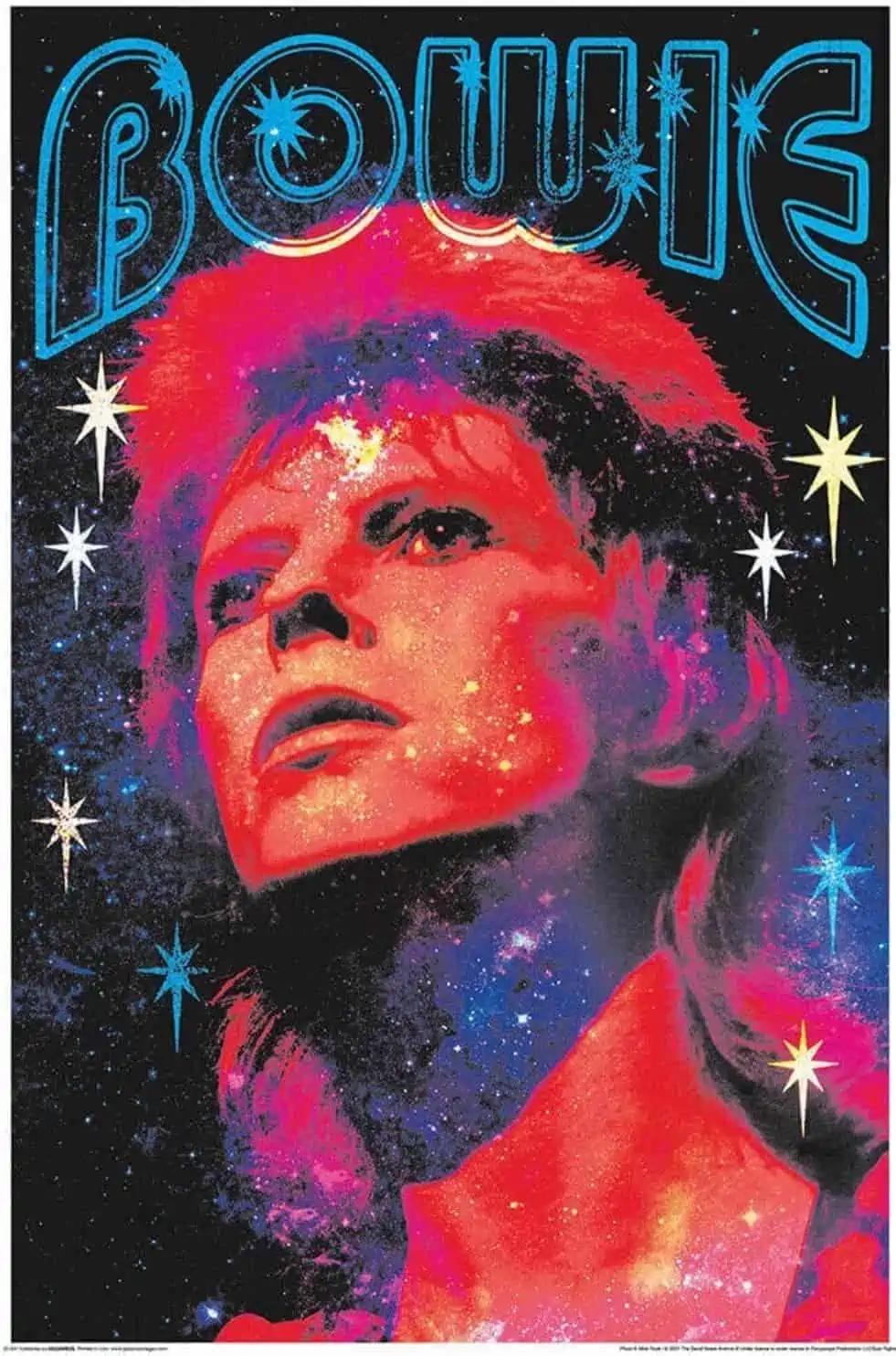 I thought I'd finish this recommendation list up with a bang, and therefore the final product is none other than the Studio B David Bowie poster. Now, when you first look at the poster it is already pretty amazing – it features a stunning picture of David Bowie gazing into the distance (with beautiful hair, of course…), heavily edited to be red and glitzy in typical Ziggy Stardust fashion.
He's surrounded by stars and has the word "BOWIE" above his head in a vintage blue bubble font. What more could you want? Well, how about the fact that this poster is LED blacklight reactive, meaning it takes on a glow-in-the-dark neon blue aesthetic when presented with a blacklight!
I couldn't believe this when I first discovered this poster, especially considering the price. It's only available in one size of 24 x 36 inches, but it comes in either paper form or laminated for just a couple of extra bucks. In my opinion, this is the best David Bowie poster on the market, and I've got mine proudly displayed in my band's practice room.
Pros
A stunning poster design that perfectly encapsulated Bowie and Ziggy Stardust's style
When presented with LED blacklight, it changes into a glow-in-the-dark blue-light poster!
Large size of 24 x 36 inches
Can be laminated by Studio B for just a couple of extra dollars
Cons
Only available in one size
FAQ
Before we conclude this guide to the best David Bowie posters, I've decided to put together a quick FAQ. People always seem to have burning questions remaining, so let's get those covered before you walk away!
Question: What Should You Look For In The Best David Bowie Posters?
Answer: Whilst design preferences are subjective, you should always look for David Bowie posters that are big (or small) enough for your wall, have excellent reviews, and that can be shipped to you with no additional costs.
Question: What Is the Best David Bowie Poster Material?
Answer: Most people prefer traditional paper David Bowie posters, but laminated and metal options are fantastic things to consider if you're looking to switch up your style a bit!
Question: Should You Always Buy Official David Bowie Posters?
Answer: David Bowie has official poster retailers on Amazon and other stores, and whilst this official status guarantees excellent quality, there are plenty of amazing unofficial options too.
Final Thoughts
Well, that just about brings me to the end of this journey across the best David Bowie (and Ziggy Stardust) posters! It's been a real rollercoaster ride, from classic glow-in-the-dark Bowie portraits to metallic depictions of famous concerts, and even a mugshot of the time he was arrested!
I think this variety of posters perfectly represents Bowie's eccentric and eclectic career, but in my opinion, the best poster here is that final Studio B glow-in-the-dark poster – it just has a bit of everything!
Good luck searching for Bowie posters, and I hope that my recommendations give you somewhere to start. Remember, always read those reviews and pay attention to poster dimensions and shipping costs, it could well just save you some money in the future!
Continue reading related David Bowie Merch Guides: