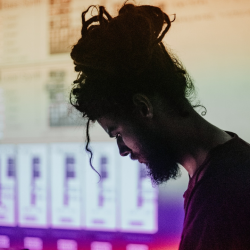 Latest posts by Calum Vaughan
(see all)
Ahh, Pink Floyd… now THAT was a band. From their earliest material to their higher budget later releases, Pink Floyd was a band that consistently pushed boundaries and left us hanging on to the psychedelic envelope. From the political poignance of "The Wall" to the worldwide omnipotence of "Dark Side of the Moon", this band truly did produce some incredible music, and it certainly stood the test of time!
I sadly wasn't alive when Pink Floyd was at their peak, so I instead discovered the band through my school music teacher and my parents. I was mindblown when I first heard about them and was gutted to hear that they had disbanded, especially considering that this meant that I couldn't experience them live. However, my father gave me a great idea – I could start collecting Pink Floyd memorabilia to show my appreciation for the band my way.
This was a great idea, and ever since that day I have been building quite a hefty collection of Pink Floyd memorabilia. Perhaps you've found yourself in a similar situation to me, or maybe you're a long-term fan of the band and were there in their glory days. Regardless of your position, join me on this guide to the best Pink Floyd memorabilia! I'll be giving you some of my top recommendations, as well as guiding you on how to find the best products that are still available – read on to find out more.
Bottom Line Up Front: There is a ton of amazing Pink Floyd memorabilia out there, with some rare autographs, records, and art reaching thousands of dollars! However, there's no need to break the bank if you're on a budget because there are many products such as the "The Wall" Film Cell that, whilst they are not "originals", include a ton of authentic Pink Floyd memories that are preserved in a high-quality frame at a reasonable price.
How Do You Know You've Found the Best Pink Floyd Memorabilia?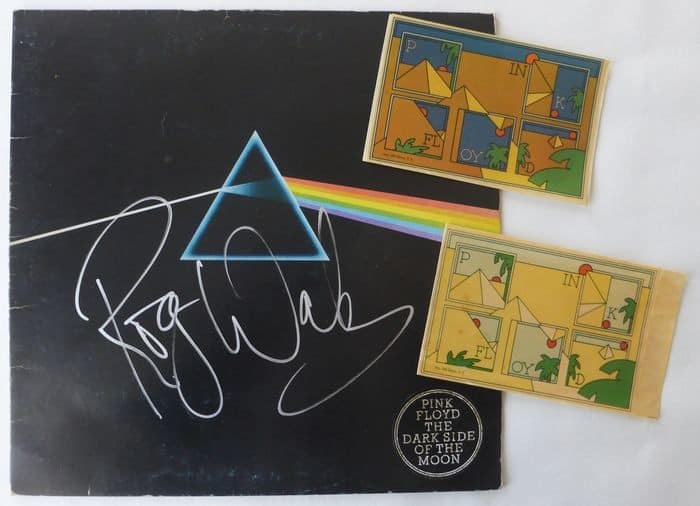 Shopping for any product online can be a difficult process – how do you know which websites to trust? Are the reviews important? Is more expensive always better? However, nothing beats the difficulty of finding the best memorabilia. There's just so much more to think about in terms of it being vintage, authentic, and preserved properly, so you need to do some thorough research. If you're feeling overwhelmed, don't worry because I'm here to help. Let's break down everything you should look out for when searching for the best Pink Floyd memorabilia!
Price Point
Before we start talking about some of the fancier things to look out for in Pink Floyd memorabilia such as official autographs and well-preserved vintage prints, let's address the elephant in the room – memorabilia can be expensive. Due to this stuff often being associated with vintage collector items, the prices can be crazy, and this can be daunting. Do you need to spend over hundreds of bucks for the best Pink Floyd memorabilia?
I've got great news because the answer is a resounding NO! Sure, there are tons of incredible pieces of Pink Floyd memorabilia that will cost you an arm and a leg, but there are way more that are very reasonably priced. You'll always be able to grab items such as posters on the cheap, you could pay someone to frame your favorite record professionally, or you could even indulge in something a little more expensive (I'm talking $100 to $200, not $1,000!)
From facsimile autographs prints to official Pink Floyd merchandise, you would not believe the number of high-quality memorabilia there is out there for less than $100! Therefore, I want you to remember that you should never let your budget get in the way of your Pink Floyd collection. However, if you have the cash to splash, I would be mighty jealous of any officially signed one-off pieces of memorabilia that you might be able to afford!
Authenticity
Now that I've got my rant about price points out of the way, let's get down to the nitty gritty – a lot of Pink Floyd memorabilia is vintage and rare, and it's a sad fact of life that with such products comes cheats, scammers, and phonies. It's hard to imagine being so cruel, but some companies produce Pink Floyd-related products and pretend it's vintage or has been graced by the pen of the band when in reality it has been mass-printed in a factory.
Don't get me wrong – there is nothing wrong with owning modern-day replicas and twists on vintage Pink Floyd memorabilia, after all, sometimes it's all that I can afford to add to my collection. However, if someone is trying to charge you hundreds of dollars for an "officially one-off signed" record or a "rare" item, you need to know that what you are getting is legit.
Any legitimately rare or vintage Pink Floyd memorabilia items will generally be sold through some form of official means. From online and in-person Dutch auctions to official websites such as RareVinyl and Discogs, there are plenty of channels that can guarantee that you are receiving what is being advertised. These products will often come with certificates of authenticity, money-back guarantees, and other ways of proving the legitimacy of the product that you are buying. Look out for these and always research an item online before buying, because you never know when there might be other people out there who got scammed by a dodgy fake company!
Condition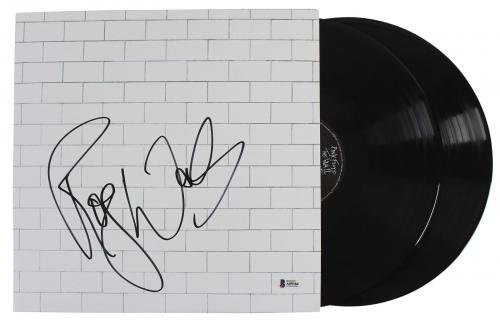 This next point applies to any online shopping, but especially vintage, rare, and one-off products such as Pink Floyd memorabilia! It's all about the condition. I remember having a look through my Aunt Susan's attic after discovering that she was a big fan of Pink Floyd, and I couldn't believe it when I came across a large box chock full of Pink Floyd records! From the classic LPs to singles and even rare promotional material, she had just about everything, and I immediately rushed downstairs to inform her that she was sitting on a fortune!
How wrong was I – we got the records valued, and the cash offers were honestly insulting. However, this was all because the condition of the records was not good. They'd been sitting in a damp attic for years and their condition reflected that essentially making them no more valuable than any other record in a store.
Whilst some rare items such as limited run releases and autographs may not be as badly affected by the condition as more common items, you should generally only consider purchasing Pink Floyd memorabilia if it is guaranteed that it will be in near-mint condition, at least! For one thing, you don't want to be ripped off when a product should only reach high value when it is in perfect condition. However, forget about money for a second – you're going to want to have this memorabilia on display, and it would be a bit depressing if it looked like it had been sitting in a damp room for years!
Overall, you should always investigate the quality and ensure that the website you are purchasing memorabilia from can guarantee that it is high. You could check their reviews of other products to investigate their track record, but generally speaking, as long as you have chosen to purchase from a legitimate website, you should be all good. Just watch out, you don't want to get caught out by scam artists!
Memorabilia Type
Price points, condition, authenticity… wow, way to spoil the mood! Joking aside, whilst all of that stuff can seem a bit boring when you just want to buy some memorabilia to remember your favorite band through, it's still very important stuff. However, arguably more important than all of this is the fun part – choosing the memorabilia type.
From posters, prints, and framed promo art to records and vintage merchandise, there are a ton of different types of Pink Floyd memorabilia. I've personally always been a fan of collecting rare records and posters and having them framed on my wall. However, I know a few people that exclusively collect merchandise such as t-shirts, keepsake boxes, and even mugs!
So, which type of memorabilia is the best? Well, that completely depends on what you want to have in your collection, it's your opportunity to get creative and choose something that fits your style. Don't feel pressured into spending a ton of money on some one-off rare autograph just because it's supposedly valuable. Value is subjective, and you might get a lot more joy from simply owning a mass-produced Pink Floyd poster or a readily available piece of merchandise.
With that being said, don't just go for the first piece of Pink Floyd memorabilia that you come across. Many people are unaware of the crazy variety of memorabilia formats out there. I for one only discovered Film Cells in the last year or so, which is crazy to me as I now own five from three different films and bands! Do your research to ensure that you know what your options are, and then you should decide on what product you want to spend your money on!
My Top Five Best Pink Floyd Memorabilia Recommendations
Enough jabbering from me! I've curated all of the advice I just provided to you to select that perfect range of Pink Floyd memorabilia recommendations, and I think that you are going to love them. I've ensured that I have covered a range of different memorabilia types as well as price ranges, so don't panic if you haven't got much cash to splash, there'll be something for you here too!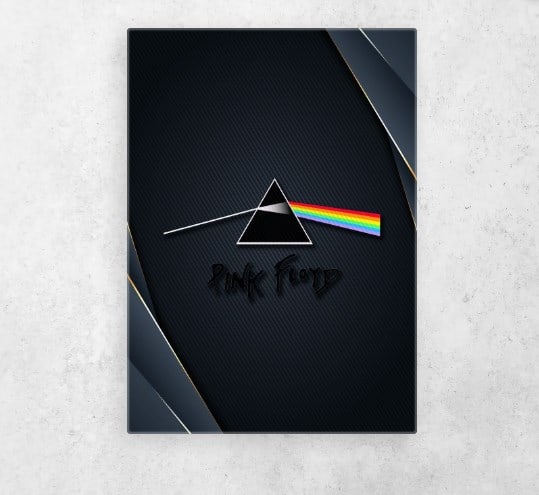 I mentioned earlier that not all Pink Floyd memorabilia has to be rare or expensive, and there are options out there for all budgets. To illustrate this, I've decided to list my recommendations in order of price, starting with this fantastic Pink Floyd "Dark Side of the Moon" Displate! If you haven't heard about Displate, where have you been? They produce fantastically sleek hangable posters, but instead of being made from paper, they're made from metal. The quality is amazing, and I would expect nothing less for such an iconic piece of Pink Floyd artwork!
One of my favorite things about this Pink Floyd memorabilia is that Displate products can be customized. You can choose either a gloss or matte finish, you can add an optional frame of several varieties, and best of all the Displate is available in three different sizes. Whilst it's undeniable that the extra-large 35.4″ by 25.2″ version is pretty expensive, the medium 17.7″ by 12.6″ version looks just as good and is affordable even to the tightest of budgets. Perfect!
Pros
The "Dark Side of the Moon" piece is an iconic piece of Pink Floyd artwork
The metallic look of Displates looks fantastic
Available in two different finishes, three sizes, and several frame styles
A fantastic option for memorabilia searchers on a budget
Pros
Regular posters are a lot cheaper than metal Displates, although they don't look as good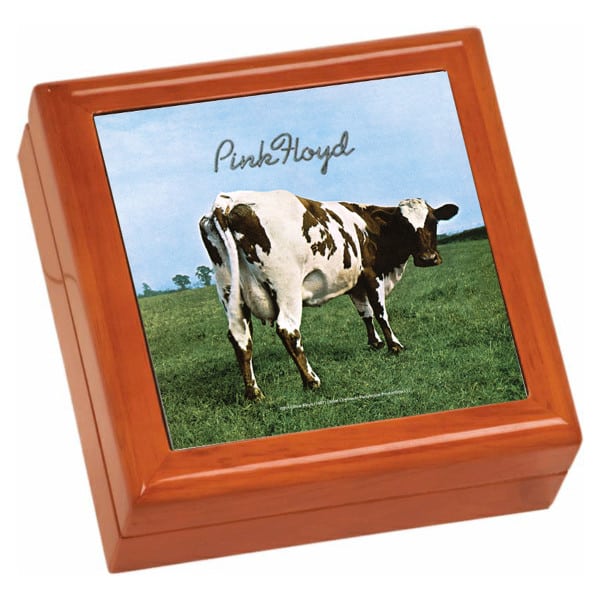 The next best piece of Pink Floyd memorabilia that I have come across is the official Atom Heart Mother Wooden Keepsake Box – that's right, this product is officially licensed and is sold directly at Pink Floyd's online store, it doesn't get much more legit than that! It's a beautiful little wooden creation designed as a keepsake storage box, flaunting the iconic 1970 album cover of Atom Heart Mother on the front. That album truly was a moo-sical masterpiece if you'll pardon the pun.
I first came across this piece of memorabilia at my Aunt Sue's house, and I was astounded by the quality of the product considering the price that she paid. I initially thought there was an unusual smell radiating from the box, but once Sue opened the lid, I realized it was simply the contents of the box. Let's just say that she didn't exactly use it as a keepsake box, but more like a "stash" box. Give her a break though – if you weren't smoking weed when you first listened to this album, you were missing out!
Pros
Officially licensed and sold at Pink Floyd's online store
Made from high-quality wood
Seriously good value for the price
You can use it to store whatever you want!
Features the fantastic artwork of the band's 1970 album Atom Heart Mother
Cons
I'm a huge fan of Atom Heart Mother, but it's not everyone's cup of tea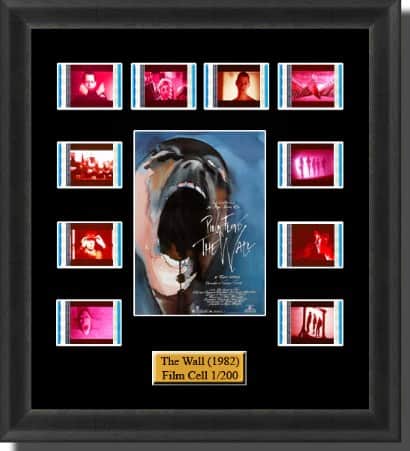 When I first checked out this next product, I assumed it was just another fancy poster much like the Dark Side of the Moon Displate we checked out earlier. Far from it – this "The Wall" 35mm Film Cell is something truly special. If you're not familiar with Film Cells, they're essentially poster-like pieces of memorabilia that contain real pieces of film, usually from a famous movie or in this case music video. Whilst it should be obvious that at the low price this is not the original film, the Film Cell still contains ten different film copies from the music video for The Wall. In the middle of the pieces of film, it also contains a promotional poster for the song, in addition to some text at the bottom reading "The Wall (1982)" in addition to the print number.
Believe it or not, there's still more to this amazing piece of memorabilia – it features a dimmable LED backlight, lighting up every piece of film within the memorabilia to ensure that it is displayed to perfection. Not only does this bring out the colors and quality of the film, but it also makes it visible in both daylight and nighttime! Truly an outstanding piece of memorabilia, once again at a seriously low price!
Pros
A highly unique Film Cell poster format, not just any old poster!
Contains real 35mm film of the classic "The Wall" music video
Comes with a dimmable LED backlight, making the film visible in any light
Includes a bonus "The Wall" promotional poster in the middle of the poster
Limited edition at just 200 prints
Cons
Whilst the film snippets are authentic, they are obviously not the original at that price
The limited print means they won't be around long!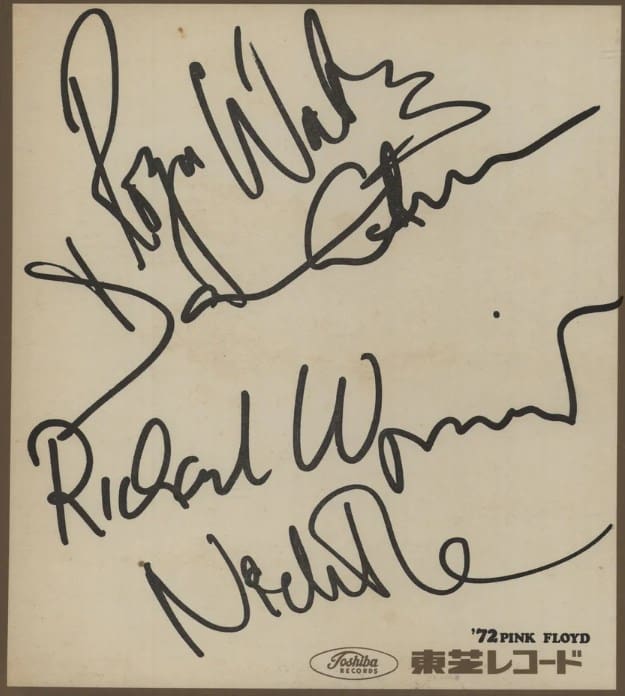 The penultimate piece of Pink Floyd memorabilia that I think is worth mentioning is something entirely different from the products listed so far – it's a rare promotional card that the band released via Toshiba Records in the early 1970s featuring autographs from each band member (other than Syd Barrett of course). Each copy features a facsimile (meaning exact copy) autograph from David Gilmour, Roger Waters, Richard Wright, and Nick Mason, and despite its age has been kept in nearly mint condition!
Perhaps my favorite thing about this piece of memorabilia is the fact that it comes from a Japanese record label. Sure, there are probably a fair few Japanese fans of the band who have kept this vintage item safe since the '70s, but if you live in the U.S, UK, or elsewhere, I bet you won't meet anyone else who owns this! Perhaps even more amazing is the sheer size of the autographs – they're not just hidden in the corner, they're the main event!
Pros
Features authentic facsimile autographs from David Gilmour, Roger Waters, Richard Wright, and Nick Mason
The autographs are massive and cleanly written, unlike the small scrawls often found on signed memorabilia
Released by Toshiba Records in Japan, making the item particularly rare outside of Asia
Cons
Pretty expensive considering you could technically just print this out yourself, but it wouldn't be the same…
As it was produced in the '70s, there's no Syd Barrett signature here
Just facsimile autographs, as opposed to original signings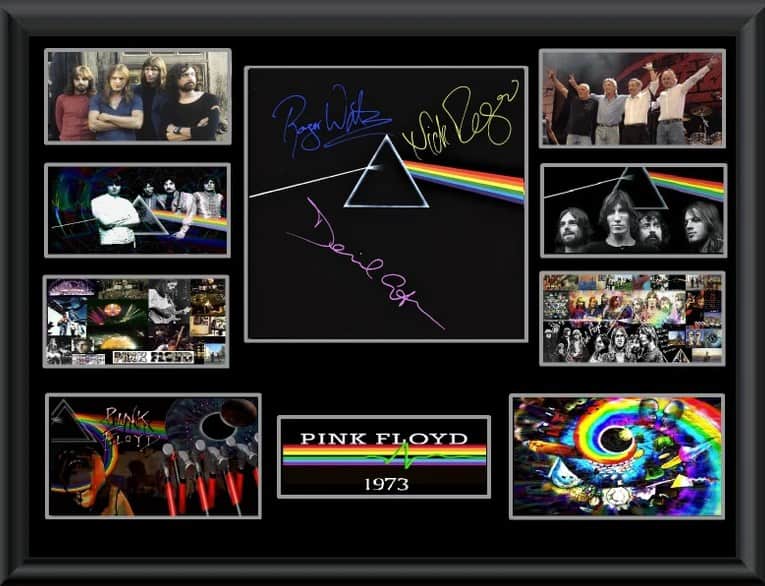 We've now reached the final piece of the best Pink Floyd memorabilia on my recommendation list, and BOY have we got something special here. Remember when I mentioned earlier when discussing the "Dark Side of the Moon" Displate how I would be writing these recommendations in budget order? Well, due to the incredible nature of this next collector's item, it is priced at well over a thousand bucks! It's not for the faint-hearted – only true Pink Floyd memorabilia collectors.
So, what makes this so special? Well, come on – it's a one-off LP of "Dark Side of the Moon", complete with original and one-off signatures from Roger Waters, David Gilmour, and Nick Mason! It's been professionally framed and matted in specialized protective material, comes with nine psychedelic photographs of the band throughout various eras, and even comes with a certificate guaranteeing 100% authenticity! Now THAT is why this piece of memorabilia costs well over a grand. I'm not quite sure where Richard Wright was during this signing, but it's a stand-out piece nonetheless. Just please don't play the vinyl on your record player, what a waste that would be!
Pros
Features one-off original signatures from Roger Waters, David Gilmour, and Nick Mason
When it comes to signed vintage vinyl, you won't get much more bragging rights than "Dark Side of the Moon!"
Framed in specially designed protective material to preserve this absolute treasure
Comes with a variety of photographs of the band
Comes with a certificate guaranteeing 100% authenticity
Cons
It's expensive… real expensive
Doesn't include Syd Barrett or Richard Wright's signature
FAQ
Wowzers, we sure have covered a lot of information regarding Pink Floyd memorabilia! I don't want you to leave this guide feeling overwhelmed, so I've put together a quick FAQ to answer any remaining burning questions that you might have. I hope that they help!
Question: Is All Pink Floyd Memorabilia Expensive?
Answer: No – this is a common misconception. Whilst rare and vintage memorabilia products can reach hefty prices, there are plenty of commercially available offerings that are cheap and readily available, so there's no need to break the bank if you're on a budget.
Question: What Are the Best Types of Pink Floyd Memorabilia?
Answer: The most popular types of Pink Floyd memorabilia include signed vinyl records, signed and framed posters, facsimile autographs, and alternative merchandise such as keepsake boxes. However, there is a ton of different types out there, so keep your eye out for unusual entries!
Question: How Do You Know If "Rare" or "Vintage" Pink Floyd Memorabilia is Legit?
Answer: You don't need to worry about authenticity when it comes to cheaper memorabilia, but expensive, rare, or vintage Pink Floyd memorabilia should be sold by reputable auctions and marketplaces, and the items sold should come with certificates of authenticity.
Final Thoughts
Well, that's just about everything I have to teach you about the best Pink Floyd memorabilia! If I had all the money in the world, I'd be all over that last Pink Floyd one-off autographed "Dark Side Of The Moon" LP, I mean come on – it's a beauty! However, I could never justify that purchase myself, so for lower budgets, I think the best value for money item here would have to be the Pink Floyd "The Wall" Film Cell! It's authentic, full of personal touches, and the backlight makes it look fantastic. Sure, the film snips aren't the originals, but for under a hundred bucks, who can complain!? I wish you all the best on your journey to buying the best Pink Floyd memorabilia, and don't forget to investigate every website you purchase from to avoid any unpleasant surprises! Good luck!
Looking for more Pink Floyd Merch? Check out: