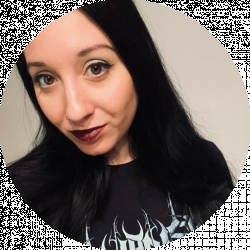 Latest posts by Stephanie Jensen
(see all)
When you think of Pink Floyd posters, what do you think of? Do you think about popular album covers or even the band's logo?
Pink Floyd has all of these posters are even some rare ones — a rare gig poster was even featured on the show Antiques Roadshow. If you want to buy a Pink Floyd poster, you should know all of the options you have. Here, I will list my favorite Pink Floyd posters as well as how I selected them and some tips when buying your Pink Floyd poster.
Bottom line up front
Do you want to buy a Pink Floyd poster? If so, I suggest buying a unique poster. I tend to see the same Pink Floyd posters everywhere so I always appreciate seeing different ones. The first one I mentioned is a vivid version of the Wish You Were Here album artwork, but there are more unique options out there.
Top Picks Up Front
Tips to Buy the Best Pink Floyd Posters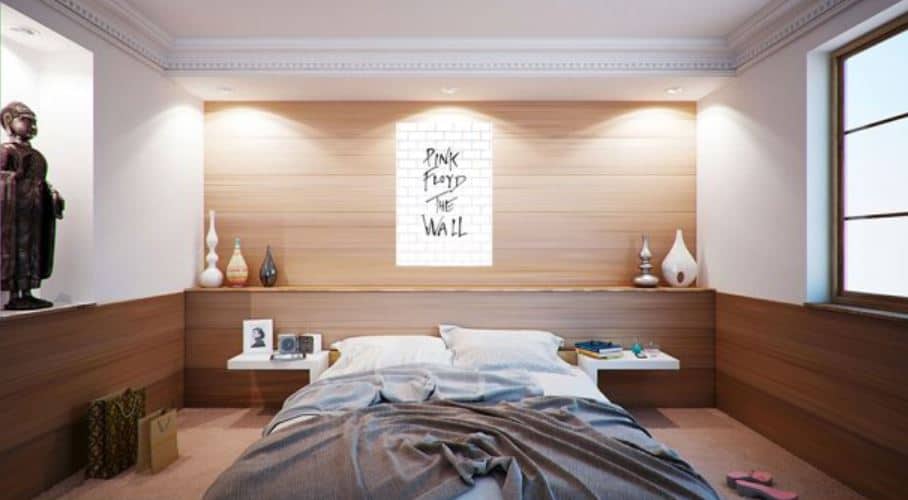 First, you should find the best store to buy a Pink Floyd poster. I'm only mentioning stores I've purchased from and have received great reviews, but you have many store choices out there. Not every store has legitimate Pink Floyd posters or a wide selection, so make sure you do your research when buying Pink Floyd posters.
The next factor to consider is price. You should be able to buy a high-quality Pink Floyd poster for $10 or less. However, rare posters and other materials, such as tapestry, will be more expensive.
With that being said, you should consider the material. You can find Pink Floyd posters in a wide variety of materials. Paper is the most common option; you can hang the poster up with thumbtacks or even frame it. Tapestry (also called flags) posters are popular since they make for a more interesting poster. Metal posters are also more vintage-looking, making them popular among rock music fans.
How I Selected the Best Pink Floyd Posters
First and foremost, no authentic vintage posters are here. There are some vintage-inspired posters, such as posters of old show flyers. But these are all replicas, nothing authentic.
Next, I considered versatility. Pink Floyd has so many striking album covers and other art. I wanted to provide the average Pink Floyd fan with many options.
I tried to include as many different materials as I could. I mainly found paper posters, though I did see tapestry posters here. The price was also a big concern. As stated previously, you should be able to get a Pink Floyd poster for less than $10. Keep in mind that rarer posters and posters of a material other than paper will be more expensive.
Most of the stores here are ones I purchased from, but I also looked into other websites that received good reviews. Poster quality is the main aspect I look at, ensuring the store doesn't sell posters that have stains or tears. I also made sure past customers received their posters in a timely manner.
My Favorite Pink Floyd Posters
Are you ready to buy a Pink Floyd poster? Here are a few of my favorite options!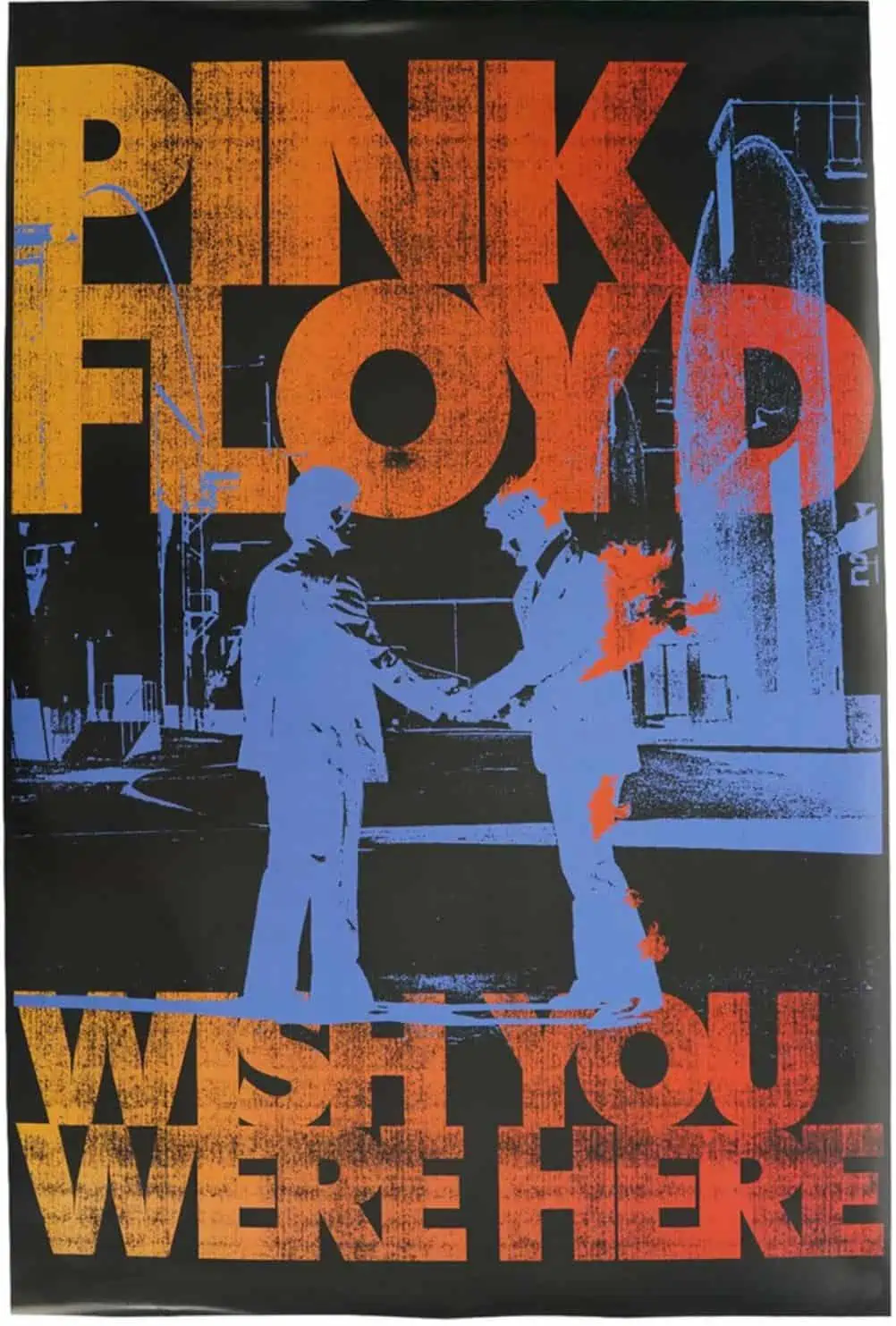 This poster is really unique. It shows the classic album artwork for the Pink Floyd album Wish You Were Here. However, the poster features color — while the original album artwork is in color, this poster features more vivid colors.
The two men are blue, with only slight orange flames on the one man. The poster is finished with the band logo and Wish You Were Here text in orange. The poster size is 24″ x 36″.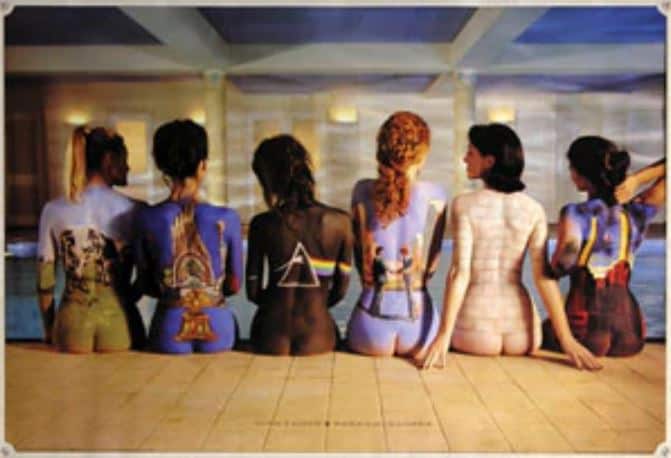 This is one I've been seeing for many years. The poster shows a variety of nude women taken from behind. They're sitting in what looks like a bathhouse. They each have various Pink Floyd albums painted on their backs.
I always thought this poster was random since Pink Floyd was never a band that talked about sex. Apparently, this photo has a backstory. The picture was meant to advertise Pink Floyd's "back" catalog (haha get it?) but has since become an iconic image on its own.
You can still get this legendary image today and hang it up in your home. This poster is 36″ x 24″.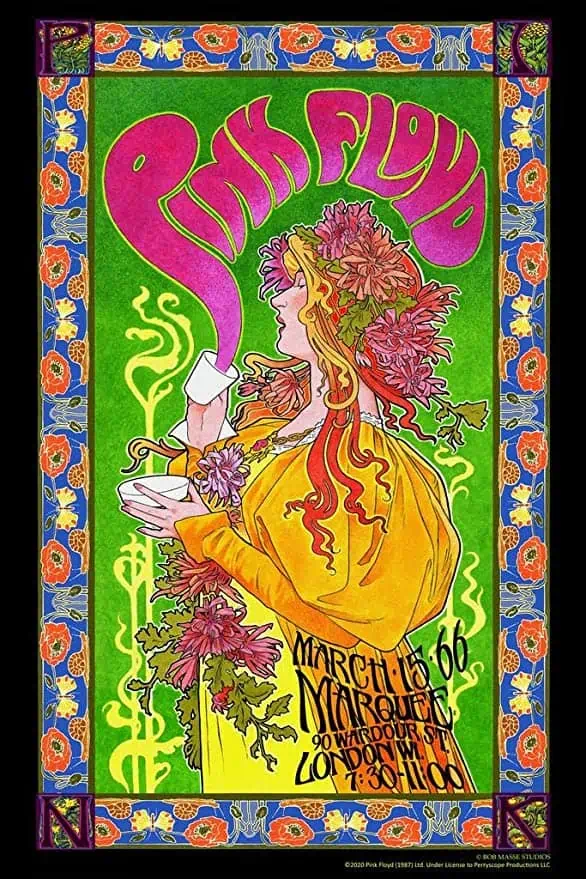 This high-quality poster is a replica of a show flyer that Pink Floyd played in London in 1966. The poster shows a woman about to take a sip of tea (or coffee) and the steam spells out Pink Floyd in pink font. The poster is very colorful and has trippy artwork. The seller is shipping this in a sturdy tube.
It's a paper poster, so you can always hang it with thumbtacks or frame it. This photo is great for any Pink Floyd fan or hippy-themed home. It also makes a great gift! The poster is 24″ x 36″.

Dark Side of the Moon is one of Pink Floyd's most famous albums. If this is your favorite album by the band, get the iconic album artwork on a poster!
I love how this poster is long-ways as opposed to vertical, so it can fit better on most walls. It's 36″ x 12″ and ships in a sturdy tube. This is a paper poster and you can either hang it up with thumbtacks or you can frame it. Keep in mind that many customers are complaining the poster has no text, it's just the album artwork. The seller also won't allow refunds unless the poster is damaged.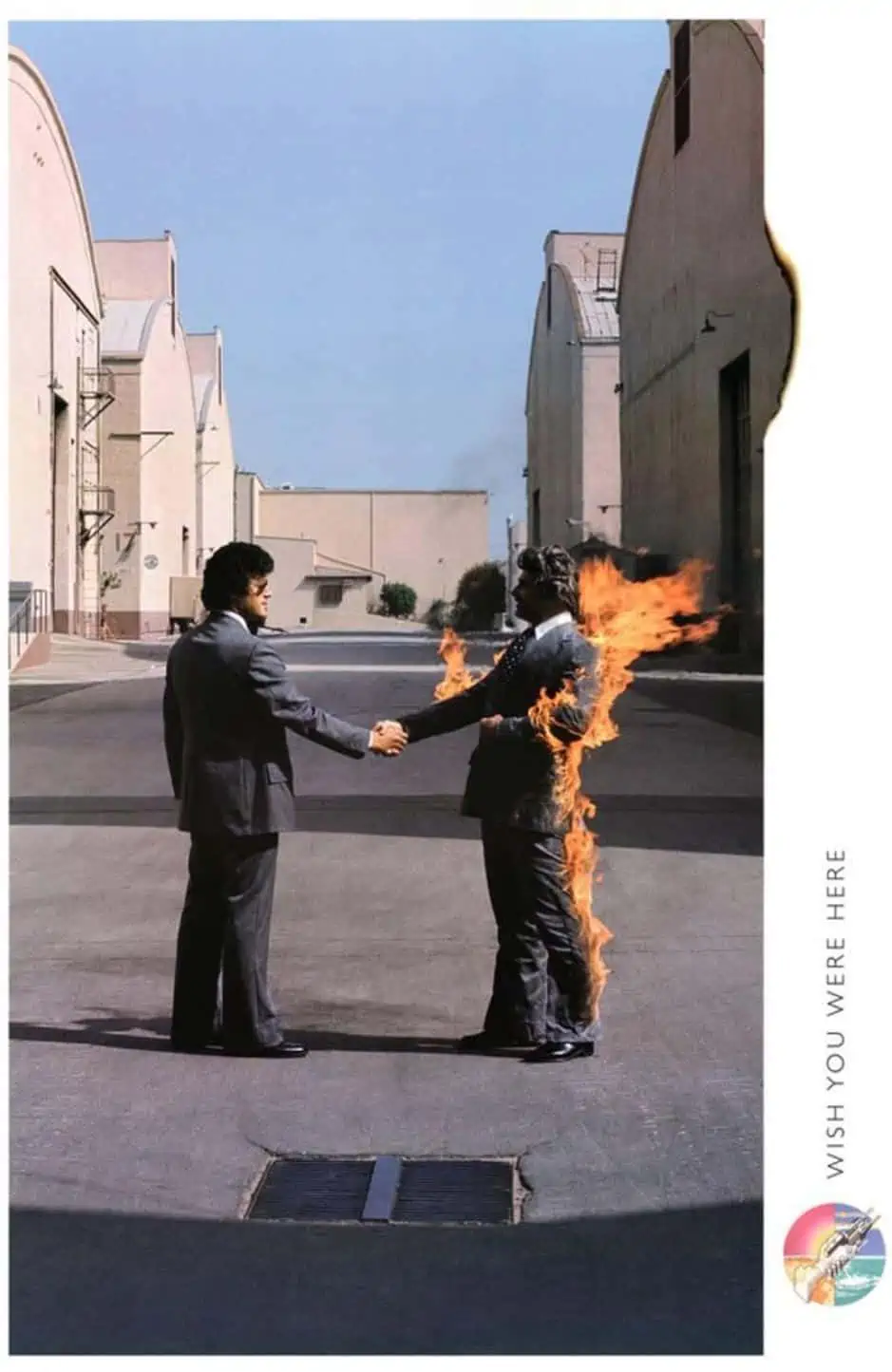 Is Wish You Were Here your favorite Pink Floyd album instead? If so, consider this most.
I did attach another photo of this album cover but altered it differently so it had bright colors. This is the original album artwork. The poster is 24″ x 36″ and at around $8 at Walmart, it's very affordable. The album artwork is a clean, sharp image and anyone will be able to recognize this iconic album cover. The poster was printed with offset lithography to protect the ink.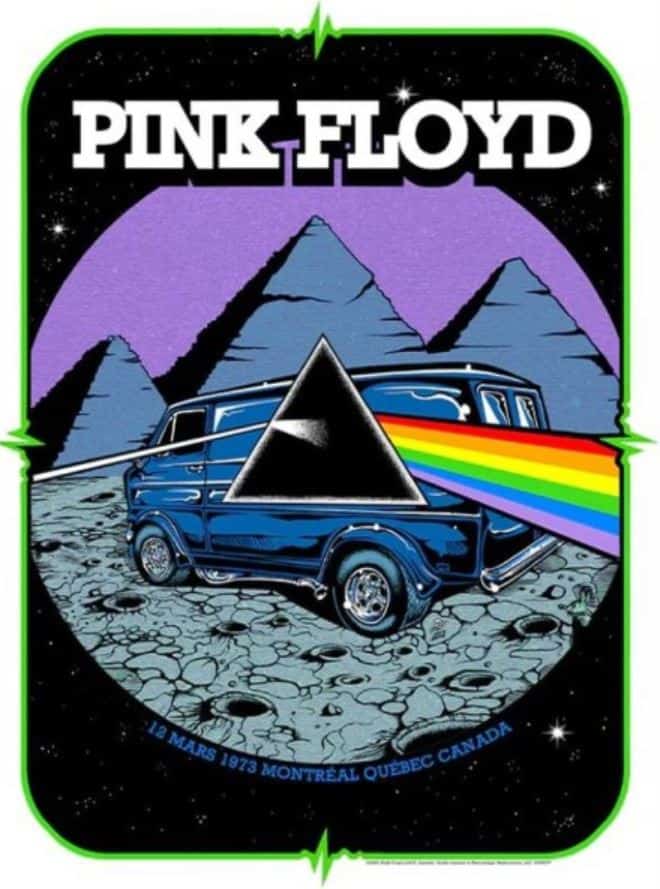 At $60, this is the most expensive poster on this list. That's because this is a poster that Pink Floyd is selling from their 1973 Montreal show. This design features a van driving in outer space with pyramids in the background. The rainbow and prism are in front of the van. At the bottom, the poster says "12 Mars 1973 Montreal Quebec Canada".
The poster was designed by Dirty Donny Gillies. It's an authentic poster sold by the Pink Floyd merch show.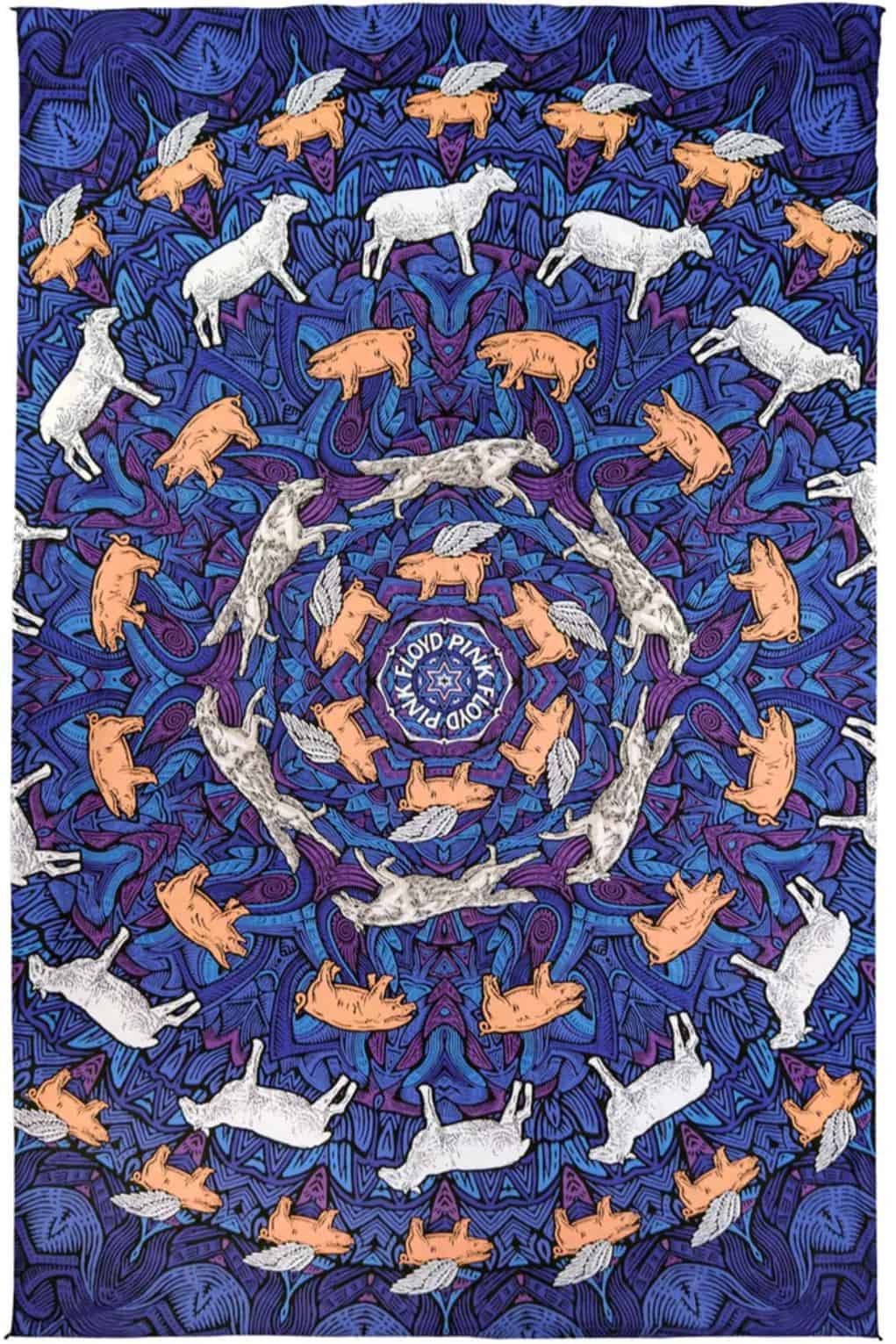 Animals is my favorite Pink Floyd album. While many people opt for the album cover, this tapestry features a mix of the animals from the concept album, including the flying pigs. The tapestry has a 3D design to it; if you stare at the artwork long enough, it looks like the animals are moving! The poster also includes 3D glasses.
The animals are surrounding the Pink Floyd logo in the middle. At 90″ x 60″, it's a pretty large tapestry poster, so make sure you have the space for this poster.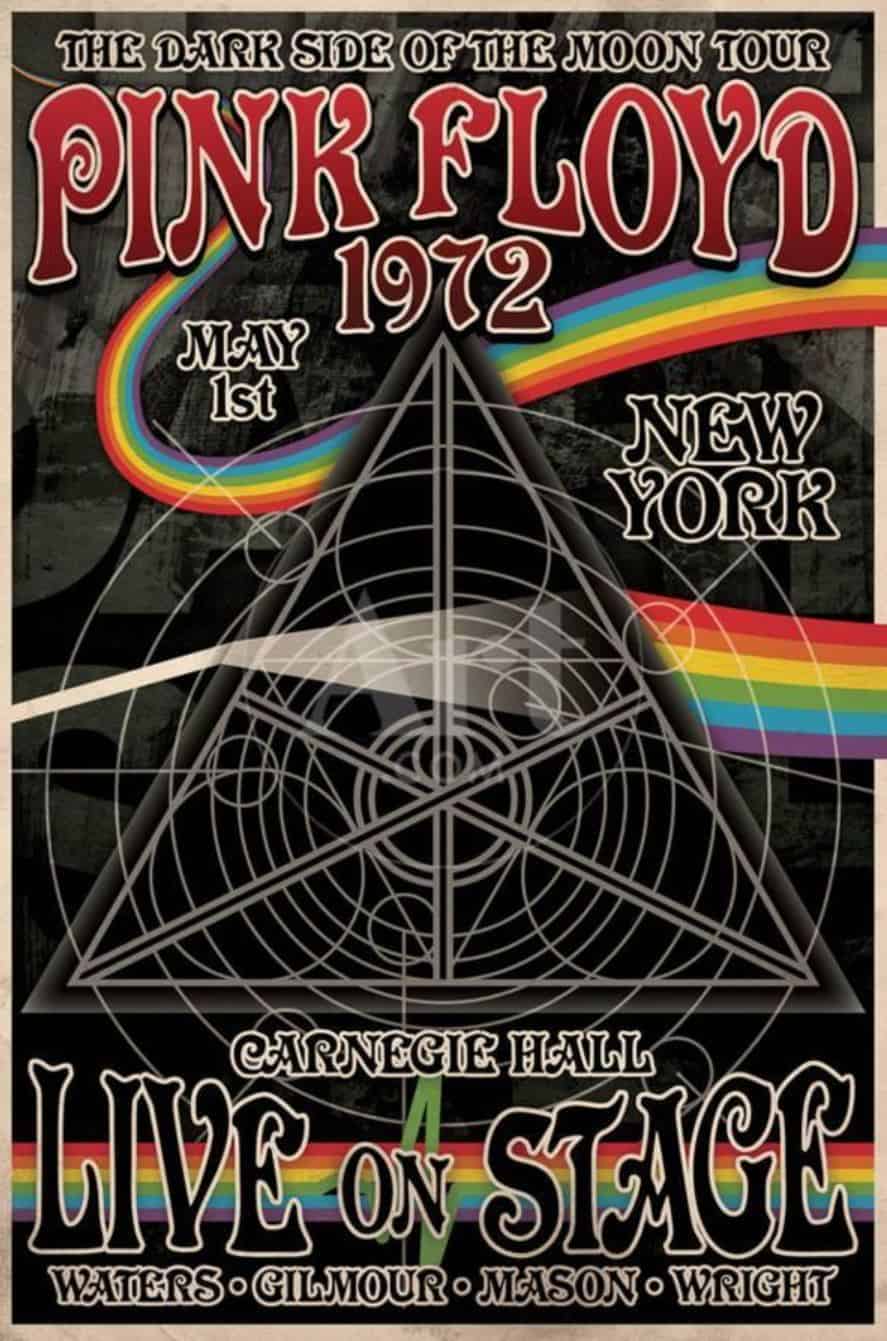 This poster is a flyer for their 1972 show at Carnie Hall in New York City. The artwork is trippy and features a prism and rainbows. As you can tell, this poster is from The Darkside of the Moon tour and they played all of their hits from that album. This show, in particular, was historic. Whether or not you were there, this poster immortalizes this moment in Pink Floyd's history.
The poster is 24″ x 36″ in size and you can opt to have the poster framed.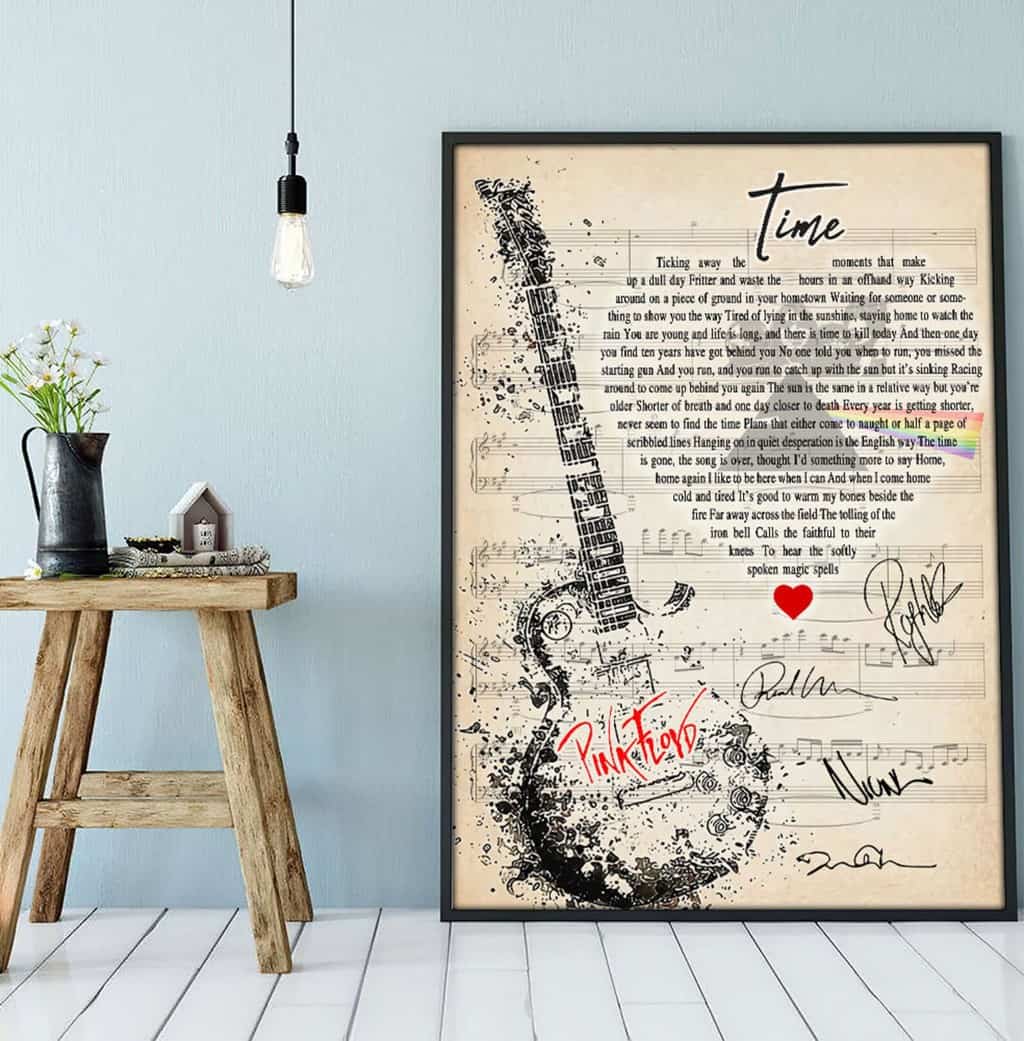 Is "Time" your favorite Pink Floyd song? If so, you will love this poster! The poster is sheet music and has the lyrics to the song "Time" in the shape of a heart. The poster also features the image of a guitar with the Pink Floyd logo inside the guitar. The poster is finished with autographs from all band members. You can order this poster in multiple sizes.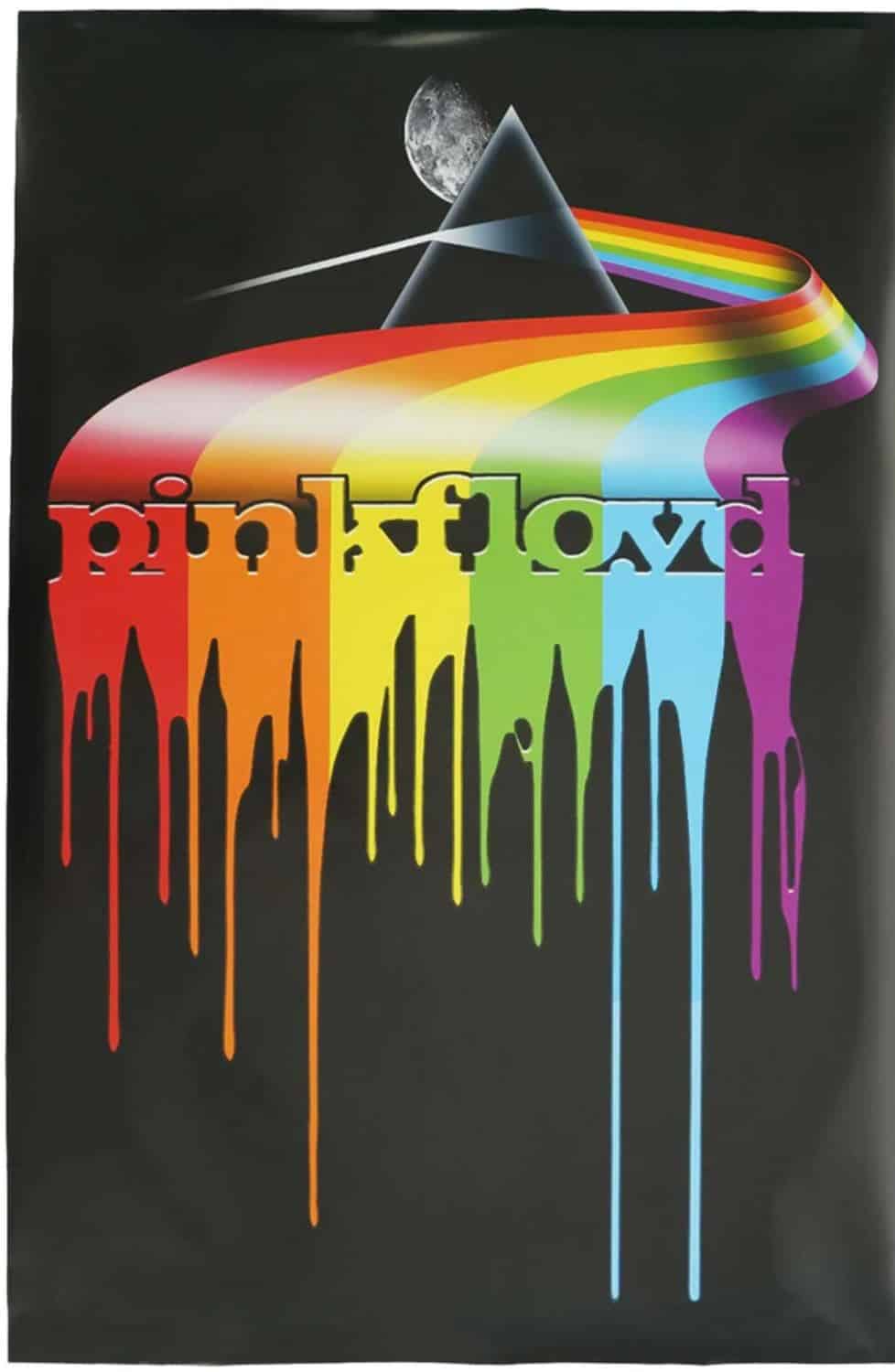 I've never seen this poster before. This one features the band's name in rainbow colors. The rainbow colors are dripping and look like they're spilling. You can see a prism and moon in the background. I can't tell if this symbolizes anything or if it represents a certain song. The poster is in the size 24 " x 36″.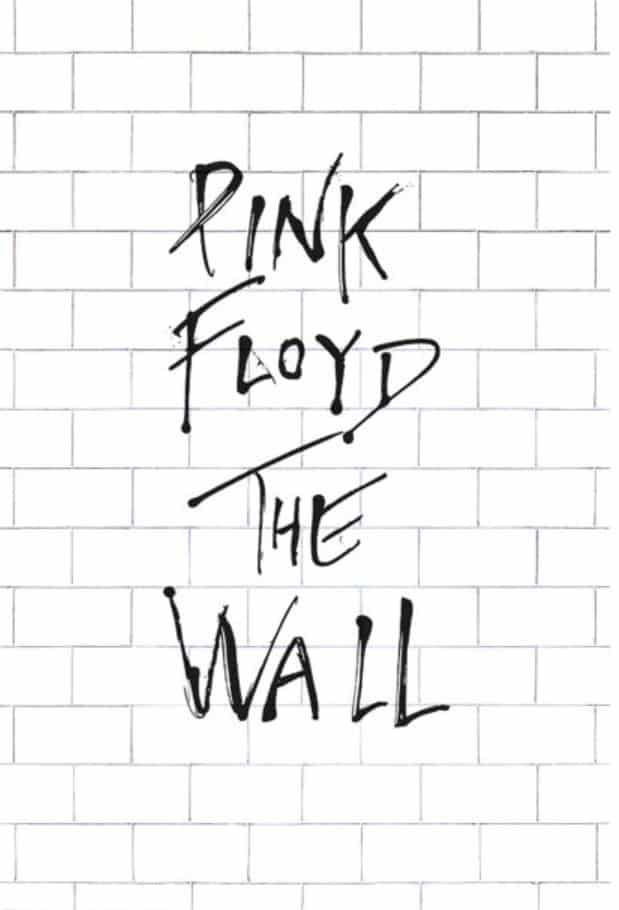 Is The Wall your favorite Pink Floyd album? If so, you would love this poster. The poster features The Wall album artwork and is 24″ x 36″ in size. The poster is made of paper and it ships in a paper tube. As long as you treat it well, the poster can last you for years. It's perfect for nearly any room and also makes a great gift.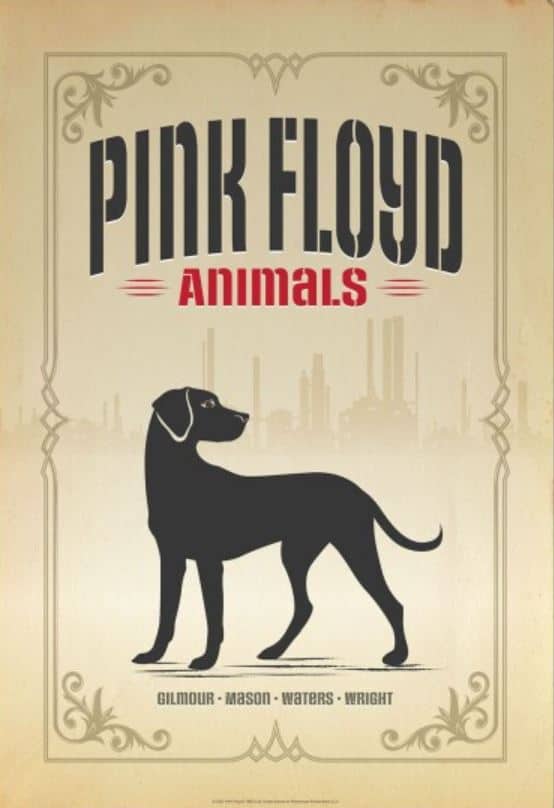 I've never seen this Animals artwork before. The poster features a black dog with the text "Pink Floyd" and "Animals." It's a very unique poster, perfect if you want something from the Animals album that's not the traditional artwork. You have two different size options for this poster. This poster is sold by Pink Floyd and is not returnable, except if the poster is defective.
FAQs
Question: What's the Best Pink Floyd Song?
Answer: Here are the highest-rated Pink Floyd songs, in no particular order:
• "Wish You Were Here"
• "Comfortably Numb"
• "Another Brick in the Wall"
• "Shine on You Crazy Diamond"
• "Money"
• "Time"
• "Us and Them"
• "Echoes"
Question: What is Pink Floyd's Best Album?
Answer: Most would agree that the album, Dark Side of the Moon, is their best. Musicianship-wise, it's a masterpiece. That shouldn't surprise any fan of the band, but every song is brilliantly composed and played. The album also features some of the band's most popular songs, such as "Time," "Money," "The Great Gig in the Sky," and "Breathe." With this album, Pink Floyd truly pioneered prog-rock music.
Question: Is Pink Floyd the Best Band in the World?
Answer: This depends on who you ask. They have definitely received enough accolades to be considered one of the best bands in the world. Polls do show that many people consider Pink Floyd to be the best band in the world, over even The Rolling Stones and Led Zeppelin. The band is known for their technical musicianship, for being the icons of prog-rock, and for their amazing live shows.
Bottom Line
It should be no surprise that Pink Floyd has a wide variety of posters. You can choose between classic artwork, such as album covers, rare show flyer replicas, and more. Plus, there are so many places where you can get a Pink Floyd poster. This can make it very intimidating to purchase the best Pink Floyd poster.
Out of all of these posters, I love Rockabilia's Wish You Were Here poster. The poster shows the iconic album cover but is redesigned in vibrant shades of blue and orange. I think this is the perfect combination of classic Pink Floyd imagery but you're still getting a unique picture. The poster size is also 24″ x 36″, which I think is the perfect poster size.
If you would prefer a classic, I did include recognizable album covers such as Dark Side of the Moon here. And if you want another unique option, I suggest choosing one of their old show flyers. The 1966 Marquee Poster, the 1973 Montreal show, and the 1972 Carnegie Hall poster are all great examples.
I hope I offered enough Pink Floyd poster options for you to choose from!
Feel like decorating your body instead? Check out our  Pink Floyd Tattoo Ideas Guide, or go easy on yourself and find some of the best Pink Floyd Shirts.