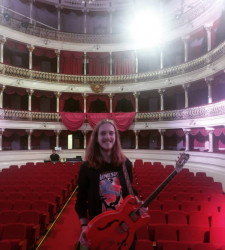 Latest posts by Gustavo Pereira
(see all)
Pink Floyd is without a doubt one of the most important, influential, and iconic bands ever, with a vibrant and interesting history. Formed in 1965 in London by Syd Barrett, Nick Mason, Roger Waters, and Richard Wright, this band went on to record some of the best-selling progressive rock records of all time, such as The Dark Side of the Moon (1973), Animals (1977) and The Wall (1979).
Pink Floyd went through several phases in which their sound changed significantly, such as when Syd Barret left the band in 1968. He was replaced by David Gilmour, who was already part of the band as a guitarist but stepped in to fill the roles of lead guitar and vocals alongside Roger Waters. During their long career, there were many other changes in the lineup, which consequently shifted the direction and overall concept of their albums.
Sadly, they have had several periods of inactivity, which would be interrupted on a few occasions, such as the "Live 8" event in 2005. Every member reunited (except for Syd Barrett, who passed away the next year). Richard Wright died two years later, in 2008.
Throughout this article, you will find the most important points and aspects about this amazing band that you just can't miss! Use it as a launchpad to explore everything else there is to know about them.
Pink Floyd's Original Lineup and Changes
Pink Floyd's original lineup featured the following musicians:
Syd Barrett (guitar, vocals)
Roger Waters (bass)
Nick Mason (drums)
Richard Wright (keyboards)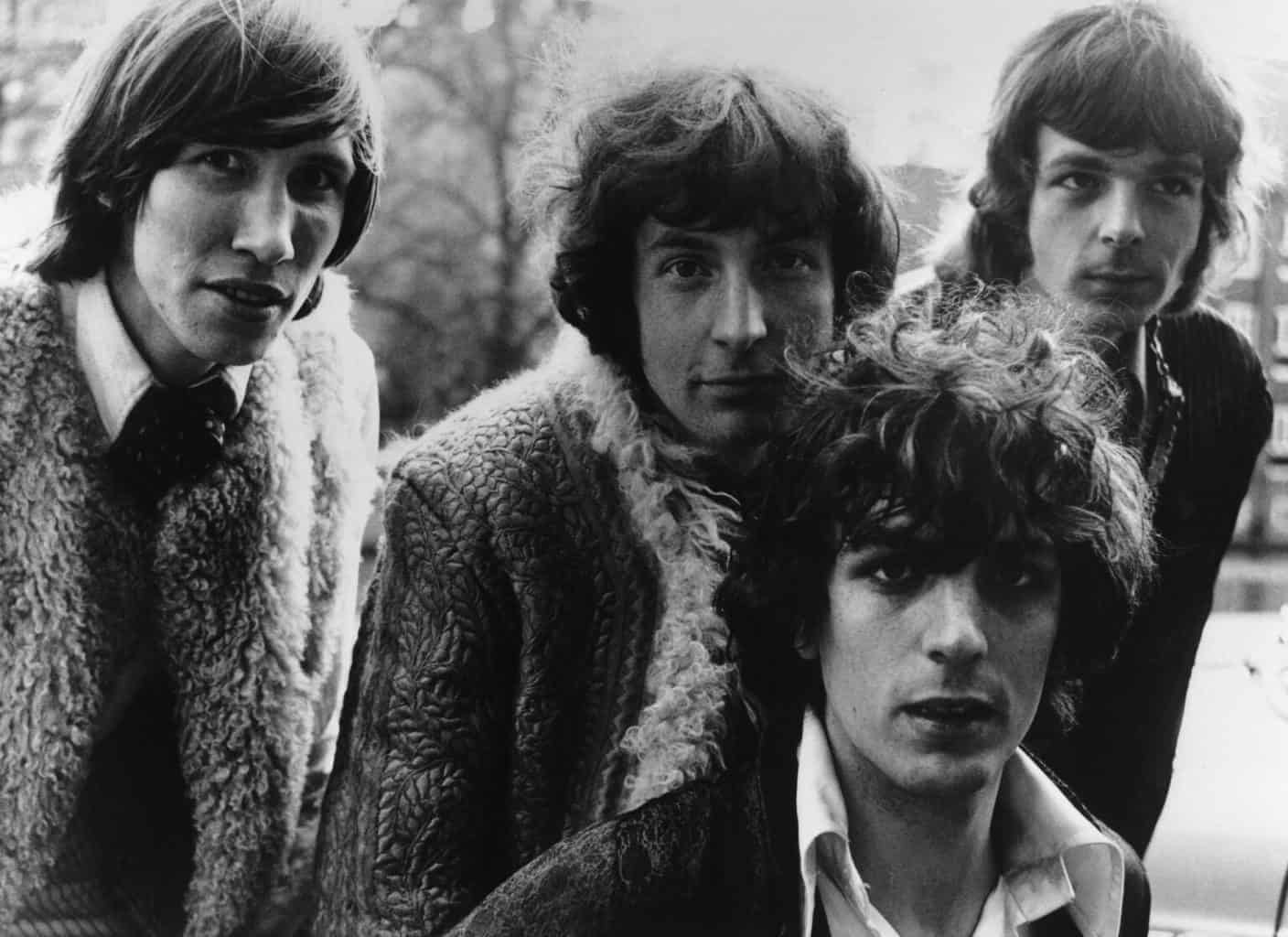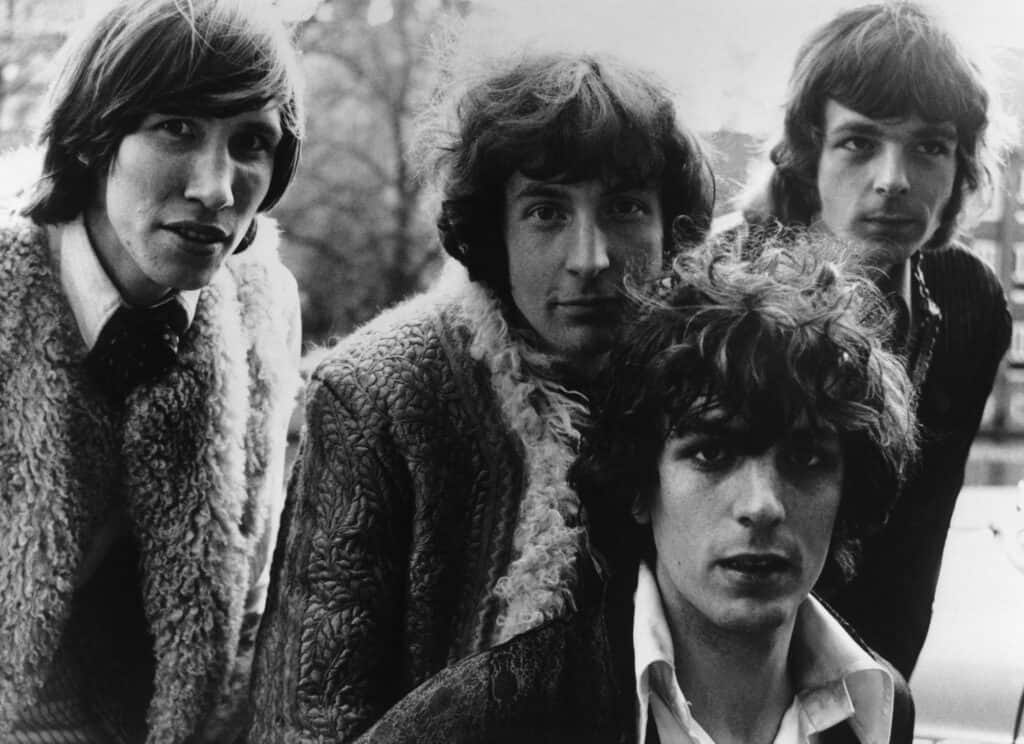 There was a musician named Bob Klose (lead guitar) who was playing with the aforementioned band members before they started calling themselves Pink Floyd, but he left before they made that decision.
Throughout the band's career, there were several changes to this lineup. The most notable was Syd Barrett leaving the band in 1968 due to his deteriorating mental health and the incorporation of David Gilmour as a guitarist and vocalist in 1967.
He was initially meant to replace Syd while he stayed behind the scenes, working mainly as a songwriter, which proved to be impossible shortly after due to his unstable condition.
Other changes in the lineup were brought about by personal and creative differences, as well as less pleasant occurrences, which ended with members being kicked out of the band.
For instance, Richard Wright was fired from the band while the record The Wall (1979) was being produced. However, he came back during the corresponding tour as a hired musician. He would then be a part of the official lineup again after Roger Waters left the band.
Unfortunately, Pink Floyd's story has its fair share of conflict and turmoil. Despite the fantastic reception of their 2005 reunion for the Live 8 concert, they turned down the opportunity of playing a reunion tour in which they would have been paid a very large amount of money.
Their past history and relationships were too complicated to go through with it, leaving their fans disappointed about not being able to see them again in the future.
Pink Floyd's Discography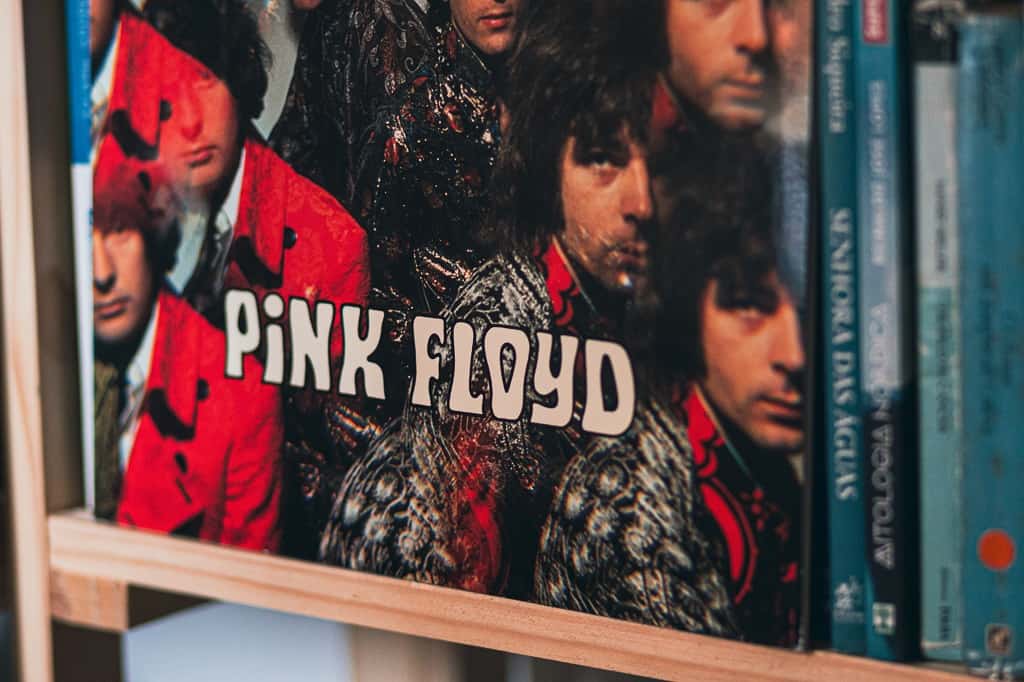 Pink Floyd released a total of 15 studio albums between 1967 and 2014. Some of their members, such as David Gilmour and Roger Waters, also have accomplished solo careers and still play regularly.
They have sold over 250 million records since the band's first release, making them one of the best-selling bands of all time, with other legendary groups such as Led Zeppelin, The Beatles, and The Rolling Stones.
Other notable achievements and awards include their induction into the US Rock and Roll Hall of Fame in 1996, the UK Music Hall of Fame in 2005, and the Polar Music Prize in 2008, awarded by King Carl XVI Gustaf of Sweden.
Check their full discography below:
The Piper at the Gates of Dawn (1967)
A Saucerful of Secrets (1968)
More (1969)
Ummagumma (1969)
Atom Heart Mother (1970)
Meddle (1971)
Obscured by Clouds (1972)
The Dark Side of the Moon (1973)
Wish You Were Here (1975)
Animals (1977)
The Wall (1979)
The Final Cut (1983)
A Momentary Lapse of Reason (1987)
The Division Bell (1994)
The Endless River (2014)
Pink Floyd has also released a total of 4 live albums, which you can check below:
Delicate Sound of Thunder (1988)
Pulse (1995)
Is There Anybody Out There? The Wall Live 1980-1981 (2000)
Live at Knebworth 1990 (2021)
Apart from these releases, Pink Floyd has also released 9 compilation albums, 6 EPs, 27 singles, and 5 Box sets.
Their last album, The Endless River, came out in 2014. More recently, David Gilmour and Nick Mason teamed up with other musicians and the Veryovka Ukrainian Folk Choir to record "Hey, Hey, Rise Up!", a song recorded and released in support of Ukraine due to the Russian invasion of 2022.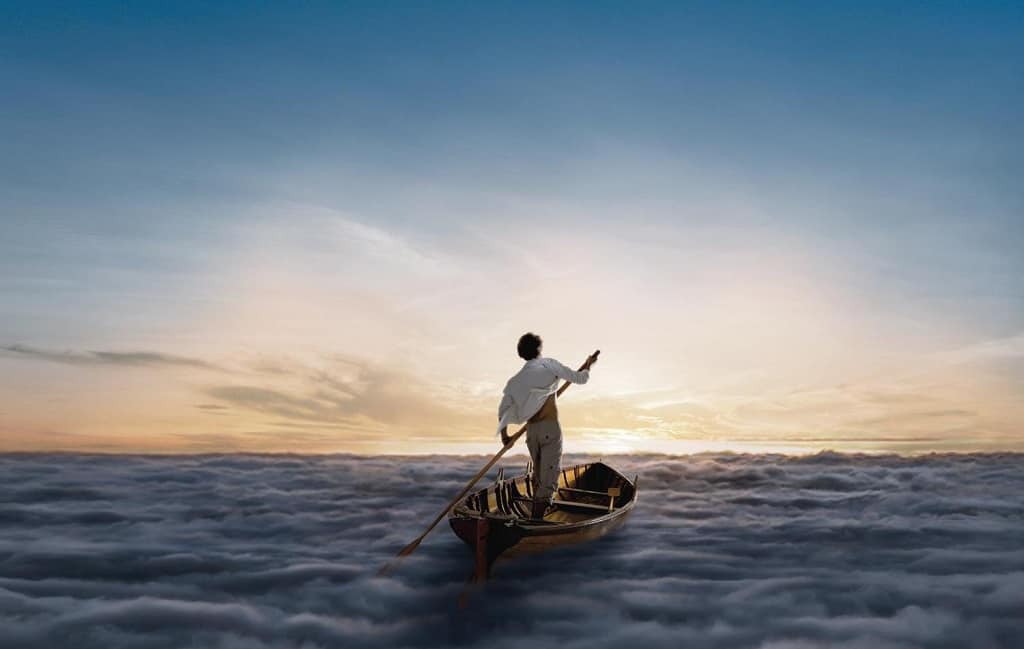 It features vocals by Andriy Khlyvnyuk, a Ukrainian musician. It was the first piece of entirely original music released by Pink Floyd since 1994. The album The Endless River was based on unreleased material from their 14th album, The Division Bell.
Studio Albums by Pink Floyd You Should Check Out
Out of their extensive discography, some of Pink Floyd's records were massive hits, setting a new standard in the progressive rock genre and influencing thousands of musicians that came after them. Some of these records sold millions of copies and are still considered some of the most influential albums ever released.
Here are some of my favorite choices from Pink Floyd's discography. If you are just starting out, I highly recommend that you start by listening to these and then explore the rest of their discography.
The Piper at the Gates of Dawn (1967)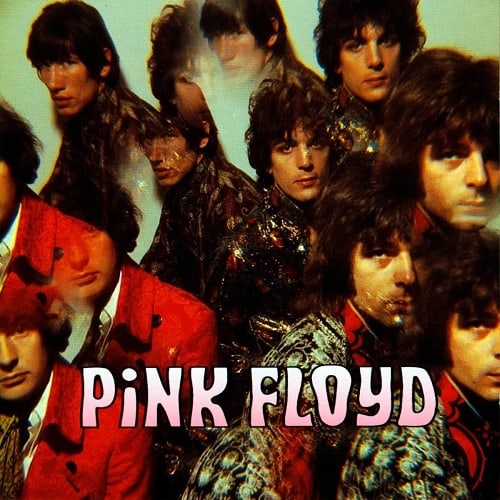 The Piper at the Gates of Dawn was Pink Floyd's debut album, which was released in 1967 by EMI Columbia. At the time, Syd Barrett was the lead singer and the band's leader, so you won't listen to David Gilmour (who was not present at the time) or Roger Waters as much as you do in the later records, which came out after Barrett left the group due to his mental condition.
It is essential to mention this album because it was the first contact that the world had with a band that would later attain a legendary status as one of the leading psychedelic groups in the world. Even though Syd left shortly after The Piper at the Gates of Dawn was released, his influence was significant and cannot be underestimated.
The two most iconic songs from this record are "Astronomy Domine," the opening track, and "Interstellar Overdrive," the first track of its B side. Pink Floyd would still play these two songs frequently later in their career, unlike the rest of the songs featured on this record. It has been considered one of Rolling Stone magazine's greatest albums of all time. Its release was a pivotal moment for psychedelic and progressive music.
Meddle (1971)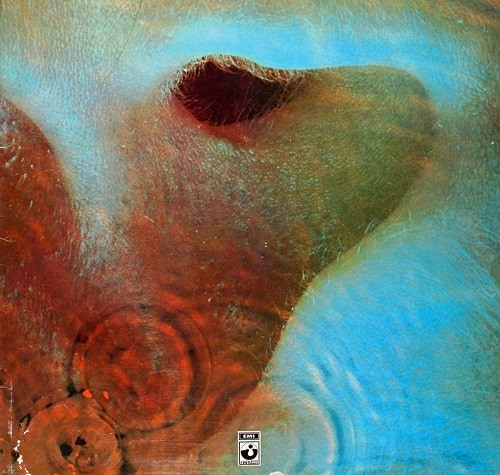 Meddle was Pink Floyd's 6th studio album, released in 1971 by Harvest Records. It came right before one of their most famous releases, The Dark Side of the Moon, which would be released two years later. It was recorded between January and August of the same year, and it came out in October. The band did not record it all in the same studio – recordings took place in AIR, Abbey Road, and Morgan Studios, all in London.
The name is a play on words, meaning both "medal" and "interfere," as the word "meddle" suggests. The cover is a close-up shot of a human ear, supposedly underwater.
It features a total of 6 tracks; being that 5 of them are on the A-side, and the B side is entirely occupied by "Echoes," one of Pink Floyd's most famous compositions. However, due to its long duration, this record's singles were "One of These Days" and "Fearless."
In this record, David Gilmour is further consolidated as a fantastic guitarist who is not only good at songwriting and singing but also at playing guitar solos that would be listened to and hailed countless times throughout the decades. His work on "Echoes" is truly something to appreciate.
The Dark Side of the Moon (1973)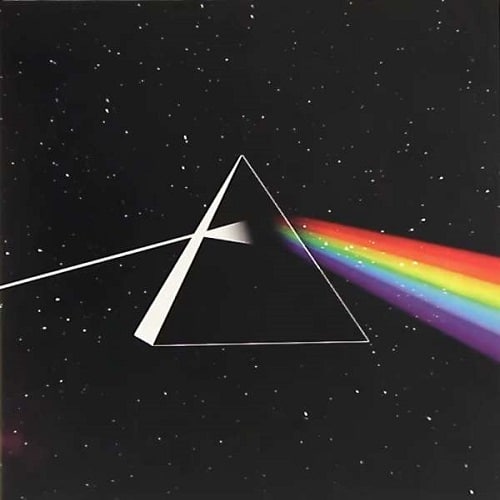 The Dark Side of the Moon is Pink Floyd's most successful studio release, and it is one of the albums with the highest number of sales worldwide. Recorded between 1972-1973 at the Abbey Road Studios and released in 1973 by Harvest Records, their 8th record catapulted Pink Floyd to international fame. It solidified their place in the history of music.
This concept album is divided into two sides containing 5 songs each, but they are two continuous pieces of music. They represent the various phases of human life, express several sensations and circumstances of people's journeys, and mock feelings such as greed, hate, and selfishness.
Some of the most famous tracks include "Money," a song written in 7/4 time, "Time," and "The Great Gig in the Sky," featuring an amazing vocal solo by the invited singer Clare Torry.
Throughout this record, there are many highlights that justify an entire discussion about it. Still, some of the most memorable ones for me are David Gilmour's beautiful guitar solos on "Time" and "Money" and Dick Parry's saxophone solos on "Us and Them" and "Money."
The iconic artwork was created by Storm Thorgerson, a graphic designer who was working with the band. It is one of the most recognizable album covers of all time.
Wish You Were Here (1975)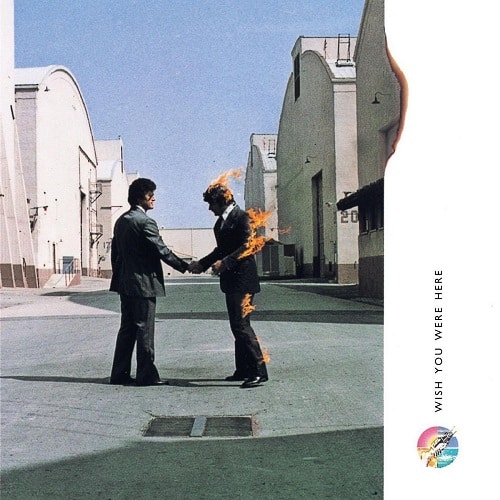 Wish You Were Here was Pink Floyd's 9th release by Harvest Records in the UK and Columbia Records in the USA. They recorded and released it in 1975 and contained one of their most famous music pieces – "Shine On You Crazy Diamond," with parts I-V on the first side of the record and parts VI-IX on the second.
"Wish You Were Here" is also one of the most notably known songs from this album. It was written by Roger Waters and David Gilmour, who also sings and plays guitar in this song.
Animals (1977)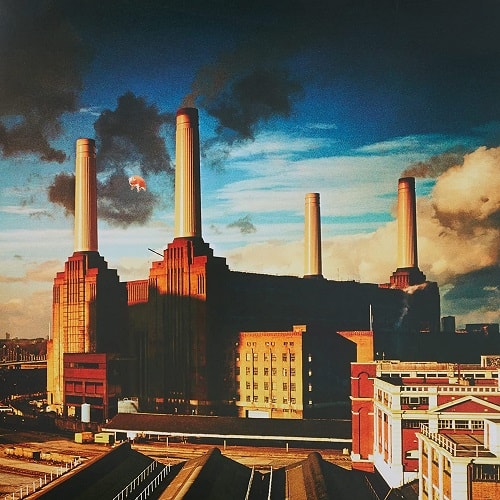 The album Animals came out in 1977, two years after Pink Floyd's latest release at the time. It followed the same path in regards to being a concept album, this time talking about different classes in a society and creating an analogy in which they are represented by animals such as dogs, pigs, and sheep.
While this is not Pink Floyd's most popular release by far, I think it is still worth listening to. Several highlights deserve to be mentioned, such as David Gilmour's excellent vocals and guitar work on "Dogs," Richard Wright's synth playing, and a memorable bass solo by Roger Waters on "Pigs (Three Different Ones)."
The Wall (1979)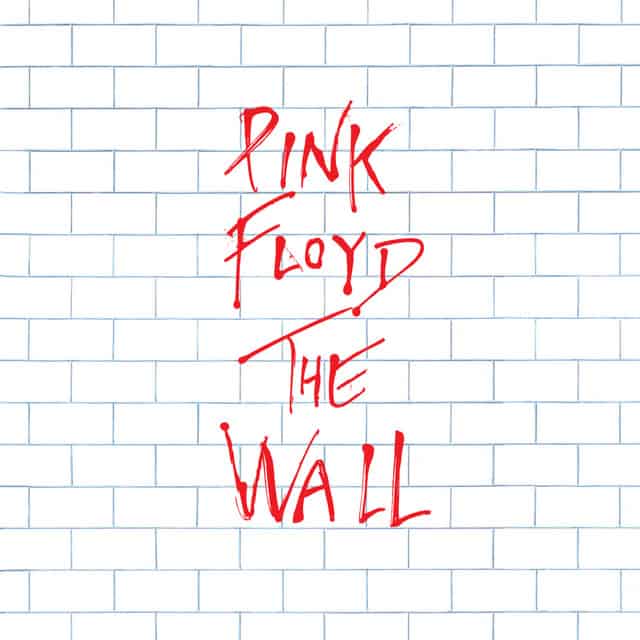 The Wall was released in 1979 and was one of the band's most successful records, selling over 30 million copies worldwide, second to Dark Side of the Moon only. It was recorded between December 1978 and November 1979 in various studios.
During this period, the band struggled with tensions between them due to financial issues, personal conflicts, and other difficult circumstances, which made the process more complicated to pull off successfully.
Richard Wright was even fired during the production stage. Still, he came back as a hired musician when they started touring after recording.
This album had 3 singles issued from it, "Another Brick in the Wall, Part 2", "Run Like Hell," and "Comfortably Numb." These are some of the band's best-known songs in which you can hear unique displays of musicianship by every member of the group.
Notable Live Performances and Tours by Pink Floyd
While it is complicated to summarize Pink Floyd's most essential and successful live performances and tours, there are certainly a few that can be highlighted as some of the most memorable of their career.
Pink Floyd was one of the first bands to create an immersive live show that combined several visual and sound elements that turned them into unforgettable experiences that went much further than their compositions.
Here are a few examples that I think you should check out.
Dark Side of the Moon Tour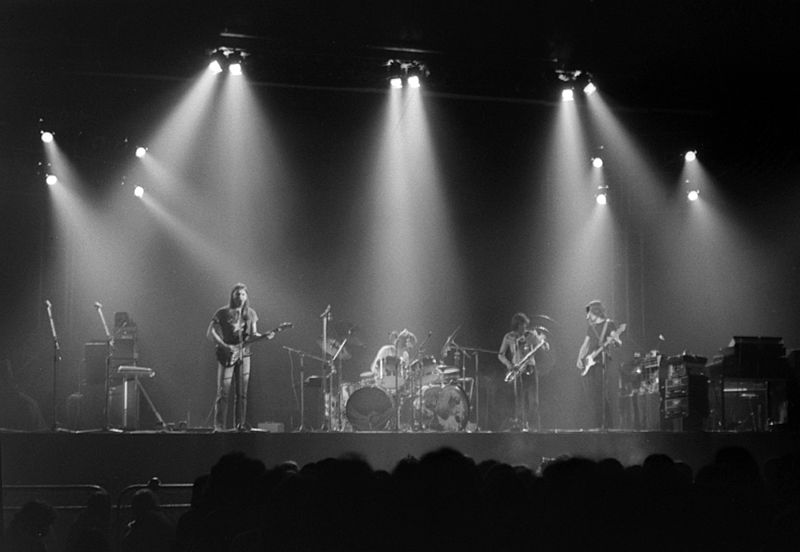 Pink Floyd played the Dark Side of the Moon tour between 1972 and 1973, playing a total of 128 shows between two separate legs in the UK, US, Europe, and Japan.
This tour was characterized by intense and impressive visual effects and a quadrophonic sound system that further enhanced the sonic experience of their shows.
The setlist included the full album, as well as other songs from other records that would vary between shows, such as "One of These Days," "Careful With That Axe, Eugene," "Set the Controls for the Heart of the Sun," "Atom Heart Mother" and "Echoes."
The Wall Tour
This tour was one of the most iconic of all tours by Pink Floyd. There weren't a lot of shows, but the production was revolutionary and set a new standard for rock live shows.
It started in February 1980 and ended in June 1981, with 31 shows, a very low number compared to other tours such as the one supporting Dark Side of the Moon, which had 128 shows. They played in Los Angeles, Uniondale, Dortmund, and London.
In the show, a giant wall would be built on the stage, gradually separating the audience from the band, which symbolizes the feelings of loneliness and alienation conveyed by Roger Waters throughout the record itself.
This tour was also marked by a high tension between the band members. These were the last concerts of Roger Waters with Pink Floyd until their Live 8 reunion in 2005.
Richard Wright had also been recently fired from the band, but he played as a hired musician on this tour. This ended up causing an ironic situation: the cost of this tour was so high that it lost money, but Wright was being paid a fixed amount per show, just like the rest of the crew members, which made him the only band element to actually profit from this tour.
Live 8 Concert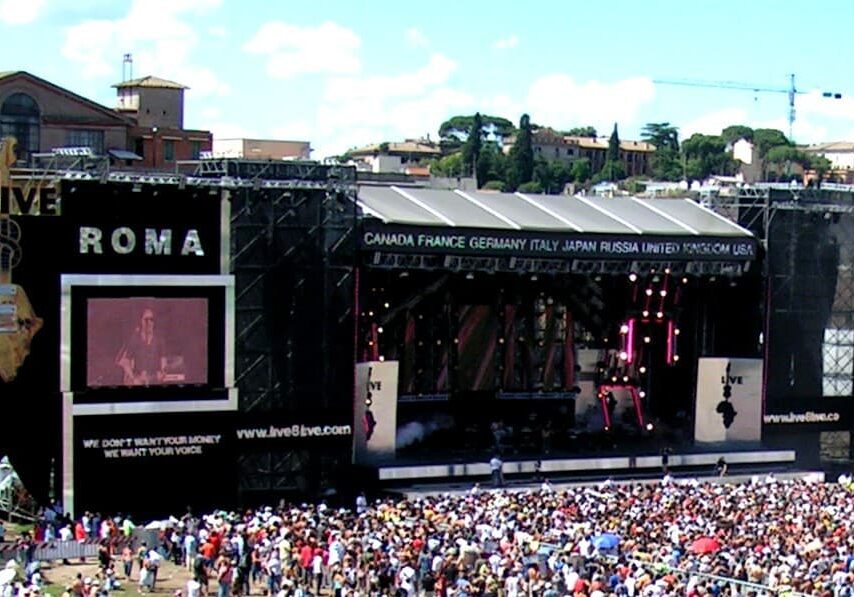 Live 8 was a series of concerts that were held on July 2nd, 2005, in several locations around the world. These were benefit concerts in support of organizations against poverty.
Pink Floyd's concert was in London, and this was the first time in 24 years Roger Waters played with Pink Floyd after leaving the band following their The Wall tour.
It was also the last concert featuring their full lineup since Richard Wright passed away from cancer 3 years later.
During this show, the band played "Speak to Me," "Breathe," "Money," "Wish You Were Here," and "Comfortably Numb." They dedicated "Wish You Were Here" to their former bandmate and Pink Floyd founder Syd Barrett, who passed away the next year.
Live at Pompeii
Even though this is not a traditional live performance, I still wanted to include it here because this is something that can't be missed by any Pink Floyd fan.
Pink Floyd: Live at Pompeii is a documentary film from 1972 featuring the legendary band playing at an ancient Roman amphitheater in Pompeii, Italy. This city was devastated by a volcanic eruption in the past.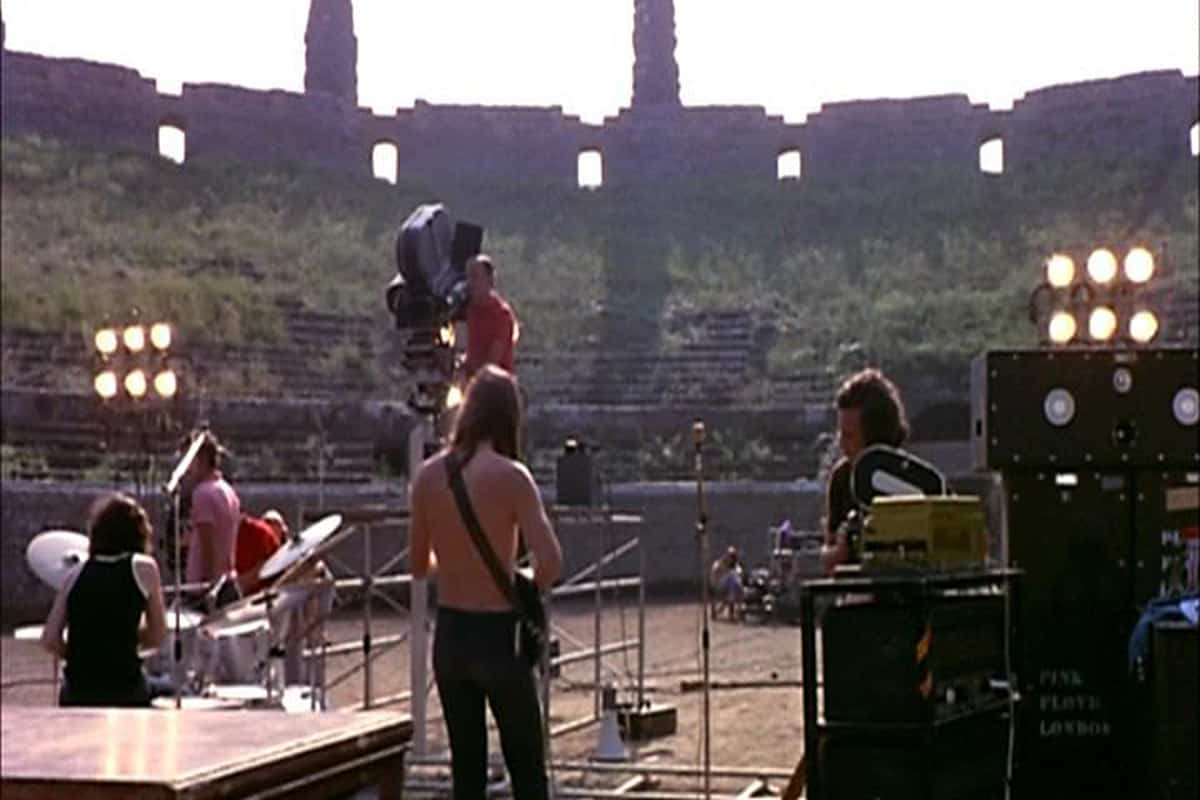 They filmed part of this documentary in Pompeii in 1971 and another part in a television studio in Paris. In the original film from 1972, the tracklist of this concert with no audience is the following:
"Pompeii"
"Echoes, Part 1"
"Careful with That Axe, Eugene"
"A Saucerful of Secrets"
"One of These Days"
"Set the Controls for the Heart of the Sun"
"Mademoiselle Nobs"
"Echoes, Part 2"
Solo Careers by Pink Floyd Members
David Gilmour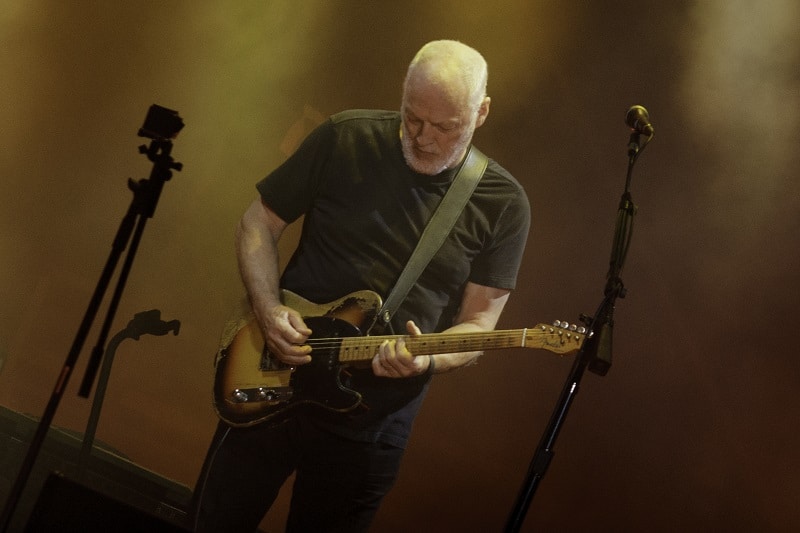 Out of all of Pink Floyd's members who pursued a solo career, David Gilmour is one of the most accomplished. He released his debut album David Gilmour in 1978 and has a total of 4 studio albums, 6 singles, and 2 live albums.
David Gilmour has also worked as a producer, sideman, and sound engineer for various famous artists such as Paul McCartney, Tom Jones, Eric Clapton, and Alan Parsons.
Roger Waters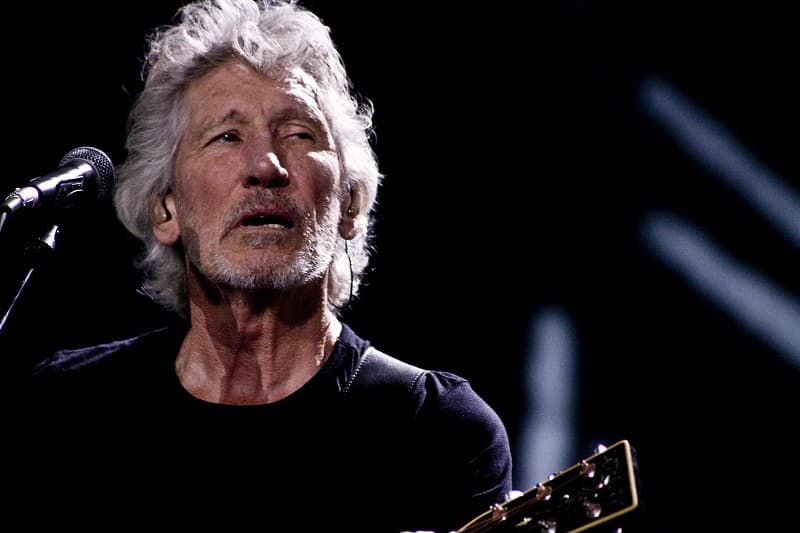 Roger Waters released his first album, The Pros, and Cons of Hitch Hiking, in 1984 after leaving Pink Floyd. His discography features a total of 4 studio albums. He has also composed the soundtrack for a documentary, an opera, and an album of music by Igor Stravinsky.
Roger Waters has also played several successful tours in which he plays music from Pink Floyd and some of his own records. The shows are known for their elaborate visuals, impressive props, and amazing sound design.
Richard Wright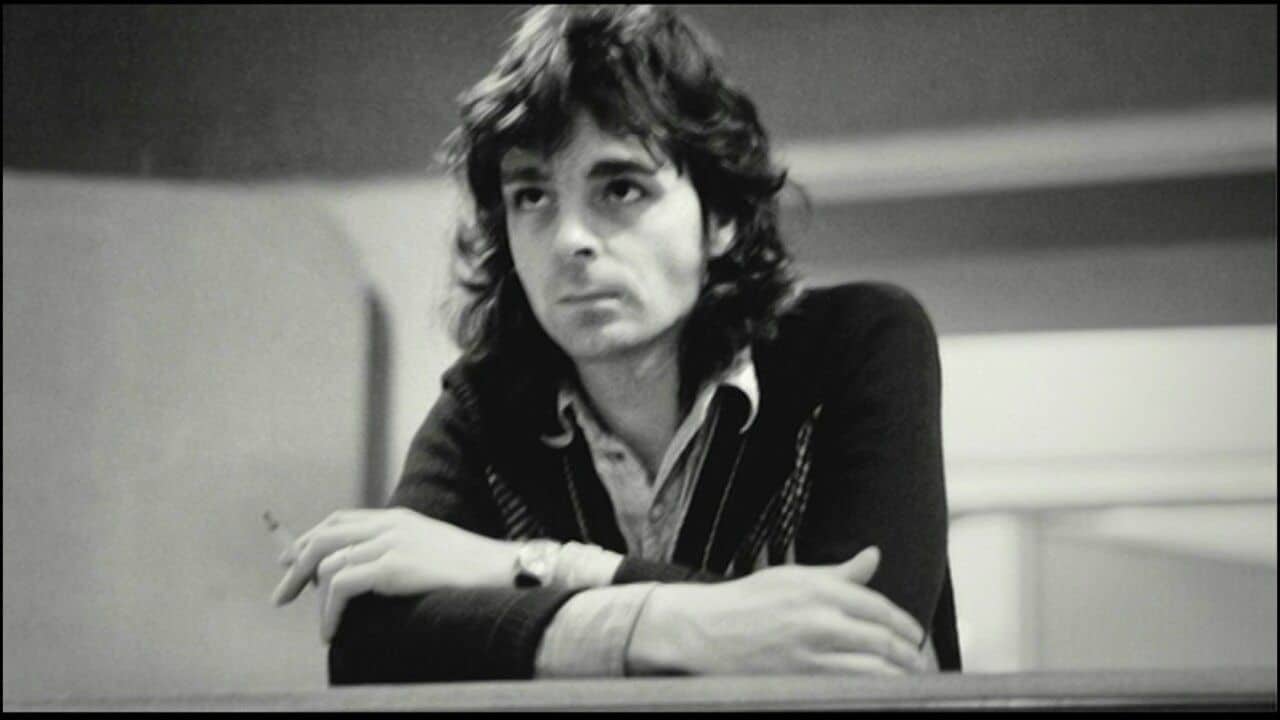 Richard Wright released two albums under his own name. Wet Dream was the first, which came out in 1978, just before Pink Floyd started to prepare for their next release, The Wall.
His second and last release, Broken China, was released in 1996. All of the music is written by Wright, with a few collaborations on some of the songs.
Unfortunately, Richard Wright passed away unexpectedly in 2008. He was known to be working on his next solo album at the time.
Syd Barrett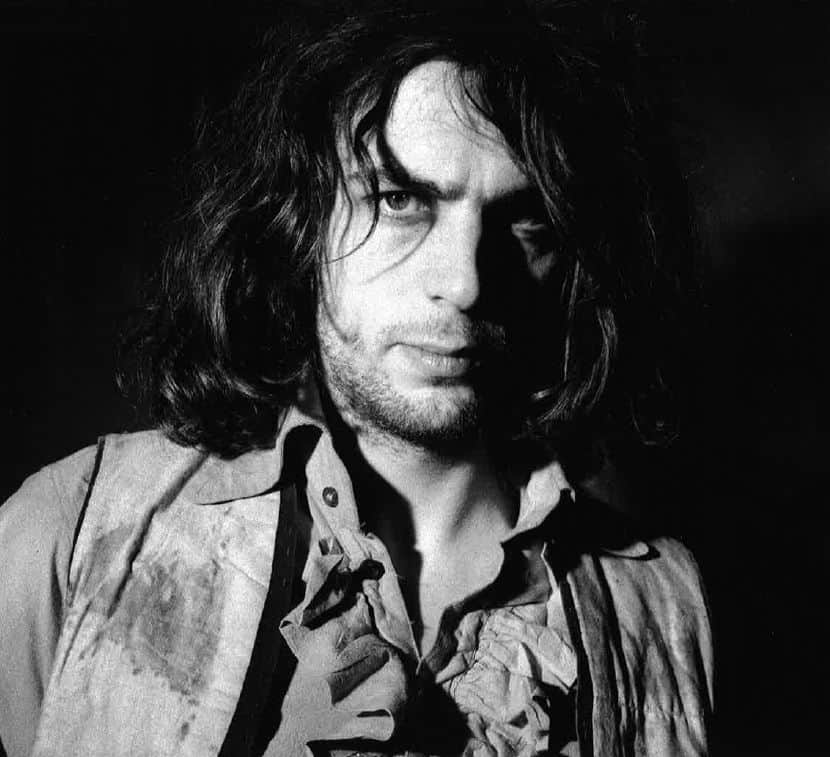 Although Syd Barrett did not stay with Pink Floyd for a very long time, he was one of the founding members, heavily influencing their style and direction, even after leaving the group.
His solo career started in 1969 with the release of the single "Octopus." He released two studio albums in the year 1970: The Madcap Laughs and Barrett. He decided to stop his music activities in 1972 and lived a private life until he passed away in 2006.
Nick Mason
Nick Mason is arguably the Pink Floyd member with the least known solo materials, but it is still worth checking out his work. He has released one studio album, Nick Mason's Fictitious Spots, in 1981 and a live album, Nick Mason's Saucerful Of Secrets, in 2020.
FAQ – Frequently Asked Questions About Pink Floyd
Question: Who were the original members of Pink Floyd?
Answer: At the time of its creation, the band Pink Floyd featured the following lineup:
• Syd Barrett (guitar, vocals)
• Roger Waters (bass)
• Nick Mason (drums)
• Richard Wright (keyboards)
Question: What are Pink Floyd's most successful records?
Answer: Out of their extensive and impressive discography, some albums from Pink Floyd have earned a distinctive place among the rest. Dark Side of the Moon was their highest-selling album, and The Wall was the second. Other notable releases include Meddle, Wish You Were Here, and Animals.
Question: What are Pink Floyd's most recognizable songs?
Answer: During their long career, Pink Floyd released many songs that became huge commercial hits and several songs with unique elements that solidified this band's place as one of the most influential progressive rock groups of all time. Here are a few examples:
• Another Brick in the Wall, Part 2
• Money
• Comfortably Numb
• Dogs
• Wish You Were Here
• Shine On You Crazy Diamond
• Echoes
• Time
• Hey You
• Us And Them
Question: Where did the name "Pink Floyd" come from?
Answer: The name "Pink Floyd" was an idea from Syd Barrett. It is a combination of the names of two blues artists that he knew and had in his record collection: Pink Anderson and Floyd Council. Before the final version, the name went through a few changes, such as "Pink Floyd Sound" and "The Pink Floyd."
Question: What music genre does Pink Floyd play?
Answer: Since Pink Floyd has a very vast and varied discography, it is difficult, if not impossible, to categorize them under a single music genre. Throughout their work, you can hear examples of progressive rock, psychedelic rock, space rock, and many blues influences, among others.
Closing Considerations about Pink Floyd
If you are a fan of rock, progressive rock, and blues-influenced music, Pink Floyd is one of those bands you can't skip. Their vast and varied discography should keep your hands full for a long time, and you will certainly enjoy hearing the band's evolution through the years.
There is something in their albums for everyone. Even if you can't see them live anymore, the recordings of their live performances can be mind-blowing to witness due to the fantastic visuals and overall production of the shows.
Many of their records are now collector's items. You might want to add some of them to your collection sometime, as they are a great addition to any music enthusiast's shelf!