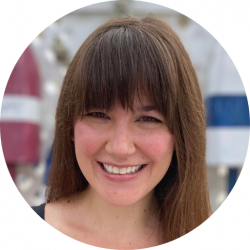 Latest posts by Lauren Vigdor
(see all)
I used to sell merch for a living. I was the girl at the back of the concert, standing behind a folding table piled high with rolled t-shirts, sharpie in hand, marking sales on a piece of scrap paper. I sold merch for years and loved every second of it (so many free concerts!) though I was never lucky enough to sell merch for David Bowie.
One of my favorite shirts is a piece of David Bowie merch. It's a plain sleeveless shirt with the Aladdin Sane cover photo on it, and I've worn it so many times the seams are starting to fray. I like to think that when I'm wearing it, I'm able to channel the creativity and power of the Starman himself. 
David Bowie is one of my favorite artists of all time. Not only has his music influenced me throughout my life, but it's also influenced many of the other artists I grew up loving. Some of his music is such a part of the zeitgeist that I tend to forget it was even written. It feels as if it's always just existed.
He was an influential artist with more style that could be contained by just one persona, which means if you're searching for David Bowie merch, you'll come across a wide range of options. In this article, I'll give you all the information you need to find the best David Bowie merch, whether it's for you or a gift to someone else. 
Who was David Bowie?
David Bowie was one of the most influential musicians of the 20th century. He was born in London on January 8, 1947, as David Robert Jones and went on to have a professional music and film career that spanned more than 50 years. He's most well known for his influential work (especially in the 1970s, where he was a pioneer of the glam rock scene) and his ever-shifting personal and musical style.
He adapted several styles and personae throughout his career and used them as voices and subject matter for his music. David Bowie died in New York on January 10, 2016, just two days after his 69th birthday and the release of his album Blackstar. 
Different Eras of Bowie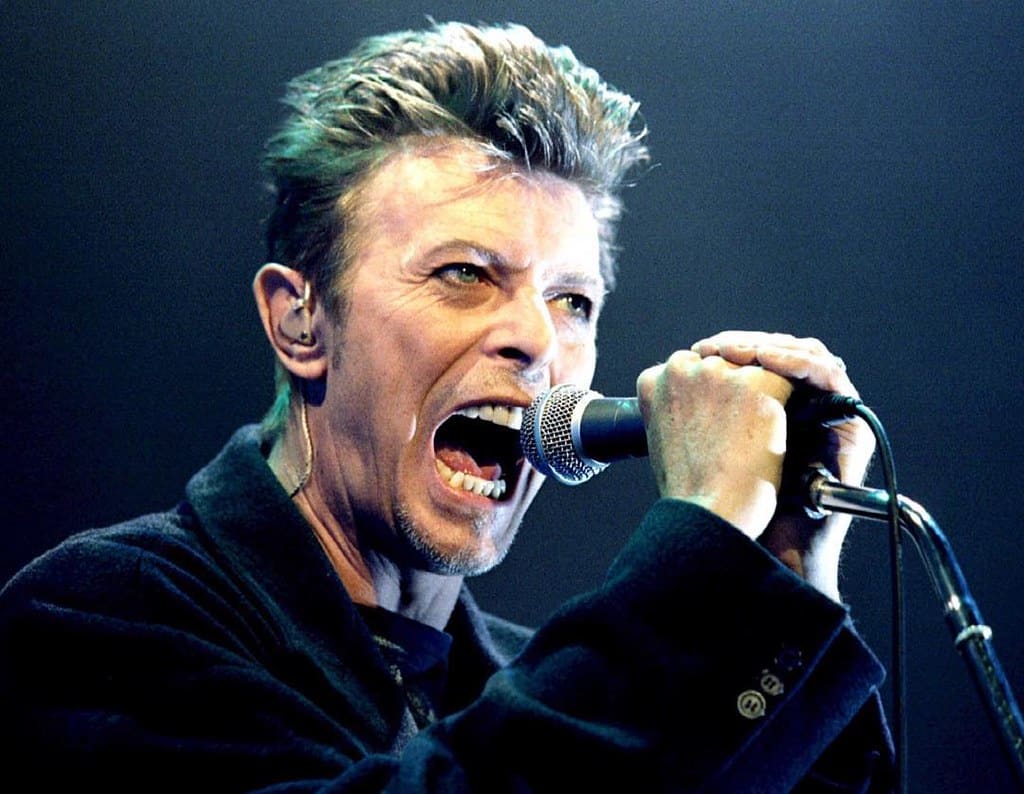 While it's not entirely accurate to say that David Bowie adopted a different persona for every few albums, the artist did go through many distinct transitions in style. Not all of these styles were fully fleshed-out alter egos a la Ziggy Stardust, but each era did have its impact.
The lines between some of David Bowie's characters and styles were blurred and often overlapped, so there's no definitive list of them all, but some of the most popular ones are as follows. It's worth noting that these characters and styles tend to have their corresponding merch. 
Major Tom:

 Major Tom was a fictional astronaut created by Bowie and debuted in the song "Space Oddity." In some ways, he was considered a predecessor to Ziggy Stardust, possibly because of his red mullet and time spent in space. However, the character returns several times in Bowie's post-Stardust years, including on his final album Blackstar.

Ziggy Stardust:

 Bowie's best-known character, Ziggy Stardust, was an androgynous space alien rockstar. Though the red lightning bolt is often wrongfully attributed to Ziggy Stardust (it debuted with Aladdin Sane, below), the character did sport Bowie's famous red mullet and a large golden sphere on his forehead. 

Aladdin Sane:

 David Bowie described Aladdin Sane as "Ziggy Stardust goes to America." Aladdin Sane wasn't so much a distinct departure from Ziggy Stardust as he was a continuation of the character with more of a rock and roll edge. The iconic image of Aladdin Sane with the lightning bolt makeup is often confused with Ziggy Stardust. 

Halloween Jack:

 Halloween Jack appeared on the Diamond Dogs album and tour. Some consider him the final form of the Ziggy Stardust/Aladdin Sane persona. He lives in a dystopian city and sports an eye patch with the ubiquitous red mullet. 

The Thin White Duke:

 The Thin White Duke was a darker, more serious, and controversial character that appeared following Halloween Jack and Diamond Dogs. He marked the peak period of Bowie's drug use and was retired quietly in1976, save a final appearance in Blackstar's Lazarus.

Pierrot:

Bowie briefly appears like the stock commedia dell'arte mime Pierrot in his "Ashes to Ashes" video and on the cover of Scary Monsters (and Super Creeps.)

80s Pop Star Bowie:

 There isn't a name for this era of Bowie since he wasn't adopting a persona, but Bowie's distinctive style during the height of his fame had a significant influence on his merch referencing this time. Let's Dance era Bowie was a sleek superstar and mainstream commercial success. 

Jareth the Goblin King:

David Bowie appeared in Jim Henson's cult classic film Labyrinth as Jareth the Goblin King in 1986 in a now-iconic wig and costume. There is a lot of Labyrinth-themed merch available but be forewarned that Labyrinth fans and fans of Bowie's musical career are not always the same. 

The Blind Prophet:

 The Blind Prophet was one of Bowie's last characters. He appeared in the videos for Blackstar and Lazarus and wore a blindfold with black button eyes. 
David Bowie Merch
It's no surprise that many people would want to pay tribute to and celebrate a musician as influential and inspiring as David Bowie. There's an enormous amount of Bowie merchandise in the world in all types of products covering every era of his career. 
Merch refers specifically to licensed artwork and products featuring official logos and images of David Bowie. Unfortunately, there are also a lot of unlicensed products for sale (we refer to these are unlicensed or inauthentic merch) that use Bowie's image without permission from his estate.
Unlicensed merch is not the same thing as fan art, where an artist creates an original image in tribute to David Bowie. We'll cover all three of these more later. 
David Bowie Merch Categories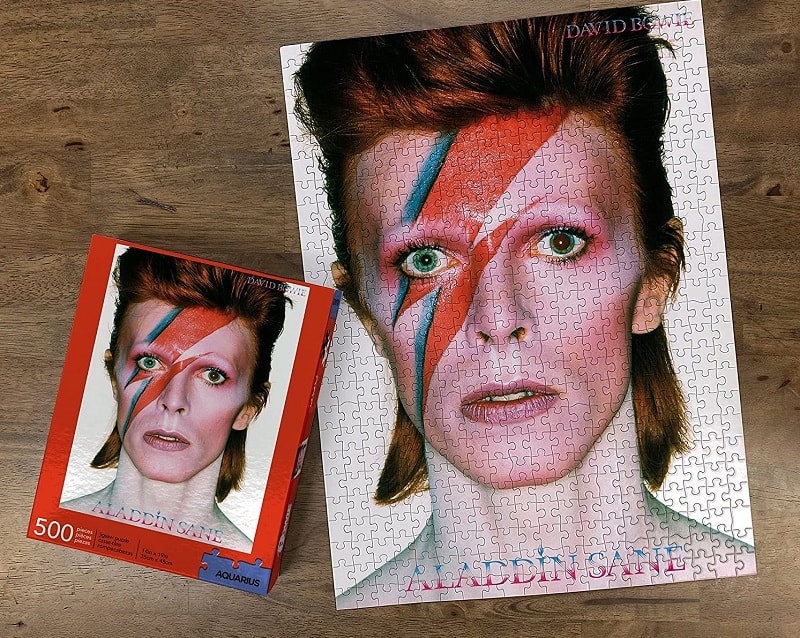 Knowing what type of merch you're looking for will significantly narrow down your selection. Below are some of the most popular categories of David Bowie merch. 
Apparel
Rock Band shirts have long been a way to profess your love for a particular musician and signal to other fans that you may have something in common. When I wear my David Bowie shirt, I feel like I'm channeling some of his energy and creativity. 
Apparel is a vast merch category, and it's not limited just to shirts. There are a ton of hoodies, jackets, pants, pajamas, and children's clothes, all featuring David Bowie.
Art
Art prints and posters are a great way to show off a tour, album, or artistic style that particularly speaks to you. I have a few select posters saved from my time working in music venues. Most of them are hand screen printed in dazzling colors. Not only are they gorgeous wall art and great conversation pieces, but they also serve as pleasant reminders of some spectacular shows. 
You can also find a lot of really excellent fan art featuring David Bowie. The Ziggy Stardust era, in particular, has inspired a lot of really incredible artwork in various styles, and I especially like all the ways the Aladdin Sane lightning bolt makeup is referenced in different artwork. 
Stickers, Buttons, Pins, and Patches
Stickers and buttons are a subtle and versatile way to display your devotion to an artist. Pins can be worn on clothing or bags, and stickers can be placed on any number of things, such as notebooks, water bottles, luggage, and laptops. Patches look great sewn onto a jacket, and buttons can be worn on lapels or pinned to backpacks.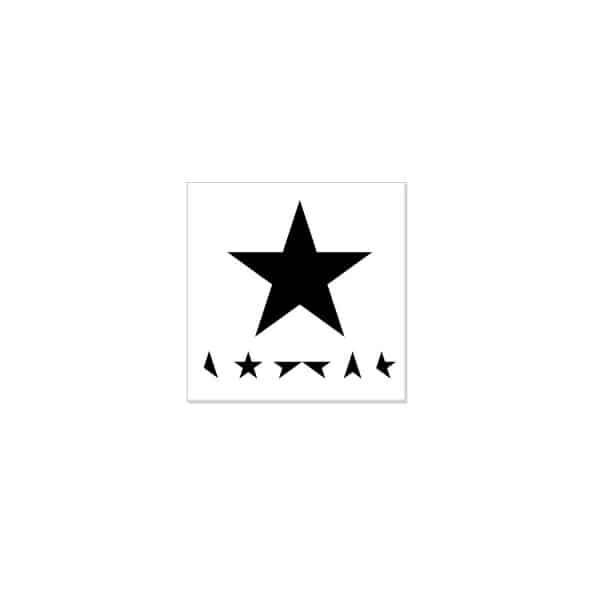 There are a lot of different styles of David Bowie stickers and pins, but I prefer simpler designs that are subtle nods to the artist, such as a simple lightning bolt pin or black star sticker.
Find a style that speaks to you, and be mindful of the product's dimensions, especially when purchasing online!
Jewelry and Accessories
David Bowie's official merch store sells jewelry such as pendants, necklaces, and cufflinks. They also have many wearable accessories like watch bands, bandannas, wallets, and ties.
You can also find a lot of unique jewelry featuring David Bowie on sites like Etsy, though most of it isn't officially licensed.
Bags and Backpacks
David Bowie's face and name are featured on bags as small as fanny packs and as large as rolling luggage. Tote bags and backpacks are handy ways to show off your fandom.
If you're giving a gift to a particularly die-hard Bowie fan, consider filling a David Bowie bag with other types of David Bowie merch, like books, vinyl records, and apparel!
Drinkware
Drinkware is a very popular merchandise category because coffee mugs, travel cups, and barware are all very useful! If you need a vessel to enjoy your morning coffee or evening beer out of any way, why not make it one with Ziggy Stardust on it! 
Home Decor
David Bowie blankets, cutting boards, refrigerator magnets, and Christmas ornaments are all among the things you can find in the home decor category.
Useful merch items make great gifts, but if you're buying a piece of home decor for someone else, it's sometimes best to make sure it doesn't take up too much space unless you're positive they want that specific item!
Games and Novelties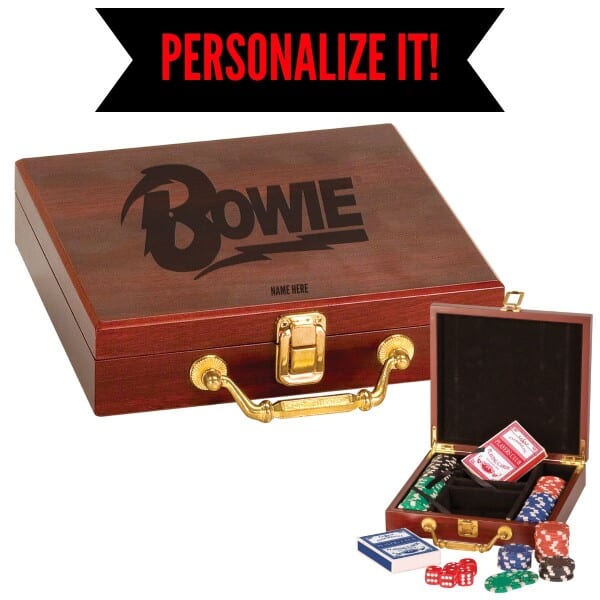 Merch like games, puzzles, and playing cards make great gifts. They're useful, and you don't have to worry about purchasing the wrong size or whether or not your loved one has wall space for something like a large poster.
One note if you're shopping the David Bowie official merch store, puzzles and playing cards are listed in the "Games and Novelties" category, but they also sell deluxe poker sets that can be personalized in the "Other" category. 
Books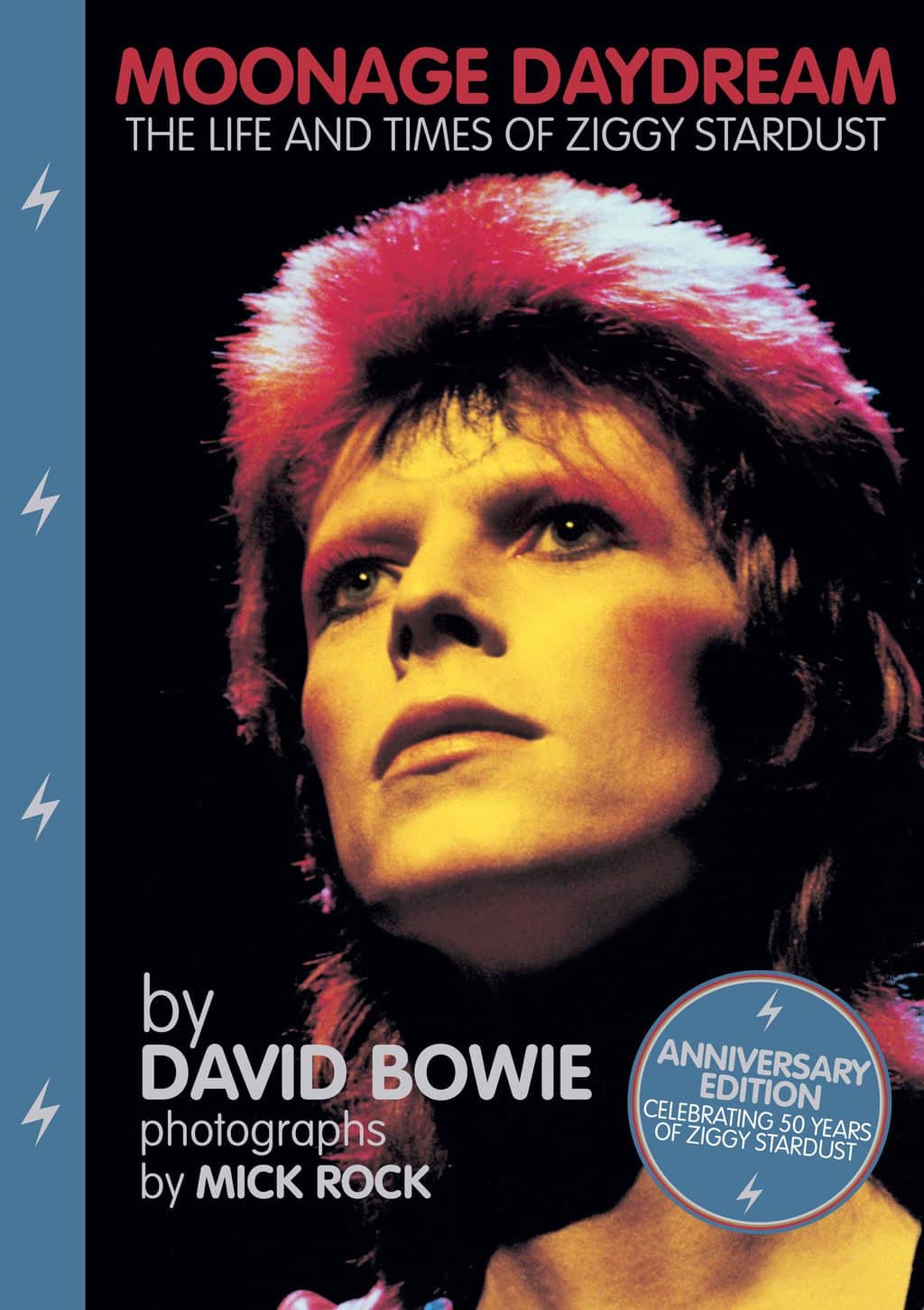 There are a ton of different books on David Bowie, some of them written by the man himself. This is one category where I wouldn't necessarily shop at the official store though. They have a few books and journals available on the site, but you'll find a larger variety if you shop elsewhere, such as on Amazon or your favorite bookstore.
If you've ever wanted to learn how to play David Bowie, there are several David Bowie songbooks in print. They contain lyrics and guitar/piano parts for any musician interested in learning to play all of his hits. 
Instrument Accessories
Instrument accessories are a category that includes guitar straps, guitar picks, and the like. It also includes turntable slipmats.
Pet Accessories
If you're a Bowie Fan, it stands to reason that your furry friend might be too! Collars, leashes, and bandanas all let them share in your fandom. 
Vinyl and CDs
Possibly the most important category of merch is the music itself! Vinyl records and CDs are great for collectors. Sure, streaming services are convenient, but there are still plenty of people who prefer to listen to analog media, and David Bowie may be the best-selling vinyl artist of the 21st century.
Where to Buy David Bowie Merch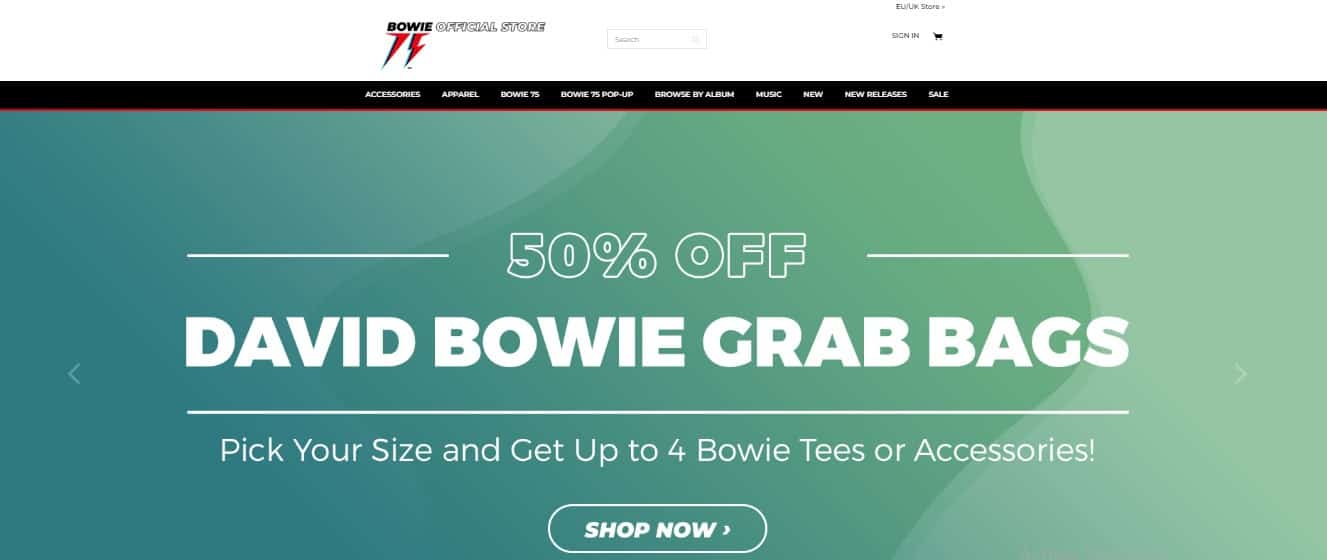 David Bowie was iconic, and you can find products featuring him pretty much everywhere. If you're looking for authentic David Bowie merch, make sure you shop at a reliable store or website. David Bowie's official website has an extensive merch store, including their Bowie 75 line commemorating what would have been the artist's 75th birthday. Merchbar is another online retailer specializing in artist merchandise.  
If you prefer to shop in person, you won't have as wide of a selection available to you, but you will have the benefit of seeing your merch in person before you purchase it. Record stores, Hot Topic, and stores like Target all tend to carry David Bowie merch. 
David Bowie Merch Buying Guide
Now that you know what category of merch you're looking for and where you might be able to purchase it, there are a few more things you're going to want to consider to help narrow your options down to a final buying decision.
Authenticity
Know the difference between authentic licensed merch, unlicensed or knock-off merch, and fan art. 
Authentic merch is licensed by David Bowie's estate and uses official images and logos.
Unlicensed merch will often use copies of official images to varying degrees of quality. If you're not buying from a reputable source, you might be purchasing knock-off merch. Whether or not that matters is really up to you, just know that not all sellers will offer the same quality products as reputable ones do. 
Fanart is original artwork inspired by David Bowie. That's where you'll find your pet portraits wearing lightning bolt makeup and surreal portraits of Bowie, among other things. Fanart isn't technically merch, but if you like a piece of art that shouldn't matter. 
Product Descriptions
When purchasing merch online, look for a site with adequate product descriptions. Unfortunately the product descriptions on the official David Bowie merch store range from mediocre to non-existent. When you're purchasing a product online, photos and descriptions are all you have to go on, since you can't see the product in person.
Having sub-par descriptions means you're less likely to know the size and materials of the item in question. That doesn't mean that you should rule out Bowie's official merch site, it's still one of the best places to find authentic David Bowie merch, just know that you may have to do some extra digging if you have questions about a particular product. 
Quality
The quality of merch tends to vary since different pieces are often made by different manufacturers. Assessing a product's quality is easier to do in person than online. When shopping in person you can feel the material of your merch and look for flaws. When shopping online you need to rely on photos, product descriptions (see above,) and the reputation of the retailer.
Shopping with a reputable online retailer is one of the best ways to ensure that you'll receive a quality product. When in doubt, check out the store's return policy. If all else fails, it's nice to know you'll be able to return a product that doesn't meet your standards. 
Price
Merch tends to be more expensive than similar products not tied to a famous artist, and unfortunately, authentic merch will most likely be more expensive than unlicensed merch. It helps to have a budget in mind when shopping for merch, as it will narrow down your search quite a bit. 
Shopping for Musicians
Several David Bowie merch options are geared specifically toward musicians, such as guitar straps and songbooks. One thing I would note when shopping for musicians is that, depending on how far along they are in their musical career, they may have developed their style, especially when playing gigs.
That means that though they may look to Bowie for inspiration, they might not want to go out on stage fully decked out in Bowie gear. In this case subtler, smaller gifts might be more appropriate — something like a Blackstar button, for example. Every person is different though, and your best bet is just to know your recipient's taste as much as possible. 
Best Tips for Buying David Bowie Merch
There are some important factors to consider when buying David Bowie merch, whether it's for yourself or as a gift.
First order of business should probably be to

narrow down your search

. There are thousands of options for David Bowie merch available, but most stores, including David Bowie's official merch site, will have products grouped into categories similar to the ones above. Use the categories to hone in on something specific (such as a new David Bowie book for your coffee table) or to weed out some of the things you know you

don't

need to see, like children's clothing when you're shopping for a gift for your uncle. 

If applicable,

choose an era of Bowie that is particularly important to you

. While it's ok to love Bowie in all forms (and many of us do,) you may have a particular album or film that speaks to you on a different level, whether it be Hunky Dory, Let's Dance, or the movie Labyrinth. 

Even if you don't pick a particular album or era, make sure you're choosing merch in a

style that you like

. Do you gravitate to items that have simple logos or text? Maybe you're looking for something with a portrait of David Bowie on it? When you're looking through products, pay attention to the ones you like (and the ones you don't like) and use that information to help narrow your search. 

When shopping for apparel, make sure to

pay attention to the fit

of the clothing. There's nothing worse than owning a great shirt that you never wear because the fit is uncomfortable. If you're looking for a gift and aren't sure the person's size, ask someone who might know, or better yet, sticks with items that are more universally sized, such as hats, scarves, or ties. 

If you're shopping for gifts, it's best to

know a few facts about your recipient

(other than the fact that they love David Bowie, of course) and use them to determine your purchase. You don't want to buy a vinyl record for someone who doesn't have a turntable, or a coffee mug for someone who hates coffee, for example. 

Do your best to

assess the quality of items

before making any purchases. You don't want to spend money on merch that will break or wear out in a few weeks! Assessing quality can be difficult to do when you're shopping online, but purchasing from reputable sellers (especially those with return/exchange policies) will make things a little bit easier. 

Is the product you're looking at

authentic and licensed

? If you're buying it through David Bowie's merch site or a major reputable retailer, it almost certainly is. If you're buying a product through Etsy or on a smaller, lesser-known website it might not be. If you're looking for fan art rather than merchandise, this might not be a problem for you, but if you want real merchandise, buying a knockoff online might mean you'll receive a lower quality piece or something different from what you expected. 

On that note, be careful in general when shopping online. Make sure the site that you're purchasing from is

reputable

, otherwise you could end up wasting your money. When you shop in person you get to hold the exact item in your hand before you buy it, but when you're shopping online the item that's pictured isn't always necessarily the item that you'll receive. 
David Bowie Merch Recommendations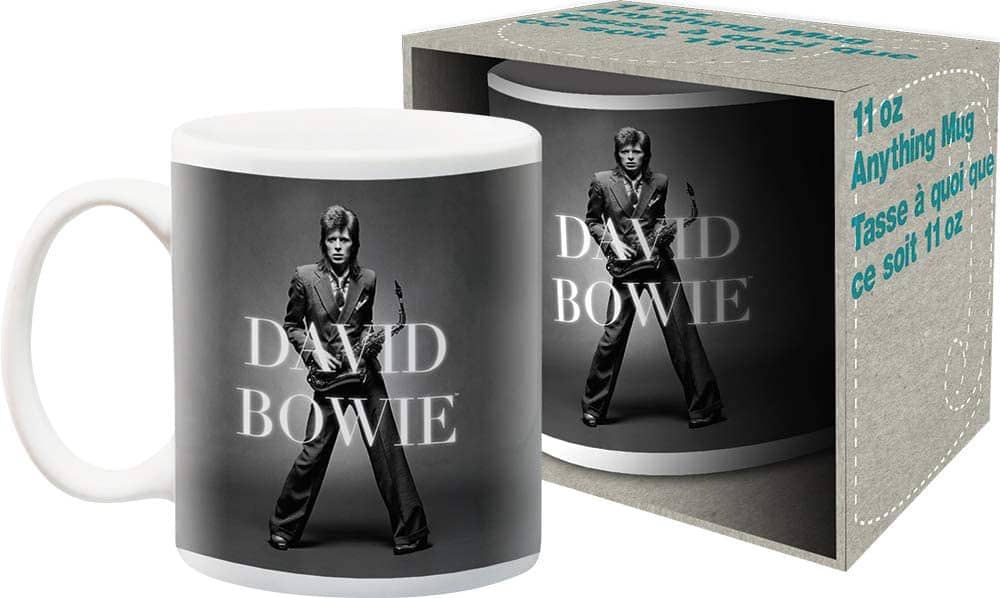 There is so much great David Bowie merch on the market, it can be very overwhelming trying to narrow down your choices (or fit them into one article!) Below is a shortlist of some of my favorite pieces, but it's by no means definitive.
Space Oddity Tee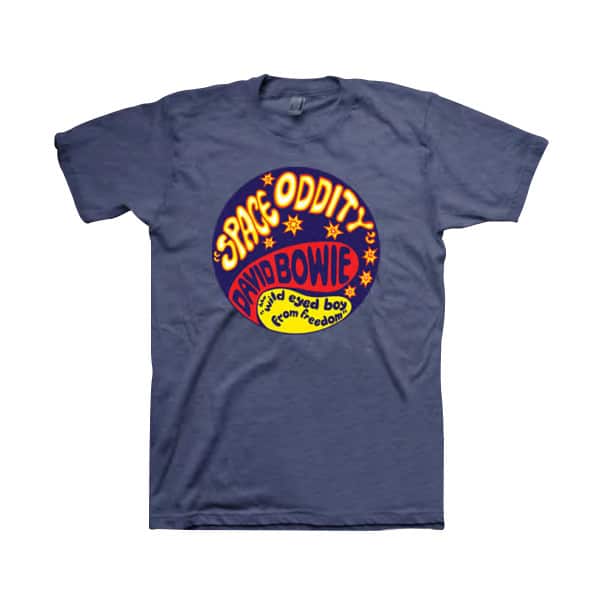 This Space Oddity Tee is bold, colorful, and a little quirky, just like David Bowie. It's available through the official David Bowie merch store and comes in six different sizes. However, there's no description of the fabric or sizing chart. 
Blackstar Crossed Signals Hoodie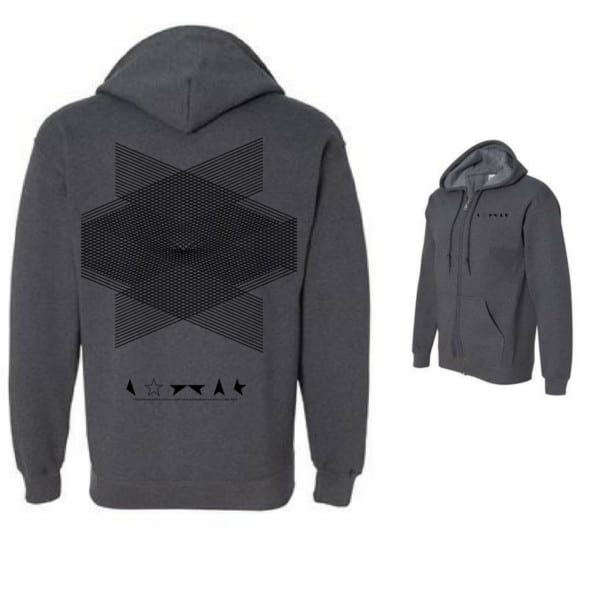 David Bowie's final album, released on his 69th birthday just two days before his death, was such a powerful farewell. Blackstar was the final punctuation mark on a legendary artistic career.
This hoodie celebrates that final album with its signature star pattern. I think it's a fantastic (and super comfortable) way to pay tribute to Bowie's legacy. 
Bowie 75 X Collectionzz Serious Moonlight Tour Print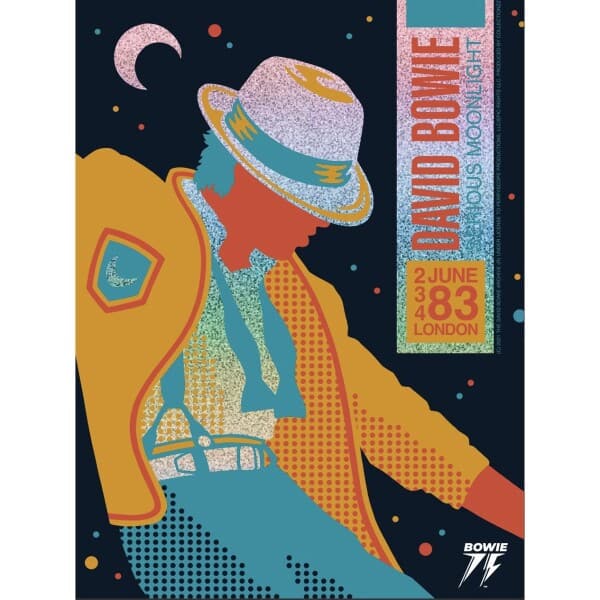 A tour print like this is a great piece of merch commemorating a point in Bowie's career that was particularly meaningful to you. I like this one for its bold, graphic qualities and glittery foil detail. It's a bit pricey, but it's also hand-numbered as part of a run of 175 prints. 
David Bowie Ziggy Stardust Logo Pin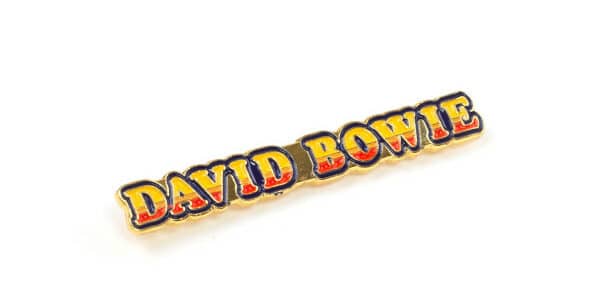 I love the retro colors of this logo pin. The design is simple and cool rather than cheesy or tacky, but it's still got that signature Ziggy Stardust impact. One thing that I don't like is the lack of product information on the website. There's no mention of dimensions, pinback style, or materials, and there's only one image of the pin on the listing. 
Aladdin Sane Bolt Earrings
These Aladdin Sane Bolt Earrings are the ultimate way to channel one of David Bowie's most iconic styles. They're glittery and glamorous, and unlike some of the other listings on the official David Bowie merch store, there's information about what materials they're made from!
The Rise and Fall of Ziggy Stardust and the Spiders from Mars Lightning Bolt Distressed Bag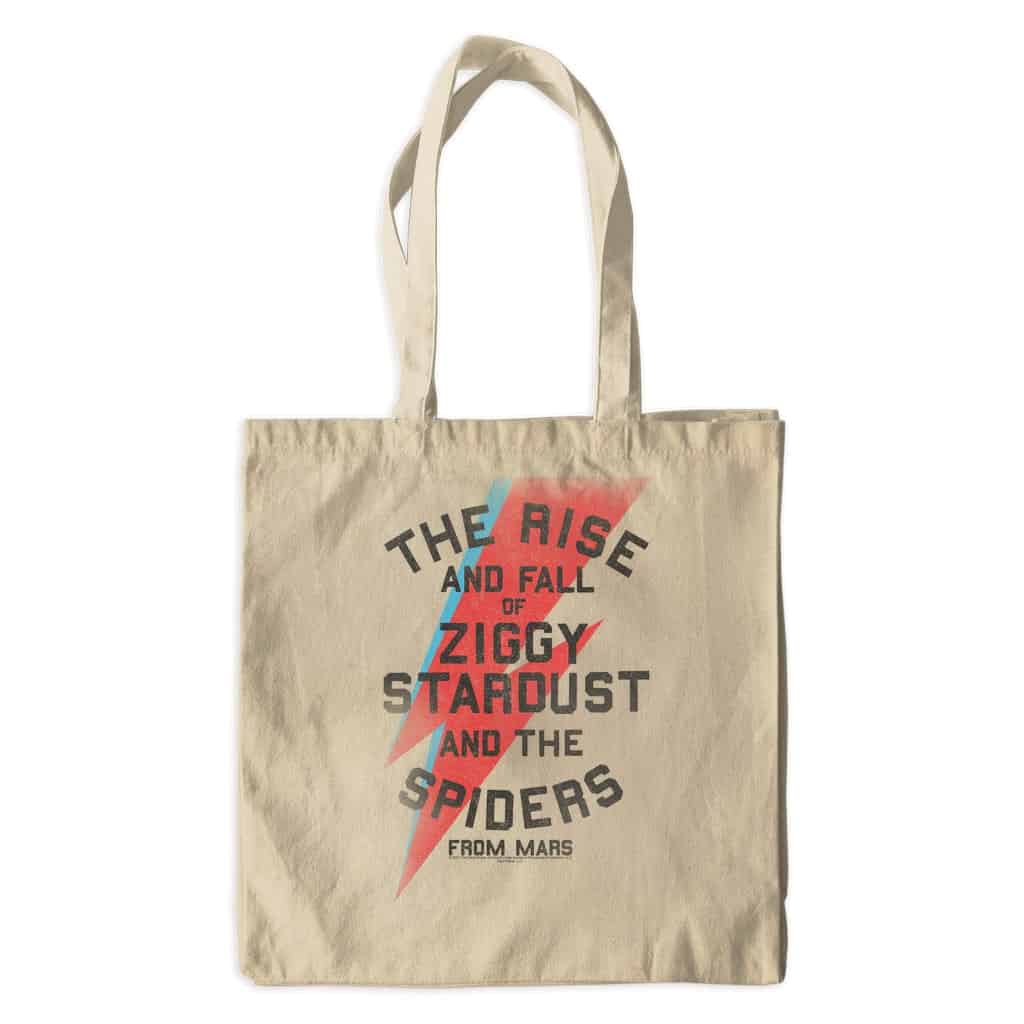 This distressed lightning bolt tote from Merchbar is great for carrying around books or groceries, or you could do what I would do and fill it with even more David Bowie merch! It's authentic merch, 100% cotton, and relatively inexpensive as far as David Bowie merch goes. 
Ziggy Stardust Mug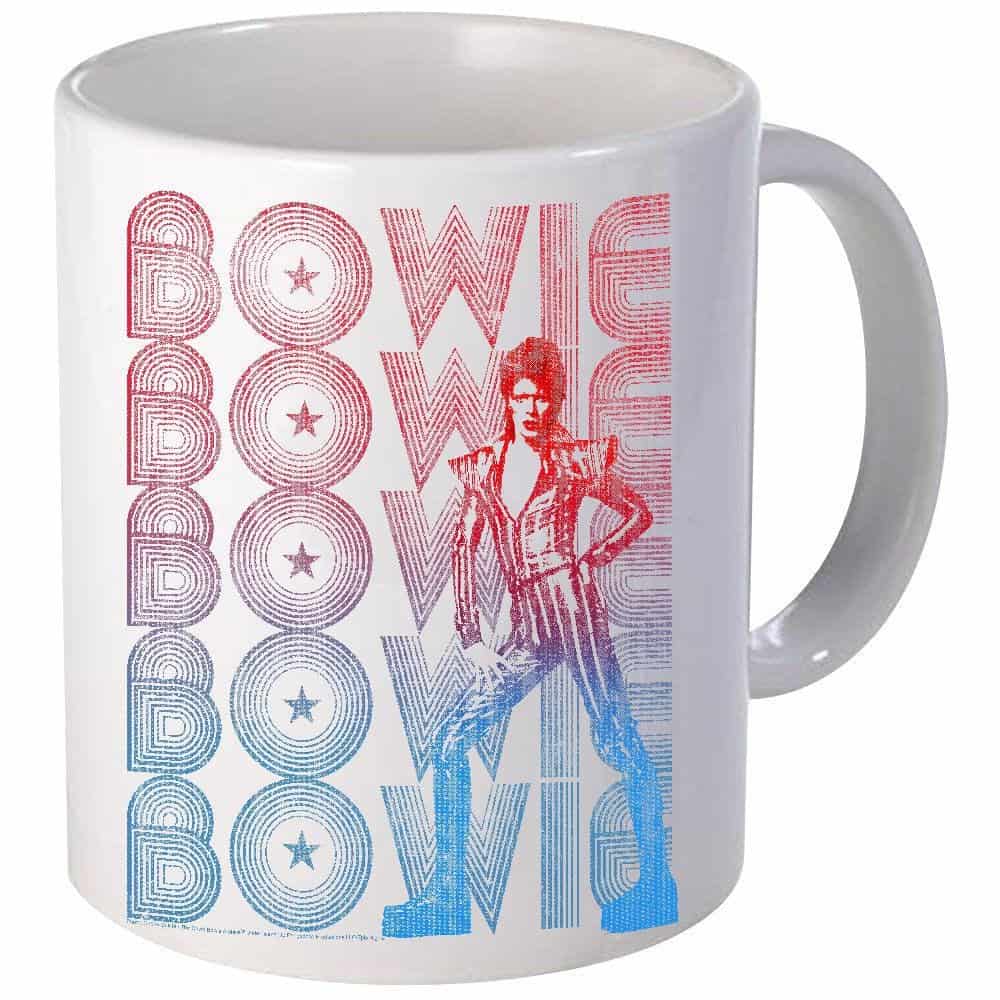 I live my life with the philosophy that one really can't have too many coffee mugs. They're something that many of us use every day, and they're the perfect canvas to showcase your interests and fandom. This Ziggy Stardust mug is cool and colorful but the mug itself is a straightforward, comfortable design that you'll use. Plus, it's dishwasher safe!
Bowie in Space Fleece Blanket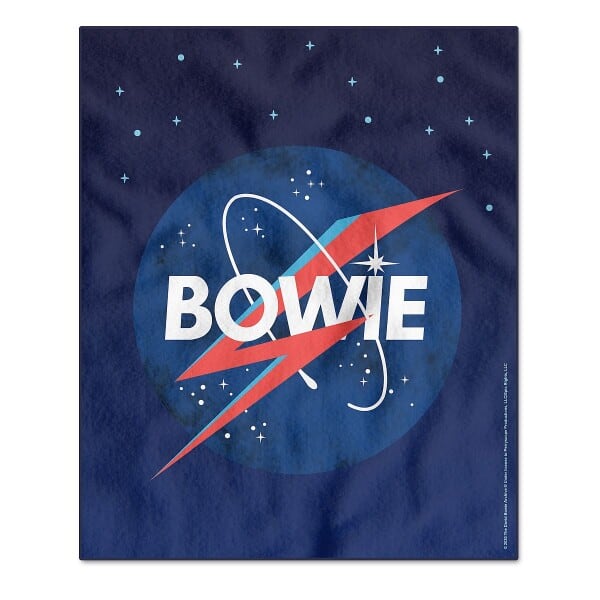 Blankets make great gifts. They're one size fits all, they're useful, and they're a great way to show off a cool image or logo. I like this Bowie in Space blanket. It's the perfect gift for Bowie fans of all ages. 
Album Art Jigsaw Puzzle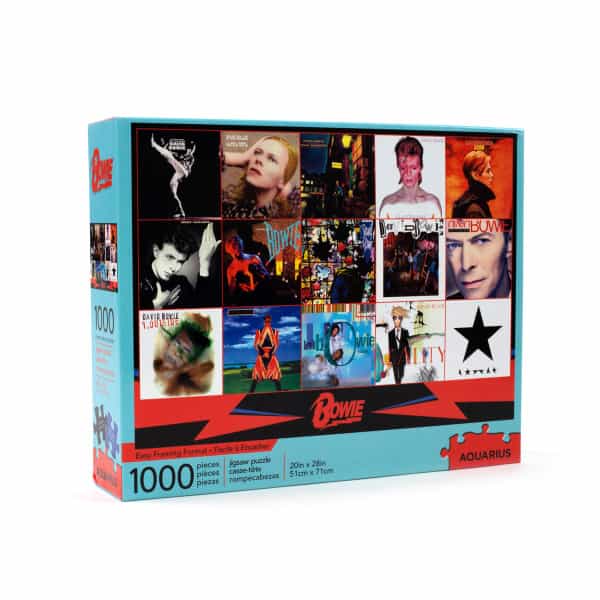 This album art jigsaw puzzle is both art and activity. The 1000-piece puzzle features David Bowie's most popular album covers. It's challenging but not overwhelming, and will look great framed when you're finished putting it together! 
David Bowie All the Songs: The Story Behind Every Track
This hardcover book offers a deep dive into David Bowie's entire catalog. Every track of every album is dissected, spanning Bowie's entire career. The book also features hundreds of photographs. 
David Bowie, Little People BIG DREAMS Volume 30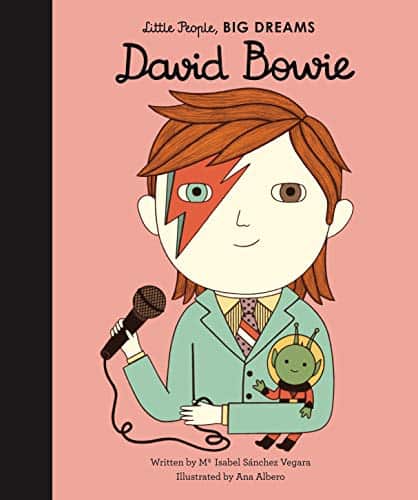 This children's book is perfect for any growing rock fans in your life! It teaches children about the life and music of David Bowie through short, easy-to-understand sentences and adorable artwork.
There are two versions of this book available. The board book is geared towards babies and toddlers and is simplified, whereas the hardcover is meant for children and is written in slightly more detail. 
Aladdin Sane Leather Guitar Strap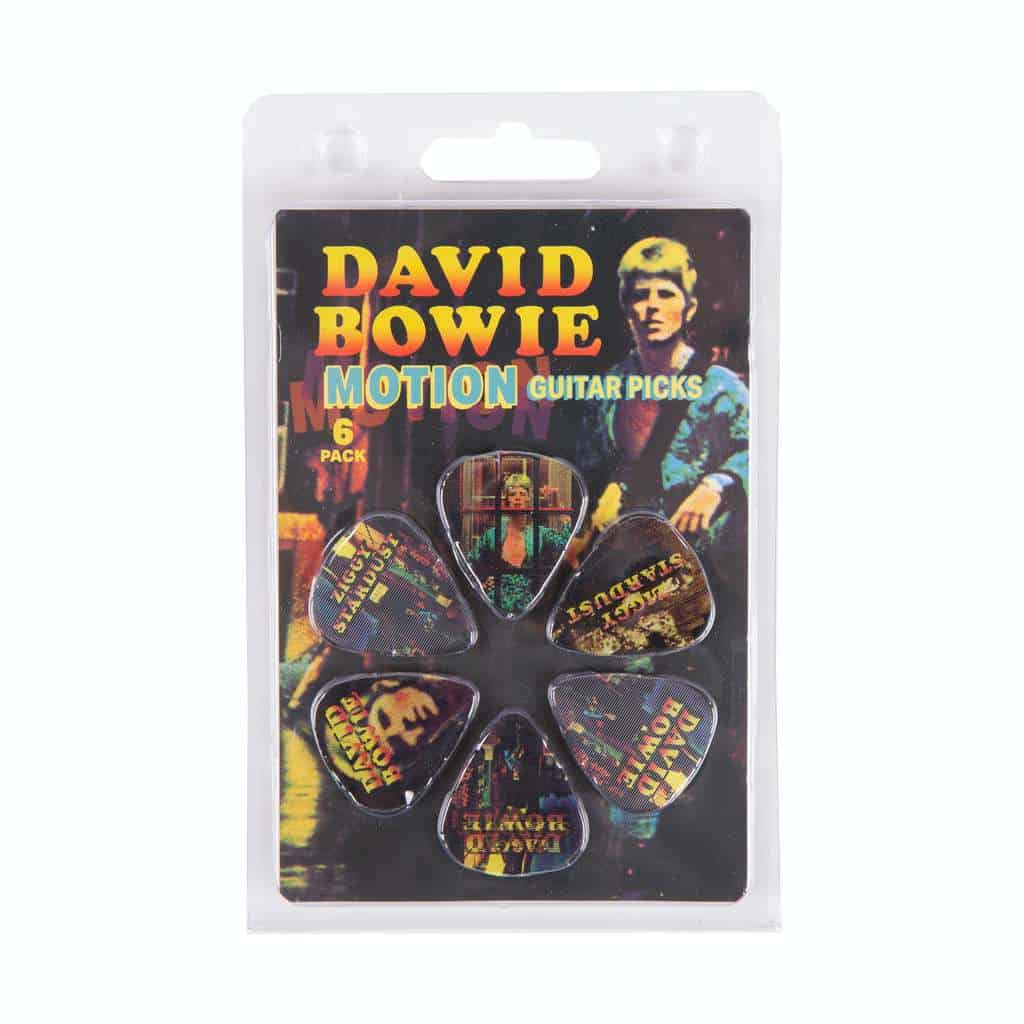 This guitar strap features one of the most iconic images of David Bowie. It's a great gift idea for any guitar-wielding Bowie fans in your life, especially when paired with some David Bowie guitar picks. 
Bowie Bolt Dog Collar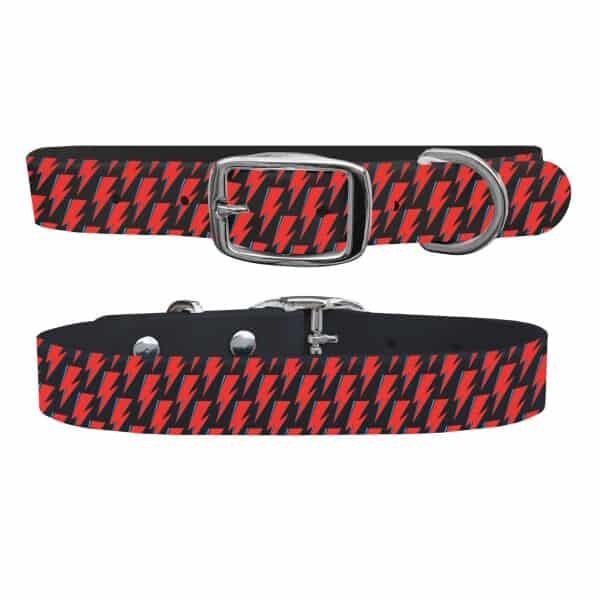 This super durable dog collar comes in four sizes and features David Bowie's Aladdin Sane lightning bolt design. It's water-resistant, crack and fade-resistant, and most importantly, it's washable! 
New Career in a New Town (1977 – 1982) Vinyl Record Box Set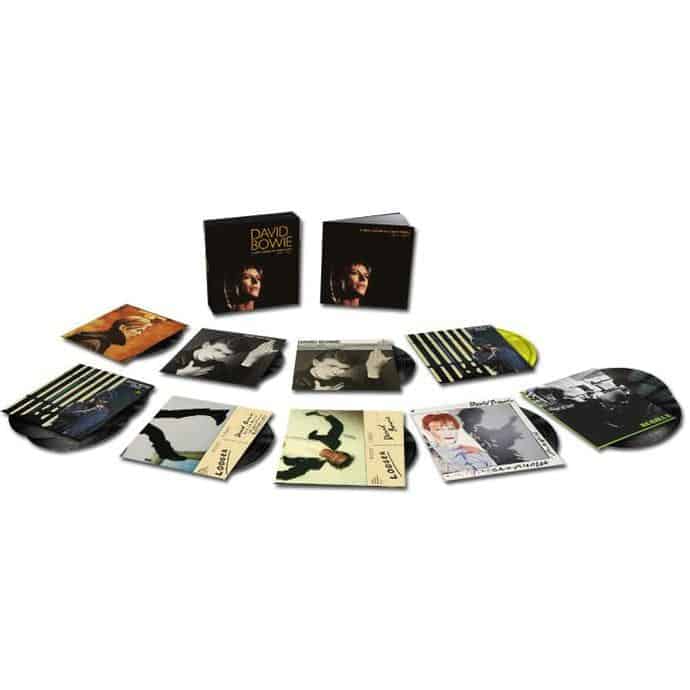 If you're looking to own a collection of some of Bowie's best work on vinyl, this 13 LP box set is a great option. It's a collection of records from Bowie's Thin White Duke era of the late 70s and early 80s. Low and Heroes, two of the albums in the set, are among my personal favorites. 
FAQ
Question: Are David Bowie albums worth anything?
Answer: Some very rare editions of select David Bowie albums can be worth thousands, or even tens of thousands of dollars, though the average album isn't worth a lot of money.
Question: Why was David Bowie important?
Answer: David Bowie was important because of the influence and innovation of his career and music. Both his revolutionary music and gender-fluidity helped pave the way for generations of artists to come. 
Question: What did David Bowie die of?
Answer: David Bowie died of liver cancer on January 10, 2016, just two days after the release of his album Blackstar. 
Question: Why are David Bowie's eyes different colors?
Answer: David Bowie's eyes appear to be different colors due to anisocoria, a condition where the pupils are two different sizes. Bowie's anisocoria was caused when he was struck by a friend during a teenage fight over a girl. 
Question: Who was Ziggy Stardust?
Answer: Ziggy Stardust was a fictional character created by David Bowie and used as his stage persona in 1972 and 1973. He was an androgynous, sexually-liberated alien rockstar who eventually died as a victim of his fame. 
Final Thoughts
If you're shopping for David Bowie merch, my best advice would be to pick a style (or era of Bowie) and product category that interests you and begin narrowing down your selection from there.
Pay attention to the quality and price of a piece, and whatever you decide to purchase make sure that you wear or use it with confidence and pride, just like Bowie would! I'm not quite ready to give up my frayed Aladdin Sane tank top yet, but I'll probably add this Space Oddity shirt to my collection as well! 
Continue reading related David Bow merch guides: