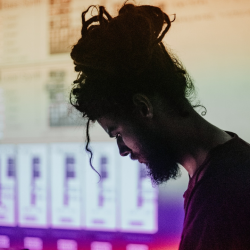 Latest posts by Calum Vaughan
(see all)
For all the David Bowie fans out there, there's no better way to show your appreciation for the industry legend than to incorporate Bowie merchandise into your fashion.
David Bowie had one of the largest influences on today's popular culture, with his ground-breaking music spanning several years. For die-hard fans like me, there's no better way for me to celebrate Bowie's iconic contribution to popular culture than to incorporate his style into my daily wardrobe.
Whether you are like me, someone keen to expand their collection of vans, or you're at the start of your collecting journey, I have compiled a handy guide to help. In this guide, there is something for everyone. Let's get started!
Bottom Line Up Front
For me, choosing the right pair of David Bowie Vans is all about prioritizing comfort and quality while ensuring that the style of shoe is going to blend in well with your wardrobe. I would choose the Classic "Blackstar" Slip-On pair for this very reason due to their durability and versatility to pair with almost any outfit.
Why Would You Buy David Bowie Vans?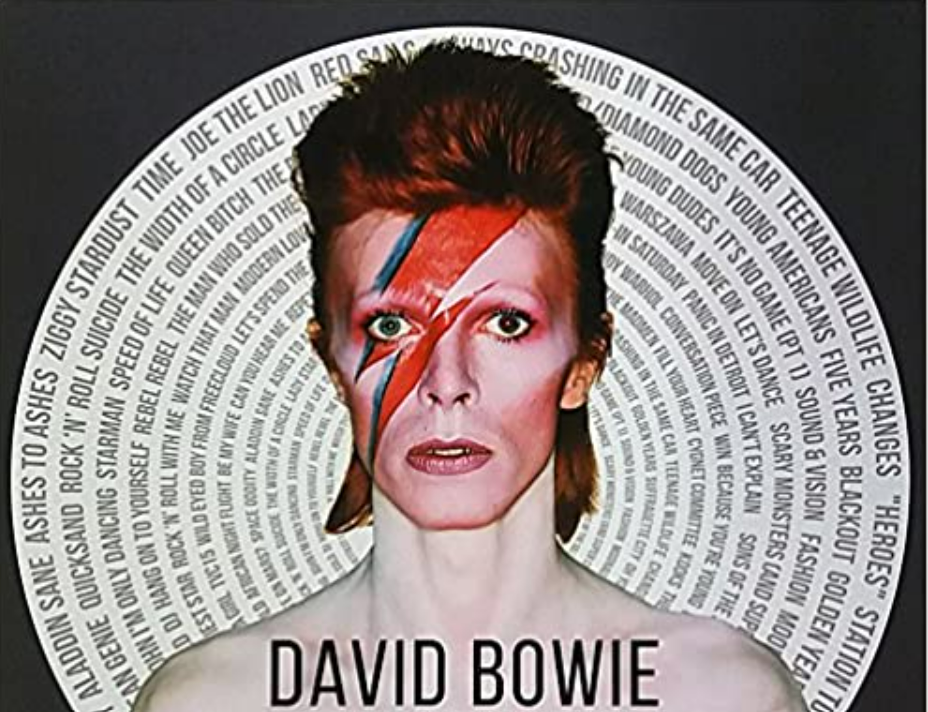 Most people associate artists' merchandise with T-Shirts or Posters, but there's a whole range of items that can classify as merchandise – including shoes! When Vans released their Bowie collection, I simply had to get my hands on them. For me, wearing an artist's merchandise is one of the best ways to showcase your passion for their style and persona and spread the word about their music.
Bowie's style was just as influential as his music; therefore, commemorating the singer by listening to his music simply isn't enough for fans like me. For me, wearing an item that includes his iconic imagery allows me to carry a little piece of his works with me every day.
This range of eccentric David Bowie Vans is, in true Bowie-style, 'off the wall.' Featuring unisex style and iconic colors, each pair thoughtfully pays homage to a specific song or Bowie era, which is full of meaning and creativity. These shoes leave a lasting impression for anyone who catches a glimpse of them, keeping his legacy living on through each vibrant style – awesome!
In my opinion, one of the best things about David Bowie vans is their versatility. Whether you're looking for a subtle inflection of the Bowie look, or you want to go all out with an in-your-face Bowie design, there is something for everyone with this collection.
The Main Qualities to Look For in David Bowie Vans
So, you've discovered that Vans offers an eclectic collection of Bowie-inspired shoes – nice one! However, this is only the first step. When browsing through the David Bowie range, you need to make sure you know what you're looking for to decide which pair is going to be right for you.
After all, Bowie's entire legacy promotes individuality, creativity, and expression – this means that there's no one-size-fits-all here! You need to make sure that the shoe you choose is right for you, and this doesn't mean just picking the first one you find.
The first time I browsed through the Bowie collection, it was tempting to check out the first pair I saw on the screen (the iconic colors from album motifs are special!). However, taking some time to think about which style, size, and qualities you love the most are crucial. After all, these are going to be a pair of shoes that you're probably going to wear time and time again.
Below, I've set out some of the key criteria that I always refer to when deciding which shoes are going to become part of my wardrobe. Referring to this checklist while you browse the collection will help to ensure you find a shoe that will leave you feeling like a star kid!
Comfort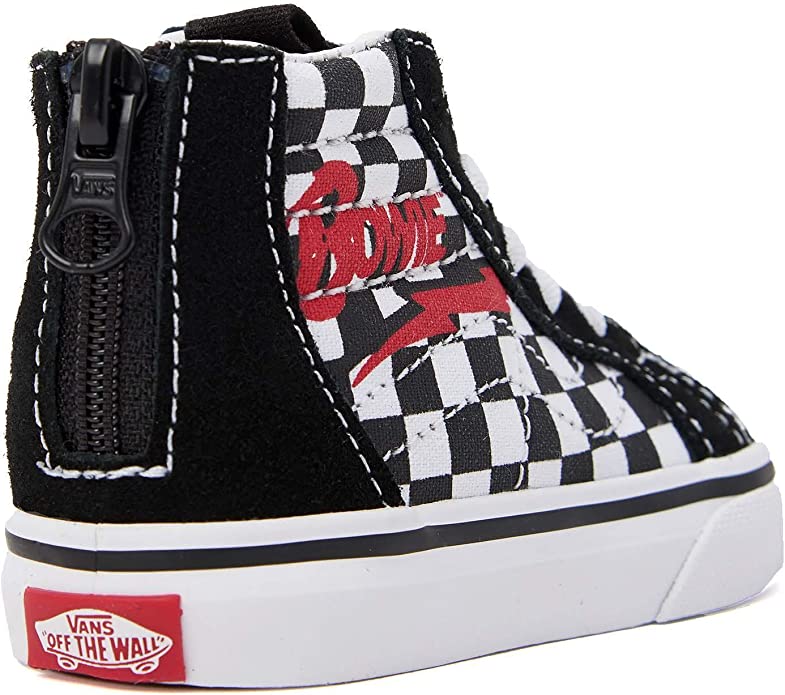 One of the most important considerations to make when it comes to choosing your David Bowie vans comes down to comfort. A shoe should offer flexibility, support, and cushion – and Vans tick all the boxes there.
Vans are renowned for making super comfortable shoes that become an everyday wardrobe staple for many. For me, Vans offer the perfect mix of function and style through their sturdy rubber sole, making them ideal for walking and everyday wear.
The David Bowie collection is no different, and comfort should be your main priority when deciding which pair is right for you. The collection offers both high-top and low-top styles, so be sure to decide which design is going to fit your feet most comfortably. If you already own a pair of Vans, considering this step might be slightly easier, as you can assess the pair you have already and see how comfortable you find them.
Everyone has different shapes and sizes of feet. For some, the low-top style might be comfier, while others find comfort in a higher-top design. It's all down to personal preference, but make sure you know what feels most comfortable for you and your unique foot shape.
Quality
Once you've decided which type of David Bowie shoe is going to be most comfortable for you, it's now time to consider the quality. This decision is made significantly easier by the Vans brand itself – in my opinion, their quality is second to none.  With rubber outsoles, padded collars, and sturdy canvas materials, Vans shoes are built to last.
Another great element to some of the Vans in the Bowie collection is the ability to wipe them clean. If you've got some dirt on white rubber soles, it's great to be able to simply wipe it away with a wet cloth.
When it comes to quality, I would always advise you to opt for genuine Vans here – don't try and save the dollars on some knock-off versions, as the quality just won't be the same.
Sizing
There is nothing worse than wearing a pair of shoes that is either slightly too big or small. Both outcomes will leave your feet sore and can even lead to blisters or back pain. For this reason, properly considering your foot size is crucial! After all, there's no point trying to flex your brand-new pair of David Bowie vans if they don't fit you.
From my experience, Vans fit true to size. However, it's worth making sure that you know for sure what your size is from the offset. Perhaps you haven't bought a pair of shoes in a while, or you want to double-check you've got your measurements correct.
Either way, for the perfect fit, I'd recommend using the Vans sizing guide, as this will give you an accurate indication of which size is going to be perfect for you.
If your size is out of stock, don't make the mistake of rushing to purchase another size that you know won't fit you. Even though you'll be desperate to get your hands on these shoes, it isn't worth trying to squeeze into a smaller size for the sake of it, as your feet won't be happy.
Style
After you've assessed important considerations of comfort and size, here comes the fun bit – style! Choosing a style that fits your lifestyle and expresses some Bowie magic is essential to making these Vans part of your everyday outfit. Luckily, Vans offer a real variety of styles in their Bowie collection. It's also great to see that two of the styles are available in kids' sizes too.
From all-out bold lightning bolts to subtle vinyl motifs, their range of designs has got it covered. Make sure to spend some time looking and each style available – you might end up falling in love with a style that you least expect. In true Bowie fashion, make sure you choose a style that expresses you and your individuality.
Shipping
A final but important consideration to make is shipping. I can't count the number of times that I've checked out a product only to realize the company doesn't ship to my country – rookie error! Before spending time pouring over colors or sizes, double-check that you can get your David Bowie vans delivered to your door without any hidden costs on customs or import duty.
I'd always recommend ordering your Vans domestically; however, if you do opt for international shipping, make sure you're well clued up on the shipping costs and the estimated time of delivery.
My Top 5 David Bowie Vans Recommendations
Now we've covered all the important details to consider before making your purchase; it's time for the fun part: choosing your Vans! Here are some of my top recommendations – I hope that they can help you filter down the many options out there!
Up first on my list of recommendations has to be the Old Skool "Aladdin Sane" pair. Inspired by arguably one of the most recognizable Bowie albums in history, these Vans pay homage to the iconic Aladdin Sane.
Every Bowie fan will immediately recognize the iconic red lightning bolt from the 1973 vinyl cover. If you've been a Bowie fan since day one, then I needn't explain, but for those who haven't – Aladdin Sane was one of Bowie's iconic personas during his time.
For me, this pair offers a perfect mix of versatility and creativity in their design: their cream coloring makes them easily pairable with any outfit while flashing a touch of awesome Bowie magic. If you're looking to flex a badass rocker vibe, I think these Vans could be a great choice for you.
Pros
Features one of the most iconic Bowie symbols of all time
Slightly iridescent shiny leather finish
Features the David Bowie lettering on the heel
Unisex
Available in toddler sizes too!
Cons
In my opinion, slightly harder to break in due to the thicker leather
The first shoes to drop, these sold out pretty quickly, so make sure to refresh to keep tabs on your shoes in size
Some might find the lighter cream color harder to keep clean if you're planning to wear them every day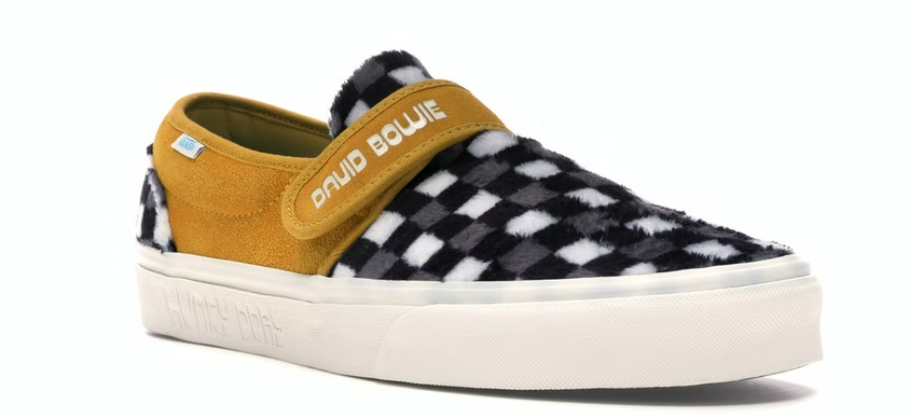 For those who bought the 1971 album Hunky Dory, the design of these David Bowie vans probably looks familiar. This is because these awesome Vans feature a furry checked pattern almost identical to the jacket that Bowie famously wore on the cover of the album.
For me, these Vans are timeless, combining the classic slip-on style with a funky Velcro strap stitched with Bowie's name. I love the contrast in color with these vans: the black and white checkerboard complements the bold yellow perfectly. Not to mention, the furry material is great to touch.
For me, the Slip-On Van design is always a winner. Sometimes, when you just want to throw on a pair of shoes to nip outside, fiddling around with laces can be annoying. Vans have perfected the design of the slip-on to withstand anything from walking to skating, and the fact that I can enjoy this versatile style while rocking Bowie is super cool.
Pros
Unisex
Easy to quickly slip on and off rather than faffing around with laces
The Velcro strap offers extra support
Versatile design makes matching with trousers, skirts, shorts – the list goes on!
Super comfortable shoes that are suitable for sports too
Cons
A slightly bolder color scheme is perhaps not the best choice if you are looking for a more subtle Bowie shoe.
As with any Van shoe, can take some breaking in
The furry material can be harder to wipe clean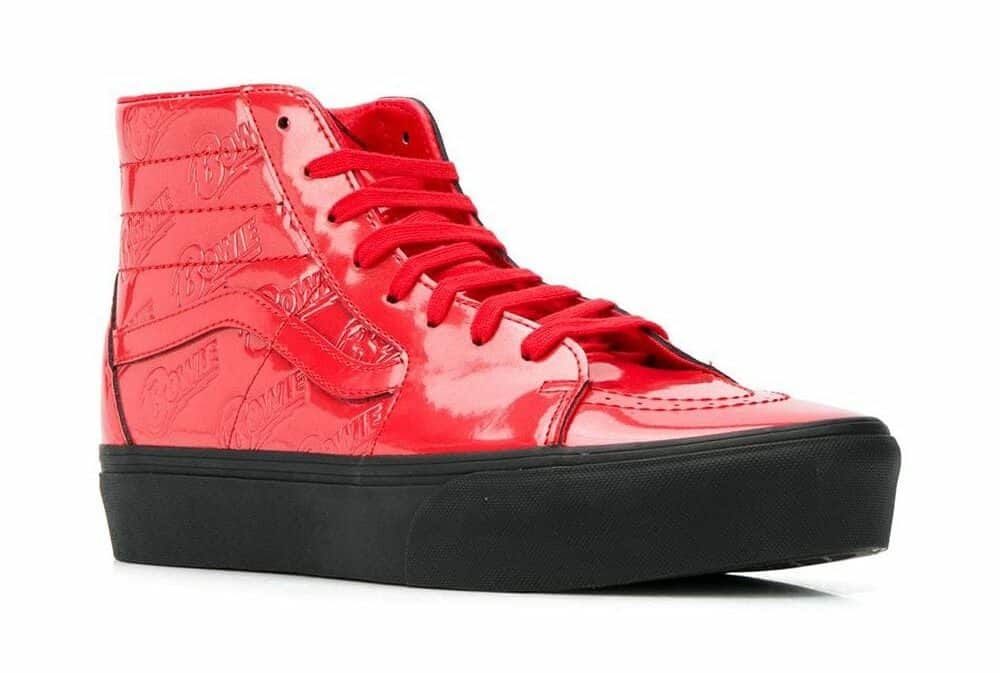 Next on my list is, in my opinion, one of the most iconic pairs in the David Bowie Vans collection. Paying homage to Bowie's bold alter ego, this Sk8-Hi Platform pair feature a striking red patent leather finish, padded collars, and high insoles. Vans have gone the extra mile with these shoes, recreating Ziggy's infamous red boots that revolutionized rock.
For me, these Vans have got to be the most unique and iconic of the collection. Rocking up to a gig in these is certainly going to turn some heads – in a good way! Personally, the bold red style is a little out of my comfort zone, and I tend to prefer the lower-cut Vans. However, if you're a fan of platform shoes and want to go all-out Ziggy style, I applaud you: these Vans are awesome.
Pros
Patent leather is easy to wipe clean
Enables you to feel like Ziggy when wearing them
As with all official Vans, offers unmatched durability in their high-quality design
Cons
Feature a loud style that isn't for everyone
The lace-up design is not as quick to slip on as other vans

Next on the list of my favorite David Bowie Vans has got to be my favorite. For me, the classic slip-on 'Blackstar' van has got everything I could want from a pair of artist merchandise vans. This is probably because Blackstar is my favorite album of all time. Released in 2016, just days before his passing, this final album, for me, is one of Bowie's most touching works.
I love these vans because of their subtlety in paying tribute to the icon. They are entirely black with a patent black star sprawling across the top. However, inside the shoe is where the magic happens – you'll find an entire speckled starry skyscape lining the interior. I love these shoes because not only do they perfectly encapsulate the Blackstar album, but they are so easy to style with almost any outfit.
Me, I like to wear artist merchandise as part of my daily wardrobe, so compatibility with other items is everything. I can't count the number of times I've been able to throw on these vans with jeans, shorts, or even dressed them up with smarter trousers.
Pros
Versatility design that can be paired with almost anything
Feature the class slip-on on skate design
Black is a great color to wear casually or dress up with a smarter outfit
Cons
If you're looking for a bolder, 'obviously-Bowie' look, then you might want to opt for one of the red or bright colors
At a glance, people might not even recognize these as Bowie vans, but rather just an ordinary black pair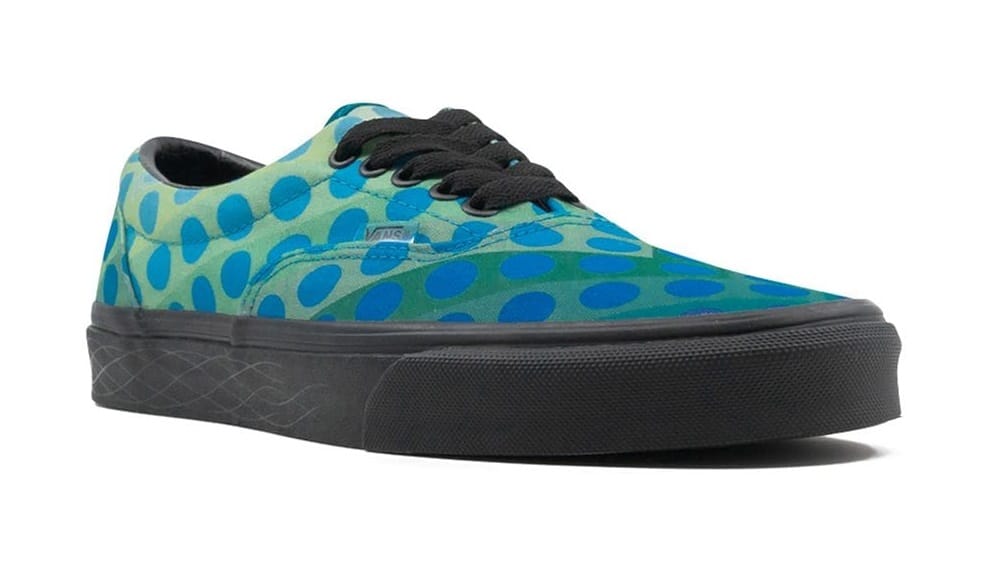 An ode to Bowie's first album 'Space Oddity' from 1969, the Era "Space Oddity" vans are next on my list. This low-top pair has 'Oddity' sketched on the soles and feature a blue and yellow intergalactic polka dot pattern resembling the classic album cover.
I'm a big fan of the low-top style vans; they are easy to slip on within less lacing than the high-tops, while also offering that bit of extra support. These shoes are sure to make an awesome addition to your wardrobe, particularly if you like bright, statement colors and geometric designs.
Pros
A low-top style offers cushioned support and reinforced abrasion areas
The "Oddity" design will be easily recognizable among your fellow Bowie fans
Eccentric, bold design
Cons
If you prefer white laces and rubber soles, these might not be the choice for you
While these would make an awesome kids' shoe, they sadly don't come in toddler sizes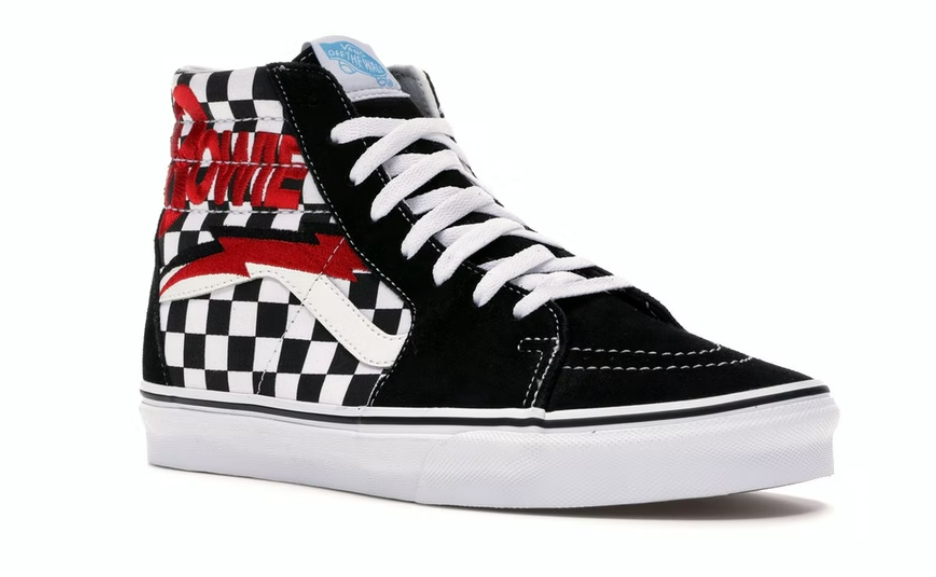 Last but by no means least on my list of recommendations for the best David Bowie Vans out there is the Sk8-Hi "Bowie" Van. Inspired by the 1974 album Diamond Dogs, these shoes feature a checked side panel with the Bowie name proudly sprawled across them. I think it's awesome that Vans have released two out of six shoes in the Bowie collection that adopts the Sk8-Hi style, as it is a popular style among Vans fans.
Like the "Aladdin Sane" Old Skool pair, the Sk8-Hi also brandishes the iconic Bowie lightning bolt. I think these stand out as the pair which will be most easily recognizable to any non-Bowie fans out there – you simply can't miss the name across the side. I love this because anyone who catches a glimpse of these will be more likely to go home and check out his music. After all, that's what wearing artist merchandise is all about!
Pros
A sturdy and supportive shoe that is sure to last you for many years
Features black, white, and red colors, but still super versatile to match with any outfit
Available in toddler sizes
Cons
As with all white-soled shoes, they can be harder to keep clean. If you're likely to wear these a lot and get them messy, consider black-soled Vans to avoid you constantly having to clean them.
The black and white color scheme is fairly similar to many of the ordinary Van designs, so if you're looking to invest in something unique, maybe opt for one of the more 'out-there' designs we've covered already
FAQs
Well, that's all of my top recommendations. I hope you found a pair that you liked! Now, let's round all of this information off with a quick FAQ to prevent you from leaving this guide with any burning questions!
QuesQuestion: Where can I buy David Bowie vans?tion: Where can I buy David Bowie vans?
Answer: The most obvious place to check out these shoes is on the official Vans website. However, other retailers also sell them, including brands like Farfetch. Don't forget; you may be able to pick up some second-hand from places like eBay and Etsy.
Question: Are all David Bowie vans officially licensed?
Answer: As with any artist merchandise, I'm sure some dupes are lurking about the internet. However, I really wouldn't recommend buying David Bowie Vans that aren't officially licensed. In doing this, you run the risk of investing in a shoe that is probably not going to be good quality.
Question: What are the main colors used in David Bowie vans?
Answer: The best thing about the Bowie Vans collection is that they span a whole variety of colors. You'll find reds, blacks, and whites in almost all of them (bar the Oddity pair) which are super versatile and fit in well with the classic Vans look. However, I'd urge you to step out of your comfort zone and opt for one of the loud colors, like the 'Hunky Dory' pair.
Final Thoughts
Now we've reached the end of my David Bowie Vans guide. I hope you've enjoyed it as much as I have. Talking through the merchandise that is inspired by my all-time favorite artist has been a pleasure. With such a varied and diverse range to choose from, picking a pair can be tricky. For me, the Classic "Blackstar" Slip-On pair takes place as a favorite due to their understated style and intergalactic star lining on the inside. However, choosing the shoes that are right for you is a personal choice, and I think that any of these shoes are going to look simply out of this world!
If you're stuck choosing, why not brainstorm your favorite Bowie album, and then go from there? The beauty of the collection is that every shoe is based on a particular album, and this could make your decision-making process a whole lot easier! I wish you all the best in your journey in choosing the right Vans for you in this collection, and can't wait for you to be rocking them down the street just like Bowie would have wanted you to!