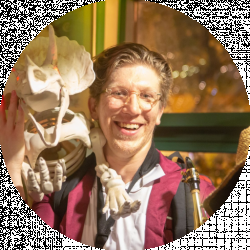 Latest posts by Mark Mumm
(see all)
As I've written about extensively before, David Bowie was a master of reinvention and rebirth, even ironically, during his own eulogy…so to speak. The reinventions encapsulated everything about Bowie: his look and his sound. Bowie is most known, as it relates to music, for his position as a songwriter and frontman. Thus, it's easy to forget that David Bowie consistently carried one identity throughout his entire career: David Bowie, the Guitarist. 
While David Bowie was never able to shred like Eddie Van Halen or perfect the funky, rhythmic chugs and smacks like Nile Rodgers, David Bowie nonetheless had a keen ear for music and understood the often subtle distinctions throughout the wide world of guitars. He often chose to collaborate with other guitarists, knowing how their particular styles and timbres fit into the sounds and moods that he created with each record.
Framus 12-String Acoustic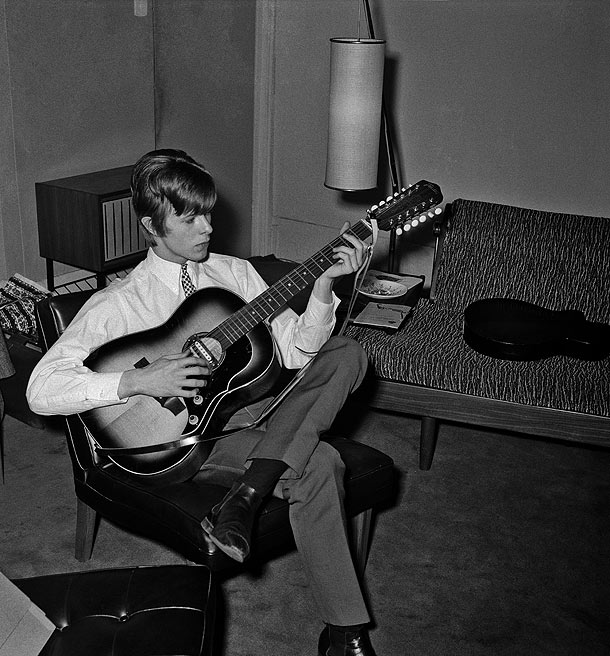 Bowie was already a multi-instrumentalist before purchasing his first guitar in the mid-60s. In addition to his piano skills, the guitar opened another door to songwriting possibilities. Certainly, it opened the door to the rock genre. As you will see ahead, early Bowie had a particular affection for 12-string acoustic guitars. This 12-string had pick-up, volume, and tone controls on the pick-guard.
This guitar came so early in his career that it wasn't even Bowie's first guitar. He acquired this guitar before changing his name from Jones to Bowie. I think the 12-string guitars played an essential part in David Bowie's early career. Recording technology limited the number of tracks that a song could have. A 12-string guitar was an easy 'cheat' to create a more lush arrangement under those constraints.
Gibson B45 12-String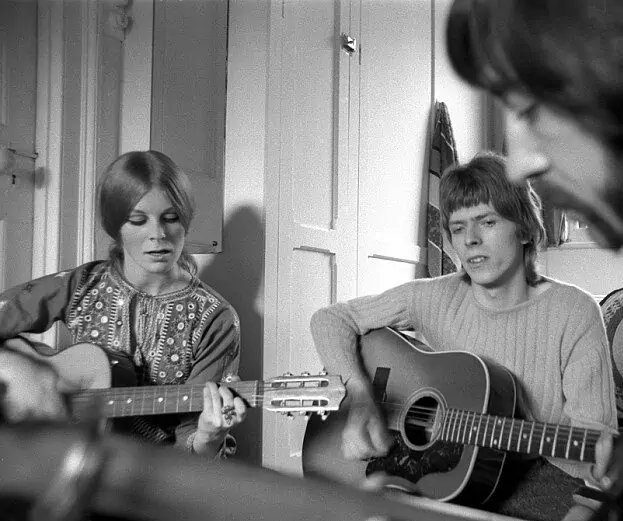 Bowie is seen playing here with his mixed-media troupe, 'Feathers,. ' Which was formed during his time studying with Lindsay Kemp alongside his then-girlfriend Hermione Farthingale and John Hutchinson. This troupe combined mime, folk music, and poetry in their performances. Bowie can be seen playing a Gibson B45 12-string acoustic here.
Hagstrom 12-String Acoustic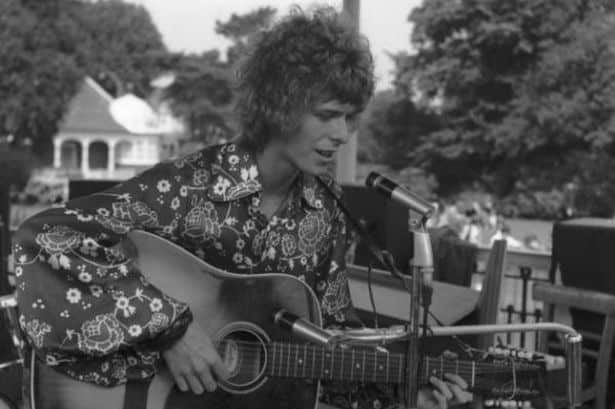 This guitar was (allegedly) acquired in a trade for his previous Gibson B45. This guitar was featured in the two most famous works of his early career: David Bowie (self-titled), including the smash song 'Space Oddity' and The Rise and Fall of Ziggy Stardust and the Spiders from Mars. 
The guitar now sits in the 'Beatles Story' museum in Liverpool next to the last piano John Lennon ever played. Bowie and Lennon remained friends throughout their lives and even collaborated on Bowie's first number 1 hit in the US, 'Fame.'
I don't think Space Oddity would have been the song it was without the cymbal-esque timbre of Bowie's Hagstrom Acoustic.
Espana 12-String Acoustic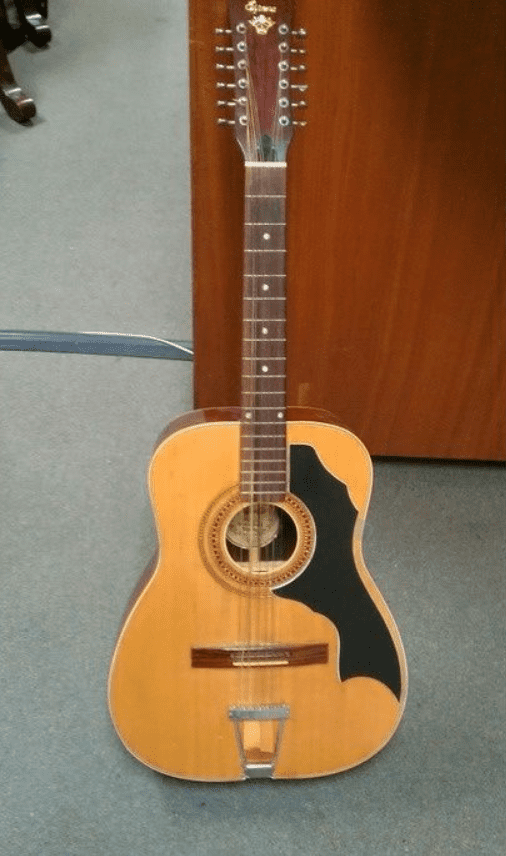 While it has not been verified to have been played on any of David Bowie's works, here is an image of David Bowie playing an Espana 12-string acoustic guitar as a promotional shot for his song 'Space Oddity.' Whether or not he used it in the studio or on tour, the image shows Bowie's love for 12-string acoustic guitars. And, c'mon, any more excuses to throw a picture of David Bowie!
Guild 12-String Acoustic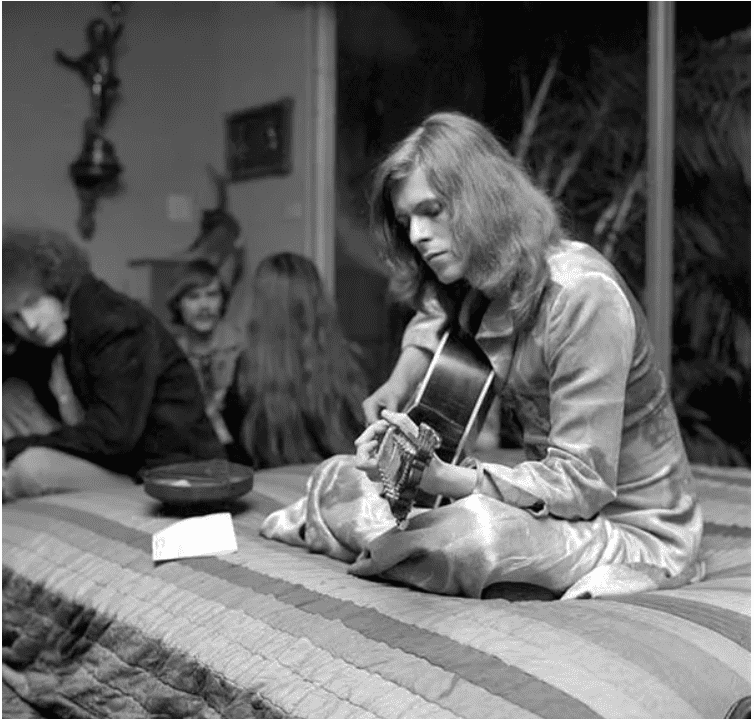 Before Hunky Dory, working on amping up the success of The Man Who Sold the World, David Bowie toured America for the first time. On tour, he played a Guild 12-string. He is seen above with the Guild 12-string at a party in Los Angeles for DJ Rodney Bingenheimer.
Harptone 12-string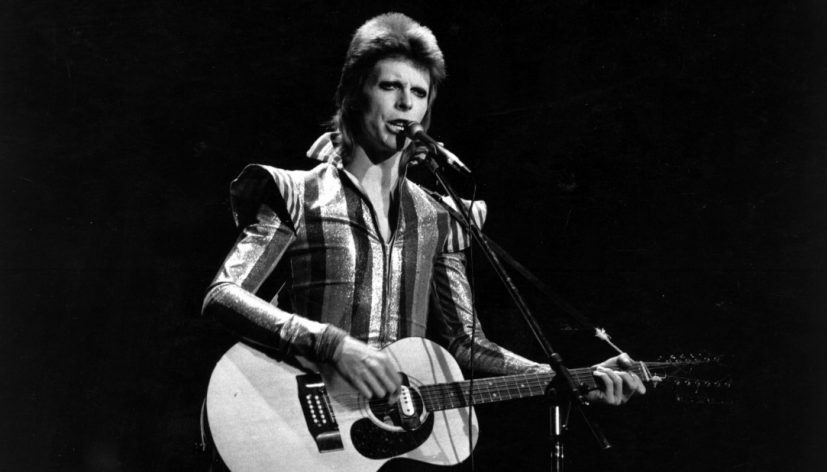 When Ziggy Stardust landed on Earth for his Bacchanalian journey in its last five years, the Harptone 12-string acoustic was his absolute favorite. Extensive live footage of David Bowie performing showcases this beaut of a guitar. So in love with the Harpone brand, he continued to play another Harpone 12-string (Jumbo) up until his Thin White Duke rebirth.
This Harpone is larger (hence, 'Jumbo') with a slightly-different pick-guard. This guitar was played in a second promotional video for 'Space Oddity' from Bowie's Ziggy Stardust days.
David Bowie would bust out this 12-string guitar again in his Let's Dance days. He was perhaps inspired by the energy and passion of the first rock n'rollers from 25-30 years ago, which inspired Bowie to embrace his younger days.
Egmond 12-String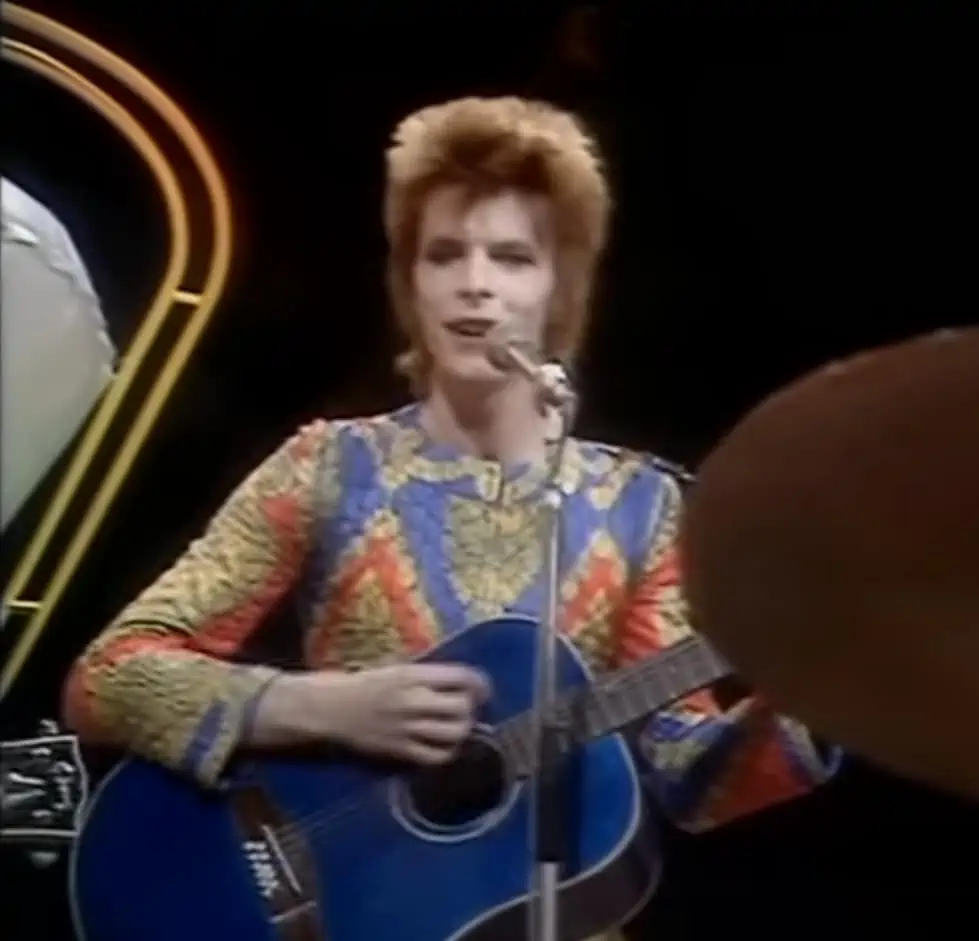 Bowie used this electric blue guitar for his performance of "Starman" on Top of the Pops in July 1972. This performance also gave Bowie one of the most iconic shots of his career. Entering the second verse, Bowie blasted through the 4th wall and gave every man, woman, child, and alien watching chills as he raised a finger towards the camera while singing, "I had to phone someone so I picked on you-oo-oo."
Fender Jaguar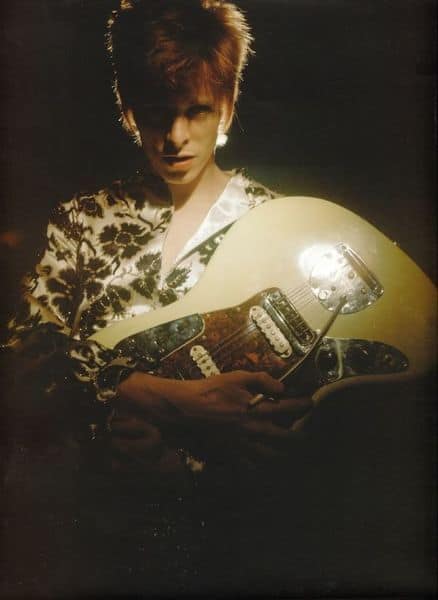 This picture from the early 70s shows Bowie posing with a Fender Jaguar. Still, there's no evidence to support whether he used it. But, you have to admit, the pattern on and color of his shirt matches that axe oh so well.
Vox Teardrop Mark XII 12-String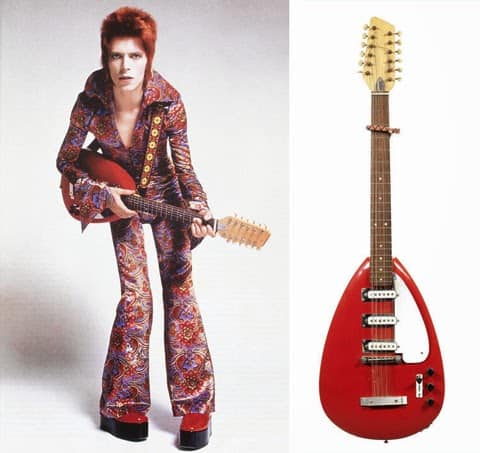 While Bowie did not use the iconic teardrop guitar in the early 70s for anything other than some fantastic promotional pictures, the image of Ziggy Stardust posing with the guitar is a perfect summation of glam rock and all its exuberance.
However, Bowie would use the guitar for his song 'Absolute Beginners,' a song for the film of the same name. That song would hit #2 in the UK and #1 in Ireland. You can find the guitar hanging at the Hard Rock Cafe in Warsaw.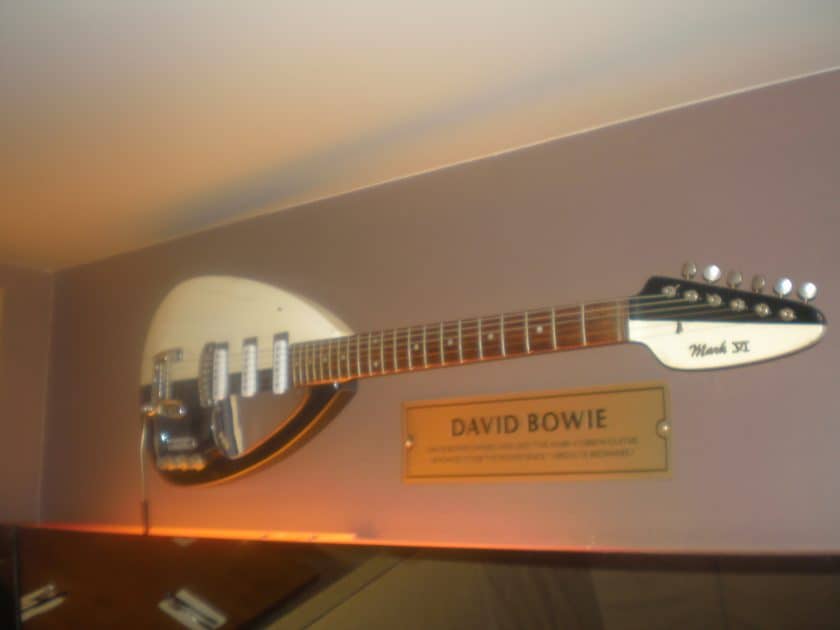 David Bowie's 1977 album Low featured a song named for Poland's capital, "Warszawa." Ironically, in this context, it is a synth-based track with no guitar featured on it.
Gibson 1972 Deluxe Les Paul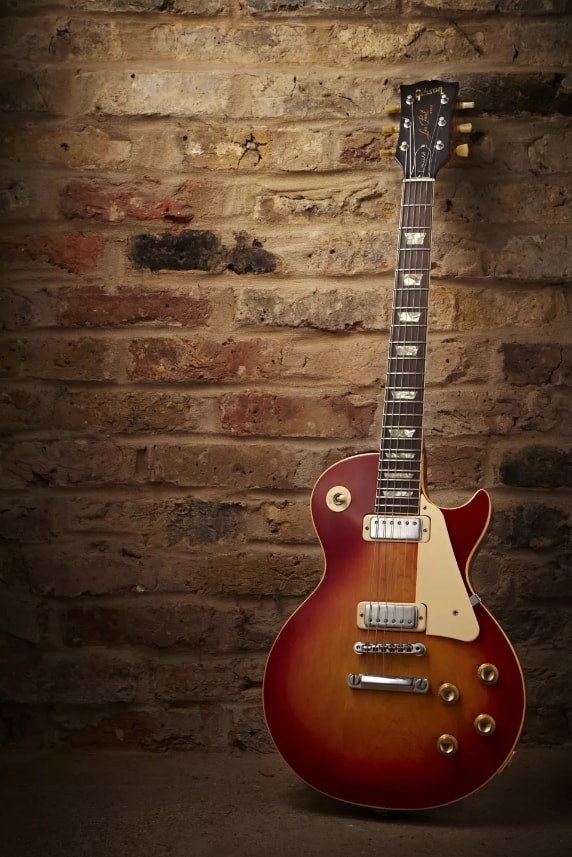 The Rise and Fall of Ziggy Stardust and the Spiders from Mars was David Bowie's hardest rocking album to date. So, naturally, Bowie's master of the style would work the Gibson Les Paul into his image. The same guitar used by hard rocker Jimmy Page. Though it's slightly difficult to see, the album art features the alien himself, Ziggy Stardust, holding a Les Paul.
It also wasn't any old Les Paul. It was a 1972 Deluxe sunburst LP, of which only 9 total were produced in 1972. The guitar was gifted to him by Gibson for his 1972 tour of the States. It also appeared in the promo film for his song 'Jean Genie'. Despite the guitar's uniqueness, Bowie would eventually hand it off to Mark Ronson to use as his backup guitar.
Hagstrom I Kent PB- 24-G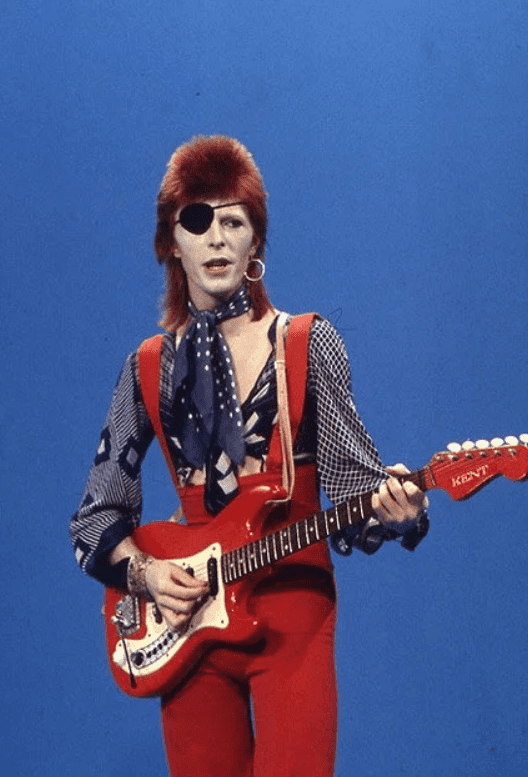 This beauty made its appearance in David Bowie's promotional video for Rebel Rebel on Dutch TV's first television show focusing on pop music: TopPop. The Hagstrom I Kent PB-24G was also used in a series of promotional shots for his album Diamond Dogs. The red of the guitar matched Halloween Jack's bright red overalls oh so well.
The recording sessions for the album featured a different guitar (or so the rumors say): a Dan Armstrong "Plexi." This guitar was designed by Dan Armstrong, a New York City musician and guitar repairman, with collaborative efforts on the design by Matt Umanov, a guitar dealer and repairman, and on the pick-ups by Bill Lawrence, a fellow tech in Armstrong's workshop. The guitar was produced for Ampeg, primarily known for their bass amps, who were looking to shake up their image.
Dan Armstrong 341
Seen here with a gaze and pose to rival the album art of 1978's Heroes, David Bowie poses with another Dan Armstrong guitar. He stated in 1991, "I've had this Dan Armstrong guitar since the early 70s. I wrote most of the songs for Station to Station on it."
Fender Telecaster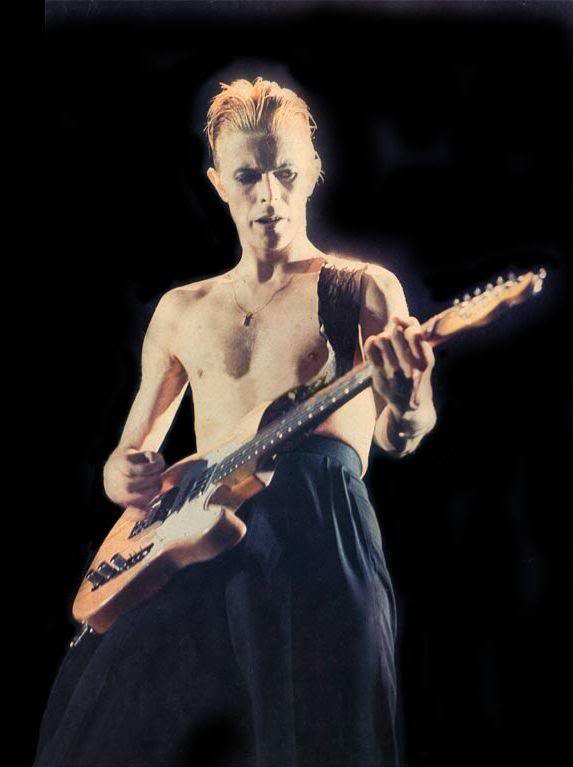 On his Isolar tour promoting Station To Station, The Thin White Duke wielded a Fender Telecaster. The guitar was customized with 3 switches and 3 knobs, which assisted in reproducing the music from his synth-/electronic-heavy album.
Fender Stratocaster
Shortly after donning one of the most popular Fenders, Bowie donned the other most popular Fender: A Fender Stratocaster. Many famous players, including Jimi Hendrix, Jeff Beck, and David Gilmour, are favored this guitar. This red Strat was featured in the promo for one of the lesser-ambient and experimental tracks off Low, 'Be My Wife.'
Later that year, appearing on MARC, Bowie performed with a sunburst Stratocaster on a duet with Marc Bolan*. The Strat belonged to Bolan, but Bowie had arrived that day without a guitar. Bolan so graciously lent it to him for the performance.
*solo performance of 'Heroes' starts at 2:34
Kramer Ferrington KFT-2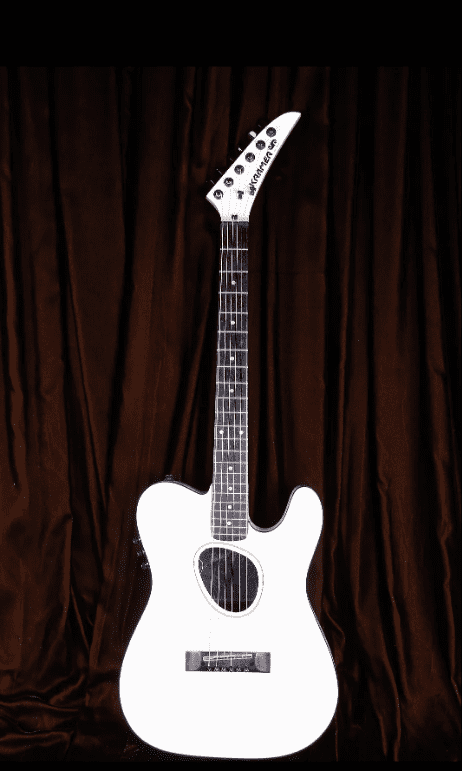 Not much is known about Bowie's history with the Kramer Ferrington guitar. Based on the release date of the guitar, as well as Bowie's hair and get-up in the photo, he played it sometime in the late 80s.
The Ferrington, designed by Nashville luthier Danny Ferrington, has Ferrington's signature style of asymmetrical shapes.
Gibson L4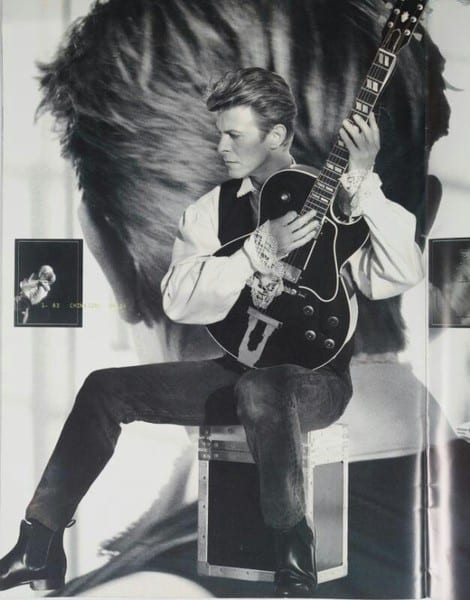 The Gibson L4 is a sleek guitar primarily used during his time with Tin Machine. Though he poses here with a black Gibson, many of the music videos for Tin Machine feature Bowie playing a white L4. Other uses include the tour program for the Sound + Vision tour featuring Bowie playing the L4.
Gibson Chet Atkins Country Gentleman
If you were lucky enough to see David Bowie on his Sound + Vision World Tour in 1990, you would have seen this red wine guitar in the flesh. David Bowie also used this in the studio for his 1995 album 'Outside.' In 2012, this guitar was on display at the Music Icons And Sports Legends Memorabilia Auction Press Call at Julien's Auctions Gallery, where it sold for $35k!
Takamine FP 400SC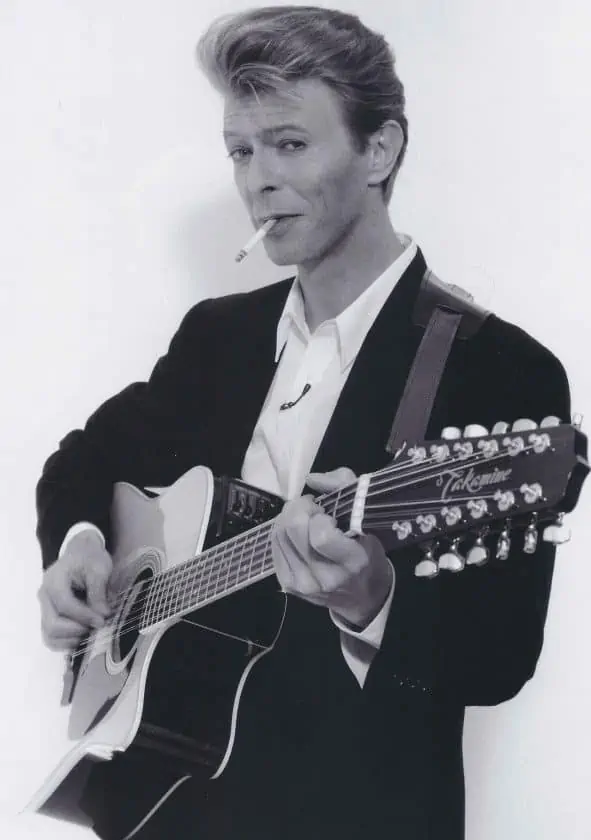 If you attended the aforementioned Sound + Vision tour, you would have witnessed this guitar. His love for 12-string guitars carried 25+ years into his career. After being lugged around the world to over 100 concert dates, this guitar eventually sold for $47k at auction.
Steinberger GL2
Perhaps a rare instance of David Bowie following a trend rather than leading it, David Bowie became a big fan of headless guitars when working with fellow Tin Machine bandmate Reeves Gabrel and his headless guitar: "David saw mine and decided he wanted one like it. My guitar tech, Andy Spray, called the factory in Newburgh to see if they could make another chrome L series. Apparently, they had a guitar they used as a test run for the chroming process. That one had a normal fretboard (it did not have a chromed fretboard) making Bowie's copycat completely playable while mine was not. The non chromed fretboard is the easiest way to tell them apart."
Supro Dual Tone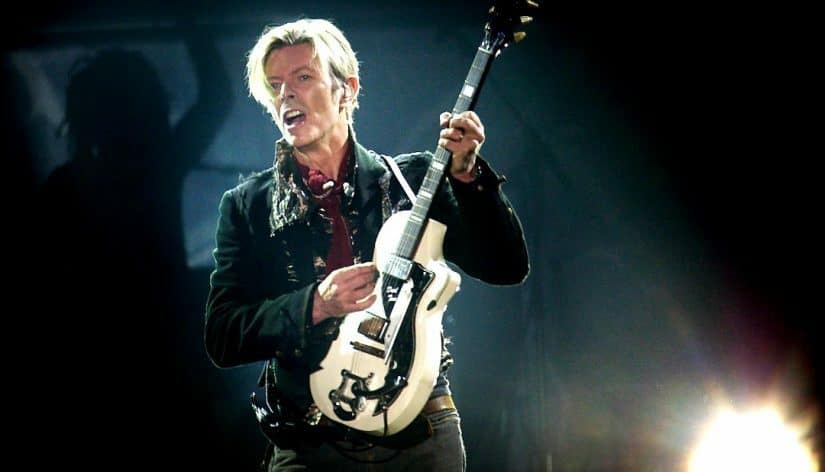 The Supro Dual Tone was special to Bowie. His former guitarist, Earl Slick, had this to say regarding Bowie's love, "Of all the electric guitars that David played and owned over the many years that we worked together, he loved the Supro best. He was quite proud of it actually. I've never seen him get attached to a guitar, except that one."
The Supro Dual Tone was used extensively during the recording of his 2003 album, Reality, and on his last world tour in 2003. The cover art for the live album, A Reality Tour, features Bowie posing with the guitar.
Supro collaborated with the David Bowie Archives to release a limited edition Supro Dual Tone based on Bowie's modified guitar in tribute to the late David Bowie.
Hohner G2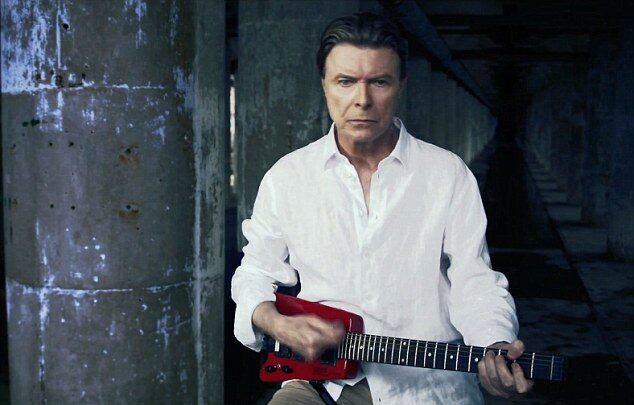 This guitar doesn't have much history as Bowie stopped touring in 2004 following a heart attack immediately after a performance. Bowie returned to another headless guitar from Steinberger for the 2013 video, Valentine's Day from (slight) comeback album The Next Day.
FAQ
Question: What amp did David Bowie use?
Answer: A list of David Bowie's amplifiers could be as long as this article about his guitars. According to Equipboard.com, David Bowie had a Mesa/Boogie Mark IV Amp Head, Mesa/Boogie 2×12 Cabinet. Mick Ronson, who played with Bowie on 5 of his albums, preferred Marshall amps and headstocks.
Question: Was David Bowie, a good guitar player?
Answer: I love Bowie as much as the next. My love of him is informed by his musicality, songwriting, and courage to change directions. I think he does a smashing job on the songs where the guitar is verified to have been played by him. Former producer, Tony Visconti, stated that, for Blackstar, Bowie was a little self-conscious in the studio recording guitar in front of others.
Question: Who was David Bowie's best guitarist?
Answer: David Bowie seemed to recruit the best talent to work with him over his 5-decade career. In contrast, it's hard to say who was the best guitarist, considering the different styles and genres that Bowie moved into. Mick Ronson was the guitarist for Bowie's early work. Including his breakout album The Rise and Fall of Ziggy Stardust and the Spiders from Mars. Stevie Ray Vaughan played guitar on Bowie's most(commercially) successful album, Let's Dance.