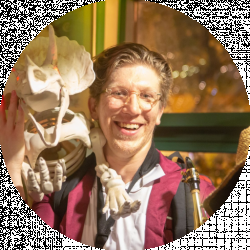 Latest posts by Mark Mumm
(see all)
Quick! Name 5 of the greatest things in the history of this planet! If you don't have David Bowie and Halloween in that top 5…I don't even know what to say to you. I don't know if I'm afraid of you or pity you or what…I'm sure there's a hotline that we can provide for you to call to straighten yourself out.
Okay, clearly, people are allowed to have passions that don't align with mine. Still, chances are if you clicked the link for this article, David Bowie and Halloween/any excuse to dress up are big passions of yours which means that I can poke fun at those other people because they're not here. HA!
David Bowie is one of history's most exciting performers/artists/musicians. That's why I've written about him and sung his praises many times now. And Halloween is my favorite holiday of the year, by far. Perhaps it is inspiration from the late great Goblin King that I relish any opportunity to smother myself in makeup and ridiculous garb every October.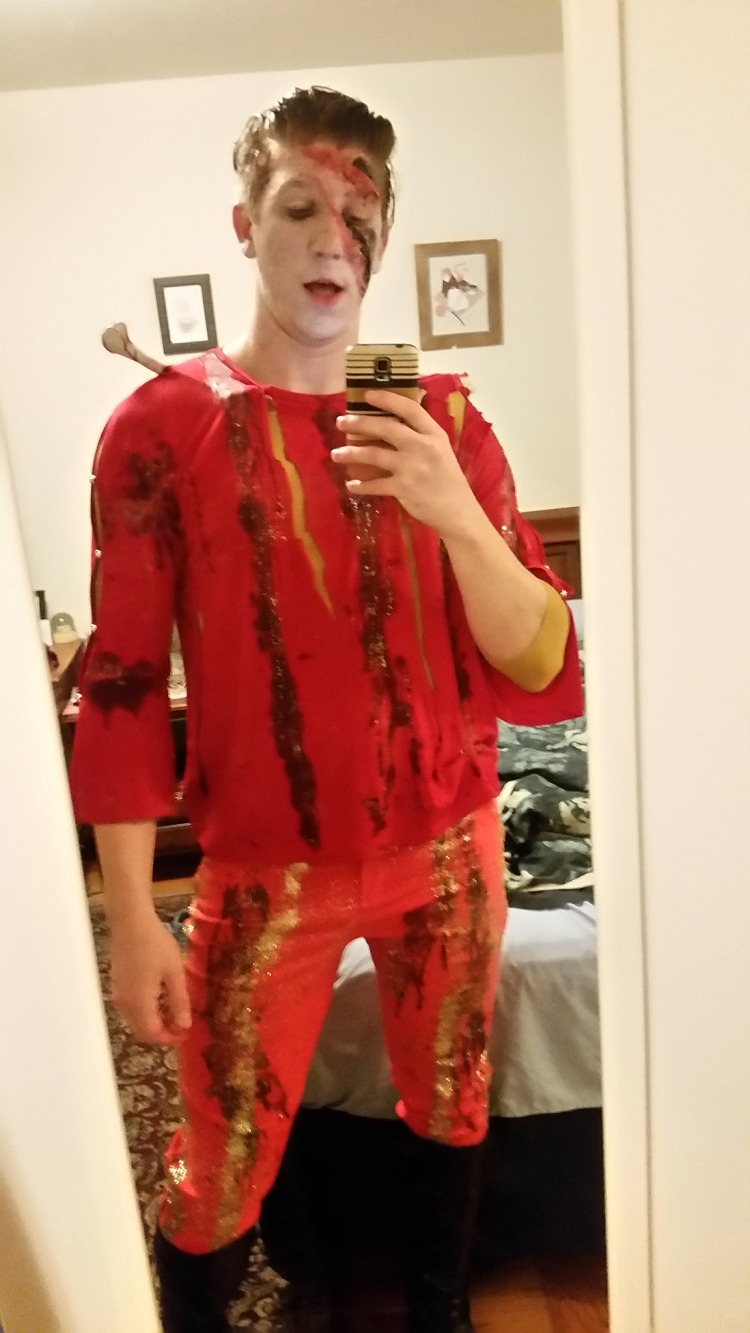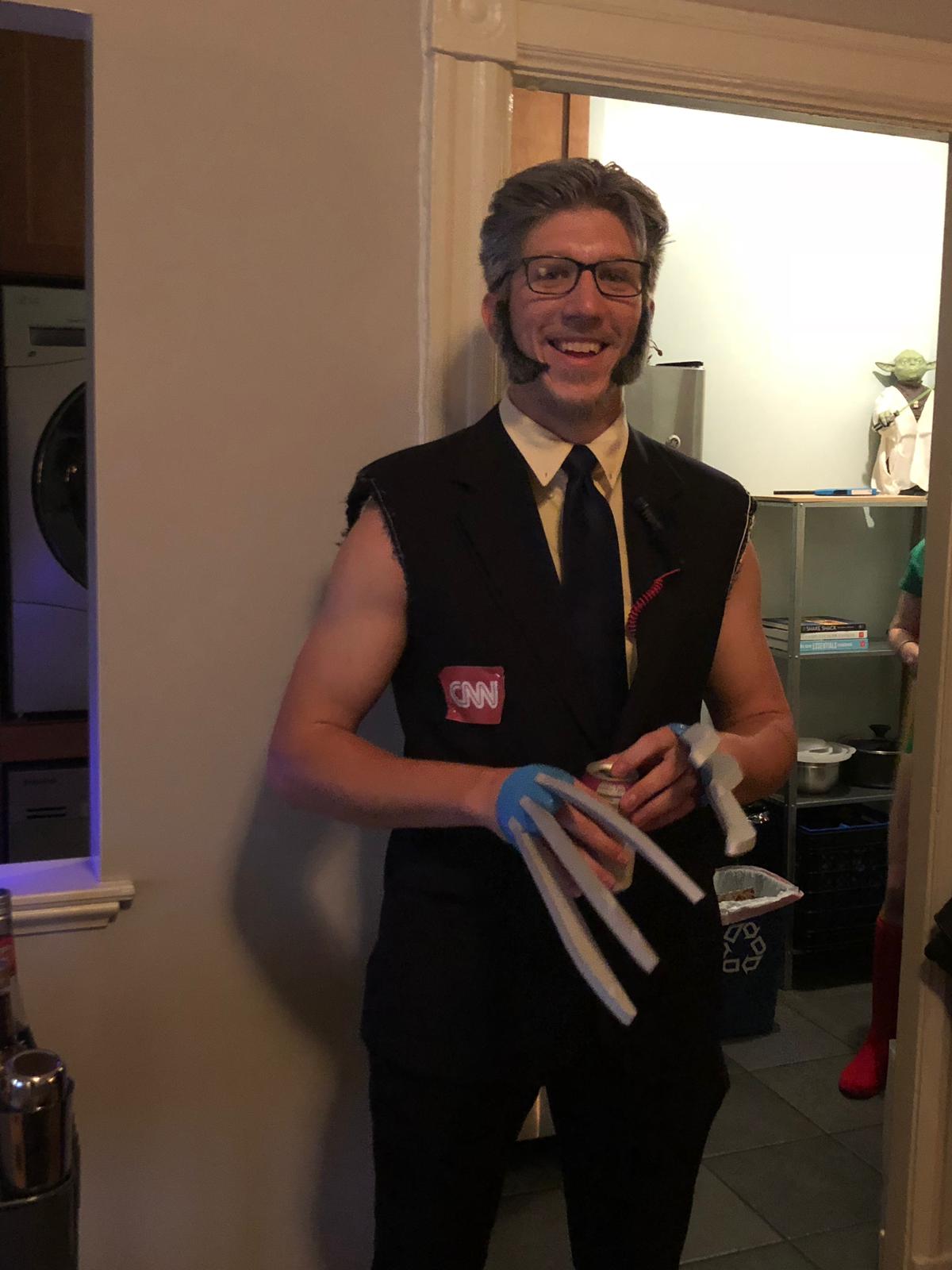 Given the sheer number of rebirths that David Bowie underwent as a musician and the iconic characters that he played as an actor, the possibilities for costumes are seemingly endless! Here's a breakdown of the number of ways you can pay tribute to The Man Who Fell to Earth:
David Bowie's Personas
As a musician, David Bowie had perhaps, 6 distinct personas: Ziggy Stardust, Aladdin Sane, Halloween Jack, The Soul Man, The Thin White Duke, and The Blind Prophet.
Ziggy Stardust
There may not be a more iconic persona of David Bowie than Ziggy Stardust. Ziggy Stardust would even majorly influence the New Romantic movement of the late 70s and early 80s.
The great thing about Ziggy Stardust as a costume choice is that there is no singular outfit that defines Ziggy Stardust. Ziggy Stardust is a result (and creator of, I suppose) of the glam-rock of the 1970s. The bombastic nature of glam rock allowed David Bowie to make many choices with Ziggy Stardust's presence. Here is a formula to follow for an authentic Ziggy Stardust outfit:
Fire engine-red, mulleted hair. But a classy mullet, not 1980s NHL mullet.
Make it tight/form-fitting
Fire engine red should be a primary color for a significant portion of the outfit.
Giant shoulder pads or show a lot of skin. One or the other
Gold "astral sphere" centered on the forehead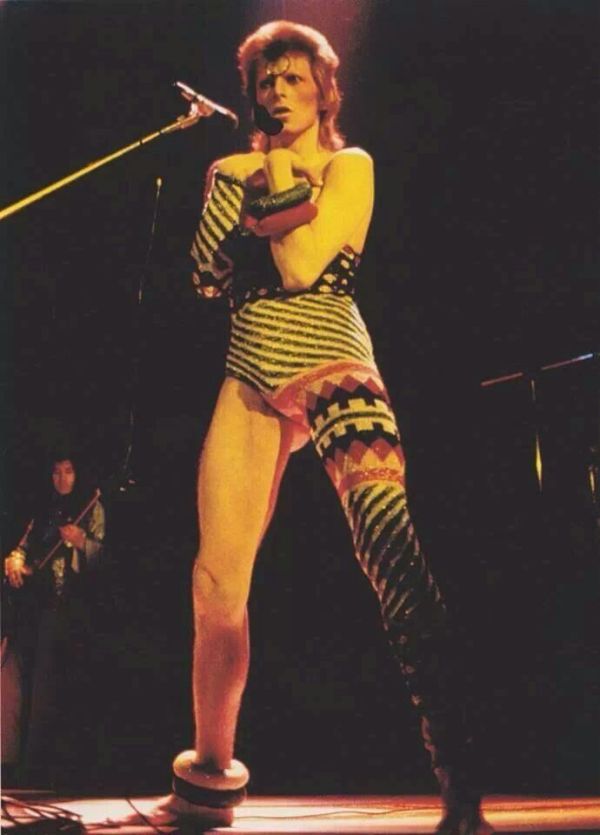 *With enough research, you'll find examples of Ziggy Stardust's outfits that don't conform to these rules here, so let's consider them loose guidelines instead
Aladdin Sane
While Ziggy Stardust is David Bowie's most iconic persona, Aladdin Sane is the most memorable. Ironically, people attribute the Aladdin Sane lightning stripe makeup as the Ziggy Stardust look…awkward…
Nonetheless, if you throw on that red lightning stripe, color your hair the right shade of red, and style it just right, there will be no mistake by your fellow party-goers/Halloween celebrators that you are paying tribute to the late David Bowie. Hell, you might just need the lightning stripe!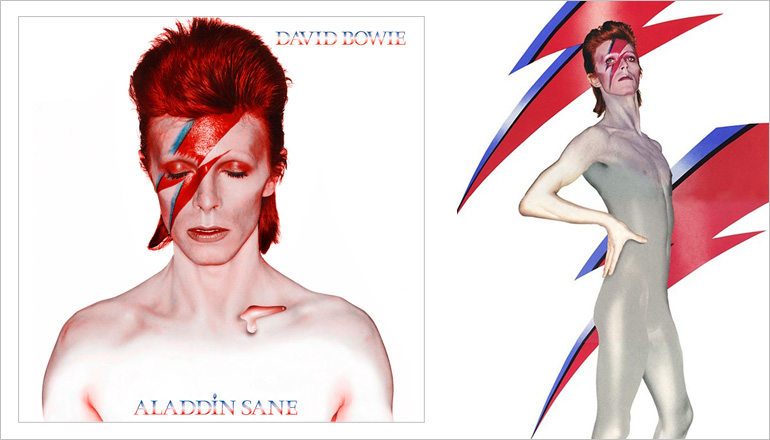 Halloween Jack
If I were on the street and somebody stuck a microphone and camera in my face and told me to describe Halloween Jack in ten words or less, I would say, "If Ziggy Stardust commandeered a pirate ship." Halloween Jack was David Bowie's last glam-rock persona, but that doesn't mean he gave it any less effort with fantastically striking red overalls, an intelligent neck scarf, and an asymmetric patterned shirt.
If you want to add extra layers of authenticity to this costume, you can shave your eyebrows and contract pink eye! (The eyepatch for this persona was initially functional.)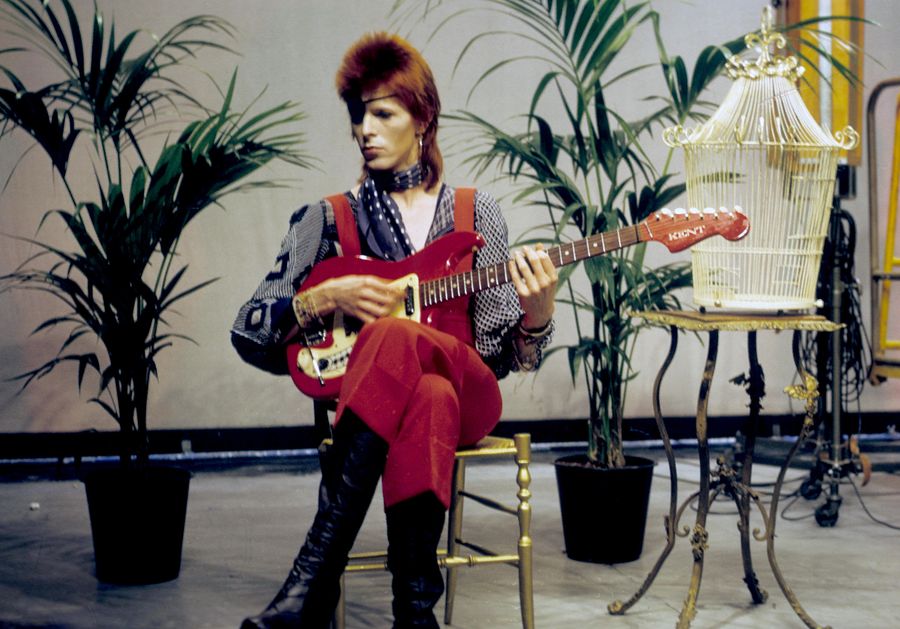 The Soul Man
The Soul Man made his appearance on the tail end of the Diamond Dogs tour as David Bowie began introducing the songs from his upcoming album, Young Americans. I think the Soul Man is David Bowie's coolest persona, which is shedding the histrionic flavor of the outfit but embracing the commitment to color and cut. Here is a formula to follow for an authentic Soul Man outfit:
Bright colored suit/formal wear.
Relaxed fit
Golden orange hair halfway between slicked back and quaffed
The Thin White Duke
The Thin White Duke is David Bowie's most dangerous persona, so be careful embracing this as a costume choice (The Thin White Duke period is mired in controversy owing to the pro-fascist statements Bowie made during this period). He existed on the latter half of the Young Americans tour and the album Station to Station (even referenced in the first lyric of the title track, "The return of The Thin White Duke, throwing darts in lovers' eyes").
I would describe The Thin White Duke as The Soul Man run over by a steamroller: completely slicked-back hair, the color drained from the outfit (and Bowie himself, to a degree), and even more gaunt. If you want an authentic Thin White Duke look, wear a form-fitting white shirt, black vest, and black pants. You will want to break out the hair gel and maybe even some contour to bring out your cheekbones.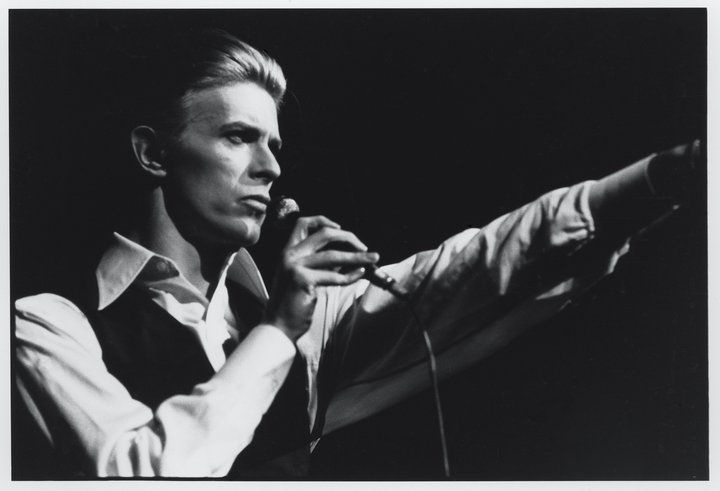 The Blind Prophet
David Bowie's last reinvention, The Blind Prophet, was as creative and exciting as any other. The Blind Prophet was the persona in which David Bowie performed his eulogy, so be prepared to remind a bunch of people of Bowie's death at whatever costume party you're attending, jerk.
The Blind Prophet is a relatively easy costume (at least compared to Ziggy Stardust). You'll need white, spiky hair and a blindfold composed of a simple wrap with two black buttons attached. As for the outfit, you'll need a dirty-white button-down shirt with large cuffs, an anachronistic choice, topped with a simple, slightly-worn black jacket, equally anachronistic.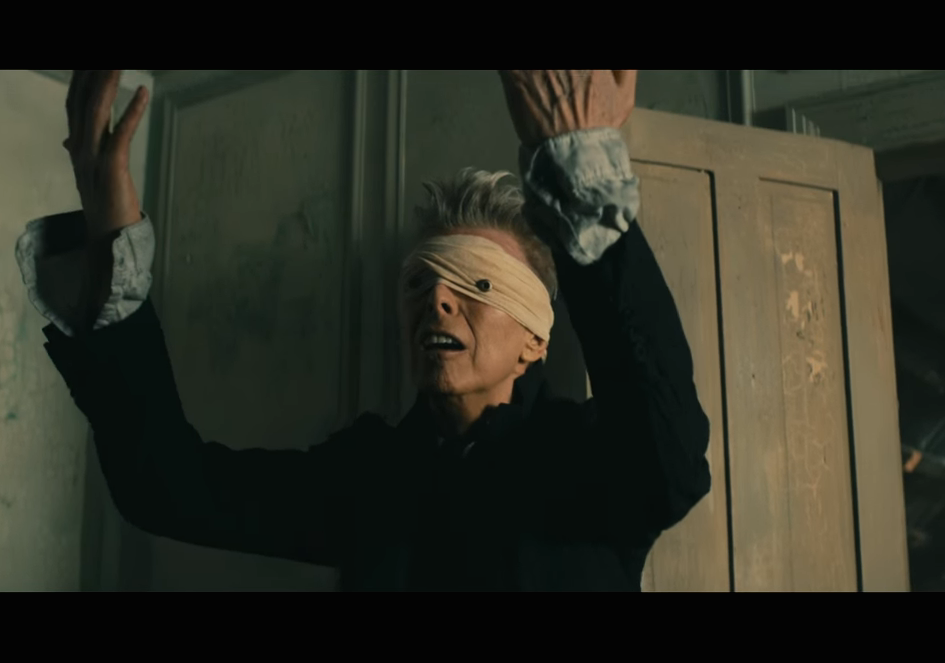 That's all! Thanks for reading! Goodbye!
…as if
David Bowie's Music Video Costumes
I chose to separate these from his personas as his personas existed over the course of months, years, or multiple media sources. But it would be unfair not to pay tribute to all the characters that appeared briefly throughout his long career. These 'characters' from these one-off videos are as iconic as the personas from the previous section: Major Tom, The DJ, Pierrot, and Screaming Lord Byron.
Major Tom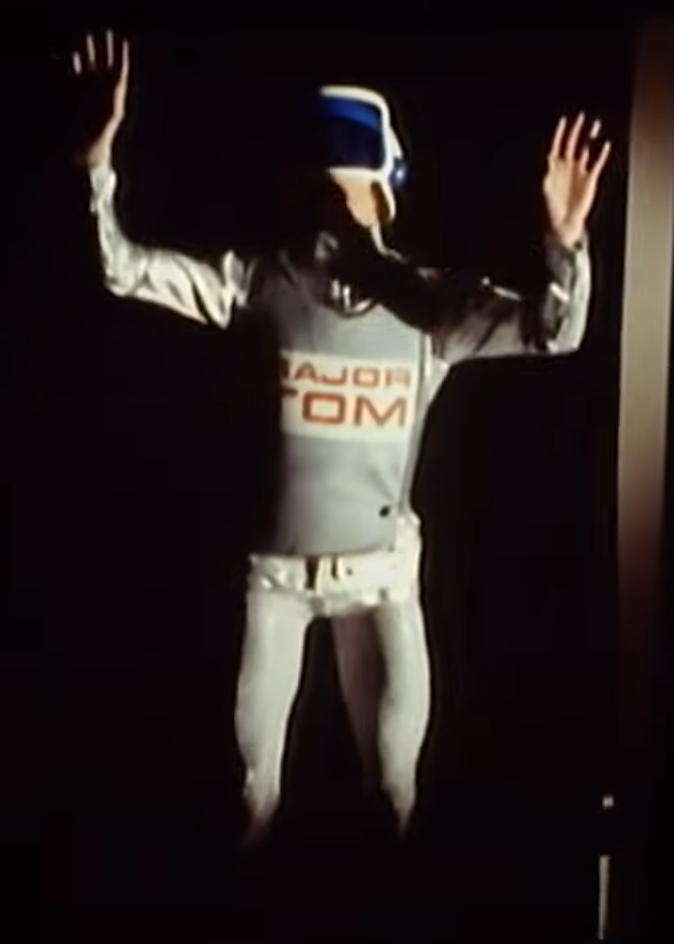 If you're looking for an easily recognizable costume, Major Tom is a winner. The big letters across the torso tell your fellow party-goers or trick-r-treaters exactly what the costume is! Nevertheless, despite the massively successful career, both critically and commercially, that followed the release of 'Space Oddity' in 1969, 'Space Oddity' remains an instantly recognizable singalong for people of all generations. Wearing a Major Tom get-up will attract compliments from people of all ages.
The DJ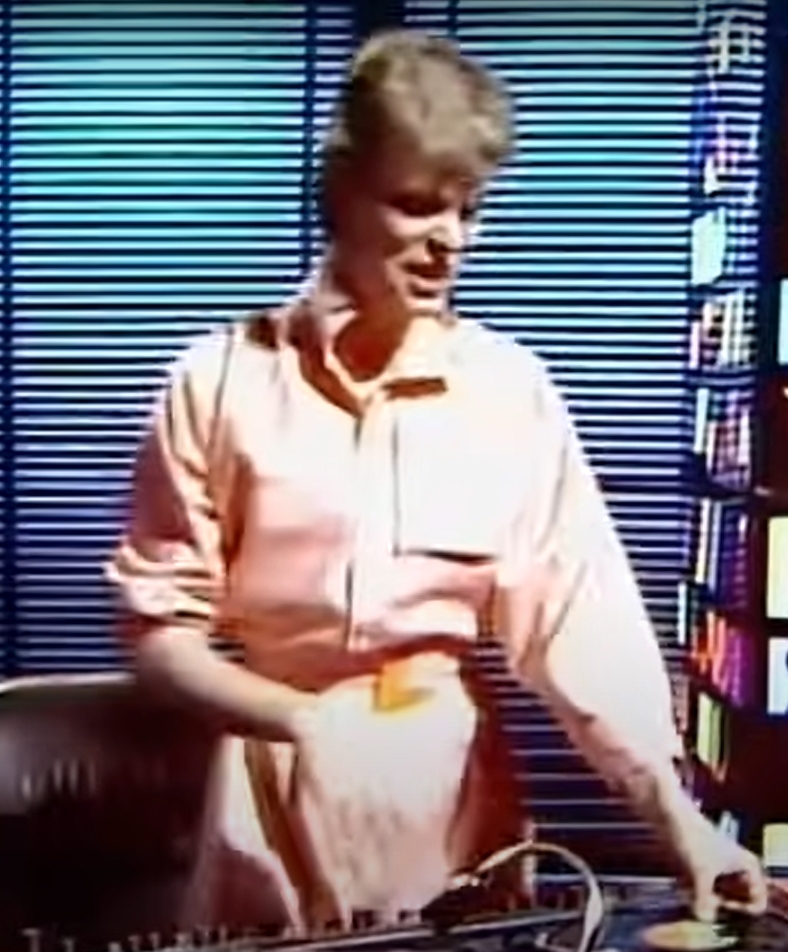 The DJ appeared in the music video for "D.J." (shocking, I know) from the 1979 album, Lodger. While not as flamboyant as Ziggy Stardust or as ruminative as The Blind Prophet, the D.J. is a cheeky character with a fun, pink, one-piece get-up. You're not going to turn many heads using this as a costume, but you'll be instant friends with those who are as passionate Bowie fans. Just try not to trash the party like Bowie does the studio.
Pierrot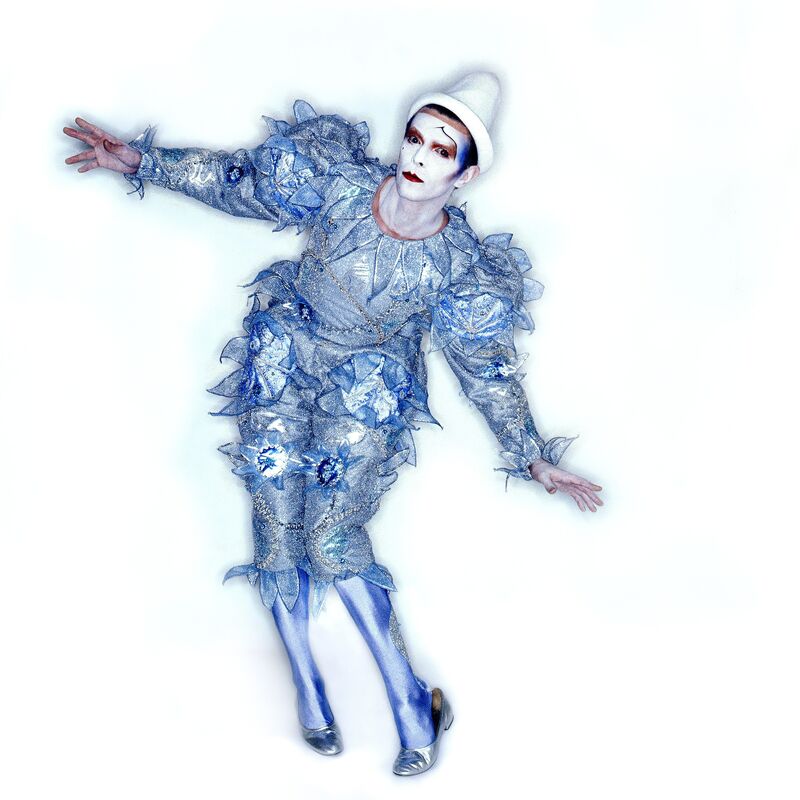 Pierrot only existed in the music video for Ashes to Ashes, but what a costume this would be! Pierrot resulted from Bowie's dabbling in the New Romantic movement (which was subsequently partially inspired by the glam rock of the 1970s, including David Bowie's Ziggy Stardust). A bonus of choosing this as a costume is the multiple high-quality images that exist for you to use as a reference!
Screaming Lord Byron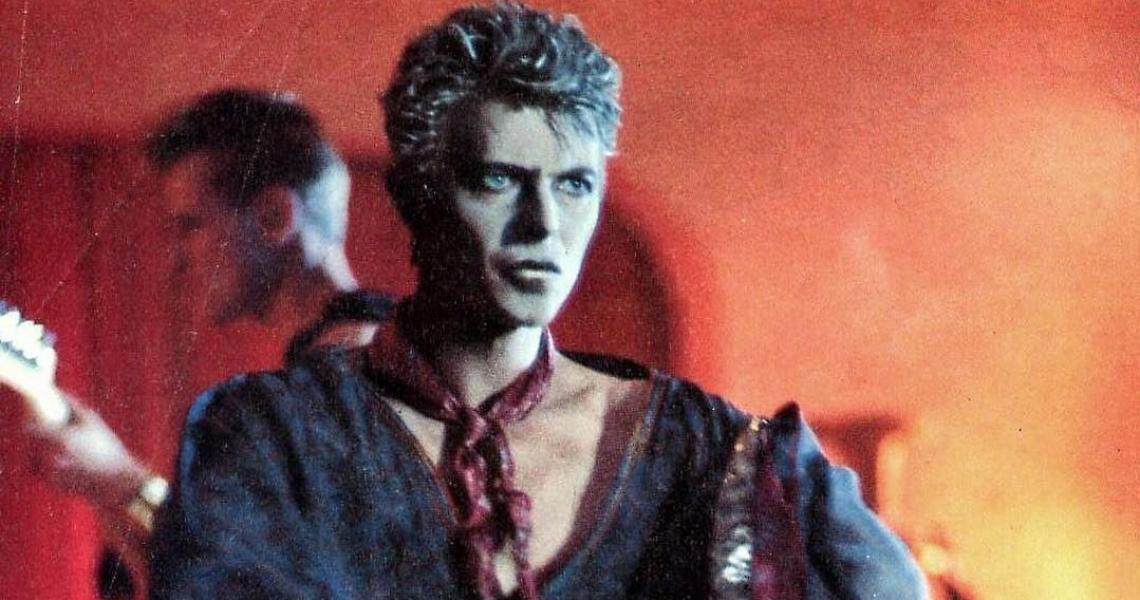 In the short film Jazzin' for Blue Jean, David Bowie plays a couple of characters: a cheeky, wannabe conman trying his best to impress a woman and the paranoid Screaming Lord Byron, a massive pop/rock star a la David Bowie. The outfit for Screaming Lord Byron is as calculated and invested as any one of David Bowie's personas. His style is heavily inspired by the fashion of the East, including a turban, long, flowing, colorful robes, and the usual facepaint with a heavy emphasis on contouring.
The Movie Characters
And, of course, this list would be remiss not to include the iconic movie characters that Bowie manifested: The Man Who Fell to Earth, Jareth the Goblin King, and Nikola Tesla
The Man Who Fell to Earth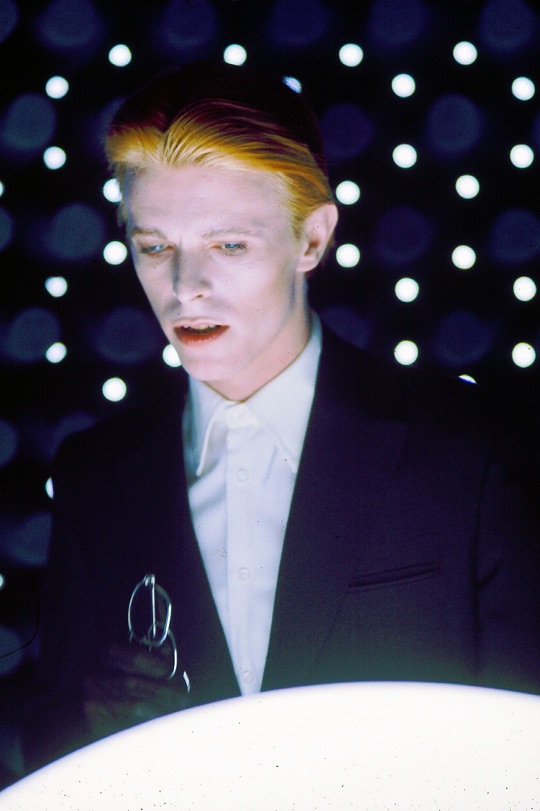 Thomas Jerome Newton was an alien who came to Earth, seeking its life-giving water for his own desolate, drought-stricken planet. This character heavily influenced the design for The Thin White Duke, so it will be tough to do a costume for this that is distinct enough from The Thin White Duke, but certainly not impossible!
Jareth the Goblin King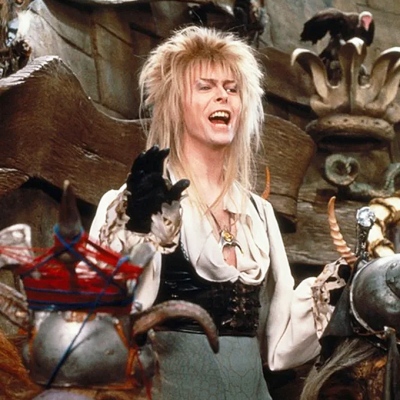 Okay, holding off Jareth until this far into the article is a little cruel. I'm sorry!
Jareth, the Goblin King, was a character played by David Bowie for the cult film Labyrinth by mastermind Jim Henson. Jareth is iconic: the high-riding spandex, the codpiece hiding underneath, the volcano-eruption hair, the devilish eyebrow sculpting, and eye makeup. This outfit on any other performer in history (except maybe Prince) would have oozed an uncomfortable and outlandish vibe. Still, David Bowie, master of music, theatre, and mime, brought these pieces together into an elegant and powerful ensemble.
Here is a formula to follow for an authentic Jareth costume:
High-waisted gray spandex.
Sleek, knee-high, black boots
Codpiece. If you don't have a questionable bulge, you're not doing it right
Baggy, white button-up. Think pirate
Plain, black, leather vest or mysteriously dark leather jacket. But the vest/jacket must have a fantasy vibe to it rather than a punk rock vibe
Sculpted eyebrows that lift to the heavens
Accompanying eye makeup that accentuates that lift
Blonde hair exploding out from the skull and falling like stalagmites.
Honorable Mentions
Zoolander Bowie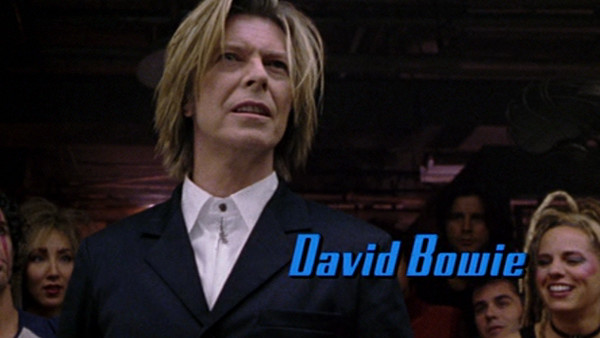 Okay, this one isn't really a costume choice. It's just Bowie looking suave, but who doesn't find it so cromulent that Bowie was chosen as the fashion wiz to judge a model walk-off?
Lord Royal Highness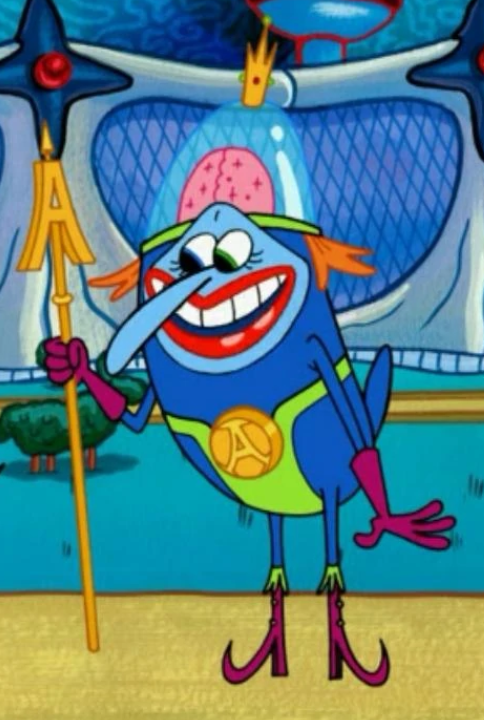 David Bowie voiced a character, Lord Royal Highness, for an episode of Spongebob in 2007. I have no idea how you could translate this to a Halloween costume without absolutely terrifying everybody you come across, but it would surely be an original costume!
Nikola Tesla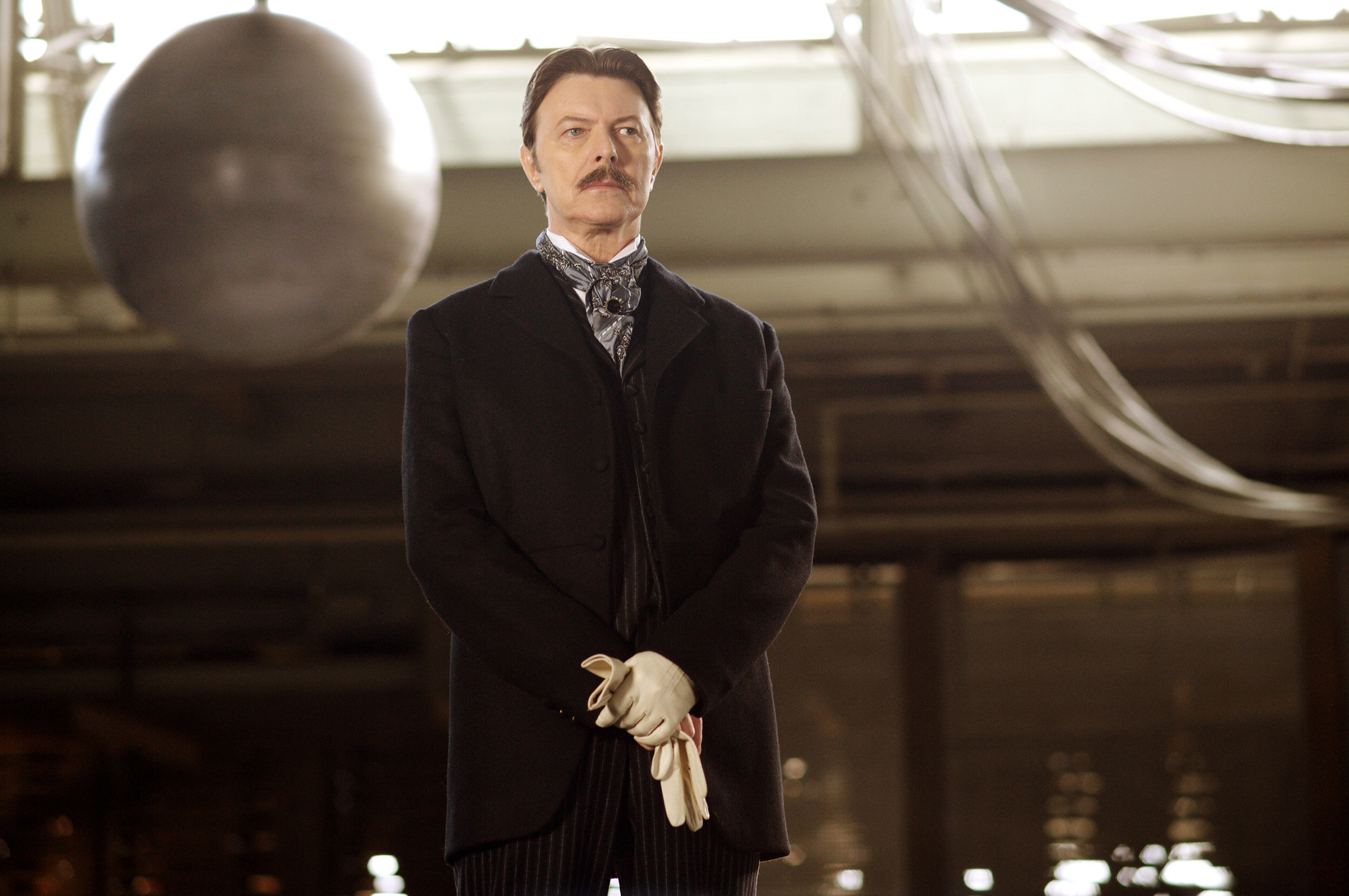 A 'David Bowie as Nikola Tesla' costume would be tricky to distinguish it from just 'Nikola Tesla.' Nevertheless, Bowie puts on an electrically* memorable performance as Nikola Tesla in the 2006 film The Prestige.
*pun intended.
Album Art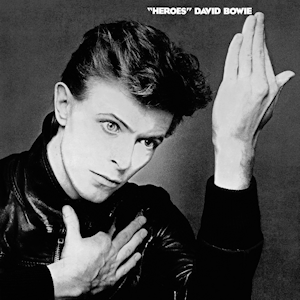 David Bowie has had some iconic album covers. From the frazzled, psychedelic disembodied head of his (second) self-titled album to the dominant and dynamic pose of Heroes to the Union Jack trenchcoat of Earthling, dressing up as any of these album covers would surely net you several compliments from your fellow party-goers.
Portmanteaus/Punny costumes
Lastly, I will leave you with a list of portmanteau/punny costumes I have imagined. I have not manifested these in a physical form yet, nor do I have the skills as a visual artist, so, hopefully, your imagination will be able to make flowers out of the seeds I give you here. Happy costuming!
David Attenbowie (Bowie and David Attenborough)
The Thin White Marmaduke. I suppose this would be a brilliant costume for your Great Dane!
Ziggy Stardust, but the 'Stardust' is the 2007 fantasy adventure film. I think meshing Ziggy with Robert de Niro's character would be an incredible costume.
Aladdin Sane, but the 'Aladdin' is from the titular Disney movie.
Halloween, Jack Skellington. Jack Skellington with a rock n' roll twist? Or David Bowie's mid-70s persona as a skeleton?
Major Toms. Major Tom, but decked out in gear from Toms.com*
*Hey, quantity over quality when it comes to ideas. That's my philosophy.
FAQ
Question: How do I make a David Bowie costume?
Answer: There is no right or wrong way to make a David Bowie costume. It's a creative mode of expression. However, if you wish to make it happen, make it happen! Personally, I enjoy thrifting clothes and mending them with whatever is necessary, sewing, dyeing, and accessorizing.
I don't (yet) have the time or resources to design, measure, cut, and sew a costume from scratch. You'll likely also want to have some makeup (especially contour) and hair dye (however temporary or permanent) on hand to adjust your body to whichever costume you're going with.
Question: How did David Bowie dress?
Answer: There's no simple answer for that. David Bowie was a master of reinvention both on- and off-stage. Considering he had a nearly 5-decade career, that's a lot of style choices and fashion changes. I wrote about it here before.
Natasha Korniloff was a Russian designer who also collaborated often with Bowie, most notably on the Pierrot costume for the Ashes to Ashes music video