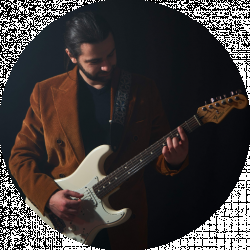 Latest posts by Altin Gjoni
(see all)
Carlos Santana is one of those guitar players you need only one note to recognize. I started getting into Santana's magical blend of jazz, rock, and Latin music in his solos. Even though none of my family are musicians or much into rock music, they all knew who Santana was and eagerly played his track "Europe" every day.
Growing up to become a musician, I started to see Santana as much more than just a legendary guitarist. In this Carlos Santana Bio, I aim to give you a full scope of his multi-disciplinary contribution to music.
The ten time Grammy award winning musician is one of the most celebrated guitarists in music. I genuinely find it mesmerizing that even though his guitar work defined a generation, his overall contribution to music reaches beyond that.
A proficient composer, arranger, and band leader, Santana gathered around him some of the best musicians of all genres and helped create the concept of "'world music."' I'd recommend you start putting on some of Santana's music while reading his bio, as it's the perfect soundtrack to his life.
Carlos Santana Quick Facts
Full Name

Carlos Humberto Santana Barragán

Birth Date

July 20, 1947

Birth Place

Autlán de Navarro, Mexico

Nationality

Mexican-Born American

Zodiac Sign

Libra

Siblings

Jorge Santana, Irma Santana, Maria Santana, Antonio Santana, Laura Santana, Leticia Santana

Children

Salvador Santana, Stella Santana, Angelica Santana

Partner / Spouse

Deborah Santana (M. 1973 – 2007), Cindy Blackman (M. 2010), 

Most Successful Albums

The best-selling album is the 1999 "Supernatural," with over 30 million copies sold.

Net Worth

$120 million

Social Media

Instagram

,

Twitter

,

Facebook

Website

Santana

 

Awards

Santana has 18 awards, including 10 Grammy Awards, Kennedy Center honors, and he was inducted into the Rock n' Roll Hall of Fame along with his band.

Last Updated

June 2022
Santana's Early Life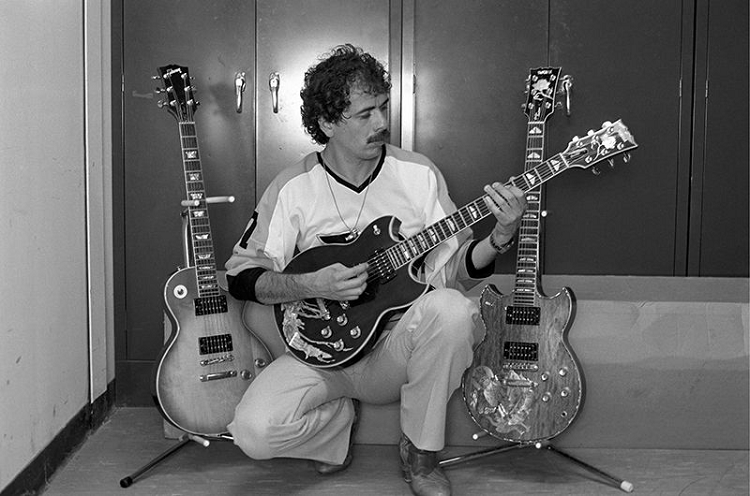 Santana was born on July 20, 1947, in a very musical family in Autlán de Navarro in Jalisco, Mexico. Inspired by his father's Mariachi career, he started playing violin when he was five and switched to guitar at eight. 
Apart from his Latin roots, his main inspiration at the time was the rock heroes of time like Jimmi Hendrix and the Beatles. Miles Davis, B.B king, and other contemporary greats started to inspire his playing and writing as he got into the blues and jazz. 
Talented and ambitious, he started playing for local bands in the "Tijuana Strip" and gradually developed his unique style.  Moving to San Fransisco in the middle of the Hippie movement, working as a dishwasher and driver, he managed to replace his old Melody Maker with a Gibson SG and started getting serious about his music career.
Santana (The Band)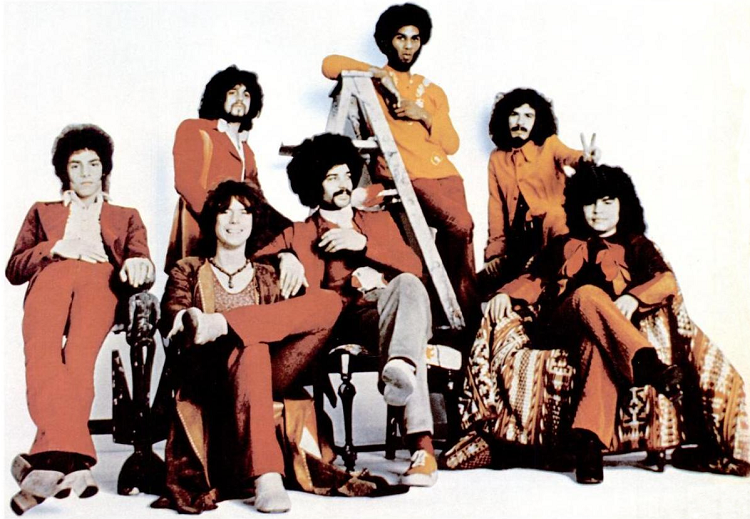 Santana's career focused on his creativity, yet he never drifted from having a consistent band of musicians he was familiar with. The band went by his name, but the contribution between members was at times equal to that of Carlos.
The band's lineup has changed multiple times since its formation in 1966. What I consider the best, though, is the original lineup with Santana on lead guitar, Sergio "Gus" Rodriguez on bass, Rod Harper on drums, Marcus Malone on percussion, and Gregg Rolie on lead vocals and organ.
The improvisation aspect of that group and the freedom each musician had made them special for me. They managed to land a record deal with Columbia Records and had the well-known Billy Graham as a manager. He got them to play on Woodstock, which helped sell out their first album.
Other big names such as future 'Journey' star Neil Schon, Andy Vargas, Dennis Chambers, and 20+ other incredible musicians have been part of the band. By the late 70s, I believe Santana knew exactly what he was doing and had the luxury of picking the best musicians he found fit for the band.

The band sold more than 100 million albums worldwide, making it one of the best-selling acts in music history.
Woodstock and Fame
The gig that changed Santana's career was the legendary Woodstock festival in 1968.  At the time, he and his band were not commercially successful and did not share the popularity of Jimmy Hendrix and Joe Cocker. Sharing the same stage with them in front of 400,000  people was the boost the band needed.
Santana – Soul Sacrifice 1969 Woodstock Live Concierto HQ
Santana Albums
In his prolific career of over 40+ years, Carlos Santana has released with his band 'Santana' over 26 studio albums and collaborated with many artists. What I value from this solid body of work is the ability to change and adapt to new musical styles continuously.
I will guide you through some of his most famous works and give you space to explore on your own all of his vast discography. There is much to listen to and enjoy, and I can address where it's best to start.
Santana 1969
The band's self-titled debut album was a long-awaited culmination of Santana's early career. Supported by the fame of the Woodstock performance earlier that year, the album was both an artistic gem and a commercial success.
Musically I believe it's the best it could have been, as the band features both elements of a Jam Band with extended improvisation and short, catchy hit songs like "Evil Ways" that reached the top 10 in the US. The Latin vibe and blues influence are palpable, making the albums both soothing and danceable. 
I don't consider it his best album, but If you're new to Santana, his debut album is a great way to get started.
Abraxas (1970)
The second album from the band continued the creative run with a  jazz and blues rock-infused groundbreaking album.
I think this album is as if Santana and the band leveled up from the 1st one and went a step above. The sound is better, the compositions more catchy, the solos tasty, and the famous cover of Fleetwood Mac's "Black Magic Woman" gave new life to the song.
The psychedelic elements on the albums made it a favorite for the culture of the time. The fact that it reached number 1 in the US charts in a period when incredible records came out should be enough to get you to listen to it.
Check out our complete Fleetwood Mac Band History Guide to learn more about this band.
Santana III (1971)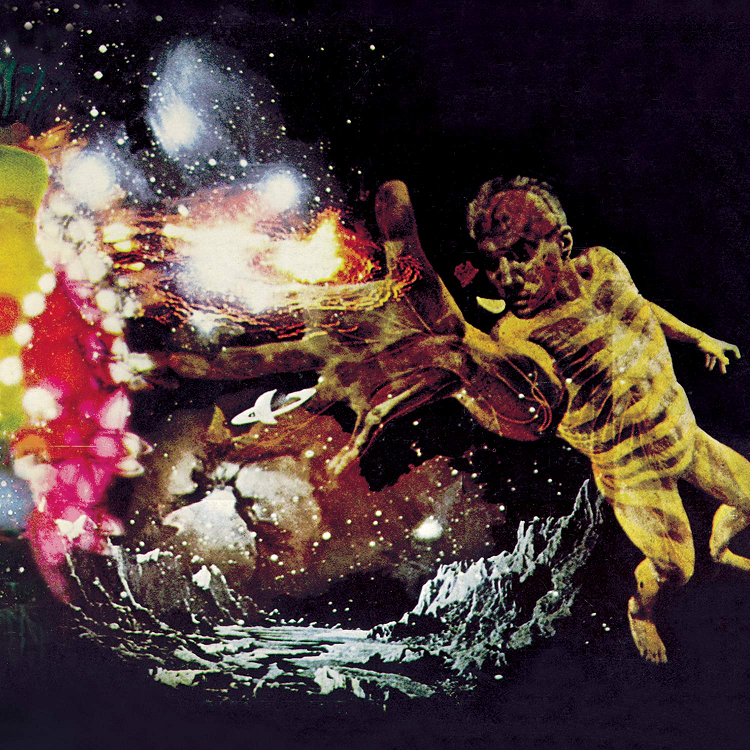 This is my favorite album that encompasses Carlos Santana's style better than any other.  The addition of Neil Schon as the second guitarist on the band pushes the band into a rock n' roll sound masterfully blended with blues, Latin music, and jazz fusion.
The album features intricate compositions that push experimenting to the edge of what was acceptable as a radio hit. The album reached number 1 as the previous one and sealed with only three releases Santana's name as a legend of the 70s.
No One to Depend On is the album's single that you might probably have heard. Listen to how the two guitars work together beautifully with the rest of the band.
Santana – No One to Depend On 
Love Devotion and Surrender (1973)
This album holds a special place in Santana's discography due to the much-praised collaboration with guitaristJohn Mcloving.
Two of the best bands in the world, Santana and Mahavishnu orchestra, recorded together with a spiritual infused record full of surprises and intricate music. The guitar work is absolutely brilliant, however, it might not be an album for everyone due to its experimental nature.
If you don't find it catchy now, after a while of listening to some Santana you might get back to it with a new perspective.
Moonflower (1977)
I skipped some albums to get to what I consider the new Santana sound. Moonflower. The guitar work is mesmerizing with the instrumental rock track "Europa," which has become a staple for every guitar player. 
This double album blends both live and studio tracks to do justice to both sides of Santana and his band. Classy compositions with an energetic live performance both in one album. You can feel the raw emotion of the songs that drift into the improvisations section by Carlos and the band.
The album was the first to reach commercial success after Santana III and went gold and platinum in many countries.
Supernatural (1999)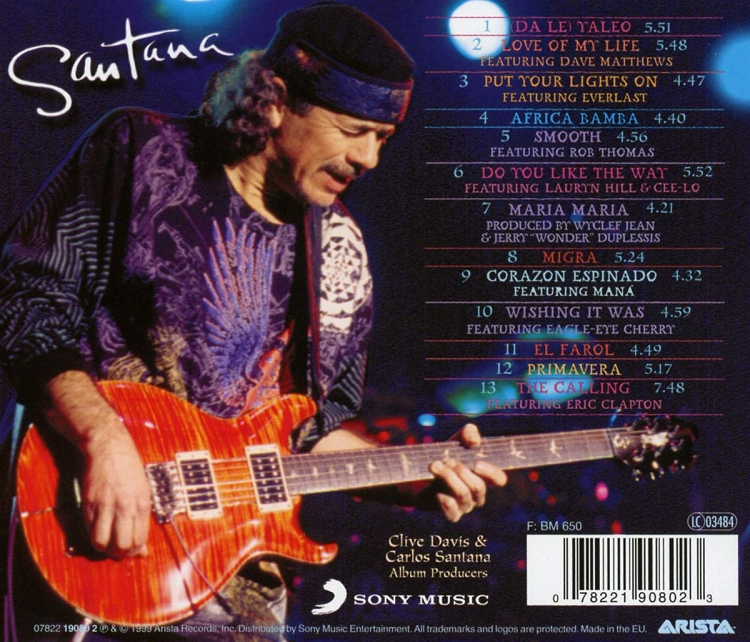 I made a big leap here to go straight for the modern Santana Masterpiece. There's much to enjoy before this, but Supernatural is just something else.  Apart from marking Santanas return to topping the charts, the album created a new wave of collaboration between rock, pop, and world music.
Santana knew how to pick the best artist to sing and perform on the song, which became world hits. Some of the names involved in the album are Eric Clapton, Dave Matthews, Rob Thomas, Eagle-Eye Cherry, etc. Supernatural is one of the most celebrated albums of all time, having won 9 grammy awards and 15x platinum. The hit single "Smooth" and "Maria Maria" toped the worldwide charts for weeks and are now radio staples.

The attempt to make radio-friendly songs went perfectly well, and Santana didn't compromise his art but rather managed to make pop masterpieces. Listening to Supernatural will make Santana one of your favorite artists if you are into modern music.
Santana IV (2016)
Another big leap into the future is necessary to come around the return of a classic Santana sound. All the surviving members of the original lineup came together to blend genres and styles once again.
Born out of an idea of Schon to record an Instrumental album with Carlos, it went in the direction everyone wished for with a modern times classic record. What I love most is listening to the same musician play but with time with a much more improved sound quality and recording techniques.
It reached number 5 in the US charts, which is impressive considering that progressive Latin rock barely makes the charts in modern times. If an artist can make that happen again, it's Santana.
70s Santana vs 90s Santana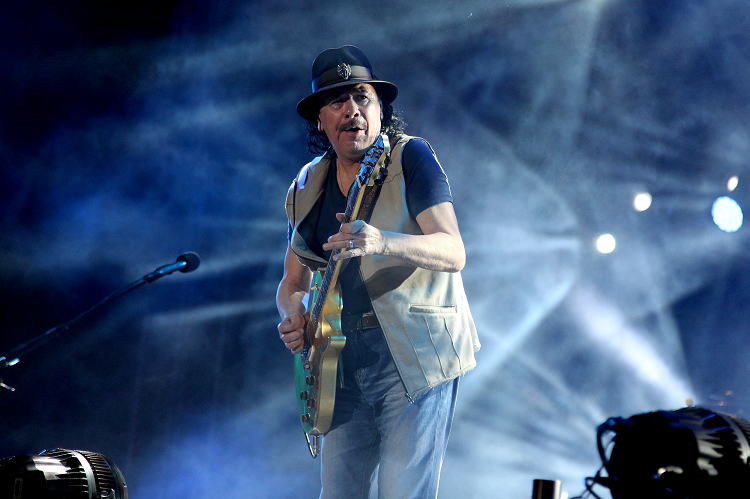 The two prolific periods of Santana's career were the early 70s and late 90s. During the long span, he and the band had been drifting into uncharted territories and leaving a mark through music. 70s Santana feels more free and raw. The simpler instrumental of most tracks, live recording, and improvisation made them perfect for the period and today's listeners with an affinity to classics.
The desire to become great and leave their mark was probably the engine behind their success. Being surrounded by other incredible bands probably inspired them to do more.

90s Santana, on the other hand, takes only the best from each period and blends it with catchy radio-friendly tunes. The music from this period is accessible to everyone and masterfully hides intricate musical elements for the devoted Santana fan.
I feel like every artist should learn from this smooth transition Santana made in the 90s. He kept his core message and sound intact in the very commercial industry.
Personally, I just slightly like 70s Santana more due to my tendency to love to live recorded music of that period. However, it's such a close call that I might even change my opinion in the future.
Santana's Guitar Style
Santana is a true master of touch and feel. He sits up there on top with the very best. What is especially intriguing about Santana's guitar playing is his ingenious way of making his music accessible to all music lovers. Even someone who barely listens to guitar music can quickly tell that Santana is playing a guitar solo.
Santana's soloing style blends blues, Latin music, jazzy bits, and rock phrasing. I consider him a rock guitarist, even though he spans many genres. On all of his solos, you can hear the "sweet" notes of his Latin influence and the fat, mid-range tone that usually sits right in front of the mix.
Another thing to note about Santana is that he puts his side as composer and arranger before his guitar playing. That means he always serves the song with rhythm and licks and never overplays.
Rhythm work is used only when needed as the percussion-heavy tracks fill the space, leaving the slight guitar moments of pure bliss that make the song.
Gear-wise, he is known to use one of the first PRS models. Having played one for years, I still can't help but think about Santana every time I look at the guitar.
Santana Beyond the Music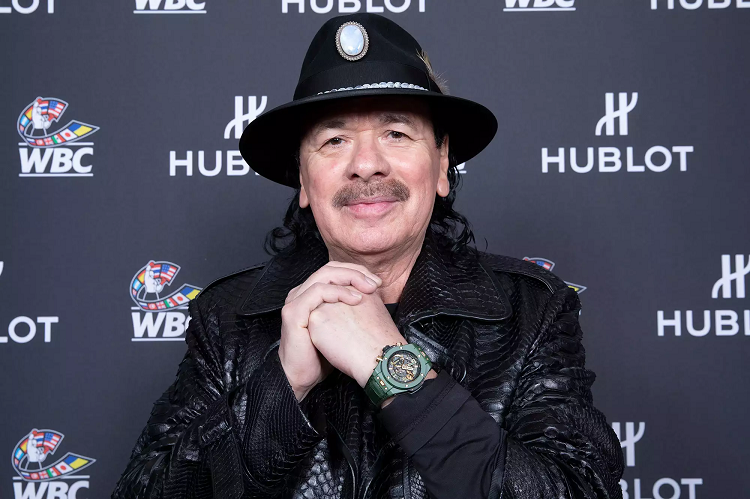 Beyond being a music legend, Santana started getting serious about charity. He regularly donates millions of dollars to charities in California and Mexico. He has established the Milagro Foundation, which supports under-resourced children in the areas of the arts, education, and health. 
On the other hand, his personal life is void of scandals apart from a story of abuse while he was a child and an almost tragic story of abandonment.
He once declared that he used to be forced to sell guns on the streets and make a living working in dangerous environments as a child. He even returned to Tijuana from San Fransisco to work again in that environment out of frustration after his mother used his $300 savings to buy his sister's dental service. 
Carlos Santana married twice in his life, the most recent of which was in 2010, to the percussionist of his band, Cindy Blackman.
On the business side of things, Santana has his issues like most musicians of the time. During the 90s, he said he had a lot of unreleased music but couldn't release any for almost a decade due to problems with the record label.
Notable Performances
This is perhaps one of the most emotional guitar performances from Carlos. The blend of exquisite phrasing and improvising is unbeatable. 
Santana – Europa Live In London 1976
The Woodstock legendary show is not the only great performance from Santana. Thirty years after that, his performance style was different but still unrivaled. 
Carlos Santana / Rob Thomas – Smooth 1999 Live Video 
Listen to this recent performance from the master, and you'll notice the consistency over the years.
Carlos Santana Live Full Concert 2021
Carlos Santana Bio: FAQs
Question: What is Santana's Latest Album?
Answer: The latest album is the 2019 release 'Africa Speaks.'
Question: What Sickness does Carlos Santana Have?
Answer: Santana recently, in December 2021, had a heart procedure after his wife noticed an issue with his chest. He has now recovered and is continuously touring. 
Question: Where is Santana Playing Next?
Answer: You can check all the official tour dates on his website.
Sources: