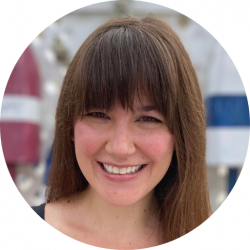 Latest posts by Lauren Vigdor
(see all)
There were five years in the late 80s and early 90s when Talking Heads and I both existed simultaneously, but I tragically never got the chance to see them perform.
I have, however, been fortunate enough to see David Byrne perform and even cover some of the most popular Talking Heads songs. Unlike five-year-old me, adult me could appreciate the artistic genius I bore witness to.
Who are the Talking Heads?
Talking Heads were an American art-rock band active from the mid-1970s to the early 1990s. They merged several styles of music and helped pioneer the new wave genre.
From their time spent living down the street from CBGB to their position at the launch of MTV, Talking Heads often found themselves in the right place at the right time, a phenomenon that even band members marveled at. The band split up during the height of their commercial success, but they remain as influential as they were at their creative peak.
Talking Head Band Members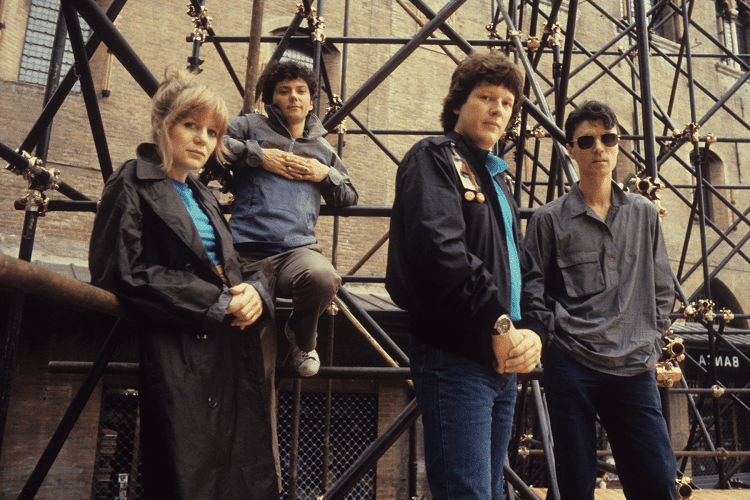 David Byrne
David Byrne was the frontman of Talking Heads. He was born in Scotland but grew up in Baltimore. Byrne played guitar and sang lead vocals in the group. His artistic vision, awkward stage presence, and combination of singing and squawking/shouting helped define the band's signature style.
Chris Frantz
Chris Frantz was born in Kentucky and formed a band called The Artistics along with David Byrne while they were students at the Rhode Island School of Design.
Frantz's girlfriend, Tina Weymouth, joined the band that would eventually become Talking Heads. Frantz played the drums in Talking Heads. He and Weymouth have been married since 1977.
Tina Weymouth
Tina Weymouth met David Byrne and Chris Frantz when they were students together at RISD. She dated and later married Frantz and was enlisted to join Talking Heads by the duo. A California native, Weymouth played bass in Talking Heads.
Jerry Harrison
Jerry Harrison was the last member to join Talking Heads. He had been a member of the band the Modern Lovers when he was recruited to join Talking Heads early in the band's career. He played keyboard and guitar in the band.
Talking Heads Early Years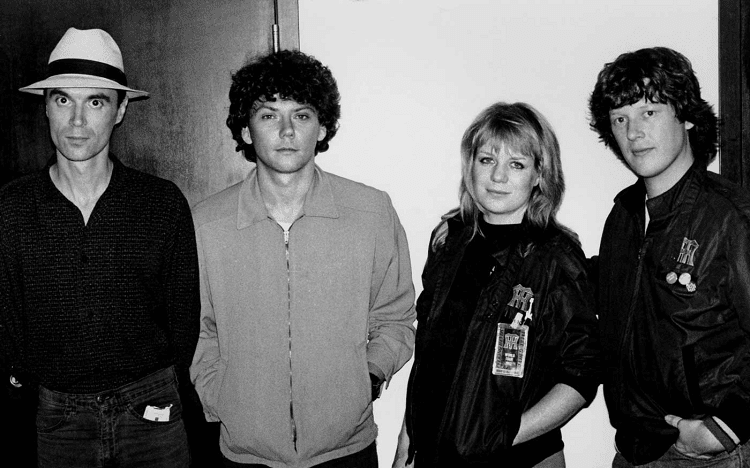 RISD and The Artistics
While studying at the Rhode Island School of Design, David Byrne and Chris Frantz were introduced through a mutual friend who needed help on a soundtrack to a student film.
After collaborating on the project, they formed the punk band The Artistics, eventually recruiting Frantz's girlfriend, Tina Weymouth, to join them. The song "Psycho Killer," which became a hit for Talking Heads, was written during their time playing as The Artistics.
Punk Beginnings and CBGB
The band moved to New York and officially became Talking Heads in the mid-1970s. They frequented the music scene and became regulars at CBGB, the famed East Village rock club. They got their first break when they were invited to open for The Ramones, who at the time were up-and-coming regular performers at the club.
In 1976 Talking Heads rounded out their lineup by adding Jerry Harrison on guitar and keys. Harrison had previously played with the Modern Lovers.
Talking Heads 77
The band's first album, Talking Heads 77, was a moderate success. The song "Psycho Killer" even charted for a few weeks. This was another "right place at the right time" moment for Talking Heads.
Although the song had been written years earlier during the band's RISD years, it made its debut right around the same time as the Son of Sam killings in New York, leading audiences to connect the two and driving intrigue.
Brian Eno
In the late 1970s, Talking Heads teamed up with innovative producer Brian Eno. Eno introduced the band to West African music and Afrobeat, particularly the artist Fela Kuti, who was a great source of inspiration. Eno's experimental use of sound is apparent on the records he made with the band, particularly Remain in Light.
More Songs about Buildings and Food
The first album that Talking Heads made with Brian Eno, More Songs About Buildings and Food, featured a tighter sound than their previous albums. Eno introduced more funk influences into the band's sound, though the album's most significant success was actually a cover of Al Green's "Take Me to the River."
Fear of Music
Talking Heads' third album, and second with Eno, was darker, ominous-sounding, and more experimental. Fear of Music combined several musical genres.
It is best known for the rhythmic, African-inspired "I Zimbra," which features nonsense lyrics by the Dadaist poet Hugo Ball, and the track "Life During Wartime," which the New Yorker once described as "apocalyptic swamp funk."
Talking Heads Commercial Success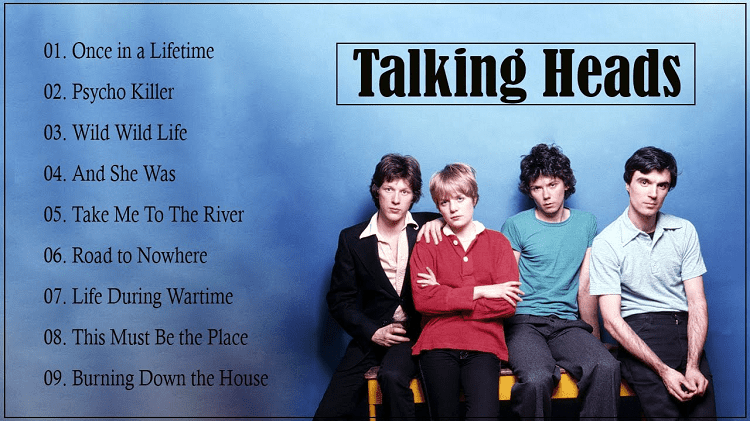 Remain in Light
Although Talking Heads' rise to stardom wasn't linear or necessarily clear (some songs, such as Speaking in Tongues' "This Must Be the Place (Naive Melody)" didn't become hits until years after they were released), I consider 1980's Remain in Light the bridge between relative obscurity and relative fame.
It wasn't until their following album that they would reach the top ten charts, but Remain in Light was something of a turning point for the band.
Talking Heads and Brian Eno took a different approach to create their final album together. Remain in Light was primarily written in the studio.
The band would jam with Eno and then listen to recordings of the session and pick out sections of music that they liked. They would then rework these sections of music and fit them into songs, often looping them.
Once in a Lifetime
One of Talking Heads' most influential and lasting hits, the song "Once in a Lifetime," was formed in this manner. It started as a jam session and was built around Tina Weymouth's bass line. David Byrne modeled his lyrics, singing cadence, and even his dance moves in the music video for the song off tv evangelists.
The song's relatable theme of middle-class monotony and idiosyncratic style has made it one of Talking Heads' most lastingly influential songs. Although it wasn't their biggest hit, it could be argued that it was one of their most impactful.
Talking Heads recorded a music video for "Once in a Lifetime,' which featured David Byrne awkwardly and energetically dancing in front of a bluescreen that was then superimposed with clips of various religious ceremonies.
The video debuted right around the time that MTV launched, which meant it received a lot of air time due to the network's lack of content early on.
Talking Heads — Once in a Lifetime (Official Video)
Hiatus
Following Remain in Light, Talking Heads took a three-year hiatus, during which time members worked on their side projects. Talking Heads launched The Name of This Band is Talking Heads, a double album of live recordings during this hiatus.
Speaking in Tongues
After parting ways with Brian Eno and following their hiatus, Talking Heads' first album launched their first and only US top ten hit, "Burning Down the House."
Speaking in Tongues was synth-heavy and more pop-forward than the band's previous albums. It was still funky but added gospel and blues influences to their stockpile of genres.
Stop Making Sense
If you're reading this article and haven't seen the film Stop Making Sense, I encourage you to stop reading and watch it — or at least make a plan to do so by next week. It's one of the greatest concert films of all time and showcases the energy and quirkiness of the band's live performance.
This film was recorded over three nights at Hollywood Pantages Theater while the band was touring to promote Speaking in Tongues. The film is a cavalcade of Talking Heads hits, punctuated with awkward dance moves and memorable moments, such as Byrne's lamp dance.
One of the most iconic images of the movie comes when, after a song from Weymouth and Frantz's side project, Tom Tom Club, David Byrne appears back on stage wearing a massive, boxy suit. It's a moment that's been parodied in pop culture enough times that I could probably write an entire article on that alone.
Byrne said about the suit, "I wanted my head to appear smaller, and the easiest way to do that was to make my body bigger…music is very physical, and often the body understands it before the head."
Talking Heads — This Must Be the Place (Stop Making Sense)
Little Creatures
The 1985 album Little Creatures was Talking Heads' best-selling album. It was also their most straightforward pop-rock album, featuring less funky and more commercial-sounding songs. The album featured three hits, "And She Was," "The Lady Don't Mind," and "Road to Nowhere."
True Stories
1986's True Stories was a musical comedy film written, directed by, and starring David Byrne. He based the songs and characters for the movie on tabloid stories. The members of Talking Heads appear in the film, and they released a companion album with the same name that was made up of studio recordings of the soundtrack.
The band provided much of the film's soundtrack, though some of the songs are performed by the actors. The song "Wild, Wild Life" from True Stories was Talking Heads' last hit.
Talking Heads — Wild, Wild Life (Official Video)
Naked
Talking Heads' final studio album was softer and less aggressive than their previous work. The band recorded it in Paris and enlisted the help of many guest musicians. It was recorded similarly to their earlier work with Brian Eno, mainly Remain in Light.
The band would spend all day jamming in the studio and, at the end of the day, would select the best recording of the song they were working on. David Byrne didn't write lyrics or vocal melodies for any of the songs until later when he was back in New York.
Breakup
In 1991, three years into a hiatus after the release of Naked, David Byrne announced to the LA Times that Talking Heads had broken up. This was news to other band members, who believed the band was just on one of their periodic hiatuses.
In the years since their breakup, David Byrne has had little communication with other band members. The rest of the band, especially Weymouth and Frantz, expressed that they felt hurt but unsurprised about how the band ended.
Byrne has never cited a specific reason for leaving the band during the peak of their commercial success, but he had been working on increasingly diverse side projects at the time of their split. Frantz and Weymouth released a book in 2020 about their time during and after Talking Heads titled Remain in Love.
Reunion and Rock and Roll Hall of Fame
In 2002 Talking Heads were inducted into the Rock and Roll Hall of Fame. The band reunited to play several songs at the ceremony, but Byrne later said that another reunion was unlikely.
The Heads Controversy
After Talking Heads broke up, Chris Frantz, Tina Weymouth, and Jerry Harrison toured as Shrunken Heads. In 1996 they released an album, No Talking, Just Head, under the name The Heads. David Byrne filed a lawsuit against them to try to get them to stop using the name, but he later dropped it.
Side Projects and Life after Talking Heads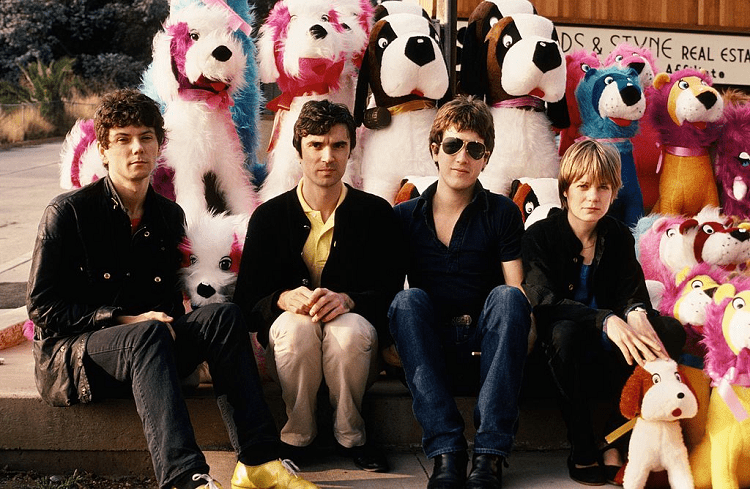 Chris Frantz and Tina Weymouth
Frantz and Weymouth have produced acts such as Ziggy Marley and the Melody Makers and written and performed in their band, Tom Tom Club. They wrote a book titled Remain in Love, which was published in 2020.
Tom Tom Club
Frantz and Weymouth formed their band Tom Tom Club in 1980 to fill the gaps left by the long hiatuses Talking Heads would take during the height of their career. Their song "Genius of Love" was a hit and has been sampled in over a hundred songs. Some favorites are below:
Return of the Mack — Mark Morrison
High Speed — 2Pac and Outlawz
Brick City Mashin'— Redman
Jerry Harrison
Jerry Harrison released several solo albums and produced artists such as Violent Femmes, Live, and The Verve Pipe.
David Byrne
David Byrne has had a prolific career during his time with Talking Heads and since their breakup. He's released several albums, written books, performed on stage and screen, and spearheaded art installations. Below are only a handful of the side projects he's undertaken throughout his career.
David Byrne and Brian Eno
During the time that Talking Heads and Brian Eno were collaborating, Eno and Byrne worked together to release the critically acclaimed studio album My Life in the Bush of Ghosts. It's sample-heavy and more psychedelic than Talking Heads. Years later, they collaborated on a second album, Everything That Happens Will Happen Today.
David Byrne Solo Albums
After Talking Heads broke up, David Byrne continued to release solo albums, including the Afrobeat and Latin music-inspired album Rei Momo and several more straightforward rock albums.
How Music Works
In 2012, David Byrne released his book How Music Works. The book is part autobiography and part music theory.
Love This Giant
David Byrne teamed up with St Vincent to record the album Love, This Giant in 2012. The duo toured with a brass band to support its release and played songs from both of their careers and the album.
American Utopia
David Byrne released the album American Utopia in 2018 and followed it up with a Broadway stage production in 2019. Despite being shut down due to the Covid pandemic, the show was a huge success. A film version of the production was directed by Spike Lee and released in 2020.
Talking Heads Musical Style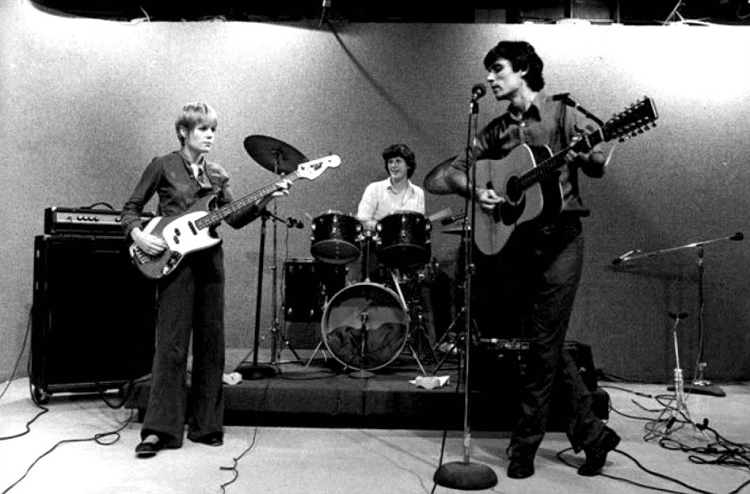 Talking Heads were pioneers of the New Wave style of music and merged punk, art rock, funk, and world music elements in their songs. They became known for their punchy bass lines, distinct and conversational vocals, and quirky, unconventional lyrics.
Legacy
Many artists have been influenced by Talking Heads, covering their material and referencing their aesthetic choices. Some of them include:
Radiohead, who got their name from the song from True Stories.
U2
REM
St. Vincent
Vampire Weekend
Franz Ferdinand
LCD Soundsystem
FAQs
Question: What is Talking Heads' Most Famous Song?
Answer: "Burning Down the House" was the only Talking Heads song to reach the top ten on US charts, but other popular songs include "Psycho Killer," "Once in a Lifetime," and "This Must Be the Place (Naive Melody)."
Question: Are Talking Heads British?
Answer: Talking Heads is an American New Wave/Art Rock band. Although Talking Heads singer and frontman, David Byrne, was born in Scotland, he grew up in Baltimore. The remaining band members were born in the United States and formed the band while living in Rhode Island and New York.
Question: Where did they Get the Name Talking Heads?
Answer: The name Talking Heads refers to TV closeups of newscasters who are "all content, no action.
Final Thoughts
It seems unlikely that I'll ever get the chance to see Talking Heads perform live (though I'm still keeping my fingers crossed,) but their albums will remain on steady rotation in my home.
They somehow managed to make weird art-rock so catchy that it's impossible to get their songs out of your head, not that you'd want to if you could. Talking Heads is one of those bands that will be forever imitated but never duplicated, and the fact that they left fans wanting more only adds to their quirky charm.
Research Citations: