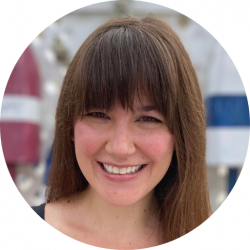 Latest posts by Lauren Vigdor
(see all)
I'm unashamed to admit that I ugly cried the day I found out that Prince had died (and again in a crowded movie theater a few days later during a screening of Purple Rain.) He was one of those rare and unique talents that changed the course of pop culture.
It's nearly impossible to cover an artist as prolific as Prince in a single article. The flamboyant, androgynous sex symbol released 39 studio albums in his lifetime — nearly one a year during the bulk of his career, not to mention all of the live albums, side projects, and songs for other artists he wrote and produced. 
Prince was one of the most influential pop stars of all time, and both produced and inspired an army of disciples. He pushed boundaries both artistically and in business, merging genres, producing his own albums, and often playing all of the instruments on recordings. He set high goals and surpassed them, and achieved things that other artists of his generation hadn't even dreamed of. Prince was a 5'2" tour de force and a once-in-a-generation artist.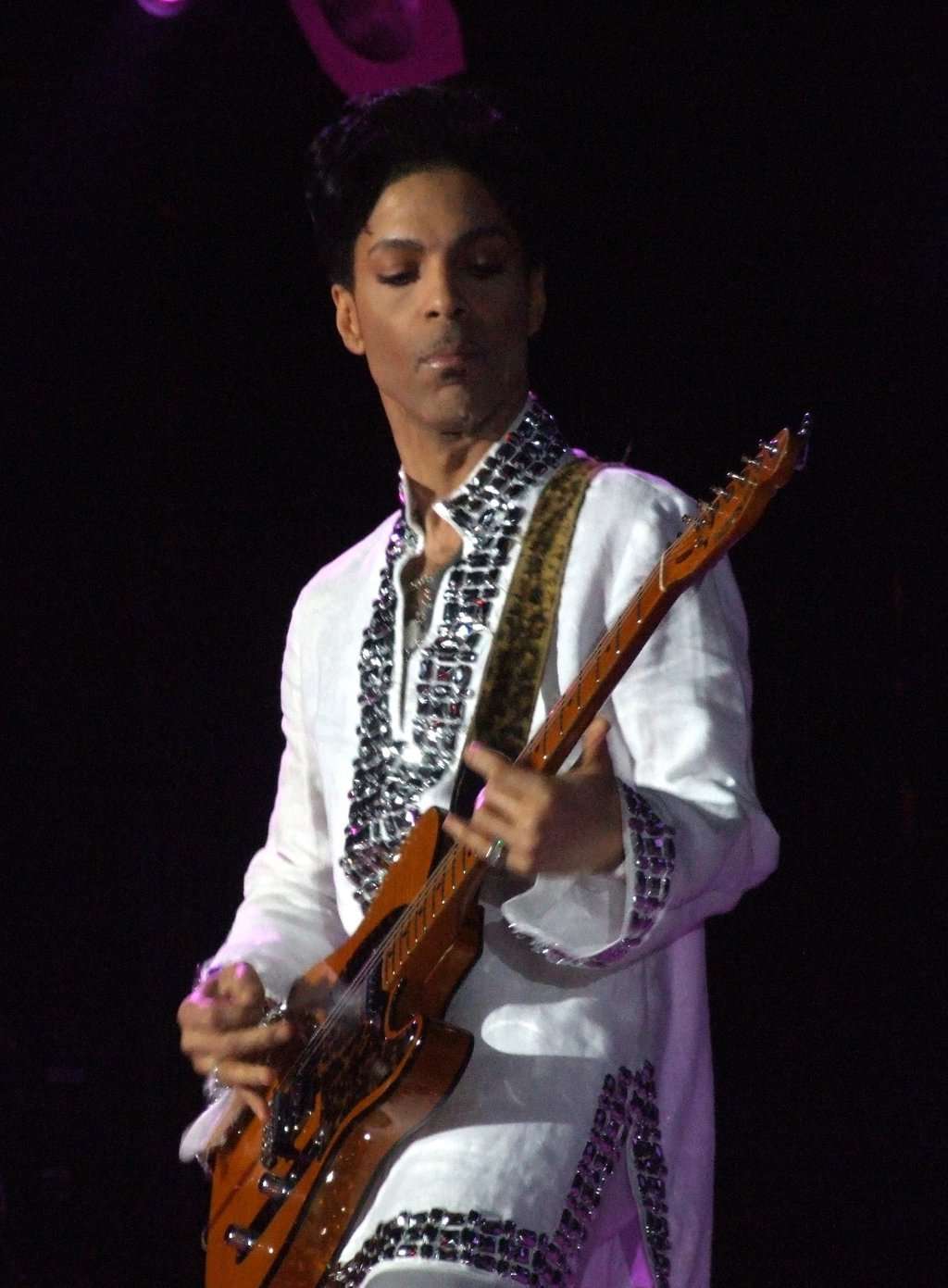 Prince Quick Facts
Full Name: Prince Rogers Nelson
Birth Date: June 7, 1958
Birth Place: Minneapolis, Minnesota, USA
Nick Name: The Artist Formerly Known as Prince, TAFKAP, Camille, The Kid
Nationality: American
Zodiac Sign: Gemini
Siblings: Tyka Nelson (Sister), Five half-siblings
Children: Amiir Nelson (b. October 16, 1996, d. October 23, 1996)
Partner / Spouse Wife: Mayte Garcia (m. 1996, div. 2000)
Wife: Manuela Testolini (m. 2001, div. 2006)
Most Successful Songs / Albums:

Controversy, 1999
Purple Rain
Around the World in a Day
Parade
Sign o' the Times
Lovesexy
Batman
Diamonds and Pearls

Musicology Earnings: More than $300m
Net Worth: $156.4m
Website: Prince.com
Awards: Prince won more than 30 awards during his career, including:

An Academy Award for Purple Rain
7 Grammy Awards
An Induction into the Rock and Roll Hall of Fame in 2004

Last Updated: April 2022
Prince Birthplace
Prince was born on June 7, 1958 in Minneapolis, Minnesota. When not on tour, he continued to live in and around Minneapolis throughout his life and until his death in 2016. 
Prince Parents
Prince's parents, John Lewis Nelson and Mattie Della Shaw met through music. John Nelson, under the stage name Prince Rogers, made a name for himself in the 1950s playing jazz piano. He met Mattie Shaw at a jazz club and enlisted her to sing with his band, the Prince Rogers Trio. They were married in 1957, and Prince, who was named after his father's stage name, was born nine months later. 
Prince's parents separated when the artist was only seven years old and divorced a few years later. Prince primarily lived with his mother but moved in with his father for a brief period when he was 12 years old. By that time, Mattie Shaw had married a man named Hayward Baker. 
Prince Early Life
Prince grew up in Minneapolis and was raised 7th Day Adventist. He played basketball and took ballet as a child and was encouraged to pursue music by his parents. Still, he wasn't comfortable touching his father's piano until after his parents' separation. With his father out of the house, Prince began experimenting on the piano and wrote his first song, "Funk Machine," at the age of seven.
After Prince's mother remarried and had a son with Hayward Baker, Prince spent some time bouncing around between his father and aunt's homes before moving in with family friends, the Andersons.
The Andersons and Grand Central
Prince met André Anderson (later André Cymone) at school, and the two became fast friends. André's parents had been friends with Prince's parents for years — they all attended the same 7th Day Adventists church, and André's father, Fred Anderson, had once been a member of the Prince Rogers Trio. After a disagreement with his father, Prince moved into the Andersons' basement and later credited Bernadette Anderson, André's mother, with keeping him in school and developing his work ethic. 
Prince and André became inseparable, jamming together and listening to the radio in the Andersons' basement. They formed the band Grand Central along with Prince's cousin, Charles "Chazz" Smith, later adding André's sister, Linda Anderson, Terry Jackson, and William Doughty, and eventually replacing Smith with Morris Day. The band gained some local notoriety, competing at Battle of the Bands and performing at community centers. During this time, Prince and his bandmates began to develop their eclectic mix of genres that would later be known as the Minnesota Sound.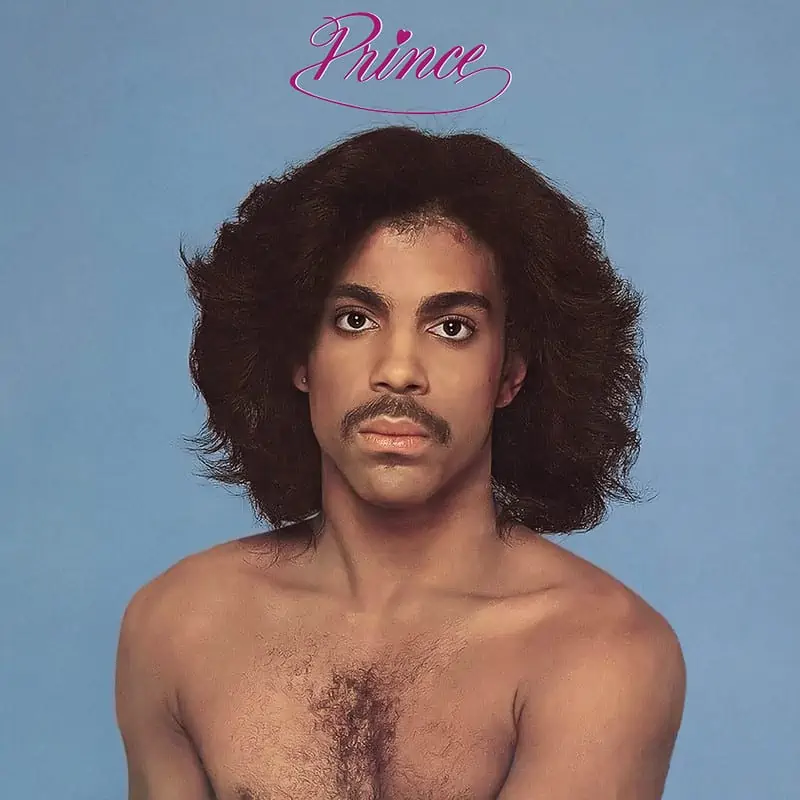 Prince Professional Career
Career Beginnings
Shortly after finishing school, Prince recorded a demo tape with producer Chris Moon. Moon took the tape to a local musician and concert promoter named Owen Husney, and Husney signed on to manage Prince. It was during this time that Prince met Bobby "Z" Rivkin and tapped him to play the drums. 
Prince, André, and Bobby would jam in Husney's office at night, and Husney would shop Prince's demo around by day. Husney eventually procured a three-album deal with Warner Bros. for Prince. It was the largest deal for an untested artist in modern rock history. 
The Warner Bros. executives were awed by Prince's unique style, which combined elements of funk, pop, rock, dance, disco, and jazz music, and the fact that he sang all the parts and played all the instruments on the demo himself. Prince was only 19 when he signed the contract. 
Breakout and Early Success
For You
Prince's debut album For You was released on April 7, 1987. Prince produced the album himself and played all the instruments. In order to tour off the album, Prince formed what he described as a "rainbow band," made up of female, male, black, and white members. André Cymone and Bobby Z were enlisted, as well as new recruits Gayle Chapman, Matt Fink (aka Dr. Fink), and Dez Dickerson. 
Prince, Dirty Mind, and Controversy (1979 – 1981)
Prince's second self-titled album went platinum, and his subsequent releases, Dirty Mind and Controversy, were also hits. During this time, Prince also performed on Saturday Night Live and opened for both Rick James and The Rolling Stones. 
The Revolution
The Revolution was Prince's band from 1979 to 1986, during the commercial peak of his career. Some band members had performed with Prince since his early years, but he had been hesitant to give the band a name. 
The Revolution Early Band Members
Even before the band was named The Revolution, Prince's live band consisted of the following members:
Prince on lead vocals, guitar, and piano

André Cymone on bass

Dez Dickerson on guitar and vocals

Bobby Z on drums and percussion

Gayle Chapman on keyboards

Matt Fink on keyboards
The Revolution Final Lineup
By the early 1980s, several band members had moved on and been replaced. The eventual lineup of the band, which was almost exclusively referred to as The Revolution, was made up of:
Prince on lead vocals, guitar, and piano

Brown Mark on bass

Wendy Melvoin on guitar

Bobby Z on drums and percussion

Lisa Coleman on keyboard and piano

Matt Fink (aka Doctor Fink) on keyboard
Several other members, such as Jill Jones, Susannah Melvoin, and drummer Sheila E also did stints with The Revolution during their later years.  
1999
Prince released the album 1999 in 1982. It was his first album released since naming his band The Revolution and marked the beginning of a period often seen as the height of Prince's career.
The album earned Prince his first Grammy nomination, and music videos for the songs "Little Red Corvette" and "1999" were featured heavily on MTV at the time, making Prince one of the first black artists to be featured on the channel. 1999 is often considered Prince's most influential album of all time.
Purple Rain
In 1984 Prince starred in the film Purple Rain and released a soundtrack album with the same name. The band was loosely autobiographical and starred Prince as "The Kid," a musician juggling regular gigs at a local club with a rocky home life. Other current and former bandmates, such as The Revolution, Dez Dickerson, and Morris Day, act as supporting cast in the film. 
"When Doves Cry" and "Let's Go Crazy," two songs from Purple Rain, made it to number one, and the track "Purple Rain" hit number two on the charts. The album reached 13x platinum and was named the 15th greatest album of all time by Time magazine, and the film received an Academy Award for best original song score. 
Around the World in a Day, Parade, and the end of The Revolution
Prince's following two albums, Around the World in a Day and Parade, were both commercial successes, as were their singles "Raspberry Beret" and "Kiss," respectively. However, Under the Cherry Moon, the companion film to Parade, was a flop. 
The Revolution continued to tour, but after prolonged strain over creative differences — several band members felt they weren't getting the creative credit they deserved, the band ultimately dissolved in 1986 at the end of their "Hit n Run — Parade" tour.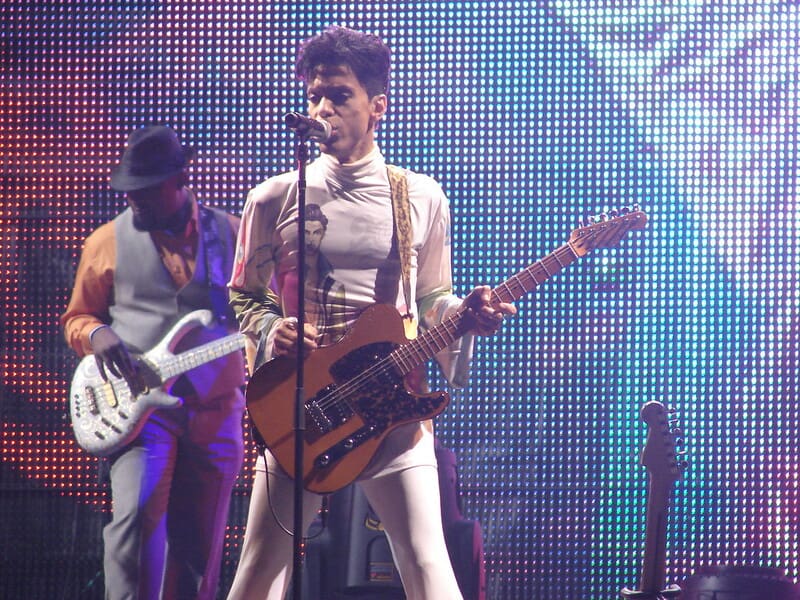 After the Revolution
After The Revolution disbanded, Prince released the double album Sign o' the Times, which repurposed songs from several unreleased projects he had been working on, one of which was a concept album called Camille. Camille featured pitch-shifted vocals, giving Prince's voice a high, androgymous sound. He originally meant to release the album under the artist name Camille, with no indication that Prince was in any way involved. After the idea was scrapped several songs appeared on Sign o' the Times, and more popped up as B-sides to future releases. 
Prince continued to tour with a new backing band, and released the album Lovesexy, which was a solo effort and only featured his backing band on one track. 
In 1989, after being contacted by the director, Prince recorded a soundtrack to the Tim Burton film, Batman. 
Paisley Park Records
Prince founded his first record label, Paisley Park Records, in 1985, just after the release of Purple Rain. It was named after his estate home and recording studio, Paisley Park. 
The label (in conjunction with Warner Bros.) released several of Prince's albums, as well as albums from other artists such as Sheila E, George Clinton, Mavis Staples, and the Time. Paisley Park Records was shut down by Warner Bros. in 1994.
The Love Symbol and The Artist Formerly Known as Prince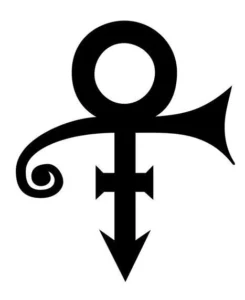 In the early 1990s, Prince felt that Warner Bros. wasn't releasing his backlog of material fast enough. His relationship with the label became contentious, and resulted in him changing his performing name to an unpronounceable symbol (later referred to as "the love symbol.")
Prince's team sent out a mass mailing of floppy disks containing the symbol, which was based on a merging of the male and female symbols, so that reporters could use it to refer to him in print media. Since the symbol was unpronounceable, people began calling him "The Artist Formerly Known as Prince," or simply "The Artist." 
The Artist then began rapidly releasing new material in an effort to fulfill his contract obligations with Warner Bros.
The Return of Prince
The Artist's contract with Warner Bros. was completed in 1996, and in 2000 he officially began going by Prince once again. His first release after being freed from his contract was a three disc set entitled Emancipation. Prince continued to use the Love Symbol as a logo, and even performed with a Love Symbol shaped guitar. 
NPG Records
Prince formed the record label NPG Records (named for his backing band at the time, New Power Generation) in the mid 1990s after Paisley Park Records was dissolved. The label was formed primarily to release his own music, and didn't release nearly as many other artists as Paisley Park had. 
Prince had long been an advocate for his own artistic freedom and didn't like sharing the rights to his music with labels. He later fought against both illegal downloading of music and major streaming platforms. In the early 2000s he almost exclusively released his music online through his personal subscription service, NPG Music Club. The site provided downloads, music videos, and mailed cds to its members. Prince closed the site five years after it launched.
Prince in the 2000s
Prince was inducted into the Rock and Roll Hall of Fame in 2004. Several years later, he performed at the 2007 Super Bowl halftime show during a downpour. It was a performance that Billboard declared the "greatest halftime show ever."
In 2014, nearly two decades after their contentious split, Prince re-signed a contract with Warner Bros. The new contract allowed him to regain ownership of the master recordings he had made during his previous tenure with the record company. 
Prince continued to tour and release music at a breakneck pace right up until his death in 2016. 
Prince Video
Prince — 1999 (Official Video)
Prince and the Revolution — When Doves Cry (Official Video)
Prince and the Revolution — Let's Go Crazy (Live in Syracuse, March 30, 1985)
Prince Performs "Purple Rain" During the Super Bowl XLI Halftime Show
Prince Illness and Death
In 2016 Prince postponed two shows in Atlanta, saying that he had come down with the flu. While flying home the following week, he became unresponsive. His flight made an emergency landing and he was taken to the hospital, but later checked himself out against medical advice.
A few days later, Prince's representatives got in touch with an addiction specialist in California. The following morning, a specialist arrived at Paisley Park to begin treating Prince for opioid addiction, but found the artist's body in an elevator. Prince was pronounced dead at the scene, and the cause of death was later determined to be an accidental overdose of fentanyl. Prince was 57 years old when he died on April 21, 2016. 
Prince Family
Prince had one son, Amiir Nelson, with then wife Mayte Garcia. The baby was born with Pfeiffer syndrome and died just six days after his birth. Prince was not married and had no living children at the time of his death. 
Prince Dating and Relationship History
Prince's dating history was nearly as prolific as his music career. His celebrity exes include Madonna, Vanity, Sheila E, and Sherilyn Fenn. 
Some of his most notable relationships were:
Susannah Melvoin

— Prince dated Wendy Malvoin's twin sister, Susannah, in the early 1980s. 

Kim Basinger

— Prince and Kim Basinger dated in the 1980s around the time she starred in

Batman

. 

Carmen Electra

— Prince dated Carmen Electra in the 1990s, and even helped write and produce her album in 1993. 

Mayte Garcia

— Prince and Mayte met in 1990 when she was just 16. They began dating when she was 19 and married in 1996. Their only son, Amiir Nelson, was born with Pfeiffer syndrome and died just six days after his birth. The couple divorced in 2000. 

Manuela Testolini

— Prince married Manuela Testolini in 2001. They divorced in 2006. 
Prince Controversies or Scandals
Rolling Stones Shows
Prince wore a trench coat and bikini briefs when opening for The Rolling Stones in 1981. He was also the only black performer at those shows, and was forced off the stage on the first night after only three songs because the audience began throwing trash at him. 
Tipper Gore and the PMRC
After hearing her 11-year-old daughter listening to Prince's "Darling Nikki" and being shocked by the lyrics, Tipper Gore was inspired to help form the Parents Music Resource Center, or PMRC.
The organization would ultimately be responsible for the mandatory "Parental Advisory" warning labels found on some album covers.
Contract Dispute with Warner Bros
Prince's relationship with Warner Bros. grew turbulent over the course of the 1990s. Prince felt that he wasn't receiving the artistic and financial control of his music that he deserved.
Things came to a head around the 1995 release of The Gold Experience, when Prince officially changed his name to the Love Symbol, saying that he felt he no longer had ownership of his own name.
He appeared at shows with the word "slave" written on his cheek, and hastily recorded and released music over the course of the next year in an attempt to finish out his contract with the company. 
Estate Battle
Prince died without a will, which prompted a six-year-long estate battle following his death. Six potential heirs, Prince's sister Tyka Nelson and five half-siblings, and the IRS were all involved. The estate was finally settled in early 2022, with the estate passing to three of the siblings and the publishing company Primary Wave, who bought the rights from the remaining three siblings (two of whom had passed since the battle began) the previous year. Prince's estate was valued at $156.4 million. 
Prince Net Worth and Career Earnings
Prince's estate was valued at $156.4 million at the time of its settlement in early 2022. It has been estimated that the artist's career earnings were roughly $300 million. 
Prince Real Estate & Residence History
Prince was born in Minneapolis and lived in and around the city his whole life. Growing up, Prince lived in several houses and apartments around the city.
First with his parents, then with his mom and her second husband, then bouncing between his father's and aunt's homes, and finally settling at the home of the Anderson family. 
First Apartment
Prince moved into his first apartment around the time he began his professional relationship with Owen Husney. It was located in Uptown, Minneapolis, and Prince was able to pay for it with money he made playing music. 
Paisley Park
Prince's Paisley Park estate and recording studio was built in 1987 and was his home for nearly 30 years until his death in 2016. The estate is located in Chanhassen, MN, just outside of Minneapolis.
It's a 65,000 square foot complex that houses a recording studio, concert venue, museum, event space, and residence. Following Prince's death, Paisley Park was opened to the public as a museum and event space. 
Prince's Legacy and Influence
Minneapolis Sound
Prince was a pioneer of what is now referred to as the "Minneapolis Sound." It's a sub-genre of funk that added New Wave influences. The use of both synthesizers and drum machines is common in the genre. 
Associated Artists
Prince wrote and produced music for dozens of other artists, including:
Sinead O'Connor

Madonna

Alicia Keys

Vanity 6

The Bangles

Sheila E

Chaka Khan

The Time

Stevie Nicks

Céline Dion
Artists' Rights
Prince was an advocate for his own rights over creative and financial control of his music. He battled against corporate greed from labels and streaming services, and inspired a wave of artists to take control of their own music.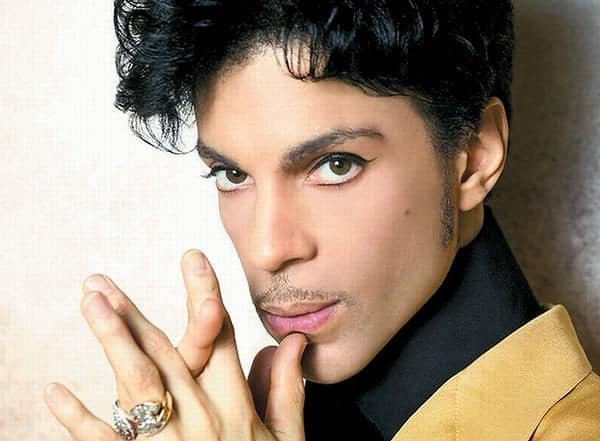 Prince Famous Quotes
"Dearly beloved, we are gathered here today to get through this thing called life." — Prince, "Let's Go Crazy"
"To create something from nothing is one of the greatest feelings, and I would — I don't know, I wish it upon everybody. It's heaven." — Prince
"You don't need a record company to turn you into anything." — Prince
"But life is just a party and parties weren't meant to last." — Prince, "1999"
Prince Discography (Studio Albums)
Title
Release Date
Label

For You

April 7, 1978

Warner Bros.

Prince

October 19, 1979

Warner Bros.

Dirty Mind

October 8, 1980

Warner Bros.

Controversy

October 14, 1981

Warner Bros.

1999

October 27,1982

Warner Bros.

Purple Rain

June 25, 1984

Warner Bros.

Around the World in a Day

April 22, 1985

Paisley Park/Warner Bros.

Parade

March 31, 1986

Paisley Park/Warner Bros.

Sign o' the Times

March 30, 1987

Paisley Park/Warner Bros.

Lovesexy

May 10, 1988

Paisley Park/Warner Bros.

Batman

June 20, 1989

Warner Bros.

Graffiti Bridge

August 20, 1990

Paisley Park/Warner Bros.

Diamonds and Pearls

October 1, 1991

Paisley Park/Warner Bros.

Love Symbol

October 13, 1992

Paisley Park/Warner Bros.

Come

August 16, 1994

Warner Bros.

The Black Album

November 22, 1994

Warner Bros.

The Gold Experience

September 26, 1995

NPG/Warner Bros.

Chaos and Disorder

July 9, 1996

Warner Bros.

Emancipation

November 19, 1996

NPG/EMI

Crystal Ball (released together with The Truth)

January 29, 1998

NPG

The Truth (released together with Crystal Ball)

January 29, 1998

NPG

The Vault: Old Friends 4 Sale

August 24, 1999

Warner Bros.

Rave Un2 the Joy Fantastic

November 2, 1999

NPG/Arista

The Rainbow Children

November 20, 2001

NPG/Redline Entertainment

One Nite Alone…

May 14, 2002

NPG

Xpectation

January 1, 2003

NPG

N·E·W·S

May 26, 2003

NPG/MP Media

Musicology

March 27, 2004

NPG/Columbia

The Chocolate Invasion

March 29, 2004

NPG

The Slaughterhouse

March 29, 2004

NPG

3121

March 21, 2006

NPG/Universal

Planet Earth 

July 24, 2007

NPG/Columbia

Lotusflow3r/MPLSound

March 29, 2009

NPG

20Ten

July 10, 2010

NPG

Plectrumelectrum

September 26, 2014

NPG/Warner Bros.

Art Official Age

September 26, 2014

NPG/Warner Bros.

HITnRUN Phase One

September 7, 2015

NPG

HITnRUN Phase Two

December 12, 2015

NPG

Piano and a Microphone 1983 

(released posthumously)

September 21, 2018

NPG/Warner Bros.

Originals

(released posthumously)

June 7, 2019

NPG/Warner Bros.

Welcome 2 America

(released posthumously)

July 30, 2021

NPG/Legacy
FAQs
Question: What was Prince's real name?
Answer: Prince was the artist's real first name. He was named Prince Rogers Nelson, after his father's stage name, Prince Rogers. 
Question: Why do they say The Artist Formerly Known as Prince?
Answer: In the later years of his contract with Warner Bros, Prince felt that the label had too much control of his art and his name. As a symbolic gesture, Prince changed his name to the unpronounceable "Love Symbol." With no way to pronounce the symbol, people began referring to him as "The Artist Formerly Known as Prince." He went back to the name Prince in 2000. 
Question: What happened to the singer Prince?
Answer: Prince died of an accidental fentanyl overdose in his home, Paisley Park, on April 21, 2016. He was 57 years old. 
Final Thoughts
There's no doubt that Prince was one of the most influential and prolific artists of his generation. His genre-melding career spanned decades. He released dozens of albums and helped launch the careers of dozens of other performers.
Prince's artistic genius truly sent out shockwaves that will be felt in the music industry for generations. His music and influence live on. 
====
Research Citations