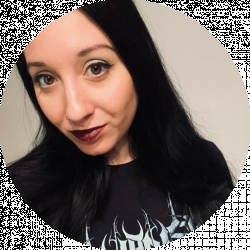 Latest posts by Stephanie Jensen
(see all)
Pink Floyd is one of the most famous rock bands ever. They have sold over $250 million records worldwide and paved the way for forming the progressive rock genre. While buying albums is an essential part of supporting your favorite band, wearing band t-shirts is also very important.
I personally love band shirts because they're a great way to promote an artist and introduce your friends to an album they never listened to. One of my ex-boyfriends was a massive Pink Floyd fan, and I remember him wearing the Animals album shirt. I heard The Wall and Dark Side of the Moon but never heard of Animals. He told me about that album, and I checked it out. Now, it's one of my favorites from Pink Floyd.
Are you interested in buying a Pink Floyd shirt? Should you buy an Animals shirt or another shirt from the band? Here are the best Pink Floyds shirts of all time!
Bottom line up front: The Dark Side of the Moon album cover t-shirt is the main one I recommend. You can either choose the classic t-shirt, the woman's cut shirt, or any of the more unique album cover designs. I attached shirts on the official Pink Floyd website and RedBubble.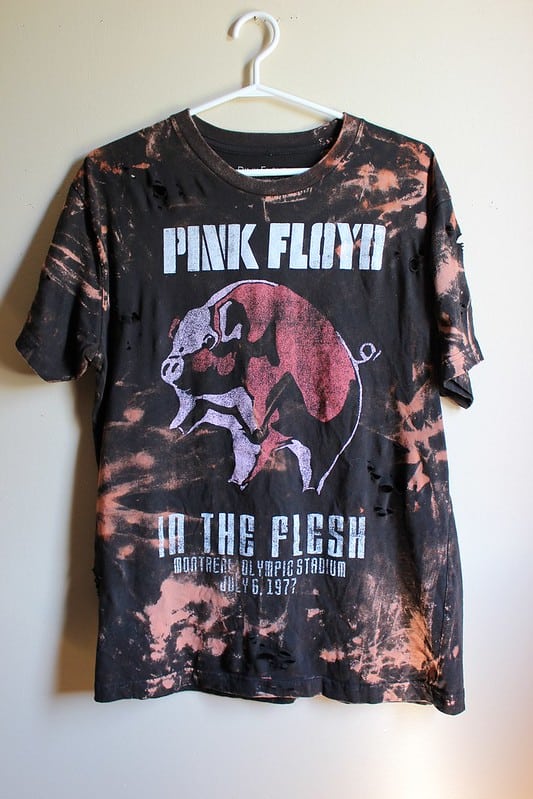 Top Picks Up Front
Best Pink Floyd Shirts of All Time
Pink Floyd has so many great shirts! But which ones should you choose?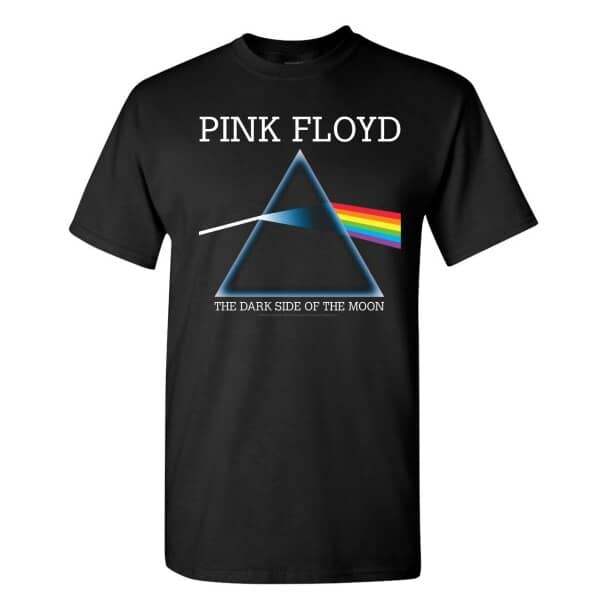 Nothing says "Pink Floyd" more than this iconic album cover. I think whenever anyone thinks of a Pink Floyd, they think of this album. I know that's what I think of! Even if you're not a Pink Floyd fan, anyone can recognize this album cover. That's why this shirt is the very first on my list. The album artwork shows rainbow light reflecting a prism.
The shirt I attached is from the Pink Floyd merch website and shows the classic album cover. I think this is a good start if you're not sure which Pink Floyd shirt to get. I also recommend choosing this one if it's your favorite Pink Floyd album. However, I also recommend you consider other Dark Side of the Moon album shirts. That and reviewers are complaining about long shipping times from the Pink Floyd website.
As an alternative, here's a unique Pink Floyd shirt on RedBubble. I like how this shirt offers different color options. RedBubble is also size-inclusive — this shirt ranges from small to 5XL!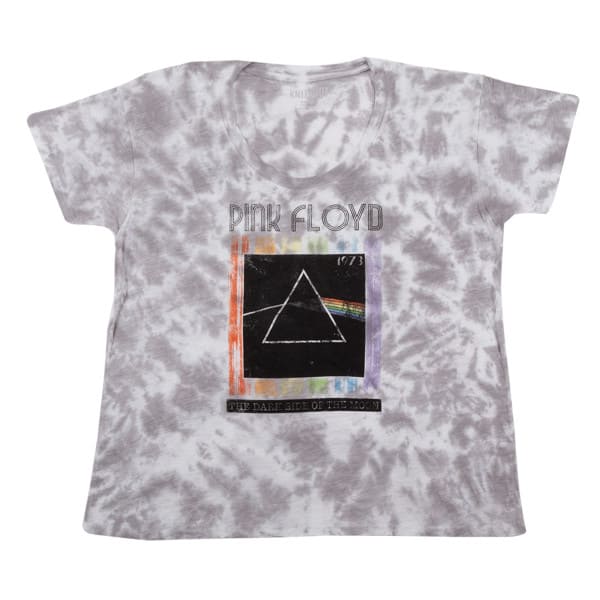 I know I've said this before in similar articles, but I'm a girl and love women's t-shirts. Most men's shirts look so unattractive on us, so finding a form-fitting shirt that fits our bodies makes a world of a difference. That and you can find some awesome and unique women's t-shirts!
Take this one as an example. This shirt features the classic prism logo on a white tie-dye background. Plus, this shirt is on sale for $5! I love finding items on sale, so I suggest you grab this shirt while you can get it at such an affordable price! Keep in mind that this shirt is only available in a medium. However, reviewers are saying that this shirt is sized a little big, so you may want to consider this shirt if you usually wear a large.
Fortunately, the Pink Floyd website also has other women's shirts if you're not a medium. Here is another one on sale that's available in sizes large and XL.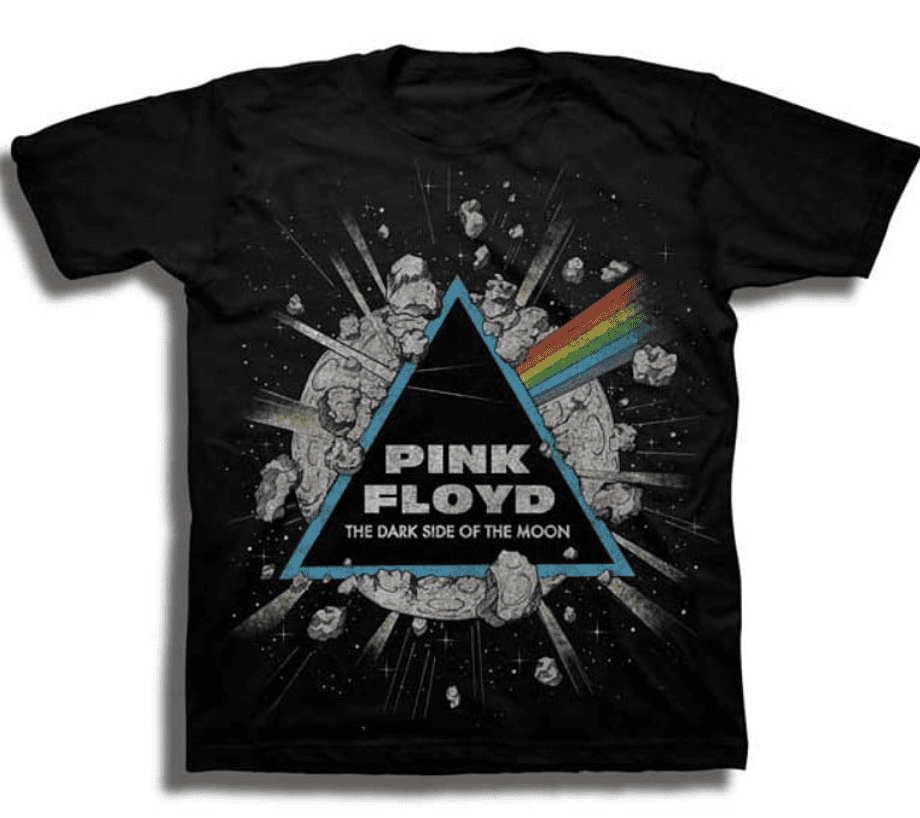 Who said Pink Floyd shirts only need to be for adults? There are plenty of Pink Floyd youth t-shirts. In other words, these shirts will fit kids. I think this design is very unique.
It shows the classic prism logo but over an explosion. I can totally see myself getting this shirt for my nephew when he gets older! If you're not sure which size to get, I like how band-tees.com includes a size chart toward the bottom.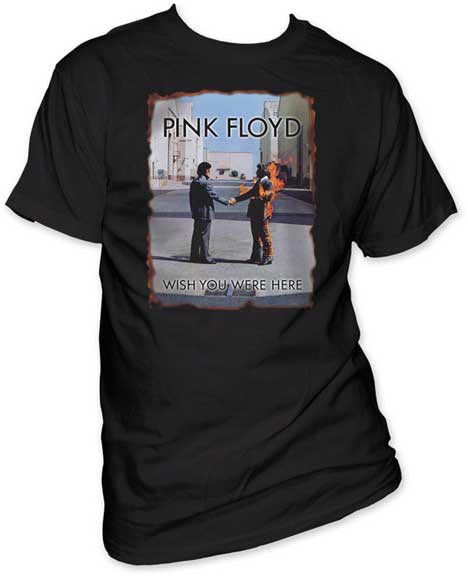 This is an album that nearly every Pink Floyd fan worships, including me! I like how this shirt is the classic album cover — the two men shaking hands with one on fire.
It has a lot of meaning to it. The band on fire represents how people hide their emotions for fear of getting "burned." This is in reference to the music industry; artists may not get paid. They're discouraged from saying anything for fear of their opportunity being handed to someone else.
While this is the classic album artwork, I suggest looking around for more t-shirts from this classic album. For example, here's one from Amazon in white instead of black. I personally prefer black band t-shirts, but I know other people like diversifying their wardrobe colors.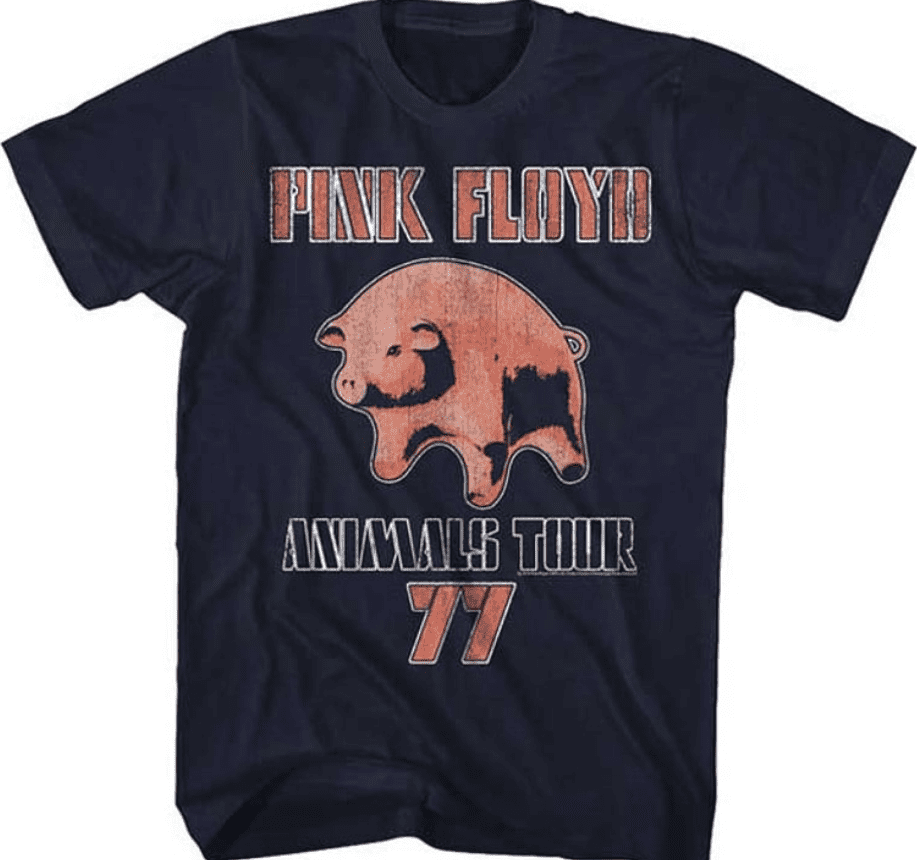 As I stated previously, Animals is one of my favorite Pink Floyd albums. This is also one of the most famous tours that Pink Floyd did. The show featured inflatable flying pigs, which became one of Pink Floyd's staple props during their future performances.
I really like the colors in this shirt. I prefer black t-shirts, though I would totally wear this navy color. The pig is in a pinkish-red color, adding some more color variety here. I also like how inclusive band-tees.com is — this shirt is available in sizes small to 2XL.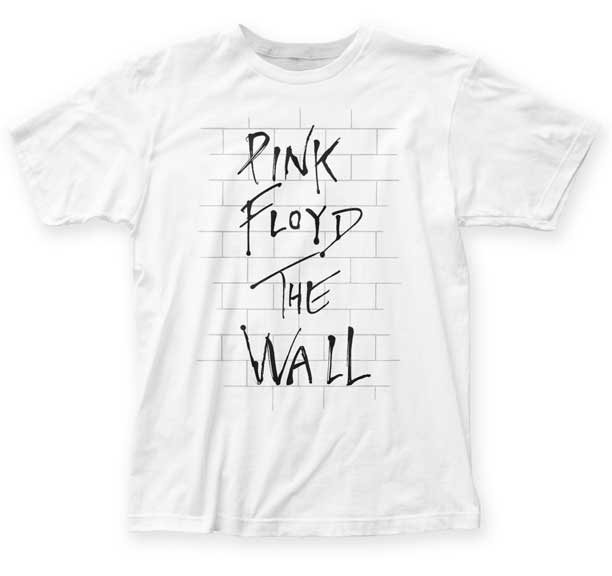 I know I'm committing a rock music crime here, but The Wall has never been one of my favorite Pink Floyd albums. I also wouldn't wear this shirt — again, it's white. Though I did find some better Wall shirt artwork, which I will mention later in this article.
Even though The Wall isn't my favorite Pink Floyd album, I know there are fans who worship this album, so I wanted to include a Wall t-shirt. This is a good one to start with.
As I mentioned, the shirt is white and has the classic brick artwork. I do like how minimalist yet recognizable this shirt is. For example, while Pink Floyd fans know the hammer artwork, not everyone will understand it.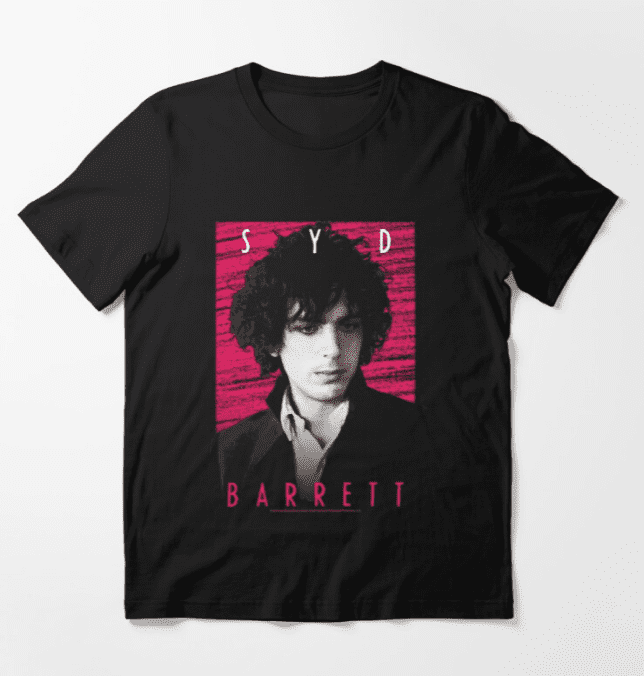 For all Piper at the Gates of Dawn fans, this is your shirt! And RIP to this icon. In case you don't know, Syd Barrett was one of the founding members of Pink Floyd. He was on the first two albums, but the band replaced him with guitarist David Gilmour after Barrett was having mental health problems. Barrett died in 2006 from pancreatic cancer.
While I'm not the biggest fan of this design, I do like how it's an image of Syd Barrett. The image is printed on the front and back of the shirt, which I think is really cool. I suggest going through RedBubble's color options. For example, I actually like this shirt in dark blue better than black.
Keep in mind that this shirt fits a little slim. I suggest going a size up.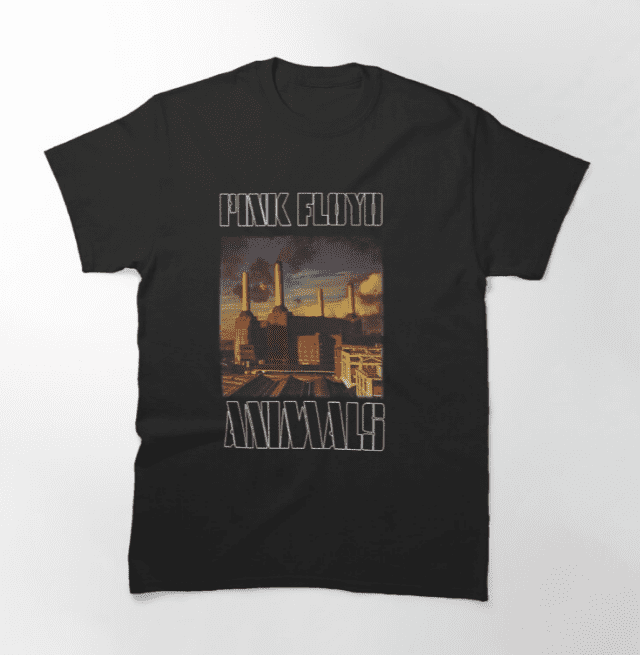 Animals is one of my favorite Pink Floyd albums. I love the cover, especially the cute flying pig. That's why I want to include this shirt as an option. I chose the option from RedBubble because I love all of its customization options. However, I'm not liking the way this design looks in different colors.
If you do want a shirt other than black, I suggest sticking to navy, army green, and brown. RedBubble is also known for making high-quality shirts, so I definitely recommend getting your Animals shirt here.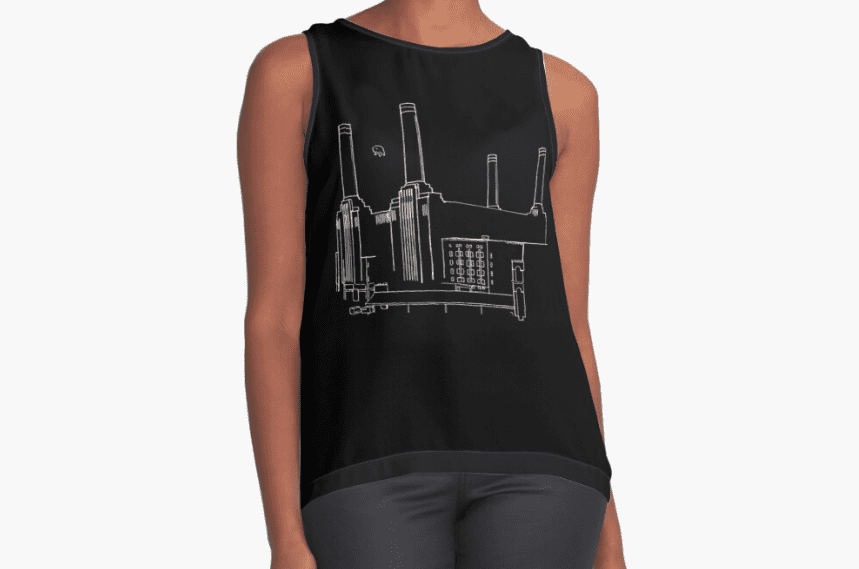 Summer is here, and you may be wanting a new tank top. If that's the case, I suggest this Animals tank top. This one is very cute yet minimalist. Unless you know the album, I don't think a lot of people will even notice it's a Pink Floyd shirt.
I also love the loose casual fit of this shirt. I can see myself wearing leggings with this shirt. The fabric is also thin, so it's a perfect summer shirt.
Usually, RedBubble offers more color options, but this one is only available in black. That's fine for me, but I also found one in gray in case you want to diversify your wardrobe colors.
I do like how RedBubble is more inclusive with their sizing — they even offer an XS size option!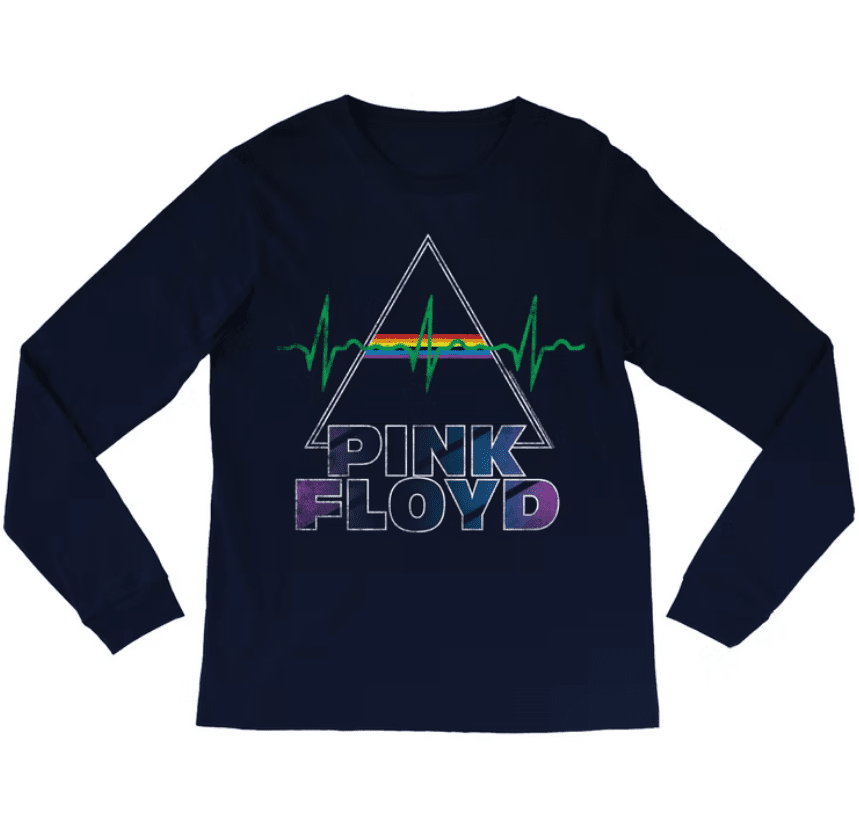 I personally love long-sleeve band shirts. Even though I live in a warm climate, I do tend to visit my boyfriend and family up north, so I always have a good collection of long-sleeve band shirts in my closet.
There are several Pink Floyd long-sleeves you can choose from, though I like this Merchbar exclusive the best. I also like how Merchbar offers different color options and inclusive sizing. Plus, at $30, this shirt is really inexpensive.
As an alternative, here's one from Walmart that I like. It features the robot handshake from "Welcome to the Machine," a design that's one of my favorites. This one is also available in different colors.
At $25, it's extremely affordable. Unfortunately, Walmart isn't the most inclusive company as far as sizing is concerned, so you may want to stick with Merchbar if size inclusivity means a lot to you.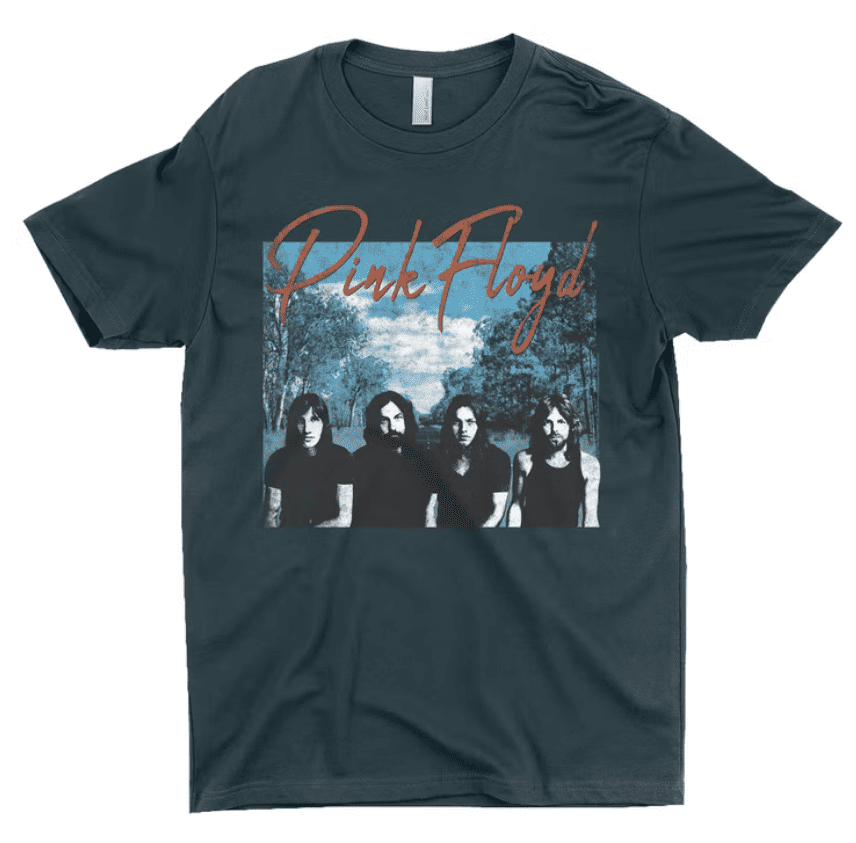 I always liked band shirts that feature an image of the musicians. This one features younger Pink Floyd members superimposed on a forest scene with the band logo on top. I've never seen this shirt before. And at $25, it was pretty cheap!
I'm not sure if I would wear this shirt, though. I like this one better. It's another image of younger Pink Floyd members, but they're superimposed on the Dark Side of the Moon album art.
I just think the design is better and a better representation of the band. Even though I'm a bigger fan of black t-shirts, I do like this one in red!
Continuing on the band members on shirt trend, I do like this one of young David Gilmour. I have to say, he was very handsome! Gilmour is known as one of the most remarkable guitar players in Pink Floyd and also helped write many of the band's songs. Gilmour then led the band, starting with the album A Momentary Lapse of Reason. He also released a couple of solo albums.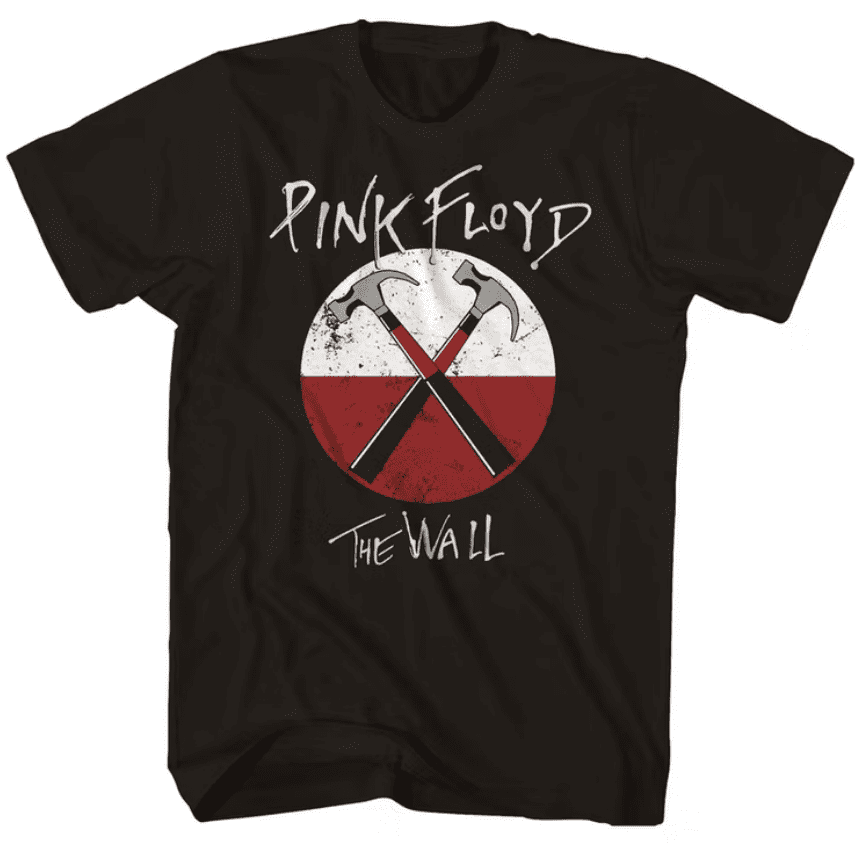 If you've seen the movie The Wall, you probably remember the marching hammers scene. The hammers represent constructing the wall — the physical embodiment of a person's role in society ("All we are is another brick in the wall").
The hammers are marching on a battlefield. That's why the hammers symbolize different things: 1. Building a destructive society, 2. The destruction of war, 3. Can also be seen as the endpoint of society (destroying the wall with hammers).
This is why these hammers are some of my favorite imagery from Pink Floyd, and I wanted to recommend a shirt that features the hammers. Merchbar doesn't have as many sizes and color options as they usually do, so here's another option from RedBubble. I especially like how this shirt is durable. I do wish the RedBubble shirt featured the Pink Floyd logo.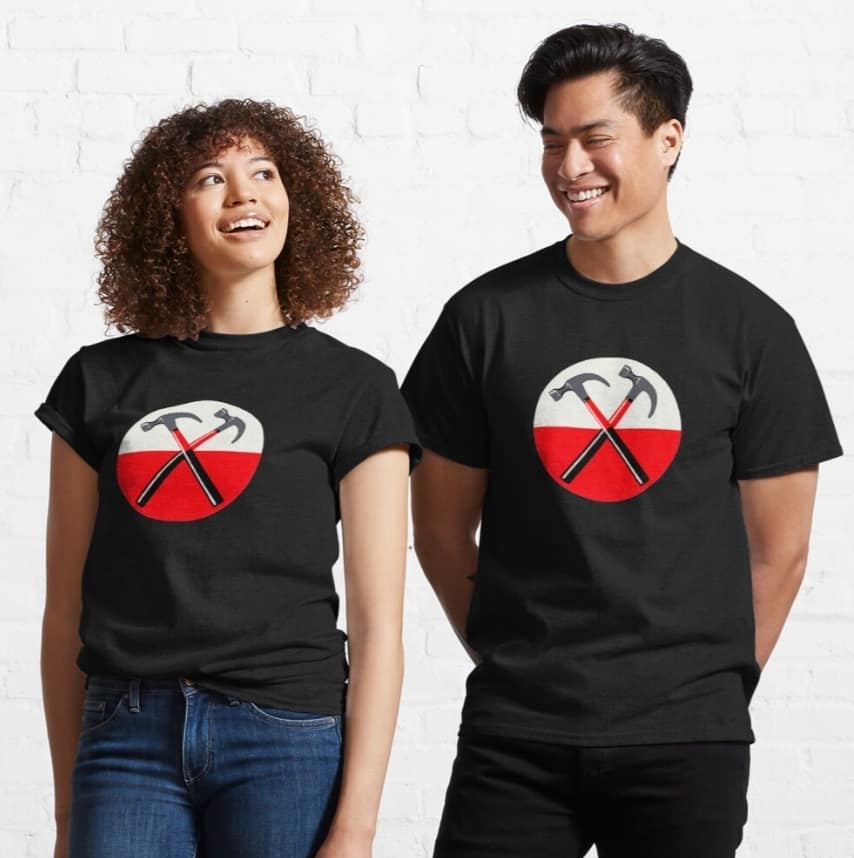 "Welcome to the Machine" is a Pink Floyd song from their Wish You Were Here album. The song is actually the band's response to labels, producers, management, and more who are taking money from the band. I'm actually hearing that the way Floyd's music was treated in a business sense contributed to Syd Barrett's mental health collapse — I thought it was drugs.
"The machine" symbolizes the way the music industry is looked at in a business sense: the band making music, the fans who buy into that music, and those in the industry who profit from their music. That's why this is one of my favorite Pink Floyd songs.
The artwork is also a favorite of mine. It features two robot arms shaking hands. This shirt features the real graphic and is available in various colors. Keep in mind that many also call this the "Wish You Were Here" artwork. But since the album artwork features two men shaking hands with one man on fire, fans often call this artwork the "Welcome to the Machine" design.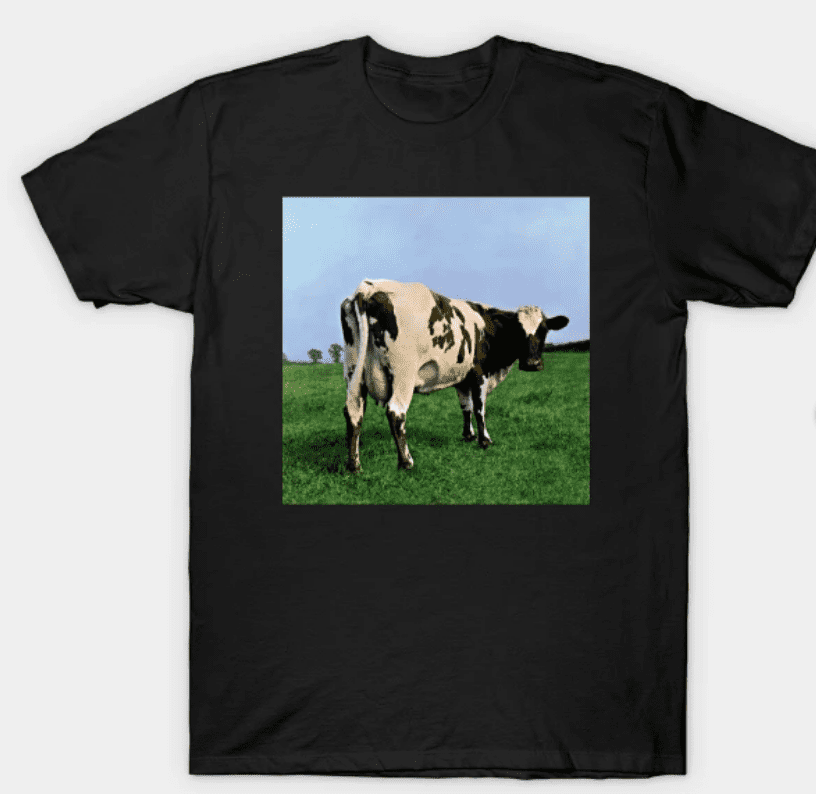 Atom Heart Mother is a Pink Floyd album that's all the way in their back catalog. It was actually dismissed by most critics and even the band. Still, I think it's one of their best albums and is seriously underrated. Released in 1970, it is a bizarre album that signifies the transition from Pink Floyd's psychedelic days to their more artistic approach to rock music.
One of the most stand-out aspects of the album is the cover, which is a cow's backside. Surprisingly, this cover doesn't have much meaning except the band not wanting another general psychedelic album cover.
I love cows and think they're absolutely adorable, which is why I love this album cover. And since it's such a great album, that makes this shirt even better. I also love how Tee Public offers different customization options.
You can also get this shirt in a man's and woman's fit, and you can even choose the type of shirt you want. Tee Public gives you several material options, such as an eco-friendly material, which is something I really like!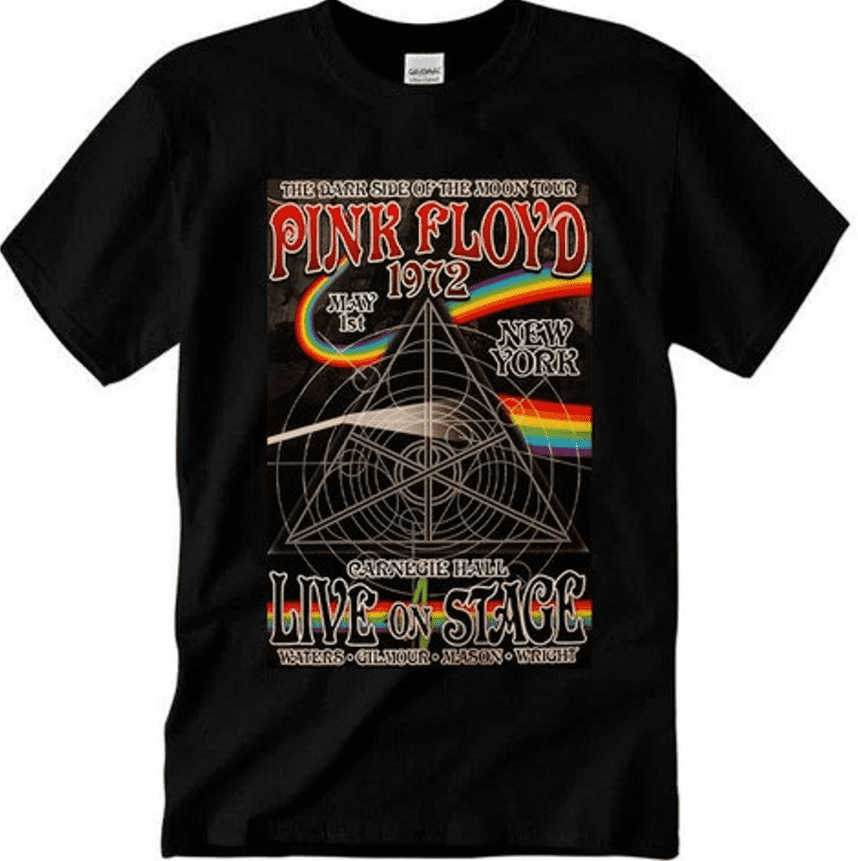 Keep in mind that this isn't a legitimate vintage concert shirt. Rather, it's a replica of a show that Pink Floyd played at Carnegie Hall in 1972. Still, this shirt symbolizes this iconic show, and I really love the design. Since it's a replica, this shirt is more affordable than a legitimate 1972 concert t-shirt.
However, I'm wary about buying band merchandise from Etsy unless it's a unique item (such as a Christmas ornament). Reading the reviews, people have been complaining about the shirt materials and the way the colors look. I just wanted to include something from Etsy because I know there are many people who love supporting small business owners.
If you don't buy a shirt from the band, I suggest looking at reputable t-shirt companies such as RedBubble and Tee Public. They not only make high-quality shirts but also offer various customization options.
As an alternative, here's a 1972 Carnegie Hall concert replica shirt from Rockabilia. I've ordered from Rockabilia many times, and they have always been great. Their merch is all officially licensed and is all high-quality — I've had some of their shirts for 10+ years!
FAQs
Question: What does the prism symbolize on the Dark Side of the Moon album cover?
Answer: The band chose a prism because triangles represent ambition and thought. However, the band also left this open to interpretation. Everyone has their own definition of the prism on this iconic album cover. Some think it signifies psychedelic culture. Others think the prism represents life. I'm also reading that prisms represent unity.
Question: Is The Dark Side of the Moon a good album?
Answer: Dark Side of the Moon is one of Pink Floyd's most significant albums. This is the album that brought the band success. To this day, it's their best-selling album. The album is a concept that explores different topics such as greed, mental health, and life. It's a beautiful album but is haunting. I personally think this album is a masterpiece and every song is amazing.
Question: Is Wish You Were Here a good album?
Answer: Wish You Were Here has many concepts. The title track and song "Shine on You Crazy Diamond" are dedicated to former Pink Floyd member Syd Barrett. Still, the whole album deals with themes of absence, betrayal, and alienation. The band was also highlighting the problems with the music industry and the greediness behind it.
Question: Is The Wall a good album?
Answer: The Wall is known as one of Pink Floyd's greatest albums. It's a very personal album to Roger Waters, who suffered from isolation and loneliness. However, the album takes a sharp jab at the system. The lyrics surround problems with every major institution, from schools all the way to the government. There was also a film, The Wall, inspired by this album.
Question: What are the best Pink Floyd songs?
Answer: Here are some of Pink Floyd's best and most famous songs:
"Money"
"Time"
"The Great Gig in the Sky"
"Wish You Were Here"
"Shine on You Crazy Diamond"
"Another Brick in the Wall"
"Comfortably Numb"
"Pigs (Three Little Ones)"
Question: Does Pink Floyd still tour?
Answer: Yes, and the band is still active. As far as official members go, I just think it's really only David Gilmour and Nick Mason. Ever since Roger Waters left in the 80s, he has reunited with the band occasionally. Still, I just think he's doing his own solo thing now.
Question: What does the Animals album symbolize?
Answer: Pink Floyd took a lot of inspiration from the George Orwell novel Animal Farm. The pigs are leaders, the dogs are wealthy businessmen, and the sheep are normal people who do what they're told. The album as a whole discusses moral and social decay, stating we're all merely animals at the end of the day.
Bottom Line
Pink Floyd has so many great shirts, and it can be challenging to choose the one you want. If you're still unsure of which shirt to get, I suggest choosing the classic Dark Side of the Moon shirt. It's an iconic album, and anyone can recognize this artwork. It's also the best shirt to choose if this is your favorite Pink Floyd album.
I hope I helped you find the best Pink Floyd shirt!