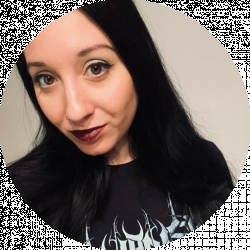 Latest posts by Stephanie Jensen
(see all)
With Led Zeppelin's legacy, it's no wonder why they have killer merch for sale. And this decades-old band has lots of vintage merch around — one shirt even sold for $10k! I have a Led Zeppelin shirt but I got it from my dad. It's still a shirt I've never seen before — it's a black shirt with the band members in a blue color. It's so cool! But I made sure to find some unique shirts for this list.
Are you in need of a Led Zeppelin shirt? There are so many great Led Zeppelin shirts out there! But first, you'll need to learn some band merch buying advice. If you don't buy a shirt directly from the band, make sure it's 100% licensed.
The shirt should also be made in your home country to ensure the quality is up to par. Otherwise, you have limitless Led Zeppelin shirt options — from simple to really complex and psychedelic. You can find vintage tour shirts or classic shirts with the band's logo. If neither appeals to you, you can find so many Led Zeppelin shirts with cool and trippy artwork.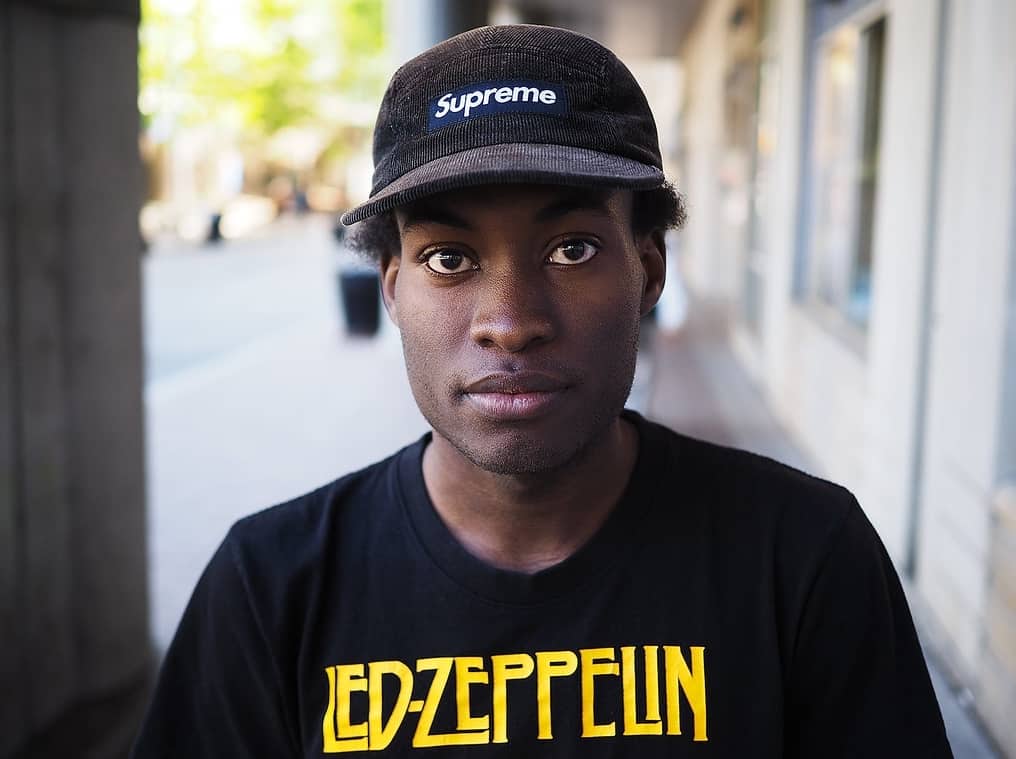 From their album artwork to other designs, you have many options when finding that Led Zeppelin shirt. Here, I will offer my favorite Led Zeppelin shirts and will offer some advice to choose the next best shirt for you. Let's get started!
Bottom Line Up Front
Out of all of these shirts, I like The Hermit shirt the best. It's such classic artwork and I think it's so cool looking. I also have this design as a poster, so it's a staple for all Led Zeppelin fans.
Top Picks Up Front
Tips to Select the Best Led Zeppelin Shirts
The best tip to know about buying a Led Zeppelin is whether or not it's authentic. This is especially important if you're buying a vintage shirt since some newer Led Zeppelin shirts look like originals.
Since Led Zeppelin was active in the 70s, you'll want to look for details that were true to that time period. This includes shirt materials and printing companies that existed during that time. Don't overlook fastenings (buttons, zippers, etc.) and stitching.
Even if you don't care if a shirt is vintage or not, you'll want to ensure your shirt is licensed. Licensing is an easy way to know you're supporting the band. Guitarist Jimmy Page owns 80% of the Led Zeppelin band, so you can rest assured knowing a part of the sale is going into the guitar player's pocket.
In addition to these best practices, you'll want to consider the right shirt design. Do you want a shirt with a picture of the band? Or maybe their album artwork? You should consider the shirt design you don't want. For example, maybe you see artwork or a design that you see all the time.
How I Chose the Best Led Zeppelin Shirts
First, I want to say there are no true vintage shirts here. These are hard to find and are extremely expensive — at least a couple hundred dollars for one shirt.
However, I will include a combination of different album artwork designs in addition to vintage-inspired tour shirts, artwork, and more. I also included shirts that feature a photo of the band members, just to diversify the selection. All of the shirts I'm suggesting are from reliable stores such as Amazon, Rockabilia, or Hot Topic — most of these stores I've shopped at personally. I did go the extra mile to ensure they're all licensed.
The Best Led Zeppelin T-Shirts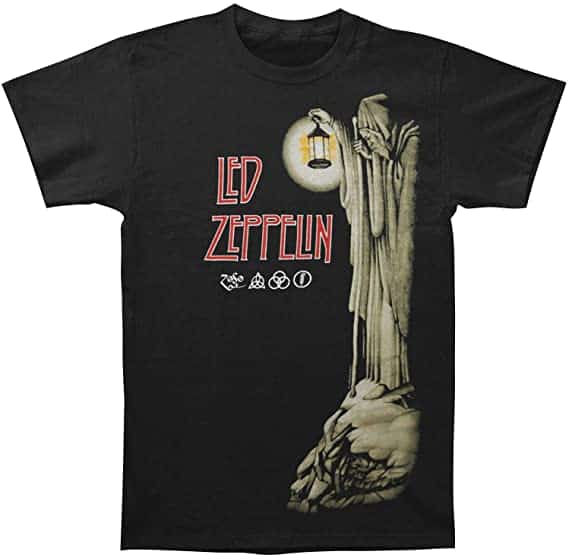 This one is an absolute classic, from the Led Zeppelin IV album. The shirt features The Hermit artwork and Zoso logos underneath. I think this shirt is such a classic and is a staple for all Led Zeppelin fans. The shirt is officially licensed and made with 100% cotton, so the shirt is durable without feeling too heavy.
Graphics were applied using screen printing techniques. From reading reviews, this shirt is sized a little big. I would order a size smaller, unless you like your shirts on the baggy side. Many reviewers said the shirt has lasted them a long time and has a great print.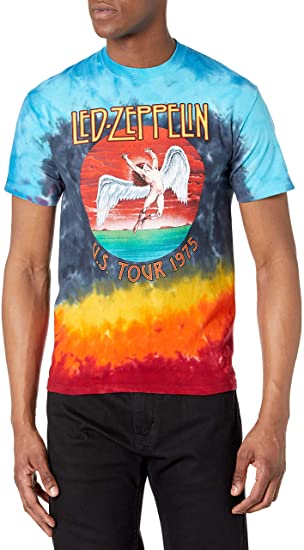 I never heard of Liquid Blue but I think this company is so interesting! Liquid Blue is a brand that sells a variety of licensed band merch made in the USA. They started their business in a Grateful Dead parking lot and now sell tie-dye merchandise for all of your favorite bands.
This shirt is unique because it features Led Zeppelin's classic Icarus design on a tie-dye print. I'm not the biggest fan of tie-dye so I wouldn't wear this shirt, but I would definitely give it to a Led Zeppelin fan as a gift!
This shirt is 100% cotton and has a crew neckline. You can machine wash and dry the shirt. The shirts are all made with fiber-reactive dyes so the shirts have amazing color retention. This shirt is a men's size but Liquid Blue also sells plus size, women's, youth, and baby clothing.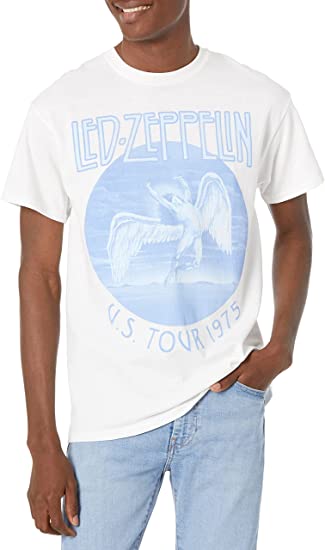 This shirt was inspired by a US tour the iconic band went on in 1975. The shirt is white and features a slightly faded Icarus design in blue. I'm not a fan of white shirts so I wouldn't wear it myself, but I would give this as a gift to another Led Zeppelin fan.
The shirt is made of 100% cotton. Even though the colors are light, you can still machine wash this shirt. This shirt is a part of the Official Led Zeppelin Collection and is licensed.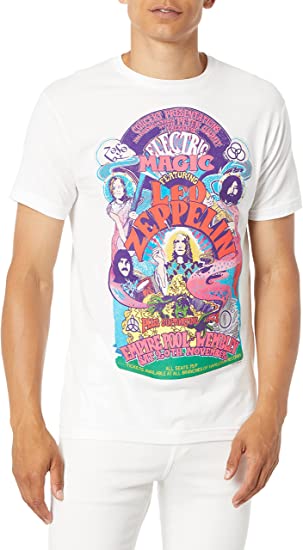 This shirt has an awesome and trippy design! I love psychedelic artwork so this shirt definitely appeals to me. The shirt itself is white but features a drawn portrait of all four members with psychedelic artwork. The shirt is made with 100% cotton. Even with the colorful design, it's still safe to wash and dry in the machine. It's a part of the Official Led Zeppelin Collection and is licensed.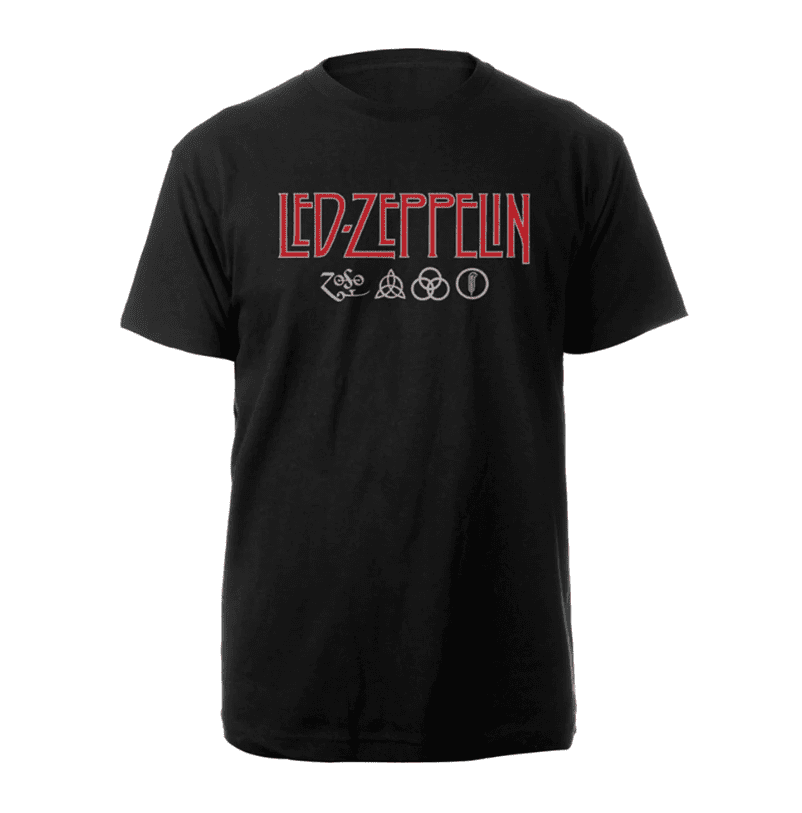 Are you looking for a simple Led Zeppelin shirt? If so, choose this Logos and Symbols T-Shirt.
Honestly, simple shirts like these are my favorite band shirts. It's a black shirt that features the Led Zeppelin logo across the top with the Zoso logos underneath. The sizes range from small to 2XL. Looking at the size chart, the shirt should be true to size. It seems like Rockabilia is selling a lot of this shirt, so I suggest buying it now if this is the one you want!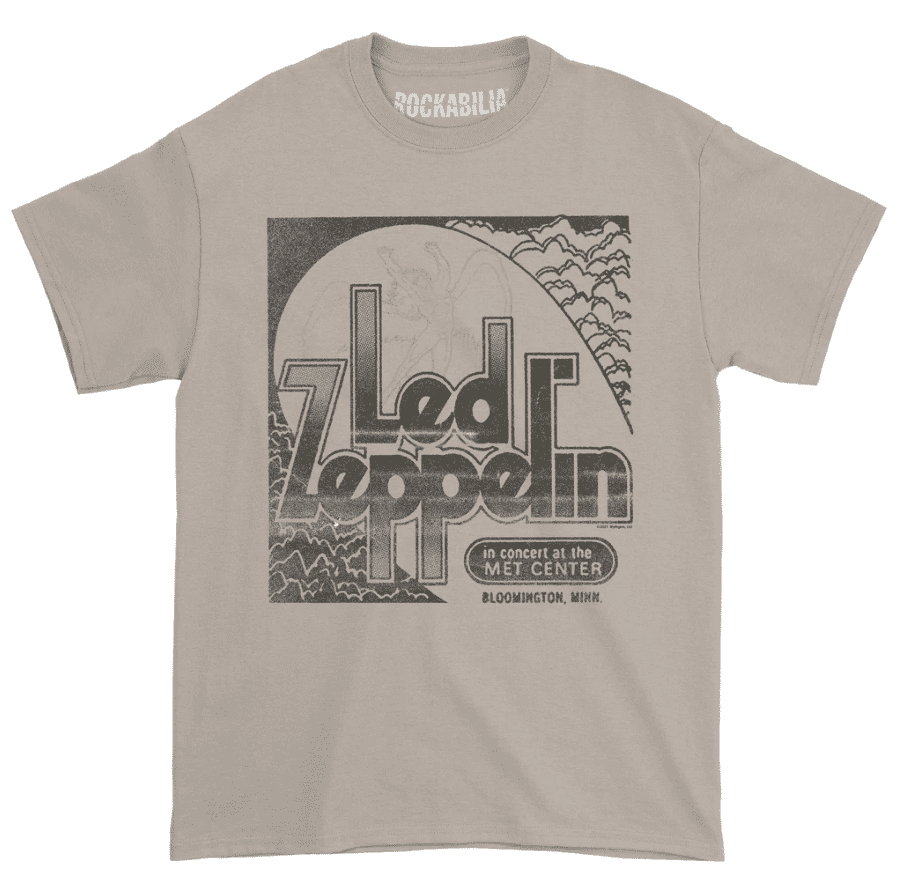 I think this shirt is unique because of its sandy brown color. It features a vintage-inspired design promoting one of their concerts in Minnesota. This is an exclusive shirt only sold at Rockabilia. The shirt size ranges from small to 2XL and is true to size.
All of the merch sold at Rockabilia is officially licensed and they only sell merch from the Official Led Zeppelin Merchandise Collection. They also sell hoodies and other types of Led Zeppelin merch, so I suggest considering those merch items, too.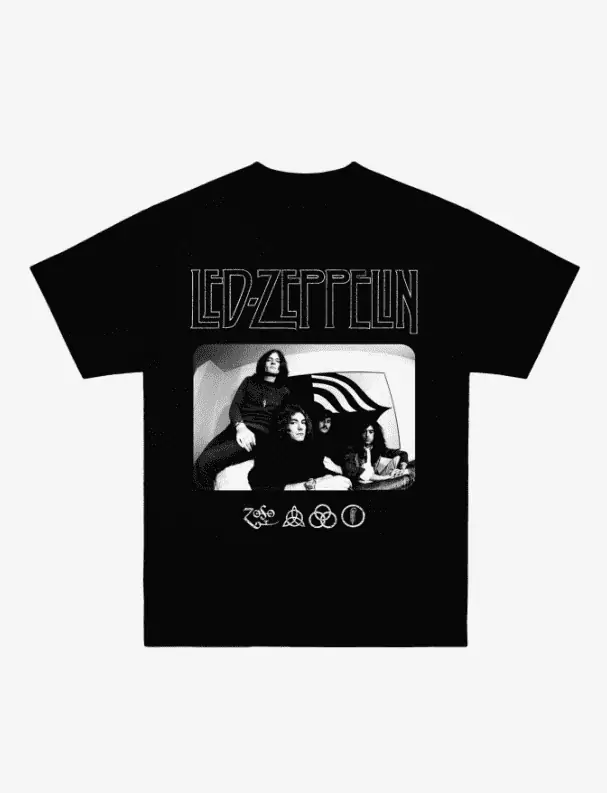 I like this shirt because it features a printed portrait of the band. I don't feel like we see enough of this type of shirt so this one is another one of my favorites on this list.
The shirt is entirely in black and white, finished with the band logo on top and the Zoso logos at the bottom. You can wash and dry this shirt, but make sure you wash it in cold water and dry it on low heat. It's made of 100% cotton.
This shirt is unisex sized and is available in sizes XS – 3XL. Looking at the size chart, it does run a bit small — especially if you're a girl. This shirt is sold by Hot Topic and all of their merchandise is officially licensed.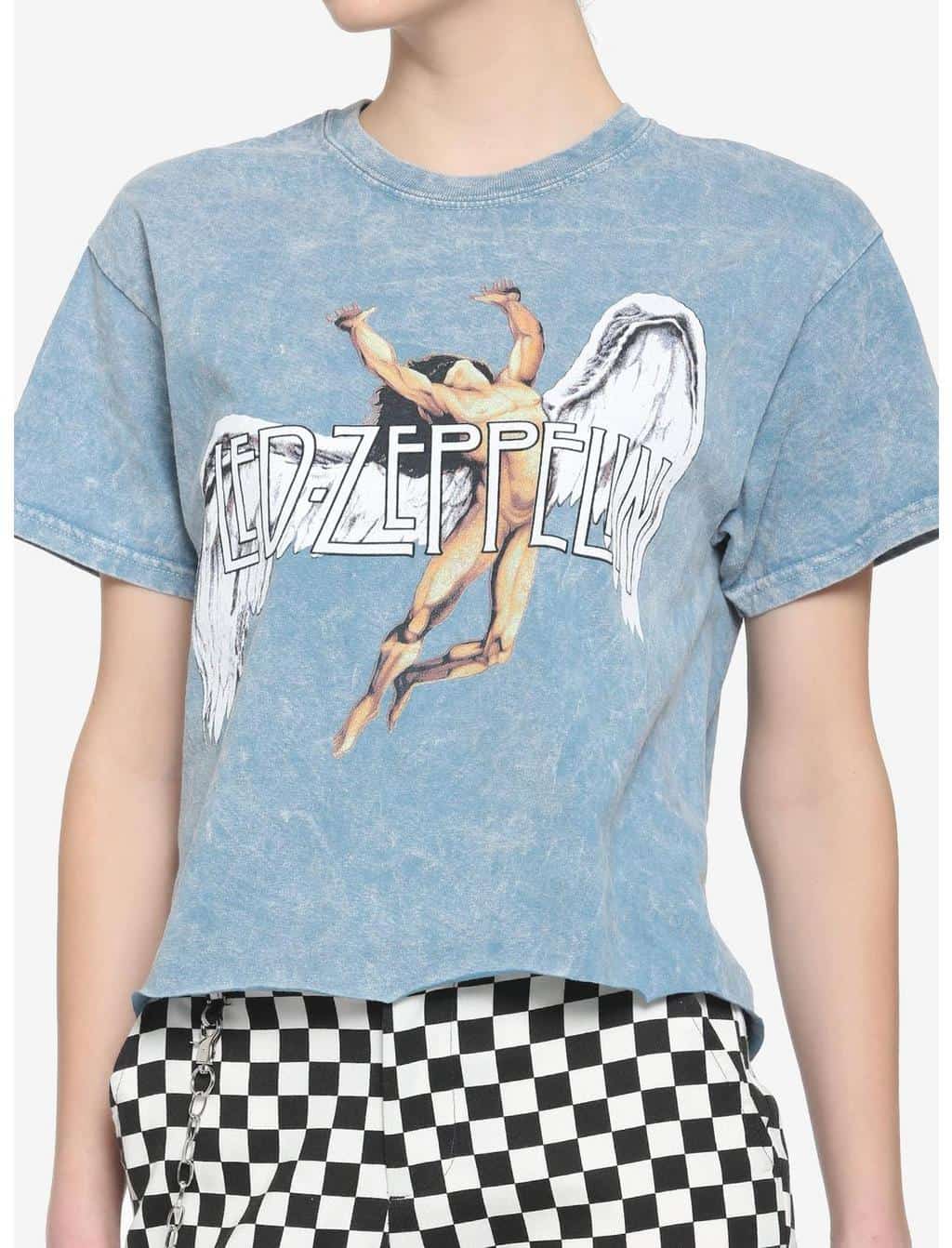 I know I've been including the Icarus logo a lot here, but I had to include this shirt because it's a girl's top. Coming from a girl myself, it can be hard to find merch that fits our bodies. That's why I had to include this one here. Plus, it's a crop top. I think crop tops are so chic and look good on so many women!
This shirt is unique because it's sky-blue, making the Icarus design stand out more. I personally wouldn't wear a sky blue shirt but I know a lot of girls like this color. Hot Topic makes this shirt in sizes XS – 3XL, though they're out of XS.
Since these are women's sizes, it's best to check the size chart because every store is so particular with women's clothes sizes. From my experience shopping at Hot Topic, their clothing is pretty spot-on to fit the average western woman's body. For example, according to my measurements, I would wear a Large in this shirt, which is pretty accurate. I often have to buy clothes from other stores in 2XL because the sizing is so weird.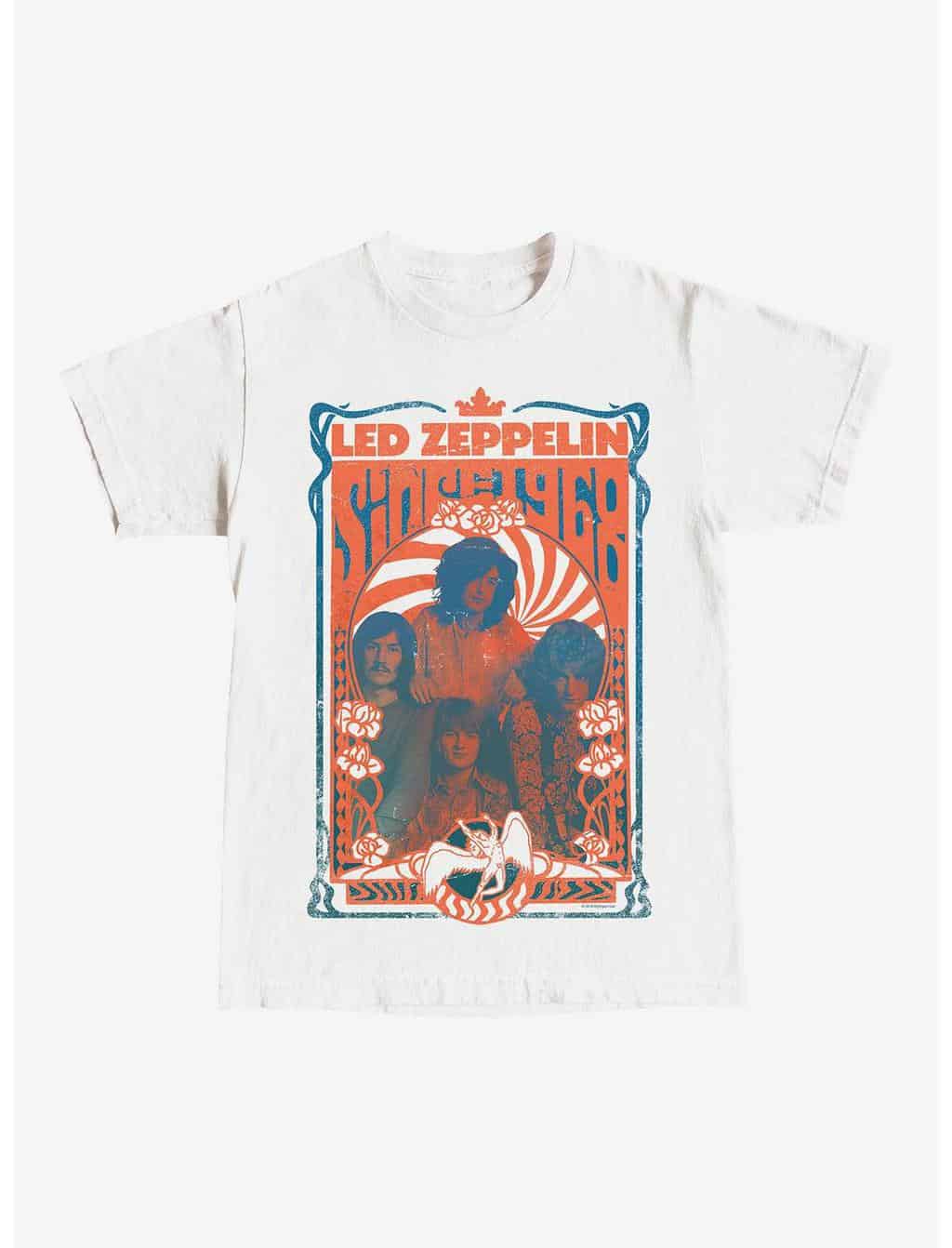 This is a really unique girl's shirt. I'm honestly not the biggest fan of white shirts, but this is a good option if you want more band shirt diversity aside from just black shirts. The design is a band portrait in orange with blue details. The Icarus is at the bottom and the text "since 1968" is above the band.
To maintain the colors, I suggest washing this shirt in cold water and dry on low heat. It's made of 100% cotton. Even though the shirt says "girls," it's technically unisex but available in junior sizes.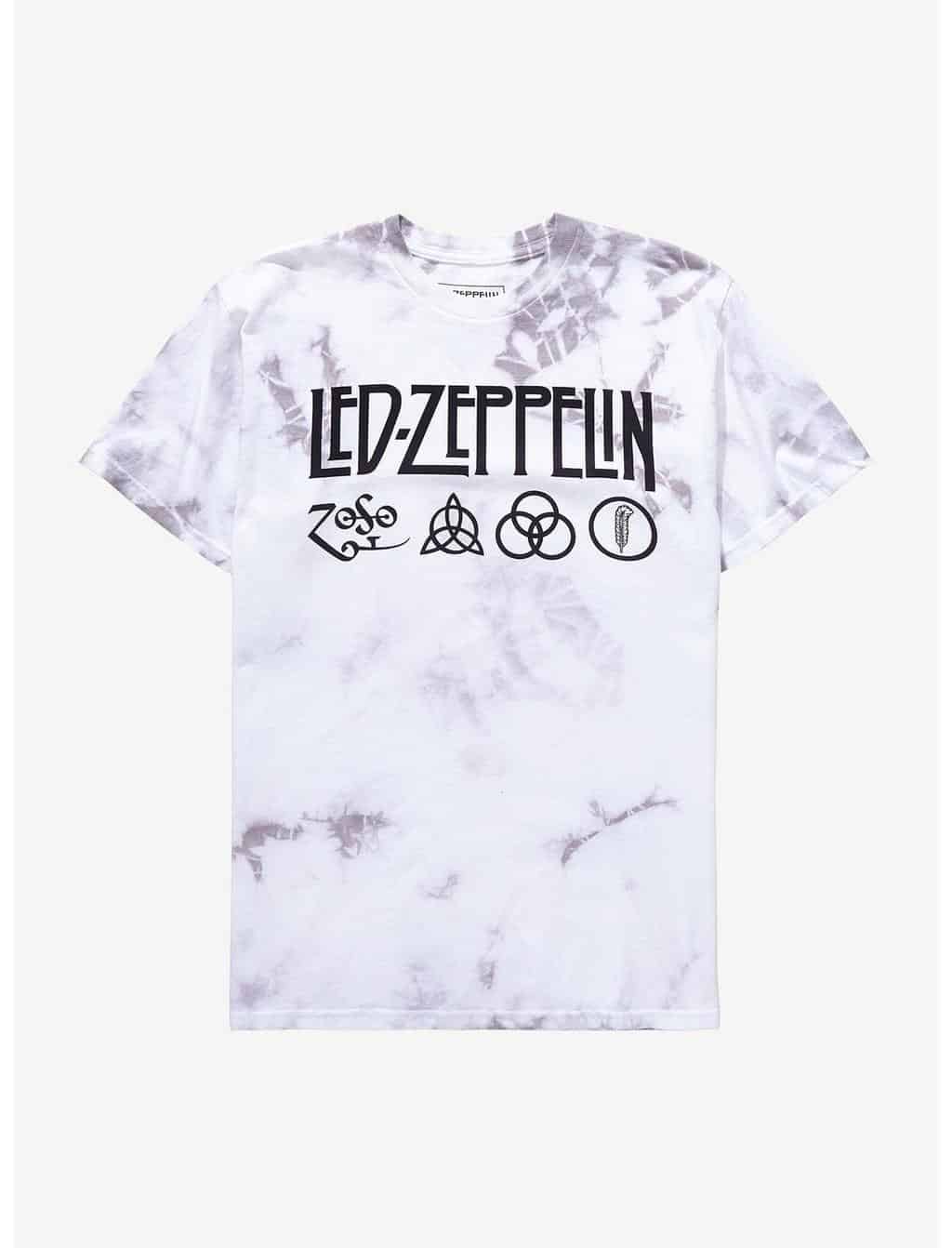 This is a better option if you don't want another black band shirt. Plus, it's adult unisex, so it can fit both men and women. The shirt is white but has gray tie-dye graphics. Even though I've said I'm not the biggest fan of white shirts and tie-dye, I do like the gray tie-dye effect here. The only design is the band's logo and Zoso symbols in black. It's made of 100% cotton. While it's a unisex shirt, the shirt is listed in men's sizes.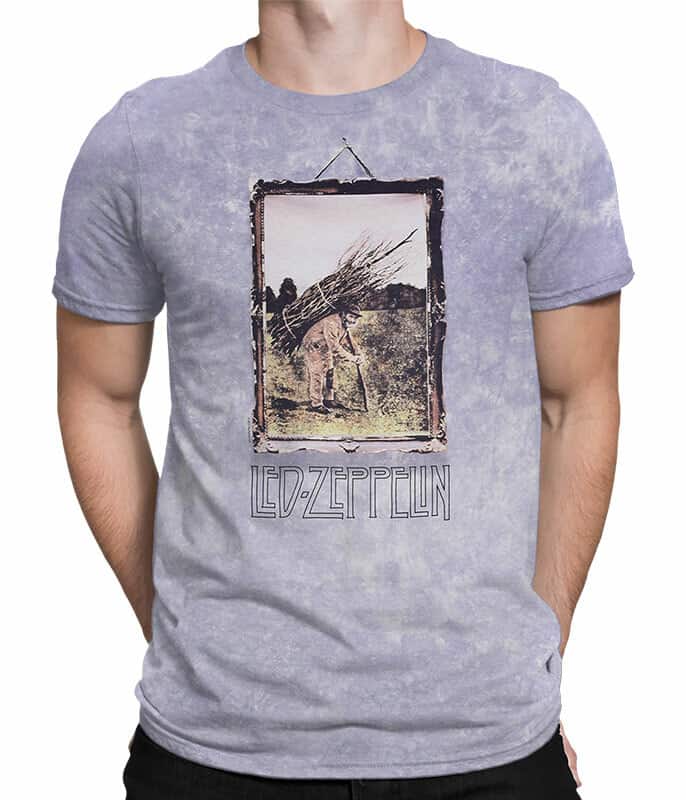 Is IV your favorite Led Zeppelin album? It's my favorite! If Led Zeppelin IV is your favorite album, this is a shirt you need. The shirt is gray tie-dye and features the original album artwork. Many claim that Led Zeppelin IV is the band's most sophisticated and unique album. This album features some of Led Zeppelin's most famous songs, such as "Stairway to Heaven" and "The Battle of Evermore." Today, it's still a fan favorite.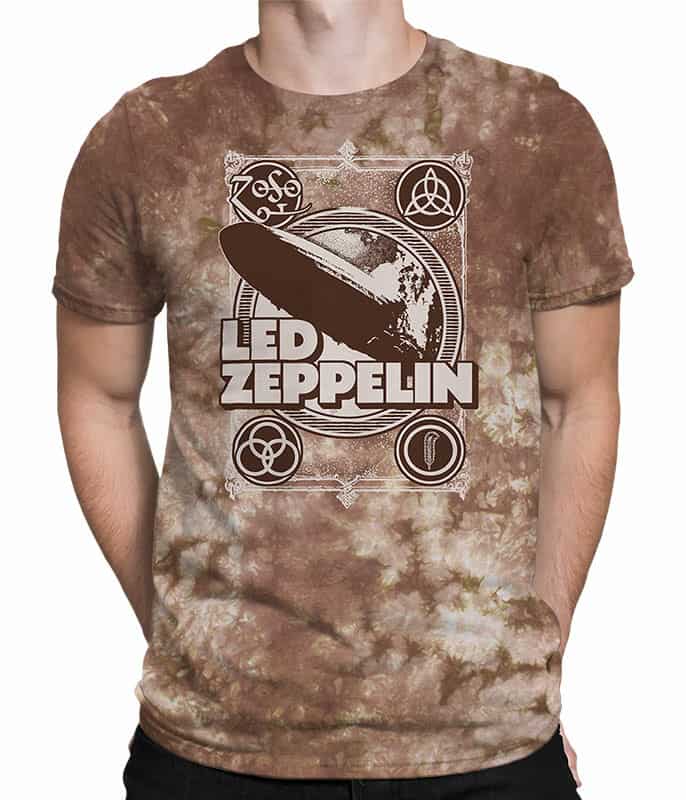 I love this shirt because it looks like something I would see on a poster or show flyer! The shirt features their classic zeppelin design on a brown tie-dye background. The shirt also features the Zoso logos. It's a men's shirt and is available in sizes S to 3XL. It's technically available in sizes 4XL- 6XL, but the store is all sold out of those sizes. I think that's a shame, it's so rare to find stores with inclusive sizing.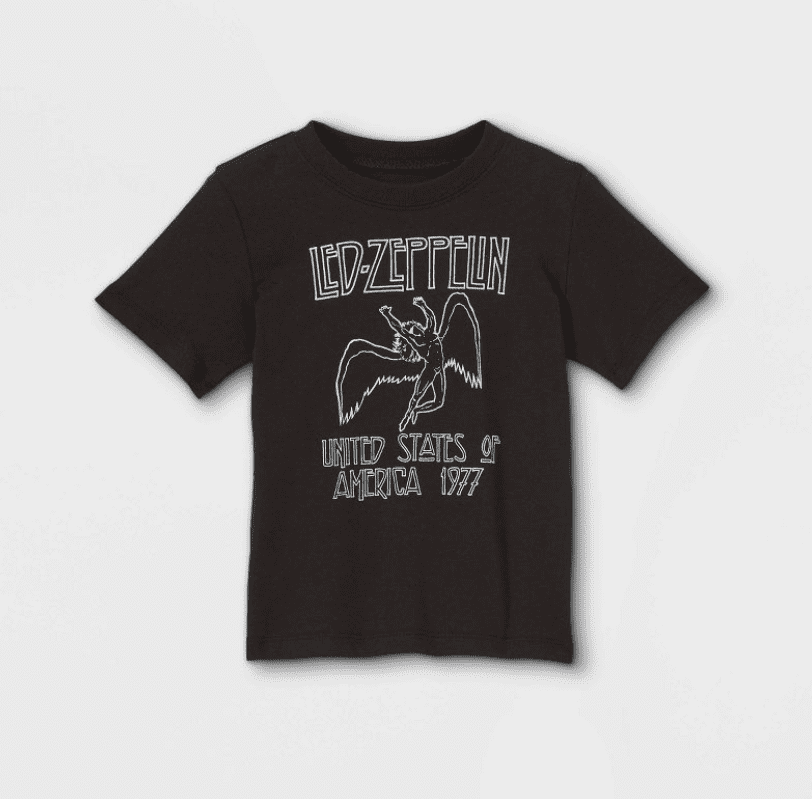 I have to include a t-shirt for the little ones! Toddlers need a Led Zeppelin shirt, too! Target is great because they have shirts in all sizes and plenty of kid's clothes. I may even get this shirt for my nephew! The shirt is black and features a simple design, the Icarus with the band's logo and the text "United States of America 1977." This shirt is available in sizes 12M and 18M and 2T-5T.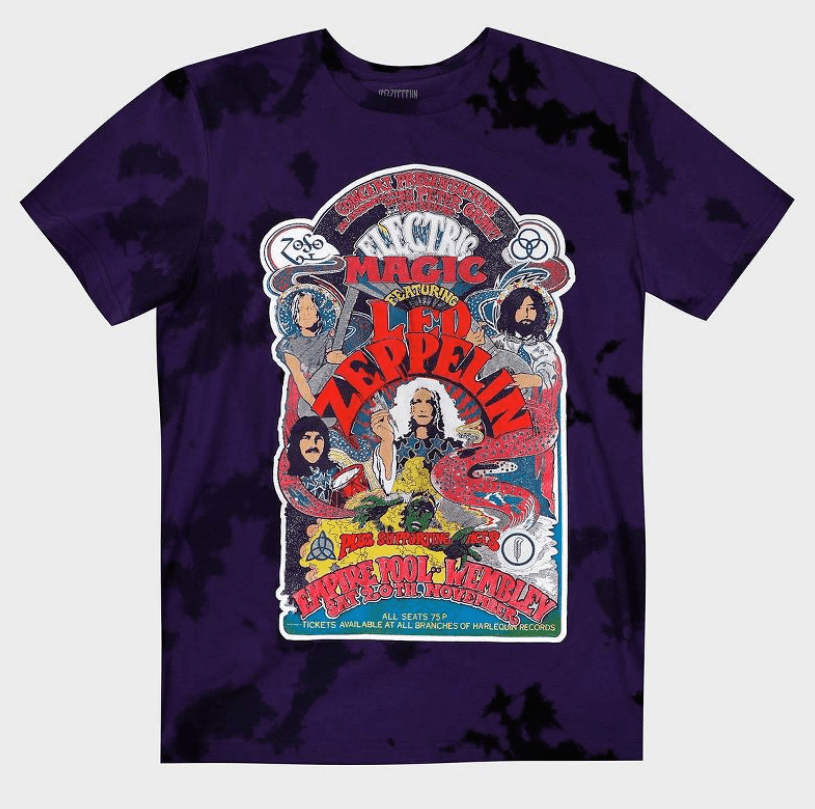 I like this shirt because the purple isn't too bright. It's a dark purple, not taking away from the logo or design. I love the color purple but am very specific about the purple shades I like. Fortunately, dark purple is one of my favorites! Plus, purple only matches with so much. But since the shirt is nearly black, I would think all pants would look good with this shirt. The shirt features the artwork of the band with various Led Zeppelin memorabilia.
It has a crewneck, which I think looks good on nearly anyone. You can also wear it alone or wear clothing under or over the shirt. Since this shirt has a little bit of everything, I recommend this shirt to anyone who doesn't know which Led Zeppelin shirt to buy. Oh, and the shirt is soft!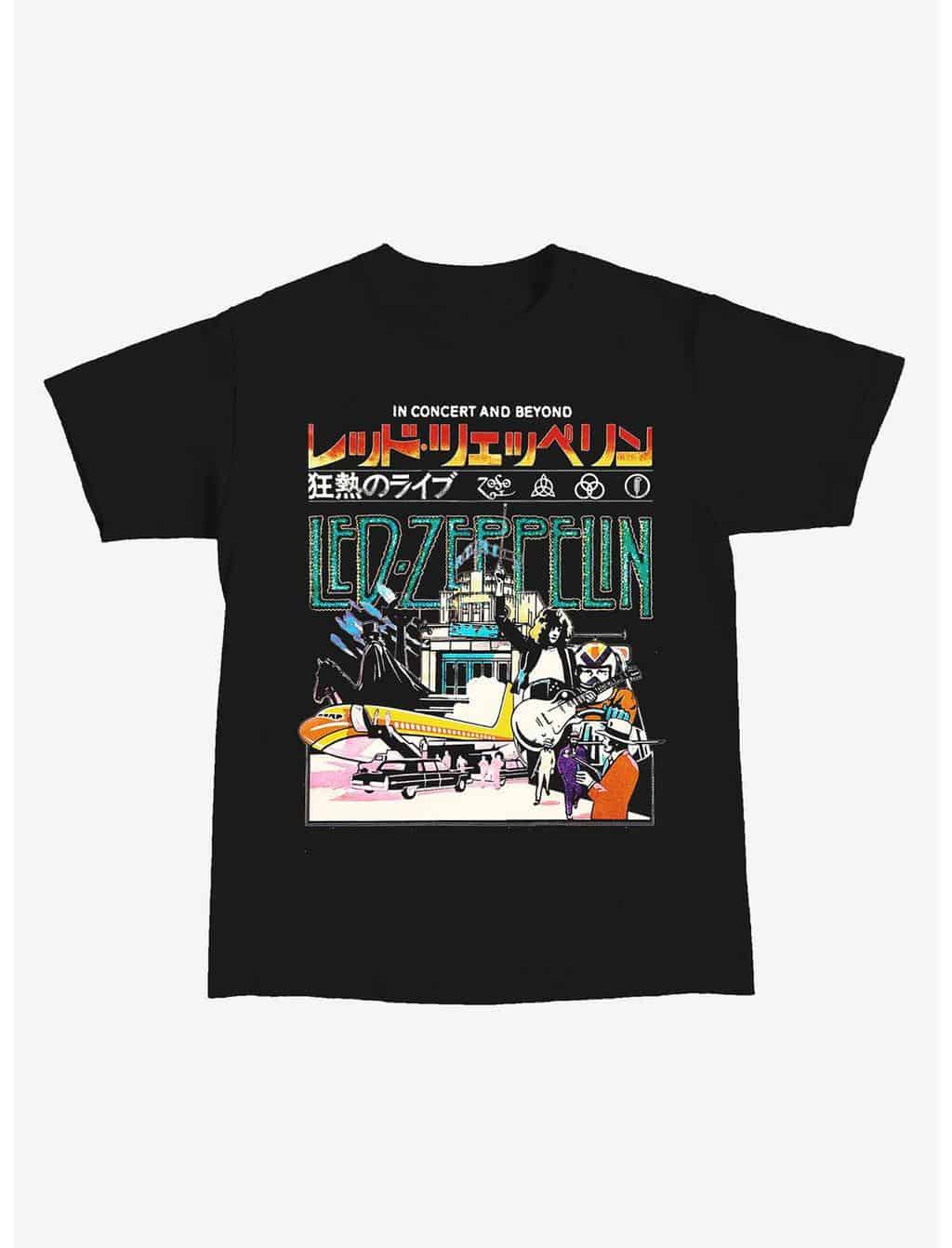 Last but not least, I have to include this shirt because it's so cool! As the name suggests, this shirt represents a flyer for the band's Japanese tour. This was actually a real tour the band did and the one that confirmed their global status. That's why I think it's an important shirt to wear.
The whole shirt is written in Japanese, which makes it look even more awesome. The artwork also looks like anime, making this the most unique Led Zeppelin shirt on this list. The shirt is made of 100% cotton and is unisex, but with men's t-shirt sizes.
FAQs
Question: What kind of style did the Led Zeppelin band have?
Answer: I would describe Led Zeppelin's style as a combination of traditional rock dress with some folky and hippy influences. The band especially wore ornate stage clothes but wore minimalistic clothes when off the stage.
Question: Why does Led Zeppelin have an Icarus as their logo?
Answer: The Icarus was a metaphor for not letting success get to your head. Even though they were the biggest band in the world and are still famous to this day, they definitely believed in staying humble. The Icarus was also the symbol of their label, Swan Song Records.
Question: What is Jimmy Page's favorite Led Zeppelin song?
Answer: He has said that "Kashmir" is his favorite Led Zeppelin song. This song holds their quintessential blues-rock sound but it still stands out thanks to the Eastern music influences. The song appears on the album Physical Graffiti.
Bottom Line
Led Zeppelin is a classic band and they have some serious killer merch! Because of this, it can be difficult to choose the best Led Zeppelin shirt for you. There are many Led Zeppelin shirts out there and they feature some memorable artwork from the band, such as the hermit, Icarus, and zeppelin.
You'll first want to decide if you want an authentic vintage shirt or a replica. If you're still not sure which one you want, I found 15 great Led Zeppelin shirts that I love. The stores they're from are all reputable and only sell licensed Led Zeppelin merch. Keep in mind that there are no vintage shirts on this list.