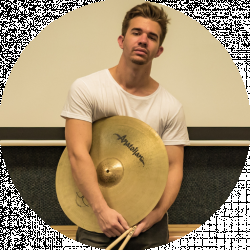 Latest posts by Brett Clur
(see all)
AC/DC is one of the most legendary bands to ever exist. My earliest experience of them was when my dad showed me a few of the best bands from the Classic Rock Era, and I distinctly remember wondering why the guitarist was wearing a schoolboy uniform.
The band has a long-running history, and countless shirts and other merchandise have been produced because of it. A trend has even developed where young teenagers where AC/DC shirts without ever knowing of the band.
We're huge fans here, though, and every shirt has a significant meaning that relates to the group. If you're looking for a new AC/DC band shirt to wear, you've come to the right place. I'll run you through all of my top picks.
Bottom Line Up Front
My favorite AC/DC shirt is the AC/DC Angus Lightning Tie-Dye T-Shirt. It has so much character to it, and I think it's the perfect kind of shirt to wear to a concert. While it has the standard black base that most band t-shirts have, the added orange tie-dye gives it a much more appealing appearance.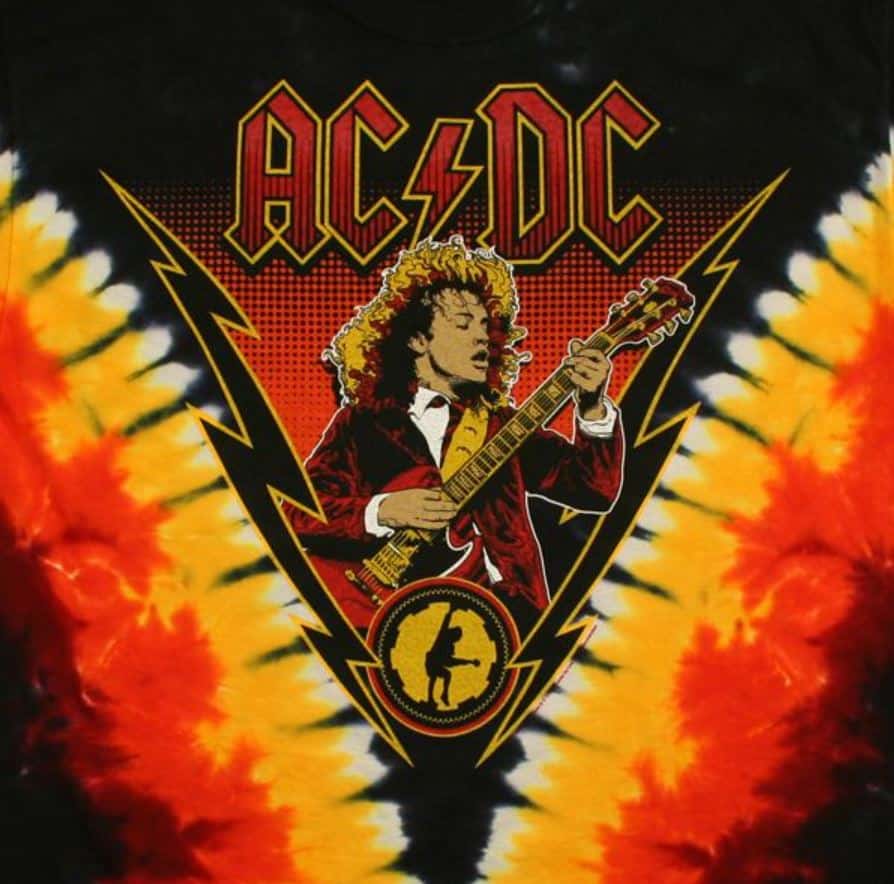 For women, the Women's Rock 'n Roll T-Shirt is my top pick. It's form-fitting, and it has a classic band logo with a timeless design. Having the option of getting it in a few colors is also a great touch!
My Top Picks at a Glance
Best AC/DC Shirts to Buy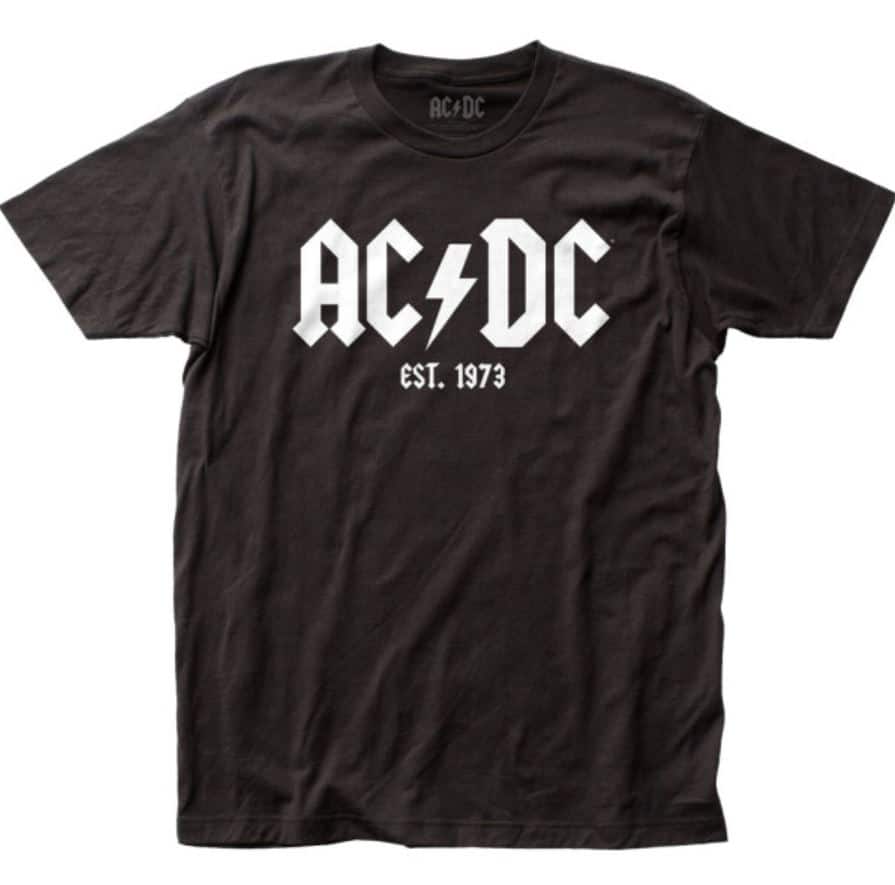 My first suggestion is a classic shirt that has the band's logo along with the year that they were formed. I love shirts like this as they're timeless. With other shirts, you may find them extremely exciting but then think that their intense graphics are a bit much later on in life.
This shirt would look fantastic on a man or woman of any age. It shows your support and love for AC/DC, but it's also simplistic enough to fit with most items of clothing. You could use it as an undershirt for something warmer, or you could rock this shirt alone on a hot summer's day.
You can order this shirt up to a size 5X-large on the AC/DC merch store. I don't know too many other shirts that have that option!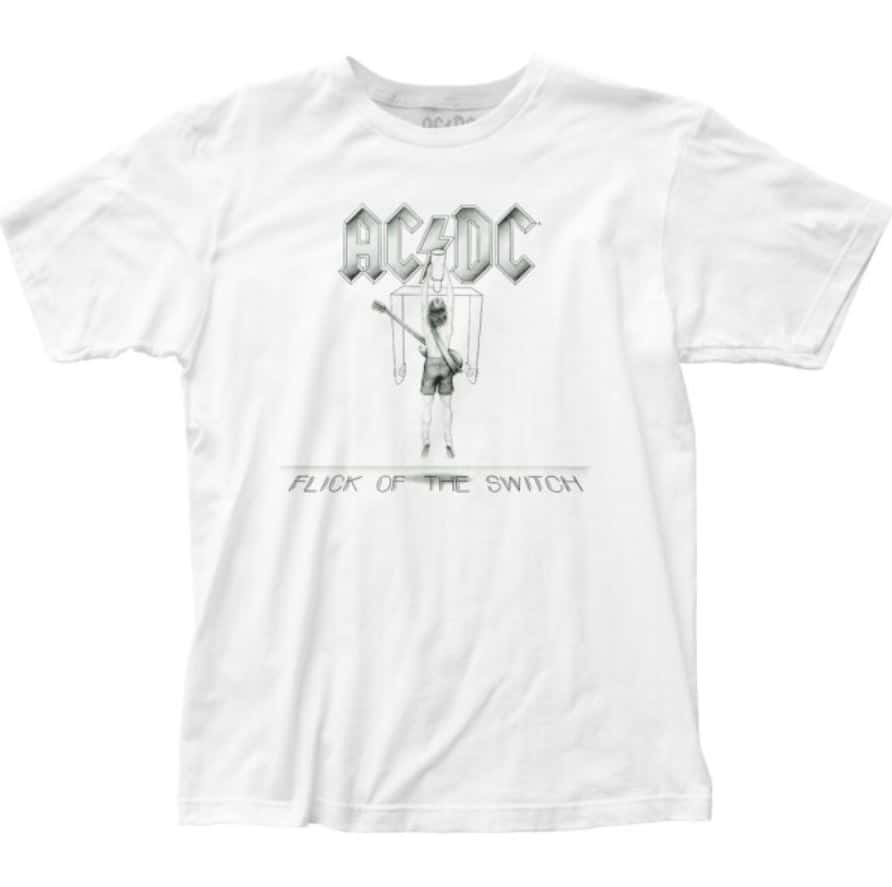 Flick of the Switch was one of AC/DC's least successful albums. The two albums they released before were what made the band so famous, but this one caused a slight decline in their popularity. However, I think it's a great album, and I know many people that share my opinion.
If you're one of those same people, you'll enjoy this tee. It has the album cover as the graphic on the front of it, and it has fantastic white fabric that feels comfortable to wear.
I'm a huge fan of wearing white shirts with various black graphics on the front, so this shirt is right up my alley.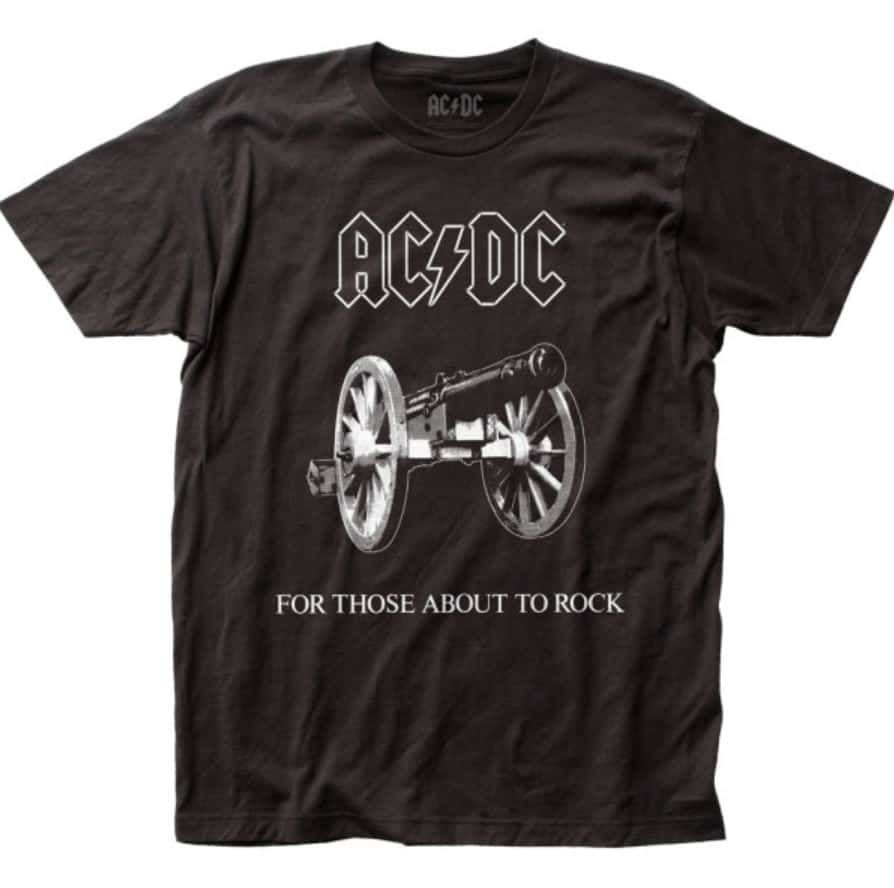 Moving on to another album shirt, For Those About to Rock was the album released prior to Flick of the Switch. It was a lot more successful, as it followed the popularity caused by Back in Black.
This men's short sleeve tee is incredibly soft. It makes it a great option for casual home wear, but you can easily wear it out as it looks great on most body types.
The original album cover with the cannon was orange, but this shirt adds a bit more subtlety by making the image black and white.
For Those About to Rock was AC/DC's only number one album in the US, making this album cover very significant.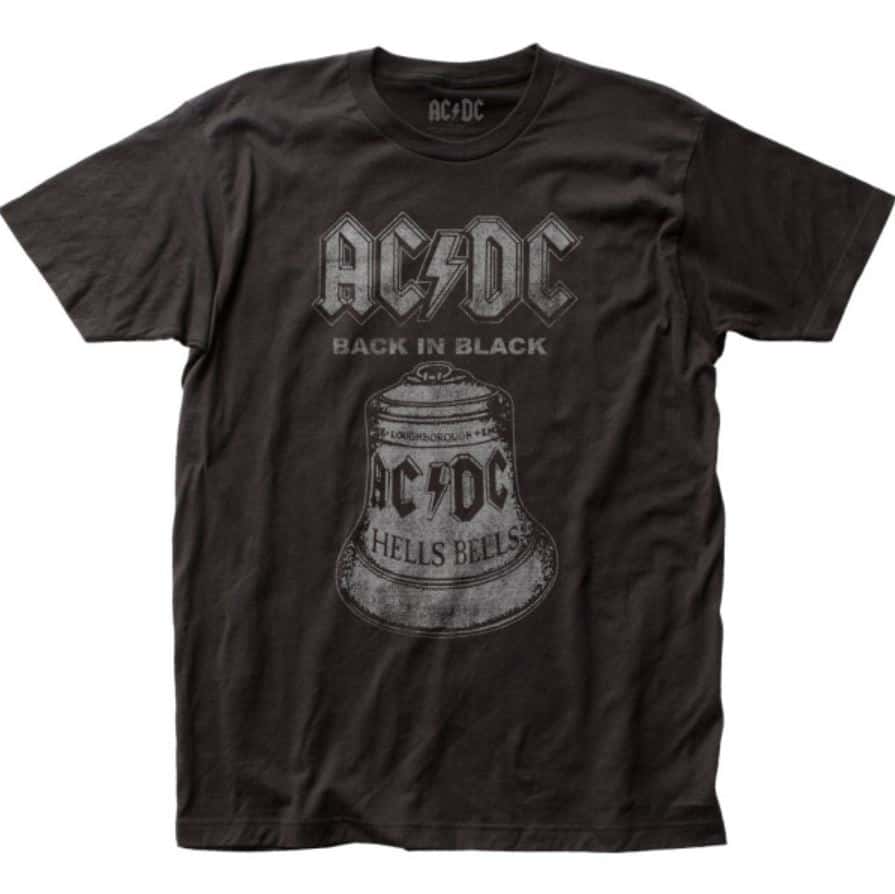 Any Hell's Bells shirt has major significance behind it. It was the first track on the Back in Black album, which was the first album the band released after the death of Bon Scott.
It starts off with a solemn bell ringing and is followed by an epic musical intro. It sets the tone for the whole record, and that tone is what made the band so famous at the time.
This shirt has a large bell on the front along with the song's name and the album it's from. The style is very similar to the previous shirts that I've mentioned, having a black and white graphic on a black tee.
Hell's Bells is one of AC/DC's best tracks, and wearing this shirt will show your love for it.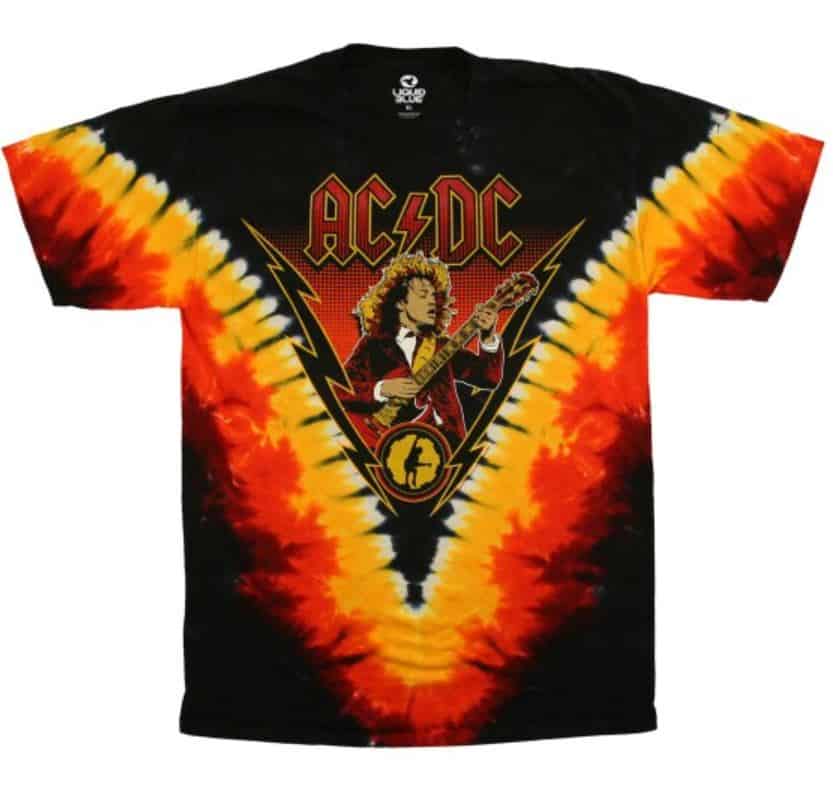 The Angus Lightning Tie-Die shirt is my favorite piece of AC/DC merch out there. It has such a striking appearance that will stand out very vividly when you wear it. It gives the same kind of energy that Angus Young gives whenever he performs on stage.
The shirt has a picture of Angus playing guitar, and it's accented by a V-shape formation of tie-dye covering the rest of it. Just under the picture of Angus is a small circle image with a silhouette of him doing a classic action pose.
This is the kind of shirt I'd want to wear when going to a concert. It's loud and proud, and it shows that you're ready to rock with whichever band you're there to see perform.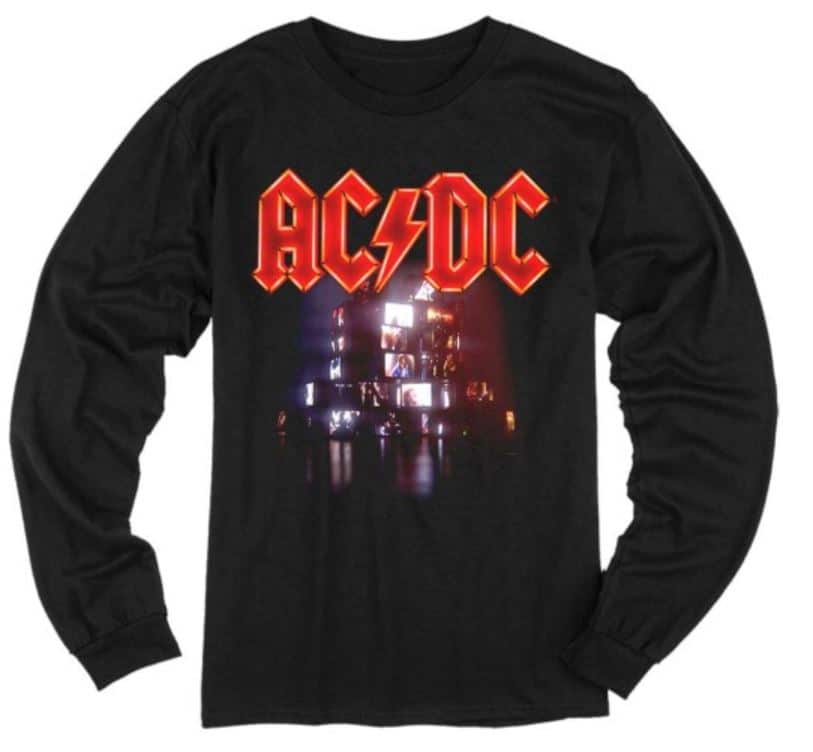 This next tee is a more recent one from the band. The graphic includes multiple TVs that are playing different music videos that the band has released over the years. It's an epic celebration tee that signifies all the memories of music that the band put out there.
The best thing about this shirt is the long sleeve design. It's something to wear in cold weather, as it keeps the full length of your arms covered. I always love it when bands release long sleeve tees, as it's most common for band shirts to have short sleeves.
Just note that the long sleeve design makes the shirt more expensive than most of the other shirts that I've suggested on this list.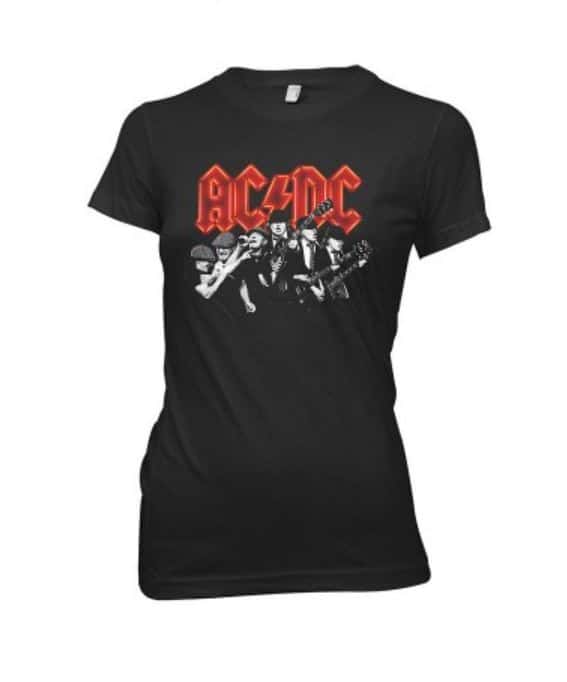 Here's one for the ladies. While the previous shirts would fit women, none of them have dedicated designs for women. If you're looking for something more form-fitting, I suggest considering the Angus/Brian Ladies Black T-Shirt.
At first glance, it looks like this shirt has a picture of all the band members on it. You'll see when looking closer that it only has pictures of Angus Young and Brian Johnson. There are three different poses of Brian next to three different poses of Angus. If they're your favorite band members, this shirt will be perfect.
You can get this shirt up to an XXX-large, making it a lot more accessible to most body types. Since it's form-fitting, I suggest getting a larger size if you don't want it to be too tight.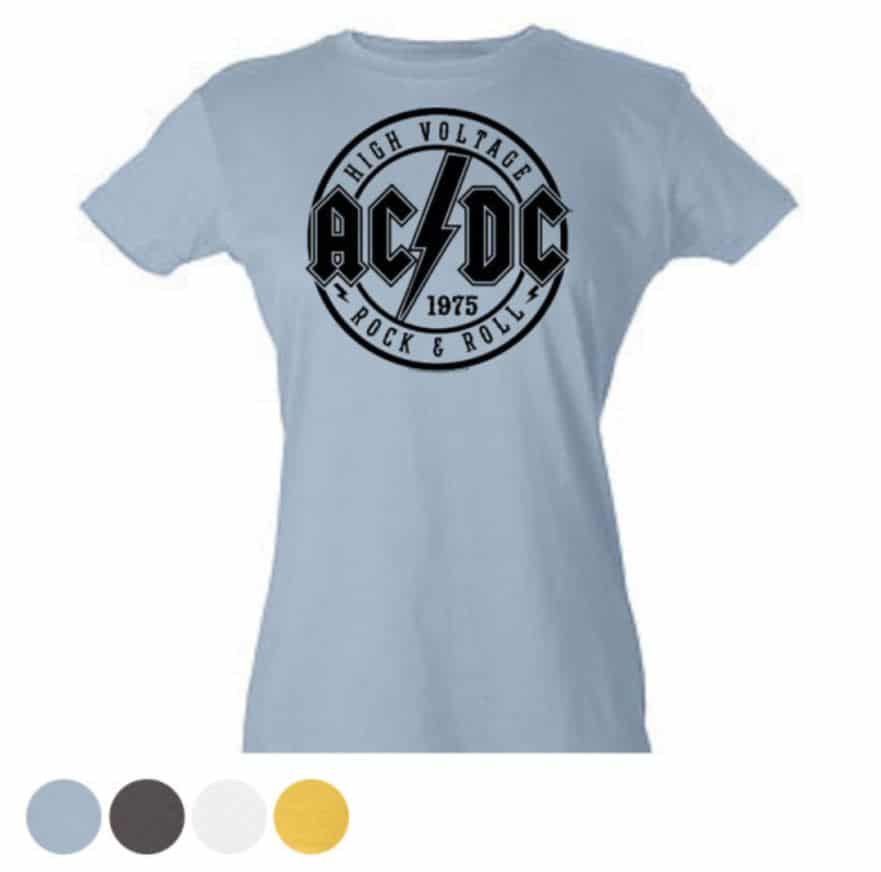 This next shirt is my top pick for women. It has the classic band logo along with High Voltage, which was one of the earlier albums that the band released. It was first released in Australia in 1975, which is why that date is on the shirt as well. The album was released internationally in 1976, becoming the band's first international record.
I love this shirt because it's timeless and you can get it in four colors. Those colors are baby blue, grey, white, and yellow. It's a classic shirt that any female can wear to show their love for the band.
The material feels very comfortable to wear, and the shirt keeps its integrity after countless washes.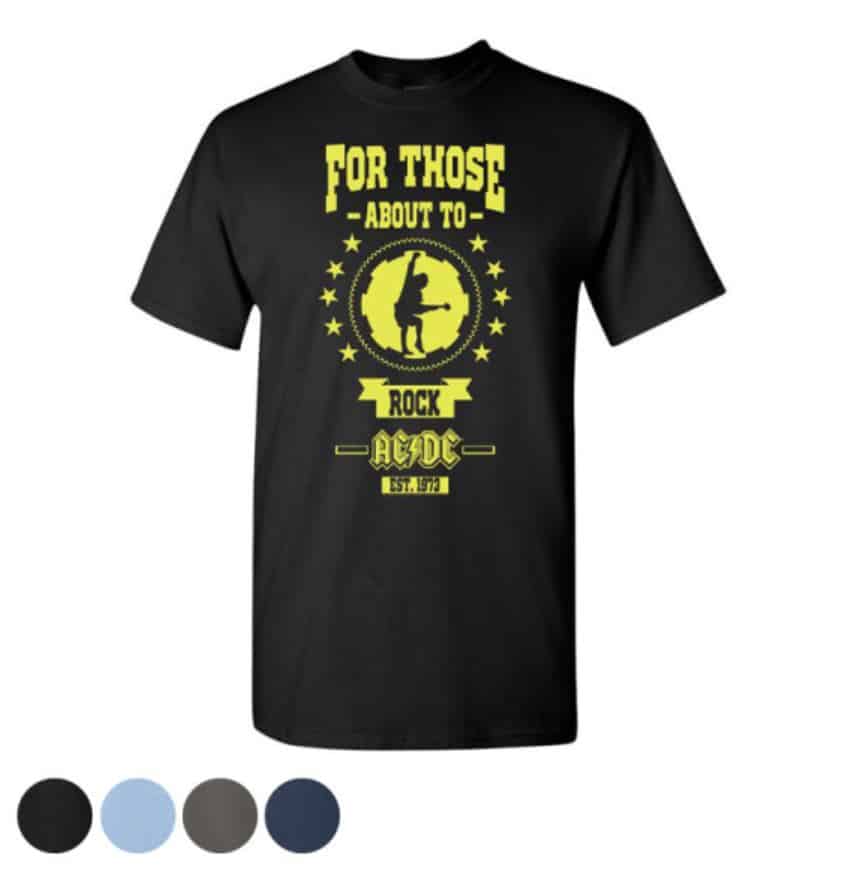 Here's another incredibly visually appealing option. It's another For Those About to Rock tee, but the twist here is that it has a picture of Angus Young instead of the album cover. The shirt stands out thanks to its electric yellow coloring on the graphic.
You have the option of getting the shirt in either black, charcoal, navy, or light blue. Whichever color you choose, the electric yellow graphic stays the same.
I find this shirt to be very exciting. It's a bit more "out there" than the other shirts, giving major rock 'n roll energy.
The fabric is very soft, and I've seen a few people express how comfortable it feels to wear.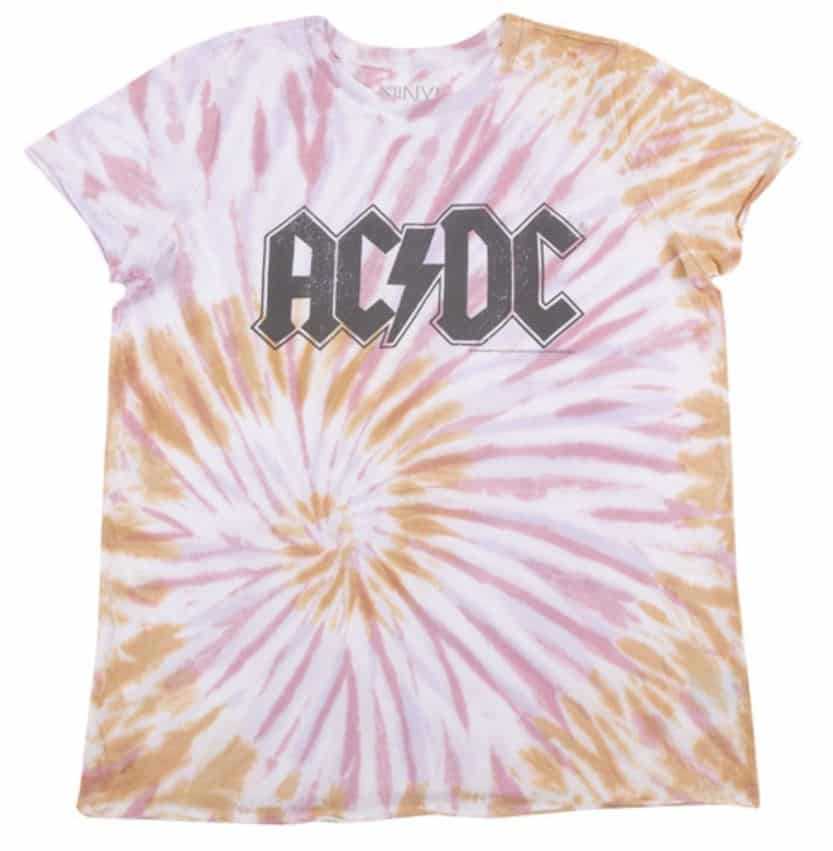 If you're a fan of tie-dye shirts, here's another vibrant option for you. This shirt goes more along the lines of the classic tie-dye shirts that all the hippies used to wear.
The shirt has a mixture of white, purple, and yellow coloring. They're all on the brighter side, making the tee feel quite light visually. The classic AC/DC logo is printed across the front in bold lettering.
This is a great option if you want a simple logo with more interesting aesthetics for the shirt itself. It'll take you back to the 70s, which is where everything for the band began.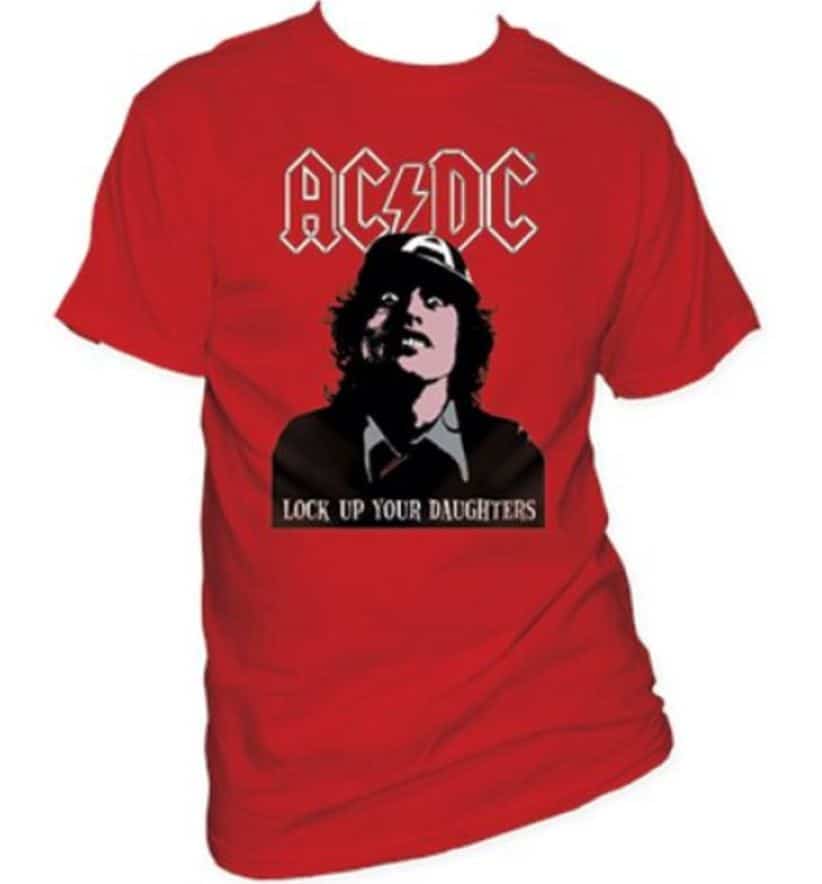 This next shirt is a bit of a risky one. I wouldn't suggest it to most people, but it makes me think of my aunt, who is completely obsessed with Angus Young. This is exactly the kind of tee she would want to wear to an AC/DC concert.
AC/DC was always known as a mischievous band. Their brand was, and still is, rock 'n roll. Angus Young was arguably the most noticed band member apart from Bon Scott or Brian Johnson, and so many women were completely in love with him.
If you're a major Angus Young fan, like my aunt, this shirt is for you. Its humorous nature is sure to spark some interesting conversations when people see it.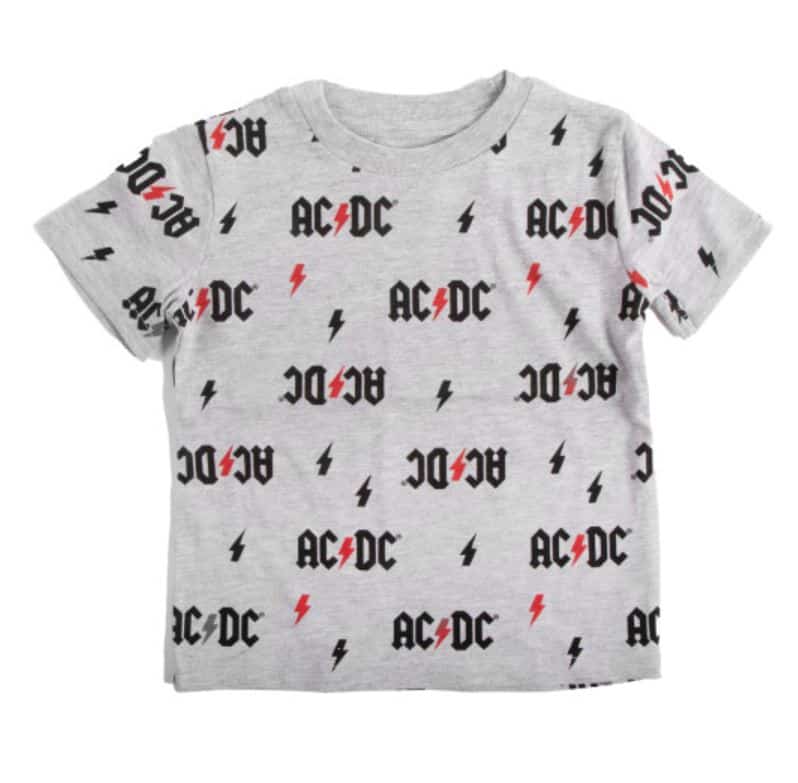 Here's a cool group of shirts for kids. You get three shirts in this pack, and each of them has a different design. The first one is a plain black tee with the band's logo and Back in Black written underneath it.
The second shirt is grey, and it has the band's logo written multiple times across it. Some of the logos are upside down, and some of them have grey thunderbolts instead of red.
The last shirt is another For Those About to Rock one. It has the classic cannon along with the name of the album.
If you want your children to start appreciating your favorite band, these are good shirts to get. I also find them to be quite affordable!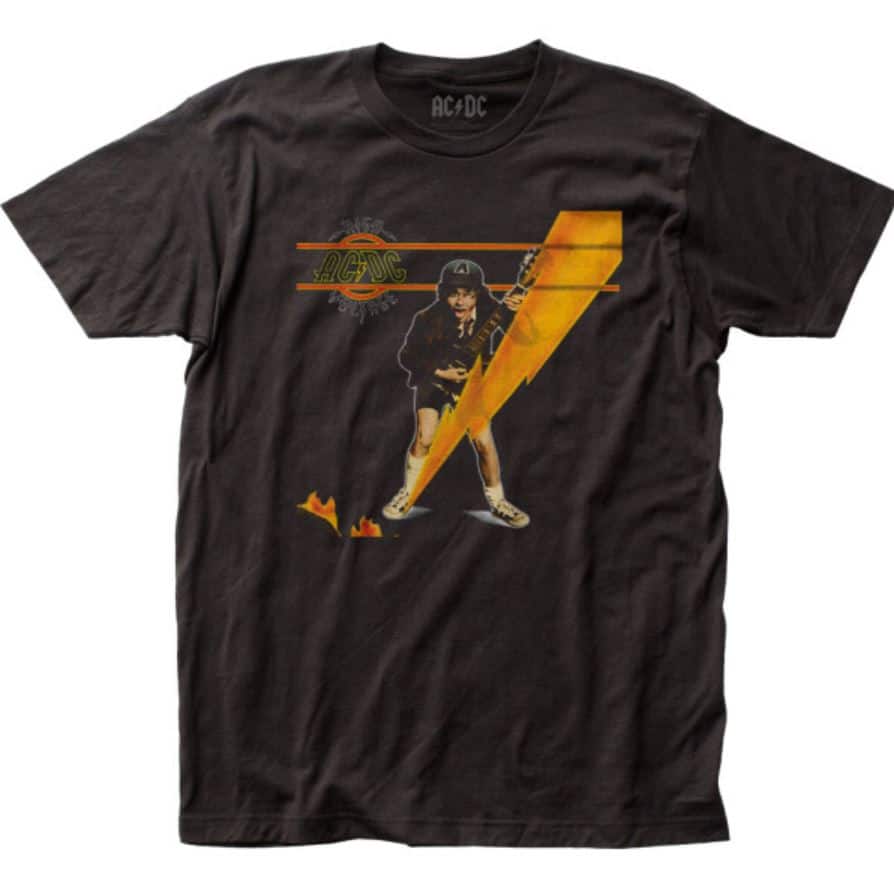 This shirt has the album cover from High Voltage. The iconic image of Angus Young sticking his tongue out in front of a thunderbolt makes a great graphic to put on a shirt.
If High Voltage is one of your favorite albums, this is one of your best options out there. The shirt is a light black coloring, and the graphic is colored the same way that the original album cover is.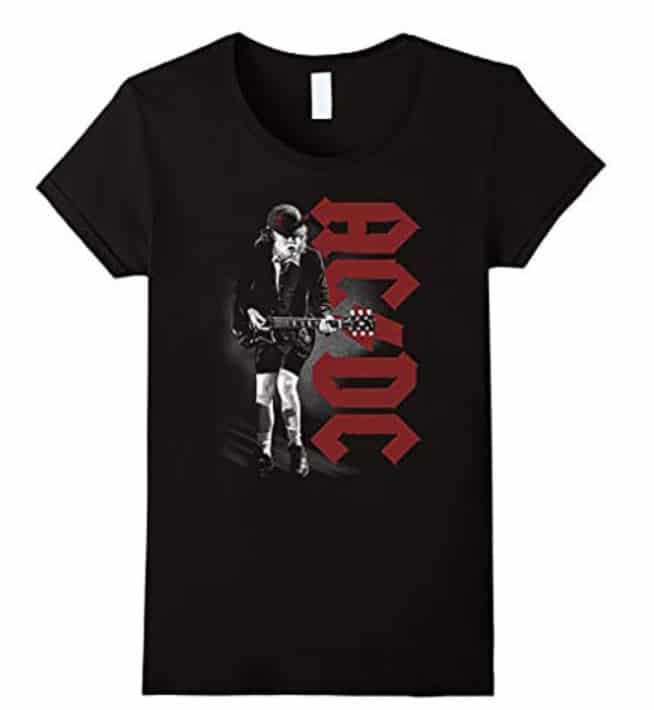 Here's another women's shirt for all the Angus Young lovers. This one is definitely not as risky as the last one, making it a better option for most ladies.
I love the design work here. You get an image of Angus Young playing guitar next to the band's logo that has been positioned to stand next to him.
You can choose for the shirt to either be black, charcoal, or navy, and the sizes range up to 2X-large.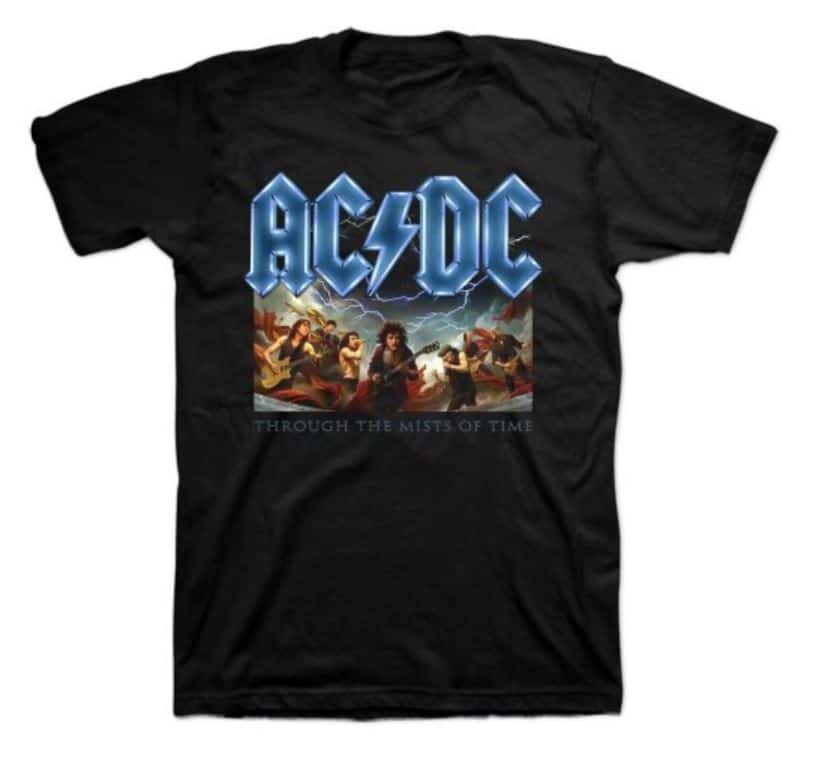 My final shirt recommendation is one that celebrates the history of the band. It has a painting of the band members that shows them when they were young and now while they're old. It also includes a picture of both Bon Scott and Brian Johnson, which I love.
AC/DC has such a rich history, and wearing a shirt like this is the perfect way of showing your love for all the good and bad times.
I'd love to get this painting and hang it somewhere, but having this T-shirt to wear will be good enough for now!
FAQs
Question: How Many Lead Vocalists Have Been Part of AC/DC?
Answer: Over the band's 50-year history, there have been four lead vocalists. The first lead vocalist was Dave Evans. He sang with the band on tours before they released any studio albums, but he ultimately left as he wasn't the greatest fit for the group.

He was replaced by Bon Scott, who became a solid part of the band. He had such an iconic raspy voice, and it became a staple in AC/DC's sound. It was under his lead vocals that the band became so famous in the 70s. Unfortunately, he died in 1980.

Since Bon Scott's voice was so iconic, it became a huge deal to who replaced him. The band ultimately hired Brian Johnson as the new frontman, and he perfectly suited the role. There's a huge debate as to whether Bon Scott or Brian Johnson was a better singer, but Johnson solidified himself in the band all the way up to 2016 when he retired due to hearing issues.
Axl Rose is AC/DC's current frontman. He sings on all their tours.
Question: What are AC/DC's Most Famous Songs?
Answer: Highway to Hell is the song that made the band famous all around the world. It's one of their most played tunes, and I get requests for it all the time when I play drums in cover bands.

However, their most famous song is undoubtedly Back in Black. It's one of those tracks that people instantly recognize within the first few seconds, and that intro guitar riff sets you up for a banger every single time you listen.

The Back in Black album was released just after Bon Scott died, which is what made it so popular around the world. The title track charted incredibly high, but there were other popular songs on there like Hell's Bells and You Shook Me All Night Long.
My favorite AC/DC songs, which are also widely popular, are Thunderstruck and T.N.T.
Question: Who Plays Drums in AC/DC?
Answer: Colin Burgess was the original drummer for AC/DC. He played in the first two years of the band's formation. He was eventually fired from the group for being drunk on stage.

Phil Rudd was the next regular drummer for the band, and he had a few stints that lasted many years. When thinking of the drummer for AC/DC, Phil Rudd is typically the person that most people think of.

There are six other drummers that have played for the band over the years. These names include Simon Wright, Chris Slade, Peter Clack, Noel Taylor, Russell Coleman, and George Young.
Question: Who Formed AC/DC?
Answer: AC/DC was started by Malcolm and Angus Young. As children, the two of them emigrated from Scotland to Australia with most of their family members. They both started playing guitar, and that eventually led to them forming AC/DC.
Malcolm and Angus have always been core members of the band, and Angus Young is famous for wearing schoolboy uniforms on stage when the band performs.

Malcolm is the rhythm guitarist, while Angus plays lead guitar. Both brothers contribute backing vocals and songwriting. Unfortunately, Malcolm retired from the band in 2014 due to health issues.

I love the fact that these two brothers have been in the band for most of their lives, while most of the other musician slots in the group have been filled by multiple members.
Question: How Many AC/DC Members Have Died?
Answer: Only two of the core members of AC/DC have died since the band was formed. However, a few members who were part of the band for short periods have passed since their inclusion as well.

Bon Scott was the first member to tragically pass. The band had just hit their big break, having their music played all over the world. The lead singer died after a heavy night of drinking. As always with rockstars, there are several theories regarding the specifics of how he died, but his passing left a huge gap in the band.

Malcolm Young, one of the founding members of the band, passed away from dementia in 2017. He retired in 2014 due to illness and fought a long and hard battle for the next few years. His death sent shockwaves through the music industry as he was one of the most iconic musicians to come out of the Classic Rock Era.

Apart from those two, Neil Smith, George Young, and Paul Matters have passed away. They were all musicians that filled in for the band at one point or another.
Conclusion
Hopefully, you've found some great AC/DC shirts to wear from all the options that I've mentioned. The band has released 18 studio albums, so it's always great to find a shirt that has the album art of your favorite one.
Angus Young is one of the main attractions of the band, so it's only natural that dozens of shirts will have pictures of him on as well.
To recap my options, I think the AC/DC Angus Lightning Tie-Dye T-Shirt is the best choice for men, while the Women's Rock 'n Roll T-Shirt is my top pick for women.
Continue reading related AC/DC Merch Guides: