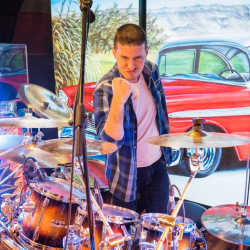 Latest posts by Denis Loncaric
(see all)
AC/DC is an Australian rock band that arose in 1973 in Sydney. The band was formed by Scottish-born brothers Angus and Malcolm Young. With over 50 years of a fruitful career, AC/DC managed to be one of the most popular bands worldwide. 
They have released many historical albums over the decades, influencing the look of the best AC/DC hoodies featured here. Highway To Hell, Back In Black, Powerage, and many other legendary clothes continue to inspire a range of hoodies and t-shirt designs even today. 
Their unique and diverse style, from subtle to eye-wateringly striking, is one of a kind. For that reason, I have decided to single out the best AC/DC hoodie guide so you can choose the one that perfectly represents you and your love for this band!
My Bottom Line Up Front
: The AC/DC Highway to Hell hoodie has to be my favorite! It's a perfect match with a vintage design, great quality, and my favorite song. However, check the other great eight hoodies, and see what suits your style the best!
My Top Picks:
AC/DC Highway To Hell Hoodie

 – I love the vintage design, love the picture they used on the cover of the same song/album, love the material, and of course, it has to be my top pick since it is my favorite song ever!

AC/DC Back In Black Adult Pullover Hoodie

– The design is just what I am looking for. Minimalistic, not too colorful, and I love the material even though there is more polyester than I prefer. 

AC/DC Dirty Deeds Big Balls Hoodie

 – This hoodie has killing lyrics back and front and AC/DC logo design. For me, this hoodie perfectly describes their rough energy, plus it's budget-friendly. Love it!
Buying Tips
It's important to consider your personal preference when buying any piece of clothing. While some people will like one thing, you might not, and vice-versa. However, there are a few tips that could be used as a guide when you are shopping for the best AC/DC hoodies.
Let's check them!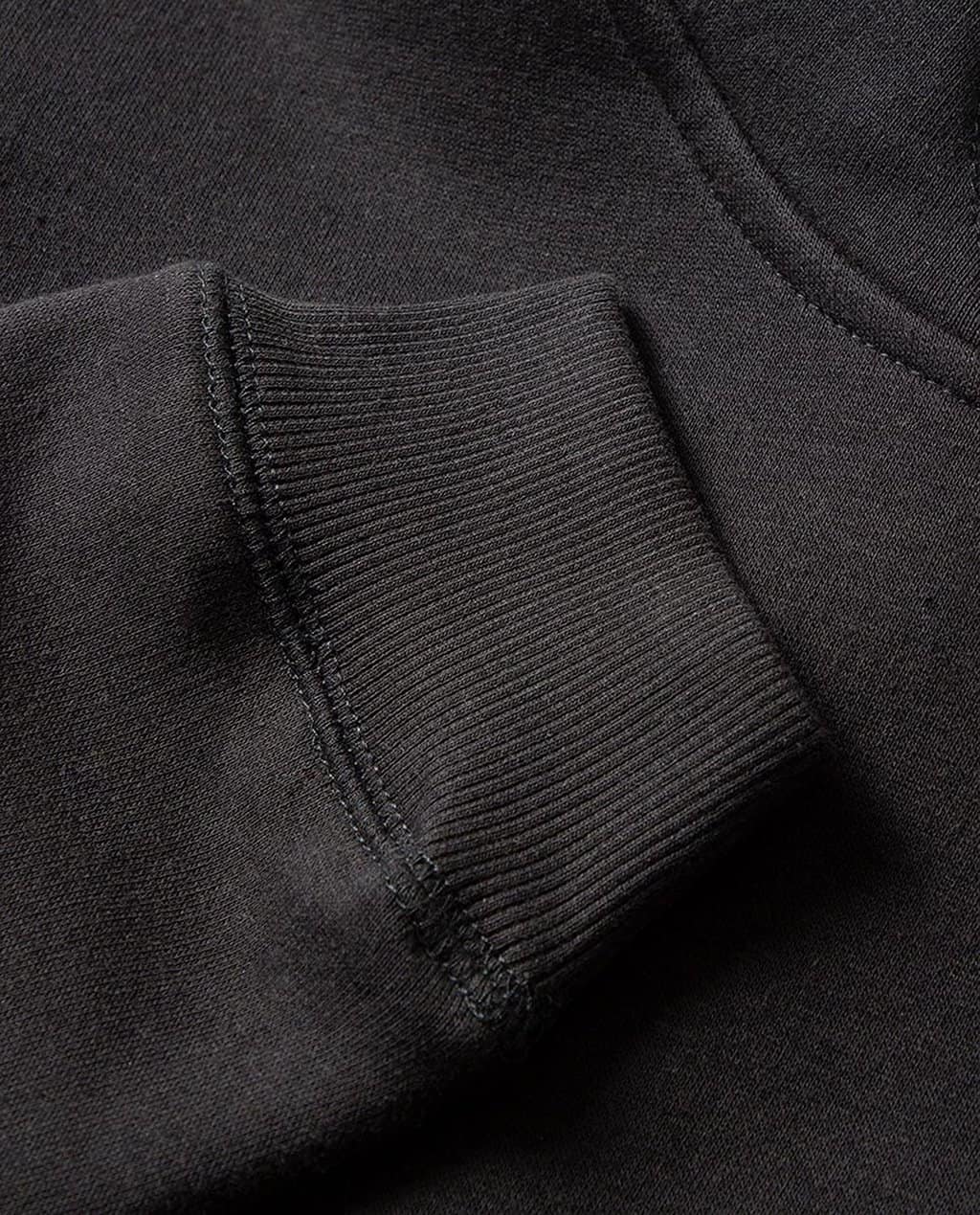 Material

 – Always look for a hoodie with a higher proportion of cotton. These hoodies are usually more comfortable, have better quality, and will probably last longer. Plus, it will feel comfier on your skin. 

Hood strings

 – Look for drawstrings on the hood for tightening. While this might not sound so important, it is. It can be a life-saver when it comes to windy days, and your hood strings are the only thing that can keep those chills away from you. 

The design

– While the design is a matter of personal preference and doesn't need to be discussed, it is important to check for the quality of the design itself. Some manufacturers just paste the picture on the hood, and after one day in the washing machine, the AC/DCs are gone from your hoodie! Look for a design that is sewn or printed on the hood, and you will not have to worry about this kind of issue. 
My Picks for Best AC/DC Hoodies
In addition to the buying tips above, the criteria I used to create this list are my personal opinion, preferences, and online reviews from many satisfied fans worldwide!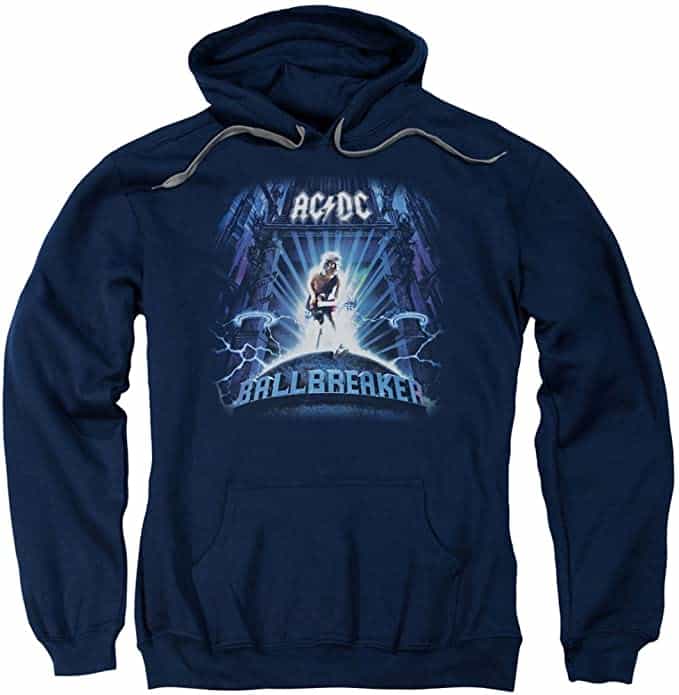 Pros:
Great for cold weather and winter days

Hoodie with front 'hand warmer' pocket

Unique and beautiful design
Cons:
The Ballbreaker studio album released in 1995 was more miss than hit. The lyrics were dreadful and much too dark for me, but I cannot deny the captivating album artwork.  Therefore, I have to compliment the uniqueness and style of their accompanied navy blue hoodie. 
It represents the cotton-polyester mix, which delivers a soft and cozy feeling against the skin. To be exact, it features 75% soft cotton and 25% polyester. It was made for maximum comfortability with adjustable drawstrings. The Ballbreaker pullover hoodie provides a good extra layer during those cold winter days.  
I can also see it as a good replacement for a jacket if you are heading someplace close or simply going for a gig and don't want to visit a cloakroom. The hoodie is very comfy, which is really important to me, and if you feel warm, you can just tie it around your waist.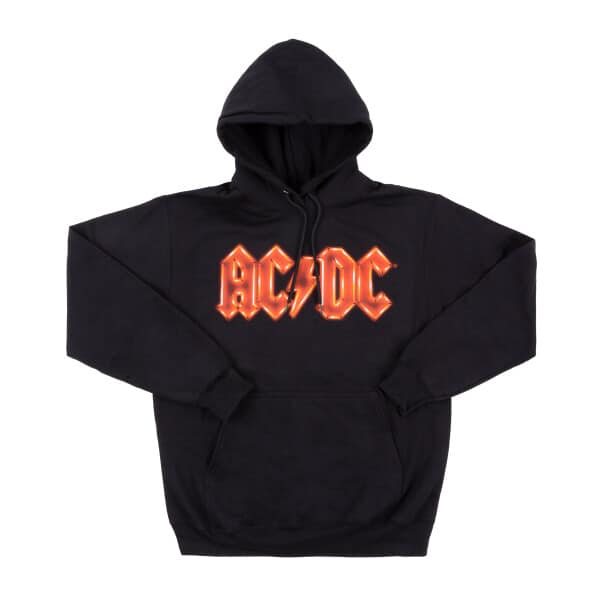 Pros:
Soft and great for cold weather

100% ring-spun cotton

Easy to wear

Hoodie with front hand warmer pocket
Cons:
Not everyone will like the pullover design
Powerage is their fifth studio album, and both Joe Perry and Keith Richards stated it is their favorite AC/DC album. And, to be honest, it is one of my favorites too. Therefore, since the album was hugely successful, they decided to pay tribute to it. They dropped this toasty hoodie to honor and praise this luxurious slice of gritty rock.
This hoodie is part of an authentic AC/DC clothing line sold by Absolute Cult.
The Powerage Hoodie is excellently crafted and snug enough to give a more customized fit without feeling clinging. The material of this pullover is 100% cotton, which makes this piece of cloth very comfy and soft. I just love this feature because I always want to avoid polyester, plus it is also suitable for washing machines, which is, for me, a big plus!
The cotton-fabric hood is a comfortable fit, not too loose or gnome-like, and has a drawstring for tightening in the wind. A front pocket pouch is perfect for stashing your phone and keys if you're out without a backpack.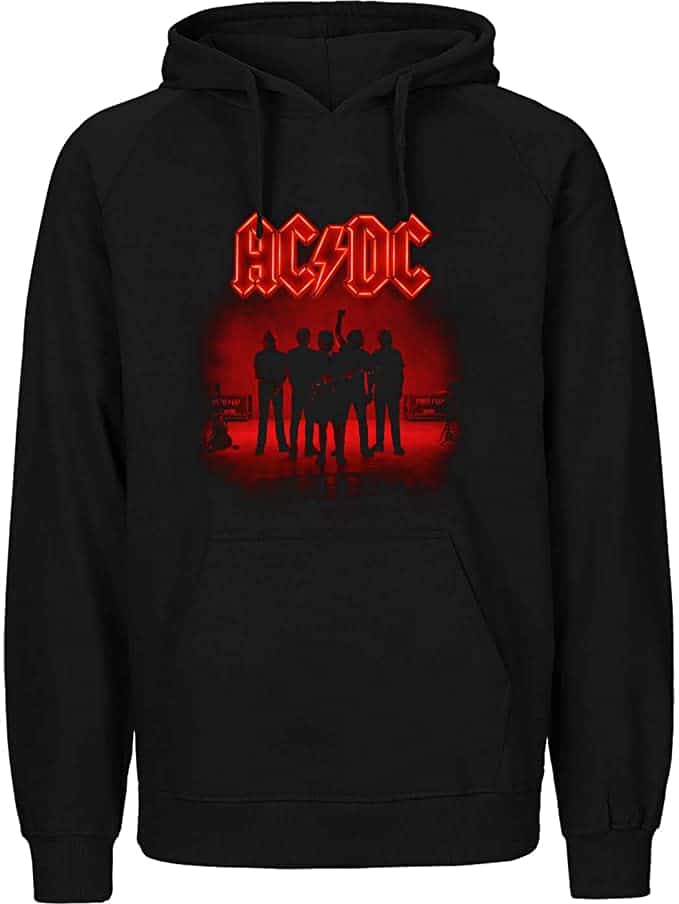 Pros:
Very comfortable

Well-made hoodie

Simple yet great design 
Cons:
The design might not be interesting to everyone
AC/DC released Power Up on 13 November 2020, which is their seventeenth studio album. And to be able to stay in this job for such a long time, doing shows, performances, and launching their merchandise for their fans, show how special AC/DC are.
The Power Up band silhouette hoodie is a part of the AC/DC Amazon PWR UP collection. It has a very interesting design. You can't see the band members' faces, but you can see their silhouette, which appears very attractive on the hoodie. 
The design of the band members is in red, which goes pretty awesome since the hoodie is black, and it makes their silhouette really stand out. It is a classic fit with a twill-taped neck, suitable for both women and men. For me, this hoodie is unique. I love the design because there are not many colors, it's very minimalistic yet very creative, and it still shows the band's personality.
The hoodie features 80% cotton and 20% polyester, so it is cozy on the skin. It is also suitable for machine washing cold with like colors, which is very gratefully.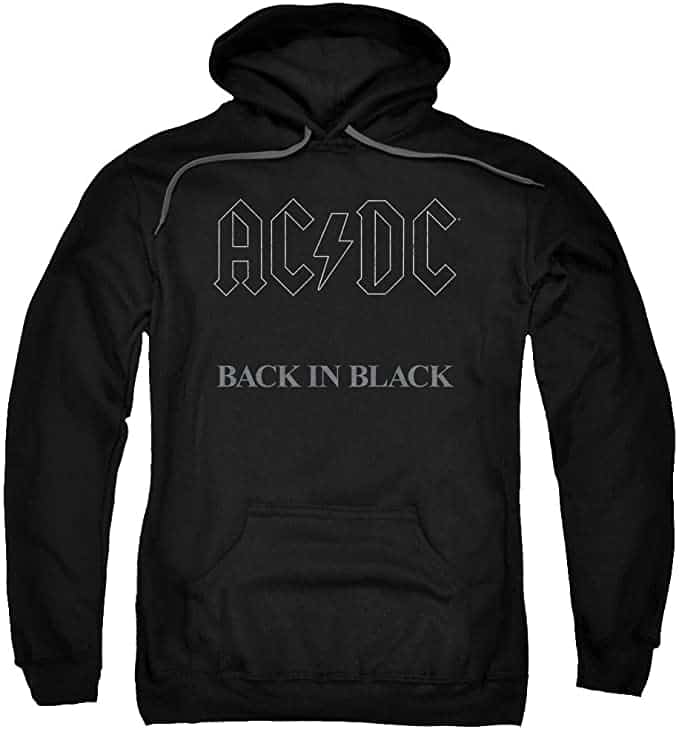 Pros:
Simple and beautiful design

Suitable for anyone's style

Very soft

Features a front 'hand warmer'
Cons:
They could use more cotton 
There is no doubt that AC/DC made themselves stand out by launching unique merchandise. They are not trying to create something really showy, full of colors and rainbows. On the contrary, their design is very simple yet so different that it simply has to stand out from the crowd. And that's the biggest advantage for me regarding their hoodies.
Let's not forget that they have a song named Back in Black, which is the most streamed song in the UK. It has become one of their signature anthems.
The song was written as a tribute to Scott and is considered their defining metal rock anthem. Forty years after its release, Back In Black made its Top 40 debut on the Official Singles Chart at Number 27 in 2012 when the band made its catalog available online.
Moreover, the hoodie features a cool Back in Black print that is very moderate, and that's probably the main reason why the AC/DC Back In Black Adult Pullover Hoodie has made it to my list. I can describe it as a perfect blend of minimalism and art. 
The hoodie is also very soft; it has 75% cotton and 25% polyester blend ringspun preshrunk fleece. So the only compromise that I have to make is that I am not getting a 100% cotton-like hoodie, but since I love the design so much, I can forget about it!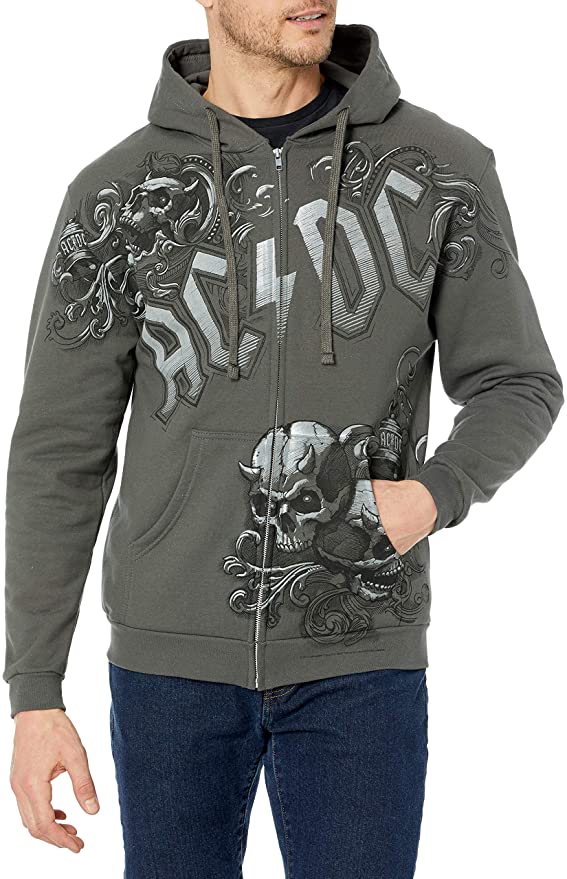 Pros:
Powerful design

Two side pockets

Great quality

Budget-friendly
Cons
:
The design might not be suitable for everyone 
Night Prowler Zip Hood is opposite from the previous Back in a Black hoodie. "Night Prowler" is the final song on AC/DC's Highway to Hell album from 1979. In addition to its slow rhythm and ominous lyrics, it's one of the more controversial AC/DC songs because of its association with the mid-1980s serial killings of Richard Ramirez.
And the hoodie is the same as the song. It is dark grey with a black and white skull-like design. The print appears to be very dark, which is honesty expectable. 
However, this is probably my least favorite hoodie on this list. It is not disgusting, but it is not my cup of tea. As you probably noticed, I am more of a fan of one-color, less-details hoodies, but this is still the one that I can bear even though it is not my style.
It has a lot of details; thus, it is quite different from all of its previous merchandise. The hoodie features 80% ring-spun cotton and 20% polyester for superior comfort. This zip hood is also suitable for machine washing, which is always a big plus for me since I hate hand washing!
The hood is also double-ply fabric-lined, which adds additional fabric inside the hood as a lining.
Though this zip hood is striking, it is not something that I would purchase. However, it has been very popular among fans.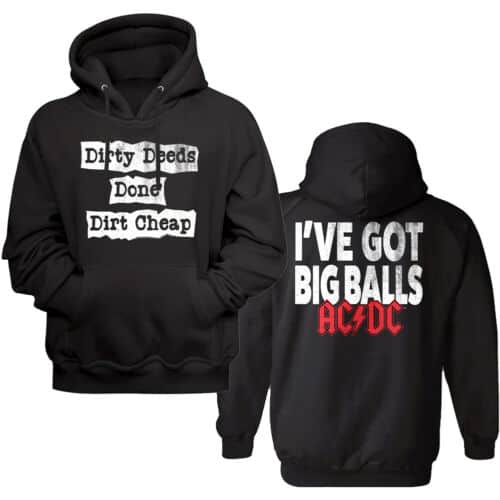 Pros:
Great hood with a great message

Comfortable and soft

Budget-friendly
Cons
:
The hood contributed to their song Dirty Deeds Done Dirt Cheap from 1976. This song was placed 24th on VH1's Top 40 Greatest Metal Songs of all time and was also named the 31st greatest hard rock song of all time by VH1 in 2009.
There is a backup voice during the verses consisting of a deep breathing sound generated on the downbeat. It also includes a scream at the song's end, and the title is stated aloud at the chorus's end. Freaky, but I love it! This lovely hoodie has the name of the song on the front and "I've got big balls," a line taken from the song "Big Balls" on the back. It sounds a bit raffish, but that's AC/DC.
This black hood is a relaxed fit and long-sleeved, with 80% of cotton and 20% polyester. Thus, it is very soft, and the design is just what I am looking for, even though it's a little too much; for me, it represents the right picture of the band, and I couldn't ask for more!
 Everyone who sees you wearing this hoodie will pick up the phone and let everyone know you're a huge fan with big balls!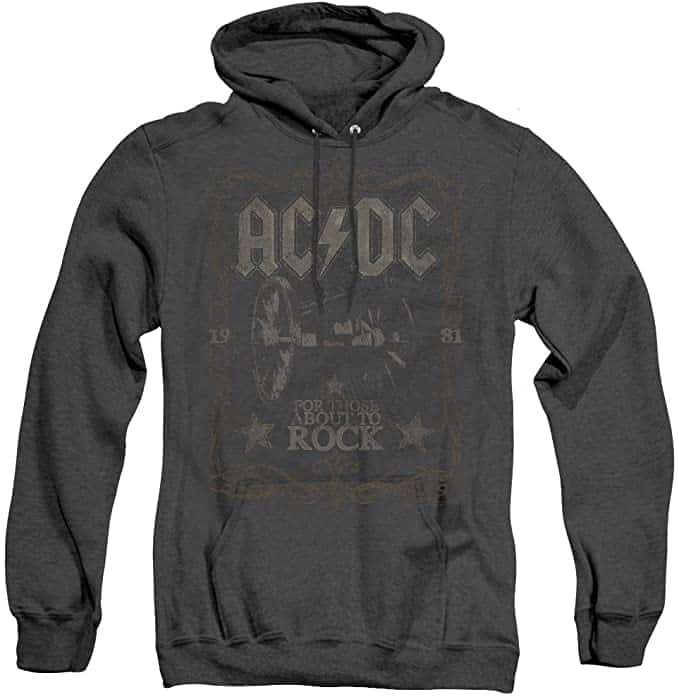 Pros:
Features a front pocket

Great design with vintage look

Affordable price
Cons:
Less cotton than I expected
As the hoodie says itself, AC/DC's eighth studio album was – For Those About To Rock (We Salute You). The album was a follow-up to their unbeaten album Back in Black and has sold over four million copies in the United States. Until the release of Black Ice in October 2008, it was AC/DC's first and only No. 1 album in the US. As for Australia, the album reached No. Three on the Kent Music Report Albums Chart.
Such success had to be honored with the amazon merchandise! The hoodie features strings around the hood that may be pulled tighter when you're cold. It also has a comfortable pouch pocket where you may rest and warp up your hands or carry on your belongings.
In addition, the sleeves and bottom of the sweater have thinner yet elastic ends. As a result, the hoodie traps your body heat within the sweater, making it extremely warm and snug. The sweater is available in adult sizes S through XXL and is constructed of 80% cotton and 20% polyester.
This hoodie is beautifully designed and quality-produced as almost any of their sweatshirt and upper-wear merchandise. It is also machine-washed cold, but it is recommended not to iron the design.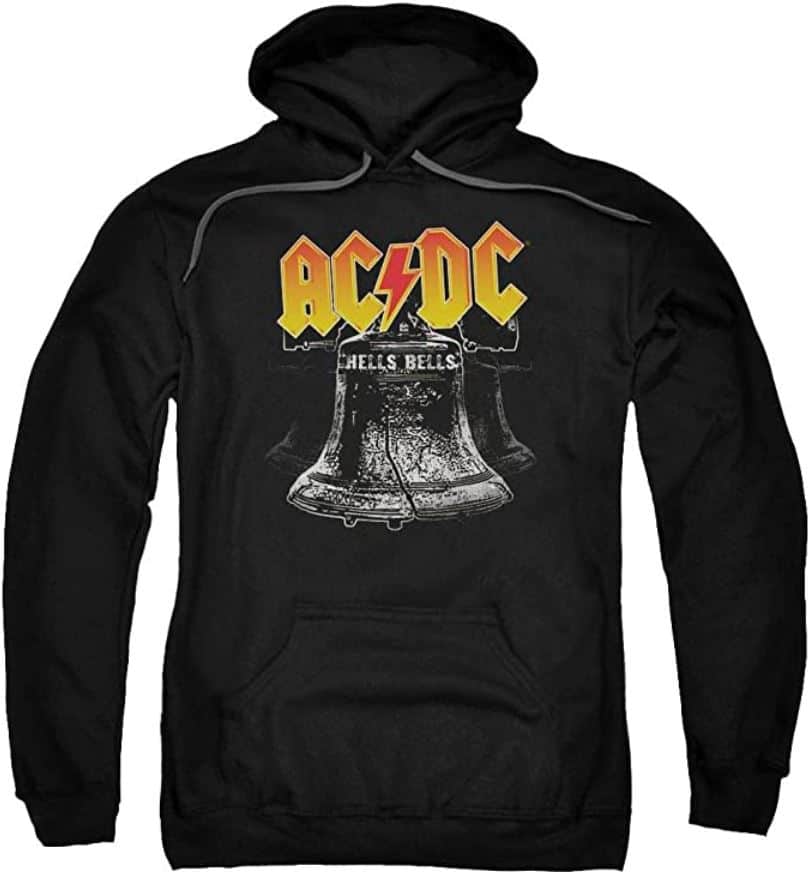 Pros:
Great for everyday wear

Cozy fleece lining

Very affordable
Cons:
Not everyone will like the design
The Hells Bells is the AC/DC's first track on their seventh studio album, Back in Black. The song also appears on their soundtrack album Who Made Who from 1986, on the Stephen King film Maximum Overdrive, and both versions of 1992's AC/DC Live.
In this 1980 single, the opening bell references Scott's premature death, as he died just five months before the single's release. Although replacing Scott seemed impossible at the time, the iconic opening line of the song "I'm rolling thunder, pouring rain" and "you're only young, but you're gonna die" proved the band had managed to pull it off. But so do fans!
The iconic lines and the song had to be rewarded with matching merchandise. This beautiful hoodie features 80% cotton and 20% polyester. The pullover hood is black with their iconic logo on the front side with a burning orange bell and the song's name on the sides of the bell. 
It looks like the bell is burning, ringing among the fire. They managed to put the name of the song into this design. The fans of this song will love it! As for me, I love the song, as almost any of their songs as well, but the hoodie might be just too much design for me.
However, the goodie is very convenient. It has a black hood with strings on the side to pull it off if you feel cold. The hoodie is also very comfy since it is made of 80% cotton and 20% polyester and is unisex; hence, it is suitable for both men and women. 
 The hoodie can be machine-washed and tumble dry, which is always a big plus!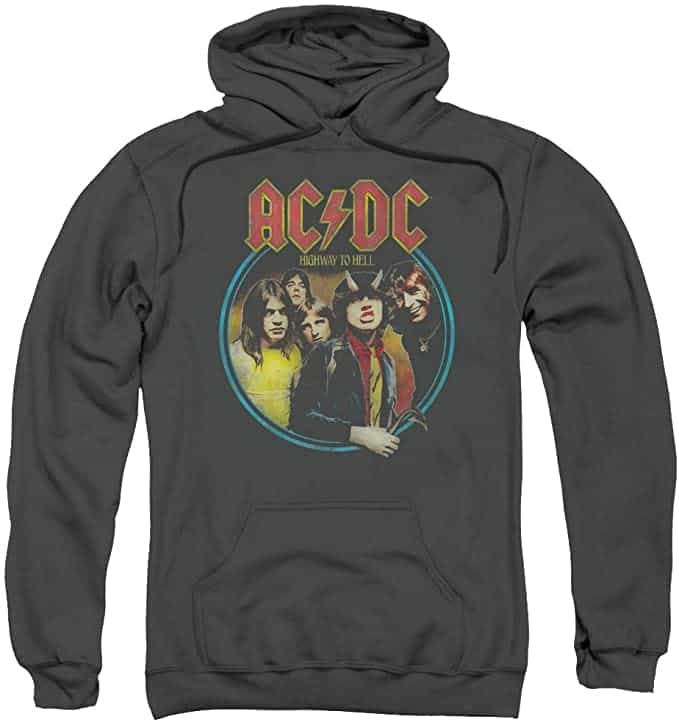 Pros:
Vintage design

Suitable for both genders

Very comfy and warm
Cons
:
Would it be too selfish to say that I saved the best for last? This amazing hoodie features AC/DC's most popular album and song – Highway To Hell. 
Highway To Hell is AC/DC'c sixth studio album and my favorite. It was released in 1979 and was the last album of lead singer Bon Scott who died early the following year. This album took a special place in their career path since it was their first million-seller. 
This unisex adult hooded sweatshirt is perfect for everyday use and looks great on both men and women. The hoodie is all black with a front hand-warmer pocket and a beautiful vintage design in front. The design is the band's picture, also a cover from their Highway To Hell album. Above the picture, the album's name is written in an inconspicuous font.
The hoodie also features strings around the hood with the crew neck headline. It is made of 75% cotton and 25% polyester, as are the majority of their hoodies. 
The vintage look of the hoodie makes it very special, and even after so many years, it's always in fashion.  I still wear it, and I am not planning on stopping it any time soon! 
FAQs
Question: What does AC/DC on a shirt mean?
Answer: AC/DC is an abbreviation for alternating current/direct current" electricity. The brother Malcolm and Agnus Young felt that this was the perfect name for their band since it describes their music's raw energy and power-driven performances.
Anyone who has ever seen AC/DC performances can agree with this statement. They exude positive energy in their legendary rock outfits, jumping around on stage and simply making the crowd go crazy!
Question: Who made the AC/DC logo?
Answer: The band's logo was included on almost every AC/DC hoodie. The AC/DC logo was created by Atlantic Records art director Bob Defrin with the help of famous American typographer and graphic designer Gerard Huerta.
Question: What font does AC/DC use?
Answer: The designers used Shatter font for the famous AC/DC logo. They also draw a lightning bolt in the same font to separate the letters and match the logo style.
This version of the logo was a huge hit and is still widely popular. Today, it is used on over 20 million record covers, tour posters, and other band merchandise.
Question: What are AC/DC colors?
Answer: The AC/DC logo is red, yellow, and black. Red represents passion, energy, and excitement. Yellow makes the logo "shine," imitating neon lights, and the black color depicts the courage and excellence of the band's music.
Conclusion
Is it too obvious that AC/DC is my favorite band? It's not a secret that I own half of their hoodies, but that is for a good reason.
AC/DC merchandise describes my style the way I want. I wrote this article out of pure love and dedication to this band and fashion. I made the Best AC/DC hoodies guide to help all of your fellow fans searching for their perfect fit.
My favorite pick of all these nine hoodies mentioned above is Highway To Hell Hoodie. It is my favorite album, my favorite song, and my favorite hoodie. I love the material; even though it is not 100% cotton, it is still so soft! The design is the same as the album and includes their fantastic logo! The whole hood is vintage which just adds to my love for it!
Perhaps I was too personal here, but I think that many fans worldwide would agree with me!