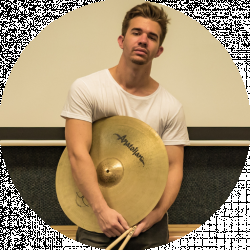 Latest posts by Brett Clur
(see all)
Lynyrd Skynyrd was one of the most famous bands of the Classic Rock Era. Many of their songs are incredibly well-known today, even by people who don't know the name of the band.
I remember my dad showing me a few live Lynyrd Skynyrd shows when I was a child. I was enthralled by the Southern Rock energy, but I was also a bit confused as to why Artimus Pyle was holding his drumstick so weirdly. It turns out he was using traditional grip, which I learned about a lot later in my young drumming career.
Since then, Lynyrd Skynyrd has always been a band on my radar. My dad's blues band regularly performs covers of their songs, and it's always a joy to see how the majority of the crowd joins in with the singing.
If you're a Lynyrd Skynyrd fan who's looking for some awesome t-shirts, you've come to the right place. I've found 15 shirts that any fan of the band would love.
Bottom Line Up Front
Lynyrd Skynyrd's Free Bird t-shirts are my top recommendation. It was the band's most popular song, and it's one of the most loved rock songs of all time. There are multiple designs available, with all of them having the song name printed on the T-shirt.
Some of them have American flags, giving a bit of significance to Lynyrd Skynyrd's proud American history. All these shirts can either be found on Amazon or Rockabilia.
Top Picks at a Glance
Best Lynyrd Skynyrd Shirts to Buy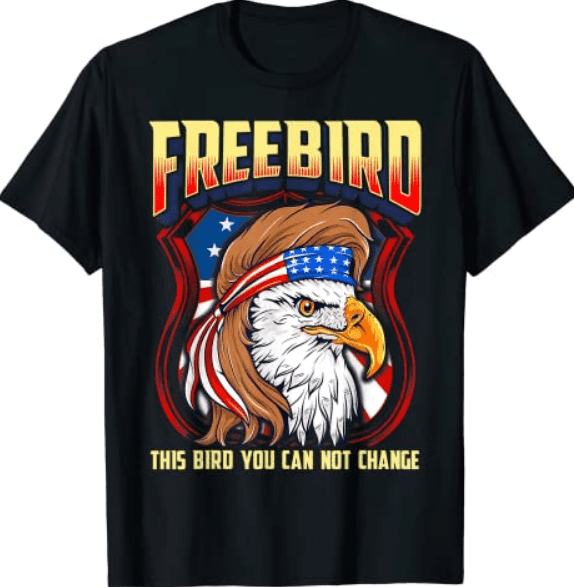 You'll find that many of the T-shirts that I suggest are going to have something to do with Free Bird. It's the band's most famous song, so it's only natural for it to be a common theme across all the Lynyrd Skynyrd merch.
I love this shirt as it's big and bold. It has an eagle with a bandana, looking fierce and confident. The bottom of the shirt has one of the most quoted lyrics from the song, adding a bit more depth to it.
You have the option of getting this T-shirt in either black or navy. Whichever color you choose, the front graphic remains colorful and bold. It's a T-shirt that will make you stand out and show your love for the band.
You can also get this T-shirt in fits for men, women, and young children. I appreciate that, as women are often left with fits for men in the band T-shirt area.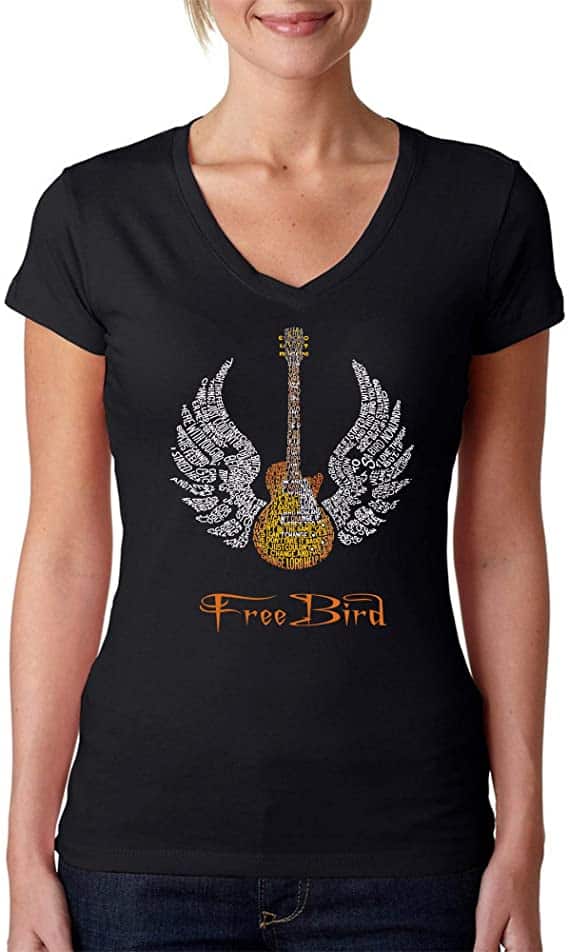 This next Free Bird T-shirt is a fantastic option for women. It's a slender fit, but you can get it in multiple sizes that will suit most body types.
My most loved thing about this T-shirt is the guitar with wings graphic. From far away, it already looks epic, having the wings surrounding what looks like a Gibson Les Paul guitar. However, when looking closer, you'll see that the image is made up of the lyrics to the song.
If you're planning on buying this T-shirt, make sure to order one or two sizes up from your normal size. A few people have complained that it's far too small and that having a bigger size would have made it a lot more comfortable.
Getting it in your standard size will mean it will hug your body, and some women may like that too!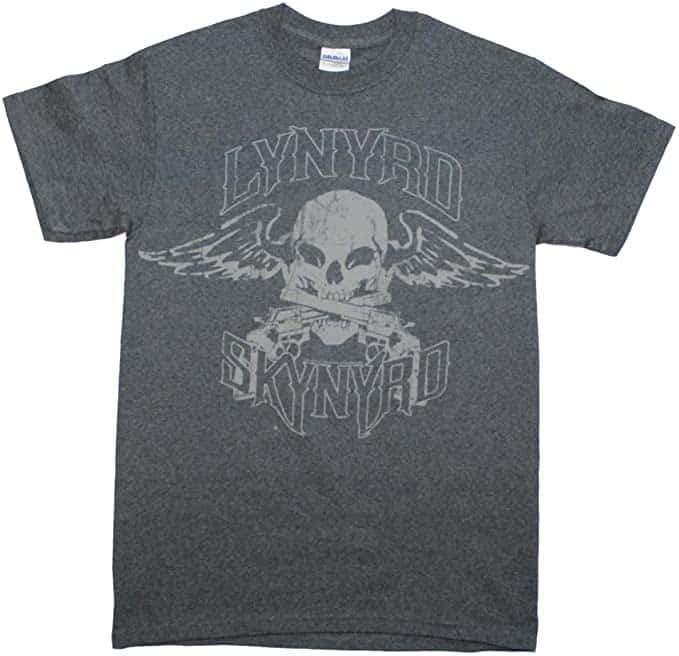 The Men's Biker Patch T-shirt is my ideal option for running errands and feeling comfortable while at home. This particular T-shirt has very soft material, making it feel quite casual to wear.
It has a grey color which fits with almost everything. So, it'll work very well piece underneath a zip-up hoodie. The band's name is proudly printed on the front of the shirt, and what says rock 'n roll more than a skull with guns in its mouth?
Since the material is so soft, this may not be your ideal shirt for wearing out to events. That's why I think it's such a good option for wearing casually at home or running to the store. My wife loves T-shirts like this for sleeping in!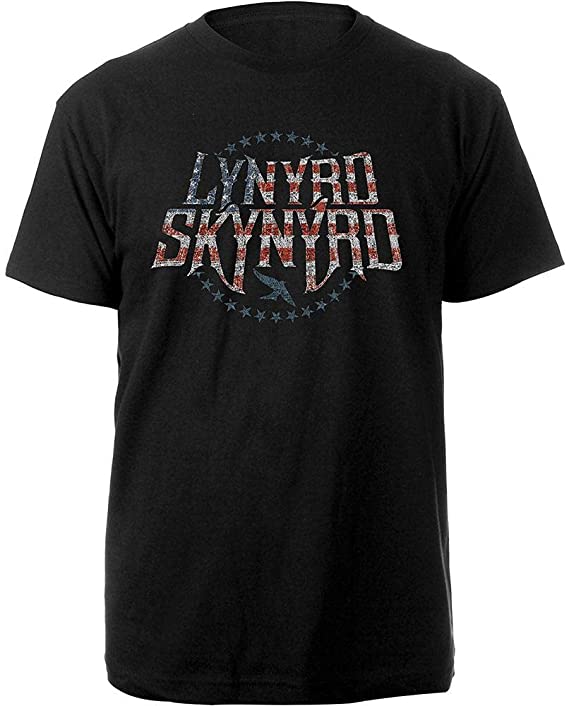 Moving on to a better option for wearing out to events, this Stars and Stripes T-shirt has a similar idea to the previous one. It simply has the band's name, backed by a small design. The T-shirt is proudly American, having the US flag colors layered onto the text. There are stars forming a circle around the name, creating a unique logo.
This T-shirt is designed for men, and it has a fairly slim fit. It tends to shrink, though, so I suggest ordering a larger size than normal.
I like this shirt as the front design isn't too large. It only takes up the top space of the T-shirt, making it ideal for people who want a Lynyrd Skynyrd tee that isn't too visually stimulating. It's subtle, and that makes it a great piece to own.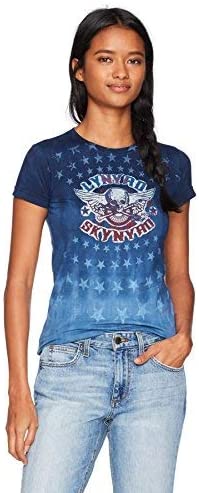 With most band shirts being black with an image printed on the front, it's always great to see something vastly different from the norm. This tie dye graphic tee pops out to the eyes a lot more than any of the other shirts that I've mentioned so far.
It has a slender fit for women, and the bright blue colors are incredibly intriguing. People will see the color of the shirt first and then notice the band's name on the front afterward.
As with most slim fit T-shirts, you should order a size up if you want a comfortable fit. However, you should order even larger than normal with this particular option. The smaller sizes or more suitable for children than anyone else.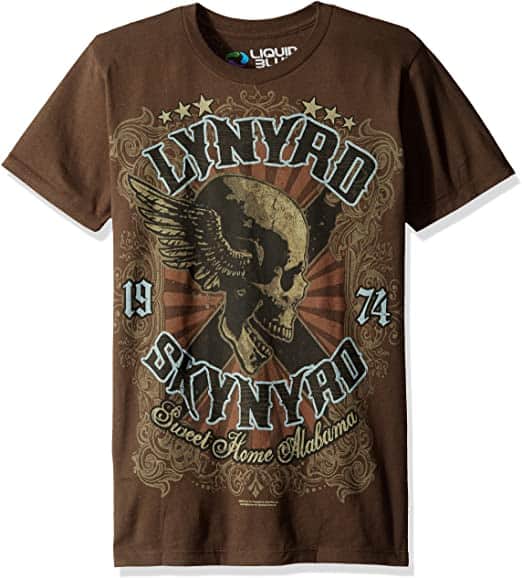 My next suggestion comes from the same clothing brand as the previous one. The design here is also incredibly bold, so it's an awesome option to wear to either a Lynyrd Skynyrd concert or any gig where the band's songs are being played.
This T-shirt is intended for men to wear, and it has a strong brown color that significantly stands out. At the bottom of the shirt is the name of one of the band's most popular songs – Sweet Home Alabama. The song was released in 1974, which is why those numbers are written across the front of the tee.
The material here is a bit thicker than many of the other shirts so far, making it comfortable to wear in colder weather. However, just take note of that if you plan on getting rowdy at a concert. The sweat may come pouring!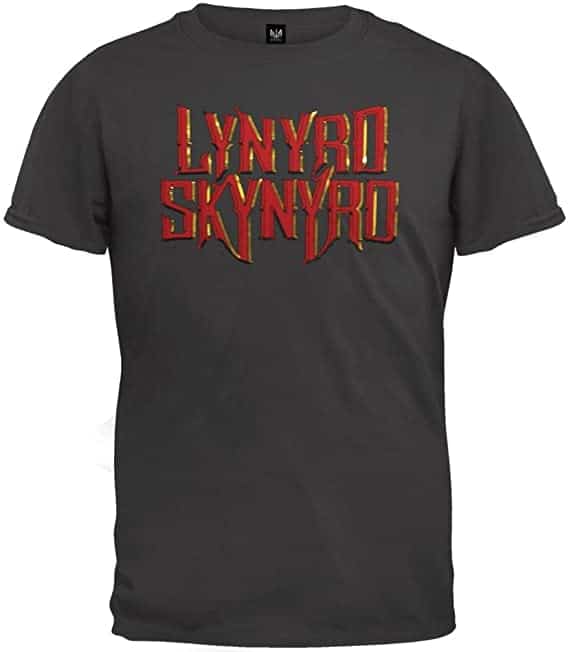 If you want your child to love your favorite band, there's no better way to start them off than by giving them a shirt with the band's name on it. This T-shirt is only made for kids, and it has a very simple design with the name printed across the front.
This T-shirt will be a great gift for any child that you know. The largest size may potentially fit a small woman as well! Just note that there's no option of getting the shirt in a medium fitting. There are only x-small, small, and x-large.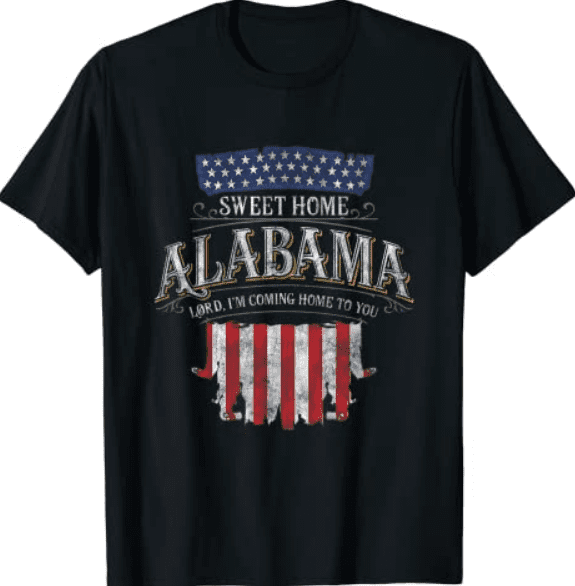 Here's another Sweet Home Alabama T-shirt that you can get. I love the design on this one where the American flag is broken up by the name of the song, along with an iconic line from it.
I've found this to be one of the most versatile T-shirts on my suggestion list. You have the option of getting it in both a men's and women's fit. You also have six color options, including black, navy, asphalt, brown, olive, and dark heather.
All the size options are very reliable, and you can even get the T-shirt in a 3X-large fit. The material is excellent as well, and I can see this T-shirt lasting many years of frequent use. It will maintain its original quality for all that time.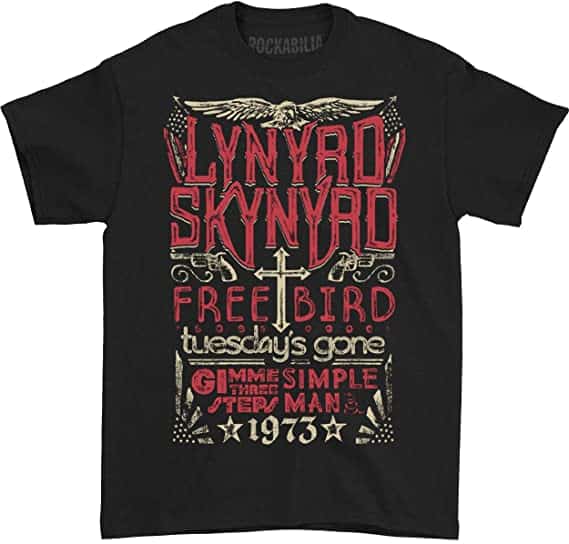 This next shirt highlights all of Lynyrd Skynyrd's biggest hits from 1973. The band blew up in the early 70s, so it's very cool to have their popular song names on a single shirt. The only one missing here is Sweet Home Alabama, but that came out a year later.
I find shirts like this to be fantastic conversation starters. Someone may see it and ask what all the names mean. You can tell them about all of your favorite tunes by the band and what they mean to you.
The shirt is very comfortable, and the writing maintains its integrity even after countless washes. It's always a bit scary washing a T-shirt with text on it for the first time. You don't need to worry about this one, as all those song names will stay there for very long.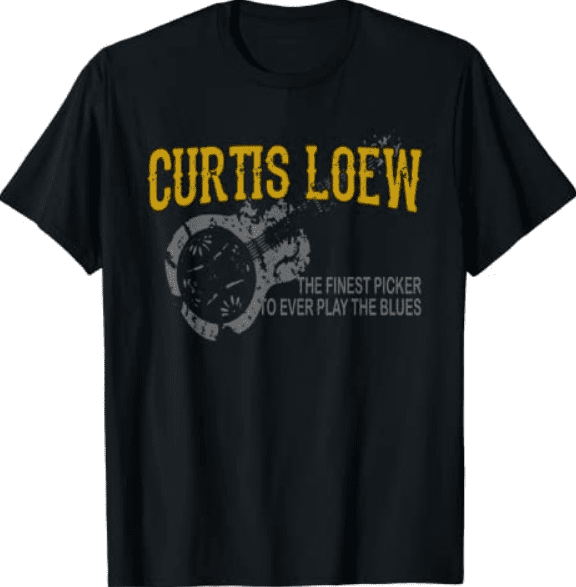 The Curtis Loew T-shirt is one of my all-time favorites. I'm a huge fan of niche band shirts that only dedicated fans of the group will understand. This shirt refers to The Ballad of Curtis Loew, which is one of Lynyrd Skynyrd's lesser-known tunes.
The original band only performed this song once and then brought it back decades later after they reformed after the plane crash. It's one of the most affordable tees on this list, making it an even better option to consider. You can get fits for men, women, and young kids. You can also choose between black, navy, baby blue, brown, and purple.
This is another shirt that will easily spark conversation when people see you wearing it. You can tell them all about how the band only performed this song live once.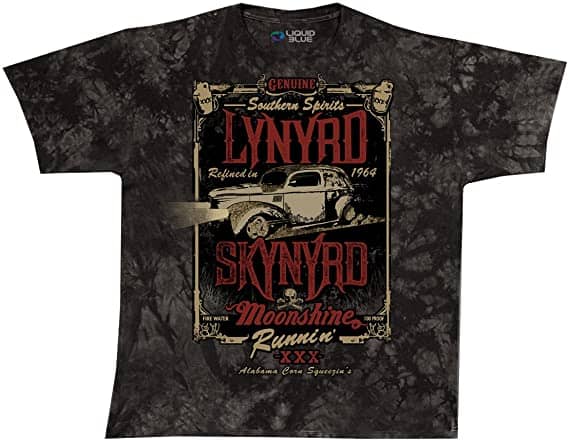 This next shirt provides a great change of pace compared to all the others when it comes to the print. It's the only tee on this list to have an image of a car on it. It's one that comes straight out of 1964, which is the year when the band was formed.
The material used for the tee feels amazing on your skin, and it's incredibly comfortable to wear. Most people I've seen with this shirt have no issues with washing it or having any of the graphics fade away. With that being said, it costs more than any tee I've mentioned here, so the high-quality comes with a high price tag.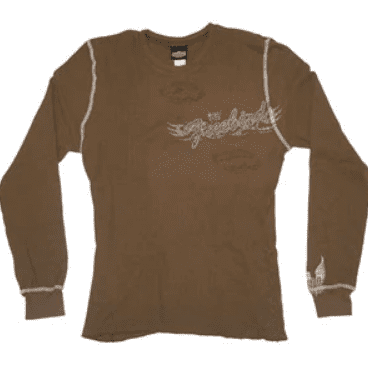 You should consider getting this thermal long sleeve tee if you're looking for something more appropriate for Winter. It has a slightly thicker material, and it covers your arms to keep them warm.
This shirt is a lot more subtle than many of the others, as you'd only be able to see the band's name when looking closely. It's one of the few long sleeve Lynyrd Skynyrd T-shirts available, making it a valuable option to consider adding to your band shirt collection.
The brown coloring tends to fit with many items of clothing, so it's versatile as well.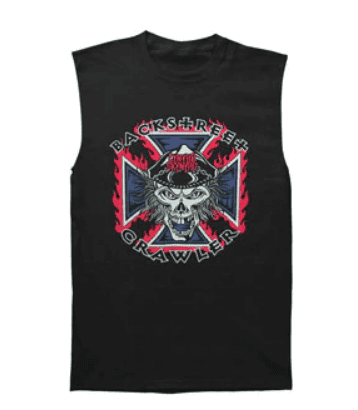 Moving on to the complete opposite of long sleeves, this next Lynyrd Skynyrd tee has no sleeves at all. It screams rock 'n roll, and it's named after one of the band's popular tunes. This is the type of T-shirt that you'll see metalheads wearing often. It allows your arms to breathe, yet it feels secure to wear.
You can get the tee in either a medium or large size. It's designed for men, so women may not look or feel too good in this one. Overall, it's a great tee to wear in hot weather.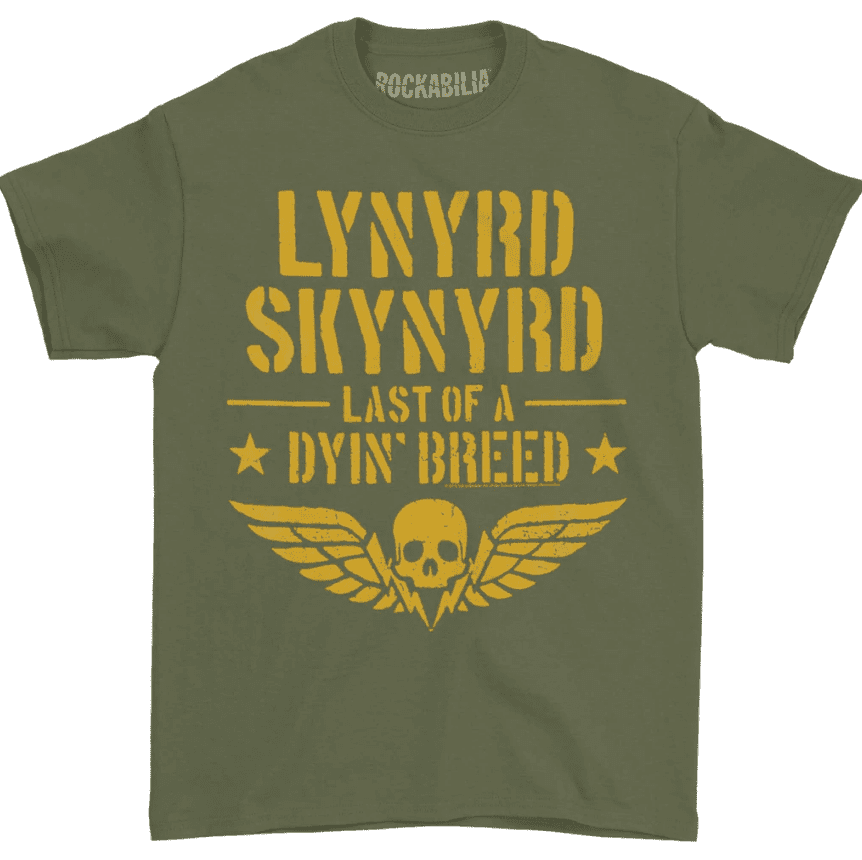 This next T-shirt has a more modern touch, and it's named after Lynyrd Skynyrd's latest studio album which was released in 2012. The name was also shared with one of the singles from the album that charted quite high. The tee has militant coloring, giving you a green shirt with gold text at the front. There is no mention of the band anywhere on the tee, so only people who know about the album will understand where it comes from.
Overall, it's a comfortable tee that looks and feels great. Just note that it only comes as a small if you buy it on Rockabilia.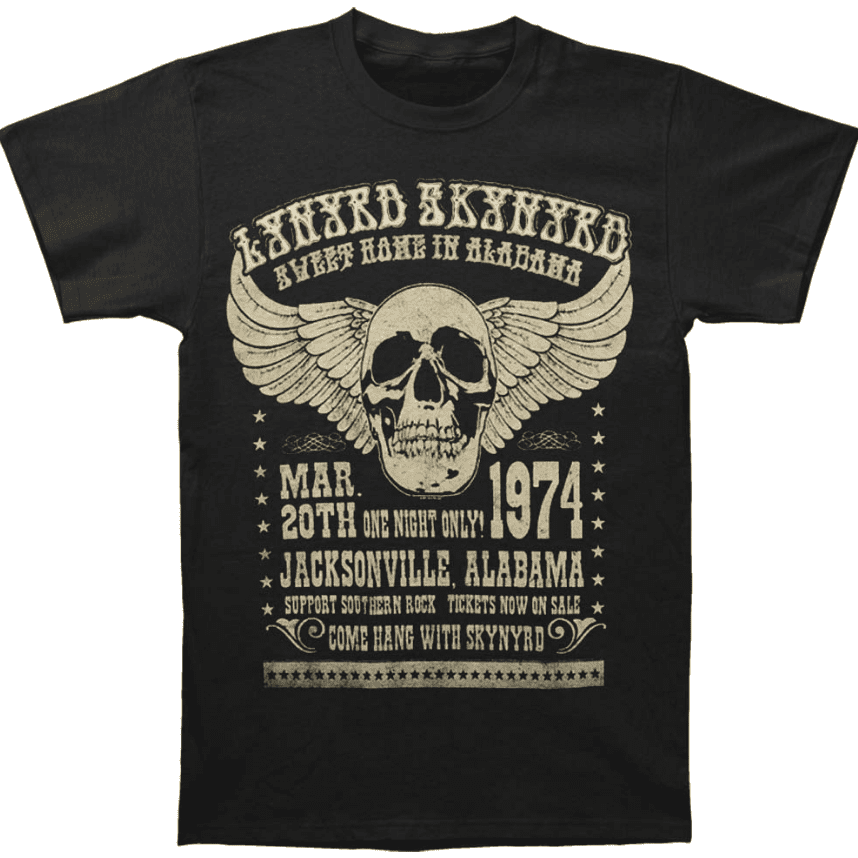 My final suggestion is a shirt that pays tribute to March 20th, 1974. It's a classic concert tee that you'd find at a merch table when attending a gig. I find shirts like this really cool, as they give you a sense that you were there. Even though this shirt is a remake, it calls back to the time when Lynyrd Skynyrd were at the height of their fame.
Other than the awesome text, the shirt is simply designed. It's a black crew neck that fits comfortably on most body types, and it can be worn by both men and women. Like the last T-shirt, you can only get this one as a small fit on Rockabilia.
FAQs
Question: Which Lynyrd Skynyrd Members Died in the Plane Crash of 1977?
Answer: Ronnie Van Zant, Cassie Van Zant, and Steve Gaines were the core band members that died in the tragic plane crash. The other casualties were members of the larger band group. This included Dean Kilpatrick, Walter McCreary, and William Gray.
The plane crash of 1977 was a freak accident that rocked the world of all the band members. The band took a 10-year hiatus after that, joining up again in 1987 to continue touring.
A few new members joined the group, with Johnny Van Zant being the most notable addition. He was the younger brother of Ronnie Van Zant, and he became the new lead singer.
Question: Is Lynyrd Skynyrd Still Making Music?
Answer: Yes. Dozens of members have come in and out of the band, but they're still going strong and playing live shows.
Their last studio album was released in 2012, and they've been touring with those tracks along with all their other popular ones since then. There's been talk that the band will record another studio album, but that is yet to be seen.
Most of the band members suffer from health issues, so it's uncertain how much longer they're going to tour for. If you're able to catch a Lynyrd Skynyrd gig, I highly suggest you do it!
Question: Which Lynyrd Skynyrd Album is the Most Popular?
Answer: Street Survivors is the album that ranked highest on the charts for the band. The biggest reason for this is that the album came out only a few days before the infamous plane crash that killed a few of the band members.
Interestingly, the original album cover had the band members standing in a line with fire behind them. Steve Gaines, one of the members that died in the crash, looked to be engulfed in flames.
It was a huge coincidence, but the album cover was altered shortly after to respect the members that passed. It had a pure black background instead of fire behind all the band members.
Question: What are Lynyrd Skynyrd's Most Famous Songs?
Answer: Free Bird and Sweet Home Alabama are Lynyrd Skynyrd's most popular tunes. Sweet Home Alabama is often used in movie soundtracks, and it's regularly covered by bands that play rock and blues.
Free Bird is a lot more popular. I can't even tell you how many gigs I've played drums at where someone has shouted out a request for it to be played.
It's a slow rock ballad with an incredible guitar solo by Allen Collins. Whenever Lynyrd Skynyrd plays a live show, they end the set with this song, naturally getting the biggest response from the crowd compared to all their other songs.
Question: How Many Members Have Been Part of Lynyrd Skynyrd?
Answer: Over 40 members have been part of Lynyrd Skynyrd since the band was formed. The band has been going for over 50 years. Over that time, there have been numerous changes to the lineup of members.
Some members have joined and departed on good terms, while others have had to slot in due to the deaths of original band members.
Here are the current members of the band and which instruments they play:
• Johnny Van Zant – Lead Vocals
• Gary Rossington – Guitar
• Ricky Medlocke – Vocals and Various Instruments
• Michael Cartellone – Drums
• Mark Matejka – Guitar and Vocals
• Peter Keys – Keyboard
• Keith Cristopher – Bass
Conclusion
There are so many great T-shirts to choose from here that all encapsulate the epicness that is Lynyrd Skynyrd. If you're struggling to choose just one, I'd suggest getting one of the Free Bird options. You can't go wrong with a tee that represents the band's most famous song.
Remember to check which sizes are offered, and make sure to get a size up if you want a loose fit for most of the tees. Lastly, women may benefit from tees that are specifically designed for feminine body shapes. The LA POP ART Free Bird Women's T-Shirt is one of the best options for that.