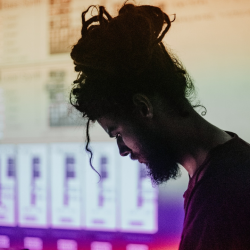 Latest posts by Calum Vaughan
(see all)
The Beatles once said All You Need Is Love", and whilst this is a poetic phrase, it's not quite true! Even if you're a super dedicated fan of The Beatles like me, there are loads of different things that you need in life, and some of the best Beatles posters are a prime example!
I've always been a big fan of The Beatles – I grew up listening to my parents' old Beatles records from the '60s, became even more familiar with the band when I purchased their No. 1 Singles compilations, and now have over 100 of their songs liked in my Spotify playlists.
I love to express my love for this band through listening, singing, and even performing their songs sometimes, but posters are one of my favorite means of expression – if someone steps into my house, The Beatles will instantly be a talking point!
If you're a huge fan of The Beatles, just like me, this guide to the best Beatles posters is going to be a must-read. I'm going to be covering tons of information, such as what to look for in the best Beatles posters and how to ensure they stand out, and provide you with some of my top recommendations. Read on to find out more!
Bottom Line Up Front:
There are countless Beatles posters on the market which can make the selection process overwhelming, but you can't go wrong with something that is high quality, with a unique and authentic design, along with excellent options for customization such as the Displate Metal Yellow Submarine Poster.
What To Look For In The Best Beatles Posters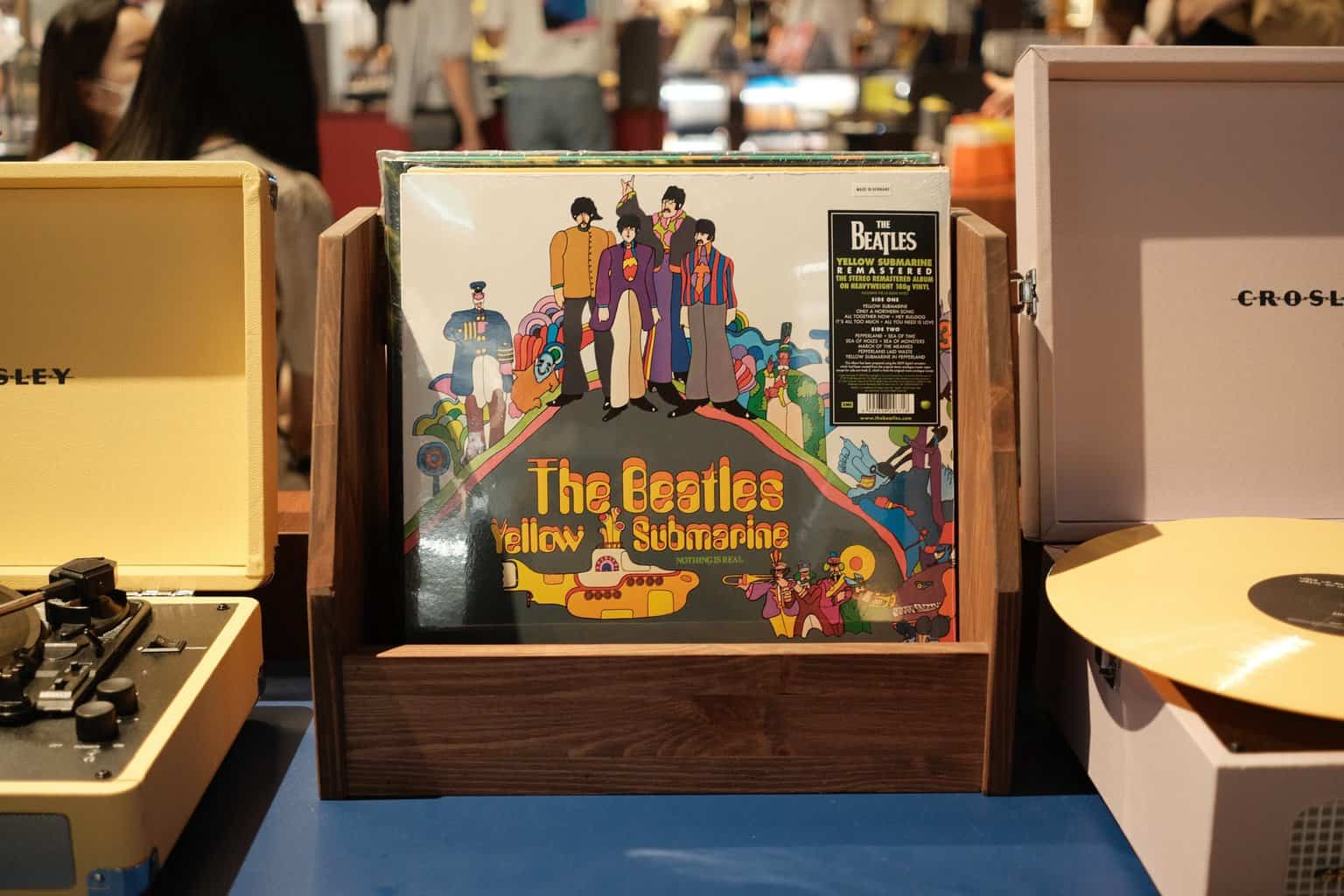 If you've ever searched online for the best Beatles posters, you will already know that there is an enormous selection out there. They are one of the most famous, if not the most famous, bands on the entire planet. Therefore there are tens of thousands of different poster combinations available on the market.
This is why it's important to carefully consider which Beatles poster you will purchase; it's well worth spending the time to find the hidden gems. I'm going to help you do this by breaking down the most important qualities that you should look for in Beatles posters – let's investigate!
Print Quality
Let's start things off with one of the most important qualities to look for in not just the best Beatles posters but pretty much anything – quality.
More importantly, we're talking about print quality. If you've ever purchased merchandise to show off your favorite bands, whether this is as a poster, a t-shirt, or a sticker, you will know that there are a variety of print quality standards out there.
Sometimes it can be tempting to cheap out on band posters – after all, it's just paper – right? Well, not exactly. The designs of posters can be printed onto a variety of different paper types and other materials, and some are of a higher quality than others.
When you come across a seriously cheap Beatles poster, it's almost always because the material quality is bad. This often means that the resolution looks low, the colors don't appear quite right, and it just looks weird – period.
It's not just about the material, though – even if the material that the Beatles poster has been printed on is of high quality, the company printing it could still do a bad job. I can always remember spending $20 on what was advertised as a high-quality poster of Sergeant Pepper's Lonely Hearts Club Band.
When it arrived, it was undeniable that the material quality was high, but my gosh, did they mess up the scale. Someone was not thinking when they printed this poster because the artwork had been upscaled to look stretched and pixelated – some of the design wasn't even showing!
It certainly isn't difficult to produce a high-quality poster – pick a good design, ensure that it's been scaled and presented properly, and print it onto good quality material. Unfortunately, this is too much to ask from some companies, so always look out for this in the reviews – more on that later!
Size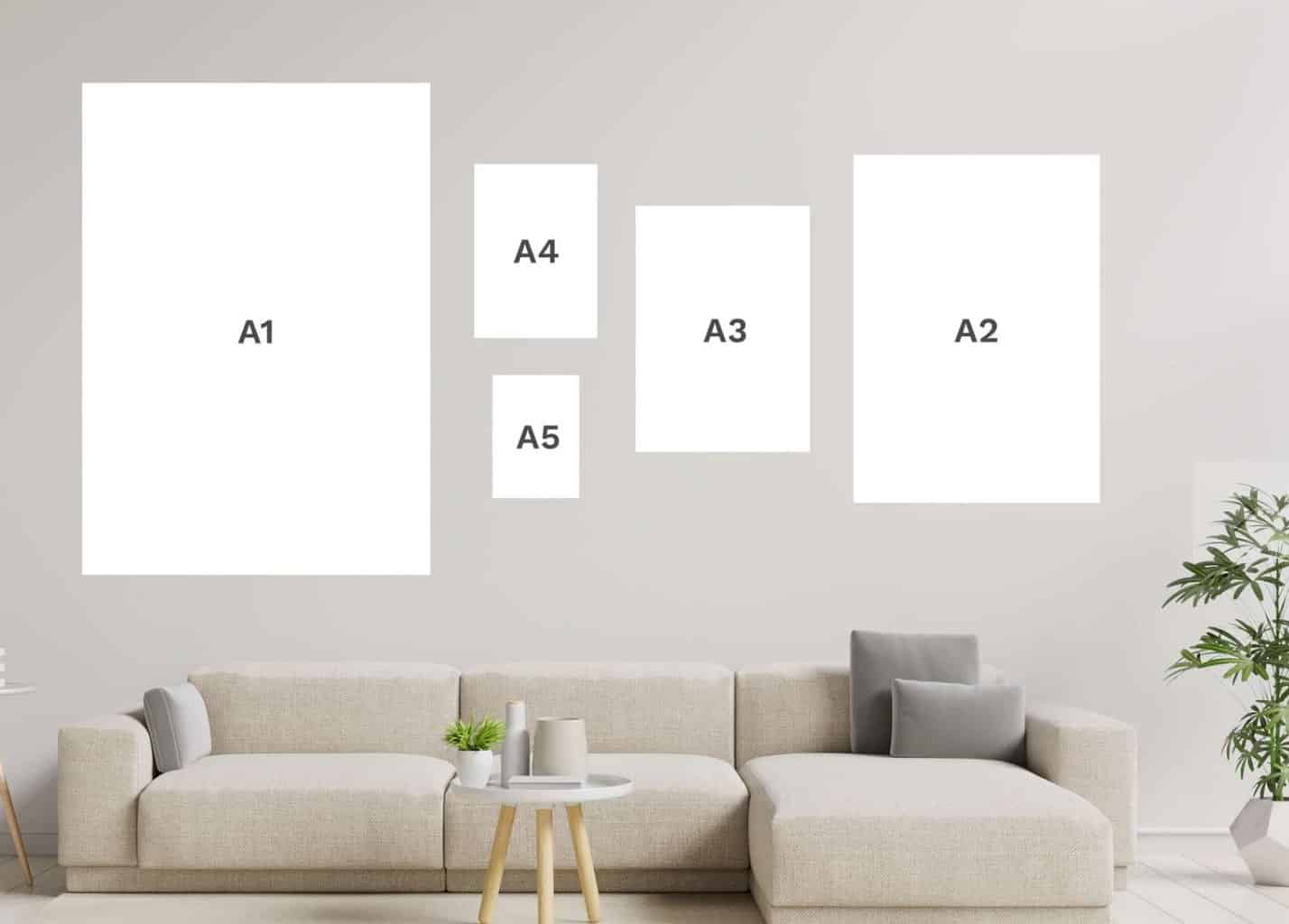 The size is the next important thing that I recommend you always investigate when looking for the best Beatles posters. Posters can completely bring a room to life, whether it is your bedroom, music studio, or living room. However, this is only the case if it is sufficiently sized and posters come in all sorts of different dimensions.
I thankfully learned this from someone else's mistakes – my sister is just as much of a Beatles fan as I am, and one time she purchased a Yellow Submarine poster online to sprawl it across her bedroom. She showed me the listing online, and I can vouch for her that it looked like it would be huge, but this was sadly not the case when it arrived.
Whilst the situation was very frustrating and disappointing for my sister, I could not help but laugh – the poster had been printed on A5 material – that's hardly large enough to stick on a school locker, let alone a bedroom wall! We joked that she could have simply printed this out using the printer in the study, and she would have received a larger product.
Whenever you are ready to bite the bullet and purchase a poster online, always ensure that you check the dimensions first. These should always be listed on the product page, and it will show you exactly how large the poster is going to be. If you come across a poster that does not include this information, it's best to avoid it – who knows what you're going to get?!
Variety of Designs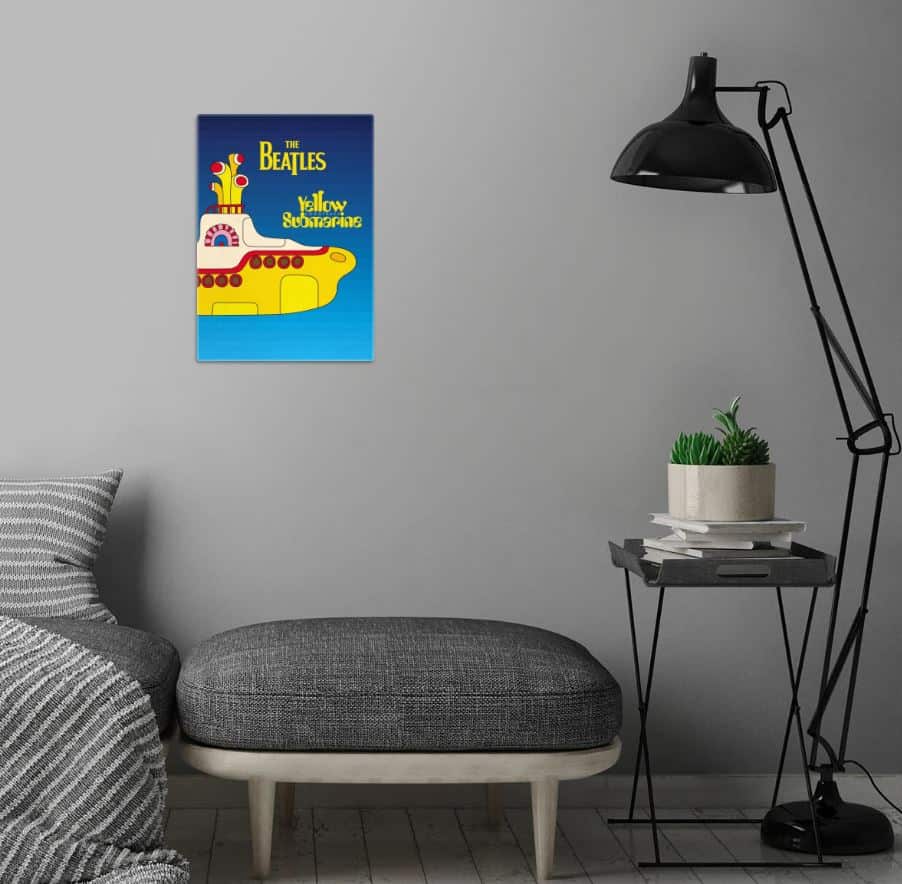 The points that I have mentioned so far all come down to the producer of the poster – things such as the dimensions of the poster and the print quality completely come down to them, but this next point is all down to you – the variety of designs.
If you're as big of a fan of The Beatles as I am, you will know that the band's music spanned many decades, and throughout these times, they produced a wide variety of music. There's their early squeaky-clean material of the early '60s that won over everyone from the kids and the grandparents to their psychedelic-tinged music of the late '60s and early '70s.
Everything became a lot more varied from that point on, and as a result, there are poster designs for this band that range from simple portraits to full-on trippy patterns!
In my opinion, if you want to plaster your walls with some of the best Beatles posters, it's simply not possible without buying one that represents each major period. Can you truly say that you are representing the band stylistically if there isn't a hint of psychedelia on your posters? It would also be a shame not to represent their earlier days that brought them to the dizzy heights they eventually reached.
Overall, there are many different Beatles poster designs out there, and I would highly recommend that you choose carefully to curate a balanced selection. They made a lot of music, and this can be conveyed in a lot of different ways, so make sure that you do it right!
Authenticity
When choosing the best Beatles posters, the next thing to look for is authenticity. If you have ever purchased merchandise from any musical artist, you will probably be aware that there are an awful lot of unlicensed artists out there.
This means that as opposed to a poster being sourced directly from the official Beatles merchandise stores, it could instead be produced in the bedroom of someone trying to make a quick buck.
The Beatles broke up a long time ago, so it can be argued that buying official merch doesn't matter anymore. After all, just because someone makes their Beatles posters unofficially does not necessarily mean they will be of bad quality. I've come across tons of unlicensed posters in my time, and some of them have made my top recommendations list.
However, whilst buying officially licensed posters from The Beatles doesn't contribute to keeping the band alive (because they are sadly well and truly broken up), it will ensure that your product is of high quality.
Officially licensed products always go through a meticulous quality assurance process, so you can relax and know that your product is guaranteed to be scaled correctly, printed on high-quality materials, and potentially contribute to members of the band that are still alive.
I still hold my position that you shouldn't avoid unofficially licensed Beatles posters as many of them are great. However, you will simply need to be more meticulous in your process of checking reviews, which brings me to my next point!
Reviews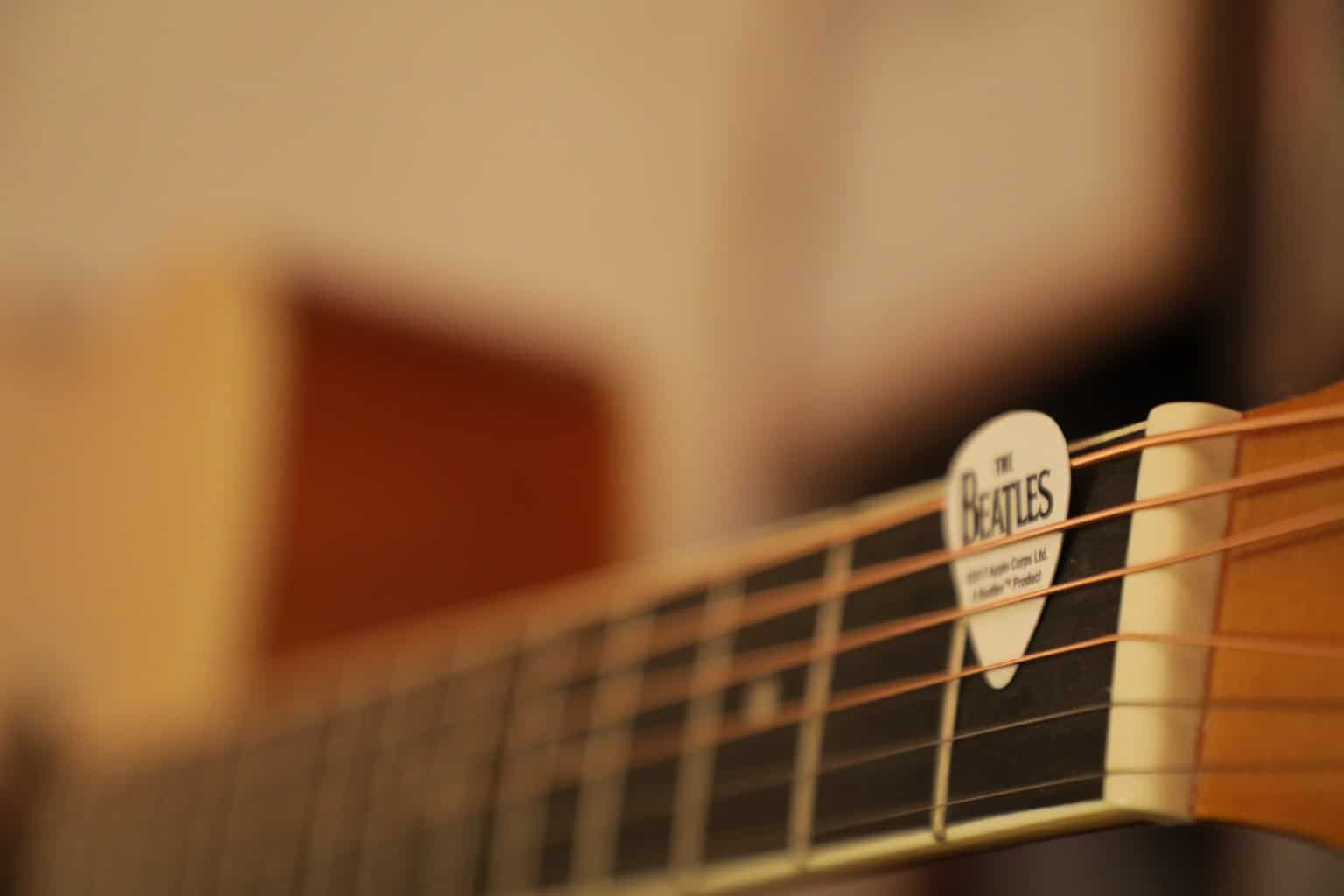 Whenever I am buying a product online, I will always check the reviews first. It doesn't matter whether I am purchasing a book, a guitar, or a Beatles poster – reviews tell all!
As I mentioned in my previous section about authenticity, this isn't always necessary when purchasing officially licensed Beatles posters – you can pretty much guarantee that the quality is going to be high. However, if you're buying a poster from an unlicensed source, there will be no formal quality assurance of regulatory process, and this means that the products can be a bit hit-and-miss.
Luckily, the process of navigating this situation is very simple – just check the reviews. Good products will almost always have a product rating of 4 out of 5 stars or above (this can also be expressed in percentages such as an 80% satisfaction rating). Inevitably, there will always be somebody who leaves a bad review, as people are difficult to please but use some common sense. I'm sure you'll get a good idea of the quality of a product with a quick bit of reading.
Consider Framing Options Your Favourite Beatles Posters
In a moment, I'll be moving on to recommend to you some of the best Beatles posters that I have come across in recent years. Still, I first wanted to touch on something I think is worth knowing. Posters used to be very simple – they were found in magazines or explicitly bought to be pasted onto bedroom walls, and there was nothing more complicated to it.
However, times have changed, and these days, there are tons of interesting framing options for your posters. Sure, you could get a traditional frame made out of wood, insert your poster into it, and go old school. However, I'm talking about the sleek, metallic, and frameless options available these days.
Give "metal poster" a search online. You'll find many options from companies such as Displate, eFrame, Desenio, and others – I'd recommend putting some research into this, as they look so darn cool. It's undeniable that this will cost a bit of extra money. Still, I think it's work considering your options when it comes to The Beatles!
My Top Beatles Poster Recommendations
Now that we've taken a look at the criteria that you should look out for when purchasing Beatles posters let's take a look at some of my personal favorites. There are thousands of designs out there, so I encourage you to research yourself. Still, hopefully, my top picks should provide you with some inspiration!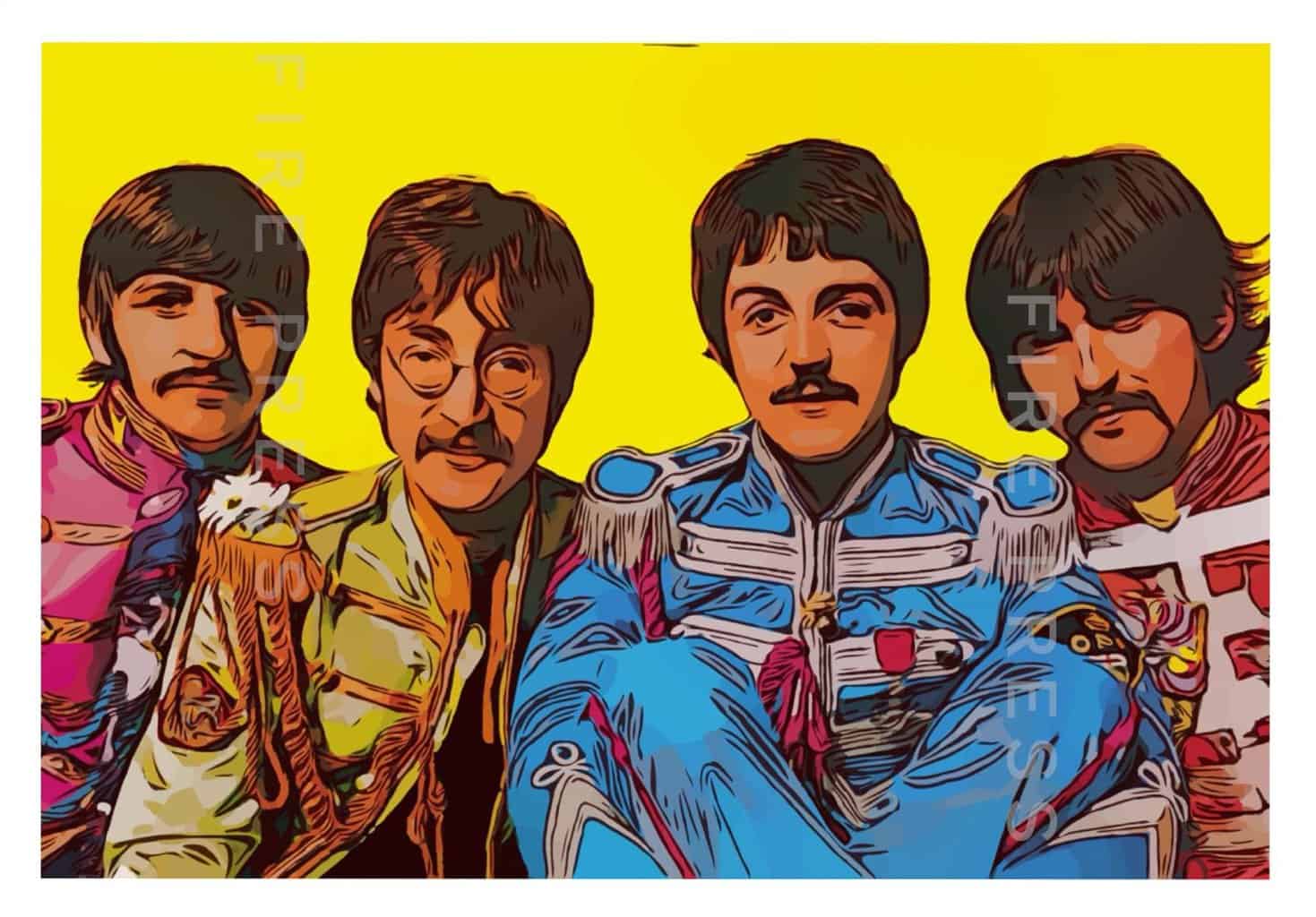 The first Beatles poster that I wanted to list is one designed by V For Vector on Fire Press, named simply "The Beatles Poster." I was fond of this poster when I first found it due to its simplicity – it doesn't reference a particular album, including song lyrics, or anything fancy like that. It simply features a cartoony image of the famous four together, looking quite dashing in their psychedelic uniforms of the late '60s.
The quality of this poster is great; it's got a landscape orientation that I think is ideal for filling larger spaces. Best of all, it is available in five sizes, starting at A5 and ending in A1.
Pros
Available in five different sizes
Landscape, making it great for filling wall spaces
 Cool cartoon-like style
Simple yet representative of the legends that are The Beatles
Cons
Some people may not like the cartoony style
Landscape posters are not for everyone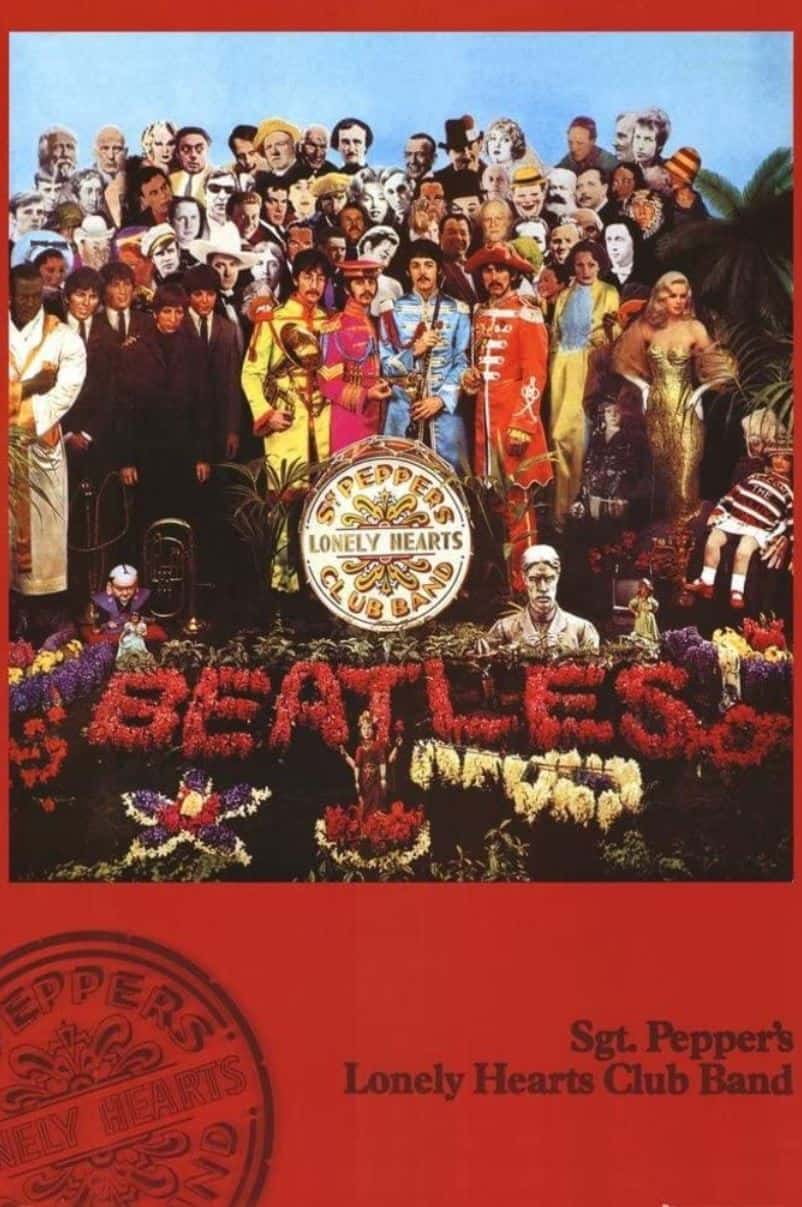 The next poster on my list of the best Beatles poster simply has to be the Sargeant Pepper's Lonely Hearts Club Band poster, sold on Amazon and officially licensed by The Beatles themselves.
I'm a little biased towards this poster as Sargeant Pepper was easily my favorite album by the band. However, I think the colors and details nature of the artwork makes it a solid choice, even if you have other preferences.
It's a large poster coming in at 61 x 91.5cm, which is a great size considering the low price. My only qualm is the fact that the actual artwork only takes up around 3/4 of the poster – the rest is filled with red space and a somewhat tacky-looking Sargeant Peppers stamps and typography. With that being said, I still have this pasted on the walls of my music studio, so it doesn't bother me that much!
Pros
The Sgt. Pepper album artwork provides tons of detail to look at
Large size of 61 x 91.5cm
Officially licensed
Loads available on Amazon
Cons
The red area at the bottom is a bit of a waste of space, in my opinion, and the logo and stamp that fills it feel a bit tacky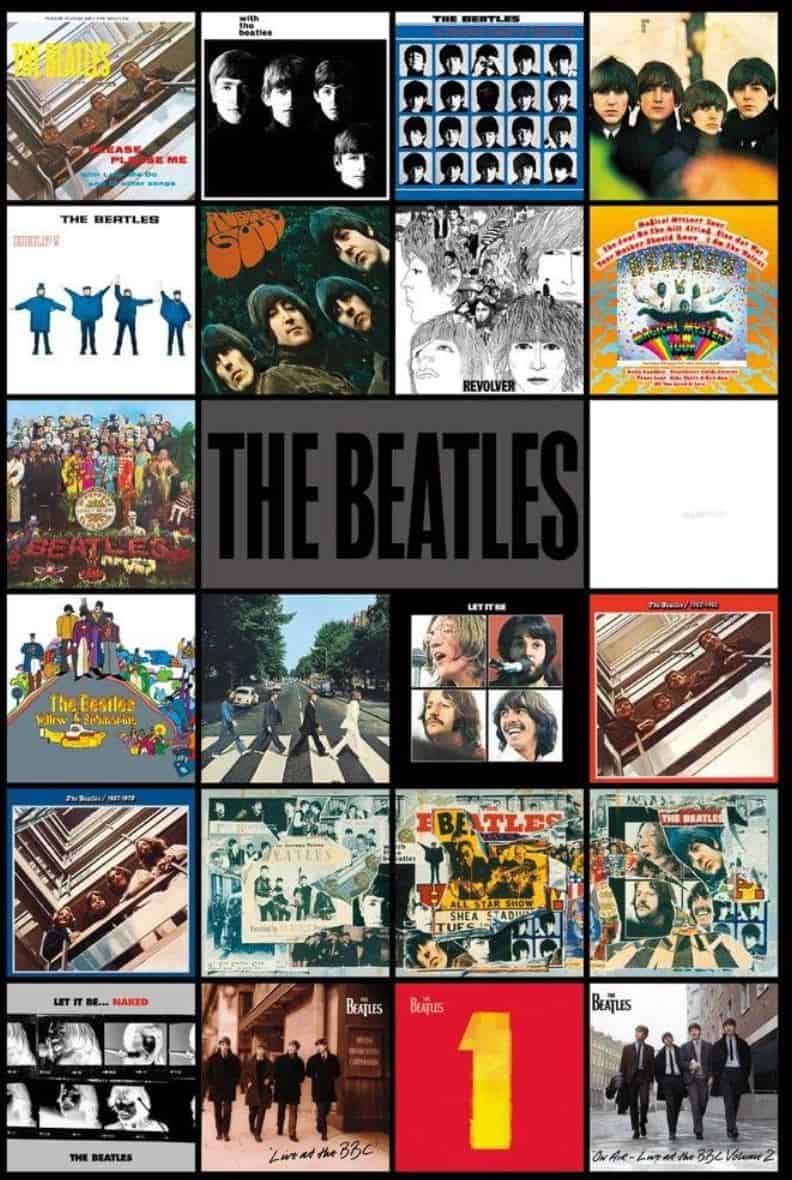 The third Beatles poster I'd like to recommend can be found on poster shops all over the web – it's the classic The Beatles Albums poster. As the name suggests, this cracking poster features all 21 albums that the band released, from 1963's "Please Please Me" to their final greatest hits and live album.
I think this format provides a holistic view of the band's career that is very appropriate – when thinking about a band as good as The Beatles, representing one or two eras is not enough; you need to see the bigger picture! It's a fantastic poster that I would highly recommend.
Its popularity means that it is available on many different websites for a range of different prices, including metal and wood-framed versions.
Pros
Includes every studio album the band released
Available on many different websites in different formats
Features the official Beatles logo in the center of the poster
Cons
The variety of different versions makes it challenging to assess what the quality will be like
The mosaic-like poster format can feel too cluttered for some people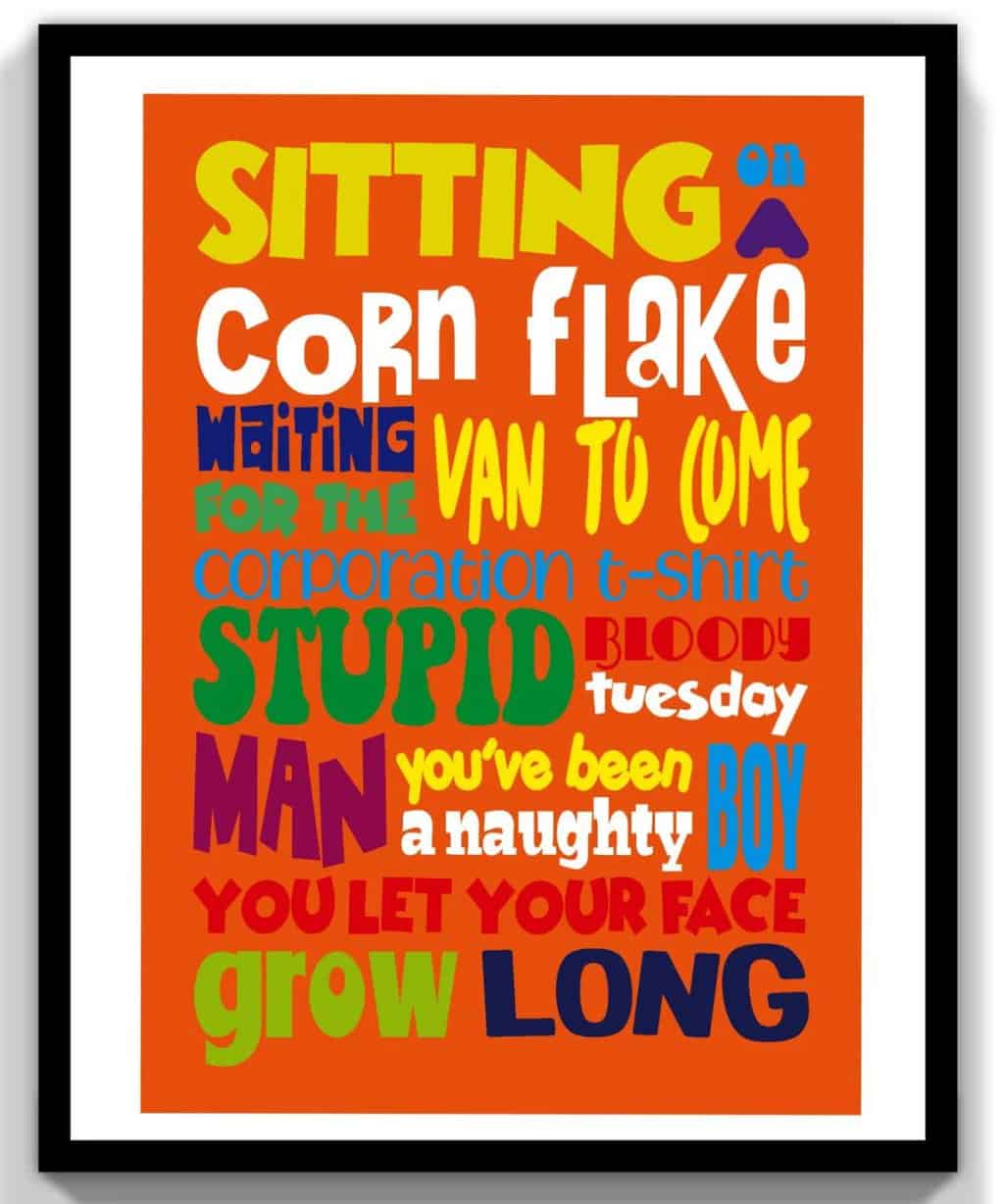 I've got a lot of love for pretty much everything The Beatles ever did, but I must say that I always preferred their more wacky and psychedelic side. So, you'll probably not be surprised to see me recommending the fantastic "I am the Walrus" lyric poster, sold on Etsy by a seller named NowtButPrints.
If you're a fan of this song and love The Beatles' psychedelic side, this is a must-have – it features the most surreal lyrics of the song in a variety of fonts and colors, pasted on an orange-sunshine backdrop. It's also available in four different sizes, from A4 to A1. While it isn't officially licensed, the seller is passionate about the band and has put a lot of love into the product.
Pros
Fan-made
Available in four different sizes
Perfect for fans of The Beatles' psychedelic side
Colourful lyrical format
Cons
Whilst "I am the Walrus" is one of my favorite songs by the band, many people despite it for being extremely strange.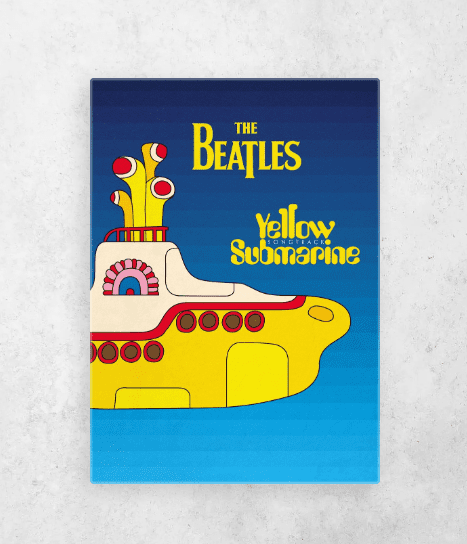 The last poster that I wanted to recommend is something truly special – it's the Displate Yellow Submarine metal poster. This product is similar to the first example I listed, featuring a cartoony imagination of the classic Yellow Submarine era. The colors are tasteful yet varied.
The creamy yellow backdrop is unique. The Beatles logo at the bottom finishes the poster off nicely. All of that is wonderful, but for me, the stand-out feature of this poster is the fact that it is printed on metal; it just looks stunning.
The display also allows you to customize the metal finish and the great frame material. Still, it is unfortunately only available in the medium size of 17.7″ x 12.6″. Still, though, it's an absolute belter of a poster!
Pros
Printed on sleek-looking metal
Fantastic cartoony tribute to Yellow Submarine
Tasteful yet varied colors
Options for customization
Cons
Only available in one medium size
FAQs
Question: What Makes a Good Beatles Poster?
Answer: Elements such as design are subjective, but a good Beatles poster should pay tribute to their glory days, be printed on high-quality material, come in various sizes and designs, and have excellent reviews.
Question: Are There Officially Licensed Beatles Posters?
Answer: Yes! There are loads of officially licensed high-quality Beatles posters out there, sold on The Beatles' official merch stores as well as Amazon.
Question: Are Metal Beatles Posters Worth It?
Answer: Whilst metal poster options such as Displates are certainly more expensive, the quality of them is impeccable, and the options for customization are endless, making them well worth the price.
Final Thoughts
Well, that just about brings us to the end of the guide to finding the best Beatles posters. Whether you go for a classic poster such as The Beatles Albums mosaic poster or my personal favorite of the "I am the Walrus" lyrical poster, I am sure there is something on this list.
Just remember – always do your research, always check the reviews, and make sure you measure up the space you want to fill and compare it to the size of the poster you are buying. This will help avoid unnecessary disappointment, trust me. Good luck!