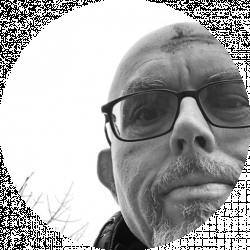 Latest posts by Kenaz Filan
(see all)
I first heard AC/DC in 1978 on the television program The Midnight Special. I was 13, and they spoke my youthful and testosterone-charged language. With a wee guitarist in a schoolboy uniform and a frontman who sang with a perpetual leer, AC/DC was a bubblegum band for audiences who had just discovered their uncles' nudie magazines.
I remember Highway to Hell's release and the news of lead singer Bon Scott's untimely demise. Then, just when everybody least expected it, AC/DC came back with a new singer and an album that would go on to sell over 50 million copies. And today, when this legendary band and I are both old enough to know better, AC/DC continues mining a half-dozen chords and a driving 4/4 beat for crowd-pleasing gold.
"It's a long way to the top if you wanna rock and roll," Bon Scott proclaimed in one of AC/DC's early songs. AC/DC got to the top and stayed there for over 40 years by rocking stadiums, arenas, and pubs.
So how did they get there? It all started in Scotland during the Big Freeze of 1963.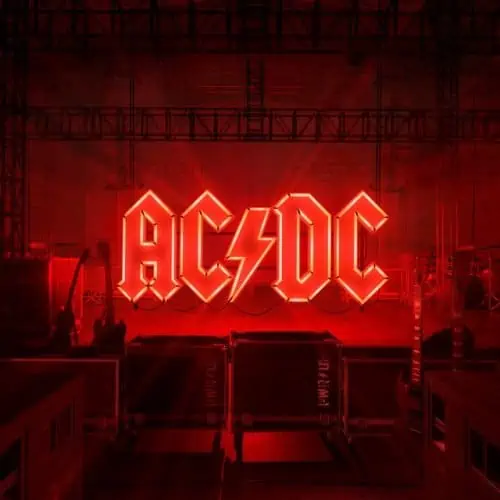 1964-1973: Before AC/DC
After the historically cold winter of 1962-3,  fifteen members of the Young family – including brothers Angus (8), Malcolm (10), and George (17) – were in Sydney, Australia. The weather was warmer than the Glasgow slums, but their lodgings at a migrant hostel left something desired. Describing their early days Down Under, Malcolm recalled in 2014.
[I]t was a very slim, bare necessities situation and it rained non-stop for six weeks with snakes crawling around the floor. We wanted to go home. But when we saw both our parents crying the night we arrived, we took strength from that to try and stick it out.
But the Youngs were soon resettled in Burwood, a Sydney suburb. While money was often tight and accommodations crowded, the Young family loved music. Big brother George became the family's first rock star when his band, the Easybeats, achieved Australia-wide fame with their 1965 album Easy and  worldwide success with 1967's "Friday on my Mind."
By 1969 the Easybeats had tired of life on the road. George Young and fellow Easybeat Harry Vanda set up shop as songwriters in London. But in 1973, George and Vanda returned to Sydney, where Angus and Malcolm were forming their band.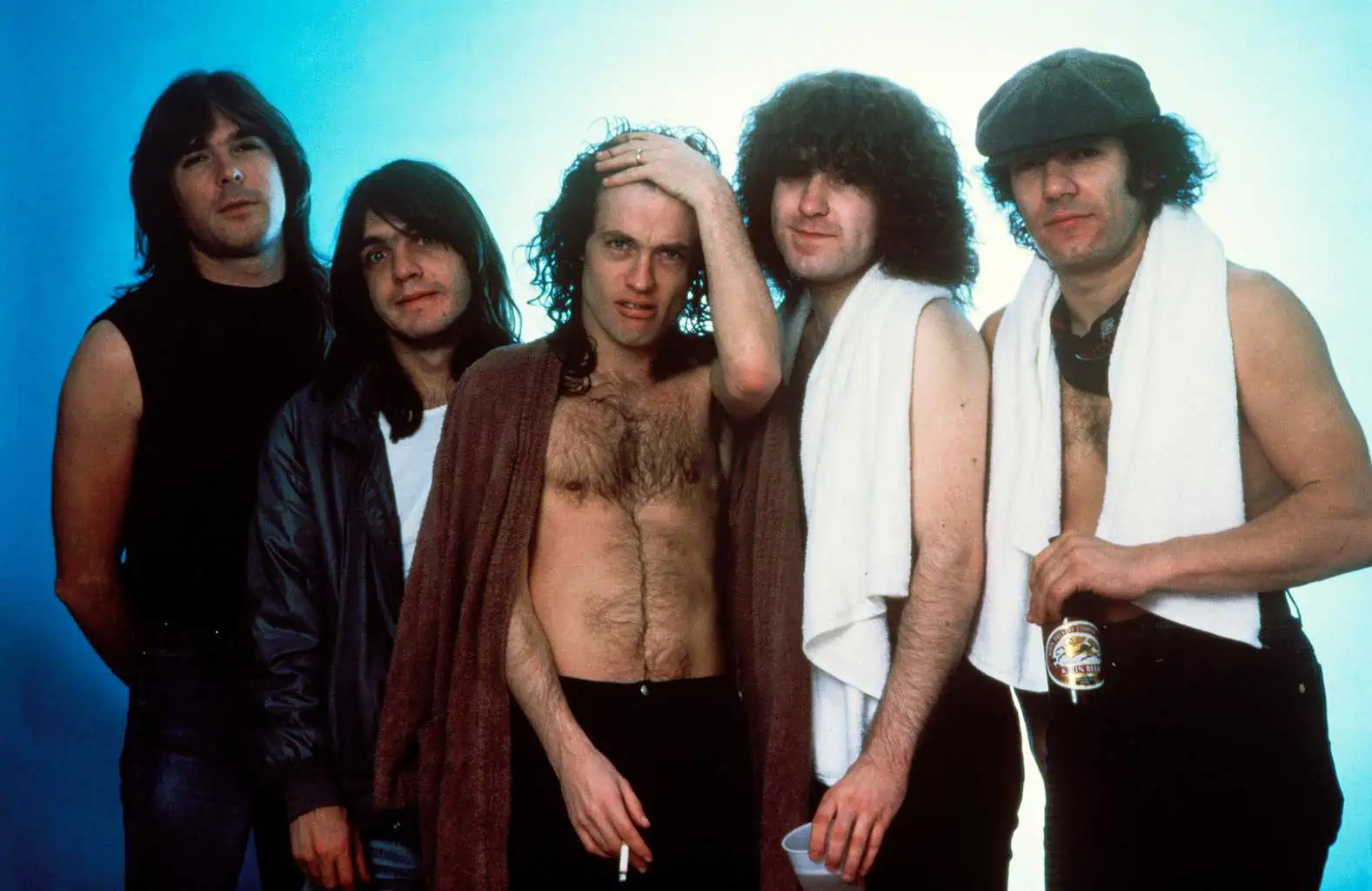 November 1973 – November 1974: The Birth of AC/DC
AC/DC leaned more toward glam rock like T. Rex and the New York Dolls in its earliest incarnation. But while their dalliance with sequined costumes was mercifully brief, Angus Young's schoolboy uniform would become the lead guitarist's trademark. Angus and Malcolm got the band name from an "AC/DC" sticker on the back of their sister Margaret's sewing machine.
They felt it captured the wild electric feel of the band's stage show, where Angus was already captivating crowds with his manic version of the Chuck Berry duck walk.
But as the Young brothers honed their craft, it soon became clear that their bandmates were going in a different direction. Bassist Larry van Kriedt was more interested in jazz, while lead singer Dave Evans lacked the band's rough edge. Older brother George took over on bass duties, and Evans was replaced by another Scottish emigrant, Ronald Belford "Bon" Scott.
Scott was nearly a decade older than the Young brothers. He had already recorded with several popular Australian bands, including bubblegum rockers, the Valentines and prog rockers, Fraternity. In late 1974 Scott was between gigs and working as AC/DC's chauffeur. After a quick tryout, it became clear that Scott's front man skills blended perfectly with Angus and Malcolm's guitar work. And so a legend began.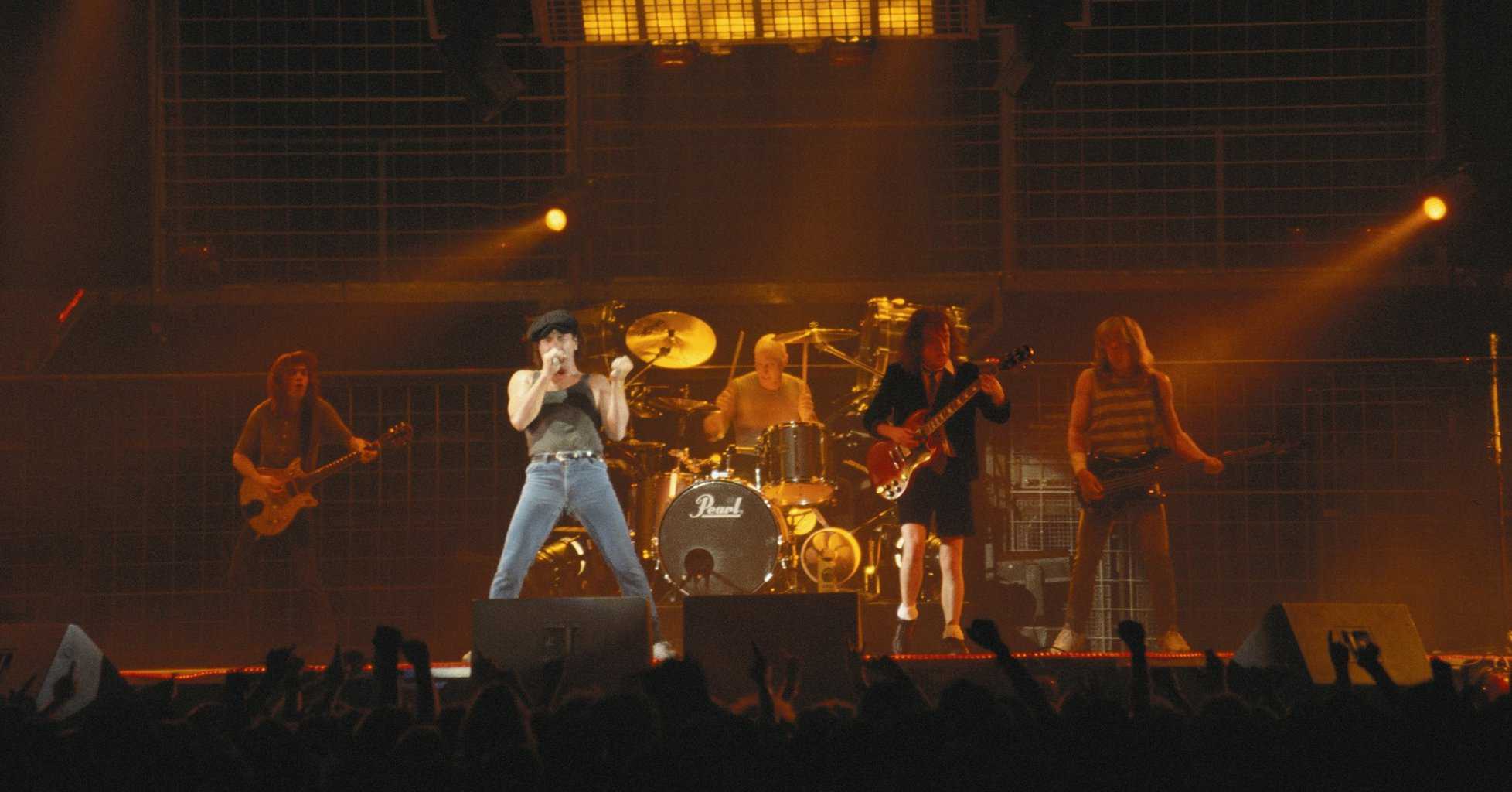 1975: AC/DC Takes Australia
February 17, 1975: High Voltage (Australian Release)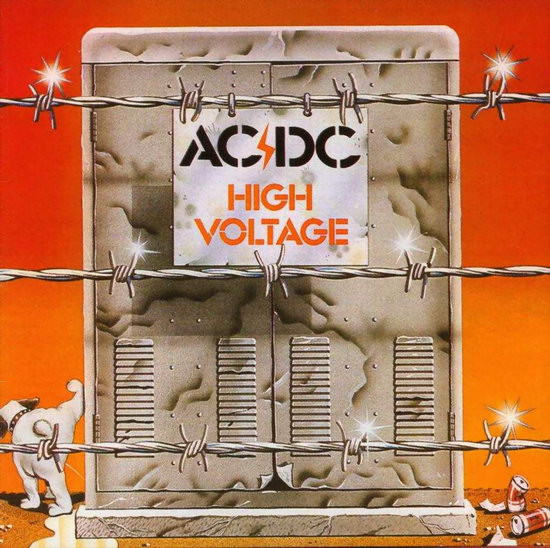 Baby, Please Don't Go
She's Got Balls
Little Lover
Stick Around
Soul Stripper
You Ain't Got a Hold on Me
Love Song (Oh Jene)
Show Business
December 1, 1975: T.N.T. (Australian Release)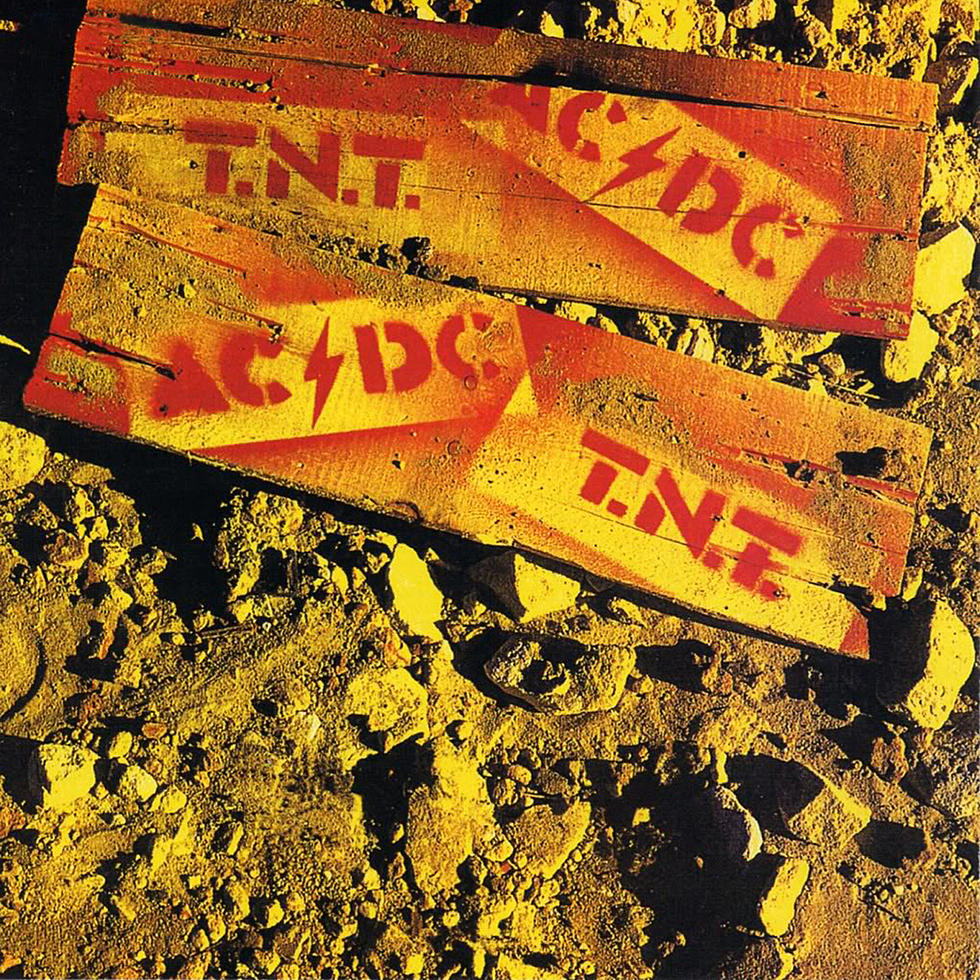 It's a Long Way to the Top (If You Wanna Rock 'n' Roll)
Rock 'n' Roll Singer
The Jack
Live Wire
T.N.T.
Rocker
Can I Sit Next to You, Girl
High Voltage
School Days
High Voltage showed a band still finding its feet. George Young supports his brothers with bass, rhythm guitar, and backing vocals, and three different musicians record the drum track. Malcolm plays double lead guitar with Angus on a few songs, and Bon even croons a love ballad. You can hear the band they will become, but most of the tracks on this album are disposable. (The exception to this is their smoking hot take on the old Big Joe Williams blues classic "Baby Please Don't Go").
High Voltage was recorded over a ten-day period in November 1974 between gigs. AC/DC toured relentlessly from the beginning, attracting a growing community of devoted fans. High Voltage reached #7 on the Australian charts. This helped promote their shows and primed Australian record buyers for their December 1975 release, T.N.T.
If High Voltage was a band starting to jell, T.N.T. is the first great AC/DC album. T.N.T. features the classic AC/DC drummer Phil Rudd. Perhaps most important, Bon has finally found his swagger. The sneering, leering Bon we love tells us the woeful tale of a young lass who gave him "The Jack." And when he tells us, "It's a Long Way to the Top (If You Wanna Rock and Roll)," there's no doubt in his mind that he's going to make it to the summit.
But the real standout is the title track, a menacing grinder that opens up with a now-famous "Oi! Oi! Oi! Oi!" and segues into Bon's sinister and sexy tales of life as a man who's dirty, mean, and mighty unclean. "T.N.T." is the first in a long line of AC/DC powerhouse anthems. It's stripped-down rock and roll with a double shot of blues and a bad attitude chaser.
While the import albums can be difficult to find and expensive, the tracks from these early Australian albums were later included on the international releases '74 Jailbreak (1976) and the 2010 rarities compilation Backtracks.
1976-77: AC/DC takes Europe
April 30, 1976: High Voltage (International Version)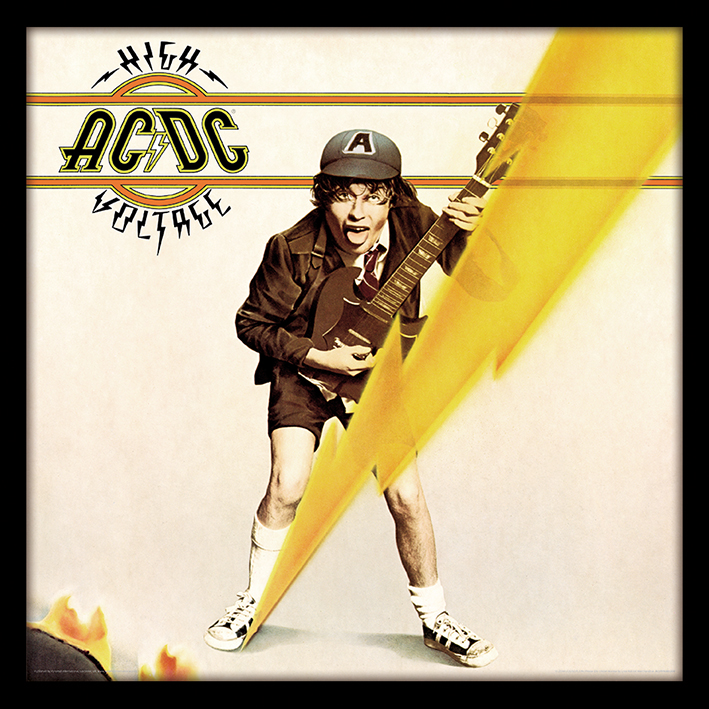 It's a Long Way to the Top (If You Wanna Rock 'n' Roll)
Rock 'n' Roll Singer
The Jack
Live Wire
T.N.T.
Can I Sit Next to You, Girl
Little Lover
She's Got Balls
High Voltage
September 20, 1976: Dirty Deeds Done Dirt Cheap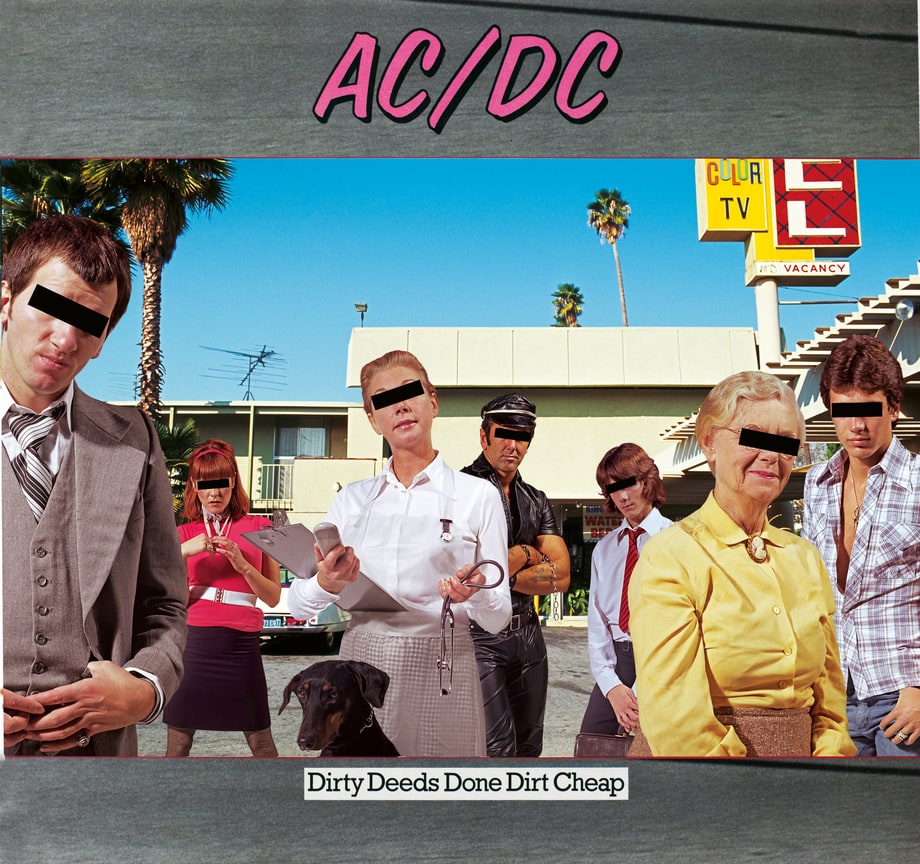 Dirty Deeds Done Dirt Cheap
Love at First Feel
Big Balls
Rocker
Problem Child
There's Gonna Be Some Rockin
Ain't No Fun (Waiting 'Round to Be a Millionaire)
Ride-On
Squealer
March 21, 1977: Let There Be Rock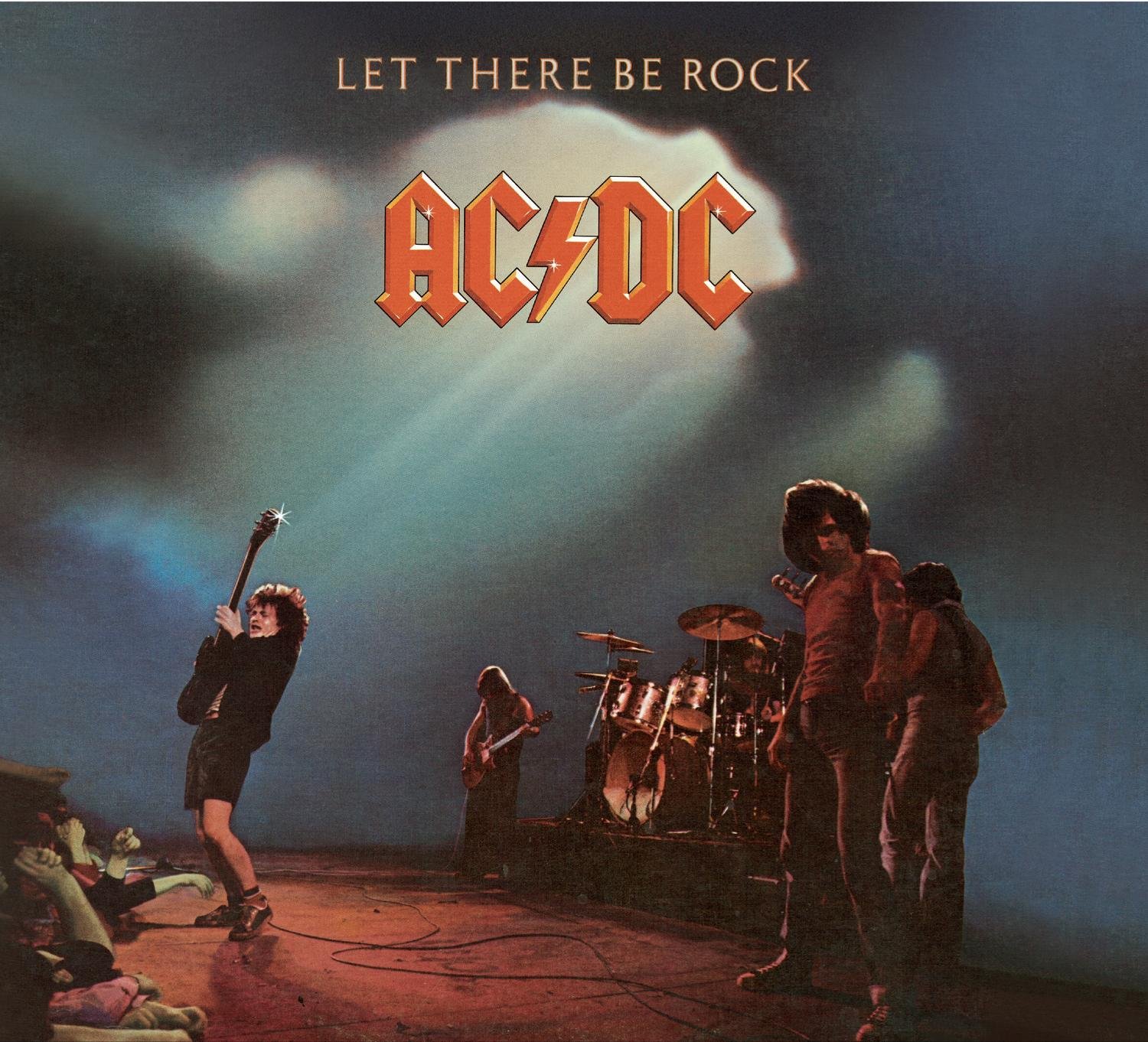 Go Down
Dog Eat Dog
Let There Be Rock
Bad Boy Boogie
Problem Child
Overdose
Hell Ain't a Bad Place to Be
Whole Lotta Rosie
The international version of High Voltage actually featured seven of the nine songs from T.N.T. The only songs that remained from the Australian High Voltage were "She's Got Balls" (a tribute to Bon's wife, who left him not long after he wrote it) and the glam-flavored "Little Lover."  As AC/DC toured Europe and the U.K., High Voltage began receiving modest attention across the water. It hit #146 on Billboard's Hot 200.
It also received attention in Rolling Stone in what would be the first of many bad critical reviews as Billy Aitman said:
Lead singer Bon Scott spits out his vocals with a truly annoying aggression which, I suppose, is the only way to do it when all you seem to care about is being a star so that you can get laid every night. And that, friends, comprises the sum total of themes discussed on this record. Stupidity bothers me. Calculated stupidity offends me.
A few months later came Dirty Deeds Done Dirt Cheap. Nothing on this record would prove Mr. Aitman wrong, certainly not "Love at First Feel" or "Big Balls," an ode to Bon Scott's… well, you know. But even Mr. Aitman would have a hard time staying seated for the title track, a strutting exercise in cartoonish bad behavior with an unforgettable chorus.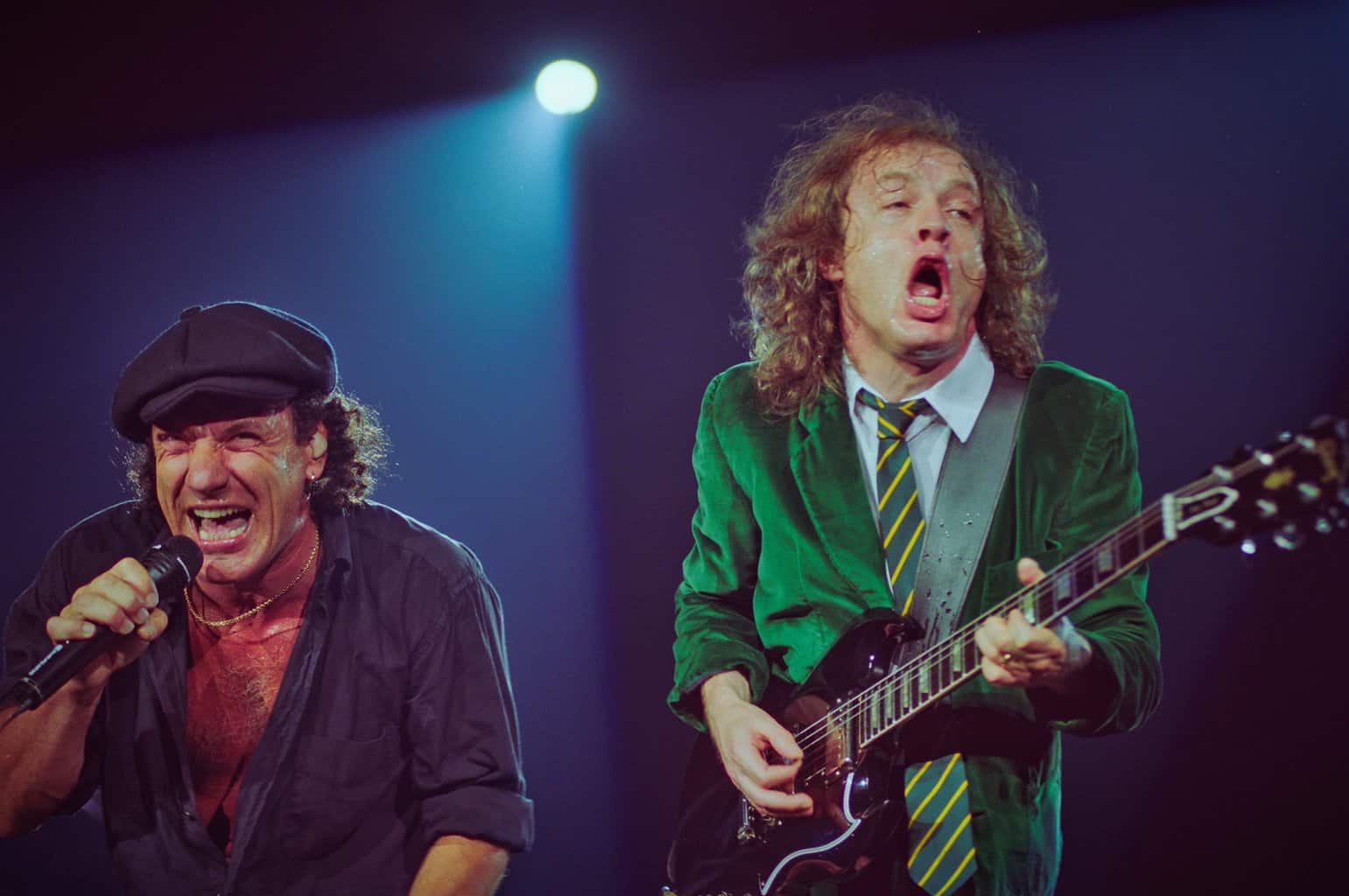 AC/DC continued with their tireless touring but came back from England and Europe in January of 1977 to discover that Atlantic, their international label, was less than impressed with Dirty Deeds and was considering dropping the band. The band came back swinging with Let There Be Rock, an album that featured "Whole Lotta Rosie," Bon Scott's ode to a plus-sized groupie, and the title track, a driving rock anthem.
Impressed by the positive reviews for Let There Be Rock, Atlantic decided to keep AC/DC on their label. Flush with success, a band that had garnered adoring fans in Europe, England, and Australia now set its sights on the biggest market of all.
1978-80: AC/DC Takes America
May 25, 1978: Powerage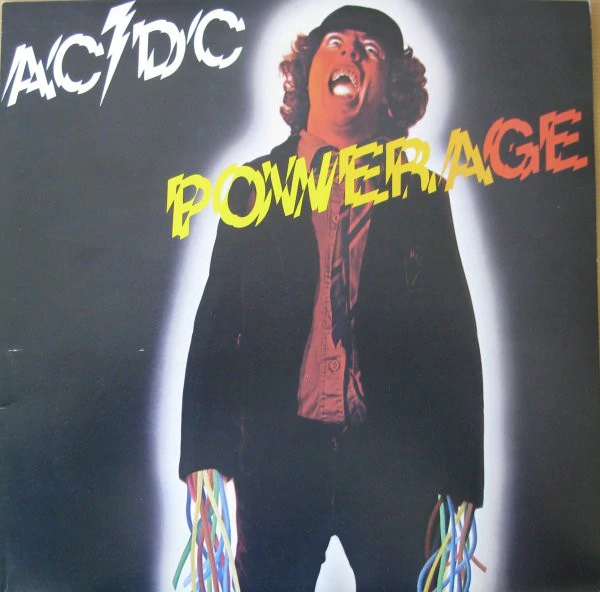 Rock 'n' Roll Damnation
Down Payment Blues
Gimme a Bullet
Riff Raff
Sin City
What's Next to the Moon
Gone Shootin'
Up to My Neck in You
Kicked in the Teeth
October 13, 1978: If You Want Blood, You've Got It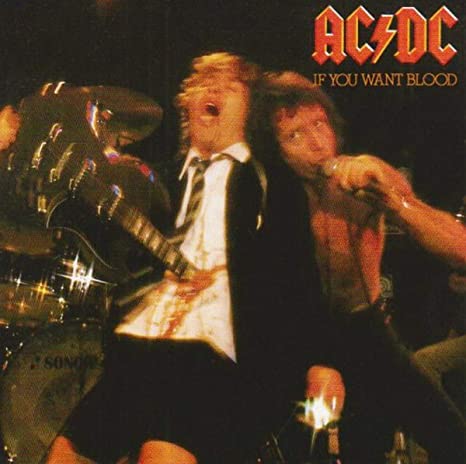 Riff Raff
Hell Ain't A Bad Place To Be
Bad Boy Boogie
The Jack
Problem Child
Whole Lotta Rosie
Rock N Roll Damnation
High Voltage
Let There Be Rock
Rocker
July 27, 1979: Highway to Hell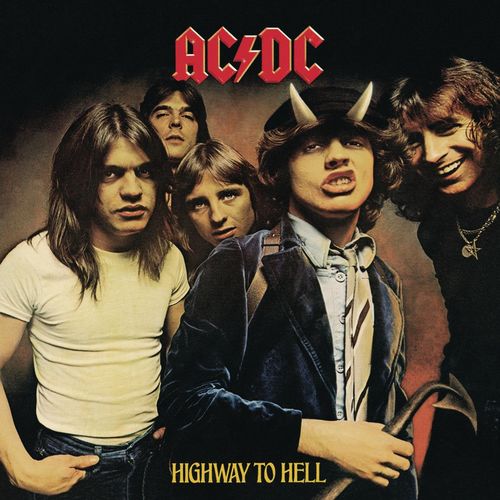 Highway to Hell
Girls Got Rhythm
Walk All Over You
Touch Too Much
Beating Around the Bush
Shot Down in Flames
Get It Hot
If You Want Blood (You've Got It)
Love Hungry Man
Night Prowler
In the summer of 1977, AC/DC did their first American tour, where they were well-received. While they were not a punk band, they had the disdainful sneer and stripped-down musical approach that punk audiences loved, not to mention a solid grounding in Rockabilly and Blues. By the time they returned to Australia, AC/DC could boast of appearances at New York's CBGBs and L.A.'s Whisky-a-Go-Go.
Powerage included "Rock and Roll Damnation," which would become a live favorite. Powerage also marked the departure of bassist Mark Evans and the arrival of Liverpool bassist Cliff Williams. Williams also played on their live album, If You Want Blood (You've Got It). Recorded in Glasgow, Scott and the Young brothers put on a barn-burner of a show for their equally enthusiastic fellow Scotsmen. Many critics rank If You Want Blood as one of the best live albums of the 1970s. 
But while AC/DC built an audience of adoring American fans one roadshow at a time (and rocked a nation with a September 6, 1978 appearance on The Midnight Special), American radio remained disinterested.
Seeking a more FM-friendly sound, Atlantic dropped George Young and Harry Vanda from production duties. This sat poorly with the tight-knit Young family. Still, after some grumbling, legendary producer Robert John "Mutt" Lange came on board to record Highway to Hell.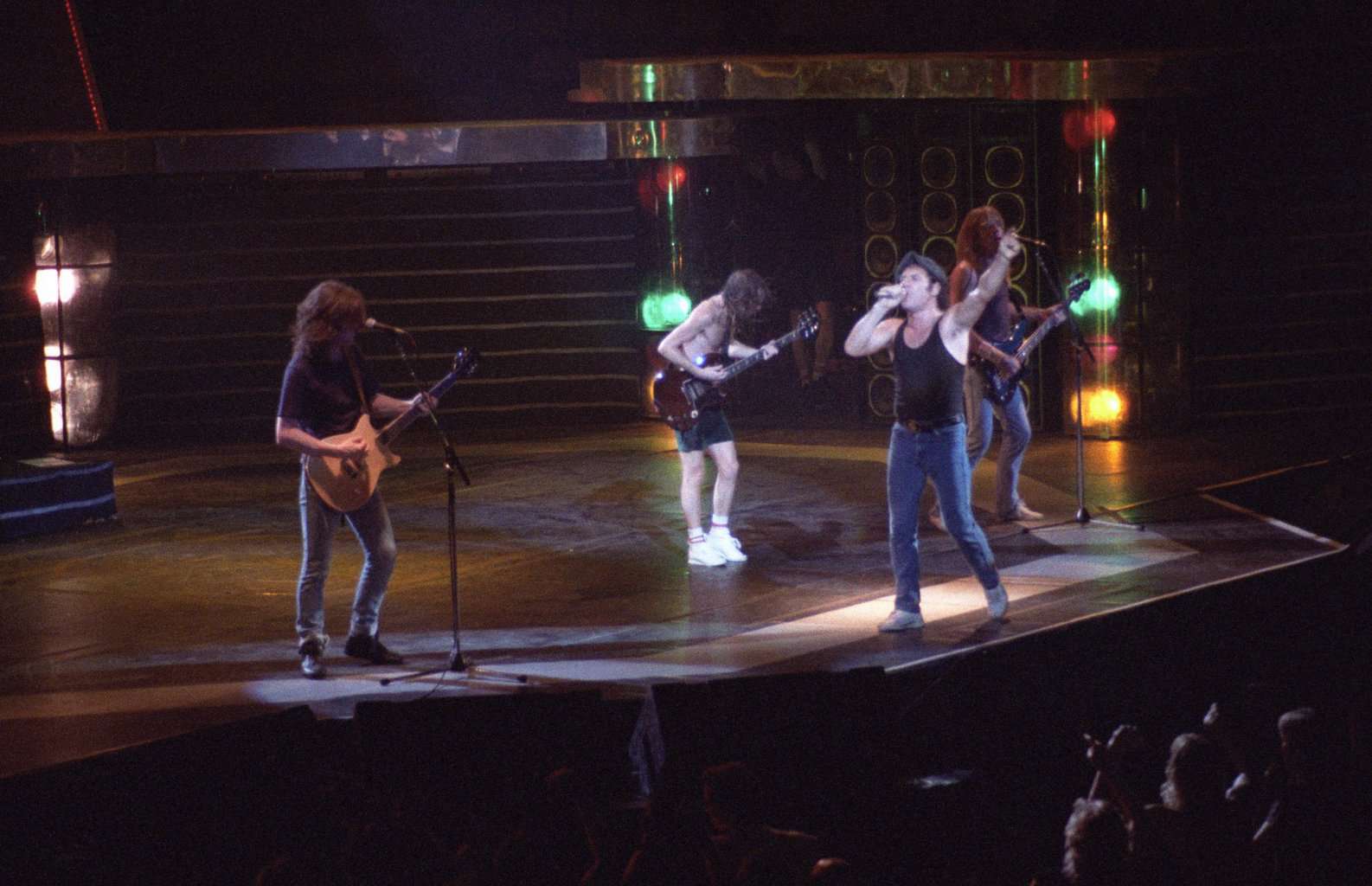 Lange has a reputation for being dictatorial and demanding. But even Lange was impressed by AC/DC's work ethic during the weeks of fifteen-hour days in the studio. After over two months of recording, everybody agreed that this was the best AC/DC had ever sounded in the studio, with a title track that was all set to be a radio single. Highway to Hell entered the American Top 20 immediately after release, and the band looked ready to make it big.
Then, on the morning of February 19, 1980, after a night of hard partying, Bon Scott was found dead in an automobile in London. The coroner's report found Scott had died of acute alcohol poisoning and "death by misadventure."  And a band that was headed for the top was now in limbo.
1980-1989: AC/DC in the 80s
July 25, 1980: Back in Black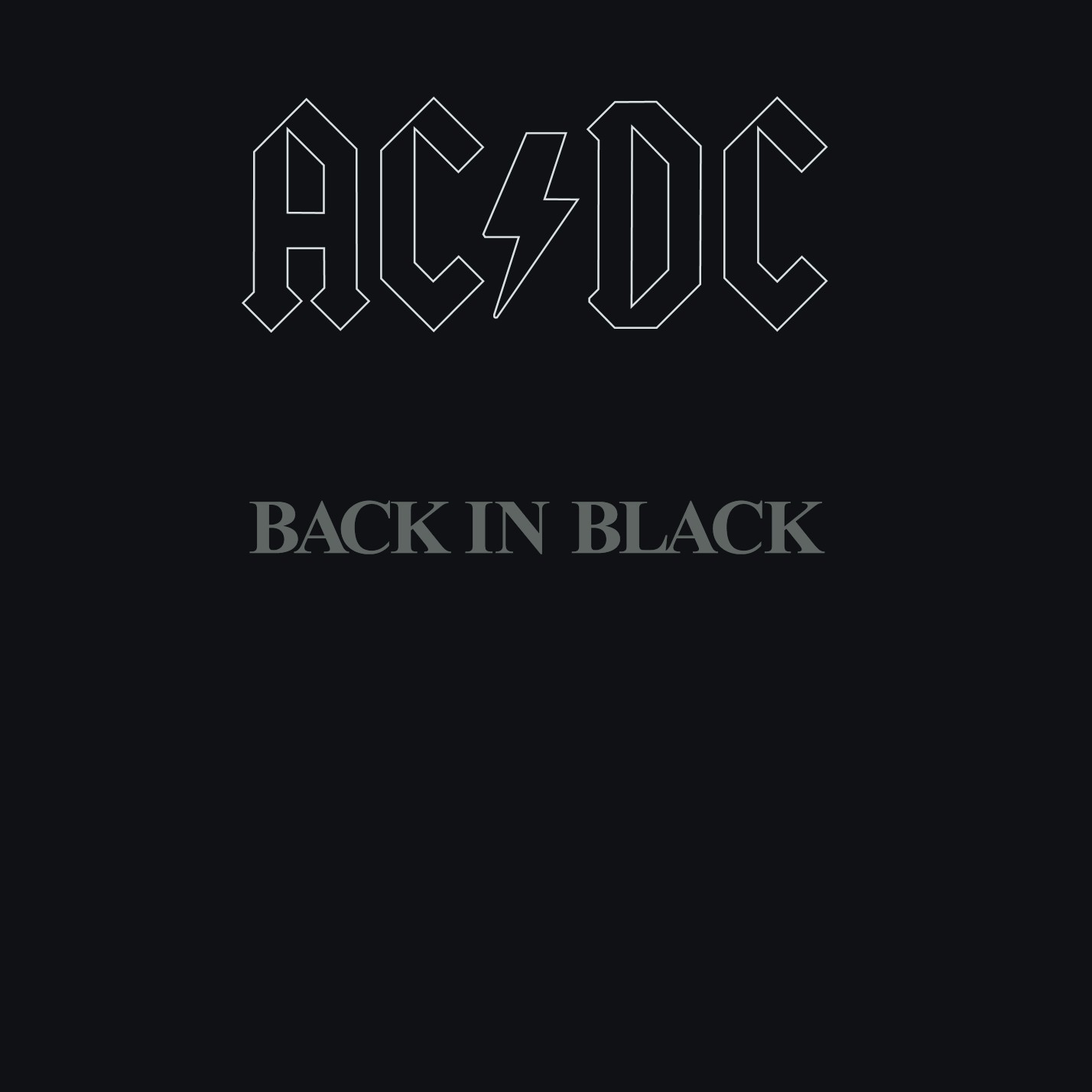 Hell's Bells
Shoot To Thrill
What Do You Do For Money Honey
Given The Dog A Bone
Let Me Put My Love Into You
Back In Black
You Shook Me All Night Long
Have A Drink On Me
Shake A Leg
Rock And Roll Ain't Noise Pollution
November 23, 1981: For Those About to Rock, We Salute You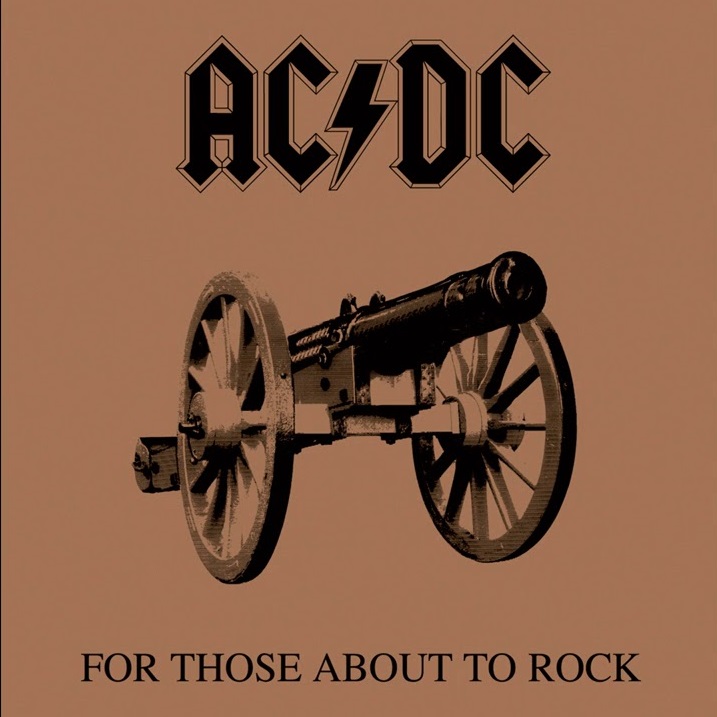 For Those About to Rock (We Salute You)
Put the Finger on You
Let's Get It Up
Inject the Venom
Snowballed
Evil Walks
C.O.D.
Breaking the Rules
Night of the Long Knives
Spellbound
August 15, 1983: Flick of the Switch
Rising Power
This House Is On Fire
Flick Of The Switch
Nervous Shakedown
Landslide
Guns For Hire
Deep In The Hole
Bedlam In Belgium
Badlands
Brain Shake
June 28, 1985: Fly on the Wall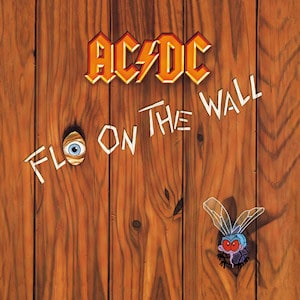 Fly On The Wall
Shake Your Foundations
First Blood
Danger
Sink The Pink
Playing With Girls
Stand Up
Hell Or High Water
Back In Business
Send For The Man
May 24, 1986: Who Made Who?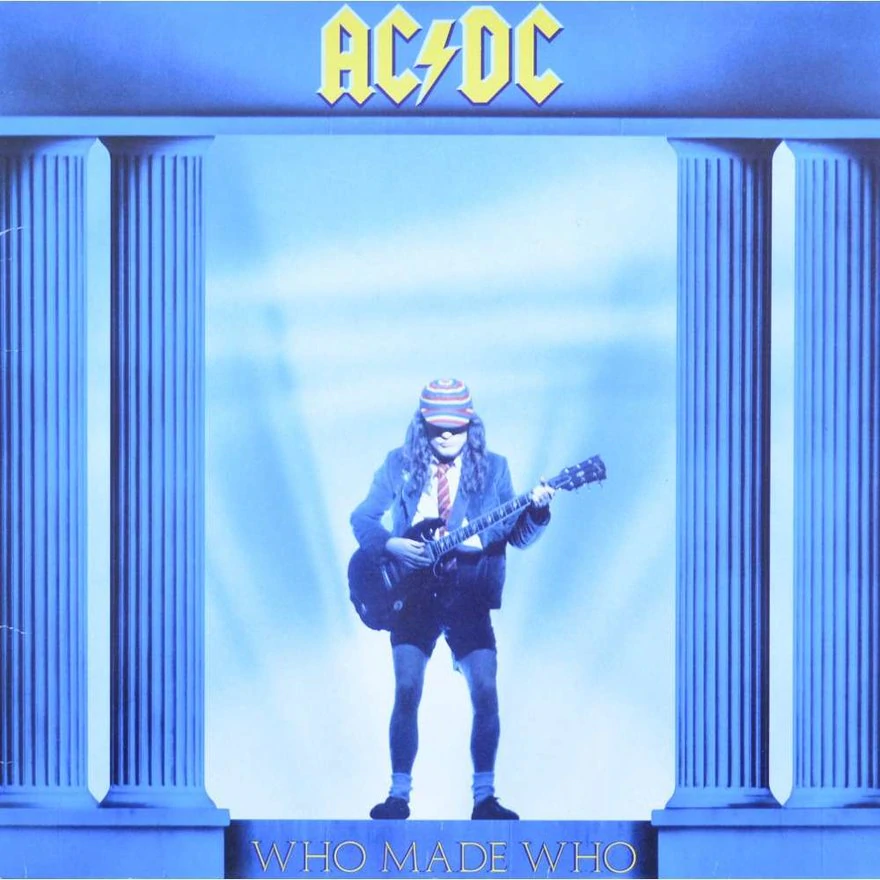 Who Made Who
You Shook Me All Night Long
D.T.
Sink The Pink
Ride-On
Hells Bells
Shake Your Foundations
Chase The Ace
For Those About To Rock (We Salute You)
January 18, 1988: Blow Up Your Video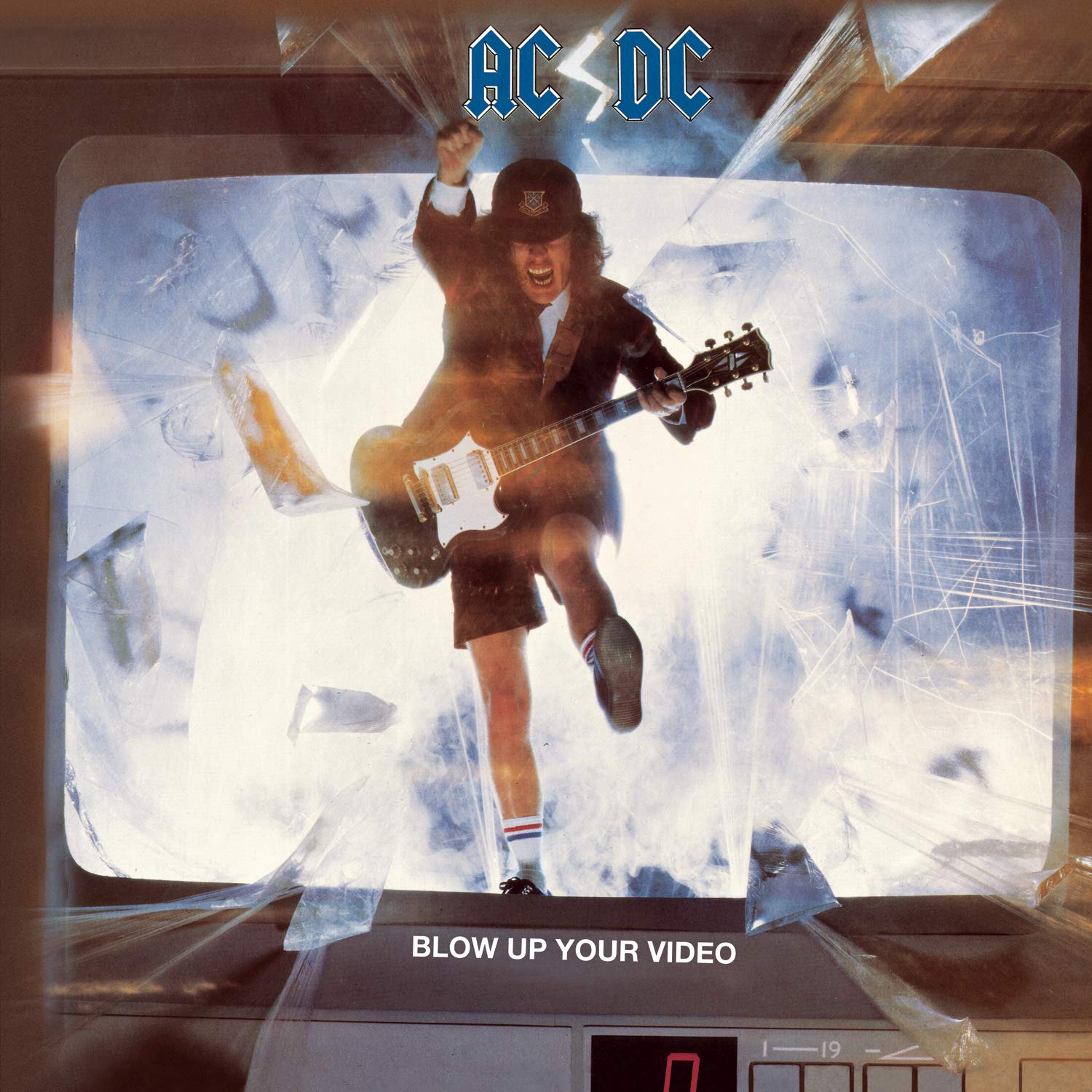 Heatseeker
That's The Way I Wanna Rock N Roll
Meanstreak
Go, Zone
Kissin' Dynamite
Nick Of Time
Some Sin For Nuthin'
Ruff Stuff
Two's Up
This Means War
After Scott's parents said Bon would want the band to continue, they decided to find a new vocalist. Finally, they settled on Brian Johnson, former vocalist of the blues-rock band Geordie. A few weeks later, the band was in the Bahamas with Lange recording the followup to Highway to Hell. It was a make-or-break moment for the band, but Back in Black topped the charts and became one of the best-selling albums of all time.
That lineup would continue throughout the 1980s. Their followup, 1981's For Those About to Rock, included cannon fire in the title track and cemented their place as arena-filling rock champions.
In 1983 the band self-produced Flick of the Switch, with Simon Wright replacing longtime drummer Phil Rudd. Switch failed to match the successes of the prior Johnson albums, as did 1985's Fly on the Wall. To make matters worse, 1985 saw AC/DC's "Night Prowler" blamed as the inspiration for serial killer Richard "The Night Stalker" Ramirez.
But after a bad year, 1986 saw AC/DC produce their first soundtrack, Who Made Who?, for the Stephen King movie Maximum Overdrive. The legendary horror writer is also a huge AC/DC fan and lobbied hard to get them involved in the project.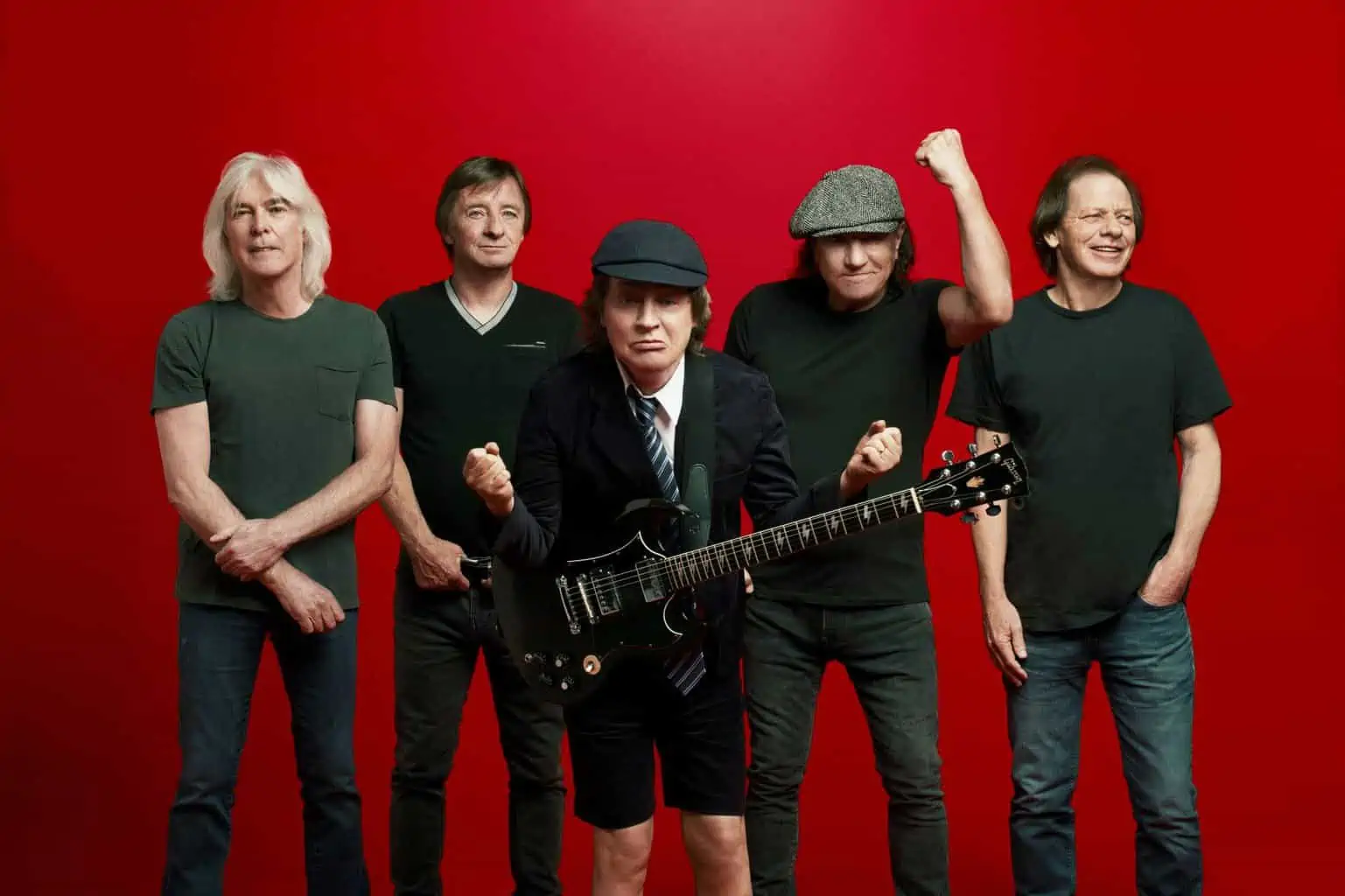 1988's Blow Up Your Video marked the return of producers George Young and Harry Vanda and won AC/DC a Grammy nomination and the highest sales since For Those About to Rock. But while the band continued to tour relentlessly worldwide, Malcolm Young's drinking was taking a toll on performances. Malcolm was replaced by his nephew Stevie for part of the 1988 tour as he sought treatment for his alcoholism.    
1990-1999: AC/DC in the 90s
September 21, 1990: The Razor's Edge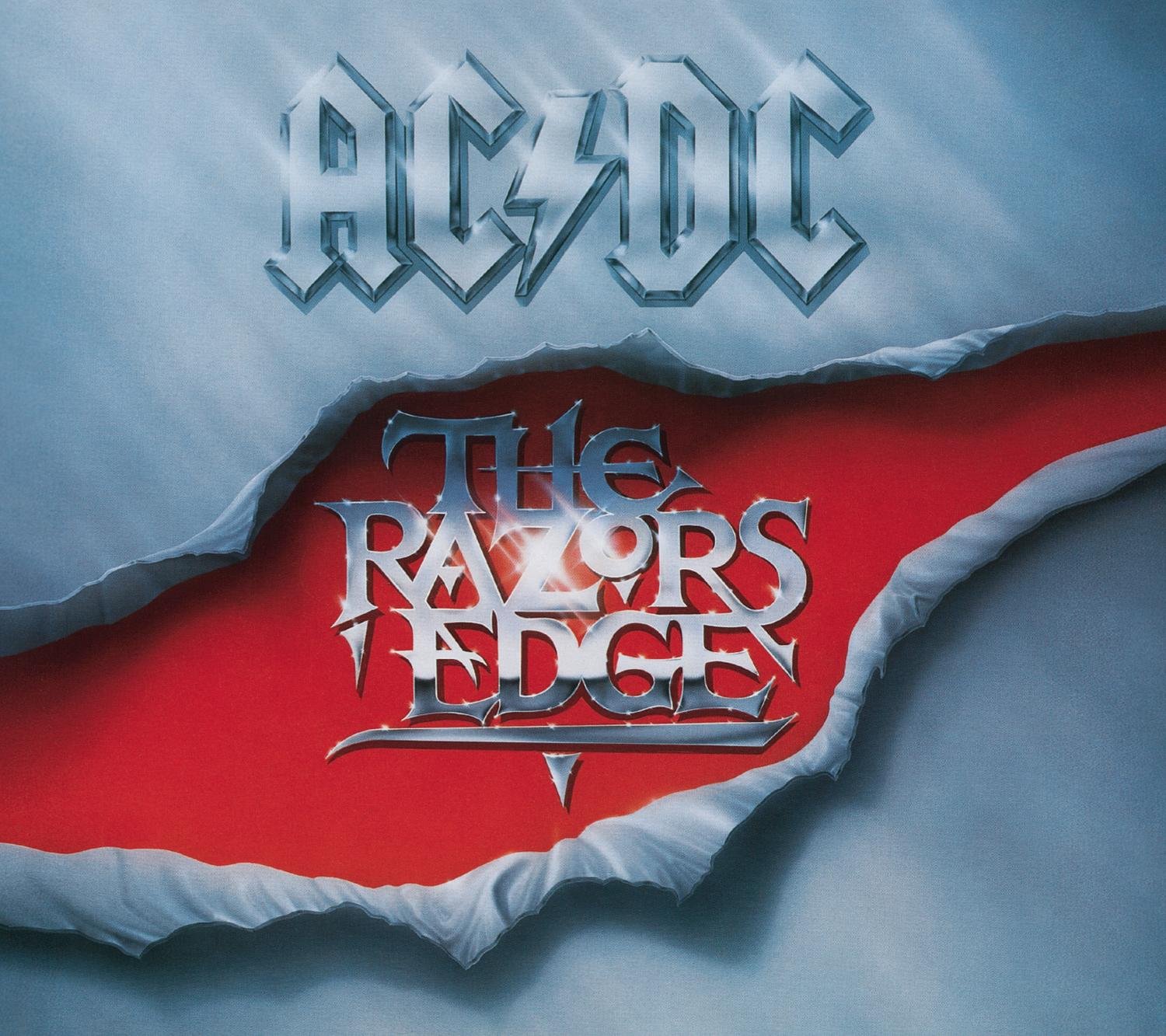 Thunderstruck
Fire Your Guns
Moneytalks
The Razors Edge
Mistress For Christmas
Rock Your Heart Out
Are You Ready
Got You By The Balls
Shot Of Love
Let's Make It
Goodbye & Good Riddance To Bad Luck
If You Dare
October 27,  1992: AC/DC Live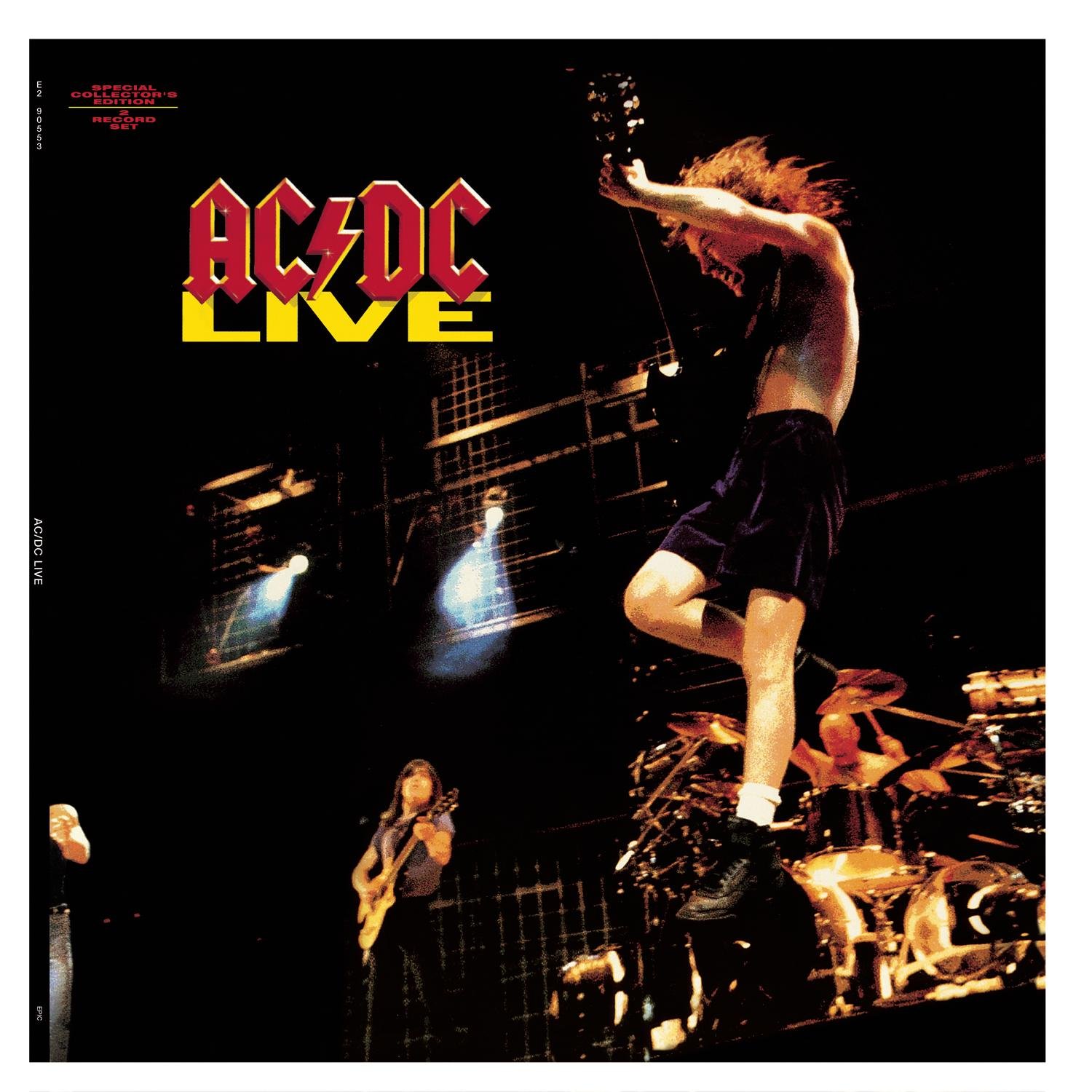 Thunderstruck
Shoot To Thrill
Back In Black
Sin City
Who Made Who
Heatseeker
Fire Your Guns
Jailbreak
The Jack
The Razors Edge
Dirty Deeds Done Dirt Cheap
Moneytalks
Hells Bells
Are You Ready
That's The Way I Wanna Rock N Roll
High Voltage
You Shook Me All Night Long
Whole Lotta Rosie
Let There Be Rock
Bonny
Highway To Hell
T.N.T.
For Those About To Rock (We Salute You)
September 26, 1995: Ballbreaker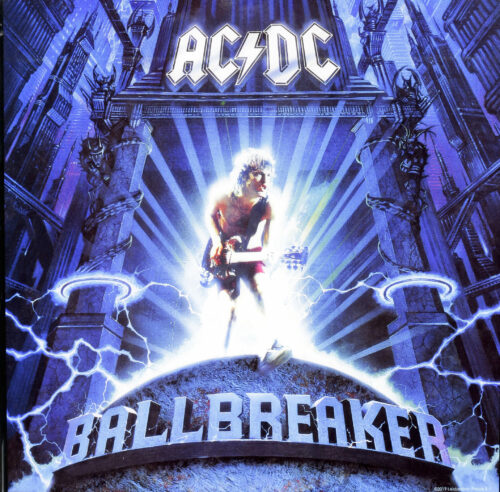 Hard As A Rock
Cover You In Oil
The Furor
Boogie Man
The Honey Roll
Burnin' Alive
Hail Caesar
Love Bomb
Caught With Your Pants Down
Whiskey On The Rocks
Ballbreaker
AC/DC followed Blow Up Your Video's momentum with The Razor's Edge, one of their strongest albums with Brian Johnson in fine form and a newly sober Malcolm providing some of his tightest rhythm guitar work. From the hypnotic opening to "Thunderstruck" to the sinister title tune and the closing "Ballbreaker," Razor's Edge is indispensable to any AC/DC fan's collection.
1992 saw the release of another live AC/DC album and one that went toe-to-toe with their classic 1978 Got Blood if you Want It. Brian Johnson proved a proud carrier of the Bon Scott torch, while Angus continued to steal the show. And 1995 saw the return of drummer Phil Rudd. He had now also sobered up and carried Ballbreaker on to Double Platinum status and worldwide acclaim.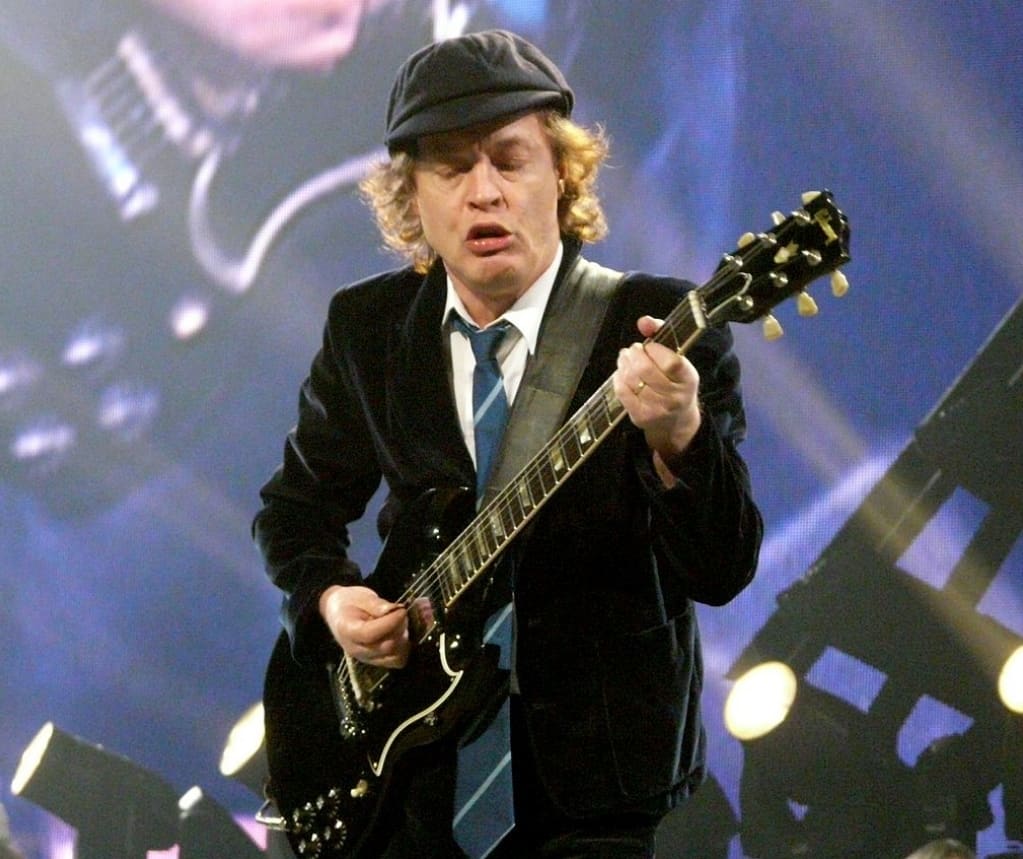 Recorded by legendary producer Rick Rubin, Ballbreaker would be the last new AC/DC album for a while as the band took a well-deserved rest from their labors. (1997's Bonfire, a collection of previously unreleased Bon Scott recordings, is well worth picking up).
2000-2020: AC/DC in the 21st Century
February 25, 2000: Stiff Upper Lip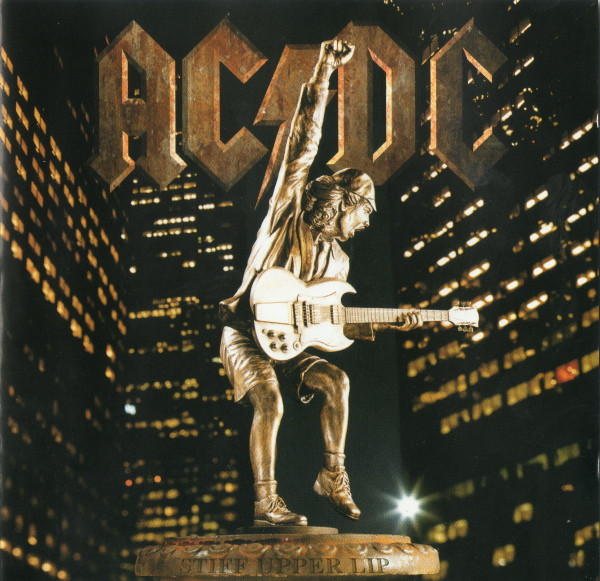 Stiff Upper Lip
Meltdown
House Of Jazz
Hold Me Back
Safe In New York City
Can't Stand Still
Can't Stop Rock'N'Roll
Satellite Blues
Damned
Come And Get It
All Screwed Up
Give It Up
October 17, 2008: Black Ice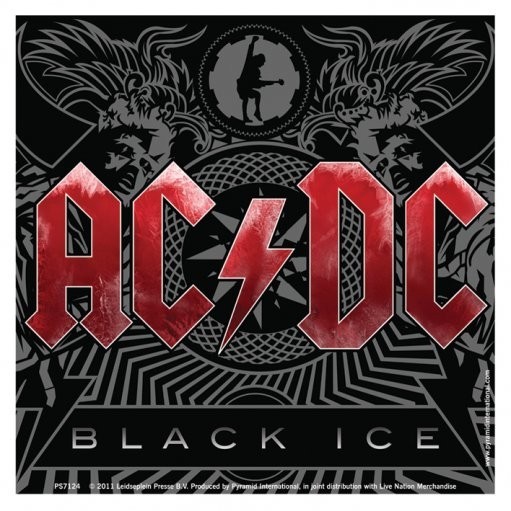 Rock N Roll Train
Skies On Fire
Big Jack
Anything Goes
War Machine
Smash N Grab
Spoilin' For A Fight
Wheels
Decibel
Stormy May Day
She Likes Rock N Roll
Money Made
Rock N Roll Dream
Rocking All The Way
Black Ice
April 19, 2010: Iron Man 2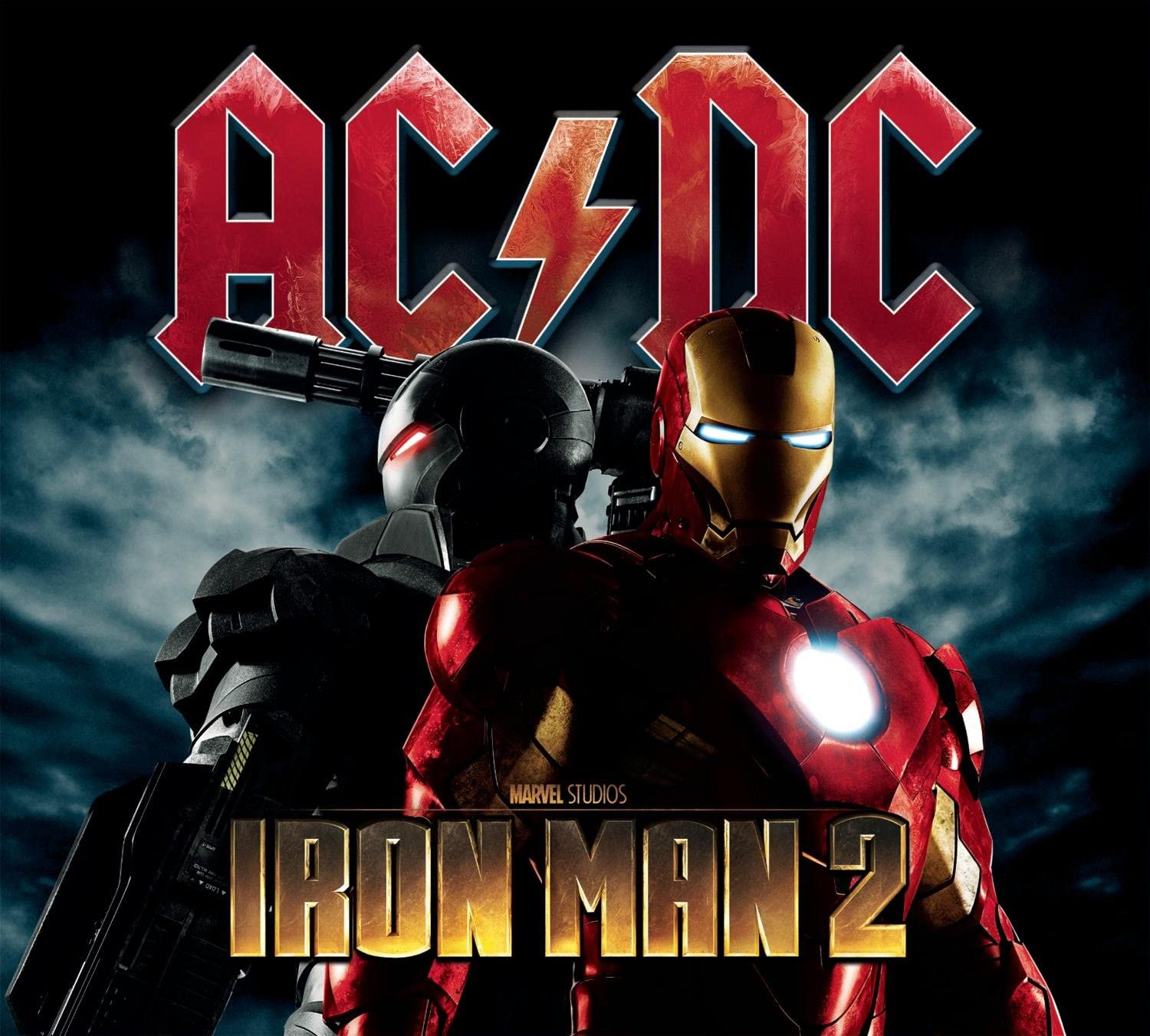 Shoot To Thrill
Rock 'N' Roll Damnation
Guns For Hire
Cold-Hearted Man
Back In Black
 Thunderstruck
If You Want Blood (You've Got It)
Evil Walks
T.N.T.
Hell Ain't A Bad Place To Be
Have A Drink On Me
The Razors Edge
Let There Be Rock
War Machine
Highway To Hell
November 19, 2012: Live at River Plate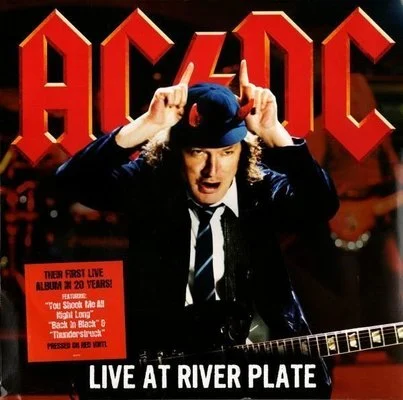 Rock N Roll Train
Hell Ain't A Bad Place To Be
Back In Black
Big Jac
Dirty Deeds Done Dirt Cheap
Shot Down In Flames
Thunderstruck
Black Ice
The Jack
Hells Bells
Shoot To Thrill
War Machine
Dog Eat Dog
You Shook Me All Night Long
T.N.T.
Whole Lotta Rosie
Let There Be Rock
Highway To Hell
For Those About To Rock (We Salute You)
November 28, 2014: Rock or Bust
Rock or Bust ac dc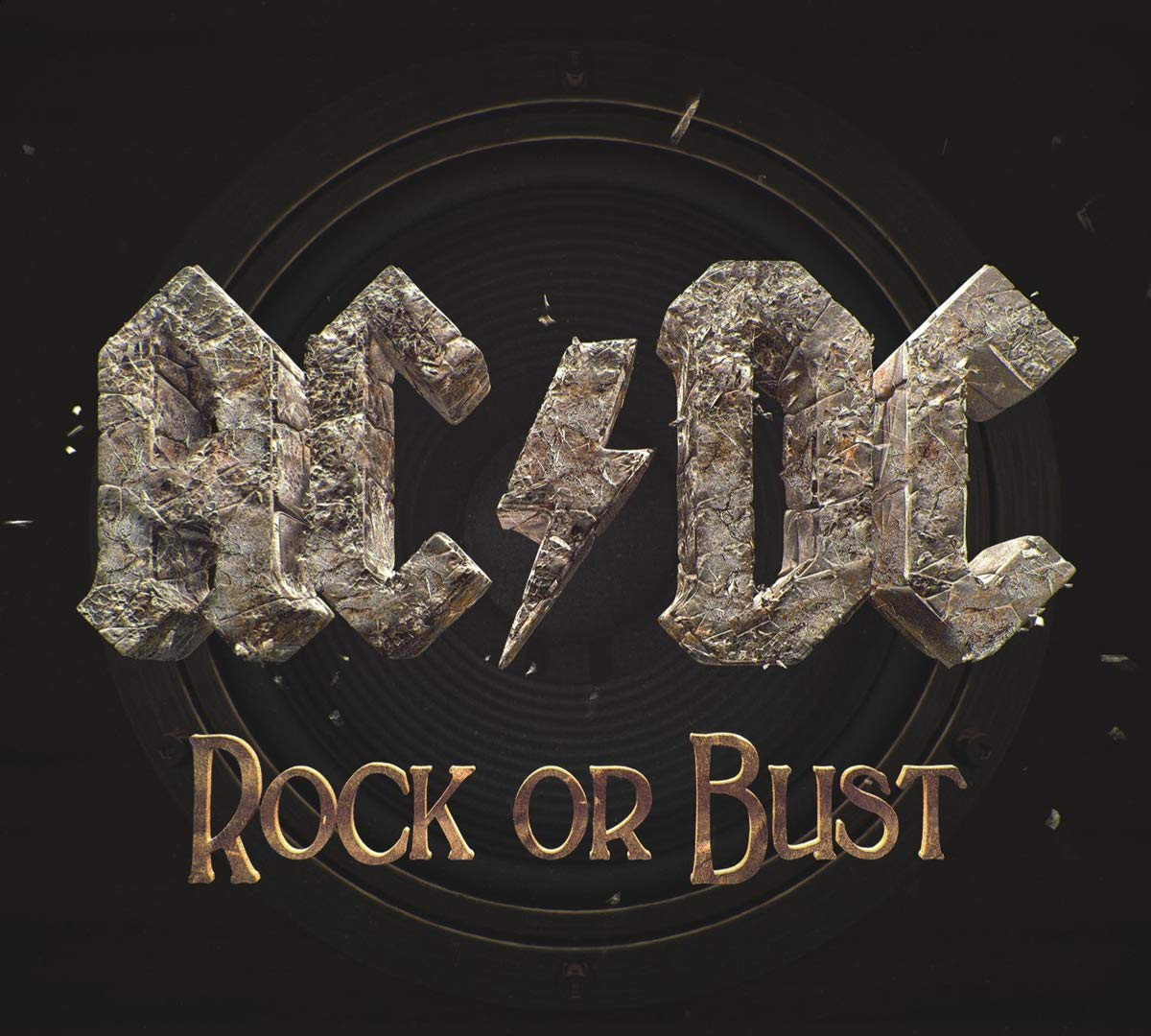 Rock Or Bust
Play Ball
Rock The Blues Away
Miss Adventure
Dogs Of War
Got Some Rock & Roll Thunder
Hard Times
Baptism By Fire
Rock The House
Sweet Candy
Emission Control
November 13, 2020: Power Up (also "PWR/UP")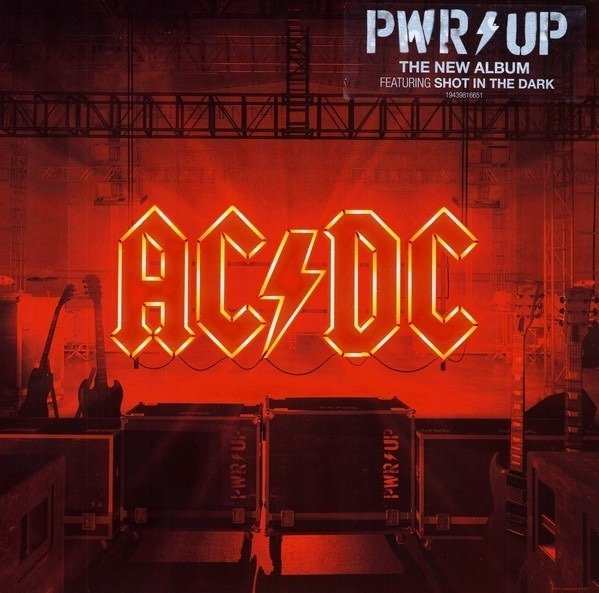 Realize
Rejection
Shot In The Dark
Through The Mists Of Time
Kick You When You're Down
Witch's Spell
Demon Fire
Wild Reputation
No Man's Land
Systems Down
Money Shot
Code Red
AC/DC rang in the new millennium with Stiff Upper Lip, a solid effort with a strong title track and an ode to the Big Apple, "Safe in New York City." While it's not indispensable, Stiff Upper Lip is comfortable as an old pair of jeans. Many critics complain that AC/DC stuck to a groove and did little in the way of creative growth. But when you can ride a backbeat the way Brian Johnson rides Phil Rudd's drum lines in "Satellite Blues," why would you mess with perfection?
After that one, the lads lay low for a while, then came back swinging with Black Ice. At 55 minutes Black Ice is AC/DC's longest studio album and was praised by many critics, though (as always) there were complaints that AC/DC had been doing the same thing since Back in Black. 
Perhaps the best thing about Black Ice was the 20-month, 169-venue world tour it inspired AC/DC's biggest run to date and one which introduced the band to a whole new generation of fans. A show in Argentina was recorded and released in 2012 as Live at River Platei. The band received rave reviews for their shows, even if they were noticing Malcolm appeared forgetful at times.
After completing the circuit, the band returned home to a well-deserved rest. Then, in 2014 the world was shocked when Malcolm Young was diagnosed with dementia. With that, most assumed AC/DC was now history. But Stevie Young, who filled in for his uncle in 1988, stepped up for November 28, 2014's Rock or Bust. Rock or Bust is a sloppier affair than most late-period AC/DC, with a looseness that recalls early Bon Scott days.
In 2020, three years after Bon Scott's death, the band reunited once again for Power Up. Power Up is not AC/DC at its best, but second-rank AC/DC is better than most bands' first-rate work. There's new defiance in this music and a recognition of mortality from a band most famous for remaining eternally horny 15-year-olds. They're a band in its twilight, reflecting on everything they had and shooting the Grim Reaper a middle finger.
If these are the last AC/DC recordings, they are a fitting coda to a magnificent career. But don't count AC/DC out just yet. This band has rocked through body blows that would have finished many lesser bands. I doubt we've heard the last of them yet.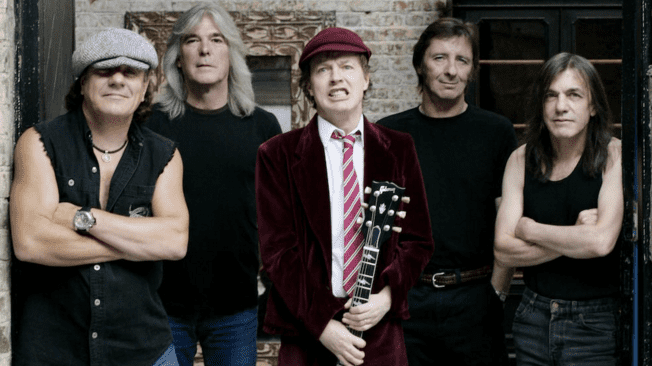 Frequently Asked Questions (F.A.Q.)
Question: How many AC/DC members died?
Answer: On February 19, 1980, original AC/DC vocalist Bon Scott died of acute alcohol poisoning while sleeping in an automobile in the South London suburb of East Dulwich.

On November 18, 2017, guitarist and founding member Malcolm Young died after a three-year struggle with early-onset dementia.
On October 14, 2020, Paul Matters, who played bass with AC/DC on a 1975 Australian tour, died at his home.
Question: What guitars do Angus and Malcolm Young use?
Answer: Throughout his career, Angus Young has used Gibson SG guitars. On AC/DC's earliest albums, Angus used a 1970/71 Gibson SG Standard guitar with a Lyle Maestro tremolo bridge. Later he played several custom S.G.s to his collection, including some specially designed by Gibson for the Angus Young line.

While the late Malcolm Young had a large guitar collection, he handled most of his rhythm guitar duties with a 1963 Gretsch G6131 Jet Firebird.

Stevie Young, who took over rhythm guitar after Malcolm's 2014 dementia diagnosis, plays 1963 Gretsch firebirds he inherited from his uncle Malcolm.
Question: What is AC/DC's best-selling album?
Answer: With over 50 million copies sold, AC/DC's 1980 Back in Black is the band's biggest-selling album and the second highest-selling album of all-time behind Michael Jackson's Thriller. AC/DC has sold over 200 million albums worldwide throughout their career.