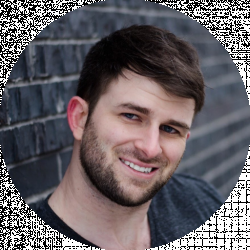 Latest posts by Adam Braunstein
(see all)
If you've been a fan of the rock or pop music scene in the past four decades, there is a good chance you've heard about U2. They are one of the longest-running bands out there. Not only have they managed to become a sensation in the music world for over 40 years, but they have managed to become some of the most famous people in the world period. Whether you like their music or not, you know the name U2, and that's because they've managed to transcend music into becoming pop culture icons.
I've always been a moderate fan of U2, appreciating what they've done for music as a whole while also failing to fall completely in love with the style of music they create. One thing is completely clear, though: their sound is unique, and despite being less complex musically than most famous rock bands out there, they have adapted their sound to each decade they've existed in and have managed to score hits that span over 40 decades.
The journey of U2 is a wild one, and that's always the case when talking about a band that has managed to stay relevant for this long. There is a lot to know about U2 and its members, so let's go on a journey to see where it all began and just how they managed to take over the world.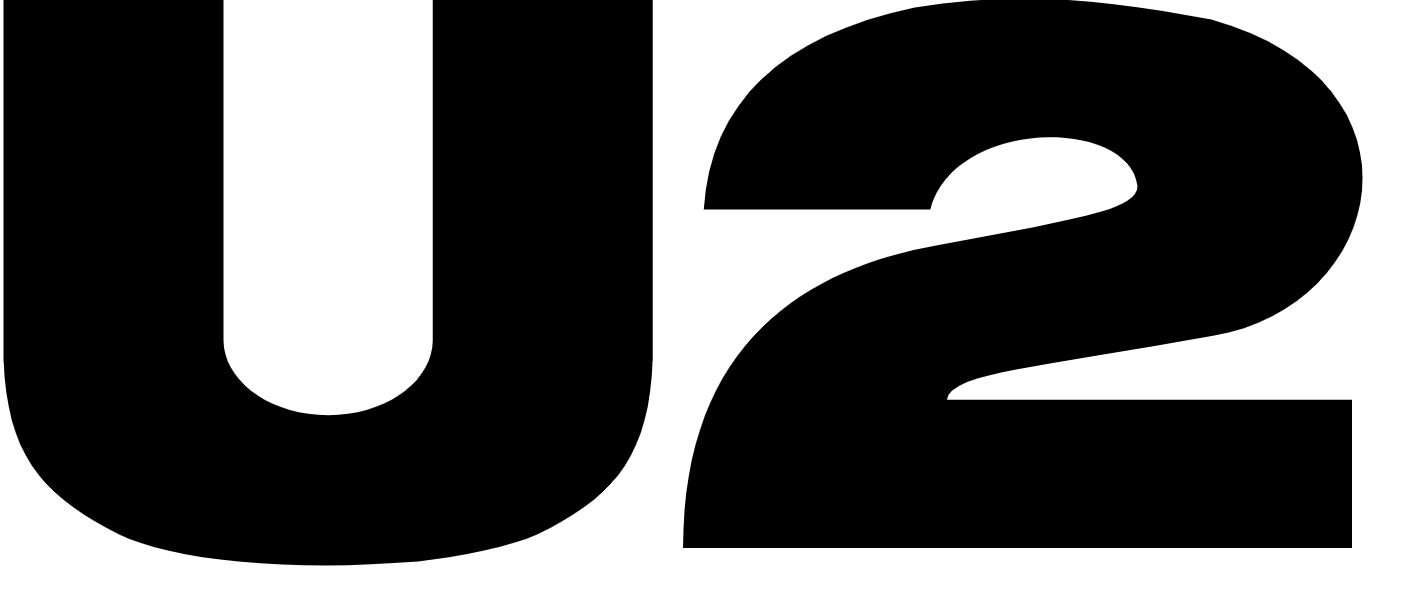 Early Years
U2 is the biggest band to ever come out of Ireland, and that is where the entire history of the band began. It all started in one school, Mount Temple Comprehensive School in Dublin. Sometimes band origin stories seem like they're completely ripped out of a movie, and with U2, the way they formed is just absurd circumstance-wise.
It started with a simple note on the school's notice board that was a post for musicians looking to start a band at the school. It was posted by 14-year-old Larry Mullen Jr. The post was responded to quickly by Paul Hewson on vocals (who would go on to be known as Bono,) David Evans on guitar (who would become The Edge,) Dik Evans on guitar, Adam Clayton on Bass, Peter Martin on guitar and Ivan Mccormick.
The band was called The Larry Mullen Band, which, as you can tell by just reading it, is the worst name for a band to ever exist. Larry wanted to be the leader of the band, but that wasn't going to be the case with Bono in the picture.
Bono took control of the band completely right off the bat, which would paint the picture of the band's direction. Part of that direction involved getting rid of Martin almost immediately because of his poor guitar-playing abilities.
This would be one of the first big moves Bono would make for the band and would mark his authority in the group, even though he was still only in high school. McCormick was then kicked out of the band as well, leaving the 5 of them remaining in serious need of a name change.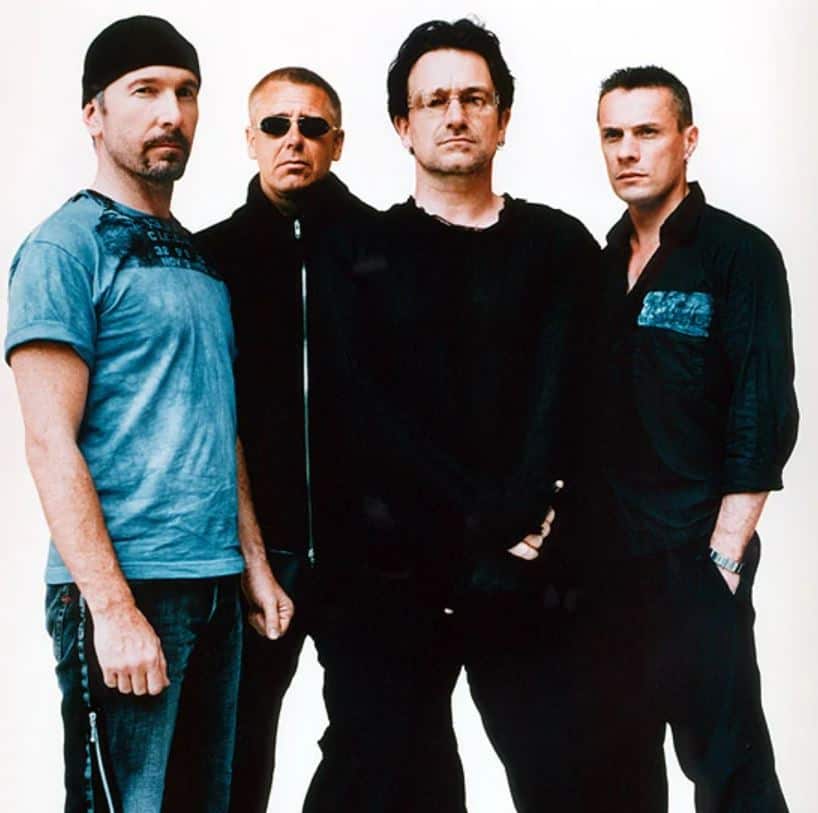 That new name was Feedback, which was original but not the one that would take them to the stratosphere. The band was largely a cover band at first, playing covers of The Clash and The Sex Pistols, the latter of which they would name as one of the biggest influences on the band.
The First Gig
Feedback had their first gig at St. Fintan's Highschool. The show went well, and they actually got paid for the gig, which spurred yet another name change. It changed to The Hype, but by that time, problems with the band would start standing out, including those with Dik Evans, who was already in college.
His being separate for school led to him being phased out of the band. This quickly led to a four-man band that would become U2. They went with the name because it didn't really mean anything and would lead people to wonder. Dik Evans would play his last show at a church.
The four-man lineup would go on to define the group for the rest of their career, with Dik Evans likely feeling a sizeable amount of regret for not being able to stay in the band right before they made their big debut.
The First Album Releases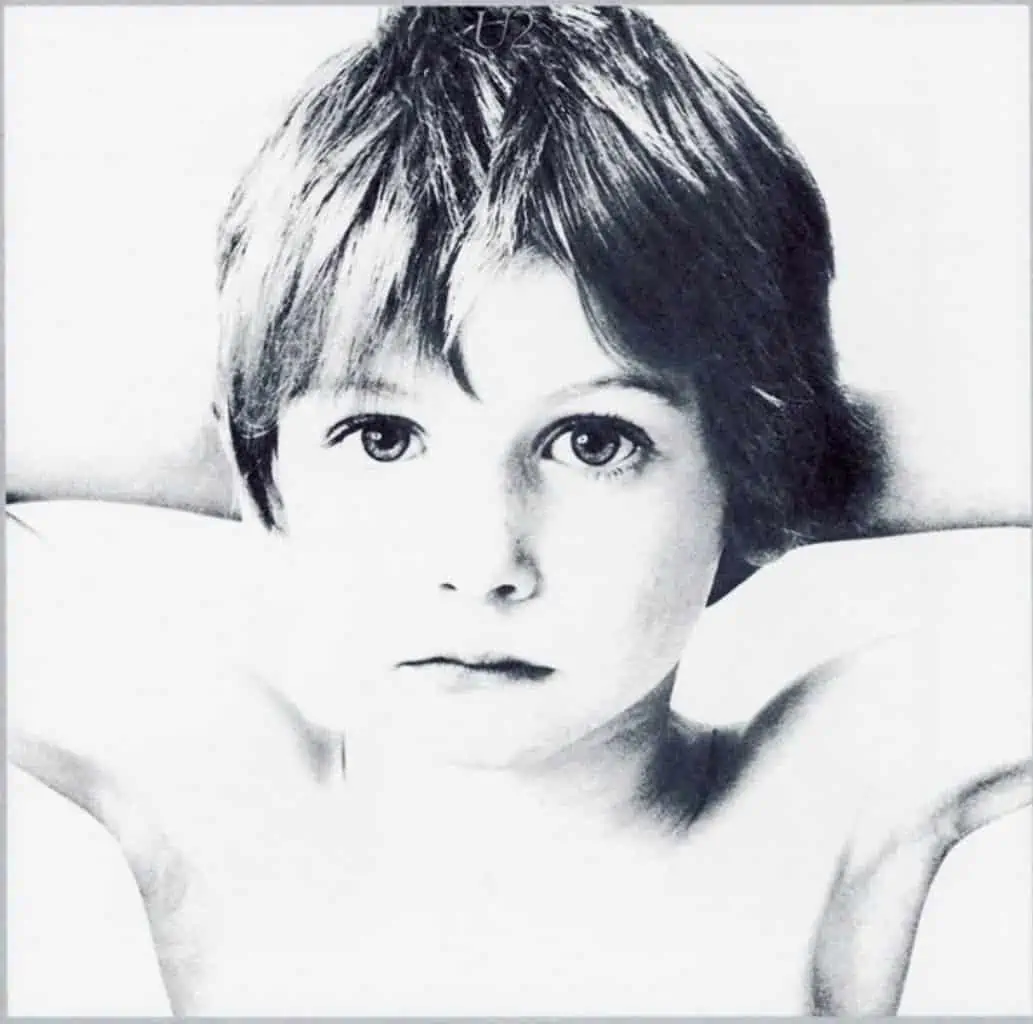 Three years after the band formed, U2 would release their first official single in the form of "11 O'Clock Tick Tock". It would not be the debut that you'd expect from such a talented band, and the single didn't hit the charts anywhere. Despite that, the band would start to pick out songs to make their first record.
The band had accumulated a sizable amount of material at this point, and it was during this time that The Edge would get a Delay Effect Unit for his guitar, which lends a delayed echo to guitar sounds, and this would be something that would go to define much of U2's music.
After the recording went relatively well, the album would release in 1980 and got some pretty great reviews. The album itself would chart in The top 100 in the UK and US. Singles would start pouring out from the band as well, such as "A Day Without Me."
The album would require a supplemental tour, so they set out to do just that. The tour would span both the USA and Europe. Over time, the first album was a big success, but it still lacked the massive hits that define big-time albums.
The Second Album Drops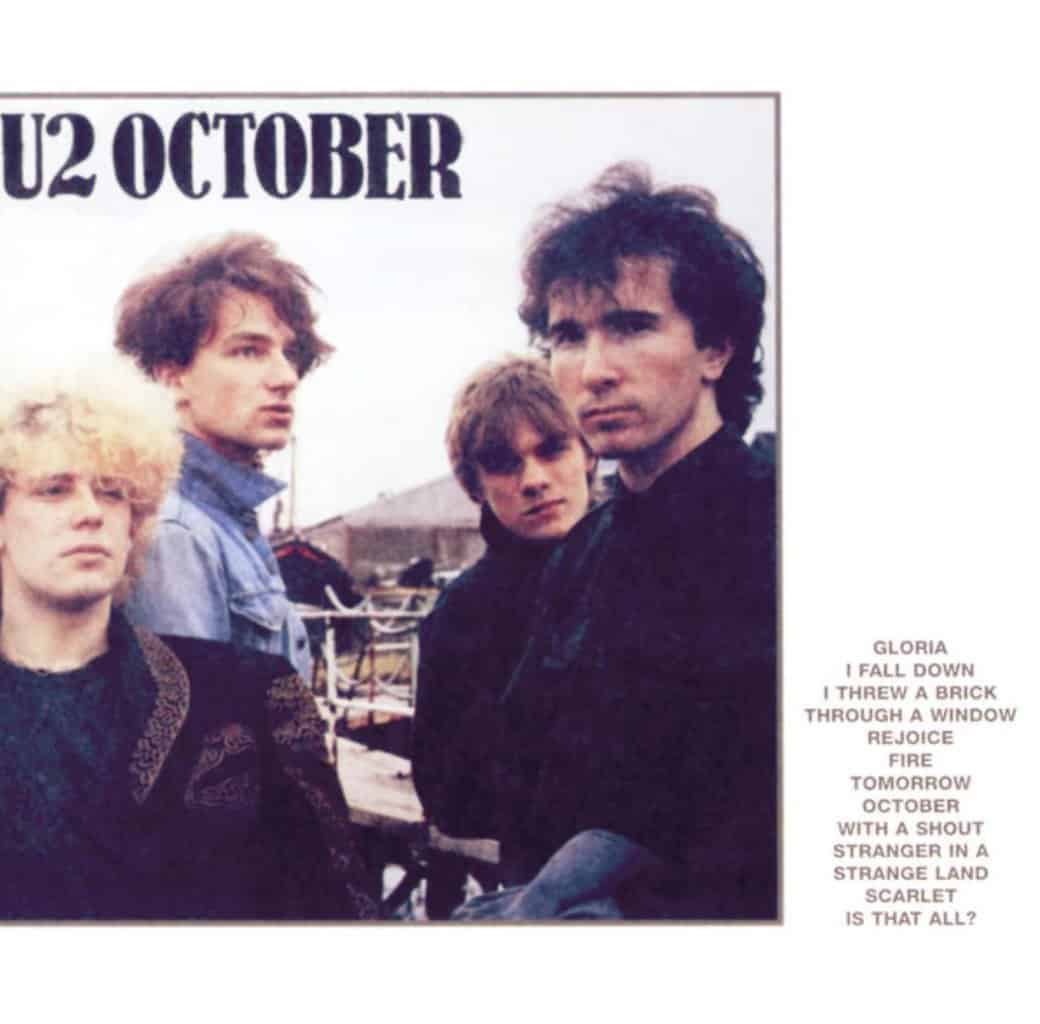 The next album was called October, and it would mark a huge moment for the band. The songs "I Will Follow" and "Fire" were both released, and Fire, in particular, became a massive hit. It wasn't all smooth sailing with the second effort, though, as Bono lost an entire briefcase full of lyrics and musical ideas in a famous and absurd circumstance.
This was back in an era where things had to be written down if they wanted them to be preserved, and whether it was stolen or just misplaced, it was gone for good. This forced the band to quickly write new material while on tour, and when it came time for the recording sessions in the studio, Bono had to improvise the lyrics on the spot.
Despite the craziness that happened with the album, they were able to gain some more recognition, including opening for a big band at the time, Thin Lizzy. The rock and roll lifestyle is never one for the faint of heart, though, and in U2's case, both Bono and The Edge were part of an intense Christian group called the Shalom Fellowship, which of course, did not support the ways of a rock star's life.
They eventually realized that their calling was not to be in a Christian group that would cast judgment on their way of life but to be rather world-renowned rock stars who would influence generations of musicians to come.
The Real Follow up Album Drops, War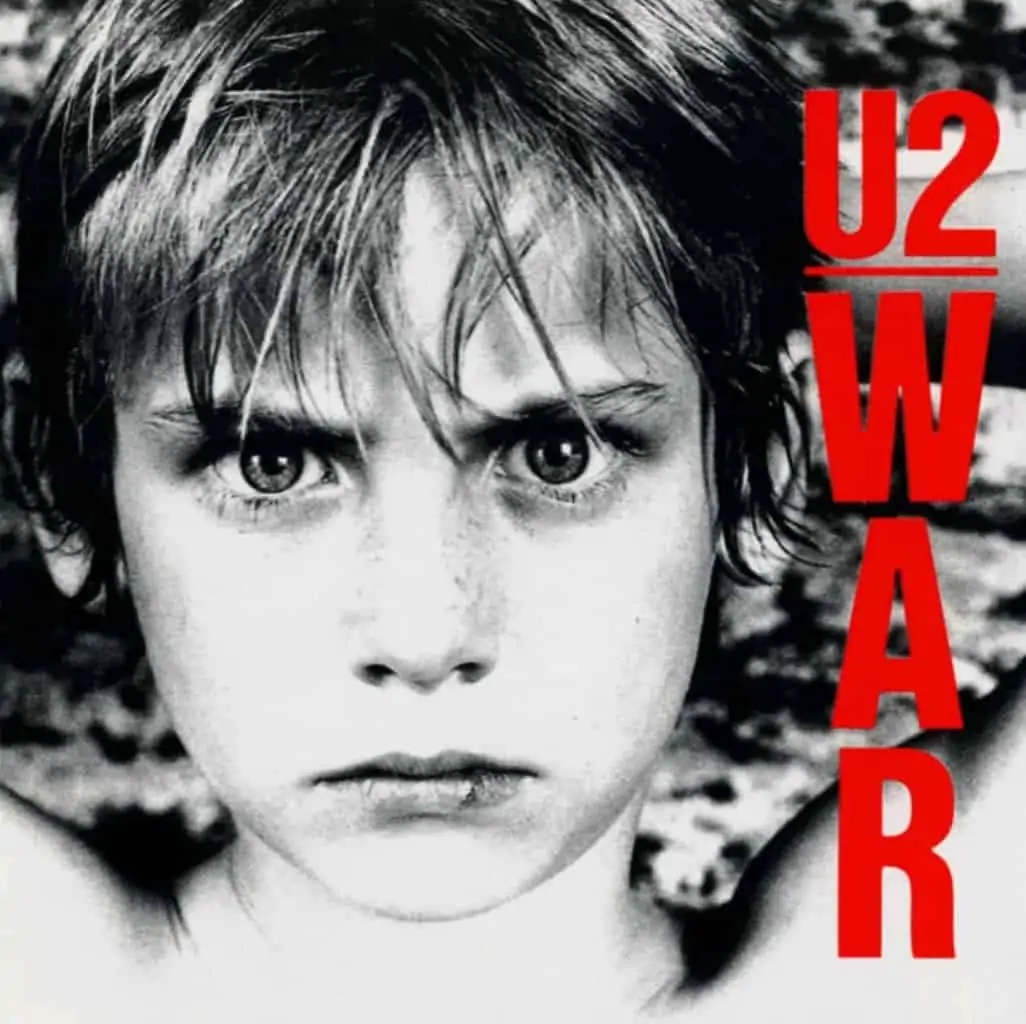 The band actually had their music ready to go for a new album the third time around. This time, none of the notes were lost or stolen, and the band gave up many of the religious and spiritual themes that seemed to permeate through October and released War in 1982.
For this Album, The Edge had truly defined his sound and songwriting while the rest of the band was on vacation, including Bono. During this time, The Edge toyed around even more with delay effects and added chorus effects to his sound as well, which came out in a big way on the album War.
The big hit off the album was "New Year's Day," which soared up the charts in the UK and became the band's biggest hit to date. U2 finally made its mark in the US as well, charting at number 53. The album dropped shortly after and reached number one in the UK and number 12 in the US. The Edge, in particular, made he made his mark with this album, and Bono's strong songwriting made its way into War's more decidedly political themes with songs like "Sunday Bloody Sunday."
This progression into politically charged music struck a chord with fans worldwide, and suddenly, U2 went from opening for bands like Thin Lizzy to headlining arenas. Bono, in particular, grew into his own during this time as well, becoming a frontman worth paying attention to not only for his unique and soaring vocals but the on-stage presence that included hurling himself into the audience off of massive structures.
He slowly became a figure larger than the band itself, which is why the first thing you think of when it comes to U2 is Bono.
The Unforgettable Fire
U2 had hit it big by 1984, and with their massive popularity came a new record deal to really put their popularity into income for the band. The band had embraced a pop-rock angle for their last album, becoming arena darlings while tearing up the charts with multiple singles, but the direction of the band wasn't going to keep going that way.
U2 has always been a very unique sound, and that's because of their willingness to experiment with various styles, and with their next album, The Unforgettable Fire, that experimentation took flight.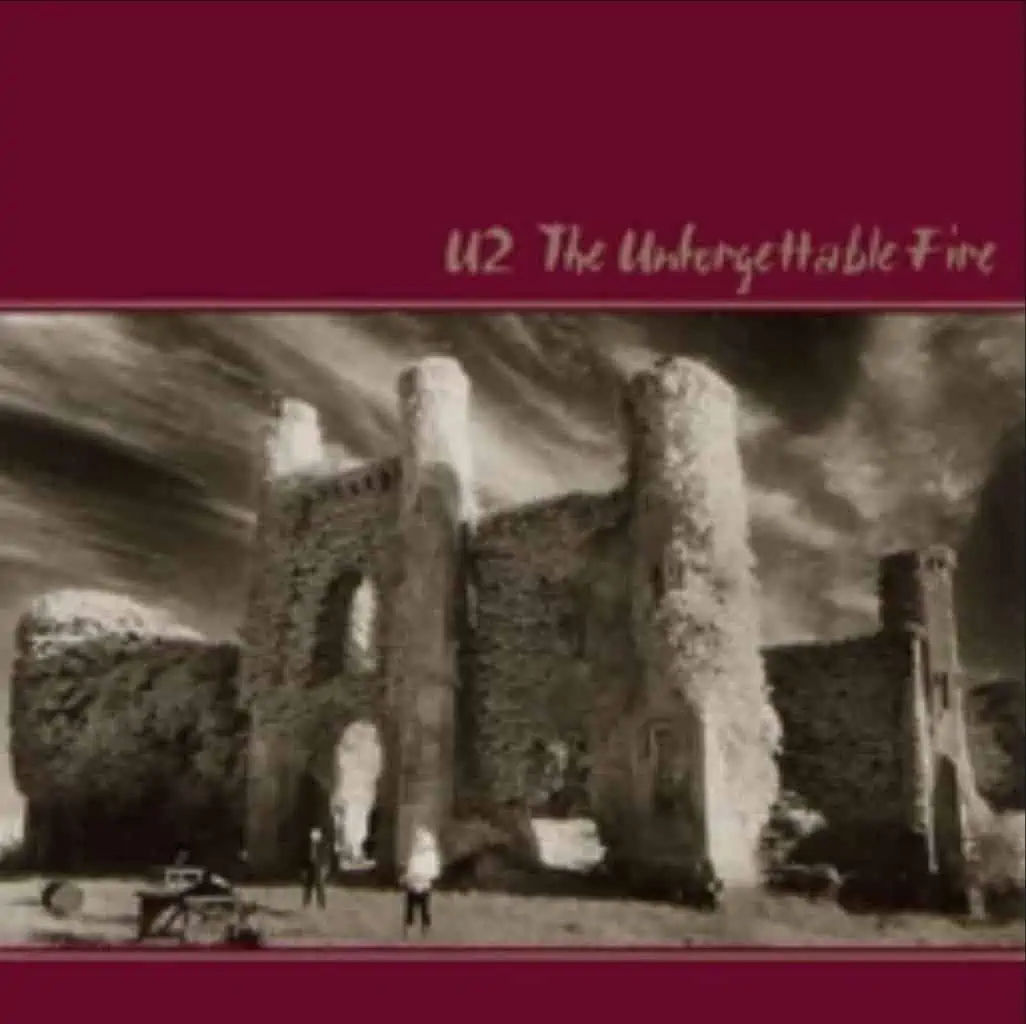 When it was released, the band had finally found the sound that would go on to define the rest of their career — powerful and subtle at the same time, with lyrics that range from autobiographical to completely abstract.
The huge hit off the album was "Pride(In the Name of Love)," which gave the band their biggest hit to date. It's still a massively played song that reverberates throughout the years, with lyrics that reference Martin Luther King.
The Joshua Tree Takes U2 to New Heights
With their experimental album proving to be one that would give them their biggest hits, U2 decided to double down on their artistic side and give it another go with The Joshua Tree, which was released at number one in twenty different countries. Massive hits came off the album that still get airtime today in "With or Without You" and "I Still Haven't Found What I'm Looking For."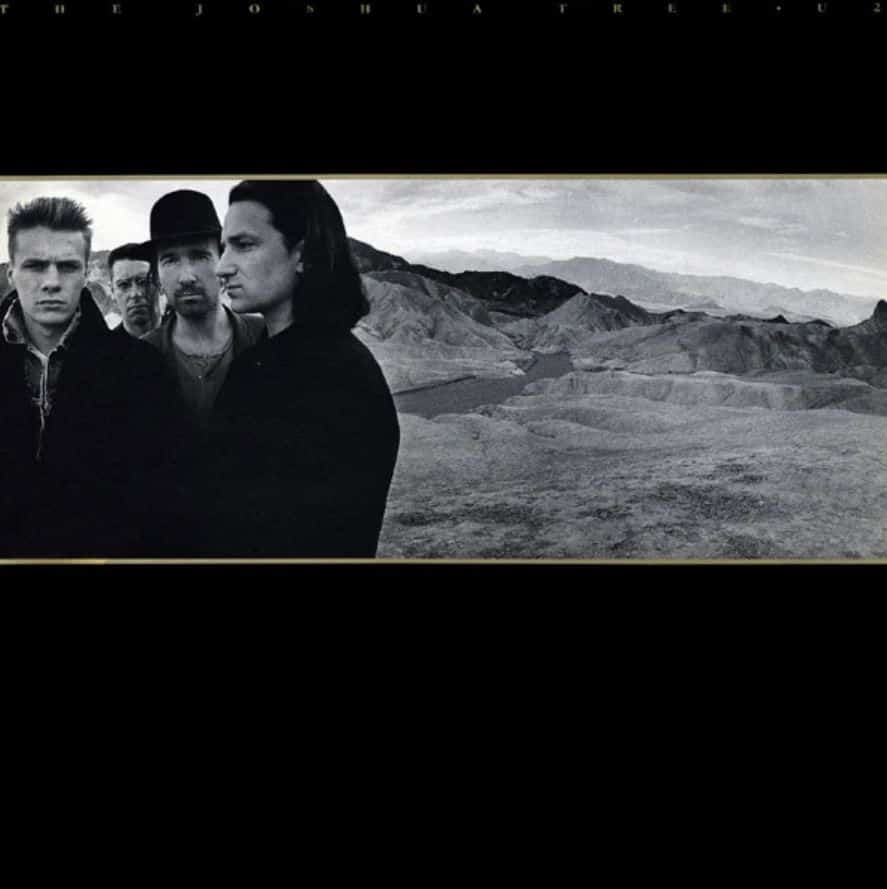 This album established U2 as the biggest rock band in the world in 1987, which was tough to do with the crowded rock landscape that included so many different genres. Still, the album is known as one of the best in rock history, and the accompanying tour they went on was enormous, allowing the band to sell out tons of arenas.
The album would get followed up by Rattle and Hum, which was an enormous album that included live performances and guest appearances. Overall, it wasn't the follow-up to The Joshua Tree that most were expecting.
Still, despite that, the album reached number one worldwide again, proving the band was pretty much invincible regardless of the types of albums they put out. Rattle and Hum was less a U2 album and more of a mix of all kinds of American music. It featured artists such as B.B. King.
The New Era Begins
The band had been the biggest act in rock for a few years when 1990 hit, but they were clearly in search of a new direction following Rattle and Rum. Their next album would be called Achtung Baby, and the recording wasn't the smoothest. They had multiple arguments over where the band would go from that point and what style of music the album should have.
It almost led to a complete breakup of the band. The band did not break up. Instead, from the turmoil and arguing came the song "One," which would become a massive hit and fuel the Fire for the album's release.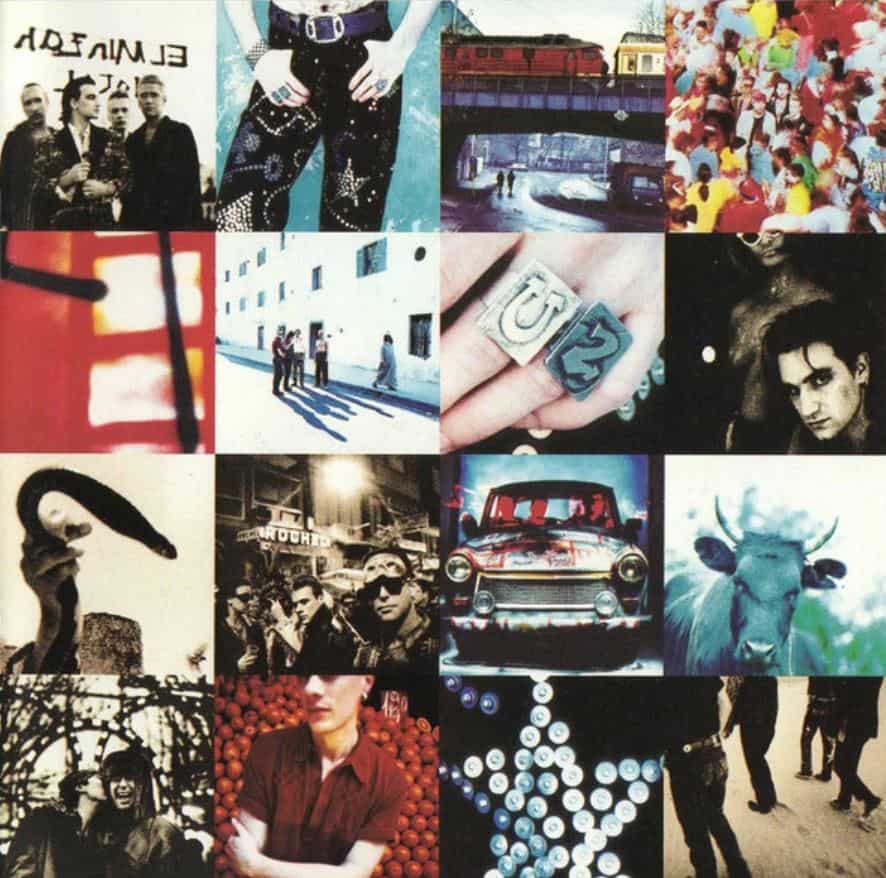 That release came in 1991, and Achtung Baby immediately sounded different than their previous endeavors. It became one of their biggest selling albums of all time and supported five singles, including "One."
The most interesting song on the album was "Mysterious Ways," which featured some interesting rhythm guitar and an infectious chorus that at times sounds like a completely different band. The alteration of styles here was something the world was clearly into, and the darker lyrics that filled the album were right in line with the oncoming teen angst of the 1990s.
Once again, U2 managed to release an album that would be called one of the best rock albums of all time. That's not just hyperbole, as it managed to win the Grammy for Best Rock Performance. That gave U2 two insanely successful albums that would become known as some of the best ever made, a rare feat indeed.
Zoo TV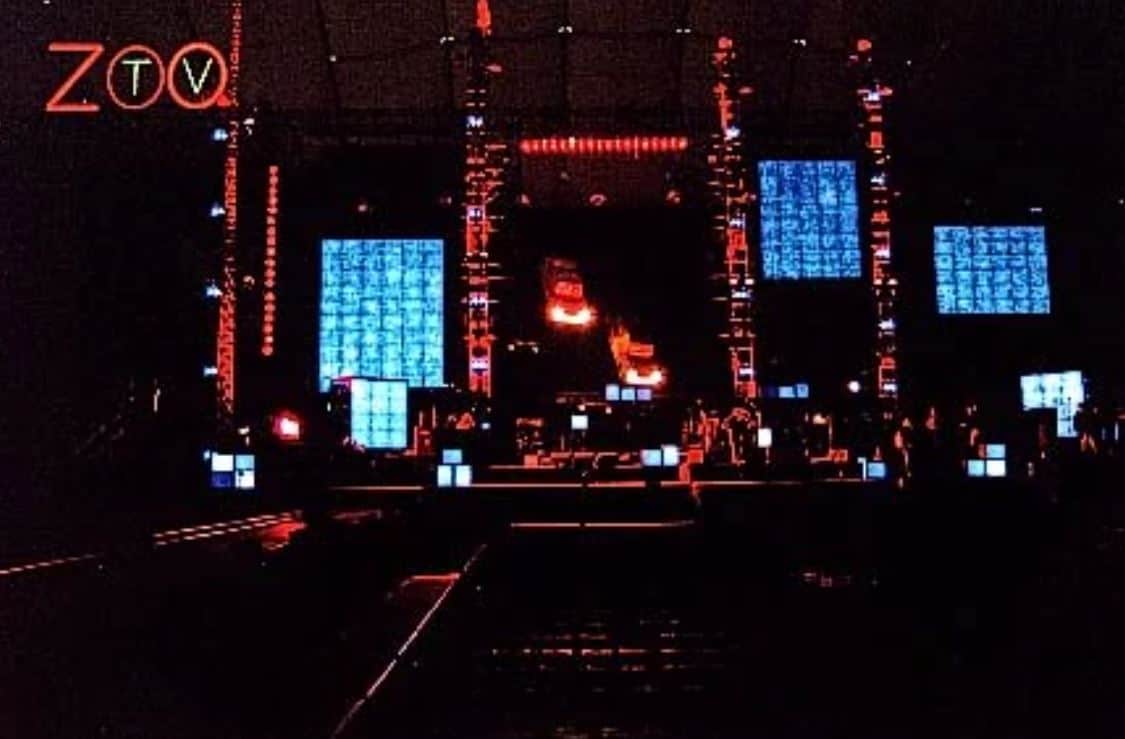 After Achtung Baby took over the world, U2 embarked on a bizarre tour that would see Bono and the band dressing up in different satirizations of the rockstar lifestyle and world events going on in the media.
The tour was defined by several characters that Bono dressed as, including "The Fly," which saw Bono clad in leather and acting as over the top as possible, almost parodying himself while poking fun at the nature of the rockstar lifestyle. Despite this completely bizarre tour, the audiences across the US ate it up and made it their most lucrative grossing tour ever, coming in at $67 million.
The Money Train Rolls In
After showing that they were the most popular band in the world, U2 signed the biggest contract in rock and roll history, signing a six-album deal for a whopping $60 million. As soon as the ink was dry, another album came in the form of Zooropa, which got U2 back to experimenting with more sounds, this time in the dance music and industrial style.
Some have noted the similarities to Nine Inch Nails at times with this album, which makes sense as that band was beginning to make a big name for itself at that time as well. The album would become another massive success again, winning the Grammy that year for Best Alternative Music Album this time.
The Lifestyle Catches Up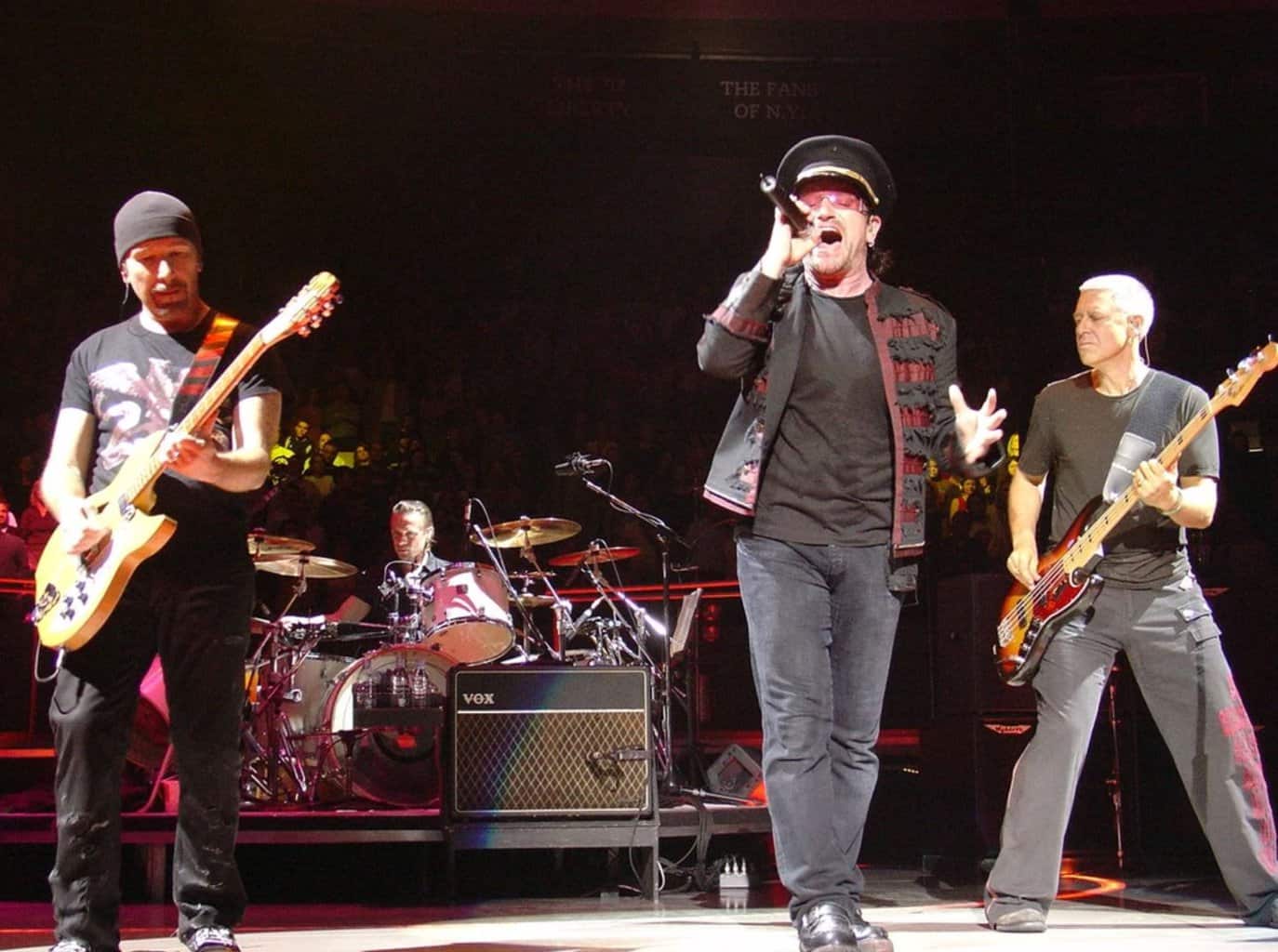 Adam Clayton had been battling alcohol troubles for a long time, as many in the music industry tend to do. The issues were hidden for a while, but during a concert in 1993, he blacked out before a show and couldn't perform in the show that night.
Luckily, they were able to temporarily find a replacement, and following the show, Clayton pledged to get clean. The tour they were on would eventually conclude in Japan; with Clayton back in the fold and the band operating at full strength, the tour made $151 Million, marking a landmark achievement for any artist.
U2 Finally Flops
It had been a long time since the uneven criticisms of their second album, October, had hit, so U2 was bound for a letdown at some point. It came in the form of Pop in 1997. The album was not at all like their previous material, and it was instead the band's exploration of dance music in a heavier way than Zooropa ever meant to.
Despite the controversial change to their music, it was still released to a great reception. It also debuted at number 1 in more than 30 countries, so the world definitely was up for whatever the band was cooking, although it quickly fell off the charts because of the lack of hits.
The Bounceback Comes with All That You Can't Leave Behind
U2 understood their audience better than most bands and knew that following the disappointment of Pop, they needed to recapture the sound that turned them into musical gods. With the new millennium in full swing, they needed to get back to their roots, and that's just what they did with All That You Can't Leave Behind.
The album was released in 2000, and with the strength of their soaring, positive vibe-laden mega-hit "Beautiful Day," the band once again took home ht Grammy for Best Rock Performance along with Song of the Year and Record of the Year.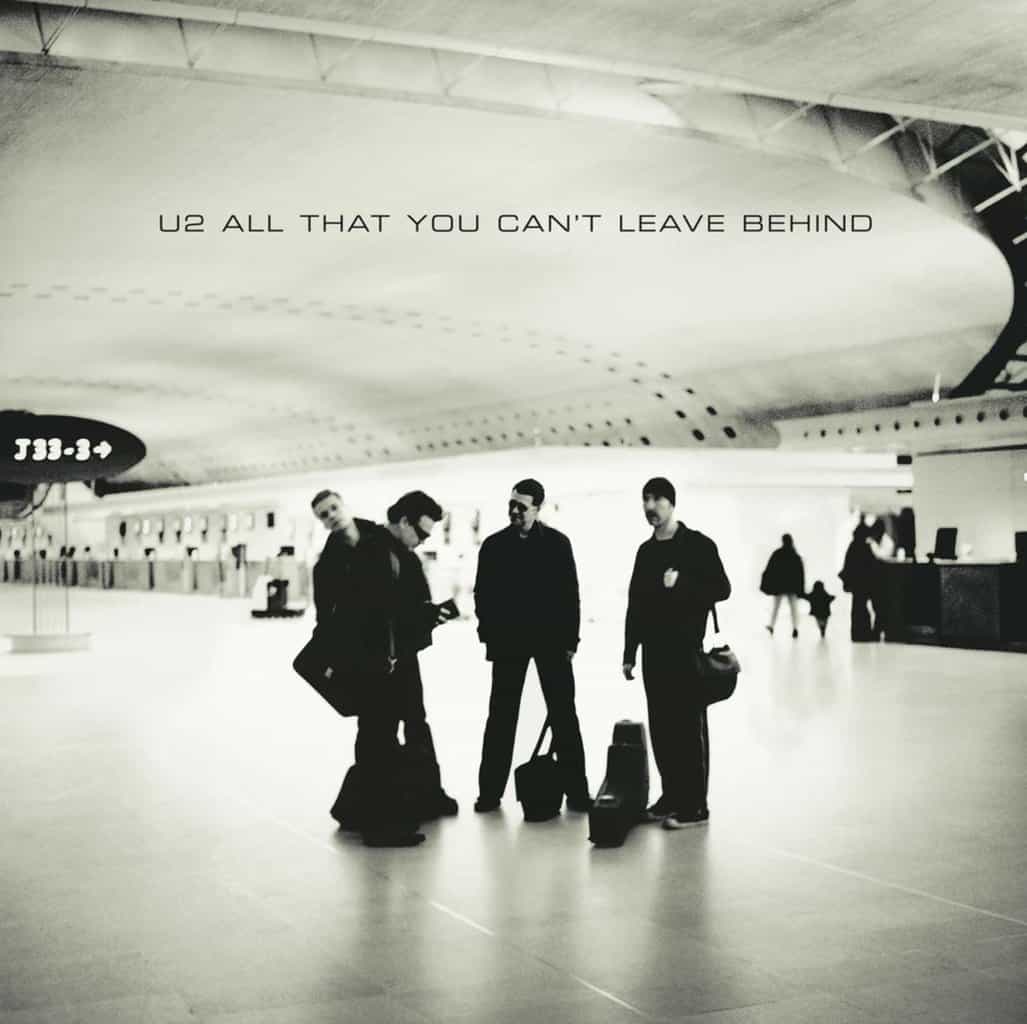 The album itself didn't have any groundbreaking sound, but the catchiness of the choruses and melodic riffs were not to be ignored. Bono famously said at the Grammys that year that "U2 was reapplying for the job of the best band in the world." Despite the lack of modesty, Bono was very right in that assessment, and their performance at the Grammys that year pretty much confirmed they got the job.
Did They Really Do It Again?
It was getting a bit ridiculous for U2 here; I mean, how could they sustain success in yet another decade? The follow-up to All That You Can't Leave Behind was called How To Dismantle an Atomic Bomb. It was the band's 11th studio album.
The album would come four years after their previous effort. Yet again, it absolutely obliterated the charts, selling nine million copies globally and shattering first-week sales records for the band with an insane 840,000 copies sold.
The big hit from the album was "Vertigo," which famously was featured in Apple's iPod commercial, giving it even more widespread appeal than it normally would've had. The song would be playing everywhere you were in 2004, and I can recall hearing the chorus blasting during everything from football games to walking around in a Starbucks. It was infectious, and the band fed off it to gain another wave of massive popularity.
The Hall Calls, U2 Performs for Katrina Relief
It was an obvious eventuality at this point, and in 2005, U2 was inducted into The Rock and Roll Hall of Fame while their album was still ripping up the charts. In fact, the following year, U2 would again win Best Rock Album for How To Dismantle an Atomic Bomb despite it being two years old at that point.
In 2006, Hurricane Katrina rocked New Orleans to its core, causing tons of damage and killing and displacing many people. U2, in turn, performed a cover of "The Saints Are Coming" by The Skids at the New Orleans Saints' first home game that NFL Football season. The song would become a huge hit in Australia and Europe. The song would be used as the team's rallying cry throughout the year as well as in the years since.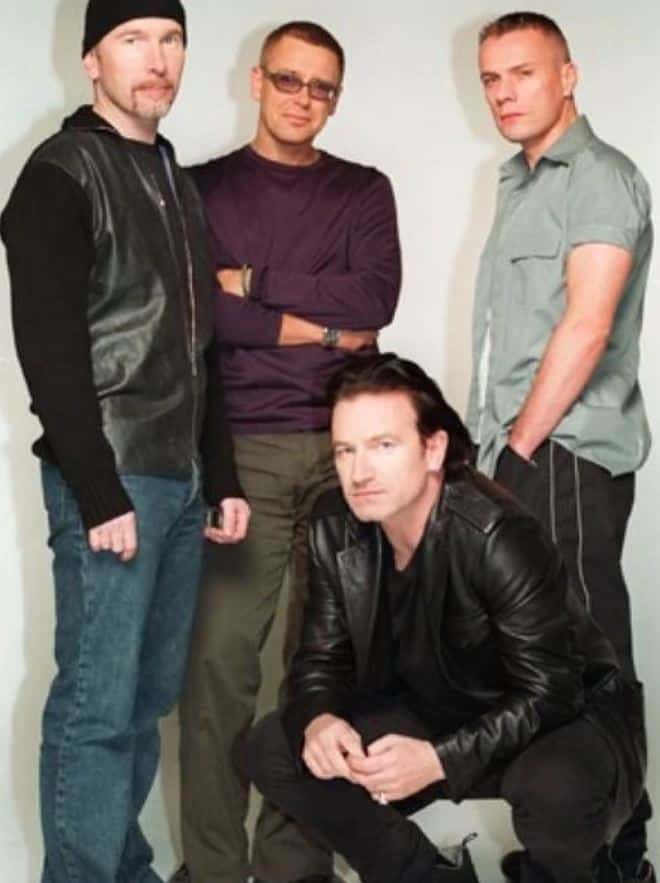 U2's Popularity Dies Down
No band can dominate the charts forever, and U2 found this out with their next album, No Line on the Horizon. It released to enough sales to the tune of five million as well as a number one chart spot in many countries in the world, but it wasn't looked at as a success by U2, who had become accustomed to setting the world on Fire with each release they'd had to that point.
The big failure of No Line on the Horizon was that there was not a single hit off the album. U2 had always managed multiple hits per album, and there just wasn't that "It" song on this one.
The tours would not stop for U2, though, as they continued to have massive tour after massive tour following 2009's No Line on the Horizon. Despite losing popularity with their previous release, U2 was as popular as ever on the concert circuit, again establishing themselves as the biggest rock band in the world.
U2 Comes 2 U
It had been five years since their last release, so U2 had to do something big this time around, which is exactly what they did. If you were an owner of Itunes in 2014, you suddenly found yourself with the album Songs of Innocence in your library.
I remember seeing it myself and being completely shocked and confused. U2 decided their new album would be automatically installed in 500 million people's libraries simultaneously.
They were, of course, paid very well by Apple to do this, and while some appreciated the gesture, many completely rejected it and actually got rid of Itunes due to it downloading music to their computers and phones without their permission.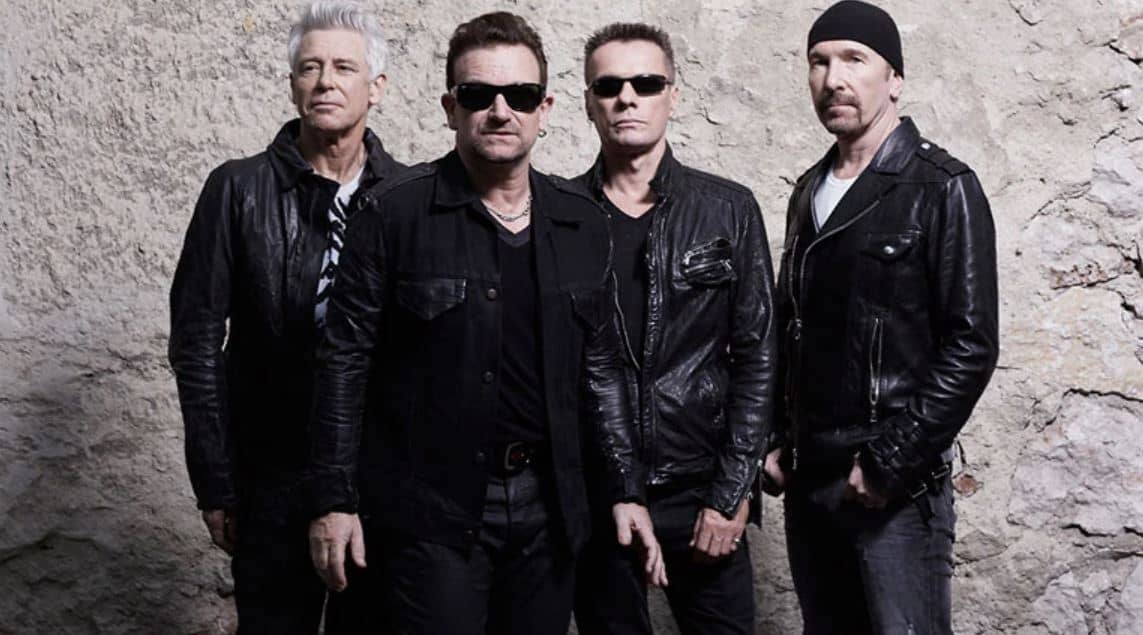 The album was nonetheless a success, marking the first time a band's music had ever been forcefully given to music listeners worldwide. The tour that would follow was put on hold a bit when Bono suffered a serious accident in Central Park while riding his bike. The accident was bad enough that it caused some to doubt his future performing live with the band, but he would recover and head out on tour again.
Songs Of Experience
U2 has been recording and touring in that order in a cyclical nature for the better part of the past 40 years, making it understandable that their releases have become more sporadic in their later days. In 2017, U2 released Songs of Experience, which would be their last album released at this point in time.
The album was received well, and the resulting tour U2 went on was again a massive success, showing the support for the band was still strong despite their somewhat controversial Itunes album, Songs of Innocense.
Present Day
U2 is still not done in the music industry by a long shot, and recently, The Edge confirmed that U2 is hard at work on their next album. Recently, Bono lent his voice to play a character in the movie Sing 2, introducing U2 to yet another generation that may once again be inspired by their music, which is truly timeless.
Musical Style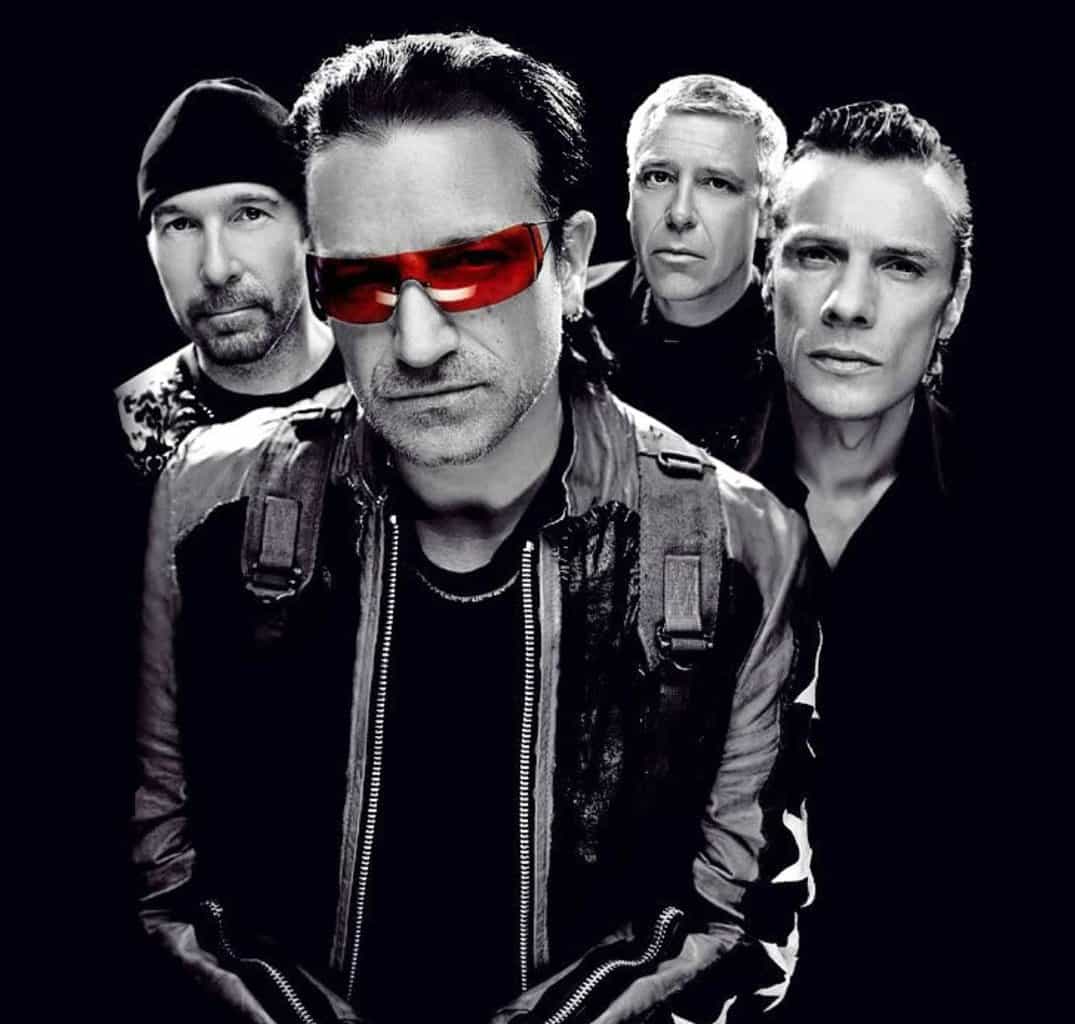 U2 has a very unique brand of rock that doesn't sound like anything else. They've had tons of hits throughout the years, and it's hard to categorize any of them. They've had hard rock songs such as Vertigo to slow-moving hymns like I Still Haven't Found What I'm Looking For, as well as electronica tracks like Discotheque.
Their style is defined by Bono's soaring vocals that sound nothing like any other rock band. His voice can hit soaring high notes and go low for the quieter songs.
The Edge has also garnered a ton of praise throughout the years of his skillful songwriting and signature delayed guitar sound that permeates throughout every song the band has ever made. It's all backed up beautifully with Adam Clayton's bass work and Larry Mullen's strong drumming throughout the years.
Unlike most rock bands, U2 has been a chameleon throughout their legendary career, managing to score massive hits in three straight decades while maintaining a huge touring presence as well.
Legacy
Today, U2 is considered music royalty. They're one of the highest-selling bands in music history. Bono has also become something of a pop culture icon as well, putting his name behind tons of humanitarian efforts throughout the world. They aren't often spoken of in the light of The Beatles or Led Zeppelin, but they are very much in that conversation when it comes to the biggest rock bands of all time.
They are on multiple lists of the best rock albums of all time and are known to put on some of the best concerts in music history, constantly creating a full-on spectacle rather than just a normal concert.
FAQs
Question: Are U2 still together?
Answer: U2 has managed to survive the trials and tribulations of touring better than just about any other band in rock history and are still together to this day with all the original members alive and well. They are also on the verge of releasing a new album, as The Edge has recently confirmed.
Question: Is U2 in The Rock and Roll Hall of Fame?
Answer: U2 was inducted into The Rock and Roll Hall of Fame in 2005, their first year of eligibility.
Question: Where are U2 from?
Answer: U2 formed in a small school in Dublin, Ireland, and are the biggest band to come from Ireland.
Sources Cited