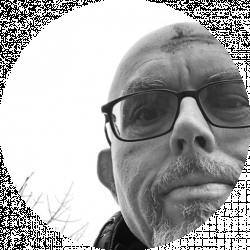 Latest posts by Kenaz Filan
(see all)
Even if I were old enough to catch the Stooges first go-around, I probably still wouldn't remember them. It took years for the world to catch up with The Stooges' raw, bluesy sound and lead singer Iggy Pop's confrontational performance style. Most audiences in the early 1970s saw the Stooges as a band of incompetent addicts with an obnoxious frontman.
Prog Rock (my guilty pleasure) was dawning around the same time. Next to consummate craftsmen like King Crimson and Yes the Stooges looked like petulant toddlers finger-painting with their own bodily wastes. But Prog Rock died not long after the Stooges.
And while that corpse remains dead, the Stooges rose to become elder statesmen to the Punk generation. Stooges LPs that record stores couldn't give away when they were released now command premium prices from collectors, and bands famous and obscure take musical and visual cues from the Stooges.
So how did these New Wave darlings get their start?
Well, it all began in Michigan.
1963-1967: Before They Were Stooges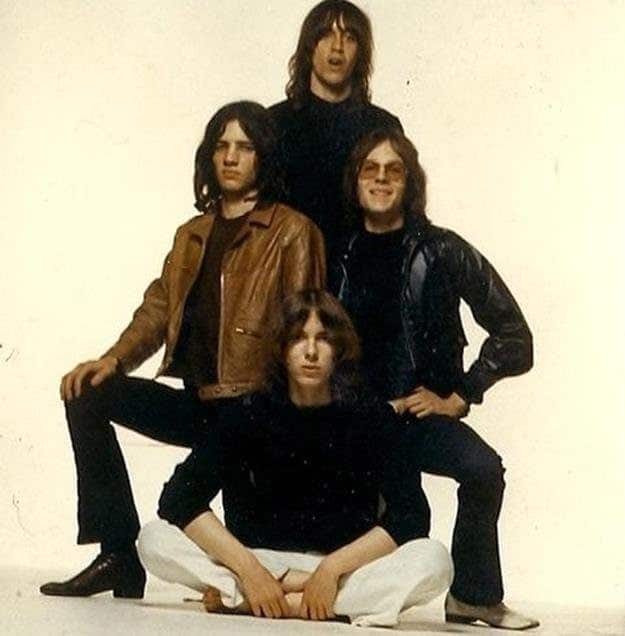 In 1963 Ann Arbor High School students Jim Osterberg (drums, vocals) and Jim McLaughlin (lead guitar, vocals) formed a band they called The Iguanas. From 1963 to 1965 The Iguanas played British invasion covers at bars and frat parties throughout Michigan, sharing the stage with acts like the Four Tops, the Kingsmen, The Guess Who, and the Shangri-Las.
But Osterberg, once a clean-cut student council member, was starting to let his hair grow long and indulge in recreational substances legal and otherwise.
Bored with the Iguanas (and banned from their biggest venue, Club Ponytail, after an arrest), 18-year-old Osterberg joined a bigger band, Detroit's blues-based Prime Movers. But his new bandmates never let him forget his original band, giving him the nickname that would stick throughout his career.
For the next two years, Iggy played drums with the Prime Movers between classes at the University of Michigan. Then Iggy saw the Doors live in Ann Arbor. Jim Morrison's shirtless, rawly sexual performance sparked Iggy's interest in leading a band. Bored behind the drums, Iggy left the Prime Movers and spent a few months in Chicago studying the city's famous Blues scene.
Back in Detroit, Iggy decided to try his hand as a frontman. He formed a band with Dave Alexander (bass) and the Ashton brothers, Ron (guitar) and Scott (drums). After a bit of rehearsal, their new band debuted on Halloween 1967 at their State Street shared house as The Psychedelic Stooges.
1967-8: The Psychedelic Stooges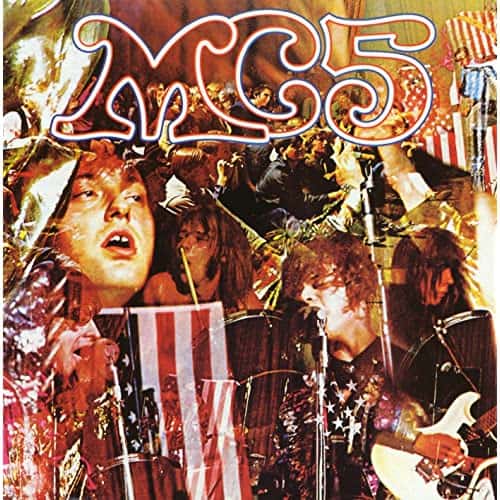 As per their name, The Psychedelic Stooges wereinfluenced by the then-popular Psychedelic movement. But where the bubblegum psychedelia filling AM airwaves took its primary cues from Brill Building pop with an occasional sitar, the Psychedelic Stooges were influenced by one of Detroit's most popular acts, the MC5.
Best known today for "Kick Out the Jams," the MC5 spent years honing their live act in raucous stage shows. Their set paid homage to avant-garde and free jazz musicians like Sun Ra and Albert Ayler, and their songs were largely extended improvisational jams that stretched out like after-hours bebop sessions.
But the MC5 also loved the simple, pounding rhythms and driving energy of garage rock. MC5 shows were legendary in Michigan and they frequently opened for touring bands who found themselves overshadowed by the MC5's primal sets.
Michigan audiences were also different than the crowds on the coasts. While psychedelia was popular with middle-class and wealthy college students, the MC5's Midwest audiences were largely the sons and daughters of factory workers and blue-collar laborers.
Their brand of political activism owed more to Red union organizers than to the Marxist theorizers at the Students for a Democratic Society. And where psychedelia was big on green utopias, the MC5's music evoked the region's factories, steel mills, and smokestacks.
The Psychedelic Stooges played extended jams that included found instruments like blenders, oil drums, and vacuum cleaners. What they lacked in musical training they made up for with enthusiasm and their philosophy was more keg party than Communist Party.
But the real draw was Iggy Pop's increasingly wild antics. Iggy became notorious for cutting himself with broken glass, rubbing his bare chest with ground beef or peanut butter, exposing his genitals, and diving off the stage into the crowd.
(That's right, kids, thirty years before Lollapalooza Iggy Pop invented stage diving. But while audiences today have learned the secret of crowd surfing, Iggy not infrequently wound up face-first on a concrete floor, breaking his nose on multiple occasions).
In 1968 an Elektra talent scout came to Detroit to check out an MC5 concert. After the show, he was so excited that he offered recording contracts to both the MC5 and their opening act, whose name he shortened to "The Stooges."
1969: The Stooges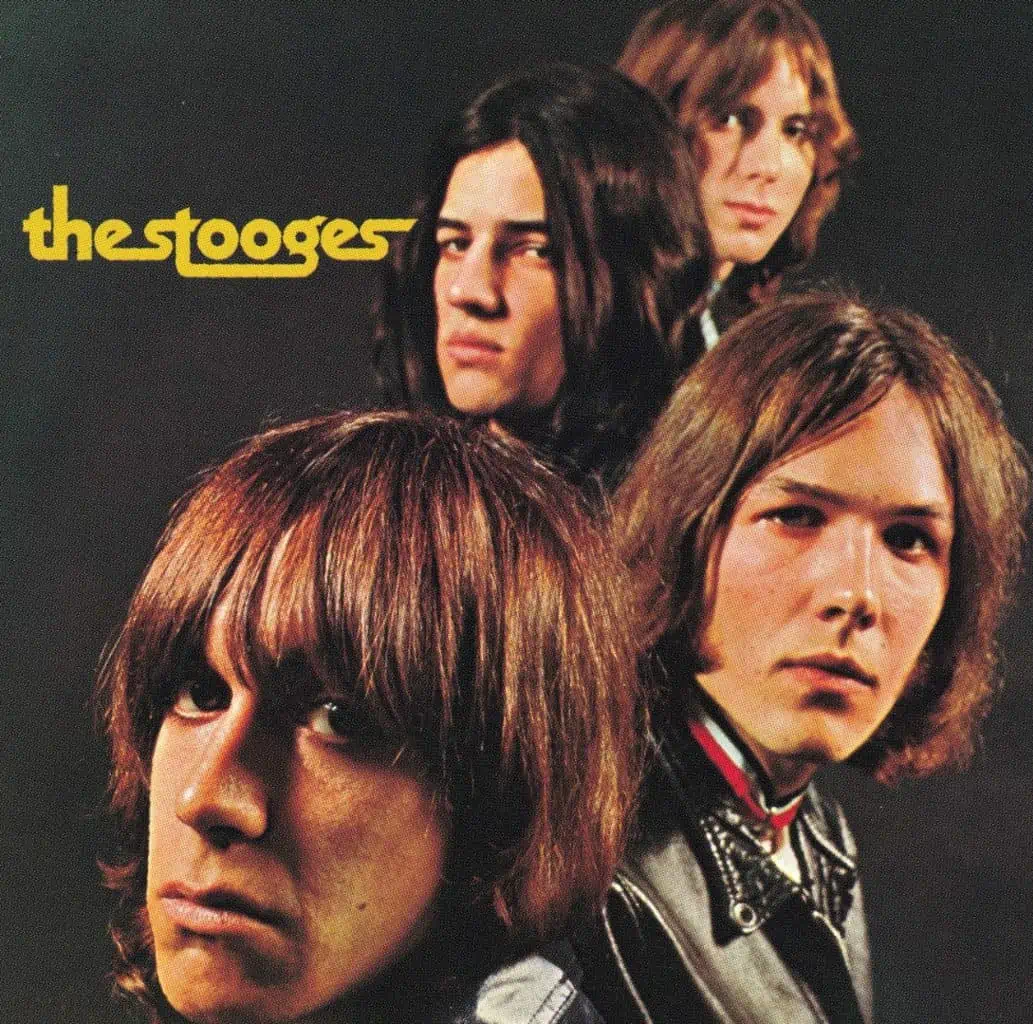 In April 1969 The Stooges joined John Cale, formerly of the Velvet Underground, in New York City's Hit Factory studios.  But record executives, unable to figure out what to do with their free-form jams, demanded they record at least a few more conventional songs. Within a week, the band reworked their original material into a final form. Still dissatisfied, Elektra president Jac Holtzman remixed the album with input from Iggy and on August 5, 1969, The Stooges appeared in music stores
The opening tracks, "1969" and "Now I Wanna Be Your Dog," are raunchy, blues, stripped-down garage rock. Angry, sneering, and sexy, this new sound relied on a couple of chords, a driving 4/4 drumbeat, and a truckload full of bad attitude. Cale's recording here has the compressed, distorted feel of his work on the Velvet Underground's White Light, White Heat.
The Stooges closes the first side with a nearly 10-minute jam called "We Will Fall." The classically-trained Cale plays a droning viola line along with doomy Indian chanting that sounds like a Doors outtake. While Cale made it work on VU classics like "The Gift" and "Sister Ray," this one lives up to its name and falls flat.
The second side continues with rockers "No Fun," "Real Cool Time," and "Little Doll," along with "Ann," a surprising ballad that shows the heart behind Iggy's sneer. Today The Stooges is recognized as a proto-punk classic. But hindsight is 20/20, as they say.
In 1969 this debut was largely dismissed by critics and ignored by audiences. Perhaps the most positive review came from Rolling Stone reviewer Edmund O. Ward, who noted "Their music is loud, boring, tasteless, unimaginative and childish. I kind of like it."
Credits
Iggy Pop (credited as "Iggy Stooge") – vocals
Dave Alexander – bass guitar
Ron Asheton – guitar, backing vocals
Scott Asheton – drums
John Cale – production, piano, sleigh bell ("I Wanna Be Your Dog"), viola ("We Will Fall")
Side A

| No. | Title | Length |
| --- | --- | --- |
| 1. | "1969" | 4:05 |
| 2. | I Wanna Be Your Dog" | 3:09 |
| 3. | We Will Fall | 10:18 |
Side B

| No. | Title | Length |
| --- | --- | --- |
| 1. | "No Fun" | 5:14 |
| 2. | "Real Cool Time" | 2:29 |
| 3. | "Ann" | 3:00 |
| 4. | "Not Right" | 2:50 |
| 5. | "Little Doll" | 3:20 |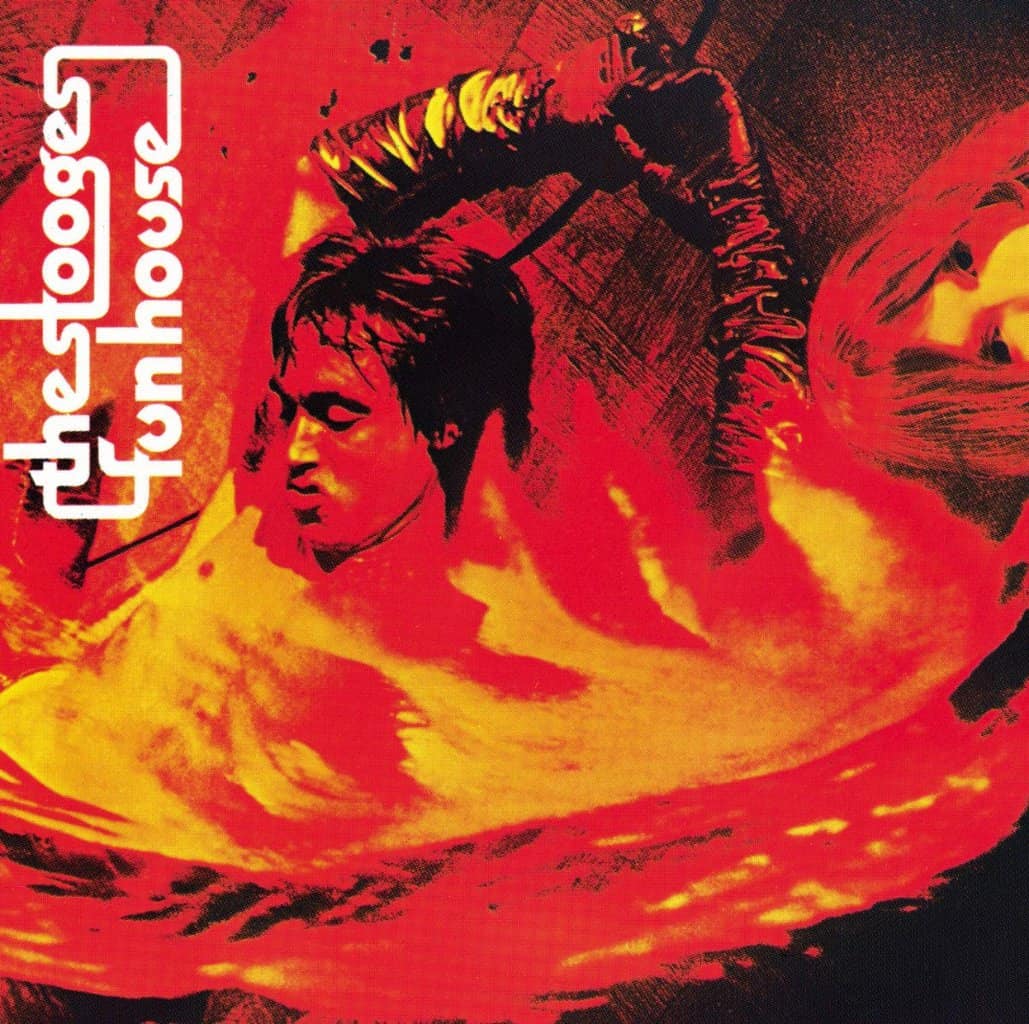 Elektra brought in a new producer for the second Stooges album. Don Gallucci got his start playing keyboards for the Kingsmen ("Louie, Louie"), so he was familiar with the requirements of sloppy garage rock. Gallucci recorded the band as if they were playing a live gig. The result, Fun House, was even rawer and harder than the debut album, with a driving drumbeat and enthusiastic if not always accurate guitar and bass work.
The anthemic opener "Down on the Street," marked the debut of a new Stooge, saxophonist Steven Mackay. Mackay was part of Detroit's avant-garde and free jazz scene. His squalling saxophone added a new layer of chaos to the anarchy on cuts like "TV Eye" and the sprawling descent into madness that was the album's closing track, "LA Blues." Amidst all this madness Iggy moaned, shrieked, and pleaded in tones sexual and sinister.
Decades later Fun House would appear on many critics' lists as one of the greatest rock albums of all time. In 1970, the critics yawned and audiences were unimpressed. Fun House did not even crack Billboard's Top 200.
Meanwhile, substance abuse issues were taking a toll on the band's live performances. Bassist Dave Alexander was fired from the band in August 1970 after showing up at the Goose Lake Festival too drunk to play. By November Steve Mackay was gone and Scott Asheton and Iggy Pop were serious heroin addicts. Dropped by Elektra Records, the Stooges announced their breakup on July 9, 1971.
Credits
Iggy Pop – vocals
Ron Asheton – guitar
Dave Alexander – bass guitar
Scott Asheton – drums
Steve Mackay – saxophone
Don Gallucci – production, organ overdubs
Brian Ross-Myring – remastering, engineer
Tom Hummer – assistant engineer
Side A

| No. | Title | Length |
| --- | --- | --- |
| 1. | "Down on the Street" | 3:42 |
| 2. | "Loose" | 3:34 |
| 3. | "T.V. Eye" | 4:16 |
| 4. | "Dirt" | 7:00 |
Side B

| No. | Title | Length |
| --- | --- | --- |
| 1. | "1970" | 5:14 |
| 2. | "Fun House" | 7:45 |
| 3. | "L.A. Blues" | 4:52 |
1973: Raw Power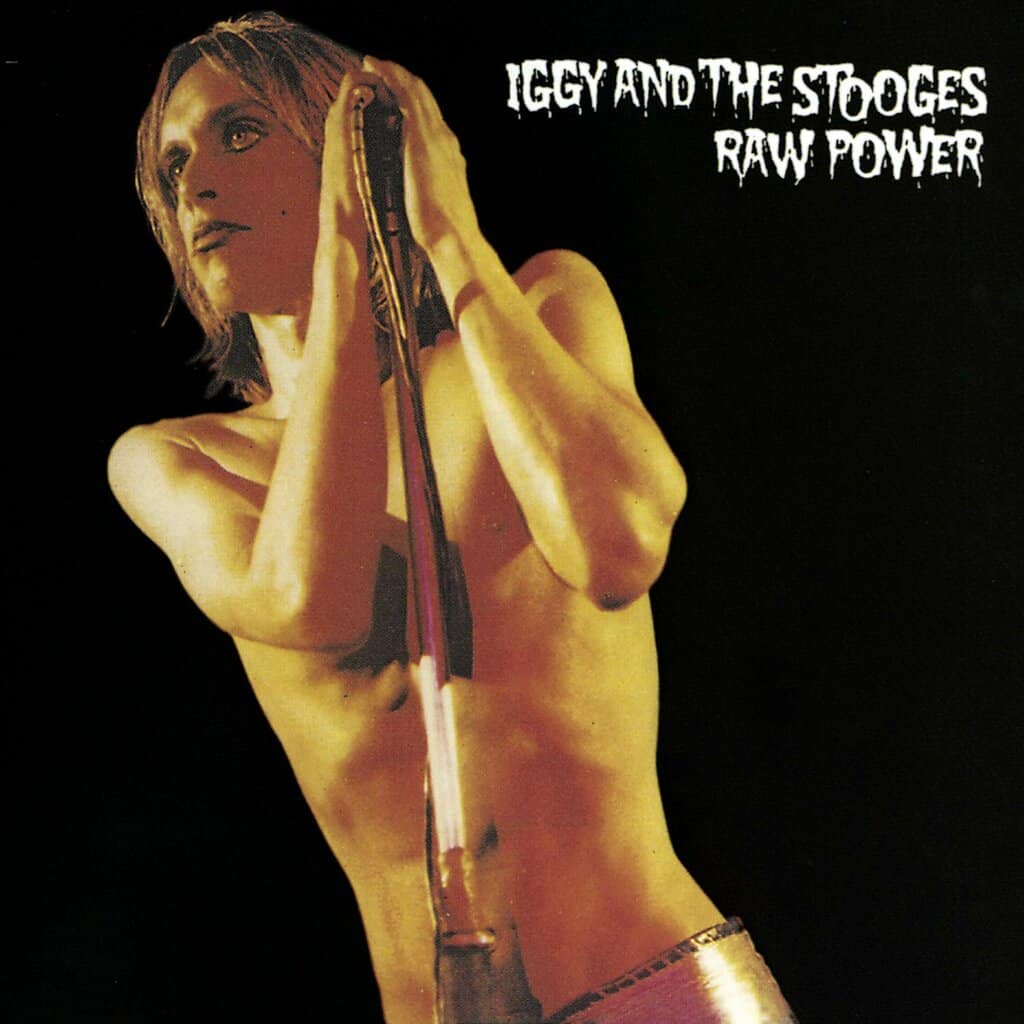 A few months after the Stooges breakup, Iggy met David Bowie at Max's Kansas City. The two hit it off immediately, and Bowie helped Pop secure new management and a solo recording contract. One of the first people Iggy contacted for his new band was James Williamson, a guitarist who had played with The Stooges as a second guitarist.
While they were in London Williamson and Pop decided to revive the "Stooges" name. After finding no suitable musicians in England, Pop finally reached out to the Asheton brothers. While the Ashetons accepted a free flight to London, they were less than thrilled with the slight, or to discover that the band was now billed as "Iggy and the Stooges."
The opening track, "Search and Destroy," showed a new lyrical proficiency, as Iggy announced, "I'm a street-walking cheetah with a hide full of napalm/I'm the runaway son of the nuclear a-bomb."
This was followed by the Columbia-requested ballad "Gimme Danger," a brooding, coiled cobra spreading its hood in a bleak urban landscape. With thrash-ups like "Your Pretty Face is Going to Hell" and the title track, along with blues-tinged songs like "I Need Somebody" (Columbia's second ballad request, a sleazy Mississippi mudbath), Raw Power showed a tighter and more musically skilled Stooges.
Like the Stooges' debut album, Raw Power saw several mixes before receiving a thumbs-up from the record label.  Like the other early Stooges albums, this one has been re-released with various mixes.
Despite all these issues, Raw Power impressed a number of critics including Dave Marsh, who declared it "the best album of the 70s." But while critics were beginning to notice the Stooges, audiences remained unimpressed. After peaking at 183 on Billboard's Hot 200, Raw Power disappeared from the charts.
In February 1974 The Stooges disbanded for a second time. A year later, former Stooges bassist Dave Alexander died of pneumonia and pancreatitis brought on by severe alcoholism. He was 27. Later that year Iggy Pop checked himself into the UCLA Neuropsychiatric Institute in the first of several efforts to deal with his addictions.
Credits
Iggy Pop – lead vocals, celesta, piano
James Williamson – guitar
Ron Asheton – bass guitar, backing vocals
Scott Asheton – drums
David Bowie – mixing
Side A

| No. | Title | Length |
| --- | --- | --- |
| 1. | Search and Destroy | 3:29 |
| 2. | Gimme Danger | 3:33 |
| 3. | Your Pretty Face Is Going to Hell | 4:54 |
| 4. | Penetration | 3:41 |
Side B

| No. | Title | Length |
| --- | --- | --- |
| 1. | Raw Power | 4:16 |
| 2. | I Need Somebody | 4:53 |
| 3. | Shake Appeal | 3:04 |
| 4. | Death Trip | 6:07 |
1976: Metallic K.O.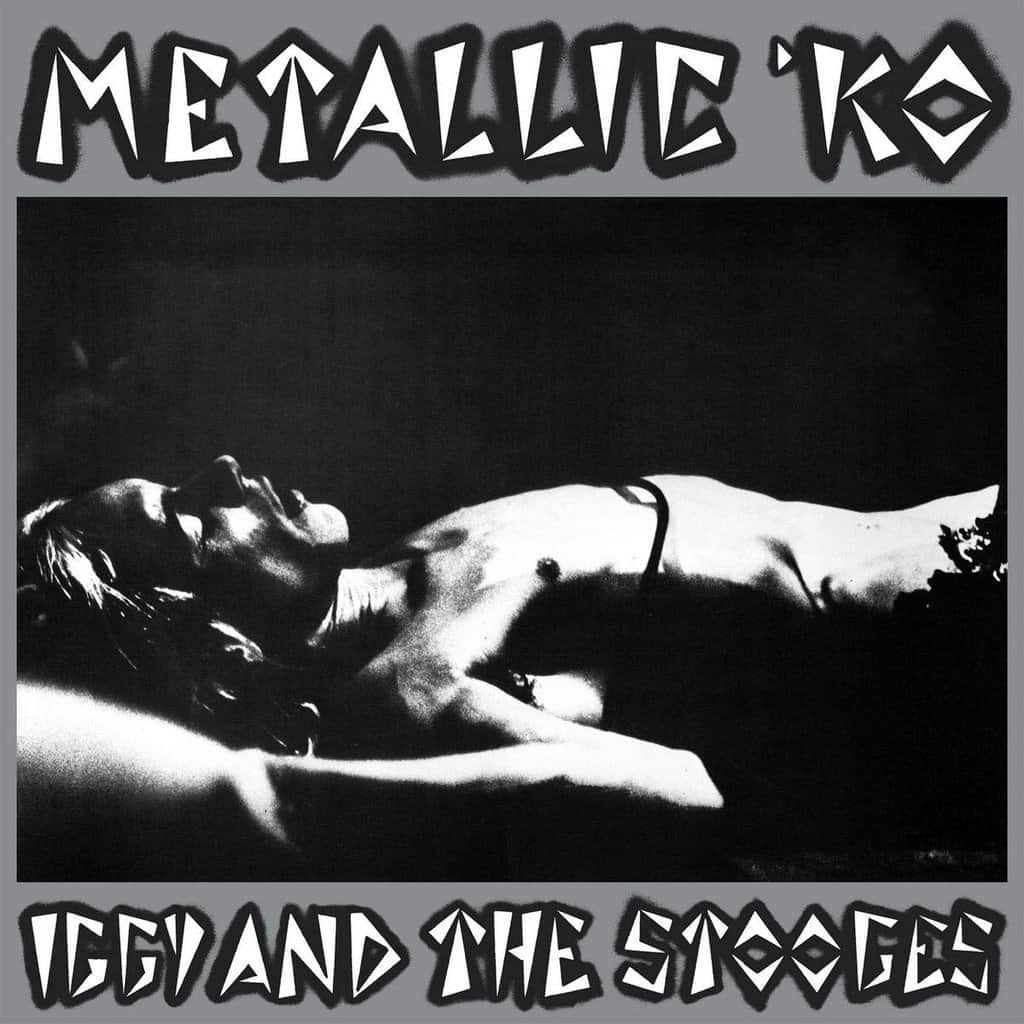 In September 1976 Michigan local label Skydog Records released a live album consisting of tracks from the last Stooges performance on February 9, 1974. The band was not at peak performance that evening, constantly veering off time. The Michigan Ballroom audience was even more hostile than usual.
Throughout the show, you can hear beer bottles, eggs, and other items hitting the stage as Iggy taunts the crowd.  And the recording's already muddy sound was made even worse by a mastering error that left the sound a half-step flat.
You might expect that Metallic KO fell into obscurity immediately. But 1976 was seeing the dawn of a new Punk movement that scorned the bloated excesses of commercial rock and saw The Stooges as harbingers of their new age. Within a year Metallic KO had sold over 100,000 copies.
The bad mix and sloppy performance couldn't obscure Iggy's increasingly unhinged sneer as he worked his way through an X-rated "Louie Louie" and dared the crowd to attack him. The visceral energy couldn't be missed and the primitive recording only added to the attraction.
While there were personal tensions between Ron Asheton and James Williamson, Williamson was clearly the better guitar player.
His leads manage to soar above the onstage chaos with a precision that Asheton lacked.  Reassigned to bass duties, Ron Asheton proved himself well-suited for the task. His bass lines hold the band together whenever they could hear him above the din. (His playing is especially strong on this heartfelt version of "Gimme Danger").
And as the buzz began developing, and The Stooges became the darlings of the New Wave, what were the former band members doing?
Iggy Pop was in Berlin with David Bowie as both tried (with limited success) to wean themselves off their addictions.
Ron Asheton played with bands like Destroy all Monsters and The New Order.
Scott Asheton spent time in Detroit working as a carpenter and bricklayer, with side gigs drumming and touring with Detroit supergroup Sonic's Rendevous Band.
James Williamson would work with Bowie and Pop for a few years before returning to college for a degree in Electrical Engineering (1982) and a career in Silicon Valley.
Scott Thurston, who had joined the Stooges as their piano player shortly before they imploded, was now starting a career as a session musician that would ultimately see him joining Tom Petty and the Heartbreakers in 1989.
Credits
Iggy Pop – lead vocals
James Williamson – guitar
Ron Asheton – bass, backing vocals
Scott Asheton – drums
Scott Thurston – piano, backing vocals, harmonica
Side A

| No. | Title | Length |
| --- | --- | --- |
| 1. | Raw Power | 3:29 |
| 2. | Head On | 3:33 |
| 3. | Gimme Danger | 4:54 |
Side B

| No. | Title | Length |
| --- | --- | --- |
| 1. | Rich Bitch | 10:52 |
| 2. | Cock in my Pocket | 3:21 |
| 3. | Louie, Louie | 3:24 |
2007: The Weirdness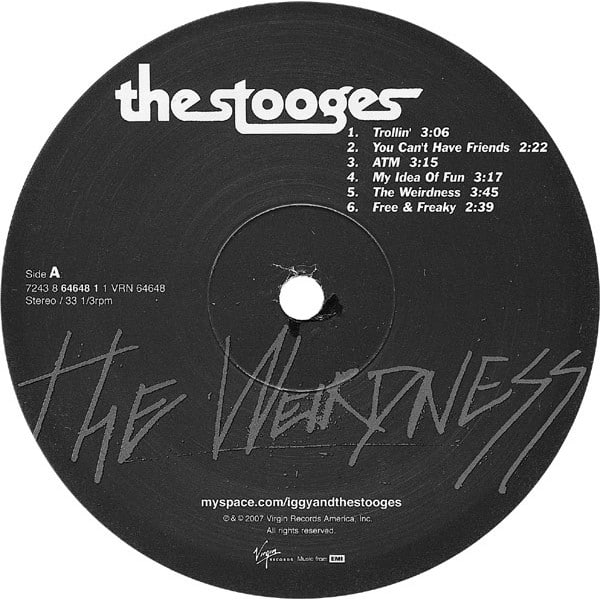 As the legend of The Stooges grew, so did the demand for new material.  In 1997 Iggy Pop produced an even heavier and louder remix of Raw Power entitled Rough Power, while in 1999 Rhino Records released a 7-disc compilation entitled 1970: The Complete Fun House Sessions.
But it was not until 2003, nearly 30 years after their final breakup, that Iggy Pop and the Asheton brothers once again took the stage as The Stooges. Replacing Dave Alexander on bass was Mike Watt, one of the most highly-regarded bassists on the Indie Rock scene for his work with the Minutemen and Firehose.
Between 2003 and 2008 The Stooges toured extensively, relying largely on old material. But in October 2006 The Stooges, joined once again by saxophonist Steve Mackey, went into Abbey Road studios with famous grunge producer Steve Albini to record what would become the first new Stooges album in 33 years, The Weirdness.
If nothing else, The Weirdness proved The Stooges still had their gift for annoying the critics. Reviews for the new Stooges album were largely negative. Pitchfork called The Weirdness  "an album that hideously disgraces the band's original work" while Popmatters lamented the album's "prosaic, fat-bellied contentedness."
While The Weirdness has its high moments (notably the sleazy, bluesy "ATM" and Iggy's crooning on the title track), it is necessary only for the most dedicated Stooges completists. Grace Slick famously said that rock music is not for old people. The Weirdness goes a long way toward proving her point.
Credits
Iggy Pop – vocals
Ron Asheton – guitar
Scott Asheton – drums
Mike Watt – bass guitar
Steve Mackay – saxophone
Brendan Benson – backing vocals on "Free & Freaky"
Steve Albini – engineering
Nick Webb – mastering
| No. | Title | Length |
| --- | --- | --- |
| 1. | "Trollin'" | 3:05 |
| 2. | "You Can't Have Friends" | 2:22 |
| 3. | "ATM" | 3:15 |
| 4. | "My Idea of Fun" | 3:17 |
| 5. | "The Weirdness" | 3:45 |
| 6. | "Free & Freaky" | 2:39 |
| 7. | "Greedy Awful People" | 2:07 |
| 8. | "She Took My Money" | 3:48 |
| 9. | "The End of Christianity" | 4:19 |
| 10. | "Mexican Guy" | 3:29 |
| 11. | "Passing Cloud" | 4:04 |
| 12. | "I'm Fried" | 3:44 |
2013: Ready to Die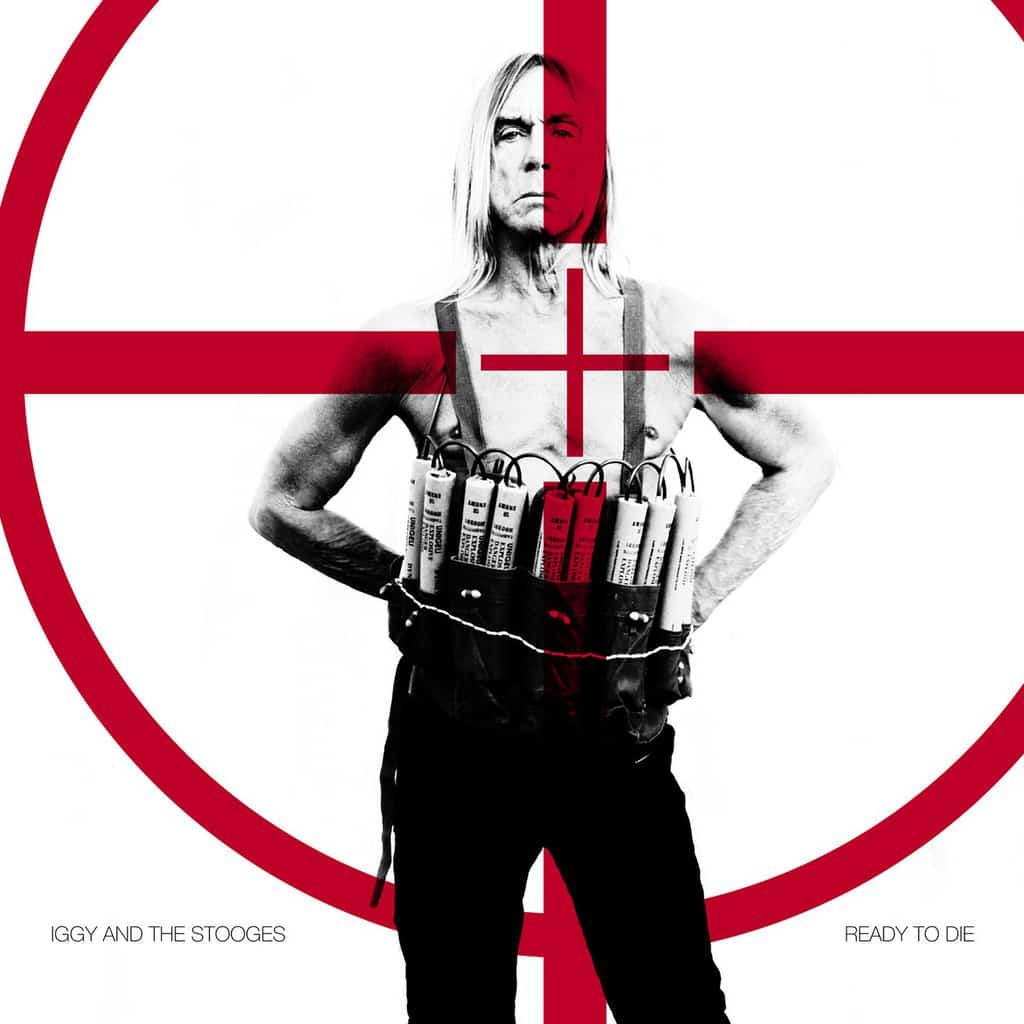 In 2013 The Stooges, long darlings of the independent music scene, released their first recording on an independent label. Ready to Die was more positively received by critics and had the strongest opening of any Stooges album, debuting at #96 on Billboard. Ready to Die also marked the return of James Williamson on guitar and Scott Thurston on keyboards.
Both were in fine form, with Williamson's guitar work in top form even after a three-decade hiatus. But while Ready to Die is a stronger record than The Weirdness, it is not an indispensable one.
Perhaps the best summation of the problem comes from Jesse Cataldo of Slant, who complained "Old and comfortable, [The Stooges] can't come close to recapturing the pure malice of overgrown teenagers thrashing out against the peace-and-love status quo." Ready to Die rocks hard and Iggy remains as charismatic as ever, but that feeling of danger and menace is gone.
Perhaps the strongest song on Ready to Die is the closing track, "The Departed." Iggy and the Stooges may be too old to rock and roll, but they now know they are not too young to die. The adolescent bravado is replaced by a melancholy longing as Iggy asks sadly "Where is the life we started?" over a plaintive lap steel guitar. It's a perfect coda to the set, and a perfect ending to the Stooges story. Scott Asheton died in 2014 and Steve Mackay in 2015.
In 2016 James Williamson announced that the Stooges were over, noting:
Basically, everybody's dead except Iggy and I. So it would be sort of ludicrous to try and tour as Iggy And The Stooges when there's only one Stooge in the band and then you have side guys. That doesn't make any sense to me
Credits
Iggy Pop – vocals
Scott Asheton – drums
Mike Watt – bass
James Williamson – guitar, production
Steve Mackay – saxophone
Jason Butler – percussion
Mark Culbertson – double bass
Toby Dammit – percussion, drums on "The Departed"
Petra Haden – violin, background vocals
Don Rooke – lap steel guitar
Hugh Marsh – violin
Scott Thurston – keyboards
Michelle Willis – pump organ
| No. | Title | Length |
| --- | --- | --- |
| 1. | "Burn" | 3:37 |
| 2. | "Sex & Money" | 3:18 |
| 3. | "Job" | 3:05 |
| 4. | "Gun" | 3:07 |
| 5. | "Unfriendly World" | 3:46 |
| 6. | "Ready to Die" | 3:06 |
| 7. | "DD's" | 3:12 |
| 8. | "Dirty Deal" | 3:42 |
| 9. | "Beat That Guy" | 3:15 |
| 10. | "The Departed" | 4:36 |
FAQs
Question: What was the Stooges' biggest hit?
Answer: Probably the Stooges' most famous and influential song is "Now I Wanna Be Your Dog." Among the artists who have covered this song are Uncle Tupelo, Joan Jett & the Blackhearts, Slayer, Sonic Youth, and Sid Vicious. "Now I Wanna Be Your Dog" also appears in the 2021 Disney film Cruella.  If you had predicted in 1969 that this song would one day appear in a Disney film, people would have told you to ease up on the LSD.
Question: Are the Stooges the first punk band?
Answer: The Stooges are widely regarded as one of the most influential proto-punk bands. Other bands who are frequently mentioned as proto-punk godfathers include the Velvet Underground, the New York Dolls, the Patti Smith Group, and the Kinks. Early 70s British pub bands like Cock Sparrer (who inspired Britain's 80s Oi! scene) are also cited as early punks, as are the shock rock antics of the early Alice Cooper Group.
Question: What is the first punk album?
Answer: Many people consider the second half of German band Neu!'s album Neu! 1975 to be the first recorded example of punk rock. While the first side continues the ambient Krautrock that Neu! explored in their earlier work, the second side features vocalist/guitarist Klaus Dinger's aggressive, sneering stylizations. Other contenders include the first Ramones album (April 1976) and the 45 rpm single "New Rose" released in England by the Damned on October 22, 1976.  (A few short weeks before the first punk song to garner international attention, "Anarchy in the UK").