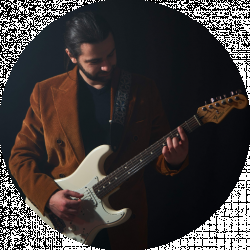 Latest posts by Altin Gjoni
(see all)
Johnny Cash is a legend of his Era with a legacy beyond music. Even if you have never heard one of his songs or are not into country music, you probably know who Johnny Cash is.
His music has been playing in my house for as long as I can remember, and the older I got, the bigger the fan I became. This Johny Cash Bio is the ultimate guide you need on his life and work. As a musician, I'll go deeper than other Johny Cash Bios and analyze his musical evolution over the years.
I believe the essence of American songwriting is compressed into Cash's career. What I love about Cash is how close he was to the everyday American. He is the working class hero turned army veteran and later country superstar. From the never before seen 'Folsom Prison' live album in the 60s to the Heartbreaking track "Hurt" sung before his death,  few have inspired generations more than him. 
As Bob Dylan said, "Johnny was like the Northern Star…you could guide your boat by his light."
Not all was fame and success for Cash. The setbacks, harsh reality, problems, and tragedies were the fuel that fed the creative machine. I will try to leave nothing out from what turned the man into a legend.
Johnny Cash Quick Facts
Full Name

John R. Cash (Born J.R Cash)

Birth Date

February 26, 1932 

Birth Place

Kingsland, Arkansas, U.S 

Nick Name

The Man in Black

Nationality

American

Zodiac Sign

Pisces

Siblings

Three brothers, three sisters

Children

5

Partner / Spouse

June Carter Cash (M. 1968 – d. 2003), Vivian Liberto (M. 1954 – 1966)

Most Successful Songs / Albums

'I Walk The Line' is his most successful song, while 'The Legend of Johny Cash (2005)' is his best selling album

Net Worth

$60 million

Social Media

Instagram

,

Twitter

,

Facebook

Website

Johnny Cash

 

Awards

11 Grammy Awards, Inducted in the Country Music, Rock and Roll, and Gospel Music Halls of Fame

,

Kennedy Center Honors, National Medal of the Arts, Grammy Lifetime Achievement Awards

Last Updated

May 2022
Johnny Cash Early Life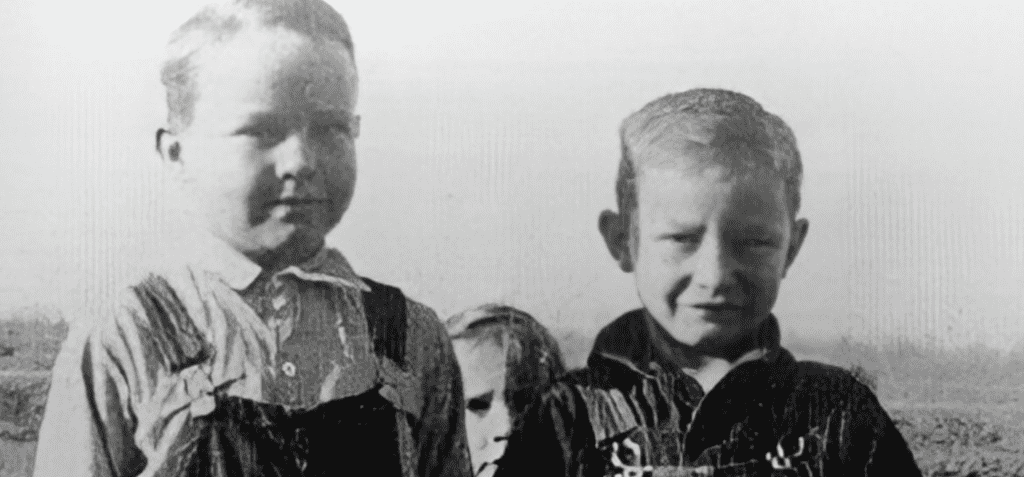 Johnny Cash was born as JR Cash in 1932 in a poor cotton farming family. His parents, Carrie Cloveree and Ray Cash were primarily of English and Scottish descent. 'JR' comes from them wanting to name him both Ray and John.
In 1935, He moved with his family to Dyess, Arkansas, as part of the New Deal colony establishment that offered land to low-income families. Cash worked in the cotton fields since he was five years old and started at the same time. His first serious contact with music was when he started learning guitar at 12 from his mother and later sang on a local radio station in high school. His distinct baritone voice was formed around the same time.
The first tragedy of Cash's life was in 1944 when his older brother Jack died after being cut by a table saw at work. The story goes that both he and his mother had felt a strange foreboding that day and urged Jack not to work. The latter insisted they needed the money and left the family, and especially Johnny, with a sense of guilt he took with him throughout his entire life.
Jack was his protector, mentor, and Idol. After that tragedy, Cash would always say, "What would Jack do?" whenever a challenge was before him. 
His life drastically changed when he enlisted in the Air Force on July 7, 1950. After years of training, he was assigned to the US Air Force Security Service in Landsberg, West Germany. Cash worked as a Morse Code operator tasked with intercepting Soviet Army transmissions.
He formed his first band, "The Landsberg Barbarians," where he played a $5 guitar and sang a mixture of country and blues. He got the famous scar on his jaw due to a cyst removal surgery at that time. On July 3, 1954, Cash was honorably discharged as a staff sergeant.
His life as a working-class child, continuous life tragedies, and the harsh reality of being a young man at the time inspired much of Johnny Cash's work.
Early Success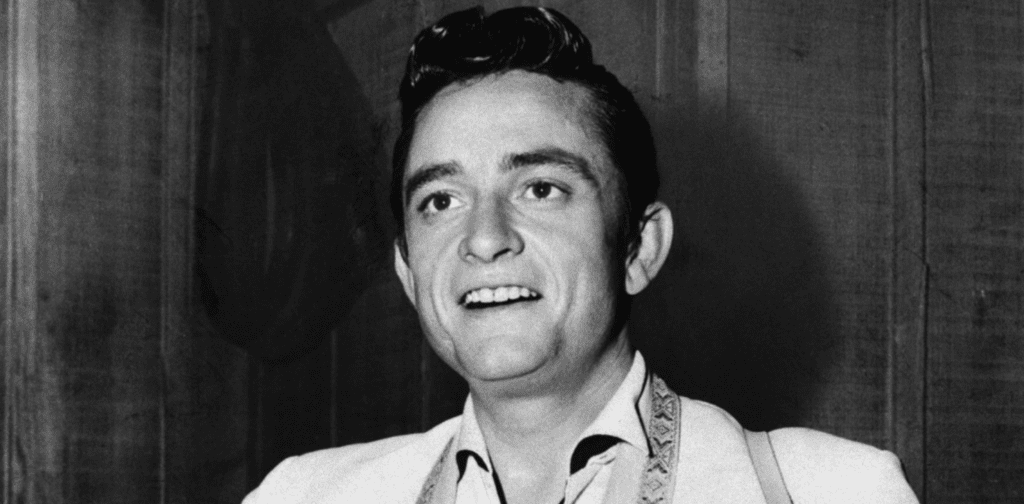 Johnny Cash sold more than 53 million albums during his half-century-long career and transitioned from a successful musician to an American icon. 
His first serious musical endeavor was playing with 'The Tennessee Two' with guitarist Luther Perkins and bassist Marshall Grant. He signed with Sun Records during the same and recorded his two first singles, "Hey Porter" and "Cry, Cry, Cry." The second one made it to No. 14 on the country charts. 
Other top 10 singles, including "Folsom Prison Blues" and "So Doggone Lonesome" with "I Walk The Line' made it to No. 1 on the country charts and made a start without even releasing his first album.
When I hear his first records, I paint a picture of how life was at the time for the average person. Being that relatable, simple, and straight to the point contributed to the early success.
Essential Albums 
Cash released 67 studio albums, 16 live albums, 105 compilation albums, and four soundtracks. His complete discography is massive and impossible to include in one Johnny Cash Bio. 
I did, however, pick his most notable albums that left a legacy on music, show his evolution in style, and made a good start for new Johnny Cash listeners.
Million Dollar Quartet
This is not precisely a Johnny Cash Album, but I found it worth mentioning due to the big names involved. 
On December 4, 1956, an impromptu Jam session between Cash, Elvis Presley, Carl Perkins, and pianist Jerry Lee Lewis resulted in the record "Million Dollar Quartet.' The album would only get released in the 80s after Elvis died.
It's not Cash's best work by far, and his role, I believe, is secondary compared to Elvis. Elvis was the Idol of the time, and just having him and Cash singing together is enough to give it a listen. 
The Real "Million Dollar Quartet."
Johnny Cash With His Hot and Blues Guitar (1954)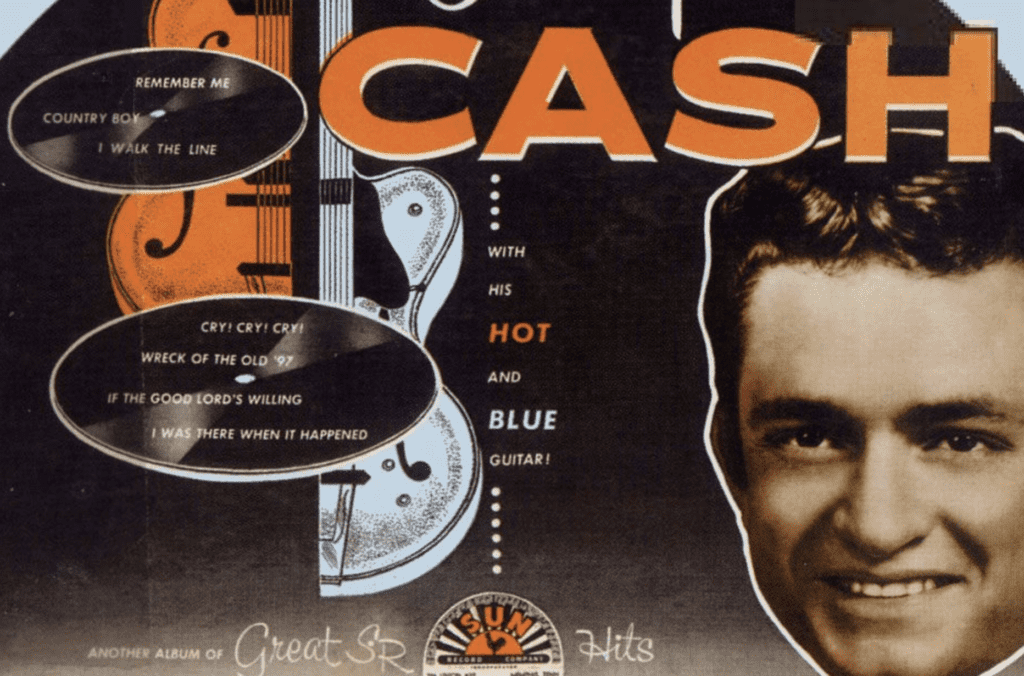 His Debut Album is one of the essential records of the 50s. The legendary track 'I Walk the Line' and 'Folsom Prison Blues' peaked high on the chart and turned him into a superstar.

Musically the album is straightforward and with a shade of rockabilly on some tunes. A lot of electric and acoustic guitar playing supports the whole album. It felt a bit scarce for me at first, but later, I found it authentic, and you probably will too.
The Fabulous Johnny Cash (1958)
Cash's second album picks up when the first one left off. The main difference is slightly more varied compositions and a better sound. The themes are everyday life and trouble mixed up with pieces of human rejector and divine comforts. Redemption is a word you will hear a lot in his music.
I can't say this is my favorite Cash album musically, but it feels like he is trying to add new elements to his playing. Some slightly more intricate melodies and steel guitar make the difference on this album. I especially love the bluesy gospel track "That's enough" and 'Run Softly Blue River.' 
Ring Of Fire (1963) & I Walk the Line (1965)
Both albums combine some of his biggest songs and new music. I purposely listed them on this Johnny Cash Bio as they're the best reference for his early work. If you want to grasp his style, listen to them from beginning to end.
The best part of the recordings is that all his old hits are recorded in better quality. You will resonate with me when I say there's a charm to how an old recording sounds. The hiss of the vinyl is special, yet the newer the recording, the better it will match the music you are used to listening to today.
At Folsom Prison (1968)
Nothing screams Johny Cash more than this record and the famous live performance at Folsom Prison. Other artists did it after him, but none matched that one-time legendary performance.
The live album came when Cash was recovering from drug and alcohol addiction and wanted to turn his career around. His record was not doing well, and he needed something different to shape the status quo. Surprisingly, after 20 studio albums that far, this was his first-ever live album. 
For me, it's a perfect album. The band is extraordinary, and Cash resonates with passion all over the stage. It takes guts and character to risk performance in that setting. Cash pulled it off and probably earned that status of legend with it.
Hello I'm Johnny Cash (1970)
This album is big for two reasons. The first is his musical maturity, and the second is the collaboration with his wife, singer June Carter Cash. By that time, Cash was a TV star with "The Johny Cash" show, and the album easily reached number 1 on the US country charts. 
What I love about the album are the covers Cash did. It was common at that time for folk and country artists to record each other's songs. His musical style kept the country basics but shifted more towards rock, which was at its peak by the time. Some songs brought back to life by him with this new style just sounded better than the original for me.
Man in Black (1971)
An album that earned him his nickname deserves to be listed. Beyond giving him an immortal name, the album expressed his political views and, like many artists, protested against the Vietnam war.
As he became older,  he became more satirical and returned to his roots of becoming one with the ordinary people. Just read the lyrics of "Man in Black" to understand why he was an idol for the working class.
"But just so we're reminded of the ones who are held back
Up front there ought to be a Man In Black"
Johnny Cash – Man in Black (The Best Of The Johnny Cash TV Show) 
Highwayman (1985)
The first Album of the Supergroup, "The Highwaymen," brings some fresh inspiration to Cash's work. Kris Kristofferson, Johnny Cash, Waylon Jennings, and Willie Nelson got together to record for the first time.
I only listed the album because it's something different for Cash, and it's a good way to know some related artists of his time. He didn't contribute much to writing the songs and only added 'Big River' from his early records to the track listing.
American Recordings I-VI(1994 – 2010)
This series of six albums is Cash's most notable work in his late career and life. The first album is my personal favorite as it's the first where he didn't have any accompanying musicians. It's also an unlikely collaboration with Rick Rubin. The raw emotion of only a wise older man and his guitar is unmatched throughout the whole record.
The Track "Hurt" from "American Recordings IV" is probably the first track you might recognize from the older Johny Cash. The music video is as powerful as the song and might bring a tear. The story goes that Cash's daughter hated the song as it felt like a goodbye; Cash replied with a simple yes.
The other albums are pure musical bliss and lyrical, collaborating with Jeff Beck, Tom Petty, and other greats. The musical style involves more intricate arrangements, sublime recording quality, and his unbeatable rusty classy baritone voice.
The Legend of Johnny Cash  (2005)
This compilation album released after his death is the most sold out of all his works. The world missed "The Man In Black," who is still a significant influence even after death.
The Johnny Cash Show (1969-1971)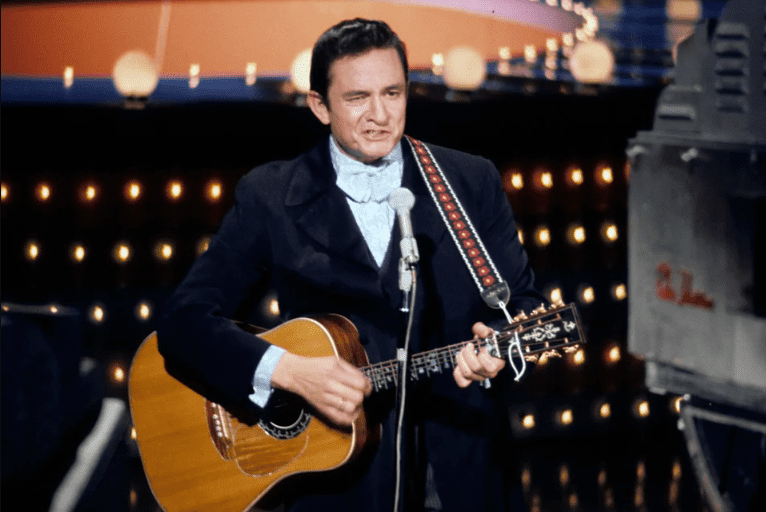 After being asked to do so, Cash hosted the television music variety show following the success of his two live albums. The most significant American artists of the era would be part of the show, with Cash always opening with the famous greeting "Hello, I'm Johny Cash."
Some of Cash's best musical performances are from this show. I believe this duet with Joni Mitchel is beautifully executed.
Johnny Cash and Joni Mitchell – The Long Black Veil (The Johnny Cash Show – July 19, 1969)
Johnny Cash Relationships and Scandals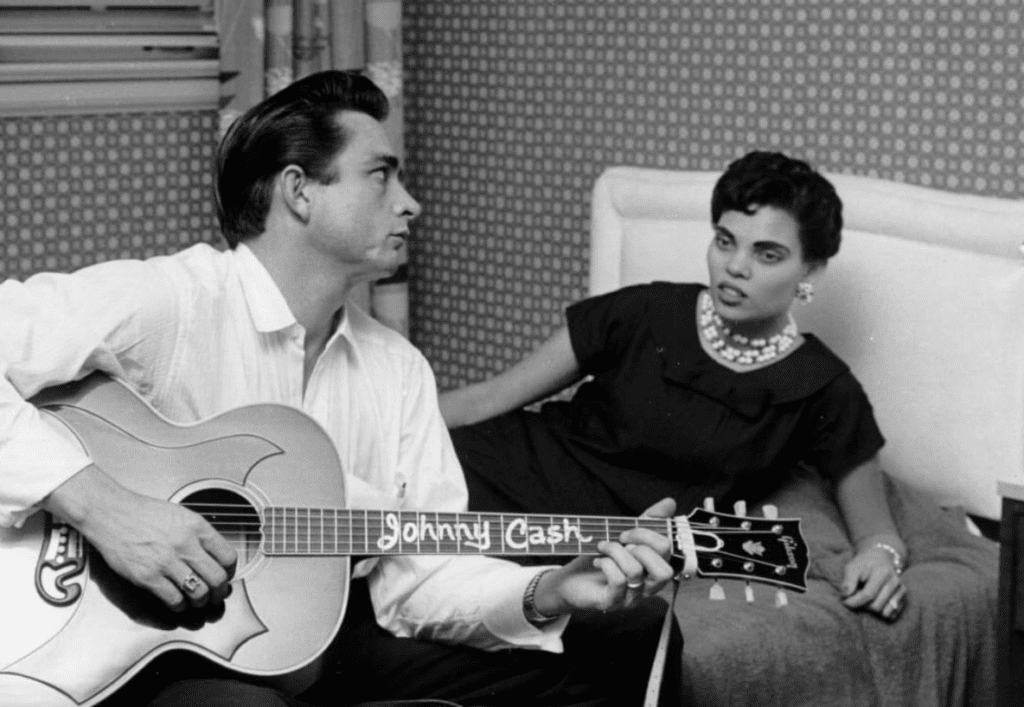 A Johnny Cash Bio would not be complete without the story of his mediatic and sometimes challenging relationship. His first marriage was to Vivian Liberto Distin (April 23, 1934 – May 24, 2005).
The couple had four daughters and lasted for 12 years with many ups and downs. Vivian was Cash's wife during his most troubling moment with drug and alcohol addiction. 
A famous accident had Cash arrested after buying drugs near the US – Mexico border and stashing them in his guitar case. A devastated Vivian dressed in black in court encompasses the worst time of their relationship. The scandal was followed immediately by another one directly involving her and white supremacists who condemned their relationship.
Their marriage suffered from that, along with Cash's multiple affairs of the time, notoriously with his future wife. Vivian eventually filed for Divorce in 1966.
The relationship between Cash and his second wife, June Carter Cash (June 23, 1929 – May 15, 2003), is legendary, filled with romance and difficulties. Cash would often describe their love as "Unconditional," and time would prove that right. The duo co-wrote many songs together, including the hit' Ring of Fire'. 
The couple would go through difficult times, including Cash's addictions and his famous affair that impregnated June's sister. Ultimately, they were married until both of them died months close. 
I'd recommend the movie 'Walk the Line' that beautifully showed their relationship through good and bad times.
Johnny Cash Musical Style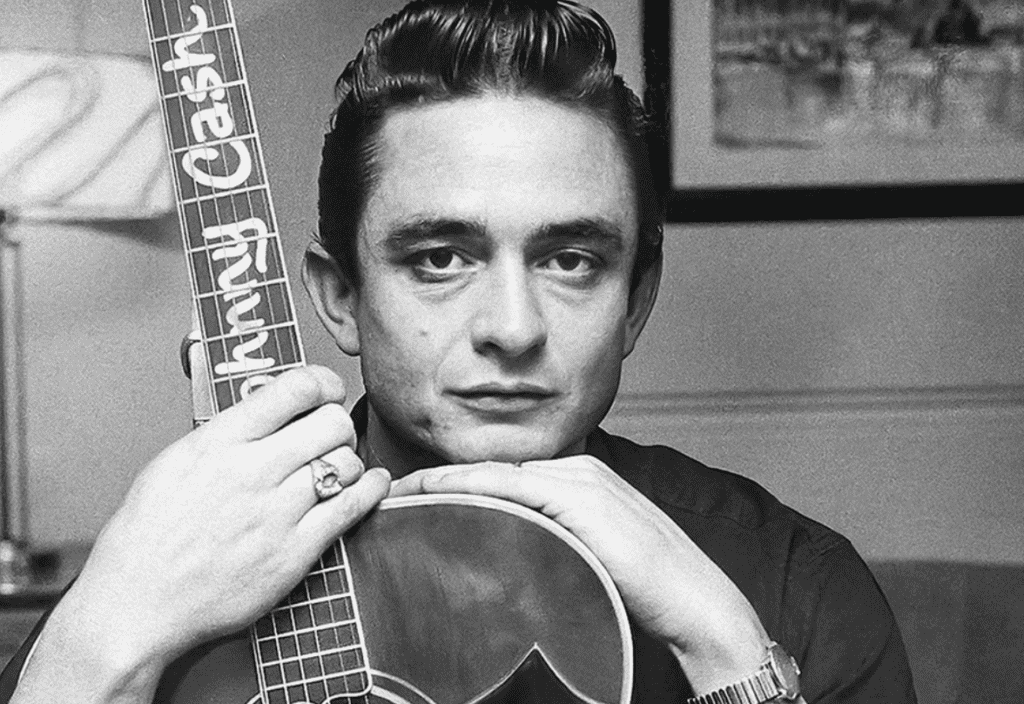 As a child, I would only be entertained by Cash's typical way of holding the guitar and the groovy strumming. Growing up and becoming a guitarist helped me understand that there is much more to his music than I first thought.

Cash mixed Rock n' Roll, Gospel, Blues, and Folk throughout his career while always keeping things simple. The message was the most important aspect of his songs. The music always accompanied that, sometimes with simple chord progressions, other times with country/bluegrass picking and electric guitars backing up the acoustic he played.

Johnnie's most famous guitar was his Martin D-35 which I can assure you is a splendid instrument. 
Notable Performances
A young Johny cash entertaining his audience.
Johnny Cash – I Walk The Line 1958
Cash and his wife perform together as they did many times on their TV show.
Johnny Cash, June Carter Cash – Jackson (The Best Of The Johnny Cash TV Show)
Cash's second live album, recorded in San Quentin prison.
Johnny Cash – San Quentin (Live at San Quentin, 1969) 
The video explains itself. The final performance of the legend.
Johnny Cash — His Final Live Performance (2003)
Is Johny Cash Music Still Relevant?
I'd argue that yes, both musically and lyrically. The world still needs a Man in Black to stand up for people through music. The simplicity of his arrangements is also something that today's country and pop miss. His song can make you sing, laugh and cry a few lines into them.
I believe Cash to be the main ambassador of American roots music. Beyond music, his work is part of the culture of an era. Whatever your music tastes are, there is at least one Johnny Cash song that will resonate with you.
FAQs
Question: Did Johnny Cash ever go to jail?
Answer: Cash never actually went to jail but only spent time overnight in holding cells.
Question: What caused the death of Johnny Cash?
Answer: Johnny Cash died of a complication of diabetes in Hendersonville, Tennessee, at 71 years old.
Question: Why did Johnny Cash do the song Hurt?
Answer: Rick Rubin convinced Johnny Cash to record the song at the producers' studio in LA. 
Sources