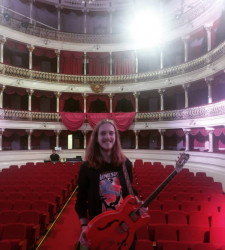 Latest posts by Gustavo Pereira
(see all)
If you are into rock & roll music, especially from the 50s and the 60s, you have most likely heard about Chuck Berry, often called "the father of rock & roll," due to his very important contributions to the genre.
Berry, alongside other legendary musicians that came about during the 50s, such as Little Richard and Jerry Lee Lewis, took rhythm and blues music from the 40s and shaped it until it turned into what we know today as rock & roll.
In this Chuck Berry Bio page, you will learn what made this artist so special and important to the history of music, the guitar community, and the musicians who came after him.
Quick Facts About Chuck Berry
| | |
| --- | --- |
| Full Name | Charles Edward Anderson Berry |
| Birth Date | October 18, 1926 |
| Died On | March 18, 2017 |
| Birth Place | St. Louis, Missouri, USA |
| Nationality | American |
| Zodiac Sign | Libra |
| Siblings | Henry W. Berry, Paul L. Berry, Lucy Williams, Thelma Smith |
| Children | Ingrid Berry, Aloha Berry |
| Partner | Themetta Suggs (1948-2017) |
| Most Successful Songs | "Maybellene," "Johnny B. Goode," "Rock and Roll Music," "Roll Over Beethoven" |
| Awards | Best Historical Album (1990); Lifetime Achievement Award (1984) |
| Net Worth | $10 million (at the time of his death) |
5 Things You Need to Know About Chuck Berry
Chuck Berry is often said to be the "father of rock & roll." He was indeed one of the most important artists that took music genres like rhythm and blues and gave them a different character, slowly becoming what is known as rock & roll music today.
During the 50s, Berry brought a lot of attention to the electric guitar with his characteristic riffs, dance moves while playing, and his overall attitude on stage.
He mainly played Gibson guitars. His most famous instruments were a 1957 Gibson ES-350T, a 1956 Gibson ES-350TN, and an early 60s Gibson ES-355. He was most associated with the ES-355 throughout his career.
Over the course of his life, Chuck Berry recorded a total of 20 studio albums, 12 live albums, and released 45 singles.
Chuck's music has hugely influenced legendary bands such as The Beatles, The Rolling Stones, and The Beach Boys.
I must have been about 12 years old when I heard Chuck Berry for the first time, and I was completely blown away. The electrifying energy, the charisma, the dance moves, the guitar tone, everything was on point, and I could not be more delighted. No one from my family was into rock music in general, so this pretty much started a new era for me, as I was completely unfamiliar with the sounds I was hearing.
Later, when I was about 16 and had a rock band with some of my closest friends, we decided to pay tribu qte to this rock legend by playing a version of "Johnny B. Goode" at our gigs.
However, we often added an extra section after the guitar solo that basically consisted of a section of the song "Wipe Out" by The Surfaris, plus a drum solo in between the main riffs. It was one of the most exciting moments of any gig, and we always had a blast playing it.
I am sad that I could never witness this unique and influential artist's music in a live setting. Still, I can say for sure that he has left an incredible legacy, and I will always be influenced by his playing and the memories I have from when I was growing up and discovering the music that I fell in love with for life.
Chuck Berry Birthplace
Chuck Berry, whose full name was Charles Edward Anderson Berry, was born in St. Louis, Missouri, on October 18, 1926.
Chuck Berry's Early Days Before Stardom
Chuck Berry grew up in a heavily segregated community, something normal in St. Louis during those decades. He showed interest and a natural talent for music early when he was a child and started his musical journey singing in the church choir when he was six years old.
During high school, he performed in the school's talent show and sang "Confessin' the Blues" with a friend who played the guitar. This moment sparked his will to learn the instrument as well, and he went on to take guitar lessons.
When he was only 17 years old, he and two other friends got in big trouble when they robbed a few local businesses in Kansas City. They had plans to travel to California, but upon finding a lost firearm in the streets, they made the terrible decision of using it to rob places such as a bakery and a barbershop.
The authorities caught them soon afterward, and they were sentenced to 10 years in jail. Luckily, he got out three years later because of his good behavior, although this wouldn't be the last time Chuck Berry was arrested by the police. He was released on the day of his 21st birthday and returned to St. Louis, where he started working jobs that were not music-related.
Chuck picked up the guitar again in 1951 when he joined the band of a friend of his with whom he had studied in high school. This was the beginning of a ramp to stardom, as people quickly started talking about his entertainment skills during their performances. Once things began to take off, Chuck started trying to get a record contract in Chicago.
Through Muddy Waters, he ended up at Chess Records, who signed him after he wrote and recorded his first hit, "Maybellene." This song was a huge success, reaching number 1 and 5 on the R&B and Pop charts, respectively. After this, Chuck's fame and reputation would only grow, as he wrote and recorded several hits that contributed to the creation of what we now know as rock n' roll music.
Some of the Greatest Hits of Chuck Berry's Career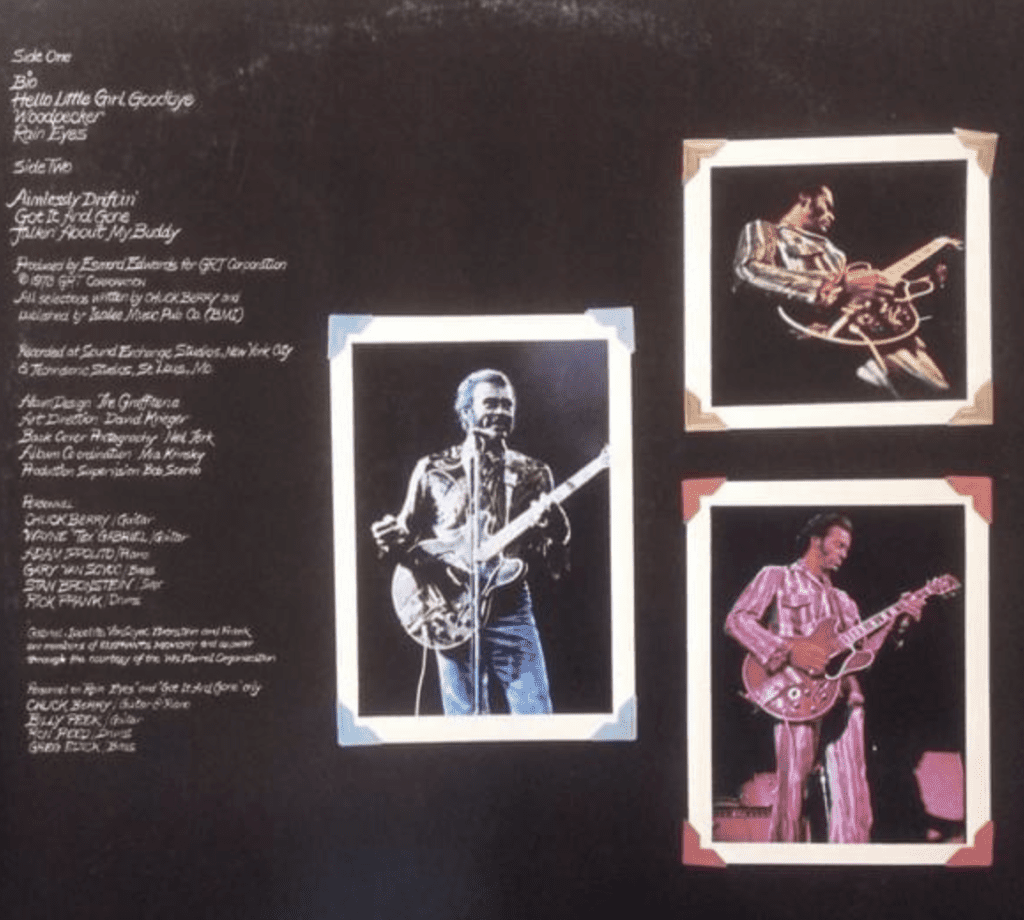 Let's talk about some of the most famous songs that Chuck Berry released during his career.
Maybellene
One of his first hits was "Maybellene," a song that was actually an adaptation of another song that already existed, called "Ida Red." It was recorded on May 21, 1955, at the Universal Recording Corporation studios in Chicago.
The band which accompanied him on this recording included Ebby Hardy (drums), Willie Dixon (bass), Johnnie Johnson (piano), and Jerome Green (maracas).
It was a huge success, peaking at number 1 on Billboard's Rhythm and Blues chart and receiving several awards. Due to this amazing reception, this song was covered by countless artists over the years.
My favorite part of this song is the guitar intro, which sounds raw and crunchy. The percussion gives the song a nice groove, especially during the guitar solo, where you can hear them more upfront.
Johnny B. Goode
Undoubtedly my favorite song by Chuck Berry, "Johnny B. Goode," is one of rock n' roll's main anthems, and while it wasn't Chuck's most impactful release at the time, it became one of his most famous songs.
It was recorded at the Chess Records studios in Chicago in January 1968 and released in March of the same year. This song talks about a young boy who lives around New Orleans and likes to play guitar. It is somewhat of an autobiographical song, as Check himself stated.
It also appeared in the famous movie "Back to the Future," in which Marty McFly goes back in time and plays a version of this song in a time in which it didn't exist yet. I remember hearing that version for a long time and loving the references to other famous guitar players throughout the solo.
Listening to this song brings me unforgettable memories from my teenage years — listening to it for the first time, sharing it with my friends, and ultimately playing a version of it with the rock band, I had before going to college. It was one of my favorite moments of every gig, and it seemed to be one of the songs that the public enjoyed the most as well, both young and older people!
Rock and Roll Music
"Rock and Roll Music" is one of Chuck Berry's most highly-acclaimed songs, full of energy, rhythm, and an almost unnatural power to make people want to dance! It was a huge success in clubs when it was released, and it is still appreciated today by fans of this genre.
It was recorded in May 1957 and released later in September of the same year. Like many of his records, it was recorded at the Chess Records studios in Chicago. During this session, he was playing with Willie Dixon (bass), Lafayette Leake (piano), and Fred Below (drums). The producers in charge were Leonard Chess and Phil Chess.
There are also several popular covers of this song, such as the ones recorded by The Beatles and The Beach Boys. Personally, I love the original one, even though I have listened to the two versions I just mentioned many times.
Roll Over Beethoven
I actually found out about "Roll Over Beethoven" when I first stumbled upon the version that The Beatles recorded. It was only later that I found out that Chuck Berry was the original writer of this song.
Chuck Berry recorded this song in April 1956, and it was released the following month. The session was held at the Universal Recording Corporation studios in Chicago, and it was produced by Leonard Chess and Phil Chess.
It has been considered one of the greatest songs of all time by Rolling Stone magazine. Its lyrics express the tendency of the younger crowd of the time who were getting into rock n' roll music instead of classical music, hence the reference to Beethoven.
Chuck Berry's Discography
Chuck Berry had a long career, and he was frequently in the studio to record his next album. During his life, he managed to record and release 20 studio albums and 12 live albums. He released a total of 45 singles. You can also find 31 compilation albums and two soundtrack albums.
Check below for a detailed list of his studio and live records:
Studio Albums
After School Session – 1957
One Dozen Berrys – 1958
Chuck Berry is on Top – 1959
Rockin' at the Hops – 1960
New Juke Box Hits – 1961
Two Great Guitars – 1964
St. Louis to Liverpool – 1964
Chuck Berry in London – 1965
Fresh Berry's – 1965
Chuck Berry's Golden Hits – 1967
Chuck Berry in Memphis – 1967
From St. Louie to Frisco – 1968
Concerto in B. Goode – 1969
Back Home – 1970
San Francisco Dues – 1971
The London Chuck Berry Sessions – 1972
Bio – 1973
Chuck Berry – 1975
Rock It – 1979
Chuck – 2017
Live Albums
Chuck Berry on Stage – 1963
Live at the Fillmore Auditorium – 1967
The London Chuck Berry Sessions – 1972
Chuck Berry Live in Concert – 1978
Alive and Rockin' – 1981
Toronto Rock 'n' Roll Revival 1969 Vol. II – 1982
Toronto Rock 'n' Roll Revival 1969 Vol. III – 1982
Live! – 1994
Live on Stage – 2000
Chuck Berry – In Concert – 2002
Rockin' Rollin' New Year's Eve – 2020
The Guitars and Gear of Chuck Berry
If you have ever tried to look up what kind of gear your guitar idols use, you might have come across some pretty monstrous setups, including several guitars, amplifiers, and complex pedalboards.
Fortunately, with Chuck Berry, things are as simple as they can get. In the 50s, electric guitars were still pretty new, and effect pedals did not exist, so Chuck played his guitar straight into the amplifier, and that was all he needed to start a music revolution and light up every stage he stepped on.
Guitars
Gibson ES-355
The Gibson ES-355 is one of Gibson's most recognizable designs and one of the world's most popular semi-hollow guitar designs. Chuck Berry is primarily associated with this model, and he was seen playing it live and in the studio on countless occasions.
He also played several Gibson ES-335 guitars, a similar model to the 355. Even though I haven't been able to get a Gibson ES-335 or an ES-355 for myself, it is definitely one of the guitars I aspire to own one day.
For now, I have a Hagström Viking that I really love. It is similar to a 335/355 since it has a semi-hollow design and humbuckers, and it is great for blues, jazz, and rock music.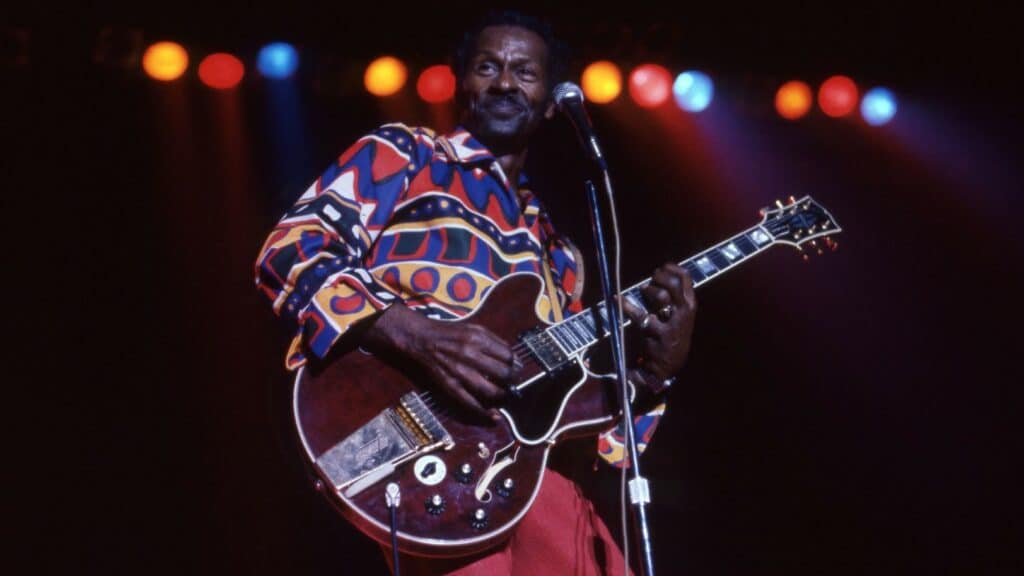 Gibson ES-350T
Out of all the guitars that Chuck Berry played during his life, the one you have probably listened to the most was a Gibson ES-350T from 1957, which he used in most of the recordings for Chess Records.
This hollow-body guitar sported Gibson's PAF (Patent Applied For) pickups that became one of the most coveted and imitated pickup designs ever.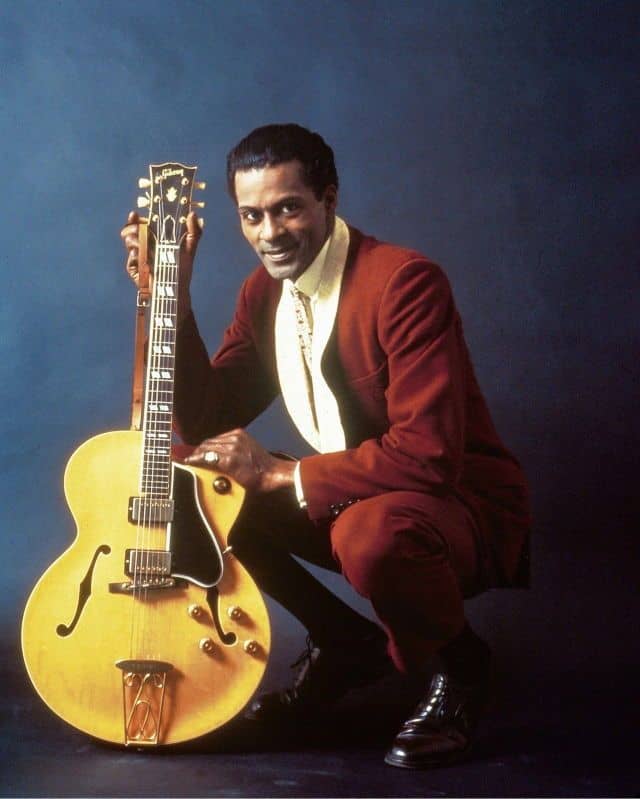 Gibson ES-350TN
This guitar is very similar to the aforementioned Gibson ES-350T. The main differences are the pickups (P-90s instead of PAFs) and the finish, which is natural, represented by the "N" in its name.
You can also hear this guitar in a variety of Chuck Berry's records, as it was one of his go-to instruments in the studio.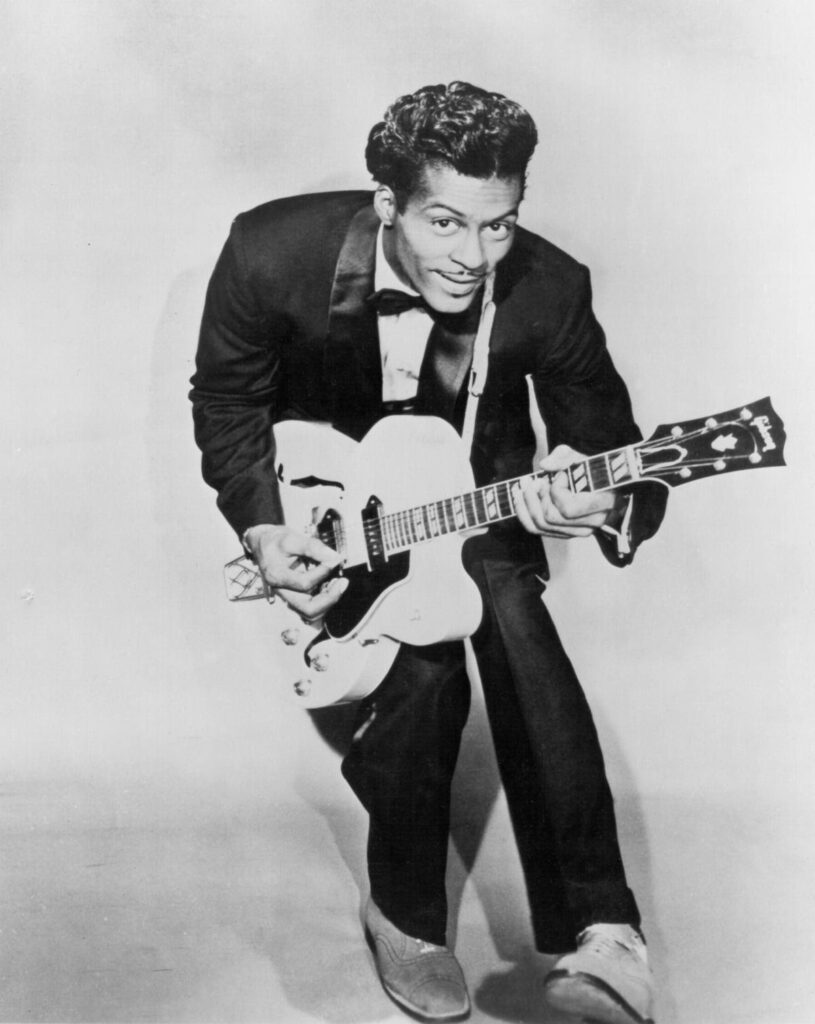 Amplifiers
Fender Dual Showman Reverb
While there isn't a whole lot of information available about the amplifiers that Chuck Berry used, he was mostly seen playing through a pair of Fender Dual Showman Reverb amps without any modifications.
These are very powerful 100w heads that don't make much sense to play unless you are a big artist who is playing in large spaces such as stadiums and arenas.
They feature a non-tremolo channel and a tremolo channel. Each channel has a volume control, a bright switch, a three band EQ, and the tremolo channel has controls for its speed and intensity.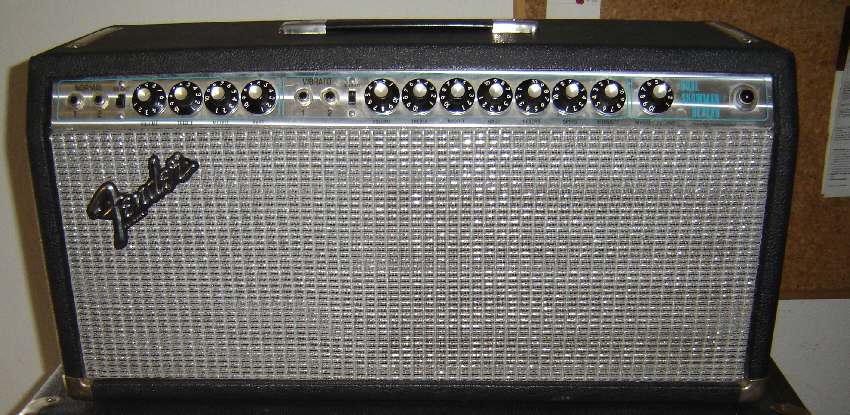 FAQs
Question: Was Chuck Berry an influential guitarist?
Answer: Chuck Berry was, without a doubt, one of the most important guitarists and musicians to ever live. He had a massive impact on the creation and development of rock n' roll music in the 50s and influenced countless guitarists of that time and future generations as well.
Question: What is Chuck Berry's most successful song?
Answer: Chuck Berry's career was marked by several hits that made him one of the most successful musicians of his time. His most famous song is arguably "Johnny B. Goode," although he has a collection of hits worth mentioning, such as "Rock and Roll Music," "Maybellene," "Nadine," and "Roll Over Beethoven."

When it came out, "Johnny B. Goode" was not a smash hit. It peaked at number 8 in the charts at the time, but it eventually became his trademark song.
Question: What guitar and amplifier did Chuck Berry usually play?
Answer: Although Chuck Berry is mostly known for playing a Gibson ES-335, he also played a Gibson ES-350T and a Gibson ES-350TN for a good part of his career.

As for his guitar amp choice, he frequently played Fender Dual Showman Reverb amplifiers.
Question: Was Chuck Berry one of the pioneers of the rock & roll music genre?
Answer: During the 50s, Chuck Berry was one of the leading musicians who helped create and develop a new sound that would eventually be known as rock n' roll. Other legendary artists such as Jerry Lee Lewis and Little Richard also had a big part in this phenomenon.
Question: What gear should I use to sound like Chuck Berry?
Answer: Capturing the tone of a specific guitar player can be a very tricky task, more so if you consider that playing the right gear is only a part of the full equation.

There are many other variables to be considered, such as the technique, picking style, dynamics, and obviously how you set up your gear, namely your amp and the guitar's controls.

To get closer to Chuck Berry's tone, you should try to have a semi-hollow guitar like a Gibson ES-335 or an ES-355, preferably with humbuckers or P-90s. These are obviously expensive, so I'll provide a couple of more affordable options in a moment.

As for the amplifier, I'd definitely go with a Fender amp since it is what Chuck himself used most of the time. If you have the budget for a nice tube amp, it can be a great purchase, but I'll also mention other less expensive options.

Here are a few gear suggestions to get you started:

Guitar Options:
• GuitarCenter – Ibanez Artcore AM53 Semi-Hollow Electric Guitar Flat Sunset Red
• GuitarCenter – Epiphone ES-335 Semi-Hollow Electric Guitar Cherry
• GuitarCenter – Gibson ES-335 Satin Semi-Hollow Electric Guitar Satin Cherry
Amplifier Options:
• GuitarCenter – Fender Mustang LT25 25W 1×8 Guitar Combo Amp Black
• GuitarCenter – Fender Blues Junior IV 15W 1×12 Tube Guitar Combo Amplifier Black
• GuitarCenter – Fender Vintage Reissue '65 Super Reverb 4×10 Guitar Combo Amp
Closing Considerations About Chuck Berry
As a guitarist and a huge fan of rock music, I can't deny that Chuck Berry's guitar playing had a huge influence on me while I was developing my tastes. Now, years later, I can still look back and realize how much it has shaped what I like to hear and what gives me pleasure to play.
Chuck Berry's heritage is essential for any musician and music lover to explore, given its historical importance and relevance. On top of that, most of his songs are not very complex in terms of harmony and melody, which make them excellent choices if you are looking to learn some new material to bring some rock n' roll music to a gig!