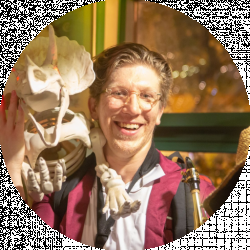 Latest posts by Mark Mumm
(see all)
Suppose you've perused my portfolio here on Rock Era Insider. In that case, it is no secret that I am a huge fan of David Bowie — everything from his music to his film performances (I wasn't lucky enough to witness Bowie on the stage) to his personas and their subsequent births and retirements.
And, of course, who is immune from David Bowie's sheer sense of style and commitment to fashion? David Bowie was an artist, through and through, and approached each endeavor in his career with a holistic eye and enthusiastic attention to detail.
Bottom Line Up Front
David Bowie had a deep understanding of the adamantine connection between sound and vision (pun most certainly intended) and, throughout his career, would transform his aesthetic to match the change in music. Subsequently, the Starman left us terrestrials with a windfall of outfits to sift through upon his final departure from this Earth.
Related read: David Bowie's Aesthetic Explained
David Bowie was not the first artist (in regards to style) to be audacious, androgynous, and evolve from year-to-year, decade to decade. Still, he may have been the first artist to so successfully and fearlessly combine these traits.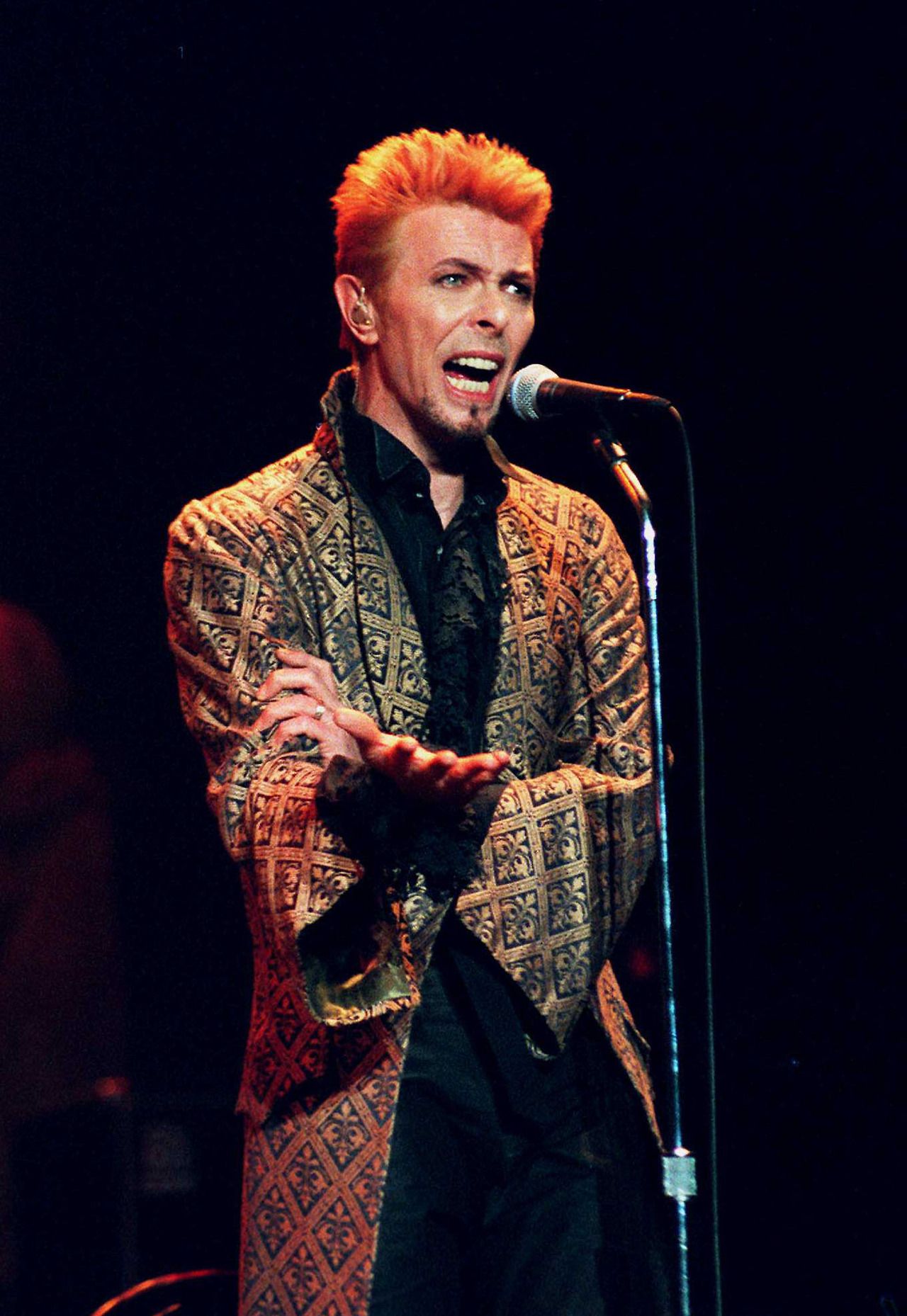 While this outfit likely won't come up in anybody's list of "Bowie's Best Outfits," I think it perfectly exemplifies his commitment to personal style. He wore this mesmerizing gold jacket for his 50th birthday celebration at Madison Square Garden. I don't know how much money he had made by the time the 90s rolled around, but he was probably able to retire very comfortably.
It would have been very easy to hang up all the gold, glitter, and androgynous dress to perform in jeans and New Balances (okay, maybe nobody would turn that boring). But not David Bowie! He rolls up to his birthday celebration with a dangerous look that says he's ready to tackle the next 30 years of his career with the same enthusiasm as the previous 30 years. David Bowie would not be slowed or stopped.
Here are some more of his most iconic looks:
Early Career
Formula 1 Hippie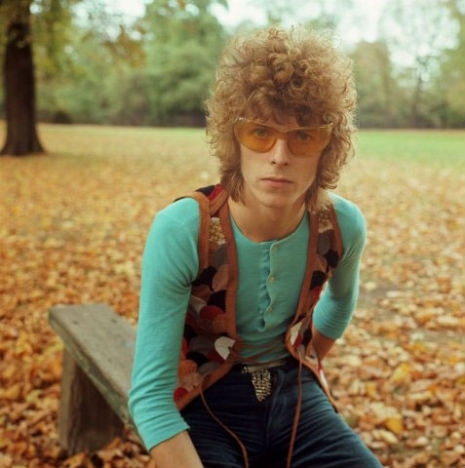 From his earliest days as a performer, David Bowie was a good-looking gentleman with a penchant for turning heads through fashion. Pictured here in the late 60s, David Bowie embraced much from the hippie movement. He wears a form-fitting, bright turquoise henley shirt with an equally expressive vest, complete with blue jeans.
His hair is constructed chaos. But here, Bowie added a sleek, futuristic twist. Rather than embrace the rounded glasses and safe shapes, he threw on a pair of orange cream sunglasses with sharp tops and sides as if he's trying to cut through the wind.
The Man Who Sold the World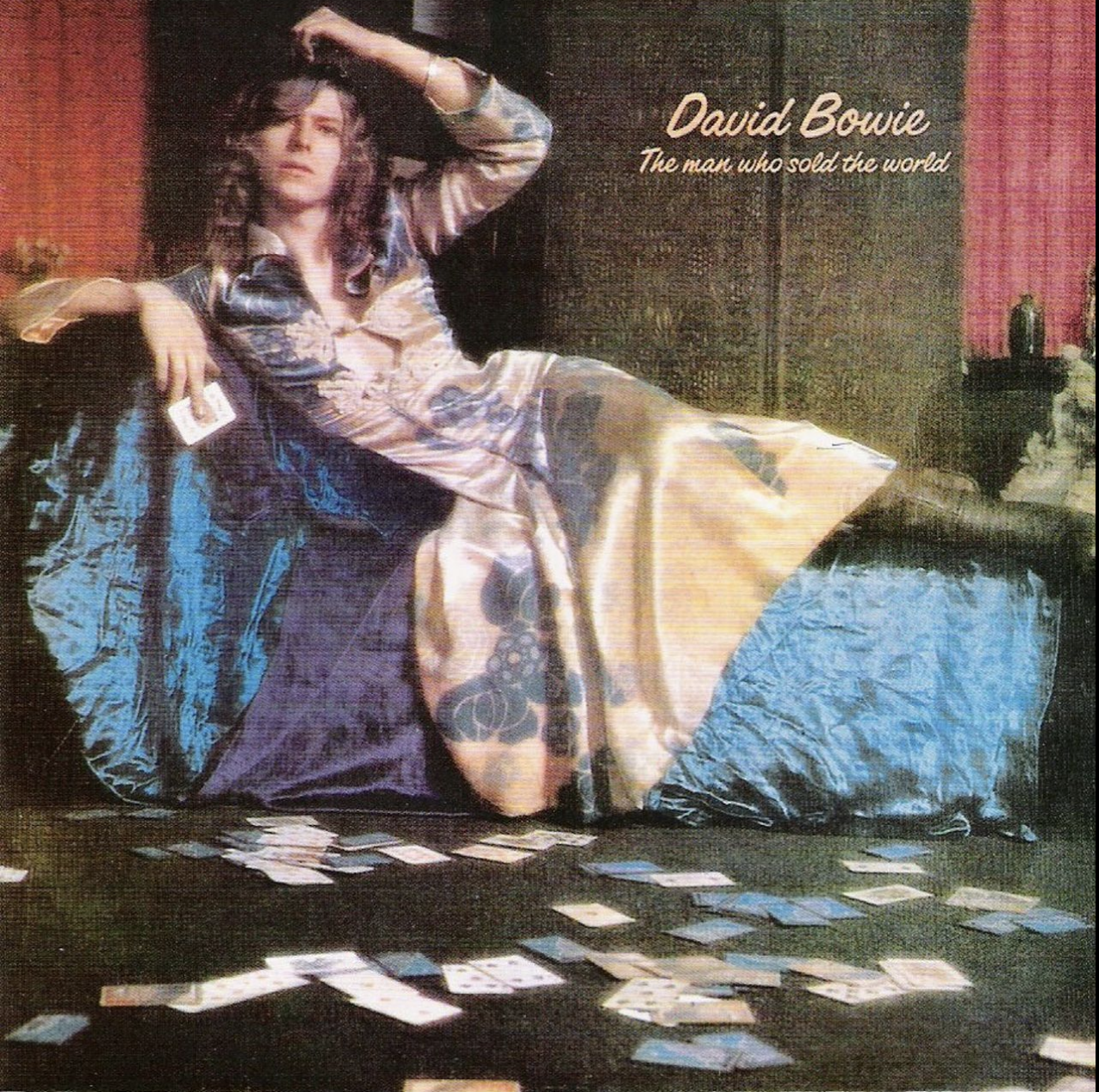 In 1970, Bowie released The Man Who Sold the World. The album would eventually be certified Gold in the UK but otherwise failed to crack the top 20 anywhere in the world. Still, the album cover features an iconic David Bowie look. He wears a beautiful floral dress designed by Michael Fish, an important pioneer of the Peacock Revolution.
Using a photo of him spread across a sofa in the white, pink, and blue floral dress would cement Bowie's status as a wrecking ball towards traditional attitudes of gender and sexuality.
Ziggy on Mars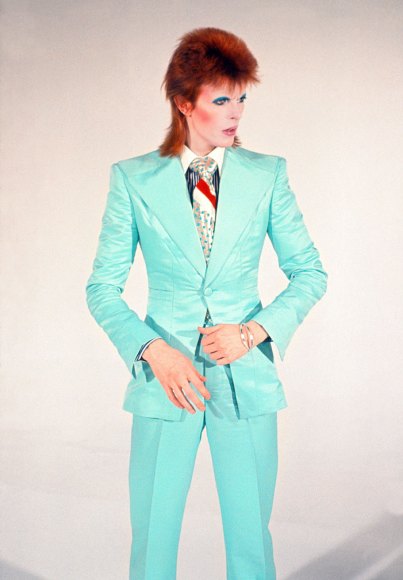 The music video for Life on Mars? showcased Bowie in another iconic look. Originally released on Hunky Dory in 1971, a promotional video for the song Life on Mars? was shot and released in 1973 amidst the height of Ziggy Stardust's fame. For the video, Bowie wears a luminescent turquoise suit designed by Freddie Burretti, a far cry from the traditional, neutral-coloured suits of men's fashion.
His hair is styled in the typical Ziggy Stardust/Aladdin Sane/Halloween Jack fashion, dyed burnt orange/fire engine red and styled in a mullet. According to director Mick Rock, Bowie "wanted to do something that looked a little bit like a painting."
Glam Rock Era
Ziggy Stardust Jumpsuit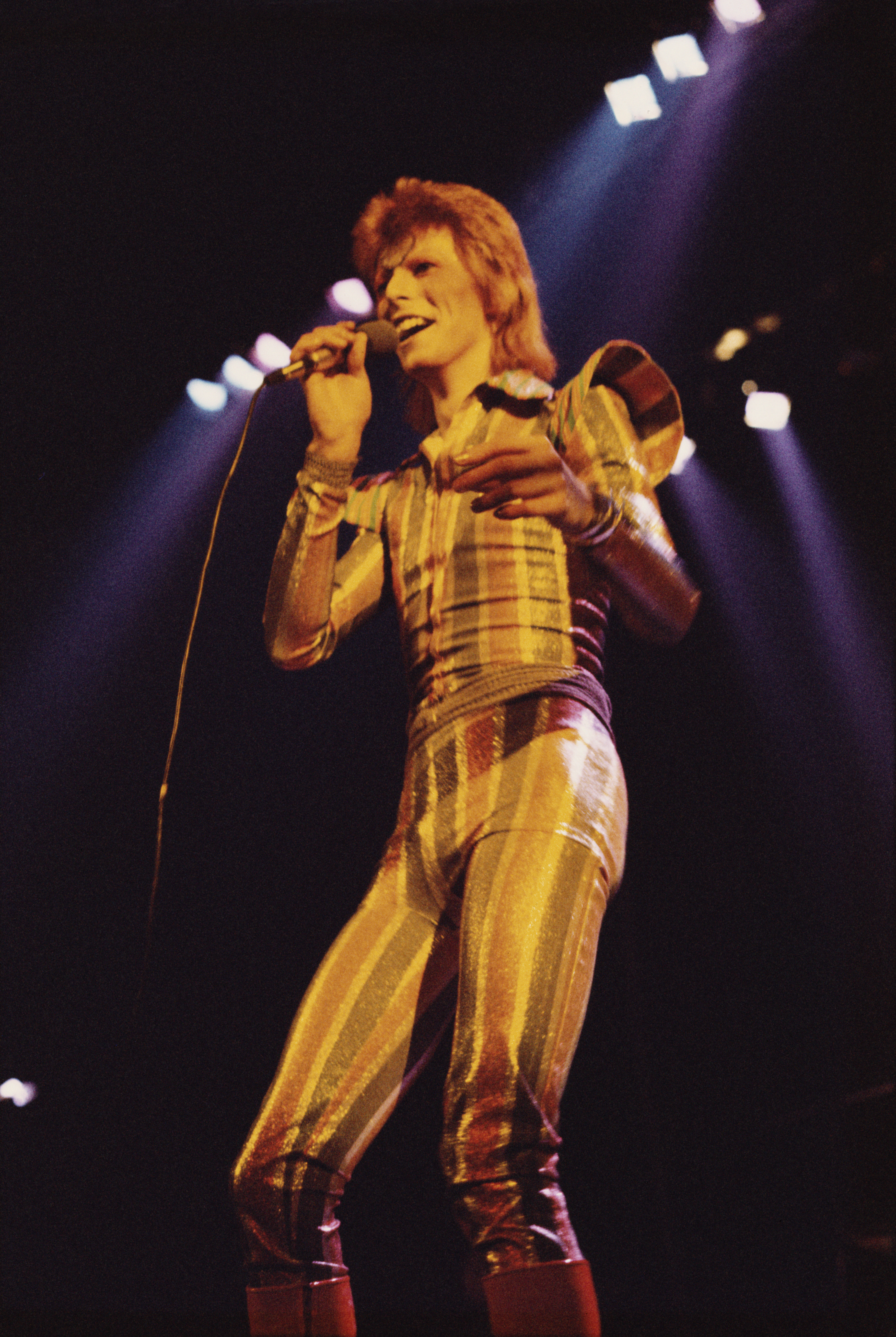 As both a product and pioneer of glam rock, the early to mid-70s were absolutely chock-full of iconic outfits for Ziggy Stardust, Aladdin Sane, and Halloween Jack. The mastermind behind these looks (besides Bowie) was Japanese designer Kansai Yamamoto and the aforementioned London designer Freddie Burretti.
Bowie fell in love with Yamamoto's designs after seeing the latter's work premiere at London Fashion Week in 1971 (the first Japanese designer to do so). Yamamoto was heavily influenced by his home nation's 'Basara,' meaning "extravagance, eccentricity, and excess." This extravagance clicked into place perfectly for Bowie's Ziggy Stardust stage persona.
As for Burretti, Bowie met him at famous London gay discotheque, El Sombrero. Burretti worked for a Greek tailor in the city as well as operating out of his own home. In the early 70s, Burretti designed almost exclusively for David and Angela Bowie.
Perhaps the most famous Ziggy Stardust outfit is the jumpsuit-inspired outfit above. This outfit has everything that makes an iconic Ziggy Stardust look: the red hair, the bold pattern motif across the costume, the shoulder pads, the golden astral sphere on the forehead, and the strong presence of the color red.
The jumpsuit inspiration lends itself to the science fiction of the decades preceding it, where aliens would descend to Earth and exit their spaceships dressed in form-fitting, sparkling (often silver) jumpsuits. Truly, a necessary look for the alien Ziggy Stardust.
Quilted Ziggy Stardust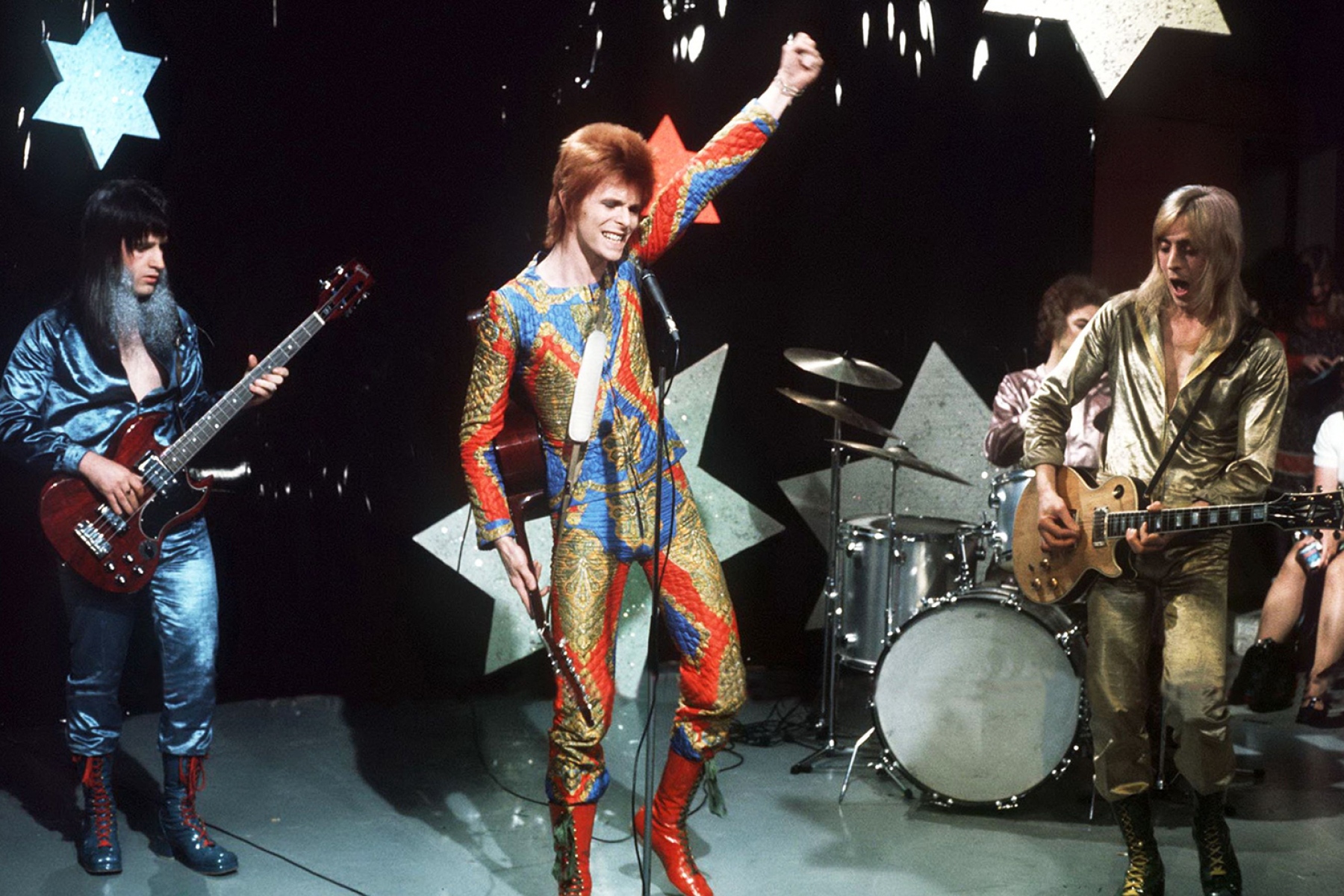 This famous quilted piece, designed by Burretti, was worn by David Bowie for his appearance on Top of the Pops in 1973. As the program had the capability to reach upwards of 14 million people, the appearance of the flamboyant Starman turned the country's collective head overnight.
It was rare to have such a proud and open display against the typical gender norms and sexuality in the UK at the time, let alone released immediately to (potentially) over 1/5th of the country. Thus, David Bowie immediately became an icon for the LGBT+ community. In fact, the performance changed the life of (then) 12-year-old Dylan Jones (future editor of British GQ)
Asymmetrical Ziggy Stardust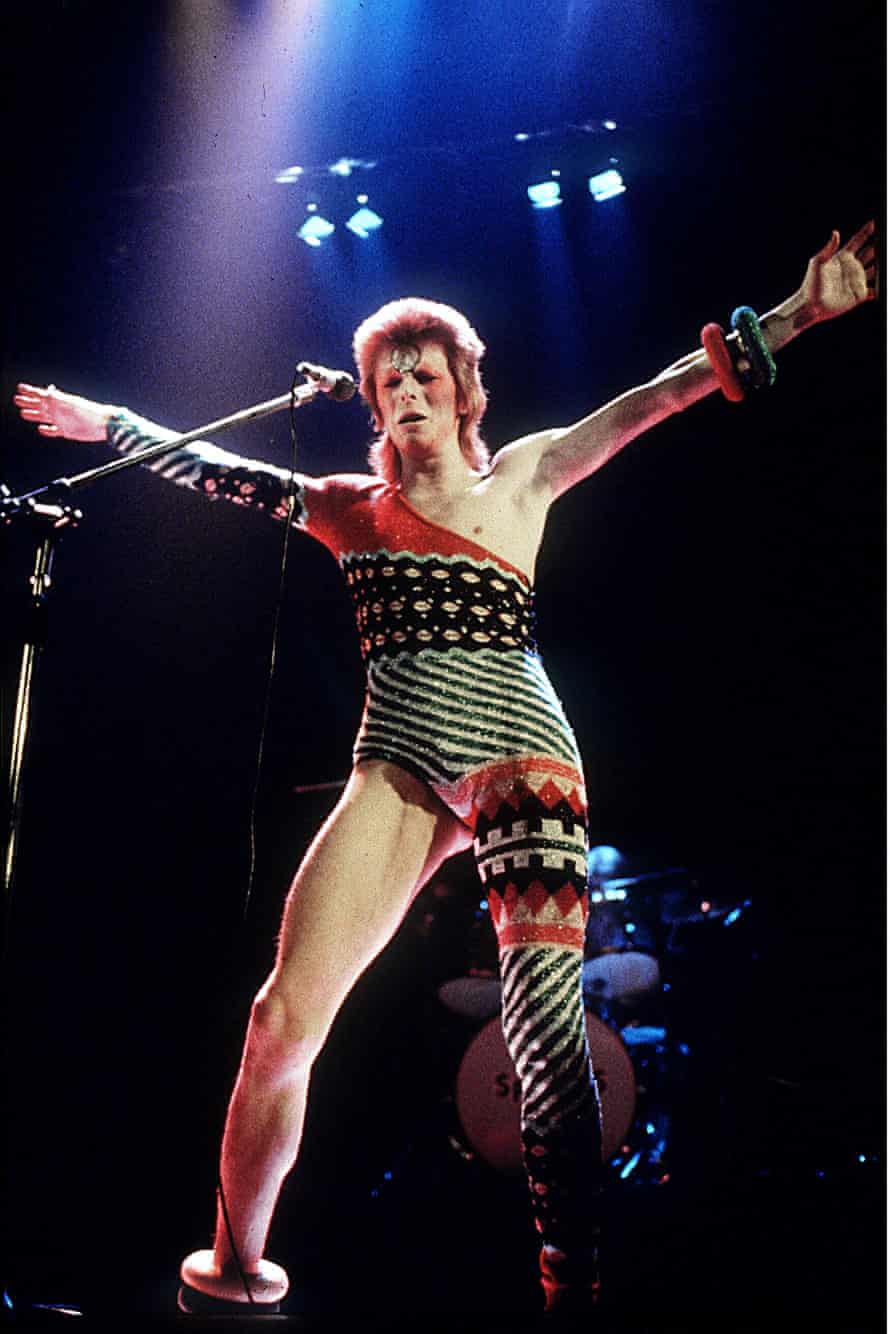 Yamamoto flew from Japan to New York at the insistence of a friend's continuing calls at 3 am (Japanese time) to see David Bowie. Bowie and Yamamoto spawned an immediate friendship that would eventually take Bowie around the world to Japan to collaborate with Yamamoto on more stage outfits. This asymmetrical knitted piece is one of the outfits to emerge from that collaboration in Japan.
Yamamoto had already created knit bodysuits before, but this collaboration with Bowie was the first time the world witnessed the stark asymmetry, glitter, and blocky bracelets and anklets in his designs. I find it astonishing to have something as mundane as yarn spun into something as iconic and grandiose as this. This bodysuit would influence other fashion choices worldwide, including London's Bodymap in the 1980s and the Renaissance of knitted leggings in the 2010s.
Tokyo Pop Ziggy Stardust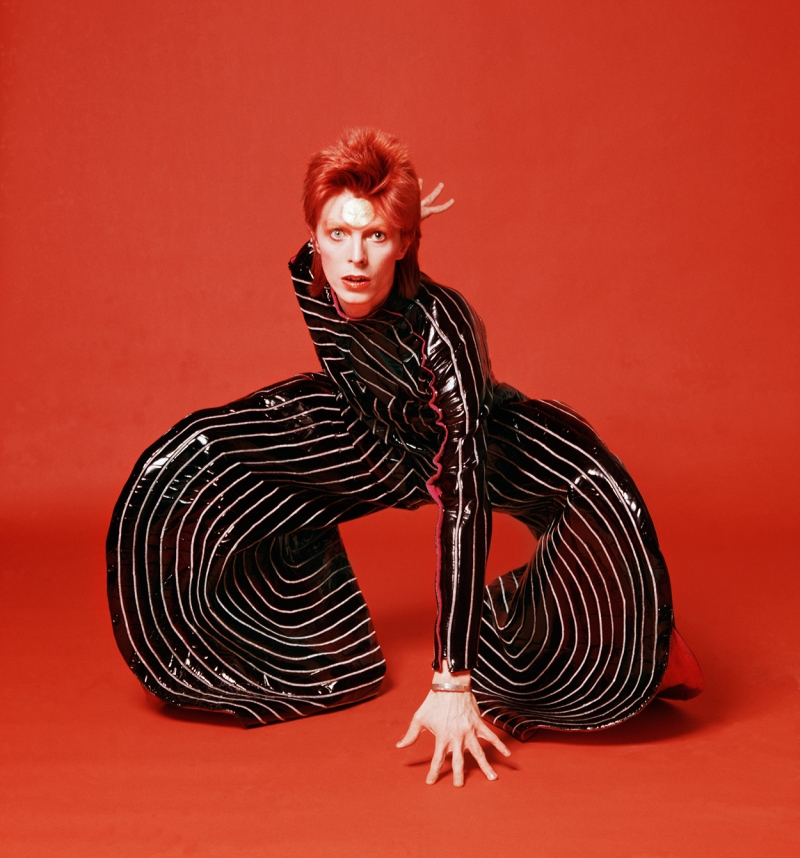 Photo Credit: Masayoshi Sukita
This "Tokyo Pop" look is heavily inspired by traditional Kabuki costumes. Kabuki is a form of theatre that dates back centuries to Japan's Edo Period, a 250+ year period of rule by the Tokugawa shoguns starting in the early 17th century. Kabuki is defined by costume design and strong use of body language: elaborately-designed costumes, eye-catching make-up, outlandish wigs, and…exaggerated actions performed by the actors. It seems only natural that 1970s Bowie would adopt elements from this artform into his own persona. Yamamoto designed this jumpsuit for Bowie's Aladdin Sane Tour in 1973.
Ziggy Stardust Japanese Character Cape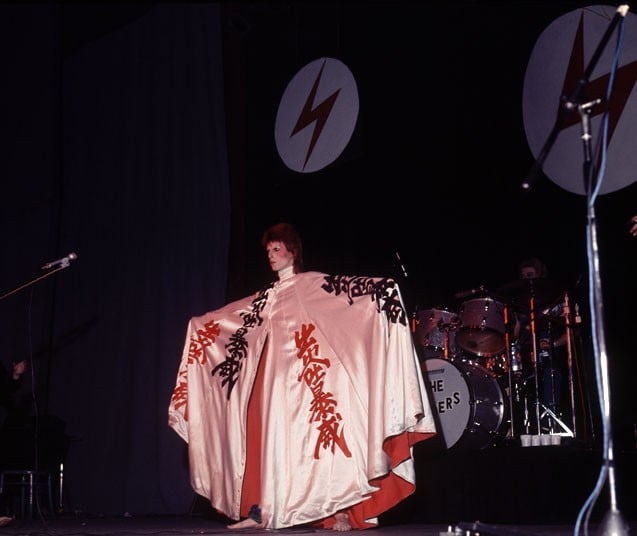 The Japanese characters on the cape here spell out Bowie's name. This was partly an act of rebellion against the multitude of graphic T-shirts printed in only the English alphabet and none in kanji. This white cape was utilized a) just to look fabulous in its own right and b) so Bowie could pull off 'hikinuki' (a method of quick onstage costume changes used in kabuki theatre) in his own performances. The effect of a rapid change in color and shape of the performer is an astounding site.
Halloween Jack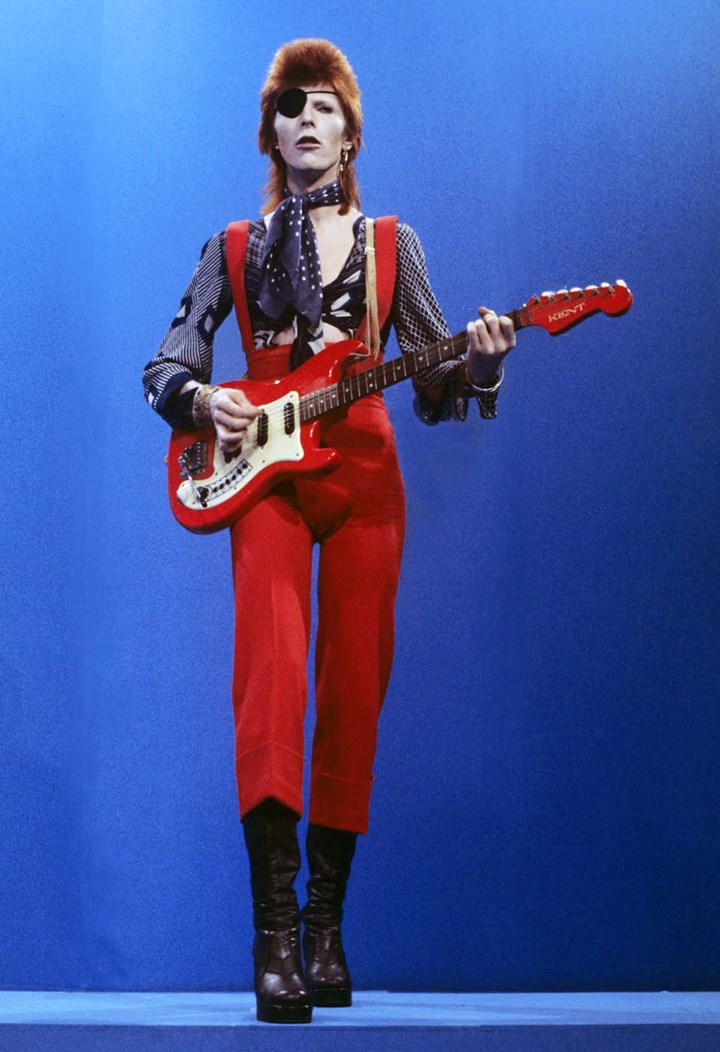 Halloween Jack was a persona created for David Bowie's 1974 release Diamond Dogs. Originally devised to be the lead character in a musical adaption of George Orwell's 1984 and then a standalone film about the Diamond Dogs, Halloween Jack was repurposed to be the centerpiece of the album when he could not obtain the rights to the novel.
He continues the androgynous trend set by Ziggy Stardust and Aladdin Sane. He also carries on with a red mullet, shaved eyebrows, and sharp-red color theme. This outfit was worn by David Bowie while performing his hit song Rebel Rebel on the Dutch TV program "ToPPoP."
Fun fact: the eyepatch addition to this outfit came about from a very-real battle with conjunctivitis that Bowie suffered.
Funk & Soul
The Soul Man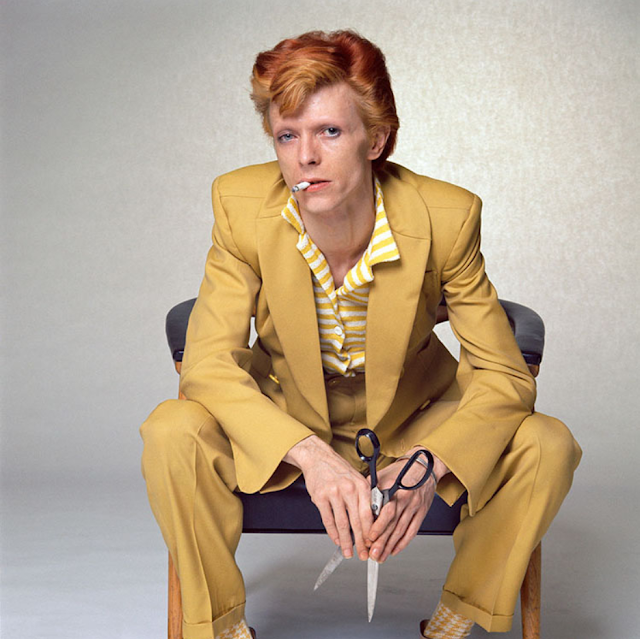 David Bowie styled himself in this photoshoot with the documentary photographer Terry O'Neill. On the latter half of the Diamond Dogs tour, David Bowie shed the glam getups of Halloween Jack and transitioned into his next persona, The Soul Man. The Soul Man generally wore brighter colors, high-waisted pants, and loose-fitting shirts and jackets.
The Thin White Duke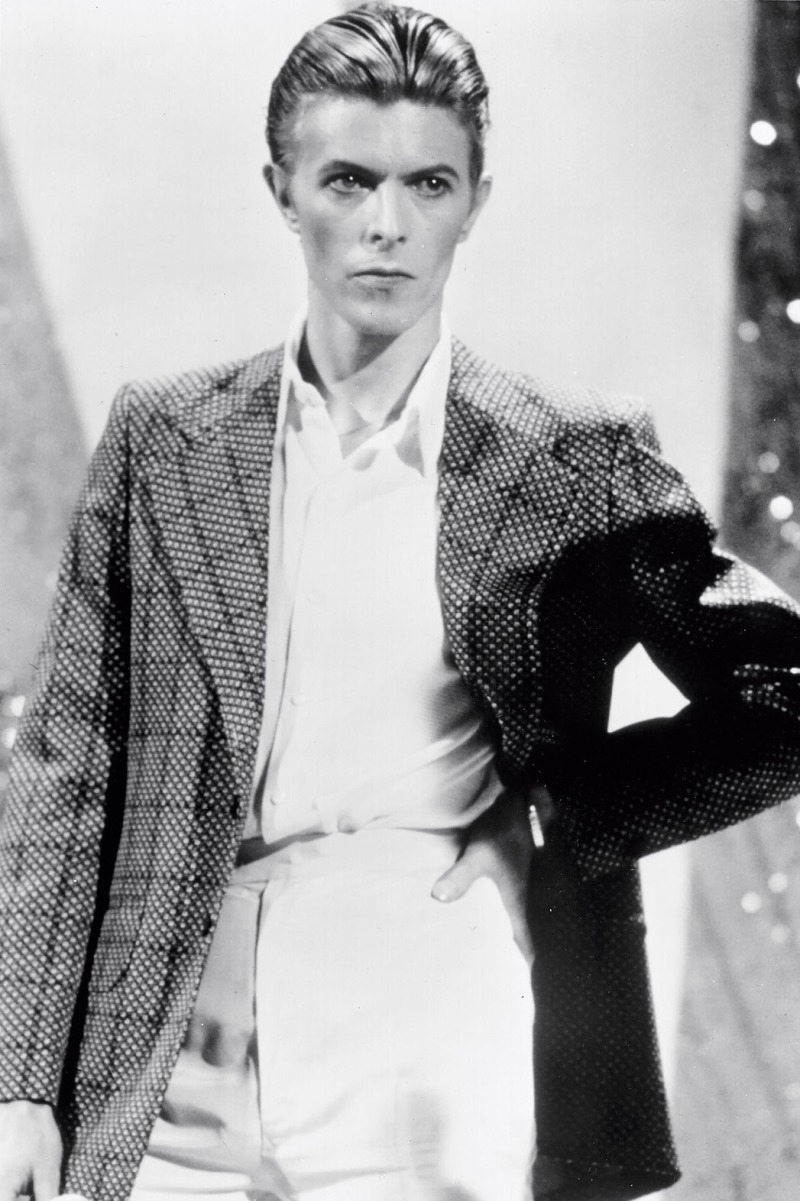 Continuing on in the style of The Soul Man as he moved towards The Thin White Duke, David Bowie wore this simple yet stunning getup on The Cher Show in 1975. This outfit keeps the general style of the mustard suit above but uses a more neutral color palette which, considering the bright, colorful set behind him, helps him to stand out.
While his behavior on set might have been questionable (considering his heavy cocaine use during that period), his style is everlasting. It's remarkable how fluid David Bowie was, how he could so effortlessly and confidently move from an androgynous, space-alien outfit to a classic, masculine "cool" outfit and lose nothing in the process.
Sinatra Who?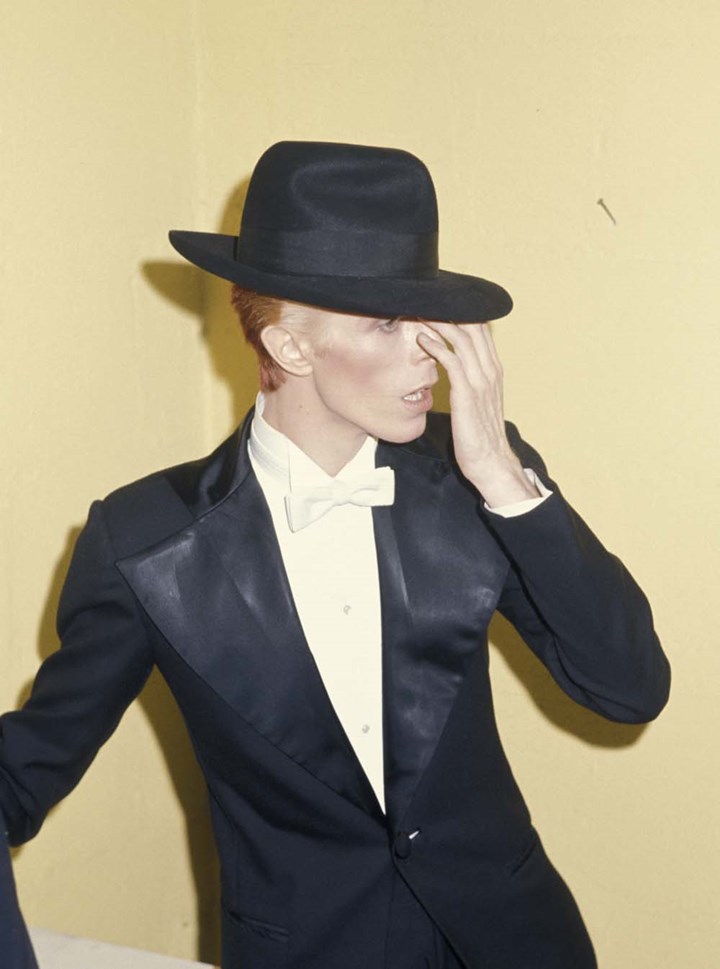 The Thin White Duke was a persona and style choice defined by its formal simplicity: black suit pants, white shirt, black vest, slicked-back hair. Yet, these simple tweaks shown here to those general outfit guidelines made a world of difference for David Bowie in 1975. He traded the vest for a tuxedo jacket, added a white bowtie, and threw a solid black fedora atop his hair.
The simple changes created, arguably, the most sophisticated outfit of David Bowie's entire career. He looked as if he could have seamlessly popped into any photo with the Rat Pack.
Berlin
Hero Man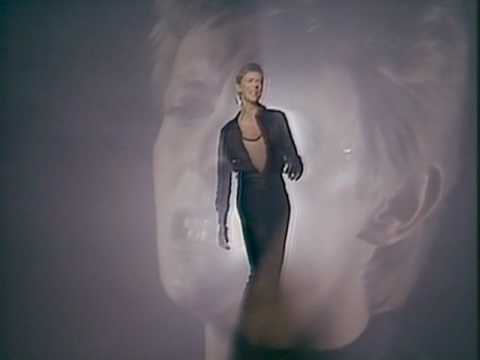 While some of David Bowie's fashion choices are undoubtedly more outlandish and iconic than others, I don't think David Bowie was ever one to rush or lackadaisically prepare any particular style choice. I believe that the less-than-grandiose style choices must also be considered to have their place and purpose. In other words, nothing is as simple as it seems.
At first glance, David Bowie's outfit in the Heroes music video is nothing to write home about, especially considering all the things he wore in the previous 6-year period. He wears a simple tank top covered with an open leather jacket and a blink-and-you-miss-it chain around his neck sporting a Christian cross. The lighting and framing of the video prevent us from identifying what he wears below the waist. His hair is short, undyed, and simply styled. And yet, to me, this remains one of the most iconic looks of his career.
David Bowie moved to Berlin to explore its burgeoning music scene as well as work through his debilitating cocaine addiction. But despite it being a refuge/holiday for him, the city was still overshadowed by the suffocating grip of the Cold War.
The Berlin Wall that ran through the city was a visceral, daily reminder of the loneliness and isolation that the Cold War forced upon the city. So, as any good artist would have done, David Bowie channeled that into a song- nay, an anthem! –Heroes, which tells a story of hope. A story that two lovers can be together, that they can overcome the physical barriers and violent appetites of governments that seek to separate them. That one day, they can be heroes, plain and simple.
Heroes is not a song about aliens or spacemen, or leaders of a rebellion. It's a song about everyday people, everyday people with the simplest of dreams. So David Bowie wears a simple outfit of everyday people. Despite being deeply invested in Eastern religion and spirituality, he throws on a small, simple cross to represent the majority beliefs of Berliners. He presents himself as simply as possible to let the lyrical message of the song shine through.
The 80s
Pierrot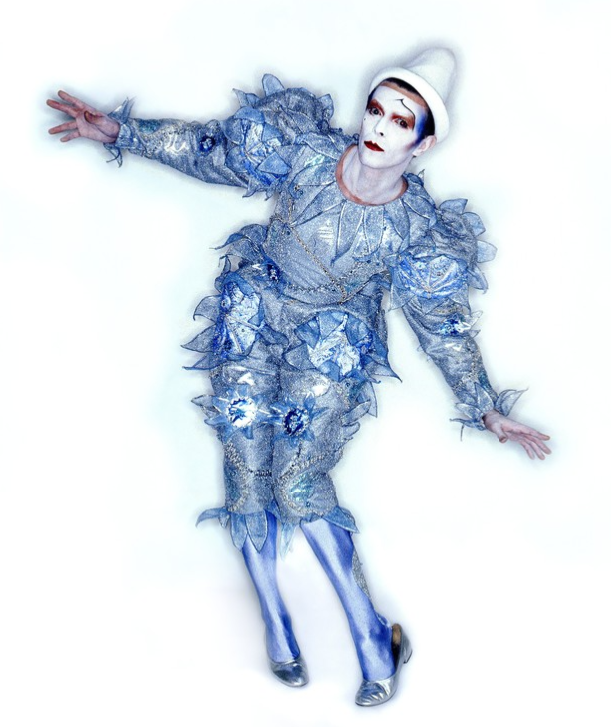 David Bowie embraced the New Romantic era in the early 1980s (which, in turn, was partially influenced by his own work as Ziggy Stardust). Pierrot made their appearance in the music video for his #1 hit Ashes to Ashes. The costume was designed by Natasha Korniloff, who met Bowie in the late 60s while Bowie was still working with Lindsay Kemp.
The two of them had previously collaborated on the 1970 Kemp-Bowie stageplay, Pierrot in Turquoise or The Looking Glass Murders. Korniloff had also designed a few live outfits for Bowie in the previous decade.
Dapper David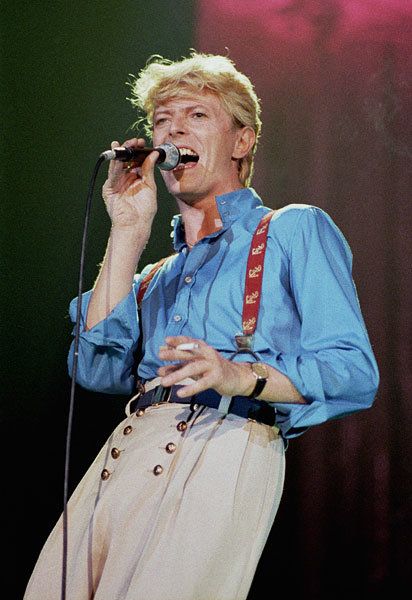 The emotion and vibe of 1983's Let's Dance were inspired by the rock n' roll pioneers of the 1950s (more specifically, a specific yet mysterious picture of Little Richard in a convertible). While David Bowie wasn't trying to write a 50's Rock n' Roll record, he was trying to capture that enigmatic spirit and optimistic drive that the first rock n' rollers possessed. As such, he stripped down his look to something a little more traditional but no less charming. Thus, The Gentleman* was born.
The Gentleman shed the form-fitting clothes and opted for something a little more relaxed. After all, if you're going to create a dance record, it's important to be able to move when performing it. David Bowie is pictured here on the 1983 Serious Moonlight Tour, but the fashion for the tour was pretty consistent: loose-fitting, high-waisted trousers, large suspenders, a loose button-up shirt, and bleached blonde hair. Often on the Serious Moonlight Tour, Bowie could be seen sporting a fedora.
*There is no David Bowie persona named The Gentleman, but multiple other sources refer to this period in his discography/career as gentleman-like, so, for ease' sake…
The Glass Spider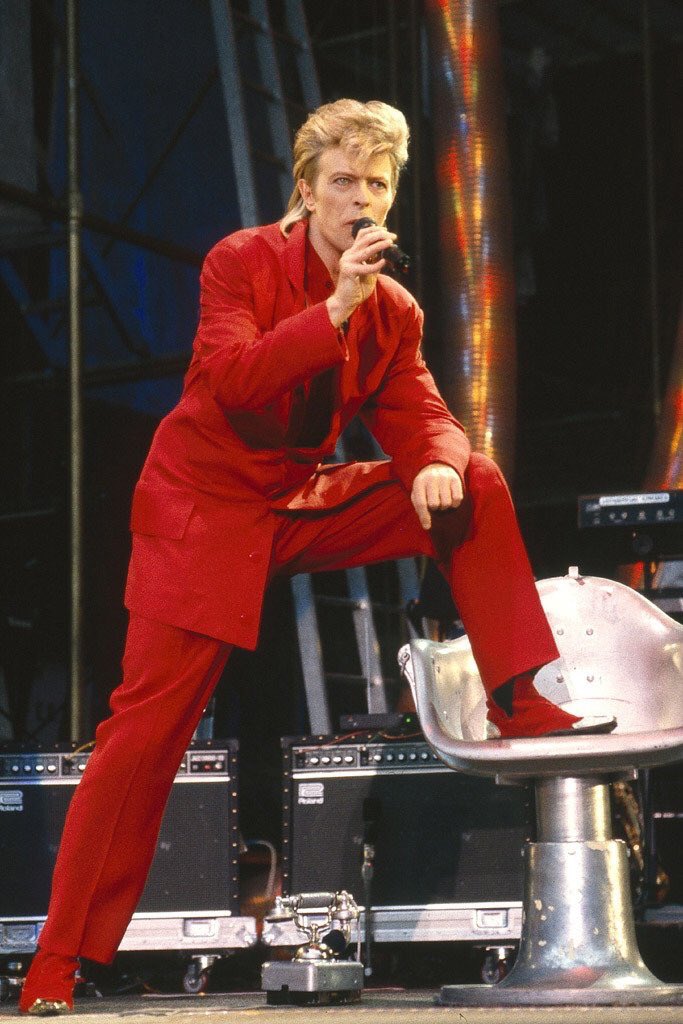 In 1987, David Bowie embarked on a world tour, "The Glass Spider Tour," which, at the time, was one of the most ambitious tours ever. Bowie had a couple of costume changes for each performance, but the return to a red-dominated outfit must have tickled fans of Ziggy Stardust and Aladdin Sane.
This single-breasted three-quarters length suit, accompanied by a similarly red shirt, pants, and Chelsea boots, was designed by Diana Moseley. Diana Moseley is a costume designer with nearly 30 years working in film and television as well as working with other high-profile artists, including Diana Ross, Freddie Mercury, Kylie Minogue, Paul McCartney, and Tina Turner.
The 90s
Art Degree Entrepreneur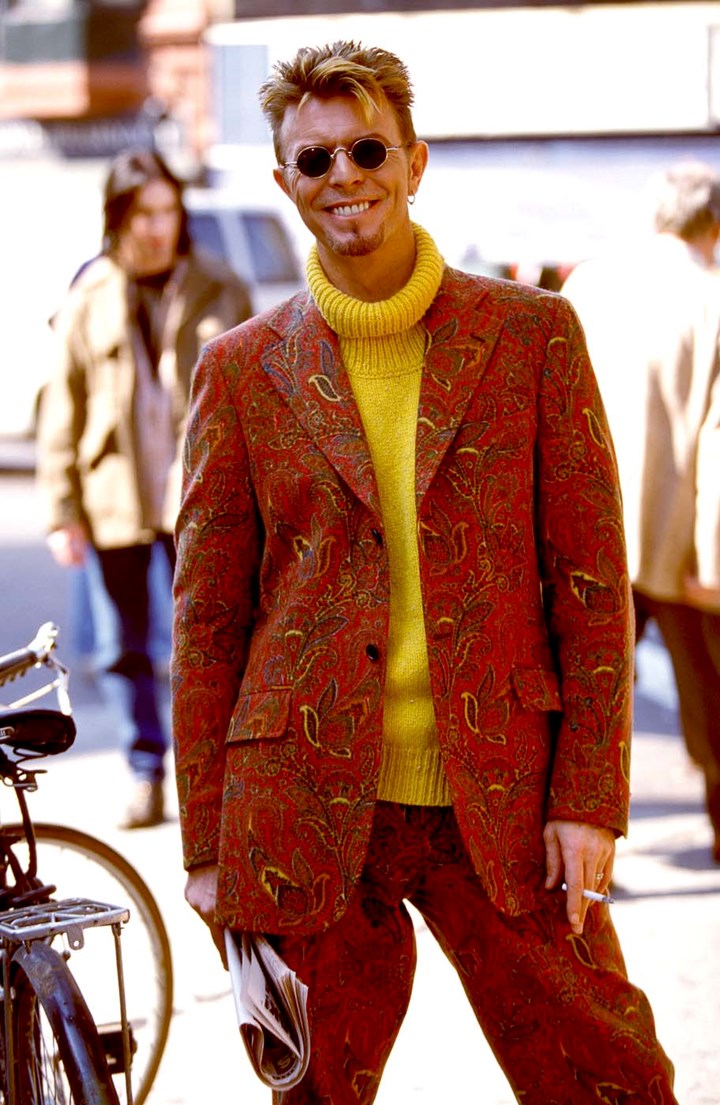 I wasn't able to find out much of the history behind this outfit, but this is David Bowie in London in 1994. It is perhaps worth noting that Bowie met future wife, supermodel Iman in the early 90s. Her introduction into her life certainly inspired a Renaissance in David Bowie's attention to fashion. Here he wears a brilliant yellow turtleneck underneath a red paisley suit. The soul patch, slightly-spiked hair, and shark-like smile add a level of danger to this outfit.
Union Bowie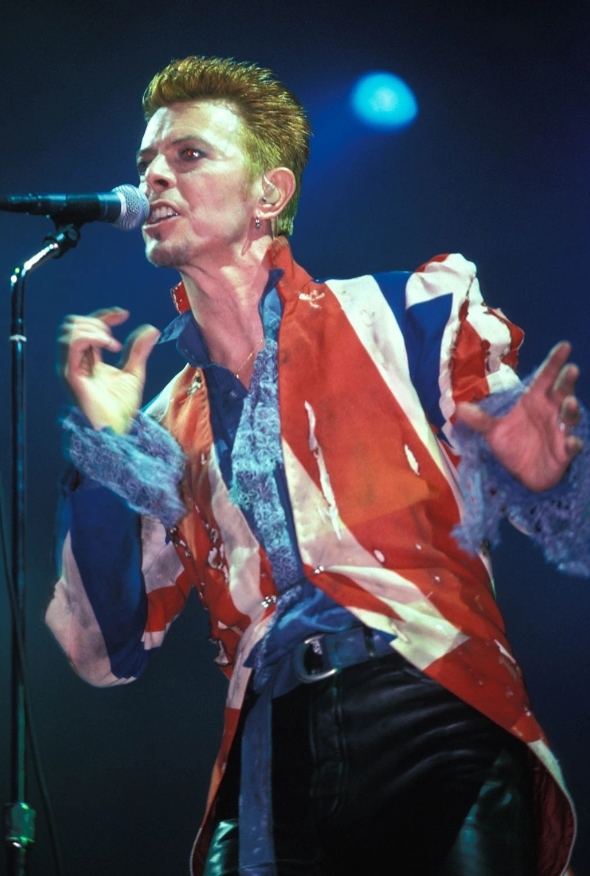 Alexander McQueen designed this Union Jack coat. McQueen added the frilly cuffs and then distressed the fabric by walking on it, rubbing it with stones, etc. Bowie wore it on his 1996 tour in support of his Brian Eno-collab album Outside, for the cover of his 1997 album Earthling, to the VH1 Fashion Awards, and on tour in support of Earthling. The coat was inspired by a similar coat worn by The Who's Pete Townshend and Gavin Turk's painting Indoor Flag.
Birthday Boy Bowie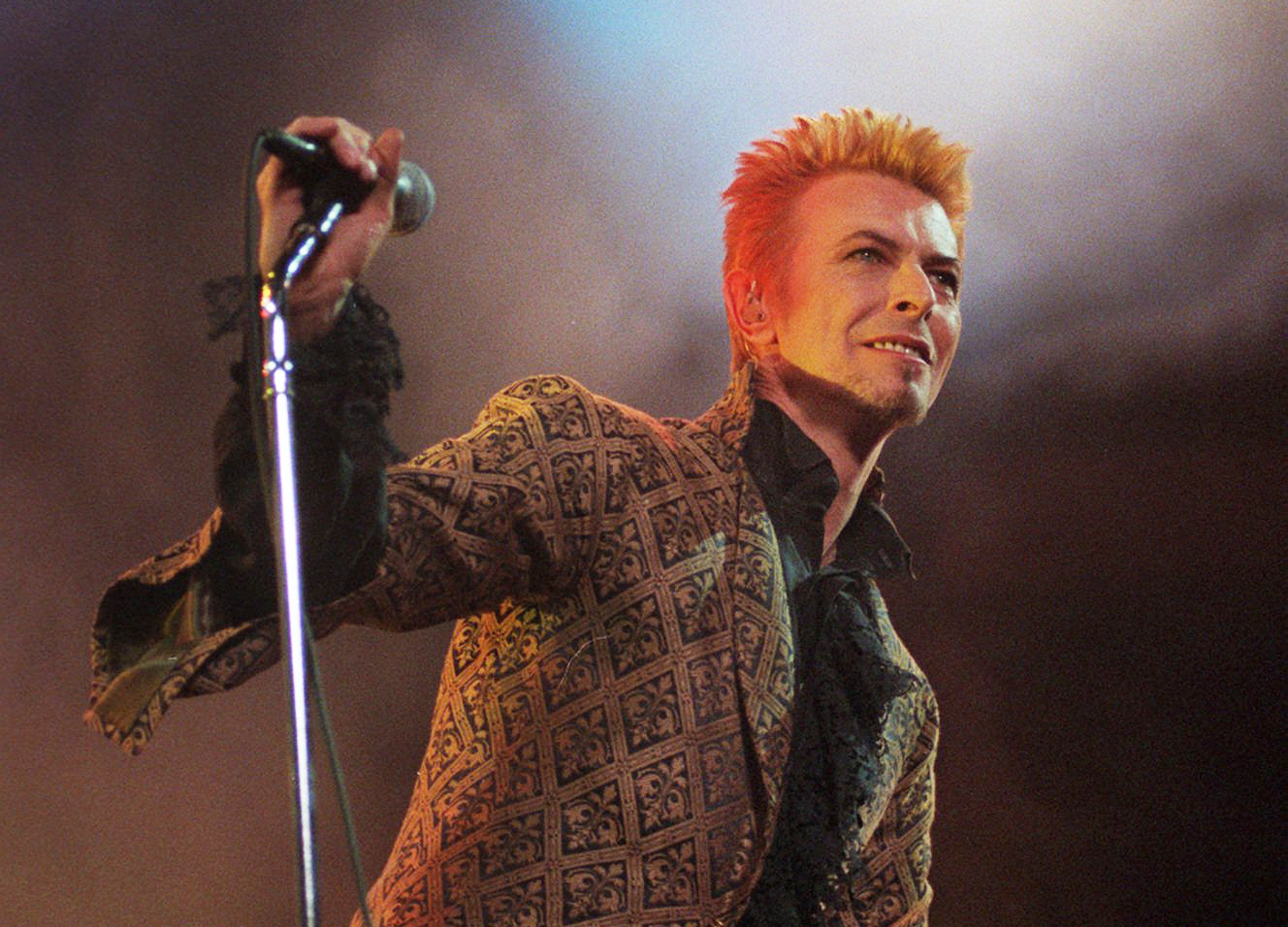 In 1997, a month before the release of Earthling, David Bowie held a 50th birthday celebration at Madison Square Garden. The concert featured an absolute star-studded lineup of special guests including, but not limited to, Robert Smith, Lou Reed, Sonic Youth, and Billy Corgan.
Speaking to the New York Daily News about the birthday milestone, "…nothing has been quenched. I'm still feeling fiery." And his outfit of the night is evidence of that sentiment—a dazzling gold jacquard body-length jacket atop a sinister black ruffled shirt.
FAQ
Question: How do I dress like David Bowie?
Answer: For starters, you'll need contour makeup, some bravery, and a tad bit of research. David Bowie had many personas and outfits throughout his career, so there's no simple answer. Luckily, I've previously written an article about David Bowie costume ideas where I provide some pointers on what you'll need.
Question: Why did David Bowie dress the way he did?
Answer: In 1961, David Bowie was inspired by a mod (subculture beginning in the late 1950s) whom he used to accompany on the train into London. Bowie credits this lad as being ahead of the curve in terms of fashion (Italian jackets, white linen jeans, Chelsea boots, etc.). This lad was a "heavyweight" who also wore eye makeup, the gender expression being something that Bowie admired.