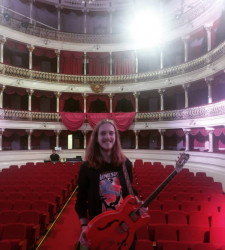 Latest posts by Gustavo Pereira
(see all)
The Doors is one of the most famous and recognizable rock bands of the 60s, and despite their somewhat short career, they accomplished lots of amazing achievements and left became immortalized in rock & roll history.
They were fluent in several music genres, something that becomes evident once you start to explore their discography. Morrison's singing can be energetic, haunting, and otherworldly, and it is complemented exquisitely by the rest of the band.
Personally, they were one of the bands I have listened to the most when I was growing up and discovering rock bands from the 60s and the 70s. While their sound did not "click" for me as fast as others like Pink Floyd or Led Zeppelin, when it did, I became almost obsessed with them.
Their guitarist, Robby Krieger, was one of the players who influenced me to the point of saving for a long time to buy a Gibson SG similar to the one he usually plays!
In this article, you will learn more about the history of this iconic band, their most famous records and other interesting facts.
The Doors' Lineup
The Doors was a band that did not suffer any changes in its lineup from its creation until the moment they oficially disbanded. These were the members of The Doors:
Jim Morrison (lead vocals)
Ray Manzarek (keyboards)
Robby Krieger (guitar)
John Densmore (drums)
They started in 1965 when Jim Morrison and Ray Manzarek randomly saw each other in Venice Beach, California. They had previously met before, and after Jim showed Ray some of the things he had been writing, he was invited to play with Ray and his current band, Rick and the Ravens.
John Densmore and Robby Krieger joined them soon after. They had previously been playing together in another band called Psychedelic Rangers.
Although there were reportedly auditions for the role of bass player, they made the unusual decision of playing without one, and relied on Ray Manzarek's left hand instead to provide the low frequencies.
This ended up being one of the defining factors in creating the sound that everyone associates with this legendary band.
I strongly believe that having a keyboard player responsible for the bass ultimately changed a lot for the band in what regards composing basslines, the articulation used while playing, and obviously, the sound.
Even though the keyboard that Manzarek used for this purpose could do a great impression of a bass, it still sounds unique and distinct. I also believe that another defining aspect of their sound comes through Robby Krieger's flamenco influences, since it was what he mainly studied before joining The Doors.
Jim Morrison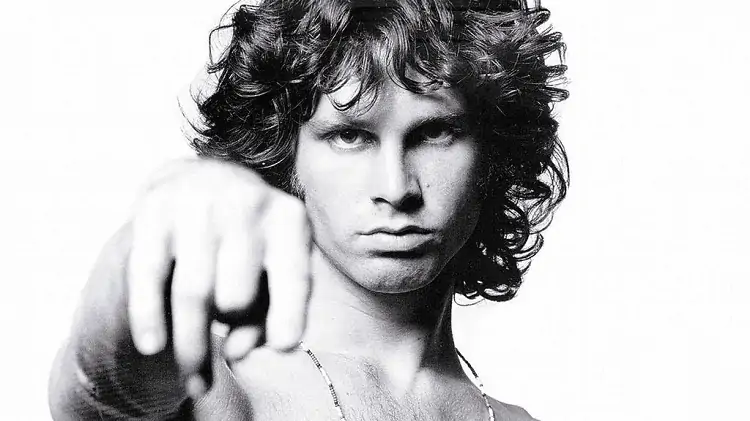 The frontman, lead singer of The Doors, and one of rock & roll's biggest icons. Jim Morrison left us at an early age, but left us a tremendous legacy that won't be forgotten any time soon.
The so-called "Lizard King" started out studying film at UCLA, where he eventually met Ray Manzarek. Years later, they met again on Venice Beach, and after sharing some of his writing, Jim and Ray decided to start a band that would later be known as The Doors.
His lyrics were often dark, spoke about violence, sex, consciousness, and other topics that were not extremely common among bands of similar genres at the time.
He had a tendency to defy authority, and got involved in several conflicts, even during live performances. His life was characterized by a constant struggle with alcoholism and drug use, which unfortunately led to his early passing at the age of 27.
What stood out the most in Jim Morrison for me were his lyrics. "The End" is one of the tracks that comes to mind, as well as "The Crystal Ship" and "When the Music's Over". His attitude on stage and his charisma in any situation were notable, but I always felt drawn to the way he expressed himself through his writing.
Ray Manzarek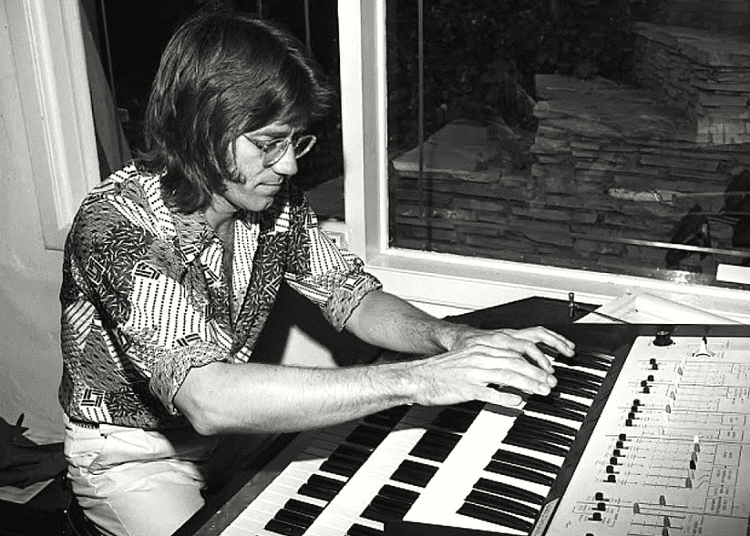 Ray Manzarek was in charge of the keyboards in The Doors. Born in 1939, he studied piano and was fluent in various music genres that he managed to tastefully combine and display when playing with the band.
In 1993, he was inducted into the Rock and Roll Hall of Fame, and he is widely considered to be one of the best keyboardists of all time. Some of his most famous parts with The Doors include the intro to "Light My Fire", "People Are Strange" and "Hello, I Love You".
Robby Krieger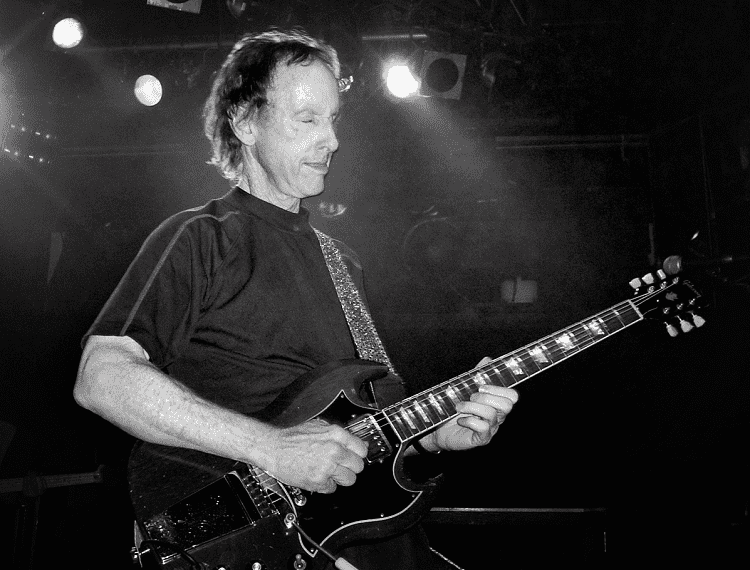 Robby Krieger played the guitar in The Doors, and he was one of the most important members in terms of songwriting. For instance, one of the band's most popular songs, "Light My Fire", was written by him.
Robby didn't start as a guitarist. He studied piano and trumpet, but once he discovered the flamenco music that was born in Spain, he fell in love with the guitar and started learning it. You can hear this influence in songs such as "Spanish Caravan", in which he is playing a Spanish guitar instead of his usual electric Gibson SG.
Since I am a guitarist myself, I was always drawn to Robby Krieger's playing, attempted to play his riffs, figure out some of his solos by ear, and I am sure that he has had some influence in my playing, although I also enjoyed transcribing some of Ray Manzarek's lines, particularly some from "Riders on the Storm".
John Densmore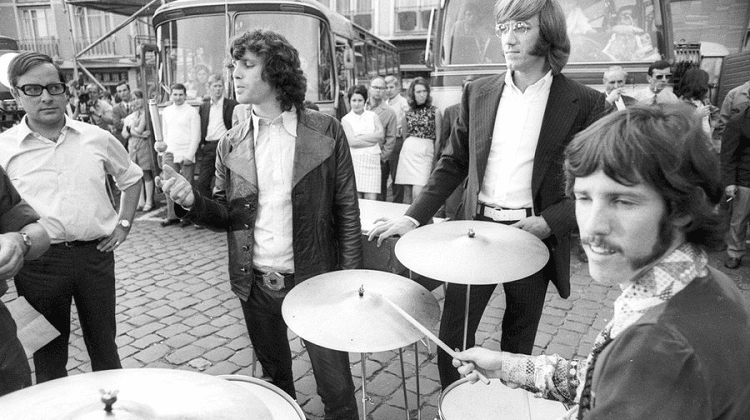 John Densmore played the drums in The Doors, and he carried a strong influence from jazz artists and Brazillian musicians that he listened to a lot. He was previously playing with Robby Krieger in a different band, and then joined Jim and Ray to form The Doors.
After the band stopped playing, John kept working as a musician on other types of projects. He has played other music genres such as reggae and jazz, wrote music for theater, produced a play, and wrote several articles about music.
The Doors' Discography
Even though The Doors did not have a very long career, they were still able to become one of the world's most popular rock bands. Many of their records sold millions of copies and charted both in the USA and the UK.
In total, they have released 9 studio albums, 5 live albums, 21 compilation albums and 21 singles. Their debut record, The Doors, came out in 1967, and it was one of their most famous releases.
Their last album with Jim Morrison was L.A. Woman, released in 1971. After that, the remaining band members released three records under the name "The Doors". The most successful of those three was An American Prayer, released in 1978 by Elektra Records.
Here is a complete list of the studio albums released by The Doors.
The Doors (1967)
Strange Days (1967)
Waiting for the Sun (1968)
The Soft Parade (1969)
Morrison Hotel (1970)
L.A. Woman (1971)
Other Voices (1971)
Full Circle (1972)
An American Prayer (1978)
Additionally, check out the live albums released by The Doors:
Absolutely Live (1970)
Alive, She Cried (1983)
Live at the Hollywood Bowl (1987)
In Concert (1991)
All of the albums seen above were released by Elektra Records, who worked with The Doors during the entire span of their career.
My favorite albums will be discussed in more detail in the next section, but in any case, I still advise anyone to listen to everything you can get your hands on.
Some records like Strange Days and The Soft Parade might not have made it to my favorites list, but they still have precious gems that I love and take me back to some amazing memories of my teenage years.
Studio Albums by The Doors You Should Check Out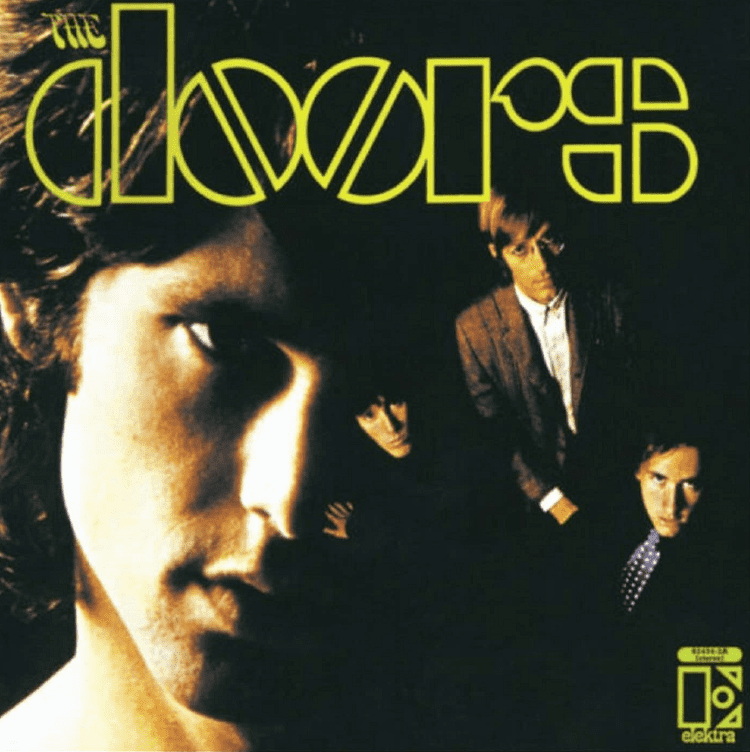 Even though I firmly believe that you should listen to at least all of the studio albums that The Doors recorded, as well as a couple of memorable live performances, these are the albums that you absolutely can't miss if you are exploring their discography:
The Doors (1967)
In 1967, The Doors released their self-titled debut album. It was produced by Paul. A Rothchild, a producer also known for his work with other artists such as Janis Joplin. It was recorded during 1964 at the Sunset Sound Recorders studios in California.
It was the band's most successful record, and features amazing hits such as "Light My Fire", "Break On Through (To the Other Side)" and "Soul Kitchen".
If I had to pick one album by The Doors to take with me to a desert island, this would probably be the one I would take.
It would still be a very tough and almost heart-breaking decision to make, since I would be missing out on so many amazing songs, but I think this is their best work, and the one that managed to capture their essence the most, even though their true colors only showed when they were on stage.
Unfortunately, that was something I could not witness.
Waiting for the Sun (1968)
Waiting for the Sun was the third album released by The Doors. It was recorded between late 1967 and during the first half of 1968 in LA, at the TTG Studios. With this album, The Doors broke into the UK market.
Some of the tracks I would highlight from this record are "Hello, I Love You", the opening track, as well as "Love Street", "The Unknown Soldier" and "Spanish Caravan", a beautifully crafted song that shows off the flamenco guitar skills of Robby Krieger.
Morrison Hotel (1970)
The fifth studio album that The Doors recorded is called Morrison Hotel. It was released in 1970 by Elektra Records and it represents a transitional period in which the band steered away from the strings and horns arrangements that they had on their previous album, The Soft Parade, and went back to their blues influenced sounds.
This was the band's most successful album in the United Kingdom, and it is one of my all-time favorites from The Doors. I would definitely highlight the tracks "Roadhouse Blues", the opening track which became one of their most popular songs, "Waiting for the Sun", "Peace Frog" and "Queen of the Highway".
This was one of the first records that I have bought on vinyl, right after I purchased my first record player. I must have played it so many times that you can notice it has significant wear, causing it to have lost some of the high end frequencies, something that will happen to any vinyl record that you play for countless times over and over again.
In any case, I don't regret it at all, it shows how much this album was a part of my life!
For a long time, "Roadhouse Blues" was also one of my go-to songs to play while doing a sound check for gigs with the rock band I had before going to college.
Fast forward about ten years, and I still love to play it, even though it is not a complex song at all. You should try learning it too, you are guaranteed to have a blast playing and jamming to it later.
L.A. Woman (1971)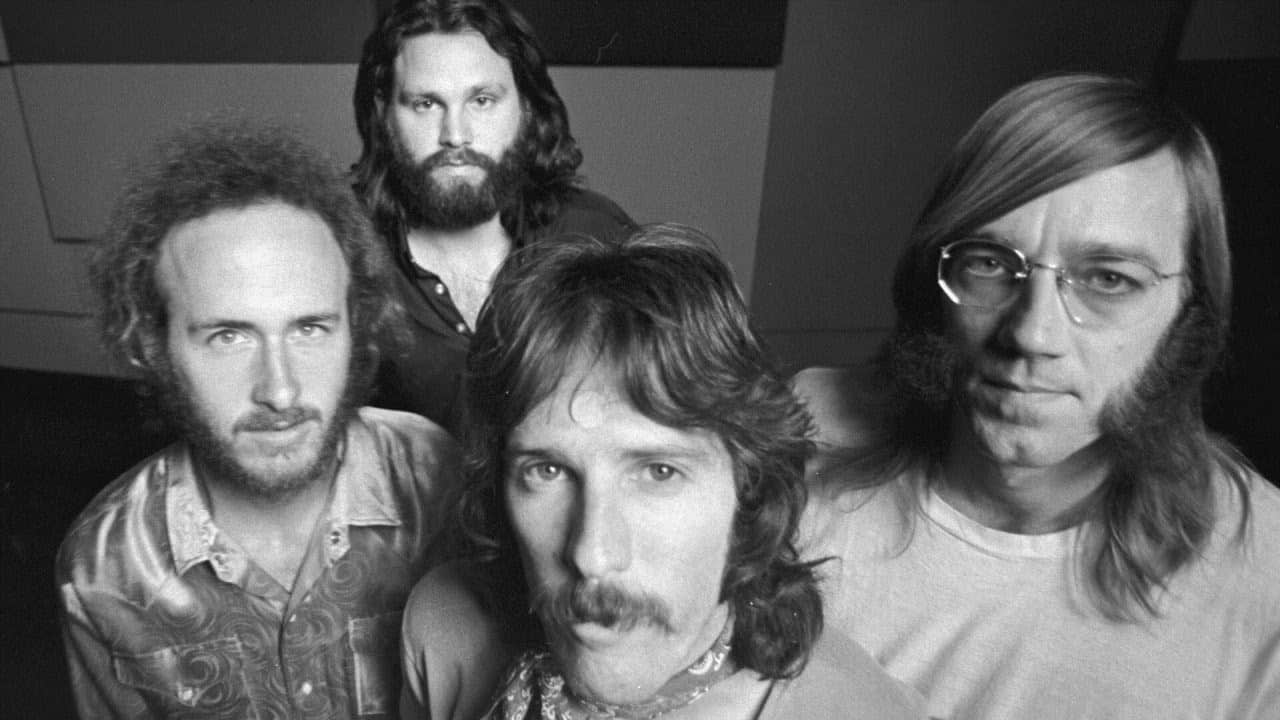 L.A. Woman was released in 1971. It was the sixth studio album released by The Doors, and also the last one in which we can hear Jim Morrison as the lead singer. Unfortunately, he passed away only three months after recording it.
It was the second most successful record by the band, surpassed in sales only by their self-titled debut album, The Doors, released in 1967.
From the original release of this album, I would highlight the opening track, "The Changeling", "L.A. Woman", "Crawling King Snake", originally written by John Lee Hooker, and "Riders on the Storm", the closing track.
An American Prayer(1978)
An American Prayer is the name of the ninth and last studio album by The Doors. It was released several years after the death of Jim Morrison, and it features spoken word recordings of him, which took place between 1969 and 1970 at the Elektra Records studios, as well as at Sunset Sound Studios in Hollywood.
The instrumental was recorded by the remaining members of The Doors in 1978. They claimed that their main objective with this album was to show the world a side of Jim Morrison that they considered to be underrated.
It also featured other invited artists, such as Bob Glaub and Jerry Scheff, who played bass on a few tracks, Arthut Barrow on the synthesizers and Reinol Andino on the percussion.
While this is certainly not the most iconic or successful album by The Doors, I still consider it to be extremely interesting due to the different perspectives it offers, and overall it is worth listening to for any fan of the band.
I listened to it for the first time at a friend's house on vinyl, and I was instantly hooked to the concept of having music by The Doors with spoken word by Jim, and thought it was interesting that they released it after his death with recordings that might have been forgotten if it wasn't for this album.
Notable Live Performances by The Doors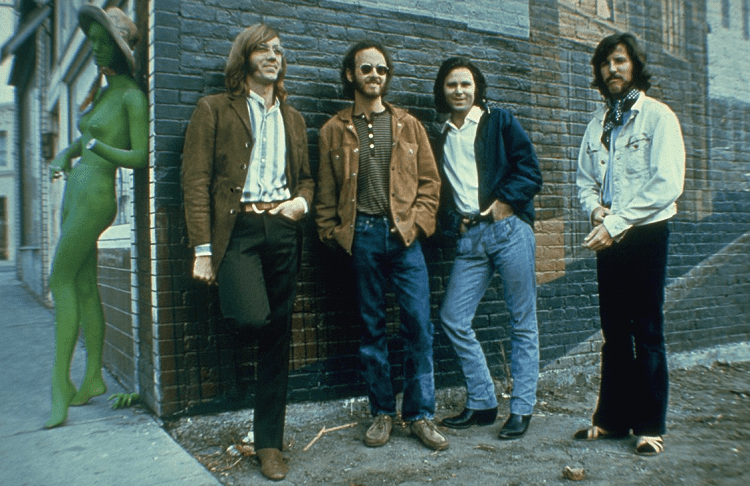 The Doors were raw, fierce, explosive and energetic live. The members of the band usually said that their albums were only a road map of their work, but they would get to know them much better during live performances.
There were many memorable shows by The Doors, and fortunately, there are a few great recordings that you can still enjoy today.
My personal favorite is their live performance at the Hollywood Bowl in Los Angeles, recorded on July 5, 1968. This amazing concert was released later as a live album, of which there are a few slightly different versions.
At this point , The Doors had released 3 studio albums, The Doors, Strange Days and Waiting for the Sun.
Check out the songs that they played that night:
1. "When the Music's Over"
2. "Alabama Song (Whisky Bar)"
3. "Back Door Man"
4. "Five to One"
5. "Back Door Man (Reprise)"
6. "Moonlight Drive"
7. "Horse Latitudes"
8. "A Little Game"
9. "The Hill Dwellers"
10. "Spanish Caravan"
11. "Wake Up"
12. "Light My Fire"
13. "The Unknown Soldier"
14. "The End"
Apart from this iconic live album, The Doors have released three others: Absolutely Live; Alive, She Said; and In Concert.
While listening to the studio albums by The Doors is always a pleasure, it is certainly true that their real essence lies in their live performances, which is why you should check them out as you explore their discography.
Jim Morrison's Clashes with Authority
Jim Morrison was known for constantly defying authority. The lyrics he would write frequently expressed this kind of mentality, and his behavior matched that quite naturally. He was arrested several times, and he is even considered to be the first rock artist to be arrested during one of his live performances.
One time in 1967, Morrison was maced by a police officer right before a show. Supposedly, the officer did not recognize Morrison and told him to leave the area. Not known for particularly liking the authorities, Jim said something like "eat it", and the officer was not too happy about it.
Jim was even less happy, and went on a huge rant about the police during the show, causing them to eventually interrupt it and arrest Morrison. The audience raged and there was even a small riot, which just resulted in more arrests.
Unfortunately, Jim's self-destructive behavior was a pattern that was present throughout his entire life, and it made working with the rest of the band much more difficult. There were lots of conflictual moments in the studio and on the road.
The Doors after Jim Morrison's Death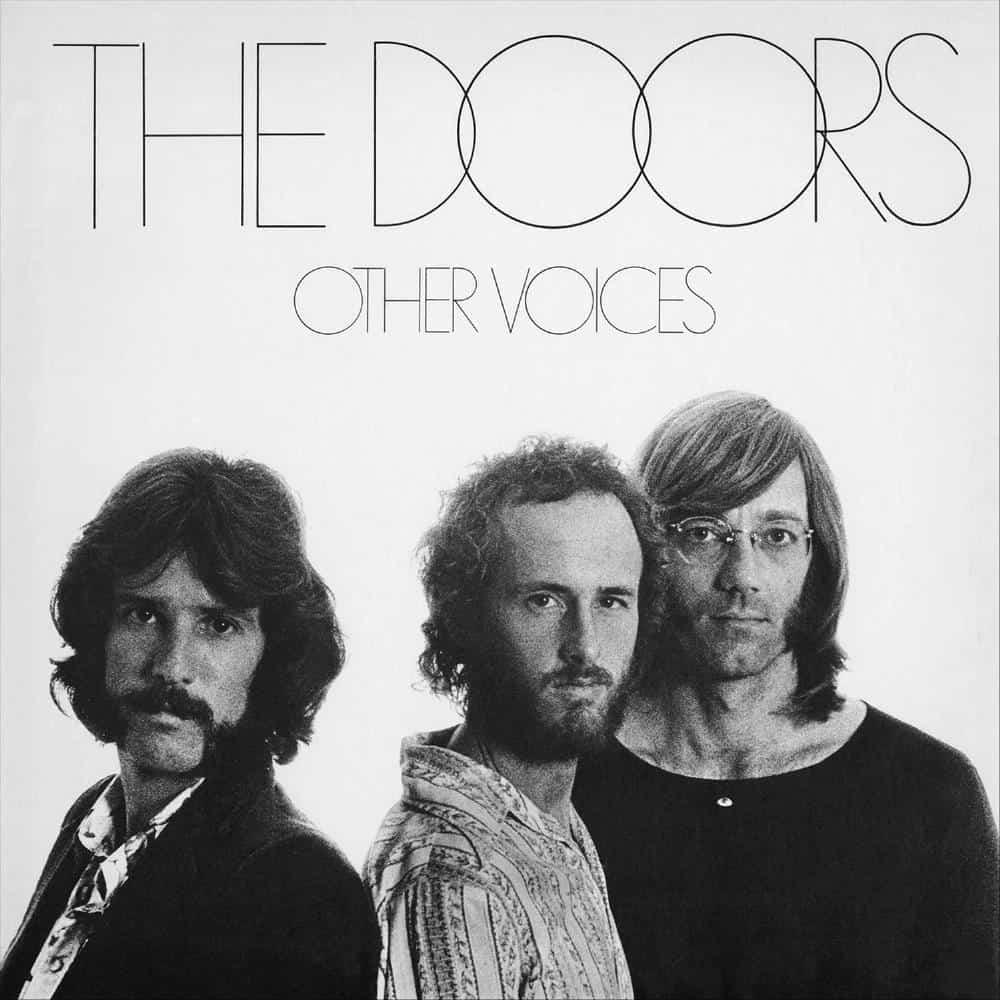 Unfortunately, Jim Morrison passed away very young, at 27 years old. His life was full of trouble with alcohol and other substance abuse led him to a downward spiral that ultimately culminated with his death, in an apartment in Paris, in July 1971, not long after The Doors had released L.A. Woman. He was also buried in Paris, at the Père Lachaise Cemetery.
Ironically, the death of their frontman immortalized this band in rock & roll history, leaving us with the records that they have produced between 1967 and 1971. Even though the rest of the members of the band were all excellent musicians, it just was not the same without Jim.
Despite all the trouble that they went through during their time together due to Morrison's difficult character and struggle with addictions, the truth is that they could not make it work between the three of them.
They released their first post-Morrison record in 1971, Other Voices. It was not as successful as their previous releases, and the same happened when they released Full Circle in 1972. They eventually disbanded in the following year, after their contract with Elektra elapsed.
When An American Prayer was released in 1978 though, the band started gaining popularity again, you would hear it more often on radio stations, and they were even featured on the Billboard 200 album chart in September 1980.
FAQ – Frequently Asked Questions about The Doors
Question: Where did the Name "The Doors" Come from?
Answer: The band "The Doors" is named after a book written by Aldous Huxley in 1954 called "The Doors of Perception". It talks about the author's experience with mescaline, a psychedelic drug.
Jim Morrison read this book and got the inspiration from the quote "If the doors of perception were cleansed everything would appear to man as it is: infinite".
Question: What Music Genre do The Doors Play?
Answer: Broadly speaking, The Doors played rock music, but they were able to merge several music genres masterfully and naturally as they did in most of their records.
They have delved into psychedelic rock, blues rock, acid rock, and even infused some of their songs with flamenco and classical music flavors.
Question: What are the Best Albums by The Doors?
Answer: Since The Doors did not have a very long career, they did not have the chance to release many records. However, the ones they did are considered some of the best albums in the history of rock music. Here are the ones I would definitely not want to miss:
The Doors (1967)
Waiting For The Sun (1968)
Morrison Hotel (1970)
L.A. Woman (1971)
Question: What was the Highest Selling Record by The Doors?
Answer: Out of the entire discography of The Doors, the album that recorded the highest number of sales was their debut album, The Doors, released in 1967.
This record sold over 13.5 million copies worldwide. The only other time they came close to this success was with their 1971 release, L.A. Woman, which sold over 10 million copies worldwide.
Question: Who were the Members of The Doors?
Answer: The Doors were founded in 1965, in Los Angeles. Their members were the following:
Jim Morrison (lead vocals)
Ray Manzarek (keyboards)
Robby Krieger (guitar)
John Densmore (drums)
During their career, there were no changes to the lineup.
Question: What are the Most Famous Songs by The Doors?
Answer: The Doors were excellent songwriters, and all members actively participated in their compositions. They have released several hits. Check out some of their most famous songs:
"Love Me Two Times"
"Roadhouse Blues"
"People Are Strange"
"Break on Through (To the Other Side)"
"Light My Fire"
"L.A. Woman"
"Riders on the Storm"
"Love Her Madly"
"Peace Frog"
"Hello, I Love You"
Aside from these classic songs, there are lots of other examples of amazing music by The Doors throughout all of their records, so you should take your time and enjoy exploring it.
Closing Considerations about The Doors
If you are a fan of rock & roll music and the legendary rock bands of the 60s and the 70s, The Doors is one of the most iconic groups that have ever existed. If you haven't listened to them, you should definitely do it soon, and if you have, it is always a good time to revisit your favorite records!
Every album is worth listening to as there are good tracks in each one, but if you are looking for a little guidance, check out the ones that are recommended in this article.
This band played a huge part in my teenage years, while I was developing my taste in music, and also while I was starting to play the guitar.
Robby Krieger was one of the players who made me admire and drool at Gibson SGs anywhere I'd spot one, and he also made me want to learn slide guitar, even though I am nowhere near where I would like to be with that technique.
If listening to their records can give you half the happiness and excitement that they gave me, then you are in for a crazy ride!