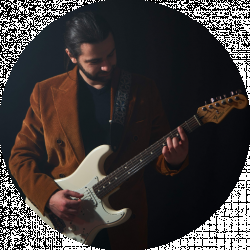 Latest posts by Altin Gjoni
(see all)
Metallica is the most commercially successful metal band of all time and arguably the act that brought Metal music into the mainstream. If you are passionate about rock history, this Metallica band history article is one you should not skip.
I started playing guitar because of Metallica. As a lifelong Metallica who now plays guitar in a Metallica tribute band, I will detail their history and discuss their musical style and possible future. 
Few bands have had a career as long and successful as Metallica. Along with a handful of bands during the 80s, they defined heavy metal as something faster and more aggressive, later named 'Thrash Metal.' Beyond music, tragedy and drama have been part of the band since their early days. 
The Metallica Band History also tells how one band, almost single handily, made metal music a commercial success.
Metallica Band Members
James Hetfield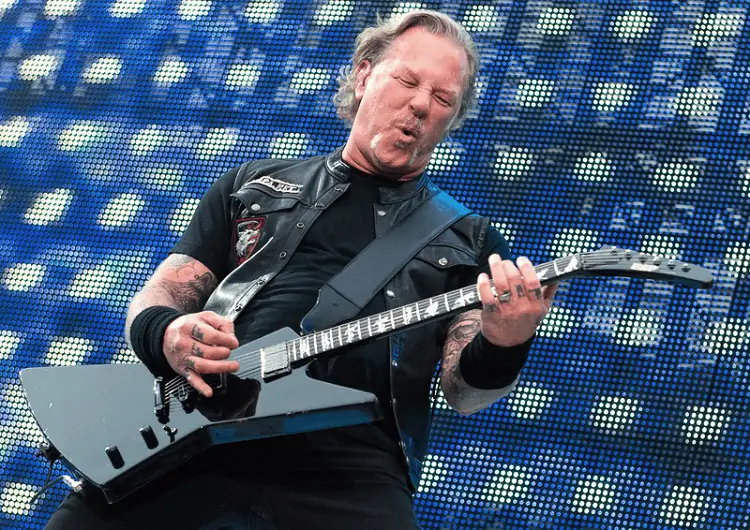 James Alan Hetfield ( born August 3, 1963) is the frontman, rhythm guitarist, main songwriter, and co-founder of Metallica. 
Born in a musical family in Downey, California, Hetfield dealt with a difficult childhood and the early passing of his mother from Cancer. These experiences later were reflected in his songwriting with Metallica.
Hetfield (or as the fans call him 'Papa Het') is considered one of the best rhythm guitarists of all time and continuously ranked in the top 10 of every metal musician's ranking list.
The complex fast down, picking riffs, powerful full vocals, and wide variety of songwriting styles turned the Metallica leader into one of the most influential musicians of the last century.
In my book, Hetfield is a riff god and one of the few players who can write and execute complex and hard parts while singing.
Lars Ulrich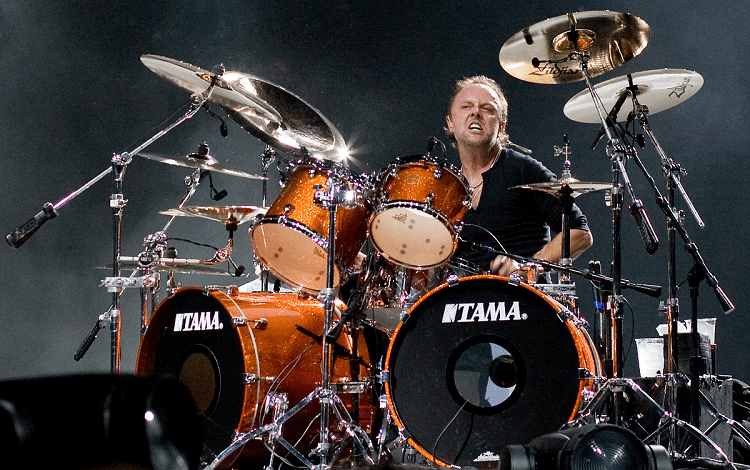 Lars Ulrich ( born 26 December 1963) is the co-founder, drummer, and occasional songwriter of Metallica. 
Born in an upper-middle class family in Denmark and with a successful early career in Tennis, Ulrich got his first drum kit at the age of 12 and was fully dedicated to music after not making it to his high school's tennis team. 
Lars is known for his drumming style, which features unique kick drum patterns and fast grooves. Even though he was not a primarily technical drummer, his style and contribution as a producer and songwriter for Metallica set him apart from many others. 
Robert Trujillo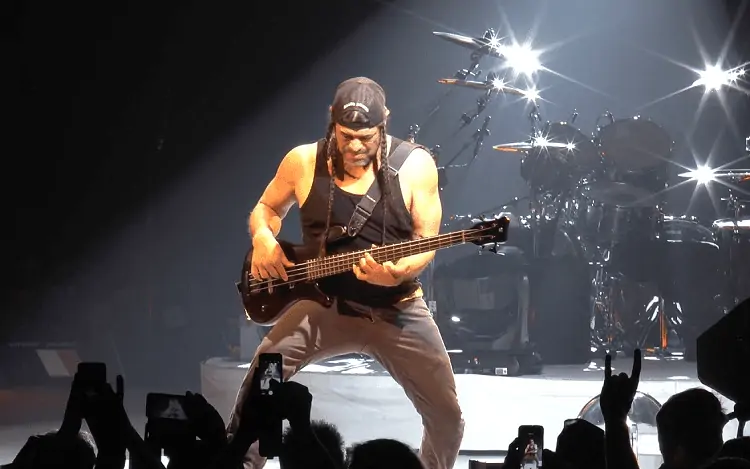 Robert Agustin Miguel Santiago Samuel Trujillo Veracruz (born 23, 1964) is the newly recruited bass player for Metallica in 2003, 2 years after Newsted left the band.
Born in California of Mexican and Native American descent, Trujillo started playing music at an early age under the influence of his hero Jaco Pastorius. He followed his passion for jazz by enrolling in jazz school but kept developing his rock and metal side.
Before joining Metallica, he made a name for himself, playing in Ozzy Osbourne's band in the 90s and supporting Metallica on tour with 'Suicidal Tendencies.
Trujillo is known for his instrumental mastery and blends multiple genres into his playing.
I had just started listening to Metallica when Trujillo became part of the band. For me, it felt like he was always there. After all these years, there is no other bassist I can think of that can replace him.
Kirk Hammett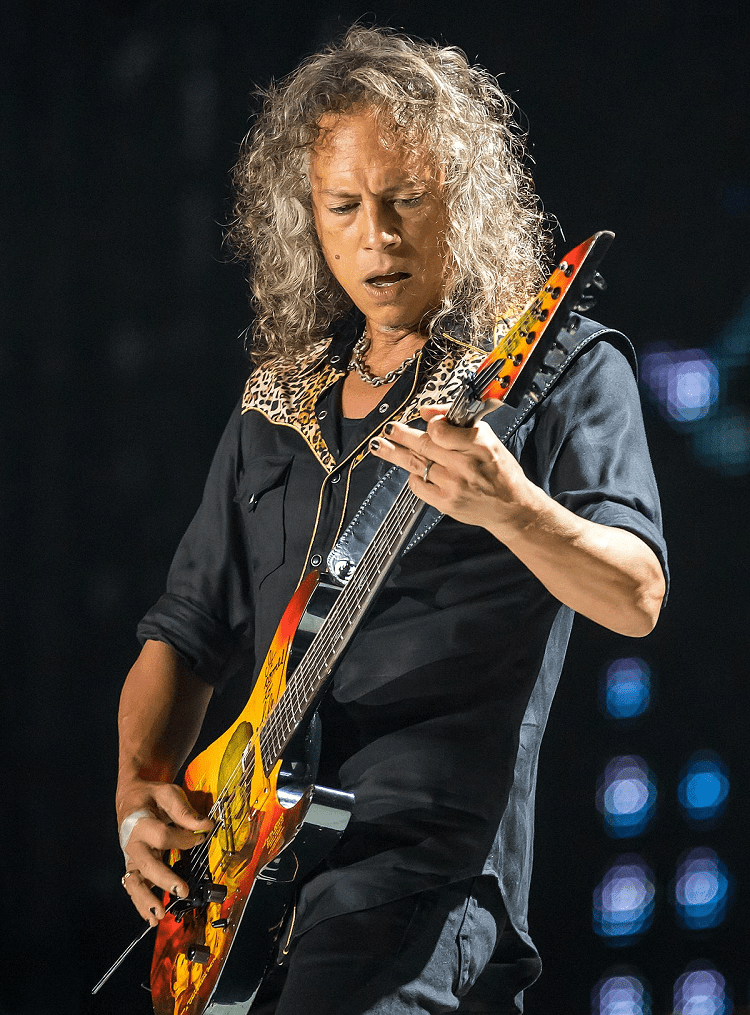 Kirk Lee Hammett ( born November 18, 1962) is the lead guitar player of Metallica. Even though not a founding member, he joined right after Dave Mustaine was kicked out of the band and played in all Metallica albums.
Born in San Francisco, Hammett's first passion was horror movies and magazines, which he fondly collected. After getting into rock from his brother's record collection, he started trading his magazines for records and eventually played guitar at fifteen.
After forming Exodus and making a name for himself in the Bay Area Thrash scene, he was invited to join Metallica and immediately got Hetfield's approval.
Metallica would not be the same without Kirk's solos, and I would not have started learning the guitar if not for his solo on 'The Unforgiven.' Hammett is known for his soloing style that blends pentatonic blues playing with fast runs and metal phrasing. He is ranked 11th in Rolling Stone's list of the 100 greatest guitarists.
Previous Members
Jason Newsted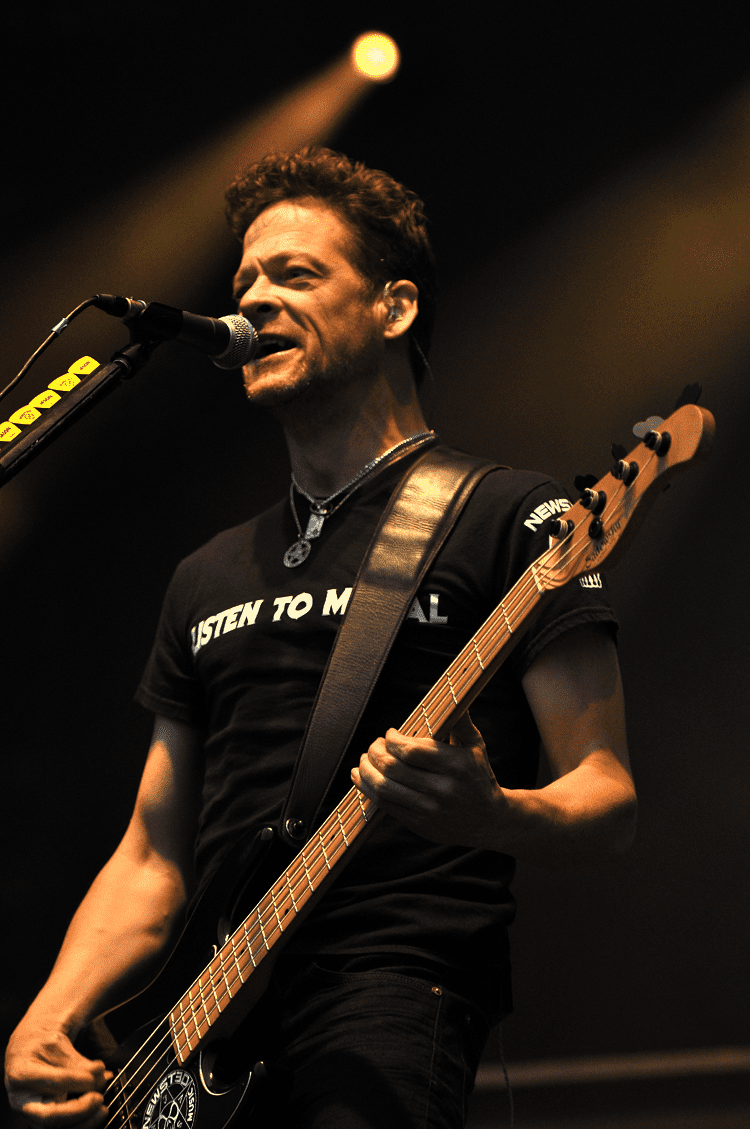 Jason Curtis Newsted (born March 4, 1963) was Metallica's bass player from 1968 to 2003, replacing the deceased Cliff Burton. 
Born and raised in Battle Creek, Michigan, on a farm, Newsted adheres to his farming life as a big influence on his character. When he was nine, he started playing guitar and switched to bass at 14. The rock bass greats of the era, Geezer Butler, Lemmy Kilmister, and Geddy Lee, were his heroes. 
Newsted playing is known for the solid bass arrangements that serve as a blueprint for many metal bass players today. Newstead joined the band as the last of the 50 players that auditioned and contributed to the bass track of the Band's most commercially successful albums. 
Cliff Burton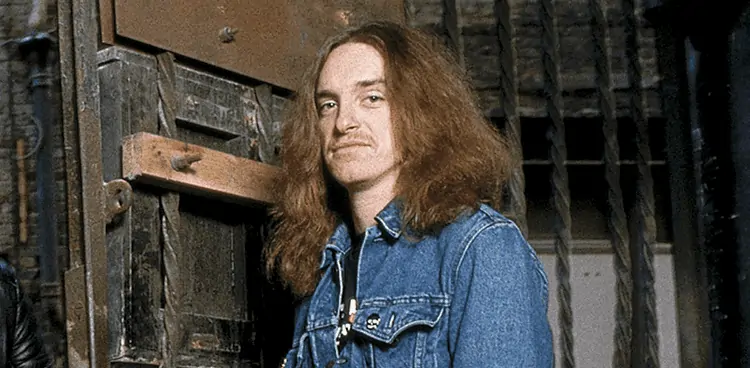 Clifford Lee Burton (February 10, 1962 – September 27, 1986) is a metal bass legend, widely regarded as one of the most influential metal musicians and a member of Metallica From 1983 to 1986.
Burton was born in California and got into classical music early. He started playing bass at the age of 13 to honor the death of his older brother and practiced for at least six hours every day, even after joining Metallica.
In only three years, Cliff wrote and recorded Metallicas' 3 first albums and established a legacy of melodic classically and jazz-influenced bass playing blended with a groovy heavy tone.
The epic bass solo on 'Orion' and the riff on 'For Whom The Bell Tolls" are engraved in every metal fan's memory. I watched him play his solos live on YouTube to believe that he wasn't playing guitar. 
He tragically passed away during the Master of Puppets tour in a bus crash in Sweden. The question of what would Metallica have become if Cliff was still alive haunts every Metallica fan.
Dave Mustaine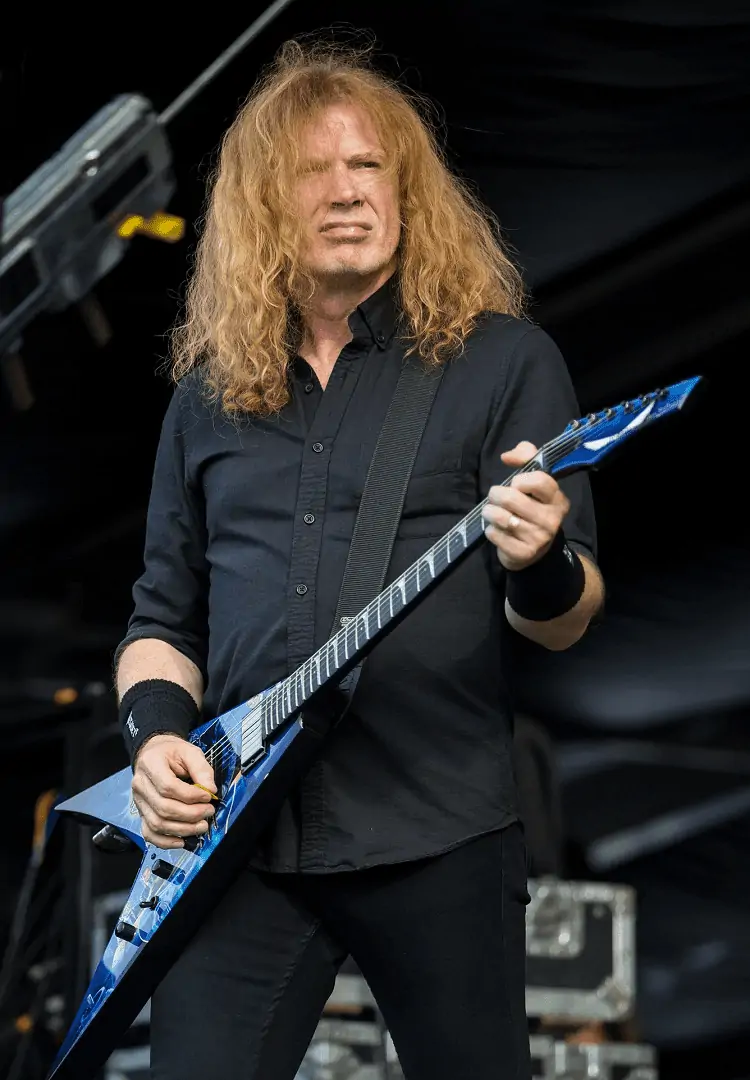 Dave Scott Mustaine (born September 13, 1961) is Megadeth's legendary founder, which many people know was also part of Metallica in its early days. The conflict between Hetfield and Mustaine remains at the heart of how the history of Thrash Metal developed. Both of them have similar merits when it comes to musical innovation.
Megadeth vs. Metallica is probably the biggest rivalry in the history of Metal. Mustaine's songwriting, guitar playing, extreme lifestyle, and character are worthy of their biography. Even though he didn't make it to the first album recording sessions, you can still hear some of his ideas on the first 2 Metallica Albums.
Ron McGovney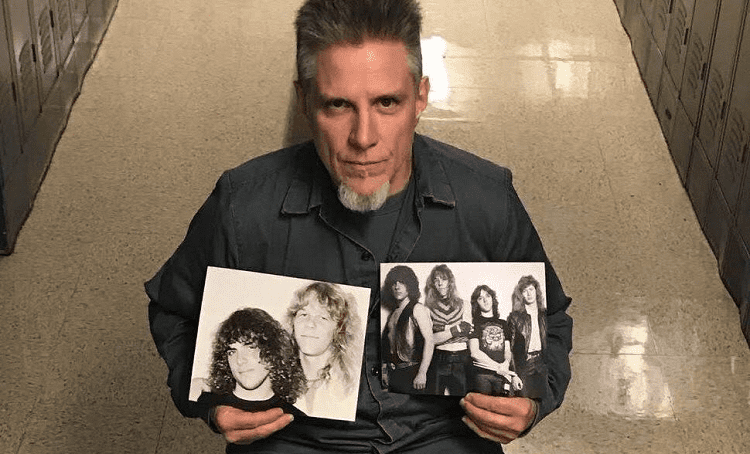 Ronald J.Govney is the original bass player for Metallica and a member of Hetlfied's first garage band, 'Leather Charm.' After Metallica, he played in the band Phantasm.
Metallica Early Days
It all started with an LA Recycler newspaper advertisement posted by drummer Lars Ulrich in 1981, to which James Hetfield responded. Soon they recruited Ron McGonvey to play Bass and Dave Mustaine to play lead guitar. The name 'Metallica' comes from a blend of names suggested by Lars, with the final tip from fellow metal musician Ron Quintana.

Metallica quickly became notorious in the underground LA scene due to their live shows and the successful tape-trading of their first demo, 'No Life 'Til Leather.' After randomly listening to Cliff Burton play a bass solo in a club, they convinced him to join the band.
The band's faster and more aggressive approach to metal, groovy riffs, and Mustaine's almost virtuoso shredding got them their first record deal. The famous Mustaine accident that got him kicked out for being drunk and aggressive paved the way for Kirk Hammett right before the band set foot for the first time in a big studio.
The best way to tell the story of Metallica is through their creations. Every album holds a piece of history and events that shaped the sound of a generation of Metal. I know all of the albums back and forth and will try to dissect them musically as best as possible. 
Kill Em All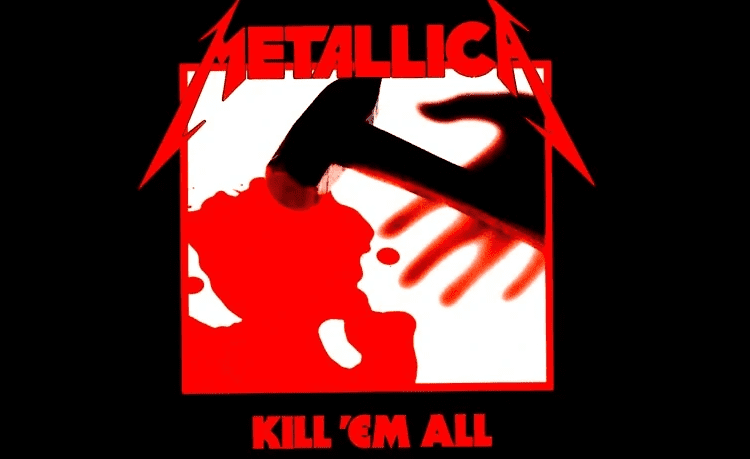 The band's first studio album is the first true Thrash Metal classic. The Metallica debut album was released on July 25, 1983, marking the peak of the band's early years.
The album was recorded at Rochester Studio, New York, and produced by Paul Curcio under the indie label Megaforce. Originally the Album was 'Metal Up Your Ass' but was changed due to distributors fearing the title and over would diminish the album's commercial success.
Epic tracks like 'Seek and Destroy' and 'The Four Horsemen' are among the band's biggest tracks and are still a part of their live shows. Among many praises, being called the 'Speed Metal Prototype' Album and one of the fastest and heaviest ever recorded sealed the album's legacy as the quintessential Thrash record.
Musically the album is completely different from what metal bands were doing at the time. The first track, 'Hit The Lights, ' immediately sets the album's tone with the fast guitar riff and drum.
A young James Hetfield, you will hear sounds very different and much more aggressive to the now Melodic singer. The same goes for Kirk, who opted for fast shredding solos rather than melodies.
This was the third Metallica Album I got into as it's much more aggressive sounding than what they did in the 90s.
Ride The lightning
One year after their debut album, Metallica released on July 27, 1984, 'Ride the Lightning.' The record took the band's success and saw a more complex composition style emerge. 
The album was recorded at Sweet Silence Studios in Copenhagen, Denmark, and produced by Flemming Rasmussen under the loyal Megaforce Records label. The name and cover art are inspired by a famous passage in Stephen King's novel 'The Stand,' referring to execution by electric chair. 
Beyond the fast tempos and heavy riffs of songs like Ride the Lighting and Creeping death, the band explored their first attempt at a ballad with the single 'Fade to Black.
The deep lyrics, acoustic guitars, and now legendary melodic solos laid the ground for an evolved group. One of the many moments that stand out is the Bass Riff on "For Whom The Bell Tolls."
When I first heard the album from start to finish, I was impressed with how well Metallica fitted catchy melodies to the groovy music. The guitar solos of the album, even though they are still primarily fast ones, always have a section where they follow a thematic melody. The songwriting is also more profound, with some tunes discussing the inner struggles of the band members.
Metallica – For Whom the Bell Tolls (Live) [Cliff 'Em All]
Master of Puppets
The third and last album with Cliff Burton proved to be one of the biggest records of all time and a turning point for the band and thrash. 'Master of Puppets' is my personal favorite Metallica album. The band was at its best and had matured musically with possibly their best lineup ever.
The album was released on March 3, 1986, by the new, bigger label of the band, Elektra Records. It was recorded in the Sweet Silence Studios in Denmark with producer Flemming Rasmussen. One of the reasons the album turned out to be that influential is the consolidation of the band and their collaborators.
Long, intricate songs, heavy riffs, fast solos, and classically influenced sections turned Master of Puppets into a timeless work. The only single, the title track 'Master of Puppets," is a 9-minute-long masterpiece that blends complex time signatures, iconic riffs, meaningful lyrics, and Hetfield and Hammett Solos.
The instrumental "Orion" that features Burton Bass Solo and the midsection in 'Master of Puppets' is the bassist's last contribution to the band.
The album is the holy grail of Metal guitar for guitar players like myself. Burton's bass playing laid the foundation for many of the songs and made both guitarists think more melodically for solos and riffs.
The immediate shift from classically inspired melodies to heavy sections is a trademark of 80s Metallica. Even though the music evolved after each album, I regard this record as their best work.
The album had a 72-week run on the Billboard 200 album chart and was certified 6x Platinum by RIAA. It seemed Metallica had reached its peak when Cliff Burton passed away in a bus Accident mid-tour, and the band had to go back and audition for a new member.
And Justice For All
After two years of auditioning, Jason Newsted was chosen to be Cliff's successor, and work for a new album started immediately. With plenty of ready material, the band has to take up the courage and finish what they had started without the help of Cliff.
The band wanted to do something complex, break the metal barriers, and evolve musically. 'And Justice For All' brought a new Metallica with a new sound. The involvement of Ulrich and Hetfield in the production added to a new, almost progressive rock-like sound.
After years of studying and finally learning all the album's songs, my opinion is that they didn't manage to achieve 100% of what they were after. Even though some songs became legendary, other tracks were too long and complex and lost focus.
The album was recorded in One on One studios in LA and took much longer to record than the previous ones. The recording lasted from January to May. The first bump on the road was the replacement of Mike Clink, who Metallica originally hired before Rasmussen for his success with Guns n' Roses. 
Epic tracks like 'One' and the Cliff Burton Dedicated instrumental 'To Live is To Die'' are among the many great songs. The band won their first Grammy Award for Best Metal Performance with 'One' and that iconic music video all Metallica fans remember. When I was a child, I was scared at first of this dark music video until I truly understood what it was about.
Metallica: One (Official Music Video)
This Album is probably the most debated sound-wise. The harsh truth is that Jason Newsted's bass is barely audible as Lars Ulrich internationally lowered it in the mix to have the drums sound better. On the other hand, lyrically, the album is probably the most sophisticated Metallica one.
The Black Album
The Black Album is the turning point of the band and the most commercially successful Metallica Album of all time. This album single handily brought Metal to the mainstream and is responsible for introducing me to Metallica.
The official name of the album is Metallica, yet it was known as The Black Album due to its almost plain black cover. The record was released on August 12, 1991, and took more than eight months to record and produce. The result is a total masterpiece production from the band and team that managed to blend Metal with more accessible hooks and melodies.
The newly appointed producer, Bob Rock, evolved the Metallica sound into a slower, more refined, catchy one. Drifting away from the fast-speed metal genre they helped develop meant many fans would be disappointed and brand the band as commercial.
However, it brought more fans to the band than expected, turning them into the biggest rock act of the moment worldwide.
My opinion on the Album is that it's a natural product of the Band maturing musically and wanting to attract a new crowd. They did that exceptionally well and got even pop fans to listen to Metal. Most of my friends who listen to mainstream pop don't know "Master of Puppets' but know 'Enter Sandman.'
The iconic ballads 'Nothing Else Matters' and 'The Unforgiven,' along with heavy, catchy tunes "Enter Sandman" and "Sad But True' were all singles of this monumental record. The album was certified 16x platinum by RIAA and is the fourth release in American history to enter the 550-week milestone on the Billboard 200.
Load, Reload, and St. Anger
Load and Reload marked the 6th and 7th studio albums of the band. Both albums opted for a different hard rock approach and included many covers alongside original tracks.
Load was released June 4, 1996, after years of touring globally, promoting the successful Black Album. Reload followed the next year, continuing the new Metallica style. Southern rock and country started to influence their sound more. Reload would be the be last studio album to feature Jason Newstead on bass, who left the band in 2001.
James Hetfield, I believe, was the primary influence on this new Metallica sound as he covered many of the songs from his inspirations, such as Thin Lizzy, Bob Segger, etc.
On June 5, 2003, the band released 'St. Anger' in a completely experimental phase, where their long-term producer Bob Rock Played Bass. The recording spanned almost two years with Hetfield fighting alcohol and drug addiction. 
Even though the album did well commercially, the experimental songwriting and sounds, especially the snare drum tone, put the album in a love and hate relationship with fans. 
As a lifelong fan myself, my stand on it is that the songwriting is excellent, but the intent of finding a new sound ended in creating a drift between the music and fans. If you take every song from St. Anger and record it with the sound of the 'Black Album' or 'Master of Puppets,' you would probably get another masterpiece. 
Death Magnetic
Death Magnetic is the best example of Modern Metallica. Released on September 12, 2008, the album marked a return to their heavy sound. 
This was the first album to feature Trujillo on bass and Rick Rubin as producer. It was recorded for two years in different LA studios. The complex compositions, extended solos and instrumentals made it the first old-school Metallica album in more than a decade.
The song "The Day That Never Comes" brings back the melodic solos, and clean guitars, followed by a heavy ending. You can also hear some Spanish guitar influenced riffs that most probably were brought in by Trujillo
For me, the release of this album meant that the old Metallica was back. All the members seem to give their best effort to combine catchy melodies with iconic riffs and solos.
What I don't especially like about the album is the guitar solos. Kirk Hammett became notorious for relying too much on his Wah Wah pedal for all his work after "The Black Album.'
The album had its controversy on the mixing part. During those years, what is now called 'The Loudness Wars" was at its peak. Many bands tended to compress their songs much so that they were loud. The negative side was the song's lost their dynamics and sounded squashed. 
'Death Magnetic' debuted at 1# on the Billboard 200, making it the fifth Metallica album in a row to do so.
Lulu & Hardwired… to Self-Destruct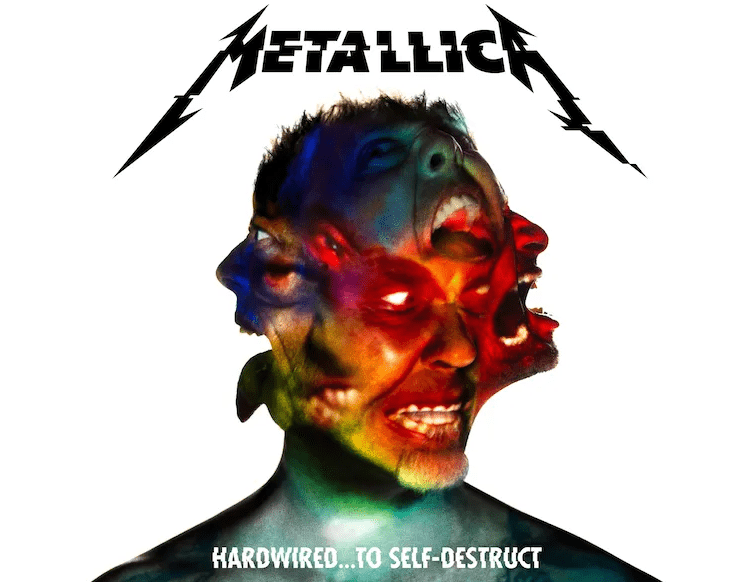 Lulu is, without a doubt, the most unexpected album. A collaboration between Lou Reed and Metallica, the double album was released on October 31, 2011. This is probably their 'weirdest' work through all the Metallica band history.
'Lulu' is as experimental as a Metallica album ever dared to be and didn't receive the commercial success of previous albums. Considering the band's position as legendary at the time, 'Lulu' managed to confuse fans more than St. Anger ever did. It's mostly a re-recording of unreleased Lou Reed songs, some of which were composed for a theatre play called Lulu. 
Most Metallica fans will agree with me that this is not the Metallica album they expected and probably have not heard most tracks on it.
The latest Metallica album, 'Hardwired… to Self-Destruct', is a record that screams Metallica. It had the same effect that 'Death Magnetic had on fans. After a decade of question marks and experiments, Metallica was back again.
Heavy riffs, fast grooves, and solos mark this complex album. The album was and is delight-packed with exciting moments for me and every Metallica fan. The album topped the Billboard 200, making it the sixth Metallica studio album in a row.
Live Performances and Notable Moments
The famous Symphony and Metallica live record was filmed during the Load and Reload period. The blend of orchestral arrangement gave existing songs a new meaning and opened the guide for a few new tracks.
Metallica – No Leaf Clover (Official Music Video)
An epic Metallica concert was "Monster of Rock" in Moscow in 1991. The crowd was estimated at over 1.6 million persons. It's the epitome of a monstrous metal concert. 
Metallica – Enter Sandman Live Moscow 1991 HD
Seatle 89' is the heaviest live album from the band. An era in which Master of Puppets was their latest album meant the band's live performances were filled with energy.
Metallica – Master Of Puppets [Seattle 1989] HD
The 'Big 4' is a glorious moment in Metal history where Metallica, Megadeth, Anthrax, and Slayer performed together in a series of concerts.
Metallica: Am I Evil? (Live w/ The Big 4) [The Big 4: Live in Sofia, Bulgaria]
Metallica Awards
Metallica has a total of 103 awards out of 168. They are the most awarded Metal band ever. Out of all the awards, getting inducted into the Rock n Roll hall of fame in 2009 while still being active is the highest prize a brand can have.
Metallica Discography
Metallica released ten studio albums, eight live albums, 43 singles, ten video albums, 42 music videos, one soundtrack album, one collaboration album, and three box sets. 
You can check out their detailed song list, albums, and credits on their allmusic page. 
Plans for the Future
Lars Ulrich recently stated that the band has 10 new songs ready for release, hinting at a new Metallica album. It's way too early, he said to be talking about that, but it will eventually come in the near future.
The Guitar Legacy of Metallica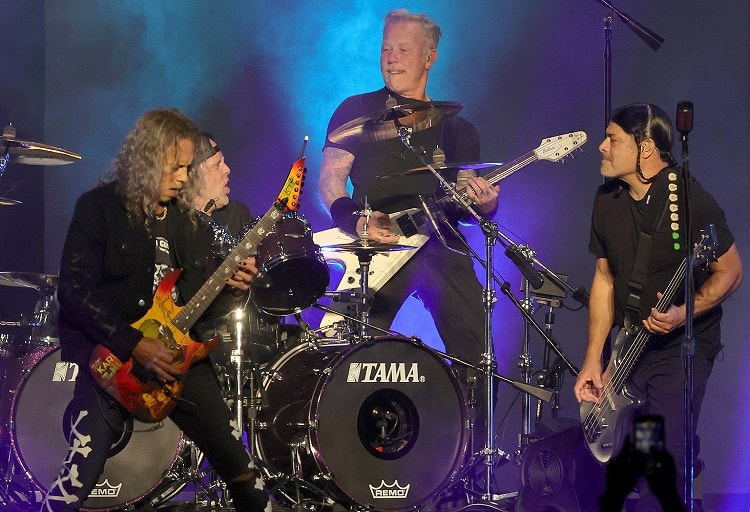 Beyond being arguably the biggest metal band, they are one of the most influential guitar bands. The combination of Hetfield Riffs and Hammet's Solos got me and many others to play guitar.
Kirk's solos are legendary due to the single elements and the thematic melodies he uses. I'm a big fan of Kirk, yet I admit his career is full of hits and misses. He did exceptionally well on some albums; there are no guitar solos that really stand out on others.
On the other hand, Hetfield is one of the most consistent guitarists of our era. Except for Lulu, no Metallica album has poor guitar riffs. Even 'bad' songs have great riffs. If you want a challenge, try to play Master Of Puppets while down-picking it as he does.
I would argue that Hetfield is the real creative genius and the band completes the bigger picture of what he brings to the table.
FAQs
Question: Why did Jason Newsted Leave Metallica?
Answer: According to different interviews, Newsted insists he left Metallica for many reasons. The main one was that he had little to no creative input in the band and that Hetfield was against his solo project 'Echobrain.'
Newsted never revealed the whole story and said he would never share all the details.
Question: How many #1 Songs did Metallica have?
Answer: Metallica has had 10 number 1 songs on the mainstream rock charts. 'Enter Sandman' is the most streamed track on Spotify and their biggest radio hit worldwide.
Question: What's Metallica's Net Worth?
Answer: The overall net value of the band is over 900 Million USD. The member with the highest value is the drummer Lars Ulrich.
• Lars Ulrich's Net Worth: $350 Million. 
• James Hetfield's Net worth: $300 Million 
• Robert Trujillo's Net Worth: $30 Million 
• Kirk Hammett's Net Worth: $210 Million 
Bottom Line: How to Get Started with Metallica?
Metallica was the first band that bridged my musical taste from rock to metal and later to other genres. The blend of catchy melodies with intricate compositions and heavy riffs was accessible even for a teenager who had never been into rock music.

If you're just starting with the band, then it's to go through their catalog and find the tracks you resonate with. If you come from the pop or soft rock world, The Black Album is the best place to start. If you're already a metal hear, any of the old albums will be enough to get you hooked.
Sources: