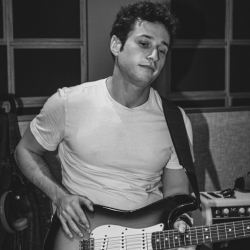 Latest posts by Pietro Venza
(see all)
Guns N' Roses represents the pinnacle of what a Rock band should be. If I had only one hour to explain to aliens what Rock N' Roll is, I would play "Appetite for Destruction" for them. I'm pretty sure they would be satisfied.
I still remember the first time I watched the bootlegged "Live at The Ritz" video from 1988. It was the early days of YouTube, I was in my teens, and I had never seen anything like that in my whole life. Right after that, I started my first band (I play the guitar) to play GNR covers because, like many people, I wanted to be part of the excitement that I saw.
Maybe you don't care about that, but almost twenty years later, music is my job, and I owe that to the inspiration I got from watching Axl Rose, Slash, Izzy Stradlin, Duff McKagan, and Steven Adler play.
I'm sure I'm not the only one who had this kind of experience with this fantastic and iconic Rock band. So, as a tribute to their legacy, let's look back at the history of Guns N' Roses.
Early Years
Guns N' Roses was formed in 1985 in Los Angeles as part of the vibrant 80s Hard Rock scene with its prominent "operational center" on the famous Sunset Strip. The band results from a merge between two already existing groups on the Los Angeles scene: L.A. Guns and Hollywood Rose. Almost all of the five original members of GNR were former members of one of these two bands.
Out of the five historical members of Guns N' Roses, only Izzy Stradlin (rhythm guitar) and Axl Rose (lead vocals) were part of the group when it initially started. The first formation had Tracii Guns on lead guitar, Rob Gardner on drums, and Ole Beich on bass.
After only the first two rehearsals, Rose fired Beach, and Duff McKagan joined the band as the bass player. Slash replaced Tracii Guns following an argument with Axl Rose.
Finally, when Gardner quit the band, he was replaced by Steven Adler on drums. So, in June 1985, the historical lineup of Guns N' Roses was born.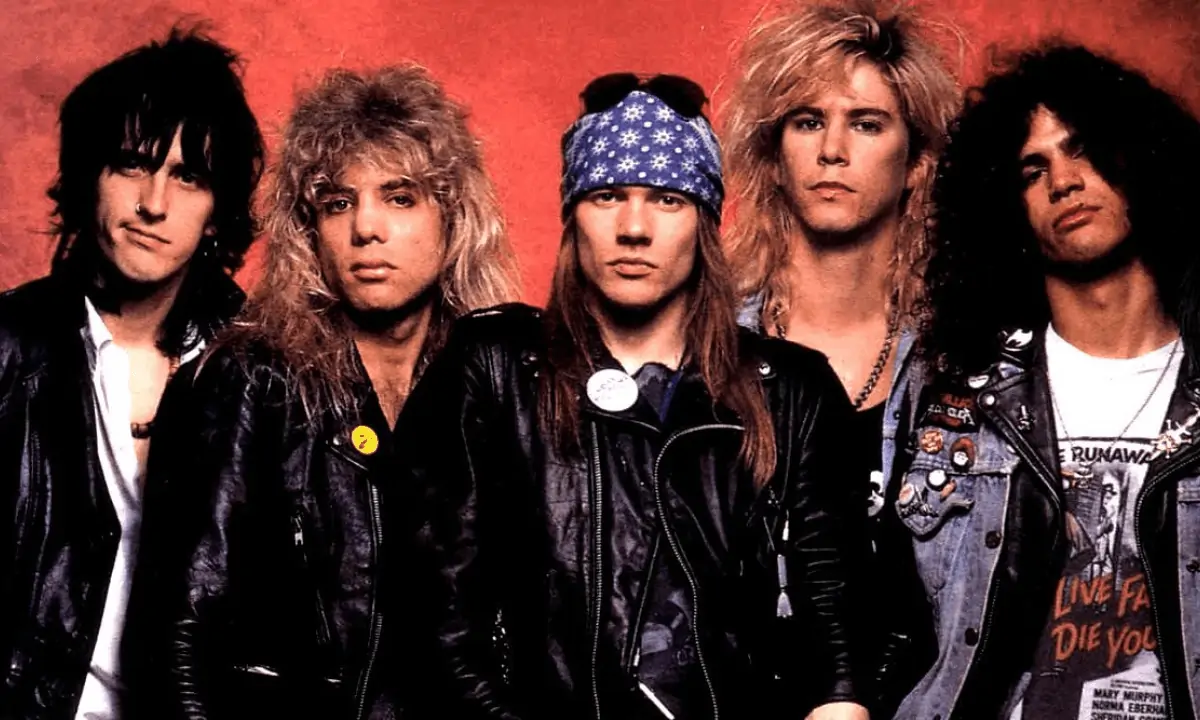 Like many of the good bands on the LA scene back in the day, Guns N' Roses started building their fanbase by playing numerous live shows in renowned Hollywood clubs like The Troubadour and The Roxy.
So, in 1986, only one year after the band formed, they signed a contract with Geffen Records. Following the signing of the agreement, the band temporarily retired from the live music scene to focus on recording what later became their debut album: "Appetite for Destruction".
Success and Fame: "Appetite for Destruction"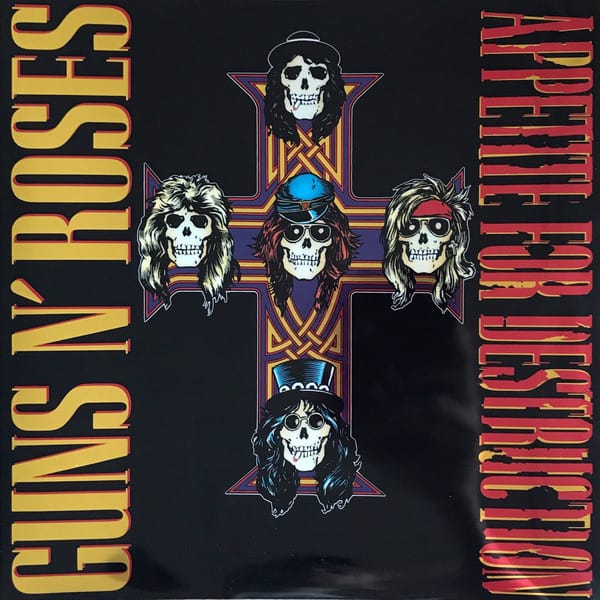 "Appetite for Destruction" became the best-selling debut album in the United States and the eleventh best-selling all-time album (in the USA). Still, when the band released the album in 1987, it didn't perform well at all.
"It's So Easy" was released as the band's first single in the UK with little success, while  "Welcome to the Jungle" was issued with an accompanying video in the US. Anyway, the album failed to get its deserved notoriety.
Things started to change when the founder of Geffen Records, David Geffen himself, personally convinced MTV executives to give "Welcome to the Jungle" some airplay during the network's after-hours rotations. At this point, Heavy Metal and Hard Rock fans in the United States started to notice GNR.
The actual central turning point in the band's career came when they released "Sweet Child o' Mine" as a single in June 1988, more than a year after the album was released. The sweeter nature of this iconic love song widened the band's appeal to an audience much broader than hardcore Metal fans only, resulting in it reaching the number one spot on the Billboard Top 100. "Sweet Child o' Mine" remains the only Guns N' Roses song to achieve this goal.
After the success of their debut album, GNR embarked on a world tour that lasted sixteen months. During the Appetite for Destruction Tour, the group was the opening act for legendary bands such as The Cult and Motley Crue.
Guns N' Roses gained incredible popularity around this time. Interestingly, when a Rolling Stone reporter came to interview Aerosmith before a show where GNR was opening for them, the LA band ended up on the magazine's cover instead of the main act.
"G N' R Lies", Controversies, and Drugs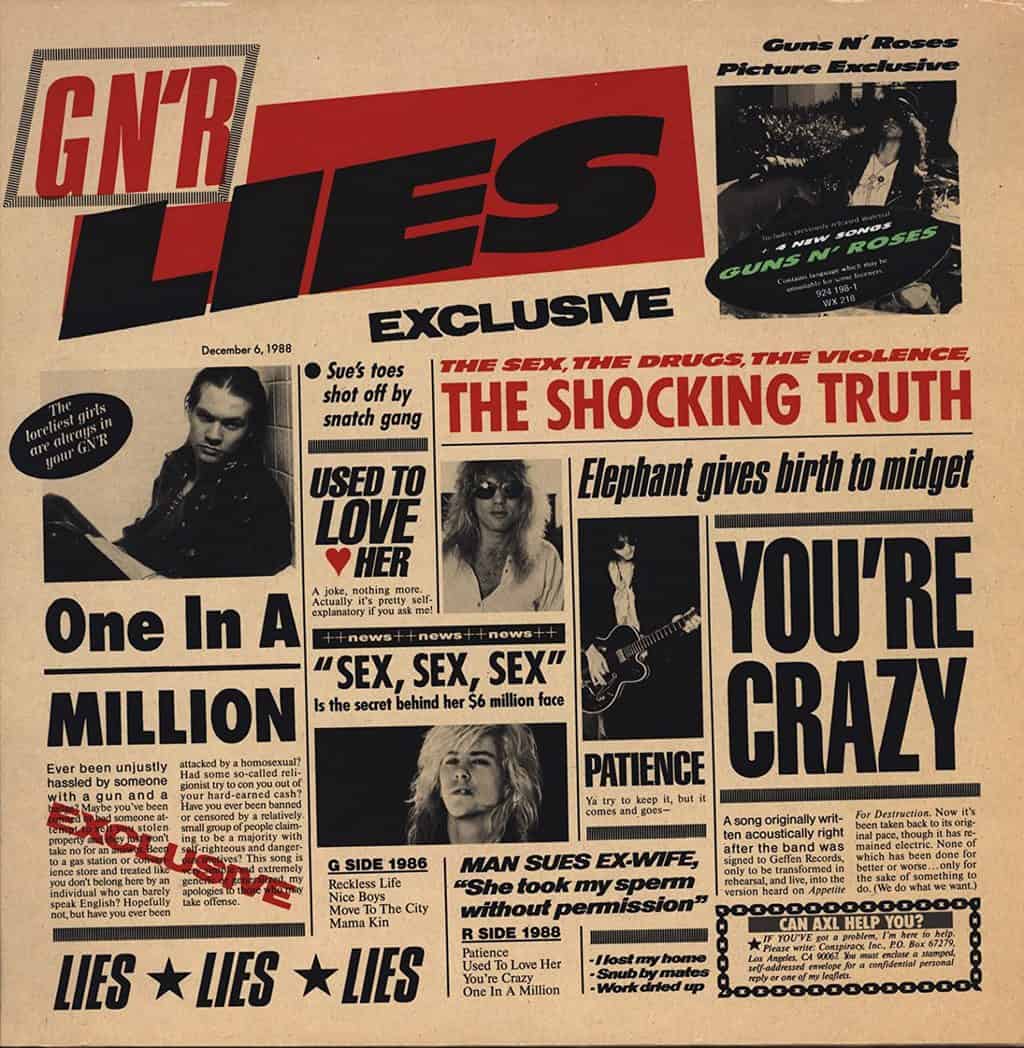 The next studio venture of the band was the acoustic album "G N' R Lies". The most well-known song from this 1988 record has to be "Patience". Released as the album's first and only single, it peaked at number four on the US charts.
Another song from "G N' R Lies" gained more attention in the public eye for more unpleasant reasons. "One in a Million" was the reason that caused the band to receive accusations of racism, homophobia, and xenophobia.
Guns N' Roses frontman Axl Rose defended himself, saying that people should contextualize the meaning of his words. He also quoted other artists and songwriters who had already used similar words.
Socially controversial subjects were not the only issues within the band. During this time, most of the band started to be addicted to drugs. Guns N' Roses were on their way to becoming the "world's most dangerous band".
Rose was the only one who didn't have this problem, so during a 1989 show at the LA Coliseum, the band's lead singer announced that GNR would no longer be performing if certain members of the group didn't stop "dancing with Mr. Brownstone", quoting a song from their debut album. That was an apparent reference to Guns N' Roses' increasing drug use problem.
Although unquestionably strict and overall not-so-polite, this statement temporarily solved the problem for most band members, who managed to keep their drug problems under control.
Still, drummer Steven Adler wasn't able to do what his bandmates did, and, as a result, Guns N' Roses' manager fired him in 1990. Matt Sorum, who had already briefly played with The Cure, took his place behind the drums during the recording process of the "Use Your Illusions" albums.
"Use Your Illusions I", "Use Your Illusions II", and the Use Your Illusion Tour
After the lineup change, which included keyboardist Dizzy Reed joining the band in 1990, Guns N' Roses concluded the recording process of their soon-to-be successful double album: "Use Your Illusions" I & II, released in 1991.
These records represent a massive change in the band's overall sound compared to their debut album. Guns N' Roses went from being a straight-ahead Rock N' Roll machine to a much more complex musical endeavor.
The group's basic formation of two guitars, bass, and drums was enriched with pianos, strings, choirs, and synthesizers. Songs like "Estranged" and "November Rain" are light years apart from "Welcome to the Jungle" and "Paradise City" in terms of sound.
"November Rain" reached number three on the US charts, becoming the most extended single (8:59) ever to reach the Billboard Top 10. Although very much appreciated and commercially successful, this new sound was entirely due to Axl Rose's vision alone.
During this time, the band also started to lose chemistry. Rhythm guitar player Izzy Stradlin abruptly left the band in 1991 due to his desire to stick to his newfound sobriety and the increasingly challenging relationship with Rose.
Los Angeles guitarist Gilby Clarke replaced him. So, Guns N' Roses was now a six-piece band (with the addition of Dizzy Reed on keys) with only three-sixth of the original members remaining.
The Use Your Illusion Tour lasted for twenty-eight months, and between January 1991 and July 1993, GNR played 194 in 27 countries worldwide, which was a world record.
While touring, the band played at the famous Freddy Mercury Tribute Concert in Wembley Stadium, London (UK). The band's participation in this particular event was also a response to the earlier accusations of homophobia regarding "One in a Million", as Queen's guitarist Brian May reportedly said when activist groups demanded that the band be dropped from the bill.
The group played "Paradise City" and Bob Dylan's "Knocking on Heaven's Door" during this iconic concert. Together with Queen, Slash performed a solo on "Tie Your Mother Down", while Axl joined Elton John in a touching rendition of "Bohemian Rhapsody".
On July 17, 1993, the tour ended in Buenos Aires (Argentina), and this was the last concert that Matt Sorum, Gilby Clarke, and Slash (until 2016) ever played with Guns N' Roses.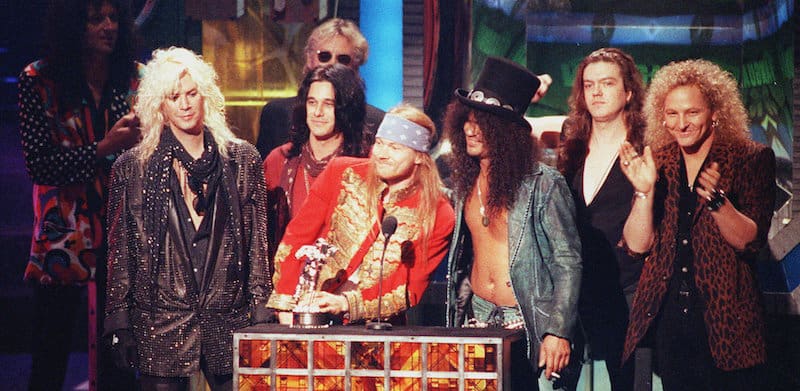 "The Spaghetti Incident", "Sympathy For The Devil", and Breakup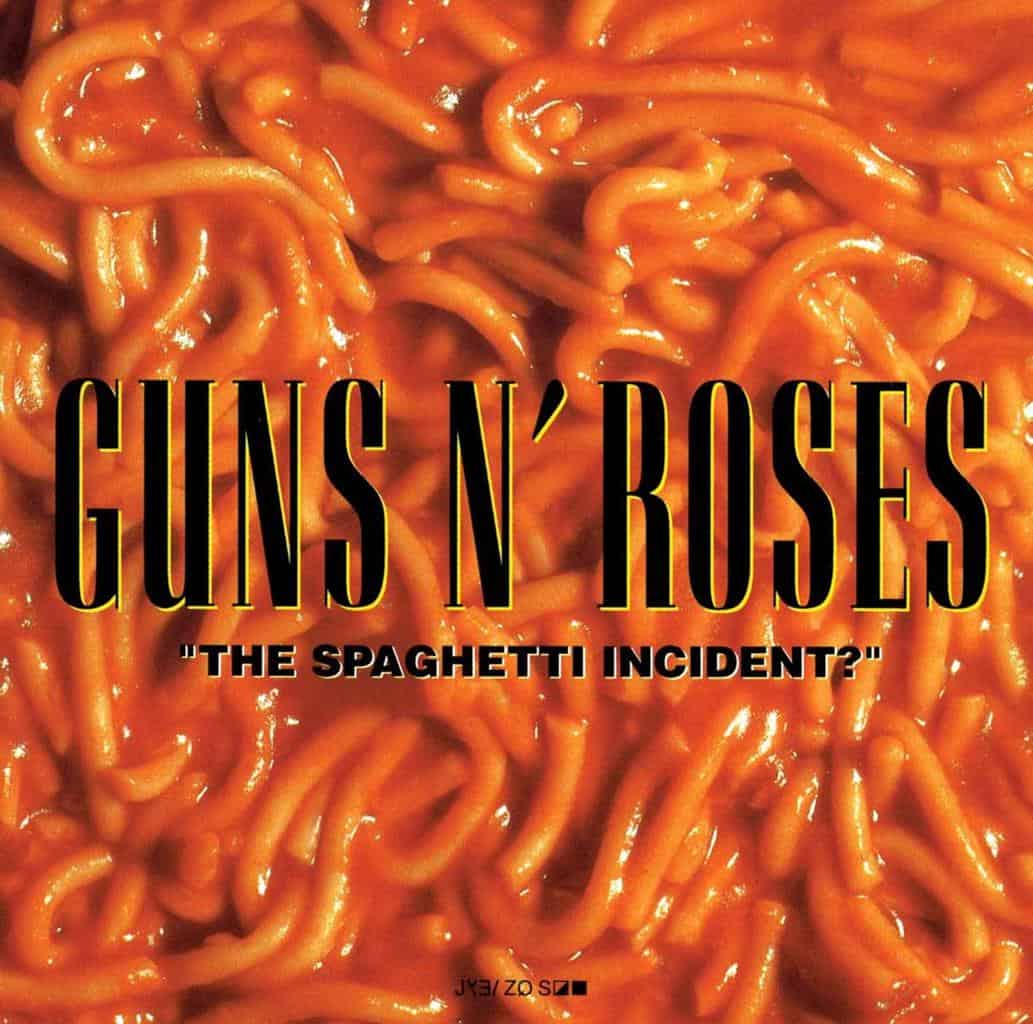 In late 1993, the band released a cover album named "The Spaghetti Incident". Guns N' Roses wanted this record to be a tribute to the bands that GNR found inspirational. The group also wanted to tribute to said bands with the revenue they would get from royalties.
There was no touring supporting "The Spaghetti Incident", which remains the least commercially successful album that Guns N' Roses ever made. Between 1994 and 1996, the band was working on original material for their upcoming album, but Axl and the rest of the band couldn't agree on the new songs.
Many people, including Slash himself, credit the end of the band's original formation to a specific event. In 1994, GNR released a cover of the famous Rolling Stones song "Sympathy for the Devil". During the recording process of this song, lead singer Axl Rose allegedly allowed guitarist Paul Tobias to overdub Slash's guitar solo tracks without consulting his band members first.
This important event, paired with increasing accumulated tension in Rose's relationship with Slash, caused Guns N' Roses's lead guitar player to leave the band in 1996. Bass player Duff McKagan and drummer Matt Sorum soon followed in 1997.
1998 – 2015: "Chinese Democracy" and ever-changing Lineups
After the departure of Steven Adler, Izzy Stradlin, Slash, and Duff McKagan, Axl Rose was the only original member of the band still left in Guns N' Roses, which continued to perform under this name, although constantly changing the lineup.
During this period, some of the official band members were: Paul Tobias (lead and rhythm guitar), Robin Finck (lead and rhythm guitar), Josh Freese (drums and percussion), Tommy Stinson (bass), Chris Pitman (keys), Buckethead (lead and rhythm guitar), Brain (drums and percussion), Bumblefoot (lead and rhythm guitar), Frank Ferrer (drums), and DJ Ashba (lead and rhythm guitar). Keyboard player Dizzy Reed remained in the group throughout this entire time (he still is in the band).
Guns N' Roses released the album "Chinese Democracy" in 2008, more than 15 years after their last original record. Despite debuting at number three on the Billboard charts, the album underperformed industry expectations and was included in many "worst-of" lists.
"Chinese Democracy" was also part of some "best-of" lists, which proves the highly controversial nature of this Guns N' Roses album, with only one original band member involved.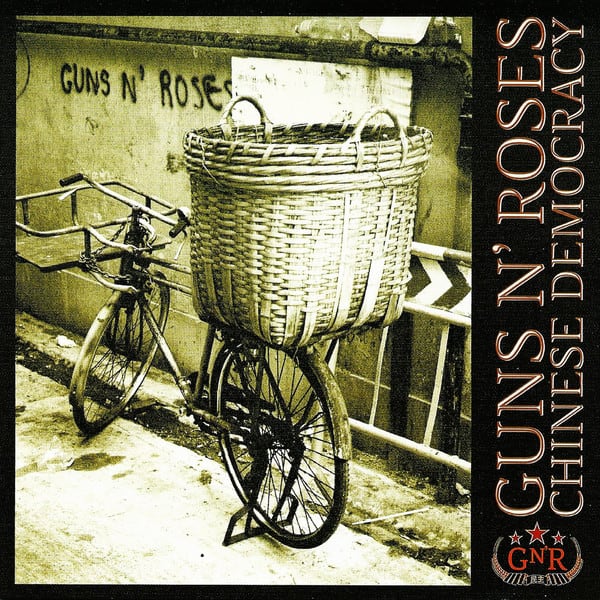 2015 – Present: The "Impossible" Reunion
After the band's original members parted in the late 90s, rumors of a possible reunion were always happening. Still, both Axl Rose and Slash always confirmed that such a thing would have been impossible. Rose himself, during a 2012 interview, when asked about a possible Guns N' Roses original lineup reunion, replied: "Not in this lifetime".
Well, after Slash and Duff McKagan reunited with Axl Rose to headline the Coachella festival in 2016, the newly re-formed band announced the "Not In This Lifetime…Tour", and three-fifths of the original Guns N' Roses formation started performing again after more than twenty years from their last live show together.
The tour lasted from April 2016 to November 2019, but in 2020, the band started their "Guns N' Roses 2020 Tour", which is still ongoing.
The current official lineup of GNR includes:
Axl Rose: lead vocals
Slash: guitar
Duff McKagan: bass
Dizzy Reed: keyboards
Richard Fortus: guitar
Frank Ferrer: drums
Melissa Reese: synths
In 2021 Guns N' Roses released two new singles, thirteen years after releasing "Chinese Democracy". The songs "Absurd" and "Hard Skool" display a more contemporary sound for Guns N' Roses, yet the band still retained a similar feel to their original and glorious sound.
After releasing these songs, Slash said that the band was (and still is) working on new material, confirming that two of these singles will probably be released by June of this year.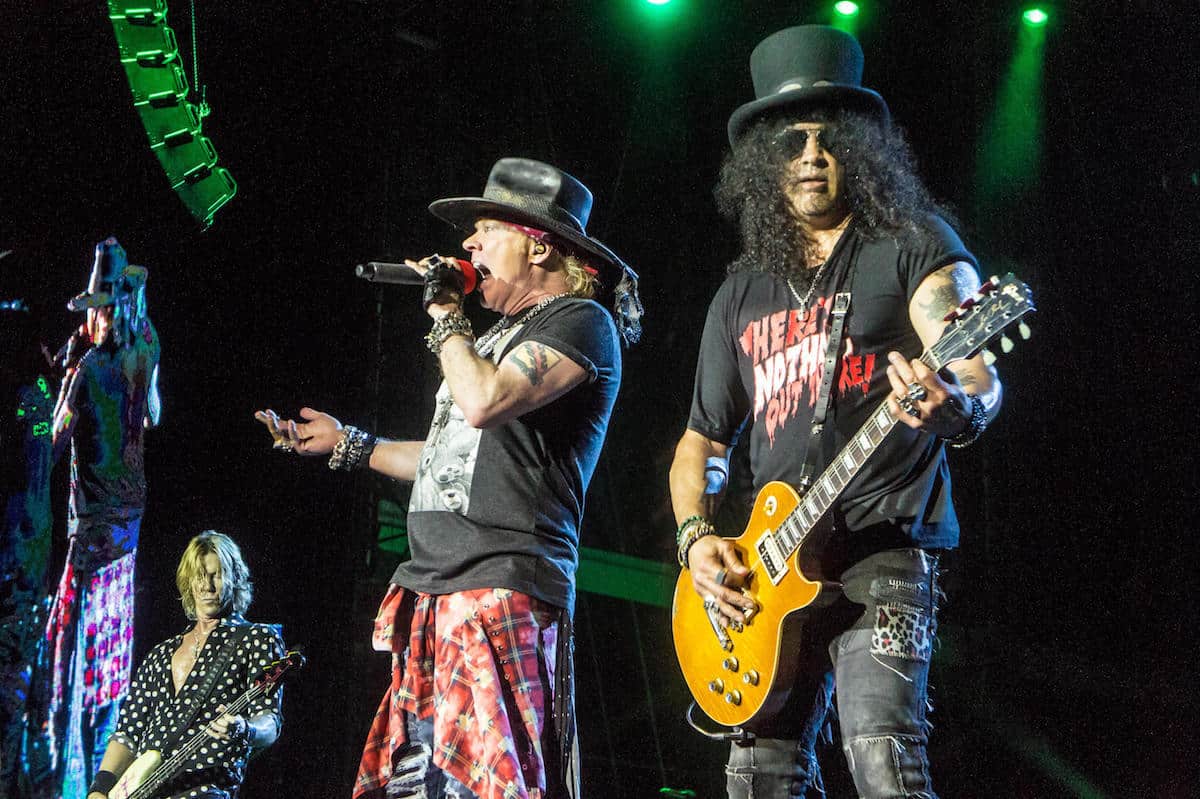 FAQs
Let me answer some of the questions you might have on your mind after reading this article.
Question: What are the best Guns N' Roses songs?
Answer: Guns N' Roses released many beautiful songs throughout the years, and I would say that most of them have reached iconic status. Indeed the above-mentioned "Sweet Child o' Mine" is the most commercially successful.

"Welcome to the Jungle", "Paradise City", "Rocket Queen", "Mr. Brownstone", and "Nightrain" are all great tunes from their debut album.

The "Use Your Illusions" records gifted us some of their best songs (in my opinion), which include "November Rain", "Don't Cry", "Civil War", "Yesterdays", "You Could Be Mine" and my overall personal favorite Guns N' Roses song ever: "Estranged".
Question: Did any of the Guns N' Roses band members ever have side projects?
Answer: Yes, although I wouldn't call them "side" projects. Slash's Snakepit was Slash's band from 1994 until 2002, and they released two studio albums: "It's Five O'Clock Somewhere" in 1995 and "Ain't Life Grand" in 2000. Velvet Revolver was a commercially successful band from 2002 to 2008. Slash, Duff McKagan, and Matt Sorum were in it with guitarist Dave Kushner and lead vocalist Scott Weiland from Stone Temple Pilots.

The band released two albums: "Contraband" in 2004 and "Libertad" in 2007. From 2009 onwards, Slash also released music under his name, collaborating with the project "Slash featuring Myles Kennedy and The Conspirators". "Apocalyptic Love" (2012), "World one Fire" (2014), "Living the Dream" (2018), and "4" (2022) are the four studio albums released with this formation.
Question: Did Guns N' Roses win any awards?
Answer: Yes, they won: four American Music Awards from 1989 to 1992, four MTV Video Music Awards from 1988 to 1992, and two World Music Awards in 1993. In addition to these, the band's original lineup was inducted into the Rock N' Roll Hall of Fame in 2012.
Conclusion
Guns N' Roses is one of the most influential Rock bands to have ever existed, and the fact that they finally got together again after twenty years gives hope to Rock N' Roll fans worldwide.
The unbelievably powerful combination of the roaring sound of Axl Rose's voice and the massive tone of Slash's and Izzy Stradlin's guitars, backed by the hard-hitting and pumping rhythms of Duff McKagan on bass and Steven Adler (or Matt Sorum) on drums, forever changed the sound of music in the 20th century.
The "most dangerous band in the world" impacted my life, and I wasn't born when they released any of their classic albums. That has to mean something. Hopefully, they will keep playing and releasing new music for us to enjoy in the future.