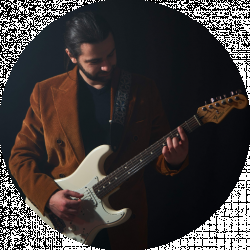 Latest posts by Altin Gjoni
(see all)
Arguably the most influential female singer-songwriter of all time, Joni Mitchell has touched millions of lives, including mine, and inspired generations. In this Joni Mitchell bio, I will detail a one-of-a-kind artist's life, challenges, style, and immortal music.
She is a master of words, a painter, and a virtuoso performer that astonished audiences with her vocal range and intricate folk, pop, rock, and jazz-influenced compositions.
When 'Blue' first came out in 1971, nothing that profound and groundbreaking had ever been written by any folk or rock female artist. At that time, for a woman songwriter to travel the world and write openly about her life experiences and feelings was not as easy as today.
Themes of longing, regret, courage, womanhood, joy, and love are recurring motives in her impressive body of work.w
Today, her intricate musicianship and masterful arrangement style are still different than everyone else's. I remember being a teenager during Christmas time and discovering the song 'River' from a local TV show. The lyrical depth and stunning vocal performance almost brought me to tears at a time when I was a dedicated metalhead.
As an idol of the 60s and 70s, Joni Mitchell's Bio and legacy tell the story of her Era.
Joni Mitchell Quick Facts
| | |
| --- | --- |
| Full Name | Roberta Joan 'Joni' Mitchell |
| Birth Date | November 7, 1943 |
| Birth Place | Fort Macleod, Alberta, Canada |
| Nationality | Canadian |
| Zodiac Sign | Scorpio |
| Children | 1 |
| Partner / Spouse | Chuck Mitchell, Larry Klein |
| Most Successful Album | Blue (!971) |
| Net Worth | $100 million |
| Social Media | Instagram, Twitter, Facebook |
| Website | jonimitchell.com |
| Awards | 10 Grammy Awards, Inducted in the Rock n' Roll hall of fame, Kennedy Center Honors, MusiCares Person of the Year 2022 |
| Last Updated | April 2022 |
Early Life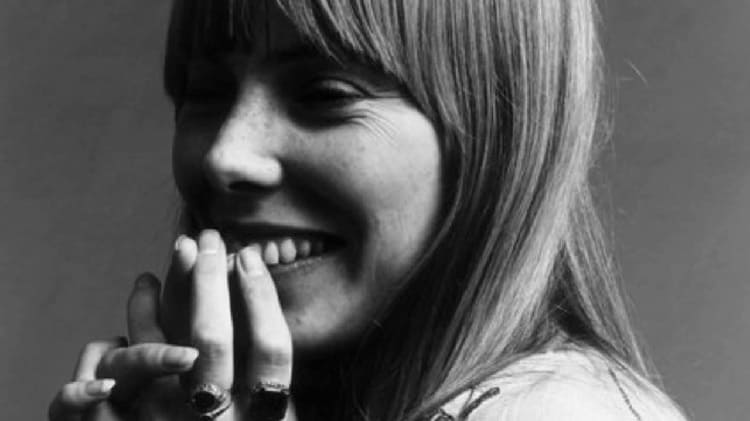 Roberta Joan 'Joni' Mitchell was born November 7, 1943, in Fort Macleod, Alberta, to Myrtle Marguerite (Scottish and Irish Ancestry) and William Andrew Anderson (Norwegian and Sani Ancestry).
Joni's mother was a teacher, while her father was a Royal Canadian Air Force flight lieutenant. Her father's career meant Joni often moved to different bases in western Canada and only settled in Saskatchewan when WWII ended.
Her first setback as a child was contracting a severe case of polio and being hospitalized for weeks. She started singing for other patients while being at the hospital.
After moving to Saskatoon, she started expressing interest in painting, athletics, and not much Academics. Around the same time, she took her first classical piano lessons and got stimulated by her Teacher to write poems.
With country music becoming popular, Joni wanted to learn guitar. Her mother disapproved of the country culture and first made her learn the ukulele; after a short while, Joni started learning guitar herself. Her special alternate tuning ideas originate from that era since Polio had left her left arm weak, and she couldn't fret chords.
Her main influences were Edith Piaf, Miles Davis, and the jazz band Lambert, Hendrics, and Ross. The jazz influence on her music comes from these records and continuously hanging around and playing in jazz bars.  At the time, she mainly sang at bonfires with her friends. Her first paid gig was on October 31, 1962, at one of the Jazz clubs in the city.
She left home to attend the Alberta College of art and dropped out after being disappointed by the university's priority on technical skills instead of creativity. Her music life at the time was focused on playing folk weekend gigs at her college and local venues.
Joni's art is all about freedom, and nothing about the songwriting and music is standard or goes by the book. As a self-taught musician who dropped out of classical guitar lessons, I can relate to Joni's feelings and decision of choosing her own creative path while struggling as a local gigging artist to pay the rent.
Joni Mitchell's Career & Albums
Joni Mitchell wrote her first song, "Day After Day," as she traveled to Ontario to start her career as a folk musician when she was 20 years old.
Having settled in Toronto and lacking the money to pay for musician union fees, she would play local gigs and work in a department store's women's wear section. She was not allowed to perform other songwriters' songs, so she started writing her own.
Chuck Mitchell, who would later marry her, conceived her to move to the US, where she could work at coffee houses. The most notable accomplishment of the time was the CVC television appearances on the show 'Let's Sing Out.' After her divorce, after only 2 years, she moved to NYC, where she would perform in coffeehouses and folk clubs.
Her songwriting was, from the start, as impressive as having other famous artists of the time record her songs.  Joni's first songs would end up first being recorded by other artists such as Juddy Collings and George Hamilton before she would.
If you're a musician, I would highly encourage you to stop at any song from the Albums below and try to learn it. If you're not one, open the lyrics to at least one song from an album to truly understand her work. My experience with Joni's songs is that the more I got into them, the more fascinated I was and longed for more.
Song to a Seagull (March 1968)
Joni's career changed when David Crosby walked into a bar she was playing and immediately connected her with the manager Ellio Roberts and eventually the label Reprise. Her first album, 'Song to a Seagull,' was recorded in that era with David Crosby contributing as a producer.
Blending her paintings as cover art with the music she wrote and recorded became the standard for all her works. She often said that she spends more time painting than most people realize.
The song I like the most  from the album is "Nathan la Franeer." The vocal performance gives me goosebumps while the guitar is haunting. Get ready for a challenge if you want to learn how to play it. Even today, 50 years after it was released, you won't find any similar song from a modern artist.
Clouds (May 1969)
Her Second LP, Cloud, came soon after. The Legendary Track "Both Sides, Now" is featured on the album along with her original artwork. 'Clouds' was Mitchell's breakthrough winning a Grammy Award For Best Folk Performance and reaching 31# on US Billboard 200.
The "Both Sides, Now" performance in this album is, in my opinion, the best recorded version of the song. She later recorded another version in her later career with a much different, less vocally challenging style.
The arrangement and recording quality on the Album are top-notch. Even though most songs feature few instruments, they make for a full sonic experience.
Ladies of the Canyon (April 1970)
Ladies of the Canyon features some of Joni's most successful songs. 'Big Yellow Taxi,' 'The Circle Game,' and the widely covered 'Woodstock' were part of this record.
'Woodstock' is an exciting track for her career as she dedicated it to the famous Woodstock festival she could not attend due to a scheduled TV appearance.
Multiple artists have recorded the song hundreds of times, including CSNY, who recorded the song before Mitchell.  For me, that song is proof of how incredible of a songwriter Joni was at the time. The lyrics to "Woodstock" give the best image of an event she didn't even attend.
By that Time, Joni had reached mainstream success, with the album reaching 27# on US BIllboard 200.
Blue (June 1971)
Joni's 4th studio album, 'Blue,' is arguably the best singer-songwriter album ever written. The album is dedicated to the end of the hippie era, her travels, relationships, and persona. No other artist, especially a women artist, had expressed feelings so directly without any defense.
Musically, Blues features few instruments and strips down most of the song to her piano and guitar playing with barely any overdubs. Her singing had reached her best, and the big octave jumps she does on songs like 'River and 'Blue'  still astonish listeners. The high note she sings on 'Blue' gives me shivers every time from the sheer beauty and virtuosity.
The lyrics to 'Little Green' are an open confession to the child she gave for adoption, while 'Carey' encompasses her travels in Europe. Full of joy and longing, 'Blue' is perhaps the best representation of Joni's music and poetry. I recommend you first listen to the album from start to finish and then stop to read the lyrics.
The Album reached 15# on the US charts and 3rd on the UK Album charts. Today, it's considered the most important album by any female artist, and Rolling Stones ranked it 3rd on the 500 Greatest Albums list.
For the Roses (November 1972)
Her 5th album continued to do well commercially and featured one hit single, "You Turn Me On, I'm a Radio." The song attacked the concept of having radio-friendly songs. In this album, she includes songs for her lover at the time, James Taylor.
The album featured more intricate instrumentation with many session musicians involved in the recording. 'For the Roses' Peaked at 11 on the US Billboard chart. The recording has been included in the National Recording Registry.
Court and Spark (January 1974)
Court and Spark is the most commercially successful Joni Mitchell album. The album reached number 1 in the US and number 2 in Canada and became certified as double platinum.
The album is the first in which Joni started to shift more toward Jazz and took 2 years to write and record. Of the many hits, "Help Me"  and "Down to You"  are some of the most famous. Big names like Crosby, Nash and a team session greats were involved in the album's making.
If this Album came out today, I am convinced it would still be a major success due to the very catchy melodies and still relevant lyrics.
The Hissing of Summer (November 1975).
Started only as a recording session for her demos, but Joni's 7th studio album ended up being an intricate, jazz-influenced, and masterfully arranged album.
The album was not received well at first, yet in time it earned her another Grammy Award in 1977 for Best Female Pop Vocal. Lyrically it continued the deep and meaningful emotional landscape; musically, it was different than the previous albums.
As a Joni fan, I took my time to really start liking this Album. At the time I discovered it, I was not much into Jazz and found it challenging to follow some songs.
The album managed to rank 4th on US BIllboard 200, continuing her streak of top 10 albums.
Hejira (November 1976)
'Hejira' is an album inspired by Joni Mitchell's several trips of the time and the short romantic relationships.  Musically it orients toward jazz and features a team of all starts jazz musicians.
Hejira holds a special place in Joni's discography as the musicians involved in the recording were some of the best. Jacco Pastorius's fretless bass and the genius Larry Carlton guitar arrangements can be heard perfectly in the track 'Coyote'.
'Amelia' is perhaps the most well-known song on this album that I recommend you listen to first.  Joni blends her 'unusual' tunning and melodies in the genius Jazz arrangement.
The album did not do as well as its predecessors, yet it became more popular over time.
Don Juan's Reckless Daughter (December 1977)
This experimental album received mixed reviews. Joni herself admitted that she let loose on this album from wanting to complete her deal with the record label Asylum Records.
The main influence of the album is jazz fusion, which was very popular at the time. Weather Report was still a crucial contribution to the music. The album peaked at the 25th position in the US.
Mingus (June 13, 1979)
Her 10th studio Album is the culmination of Joni's jazz-influenced writing. The album was named after jazz composer Charles Mingus, who collaborated with Joni and passed away just before the album's release.
'Mingus' takes Joni's jazz influence to the extreme and blends in experimental elements in most tracks. The all-star line-up of Jazz musicians would still be critical on this record as she hired the jazz fusion band Weather Report. If you are into Jazz, you will love this album.
'Goodbye Pork Pie Hat' is a Mingus composed track with Joni's lyrics featured on the B side of the album.
The album topped the 17th position on the US charts of the time.
Wild Things Run Fast (October 1982)
Her 11th album would bring back the pop-oriented singing and leave out jazz influences. She was inspired by rock bands like Steely Dan and The Police. Ultimately this resulted in being a more groovy album than the previous. The album only reached number 25 on the US chart.
Dog Eat Dog (October 1985)
The Album is the only one in which Jony doesn't play guitar and only relies and piano, keys, and synthesizers. Her husband at the time, bassist Larry Klein, played an important role and wrote the music to 2 songs of the albums.
I would say this is the most experimental Joni Album of all, and even though the songwriting is excellent, the music drifts far from what she does best.
The modern pop sound brought Joni to the 25th position on the US Billboard chart.d
Chalk Mark in a Rain Strong (March 1988)
The 13th studio album by Joni Mitchell continues the new experimental, modern pop sound with Larry Klein as a co-producer. The album featured guest vocals from Peter Gabriel, Billie Idol, Tom Petty, and other big names. It didn't reach the commercial height of previous albums and peaked at the 45th position on the US charts.
Even though many people think the 80s were not a good creative period for Joni, I would argue that some of the best singles were released during this era.
Night Ride Home (February 1991)
Her 14th album concludes the series of 4 albums with Geffen Records. The album didn't have any successful singles yet contained lyrically and melodically engaging songs.
'Two Grey Rooms' is a famous tune from the record that best represents it. The rasp, almost broken-sounding voice blends perfectly with the haunting piano work.
Turbulent Indigo (October 1994)
Turlbunet Ingido was a commercially successful pop album that earned Joni a Grammy Award for Best Pop Album. The cover of the album Joni's Van Gogh-like self-portrait is as famous as some of the songs in the album. The album was regarded as the best Joni Mitchell album since the 70s.
This is also the first Joni Mitchel Album I bought just because the cover art is stunning, and I couldn't resist having it in my room.
After listening to the Title Track, you will understand how the blend of her classic guitar style with a Pop influenced approach to songwriting made it a hit.
Taming the Tiger (September 1998)
Before the release of 'Shine" in 2017, 'Taming the Tiger' was Considered the last pure Joni Mitchell album.' It brought her back to jazz and to the familiar intricate comprising style.
The album didn't do well commercially, yet it contained powerful songs.
Both Sides Now (February 2000)
Her first and only conceptual album earned her two Grammy awards. The album features a blend of jazz, classical and pop music.
The album's stellar team of session musicians included the usual jazz stars and co-producer, ex-husband Larry Klein. The album's intricate and complex emotional theme can be felt best in the title track 'Both Sides, Now.' For me, this is the last true Joni Mitchell Album.
Shine (September 2007)
Shine is the last great work of Joni's musical career. Her 19th album would be the last and most successful work since the mid-70s. When she had left the music business and retired, this was the first work in a decade.  The album reached 14th position on the US chart and 3rd on the rock charts.
I can't say this is my favorite Joni Mitchell Album or writing style, yet there's no denying it's rich with emotional lyrics.
Joni Mitchell's Notable Performances
One of her first TV performances while still emerging on the scene.
Joni Mitchell – Urge For Going (Live In-Studio 1966)
A young Joni Mitchell at the top of her career.
Joni Mitchell ~ Big Yellow Taxi +  Both Sides Now (BBC –  1969)
This is the last of Joni's big festival appearances. Even though she was phenomenal, the crowd was not very pleased with her acoustic solo performance.
Joni Mitchell Live at the Isle of Wight 1970 1080p
An all-star performance of her Album 'Hejira', among other tracks, is a historical performance from Joni. Seeing her with all the biggest jazz players of the time was and still is a delight for every fan.
Pat Metheny, Joni Mitchell, Jaco Pastorius, Michael Brecker – "Shadows And Light".
Joni Mitchell's Musical Style
Joni Mitchell's musical style perfectly reflects her unsettled, free, and full of ups and downs life.
Her singing, playing, and writing blend jazz, folk, rock, and pop with a unique composition style. Put in the context of singer-songwriters of the time, such as Bob Dylan, Joni's musicianship is far more sophisticated and near to impossible to improve on. There is no denying how intricate her music was compared to the simple few chords style of most songwriters of the era.
Her vocal range is exceptional and allows her to make big jumps from a lower register to impressive high notes. As she got older and couldn't catch high notes anymore, her arrangements started to accommodate lower registers. I believe she lost some of her range but gained more character.
Joni Mitchell's guitar playing style is as unique as it gets. She is famous for her innovative alternate tunings, which she would invent for almost every new song. Joni's phrasing and time feel on guitar are similar to that of an advanced jazz guitarist. Songs like 'Amelia' are a good example of her intricate guitar style.
Whenever I try to learn her songs, the barrier of feeling time as Joni is always a challenge. The best way I found how to do it is always to try singing the songs while playing them on guitar to lay a nice bed for the vocal as she does.
She played the piano at an advanced level and could write and perform songs and many stringed instruments.  Out of all the instruments she played, the piano is the one on which she had the most ' 'conventional" approach. The harmonic context of her music was still intricate and very tense.
What most people don't realize about Joni is that she is also a phenomenal editor and producer. She is responsible for editing and producing most of her work, even when big jazz names such as Larry Carlton, Pat Metheny, and Herbie Hancock were part of the live and studio band.
Joni Mitchell's Relationships
Joni Mitchell's relationships are worth mentioning, affecting both her life and music. She often wrote about her troubled relationship and moments of joy with different men, even famous musicians.
She was married two times. First with American folk singer Chuck Mitchell from 1965 to 1967. The couple met in Toronto while she was working at the folk club, Penny Farthing.  The marriage was short and ended when both moved to New York City, where Joni aimed to rise as a solo artist.
Her second and last marriage was to bassist and sound engineer Larry Klein, who she married in 1982. They had met while Klein was playing bass on one of her records. The marriage inspired many happy love songs in Joni's career and ended after 12 years.
Her most famous and talked about relationship is the one with Graham Nash. The couple became famous in the folk scene, and they lived and performed together for several years. They both dedicated songs to each other and the relationship, with the most famous ones being Joni's 'River' and Nash's 'Our House.'
Their relationship started to break when Nash was hesitant about marriage and a famous incident where Joni was upset with Nash's mentioning of the Vietnam war during a European Tour. The last event to break the relationship was a drug-heavy 'vacation' Nash and Crosby took together at sea.
The famous telegram Joni sent to Nash to end the relationship is the following: 'If you hold sand too tightly in your hand, it will run through our fingers. Love, Joan."
Before the Relationship with Nash, Joni was also in a short relationship with David Crosby. As Crosby said in a recent interview, "Nash was the one who deserved her more than all of us."
Joni Mitchell's Daughter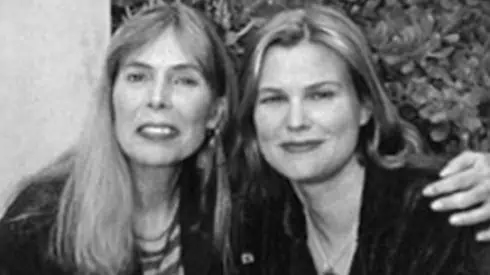 Joni Mitchell's Daughter is a recurring theme in many of her works. As an emerging 21-year-old artist with no sustainable income, she gave up her child with her ex Brad Macmath and gave her for adoption.
Joni's daughter, Kelly Dale Aderson. was born in 1965. The father abandoned Joni, winter was approaching, and she didn't have the money to support herself or the baby.  Even her first Husband, songwriter Chuck Mitchell, would disapprove of raising another man's child.
Giving up on her only child for her career would haunt her for years, with the famous song from the Blue album "Little Greeny" being the most famous testament to the event. She later said that her daughter's birth and the inability to care for her were the main inspiration for all her future work.
The whole story remained hidden until one of Joni's art-school roommates made it public and sold it to the media.
After an extensive search, she found her daughter 30 years later and met her for the first time. According to Joni, it took a while for their relationship to build.
Her daughter still held a grudge and even kept her daughter, Joni's grandchild, away from her.  She said their relationship was going well in a recent interview, yet she did not hint at anything very close and warm.
Related Artists
It's fair to say Joni played with some of the Era's best musicians. Other singer-songwriters would generally associate with country or rock players; Joni also performed and recorded with jazz artists.
James Taylor is one of her best friends and lovers with whom she wrote many tunes and even had him record guitars for some of her songs. Crosby, Stills, Nash & Young members would write and perform occasionally with Joni. 'Woodstock' is one of the most covered songs of all time.
Pat Metheny and Larry Carlton, two of the best jazz guitar players of all time, recorded and toured with her.  Even the notorious bassist Jaco Pastorius would play on her records and shows. Wayne Shorter, Herbie Hancock, and Charles Mingus were other giant jazz names that worked with Joni.
Joni's intricate composition and commercial success would bring all the best session players of the time and big names around her.  As a session guitarist myself, I can only dream of how special and hard it must have been for them to follow her lead on the studio.
Joni Mitchell Now
Joni is rarely seen in public as she suffers from a rare condition called Morgellons disease. In 2015 she had an aneurysm, keeping her from walking normally.
She recently was present at the Grammy Awards when she won the Grammy Award for Best Historical Album. The famous Youtuber's Rick Beato encounter with Joni is perhaps the best source to find out how Joni Mitchell is doing today.
My Dinner with Joni Mitchell: 3 Hours with an Icon
The Legacy of Joni Mitchell
19 albums are the musical legacy of Joni Mitchell, which no music lover should leave undiscovered.
Joni inspired phenomena artists of our era. Names such as Price, Maynard James Keenan, Taylor Swift, John Mayer, Chaka Khan, and countless others mentioned her as a source of inspiration.
I would not have ever started getting good at acoustic guitar and would not have been able to express myself as I do now while writing songs for myself or other people if not for Joni. Beyond music, poets and painters take her as inspiration.
If you are new to her work, the best album to start with is 'Blue' in its entirety. That album will be your bridge to some of the best songs ever written by any artist.
FAQs
Question: How Many Octaves did Joni Mitchell Sing in?
Answer: She had a range of about 3 octaves up to 4 octaves.
Question: Where does Joni Mitchell Live?
Answer: Joni Mitchell lives at 8217 Lookout Mountain Ave, LA.
Question: Why is Joni Mitchell not on Spotify?
Answer: In protest to Spotify and especially the Covid 19, Joe Rogan accident, Joni Decided to pull her music from Spotify.
Sources: