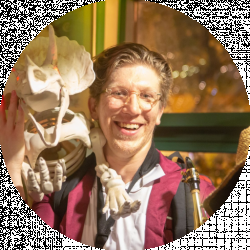 Latest posts by Mark Mumm
(see all)
Queen is one of the most successful bands of all-time, full-stop. The men who comprised the band Queen were as eclectic as the band's music itself.
A designer, an astrophysicist, a dentist/biologist, and an electrical engineer formed a tour de force (of couuuurse!) blending rock n' roll, symphonic, theatrical, new wave, dance and so many more styles over their 20-year career.
Their career netted multiple multi-platinum albums and singles. Over 50 of their singles landed in the 'Top 40', including six number ones.
The band released 14 studio albums which collectively have spent over 1000 weeks on the charts. Throughout their career, they played to record-setting crowds multiple times all around the world and trailblazed for so many bands and musicians in the decades since.
Pre-Queen
Brian May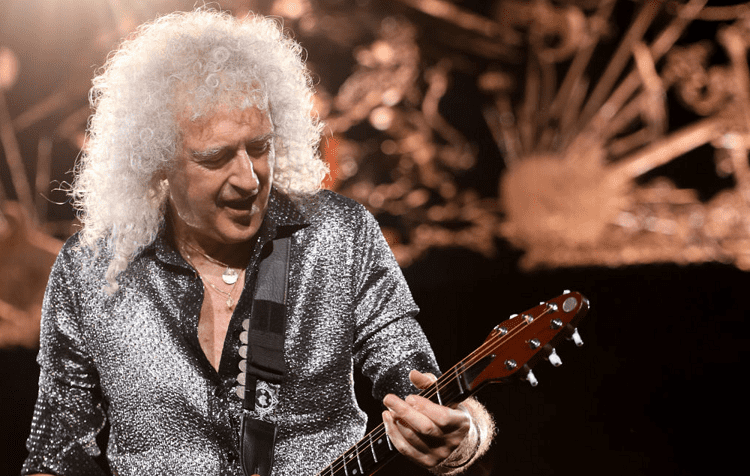 Brian May was born on July 19th, 1947 near Twickenham, Middlesex. While attending Hampton Grammar School, Brian May's first (recorded) foray into the world of bands was a blues-rock outfit named "1984" (named after the George Orwell novel) with his fellow classmate, bassist, and vocalist Tim Staffell.
His foray into music included a signature guitar he built with his father. "1984" gained enough of a reputation to play support for music superstars Jimi Hendrix and Pink Floyd.
May excelled academically at Hampton Grammar School, netting himself three GCE Advanced Levels in Physics, Mathematics, and Applied Mathematics. He studied Mathematics and Physics at Imperial College, ultimately graduating with honors with a BSc degree in Physics.
Despite his success, May declined an invitation from Sir Bernard Lovell to further his studies and left "1984" to start a new project in 1968 with Tim Staffell named "Smile" where they would be joined by future Queen drummer Roger Taylor.
Smile's time was short, ultimately expiring in 1970 when singer Tim Staffell left the band. Tim Staffell's departure would allow for Freddie Mercury and, eventually, John Deacon to slide in, officially kickstarting Queen.
Roger Taylor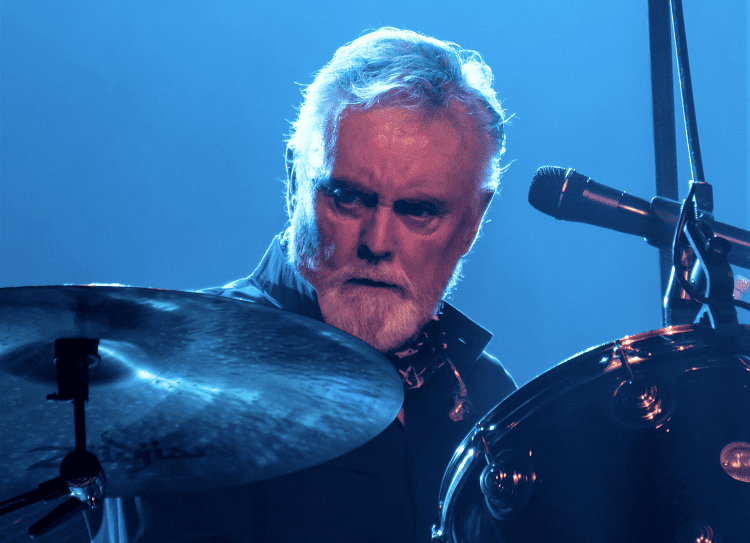 Roger Taylor was born on 26 July 1949 in King's Lynn, Norfolk. The maternity ward in which his mother, Winifred Taylor, gave birth to him was opened by the princess to be known as Queen Elizabeth II (Perhaps it was fate that he would join Queen).
His mother was among the first 20 women to give birth there. Roger Taylor's first band was the Bubblingover Boys, playing ukulele at the age of seven.
Just 8 years later, Taylor joined a band with his Truro Schoolmates called The Reaction and played in it from 1965 to 1968. Roger Taylor originally played stringed instruments (ukulele, guitar). The switch to drums manifested from a personal connection and self-recognized talent for the instrument.
Taylor was inspired early on by the talent of Mitch Michell (Jimi Hendrix Experience) but cited Keith Moon's drum sounds as the inspiration for the tuning of his kit.
In 1967, Taylor began studying dentistry in London, but moved into biology, ultimately earning a BSc in Biology from East London Polytechnic. Roger Taylor was notified by a friend of a call for a drummer at nearby Imperial College.
The band was Smile. Before its dissolution in 1970, Smile had written nine songs and recorded six of them. "Doin' Alright" would later be re-recorded by Queen for their eponymous debut album in 1973.
Farrokh Bulsara, Better Known as…well, You Know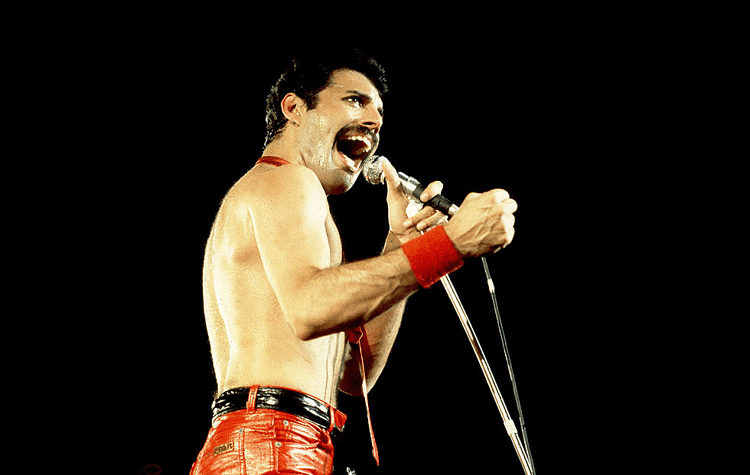 The Boy to be Known as Freddie Mercury was born on September 5th, 1946 in the British protectorate of Zanzibar. As Zanzibar was a British protectorate at the time of his birth, Bulsara was born a subject of the British Commonwealth, later earning citizenship in the late '60s.
But before then, he spent most of his childhood in India, where his musical journey would begin.
At the age of seven, Bulsara began piano lessons and had started a band, The Hectics, by age 12. The Hectics was composed of classmates at St. Peter's School near Bombay. They were keen to cover (western) rock n' roll and pop music.
Bulsara had "an uncanny ability to listen to the radio and replay what he heard…his orientation was music…he would always end up imitating some of the moves of Cliff Richard or Elvis." His time at St. Peter's School also influenced him to go by "Freddie".
In addition to his knack for replaying songs on the piano, Freddie was a fantastic singer, likely aided by his hyperdontia (a condition of extra supernumerary teeth) which gave his mouth a distinct shape and expanded his vocal range.
In the mid-1960s, The Bulsara family fled the violence from the revolution against the Sultan of Zanzibar, ultimately landing in west-central London. Freddie would eventually enroll at Ealing Art College to study graphic art and design (following a year of fashion design).
Here, Freddie Bulsara would meet and befriend Staffell. Following the latter's departure from Smile, Taylor and May recruited Bulsara as the lead singer, forming the main lineup that would become Queen.
With the formation of the new project, Bulsara shed his surname and adopted 'Mercury' inspired by his own lyric "Mother Mercury, look that they've done to me" from "My Fairy King."
The only thing missing to fill out the quintessential Queen lineup was finding the right bassist.
John Deacon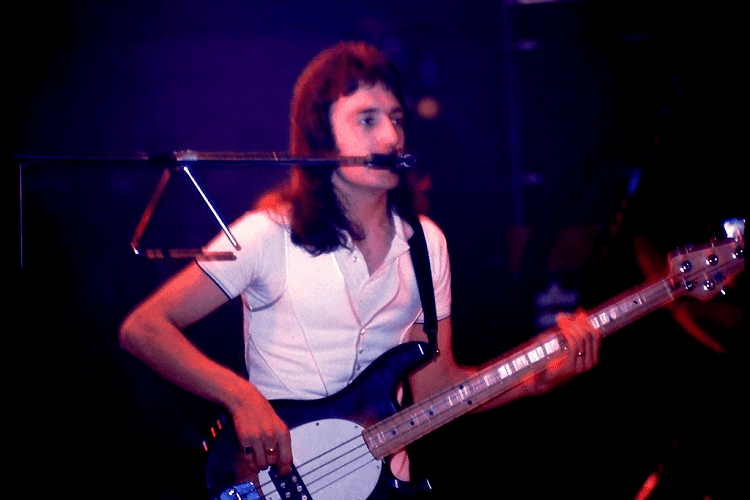 John Deacon was born on August 19th, 1951 in Leicester. Growing up in Oadby, Leicestershire, John Deacon developed a passion for both electronics and music at a young age.
John Deacon would devour magazines on the subject of electronics as well as building small devices, including a modified reel-to-reel tape deck to record songs directly from the radio. As for music, Deacon had a keen interest in The Beatles and soul music.
At 14, Deacon began playing guitar in the band The Opposition switching to bass as the band changed to The New Opposition.
John Deacon carried on his childhood passion for electronics at Chelsea College in London. In 1970, he saw an early version of Queen but left the show unimpressed. However, a chance meeting at a disco in early 1971 between Deacon, Taylor, and May led to Deacon's audition in a lecture room at Imperial College.
After several auditions and rotating bassists, Deacon was ultimately chosen for his musical talent, his electronics knowhow, and his quiet demeanor, offsetting the larger-than-life personality of singer Freddie Mercury.
Queen's Early Career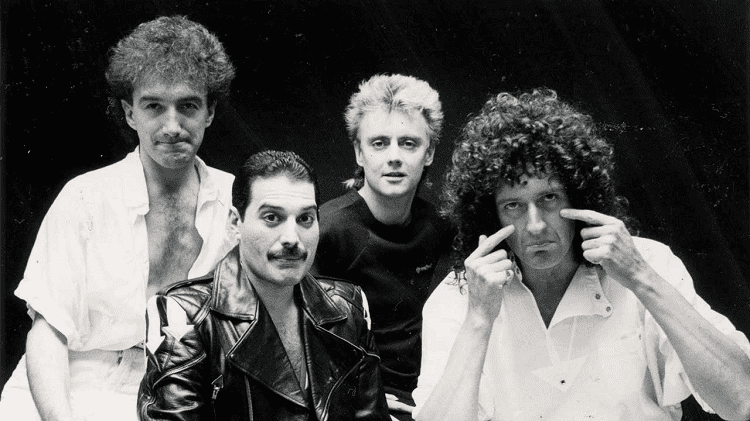 With the lineup that we know set, Queen played their first show on July 2nd, 1971 at Surrey College. Shortly after, May called Terry Yeadon (Pye Studios' engineer where Smile had recorded their 6 songs) searching for leads of where Queen could record. Yeadon brought the band into De Lane Lea Studios.
They traded room time in exchange for allowing the engineers to test the studio's acoustics. and they needed a group to test out the equipment and recording rooms. Their song "Keep Yourself Alive caught the ear of visiting Roy Thomas Baker (who would go on to produce Queen's first five albums).
After some shopping around after having piqued interest from management companies, the band reached a deal with Neptune Productions (a subsidiary of Trident). Queen took a break from performances for the first two-thirds of 1972 to begin work on their album with John Anthony and Roy Thomas Baker.
They were limited to offtime in the studio, which was often in the wee early hours of the mornings. Promotion for the eponymous album began the following February despite the lack of a record label.
By the time April came around, Trident reached a deal with EMI records. Despite its lead single "Keep Yourself Alive" selling poorly, the album was eventually certified gold both domestically and in the US.
The follow-up, Queen II,  began production right away in August 1973. Their success with their first album opened up more consistent and accessible studio time and Queen took full advantage of the studio's technology (eg. Brian May's multi-layered, orchestral-esque guitar track "Procession").
Following the recording of the album, Queen supported glam-rock champions Mott The Hoople for the rest of the year. Queen II was released the following March, peaking at number five in the UK.
"Seven Seas of Rhye" became Queen's first experience cracking the top 10. Stylistically, Queen II was the inception of the band's distinct layering of instruments and vocals. 
Despite a hepatitis diagnosis for Brian May forcing them to cancel tour dates, the band hit the studio again and released Sheer Heart Attack in August of 1974, just five months after Queen II's release. Sheer Heart Attack was a success in both the UK and the US, reaching number two in the UK and certified gold in the US.
Sheet Heart Attack is also where the band's fluid blending of styles took off. Opener "Brighton Rock" was a kick in the face with riveting, galloping guitars and frantic drum fills.
The next song on the album, "Killer Queen", was sheer vaudeville: a plucky, swinging piano and swooning vocal harmonies spinning the tale of a high-class prostitute. "Killer Queen" became Queen's biggest hit so far, reaching number two on the British charts and number 12 on the Billboard Hot 100.
Queen began to tour the world in 1975, headlining a US tour, and playing in Canada and Japan for the first time. Unfortunately, this worldwide success and money it generated did not trickle down to the band who were stifled by their original deal with Trident.
Trident wanted their nearly £quarter-million investment returned before paying out better shares to the band. By August of '75, the band had negotiated out of their contract and was on the lookout for new management ultimately settling on John Reid. His first order to the band? "I'll take care of the business; you make the best record you can".
Queen took that advice and spent a record amount of money (~£343,000 in 2022 money) on their fourth album, "A Night at the Opera". It opened with "Death on Two Legs", a relentless and vengeful taunting track (later dedicated to Trident in concert).
A Night at the Opera received much acclaim and success in the UK but was blown away by the US' response, going triple platinum across the Atlantic. But the most enduring song of this album is, without question, "Bohemian Rhapsody". "Bohemian Rhapsody" has its origins in several pieces of music written during Mercury's time at Ealing College.
Altogether, Bohemian Rhapsody is ambitious in production as it is in songwriting. The track itself has nearly 200 overdubs.
EMI cited the length of the track and refused to release the single, but ultimately caved to pressure from the band and from the enthusiasm of radio listeners following Kenny Everett (Capitol London radio) spinning a promotional copy nearly 15 times through the weekend.
The single sat atop the UK charts for nearly ten weeks, is the third-best-selling single of all time in the UK, and is the only single ever to sell over a million copies more than once. The promotional video shot for "Bohemian Rhapsody" received extra attention, racking up five times the usual budget for promotions.
Ultimately "Bohemian Rhapsody" would be Queen's first #1 hit. (It would also go #1 in the early nineties again, thanks to the movie Wayne's World)
A Day at the Races – Greatest Hits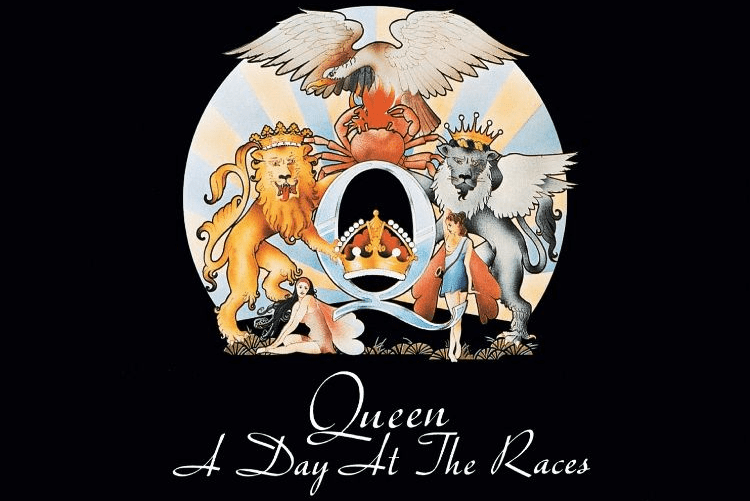 Never one to rest on their laurels, Queen was back in the studio just a year later following another international tour across North America and Japan. "A Day at the Races" is the first Queen album to not feature Baker as producer, instead, being self-produced by the band with help from Mike Stone (who also lent backing vocals to the album).
"A Day at the Races" peaked at number five in the US but hit number one in both the UK and Japan. It featured the gospel-inspired smash hit "Somebody to Love". "Somebody to Love" featured Queen's iconic vocal layering and countermelodies. The single reached number two in the UK and thirteen in the US.
Queen followed the success of this album with a record-setting concert (in terms of attendance) in 1976, attracting 150,000 people to London's historic Hyde Park. Their following tour in 1977 was Queen's most successful yet, playing to sold-out crowds at New York's infamous Madison Square Garden. 
"News of the World", Queen's sixth studio album, was released in 1977 to mixed reviews but has since sold four million copies in the United States and two million in the UK. While the album itself received mixed reviews, it was carried by stadium rock anthems "We Will Rock You" and "We Are the Champions".
The "News of the World Tour" reached new heights for the band, citing praise for their stage design in addition to their usually bombastic performances. More sold-out shows at Madison Square Garden saw the band receive the "MSG Gold Ticket Award" for selling more than 100,000 unit tickets all-time.
Beginning in 1978 with "Jazz", Queen began recording albums at Mountain Studios. Mountain Studios was the band's recent purchase in Montreux, Switzerland. "Jazz" received similar praise to "News of the World" both initially and in the long-term. It peaked at number two in the UK and number six in the US.
"Jazz" featured the band's most simply-fun singles to date, "Fat Bottomed Girls", "Bicycle Race", and "Don't Stop Me Now". After a few years of touring worldwide, Queen released "Crazy Little Thing Called Love", their most far-reaching single to date, cracking the top ten in multiple countries, even holding the number one spot in Australia for seven weeks. 
Except for "Live Killers", a live album released in 1979, Queen's next album was 1980's "The Game", with two singles ("Crazy Little Thing Called Love", "Another One Bites the Dust") reaching number one in the US.
The album ultimately became Queen's sixth platinum album, topping the Billboard 200 for five weeks. Stylistically, "The Game" was the first Queen album to feature a synthesizer.
Their next world tour would see Queen become the first rock band to play large shows in South America (including a record-setting show in Buenos Aires with an attendance of 300,000+), opening the doors for other rock bands worldwide.
In 1981, David Bowie dropped by Queen in the studio. The impromptu visit eventually turned into a jam and recording session between the artists, culminating in Queen's number-one single, "Under Pressure".
Later that year, Queen released their first compilation album, which would go on to become the best-selling album in recorded chart history, spending nearly 1000 weeks on the UK album chart by itself and going nine times platinum in the US.
Hot Space – The Works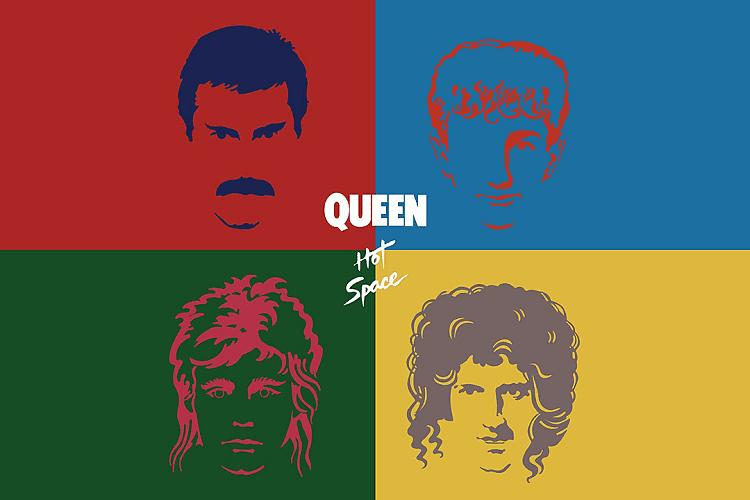 Never a band to fear the fusion and adoption of different styles, 1982's "Hot Space" was a big step away from their more-traditional blend of hard rock, theatre, and progressive rock. The opening track "Staying Power" featured a keyboard/horn-based approach, perfectly capturing the soundscape of the 1980s.
However, tensions were rising within the band. Freddie Mercury and John Deacon were as excited with the band's new sound as Roger Taylor and Brian May were not. Tensions arose further between Brian May and Paul Prenter (Mercury's personal manager) of whom the former felt the latter was asserting too much influence on the frontman. 
Tours turned less wholesome as well. Audiences began to heckle the band on stage, voicing displeasure with the band's new musical style.
Additionally, a surge in homophobia in North America turned performances sour as "fans" would throw disposable razor blades onto the stage. Appropriately, Queen determined to not play in North America and Freddie Mercury would never again return to play in North America.
The band entered a hiatus for most of that year and utilized it to pursue solo projects. "The Works" released in February 1984, saw a return to their hard rock sound while still absorbing synthpop and new wave. The reviews were split. The album went triple platinum in the UK but failed to reach their previous albums' success in the US.
The following tour brought controversy. Despite playing to integrated crowds, concerts in apartheid South Africa placed the band on the United Nations' blacklisted artists list.
Live Aid – Freddie Mercury's Death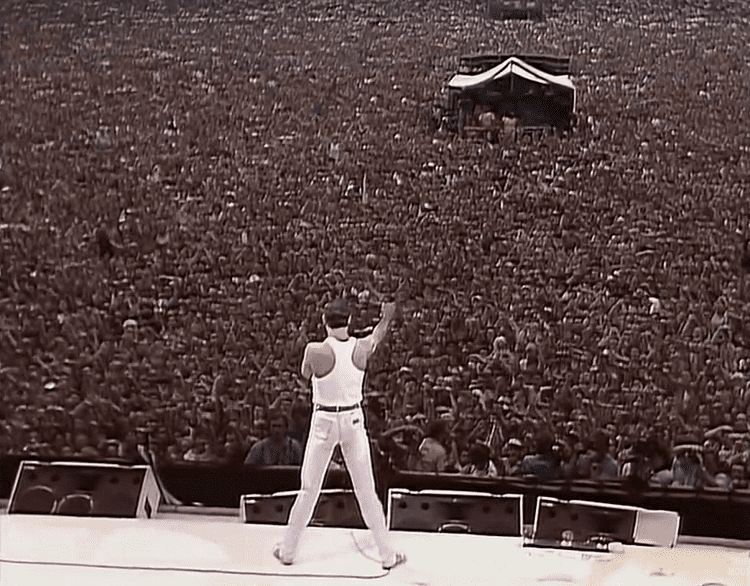 The mid-1980s saw more touring success for Queen despite their waning success in the US. In January 1985, Queen played to 300,000+ people for two nights at the Rock In Rio festival.
Live footage of this concert was released on VHS and broadcast on MTV in the US. Their "The Works" tour concluded with sold-out shows in Australia and Japan.
But that all paled in comparison to the nearly 2 billion tv audience (roughly 40% of the world population) due to the infamous Live Aid concert at Wembley Stadium. Despite the star-studded lineup, Queen was invariably a favorite performance of that night.
Queen would go on to record three more albums following Live Aid: "A Kind of Magic" (1986), "The Miracle" (1989), and "Innuendo" (1991). The title track of "Innuendo" would go on to be another number-one single in the UK.
These albums received mixed reviews upon release, but would nonetheless go on to have much commercial success over time. Due to Mercury's failing health from a secret battle with HIV and AIDS, the band's last live performance was in 1986, a sold-out show of 120,000 fans at Knebworth Park.
The last couple of years of Mercury's life were marked by bravery and a willingness to keep pushing himself for the band's sake. Speaking of Mercury's last year or so in the studio, Brian May stated: "He just kept saying. 'Write me more. Write me stuff. I want to just sing this and do it and when I am gone you can finish it off.'
He had no fear, really." Freddie Mercury passed away on November 24, 1991, from bronchial pneumonia, brought on by his struggle with AIDS.
Post-Freddie Mercury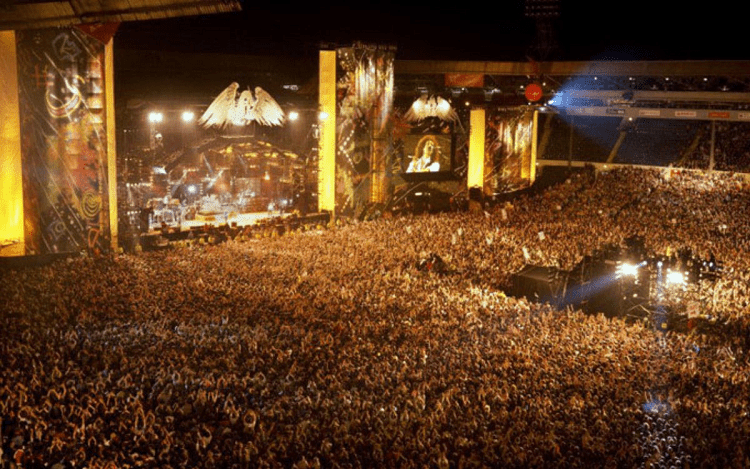 A tribute concert was held, drawing a crowd of over 70,000 to Wembley Stadium on Easter Monday in 1992. The concert was also broadcast on television and radio, reaching up to 1 billion people.
The concert served both as a tribute to the late Freddie Mercury and as a springboard for AIDS awareness. The profits from the concert were utilized to kickstart an AIDS charity named The Mercury Phoenix Trust.
With an irreplaceable performer like Freddie Mercury amidst a seamless group of musicians, Queen could certainly never be the same without Freddie Mercury. Indeed, save a one-off performance with the rest of the group and Elton John in 1997, the tribute concert in '92 was John Deacon's last full-length concert with Queen.
He fully retired after recording one last song "No-One but You (Only the Good Die Young)" in 1997, a tribute to their late frontman. Just one more album was released posthumously in 1995 titled "Made in Heaven".
The album is a compilation of songs that were started by Mercury or songs that he contributed to before his death and finished post-death by the rest of the band. The album went number one in a few countries, including the UK, and charted in the top 10 in nine countries.
As a wonderful expression of gratitude to Queen for recording six of their last albums in Montreux, in November 1996, a 3-meter tall statue of the late lead singer overlooking Lake Geneva was unveiled.
The statue, sculpted by Irena Sedlecká, strikes Freddie Mercury's iconic fist-in-the-air pose while wearing his signature yellow military jacket. Every September, the city holds Freddie Mercury's Montreux Memorial Day in celebration of Freddie Mercury's birthday and his legacy.
The event attracts Queen fans (and people close to the lead singer) from all over the globe. Each year since 2013, The Mercury Phoenix Trust has organized the official evening.
In May 2002, the Queen rock opera, We Will Rock You, opened at the Dominion Theatre in the West End. The show was produced by Hollywood actor Robert De Niro and the show was written by comedian Ben Elton in collaboration with Brian May and Roger Taylor.
Roger Taylor and Brian May also stepped away from performing as Queen until 2004. They began to tour again, sharing the billing with guest singers as "Queen + …" Notable collaborations have included "Queen + Paul Rodgers" and "Queen + Adam Lambert". Despite being half the original lineup, this version of Queen would continue to see success.
They would tour new places of the world (Tel Aviv, Israel), play to stadium-sized crowds, open the 91st Academy Awards, and receive the Japan Gold Disc Award (awarded to the most popular Western act in Japan) four times between 2005 and 2021.
In 2018, the biographical drama, "Bohemian Rhapsody", about the band was released. It was directed by Brian Singer and (co)produced by Jim Beach (Queen's manager). The film spans Queen's career from their inception in 1970 to their performance at Live Aid 15 years later.
The film was a smash, grossing over $900M on a $50M budget. The film broke the record for all-time box office for biopic films. Even a fake version of Queen can't help but break records!
FAQs
Question: Who is Still Alive from Queen?
Answer: John Deacon, Brian May, and Roger Taylor are the surviving members of Queen. But only May and Taylor continue to perform with the band. Guest vocalists Paul Rodgers and Adam Lambert are also still alive.
Question: Why is Queen so Famous?
Answer: Ultimately, it comes down to talent. Queen excelled in every aspect of musicianship. They blended multiple styles/genres of music and continued to evolve over their 20+year career, earning them multiple Top 40 hits and a #3 ranking for the quantity of #1 albums.

Their promotional videos/music videos pushed the art form further. They put on unmatched live performances (their Live Aid performance has been ranked as the best live performance ever)
Question: When did Queen Disband?
Answer: Queen never officially dissolved and disbanded. Despite a brief hiatus in the early '80s and some quiet in the wake of Mercury's death, Queen continued to record up until 1997 and continues to tour across the world, albeit without founding members Mercury and Deacon.
Conclusion
It's hard to overstate the influence that Queen had on popular music. The bands and performers they have influenced span decades and across multiple genres of music.
From heavy metal acts like Judas Priest and Rob Zombie to country acts like Faith Hill to pop acts such as George Michael and Lady Gaga to everybody's emo favorite, My Chemical Romance, the unique blend of styles that Queen captured in their own music can be traced across the popular music that followed.
Their legacy leaves them #3 all-time for British bands in terms of #1 albums (trailing only The Beatles and The Rolling Stones) and their Greatest Hits album is one of the best-selling albums ever, selling over 25 million copies.
Their tours and (broadcasted) live performances have left a deep, emotional impact on billions of people across the entire world.