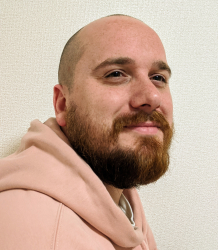 Latest posts by Seth Christmus
(see all)
When I got my first acoustic guitar at the age of 14, the musicians I wanted to sound like the most were The Beatles, specifically Paul McCartney and John Lennon. I was driven to learn songs like "Love Me Do," "Help!," and other well-known songs that I had grown up listening to. What I didn't realize at the time was that The Beatles themselves were heavily influenced early on in both music and fashion by another musician – one whose musical influence has far outlived his time on Earth: Buddy Holly.
Without Buddy Holly, who played a major role in the development of the modern rock and roll sound and style, we may have never had musicians like The Beatles, The Rolling Stones, and a whole other host of groups that started their careers in the 1960s. This Buddy Holly Bio will cover Buddy's life, career, and contributions to the world of music.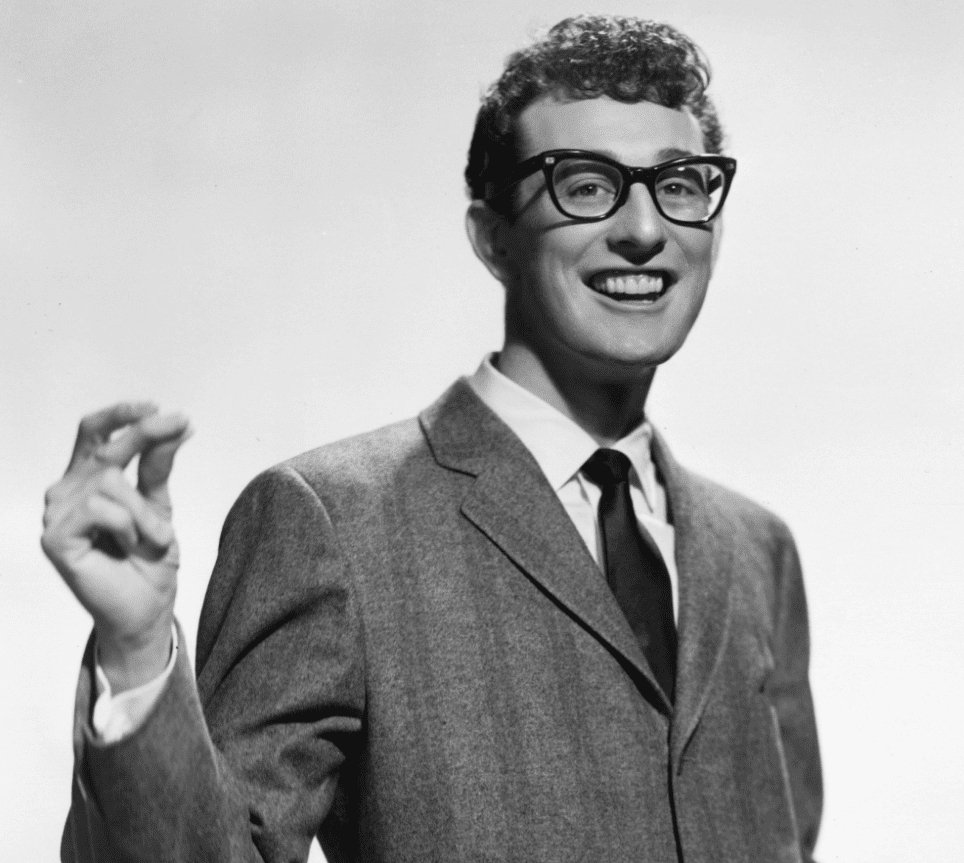 Buddy Holly Quick Facts
Full Name: Charles Hardin Holley
Birth Date: September 7, 1936
Birth Place: Lubbock, Texas
Nick Name: Buddy
Nationality: American
Zodiac Sign: Virgo
Siblings: Larry Holley, Travis Holley, Patricia Lou Holley
Children: None
Spouse: María Elena Santiago
Most Successful Albums:

The "Chirping" Crickets (w/ the Crickets)
Buddy Holly (solo)
That'll Be the Day (solo)

Net Worth: $1 million (at the time of his death)
Awards: Rock and Roll Hall of Fame Inductee – Class of 1986
Buddy Holly Birthplace
Charles Hardin Holley – better known to the world as Buddy Holly – was born in Lubbock, Texas, on September 7, 1936. College football fans know Lubbock as the home of Texas Tech University. Due in part to the university, Lubbock is an important city for healthcare, education, and economics in the region, so much so that locals refer to it as "Hub City."
Lubbock embraces its identity as the birthplace of Buddy Holly in a few ways. There's a big Buddy Holly statue, a museum filled with historical goodies called the Buddy Holly Center, and even an annual music festival called Bud Fest that celebrates the rock and roll legend's birthday. Holly was also buried in the City of Lubbock Cemetery, and his headstone features a carving of his signature Fender Stratocaster guitar.
Buddy Holly Parents
Buddy Holly's parents were Lawrence Odell "L.O." Holley and Ella Pauline Drake. Buddy's mother had some musical talent and was an influence on Buddy and his siblings. Because of the Great Depression, Buddy's father had to change jobs multiple times, which forced the family to move around the Lubbock area.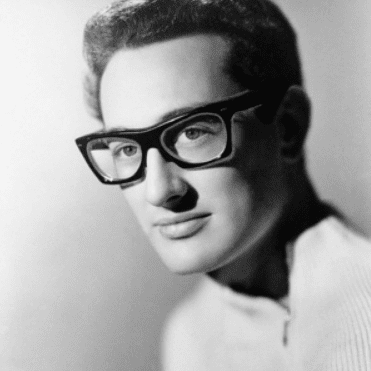 Buddy Holly Early Life
Before getting his first guitar, Buddy Holly took piano lessons and received a steel guitar but was drawn to the six-stringed instrument that would make him famous. His older brother Travis taught him how to play. Buddy was influenced by several artists as a young musician, including Hank Williams and Jimmie Rodgers.
By the time he was in elementary school, Buddy was already playing music with friends and listening to radio programs like Grand Ole Opry and Louisiana Hayride. These shows exposed him to some of country music's biggest names during that era, including the previously mentioned Williams and Rodgers, along with Hank Snow and Bob Wills. In high school, Buddy began to perform live with his friends in talent shows and gigs around Lubbock. R & B and blues started to influence Buddy as well, thanks to late-night radio programs, beginning a combination of sounds in his music that would influence the musicians that followed in his footsteps.
Buddy Holly Professional Career
The Early Years
Fresh out of high school in 1955, Buddy Holly decided that it was time to throw himself into music full-time as a career. A major moment in his early career was seeing Elvis Presley perform live. Seeing and eventually being an opening act for Elvis in 1955 prompted Holly to move from a more country-western sound to incorporate elements of rock and roll into his music.
Just a year later, in February 1956, Buddy and his bandmates Larry Welborn (upright bass) and Jerry Allison (drums) were signed to a recording contract with Decca Records. From that moment on, Buddy Holley became Buddy Holly, thanks to a misspelling in the signed contract.
Buddy released two singles with Decca – "Blue Days, Black Nights" and "Modern Don Juan." Both weren't received well, and Buddy was unhappy with not having more control over the music production process. When his recording contract wasn't renewed with Decca, Buddy sought out a new producer, Norman Petty.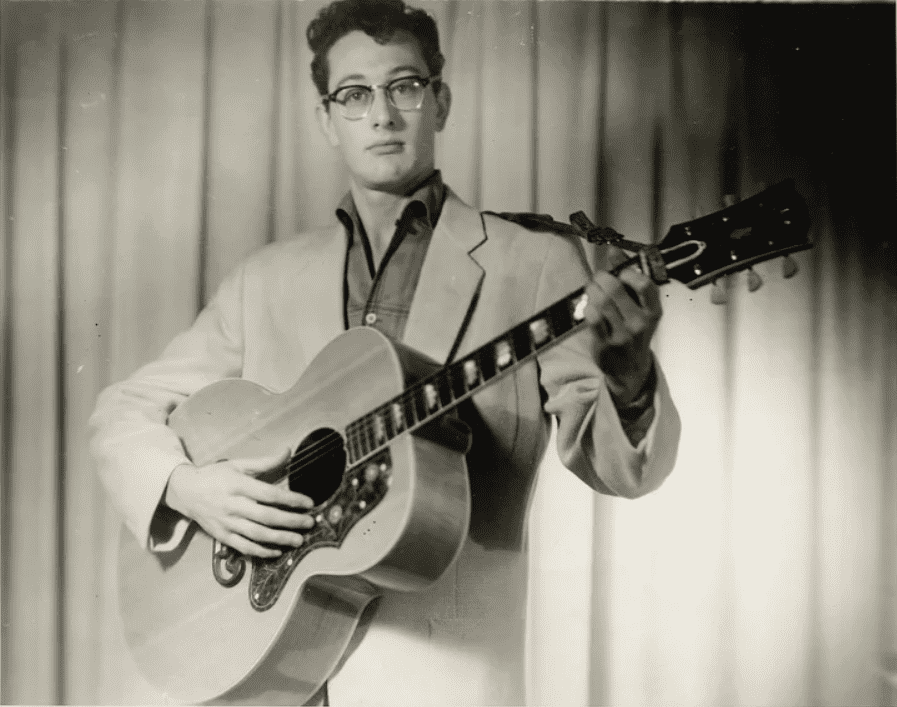 Buddy Holly and the Crickets
Buddy's time with the Crickets proved to be the most commercially and creatively successful period of his short career. Their first single was "That'll Be the Day," which had previously been recorded under the Decca recording contract. Because of this, a band name had to be used, leading to the suggestion of the Crickets by drummer Jerry Allision.
The lineup of the Crickets consisted of Holly, Allision, bassist Joe B. Mauldin, and guitarist Niki Sullivan. Holly also played the guitar, and this instrumentation (two guitarists, one bassist, and one drummer) became the standard for rock acts that followed.
The release of "That'll Be the Day" led to performances across the US and eventually on the popular American Bandstand. The single "Peggy Sue" soon followed and was another hit. Holly's popularity continued to grow, and the Crickets began to tour, first in the United States and then in Australia and the United Kingdom.
In June 1958, Holly traveled to New York City to record "Now We're One" and a cover of Bobby Darin's "Early in the Morning." It was during this time that he met María Elena Santiago. He was immediately drawn to her and asked her out on a date, during which he proposed. The couple was married soon after, but it was kept secret so that Holly's fanbase wouldn't be disappointed.
Buddy continued to branch out as a musician and producer. He helped country music legend, Waylon Jennings, to record a single in Texas before returning to New York with María to live. This, combined with mounting legal tensions between Holly and manager Norman Petty led to the dissolution of the Crickets.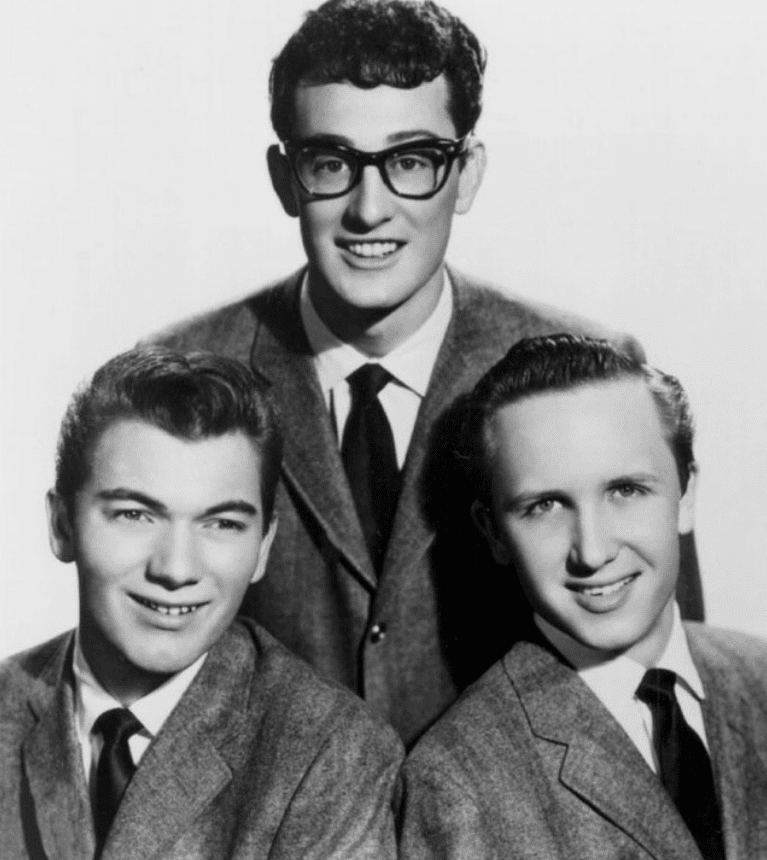 The Winter Dance Party Tour
Soon after disbanding the Crickets, Holly created a new band and began to tour again. His new band featured Waylon Jennings on bass guitar, Carl Bunch on drums, and Tommy Allsup on guitar. Their first and only tour together was the Winter Dance Party tour, and the band only had the opportunity to perform a couple of times together.
Tragically, Buddy Holly's life was cut short on February 3, 1959, when the plane he was traveling on crashed in Iowa, killing him and fellow musicians Ritchie Valens and J.P. "Big Bopper" Richardson. Holly's funeral was held four days later, and he was buried in his hometown of Lubbock, Texas. In a sign of the legacy that Buddy Holly left, his death was the subject of Don McLean's hit song "American Pie." This song is why the day that Buddy Holly died is now called "The Day the Music Died."
Holly's death had a profound effect on his family and friends. His brother, Larry, sums up the sadness that came with the tragedy:
After Buddy died, I didn't listen to the radio for maybe ten years. I just couldn't.

– Larry Holley, in an October 1995 interview with Robert Draper of Texas Monthly
As for "American Pie," Buddy's wife María likes the song but disagrees with its premise and gives more credit to Buddy's lasting influence:
Buddy may not be here, but the music has not died. It is still alive and well.

– María Elena Santiago (Holly) in an interview with reporters, included as part of an article about her by Ray Kelly of Mass Live
Buddy Holly Video
The following video is a live performance of "That'll Be The Day" by Buddy Holly & The Crickets on "The Ed Sullivan Show." The performance aired on December 1, 1957.
Buddy Holly Family
Growing up, Holly's family consisted of his father L.O., his mother Ella, and his three siblings Larry, Travis, and Patricia. He married María Elena Santiago in 1958. María was pregnant when Buddy died in 1959, but suffered a miscarriage the day after his death, presumably to the grief and stress caused by the rock and roll legend's sudden and tragic death.
Buddy Holly Relationship History
Buddy Holly had two short relationships with Echo McGuire, a high school sweetheart, and June Clark, a fan. Both of these took place before he met María Elena Santiago in 1958. He went on to marry Santiago soon after meeting her and remained married to her until he died in 1959.
Buddy Holly Controversies
The Cause of the February 3 Plane Crash
The exact cause of the plane crash that killed Buddy Holly was a mystery until his brother Larry received a report a year later. The winter weather was awful when they took off that night and a blizzard was approaching, but pilot Roger Peterson didn't get this information in his briefings.
A new type of gyroscope had been installed in the plane as well, one that Peterson may not have been familiar with. The combination of these issues led to the crash shortly after takeoff and the death of a young legend that had yet to reach his full potential as a musician.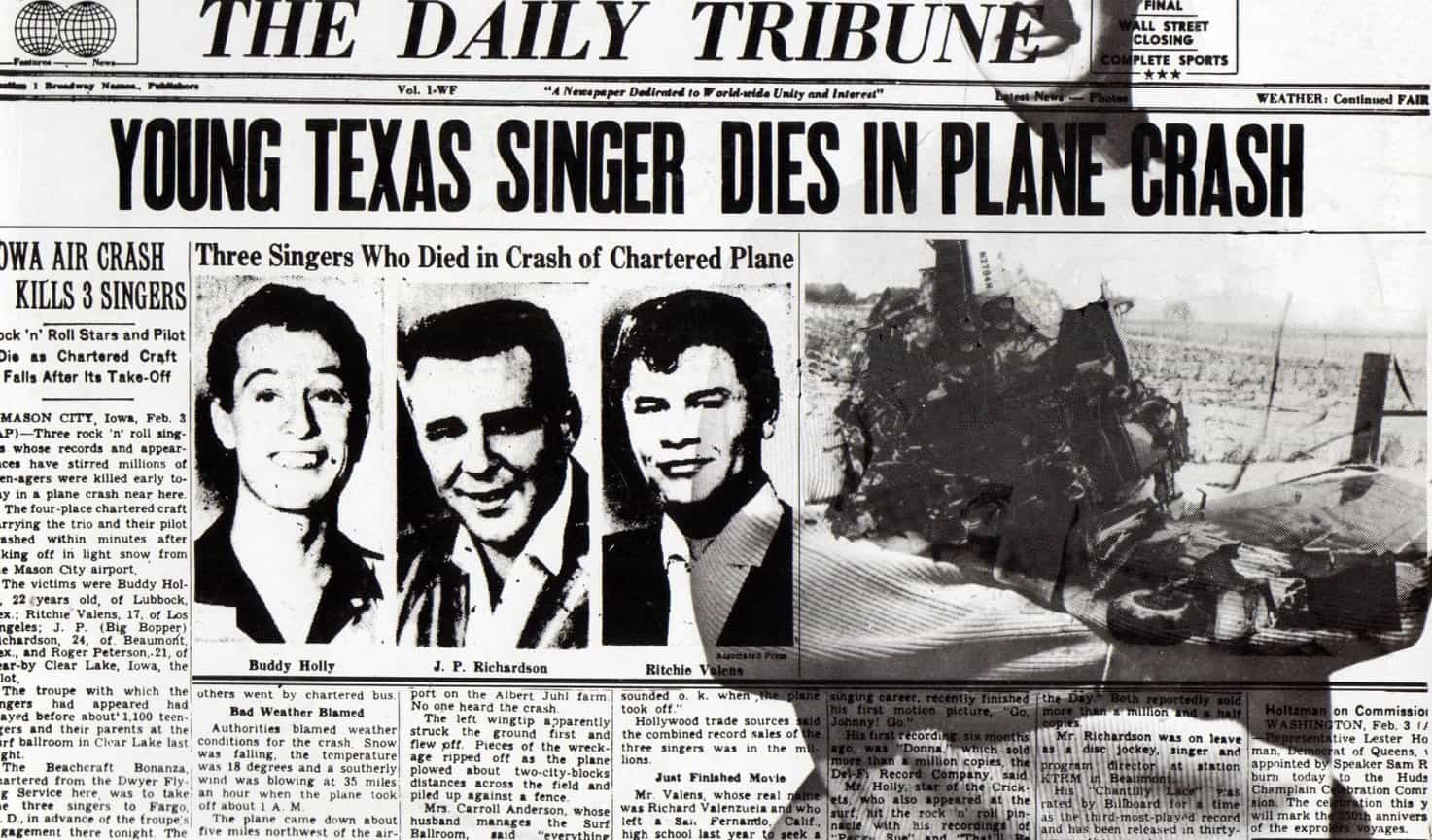 Buddy Holly Discography
The following list is comprised of the studio albums that Buddy Holly appeared on.
Solo Albums
Buddy Holly – March 1958
That'll Be the Day – April 1958 (credited to Buddy Holly and the Three Tunes)
The Crickets
The "Chirping" Crickets – November 1957
FAQs
Question: What was Buddy Holly's biggest hit?
Answer: The Crickets' version of "That'll Be the Day" was Buddy Holly's biggest commercial and cultural success. It reached #1 in the US and the UK and was added to the National Recording Registry in 2005. It's been covered numerous times since then including by Linda Ronstadt. It was also covered by Paul McCartney and John Lennon's band that later evolved into The Beatles, which was called the Quarrymen.
Question: Where did Buddy Holly die?
Answer: The plane crash that killed Buddy Holly in 1959 happened a few miles away from the airport in Mason City, Iowa.
Question: Is Buddy Holly's wife still alive?
Answer: Yes, she is. María Elena Santiago is currently 89 years old. She co-founded the Buddy Holly Educational Foundation in 2010.
Question: Where is Buddy Holly's gravesite?
Answer: Buddy Holly was buried in Lubbock, Texas at the City of Lubbock Cemetery.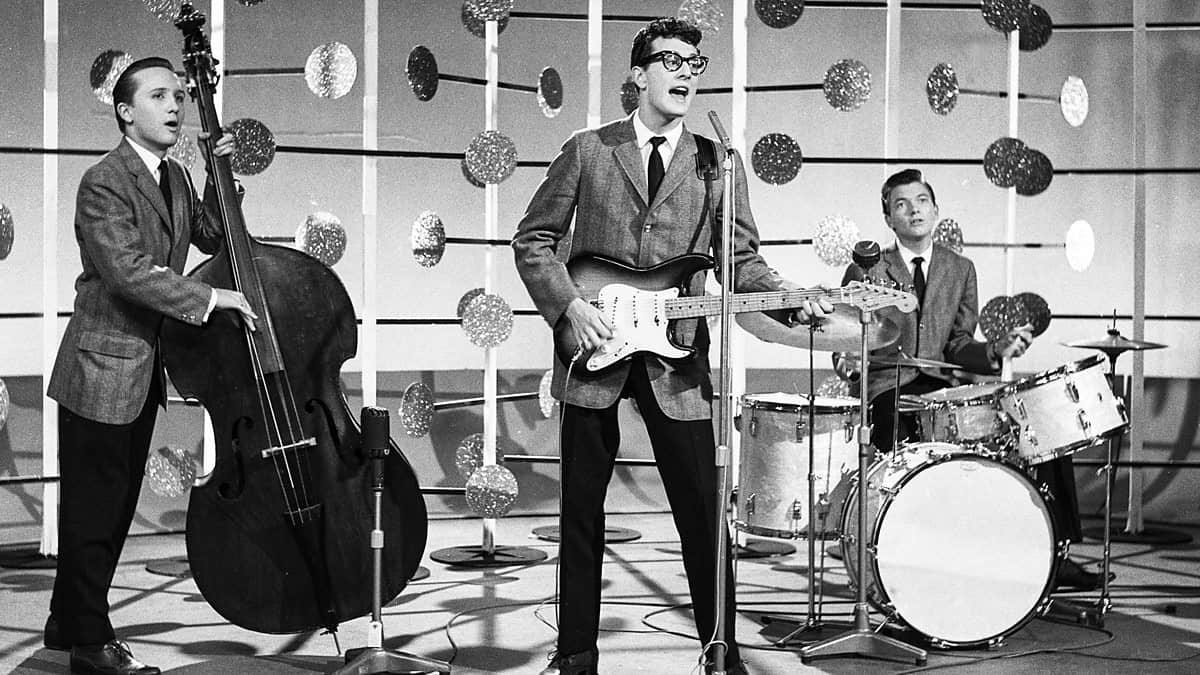 Buddy Holly Bio: Final Thoughts
Buddy Holly was one of the rare artists we can point to and say that modern music wouldn't have turned out the same way without him. He had a direct influence on many bands that followed him in the 1960s, most notably The Beatles – their band name was even a play on the Crickets.
Despite his death being referred to as "The Day the Music Died," I believe that Buddy Holly's legacy continues to this day with every person that picks up a guitar and learns to play rock and roll music. You can learn more about the bands and personalities he influenced here at Rock Era Insider.
Research Citations