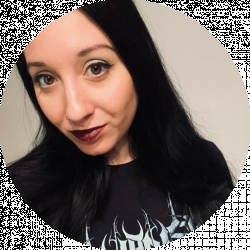 Latest posts by Stephanie Jensen
(see all)
You can't say rock and hair metal without mentioning Van Halen. From Eddie's screeching guitar to David Lee Roth's energetic stage presence, Van Halen staked their claim in rock music history. Today, Van Halen's music is still worshipped by fans of all ages, and Eddie is known as one of the most influential guitar players–even though he can't read sheet music!
Do you want to learn more about Van Halen? Go "Runnin' With the Devil" to continue reading about their band history, which covers everything from the band formation all the way to Eddie's death.
Quick Facts
Notable Band Members: Eddie Van Halen, David Lee Roth (1974-1985, 1996, 2007-2020), Sammy Hagar (1985-1996, 2003-2005), Alex Van Halen, Wolfgang Van Halen (2006-2020), Michael Anthony (1974-2006)
Genre: Heavy metal/hard rock/glam metal
Years Active: 1972-2020
Origin: Pasadena, California
Most Successful Album: 1984
Website: Van Halen
Last Updated: July 2023
Awards
Grammy for Best Hard Rock Performance ("For Unlawful Carnal Knowlege")
American Music Awards for Favorite Heavy Metal/Hard Rock Album (For Unlawful Carnal Knowledge)
MTV Video Music Awards: Best Stage Performance in a Video ("Jump"), Video of the Year 1992, Best Direction in a Video, Best Editing in a Video ("Right Now")
Van Halen Early History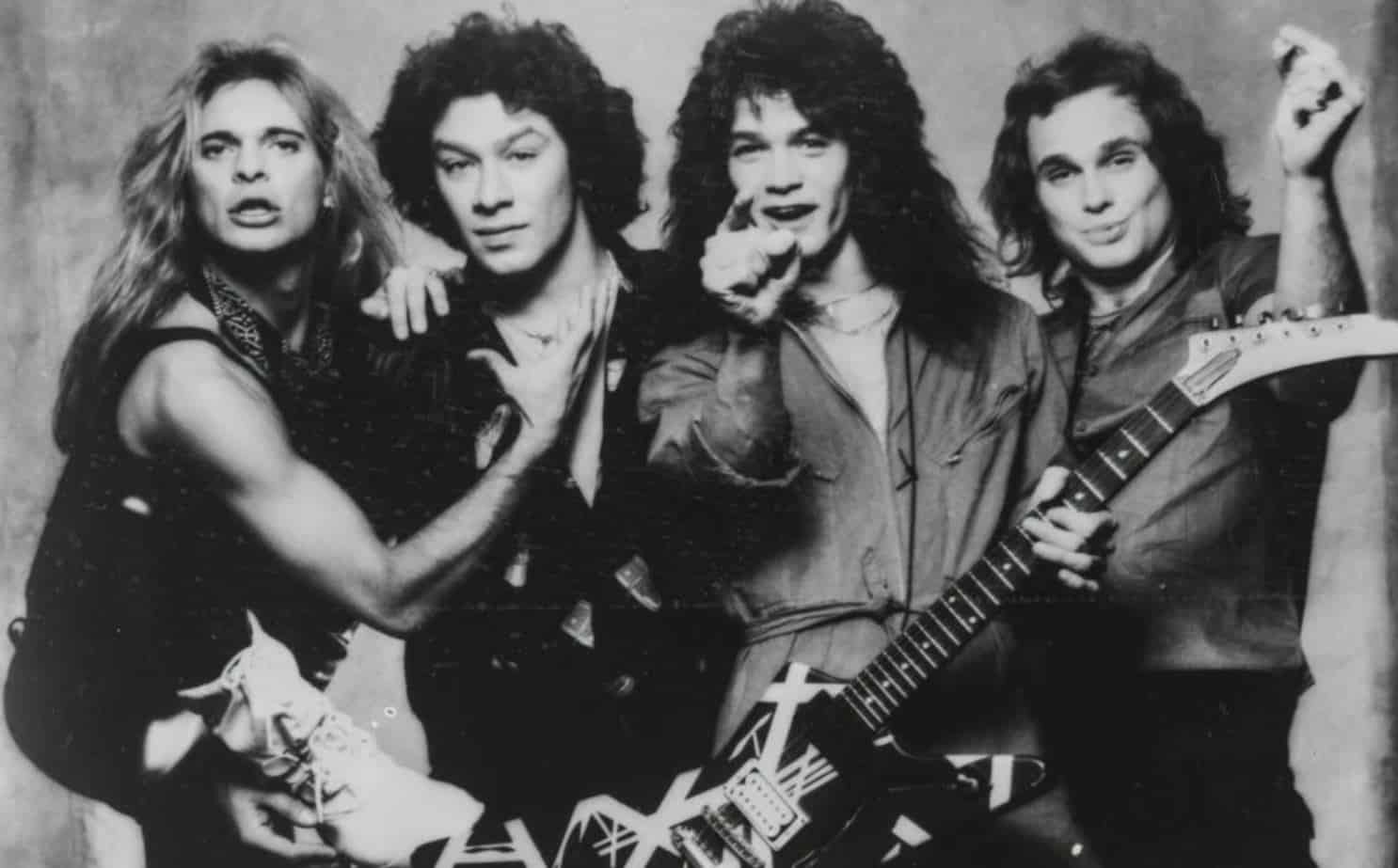 Even though the band Van Halen officially formed in 1972, it's important to look into the history of the Van Halen brothers and their first bands. This journey led them to meet singer David Lee Roth and form Van Halen.
Van Halen Brothers
Alex Van Halen was born in 1953, and his brother, Edward "Eddie" Van Halen, was born in 1955. They were born in Amsterdam, Netherlands, but the family moved to Pasadena, California, in 1962.
At a young age, Eddie proved he was musically gifted–a trait he likely inherited from his musician father, Jan. He never learned how to read sheet music but was still able to learn classical piano by ear. Alex also had an interest in music and gravitated toward guitar. Their parents bought Alex a flamenco guitar in 1966. Eddie eventually took up playing drums, and their parents bought him drums.
The two brothers often played together, though Alex would secretly play Eddie's drums while he was delivering newspapers. This created tension between the brothers, so Eddie decided to focus on guitar at 11 years old. As Eddie developed his own guitar style, he purchased a Teisco Del Ray electric guitar for $100 when he was 12 years old.
First Bands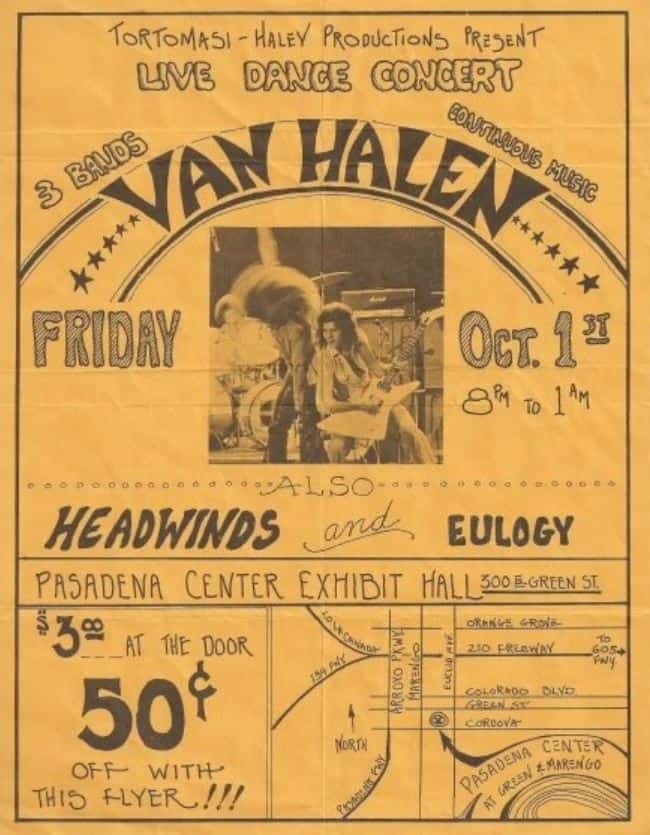 The Van Halen brothers formed their first band, Broken Combs. Alex was 11, and Eddie was only nine. Eddie met his Kevan Hill in music class. The Van Halen brothers quickly befriended Kevan and his brother, Brian, and they started playing music together. In Broken Combs, Alex played saxophone, Eddie played piano, Kevan played guitar, and Brian played drum. They wrote original music with funny titles, such as "Boogie Booger," and played in their school lunchroom.
As the band grew older, they endured lineup changes. Broken Combs changed their name to Trojan Rubber Co, and then Genesis. When they discovered the English band with the same name, they started calling themselves Mammoth (which Eddie's son, Wolfgang, ended up using for his band).
For Mammoth, Eddie played guitar and sang, and his friend, Mark Stone, played bass.
Meeting David Lee Roth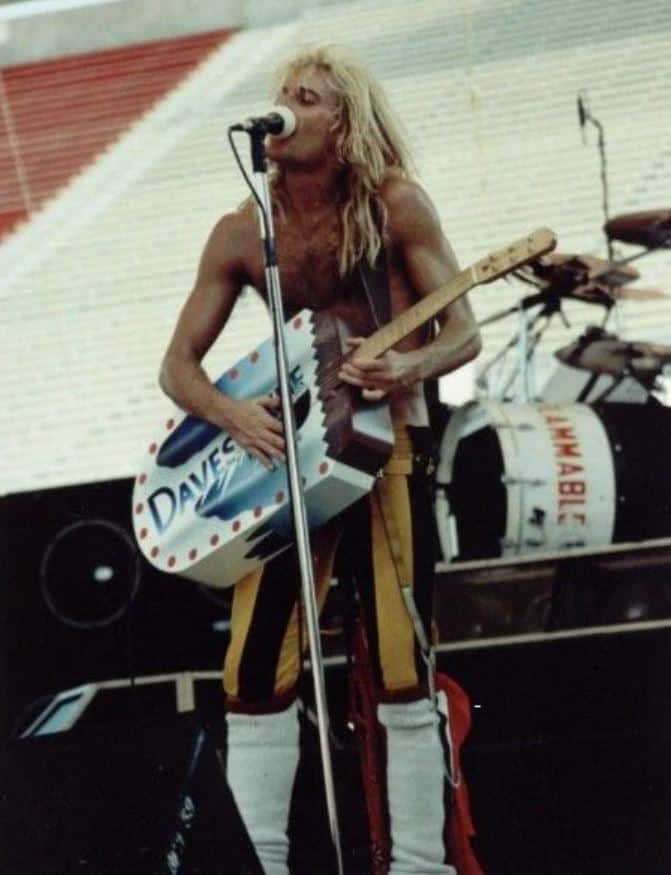 While Eddie played in Mammoth, he and Stone rented a sound system from David Lee Roth. Roth was originally from Indiana and sang in an R&B/rock band called Red Ball Jets, with a personality best described as loquacious and energetic. Eddie and Stone offered the lead singer role to Roth, even though they weren't fans of his audition (they mainly wanted to save money on the sound system rental).
The Start of Van Halen
In 1973, the band decided to change its name to Van Halen. They played around Pasadena, San Bernardino, and Venice. The group played anywhere they could–festivals, clubs, parks, and even backyard parties. As their popularity grew, they started venturing to clubs in West Hollywood and Los Angeles. Even though the band largely self-promoted themselves, they still built a loyal following.
The band decided to let go of Stone in 1974 since he was unsure about pursuing a career in music. They replaced him with Michael Anthony Sobolewski, who attended music classes at Pasadena College with Eddie.
Because of Van Halen's popularity, they were invited to play regularly at Gazzarri's, a club on the Sunset Strip credited for starting the career of The Doors. They played there regularly until 1976. Van Halen expanded to playing other Sunset Strip clubs, such as Myron's Ballroom, and eventually to the Whiskey A-Go-Go.
Van Halen recorded their first demo at Cherokee Studios. Gene Simmons from Kiss also saw them perform at Gizzari's. Impressed by their performance, he produced their 29-track demo tape, "Zero," at Village Recorder Studios (with post-production overdubs completed at Electric Lady Studios in New York).
However, Kiss' management wasn't interested in working with the band.
Breakthrough
Ted Templeman, a renowned record producer for Warner Bros., was looking for what he called a "guitar hero." Van Morrison's lead guitar player, Doug Messenger, saw Van Halen perform at Starwood and called Templeman to check them out.
Templeman and Warner Bros. executive Mo Ostin saw Van Halen perform at the Starwood. They were impressed by the band, and the reps wrote a letter of intent on a napkin.
Signing to Warner Bros.
After a week, Van Halen met with the Warner Bros. reps, in addition to manager Marshall Berle and tour manager Noel Monk. Warner Bros. offered the band a basic two-record contract, which the band accepted.
They recorded their debut album, Van Halen, at Sunset Sound Recorders. They recorded with little multi-tracking or over-dubbing; minor mistakes were included to give the album a "live feel." While recording their debut, they continued playing around Southern California, including larger concerts at the Pasadena Convention Center.
Van Halen
Van Halen's self-titled debut turned out to be a success. It reached number 19 on the Billboard Charts and is still known as one of rock music's most successful debuts. Even after 45 years, this album is timeless. Van Halen, especially Eddie as a guitar player, was way above their time.
What makes this album stand out to me is how every song is solid. While most people are familiar with their singles, such as "Runnin' With the Devil" and "Ain't Talkin' Bout Love," B-sides such as "Little Dreamer" are all amazing.
Van Halen especially set Eddie up as one of the most notorious guitar players in heavy metal, specifically with the song "Eruption." To this day, his finger-tapping technique from that track is worshipped by other guitar players. Overall, Van Halen is a masterpiece and is, to this day, one of their most cherished albums.
After the album's release, Van Halen toured for nine months straight, even opening up for Black Sabbath. The band quickly stood out even as an opener, thanks to Eddie's talent and Roth's charismatic performance.
Van Halen II
Only one year later, Van Halen released the follow-up to the debut. The album produced one of the band's biggest songs, "Dance the Night Away," which landed the 15th spot on the BB Hot 100. Overall, I don't think this record holds the same magic as the first. There are plenty of classics I like on this record, such as "You're No Good," "Somebody Get Me a Doctor," "Outta Love Again," and "D.O.A."
Women and Children First
By the time Van Halen released Women and Children First, they were at platinum-selling status and became one of the most successful metal bands on Warner Brothers. The album yielded two singles: "And the Cradle Will Rock…" and "Everybody Wants Some!!"
For me, this album is an upgrade from Van Halen II. Eddie continues to establish himself as a riffing machine, unleashing some of his finest solos on this album. The songs as more in-your-face, and every track gives me chills.
Fair Warning
At this point, Van Halen was seeing constant success. They were touring constantly and in the studio in-between shows. While it may seem like the band was living the dream, tensions rose between the members. Eddie preferred darker-sounding heavy metal songs with complex compositions. Roth preferred poppier-sounding songs that represented his charismatic attitude and stage presence.
Still, Fair Warning was a success. It reached platinum status and is still known as one of their most powerful albums. I personally think this album changed the rock music game. Fair Warning proved you can create a minor note-ridden and edgier-sounding album while still maintaining its popular appeal. Because of this, Eddie's guitar playing stands out in this record.
It's also important to note Alex's playing. On this record, he's absolutely killer. He uses different drumming influences, and his grooves are on-point. To me, this album set him up for being one of the most influential and innovative drummers in rock music.
1984
The band was originally going to take a hiatus, but the band received too much pressure from Warner Bros. Instead, they released their most iconic album, 1984. It landed the No. 2 spot on the charts, behind Michael Jackson's Thriller.
With hits like "Jump," "Panama," "I'll Wait," and "Hot for Teacher," this album went five-times platinum after only a year of its release. "Jump" went No. 1 and even landed a Grammy nomination.
1984 was praised by both fans and critics, and I personally think it's their best album. Eddie released some of his most legendary solos on this album; guitar players today especially regard the chord progressions and expertly-written riffs as influential. The added synthesizer satisfied the pop aspects that took this album to new levels.
David Lee Roth Quits
After the tour supporting 1984, David Lee Roth quit Van Halen. There are many reasons why Roth left. First, Roth left to form his own band. He had also already been releasing solo material and was achieving success, with plans to release a four-song EP of cover songs called "Crazy From the Heat."
Roth also had a film deal offer for a script also titled "Crazy From the Heat." When Roth offered Eddie to handle the compositions for the film, Eddie declined. It's said after that, Roth knew he didn't want to be in the band since he wanted to work on the film (the movie ended up not working out).
Sammy Hagar Era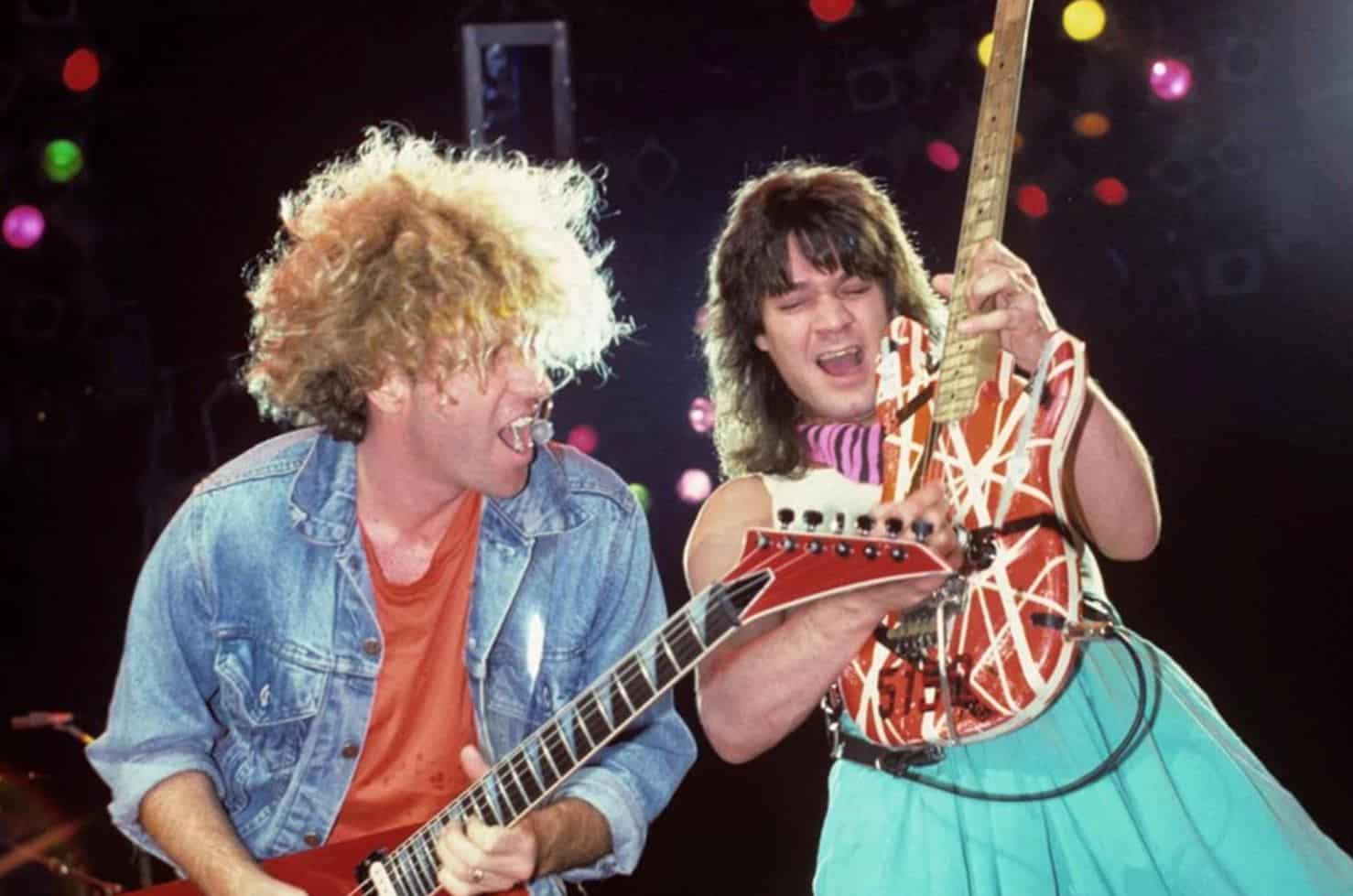 After Roth left the band, Van Halen was on the hunt for a new singer. Eddie originally asked Patty Smyth of the rock band Scandal to replace him, but she declined the offer. Some sources claim Smyth didn't like how much the band drank, but in this interview, Smyth explained she was eight months pregnant when Eddie offered her the role. Daryl Hall was also offered the vocal position. He declined because he was already busy with Hall and Oates.
Sammy Hagar Joins
Eddie met singer and guitarist Sammy Hagar through their mechanic. Hagar fronted the band Montrose, which was also produced by Templeman. When Eddie offered Hagar the vocal position, he accepted. He also agreed to play rhythm guitar; thus far, Eddie was the only guitarist in the band.
5150
5150 was the first Van Halen album that featured Sammy Hagar on vocals and guitar. The album was named after Eddie's studio, 5150, which they've been using as their recording studio, starting with the 1984 album.
5150 was a huge success and landed the No. 1 spot on the Billboard Charts–marking the first time Van Halen landed on the top spot of the charts. The album yielded many singles, such as "Dreams," "Why Can't This Be Love," and "Love Walks In."
While 5150 is the better of the Sammy Hagar albums, it doesn't compare to the stuff they did with Dave, in my opinion. If I didn't discover Roth-era Van Halen first, I would probably like this album more. Overall, it is a great album, but Hagar just makes it so different.
Still, there are some legendary songs off this album; even if you're not a fan of the Van Hagar era, you can't deny that "Dreams" and "Love Walks In" are excellent power ballads.
Touring
In support of the new album, Van Halen embarked on the 5150 Tour across North America. Other than the best-known hits, Van Halen didn't play many tracks from the Roth era. As they continued touring, they played fewer songs from their first few albums.
Watching live footage from this show (this tour happened before I was born), I obviously didn't expect the same stage antics that made Roth famous.
However, Hagar had more energy than expected. He wore a headset microphone, so he was able to run around the stage and do all sorts of crazy stage moves as he played guitar. It definitely changed Van Halen's performance, but still held plenty of energy. I would have been bummed out not to hear the classics, but the footage I attached from New Haven, CT, but this concert still looked like it was great!
Fan Reception
Sammy Hagar was largely welcomed by Van Halen fans, but many were critical of him. Elitists snubbed their noses at Hagar-era albums, while others didn't take the chance to listen to anything outside of what played on the radio.
But most, like myself, are more critical of Hagar. Hagar is different from Roth in many ways, and this review from Rolling Stone Magazine embodied this perfectly. While Roth was wild and charismatic, Hagar was more toned-down in many ways. They also made more radio-friendly rock music, which I'm sure turned off OG Van Halen fans. But from the times I spoke to fans who discovered the Van Hagar material first, they were more accepting of this era.
Overall, I think every Van Halen fan has different views of Sammy Hagar, and it depends on when you discovered the band.
OU812
The next several albums will also match 5150's success, topping Billboard charts and yielding several singles. OU812 was another popular album. The single "When It's Love" became one of the most popular Van Halen songs.
Even with its success at the time, this album isn't as legendary as previous ones, in my opinion. To me, this album moves more to the pop side than anything else. I feel Eddie lost his aggressive guitar tone on this album and sounds too smooth. I love the song "When It's Love," but that's really it. Even 5150 still held on to its grit.
For Unlawful Carnal Knowledge
Released in 1991, For Unlawful Carnal Knowledge saw a subtle change in sound. The 90s welcomed the grunge era, which was heavier and moodier than the "sex, drugs, and rock n' roll" vibes from the past few decades. Many bands from the previous time period tried to imitate the sound but didn't work (take a look at the album Revenge by Kiss as proof).
However, Van Halen returned to their glory (or as close as you could) with this album. Eddie released some amazing squealing solos, sans synths, that were missed greatly from the past couple of albums. Because of this, For Unlawful Carnal Knowledge aged better than other albums from the Van Hagar era.
And this isn't just me saying this. For Unlawful Carnal Knowledge also reached the No. 1 spot and won the 1992 Grammy for Best Rock Performance. Their single, "Poundcake," also reached No. 1 on the US Billboard Album Rock Tracks chart. I personally think this song took Van Hagar to a new level and is one of my favorite songs from the era, next to "Dreams."
Balance
Balance is the last album to feature Sammy Hagar in this first era. Before this album's release, tensions started rising between Hagar and the Van Halen brothers. There were issues during the recording of the album when Hagar and Eddie would have clashing ideas. After the album's release, the band went on tour supporting Bon Jovi. Then, Eddie and Alex wanted to work on a new album, while Hagar wanted time off to spend with his newborn child.
Even though Balance was also a successful album, with another No. 1 spot on the Billboard charts, you can definitely hear the tensions in the album. It does sound more mature, like they settled into their sound with Hagar and the 90s influence, but it isn't one I turn to when I want to listen to Van Halen.
Sammy Hagar Leaves
It's still unclear how Sammy Hagar left the band. Sammy Hagar said he was fired from Van Halen, receiving the fatal phone call on Father's Day 1996. However, Eddie's statement is different. Referring back to when Hagar said he wanted time off to focus on his family, Eddie explained they're a "band," and this isn't "the Sammy Hagar show." Giving Hagar an ultimatum, Sammy said he wanted to focus on his solo material, making it seem more like he quit.
Hagar also gave other reasons for the issues in the band. Hagar developed a close friendship with bassist Michael Anthony, which made Eddie jealous. Substance abuse issues also played a role in the band members' tensions; in his autobiography, Hagar said Eddie would drink "wine straight out of a bottle," though he also admitted his drinking never affected his playing.
Gary Cherone Era
After Sammy Hagar left the band, Van Halen recruited Extreme lead singer Gary Cherone to join the band. However, this era wasn't as successful as the previous two.
Van Halen III
Van Halen III is often regarded as one of the most Van Halen albums. We can point the finger at many reasons, and I suggest reading Ultimate Classic Rock's roundtable discussion on this album to better understand why, but everyone has different theories.
Overall, no one was digging another new Van Halen vocalist, which Cherone said in an interview with Rolling Stone Magazine. Van Halen fans were already wary of Sammy Hagar when he joined in the mid-80s and witnessed how much Van Halen's music changed. There were also many issues with their David Lee Roth reunion (which I will cover next), so fans weren't very optimistic about a new Van Halen album.
Van Halen was also being too experimental. Their material in the late 70s and early 80s worked, but once it got too radio-friendly, it threw off many fans. Van Halen III went a completely opposite direction from anything they had ever done in the past, which didn't appeal to many fans.
When I listen to it, the album sounds more like a generic 90s rock album than anything. While Cherone is a good singer, he isn't as memorable as Roth. The lyrics and the composition are also very bland; listening to the album after 25 years, it hasn't aged well at all.
Touring
The band went on tour following Van Halen III. This tour had its ups and downs. On one end, ticket sales weren't the best the band had seen. To make up for the fact that they had a new singer, they played old songs from the Roth era that they hadn't played in decades, which helped compel fans to attend. They also played in countries they never visited before, such as Australia and New Zealand.
Reunions
Van Halen attempted a few reunions after Sammy Hagar's initial departure in 1996. Before Gary Cherone joined the band as their lead singer, Van Halen attempted a reunion with David Lee Roth (even though they were also auditioning other vocalists, such as Mitch Malloy).
However, their appearance at the VMAs ruined this reunion. When trying to present the Best Male Video award to Beck, David Lee Roth was soaking up the attention, aggravating the Van Halen band members.
In 2004, Van Halen reunited with Sammy Hagar for a summer tour. The tour suffered many problems, such as professional disputes with bassist Michael Anthony and Eddie's unkemptness and drinking problem. Hagar left after this tour.
In 2007, the band reunited again with David Lee Roth for their 2007-2008 tour, which was the highest-grossing tour in the band's history, though four dates had to be rescheduled because of Eddie's medical problems.
With the success of the tour came a new album, A Different Kind of Truth. While this isn't my favorite album, it does go back to Van Halen's 80s roots. The album made it to No. 2 on the Billboard 200 charts and was followed by a successful tour, though a few of the dates were canceled.
The band did one final North American tour in 2015.
Eddie Van Halen's Death
Eddie Van Halen passed away on October 6, 2020. His death certificate states the death was due to a cerebrovascular accident, which is the medical term for a stroke.
There were several underlying causes of his stroke since Eddie suffered from many health problems. These included myelodysplastic syndrome, pneumonia, and lung cancer. He also had an irregular heartbeat and skin cancer. Eddie was diagnosed with stage four lung cancer in 2017 and was told he had six weeks to live. He went to Germany for treatment and was able to live for another three years.
Influence
If it wasn't for Van Halen, heavy metal today wouldn't be the same. Extreme's lead guitar player Nune Bettencourt said Van Halen "inspired an entirely new generation of rock music," and the band had a major influence on popular music during the 80s.
Eddie Van Halen, in particular, was the star of the show. Modern guitar players worship him–even some of the biggest virtuosos said they looked up to Eddie as their idol. Rage Against the Machine's Tom Morello said, "Eddie Van Halen was the Mozart of our generation." After the release of Van Halen's debut album, a string of guitar virtuosos emerged, namely Steve Vai, Joe Satriani, Eric Johnson, and Yngwie Malmsteen.
Eddie wasn't the only influential band member. Every member of that band contributed to the style and music of that band, and all prevailed individually. They were all talented at their craft–David Lee Roth and Sammy Hagar are both known for their powerful voices, Alex Van Halen is an insane drummer, and Michael Anthony is regarded as one of the quintessential rock bassists.
As a band, they had incredible dynamics–for all lineups. They were all virtuosos but still had a fun and energetic live show. They were also arguably one of the most experimental bands in the region, specifically when Eddie incorporated more synths into their music.
FAQs
Question: Is Van Halen still active today?
Answer: No. After the death of Eddie, his son Wolfgang made it clear that the band Van Halen was done.
Question: Who are the original members of Van Halen?
Answer: Most people consider the lineup from 1975 to 1985 as the "classic" Van Halen lineup. The members of the band were Eddie Van Halen (guitar), David Lee Roth (vocals), Alex Van Halen (drums), and Michael Anthony (bass).
Question: Was there a third lead singer for Van Halen?
Answer: Yes, Gary Cherone. Cherone was the former lead singer of Extreme and replaced Sammy Hagar after his departure in 1996. There was only one album that featured Cherone: Van Halen III. It certainly wasn't a favorite among fans and the press, even though the album went Gold.
Bottom Line
Van Halen is arguably one of the most notorious rock bands. Ever since they released their debut album, Van Halen has inspired a generation of rock and metal music. Eddie Van Halen also influenced a string of virtuoso guitar players.
Both Eddie and his brother, Alex, were musically gifted and always played music together and with their friends. It was destiny when the brothers met David Lee Roth and Michael Anthony, forming one of the most legendary rock bands.
Unfortunately, Eddie Van Halen passed away in 2020 from a stroke and other health complications. As a result, Eddie's son, Wolfgang, stated that Van Halen as a band was done. We can still look back at all of Van Halen's best albums and the impact they had on rock and metal music.
Looking for more interesting readings? Check out: