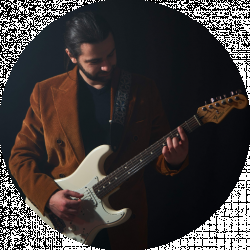 Latest posts by Altin Gjoni
(see all)
Being a rockstar's wife is enough to make you well-known in the rock community. Erin Everly reached beyond that momentary fame as she is the woman for whom Axel wrote Guns N' Roses' biggest hit.
Everyone has heard "Sweet Child O' Mine" and probably even watched the music video, yet few know that the girl in the video is the one who received the lyrics as a love poem from Axl Rose.
Erin Everly was born into stardom as the daughter of Don Everly of the Everly Brothers, even though her life is a repeated pattern of hard-fought battles, sometimes even on the court.
From her early days as a rock n' roll icon's daughter to her relationship with a troubled rock star, this Erin Everly Bio will show you that there'' a dark side to being a musician's muse.
Erin Everly Quick Facts
| Full Name | Erin Everly |
| --- | --- |
| Birth Date | November 8, 1965 |
| Birth Place | Los Angelos |
| Nationality | American |
| Zodiac Sign | Scorpio |
| Parent | Don Everly; Venetia Stevenson |
| Children | Eres Portman, Easan Everly, Esper Portman |
| Siblings | Edan Everly and Stacy Everly |
| Partner / Spouse | Axl Rose(1990- 1991); Jack Portman(1996 – 2006) |
| Occupation | Model, Actress |
| Best Know For | Her role in the "Sweet Child O' Mine" music video |
| Net Worth | $1.6 million |
| Last Updated | November 2022 |
The Succesful yet Troubled Everly Family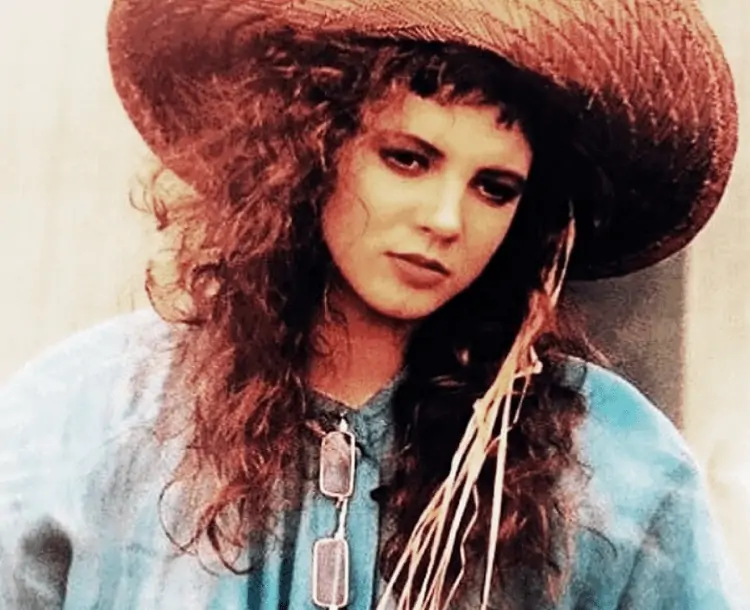 I first heard about Erin's story not from the famous GNR music video like most but from my interest in the Everly Brothers. The Everly family was the cuddle of rock n' roll's original duo, yet Erin's family story is not as glorious as her father's career.
Erin was born to the eldest of the Everly brother, Don Everly, and to actress Venetia Stevenson. For a few years after her birth, she and her two siblings enjoyed the luxurious lifestyle of a high-class LA family. 
However, everything changed with her parent's divorce in 1970, mainly due to Don Everly's drug addiction, followed by a significant low time in his career.
With custody left to her mother Venetia, her lifestyle changed from luxury to an average family. Her mother had quit acting since she married Don and could not provide the same lifestyle working only as a clothing designer.
Even though a famous rock star, Don Everly, was not financially supportive. As Erin recalls, she doesn't remember much from her father, although some bad memories are in the mix. Axl Rose would later recall in an interview with Howard Stern that Don Everly was "in his own ozone layer" and did not have any association with Erin's life. 
Consequentially, when Erin was seven, they moved from their Upscale studio city neighborhood to an affordable rental apartment. Erin left The Buckley private school for a public one, making her struggle with Dyslexia weight heavier than before. 
Erin stated in an interview that she was a caretaker and looked emotionally after her mother and took care of he baby brother as much as possible. Her rockstar family days were over when she was a teenager, yet she wanted to become famous in the entertainment industry like her father.
About the Everly Family
The Everly Family is one of rock's music-building pillars, with the lineage of musicians that gave birth to the Everly Brothers.
Before any other rock n' roll duo, Don and Phil Everly were the first to make harmony singing popular and record groovy acoustic guitar riffs. Even before Don and Phil, their father was a word class guitar player who inspired the likes of Chet Atkins.
Erin inspiring one of the most iconic rock songs of all time is part of the Everly family's legacy. Their story is one I cherish as a fan of their music and one I highly recommend you read for some insight into how rock music was born in the 50s.
Erin Everly's Career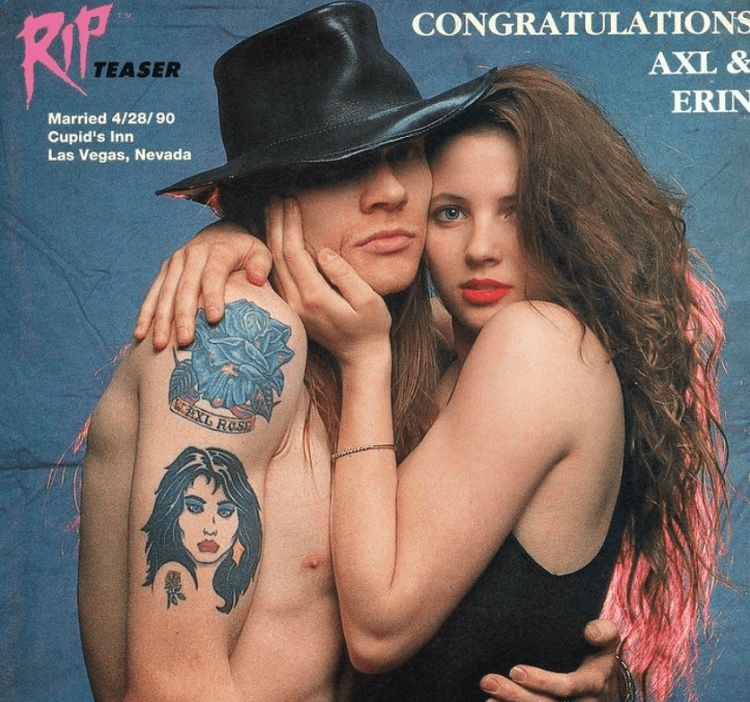 Erin started her modeling career when only 16 and moved to New York in 1980 to work for the Wilhelmina agency. She began appearing in simple print and tv ads and was eventually endorsed by various designer brands. Before that, she worked for her father's company.
The most significant breakthrough of her career came later as the star in the "Sweet Child O' Mine" and appearing as herself in the GNR video compilation "Welcome to the videos." She starred in another GNR video for the song "It's so Easy," but it never made it to the screen due to the S&M scenes between her and Axl.
The Passionate and Abusive Relationship with Axl Rose
Erin Everly Met Axl Rose at a local party in LA in 1986 when she was only 19 years old. At the time, neither of them was famous. Axl was a local musician, while Erin had only modeled for a few years in New York.
Their relationship started strong, and Erin immediately moved to LA to be close to Axl. At the time, she was the one who allegedly took care of Axl before the Guns N' Roses glory days. They came from opposite realities, with Erin having tasted fame since childhood while Axl still hungered for it. 
According to Slash's friend, Marc Canter, Axl and Erin were in love, and it was apparent that she looked "too good" to hang around the band and was in no way a groupie.
Things changed when 'Appetite for Destruction" was released in 1987, and the private couple became mediatic. The album is still the seventh best-selling album of all time in the United States and catapulted the young Axl Rose to become the troublemaker Rockstar we all know.
Beyond Axl's fame and her family legacy, Erin acted in the "Sweet Child O' Mine" music video, appearing in front of millions and officially branding them as a show-biz couple.
Troubled Relationship, Marriage, and Flash Divorce
From the letters Axl wrote to Erin, there's much material confirming the bipolar nature of the relationships. On one note, he writes, "no love was there more true Erin, I love you, goodbye sweet child." On another, harsh statements such as "you knew what you got into from the beginning." 
According to Erin, Axl has been violent since their relationship began and physically abused her to the point she quit modeling. Erin claimed to have lied to the police while enduring the violence, and a crowd of witnesses saw Axl beat her. Nevertheless, the relationship somehow continued with a non-expected twist.
Erin Everly and Axl Rose married in Las Vegas on April 28, 1990, after dating for four years. The marriage that followed was not the culmination of a lasting love story but rather a decision to amend both sides' abuses.
As the story goes, Axl Rose showed up at Erin's home the day before their wedding and threatened that he would kill himself if they didn't marry. So the very next days, they tied the knot in the Cupid's Inn Chapel in Las Vegas.
The marriage only lasted ten months, as the abuse continued, and more tragic events followed. What sealed the end of the relationship was Erin suffering the miscarriage of Axl's Child four months after the marriage.
Beyond the obvious pain from the loss while being hospitalized, she recalls Axl never supported her, and she had to sell her things to pay for the treatment.
The court battle between Erin and Axl that 1994 showed other dark things, even as Erin testified she had been injected with Heroin and Cocaine by Axl and almost died from cardiac arrest. Rose was also facing a trial from his ex-fiance, model Stephanie Seymor, for the same charges of abuse.
There were never legal charges against Rose as both cases were settled privately, leaving no information on the truth besides the fact that Rose paid her sums that were never made public.
Erin Everly's Second Marriage and Scandal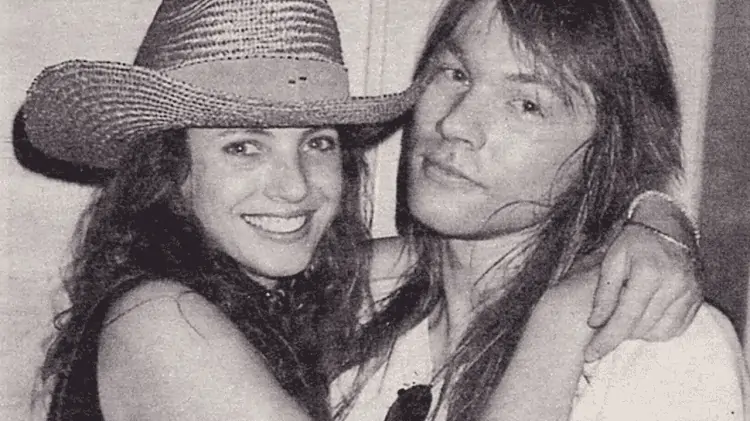 Erin Everly married the vice president of Portmann Holdings, Jack Portman, in 1997 and had three children.
Little is known about the couple's life apart from the divorce after nine years together. Portman was a wealthy but very private businessman who kept all the family members far from the media's attention. They had three children together before their divorce in 2006.
The biggest scandal after the Rose trials was in 2010 when she was arrested for domestic violence after threatening her new boyfriend with a knife. 
What is Erin Everly Doing Now?
Erin disappeared from the public eye in the 90s to give her children a normal life out of the spotlight. 
The most recent news about her was in 2013, when she sold artifacts from her life with Axl. The love and break-up letters Axl sent Erin, T-shirts, and their wedding video was auctioned off. Even more sensible items were sold, such as their Marriage certificate and Axl hospital bracelet.
FAQs
Question: Did Axl Rose Fight David Bowie over Erin Everly?
Answer: As written in Slash's biography, Axl Rose and David Bowie fought over Erin Everly. Axl was jealous of Bowie's attention toward his girlfriend, which in retrospect, fits Bowie's long history of going after fellow Rockstars' girlfriends. 
During the shooting of the music video for "It's so Easy," Bowie appeared drunk and started going after Erin, who was dressed in leather bondage gear. Axl went on to exchange blows with him and said, "I'm gonna kill you, Tin Man."
In 1989, as the band was opening for the Rolling Stones, Bowie was in the crowd with her long-time friend Ola, Slash's Mother. Axl saw him and started to throw insults at Bowie.
Bowie and Rose, however, didn't keep the hatred for long and became friends.
Question: What Guns n' Roses Songs did Erin Everly Inspire?
Answer: Axl Rose is not well known for writing love songs; however, some of the biggest hits were inspired by his relationship and fallout with Erin Everly.
Besides the well-known Axl Rose poem for Erin that became "Sweet Child O' Mine." "November Rain" and "Bad Obsession" were also written for her. 
Question: Who did Erin Everly Date after Breaking Up with Axl Rose?
Answer: Erin Everly dated other famous people like Anthony Keidis from the Red Hot Chilli Peppers, Meathly Nelson, Mathey Klyn, and David Arquette. She married Jack Portman in 1997.
Sources: