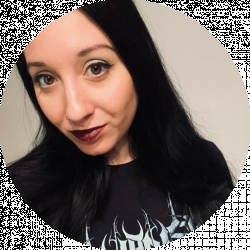 Latest posts by Stephanie Jensen
(see all)
Babes in Toyland is one of the most pivotal bands that emerged from the 90s riot grrrl era. With singles such as "Bruise Violet," Babes in Toyland stood out because their music was louder, more aggressive, and influenced an entire era of female musicians.
But who were the musicians behind this band? How did they form and release some of the most iconic albums in punk and grunge music? Continue reading about the Babes in Toyland band history.
Quick Facts
Notable Band Members: Kat Bjelland (lead vocals/guitar), Lori Barbero (drums), Clara Salyer (bass, 2015-2020), Michelle Leon (bass, 1987-1992), Maureen Herman (bass, 1992-1996, 2014-2015)
Genre: Grunge, alternative rock, punk
Years Active: 1987-2001, 2014-2020
Origin: Minneapolis, Minnesota
Most Successful Album: Fontanelle
Website: Babes in Toyland
Last Updated: July 2023
Early History
Kat Bjelland had recently moved to Minneapolis. Bjelland is a self-trained guitar player looking for a big break in the music industry. She was born in Oregon and briefly lived in San Francisco but decided to move to Minneapolis to form a band.
Babes in Toyland was formed when Bjelland met Barbero in 1987 at a barbeque. Barbero has no experience playing instruments, but Bjelland encouraged her to play drums anyway.
Babes in Toyland originally had two other members: bassist Kris Holetz and singer Cindy Russell. However, the two additional members left shortly after. It's rumored Courtney Love of Hole was in the band but was kicked out. However, I'm reading she only had one band practice with them. (it's also worth noting a couple of Hole songs share the same lyrics as Babes in Toyland songs).
Once bassist Michelle Leon joined, the band began playing at various venues and art galleries. After gaining success in the local scene, the band entered the studio to record their debut.
Spanking Machine
Babes in Toyland recorded their first debut, Spanking Machine, in 1989 at Reciprocal Recording with popular grunge producer Jack Endino. The band released Spanking Machine in 1990 under the Minneapolis-based Twin/Tone Records label.
This album is considered timeless and one of the most crucial albums that birthed the 90s punk and grunge movement. Instead of catchy glam metal melodies, this album features lots of grooves and screaming. The lyrics are obscene, talking about violence and sex. In the next section, I will talk more about the two music movements that Babes in Toyland helped pioneer: the grunge and riot grrrl movements.
First, let's focus on the legacy of the album. After the release of Spanking Machine, the album caught the attention of the band Sonic Youth. Sonic Youth vocalist Thurston Moore invited the band to join them on their next European tour.
While on that tour, they caught the attention of an international audience, press, and recorded a radio session with legendary radio DJ John Peel.
Success
After years of successful touring, Babes in Toyland went back to the studio to record arguably their most successful album, Fontanelle. However, the band endured many changes. Bassist Michelle Leon left after the murder of her boyfriend, Joe Cole, and the band brought on Maureen Herman as her replacement.
Babes in Toyland also signed to Warner Bros.' label Reprise Records during this time, marking a massive wave of success for the band.
Fontanelle
This is the album that got me into Babes in Toyland! Fontanelle was equal parts angry and edgy and appealed to punk and metal fans alike.
This album stands out from so many of the time. It's one of the most intense punk and grunge albums I've ever heard, and it only gets better with each listen. Listen to the song "Gone," and you'll hear the pure emotion in this track. No matter how many times I hear this song, it always gives me chills.
The album sold over 200,000 copies in the U.S. alone. Babes in Toyland only became more popular. In 1993, they played Lollapalooza with Alice in Chains, Primus, Rage Against the Machine, and Dinosaur, Jr. In 1994, they played Rock Against Domestic Violence with Jack Off Jill (one of my favorite bands) and 7 Year Bitch.
Nemesisters
The last full-length album by Babes in Toyland is Nemesisters. I have different views of this album. On one end, it is slower than their last two albums. But I also feel it's more relatable. It fits a teenage angsty attitude, attracting many fans from that age group. My old roommate told me she liked how Kat Bjelland's vocals changed from screaming to the evil babydoll sound.
Still, many agreed with me since the album received mixed reviews. From what I'm reading, the band was under a lot of pressure, but I can't find a link to confirm this.
Babes in Toyland still embarked on a global tour in the U.S., Europe, and Australia. They even played at Roskilde Festival in Denmark.
Lineup Changes and Breakups
While Babes in Toyland experienced a massive surge in popularity, it didn't take long for things to come crashing down. Bassist Maureen Herman left in 1996 due to hip problems, and the band lost their contract with Reprise Records.
The band had a rotating lineup of bass players, even briefly bringing in former bassist Michelle Leon in 1997. Leon was a fan of the band, seeing them at a house party when she was 17 years old. They inspired her to pick up a bass to be in the band.
Due to these issues, Babes in Toyland kept breaking up and reforming. Eventually, Bjelland formed a new band, Katastrophy Wife, in 1999. After that, they became inactive.
After the reunion (which I will discuss next), Herman was fired and replaced with Clara Salyer. Herman explains this was because she wrote an essay about the sexual assault of Runaways bassist Jackie Fox by their manager, Kim Fowley.
The story inspired her to write a piece about it, linking it back to the assault she also experienced. Herman suggested his dismissal from the band was due to Barbero's production work with the band Fea, who was signed to Joan Jett's label. However, Barbero denied this and claimed Herman was a "toxic" person.
Reunions
Babes in Toyland  briefly reformed in 2001 to play a show called "The Last Tour." The show was recorded and released as the live album Minneapolism.
Legal issues arose with the band. Bjelland toured Europe with a new bassist and drummer. However, Herman and Barbero had an issue with this, so Bjelland stopped touring under the name Babes in Toyland.
Babes in Toyland wouldn't officially reunite until 2014. Bjelland and Herman confirmed the band was back together, playing shows and working on new music.
When asked about the reunion, Kat Bjelland said the band members hadn't been in touch in years. Eventually, Bjelland and Herman got back in touch and became close again. The band said the reunion was about friendship and the support they all give each other.
Babes in Toyland played their first reunion show in Los Angeles on February 12, 2015. After this show, they embarked on a Europe tour and more North American dates, even playing at Pop Festival in Montreal, Bumbershoot Festival in Seattle, and the Rock the Garden Festival in Minneapolis.
Babes in Toyland continued until 2020 when they announced they broke up permanently.
Babes in Toyland Today
Babes in Toyland announced their official breakup in 2020 and haven't reunited since. I'm not finding any information about the members pursuing other bands or doing anything else in the music industry.
I did see that Kat Bjelland suffered stage 4 liver failure in 2021 due to substance abuse problems, and she almost died. Because of this, I don't see Babes in Toyland ever reuniting.
Legacy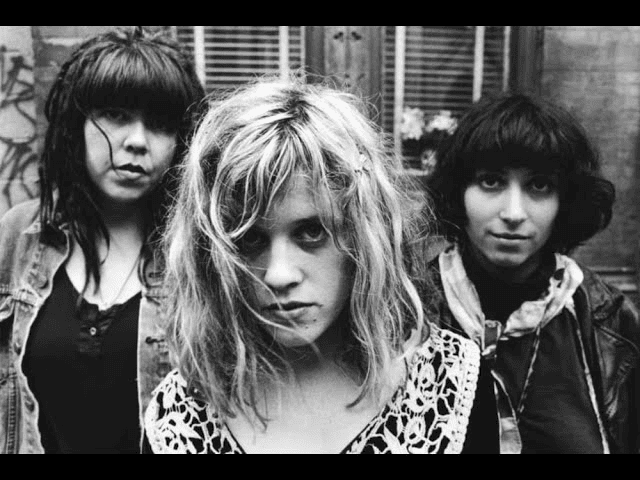 Babes in Toyland had a massive legacy in rock music, specifically in the grunge, punk, and metal movements. Bands like Jack Off Jill admitted Babes in Toyland was an inspiration to them. Babes in Toyland were also a big part of the Minneapolis grunge and punk scenes and contributed a huge part to the rock music culture in the city.
Babes in Toyland had big impacts on two movements: grunge music and Riot Grrrl. Here's a dive into these movements, how Babes in Toyland influenced them, and why they emerged at the perfect time.
Goodbye Glam Metal, Hello Grunge
Glam metal reigned in the 80s but started taking a nosedive in the late 80s. By the early 90s, glam metal was done, and grunge took over.
But why did grunge replace glam metal? I've heard different theories. Twisted Sister singer Dee Snider said glam metal got too commercialized and lost appeal. Grunge was heavy and satisfied rock and metal fans' demand for underground and authentic music.
I also read an opinion from another music writer (I can't find the link and don't remember the writer's name), who said both glam metal and hippie eras birthed rock. She explained the two former rock music movements were too much.
There were no rules, too much partying, and everyone was careless. The result of these movements was homelessness, drug and alcohol addiction, "free love" welcomed predators, and the movements attracted overall rotten people.
All of this fueled anger in the younger generation, and they took that frustration out in music.
That said, Far Out Magazine explains grunge didn't, in fact, kill glam metal, but glam metal killed itself. We can go back to Snider's quote about the over-commercialization of glam metal to prove this. Grunge was merely the replacement, and labels, promoters, and journalists gravitated toward what was new.
Personally, I think it was a little bit of everything. Maybe grunge didn't kill glam metal, but grunge was definitely a rebellion against the careless hippie and hair metal movements.
Regardless of what birthed grunge, I can at least say Babes in Toyland emerged at the right time. Their music had the attitude of grunge with the aggression of metal and the energy of punk. Their unique sound and fearless attitude paved their way quickly in the music scene.
The 90s also influenced a wave of female musicians–not just in rock and metal, but also in hip hop. Since music was under multiple innovations across various genres, this put more spotlight on feminist music movements.
This leads us to our next point, the riot grrrl movement.
Riot Grrrl Movement
I can't write about Babes in Toyland without discussing the riot grrrl movement and how they inspired it. To some, Babes in Toyland was one of the bands that pioneered the movement, though they didn't consider themselves to be one of these pivotal acts.
I even found an interview with Kat Bjelland, who explained, "…I didn't really think about purposefully making it all girls in a band," and focused on finding people who couldn't play instruments to create a unique sound.
Let's look into the riot grrrl movement. The movement formed in the Pacific Northwest and was as much a feminist movement as it was a wave of all-female punk bands.
Female bands and musicians of the time wanted a place where they and other women could be accepted. The political and feminist aspects were relatable, and these musicians wanted to express themselves in ways that inspired change. Plus, women were and are still pissed off. What better outlet to express our anger than punk and metal music?
Female musicians have always received sexism; as a female rock and metal journalist, I can honestly say women in these genres still experience misogyny and aren't awarded the same opportunities as their male counterparts.
But riot grrrl stomped on the sexism and societal standards women feel pressured to uphold. Riot Grrrl was a revolution and still has its influence today.
In addition to Babes in Toyland, other bands that inspired the movement include Bikini Kill, L7, Lunachicks, 7 Year Bitch, Bratmobile, and Sleater-Kinney. All these bands are very different, but they all had one thing in common: they were authentic, popularized female expression, and inspired a generation of women.
Musical Style
Babes in Toyland were one of the most distinctive bands of the time. Their music was harsh enough to attract metal fans, energetic enough to be considered punk, and as hard-hitting as any grunge band. As a singer, Kat Bjelland would go from using soft cleans to screaming her face off, a technique further popularized by newer bands like Jack Off Jill.
While Babes in Toyland were famous for their alternative punk sound, no two songs sounded the same. The band experimented with every album, proving they were great musicians who weren't afraid to take risks.
Tensions With Courtney Love
Babes in Toyland, specifically Bjelland, is known for her public feud with Hole singer Courtney Love. As stated earlier, Love briefly played in Babes in Toyland, but only for one rehearsal when the band decided not to work with her.
Love also lashed at Bjelland over the "kinderwhore" look, debating which musician started the trend. For the record, "kinderwhore" is a fashion style that turned the sweet, little girl aesthetic on its head.
The look consists of doll dresses, messy hair, red lipstick, and clog shoes. The look was popular among many female grunge musicians, but Love and Bjelland are most famous for rocking the look. Bjelland responded to Love's backlash by representing her in the music video for "Bruise Violet."
Kat Bjelland's Health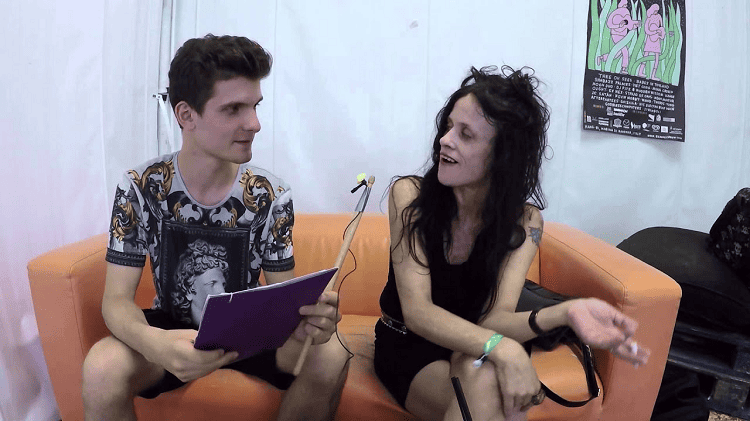 As I stated previously, Kat Bjelland suffered stage 4 liver failure (I'm also reading liver cancer) due to her longtime substance abuse. However, this was back in 2020, and I still haven't read anything recently.
One post on Reddit said that Bjelland's health was improving, but I found Tweets from 2022 saying she wasn't doing well again. I haven't found any updates from this year, but I see that Kat lives a pretty secluded life.
Bjelland is also open about her mental illness issues. She has a condition called schizoaffective disorder, which combines schizophrenia and bipolar disorder.
As stated previously, Bjelland had substance abuse problems and wasn't the only one who did. Bassist Maureen Herman has been vocal about her past addiction problems (though she explained she didn't do drugs until she was out of the band). As far as Bjelland goes, I read conflicting things about her drug use since she's a very private person, and I can't find a definitive answer.
All I can say is I hope Bjelland is doing better now. She's such a legend and unique talent.
FAQs
Question: What's up with Kat Bjelland??
Answer: As I said previously, Bjelland recently had liver failure and has struggled with addiction. She also has schizoaffective disorder. However, I don't have many recent updates since she stays out of the public light.
Question: What does Kat Bjelland play??
Answer: The most recent post I found said Bjelland plays a 1974 Gibson SG. Before, she most famously played a Rickenbaker 425 but broke it.
Question: Did Babes in Toyland experience sexism??
Answer: Drummer Lori Barbero was asked this question in an interview and said she didn't know before she never asked.
Bottom Line
Babes in Toyland inspired major genres, music movements, and a generation of musicians. Kat Bjelland formed the band in 1987 with drummer Lori Barbero after Bjelland moved to Minneapolis and met Barbero at a barbeque. From there, the band hired bassist Maureen Herman.
Babes in Toyland released their debut, Spanking Machine, in 1989 and their most notable album, Fontanelle, in 1992. They toured around the world, played numerous festivals, and became one of the most respected bands of a generation.
Even though Babes in Toyland officially broke up in 2020 and Bjelland has been struggling with health issues, this band remains unforgettable, and their music still gives me chills.